Vasque Breeze
Price: $160
Weight: 2 lbs. 2 oz. (women's)
Waterproof: Yes (VasqueDry)
What we like: Great price for a capable and decently well-rounded hiking boot.
What we don't: Dated look and feel—a far cry from many modern, trail runner-inspired designs.
See the Women's Vasque Breeze  See the Men's Vasque Breeze
Originally released in 2004, the Breeze is Vasque's flagship hiking boot and recently got a modest revamp. Notable changes include the use of sustainable materials, a new in-house waterproof membrane, and a revamped outsole. After testing the women's version in southern Patagonia, I'm happy to report that most of the winning recipe remains, including a great mix of support, stability, protection, and durability. That said, the Breeze still feels a lot like hiking boots of old and won't be a top pick among comfort-focused and weight-conscious backpackers. Below we break down our experiences with the Breeze. To see how it stacks up to the competition, see our articles on the best hiking boots and best women's hiking boots.
 
---
Table of Contents
---

Performance
Comfort
I've spent a lot of time wearing lighter and fairly flexible boots and shoes lately, so putting on the Vasque Breeze felt like a throwback. The boots were noticeably stiff out of the box, and much of that rigidity still remains after 25+ miles of hiking and backpacking. Additionally, the Breeze has a relatively snug and narrow fit, which led to rubbing and a hot spot along my pinky toes and a painful blister at the back of my right heel (where I have a bone spur). This certainly won't be an issue for everyone, and going up a half size would have likely alleviated most of my discomfort (the boots also come in dedicated wide sizes). But fit aside, the Breeze still is a far cry from the cushy, energetic, and forgiving feel I'm used to with trail runner-inspired designs from brands like HOKA and Salomon.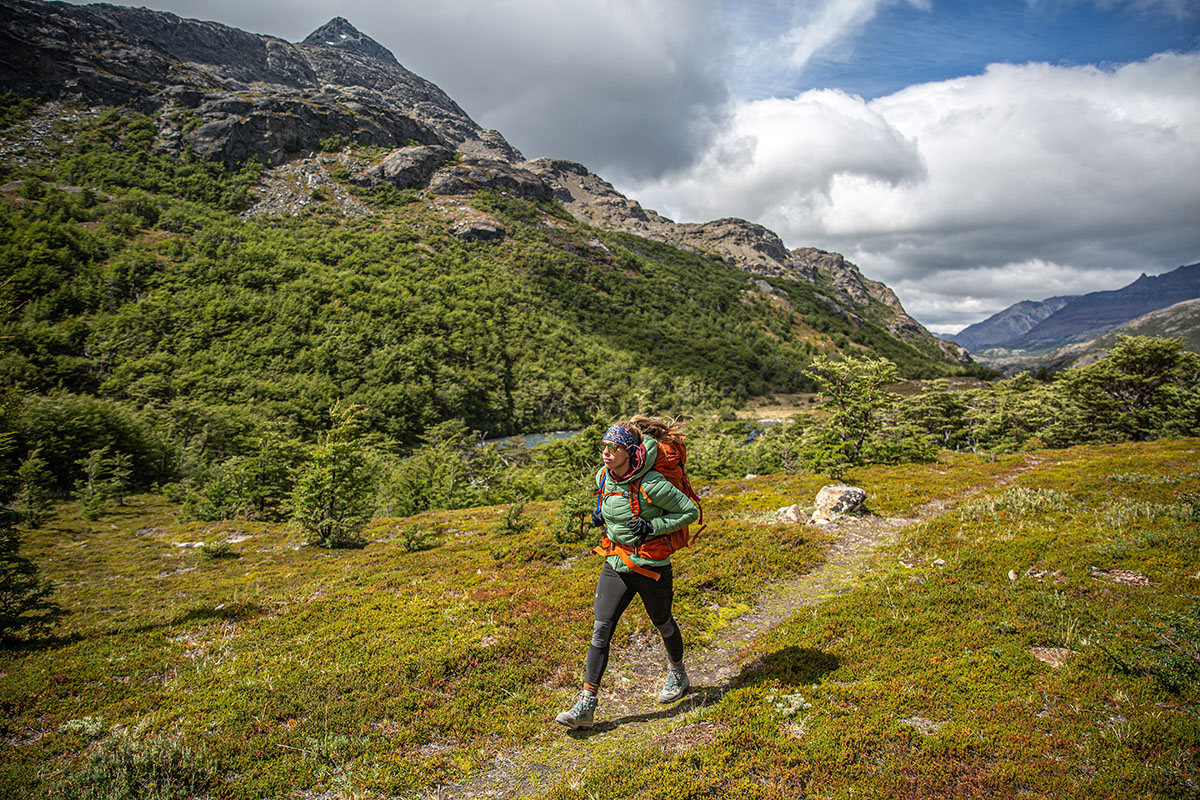 The good news is that the leather upper has become noticeably softer and started to conform to my feet as the miles add up. Additionally, while firm, the midsole provides good isolation underfoot, which was very helpful while carrying a full load (around 30-35 lbs.) over varied—and frequently technical—terrain in Patagonia. Finally, the Breeze is highly supportive and stable, which is often a compromise with lighter and sprightlier alternatives. In other words, there are pros and cons to the Breeze's relatively dated design, but I personally prefer a much more forgiving feel—even when shuttling a heavy backpacking pack over long distances.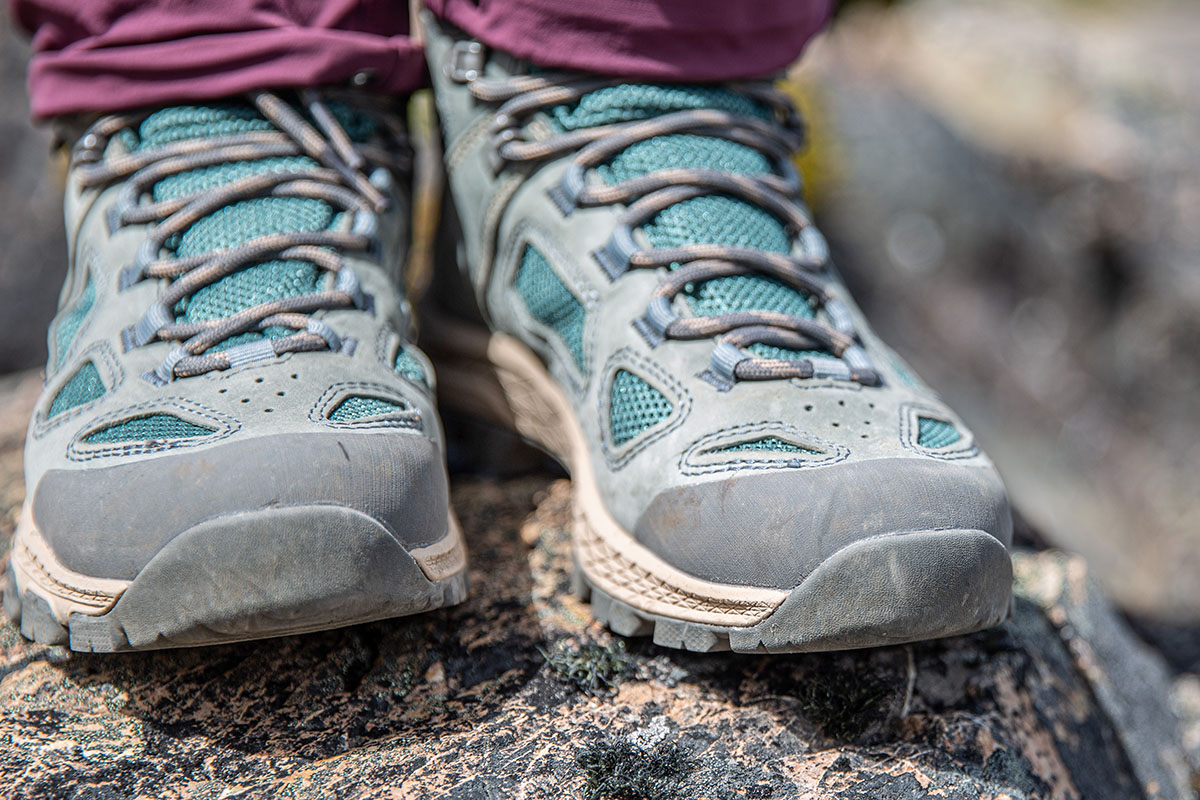 Weight
At 2 pounds 2 ounces for the women's model, the Vasque Breeze won't be a top pick among ounce-counting minimalists, but it's perfectly reasonable for most hikers and backpackers. On the trail, the boots felt decently responsive and not overly cumbersome underfoot, although they lacked the sprightliness I love about trail runner-inspired designs like Salomon's Outpulse Mid GTX (1 lb. 7.1 oz.) and Cross Hike 2 Mid GTX (1 lb. 9.5 oz.). Even their 1-pounds-10.1-ounce X Ultra 4 Mid GTX is a sizable step up in this regard. 
However, the Breeze starts to look more competitive when compared to similarly built leather designs. For reference, it stacks up well to leading midweight competitors like the LOWA Renegade GTX Mid (2 lbs. 1.5 oz), Merrell Moab 3 Mid WP (2 lbs. 0.7 oz), and Oboz Sawtooth X Mid WP (2 lbs. 0.6 oz.). Again, you can certainly go lighter, but that often comes with sacrifices in areas like durability, support, and protection. Whether or not those tradeoffs are worth it is up to you, but I personally am willing to deal with some downsides to shave a little weight.

Traction
I would categorize the Breeze's overall traction as good but not great. On the bright side, the boots were very trustworthy over most surfaces we encountered in Patagonia, from dry and dusty trails to slick rocks and steep, loose slopes. That said, the in-house Trail Strider outsole began to suffer as soon as the terrain turned more technical. This is largely due to the shallow lugs, which didn't provide enough bite on trickier surfaces like wet logs or thick mud—I slipped and slid a few times before accepting that I had to slow down and really focus on my footwork when the trail turned sloppy. Given these experiences, I don't expect the outsole to be a great performer in snow, either, although hikers and backpackers who stick to well-maintained trails shouldn't have any issues.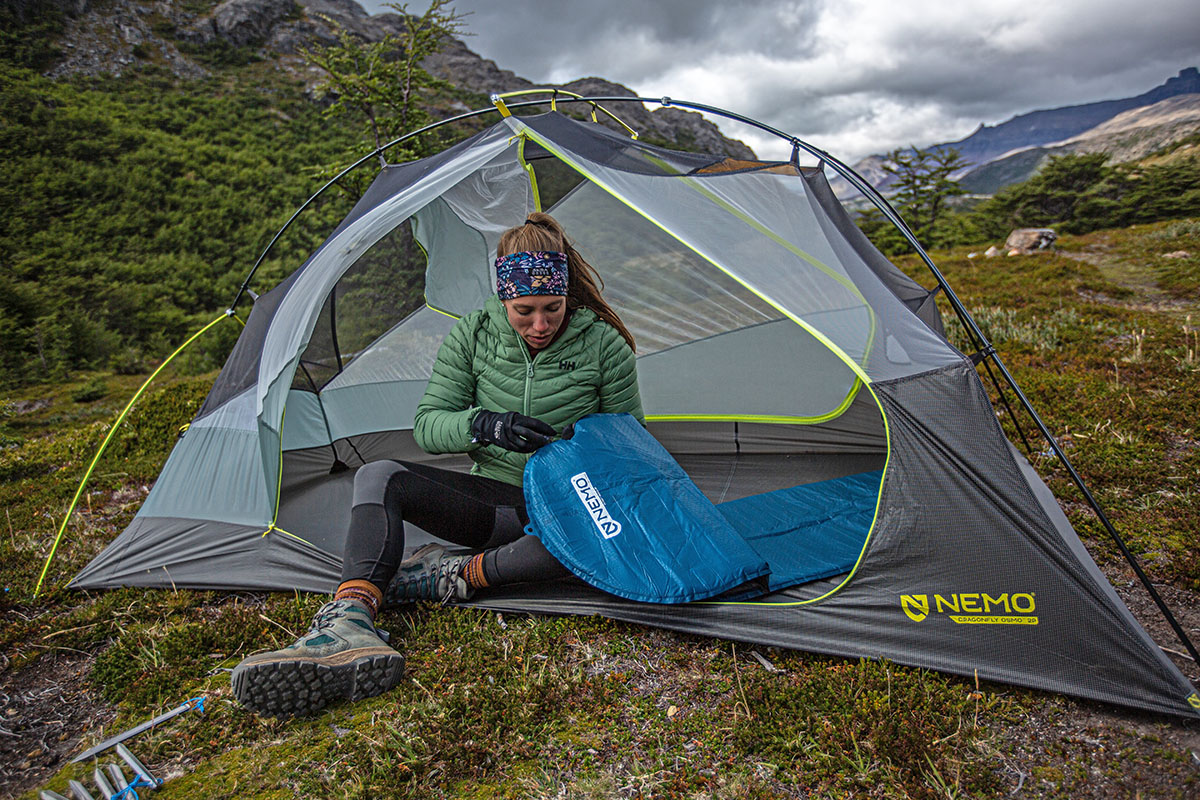 Stability and Support
Similar to traction, stability and support are a bit of a mixed bag with the Vasque Breeze boots. In terms of positives, the nubuck leather upper is noticeably sturdy and provides a nice, foot-hugging feel throughout. The collar and tongue are also generously padded and offer a great balance of cushion and support. Combined with the mid-height cut, the boots did a good job of locking my ankle in place, giving me plenty of confidence when ascending and descending steep, loose slopes. Finally, the stiff midsole and thick outsole provide great isolation from sharp rocks and roots below, which was especially helpful on long days that involved a lot of bushwhacking on overgrown trails.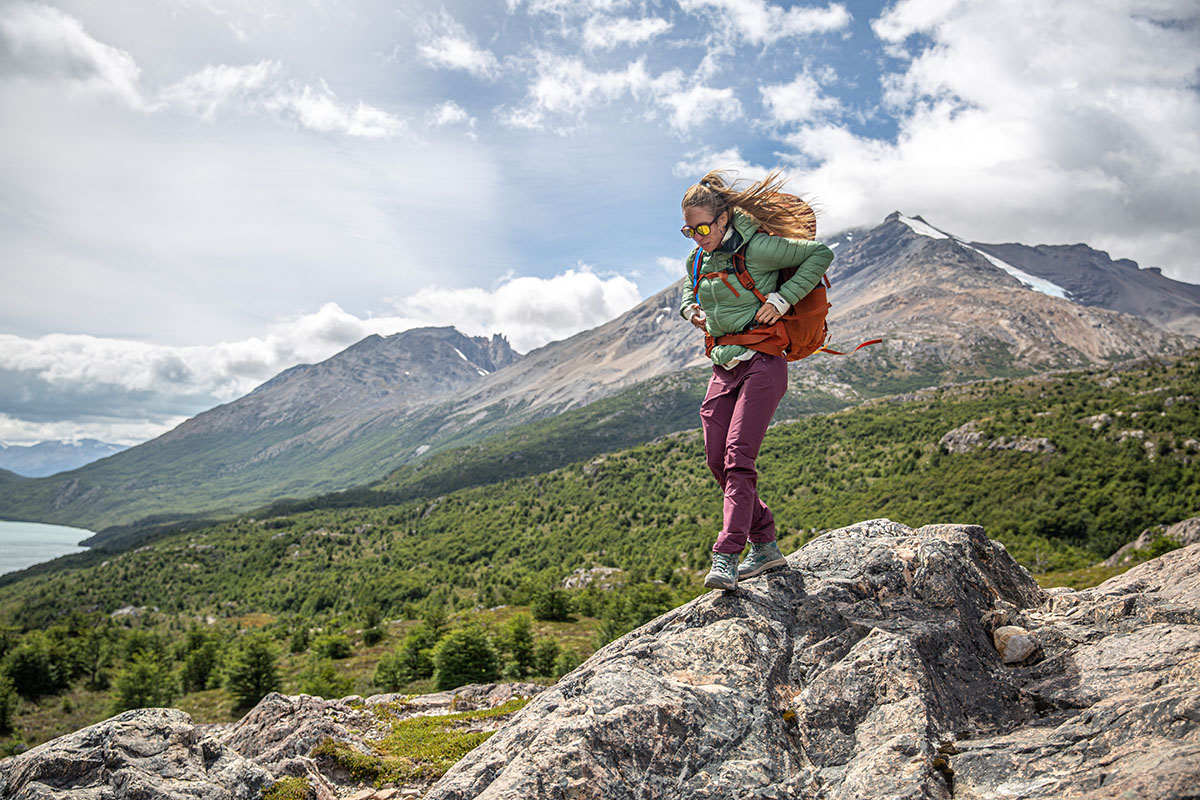 That said, I did have a couple of issues with the lacing system that detracted from the boots' stable and supportive feel. First is the length of the laces: Even when tightened as snugly as possible, they were too short to tie a regular knot, forcing me to leave out one of the loops (for reference, my feet aren't particularly wide). The laces are also excessively thick, which led to frequent unloosening—and sometimes even untying—while hiking. Although fairly quick and easy to fix, the wide diameter also made them tough to thread through the eyelets (I had to line the laces up perfectly and apply some force to get them to fit).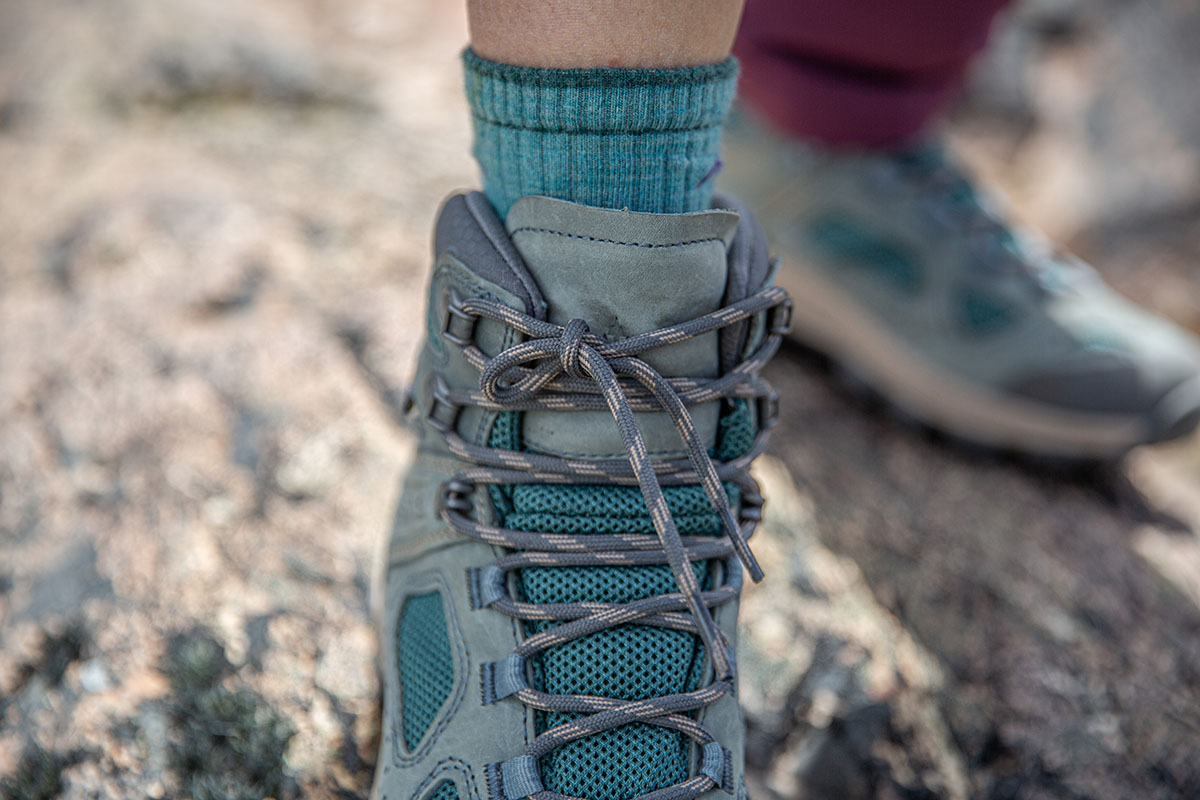 Waterproofing
The latest Breeze is the first Vasque boot to feature their in-house VasqueDry waterproof membrane, and I'm happy to report that it's performed admirably throughout testing (bonus: It's made from 25% recycled materials). As expected in Patagonia, our backpacking trip was rife with deep water crossings, requiring precise footwork to avoid getting soaked. Despite misjudging the stability of a couple of rocks, allowing moisture to make its way up to my ankles, the Breeze kept my feet perfectly dry. My hiking socks did get wet during an accidental submersion, but it was entirely user error, and it's always important to be mindful of depth before stepping into water—regardless of your footwear choice.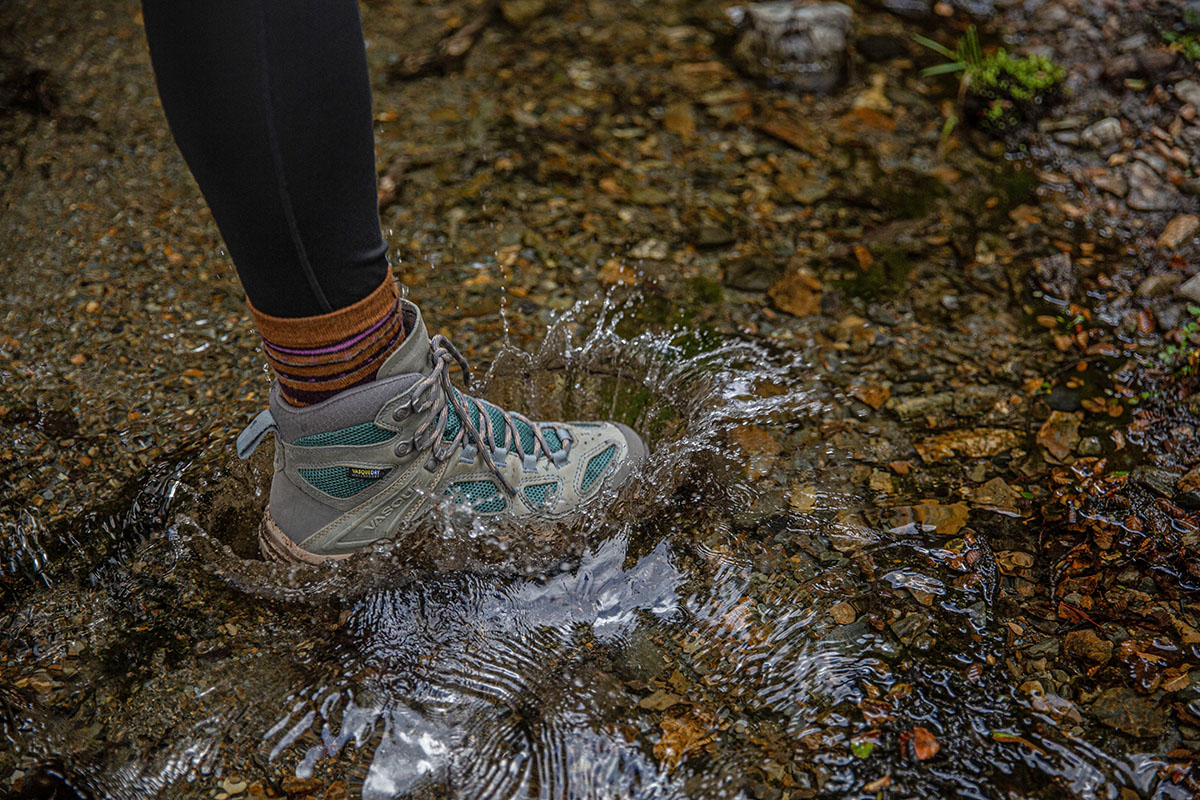 Breathability
Temperatures in Patagonia were unseasonably cool during our February trip, so my assessment of breathability is admittedly limited. As expected, I didn't overheat in temps that hovered in the low to upper 50s Fahrenheit, and the boots dried surprisingly quickly after each water crossing, which is always a good indication of overall ventilation. That said, substantial leather hiking boots (and especially those with in-house waterproofing tech) aren't known for their top-notch breathability—thinner and lighter synthetic designs like the aforementioned Salomon Outpulse and Cross Hike 2 will almost certainly offer better performance. But the Breeze strikes me as perfectly serviceable in most mild to moderate conditions, and I'll follow up here as I continue testing this summer.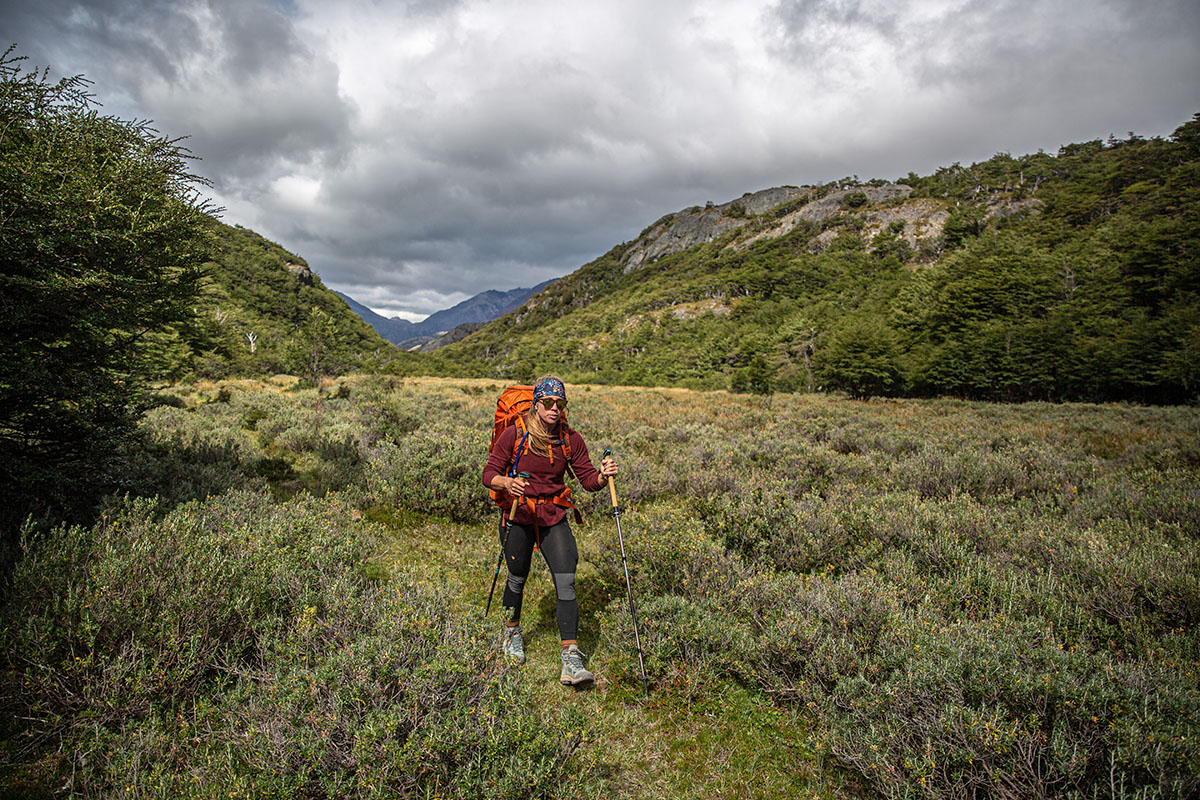 Toe and Foot Protection
As expected from a quality leather hiker, the Vasque Breeze offers reliable all-around protection. The thick outsole rubber continues up over the front of the toes for combatting direct hits, while a thinner toe cap continues behind to cover the sides and top of the foot. Combined with the stiff midsole mentioned above, they kept my feet very well isolated from rocks and roots (both underfoot and in front of me), and the thick leather upper and nicely padded collar kept my ankles safe when squeezing between rocks. Added up, the Breeze leaves little to be desired from a protection standpoint and will surely meet the needs of most backpackers.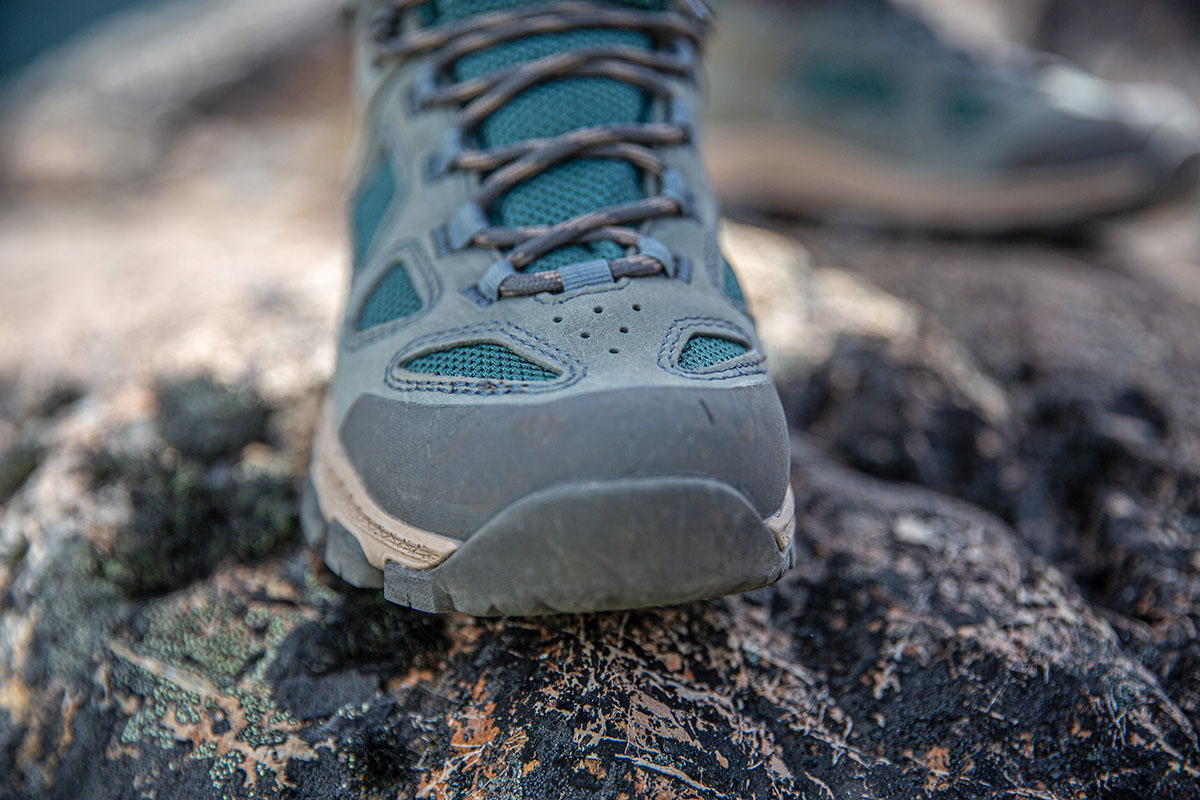 Build Quality and Durability
Build quality and durability are clear highlights with the Vasque Breeze boots, especially at their approachable $160 price point. Everything about the design exudes quality, from the tough nubuck leather upper to the tightly woven mesh cutouts and hardwearing outsole—all of which are showing no signs of wear after considerable mileage. It's still early on in testing, but I expect the Breeze to last many more seasons without issue (and will follow up here if any problems arise).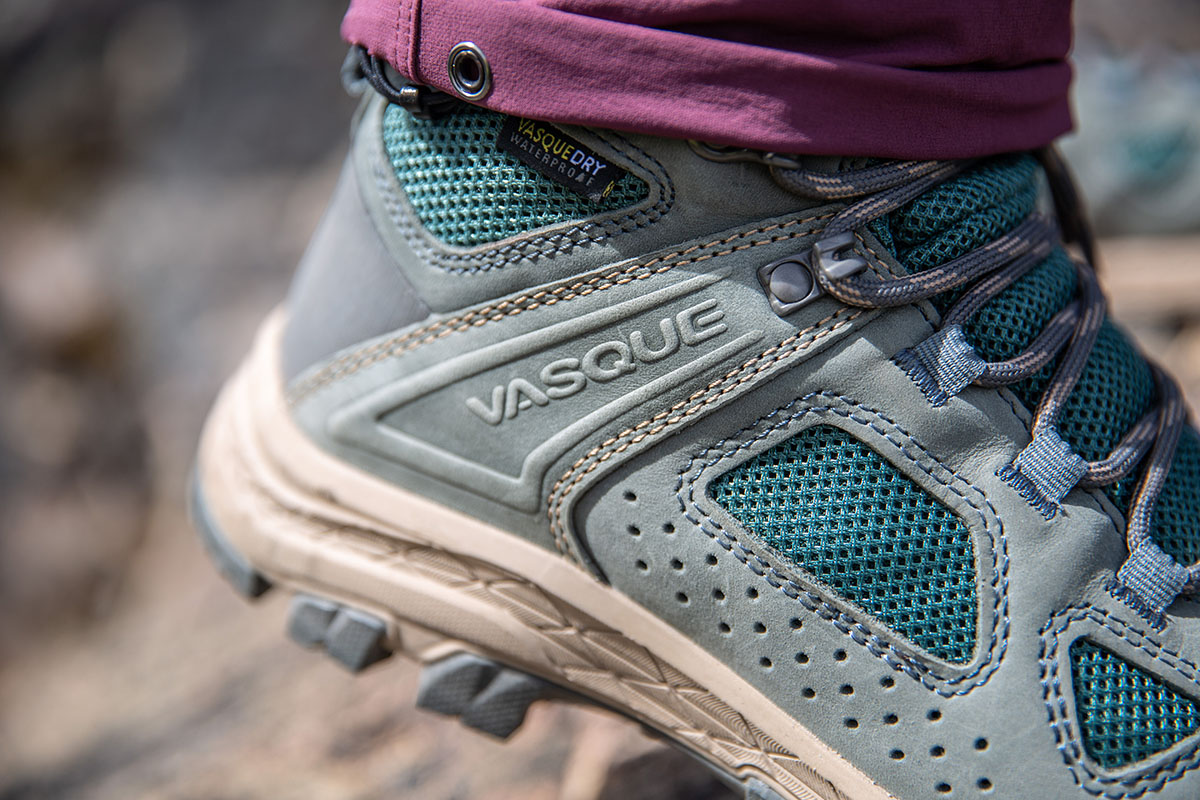 That said, I do have a couple of quality-related nitpicks. First are the laces: As I mentioned previously, they're both too short and too thick, which makes it difficult to achieve a snug and secure fit. The second relates to the boots' styling, which is decidedly dated and blander than many modern competitors. While entirely subjective, it was comical standing next to my coworker who was testing HOKA's wild-looking Kaha 2 GTX—the two boots didn't even appear to be built for the same activity.

Fit and Sizing
I'm almost always an 8.5 in women's hiking boots, and that size in the Vasque Breeze proved to be workable but pretty snug all around. The tightness was most noticeable at the sides of the forefoot around my pinky toes, leading to some discomfort and rubbing (preemptively applying Moleskin prevented any further issues). It was also problematic at the back of my right heel where I have a bone spur, causing a hot spot that quickly led to a painful blister. The good news is that everyone's feet are different, and going up a half size would likely have alleviated my issues (Vasque also offers dedicated wide sizes). But it's a fine line between comfort and sloppiness, and I highly recommend trying the boots on before you buy to ensure they work with your feet. A final nitpick has to do with the laces, which, as I mentioned, are both awkwardly short and too thick, making it hard to achieve a snug and secure fit.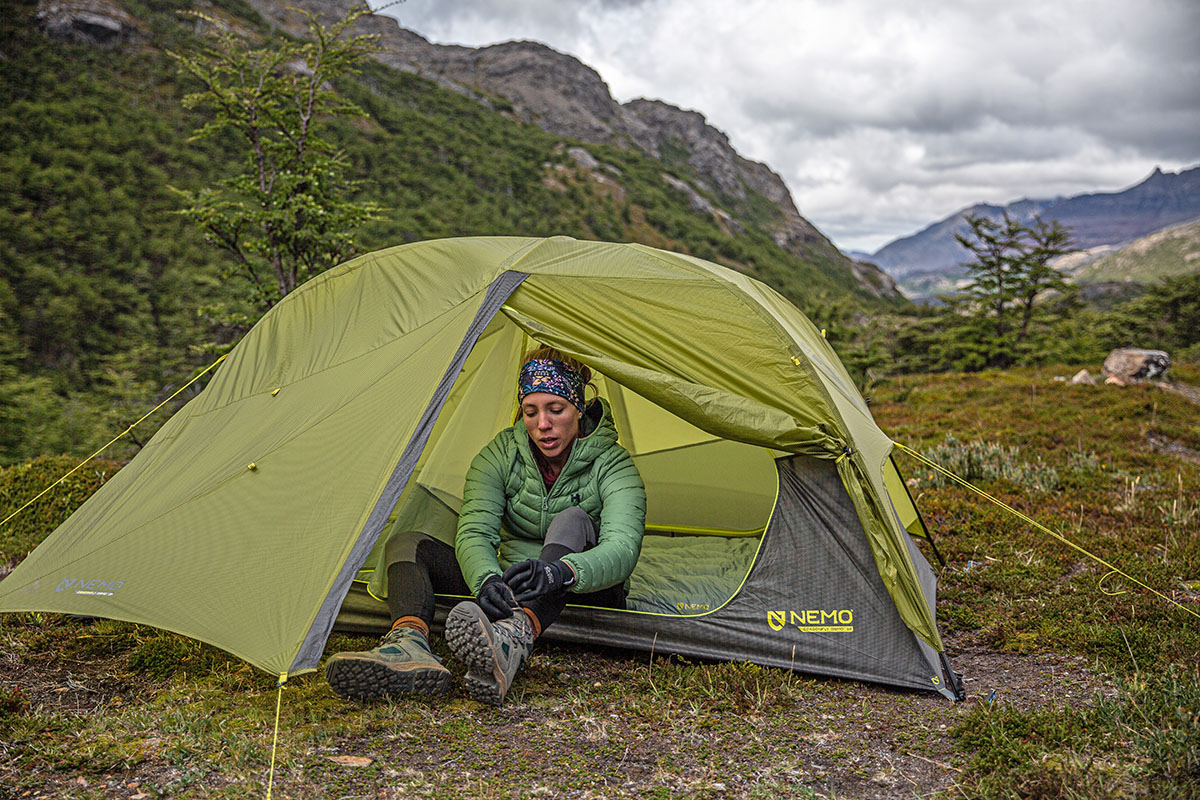 Sustainability
One of Vasque's biggest updates to the latest Breeze was introducing eco-friendly materials. Specifically, the polyester mesh cutouts along the upper are recycled, and the in-house waterproof membrane is also made from 25% recycled materials. Finally, the new Enduralast Bio EVA is made from 20% recycled sugarcane. Added up, it's a solid sustainability effort, and we applaud Vasque for their continued efforts toward improving their lineup.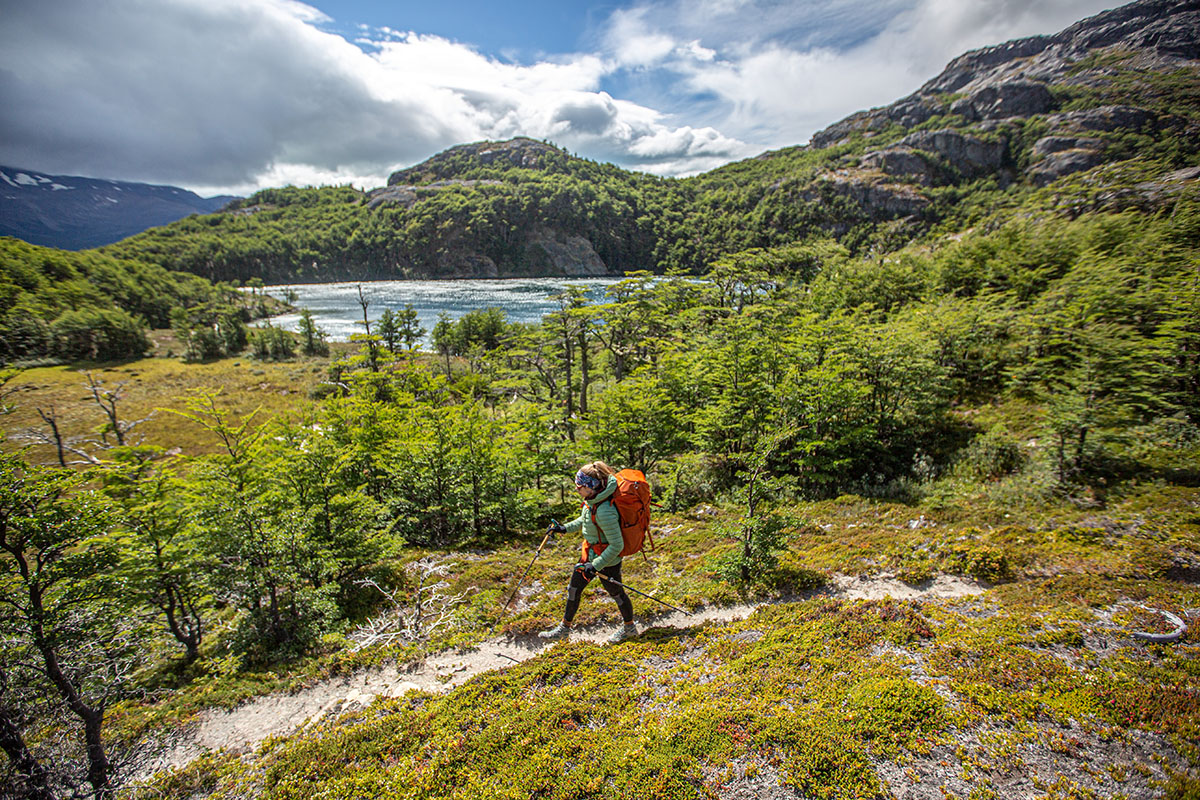 Other Versions of the Vasque Breeze
I brought the women's version of the Breeze boots to Patagonia for testing, and Vasque also sells a men's counterpart. The men's Breeze costs the same at $160 and has an identical overall construction and feature set but weighs a little more at 2 pounds 8 ounces per pair and comes in slightly different colorways. The wider Breeze family also includes a few LT (short for "lightweight") variations, including the sustainably minded Breeze LT ECO and suede Breeze LT NTX, the latter of which comes in both mid-height and low-top models. Compared with the standard Breeze tested here, the women's Breeze LT NTX checks in considerably lighter at 1 pound 8 ounces per pair, uses an upgraded Vibram Megagrip outsole, and costs $20 more.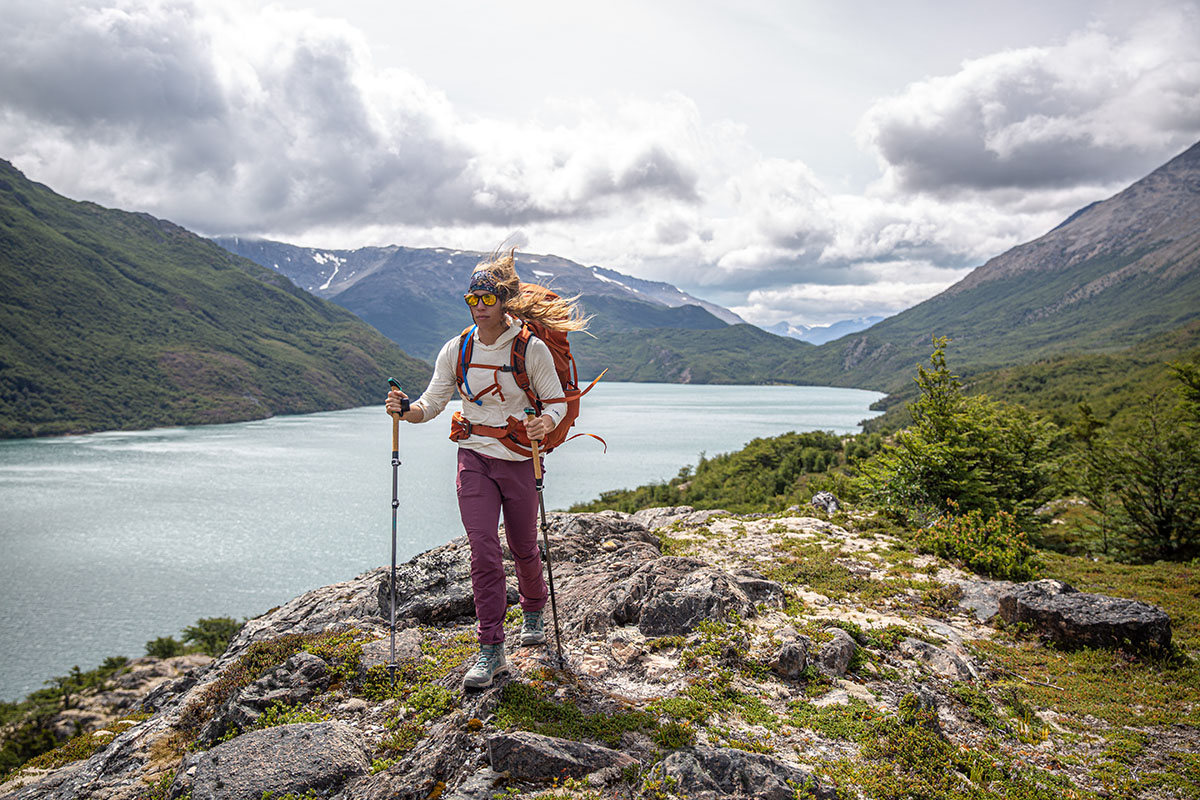 What We Like
Checks most of the boxes we look for in a capable hiking and backpacking boot, including a great mix of support, stability, protection, and durability.
Quality and hardwearing materials—including a tough leather upper—at a great value.
New in-house waterproof membrane has provided reliable protection, even when I submerged the boots more than I wanted to. 
We appreciate Vasque's recent inclusion of recycled and bio-based materials.

What We Don't
Dated look and feel—the Breeze is fairly stiff underfoot and won't be mistaken for a sprightly, trail runner-inspired design.
Not the lightest boot on the market at over 2 pounds per pair.
Fit is on the smaller and narrower end, which won't work for some (there are wide sizes available).
Traction is good overall but falls short on softer surfaces like mud and wet logs.
Laces are short and thick, making it hard to achieve a snug and secure fit.

Comparison Table
The Competition
Vasque's Breeze checks many of the boxes we look for in a well-rounded hiking boot, but it's not a comfort leader and lacks the flexible feel that we love about many modern, trail runner-inspired designs. A longtime crowd favorite in this category is Salomon's X Ultra 4 Mid GTX, which costs $15 more than the Breeze but comes with a number of worthwhile upgrades. First is weight: The X Ultra is significantly lighter at 1 pound 10.1 ounces per pair, with a fast-moving and agile feel to match. The Vasque wins out in protection and stability for shuttling a heavy load over long distances, but the Salomon is no slouch and offers plenty of coverage and support for most light backpacking missions.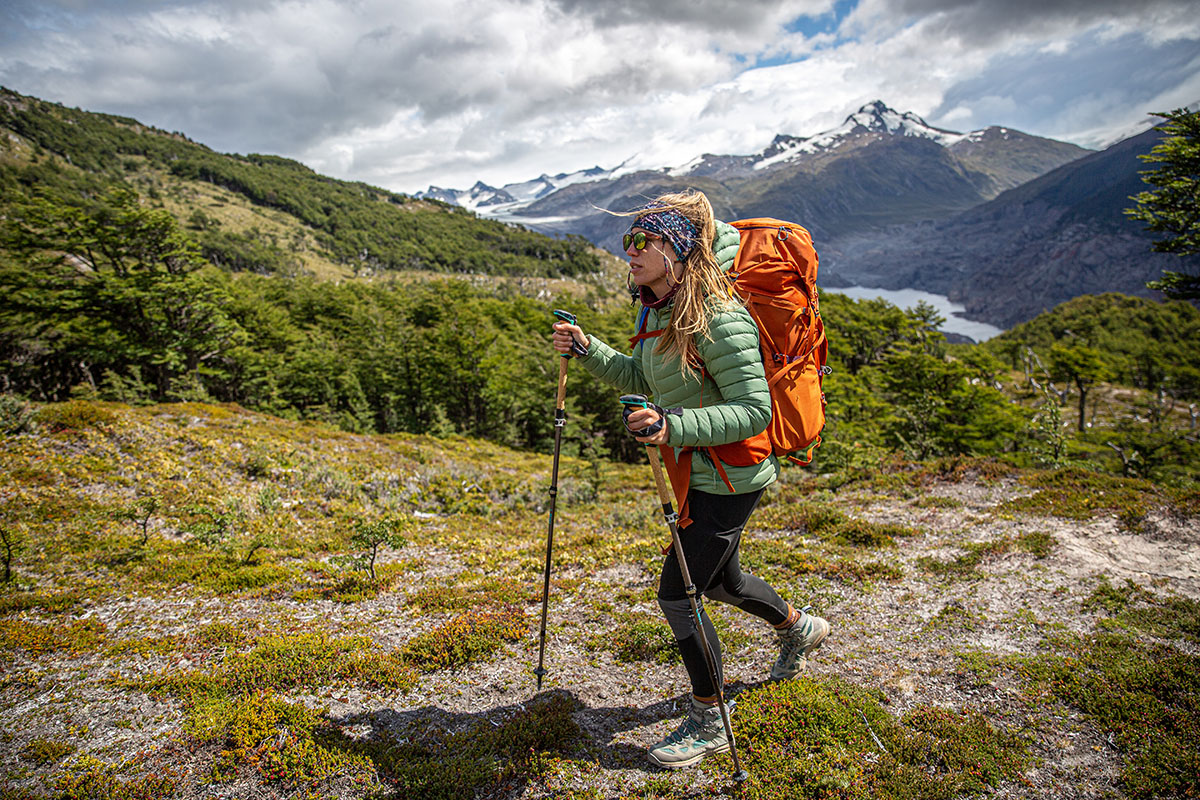 Moving back toward more traditional leather hikers, our top-rated women's boot this year is LOWA's legendary Renegade GTX Mid. Right away, we'll note that the Renegade is a much steeper investment at $255, but dedicated hikers and backpackers will find a lot to like. While overall support and protection line up similarly, the Renegade gets the clear edge in comfort with a firm but well-cushioned midsole and softer leather upper that's quicker to break in. You also get an upgraded waterproof membrane (Gore-Tex) and outsole (Vibram), as well as a better-executed lacing system that's highly customizable and offers great security. Finally, we appreciate that the LOWA is available in three widths (narrow, regular, and wide) for those with hard-to-fit feet. If price isn't a factor for you, the LOWA is far and away the more well-rounded leather design (for more, see our in-depth review of the women's model here).
Next up is Merrell's Moab 3 Mid WP, which is one of just a few high-quality boots on the market to undercut the Vasque in price. For $15 less, the Moab offers similar on-trail performance but with a sizable boost in all-day comfort with generous padding and good flexibility throughout (at the sacrifice of a little stability). Like the Breeze, the Moab also features a tough nubuck leather upper that's both protective and durable, an in-house waterproof membrane that provides a reliable seal against moisture (there's also an upgraded Gore-Tex version for $165), and quality materials for the price. The Merrell also weighs a bit less (2 lbs. 0.7 oz. per pair) and tacks on a proven Vibram outsole that offers good all-around traction. Neither boot is ideal for those aimed at traveling fast and light, but the Moab's well-rounded performance for $15 less than the Breeze earns it our endorsement as the better overall design.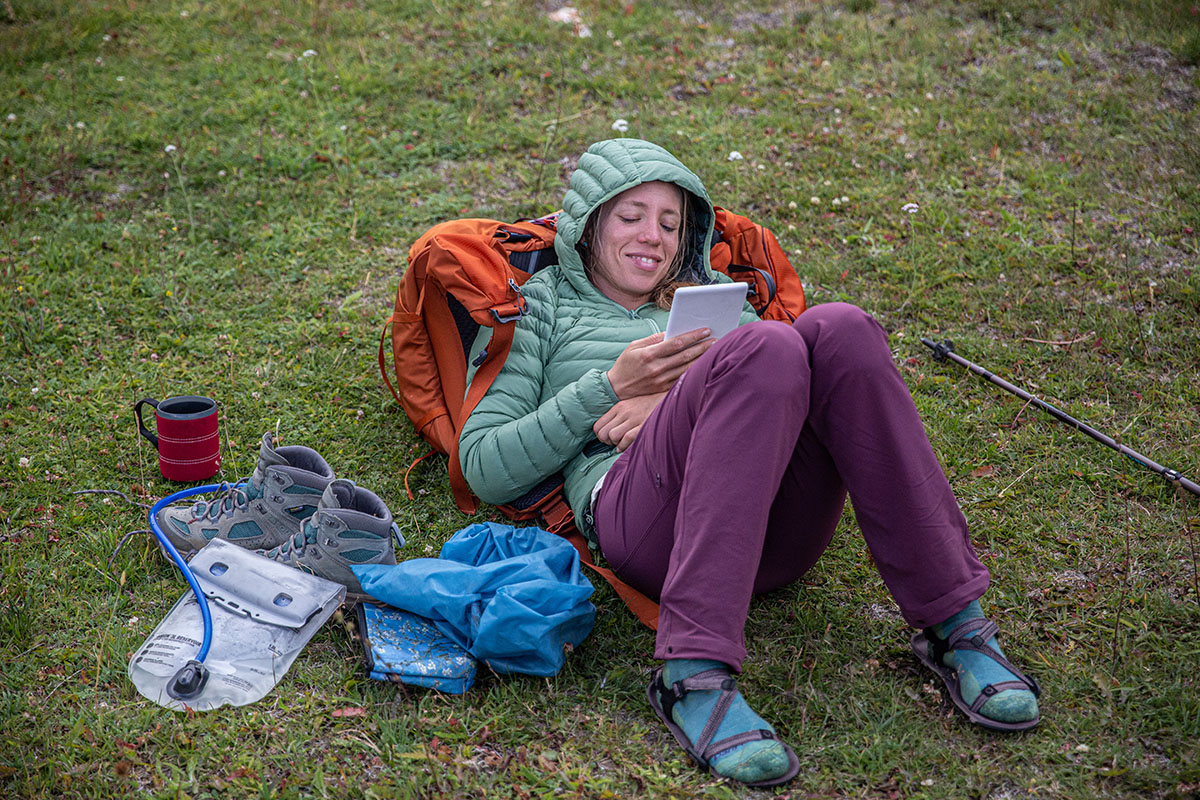 If you like the look and feel of traditional leather boots but want something a little lighter, KEEN's Targhee III WP Mid should be on your radar. At 1 pound 12.9 ounces per pair, the Targhee checks in around 5 ounces less than the Breeze while offering better overall performance. Highlights include great out-of-the-box comfort, premium materials that hold up well over time, excellent stability over rough terrain, and impressive all-around protection. Unlike the Breeze, the Targhee also boasts a noticeably wide toe box to accommodate foot swelling after long days on the trail, and the lugs are deeper for better grip on softer terrain. You'll have to shell out $15 more for the Targhee, but we consider that a small price to pay for the myriad benefits.
Last but not least is Oboz's Sawtooth X Mid Waterproof, which lines up well with the Breeze across the board. Both boots clock in around 2 pounds per pair (the Sawtooth is around 1.5 oz. lighter), feature hardwearing leather uppers, fit on the narrow end, and use in-house waterproof membranes and outsole designs. In parsing out the differences, the Sawtooth's tread is a little more aggressive than the Vasque's for digging into mud or snow, and we appreciate Oboz's O FIT insoles for a boost in cushion and all-day comfort. For just $15 more, the Sawtooth's advantages strike us as worth the small price penalty. And for a tougher and more supportive design from Oboz, check out their $190 Bridger Mid Waterproof.
If you're thinking about buying gear that we've reviewed on Switchback Travel, you can help support us in the process. Just click on any of the seller links above, and if you make a purchase, we receive a small percentage of the transaction. The cost of the product is the same to you but this helps us continue to test and write about outdoor gear. Thanks and we appreciate your support!
Depending on the seller, most products ship free in the United States on orders of $50 or more. International shipping availability and rates vary by seller. The pricing information on this page is updated hourly but we are not responsible for inaccuracies.
Read More From Switchback Travel