Vasque's Breeze lineup runs the gamut from the trail runner-inspired LT to the more robust, backpacking-ready AT. We put the latter boot through its paces and found that it's noticeably less sprightly and nimble than many of its modern competitors. However, with a sturdy leather upper, proven Gore-Tex liner, and tacky Vibram outsole, it's nevertheless a high-quality boot at a great price. Below we outline our experiences with the Breeze AT. To see how it stacks up to the competition, see our article on the best hiking boots.
 
---
Table of Contents
---

Performance
Comfort
I've spent a lot of time in lighter and fairly flexible boots and shoes lately, so putting on the Vasque Breeze AT Mid GTX felt like a throwback. It's fairly stiff out of the box, and I found it took a few hikes and about 20 miles to feel properly broken in. But once I got through the initial break-in period, the boot was pretty darn comfortable: it's sturdy, holds your feet nicely, and has ample padding and protection underfoot for rough trails and hauling a full load (I carried up to 35 pounds and didn't deal with much foot soreness).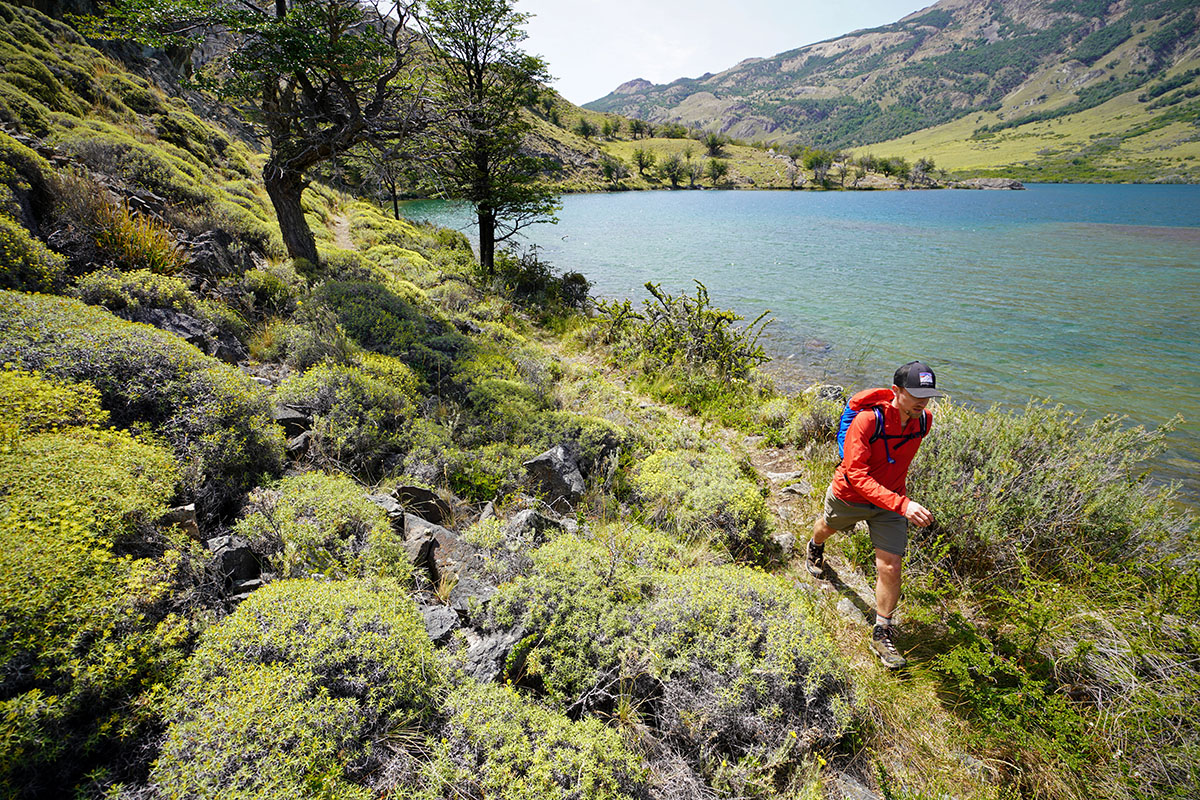 The midsole is a real highlight of the boot, with a great combination of cushioning from the EVA foam and enough firmness and support for technical terrain. The padding around the ankles and lining can't match the premium feel of my Salomon Quest 4D 3, but it's not far off (underfoot, it's quite similar), and the Breeze undercuts the Salomon in price by a substantial $40. All in all, if you prioritize a sturdy and protective build, the Breeze AT accomplishes just that at a great price point.

Weight
On my scale, the Breeze AT Mid GTX clocked in at 2 pounds 10.7 ounces for a men's size 9 (just under its listed weight of 2 lbs. 11 oz.). This puts it solidly in the midweight category, splitting popular competitors like the Salomon Quest 4D 3 GTX (2 lbs. 13.8 oz.) and Lowa Renegade GTX Mid (2 lbs. 7 oz.), which offer similar levels of support, cushioning, and comfort (although the Vasque comes up a little short in the latter two). Some other notable competitors I've tested come in closer to 2 pounds or under—including the Salomon X Ultra 3 Mid GTX and OUTward Mid GTX (both 1 lb. 15.7 oz.)—and the added weight was immediately noticeable on the trail. However, I adapted to it quickly and the Vasque only felt slightly more sluggish than those lighter alternatives. If you're planning to cover serious mileage and want a nimble shoe, there are certainly better options available. But if you value comfort, stability, and a rock-solid feel, the Breeze AT's weight is perfectly reasonable.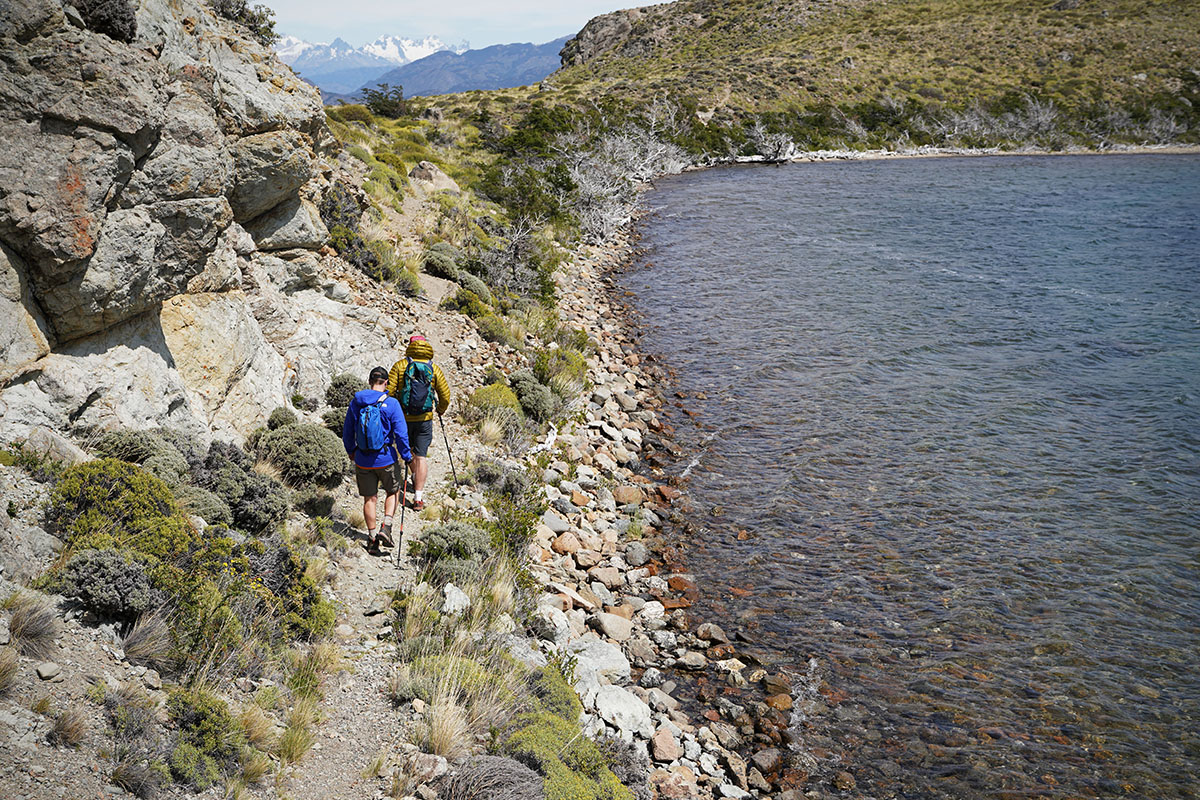 Traction
For traction, Vasque has turned to industry veteran Vibram and their excellent Megagrip compound. This rubber is found on a number of our favorite approach shoes, trail runners, and hikers, and it's proven to be a nice match for the Breeze too. Throughout testing, the boot has gripped very well on rock, and—combined with the excellent stability—has inspired confidence hiking through talus fields and while scrambling. If we were to nitpick, the lug design isn't our favorite. Specifically, the wide profile doesn't have the same amount of bite when climbing and descending over softer surfaces like dirt and mud as you get with something like the Quest 4D 3 and Lowa Renegade, which feature smaller lugs. But otherwise, it's another example of Vasque delivering a lot of bang for your buck: the tread and all-around performance easily outdo similarly priced competitors, including the $180 Oboz Bridger Mid.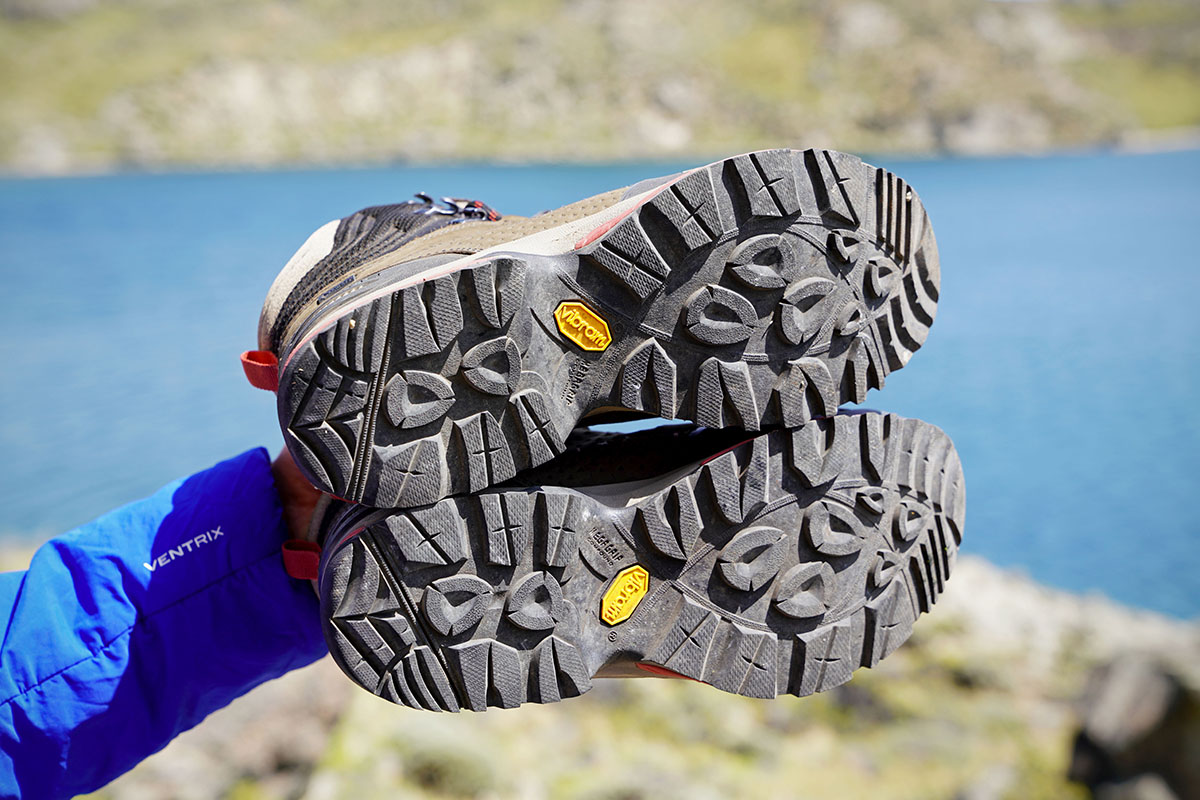 Stability and Support
If you're opting for a modern, non-full-leather boot that's more than 2.5 pounds, you're likely wanting solid stability, and Vasque delivers here. In fact, in many ways, the Breeze AT looks and feels like a pared-down mountaineering boot. TPU shanks add sturdiness and moderate stiffness, which I particularly appreciated on extended climbs as my heel didn't flex and dip as much as it would in a softer boot. Additionally, the collar sits comfortably above the ankle, and it's built-up enough to offer a solid hold and plenty of lateral support for technical trails and hauling a loaded backpacking pack. To be sure, the Breeze AT is overkill for many people and uses, but it nevertheless is noticeably planted on the trail, and its upright stance and overall solid feel are very confidence-inspiring.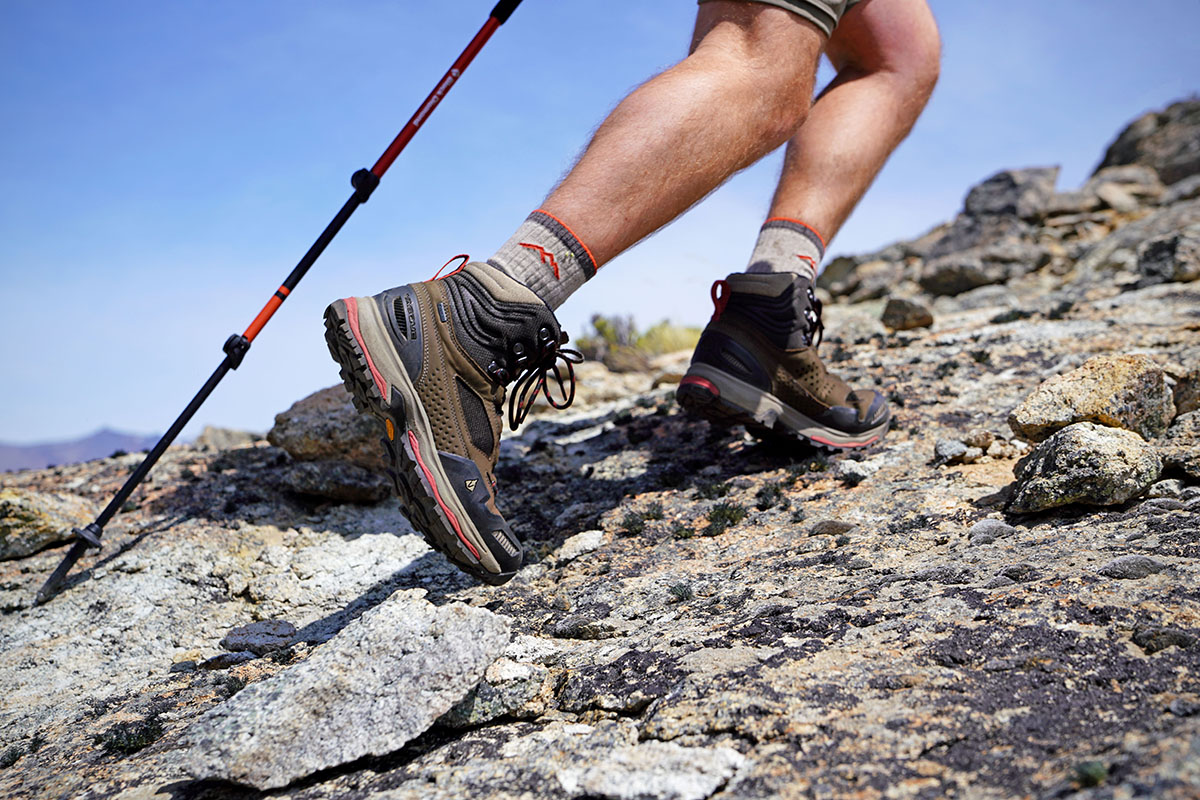 Waterproofing and Breathability
While some sub-$200 boots like the aforementioned Oboz Bridger turn to in-house waterproofing to cut costs, the Breeze uses a proven Gore-Tex liner. From a waterproofing perspective, the boot has done everything I've wanted it to, including handling many creek crossings, ankle-high mud, and even some light snow. The tongue separates from the upper mid-way up the ankle, so you won't want to submerge it in anything deeper, but that should be sufficient for most hikers and backpackers.
Breathability, however, has been predictably pretty disappointing. Gore-Tex liners trap heat, and the boot's substantial leather upper makes it run even warmer. Vasque has incorporated cutouts with exposed mesh between sections of leather, although it's hard to tell how much this helps. I found that even when wearing lightweight merino socks, my feet grew swampy quickly in temperatures in the mid 60s Fahrenheit. And unfortunately, Vasque doesn't offer a non-waterproof version in either the mid-height boot or low-top variation of the Breeze AT.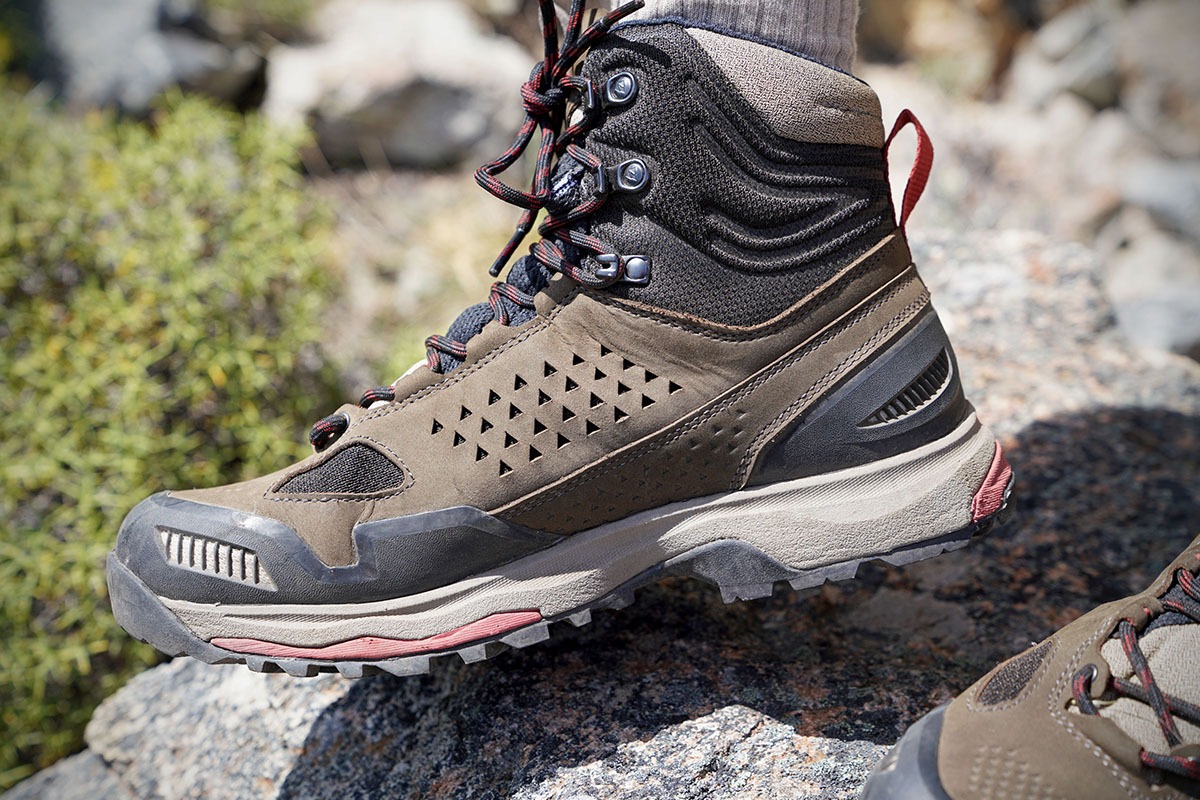 Foot and Ankle Protection
As I touched on above, the Vasque Breeze AT is reminiscent of a mountaineering boot in many ways, and this is particularly noticeable with its protection. For starters, a generous rubber toe cap completely shrouds the front of the shoe. Further, there's ample protection underfoot from sharp rocks, and thick nubuck leather covers most of the feet and effectively isolates them from trail debris. Finally, the padding around the collar has helped keep my ankles safe when squeezing between rocks. All in all, you really couldn't ask for better all-around coverage.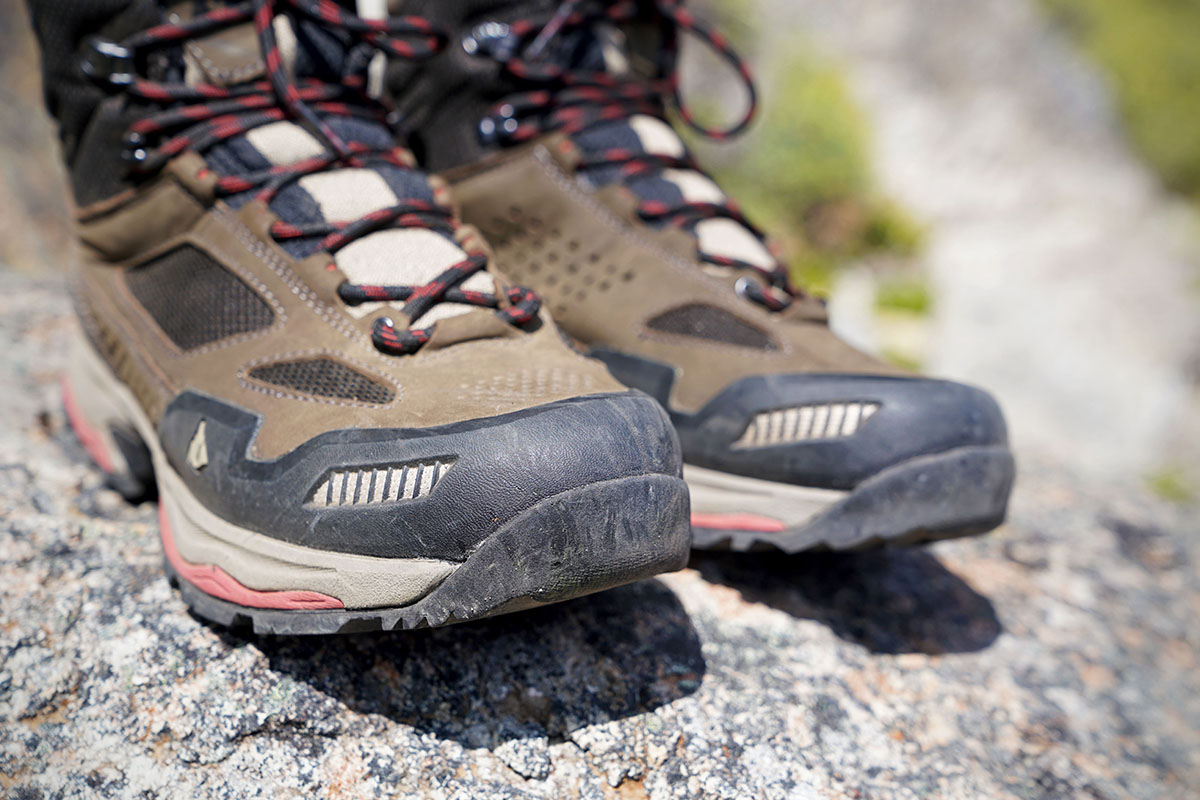 Build Quality and Durability
In short, build quality is a bit of a mixed bag with the Vasque Breeze AT GTX. On one hand, you get premium touches typically found on more expensive offerings, including the Vibram Megagrip rubber, Gore-Tex waterproofing, and excellent stability and support. Further, the upper has a high-end look and feel with a mix of nubuck leather and high-quality mesh.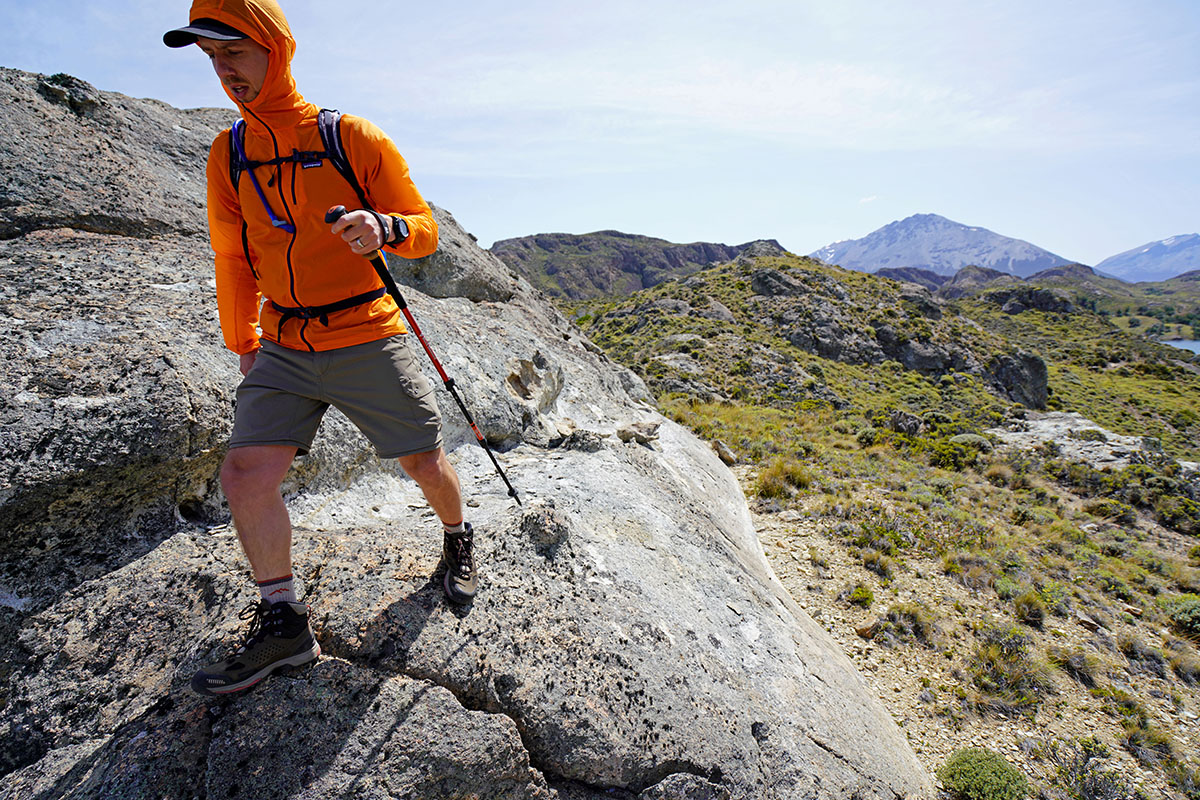 That said, the Breeze AT's lacing system is one of the most frustrating I've used to date. In theory, it's a great set-up with three sets of locking hooks towards the top. But the metal on these hooks feels flimsy, and the hooks themselves aren't properly sized to fit the laces. Every time I lace up the shoes, at least one of the hooks doesn't hold and the laces pop out. In addition, I have concerns about the hooks staying in place over time, which was an issue that cropped up with a prior generation of Vasque's St. Elias boot. To be fair, nothing has failed thus far, but the system is a notable downside of the boot and one of the few signs of cost-cutting.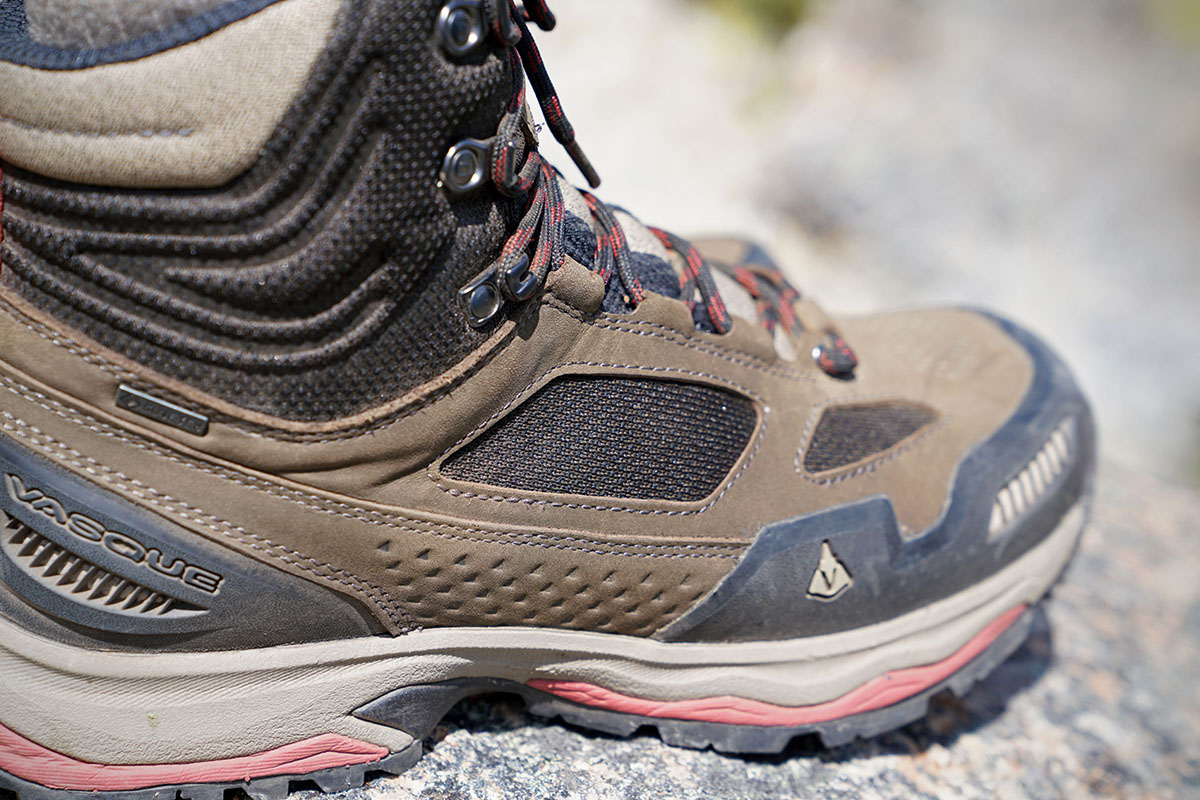 Fit and Sizing
To cut straight to the chase, Vasque nailed the fit on the Breeze AT Mid GTX. I have fairly average-width feet with slightly narrow heels and ordered my regular men's size 9. In use, I found the boot to be sufficiently snug in the heel to keep your feet locked in but plenty wide and roomy in the toe box for all-day comfort (something you don't get with Salmon's narrower Quest). And once you get the lacing system locked in place (covered above), it stays in place and I haven't had any issues with loosening. It's also easy to adjust the fit to tighten or loosen around the midfoot and ankle should you need to tailor tension on the trail.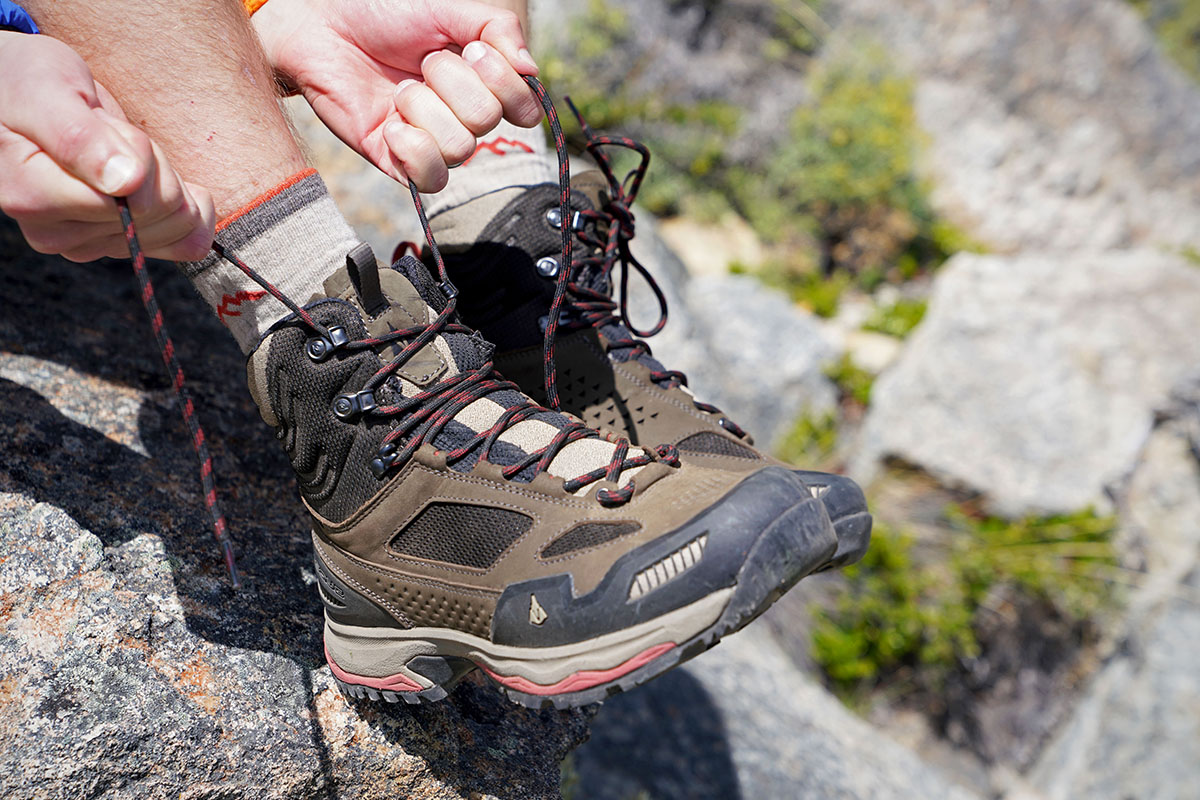 Other Versions of the Vasque Breeze
We put the men's Breeze AT GTX through its paces for this review, and Vasque makes the boot in a women's-specific version for the same price. Compared to the men's model, the women's Breeze AT Mid GTX features an identical design but clocks in lighter at 2 pounds 4 ounces and is sold in slightly different colorways. If you don't need the ankle-height protection of the mid model, Vasque also makes the Breeze AT in a low-top variation for $160 (2 lbs. 4 oz. for the men's shoe). And to round out the Breeze collection, Vasque offers the lighter Breeze LT in mid and low versions. However, its trail runner-like build sacrifices durability, and it's hardly recognizable when worn alongside the AT.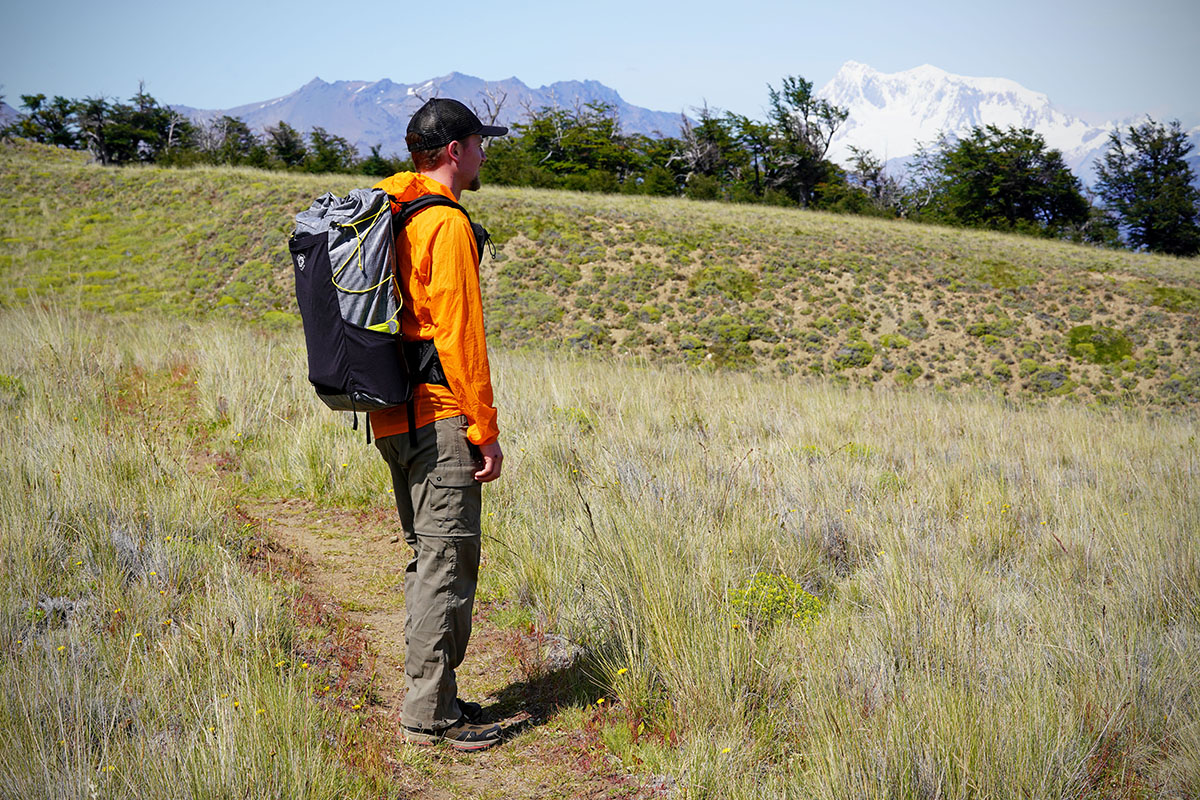 What We Like
Stable, supportive, and protective. In fact, the Breeze AT is in many ways reminiscent of a trimmed-down mountaineering boot.
Premium features like a Gore-Tex liner, Vibram outsole, and nubuck leather upper at a reasonable $190.
Great all-around fit: the boot is sufficiently snug in the heel but wide enough at the toe box for all-day comfort.

What We Don't
Heavier and noticeably less nimble than many modern designs.
Laces tend to come undone from the flimsy metal hooks.
Gore-Tex liner and substantial upper don't allow much airflow.
Wide lugs don't grip particularly well on softer surfaces like dirt and mud. 


Comparison Table
The Competition
Vasque's Breeze AT Mid GTX is a sturdy, supportive leather hiking boot built to handle the rigors of backpacking over variable terrain. In this category, Oboz's Bridger Mid has similar intentions. The Bridger is comparably stiff out of the box but sits lower on the leg, which results in less protection and stability. It also foregoes the premium Vibram outsole and Gore-Tex liner of the Breeze (it swaps the latter for an in-house B-Dry membrane, which is less breathable). That said, the Oboz is considerably lighter at 2 pounds 6 ounces per pair and comes with a high-quality and highly supportive insole that results in a custom fit right out of the box. It's a close call between the two, and a final decision will likely come down to how you prioritize weight and features.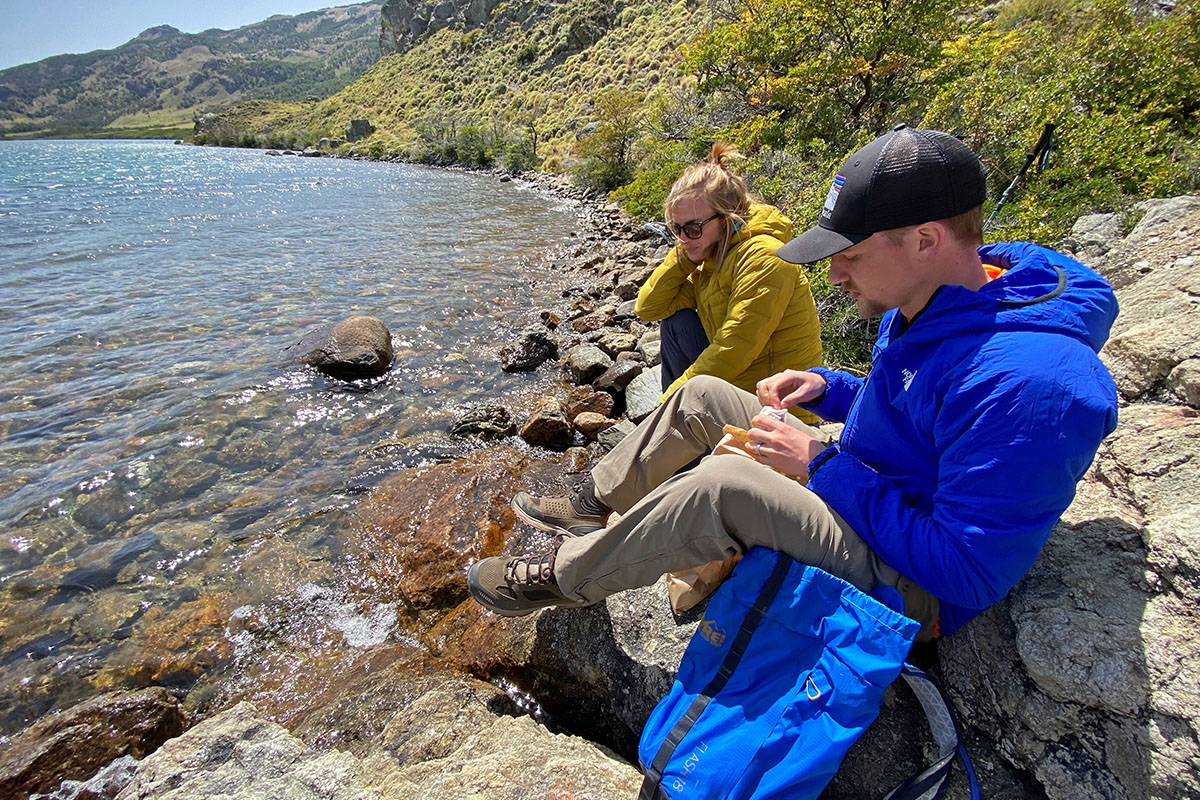 Stepping up in price and overall quality is Salomon's Quest 4D 3 GTX. This long-time favorite costs another $40 but has a far superior lacing system, a more athletic stance that makes it feel faster on the trail despite a heavier weight (2 lbs. 13.8 oz.), and similar levels of comfort and support. The one downside with the Salomon is its relatively narrow fit (compared to the regular fit of the Breeze), but otherwise we think it's worth the added investment. 
Another popular (albeit pricier) alternative is Lowa's Renegade GTX Mid. The Renegade is a bit lighter (2 lbs. 7 oz.) and sits slightly lower on the ankle but is equally suited for heavy loads and rough trails with ample stability and protection. Comfort between the two is also comparable, and both boots have some concerns about long-term durability—namely, the lacing system for the Vasque and separation between the toe rubber and leather upper on the Lowa. We do prefer the traction design on the Renegade and found it to be a little more breathable, which gives it the edge for us, but the Breeze isn't far behind while saving you a substantial $50.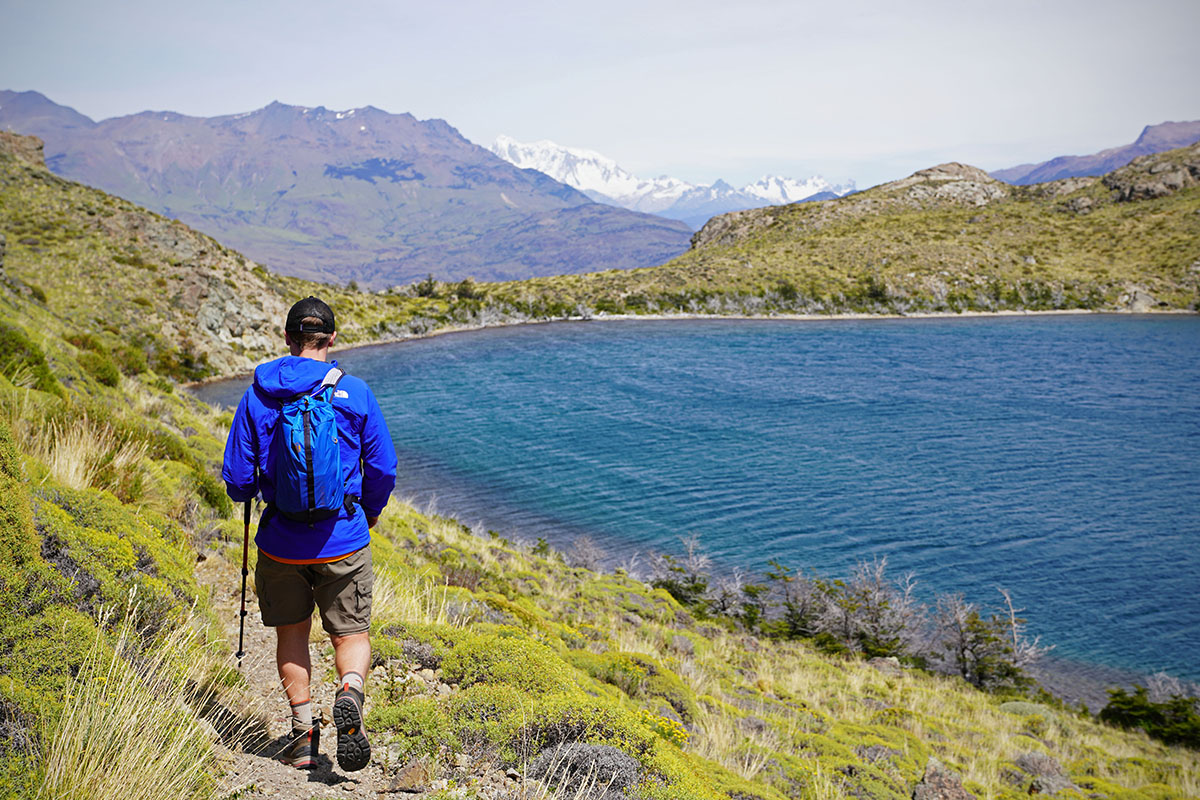 Like the Bridger, Asolo's Falcon GV is another design that falls between our light- and midweight categories. Checking in at 2 pounds 2.6 ounces per pair, the Asolo weighs around 8 ounces less than the Breeze and offers less support but is plenty capable for off-trail adventures and hiking over rough, rocky terrain. In testing the Falcon, its lack of stability was pretty apparent compared to the designs mentioned above, but when laced up tight, it still performed well under a heavy load and over variable terrain in Patagonia. All in all, given its lighter build and comparable all-around performance, we give the edge to the Asolo over the Breeze in our hiking boot round-up.
A final boot to consider comes from within Vasque's own lineup: the St. Elias GTX. For another $10, you get excellent comfort from a similar midsole design as the Breeze, a premium-looking leather upper, and superior bite from upgraded, smaller lugs. Weight also goes up about 4 ounces for the pair. Both are solid and planted on the trail and nice matches for big backpacking adventures. The St. Elias has similar lacing hardware, although we haven't found it to be as frustrating to secure. In deciding between the two, it'll likely come down to preferences on build: the all-leather upper may be worth the weight penalty for some, while the Breeze gets you similar overall performance at a slight discount. 
If you're thinking about buying gear that we've reviewed on Switchback Travel, you can help support us in the process. Just click on any of the seller links above, and if you make a purchase, we receive a small percentage of the transaction. The cost of the product is the same to you but this helps us continue to test and write about outdoor gear. Thanks and we appreciate your support!
Depending on the seller, most products ship free in the United States on orders of $50 or more. International shipping availability and rates vary by seller. The pricing information on this page is updated hourly but we are not responsible for inaccuracies.
Read More From Switchback Travel