The North Face Mountain 25
Price: $689
Category: Basecamp
Trail weight: 8 lbs. 13 oz.
Floor area: 32.3 sq. ft.
Wall(s): Double
What we like: Exceptional protection during serious winter storms and great livability.
What we don't: Heavier and not as spacious as competing models.
See The North Face Mountain 25
Anyone who has spent a stormy winter night huddled in a tent has heard his or her inner voice asking: "is this thing going to hold?" In cold temperatures and inclement weather, we appreciate being dry and cozy, but value most the peace of mind that our gear will hold up. As a winter basecamping tent, The North Face Summit Series Mountain 25 is designed to provide bomber protection in all seasons. We tested it in a variety of situations, and were impressed with its combination of weather protection and comfort. With an extremely sturdy pole design that withstands heavy winds and snow, impressive ventilation, and sizeable vestibules that allow for gear storage, the Mountain 25 makes an excellent basecamp or expedition shelter. Below we break down the tent's weather protection, interior space, durability, ventilation, and more. To see how the Mountain 25 stacks up, see our article on the best 4-season tents.

Performance
Weather Protection
The term "bomber" has become cliché and overused, but it rightfully applies to The North Face's Mountain 25 tent. With a double-wall design, rigid pole structure, and high quality materials, this tent can take on just about anything. We recently spent a restless winter night in the mountains during which we each had a few anxious moments of reminding ourselves that the tent was designed to withstand gale force winds, all the while mentally circulating through our options if our shelter were to be ripped apart. Worst-case scenarios quickly can become reality when the temperature is well below freezing. But despite the howling winds and heavy precipitation, the tent felt sturdy and aerodynamic. When the calmness in the morning allowed for a perimeter check, the tent and our gear inside looked as fresh as it had at setup.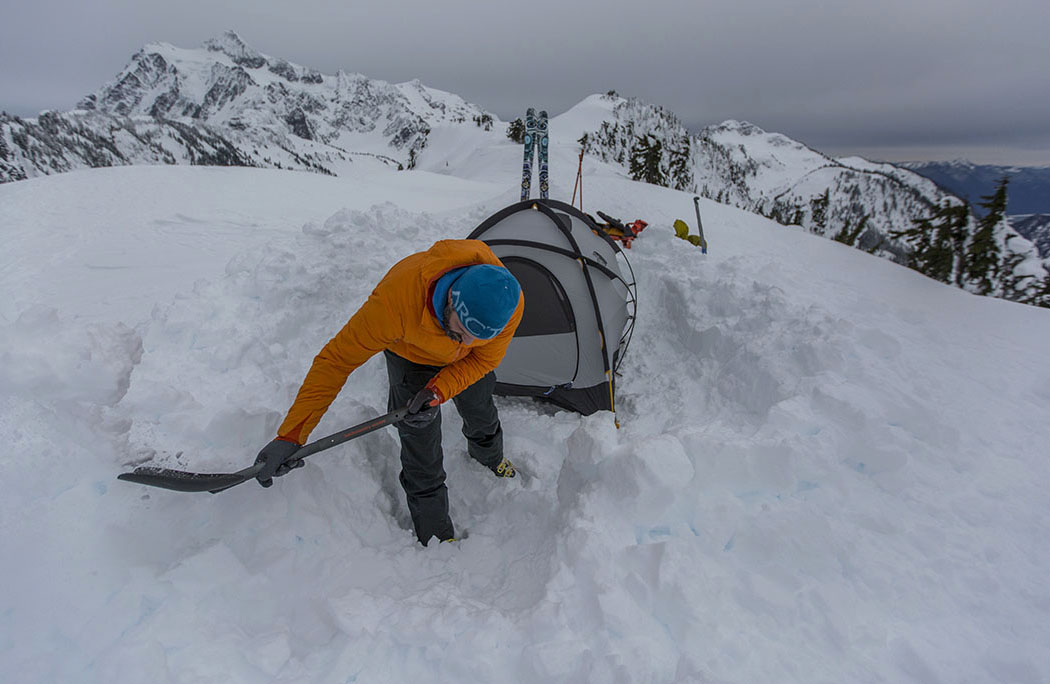 In terms of specs, the 40-denier nylon fly on the Mountain 25 has a 1500-millimeter Polyurethane ("PU")/silicone coating and fully taped seams. This creates a highly water resistant shelter over the inner tent, which is made up of uncoated 40-denier nylon (70-denier on the floor) and 20-denier mesh. The fly also has 17 Velcro attachments on the underside that connect to the poles of the tent, which stop the fly from flapping during high winds or from settling onto the tent body when weighted down with snow. It also retains the separation between the canopy of the tent and the fly to help keep precipitation from seeping in.
This tent is designed to withstand high winds and heavy pelting snow, and that it does. Four DAC Featherlite NSL poles slip into the sleeves in the tent, and cross over in multiple places forming seven "X"s, including one on the roof. This construction creates ridiculous stability for the inner tent. The clever guyline system, which we discuss further in the "setup" section below, further contributes to the Mountain 25's impressive stability in serious storms.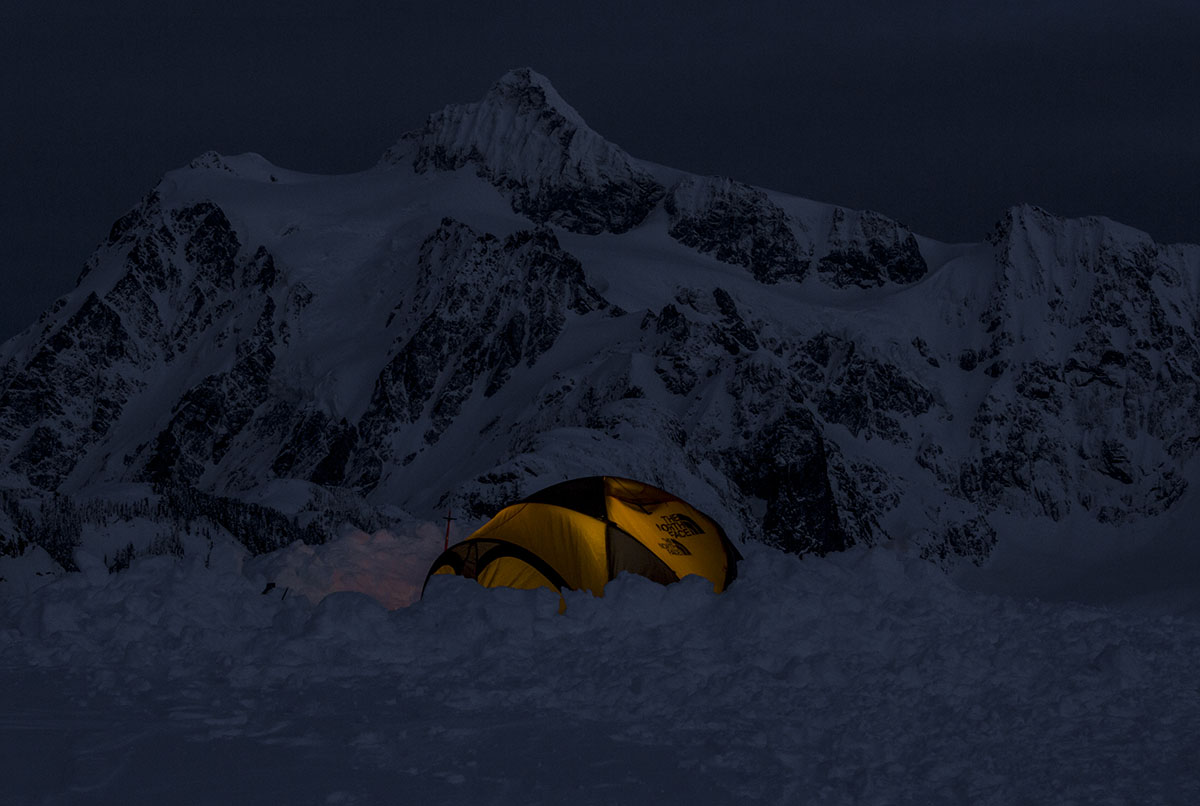 There are two doors, one at either end of the tent, which we personally love for convenience as well as for protection. Depending on the wind direction, the choice of doors allows one to be strategic about entering and exiting while keeping cold air and blustery snow out of the tent. Furthermore, each door opens into a vestibule, allowing even more protection from the elements.
 
Interior Space 
Two-person tents rarely feel spacious, particularly with large packs and other gear, but the Mountain 25 is surprisingly roomy (The North Face does make a larger 3-person variant, the VE 25 tent). The 32.3 square feet of floor space is fairly standard for a 2-person basecamp-ready tent, and allows for two full-sized sleeping mats with extra space for random gear and clothing. The dome-style roof (peak height of 41 inches) offers generous yet symmetrical headroom—avoiding the one lonely "sweet spot"—so two people easily can sit up while reading maps or playing cards and waiting for a break in the weather. And the floor space is rectangular, which means that tentmates can sleep facing either direction. Last, within the tent there are eight large mesh pockets that can hold items such as books, maps, headlamps, and socks. These pockets, along with the hanging loops for lights or damp clothing, help keep the living space clutter free.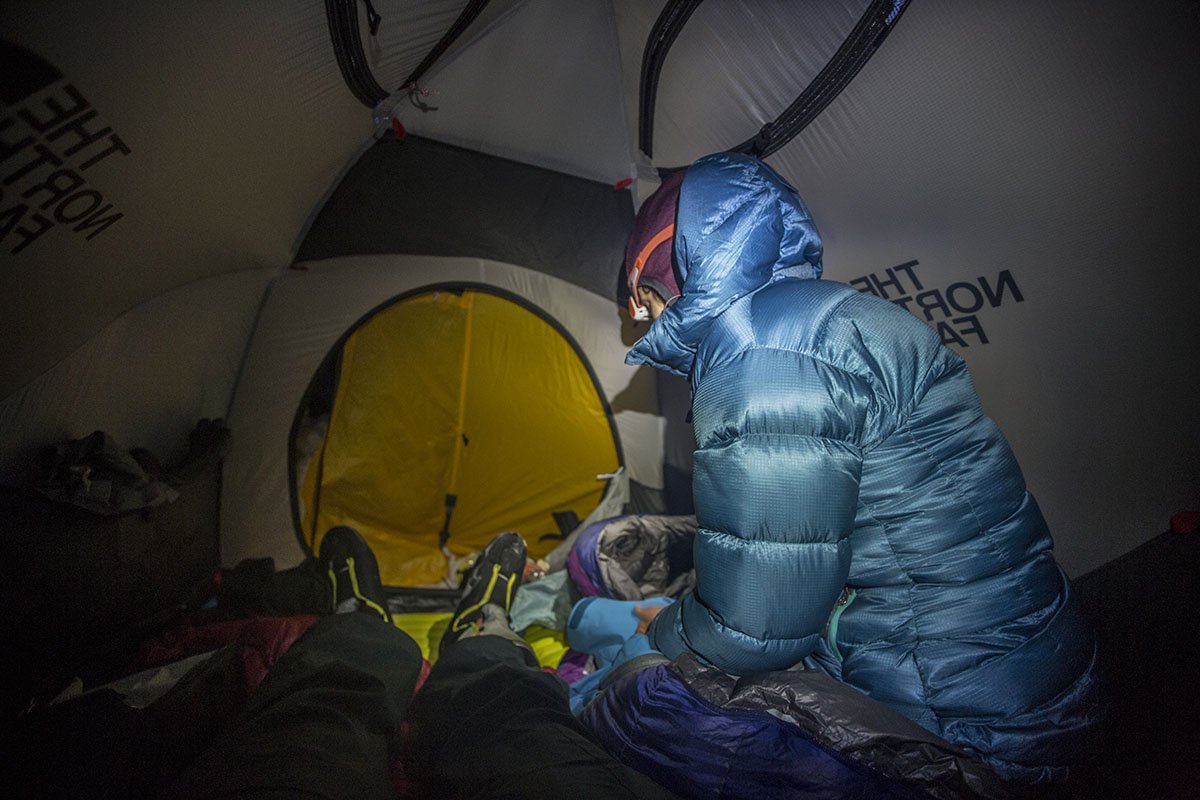 Adding to the livability of the Mountain 25, the two vestibules allow for a mostly gear-free living space. The main 8-square-foot vestibule easily holds two packs, and the second vestibule (3 square feet) is the perfect size for boots (we prefer to keep our hiking boots and ski boot liners with us in the tent so they don't freeze), daypacks, and smaller items. But while the Mountain's vestibules are sufficient, keep in mind that most 4-season tents feature more space—the comparable Mountain Hardwear Trango 2's main vestibule is 12 square feet, and the MSR Remote 2 has a notable 22 square feet shared between two vestibules.
 
Build Quality and Durability
The adjective "bomber" already has been applied to the weather protection provided by this tent, and this is due to both its design and quality of materials used. The 40-denier nylon fly is thinner than previous versions of the Mountain 25, yet the newer version's silicon-nylon ("silnylon") fabric is less likely to break down, so it should outlast the already impressive previous models. The fully taped nylon bucket floor is a hefty 70 denier, which can be augmented with the included footprint for those who are looking for extra durability on rough surfaces and okay adding some weight (we often choose to leave the footprint behind when camping on snow).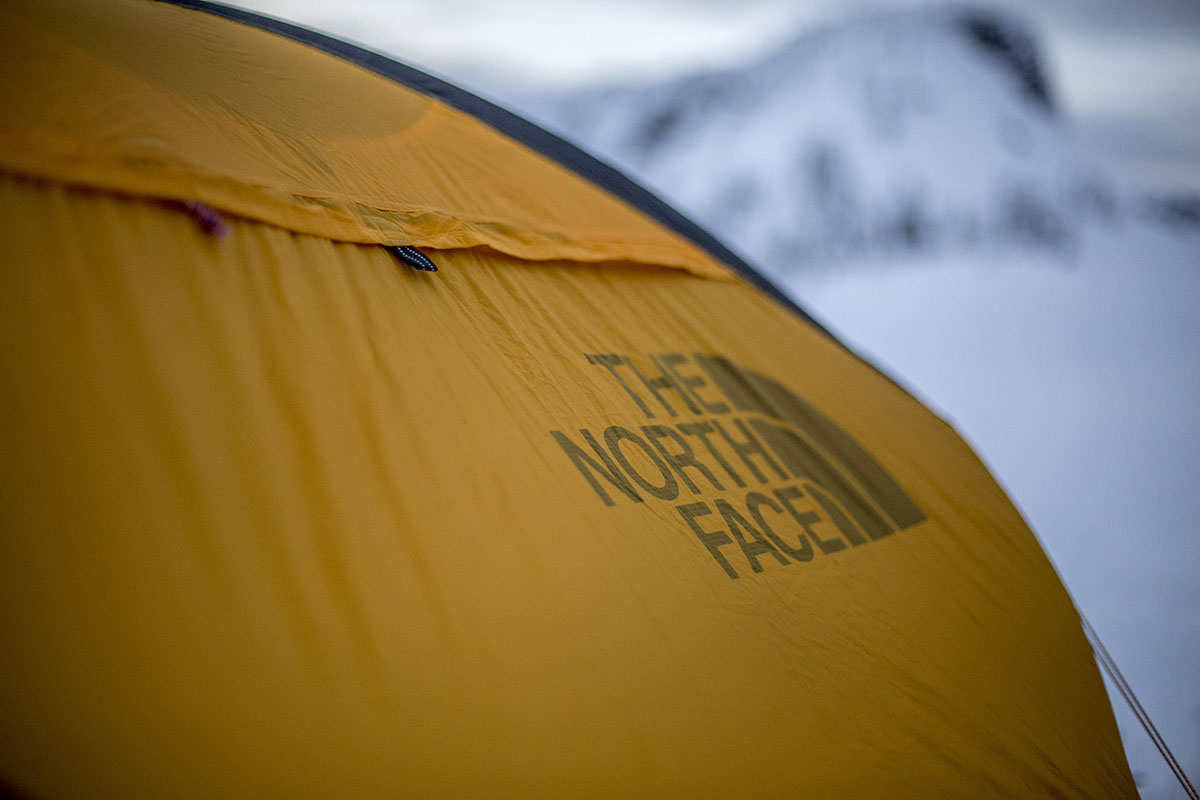 The fly contains a PU window—for weather or northern lights checks—that reportedly has been cold-crack tested to -60F (we have yet to test that threshold!). In terms of poles, DAC is a highly regarded pole and stake manufacturer, and TNF did not shy away from including their best. Featherlite NSL aluminum tent poles are light yet exceedingly sturdy and able to withstand high forces without compromise. 
Truthfully, while we pamper our ultralight summer gear, we can be pretty rough with our winter equipment. Tear down typically is in freezing conditions and a fast and reckless process, and the tent gets dragged over rocks and stuffed into a backpack with little concern for wear and tear. Despite this level of abuse, The North Face Mountain 25 has held up to multiple expeditions with no signs of aging.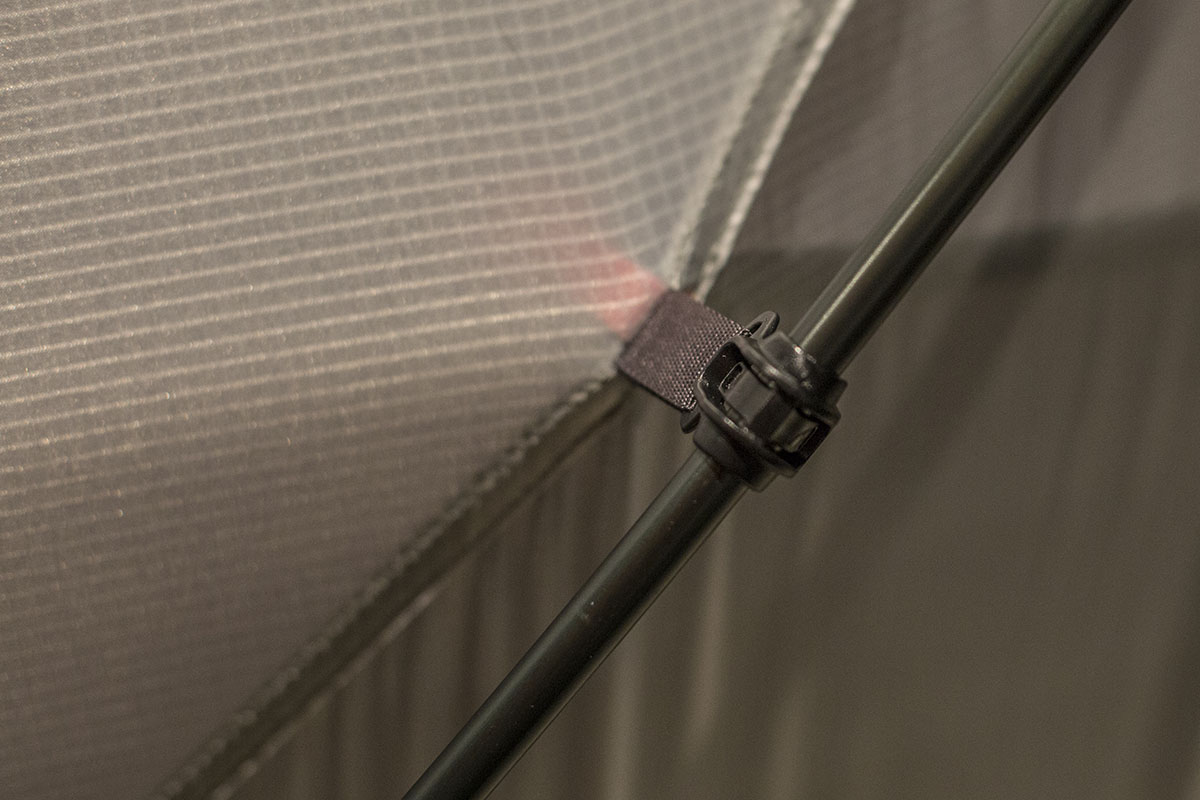 Ventilation and Condensation
Condensation can be a big issue when winter camping, and ventilation and airflow are the most effective ways to reduce its formation. Therefore it is important that tents, and particularly those designed for cold temperatures, have both high and low venting to allow for proper air circulation. In terms of condensation prevention, double-wall tents like the Mountain 25 handily outperform single-wall designs like the Nemo Tenshi.
The newest version of the Mountain 25 has multiple venting options: the doors each have mesh, allowing for convective airflow (remember high school science? Warm air rises, but must be replaced with new air). Furthermore, the Mountain 25's inner tent fabric is uncoated nylon and thus more breathable than many coated fabrics. The fly is held closely in place without touching the inner tent, providing a layer of insulation both for warmth and to further reduce the temperature differential on each side of the tent wall. This is yet another important means of reducing condensation.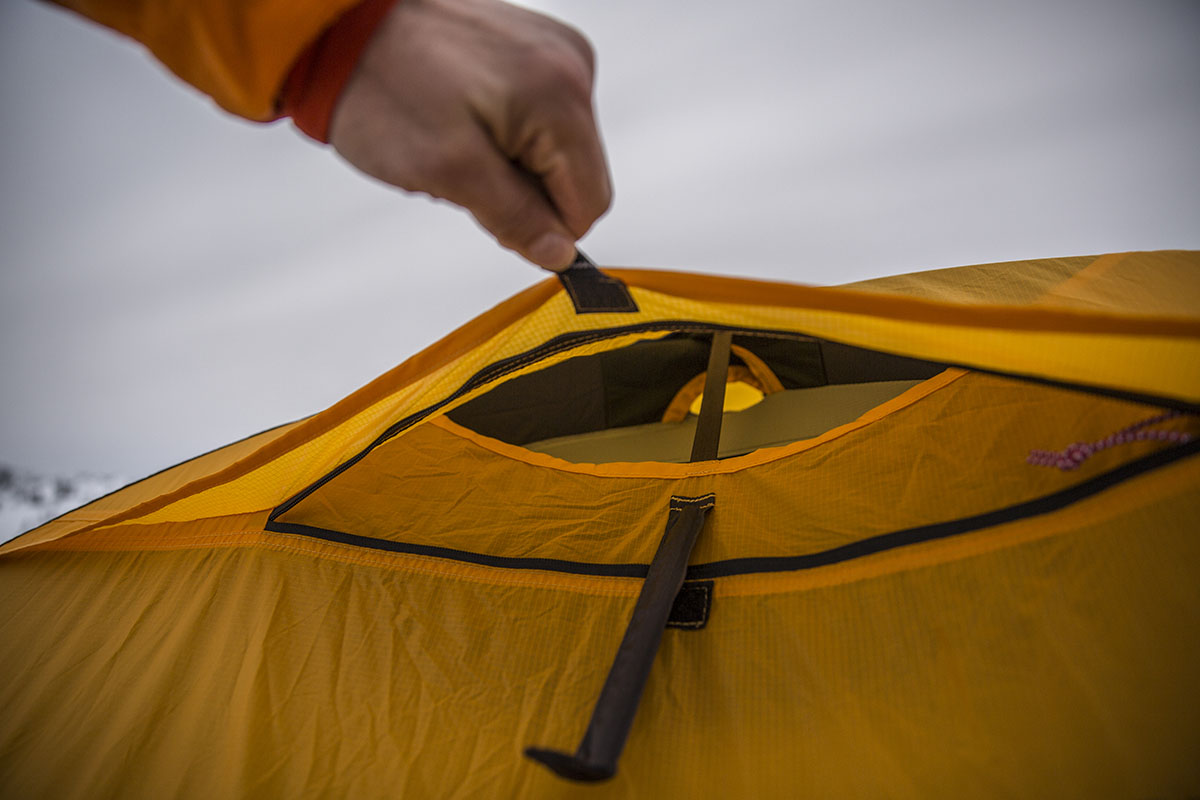 We tend to leave our tent's vents as open as possible—we'd prefer to bundle up in clothing and 4-season sleeping bags then deal with dampness, and found the Mountain 25's venting options to be fantastic. Despite long nights in the tent in awful conditions, we have yet to have an issue with condensation. In the morning, there has been minor frost on the interior of the tent but nothing that has been bothersome. 
 
Set Up and Take Down
We have had tents (notably the Black Diamond Squall) for which we invariably spend time standing around helplessly holding poles and doing mental gymnastics to remember the exact sequence required for set up. Out of the bag, the Mountain 25 was different: the tent was intuitive and easy, even the first time. There are five color-coded poles that fit into a combination of pole sleeves (gold poles go in the gold sleeves, etc.) and clips. The poles then fit securely into grommets or eyelets. The fly attaches to the same grommets, which we found was relatively simple as long as we remembered to loosen the attached tension straps. When the fly is attached at all points, the grommets can then be tightened for a completely snug fit.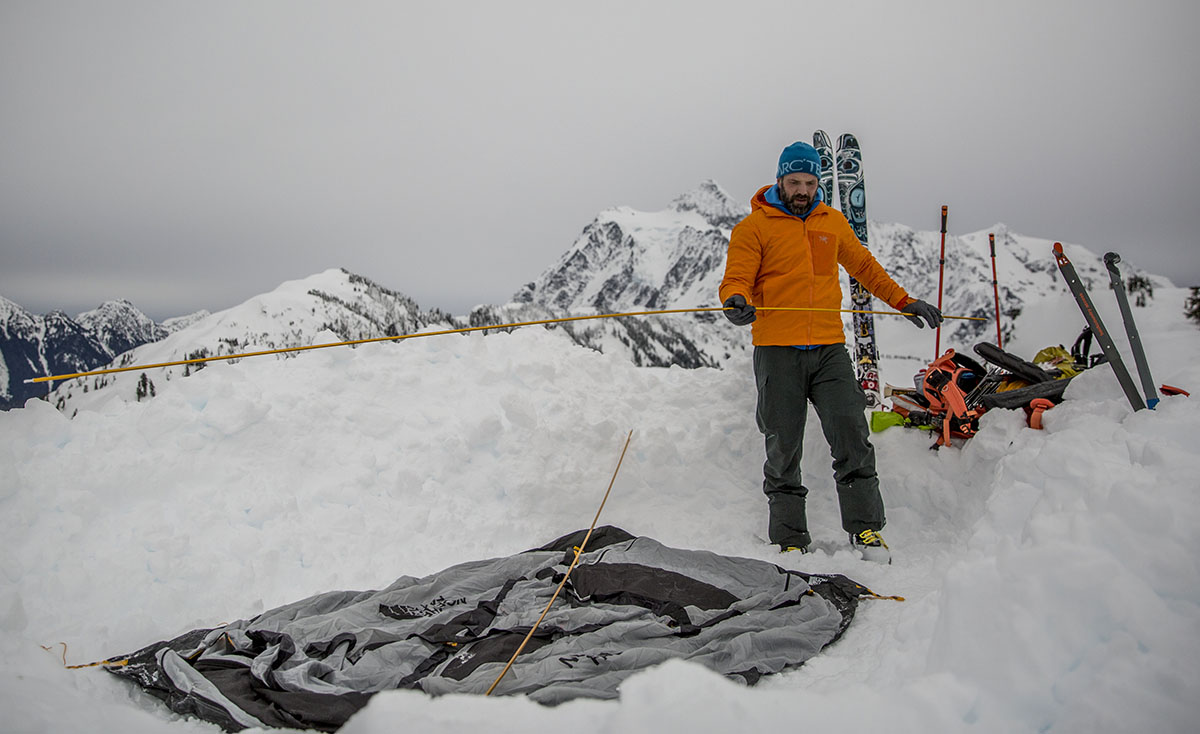 The guy line set up is quite clever and The North Face clearly has put a lot of thought into some small yet useful features. In total, there are 16 reflective Kevlar guylines with camming adjusters. Close to each corner of the tent, three guy lines converge into a small aluminum ring that acts as a pulley. This trio then easily can be adjusted so that they have equal tension at their desired length. We often get frustrated pitching a tent in rocky alpine terrain where it can be difficult to put multiple pegs in convenient places, but with this pulley-style system, it's easy to customize the tension of each guyline and reduce the amount of pegging from essentially 12 to four.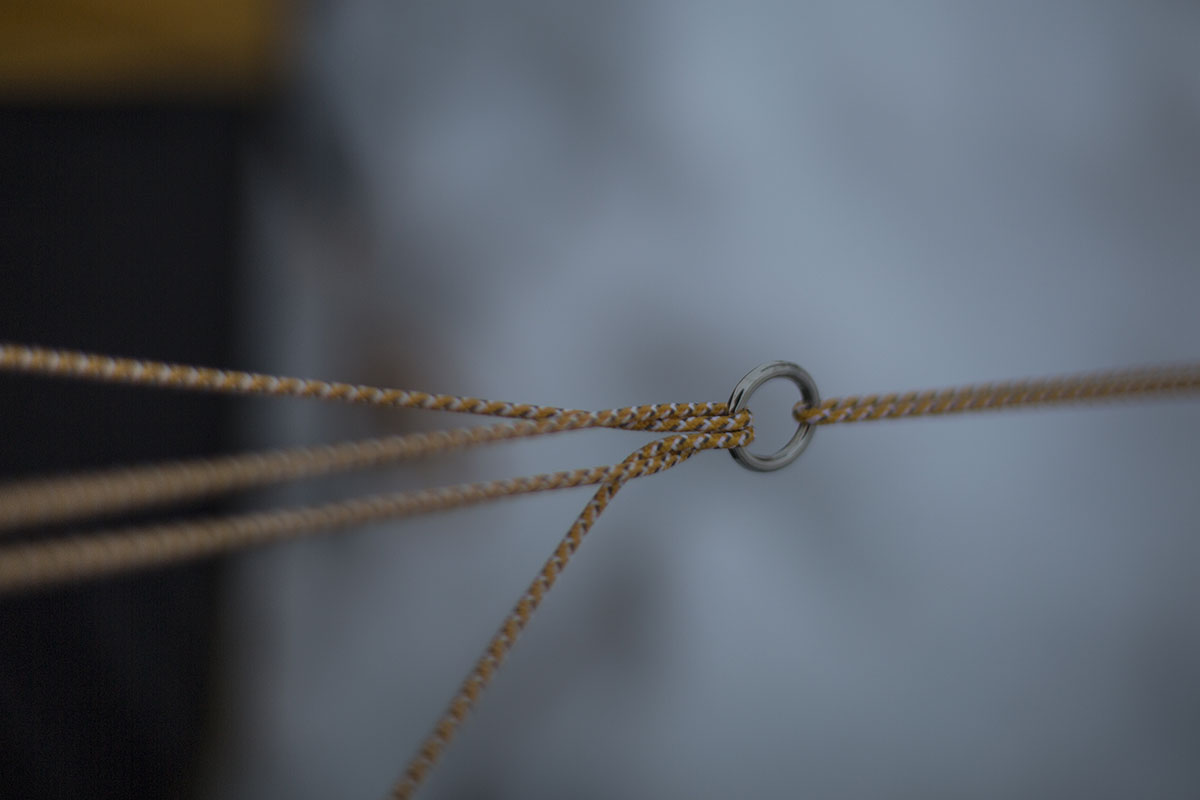 We find that most tents do not include enough stakes, but the Mountain 25 comes with 16 DAC aluminum stakes as well as four snow stakes. While the later are a helpful addition for pegging the inner tent, in snow we tend to have no shortage of gear that can be used to secure the tent (shovels, ice axes, skis, poles, snow shoes) so we generally opt to use a combination of these for the fly. 
As with all tents, it's best to complete set up with dexterous hands. One of us has issues with cold hands and typically is rendered useless in a hurry, making the pole sleeves a bit challenging. The pole sleeve design can allow the tent to become unruly during set up in high winds—it can become sail-like and get caught in the wind. Having said that, an extra person, even with large gloves on, can help hold the tent and poles in place in high winds. But all in all, we think the sleeve design is well worth the extra effort as it adds to sturdiness of the design and peace of mind while hiding out from the wind.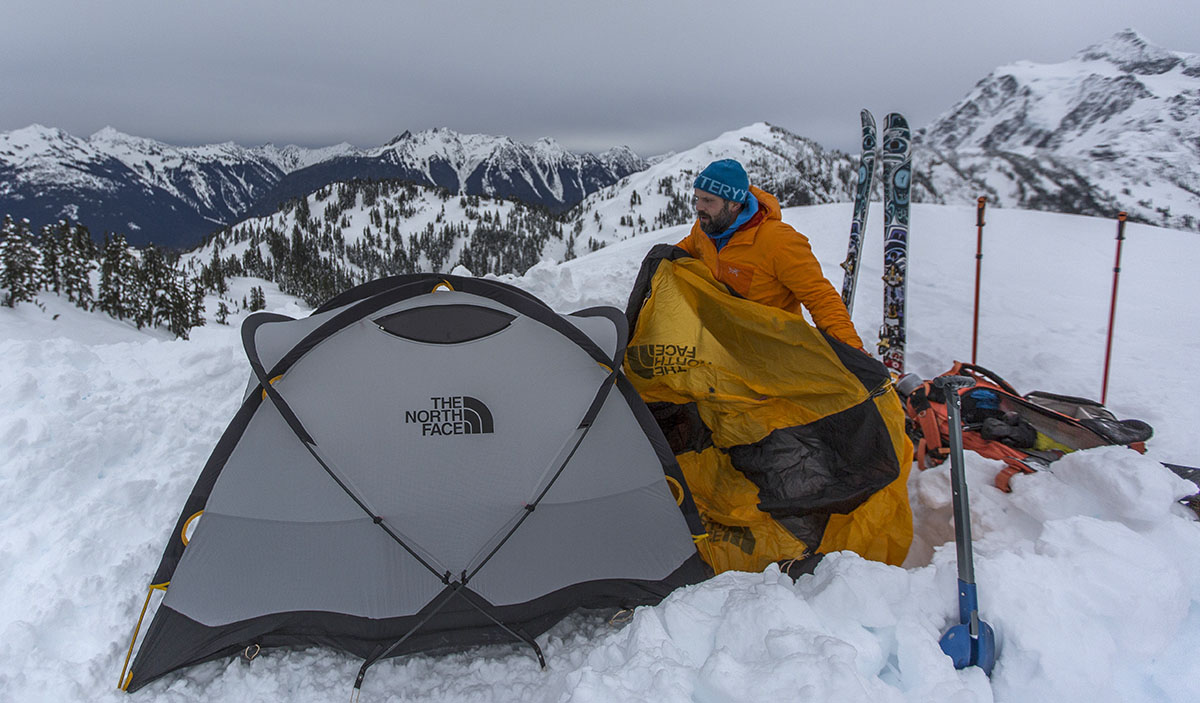 Tear down is fast and easy, even for one person. It's simply a matter of un-staking the corners, removing the poles, and shoving it all into its stuff sack or the bottom of a backpack. One of us easily completes this while the other deflates the sleeping pads. 
 
Weight
With a minimum trail weight of 8 pounds 13 ounces, The North Face Mountain 25 is far from the lightest 4-season tent on the market. For comparison, the climbing-centric Black Diamond Eldorado has a minimum weight of only 4 pounds 8 ounces, although it's a single-wall tent that compromises on space and breathability. The double-wall Hilleberg Jannu is an impressively light 6 pounds 2 ounces, but only features one door and vestibule and is very expensive at almost $1,000. Even the Mountain Hardwear Trango 2—perhaps the Mountain 25's closest competitor—clocks in at a lighter 8 pounds 9.7 ounces, and offers slightly more weather protection, durability, and space.
Personally, we have found that our tent priorities change significantly depending on the season or alpine objective. We prefer to travel quickly in warmer temperatures, and therefore the weight of our gear is paramount. In milder conditions, a leaky shelter might be uncomfortable and inconvenient, but probably will not be life threatening. Winter mountaineering brings with it a different set of priorities, and dependability and durability become primary concerns and override the desire for a lightweight tent.

For those who think like us and value the extra space, tents like The North Face Mountain 25 and Mountain Hardwear Trango 2 are worth the extra weight. In addition to weather protection, comfort, storage, and ventilation all are excellent on the Mountain 25 and make winter camping with another person downright comfortable. You can go lighter, but this tent offers a nice compromise of weight, performance, and usability.
 
What We Like
Exceptional protection from the elements during serious winter storms.
Relatively roomy for a 2-person tent, including two doors and two vestibules.
Excellent ventilation and condensation prevention.
Easy set-up and take down, even the first time.

What We Don't
One of the heaviest 4-season models with a trail weight just under 9 pounds.
Overkill for mild weather.
Not as spacious as competing models like the Mountain Hardwear Trango 2.


Comparison Table

The Competition
The North Face Mountain 25 is a basecamp-style 4-season tent, meaning that it prioritizes weather worthiness, space, and features over shaving ounces. Its long-time closest rival, the popular Mountain Hardwear Trango 2, is a similarly intentioned tent that rivals the Mountain 25 in most categories. For $11 more, the Trango 2 is over 3 ounces lighter, slightly more durable (the fly is 70D with 2000mm PU compared to The North Face's 40D with 1500mm), and significantly more spacious (40 square feet vs. the Mountain's 32.3). You do get a 3-inch-taller peak height with the TNF, and a footprint is included with purchase (the Trango's footprint will cost you $80 extra). In the end, the Mountain Hardwear ever so slightly edges out the TNF for our top pick, but both are capable basecamp tents that can withstand some of the world's worst weather.  
Another basecamping option is the Nemo Chogori, which combines a double-wall construction and external pole structure for a fast and easy set-up. Both the Nemo and North Face are high quality tents made to withstand really tough conditions for extended periods, but the Chogori does have a bit of an edge in floor space at 36.3 square feet (vs. 32.3 square feet for the Mountain 25). It also clocks in at 2 pounds lighter, making it a more attractive option for long approaches. That said, the Chogori is less durable with a 30-denier fly, has a lower peak height, and has a long way to go to match the Mountain 25's excellent track record.
Swedish tentmaker Hilleberg brings to the table a number of very interesting 4-season double-wall options. In particular, the Hilleberg Jannu offers an excellent strength-to-weight ratio at just 6 pounds 2 ounces. However, the steeply sloped walls mean that two people will have difficulty sitting up at the same time, and livability is compromised with only one door and vestibule. Due to this design, we like the Jannu most as a versatile shelter for one climber wanting a spacious basecamp tent, or two on a summit push. But perhaps most importantly, the Jannu is a whopping $990, which puts it well out of reach for many winter campers.
Jumping over to the single-wall side of the tracks, the Black Diamond Eldorado is among the lightest 4-season tents made at 4 pounds 8 ounces minimum weight. You do sacrifice quite a bit in terms of space, vestibules, breathability, and price, and keep in mind that the Eldorado really has solo alpinists in mind (or two small people at the most who don't mind sleeping with their gear). But for those who value weight over all else, a feathery 4-season tent like the Eldorado (or even the Jannu above) is ideal for heading high into the alpine. We, however, put a higher value on the convenience and better all-around abilities of the Mountain 25, which stands out as a solid value for an expedition-worthy design.
If you're thinking about buying gear that we've reviewed on Switchback Travel, you can help support us in the process. Just click on any of the seller links above, and if you make a purchase, we receive a small percentage of the transaction. The cost of the product is the same to you but this helps us continue to test and write about outdoor gear. Thanks and we appreciate your support!
Depending on the seller, most products ship free in the United States on orders of $50 or more. International shipping availability and rates vary by seller. The pricing information on this page is updated hourly but we are not responsible for inaccuracies.
Learn More About Outdoor Gear