Smith Squad Mag
Price: $240-$270
Frame size: Medium/large
Number of lenses: 2 
What we like: Classic Squad looks and performance with a faster lens change.
What we don't: So-so value for a cylindrical lens; not a standout in field of view. 
See the Smith Squad Mag
Smith's Squad has been a long-time favorite for its semi-framed styling, budget-friendly price, and good all-around versatility. They've added to the collection for 2020-2021 with the Squad Mag, which takes the basic design of the original model and adds premium features like Smith's latest magnetic quick-change system and a second ChromaPop lens. At $240-$270 depending on lens tint, it's no longer a value leader, but the new goggle is a nice option for those that prefer a cylindrical shape but want the convenience of an easy lens swap. Below are our thoughts on the Squad Mag. To see how it stacks up to the competition, see our article on the best ski goggles.
 
---
Table of Contents
---

Performance
Field of Vision
With a medium/large fit and quality optics, the Smith Squad Mag offers a decent but not standout field of view. What keeps the Squad from excelling is its moderately thick frame and vents, which push the lens farther off the face than alternatives like Smith's own I/O Mag. Visibility directly up and down is sufficient and never led to any issues for us, but there are some limitations in the periphery (here, the extra bulk comes into play). Coming off a full season of testing the I/O Mag, we had high expectations for the Squad given their similarities in price and features and were a little let down in this regard.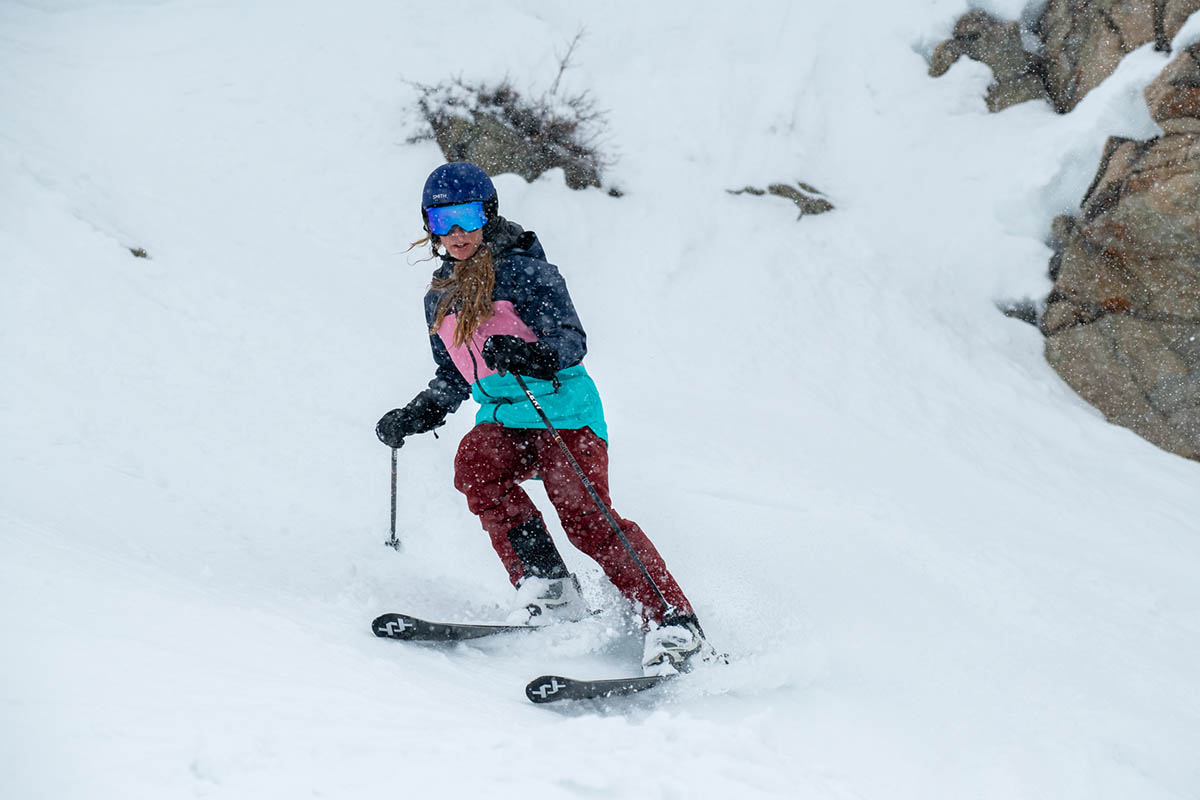 All that said, the Squad Mag thankfully doesn't suffer from the tunnel-like effect that can happen with an overly thick design, and it's perfectly serviceable for everyday resort use. Visibility was great while bombing runs, and we rarely felt like our vision was limited when checking to the sides or behind. But factoring in the Squad's relatively steep $240 price tag, as well as recent innovations in the market—including Smith's truly impressive 4D Mag that we also tested this season—we feel there is some room for improvement.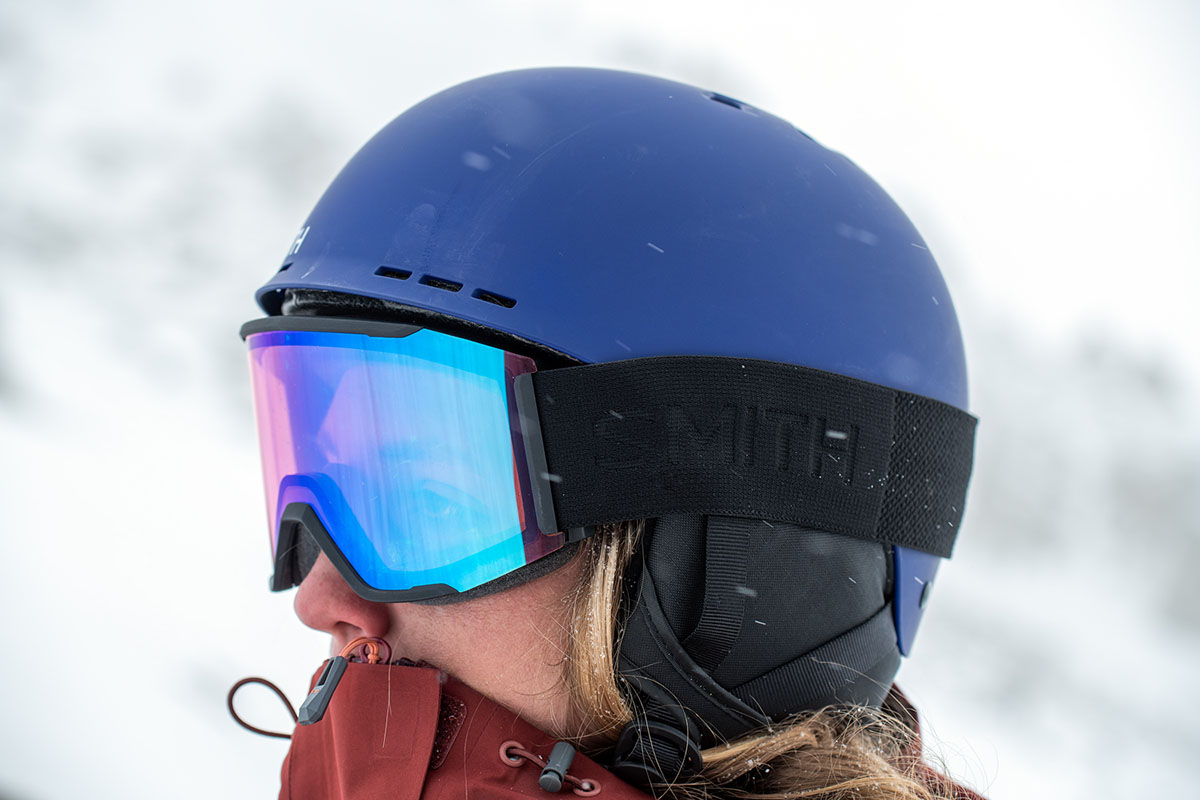 Clarity and Optical Quality
We've tested nearly the entire collection of Smith's snow goggles, and their ChromaPop lenses have never disappointed. The clarity is consistently excellent, and we especially appreciate the natural color depiction (some competitors like Oakley have lens tints that appear artificial). The Squad Mag is no exception and includes two high-quality ChromaPop lenses—a notable upgrade from Smith's standard Squad that comes with only one ChromaPop and a lower-quality, low-light backup. And despite the cylindrical shape, which is a bit cheaper to manufacture and can occasionally result in some distortion in the corners, both our lenses felt crisp and did a nice job highlighting bumps, even in tricky light conditions.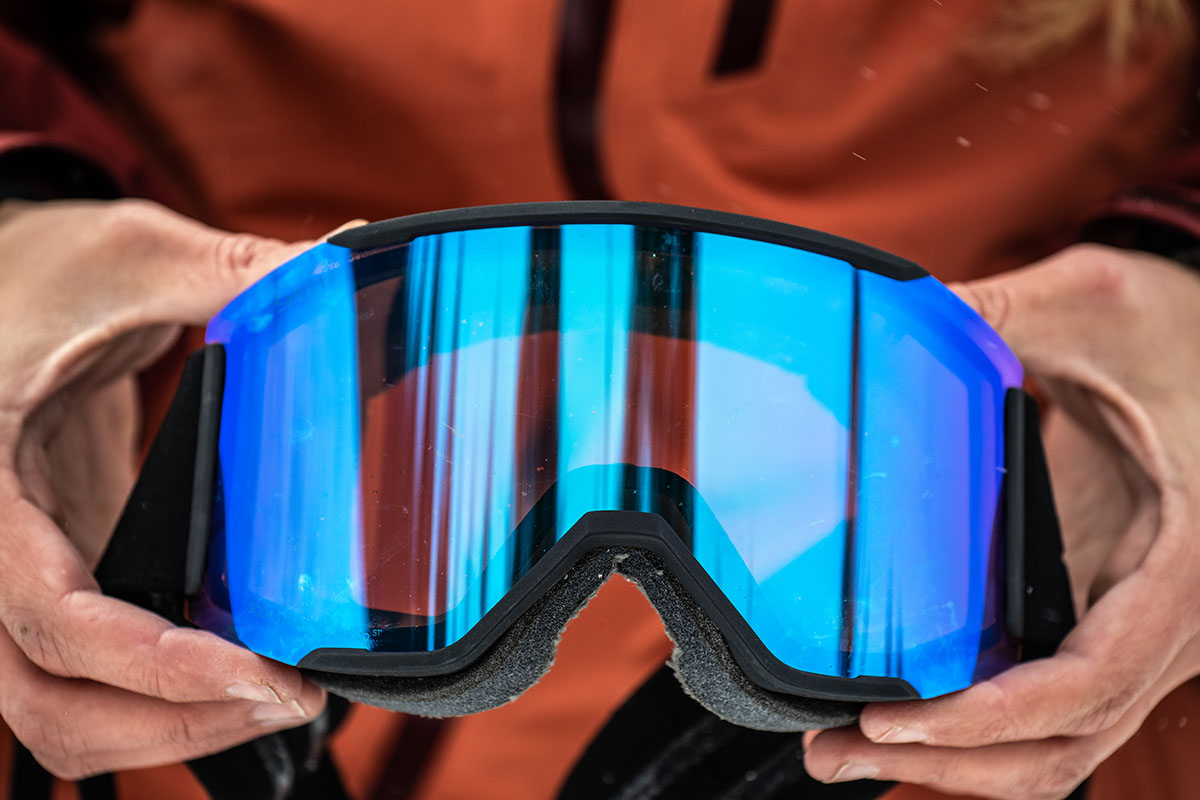 As far as lens options go, there is a nice array of choices, and I opted for the Sun Blackout for bright conditions (12% VLT) and versatile Storm Rose (50% VLT) for all other settings. In use, I found the Blackout lens to be fairly limiting—it needs to be very bright to justify using it all day, and even dipping into the trees had me feeling like it was too dark. If you live in an area with a lot of sun exposure, however, it's a nice choice. The Storm Rose lens, on the other hand, quickly became my preferred option. Not only does it do a decent job blocking glare—especially combined with the small brim on my Smith Level MIPS helmet—but it was equally capable in heavy snowfall with limited sightlines. In the end, landing on the perfect lens combo is a matter of matching your local conditions, and for someone like me based in the Pacific Northwest, a more ideal set-up would be the Everyday Green Mirror (23% VLT) and Storm Rose Flash (65%) for socked-in days.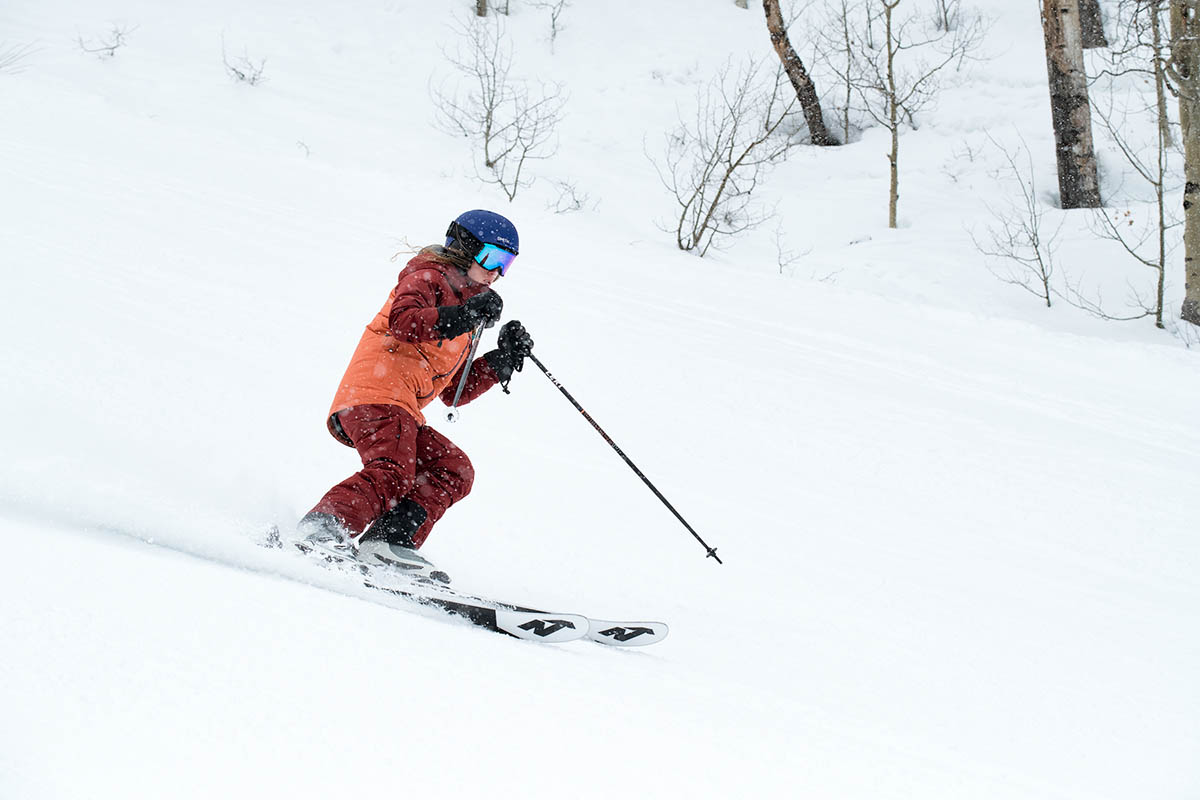 Lens-Change System
The Squad Mag takes the popular I/O Mag's design and improves on it slightly for one of the fastest and easiest-to-use lens-change systems on the market. Swapping is as easy as pushing the two small levers at the base of the frame open with your thumb, then pulling the lens away (six magnets hold it in place and do most of the work when you're ready to install the new lens). After a bit of practice, the process only took around 10 seconds from start to finish. And it's easy to avoid smudging the lens by grabbing the moderately thick frame at the top/bottom when pulling it away or reinserting (the entire process is best done with gloves off). The only design we've found to be more user-friendly is Anon's fully magnetic system—it doesn't have any levers and allows you to swap lenses without removing the goggles—but the Smith feels more secure, especially in the event of a fall.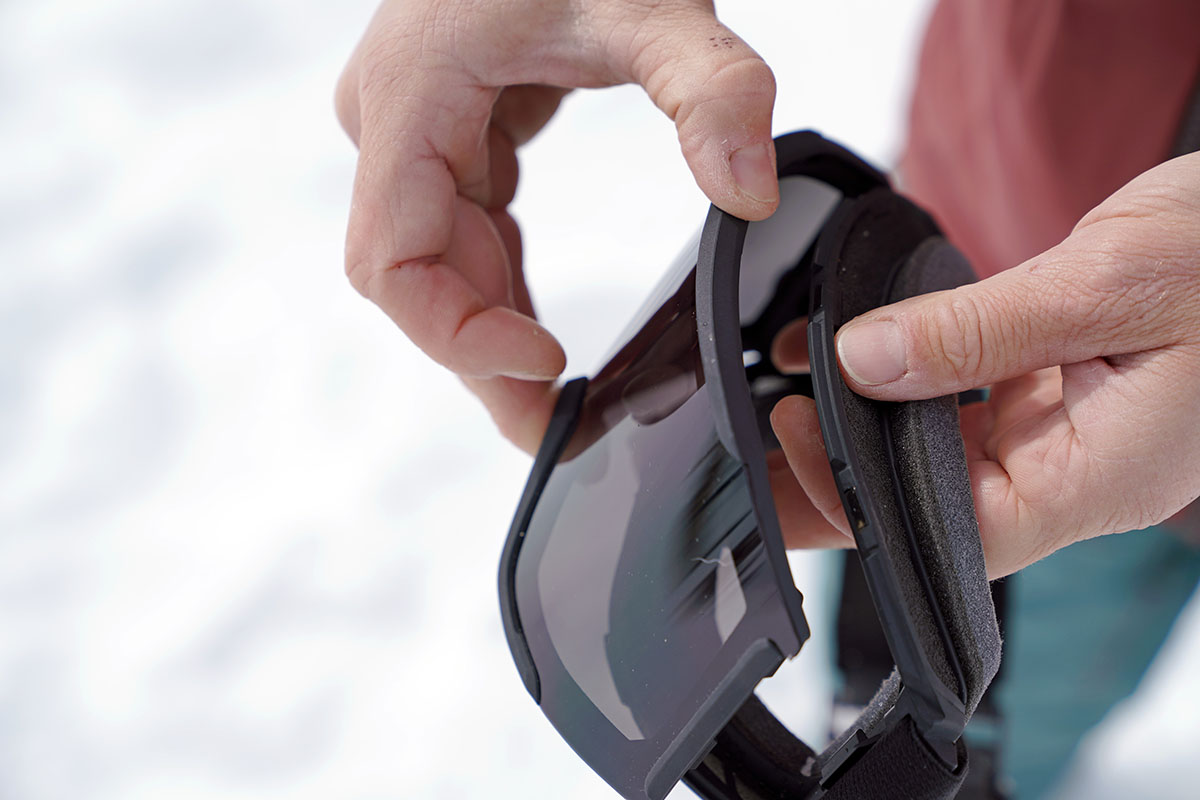 Ventilation and Fog Resistance
With only a short stretch of testing prior to the season shutting down, we haven't had a chance to fully test the Squad Mag's fog prevention, but all signs are positive thus far. The goggle promotes a fair amount of airflow with openings in the frame along the top, sides, and bottom. Combined with Smith's Holt and Level ski helmets that include vents on their brims for letting air escape, it's pretty easy to avoid fogging up (provided you don't overdress). In fact, on a stormy powder day at the end of the season, I spent a good deal of time off-piste—even riding on-trail required a lot of work in the deep conditions—and didn't experience any fogging. And the same was true during our time in Crested Butte, where we experienced lots of sun and very mild temperatures (in the high 20s to mid 30s Fahrenheit). From our experience with Smith's anti-fog coating, we expect this to hold true for a long time, especially if you avoid wiping your goggles.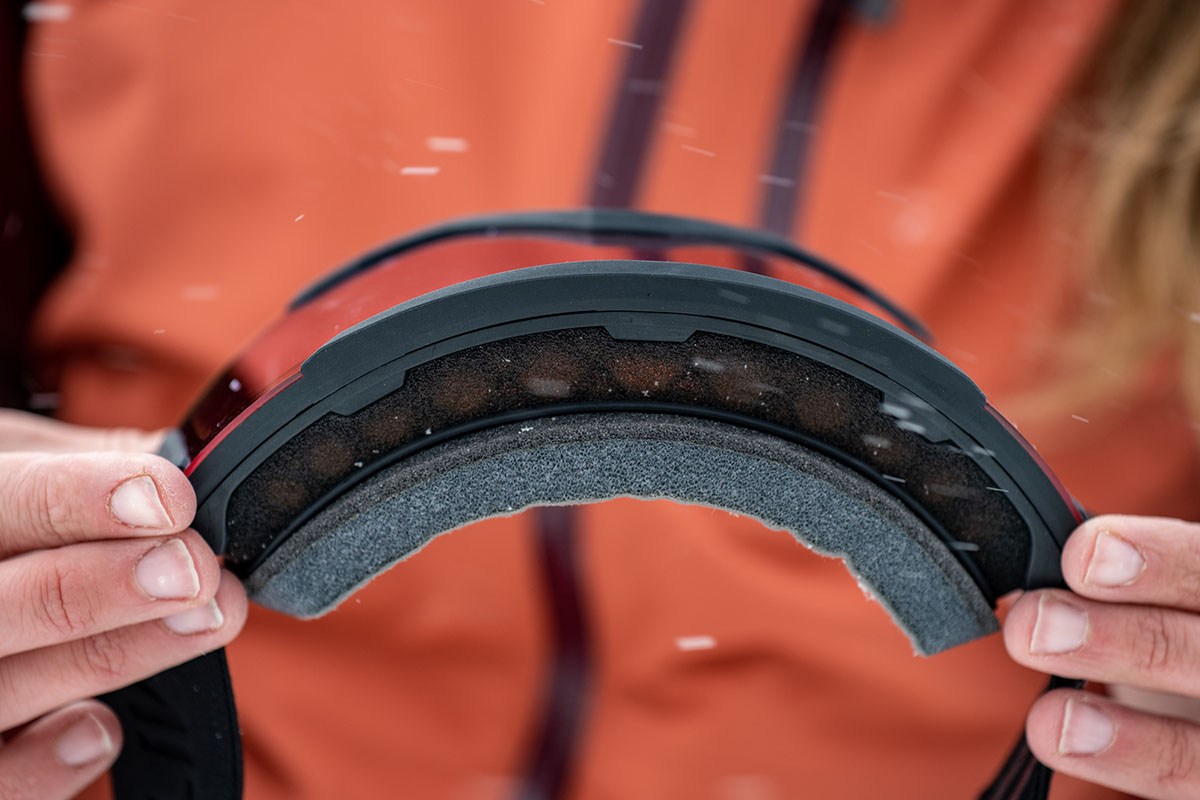 Fit and Comfort
Like the majority of premium snow goggles, the Squad Mag scores high marks in terms of comfort. There's plenty of cushioning from the substantial three-layer foam (a consistent feature on goggles in the $200+ price range), and the frame is just flexible enough to wrap reasonably well around your face. In wearing it back to back with the I/O Mag and 4D Mag, the Squad Mag did feel a little bulkier and heavier on my face, which had a small impact on comfort as it pushed down on my nose more than the others. But importantly, it still mostly faded into the background throughout the day.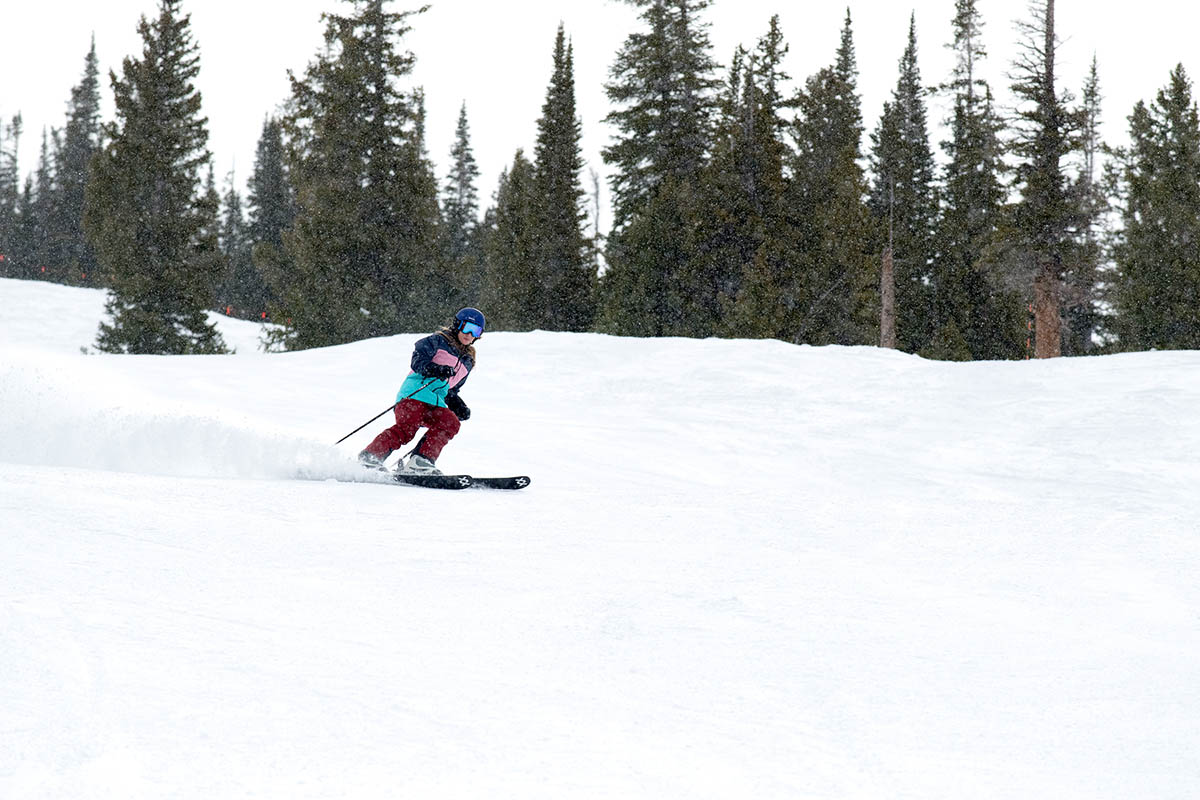 As far as fit goes, Smith labels the Squad Mag as medium/large, which held true for us. It'll be a bit big for those that prefer a true medium fit, as one of our testers does (and this is somewhat evident in the photos). But it's not overly large or oversized like some designs including the Squad XL or Oakley Flight Deck. Overall, the Squad Mag hits a nice middle ground and is a fairly versatile shape.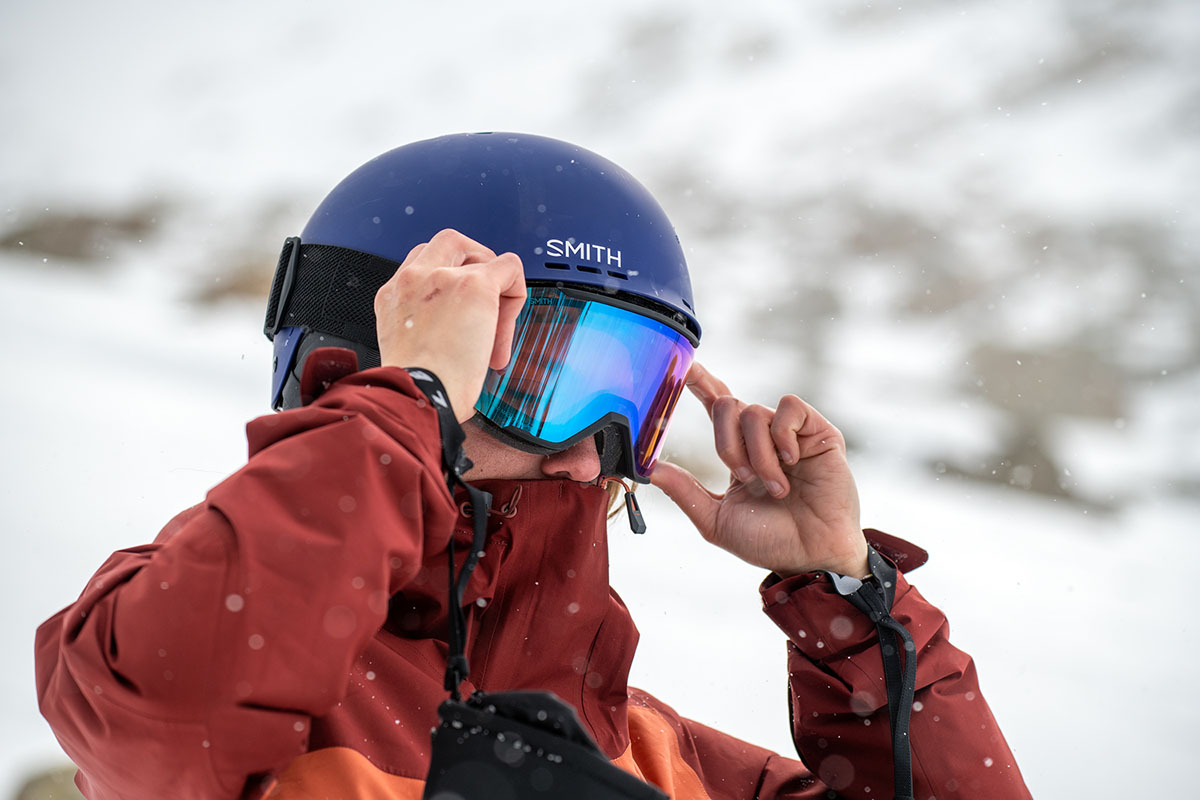 Build Quality and Durability
We've very rarely had any quality issues with Smith gear, and this has largely held true with the Squad Mag goggles. The ChromaPop lenses have performed as expected, and the new lens-change system is a real winner. My only complaint has to do with the padding: while the triple-layer foam design is soft and nicely cushioned, the next-to-skin layer is already showing signs of pilling and wear. This could be the result of testing an early-production model—ours was a sample, and the foam doesn't have as precise of a cut as some of our other Smith goggles—but it was surprising nonetheless. Otherwise, everything from the strap to the rear buckle is holding up nicely (and we'll follow up here if any other durability issues arise).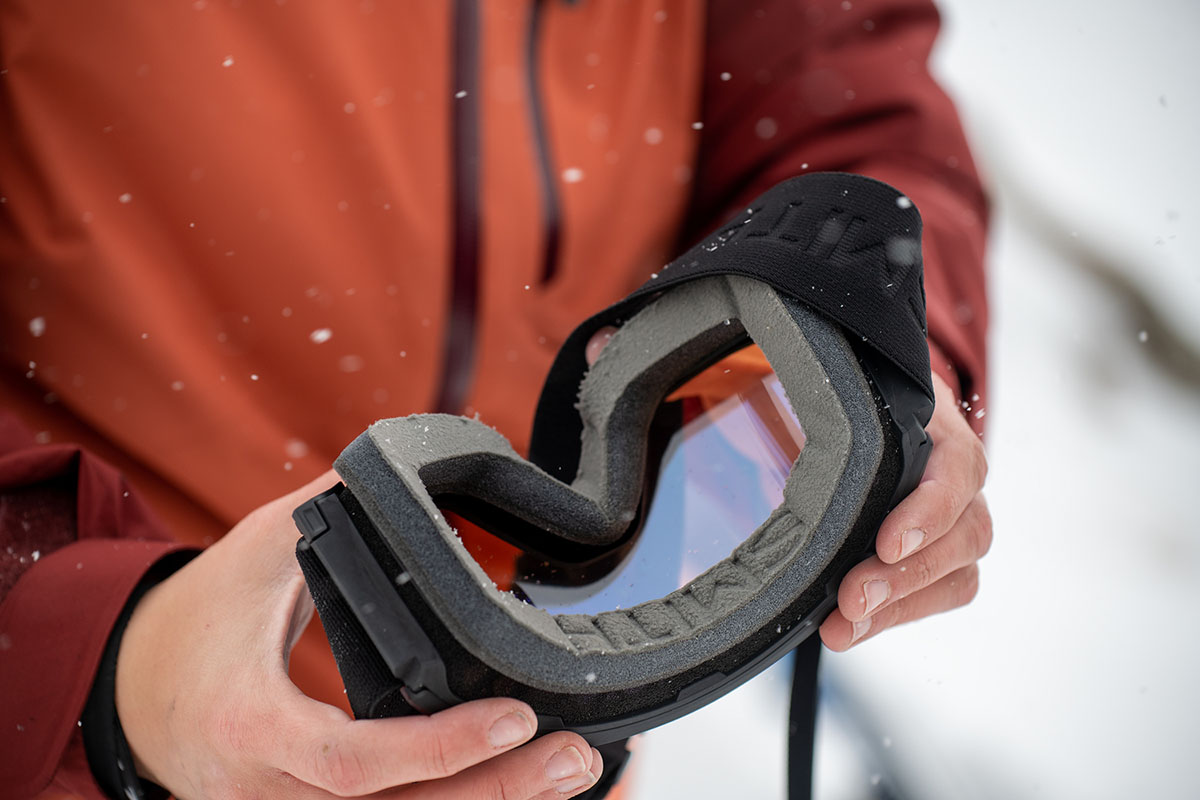 Other Versions of the Smith Squad
We put the new Squad Mag to the test for this review, and there are a couple other variations in the collection. As we touched on above, the standard Squad sports the same distinctive, semi-framed and cylindrical look, but it forgoes the quick-change lens system and only comes with one ChromaPop lens and a lower-quality backup. It's also slightly smaller than the Squad Mag with a medium fit and uses two layers of foam instead of three, but the Squad clocks in substantially less at $120. Rounding out the collection, Smith sells the Squad XL for $150, which comes with two ChromaPop lenses and has a larger fit but lacks the magnetic lens-change design that we love and again uses two-layer foam.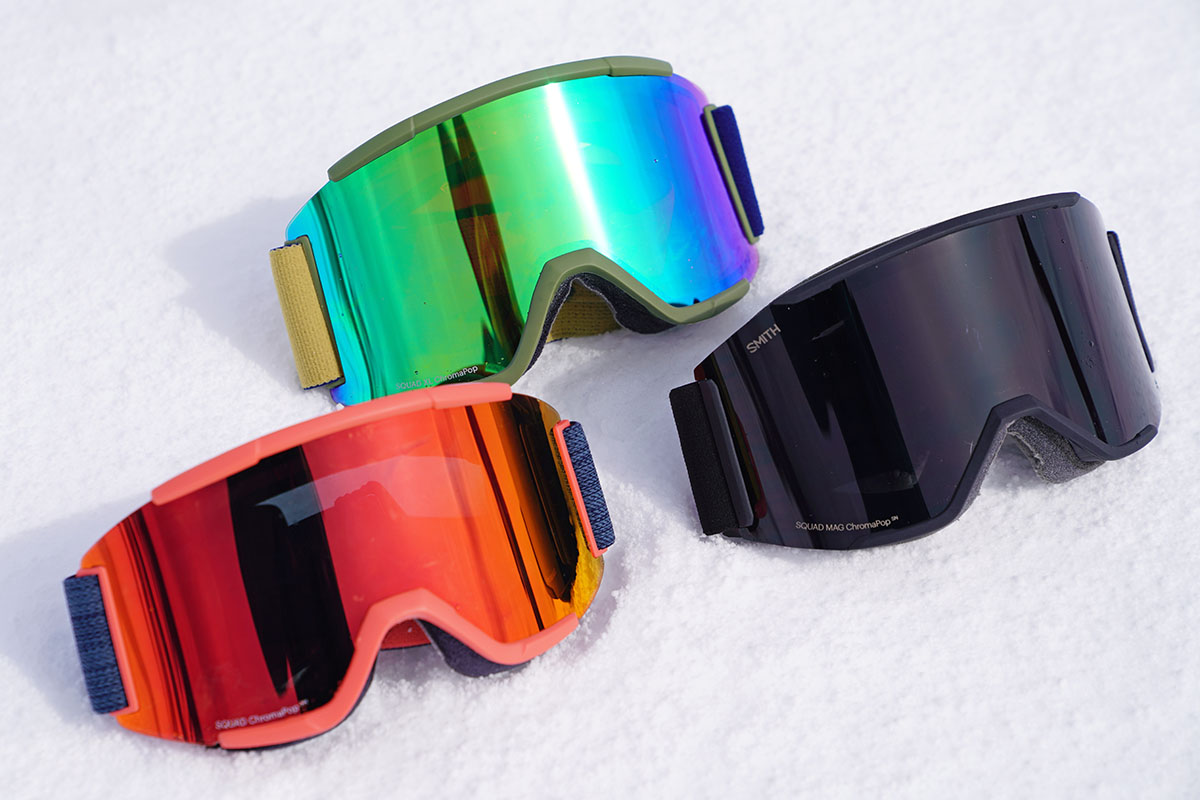 What We Like
The Squad Mag's lens-change system is very fast and simple to use.
Includes two ChromaPop lenses, which offer impressive optical quality, even in tricky light conditions. 
High level of comfort from the three-layer foam and flexible frame.
Looks great and fits nicely with a range of helmets.

What We Don't
Field of view is decent but not great, especially at the periphery (here, the moderately thick frame and vents have an impact).
Feels a little heavier and bulkier on the face than Smith's I/O Mag and 4D Mag, although the difference is fairly minimal.
Foam is already showing signs of pilling and wear after limited resort use.


Comparison Table

The Competition
The all-new Squad Mag combines Smith's quality optics and very functional quick-change system with a cylindrical shape. In the extensive snow goggle market, our favorite design this year comes from within Smith's own lineup: the I/O Mag. The I/O is slightly lower-profile with a medium fit and sports a spherical rather than cylindrical shape, but otherwise it sports many of the same features. Most importantly, both goggles include two quality ChromaPop lenses that are excellent at pulling out details in variable light conditions and boast the easy-to-use Mag quick-change system (although the Squad's version is a little more intuitive). All in all, we prefer the sleeker I/O Mag and its superior field of vision, but the Squad is still a well-made design, and its semi-framed look and easy lens-change system will make a lot of skiers and snowboarders happy.
Another quality design to consider is Anon's M3, which costs around the same as the Squad Mag but beats it in lens-changing speed with a pure magnetic system: just twist the corner of the frame and pop the lens out. In use, we found it to be surprisingly secure given the lack of an additional lever/lock, but it still can't match the Smith in this regard (we trust the Squad Mag more in the event of a crash). And like the Smith, the Anon has quality optics, although we did experience some issues with fogging. Beyond this complaint, however, we consider the M3 the more well-rounded option.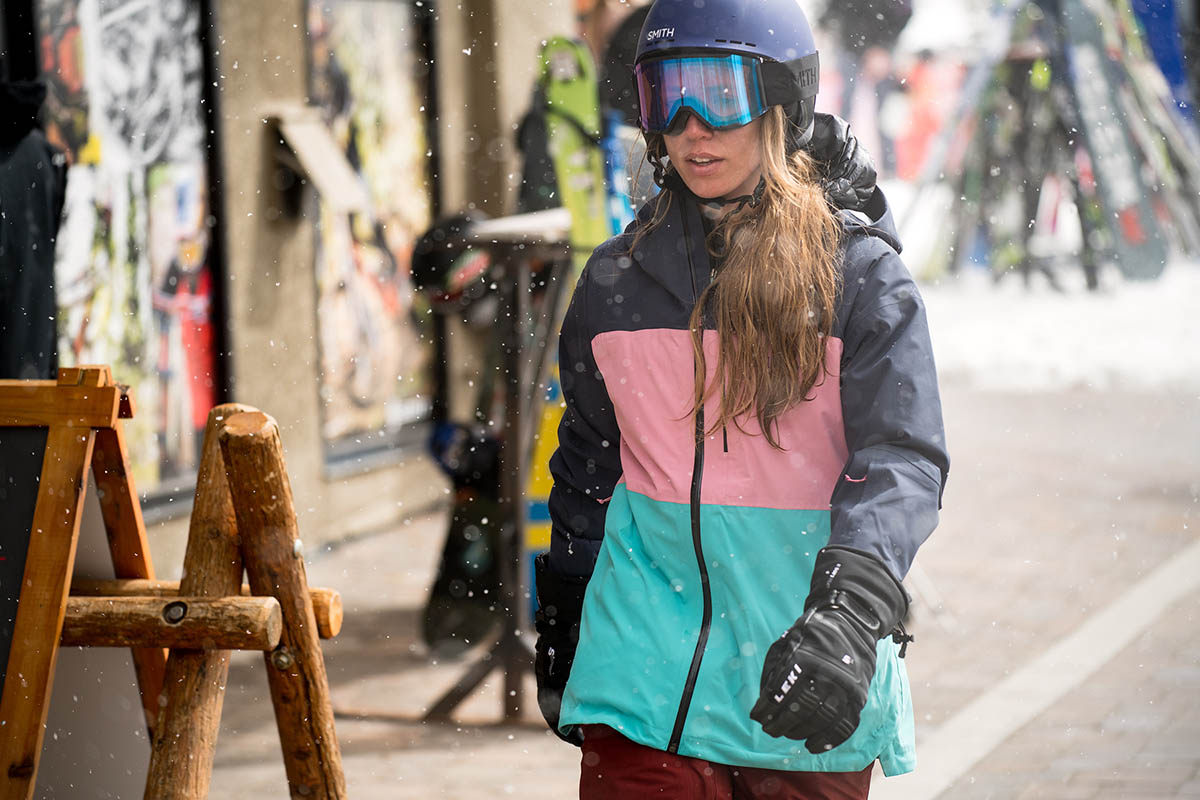 Oakley is one of the few brands that can come close to matching Smith's extensive goggle collection, with a quality lineup that features the brand's well-respected Prizm lenses. At the $200 price point, the Flight Deck XM is their leading model and differs from the Squad in a number of key areas. Most notably is style: rather than the semi-framed Squad, you get a frameless and sleek design that includes a large spherical lens. And while optical quality may be similar between the two, the Flight Deck wins in field of view with its lower-profile shape. But you only get a single lens (a second lens can be purchased separately), and the change system is old-school and slow compared to Smith's easy-to-use lever and magnet combo. From an optical perspective, the Oakley wins out, but the Squad is decidedly the more versatile of the two.
At around $50 less than the Squad Mag, Dragon's NFX2 stands out as an excellent value with a simple yet effective lens-change system with dual locking levers at the sides and good overall performance. The Smith's design is a bit more refined and secure with its magnets, but the difference is fairly minimal. The Dragon is also a bit smaller with a true medium fit versus the Squad Mag's medium/large designation, but the Smith justifies its higher price tag with better field of view and higher-quality materials (the Dragon's plastics feel pretty cheap in hand). Given these concerns, we recommend spending up for the Squad.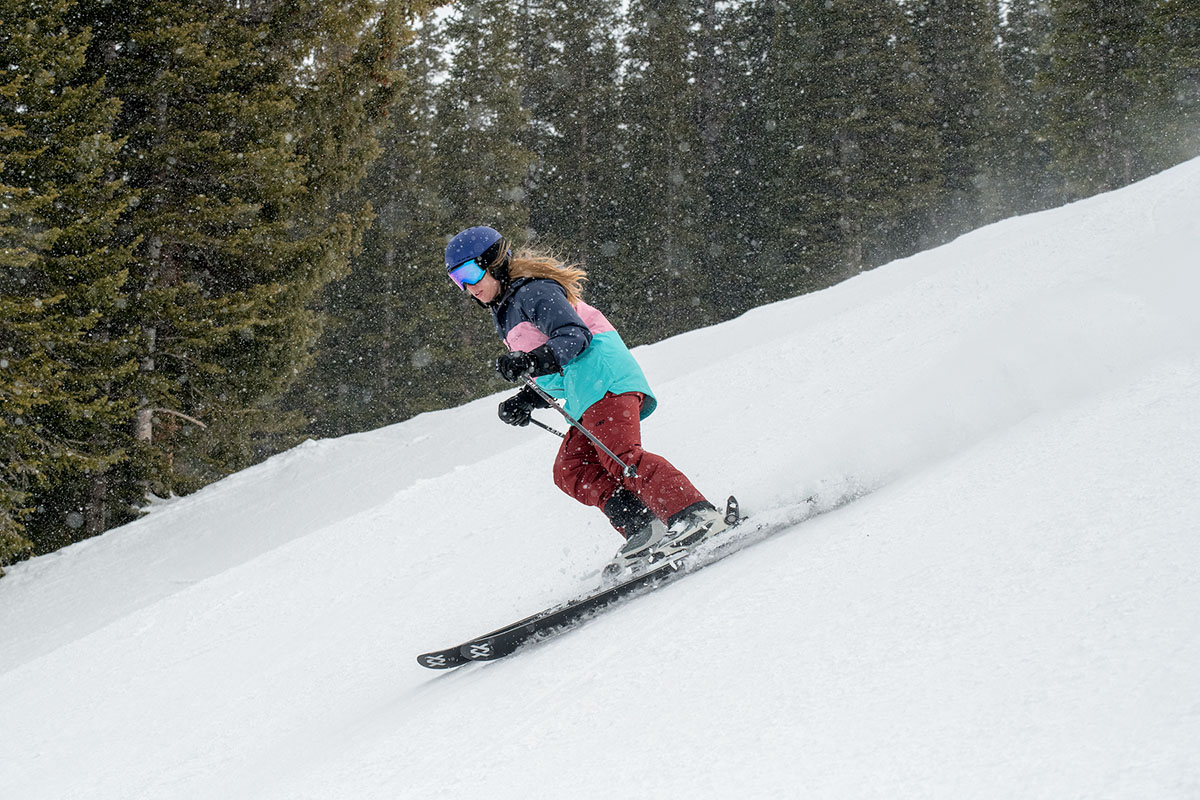 Last but not least, Smith's Squad Mag splits Giro's top models: their Axis ($190 and medium fit) and Contact ($260 with a large size). In comparing the Contact to the Squad, the extra money gets you a noticeable boost in field of vision—especially at the sides—as well as a fit that's just a touch larger (but they're not far off). Further, the Giro Contact's toric-shaped lens combines the low-profile look of a cylindrical model with less distortion. That said, we've found the Smith's Mag quick-change system is a bit more intuitive than the Giro's Snapshot design, particularly for releasing the lens. But in the end, it's a very close call between the two, and a final decision will likely come down to preferences on fit and styling.
If you're thinking about buying gear that we've reviewed on Switchback Travel, you can help support us in the process. Just click on any of the seller links above, and if you make a purchase, we receive a small percentage of the transaction. The cost of the product is the same to you but this helps us continue to test and write about outdoor gear. Thanks and we appreciate your support!
Depending on the seller, most products ship free in the United States on orders of $50 or more. International shipping availability and rates vary by seller. The pricing information on this page is updated hourly but we are not responsible for inaccuracies.
Learn More About Ski Gear