Smith Skyline
Price: $170-$190
Frame size: Medium
Number of lenses: 1
What we like: Well-built, comfortable, and great field of vision for a medium-fit goggle.
What we don't: Prone to fogging during high-output use and only comes with one lens.
See the Smith Skyline
Smith's Skyline slots in as one of their mid-range goggle offerings, combining an accommodating medium fit with good all-around visibility and a single ChromaPop lens. We tested the Skyline in British Columbia and while on a ski trip in Japan and came away with mixed impressions. In short, many of the more premium models on the market, including Smith's own I/O Mag, include two lenses, have easier-to-use quick-change systems, and offer better ventilation, but the Skyline nevertheless is a well-made and comfortable option for resort use. Below we detail our experiences with the Skyline. To see how it stacks up to the competition, see our article on the best ski goggles.
 
---
Table of Contents
---

Performance
Field of Vision
Medium-fit goggles often sacrifice field of vision for a smaller and trimmed-down shape, but Smith's Skyline offers good all-around visibility. The low-profile padding, spherical lens shape, and rimless design do a lot to boost overall field of view, especially at the periphery. Comparing it with popular alternatives, the Skyline handily beats out the Oakley Fall Line XM, particularly in the bottom corners—here, the slimmer shape helps a lot, as it sits much closer to your face. In fact, all-around visibility is very similar to Smith's popular and pricier I/O Mag (although that goggle includes a second lens and easier lens-change system). Those who want to truly maximize field of vision can step up to a larger model like Oakley's Airbrake XL, the XL version of the Skyline, or Smith's I/O Mag XL or 4D Mag, but the standard Skyline strikes us as an accommodating, manageable shape that offers good visibility.

Clarity and Optical Quality
Like many sub-$200 goggles, the Skyline only comes with one ChromaPop lens, and I chose the Photochromic Rose Flash (30-50% visible light transmission, or VLT). This combines their Rose Flash outer lens with a photochromic inner lens, which is designed to adjust to changing light conditions throughout the day. Overall, I found it to be a great match for partly cloudy to moderately bright conditions, but on darker socked-in or overcast days, the photochromic lens didn't adjust well to the low light. In the end, I had a lot of trouble with clarity, especially when snow was falling. In fact, on several dreamy power days in Nozawa, Japan, I needed up switching ski goggles completely so that I didn't have to navigate the terrain semi-blindly (I recommend sticking with one of the standard ChromaPop lenses, which I detail below).
On bluebird days, however, the Skyline did a nice job highlighting bumps and other obstacles. And when moving out of the shade and into full sun, the lens adjusted well and darkened to compensate for the brighter light. The adjustment isn't immediate—I found it took longer than expected—but it worked well in these ideal conditions. That said, I did notice on several occasions that half of the lens was tinted slightly darker than the rest, almost as if the lens "paused" during adjustment and didn't fully transition. I'm not sure if this was a defect in my particular model, but it did have a noticeable impact on visibility.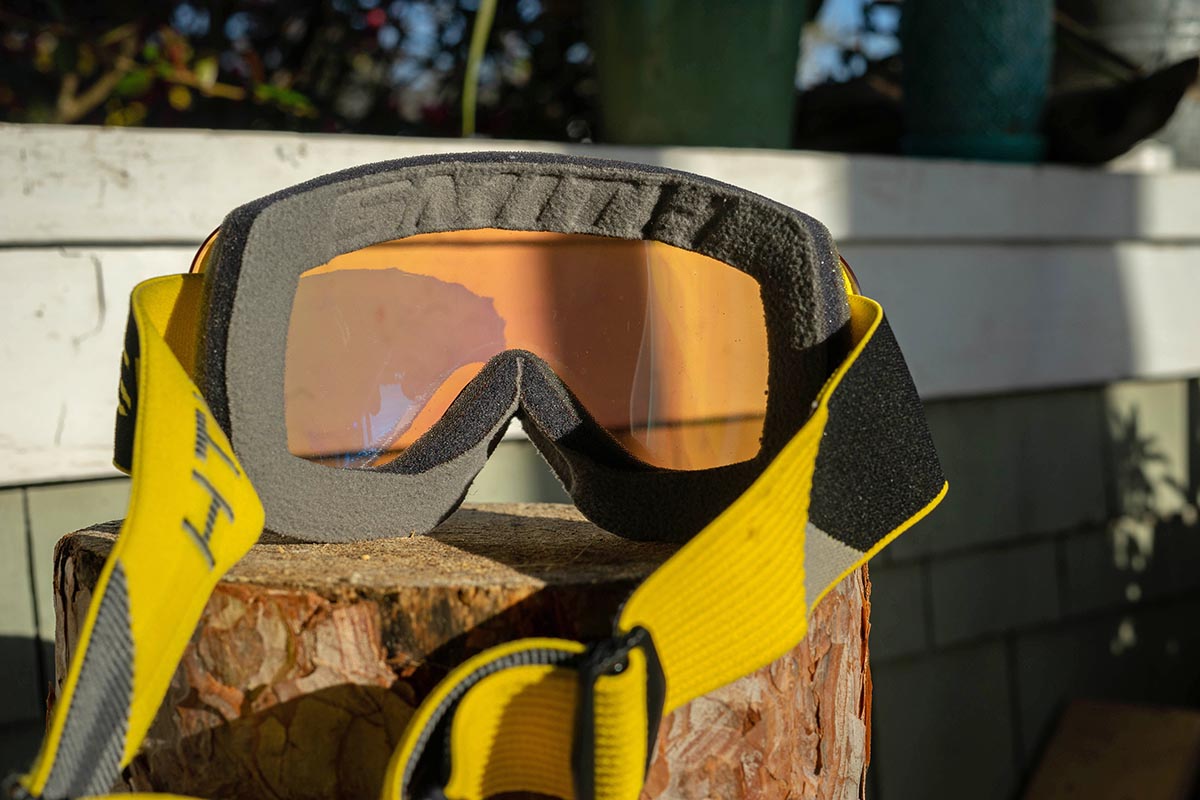 All that said, we also tested the Skyline with a standard ChromaPop lens (Everyday Green Mirror with a 23% VLT) and found it to be a strong performer. Clarity was great on mixed cloudy and sunny days and blocked just enough light to work well even in bluebird conditions. Additionally, the natural color rendition gives it an HD-like feel that we've enjoyed in a number of other Smith goggles, including the I/O Mag and 4D Mag. However, for truly socked-in and dark days, we'd prefer a little more VLT (their Everyday Rose has 36% VLT that has worked well for us in the Pacific Northwest). In the end, given the issues we've had with the photochromic lens, we think it's best to select a standard ChromaPop option to maximize clarity.

Lens-Change System
Smith only includes a single lens with the Skyline, so they didn't put a strong emphasis on a quick-change system. As such, it lacks the advanced Mag design of pricier alternatives like the I/O Mag, Squad Mag, and 4D Mag and sticks to their traditional method. This involves having to separate the lens from the frame and nose bridge, which requires a fair amount of force and is nearly impossible to do without leaving some smudges on the lens. In truth, it's not a huge hassle as you'll only be swapping lenses to replace them—Smith sells replacement Skyline lenses for $85 to $135 depending on tint. And importantly, the design does create a very solid seal between the frame and lens with little chance of separation between the two.

Ventilation and Fog Resistance
Simply put, the Smith Skyline isn't a standout in fog prevention. To help limit moisture buildup, the goggle features a Fog-X Anti-Fog inner lens, which absorbs moisture from the inside and disperses it over the surface. However, despite the promising technology and taking measures to prevent fogging—including layering properly, avoiding stowing the goggles when wet, and pairing them with a well-ventilated ski helmet—I had some notable issues throughout testing (primarily while backcountry skiing). Fogging was especially bad on damp, low-light days (regardless of temperature). Coupled with the aforementioned clarity issues with the photochromic lens, the Skyline left me almost completely blind at times—on a couple runs, I actually ended up moving the googles up onto my helmet mid-run so that I could see where I was going.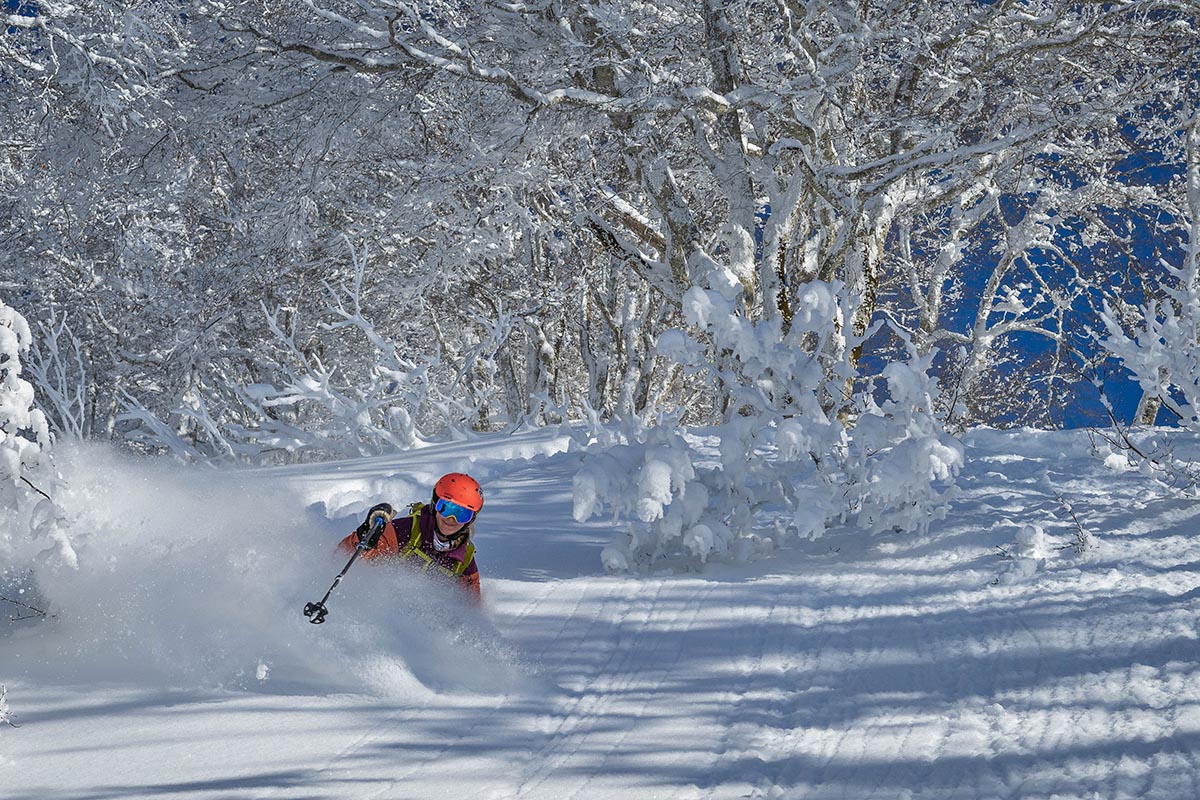 It's worth noting that another one of our testers didn't experience such dramatic issues, but he stayed mostly on-piste. Overall, our take is that the Smith Skyline isn't able to generate enough airflow to avoid heating up during high-output activities (like sidecountry hikes or true backcountry riding) due to the lens sitting fairly close to your face. But for less demanding resort use, it's perfectly serviceable.

Fit and Comfort
Like most of the Smith goggles we've tested, the Skyline scores high marks in the comfort department. The triple-layer DriWix foam is soft against the skin and very well-made. Despite several long ski days at Whitewater, Mount Baker, and various resorts in Japan, I never experienced any discomfort or chafing. Further, the goggles nicely integrate with my Smith Quantum MIPS helmet, and the QuickFit strap adjustment and clip buckle are easy to use and effective at dialing in fit (and keeping the goggle securely in place). And as I touched on above, the Skyline's medium fit was great for my face size and shape—the goggle never pushed down onto the brim of my nose, and there were no areas of noticeable tightness or looseness.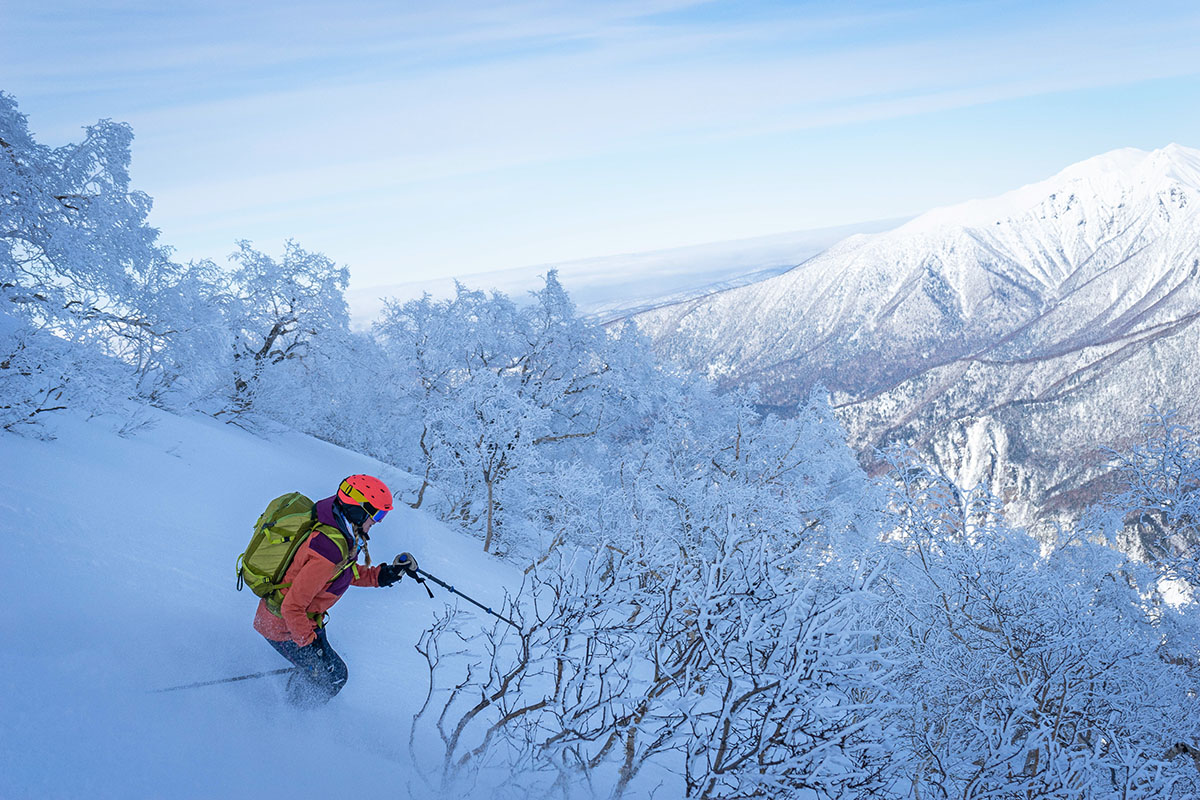 Build Quality and Durability
Smith is a leader in the snow goggle market, and the Skyline comes with the quality build and construction we've come to expect from the brand. For starters, all features are well-made and holding up well, including the silicone strap, three-layer foam, and clip buckle at the back of the strap. But even more impressive, in my opinion, is the durability of the goggle's carbonic lens, which is designed to be both impact- and scratch-resistant. Despite more than a few encounters with branches and bushes while skiing in Japan, the goggles emerged unscathed with not a scratch on them. In fact, after an entire season, there's only one small mark on the lens, which hasn't impacted visibility and is very minor considering the amount of rough use.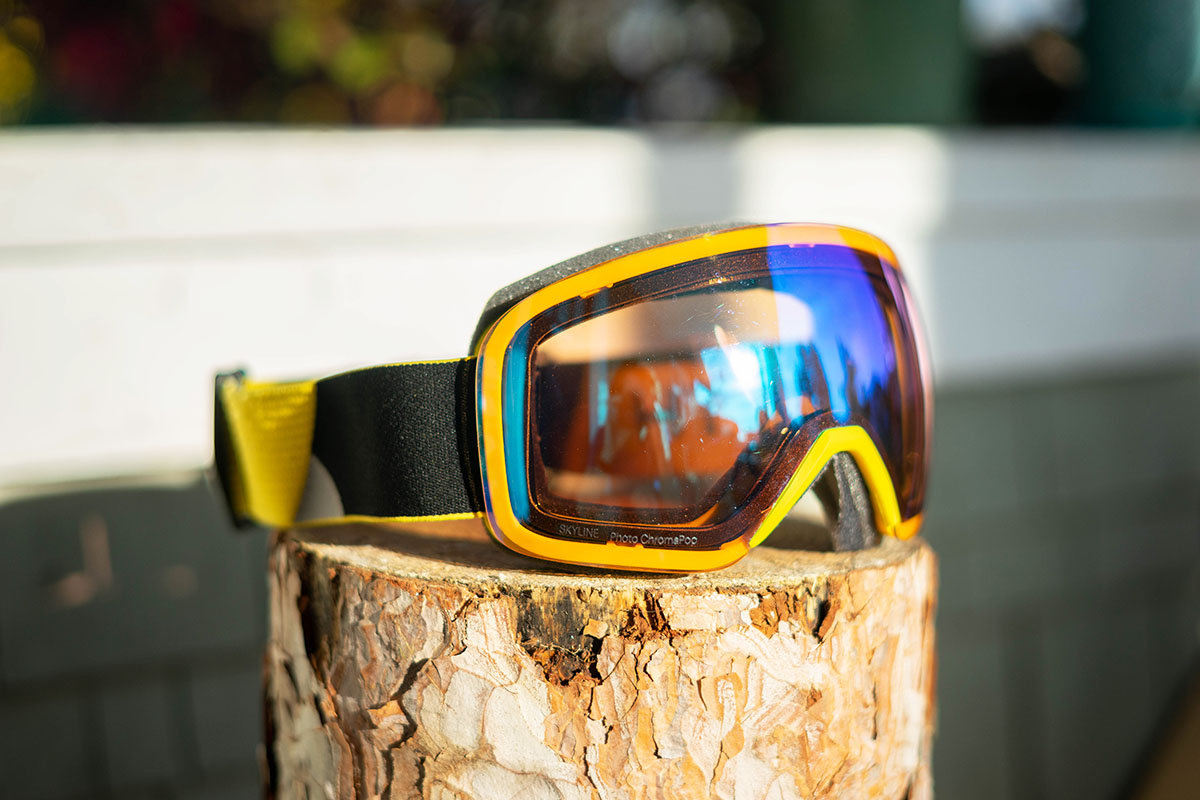 Our only major concern with long-term durability is that the Skyline is fully frameless, so you'll need to be conscious of the edges of the lens for potential damage while storing and transporting it. And finally, even though you get three-layer foam, the middle layer is quite a bit thinner than many other ski goggles we've used, so packing out will likely happen quicker compared with thicker foam builds. But again, it's holding up fine so far, and the Skyline strikes us as a very sturdy and hardwearing design overall. 

Other Versions of the Smith Skyline
In addition to the standard Skyline we tested for this review, Smith also offers the goggle in an XL variation and Low-Bridge Fit for both the medium and XL sizes (you might see it referred to as an "Asia Fit"). As the name indicates, the Skyline XL (also $170) is bigger than the standard model and a better match for those with larger facial features. And the Low-Bridge Fit for both the medium and XL Squads uses extra lining at the bridge of the nose for those who try on the regular goggles and find they have a gap between their nose and the foam of the goggles. Features remain the same across the board, including a single ChromaPop lens, comfortable triple-layer construction, and anti-fog inner lens.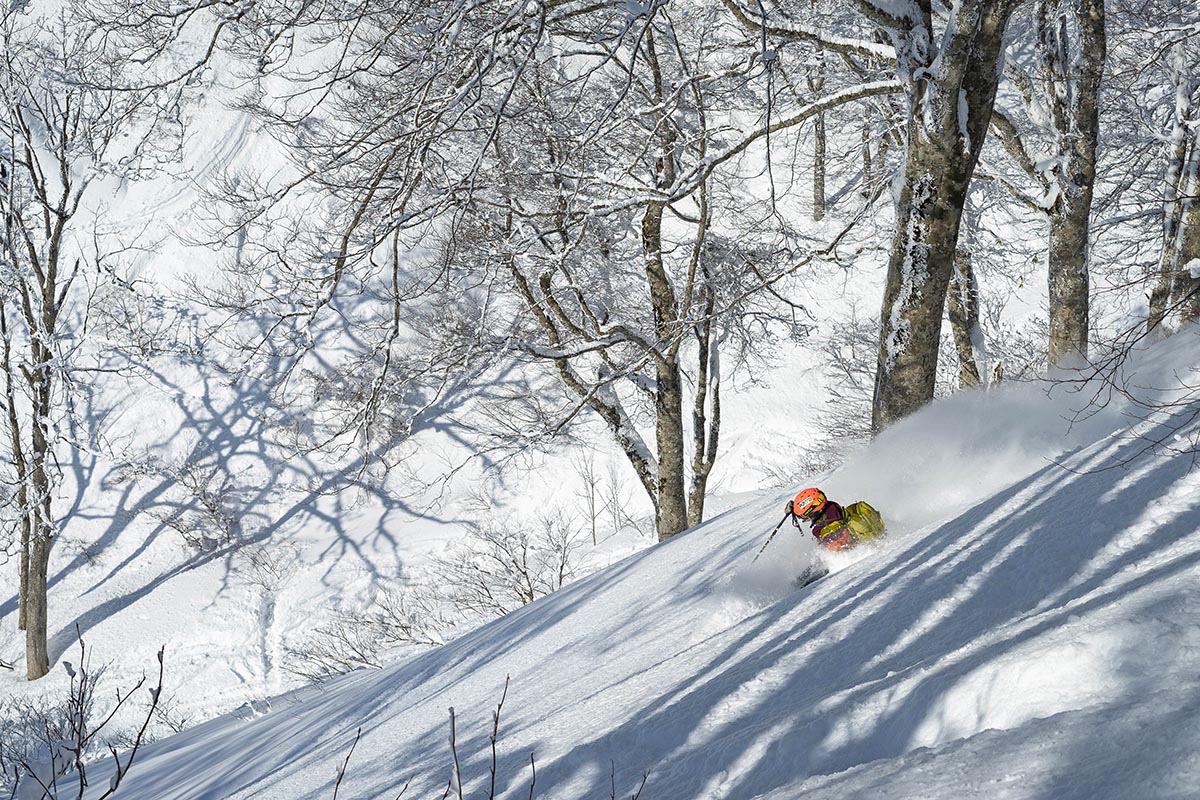 What We Like
Despite its medium fit, the Skyline has a great field of view that never felt restrictive or tunnel-like.
Very comfortable against the face with triple-layer foam, an accommodating shape and size, and an easy-to-use fit adjustment system.
Quality and sturdy build that has withstood significant use and abuse with very minor wear to show for it.

What We Don't
Only one lens included, and our photochromic design didn't adjust well to changing light conditions and performed poorly on cloudy days (we recommend choosing a standard, non-photochromic ChromaPop lens).
Doesn't generate enough airflow to prevent fogging during high-output activities.
Simple lens-change system requires a good amount of force and is nearly impossible to use without smudging the lens.


Comparison Table
*Editor's Note: OTG stands for "over the glasses" goggles, which fit over a pair of prescription glasses. 

The Competition
Smith's Skyline is a mid-range ski goggle that offers good all-around performance for resort use. In the same category, we also like Oakley's Fall Line XM. Both goggles include one lens, cost around the same, and are comfortable and well-built. However, the Fall Line has a cylindrical shape that doesn't sit as close to the face, which resulted in a reduction in overall visibility and field of view, especially along the sides and at the bottom corners (although it does seem to help reduce fog buildup). In swapping between the two goggles, we found the difference to be quite noticeable (for more, read our in-depth Fall Line XM review). For this reason, unless you prefer the cylindrical design, we think the Smith is the better performer for around $20 less (depending on tint).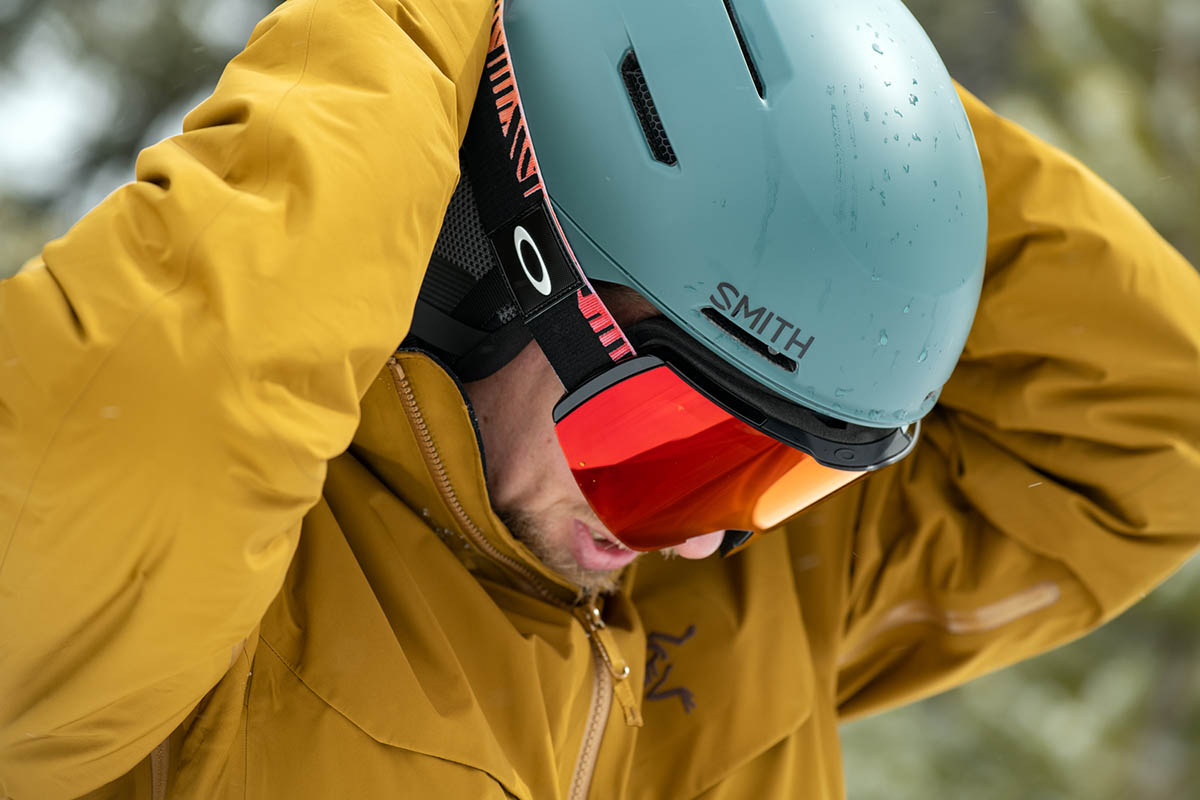 Another Oakley goggle to consider is their Line Miner XM. Stacked up against the Skyline, the Line Miner also comes with one lens and has a medium fit. However, styling is entirely different: the Line Miner XM has a cylindrical shape and classic framed design compared to the Skyline's sleeker frameless, spherical build (although this is largely a matter of personal preference). The Oakley does undercut the Skyline in price, but we prefer the Smith's lower-profile and more modern-looking aesthetic.
Giro is another leader in the snow goggle market, and their Axis is a nice alternative to the Skyline. For $190 ($20 more than the Smith), you get a similar medium fit and comfortable three-layer build but with two high-quality Zeiss lenses included. We do prefer Smith's ChromaPop technology—the clarity is top-notch and the colors more vibrant—but the Axis provides great all-around visibility. Further, the Axis uses Giro's more user-friendly quick-change design, which handily beats out the Smith's rudimentary system. Neither goggle is a leader in fog prevention, but the added lens and upgraded lens-change system are enough for us to recommend the Giro over the Smith.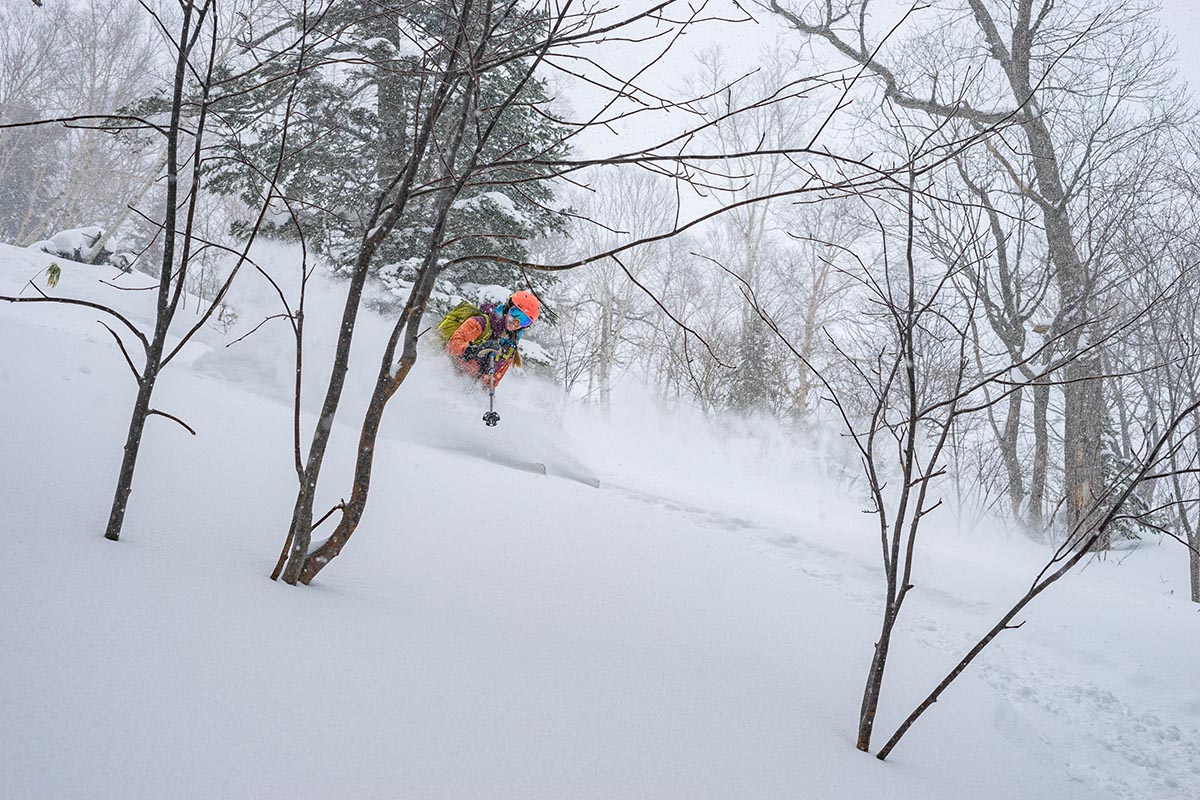 Next up is Anon's Sync, which, like the Giro Axis, includes two lenses and retails for $190. Unlike the Skyline, the Sync has a cylindrical shape, includes two lenses, and has a slightly larger fit. And swapping lenses is much easier with Anon's M-Fusion design, which uses magnets and hinges to secure the lens in place. Both goggles have sleek, frameless builds that are well-made and comfortable against the face, but again, we think the additional lens and higher-quality quick-change system are worth the minor cost penalty.
Last but not least, for a step up in price ($250-$280) and performance, our favorite snow goggle this year is Smith's own I/O Mag. The extra money gets you two quality ChromaPop lenses that provide impressive clarity in a range of conditions, an easy-to-use quick-change system, and excellent ventilation. Many other features remain the same, including the three-layer DriWix foam construction, QuickFit strap adjustment, and versatile medium fit that accommodates most head shapes and sizes (the I/O Mag is also offered in S and XL versions). In the end, if you plan to hit the resort with any frequency, we highly recommend stepping up to the I/O Mag for the added performance.
If you're thinking about buying gear that we've reviewed on Switchback Travel, you can help support us in the process. Just click on any of the seller links above, and if you make a purchase, we receive a small percentage of the transaction. The cost of the product is the same to you but this helps us continue to test and write about outdoor gear. Thanks and we appreciate your support!
Depending on the seller, most products ship free in the United States on orders of $50 or more. International shipping availability and rates vary by seller. The pricing information on this page is updated hourly but we are not responsible for inaccuracies.
Learn More About Ski Gear