Sea to Summit Telos TR2
Price: $499
Packaged weight: 3 lbs. 10.7 oz.
Floor area: 28 sq. ft.
Capacities: 2P, 3P
What we like: Tension Ridge pole does an excellent job at maximizing overall livability.
What we don't: Pricier than the competition and thinner fabrics will require added care.
See the Sea to Summit Telos TR2
Sea to Summit is best known for their quality sleeping pads and backpacking accessories, but their recent foray into the tent market has put them in the crosshairs of long-time players like Nemo and MSR. They introduced two models for this year: the semi-freestanding Alto TR and freestanding Telos TR. We brought the latter onto a backpacking trip in Colorado's San Juan mountains and came away very impressed by the tent's open and airy-feeling interior, which is largely the result of the unique center ridge pole. The Telos is pricey at nearly $500, and the thin floor will require added care to avoid snags and tears, but it's nevertheless a well-built and thoughtful design for weight-conscious backpackers. Below we outline the Telos TR2's overall performance. To see how it stacks up to the competition, check out our article on the best backpacking tents.
 
---
Table of Contents
---

Performance
Livability and Interior Space
Despite a fairly average 28-square-foot floor area, Sea to Summit's new Telos TR2 is an impressively roomy-feeling and livable tent. The openness is largely a result of the brand's unique and innovative Tension Ridge pole, which bends gently upward at the top of the tent (by contrast, most tents' center ridge poles slant downward). This results in higher doors and more vertical walls, both of which were very noticeable my first time crawling into the tent. For reference, the Telos' 43.5-inch peak height is taller than all of its close competitors and provided plenty of headroom for me to move around freely and comfortably wait out a sudden and violent hailstorm at 12,000 feet while backpacking in Colorado's Mt. Sneffels Wilderness.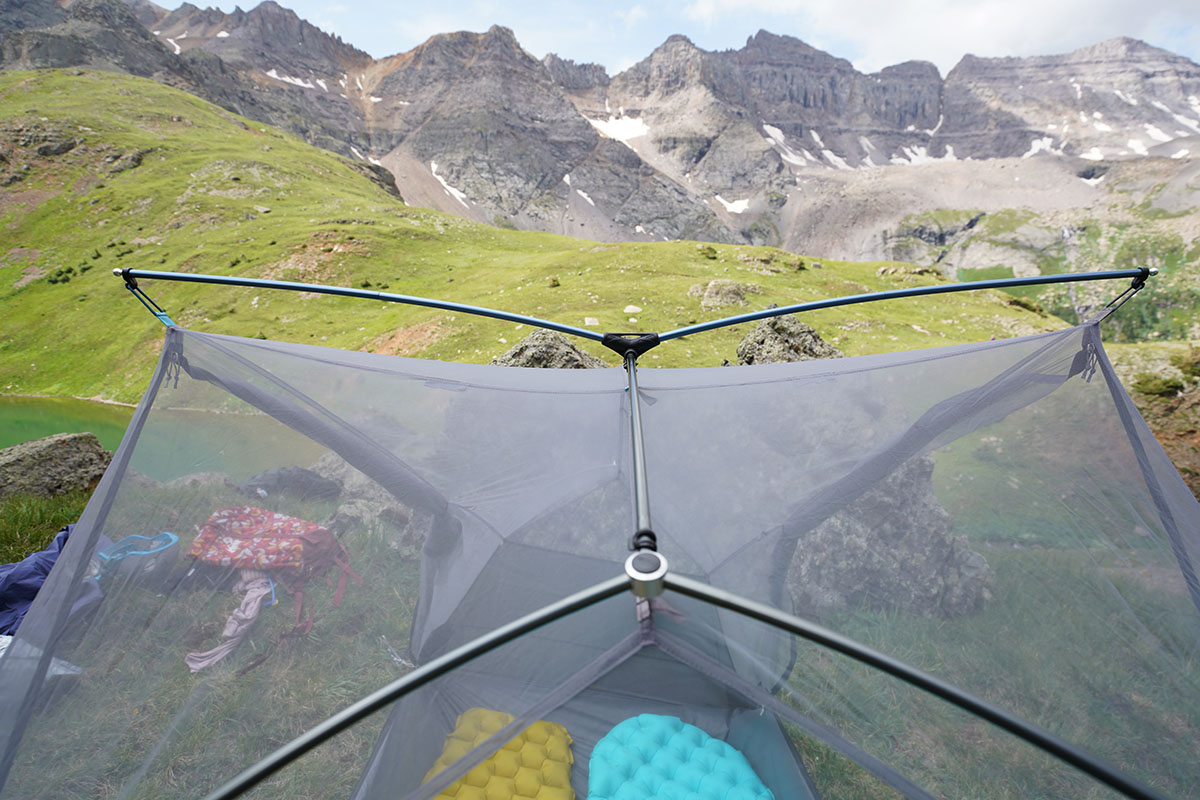 As I touched on above, the Telos boasts 28 square feet of floor area, which falls short of leading designs including Big Agnes' Copper Spur HV UL2 (29 sq. ft.), Nemo's Dagger 2P (31.3 sq. ft.), and MSR's Hubba Hubba NX (29 sq. ft.). To be fair, the roomier Dagger has been my go-to tent for the past several seasons, and I didn't notice too much of a difference in terms of overall spaciousness, but I imagine that adding a partner or dog to the mix would make the smaller area more apparent. And the Telos' floor does taper aggressively at the foot end (from 53 in. to 43 in.), which means that you'll probably want to sleep shoulder to shoulder with a tent mate. That said, the dimensions should easily accommodate most standard 20-inch sleeping pads side by side, and the 84.5-inch length is ample considering that most "regular" pads are around 72 inches long. For reference, I'm 5'6" and was able to sprawl out haphazardly with plenty of room to spare at both ends.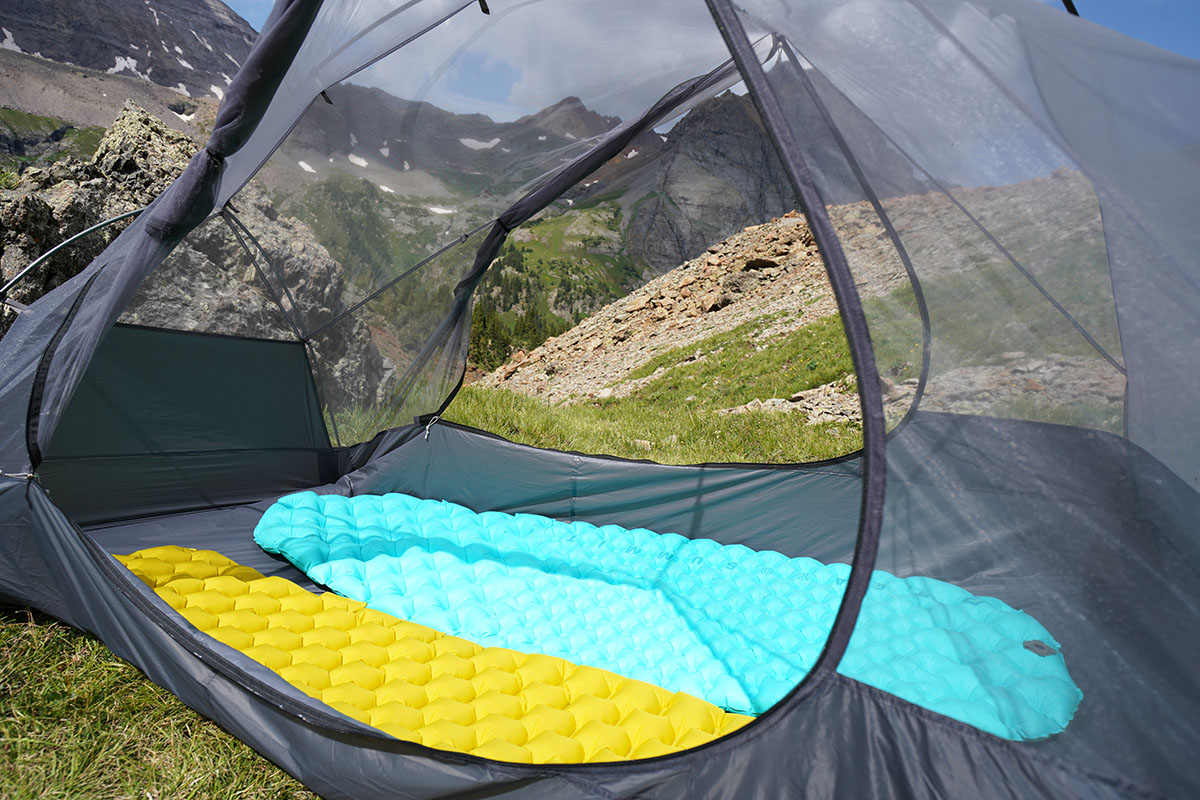 Weight and Packed Size
At 3 pounds 10.7 ounces all in, the Sea to Summit Telos TR2 is lighter than much of its fully freestanding competition. For reference, popular alternatives like the Nemo Dagger 2P and MSR Hubba Hubba NX (both 3 lb. 14 oz.) come in a few ounces heavier, although both of those tents utilize thicker floors (30D vs. the Telos' 20D) for a boost in durability. Big Agnes' legendary Copper Spur HV UL2 is a closer match with similarly thin materials and comparable livability and checks in at 3 pounds 2 ounces. You can go even lighter with more targeted ultralight designs like the Zpacks Duplex (1 lb. 3.4 oz. with trekking poles for support), Tarptent Double Rainbow (2 lb. 10 oz.) or REI Co-op Flash Air 2 (2 lb. 8 oz.), but expect a fair share of tradeoffs with these streamlined tents.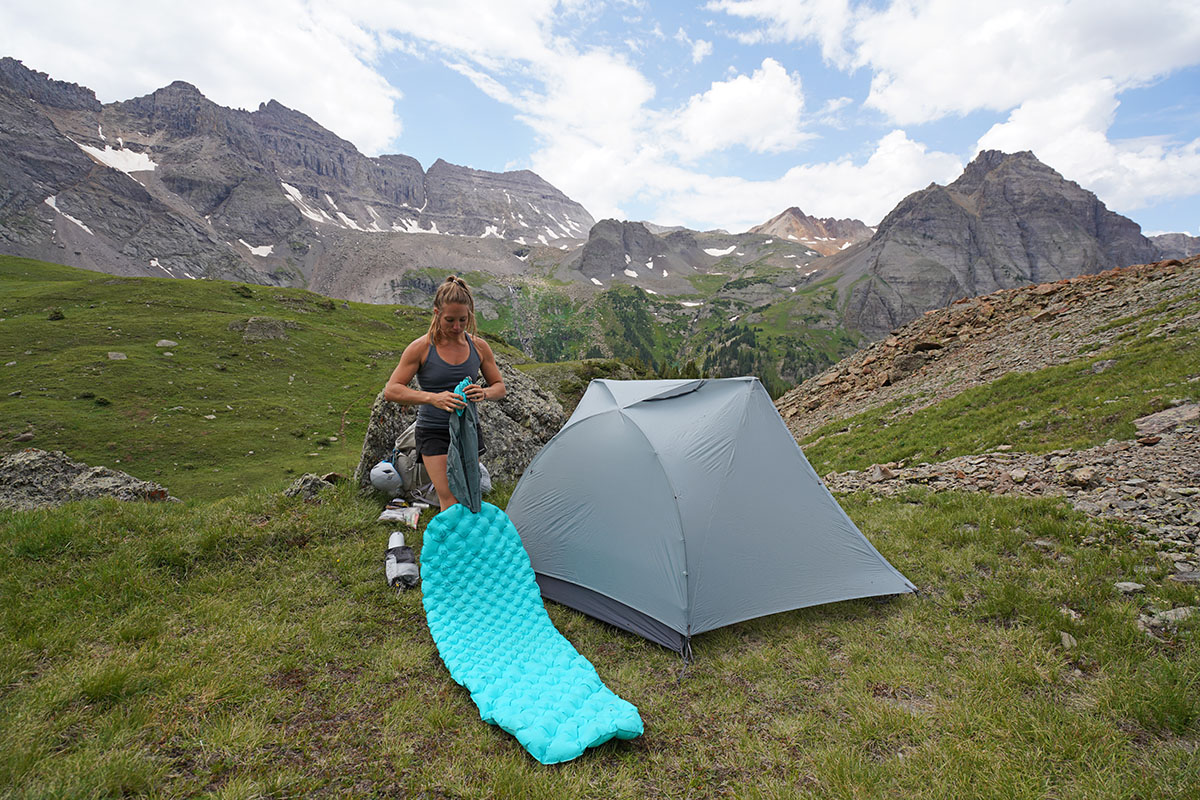 When it comes time to pack down, the Telos TR2 stuffs away into three separate sacks—called the "FairShare" storage system—that are designed to divide the load between packs. Each bag is multi-use: the tent and rainfly stuff sacks transform into interior gear storage pockets, while the tent pole bag (called the "Lightbar") can be used for illumination by stuffing your headlamp inside and connecting it to the ceiling of the tent. The bags also nest together to make the package easier and more compact for one person to carry. For reference, the entire system measures 5.1 x 18.9 inches when stuffed down, which is fairly competitive, and I've never had any issues finding space in a full backpacking pack to accommodate all of the components.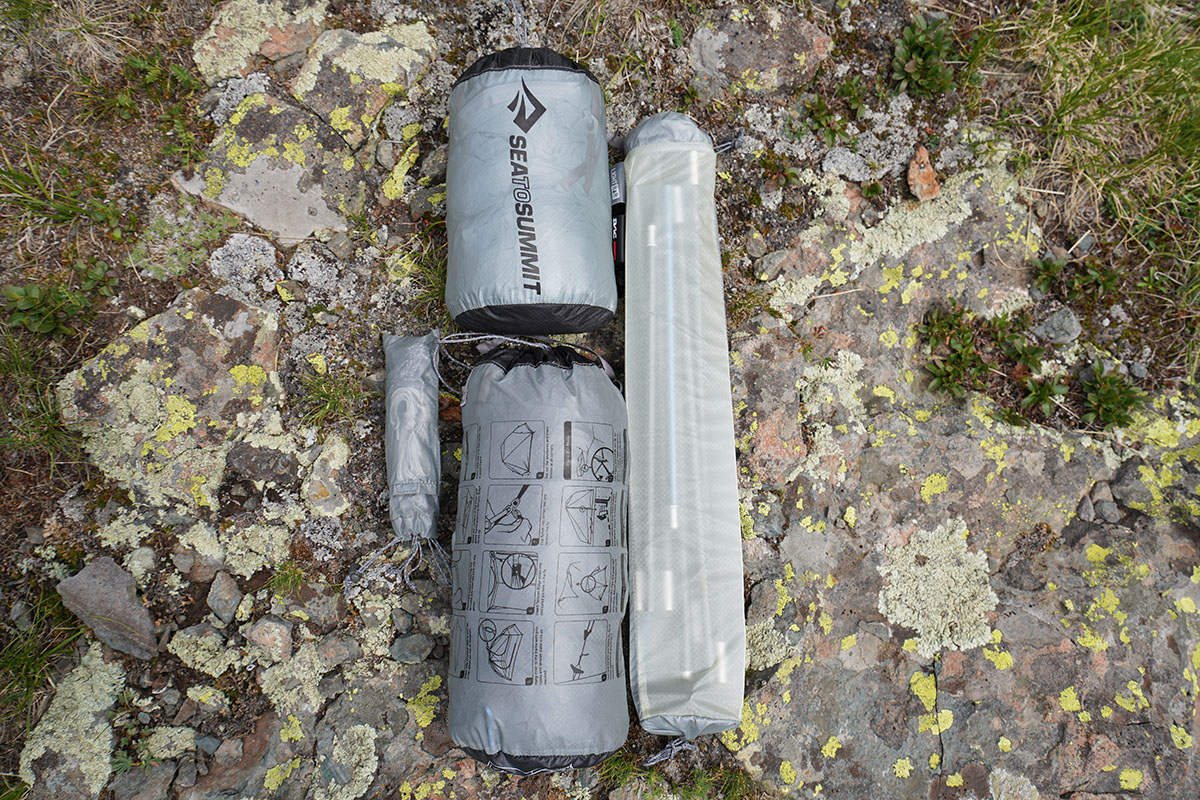 Build Quality and Durability
To keep weight down, Sea to Summit opted for a fairly thin and delicate 15-denier (D) fabric for the Telos' rainfly and canopy and 20D for the floor. To be sure, I didn't have any issues pitching the tent without a footprint in the Mt. Sneffels Wilderness, but the ground was fairly forgiving with no sharp rocks or roots below, and I've been careful to avoid potential hazards on subsequent outings. If you tend to be hard on your gear or just want some added assurance, it's a good idea to purchase the 68D Lightfoot footprint separately for $55 (Sea to Summit also sells a Bigfoot footprint for $70 that adds coverage below the vestibules).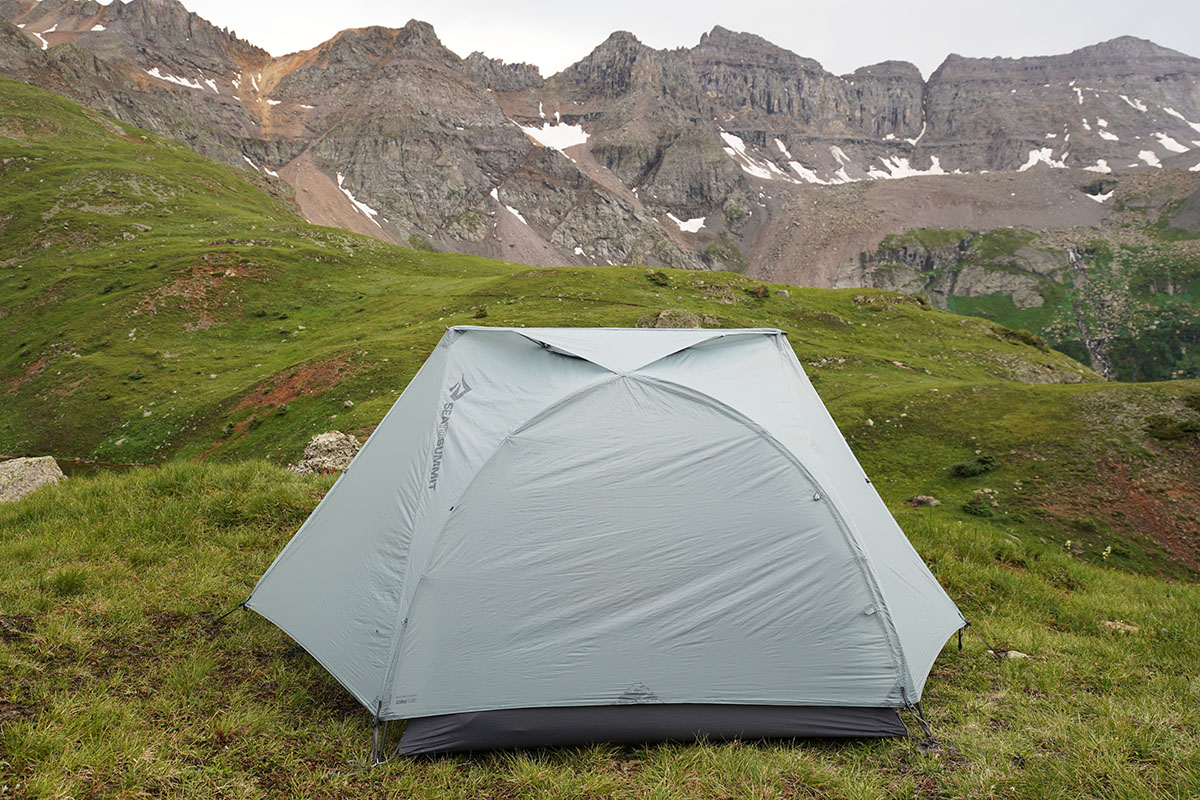 Apart from the floor, however, I have very few durability concerns: the DAC poles are sturdy and confidence-inspiring even in rough and windy conditions (more on this below), the YKK zippers operate smoothly, and the fly is seam-taped and coated with polyurethane to boost tear strength and waterproofing. Finally, it's worth noting that our testers experienced an issue connecting the Lightbar in the semi-freestanding Alto TR2 (see our in-depth review here), but I've been able to use the illumination feature in the Telos without any problems. All in all, if you take reasonable care and use a footprint, the tent should have a long and healthy lifespan.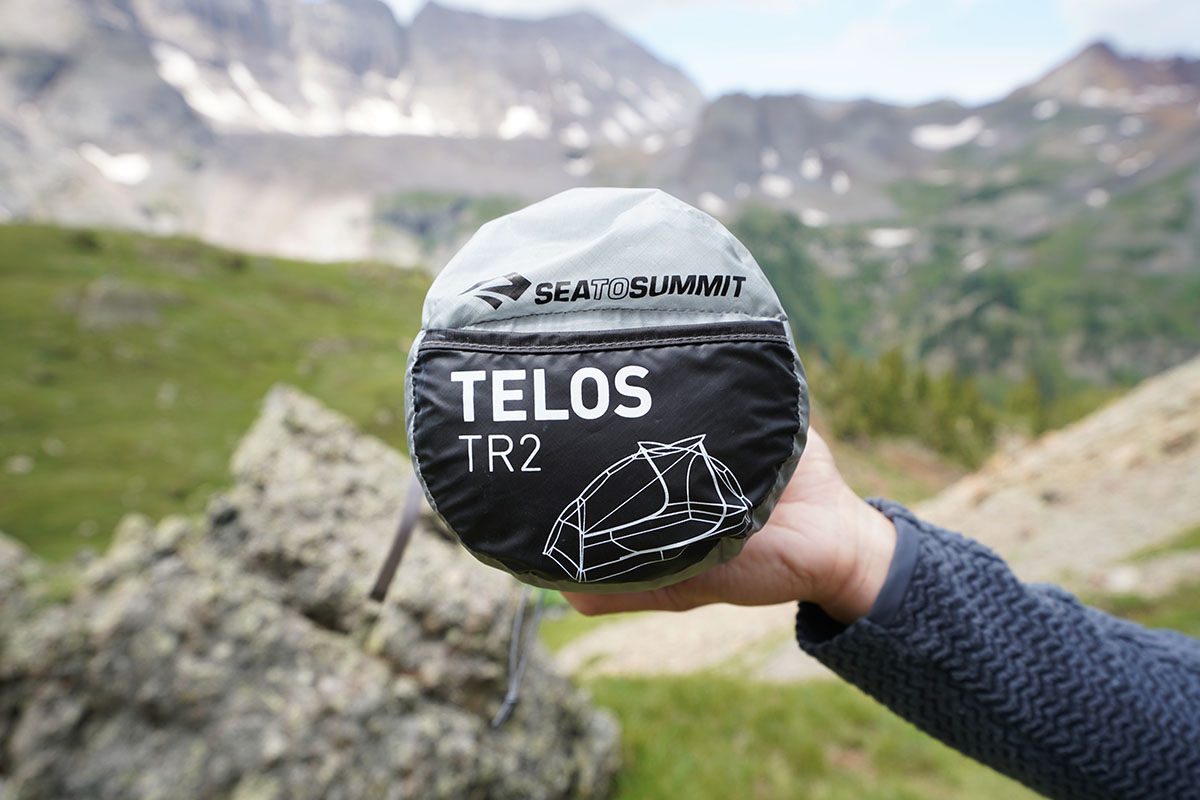 Weather Protection
As I mentioned above, we were unexpectedly hit with a violent hailstorm while backpacking in the Mt. Sneffels Wilderness, and the Sea to Summit Telos TR2 deftly fended off the aggressive winds and heavy rain. The storm came on so quickly that I didn't have time to guy out the tent properly (it comes with four guylines), which meant that it was connected to the ground by only six stakes (it comes with eight). Despite bowing heavily in the gusts—entirely expected given my haphazard pitching job—the tent managed to keep me completely dry and comfortable. The 6-inch-deep bathtub floor is slightly thicker than the rest of the tent (20D vs. 15D) and easily repelled moisture while sealing out drafts, and the rainfly effectively shrugged off the sideways rain and pea-sized hail. After that experience, I'm confident in saying that the Telos should be able to withstand most 3-season conditions with ease.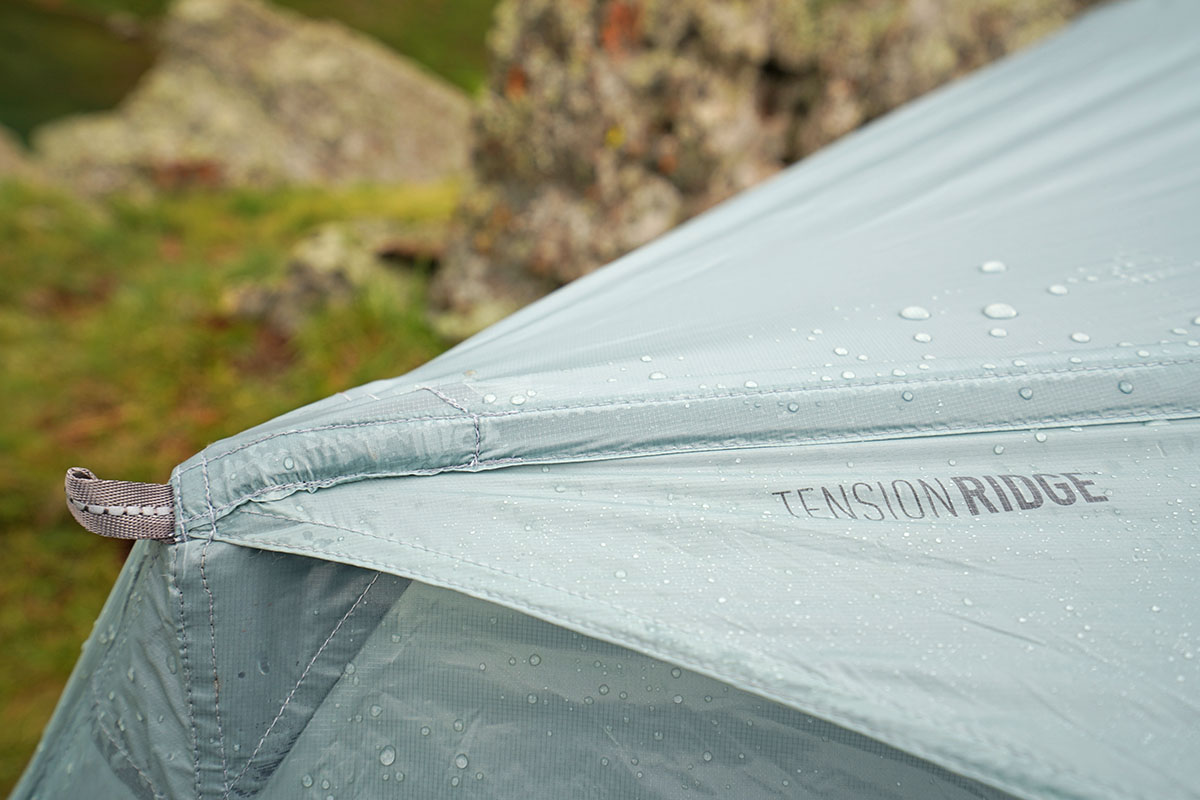 However, as we experienced with Sea to Summit's Alto TR2 (the Telos' semi-freestanding sibling), the Telos TR2's Tension Ridge design does allow water to pool near the upper vent. I made sure to leave the vent open at the onset of the storm for testing purposes, but after around 5 minutes of heavy precipitation, I decided to close it as water started to build up in the concavities of the fly. In all fairness, making the fly tauter likely would have helped, moisture never entered the tent, and I was able to quickly close the vent from inside. But the design's tendency to pool water at the vent is nevertheless a potential downside for those who frequently camp in wet and humid places where both protection and ventilation are needed.

Ventilation
With a mostly mesh body and dedicated vents both at the top and bottom, the Telos TR2 is a true standout in the backpacking tent market when it comes to ventilation. As I touched on above, the upper Apex vent is held open by the Tension Ridge pole, which allowed water to pool in a heavy rainstorm, but it does provide a noticeable amount of airflow when left open in favorable conditions. The tent also features Baseline vents along the lower portion of the rainfly, which can be rolled up and tied off to allow air to enter from below. I haven't camped in temperatures above around 70 degrees Fahrenheit since receiving the tent, but I've experienced no condensation build-up or signs that point to a lack of breathability, even when hunkered down in the aforementioned hailstorm with the vents closed. I'll be sure to update this review if that changes when I take the tent into warmer weather.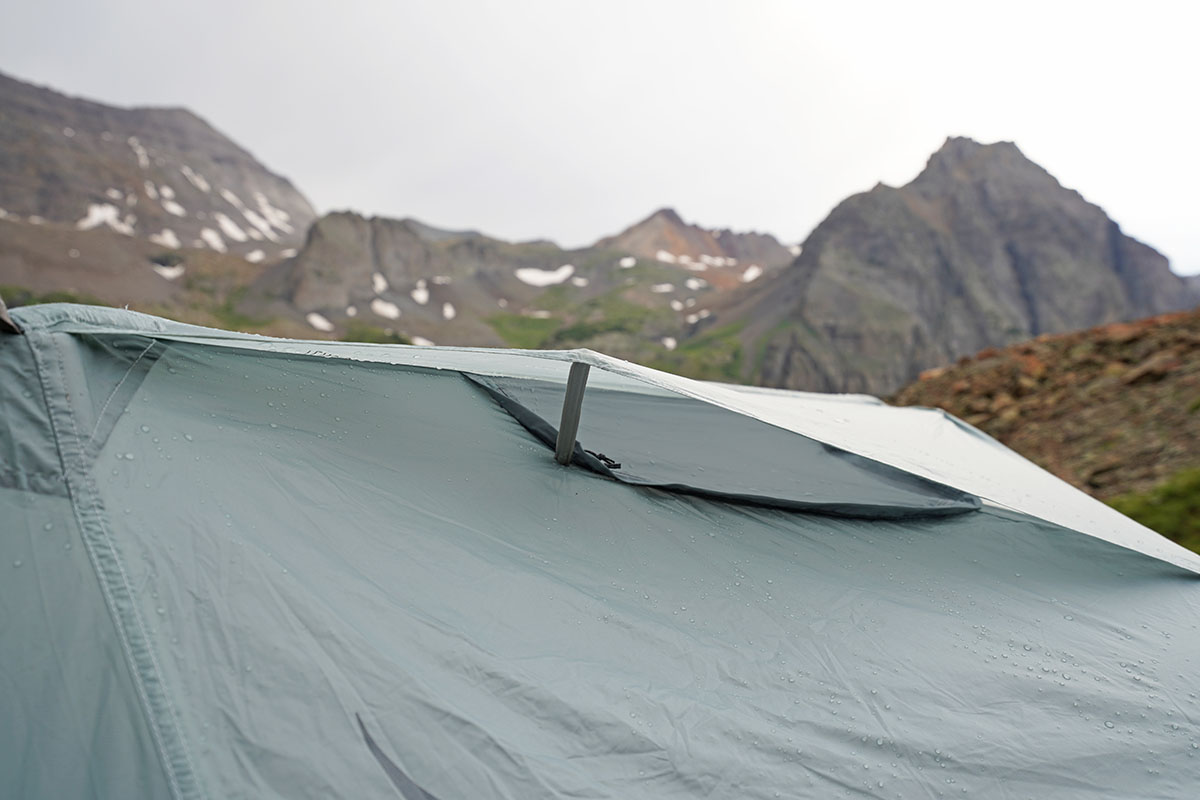 Vestibules and Storage
We love the convenience of two-door-and-vestibule tent designs, and Sea to Summit's Telos makes it easy and convenient for two backpackers to move around. As I mentioned previously, the doors are tall and make entry and exit a breeze. The vestibules aren't especially large at 19.5 square feet total, but they offer ample room for stowing a pack, hiking shoes, and other miscellaneous gear that you don't want with you inside the tent.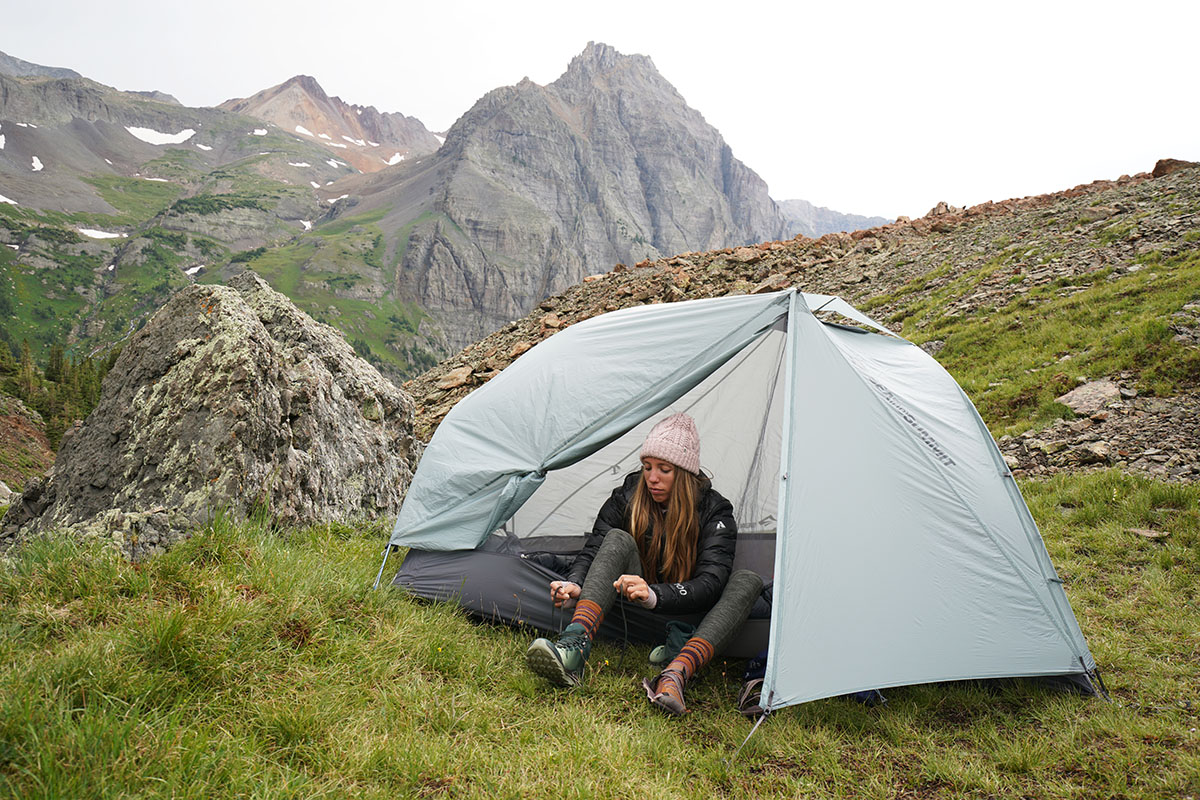 In terms of interior storage, I had no trouble finding room for the essentials. You get the aforementioned stuff sacks that double as storage pockets at the head end of the tent, the Lightbar at the ceiling that can be used for illumination with a headlamp or to stow other small items, and two built-in mesh storage pockets. Sea to Summit also sells a mesh Gear Loft separately for $20, which hangs at the foot of the tent and is great for stashing clothing and other larger and bulkier gear. All told, it's a very functional layout that should make most backpackers happy.

Set up and Take Down
One big benefit to opting for a fully freestanding tent is that they typically are a cinch to set up, and the Sea to Summit Telos TR2 is no exception. I admittedly struggled my first time by failing to connect the fly properly (I didn't realize that the clips are color-coded), but that was entirely user error. After a couple more nights in the tent, I have the process down pat: To start, lay the tent body on the ground and stake out the corners via the adjustable stake-out loops. Next, connect the shock-corded pole system and match the color-coded tips with the corresponding end of the tent. Finally, orient the Tension Ridge pole so that it's facing upward, then snap in the tent body to the pole frame.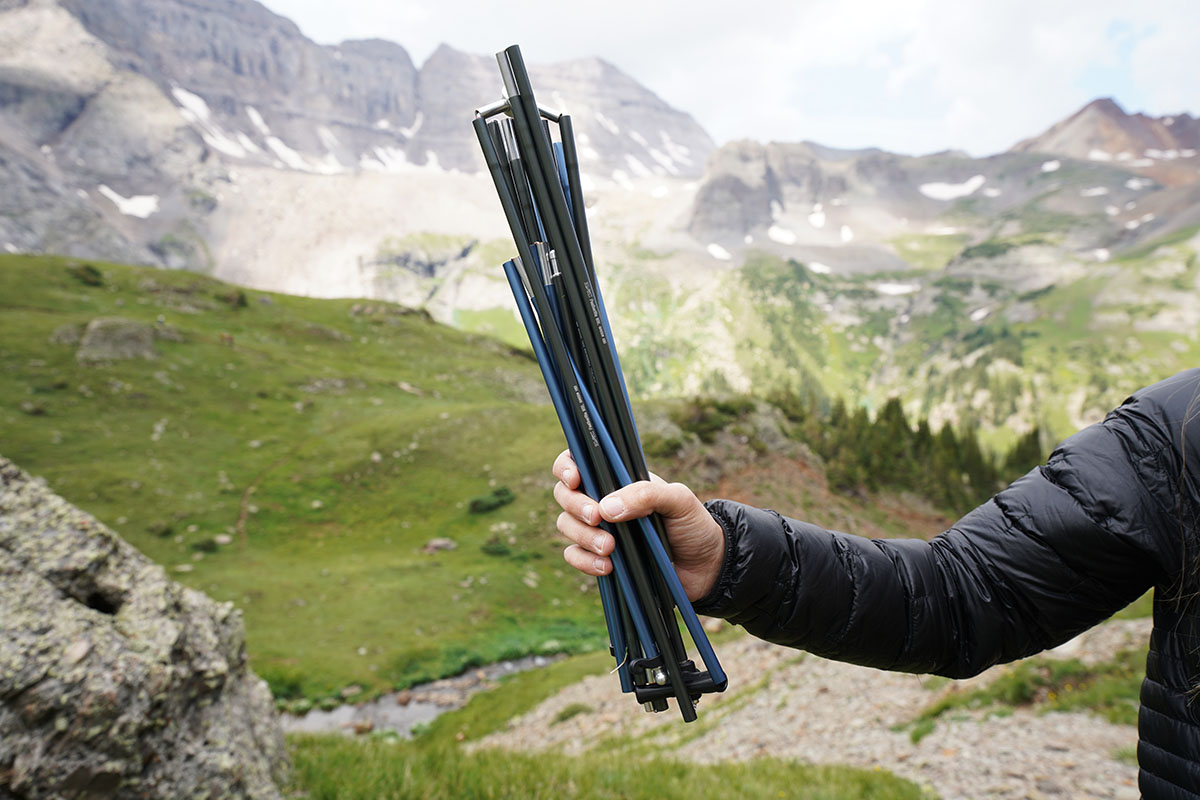 If you want to add the rainfly, it's simply a matter of matching the clips and Quick Connect pole feet and securing the Tension Ridge pole inside the fly's fabric pockets. The fly also has multiple Velcro tabs along the inside to better secure it to the rest of the unit. The final step is staking out the vestibules and tightening everything up. It's worth noting that our testers who reviewed the Alto TR2 found that the pole feet required a lot of tension to stay in place and came undone unexpectedly in high winds, but the Telos performed admirably in the strong gusts we experienced in the San Juans. And one final note here is that the rainfly can be pitched on its own with trekking poles and used as a seating or staging area, which Sea to Summit calls "Hangout Mode."

Other Versions of the Sea to Summit Telos TR
We brought the standard two-person Telos TR to Colorado for testing, and Sea to Summit also offers it in a three-person variation, as well as 2 Plus and 3 Plus models. For bigger groups or if you simply prefer the added space, the Telos TR3 costs $100 more than the TR2 at $599, has 39.5 square feet of floor space and a 52.5-inch peak height, and weights 4 pounds 10.7 ounces all in. The TR2 Plus and TR3 Plus models cost $539 and $639 respectively are designed to provide additional protection in inclement weather with fabric inner tents (rather than the mesh-heavy canopy of the standard designs) and floors with higher waterproofing specifications (they're designated for use in 3+ seasons).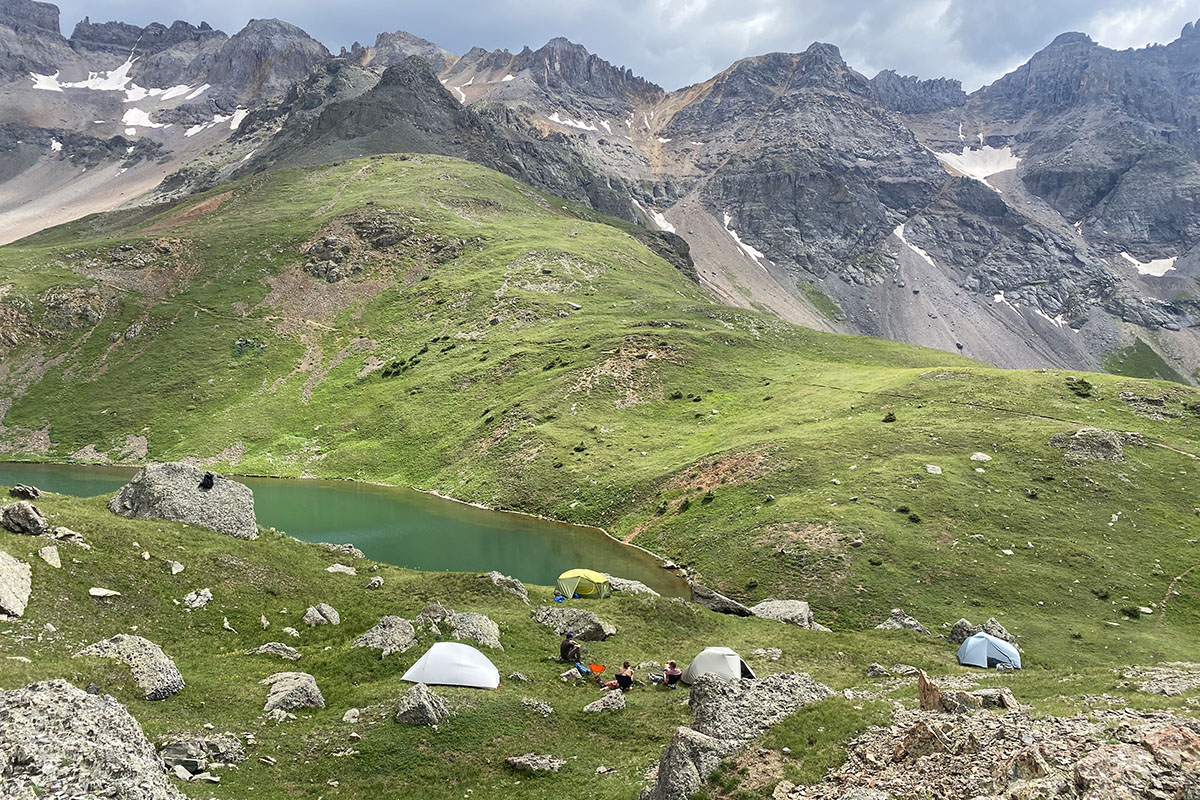 What We Like
Despite a fairly average 28 square feet of floor area, the Telos' Tension Ridge pole does an excellent job at maximizing overall livability and roominess.
At 43.5 inches at its peak, the Telos is noticeably taller than much of its competition, and the large doors make entry and exit a breeze.
Mostly mesh body and vents both at the top and bottom promote excellent airflow.
Weight is very competitive at 3 pounds 10.7 ounces all in, especially considering the generous amount of interior storage.
Very easy to set up and take down thanks to the freestanding design and color-coded pole clip system.

What We Don't
At $499, the Telos is pricier than much of its direct competition by around $50-$100.
The 20-denier floor is fairly thin and fragile—we recommend purchasing a footprint separately to avoid snags and tears.
Water tends to pool by the upper vent in heavy and sustained rain as a result of the concave Tension Ridge design.
Tent tapers aggressively at the foot end, although most backpackers should find it sufficient for fitting two standard-width sleeping pads side by side.


Comparison Table
| Tent | Price | Weight | Floor | Area | Height | Door(s) | Capacities |
| --- | --- | --- | --- | --- | --- | --- | --- |
| Sea to Summit Telos TR2 | $499 | 3 lbs. 10.7 oz. | 20D | 28 sq. ft. | 43.5 in. | 2 | 2P, 3P |
| Nemo Dagger 2P | $430 | 3 lbs. 14 oz. | 30D | 31.3 sq. ft. | 42 in. | 2 | 2P, 3P |
| MSR Hubba Hubba NX | $450 | 3 lbs. 14 oz. | 30D | 29 sq. ft. | 39 in. | 2 | 1P, 2P, 3P, 4P |
| Big Agnes Copper Spur | $450 | 3 lbs. 2 oz. | 15 x 20D | 29 sq. ft. | 40 in. | 2 | 1P, 2P, 3P, 4P |
| REI Quarter Dome SL 2 | $349 | 2 lbs. 14 oz. | 15D | 28.7 sq. ft. | 38 in. | 2 | 1P, 2P |
| Sea to Summit Alto TR2 | $449 | 2 lbs. 15.7 oz. | 15D | 27 sq. ft. | 42.5 in. | 2 | 1P, 2P |

The Competition
Sea to Summit's Telos TR2 stands out among the backpacking tent competition for its impressive livability and headroom thanks to the unique Tension Ridge pole. However, there's no shortage of premium options to consider, and one of our long-time favorites is Nemo's Dagger 2P. Stacked up against the Telos, the Dagger boasts a larger floor area (31.3 sq. ft.), has more vestibule space (22.8 sq. ft.), and uses a thicker floor material (30D)—all for around $70 less than the Telos. However, the Dagger falls short in terms of weight (3 lbs. 14 oz.) and peak height (42 in.), the latter of which is noticeable when sitting up and moving around. In my experience, despite the smaller floorplan, the Telos feels similarly roomy inside, and I love the more generous assortment of pockets. Both are well-rounded and thoughtfully built freestanding options, and a final decision will come down to preferences on weight, price, and durability (note: the Dagger 2P is unavailable at the time of publishing, but we expect it to come back into stock soon).
Next up is MSR's Hubba Hubba NX, which shares a lot in common with the aforementioned Dagger. Like the Nemo, it's a little heavier than the Telos at 3 pounds 14 ounces all-in but offers good livability and durability with two doors and vestibules, 29 square feet of floor area, near-vertical walls, and a strong 30-denier floor. The MSR is also an excellent ventilator and provides great coverage and protection from the elements. However, held up against the Telos, it's noticeably shorter at 39 inches at its peak and doesn't have as much vestibule space (17.5 sq. ft. total). For $50 more, we think the Telos will be the preferred option for most weight-conscious backpackers, but the MSR is the more proven and hardwearing design.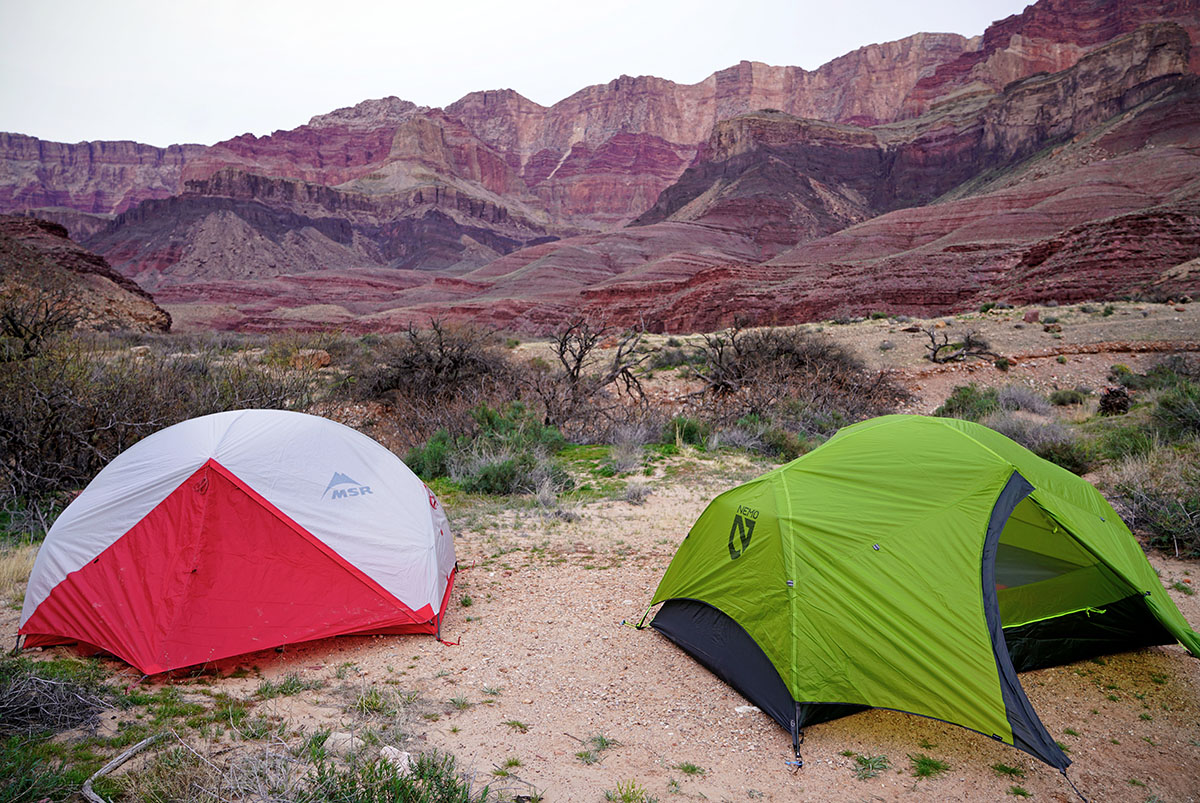 Our favorite backpacking tent this season is Big Agnes' legendary Copper Spur HV UL2, which offers a standout combination of weight, interior space, and features. The Big Agnes is lighter than the Sea to Summit at 3 pounds 2 ounces, boasts solid headroom and floor space (40 in. and 29 sq. ft. respectively), and has a high-quality build with thoughtful storage, substantial zippers, and an easy-to-pitch freestanding design. The biggest downside is the use of thinner fabrics, although the Copper Spur's 15 x 20-denier floor isn't much thinner than the Telos'. Unless you absolutely need the added headroom of the Sea to Summit, we consider the Copper Spur the better value at around $50 less.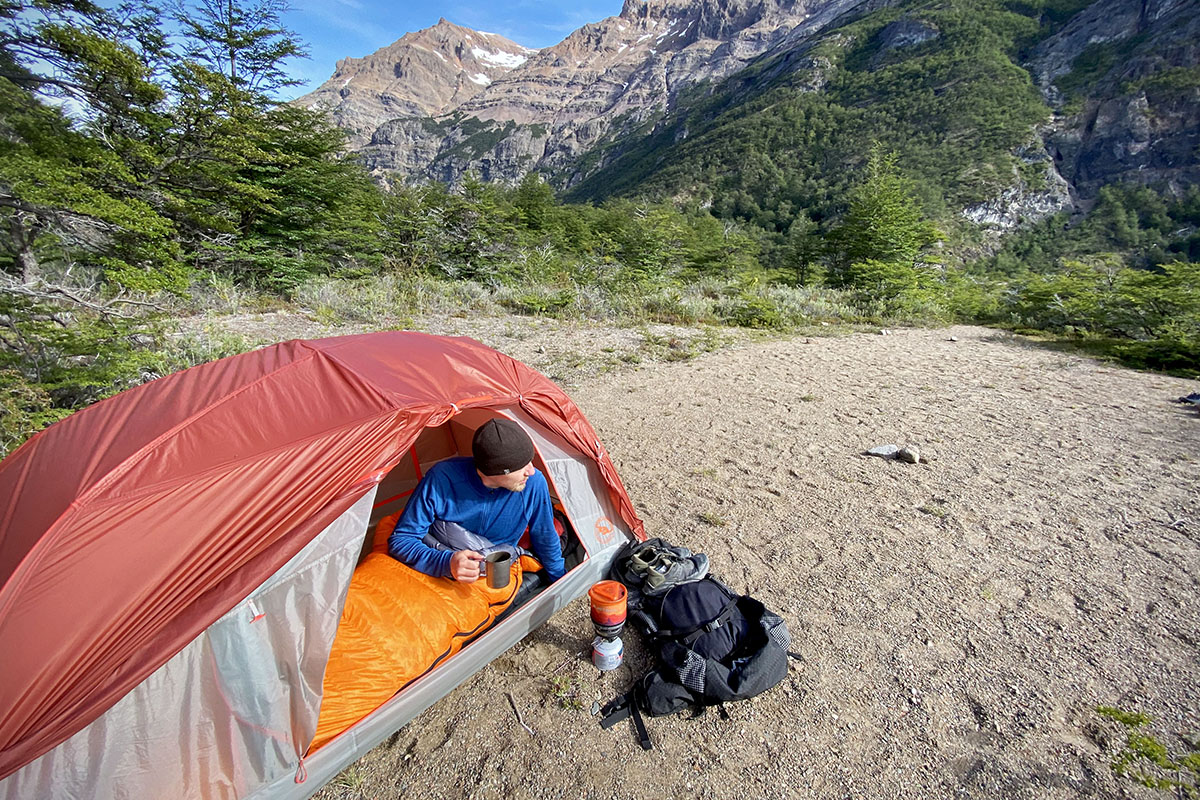 For an even bigger step down in price, REI Co-op's Quarter Dome SL 2 is an intriguing alternative. For just $349, the Quarter Dome is very competitive with a low, 2-pound-14-ounce weight, two doors and vestibules, and good overall livability with 28.7 square feet of floor area and near-vertical sidewalls. Where the Sea to Summit gets the edge is in ventilation and peak height: it's taller by a considerable 5.5 inches and has vents both at the top and bottom for maximizing airflow, while the Quarter Dome only features an upper roof vent. Whether or not those advantages are worth the added $150 will depend on your priorities and objectives (and like the Dagger above, the Quarter Dome SL 2 should come back into stock soon).
Last but not least is the other option in Sea to Summit's new tent lineup: the Alto TR2. Unlike the freestanding Telos, the Alto is semi-freestanding, which means that it takes a bit of added time and effort to pitch (you'll need to stake out the corners at the head end and use the guylines to get everything taut). It's also slightly less roomy with a 27-square-foot floor space and 42.5-inch peak height. On the flipside, the Alto is the lighter option at 2 pounds 15.7 ounces all in and costs less at $449. In the end, we think the freestanding Telos is the more approachable design for most backpackers, but the Alto is an enticing alternative for those focused on minimizing weight and bulk.
If you're thinking about buying gear that we've reviewed on Switchback Travel, you can help support us in the process. Just click on any of the seller links above, and if you make a purchase, we receive a small percentage of the transaction. The cost of the product is the same to you but this helps us continue to test and write about outdoor gear. Thanks and we appreciate your support!
Depending on the seller, most products ship free in the United States on orders of $50 or more. International shipping availability and rates vary by seller. The pricing information on this page is updated hourly but we are not responsible for inaccuracies.
Learn More About Backpacking Gear