Scarpa Zodiac Tech GTX
Price: $349
Weight: 2 lbs. 11.7 oz. (men's)
Waterproof: Yes (Gore-Tex)
What we like: Excellent protection, durability, support, and grip for demanding backpacking and light mountaineering objectives. 
What we don't: Noticeably stiffer and less padded than most standard hiking boots.
See the Men's Scarpa Zodiac Tech GTX  See the Women's Zodiac Tech GTX
Scarpa's Zodiac Tech GTX takes their Zodiac Plus backpacking boot and adds a technical slant for light mountaineering objectives. I wore the boot while hiking around Canada and during a demanding 16-day trek through Nepal's Everest region, including ascending several icy and technical mountain passes. The Scarpa proved to be impressively well-suited for the job with a tacky Vibram outsole, protective rubber rand, tough leather build, and stalwart waterproofing—all wrapped up in a competitive sub-3-pound package. It's noticeably stiffer and less comfortable than many standard hiking boots and overkill for casual hiking and backpacking, but the performance is hard to beat for more technical mountain missions that involve a mix of trail, snow, and ice travel with a full pack. Below we outline our experiences with the Zodiac Tech GTX. To see how it stacks up, see our articles on the best hiking boots and best mountaineering boots.
 
---
Table of Contents
---

Performance
Comfort
On the comfort scale, the Scarpa Zodiac Tech GTX feels more like a stiff mountaineering boot than a well-padded hiking design. The midsole—made with a mix of EVA foam and PU—is particularly firm and under-cushioned and felt reminiscent of my La Sportiva TXS GTX boots, which are noticeably harsh and unforgiving on longer objectives. And in terms of maneuverability, the Zodiac Tech lacked the responsive, flexible feel of lighter-weight backpacking options like Salomon's X Ultra 4 and Crosshike Mid. Finally, while the one-piece tongue and collar provide a sock-like feel and evenly cinch around the foot, I wish Scarpa had added another locking eyelet at the forefoot to better fine-tune the fit. I prefer to keep the front section of my boots on the looser end while tightening things up around the ankle. To achieve this with the Zodiac Tech, I had to double-thread the laces through one of the grommets, which wasn't a major hindrance but still felt less secure than a locking design (I had a similar experience with the trimmed-down Zodiac Plus).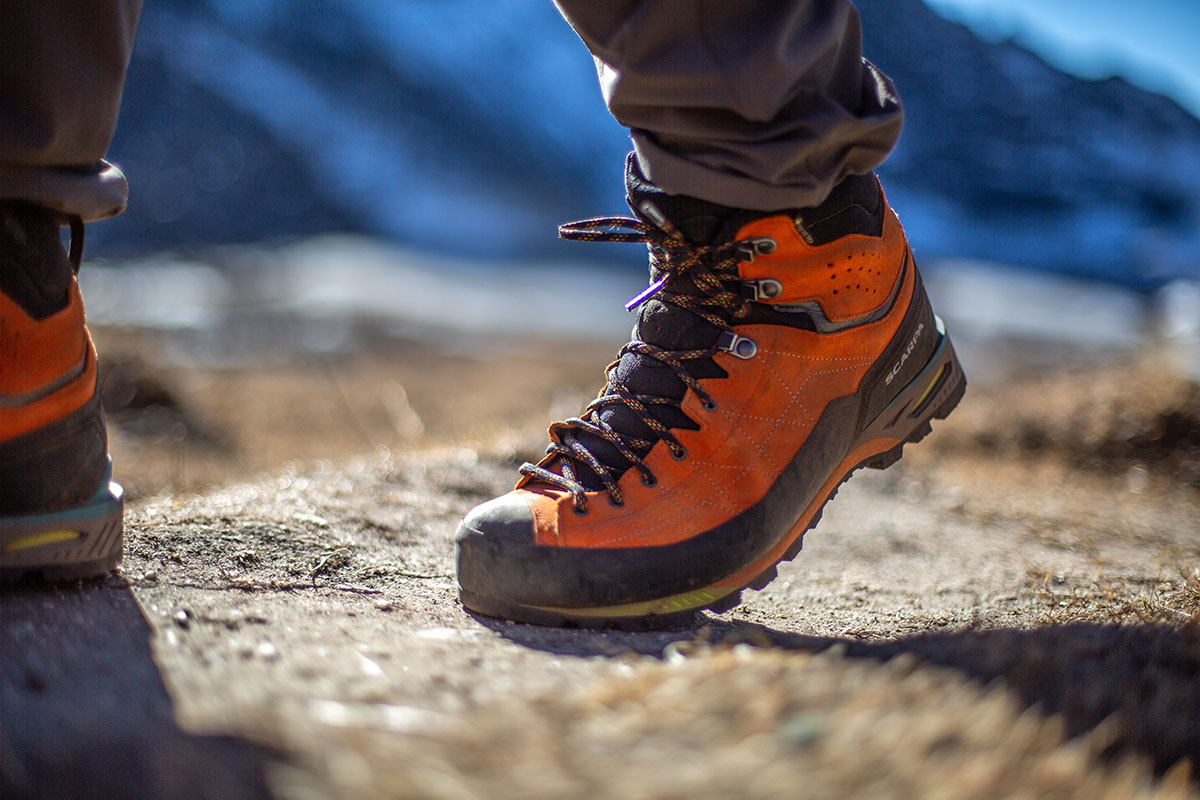 After adding some quality insoles and breaking the boots in on a couple trial hikes in Canada's Yukon and Rocky Mountains, the boots did grow a little more malleable and comfortable. In fact, I was able to wear the Zodiac Tech on our subsequent 16-day trek in Nepal without any problems, including no hotspots, rubbing, or circulation issues—I even forgot I had them on at one point. That said, I did opt for my lighter and more sprightly trail running shoes on shorter and less technical outings. While the Scarpas proved to be an excellent companion for navigating the big mountain passes on our route, they are undeniably overkill for most standard hiking and backpacking objectives.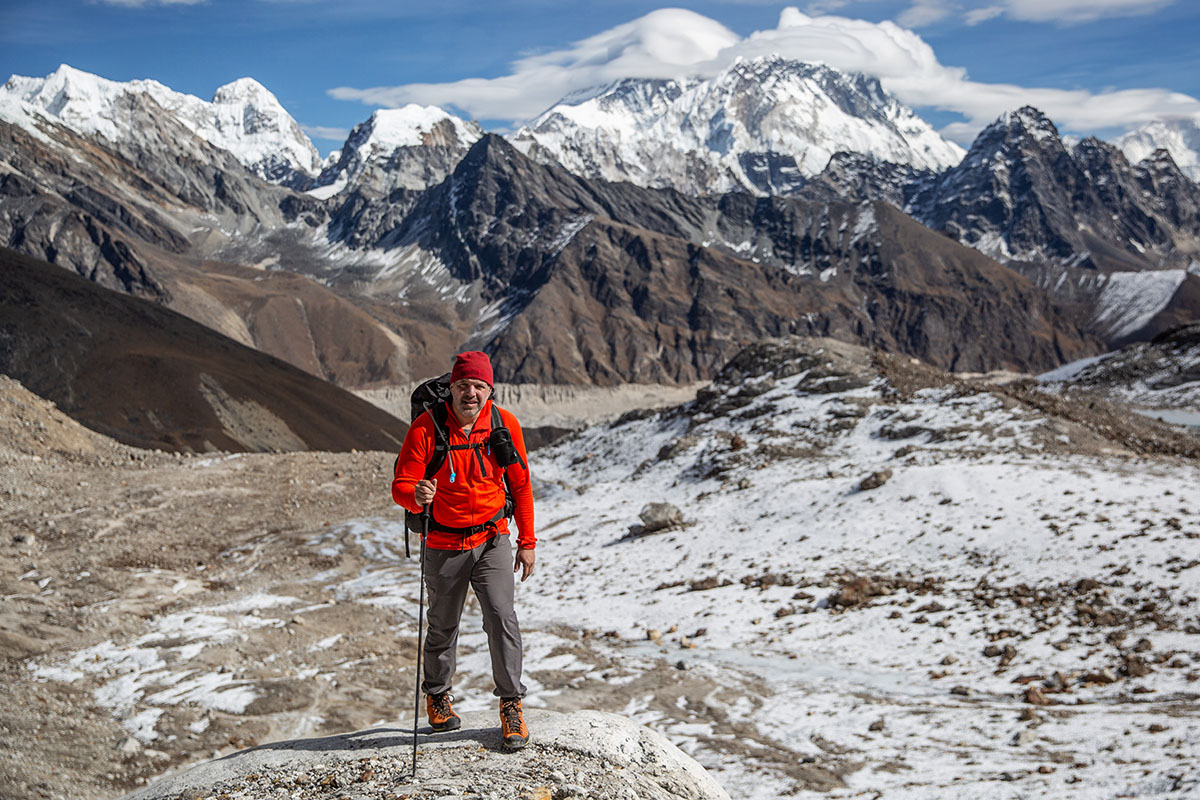 Weight
The Zodiac Tech GTX's weight reflects its hybrid intent: At 2 pounds 11.7 ounces for a men's pair, the boots are considerably lighter than many true mountaineering designs but outweigh most standard hiking boots. For reference, Scarpa's own Zodiac Plus GTX checks in at 2 pounds 6.4 ounces, although it lacks the Tech's shank, approach shoe-like rand, and technical focus (it's built for demanding backpacking objectives). Among similarly intentioned options, the Zodiac Tech stacks up favorably to competitors like La Sportiva's Trango Tech GTX (2 lbs. 11.6 oz.) and Scarpa's Ribelle HD (3 lbs. 0.7 oz.).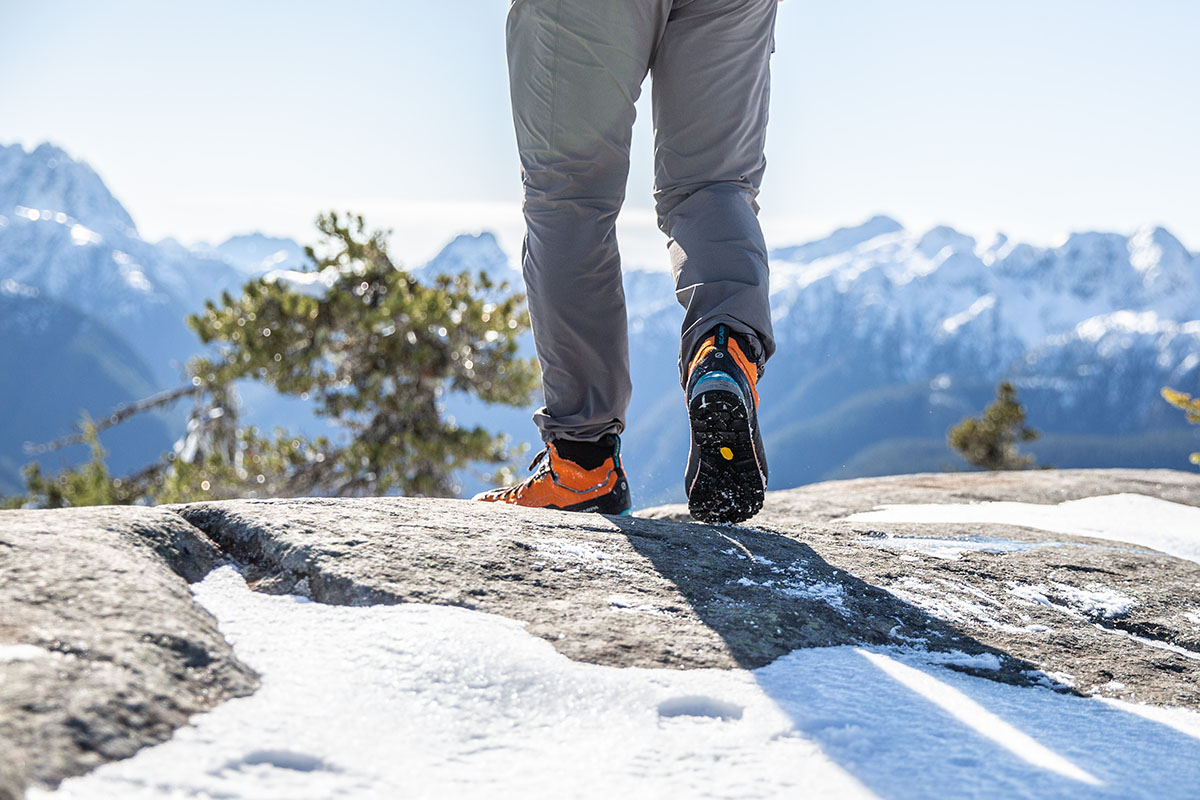 In the end, I was able to comfortably wear the Scarpa Zodiac Tech GTX for 8 to 10 hours of ascending and descending technical terrain without thinking about them, which truly is high praise. And I definitely appreciated the tough, burly build when clambering down steep shale and sliding into boulders. That said, if you don't anticipate needing the mountaineering boot-like protection or semi-automatic crampon compatibility, you can shave considerable heft with a lighter-weight hiking boot like the Zodiac Plus or an even nimbler option like Salomon's running-inspired X Ultra 4 Mid GTX (1 lb. 14 oz.)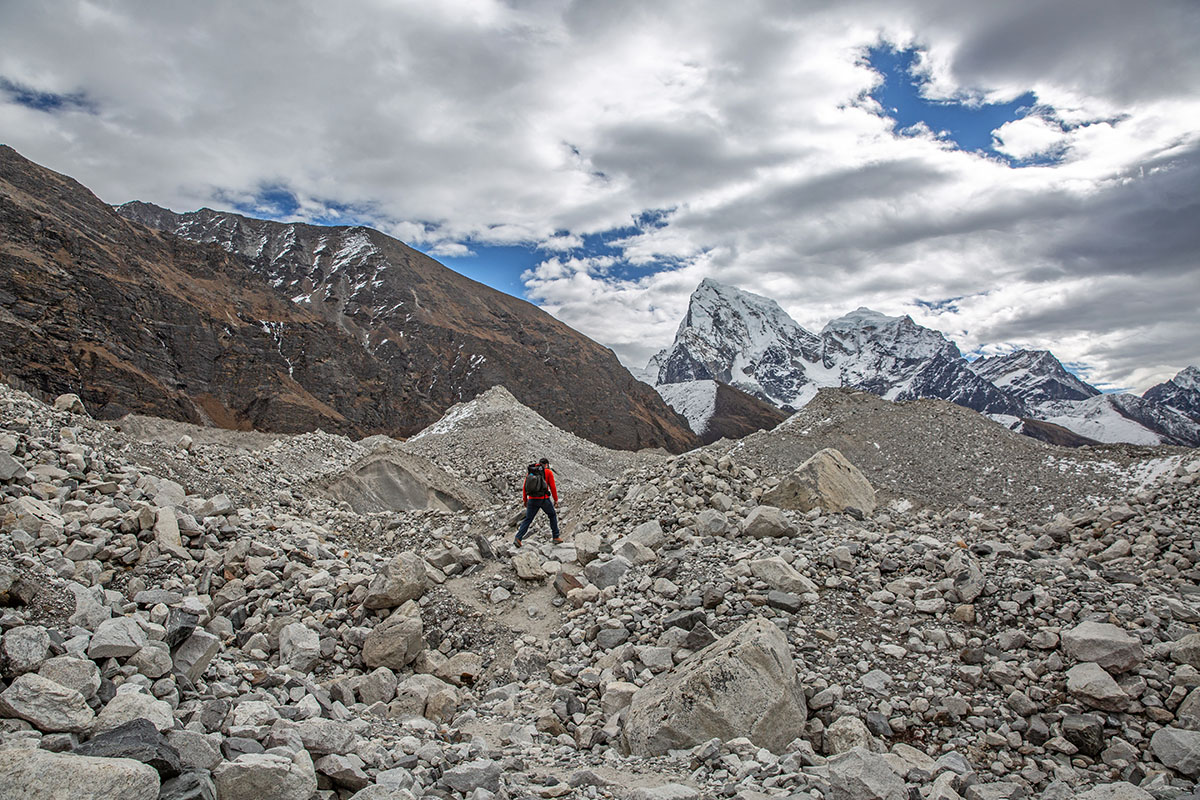 Traction
Scarpa is a climbing company first, and it therefore came as little surprise that the Zodiac Tech GTX is a highly grippy and confidence-inspiring boot. The premium Vibram outsole—which utilizes their Pentax Precision XT II / Mont compound—provided reliable bite on rough and variable alpine terrain both in the Rockies and the Himalayas, even when only a portion of the sole was in contact with the ground on steep ascents and descents. As I mentioned above, there isn't a ton of flex at the forefoot, but the upside is that I was able to confidently place my toes on a rock or step and trust that the boot would hold under my weight.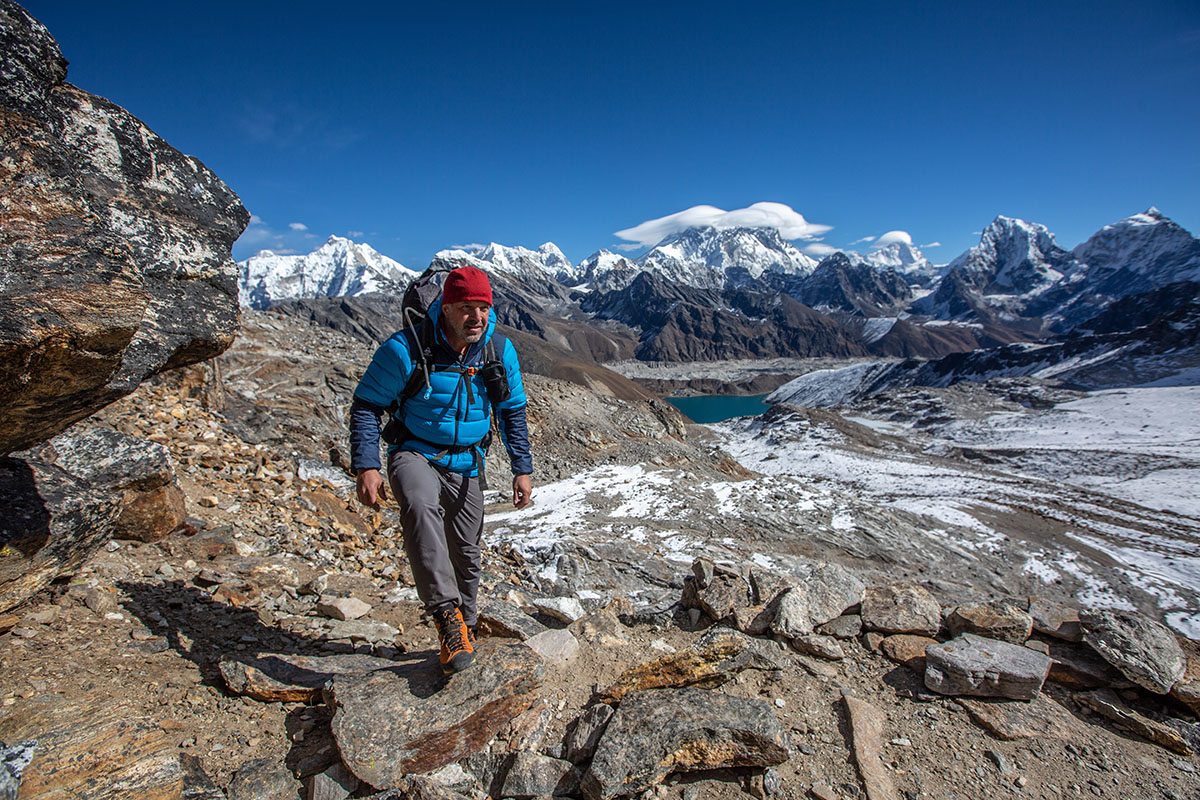 I did have to add winter traction devices while hiking over any icy pass in Nepal, but they fit comfortably around the boots and provided the grip necessary to climb the slick slope. For more committing ice and glacier travel, the Zodiac Tech also boasts a TPU heel insert to accommodate semi-automatic crampons, although I didn't need anything more than basic microspikes on our trek in Nepal. My only traction-related complaint is that the boots lacked a bit of control on wet, slimy roots and rocks typically found at lower elevations along Canada's West Coast. But to be fair, this issue is fairly common among stiffer hiking designs and would require sacrificing a lot of stability and support to mitigate (the soft rubber on trail runners is particularly adept on this type of terrain).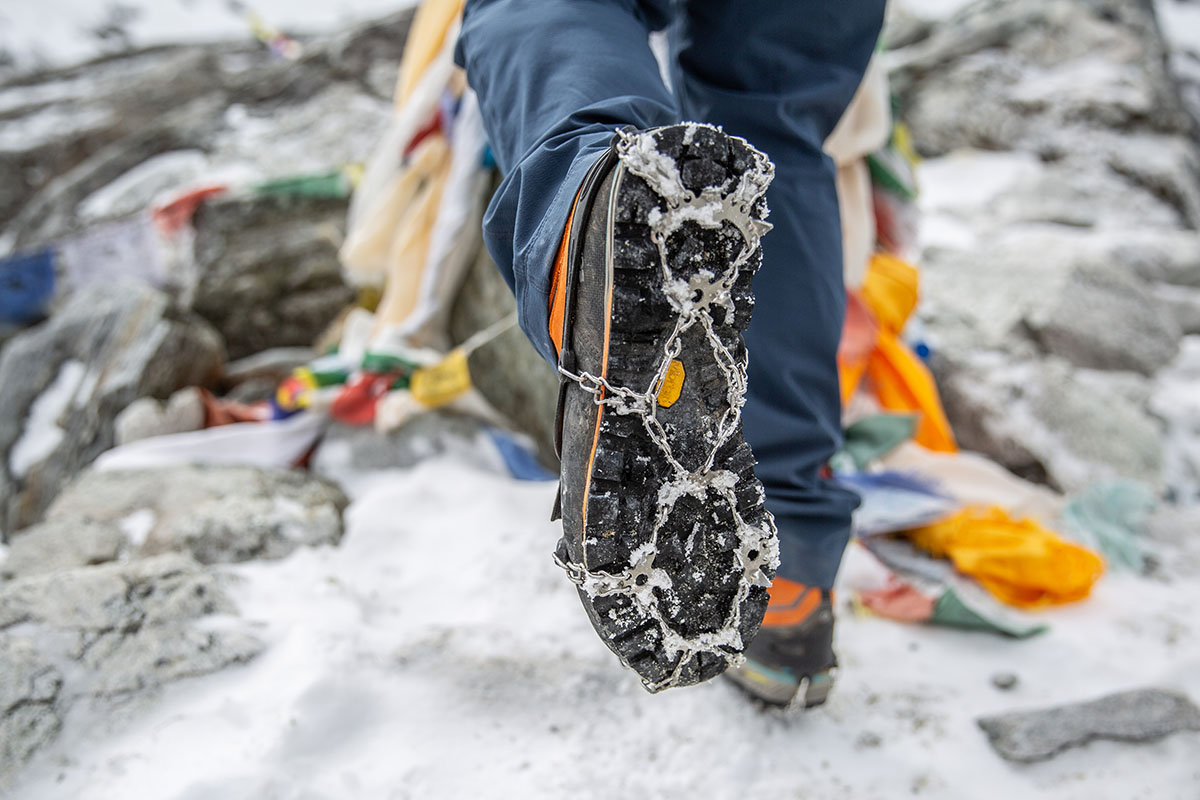 Stability and Support
One notable benefit to the Zodiac Tech's relatively stiff and unforgiving feel is that stability and support are excellent. I often carry a large, heavy backpacking pack to fit all my overnight gear and camera equipment, so I appreciate when my hiking boots are reliable and confidence-inspiring for navigating tricky terrain with a full load. The Zodiac Tech fits that bill nicely: I've experienced no ankle rolls or balance issues on off-camber sections of trail, and the boots have proven to be exceptionally secure even in challenging alpine conditions. As I touched on above, the boots are overkill on flatter and gentler terrain, but they were a great pick for our more involved and committing objectives in Canada and Nepal.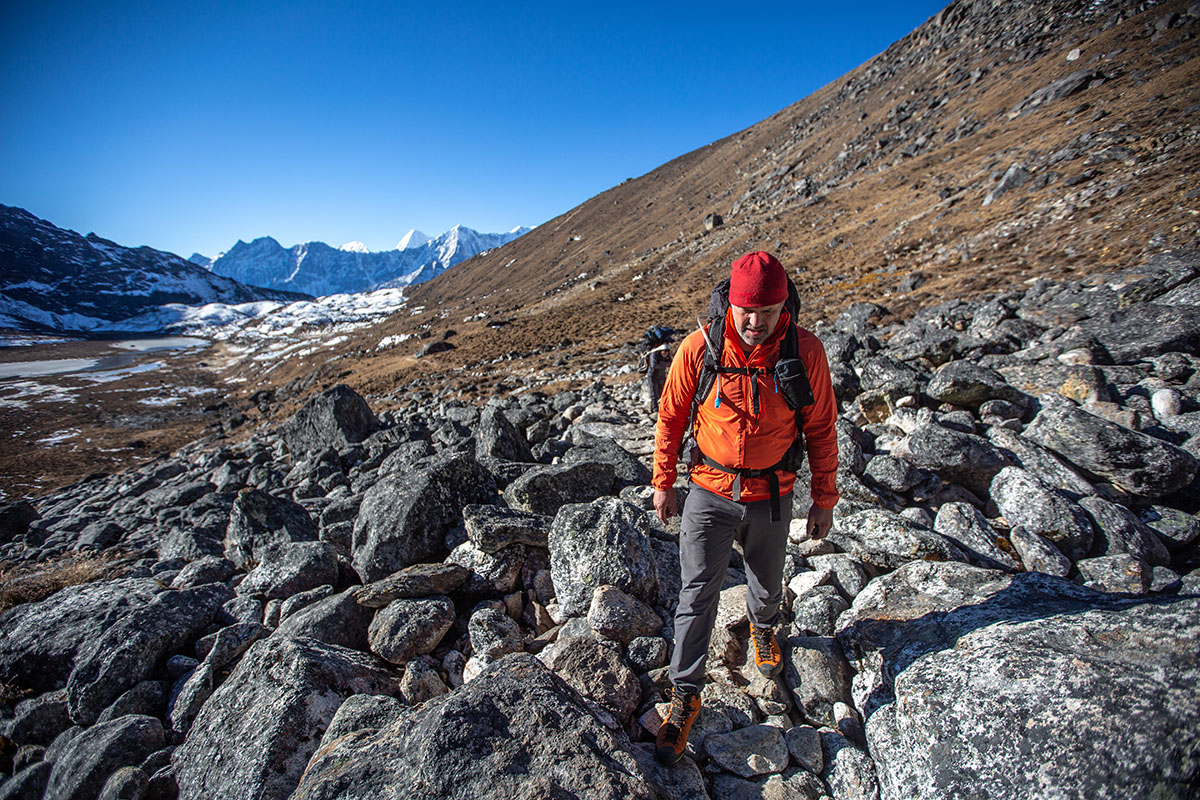 Waterproofing and Breathability
Scarpa's Zodiac Tech is a premium boot through and through, and that includes the proven Gore-Tex membrane. I haven't had to tiptoe around stream crossings or worry about snow seeping its way into my boots, and the elastic cuff has been very effective at sealing out small pebbles and moisture from above. The waterproof construction also added some much-needed warmth during our trek in Nepal, where temperatures dropped well below zero on our early-morning ascents. Combined with medium-thickness wool hiking socks, my feet stayed perfectly cozy and comfortable in the frigid conditions but didn't overheat when things warmed up later in the day. I expect the boots to run warm in more moderate summer weather and at lower elevations, but they're a great pick for navigating the cold and wet terrain frequently found in the alpine.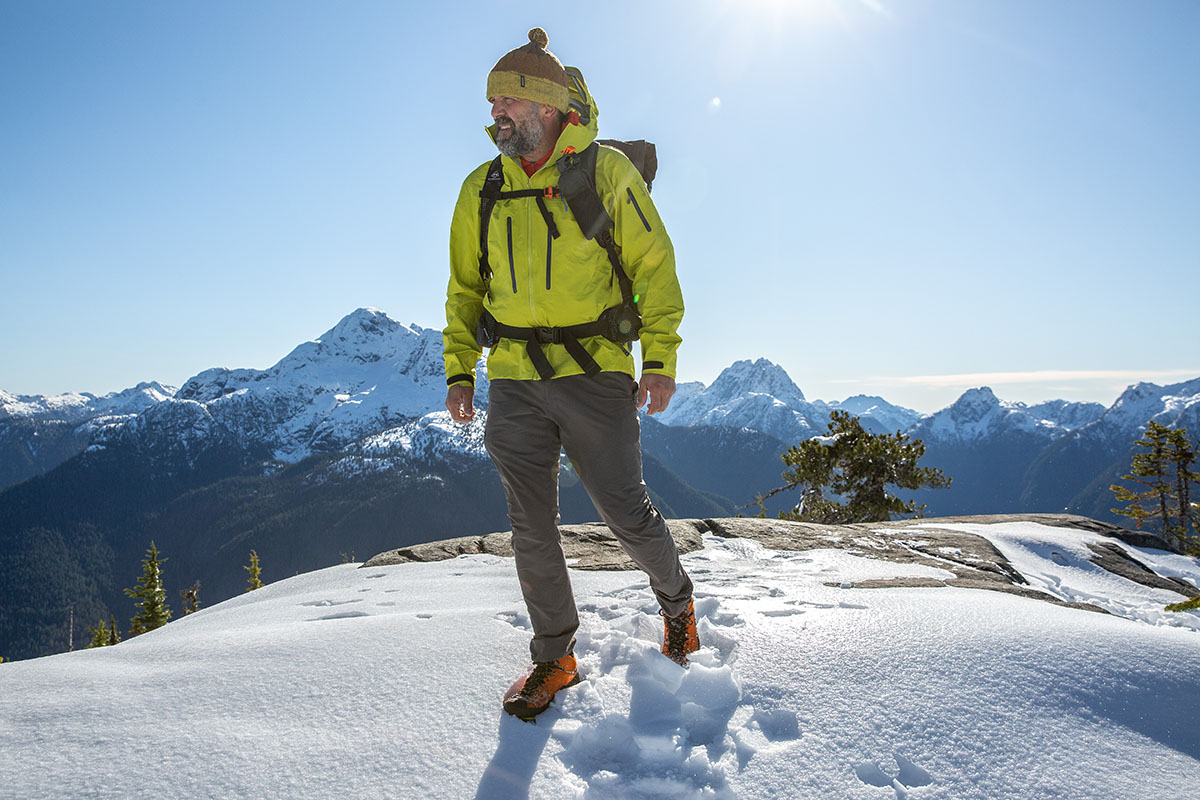 Build Quality and Durability
Alpine terrain can wreak havoc on boots, but Scarpa's Zodiac Tech GTX proved to be plenty durable for the rough and often-abrasive environment. The wraparound, approach shoe-like rand is a notable highlight, with a thick rubber build that's saved my toes on more than one occasion—particularly helpful for those that tend to drag their feet and shuffle when tired like I do. For reference, after four months of consistent use in the Rockies, Yukon, B.C., and Nepal, my pair is almost no worse for wear: The outsole is completely intact with no signs of deterioration or cracks, the leather upper looks like new with only light cosmetic changes from contact with dust and dirt, and all the hardware is intact and functioning flawlessly. All told, it's another impressively hardwearing and quality design from the Italian brand, and I expect to get many more problem-free seasons of use out of the boots.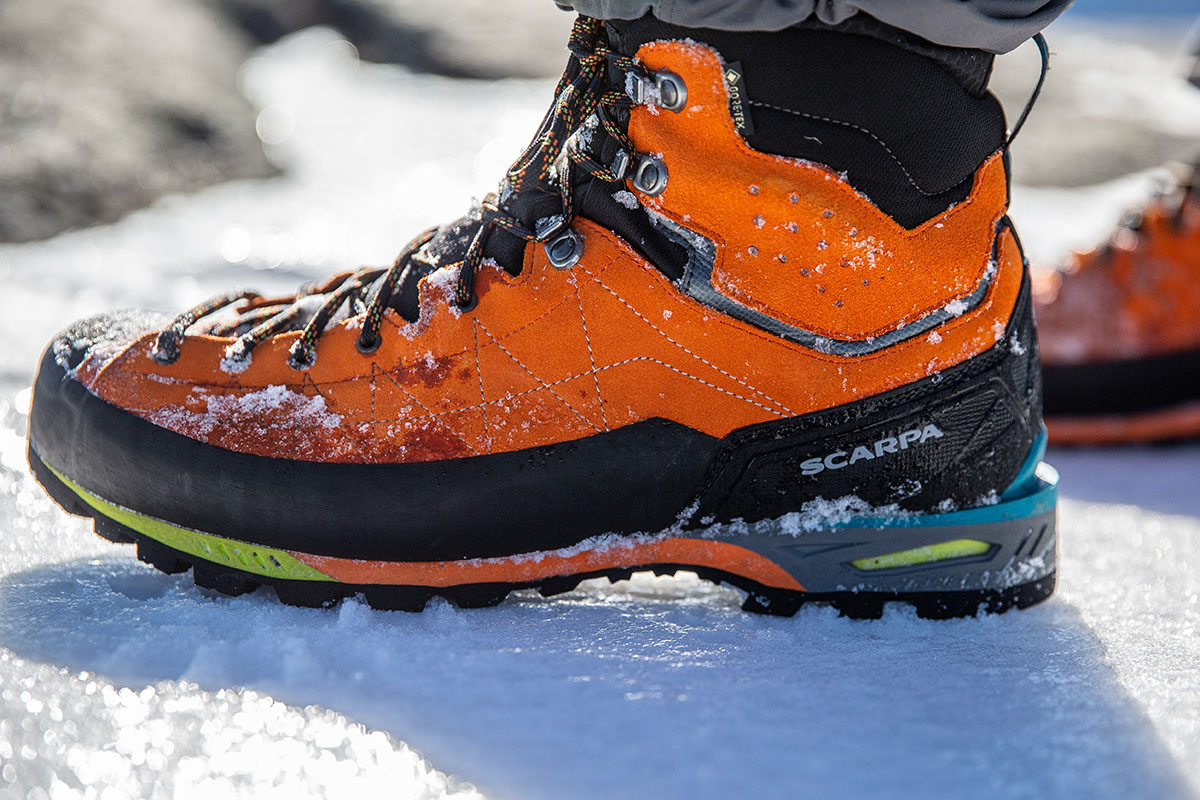 Fit and Sizing
I typically wear either a 44.5 or 45 in hiking and mountaineering boots that use European sizing, and a 45 in the Zodiac Tech proved to be just about perfect. I had just the right amount of space at the front of my foot to descend steep pitches without losing a toenail, and the toe box was roomy enough to accommodate my relatively wide feet without feeling overly sloppy. Throughout testing, I experienced no hotspots or rubbing, which is a common issue for me when breaking in new boots. It's worth noting that my feet did slide around a bit when wearing thinner hiking socks, but paired with thicker wool varieties, the fit was spot-on (plus, the socks added some comfy padding underfoot to offset some of the firmness and rigidity).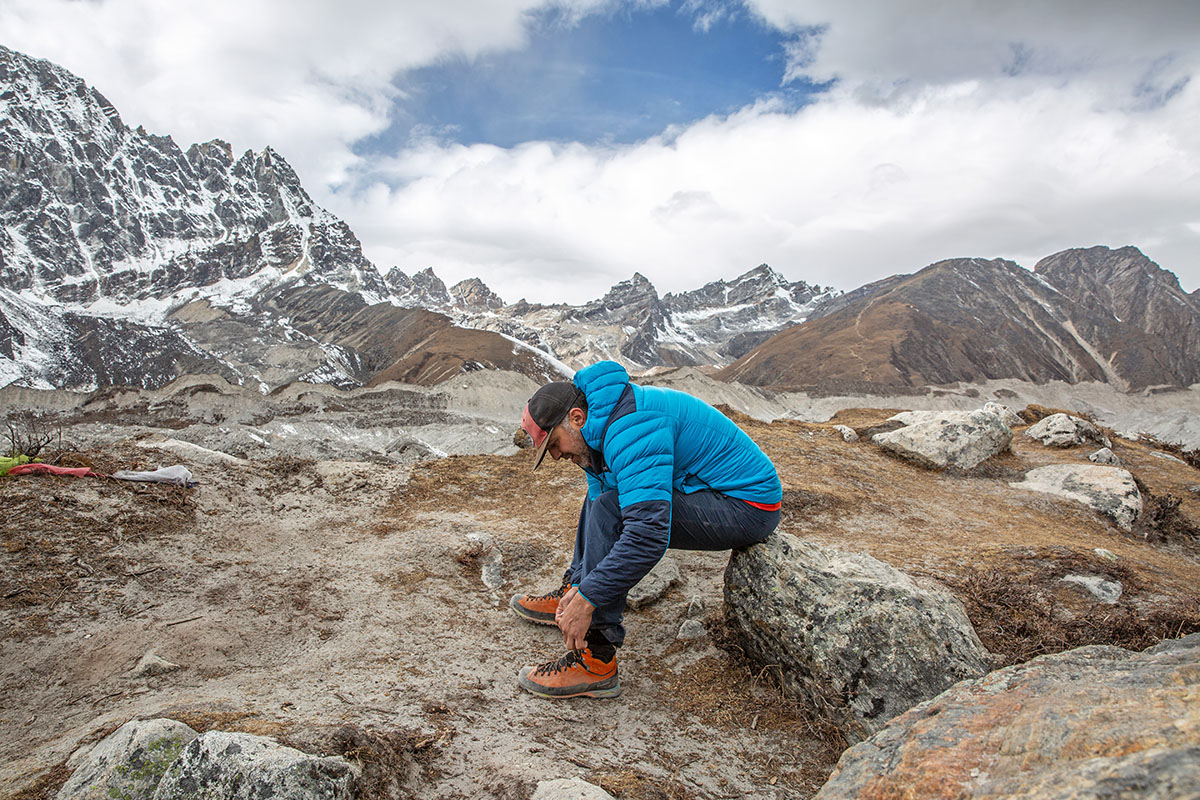 Women's Scarpa Zodiac Tech GTX
We put the men's Zodiac Tech GTX through its paces for this review, and Scarpa also offers a dedicated women's design for the same price. The features and construction are nearly identical between the two boots, including a Gore-Tex liner, leather upper, EVA and PU midsole, semi-automatic crampon compatibility, and Vibram outsole (the women's utilizes their Mulaz S compound). The women's Zodiac Tech GTX is a little lighter at 2 pounds 5.4 ounces per pair and comes in a greenish blue colorway compared to the men's orange design, but you can expect similar all-around performance between the two.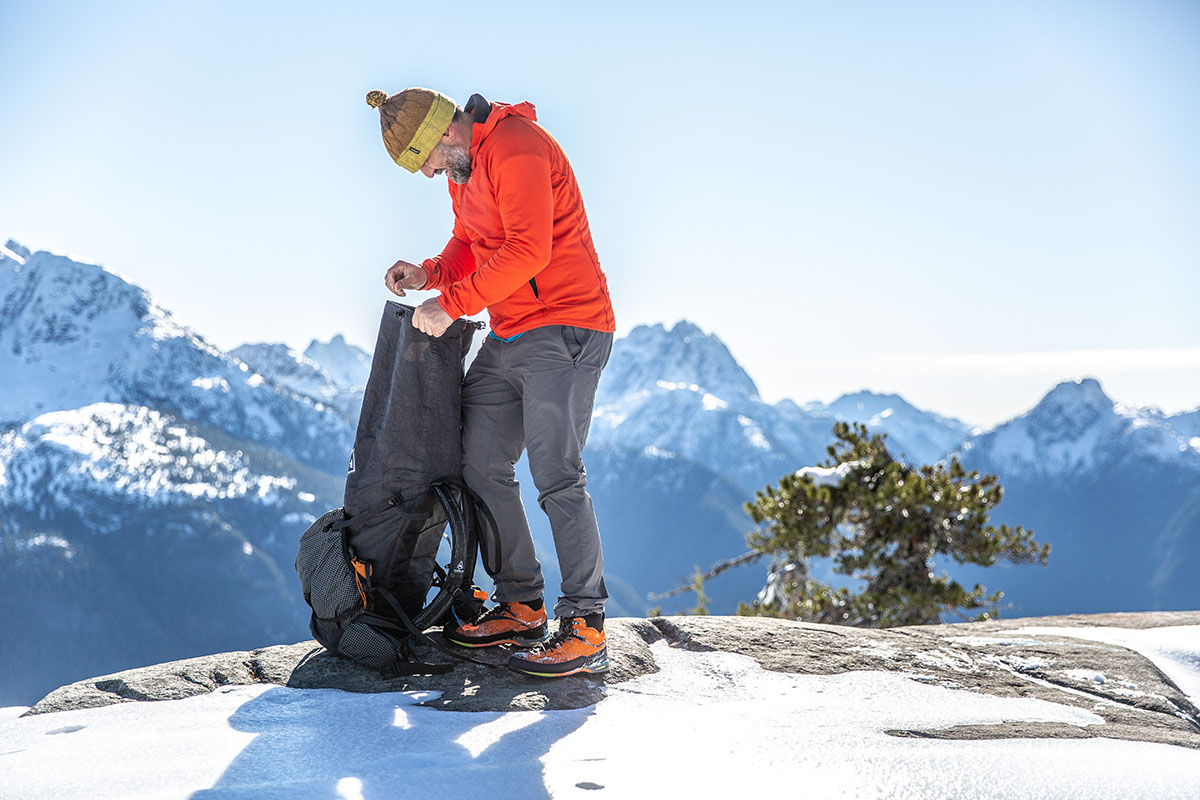 What We Like
A well-executed hybrid design: The Zodiac Tech GTX is considerably lighter than most mountaineering boots but confidence-inspiring for navigating tricky and challenging alpine terrain.
Excellent traction, stability, and durability for covering technical ground with a fully loaded pack.
Gore-Tex liner does a great job sealing out moisture while still allowing the foot to breathe in more moderate temperatures.
Toe rand is thick, generously sized, and offers reliable protection from jagged rocks and other trail obstacles.

What We Don't
Underfoot padding is relatively thin and firm, giving the boot a noticeably stiff and unforgiving feel (although adding an insole helped considerably with overall comfort).
Despite the lightweight build, the boot has a fairly cumbersome feel and lacks the agile, sprightly personality of many modern hiking boots.
Outsole lacks some control on slimy surfaces like wet roots and rocks.
Gore-Tex build breathes decently well, but expect it to run warm in true summer conditions and at lower elevations.
I wish Scarpa added another locking eyelet at the forefoot to help with fit customization.


Comparison Table

The Competition
Scarpa's Zodiac Tech GTX nicely toes the line between a hiking boot and true mountaineering design, but it's not alone in this hybrid category. Another option to have on your radar is La Sportiva's Trango Tech GTX. Like the Zodiac, the Trango boasts a streamlined build with quality Gore-Tex waterproofing, a heel welt for semi-automatic crampon compatibility, and a very tacky Vibram outsole. However, while the Scarpa uses premium leather for the upper, the La Sportiva subs in less hardwearing synthetic, and it has a slightly narrower shape and fit (importantly, neither are a standout in all-day comfort). On the flip side, the Trango Tech undercuts the Zodiac in price by a significant $70 while coming in at a similar weight, which is why we rank it a little higher in our mountaineering boot round-up. If you have wider feet, however, you'll likely prefer the Scarpa.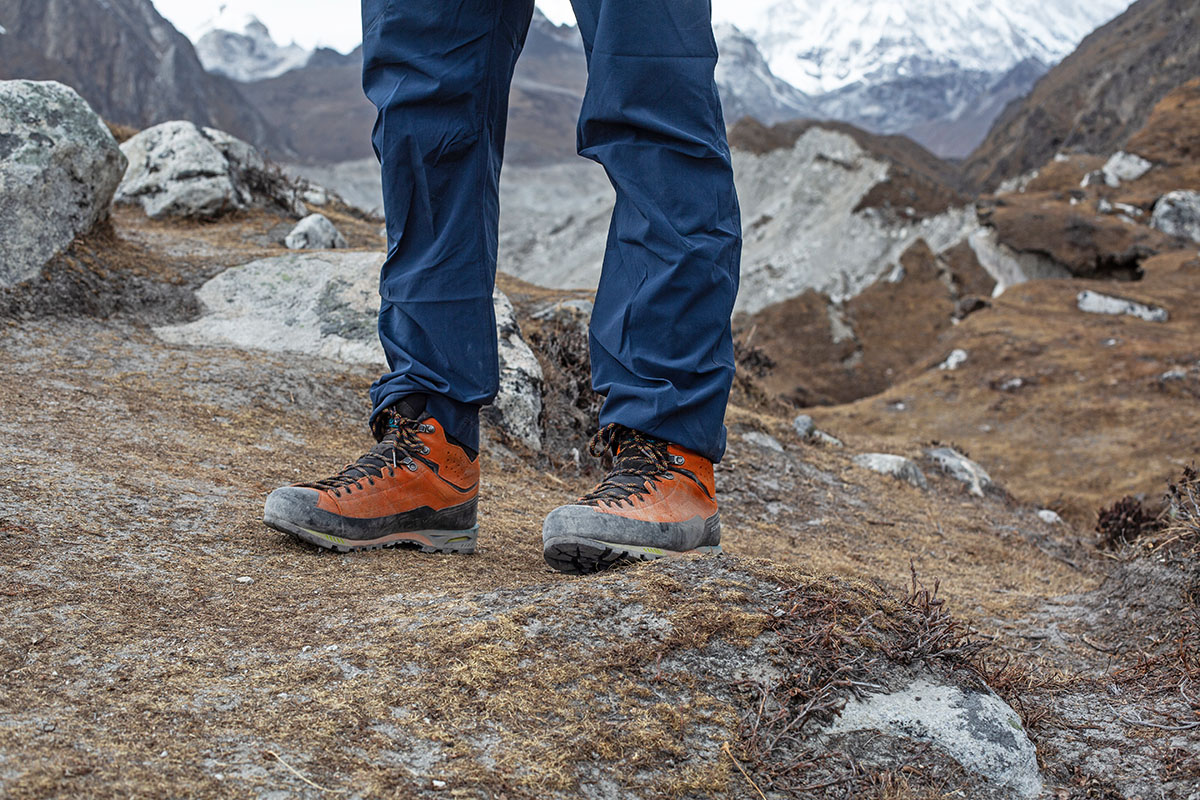 In addition to the proven Trango Tech, La Sportiva more recently released another light mountaineering design in their Aequilibrium ST GTX. For $20 less than the Zodiac Tech, the Aequilibrium boasts a very competitive feature set, including a respectable 2-pound-12.4-ounce weight (less than an ounce heavier than the Zodiac Tech), heel welt for pairing with semi-automatic crampons, proven Gore-Tex waterproofing, and a grippy Vibram rubber sole. That said, the Aequilibrium is less of a hiker than the Zodiac and tacks on additional technical features like an integrated heel gaiter and stiffer construction. In other words, if you anticipate tackling long approaches with serious trail mileage, the Zodiac Tech is the more well-rounded pick. But for a step up in performance with only a minor weight penalty, the cheaper Aequilibrium is a promising option.
From within Scarpa's own lineup, their Ribelle HD is another intriguing alternative to the Zodiac Tech. Sitting at the convergence of a trail runner and mountaineering boot, the Ribelle gets the edge for covering long mileage on smooth trail with a nimbler, rockered sole and similar sock-like construction inside to limit pressure points and ensure a snug all-around fit. Like the Zodiac Tech, the Ribelle HD can also pull double duty for light mountaineering with a heel welt for pairing with semi-automatic crampons, reliable Vibram rubber for traction, and a robust leather build. However, the Ribelle does check in a little heavier at 3 pounds 0.7 ounces and trades the Zodiac's proven Gore-Tex waterproofing for a less premium HDry membrane. Along with the boot's newness and a $50 jump in price, we have a hard time recommending it over the time-tested Zodiac.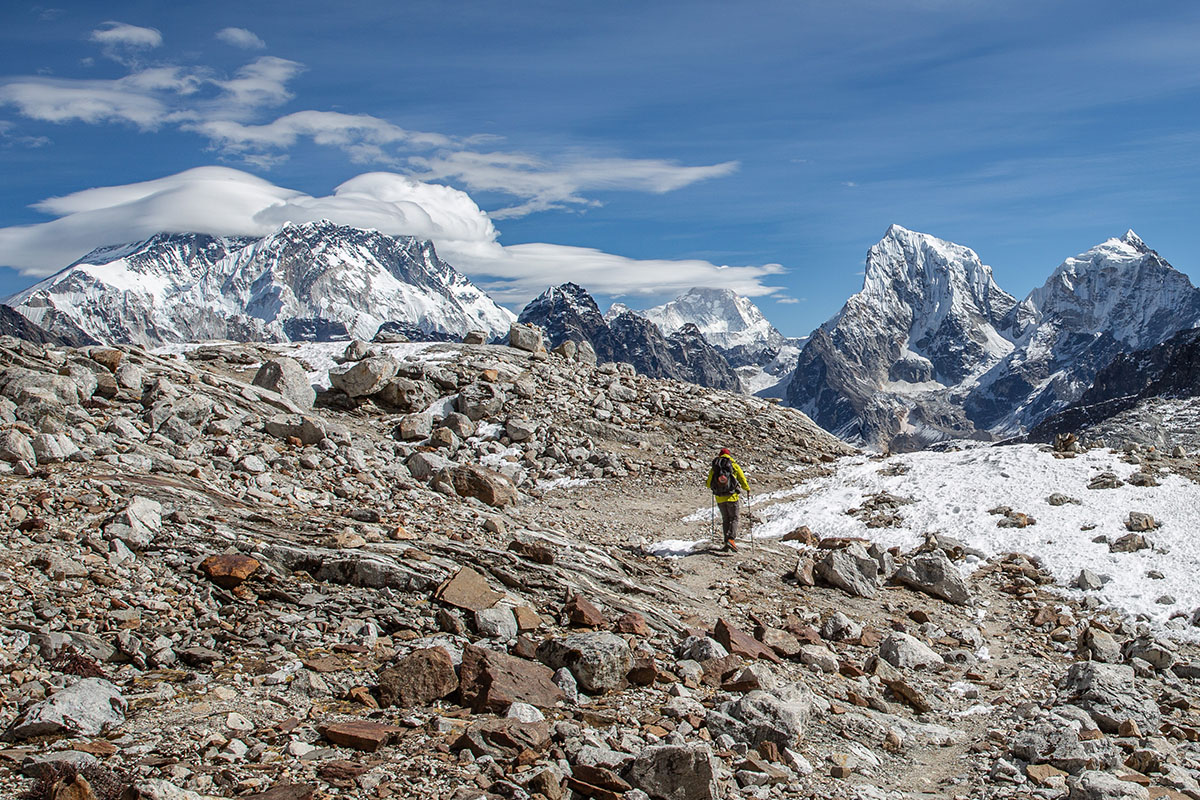 As we covered above, Scarpa offers a trimmed-down version of the Tech in their Zodiac Plus GTX. Compared to the Tech, the Plus is more of an off-trail hiker with no TPU insert at the heel and a more forgiving feel that's more comfortable over longer distances (although both boots are on the stiffer end). The Tech also adds a shank underfoot, which contributes to its rigidity but is crucial for navigating more technical ice and snow. If you don't anticipate needing the mountaineering boot-like stability and protection, the Zodiac Plus will save you around $60 and 5 ounces in weight per pair. But for bigger objectives that include a mix of trail, ice, and snow travel, the Tech is the more capable and purpose-built option.
If you're thinking about buying gear that we've reviewed on Switchback Travel, you can help support us in the process. Just click on any of the seller links above, and if you make a purchase, we receive a small percentage of the transaction. The cost of the product is the same to you but this helps us continue to test and write about outdoor gear. Thanks and we appreciate your support!
Depending on the seller, most products ship free in the United States on orders of $50 or more. International shipping availability and rates vary by seller. The pricing information on this page is updated hourly but we are not responsible for inaccuracies.
Read More From Switchback Travel