Salsa Journeyman Apex 1 650
Price: $1,549
Frame: Aluminum
Gears: 1 x 11
Tires: 650b x 2.1"
Brakes: Mechanical disc
What we like: Excels at everything from gravel road exploration to daily commutes.
What we don't: Heavy; we expected to see slightly better components at this price point.
See the Salsa Journeyman
Salsa Cycles' adventure-by-bike ethos permeates each and every model in their lineup, and the gravel-focused Journeyman is no exception. We spent most of the spring using and abusing the top-end Apex 1 650 model on gravel roads in the Cascades, where it impressed us with its off-road capabilities, notably stable ride, and ample mounting locations for water and gear. From exploring backroads and overnight trips to daily commutes, Salsa's Journeyman is a solid one-bike quiver. Below we break down the Journeyman's off-road and on-road performance, key features, components and specs, and other versions in the line. To see how it stacks up, see our article on the best gravel bikes.
 
Off-Road Performance
In testing, Salsa's Timberjack Apex 1 650 felt most at home on moderately rough, rock-filled forest service roads. Most of this can be attributed to its wide (for a gravel bike) 2.1-inch Teravail Sparwood tires, which—when inflated to the proper pressure—do a superb job of tackling bumpy terrain. They might not be the fastest-rolling option available (more on this below), but I found them to be a great match for all types of non-pavement surfaces I encountered. The tires floated over chunky gravel, provided ample traction through corners, and gripped well when climbing.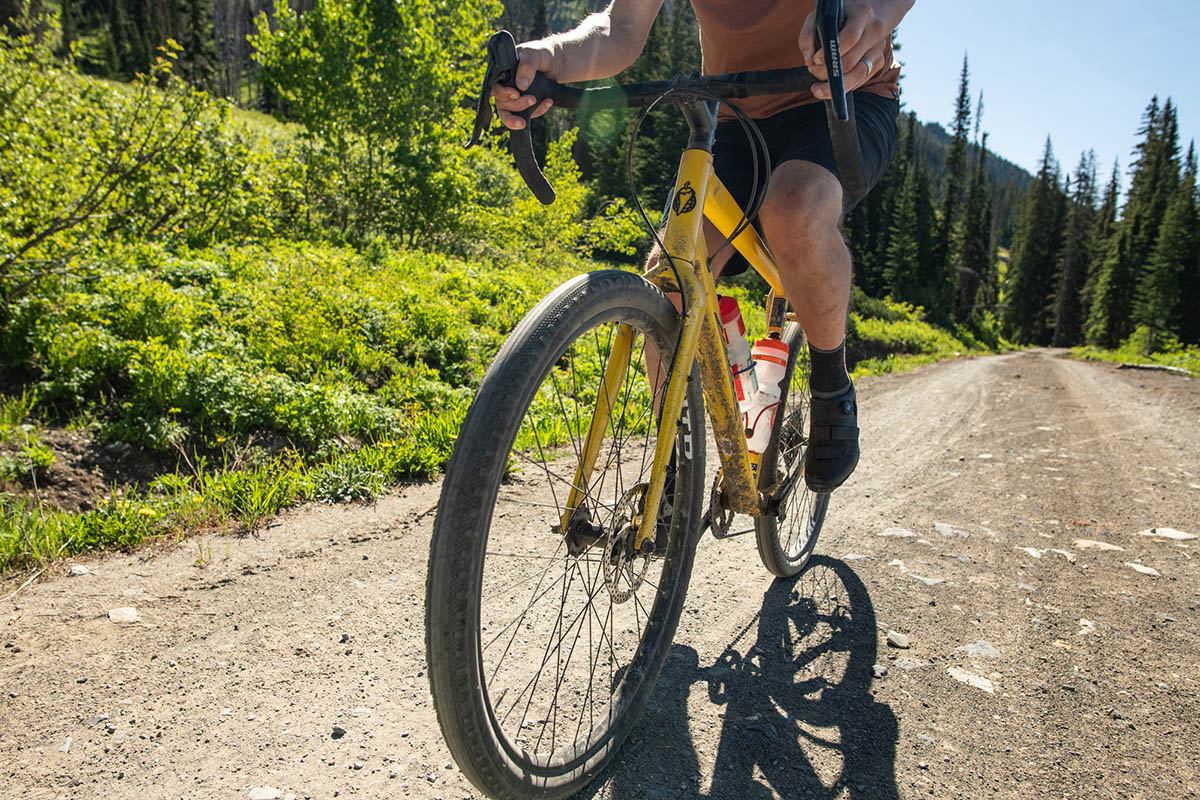 While the tires are certainly the biggest talking point, the Journeyman's geometry also plays a major role in its off-road capabilities. The Salsa's relatively long wheelbase makes for a very stable bike, especially when bombing down sketchy doubletrack, and the upright seating position proved to be quite comfortable and competent on rolling terrain too. I've spent a good amount of time on a variety of gravel-oriented bikes lately—including the Co-op Cycles ARD 1.4 and Cannondale Topstone 105—and I can confidently say that Salsa's Journeyman is one of the most competent, especially when road or trail surfaces become more challenging.
My biggest gripe with the Journeyman Apex 1 650 is its lack of gears. While I love the simplicity of the 1 x 11-speed setup, I was often left wishing for a wider gear range on my local mountain terrain. On extended climbs, I found the easiest gear was just a bit too hard, and on long descents, I frequently ended up spinning out. If I had to choose one bike to ride on my usual routes, I'd instead opt for one of Salsa's double front chainring options, such as the Journeyman Claris 650 or Sora 700. However, if you spend most of your time on less demanding, rolling hills, the Journeyman's gear range should easily suffice.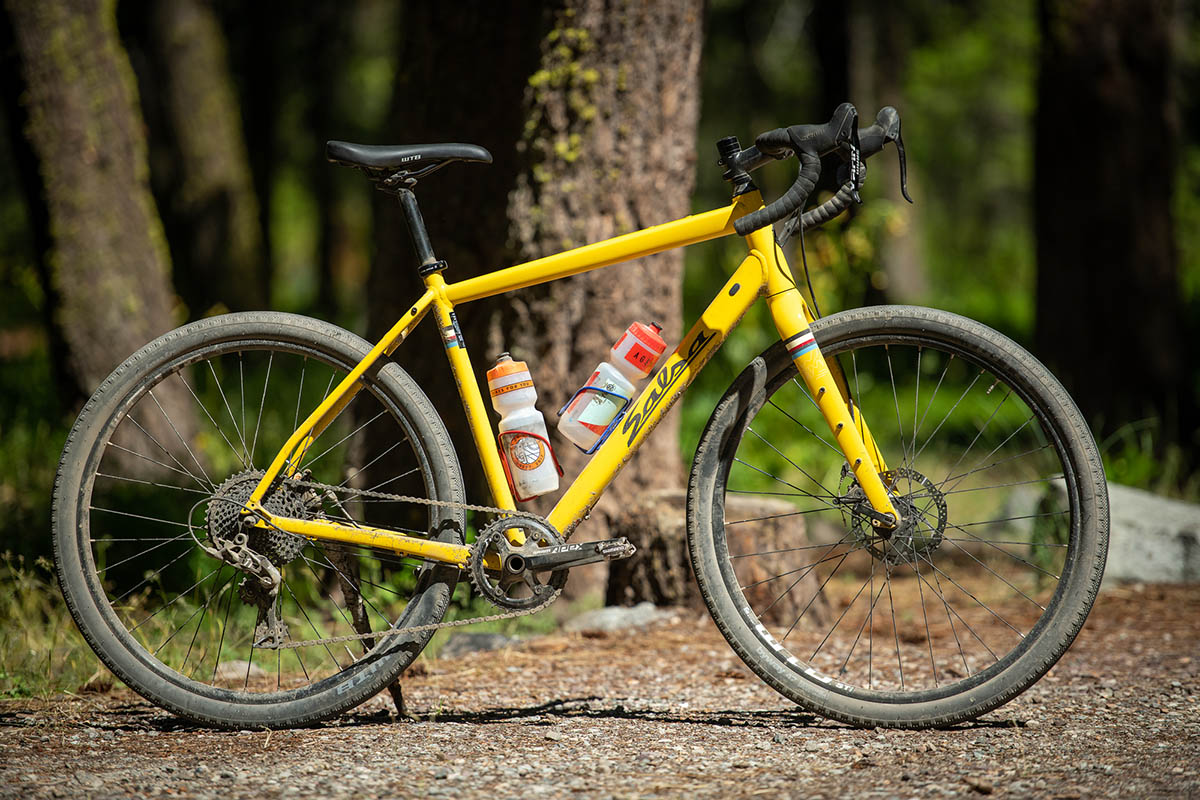 On-Road Performance
While the Journeyman excelled off road, its on-road performance left a little to be desired. To be sure, it's not that the bike wasn't enjoyable to ride on pavement—it just didn't stand out in this department. The high-volume tires that floated over rough ground were fairly heavy and slow, and I quickly found myself wishing for faster-rolling and skinnier tires any time I was on tarmac. On one outing in particular, I was riding on mixed surfaces with a friend who was sporting significantly narrower gravel tires, and I had to put in a great deal more effort to keep up. But in all fairness, Salsa does offer the Journeyman in a number of models. If you spend more than around 15 percent of your time on pavement, I recommend choosing an option with more road-friendly an option with more road-friendly 700c wheels.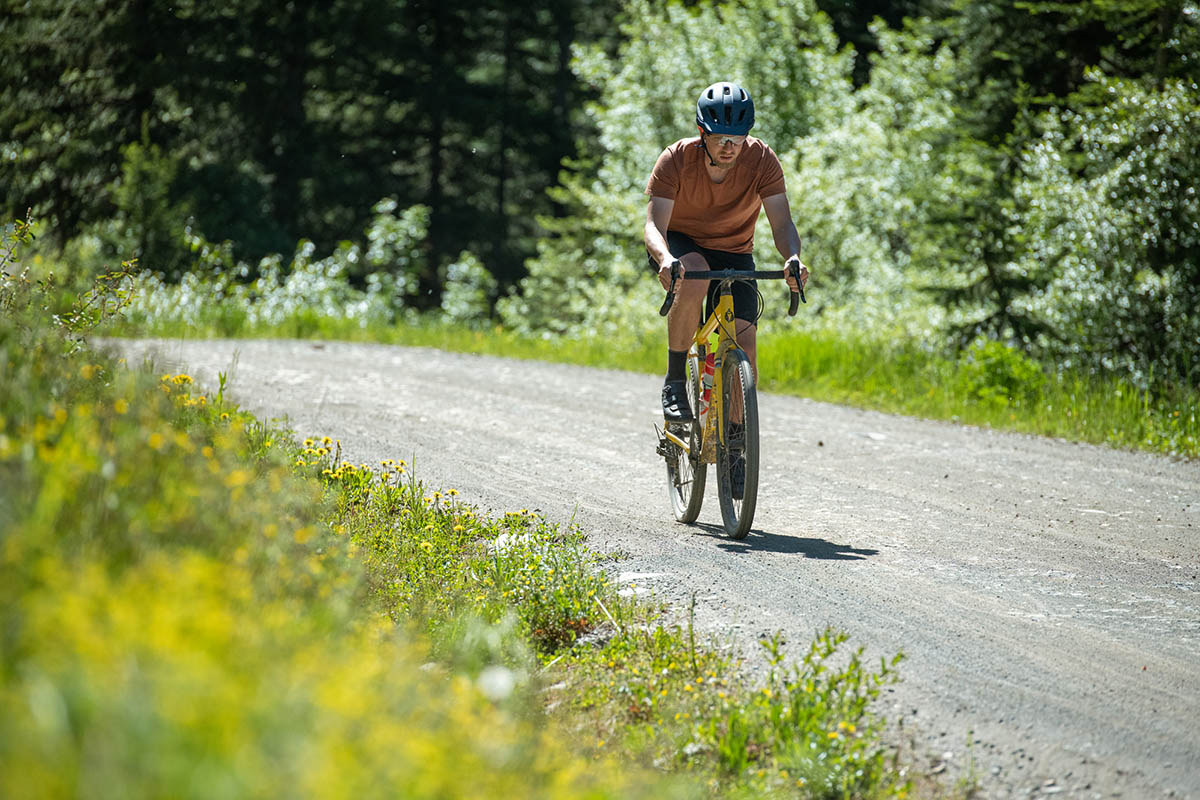 Bikepacking
While not technically labeled a bikepacking bike (Salsa's Fargo and Cutthroat models fit this bill), the Journeyman can easily pull double duty. Its large and straightforward frame fits a frame bag, the three-pack fork mounts are ideal for carrying extra water or gear, and the comfortable and upright geometry is perfect for long days in the saddle. Further, the long wheelbase handles well even when loaded down with equipment, and the bike's oversized tires do a great job of soaking up bumps. The Journeyman wouldn't be my first choice for technical singletrack, but it's nevertheless a nice match for off-road touring and lightweight bikepacking outings that involve varied terrain.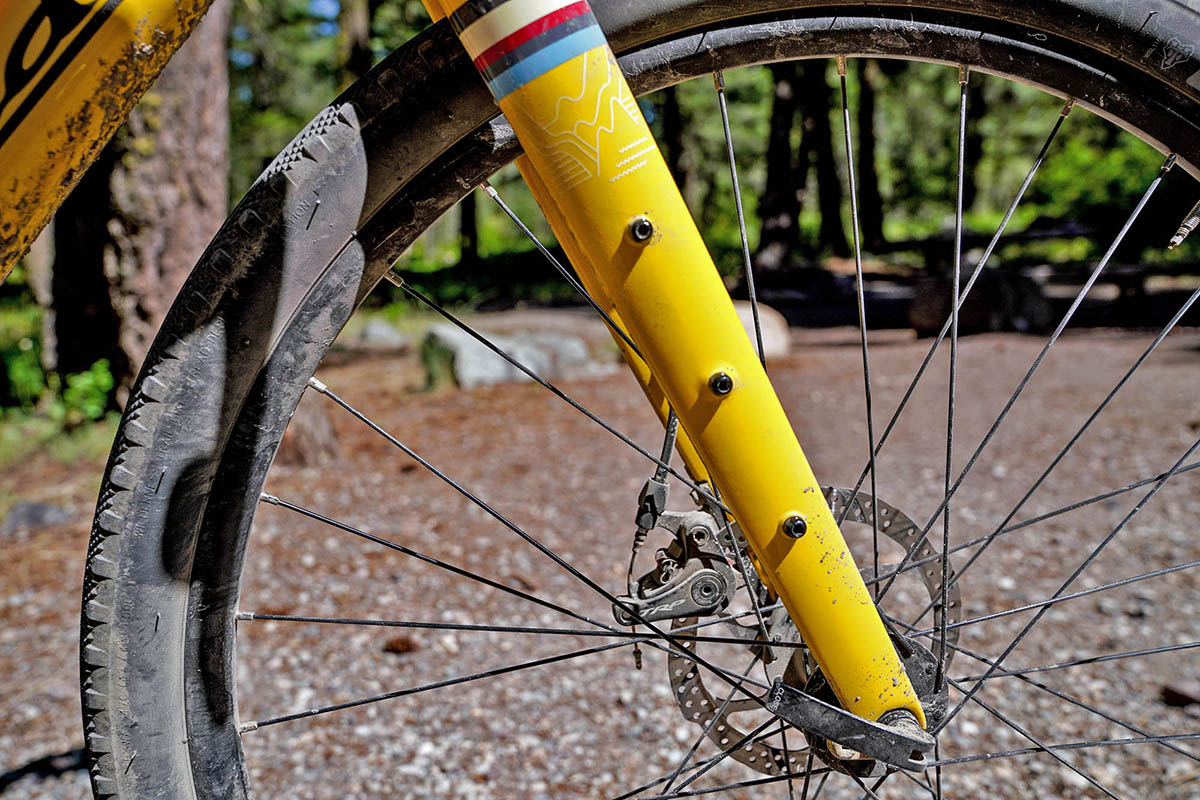 Key Features
Frame
With its oversized tires, sleek design, and smart build, I've always had a bit of an affinity for the clean-cut Journeyman. The internal cable routing is well-executed and contributes to the tidy design, there's ample clearance for wide rubber, and mounting locations for carrying gear and water are plentiful. For wet-weather commuters, the frame and fork are equipped to accept fenders, and there are also rack mounts for those who prefer panniers over traditional bikepacking bags. All told, the Journeyman can capably handle whatever you want to carry, wherever you want to go (within reason, of course).
As I touched on above, one of my favorite features on the Journeyman is its sheer number of mounting locations. In terms of standard water bottle cage mounts, there are two inside the frame and one on the downtube of my medium-sized bike. There's also a mounting point on top of the frame near the stem, which is a great place to secure a top tube bag and stow easy-to-reach necessities like snacks. Finally, the fork is equipped with three-pack mounts—perfect for two more bottle cages or Salsa's Anything Cage ($30), which can securely hold items like a small dry bag (up to 4.5 liters), sleeping pad, or even an ultralight shelter. All in all, it's clear that Salsa has been in the adventure bike business for quite some time.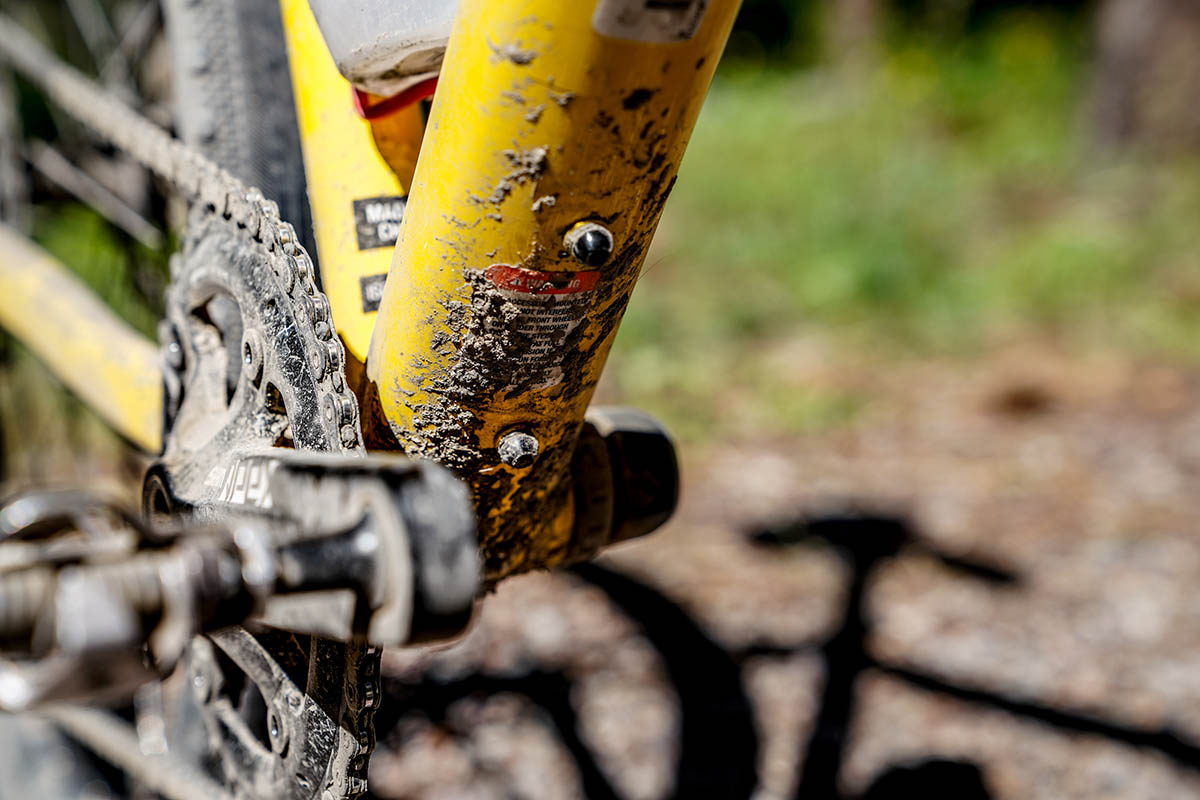 Geometry
Given the Journeyman 650's focus on comfort for traveling long distances, I think Salsa really nailed the geometry. In short, I would describe the bike's ride as relaxed and pleasant, which is an ideal combination for riders who are more interested in enjoying their outing than drafting and riding in pacelines. But don't let the laid-back demeanor fool you—the Journeyman's relatively long wheelbase and low center of gravity still inspire plenty of confidence on descents and at high speeds.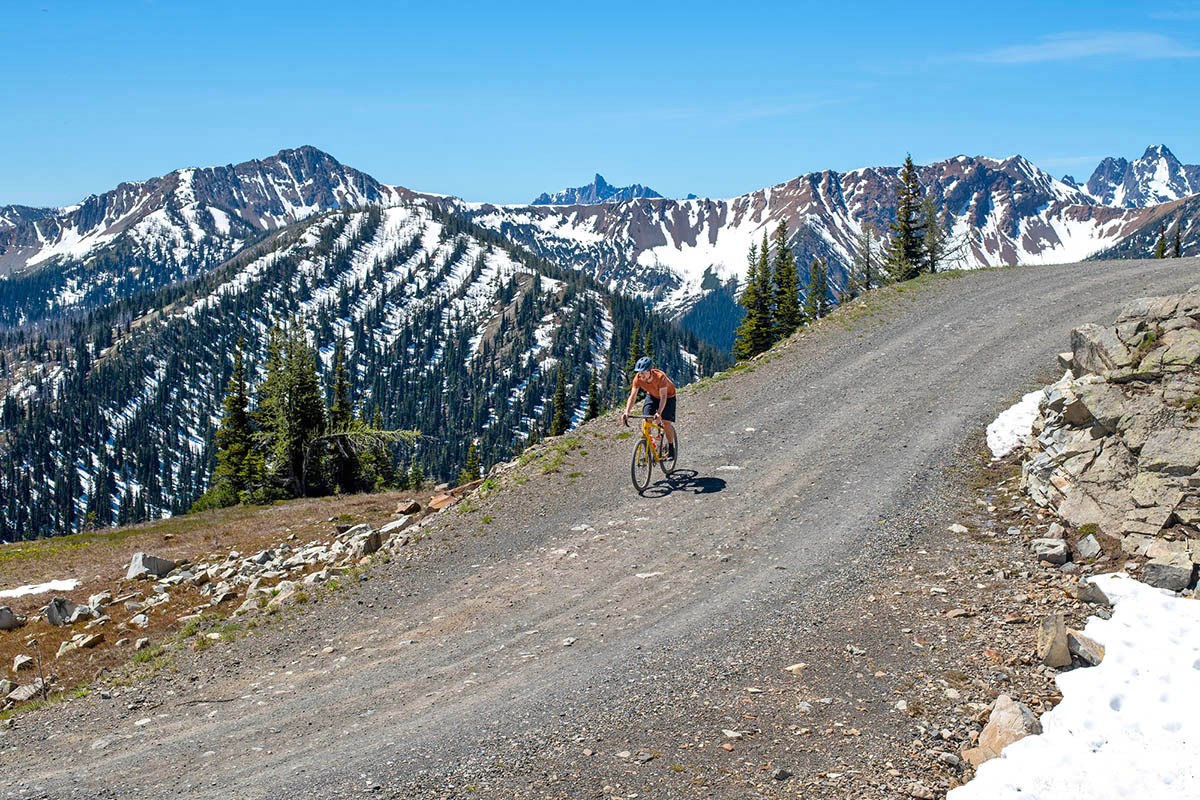 I've spent a fair amount of time on Salsa bikes over the past couple of years, and I've found that their sizing recommendations run consistently on the smaller side. According to their size chart, either a 54- or 55.5-centimeter frame would work for my height (5'9"). Given my past experiences, I decided to size up to the 55.5-centimeter Journeyman. In the end, the bike fit me quite well, and with a short seat-tube length (a recent trend for this style of bike), I wasn't forced to slam the saddle all the way down. While the smaller frame most likely would have worked, I was glad I opted for the bigger of the two. For those buying their first Salsa bike, I recommend taking a close look at the geometry chart before making a final decision.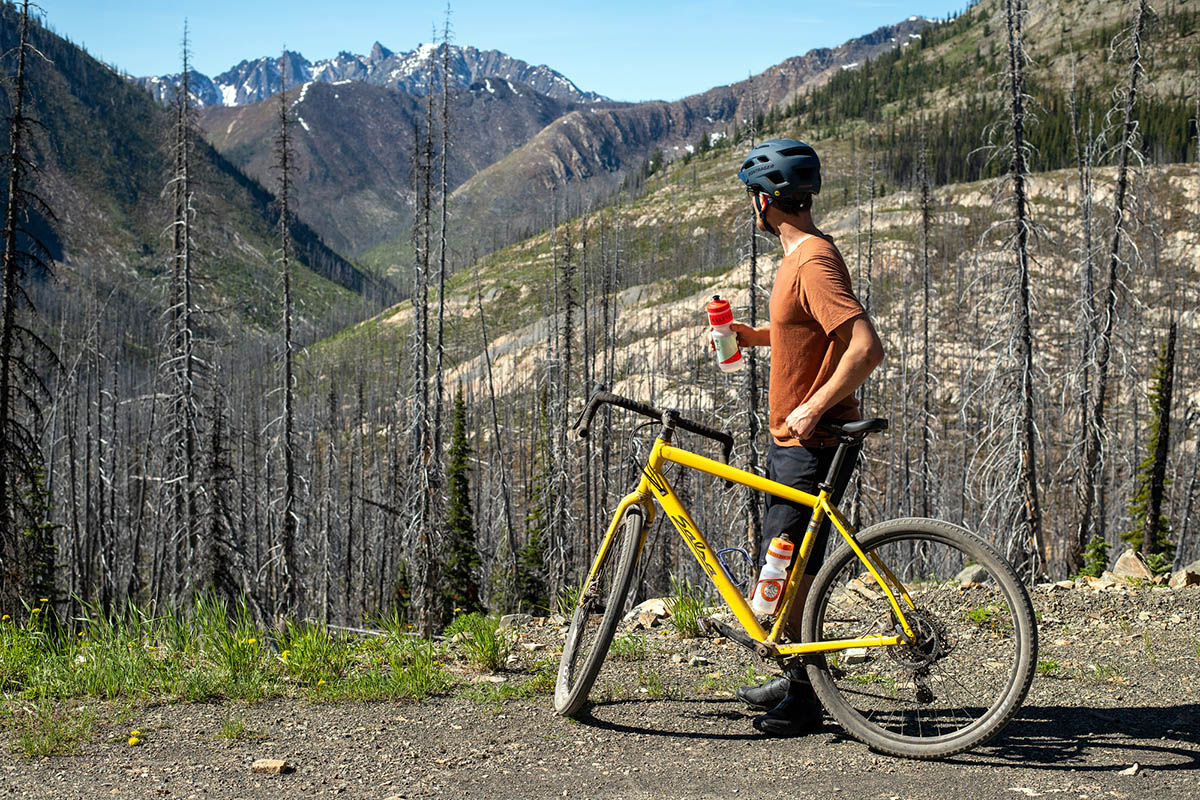 Components and Specs
SRAM Apex 1 Drivetrain
SRAM's entry-level Apex 1 drivetrain performed flawlessly throughout my time on the bike, which included a handful of 50-plus-mile days and almost 400 miles total. From a performance perspective, I came away with very few complaints: it was crisp, accurate, and consistent. The Apex 1 rear derailleur features the same clutch mechanism that's found on SRAM's mountain components, which did a great job of keeping the chain taut and the bike silent during rough descents. And while the DoubleTap-style shifters—which use one lever to shift both up and down—might take a few minutes to get used to, I grew to like the simplicity. I did find myself wishing for a wider gear range in some cases (as I mentioned above), but was happy with the Apex 1's overall performance.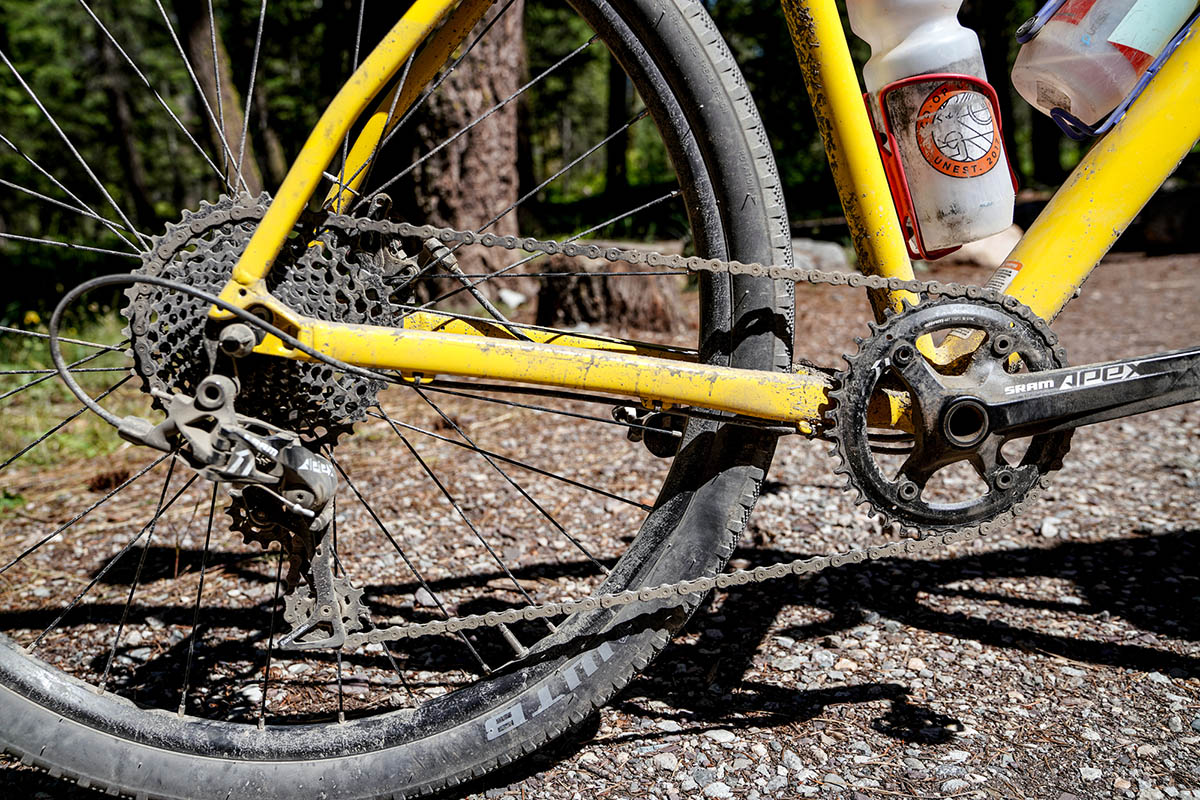 TRP Spyre Brakes
To be honest, I was a little disappointed to see mechanical disc brakes on the $1,549 Journeyman. Considering you can buy a mountain bike for less than $500 with this same technology, they seemed a little out of place. That said, TRP Spyres are some of the best-performing mechanical models that I've tested. I rode the Journeyman through a variety of road and trail conditions, including some 15-minute high-speed descents, and the Spyres never missed a beat. They provided plenty of power, were easy to operate with one finger, and—perhaps best of all—were painless to set up and adjust. While they do require a bit more effort to actuate than hydraulic offerings, the Journeyman's mechanical disc brakes were nevertheless effective on all of my rides.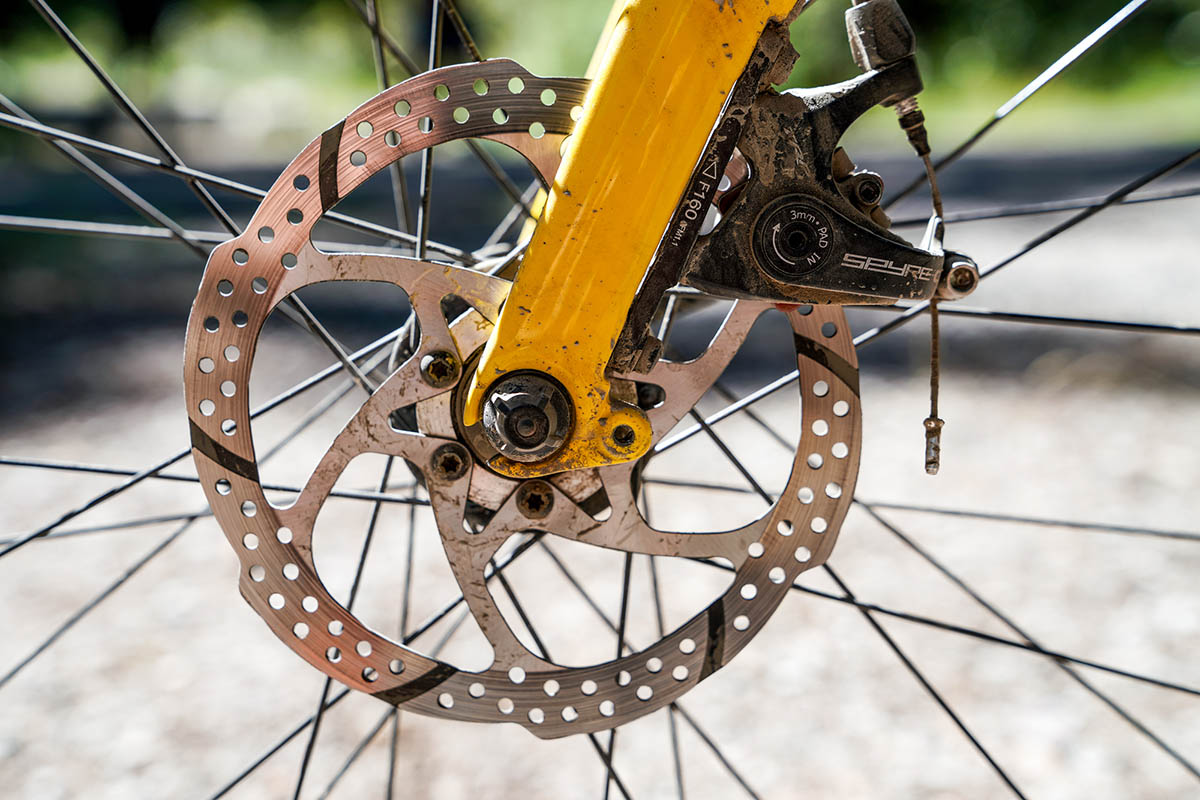 Teravail Sparwood Tires
This was my first experience with 650b road tires, but I quickly understood the allure. Put simply, the Teravail Sparwoods' large size and small knobs were an ideal match for exceptionally rough gravel roads where comfort and traction were top priorities. I did find them to be a bit slow on sections of tarmac when compared to an option like WTB's popular Byway model, but this wasn't surprising given their more aggressive tread pattern. 
My biggest issue with the tires was their wire-bead construction. Not only does this mean they're not tubeless-compatible (a must, in my opinion), but they are also heavier than their folding-bead counterparts. After a handful of rides, I actually swapped them out for some WTB Byways I had laying around, which I then set up tubeless. The end result was a smoother and quicker-feeling ride—I actually managed to shave about 2 pounds of rotational weight from the bike, which is quite significant. All things considered, while I really liked the tread pattern of the stock tires, I expected more of a premium setup at this price point.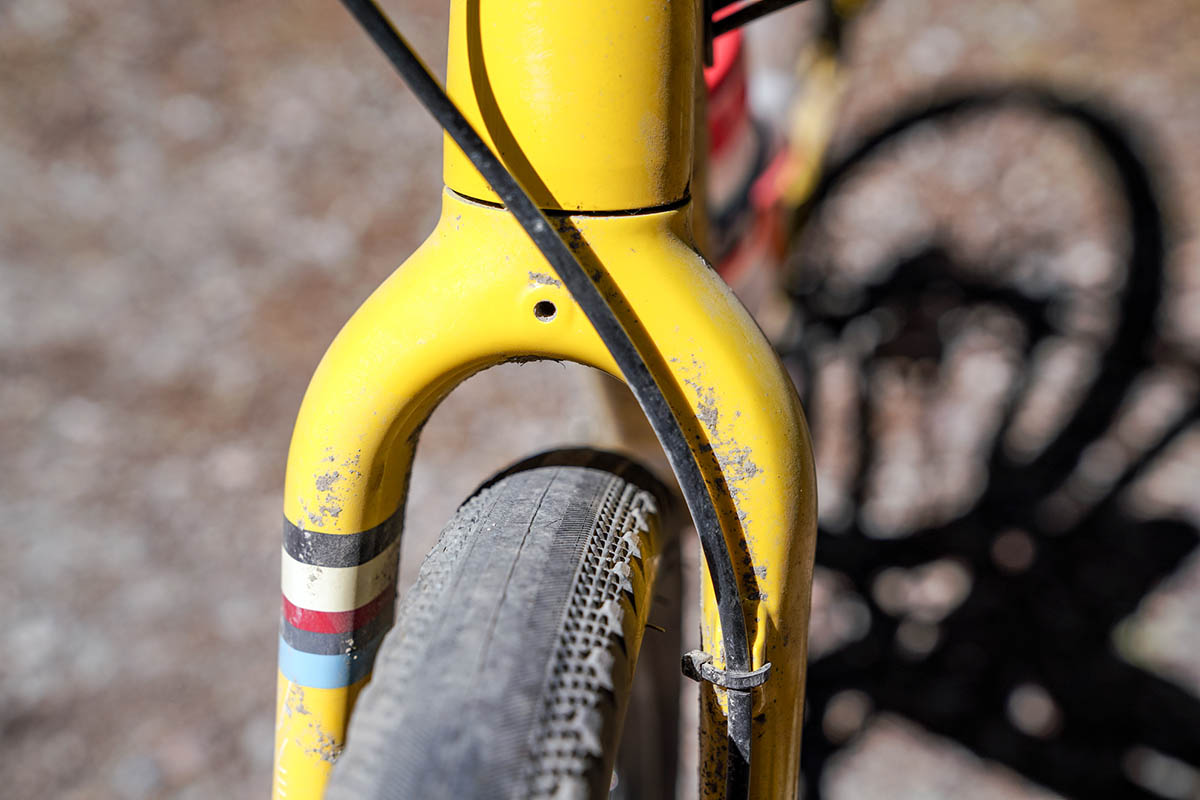 Other Versions of the Salsa Journeyman
For this review, I rode Salsa's top-of-the-line Journeyman Apex 1 650, which features an aluminum frame, SRAM's Apex 1 drivetrain, Teravail Sparwood 650b x 2.1-inch tires, and TRP Spyre mechanical disc brakes. But the lineup doesn't stop there—Salsa offers a number of different Journeyman models with varying wheel sizes, bar shapes, and price points. From their entry-level Claris models ($800-$949) to the range-topping Apex 1 650 ($1,549) we tested here, there's something for just about every type of rider. Whether you're looking for a budget commuter bike or quality rough-road gravel grinder, you'll likely find what you're looking for in the Journeyman lineup.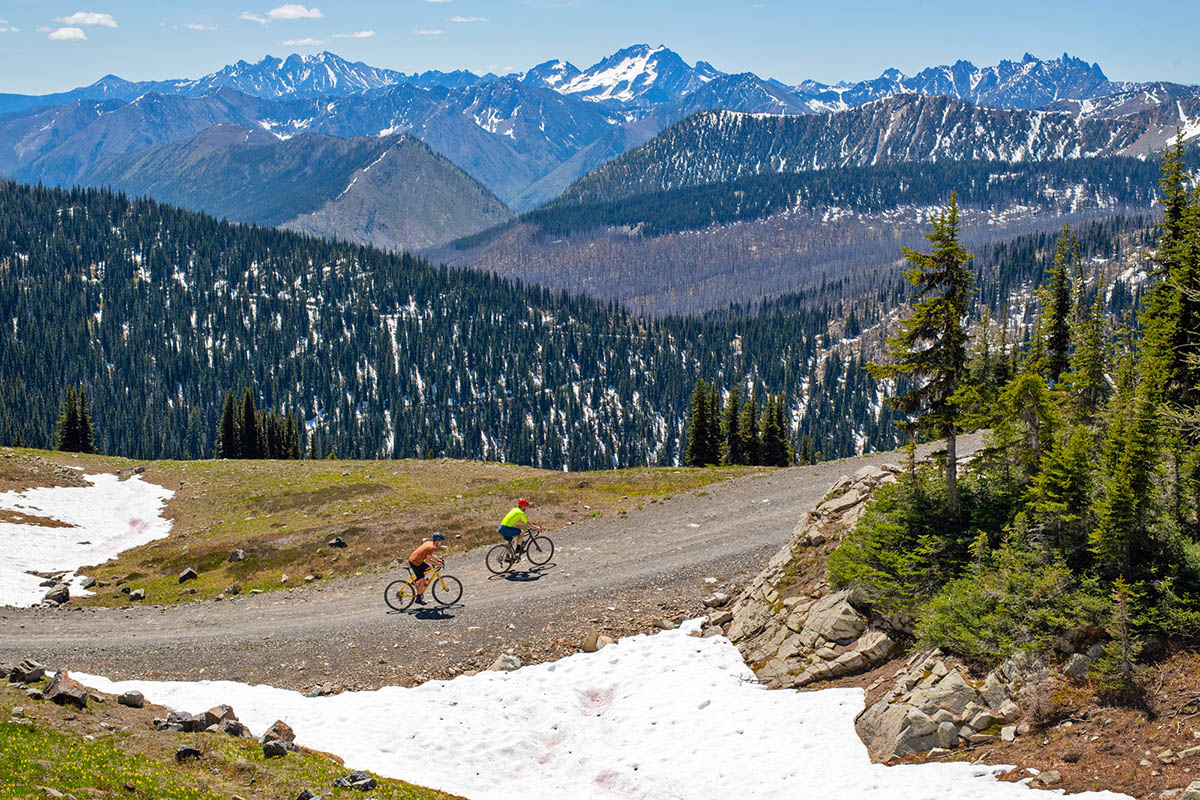 What We Like
Versatile, good-looking gravel bike that doesn't shy away from bikepacking trips or daily commutes. 
Upright and comfortable riding position is great for all-day adventures.
Plenty of mounting locations for storing water, food, and gear.
Rear rack and fender compatibility will make bike commuters happy.
 
What We Don't
At $1,549, we wish the Journeyman came with hydraulic disc brakes and folding-bead tires. In other words, it's not the best value.
At nearly 26 pounds, the Journeyman Apex 1 is heavy in this category.
Wire-bead tires cannot be set up tubeless.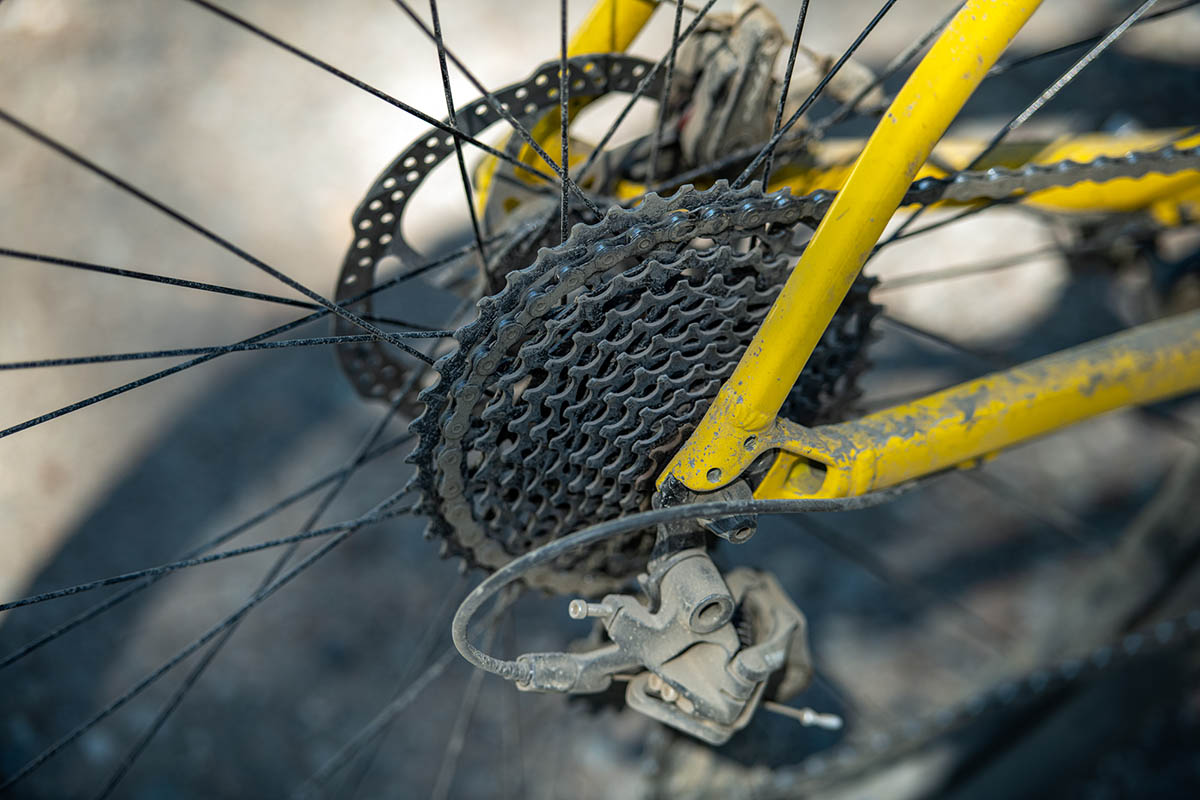 Comparison Table

The Competition
Salsa's Journeyman Apex 1 650 is a versatile gravel bike that can easily pull double duty as a capable bikepacking rig or serviceable daily commuter. In the same category, Co-op Cycles' ADV 3.2 warrants similar praise. Featuring an aluminum frame with plenty of mounting locations, similarly sized 650b tires, and a reasonable $1,799 price tag, the ADV 3.2 gives the Journeyman a real run for its money. That said, the ADV 3.2 is only available in one version (with 650b wheels and drop handlebars), while Salsa offers the Journeyman in a number of build kits and wheel sizes. Further, the ADV 3.2 is equipped with a wide-range mountain bike drivetrain (Shimano Deore XT) and bar-end shifters, as opposed to the Journeyman's integrated brakes/shifters and more road-oriented components. For gravel riding, commuting, and all-around versatility, we give the edge to the Journeyman; for those looking for a slightly more dirt-focused option, the ADV 3.2 is a nice choice.
Another good all-rounder to consider is Cannondale's Topstone 105, which we especially like for its high value. For around $350 more than the Journeyman, you get a high-quality aluminum frame and carbon fork with thru axles, WTB tubeless-ready tires and wheels, and a smooth-shifting Shimano 105 drivetrain complete with hydraulic disc brakes. In other words, the Cannondale addresses almost all the concerns we had about the Journeyman. Further, the Topstone feels more energetic by dropping almost 4 pounds of weight over the Salsa, and it has a slightly more bent-over and aerodynamic seating position for greater efficiency. In the end, despite the slight price penalty, we give the Topstone the edge as the better all-around bike (for more, see our in-depth Topstone review).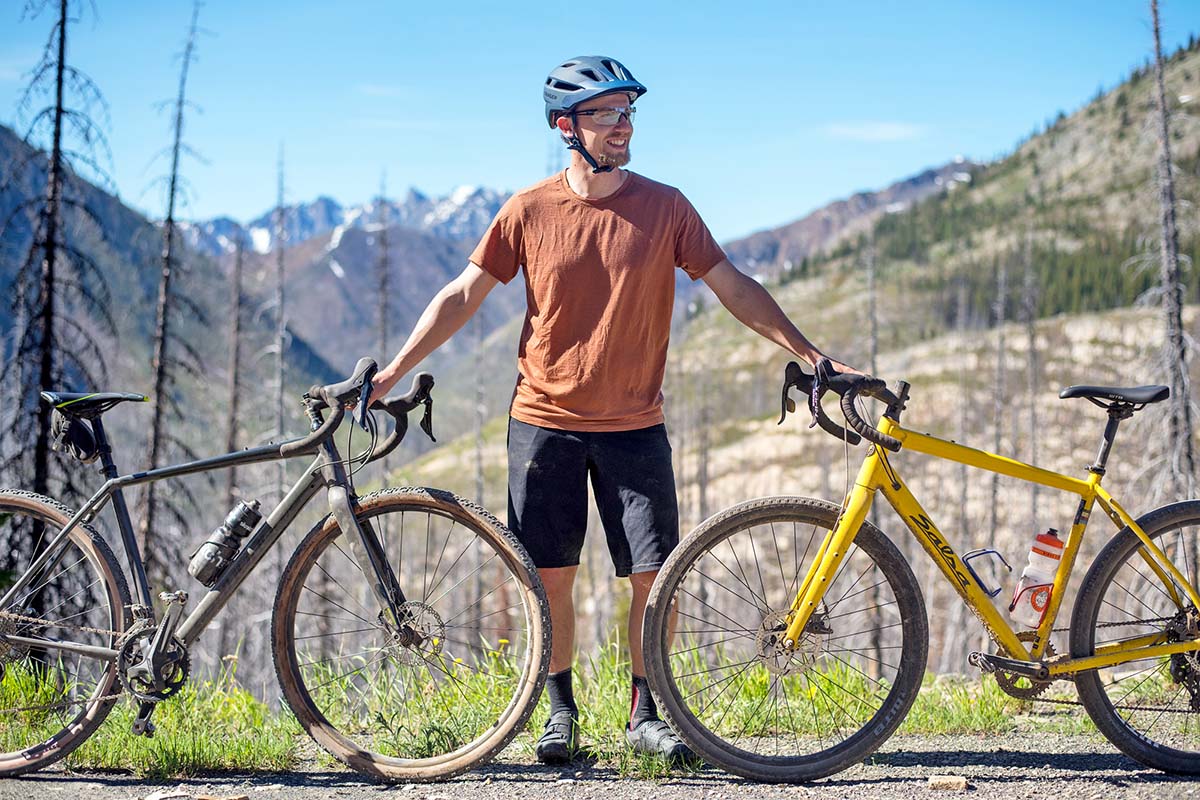 Last but not least, British Columbia-based Rocky Mountain Bicycles has a real winner in the gravel-focused Solo 30. This entry-level model shares a lot in common with the Salsa Journeyman: SRAM's Apex 1 11-speed drivetrain, TRP's Spyre mechanical disc brakes, a relatively upright seating position, and a similar $1,429 price tag (the Journeyman costs $1,549). However, the Solo 30 is outfitted with tubeless-ready tires (something the Journeyman lacks) and also features thru axles in the front and rear (the Salsa uses the quick-release style). All that said, the Journeyman pulls ahead in one key area: variety. Whereas the Solo lineup only includes three models, Salsa's offerings are undeniably more extensive, and it's simply hard to ignore the sheer variety for almost any type of rider.
Editor's note: We usually provide a live price comparison table below our outdoor gear reviews, but at the time of publishing the Salsa Journeyman Apex 1 650 is only available nationwide at REI Co-op. You can see the Salsa Journeyman Apex 1 650 here and support us in the process. Thanks!
Read More From Switchback Travel