In the world of hiking boots, Salomon's X Ultra 3 Mid GTX is a true standout. Despite its lightweight build, the boot nicely balances comfort, durability, and rock-solid traction. We put the X Ultra 3 through its paces over a full year of testing, including a multi-day backpacking trip into the Grand Canyon and day hiking in Washington's rugged Enchantments and North Cascades. In short, there's a reason it's been a longtime favorite and our top-rated hiking boot for multiple years in a row. Below we break down the X Ultra 3 Mid's performance. To see how it stacks up to the competition, see our article on the best hiking boots.
 
---
Table of Contents
---

Performance
Comfort
Shaving weight often comes at the sacrifice of on-trail comfort, but that's not the case with the Salomon X Ultra 3 Mid GTX. The Grand Canyon's Escalante Route was an ideal testing ground, starting with an unrelenting descent of over 4,500 feet. By the end of our first 9-mile day, I had only experienced light soreness, and I wasn't immediately wanting to remove the boots when we finally got to camp, which is very high praise for a new pair of hiking footwear. In addition, there was very little break-in required. The X Ultra 3 felt far less stiff than Salomon's own Quest 4 out of the box, although I did wear it on a few day hikes before heading into the Canyon. And the rest of the boot's testing has gone just as smoothly: I haven't dealt with any hotspots or notable discomfort throughout a year of use.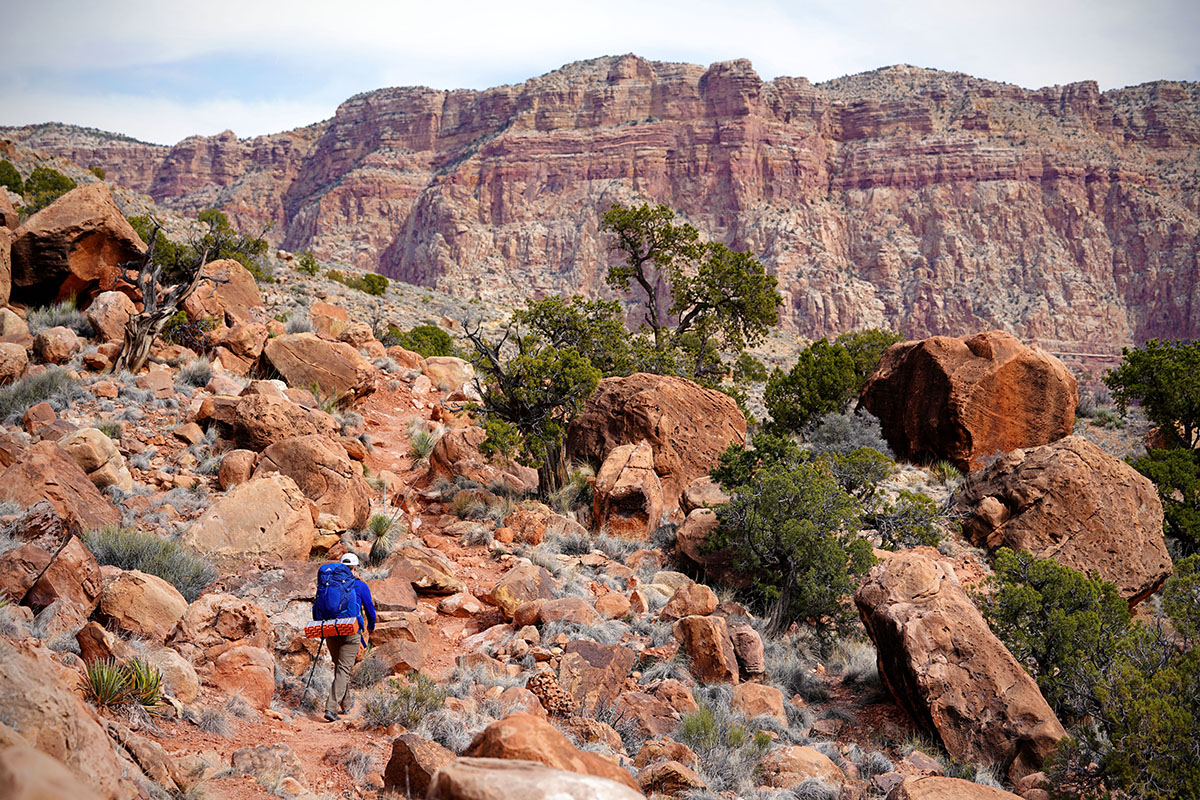 The X Ultra 3 Mid isn't thick and soft like some trail runner-inspired designs, but the firm midsole offers sufficient isolation from sharp rocks. It's worth noting that Salomon's Quest 4 provides even better protection for particularly technical and harsh terrain, but the majority of backpackers and hikers will find the X Ultra 3 to be plenty of boot—and especially those who stay on trail. It does sit rather low for a hiking boot (it rides just above the ankle on me), but there's still decent cushioning around the ankle and tongue, meaning you can snug the shoe down tightly without compromising on comfort. And while I was initially concerned that there weren't enough eyelets in the lacing system to allow for good customization (there are only five sets total), it's proven to be a non-issue. I especially appreciate the secure, locking eyelets along the bend in the ankle and near the top of the collar.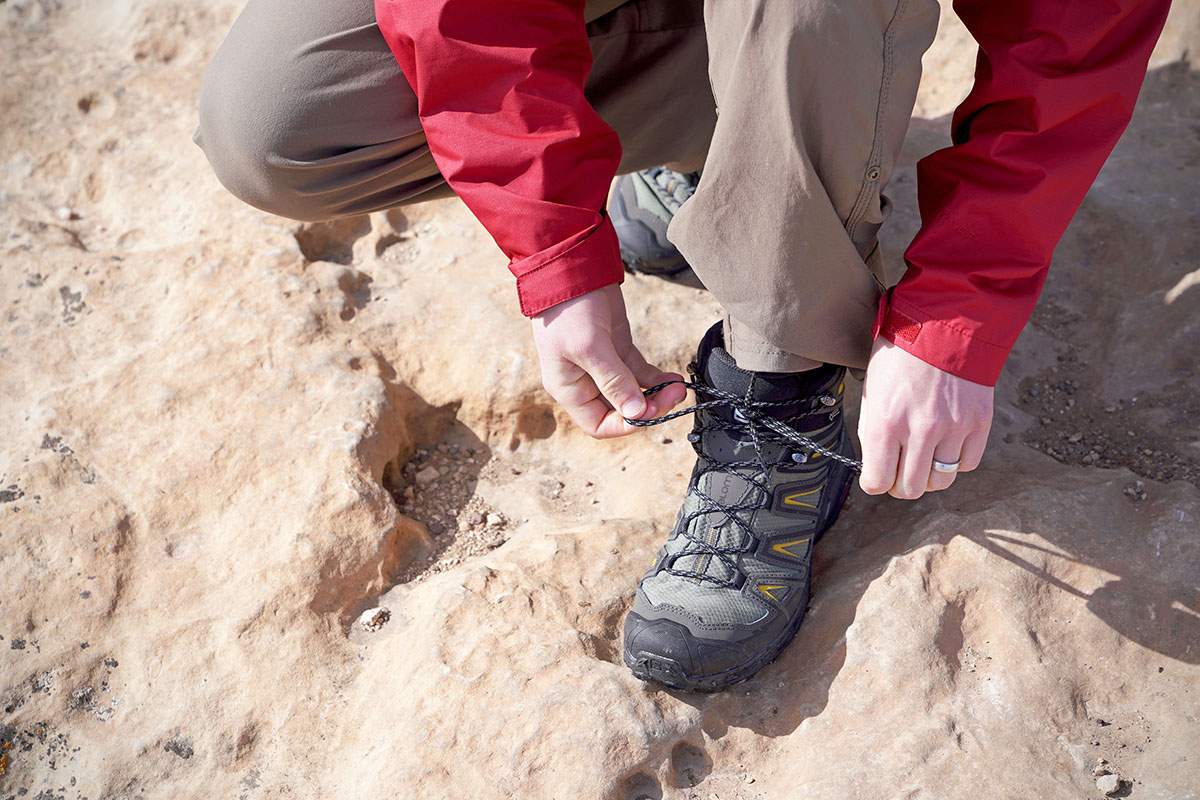 Weight
In a men's size 9, the Salomon X Ultra 3 Mid GTX clocked in at 2 pounds 1.5 ounces on our scale (the listed weight is 1 pound 15.7 ounces), which puts it on the lightweight end of the hiking boot spectrum. On the trail, the boot had a very nimble and athletic feel to it, which is one of the hallmarks of Salomon's hiking footwear lineup. And stacked up against the competition, the X Ultra 3 is a clear front-runner, undercutting similarly built models like the Asolo Falcon GV (2 lbs. 2.6 oz.) and La Sportiva Nucleo High II GTX (2 lbs. 1.6 oz.). You can go lighter with a trimmed-down design like the Altra Lone Peak ALL-WTHR Mid (1 lb. 14 oz.) or Vasque Breeze LT Mid GTX (1 lb. 11 oz.), but we've found these boots compromise significantly on durability when subjected to serious mileage and terrain. All in all, for the weight, the X Ultra 3 Mid GTX is an impressively hardwearing and trail-ready boot.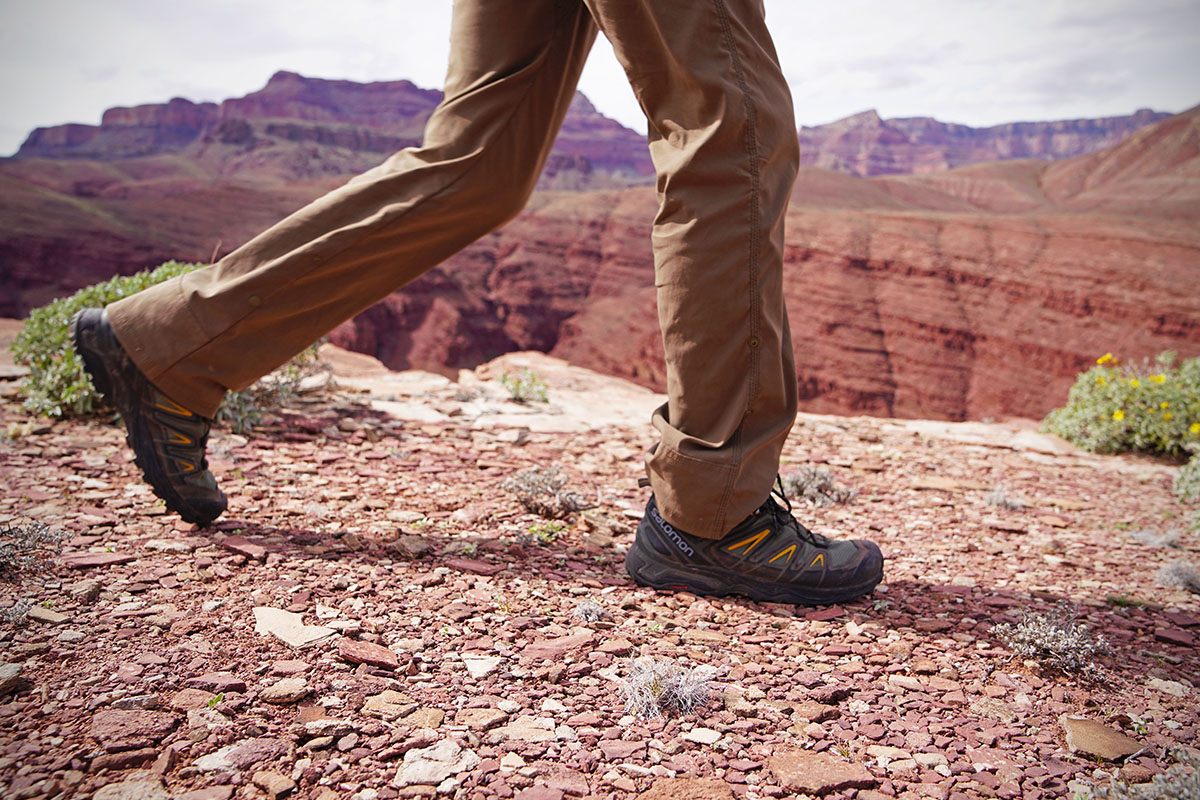 Traction
The Salomon X Ultra 3 Mid GTX has one of the most well-rounded tread designs I've tested to date. The boot has confidently climbed 4th-class terrain, descended a steep rockslide, easily handled a few inches of fresh snow, and trekked through mud, rock, and loose dirt without any notable issues. Additionally, the arrow-like lugs are deep, shed mud well, and aren't prone to collecting pebbles in between the tread. And the design flips its shape at the heel to provide ample bite on the descent. After about a year of consistent use, the tread is certainly showing signs of wearing down but still has plenty of life left.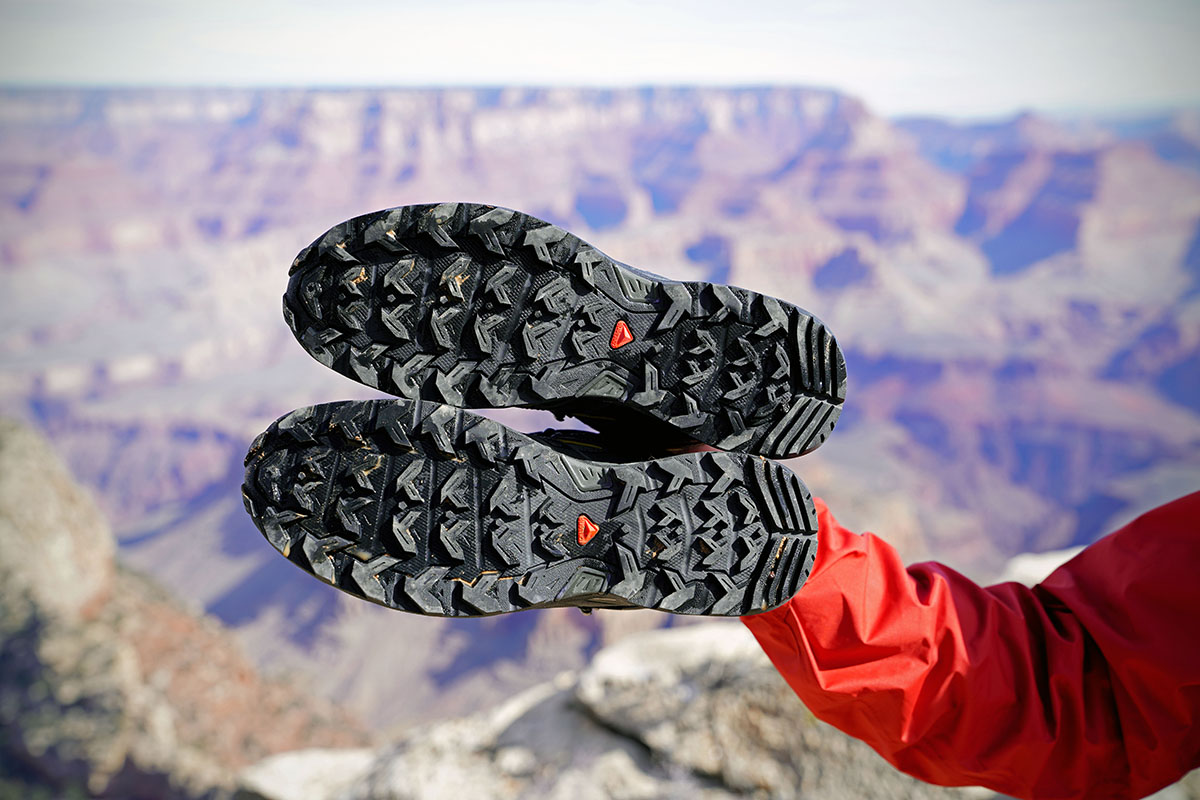 Stability and Support
Salomon's weight-saving measures are most obvious when it comes to stability. For starters, the X Ultra 3 Mid sits rather low on the ankle—you can technically wear quarter-height socks with it—and the support around that area suffers as a result. That said, it's nevertheless a big step up from a low-top hiking shoe, and I had no issues with protection throughout testing. In fact, it was an ideal match for the Grand Canyon's rocky and steep Escalante Route—I suffered no ankle rolling even over rough terrain while carrying a 35-pound pack. On the flipside, it also wasn't overly stiff or uncomfortable on tamer day hikes, which is often the case with burlier boots.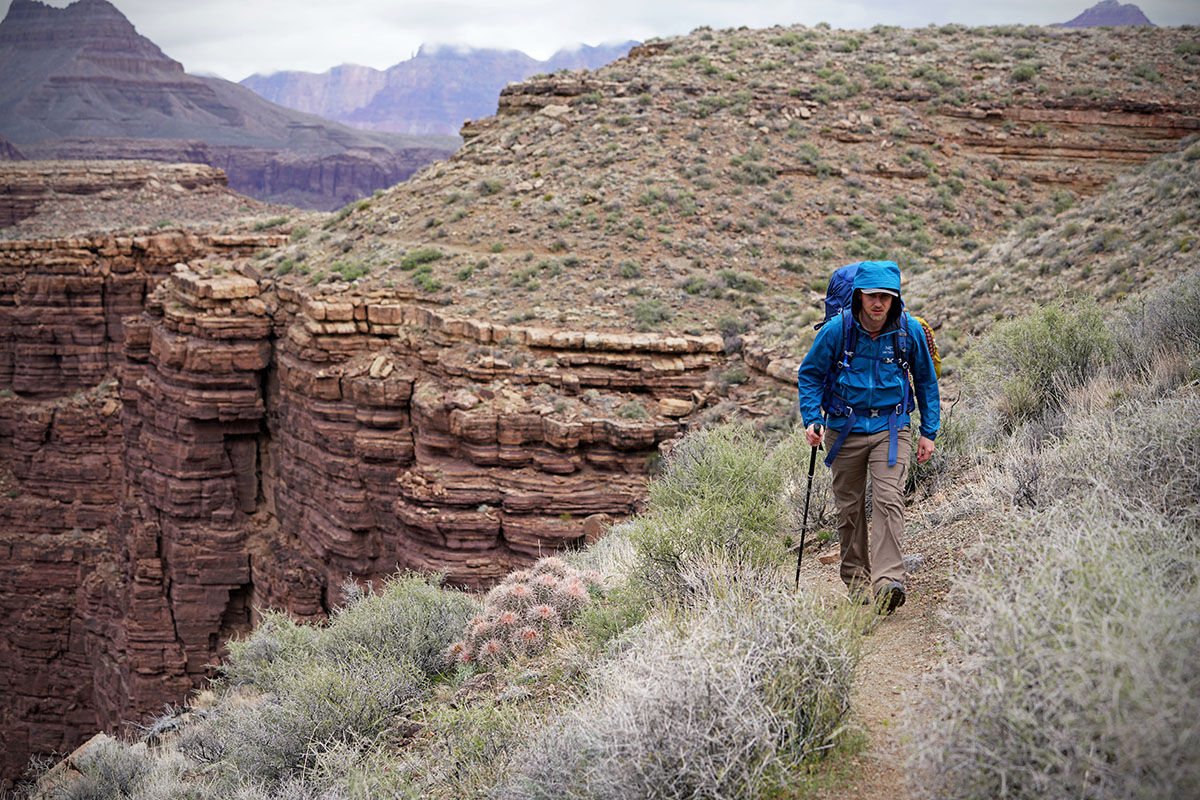 In addition to the lower ankle height, the X Ultra 3 also has a fairly flexible design around the collar. However, it's still significantly sturdier than many lightweight competitors we've tested, including the Vasque Breeze LT and Altra Lone Peak ALL-WTHR Mid, which offer practically no lateral support. All in all, the X Ultra 3 Mid is a great option for those who like the feeling of a nimble shoe but want some extra protection and stability. If you're instead looking for a truly robust backpacking boot for technical terrain or carrying a heavy load, Salomon's taller, sturdier, and heavier (2 lbs. 14.2 oz.) Quest 4 GTX is the better choice.

Waterproofing
Salomon makes the X Ultra 3 Mid in both Gore-Tex and non-waterproof versions, but I tested the waterproof shoe given the wet forecast in the Grand Canyon. In the end, my experience was similar to all other Gore-Tex boots I've worn: The design provides reliable waterproofing in snow, light to moderate rain, and during stream crossings. However, the shoe does have a lower ankle height compared to other backpacking-ready designs, which means you'll need to be mindful when crossing streams to avoid water pouring in at the opening in the tongue. But on the bright side, the X Ultra 3 Mid GTX dried out much faster than most other Gore-Tex models I've worn, which is likely a result of the thinner synthetic upper. The outer fabric was fairly water-logged after an especially rainy day on our trek, but the boots were completely dry by the time I put them on the next morning.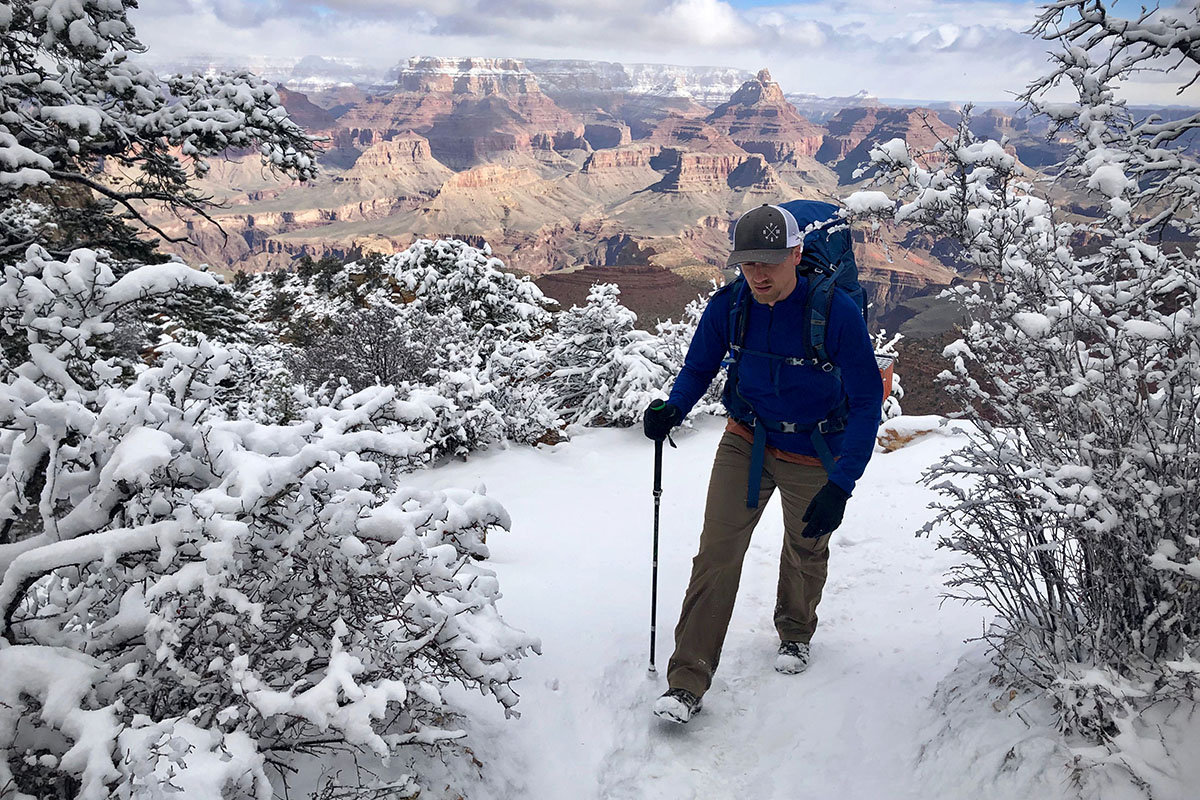 Breathability
For a waterproof boot, the Salomon X Ultra 3 Mid GTX is a good overall breather. I've worn the boots in temperatures ranging from just below freezing to well over 70 degrees Fahrenheit and have had only minimal issues with overheating. Paired with thin hiking socks, my feet have gotten warm but not overly hot or sweaty, and the Gore-Tex membrane provided a nice dose of added insulation when the mercury dipped. All that said, Gore-Tex boots are never going to be standout breathers, so if this is a priority for you, the non-waterproof X Ultra 3 Mid Aero is a much better bet. The Aero model has a similar build but ditches the waterproof liner and includes a mesh upper material with a more open design for better ventilation.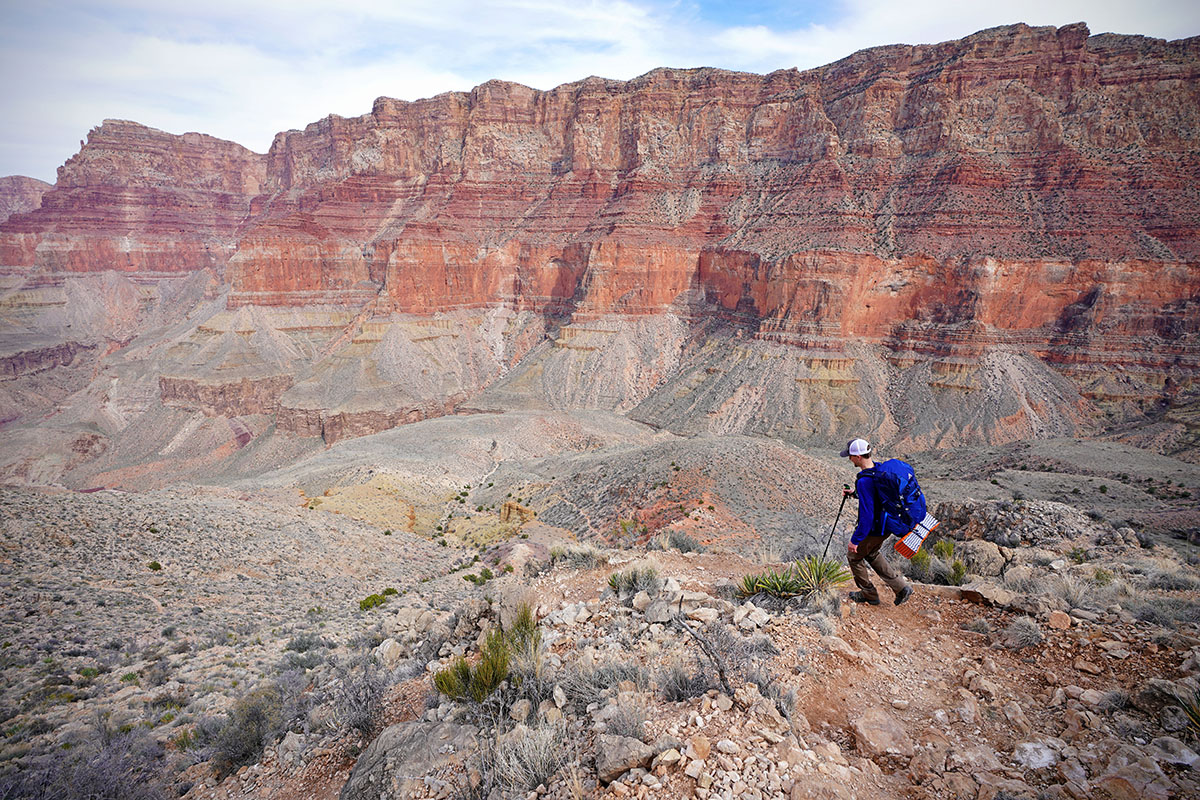 Toe and Ankle Protection
As I touched on above, the Salomon X Ultra 3 Mid rides rather low for a backpacking boot, but it still provides decent ankle protection. The cushioning helps a lot here—it's thick enough to withstand direct hits around the ankle and heel. And for the weight, the toe coverage is impressively substantial: Protective rubber covers most of the front of the foot, which has easily fended off hard impacts with sharp rocks (the sides aren't as well shrouded, but I haven't had any issues, even on aggressive trails). Those spending significant time off trail might want a little more height and protection—the upper is fairly thin outside of the toe and ankle areas—but it has been ample for my uses thus far.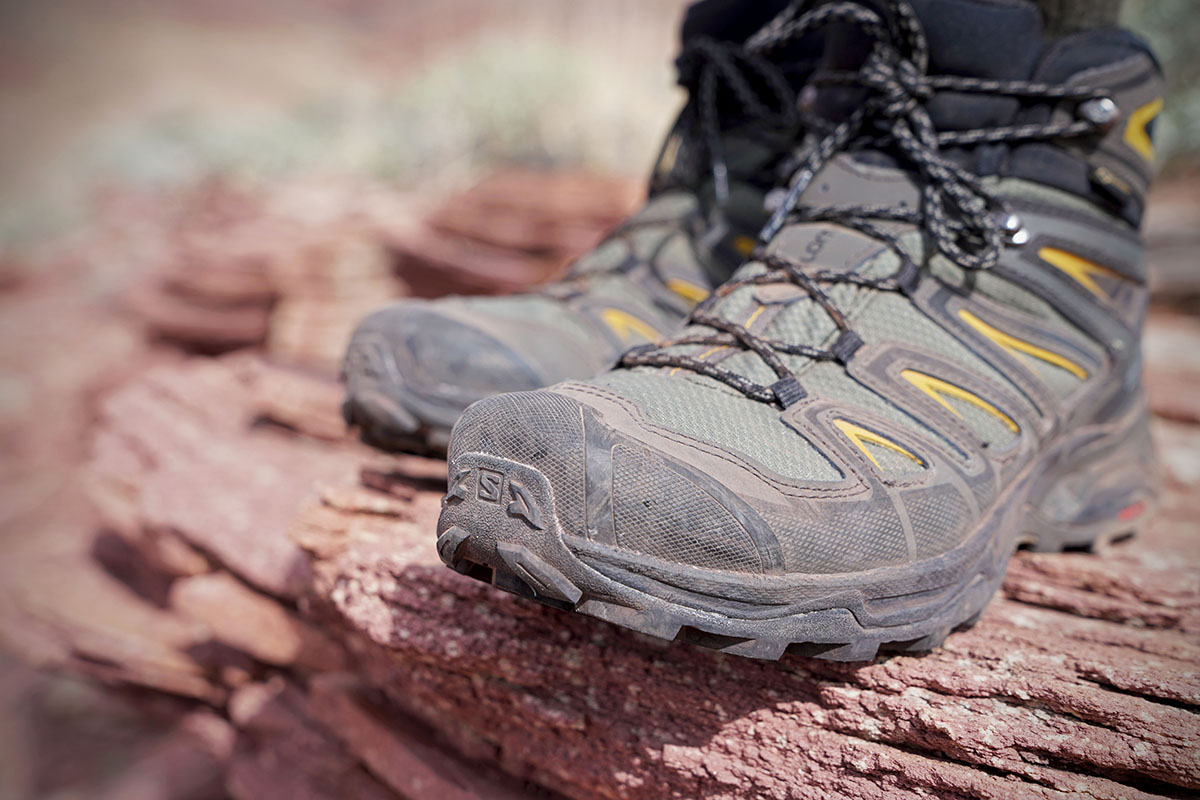 Build Quality and Durability
Salomon is a class leader when it comes to quality backpacking footwear, and the X Ultra 3 Mid is no exception. After well over a year of use, the boot is still in great shape and shows very little wear. For comparison, we also took the Vasque Breeze LT Mid into the Grand Canyon, and the boot delaminated along the rand just a couple of days into the trip. The Salomon's upper does contain a good amount of stitching, but like the low-top X Ultra 3 that I've tested (along with prior versions of the X Ultra and Quest boots), this has never turned out to be a weak point in the design. As I touched on above, the only notable wear has been along the tread, but no lugs have chipped away or worn excessively—something we've consistently experienced with other hiking boots while traveling over abrasive granite in Washington state.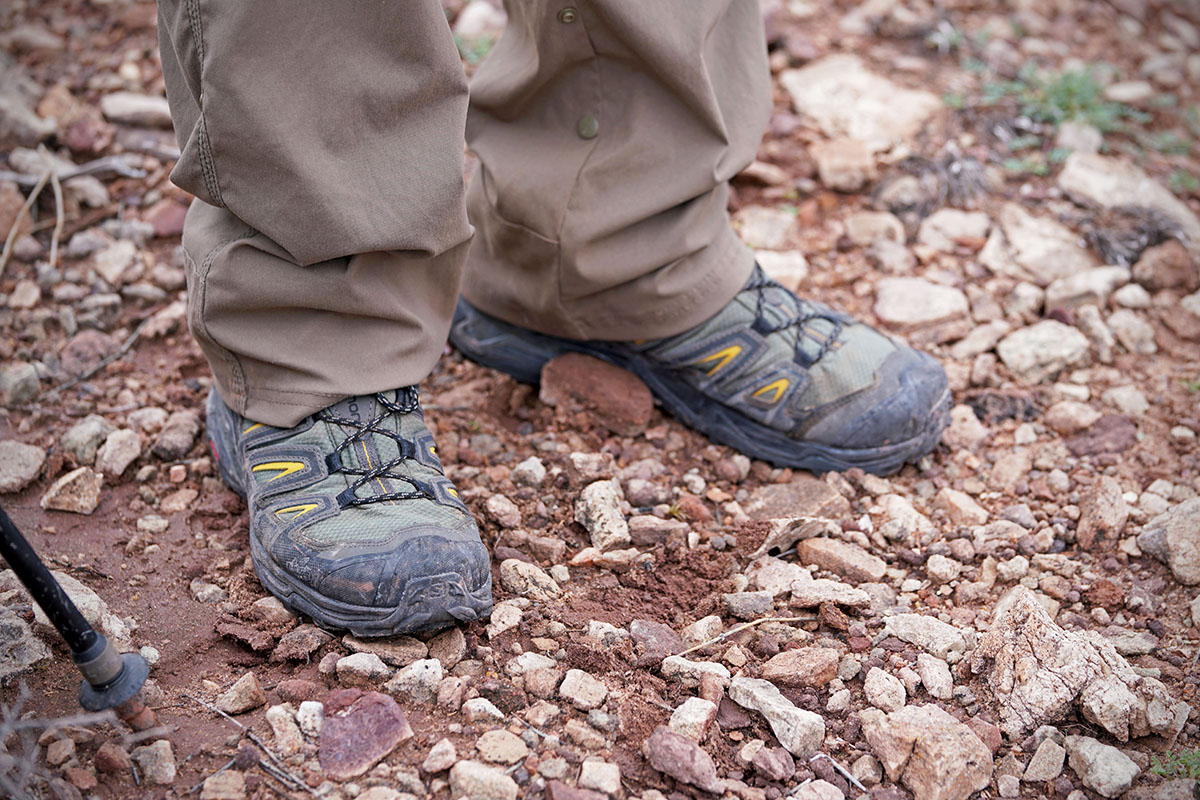 Fit and Sizing
The Salomon X Ultra 3 Mid GTX provided a great all-around fit for my average-width feet. In my standard men's size 9, the boot proved to be an ideal length to avoid dreaded toe bang on long descents, and the moderately narrow heel—combined with an excellent lacing system—held my foot in place nicely. Finally, the toe box is close to an average width (perhaps slightly narrow), which worked well for me on our multi-day backpacking trip. Those that prefer a wide and spacious toe box, however, will likely find the Salomon's to be restrictive. If this sounds like you, Salomon also makes the X Ultra 3 Mid in wide sizes.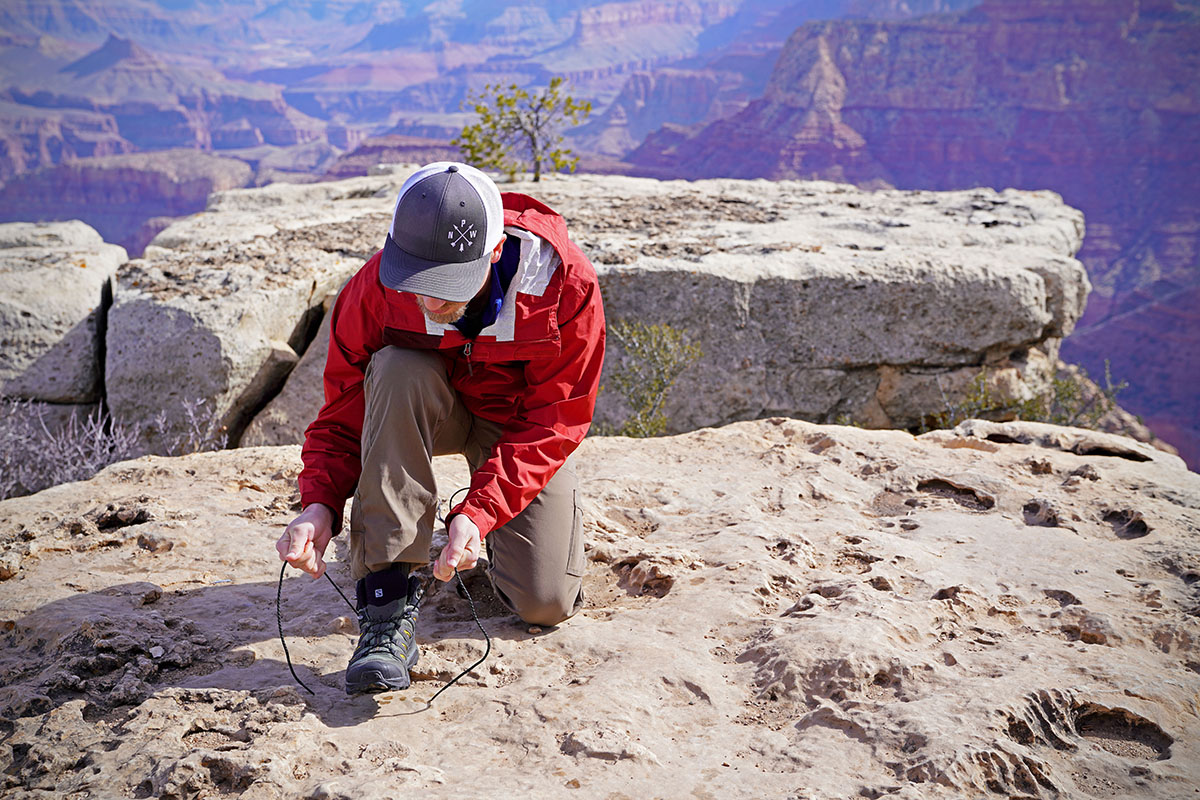 Other Versions of the Salomon X Ultra 3
We brought the X Ultra 3 Mid GTX along for testing in the Grand Canyon, but Salomon also makes the X Ultra in a number of other variations. If you don't need the ankle-height protection of the Mid, you can save $15 and 5 ounces per pair with the low-top X Ultra 3 GTX (see our in-depth review here). And for those who prioritize breathability over waterproofing, Salomon also sells Aero versions of both the mid and low X Ultras ($120 and $130 respectively), both of which forego the Gore-Tex liner and have more mesh-heavy uppers to allow for better venting. All of the aforementioned designs are available in women's versions for the same price (the main differences are in fit and colorways).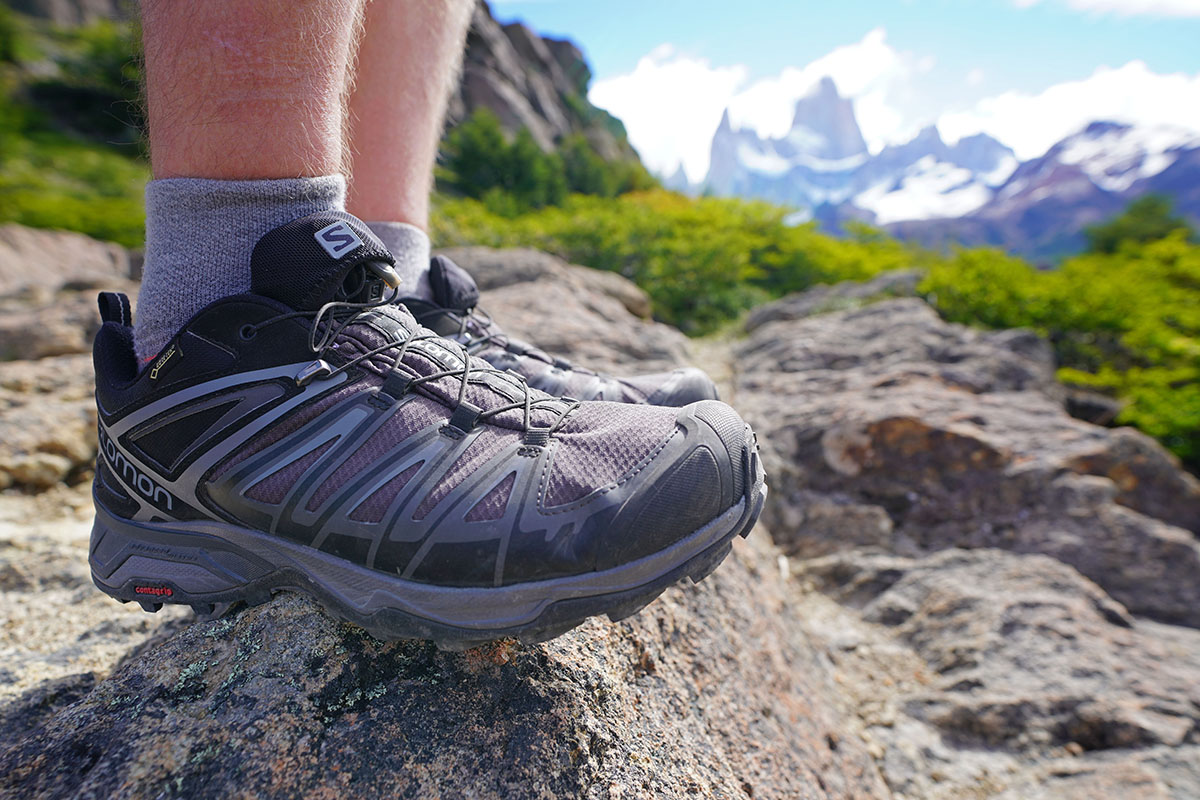 Salomon X Ultra 4
Salomon released a successor to the X Ultra 3 in spring 2021: the X Ultra 4. Stacked up against the model tested here, the men's X Ultra 4 Mid GTX costs the same at $165 but boasts a more modern and athletic look, has slightly improved stability with a new chassis design, and weighs a bit less (about 1 ounce less per shoe). Like the 3, the 4 is available in a number of other iterations, including waterproof and non-waterproof low-top and mid-height models (for more, see our in-depth X Ultra 4 Mid review).

What We Like
Salomon achieved an impressively low weight without sacrificing long-term durability or on-trail comfort, which is no easy feat for a backpacking boot.
Traction is excellent: The boot confidently handled terrain ranging from steep, loose rock to dirt, mud, and even snow.
Top-notch build quality: The X Ultra 3 Mid is showing very little wear after well over a year of consistent use.

What We Don't
For especially technical terrain or carrying a heavy load, we'd recommend stepping up to a taller, sturdier, more protective boot like Salomon's own Quest 4D 3 GTX. 
Lower ankle height means water can easily enter over the collar.
Those with wider feet might find the toe box restrictive (although Salomon sells the X Ultra 3 Mid in wide sizes).


Comparison Table

The Competition
Salomon's X Ultra 3 Mid GTX is our top-rated hiking boot due to its impressive balance of lightness, comfort, and durability. Another popular model with similar intentions is Merrell's Moab 2 Mid WP. Compared to the Salomon, the Moab 2 has more generous cushioning overall, and especially underfoot where it's notably softer and offers better isolation from the ground. However, the X Ultra 3 is lighter by 4.3 ounces per pair, has a more athletic feel, and provides comparable support—we've actually found that the Salomon's lacing system allows for a better all-around fit, which gives it the edge. In the end, those wanting a comfortable boot for day hiking on maintained trails will likely prefer the Merrell, but the Salomon is the lighter and more versatile pick.
Another one of our favorite hikers is KEEN's signature Targhee III Waterproof Mid. For $10 more than the X Ultra 3, the Targhee boasts a durable leather construction and great overall comfort, weighs a reasonable 2 pounds 2.8 ounces, and offers sufficient stability and grip for most on-trail adventures. That said, it's a clear step down in overall performance from the Salomon on steep and rocky terrain, and KEEN's in-house waterproofing technology doesn't breathe as well as the Salomon's more premium Gore-Tex membrane. All in all, the Targhee remains a popular option and for good reason, but the Salomon outperforms it in almost every category and will save you a bit of cash.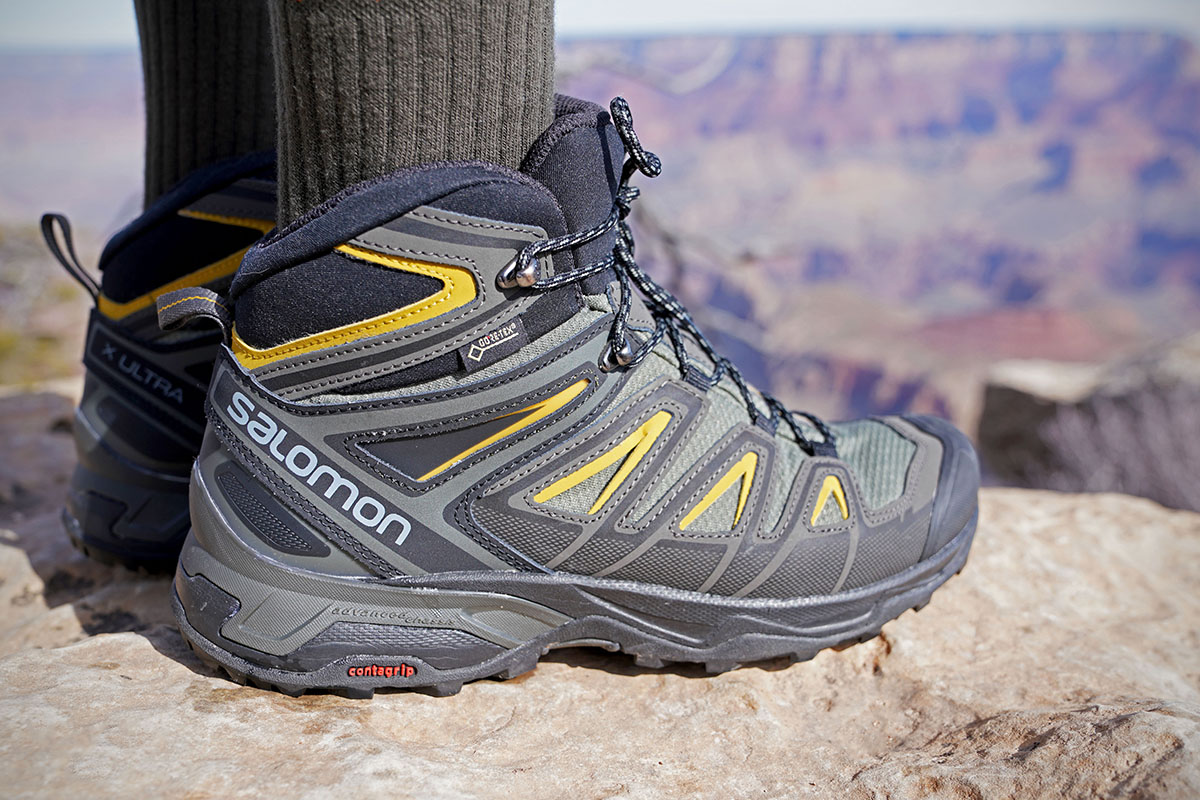 There have been a growing number of ultralight boots hitting the market, including Vasque's Breeze LT Mid GTX. Sliding your foot in, the boot feels very much like a trail runner with a bouncy midsole, superlight feel (the boot weighs 1 lb. 11 oz. per pair), and sticky Vibram Megagrip outsole. On the same trip into the Grand Canyon, we found that the Breeze LT provided good cushioning, sufficient ankle support, and ample all-around comfort, but the boot came up well short in durability. In particular, the thin rand that runs along the inside of the boot separated from the upper within a couple of days and was flopping around loosely by the end of the trip. For a few ounces more, we give the edge to the more hardwearing X Ultra 3 Mid.
From within Salomon's own lineup, their OUTline Mid GTX sticks to a similar overall script as the X Ultra 3 Mid. It's light (1 lb. 13.6 oz. per pair), moderately flexible, features tacky Contagrip lugs, and includes a Gore-Tex liner. Where the two differ most is in comfort: The OUTline is too thin underfoot and led to noticeable foot fatigue even on longer day hikes. Plus, we had durability issues with the toe cap peeling back after only one day (it was admittedly a long hike, but nothing excessive or overly technical). All in all, the OUTline's running shoe-like feel is nice, and the boot certainly has a modern and sleek look to it, but it simply doesn't have the performance chops or proven track record of the X Ultra 3 Mid GTX.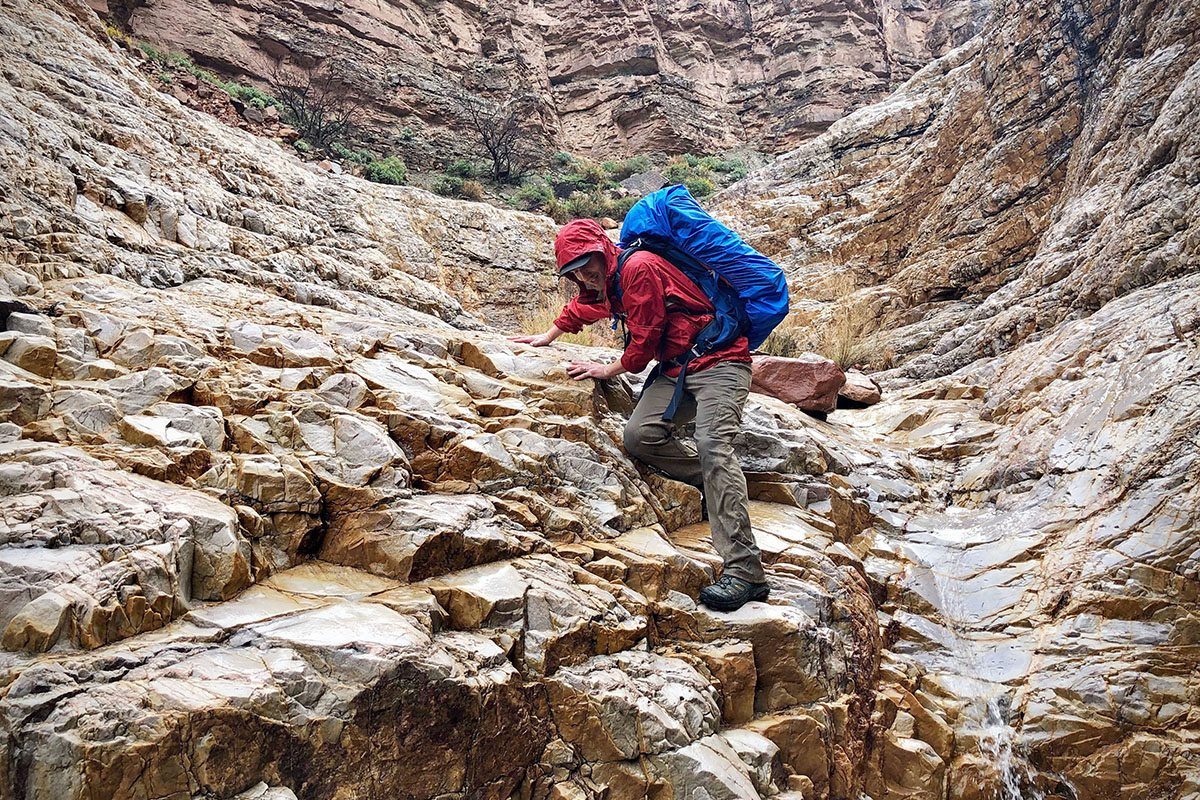 Last but not least is a more rugged design to consider: Salomon's Quest 4 GTX. At 2 pounds 14.2 ounces, the Quest outweighs the X Ultra 3 by a considerable 14.5 ounces per pair, which adds up quickly over long distances. That said, the Quest's sturdier build, taller ankle height, more secure lacing system, and added underfoot protection are much better equipped to handle serious backpacking trips that require navigating tricky and technical terrain. In the end, the X Ultra 3 Mid can't supplant a technical boot like the Quest, but for all but the most demanding trips, we think it's worth saving a significant $65 with the lighter and nimbler design.
If you're thinking about buying gear that we've reviewed on Switchback Travel, you can help support us in the process. Just click on any of the seller links above, and if you make a purchase, we receive a small percentage of the transaction. The cost of the product is the same to you but this helps us continue to test and write about outdoor gear. Thanks and we appreciate your support!
Depending on the seller, most products ship free in the United States on orders of $50 or more. International shipping availability and rates vary by seller. The pricing information on this page is updated hourly but we are not responsible for inaccuracies.
Read More From Switchback Travel