For 2019, Salomon lightly updated their do-it-all Sense Ride with a redesigned mesh upper and lighter-weight build. Having worn and been quite happy with the previous version, I was eager to see how the newer "2" stacked up. And following 50 miles worth of testing, I've come away with similar praise: the Contagrip outsole excelled on everything from wet logs to smooth gravel paths, and the shoe impressed me with its comfort and stability on varied terrain—although it did suffer slightly on truly technical trails. Below we break down the Sense Ride 2's traction, stability, comfort, weight, fit and sizing, and more. To see how it stacks up, see our article on the best trail-running shoes.

Performance
Traction
My runs typically include varied terrain ranging from short stints on tarmac to soft singletrack. Given the diversity, I need a shoe that can handle it all, and I'm happy to report that the Salomon Sense Ride 2 is up to the task. The 3-millimeter lugs efficiently cruised down buff trails and roads, and the Contagrip outsole confidently gripped everything from dirt to slippery rocks and logs. However, what stood out most to me was the shoe's commendable traction in mud—something I didn't expect from the modest lugs. The Sense Ride can't match the comfort of road-running shoes on pavement or Salomon's more aggressive Speedcross 5 (6mm lugs) on loose trails, but it has nevertheless tackled most surfaces with aplomb.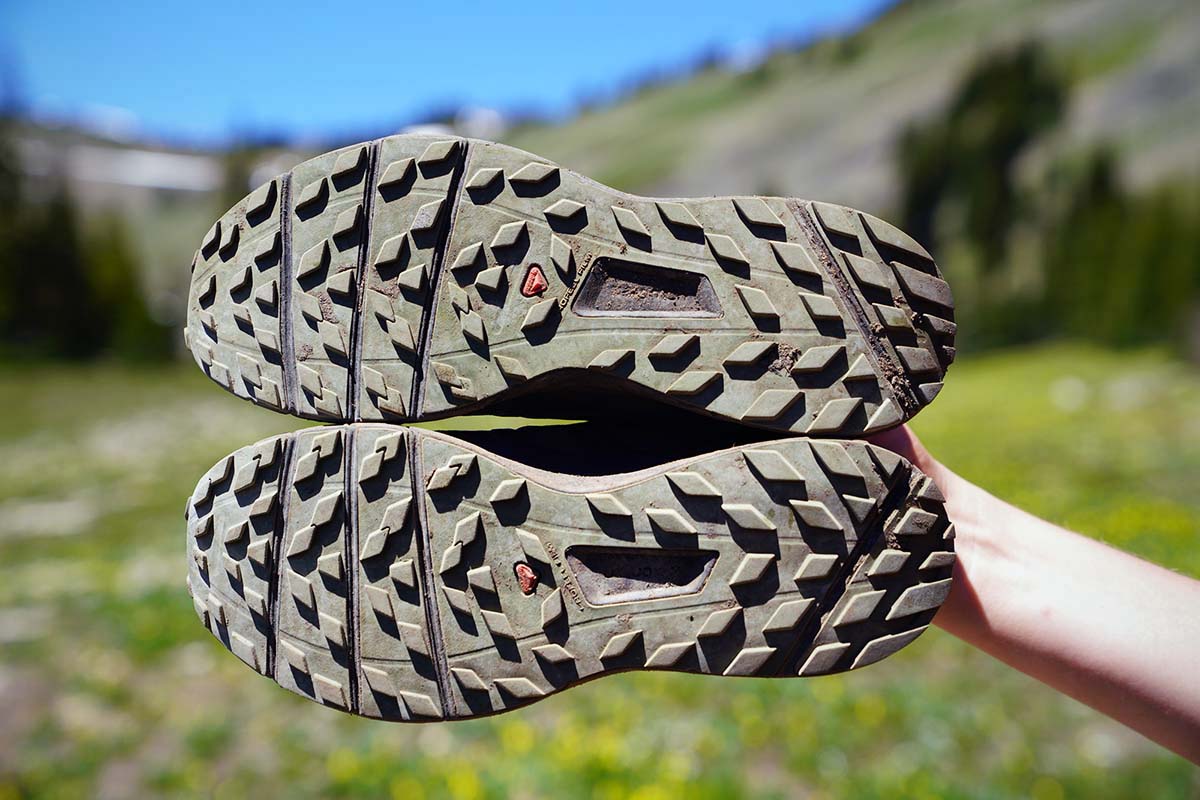 Stability
As someone who has a tendency to roll ankles frequently, stability is one of my top considerations when choosing a trail-running shoe. And in this department, the Salomon Sense Ride 2 performed well overall. Most notably, the shoe's moderate stack height (27mm heel/19mm forefoot) and snug fit offer a nice, confidence-inspiring feel and stable ride on easy-to-moderate trails. After recently testing the max-cushioned Hoka One One Speedgoat, which lacks precision and trail feel because of its tall stack height (32mm heel/28mm forefoot), I was very happy to slip on the more modest Sense Ride. However, despite generous overlays that wrap around the foot to provide support, the Sense Ride felt slightly out-of-place when traveling over particularly rocky and uneven ground—I often felt my feet moving around inside the shoe. If you frequent particularly rugged trails, a more purpose-built option like the La Sportiva Bushido II is a better match.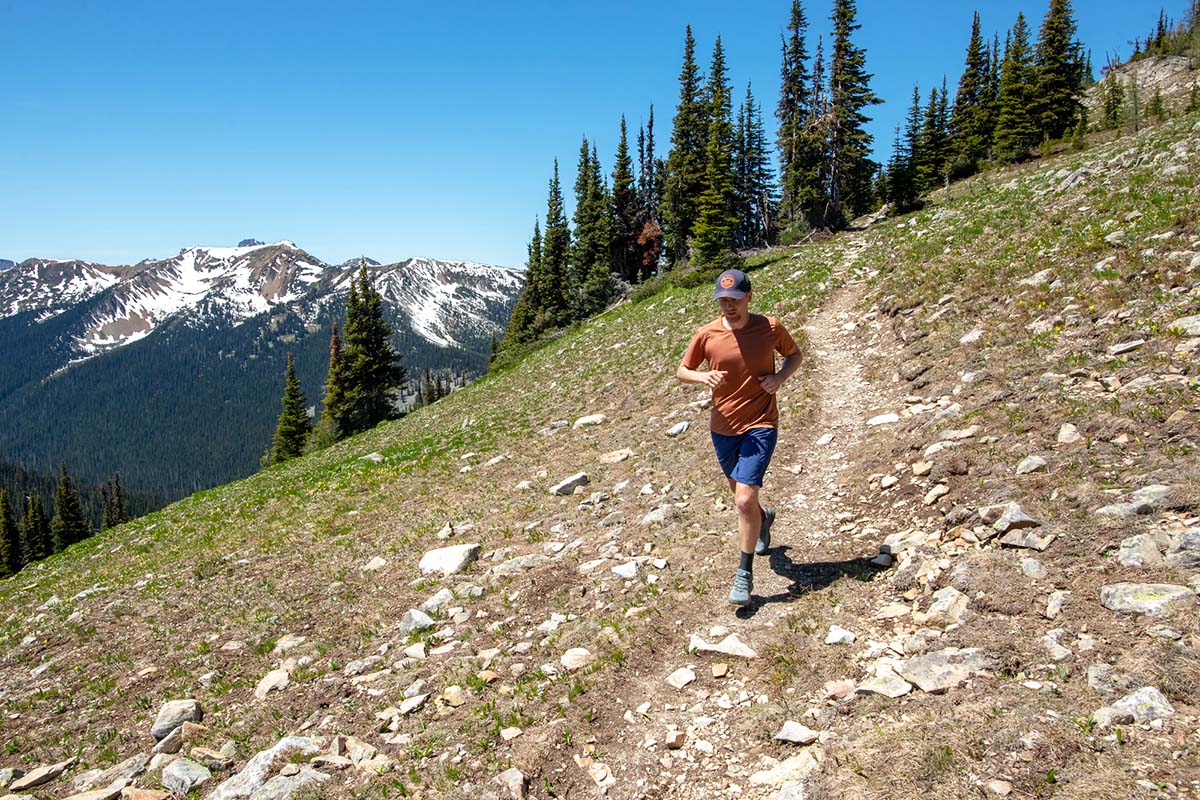 Cushioning
Stability and cushioning often go hand-in-hand: the more padding a shoe has, the farther away your foot is from the ground, resulting in less stability over steep or rocky sections of trail. That said, Salomon managed a nice balance here with the Sense Ride 2. The shoe's midsole is thick enough to remain comfortable over long slogs without sacrificing trail feel. In other words, the Sense Ride felt nimble underfoot without being too harsh or thin. My only complaint is that the shoe's modest cushioning and Profeel film—a thin TPU protective layer—were slightly under-gunned on exceptionally rough terrain. This lead to some discomfort and soreness while running over golf-ball-sized rocks on hard surfaces (like gravel roads). For these applications, a full-on rock plate between the midsole and outsole would provide a useful boost in protection.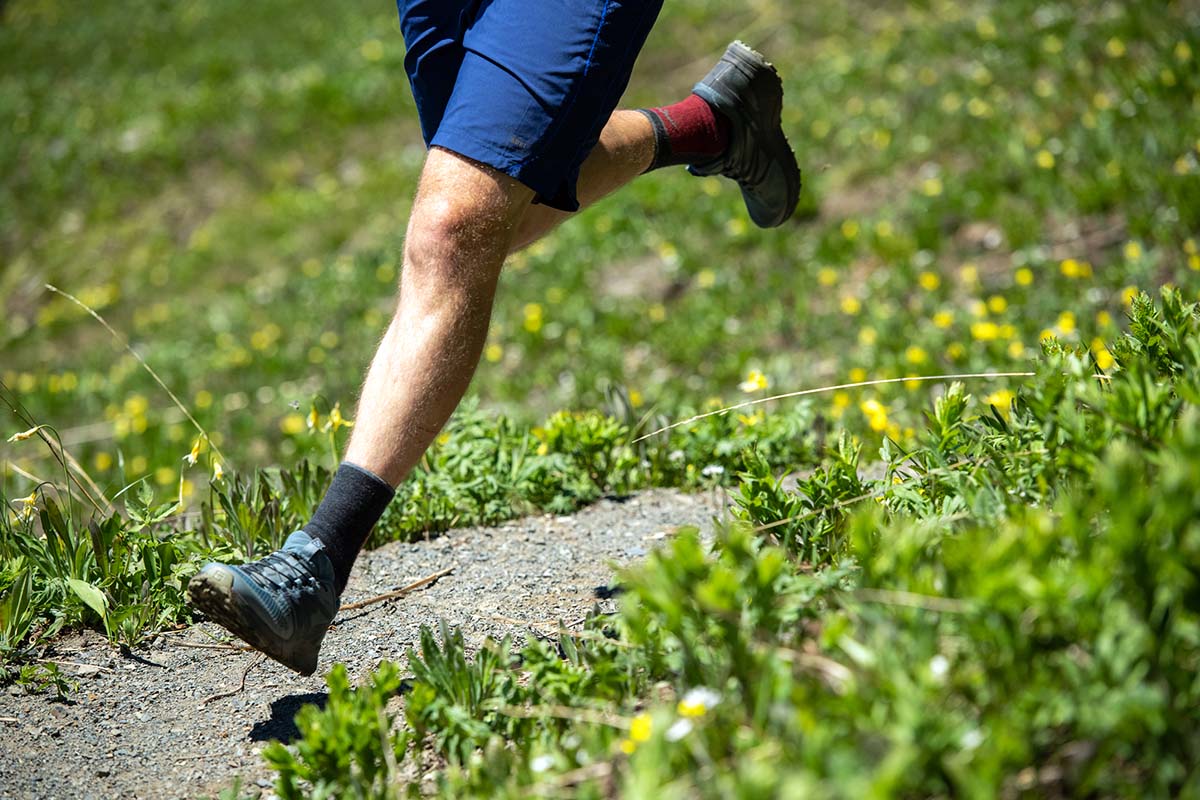 Comfort
Put simply, the Salomon Sense Ride 2 is one of the most comfortable trail-running shoes I've worn to date. My typical outings last anywhere between 30 minutes and two hours, and I've experienced no hotspots, blisters, or numbness—something that occasionally happened while wearing the first-generation Sense Ride. The shoe's newly redesigned mesh upper is comfortable and soft, the internal sleeve effectively wraps around my foot with no areas of unwanted tightness or looseness, and the OrthoLite insole provides solid arch support over long distances. Finally, while many Salomon shoes run narrow, the Sense Ride 2 is a little more forgiving—the toe box allows my feet to splay naturally without feeling restricted. All in all, I have no comfort-related complaints after logging serious mileage in the Sense Ride 2.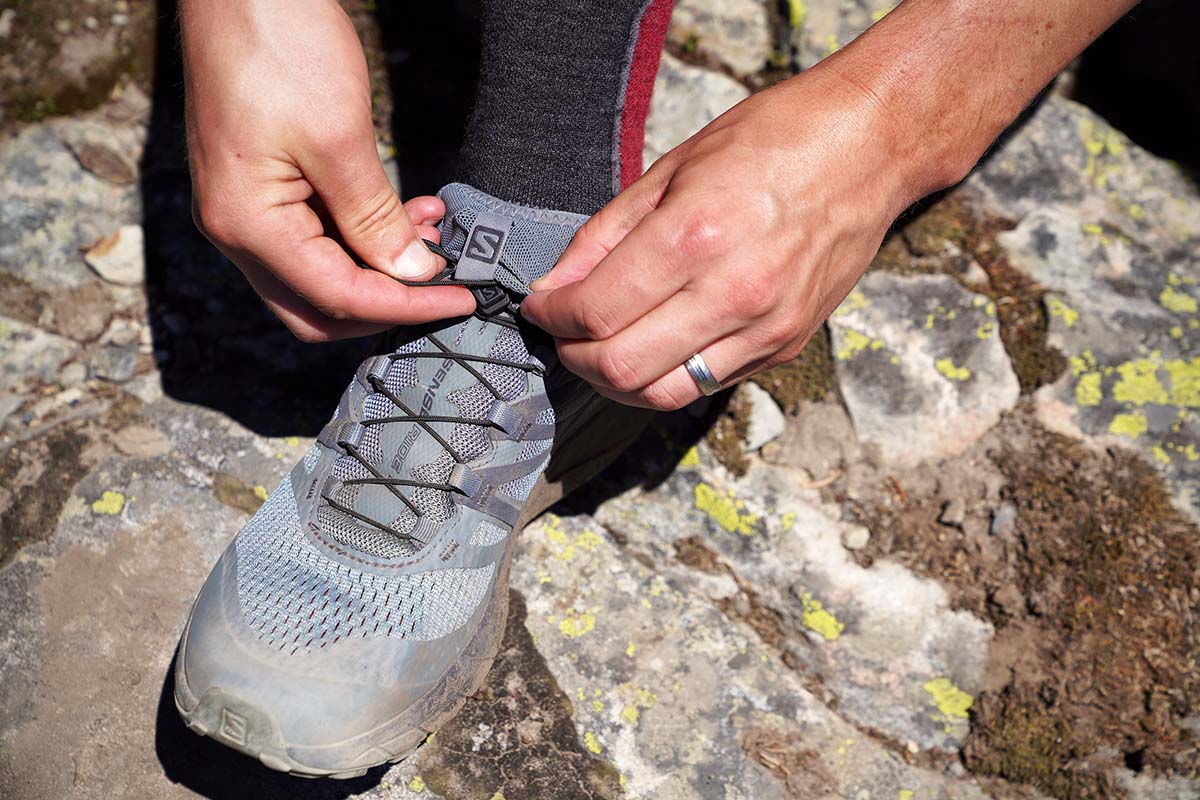 Weight
At 19 ounces for a men's pair, the Sense Ride 2 is competitively lightweight in the trail-running market. Similar all-rounders including the Saucony Peregrine ISO (21 oz.), Altra Lone Peak 4 (20.4 oz.), and Brooks Cascadia 14 (21.4 oz) come in slightly heavier, which can quickly add up over long distances. In fact, one of the Sense Ride's standout features is its agility—I was able to confidently dance over roots and attack hilly sections of trail without much effort. All told, I'm very pleased that the shoe's on-trail performance matches its low weight.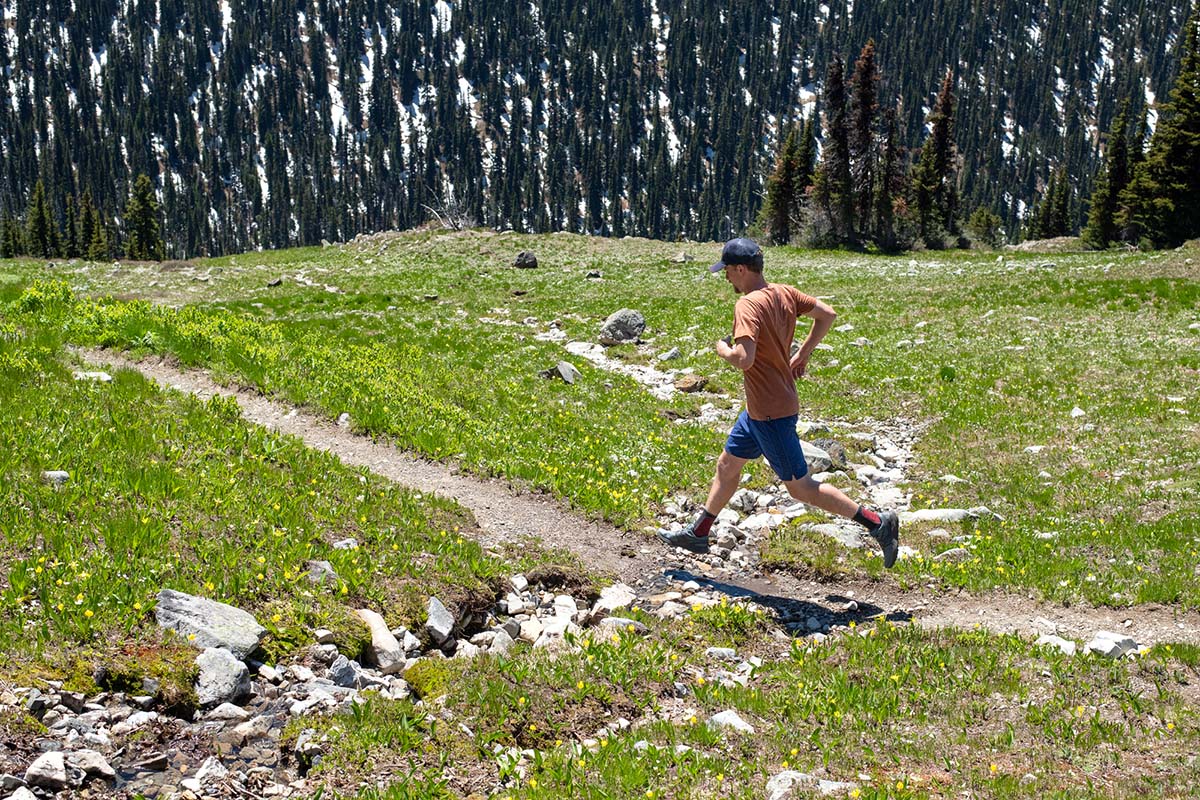 Durability
Salomon shoes are often lauded for their quality and hardwearing builds, and the Sense Ride 2 is no exception. So far, I've racked up around 50 miles in the shoe (as well as over 150 in the first-generation Sense Ride) and have come away thoroughly impressed. The outsole shows very little wear despite a handful of pavement outings, the mesh upper has not torn or ripped, and there has been no delamination to date—something I can't say for other footwear I've been testing this season. Lightweight shoes often make notable sacrifices in durability, but that's not the case with the Sense Ride and I expect it to continue holding up well to frequent use and abuse.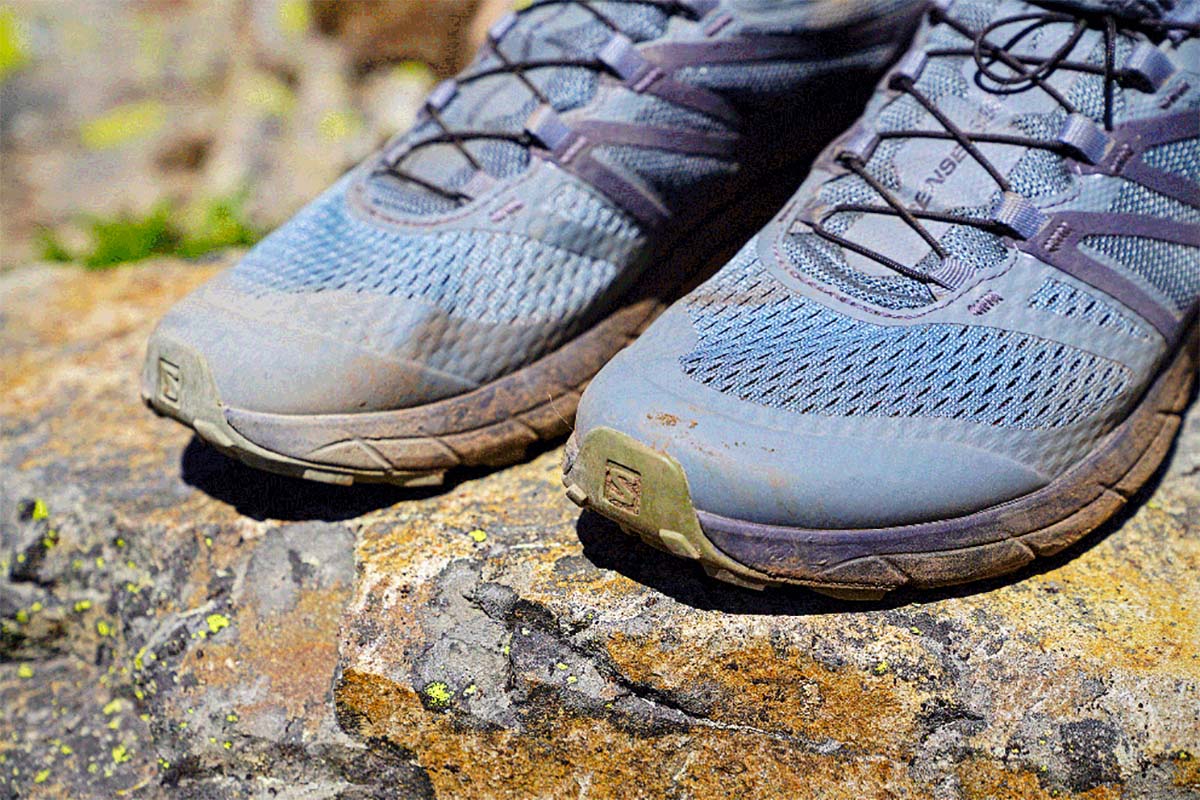 Salomon's Quicklace System
One of the most recognizable features on the Sense Ride 2 is Salomon's single-pull Quicklace system, which helps boost efficiency and speed when slipping on the shoes and provides a snug overall fit. I never had to worry about the shoe coming untied mid-run, and making adjustments on the trail was quick and painless. Further, the laces held extremely well and effectively secured my foot in place—my heel stayed locked in during extended climbs and I felt no pinching or discomfort on steep descents.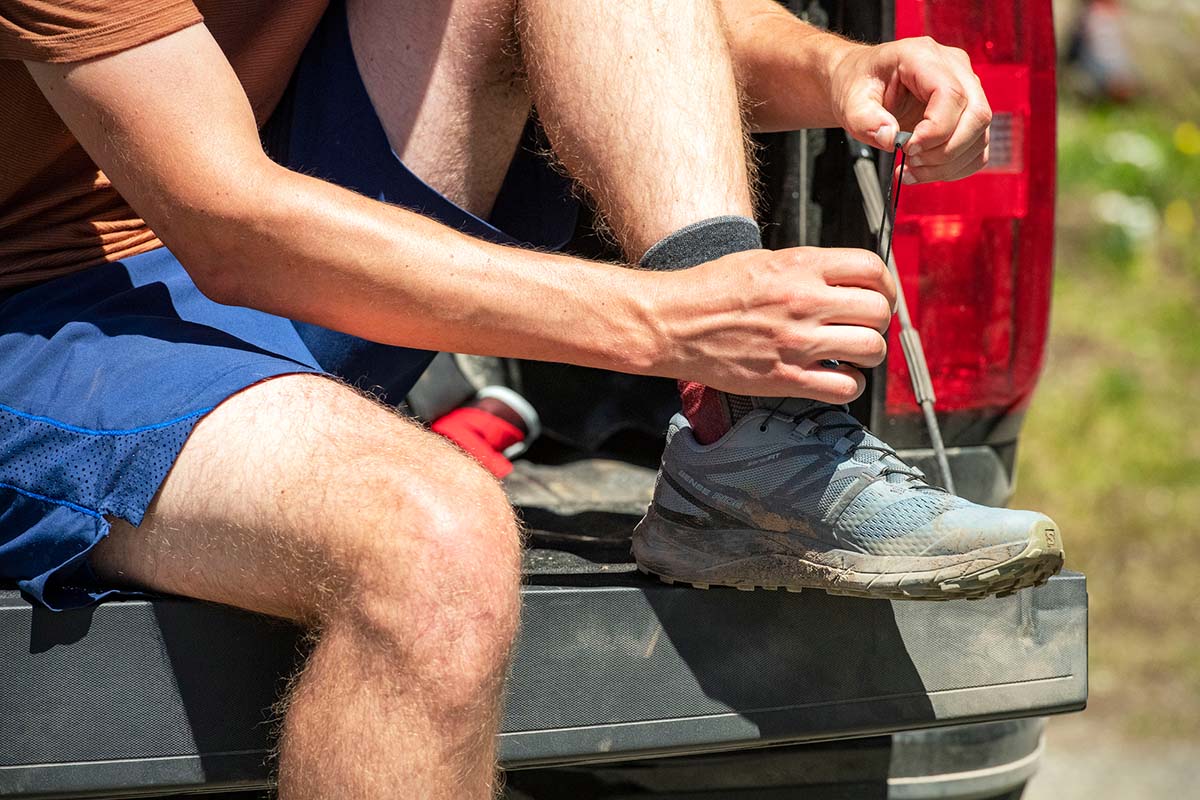 Fit and Sizing
As far as sizing goes, I ordered my usual men's size 9, which fit well width-wise but was a bit too long. This didn't cause any noticeable issues on undulating terrain, but I think I would have appreciated a snugger fit by sizing down to an 8.5. Finally, as I touched on above, the Sense Ride 2 is a bit roomier in the toe box than other Salomon shoes, but I found it to be a nice change (those with narrow feet might feel differently).

Other Versions of the Salomon Sense Ride 2
We put the men's standard Sense Ride 2 through its paces for this review, and Salomon also makes the shoe in a waterproof Gore-Tex version and women's-specific model. With the addition of a waterproof membrane, the Sense Ride 2 GTX Invisible Fit is more expensive and slightly heavier than the model we tested at $160 and 20.5 ounces per pair, but otherwise sports an identical build including an 8-millimeter heel-to-toe drop, Contagrip rubber outsole, and Salomon's signature Quicklace system. In terms of performance, expect the GTX model to run warmer and take longer to dry out once soaked through. Salomon also makes both the non-GTX and GTX Sense Ride 2 in women's models, which come in different colorways and are slightly lighter. Otherwise, features and pricing remain the same.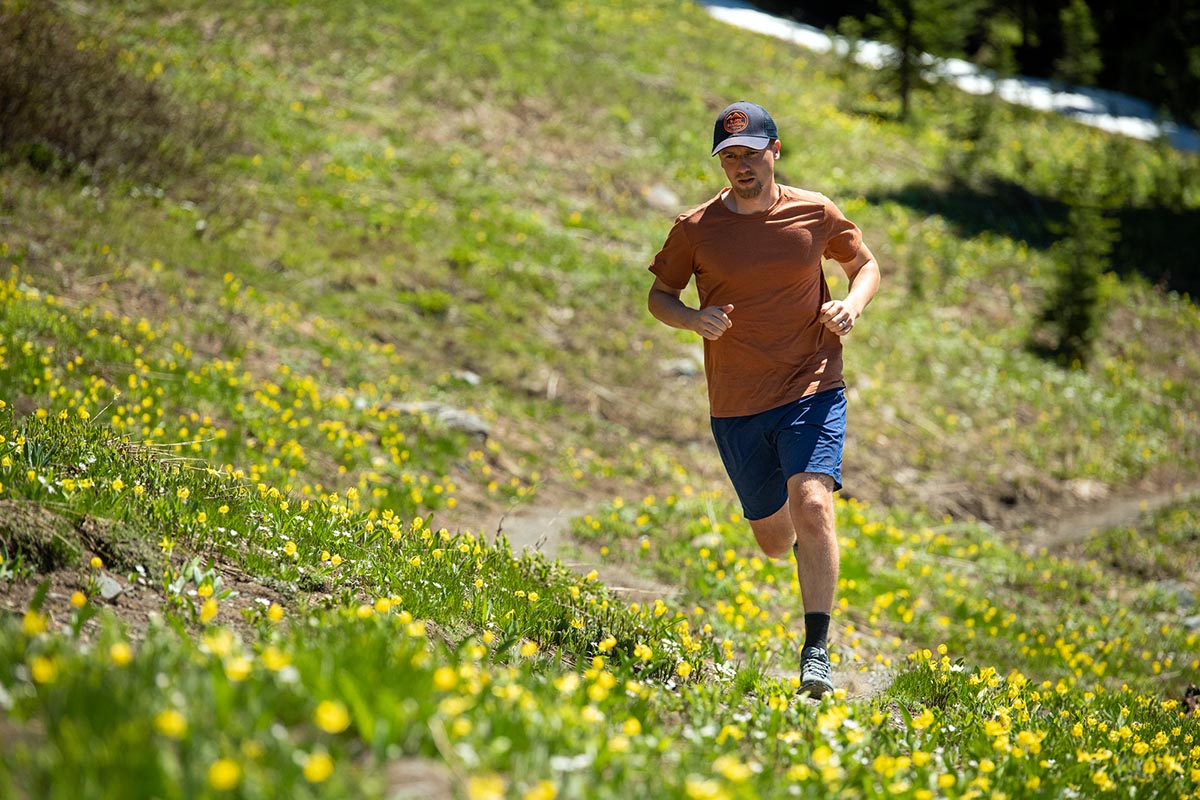 What We Like
The Sense Ride's mesh upper and sock-like liner give it excellent all-around comfort.
Contagrip outsole and modest lugs excel over a wide variety of terrain and trail surfaces.
At 19 ounces, the shoe is lightweight and feels noticeably energetic on the trail.
Durable, high-quality construction has shown no signs of wear thus far.

What We Don't
Stability and cushioning fell a bit short on especially rough terrain, and we found ourselves occasionally wishing for a rock plate underfoot.
Runs a little wider than other Salomon shoes (although I prefer the roomier fit).
Single-pull Quicklace system might take some time to get used to.


Comparison Table

The Competition
Throughout its testing, the Salomon Sense Ride 2 has proven itself as a versatile and capable trail runner on terrain ranging from soft singletrack to wet and slippery rocks. Within Salomon's lineup, the Sense Max 2 is another do-it-all shoe that offers similar performance. Both models feature a versatile Contagrip outsole, Salomon's easy-to-use Quicklace system, and an OrthoLite insole. That said, the shoes differ in one key area: cushioning. While the Sense Ride has a fairly average stack height of 27mm at the heel and 19mm at the forefoot, the Sense Max 2 is more heavily cushioned at 30.8mm and 24.8mm. Although more comfortable on long runs, this height also translates to less stability over technical terrain. All told, the Sense Max 2 is a viable choice for those who want a max-cushioned trail runner, but we prefer the more stable (and $30-cheaper) Sense Ride 2. 
Another popular option in the all-around trail-running category is Altra's Lone Peak 4. However, with a wide toe box, zero-drop offset, cushy midsole, and aggressive lugs, the Lone Peak looks and feels a lot different than the Sense Ride. In testing the two, I found that the Altra performed notably better in muddy conditions but otherwise fell short. Specifically, the Lone Peak's wide fit felt sloppy on off-camber sections of trail, and the shoe was noticeably slow on hardpack despite a similar 20.4-ounce weight (compared to the Salomon's 19 ounces). The Lone Peak also started to break down after around 50 miles, which is a major concern. Unless you have wide feet or prefer the zero-drop design, we think the Salomon is a better performer across the board.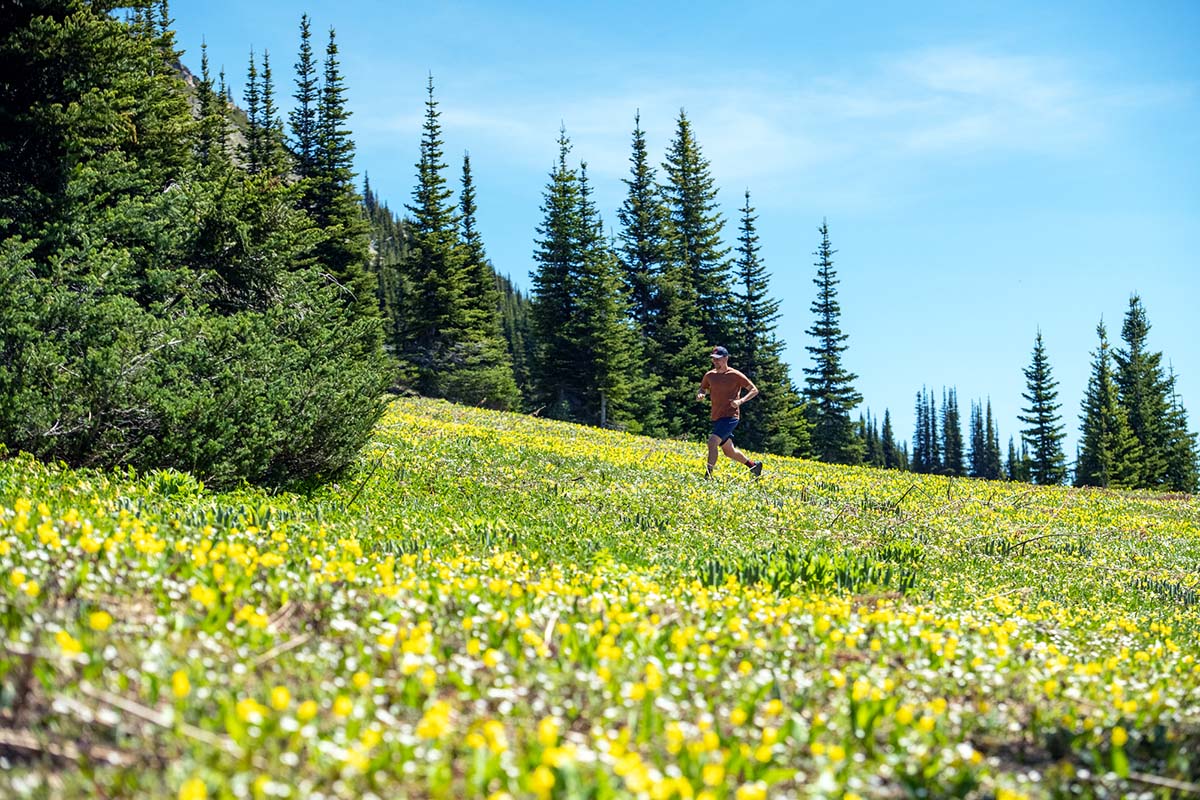 For those looking to tackle especially technical terrain, the La Sportiva Bushido II is a great option. Featuring a burly and tacky FriXion rubber outsole, aggressive wrap-around lugs, and a snug fit, the Bushido is purpose-built for tough and demanding runs. At 21 ounces per pair, the Bushido is slightly heavier than the 19-ounce Sense Ride 2, but we still found it to be responsive and predicable (for more, see our in-depth Bushido II review). In the end, the final decision should come down to where you run most often: for those who frequent particularly rocky trails, the Bushido is a good match; otherwise, the Sense Ride 2 is the better bet for varied terrain.
A final option to consider is the Brooks Cascadia 14. Also updated for 2019, the Cascadia has proven to be a capable companion throughout its testing thus far: it provides excellent traction with aggressive lugs and a grippy TrailTack Rubber outsole, is nicely cushioned, and has a very comfortable overall fit. Compared to the Sense Ride 2, the Cascadia offers a slight bump in protection underfoot and a minor boost in traction when conditions get muddy. However, the 21.4-ounce Cascadia doesn't feel as light or sprightly underfoot, and the taller lugs feel noticeably slower on sections of pavement. Finally, despite a 1-millimeter-shorter stack height, the Brooks just doesn't feel as stable as the Sense Ride 2. Given these complaints, we think the Sense Ride is the better all-rounder.
If you're thinking about buying gear that we've reviewed on Switchback Travel, you can help support us in the process. Just click on any of the seller links above, and if you make a purchase, we receive a small percentage of the transaction. The cost of the product is the same to you but this helps us continue to test and write about outdoor gear. Thanks and we appreciate your support!
Depending on the seller, most products ship free in the United States on orders of $50 or more. International shipping availability and rates vary by seller. The pricing information on this page is updated hourly but we are not responsible for inaccuracies.
Read More From Switchback Travel