Argentina's legendary Ruta 40, also known as RN 40 or Route 40, is one of the world's great driving adventures, running parallel to the Andes Mountains for nearly 5,000 km from La Quiaca in the north down to Cabo Virgenes in the south. The southern portion of the route is most famous, highlighted by the 1,400 km stretch through Patagonia from the Lake District to El Calafate. The road is now mostly paved but still very remote, passing through sparsely populated areas and frontier towns that few tourists see.
A logical place to begin (most people drive Ruta 40 north to south) is the popular resort town of San Carlos de Bariloche, or Bariloche for short. International car rental agencies have offices there and savvy travelers can haggle with local companies for a better rate. Some people entertain the idea of buying a car in Argentina, although time-consuming buying and selling, paperwork, and the risk of costly repairs often make it burdensome.
Those with enough time can enjoy the scenic Lake District first: San Martín de los Andes is north of Bariloche via the Route of the Seven Lakes and Chile's Lake District is easily within reach. Heading south from Bariloche, Ruta 40 passes through green river valleys to the hippie enclave of El Bolsón. Next up is the Chubut province, Los Alerces National Park, and the historic towns of Esquel (home to the Old Patagonian Express) and Trevelin (a Welsh settlement with excellent teahouses).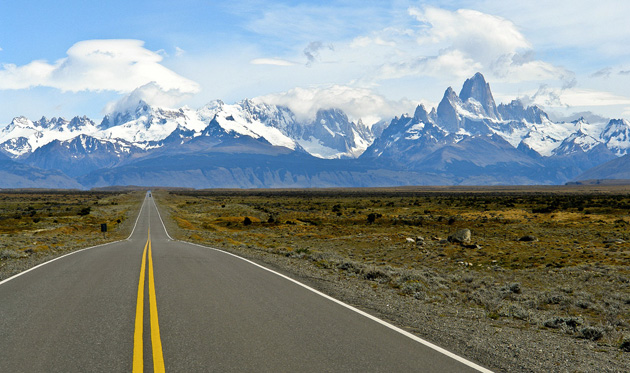 Ruta 40 is its most remote on the long stretch through Argentina's Chubut and Santa Cruz provinces. The terrain is dominated by wide-open Patagonian Steepe, powerful winds, the occasional guanaco (a camelid native to South America), and condors circling high above. Southern Patagonia has a stunning concentration of mountains and glaciers with the trekking capital of El Chaltén and the massive Perito Moreno glacier being two of the region's most famous sites. Torres del Paine is accessible by crossing the border into Chile.
Cabo Virgenes near Rio Gallegos is Ruta 40's southern terminus, but many people continue down to Tierra del Fuego and Ushuaia, "the end of the world." Ushuaia is a long days drive from Rio Gallegos (10–12 hours depending on wait times at the borders) and requires crossing over into Chile and taking a car ferry over the Straight of Magellan. The city is the southernmost city in the world and the port of call for trips to Antarctica, a fitting end to a long journey.