REI Co-op is a great one-stop shop for top-end products from brands like Patagonia and Arc'teryx, but we often turn to their in-house line for the best value. True to form, the Stratocloud Down Hoodie combines the premium warmth of down with a weather-resistant shell in a well-built, sub-$200 package. Throughout a fall of testing in the Pacific Northwest, the Stratocloud proved itself time and time again in wet and freezing conditions. Below are our experiences with the REI Stratocloud. To see how it stacks up to the competition, see our articles on the best down jackets and best women's down jackets.
 
---
Table of Contents
---

Performance
Warmth
Using 600-fill-power down and a host of protective features, REI Co-op's midweight Stratocloud is a winter-ready down jacket through and through. REI doesn't provide a fill weight for the Stratocloud (i.e., how much down is in the jacket), but we found that it's significantly warmer than their 650 Down Jacket 2.0 while falling short of higher-end midweight offerings, including the Arc'teryx Thorium AR and Rab's Microlight Alpine. The biggest reason for this is the Stratocloud's down quality, which is a fairly middling 600-fill (higher-fill-power down is warmer for the weight and more compressible). The Thorium AR (750-fill) and Microlight Alpine (700-fill), by contrast, are able to achieve more warmth in lighter and more packable designs. But at just $189 (the Thorium and Microlight are $325 and $280, respectively), the Stratocloud is an excellent value and a viable cold-weather option for those who aren't overly concerned with weight and packability.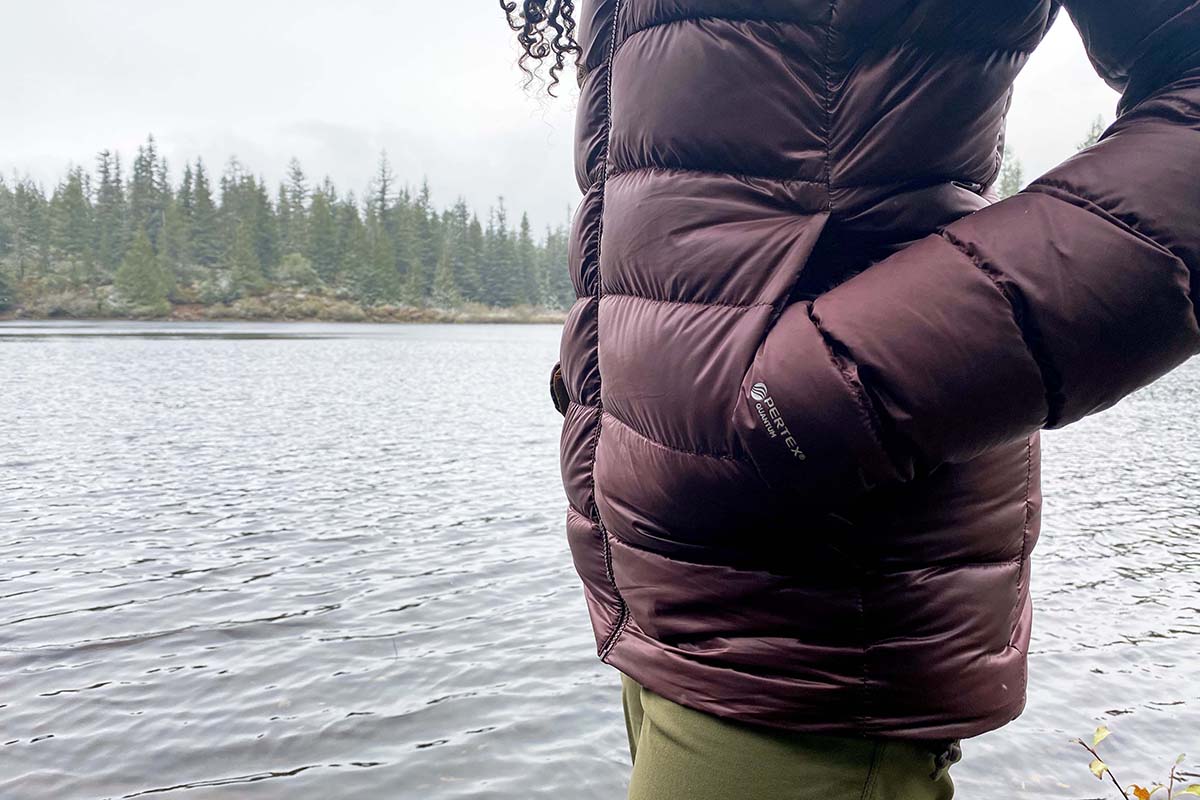 With temperatures in the 30s Fahrenheit near Mt. Hood, the Stratocloud was an ideal companion for both casual hiking and taking trailside breaks. We tend to run cold and often don an extra midlayer during periods of inactivity, but stayed pleasantly comfortable with the Stratocloud layered over just a heavy baselayer. To help retain heat, the jacket features a draft tube behind the main zipper, elasticized cuffs, a drawcord hem, and a highly adjustable hood, all of which function to seal out cold air. We haven't brought the REI into particularly frigid winter conditions just yet, but we're confident that it can hold up in colder temperatures (especially with added layers).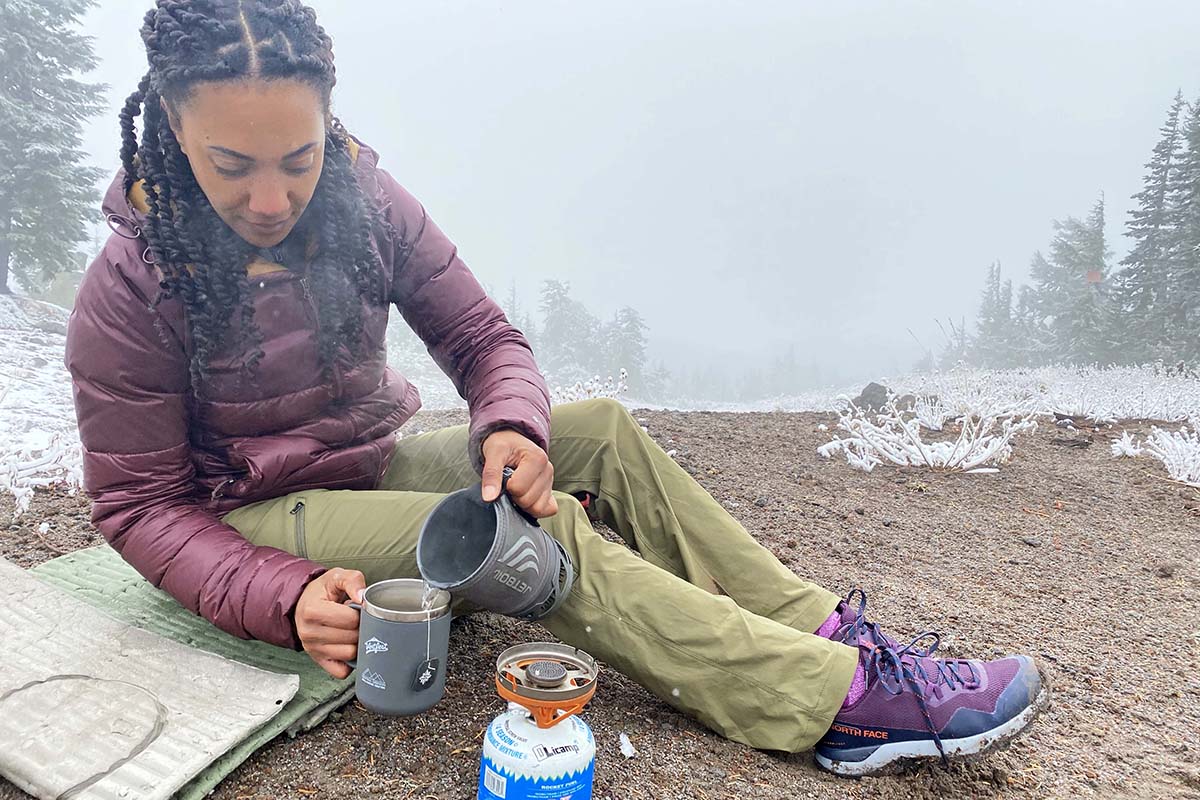 Water and Wind Protection
The Stratocloud is built to handle inclement weather better than most down jackets, with a wind- and water-resistant Pertex shell and durable water repellant (DWR) coating both on the exterior and the insulation. Down and moisture don't get along—the feathers clump up and no longer insulate when wet—but this extra dose of protection helps the Statocloud's insulation maintain its loft, even in light to moderate precipitation. In fact, on a particularly cold and rainy day of hiking, water beaded off our jacket's exterior, and we remained warm and protected despite the high levels of humidity.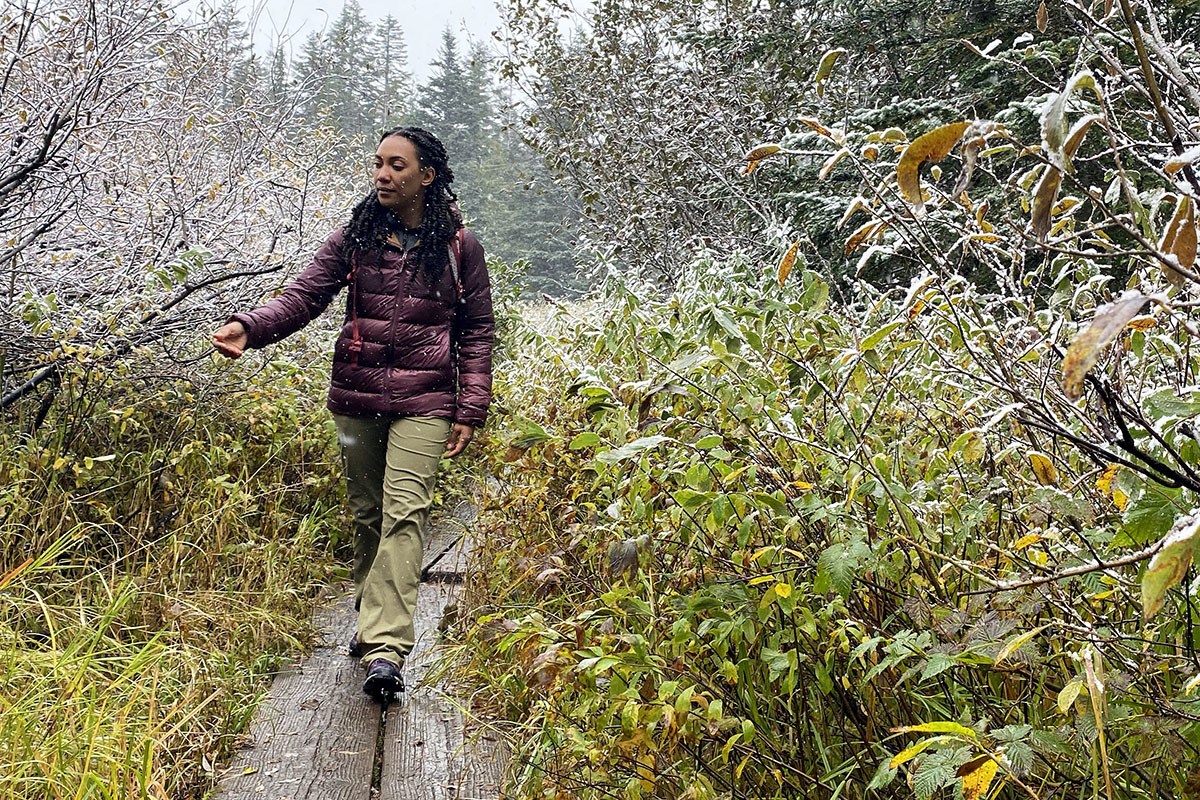 All that said, despite these added measures, the Stratocloud does have its limitations. To be clear: this is not a waterproof jacket, nor would it be our first choice as a midlayer in particularly wet weather (the shell will eventually soak through, allowing moisture to reach the down). For better performance in rain and snow, we'd instead turn to a synthetic insulated jacket like the Outdoor Research Refuge or Arc'teryx Atom AR (synthetic insulation maintains its warmth even when wet). Alternatively, a few down jackets are made with fully waterproof shells, including REI Co-op's own Stormhenge. These are overkill for most conditions, but they're worth considering if you experience particularly wet winters.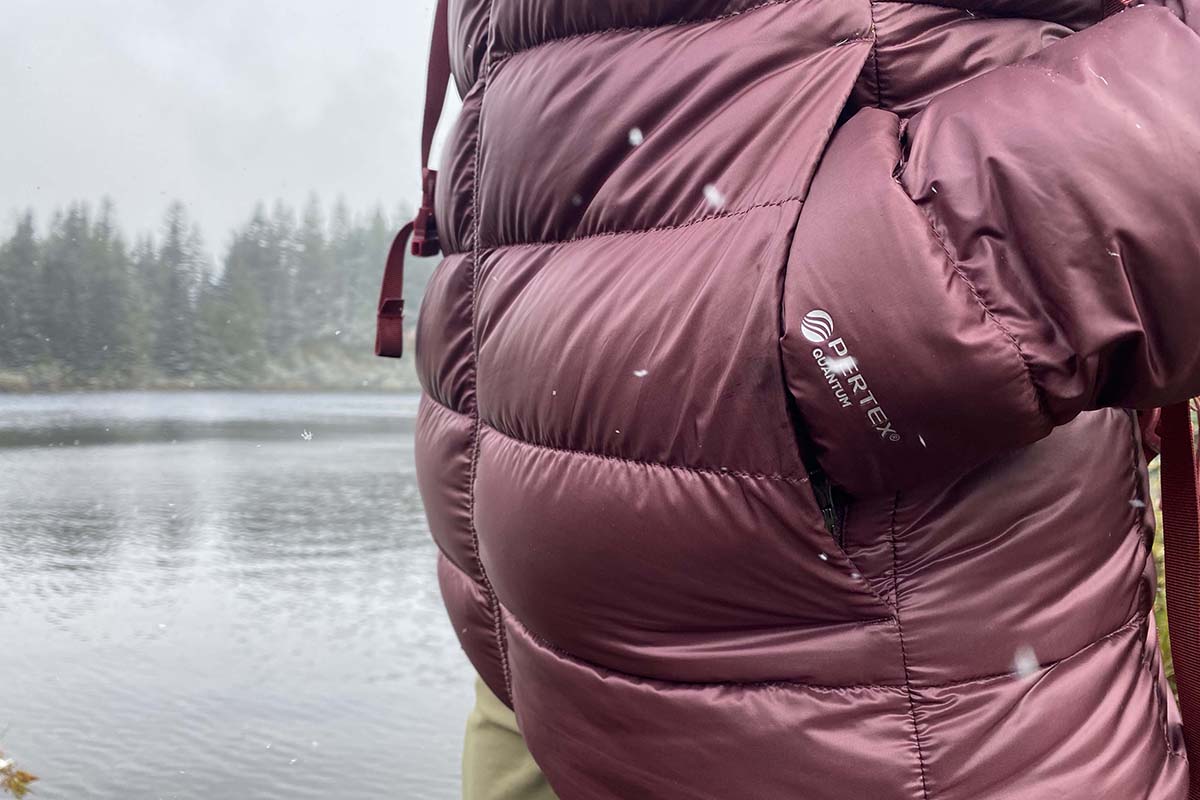 Weight and Packability
Sliding in at just under a pound (15.8 oz.) for the women's model and packing down to the size of a loaf of bread in its included stuff sack, the Stratocloud is a suitable companion for activities like winter hiking, backpacking, and snowshoeing. Many competing midweight jackets prioritize weight- and space-saving even more with higher-quality down and thinner shell fabrics—for example, the aforementioned Rab Microlight Alpine clocks in at 14.6 ounces and compresses smaller. On the flipside, you'll save over $90 with the REI, which makes it a nice option for casual uses when weight and packability aren't top priorities.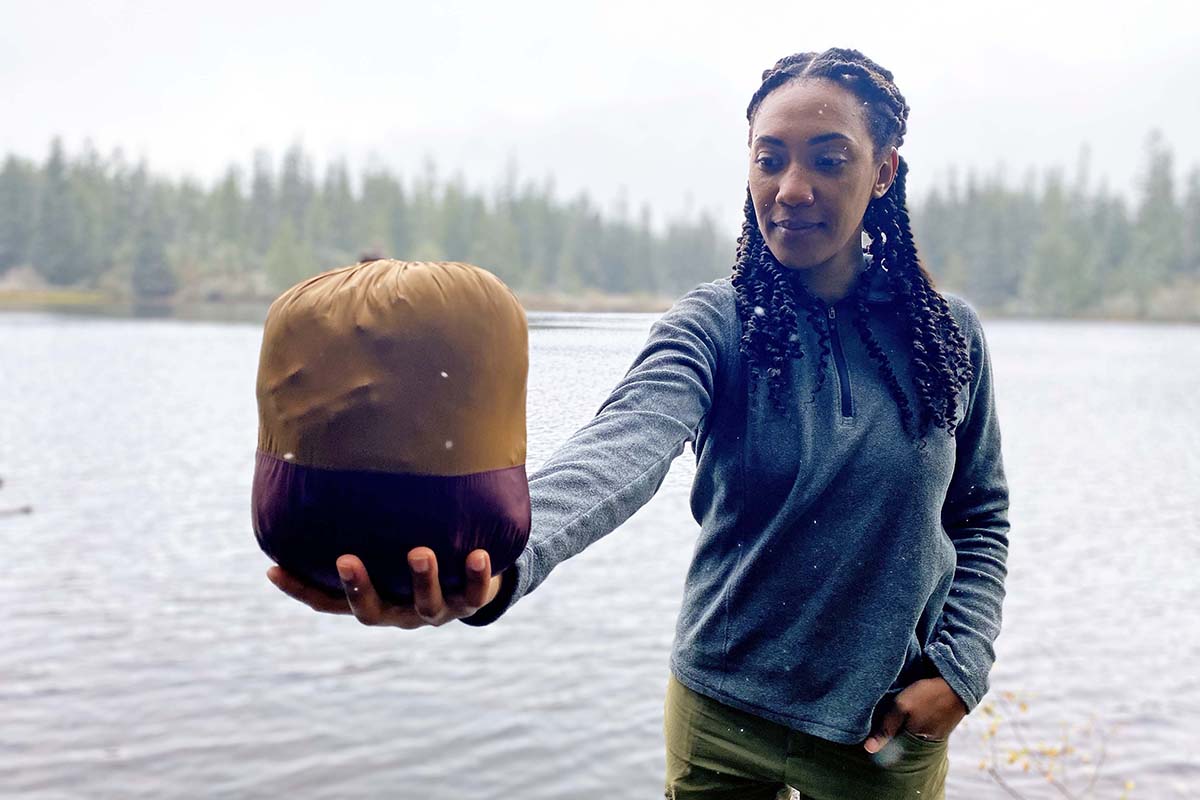 Construction and Durability
REI's in-house offerings might be priced lower than the competition, but build quality is up to snuff. Slipping the Stratocloud on for the first time, we were immediately impressed by its premium feel. The nylon taffeta lining is soft against the skin and the Pertex shell is robust, especially when compared to down jackets that cut weight with thin shell fabrics (REI unfortunately doesn't list the denier of the Stratocloud's outer shell, but it's clearly substantial). It's worth noting that the fabric on the shoulders, hood, and upper arms is more hardwearing than the rest of the jacket's shell with a more abrasion-resistant ripstop construction. The rest of the exterior, including the arms and lower body, use a thinner, non-ripstop material. That said, our Stratocloud has held up well to casual use and hiking, and all features are well-executed and functioning flawlessly.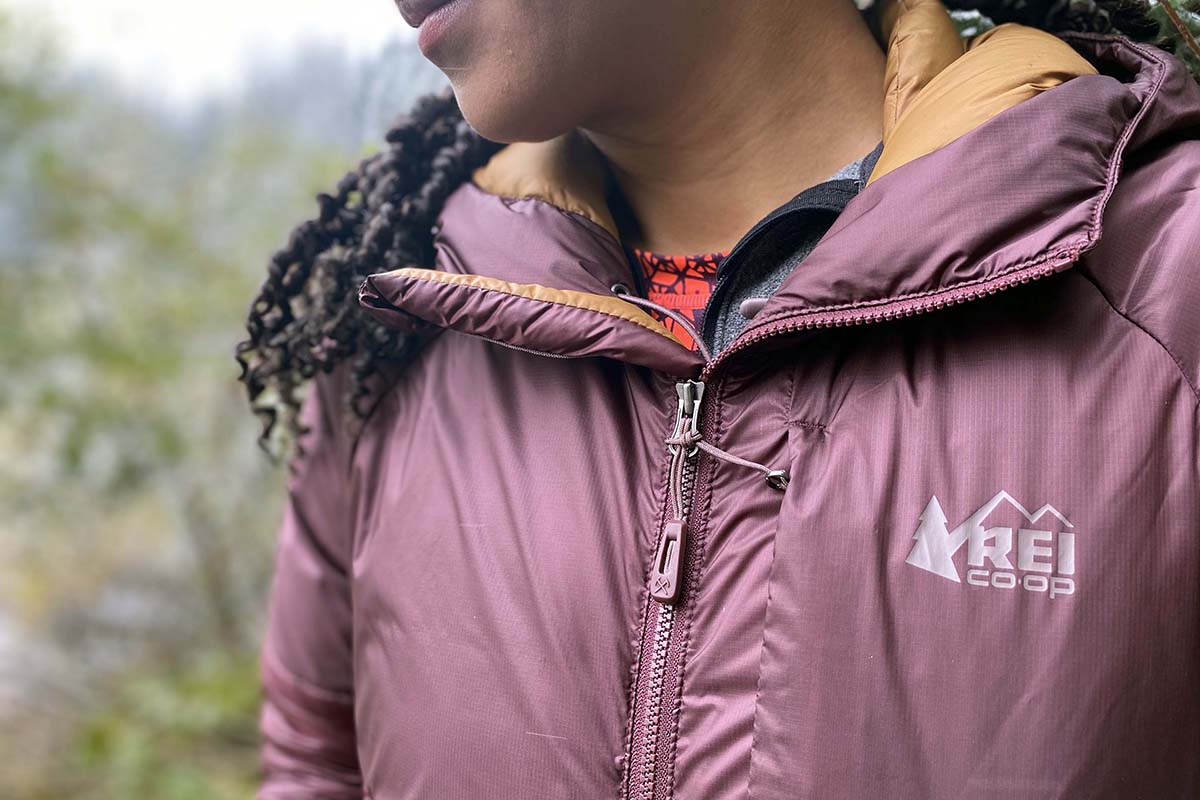 Features: Pockets, Hood, Cuffs, and Hem
The REI Co-op Stratocloud has a well-rounded feature set that gives it versatility for a number of activities. For starters, you get two handwarmer pockets and a chest pocket, all of which feature zipper closures. It's worth mentioning that REI states the hand pockets are compatible with a backpack hipbelt, but we found that we had to pull them above our pack's belt to access them. Inside, you get two dump pockets (one on each side), which we always find useful for stowing gloves, warming up climbing shoes, or dethawing skins. The Stratocloud unfortunately doesn't pack down into any of these pockets, but REI does include a dedicated stuff sack for this purpose.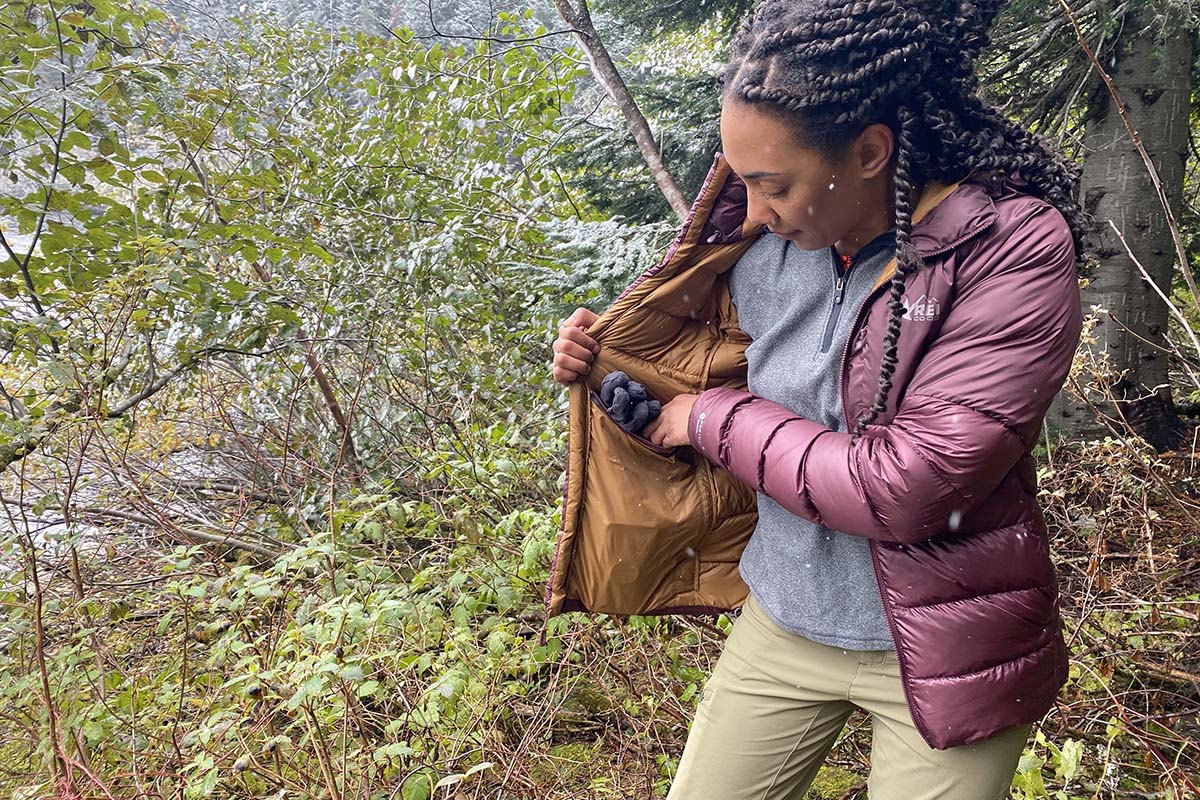 The Stratocloud's hood is fully functional and offers ample adjustability with a rear pull tab and front cinches that bring it close to your face. The hood isn't helmet-compatible, which is a downside for more technical activities like climbing but means that it offers a more streamlined and sleeker fit (a big plus for everyday and around-town wear). And in terms of other protective features, REI used elastic trim at the cuffs, which we found effective at sealing out cold air. Finally, the Stratocloud has a drawcord hem at the waist that cinches down nicely and releases easily with one hand.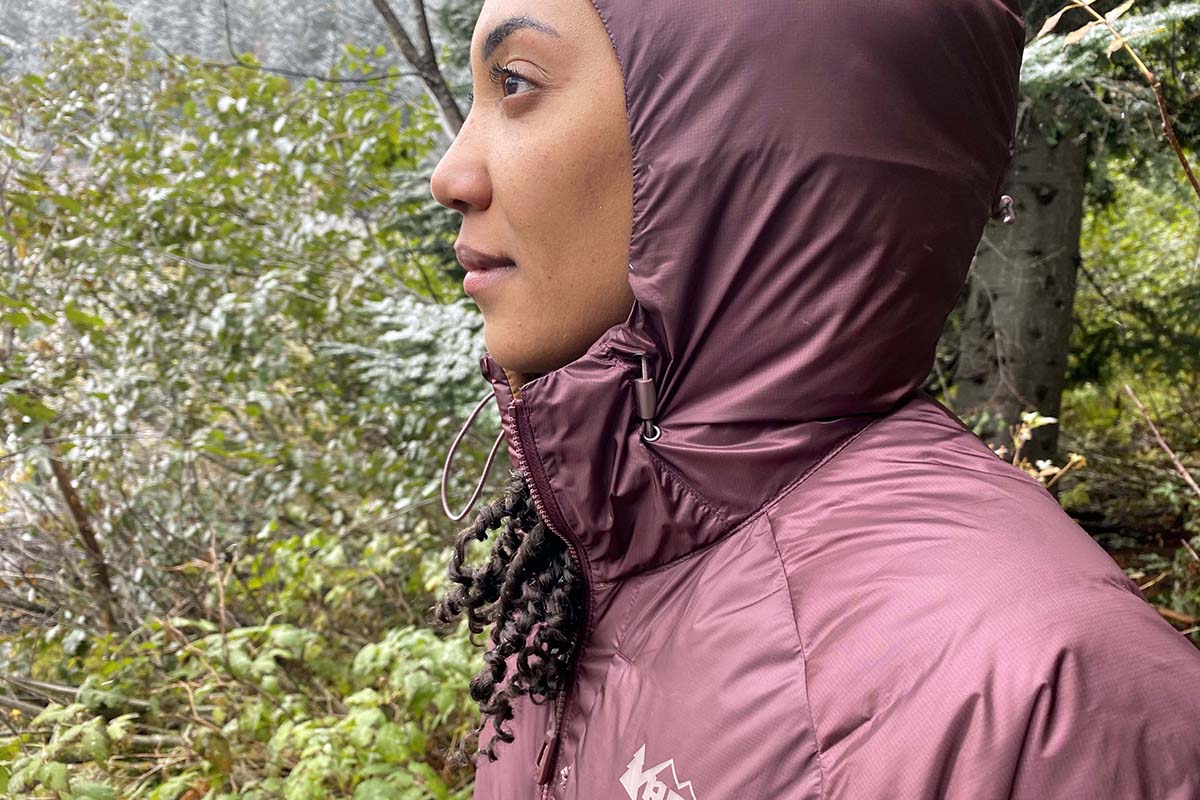 Fit and Sizing
The Stratocloud is designed to be worn as an outer layer and has a roomy fit to accommodate additional layers underneath. We consistently wear a women's extra small and found that the Stratocloud fit true to size. Further, with a 26.5-inch center back length (for the women's model), the jacket falls below the waist and offers great coverage when bending over. Keep in mind that due to its lofty design and fairly bulky hood, this isn't the best option for use as a midlayer while skiing or hiking, but it could certainly fit underneath a hardshell or rain jacket in a pinch.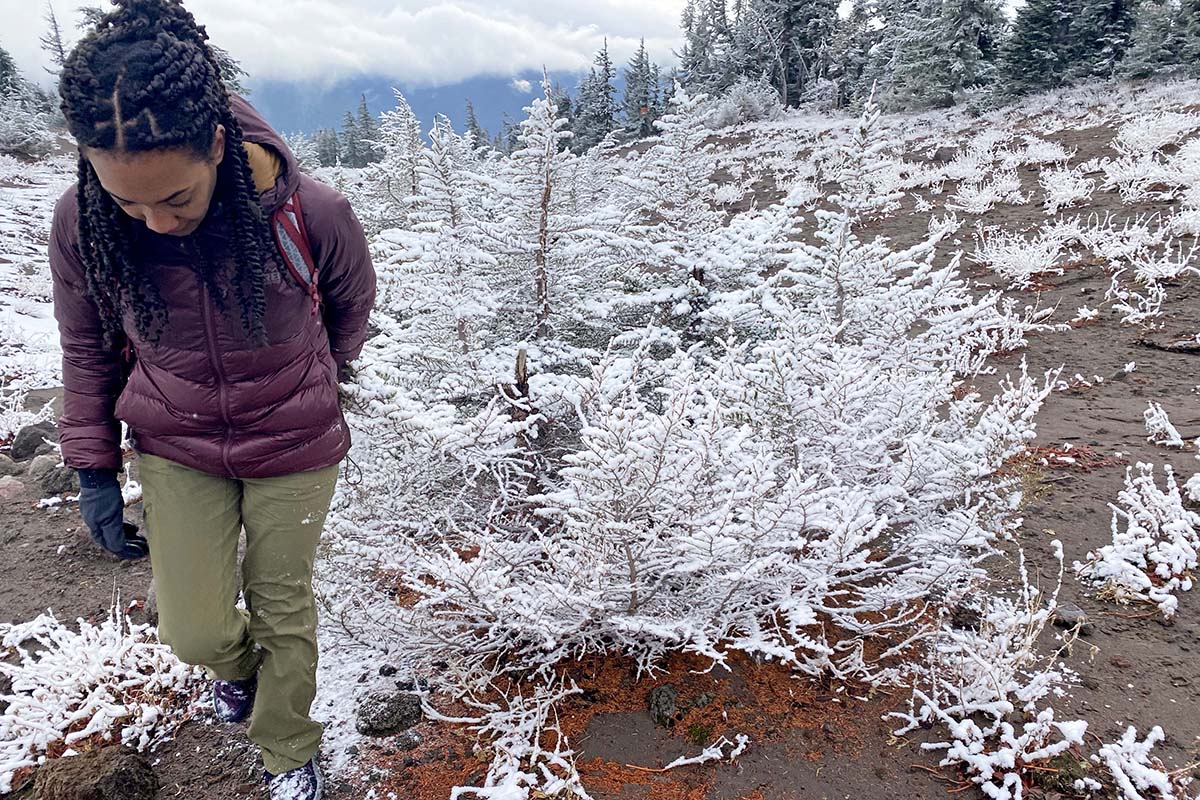 Sustainability
REI has made notable inroads of late to produce more ethically sourced and sustainably made products, and the Stratocloud is case in point. First, the jacket is made in a Fair Trade Certified factory, which means that workers are treated fairly and paid living wages. Second, the jacket's insulation meets the Responsible Down Standard (RDS), which indicates that birds were not force-fed or live-plucked. And finally, the Stratocloud utilizes bluesign-approved Pertex nylon, reducing the amount of harmful chemicals used in the production process. We know that every choice we make—both large and small—affects our planet, and we appreciate REI's continued efforts and transparency.

Men's REI Co-op Stratocloud Hoodie
For this review, we tested the women's Stratocloud Hoodie, and REI also makes a men's version of the jacket. The men's Stratocloud Hoodie costs the same at $189 and has a nearly identical design but runs a bit longer (27.6 in. vs. 26.5 in.) and is available in slightly different colorways. The men's jacket is also a bit heavier at 1 pound 2.2 ounces (compared to the women's 15.8 oz.), but you can expect very similar overall performance.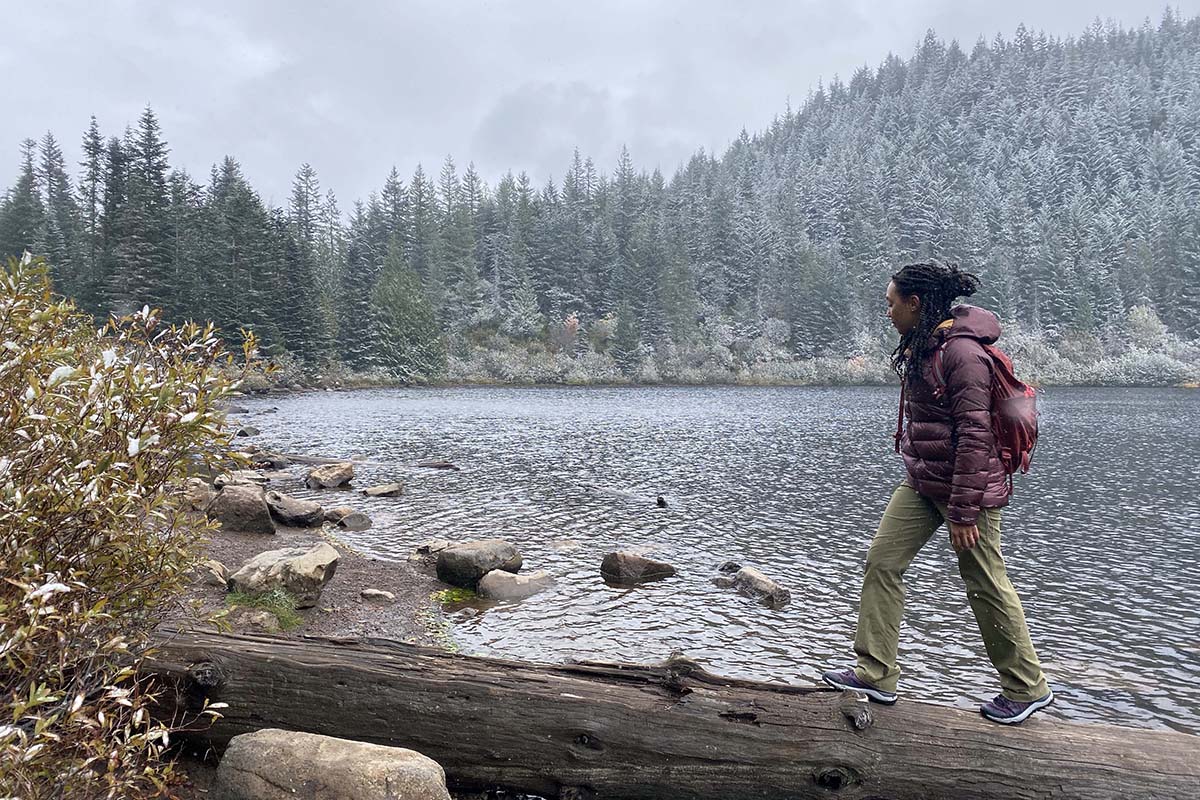 What We Like
With high-quality materials, midweight levels of warmth, and a premium-feeling build, the Stratocloud is an excellent value at $189.
Pertex exterior and DWR-coated shell and down insulation add a nice dose of protection against moisture.
We appreciate REI's ongoing commitment to sustainable practices, including using bluesign-approved fabrics and RDS-certified down.
 
What We Don't
600-fill down is fairly low-quality and lacks the loft and packability of more premium down.
The more robust, ripstop construction only covers the shoulders and top of the torso, leaving other high-wear areas (including the arms and lower body) susceptible to tears and abrasion.
Alternatives like the Rab Microlight Alpine and Arc'teryx Thorium AR offer more warmth for the weight (but they come with a big jump in price).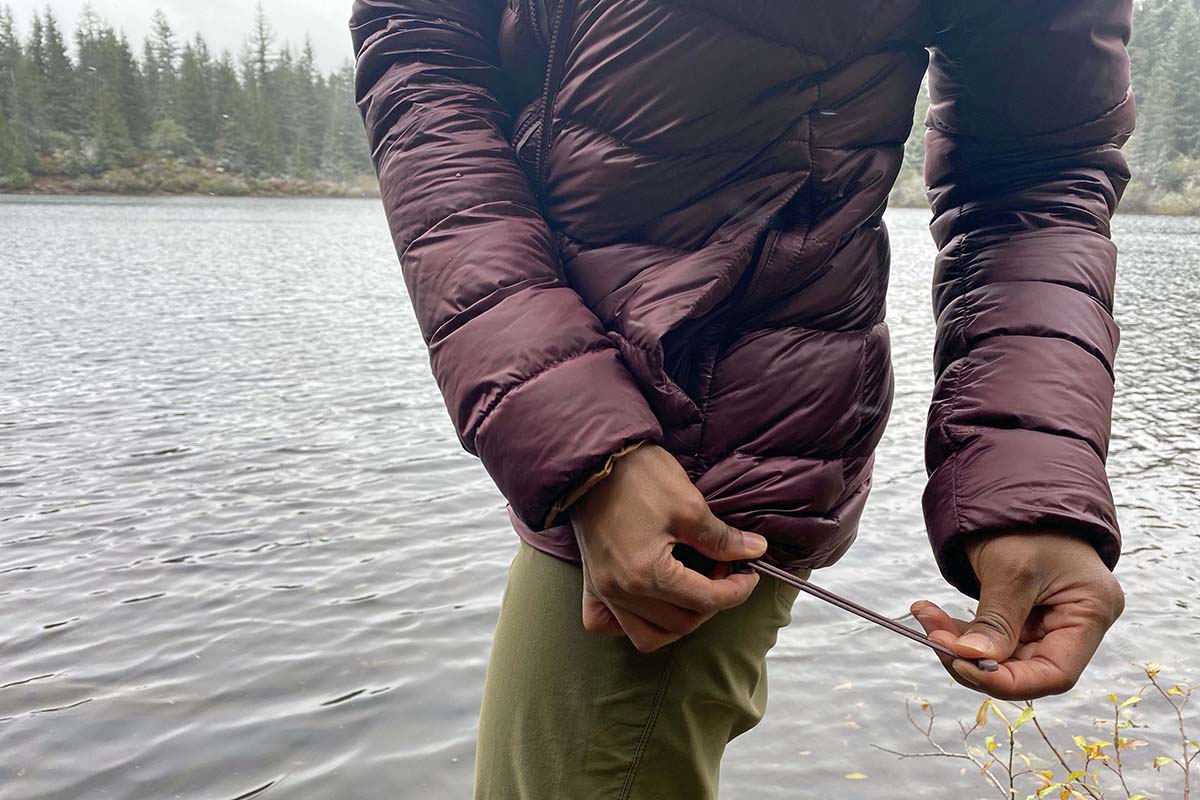 Comparison Table

The Competition
The REI Co-op Stratocloud is one of the best values among midweight down jackets, but there's no shortage of competition for those willing to spend up. The Arc'teryx Thorium AR is a similarly intentioned jacket, also featuring wet-weather protection and a versatile design that's great for both technical and casual use. But with the premium Thorium AR you get a bump in down quality with 750-fill plumage (translating to more warmth at a lighter weight), and Arc'teryx added synthetic Coreloft insulation in moisture-prone areas for even more assurance in rain and snow. The Thorium AR's sleek fit keeps weight low and is better for midlayer use, but this also translates to a more technical appearance and less coverage (the center back length is 25.5 in. compared to the Stratocloud's 26.5 in.). All in all, it's hard to beat the Thorium AR as a performance down jacket for damp conditions, but the cheaper Stratocloud gets the job done in casual and everyday environments for $136 less.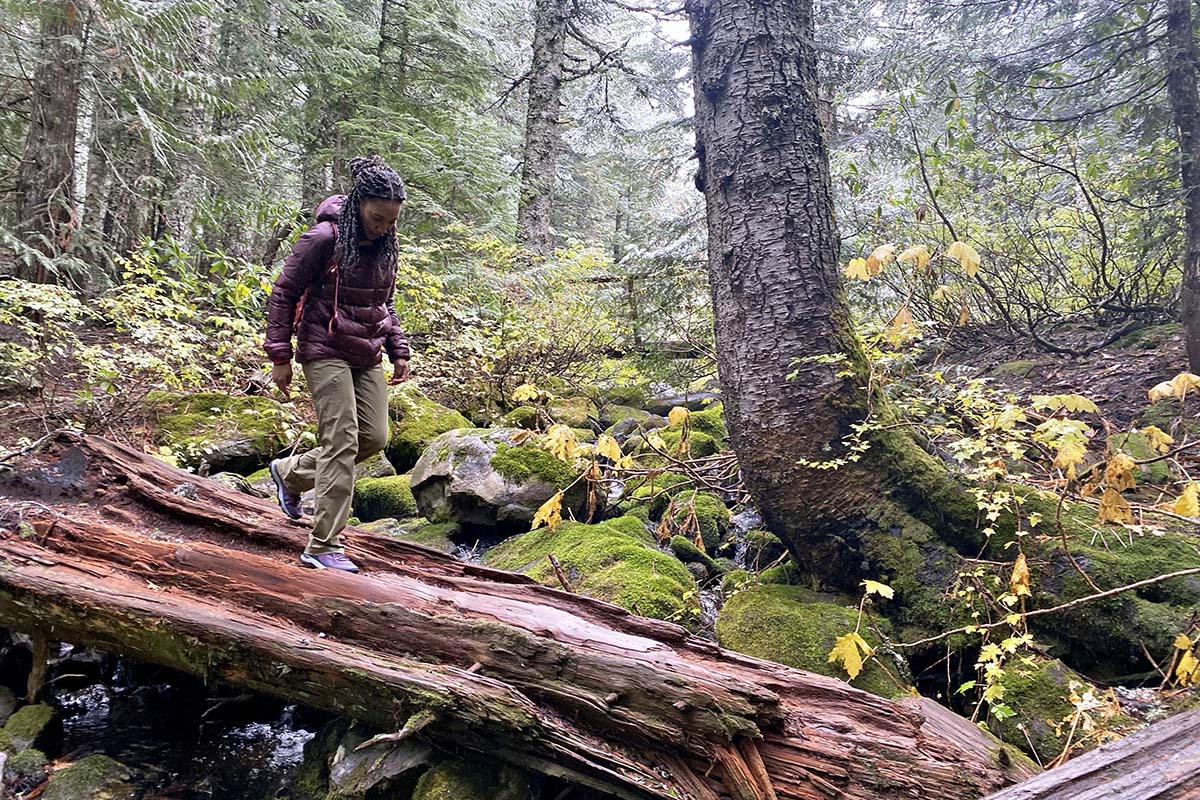 Within the midweight down jacket category, the Rab Microlight Alpine is also a top performer. Like the Stratocloud, the Microlight Alpine uses hydrophobic down and a durable and weather-resistant Pertex shell (30D), but its exterior is slightly lighter and softer. As a result, the Rab weighs less at 14.6 ounces and packs in more warmth for the weight with 700-fill down. Added up, the Rab Microlight Alpine is one of our favorite jackets for fast-and-light winter missions, but at $280, it's a lot more of an investment than the REI.
Outdoor Research is a brand we often turn to for performance-oriented products at lower price points, and the Transcendent Hoodie is one of their best-selling down jackets. At $225, the Transcendent is a solid value, but it comes with a noticeable drop in warmth and weather protection. With only 3.2 ounces of middling-quality down (650-fill), the Transcendent fits squarely into the "lightweight" category and is a good option for cold summer nights and mild shoulder-season conditions. And while the OR's thin build and streamlined weight will be appealing to some ounce-counting climbers and skiers, the REI's Pertex shell is more protective and durable and a better option for wet climates.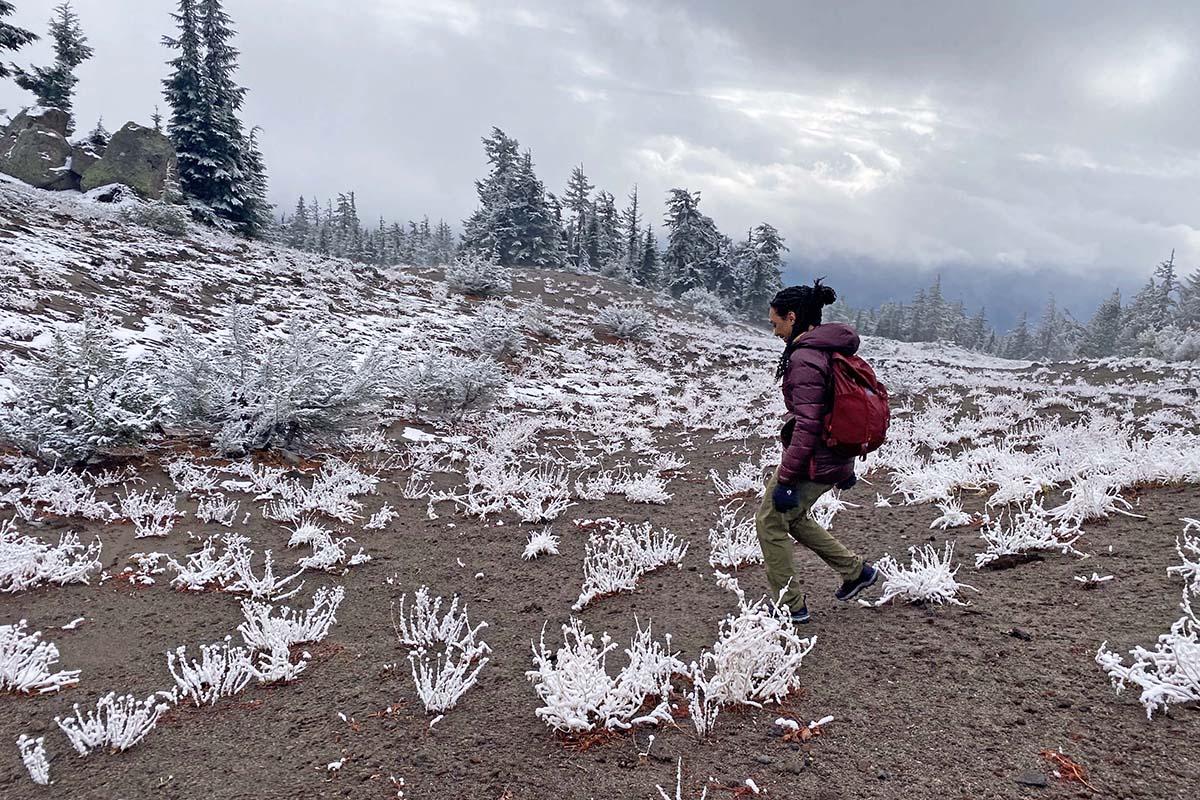 Trending back toward the casual end of the spectrum, Patagonia's uber-popular Down Sweater Hoody is hard to beat. With a clean, baffled design, attractive colorways, and Patagonia's excellent styling, the Down Sweater works well for everything from daily wear to hiking and even as a midlayer for skiing. The Patagonia falls short of the REI in warmth—and doesn't include a Pertex shell or hydrophobic down—but it packs a good punch for mild temperatures and dry conditions with premium 800-fill down (and is warmer than a jacket like the Transcendent above). As with Arc'teryx, you're paying a bit of a premium for the brand name at $279, but there's a reason it's been our favorite down jacket for years running. 
REI offers a final alternative to the Stratocloud in their 650 Down Jacket 2.0. Priced at just $100 (and often found on sale), we consider this piece to be the best cheap down jacket currently on the market. However, the step down in price comes with considerable decreases in warmth and weather protection (the 650 Down Jacket 2.0 has a standard nylon shell). And the women's version is no longer available in a hooded version, which translates to less protection against cold and wind. In the end, we'd break it down as follows: for mild shoulder-season use, the 650 remains an excellent value; as temperatures dip into the 40s Fahrenheit and below, we'll reach for the warmer and more weather-ready Stratocloud.
Editor's note: We usually provide a live price comparison table below our outdoor gear reviews, but the Stratocloud is sold exclusively by REI Co-op. You can see the Stratocloud Down Hoodie page here and support us in the process. Thanks!
Read More From Switchback Travel