Water treatment is a sometimes annoying and always time-consuming process, but remains an absolutely essential part of any backcountry trip. In the hopes of delivering convenience with few sacrifices, the Platypus GravityWorks filter leverages, as the name suggests, gravity as a means to clean water. Hang, hold or lay the dirty water bag above the clean bag and sit back and enjoy. We put the GravityWorks 4-liter filter through a rigorous test in a number of backcountry locations, including the remote and parched lands of Utah's canyon country, and came away very impressed. The filter is easy to use, filters quickly, and is truly an energy and time saver. The larger packed size and weight won't win over minimalists, but for those that need to filter a lot of water, there isn't a better option than the Platypus GravityWorks. To see how it stacks up, see our article on the best water filters and purifiers.

Setup and Performance
The setup for the Platypus Gravityworks system is incredibly simple thanks to an intuitive color-coding system (grey = dirty water, blue = clean) and helpful instructions. All of the tubes, filters and reservoirs fit into a pouch—with a bit of maneuvering—for safe transport in a pack. That storage bag is a source of a minor complaint, however, as we prefer more separation for the dirty items to avoid contamination.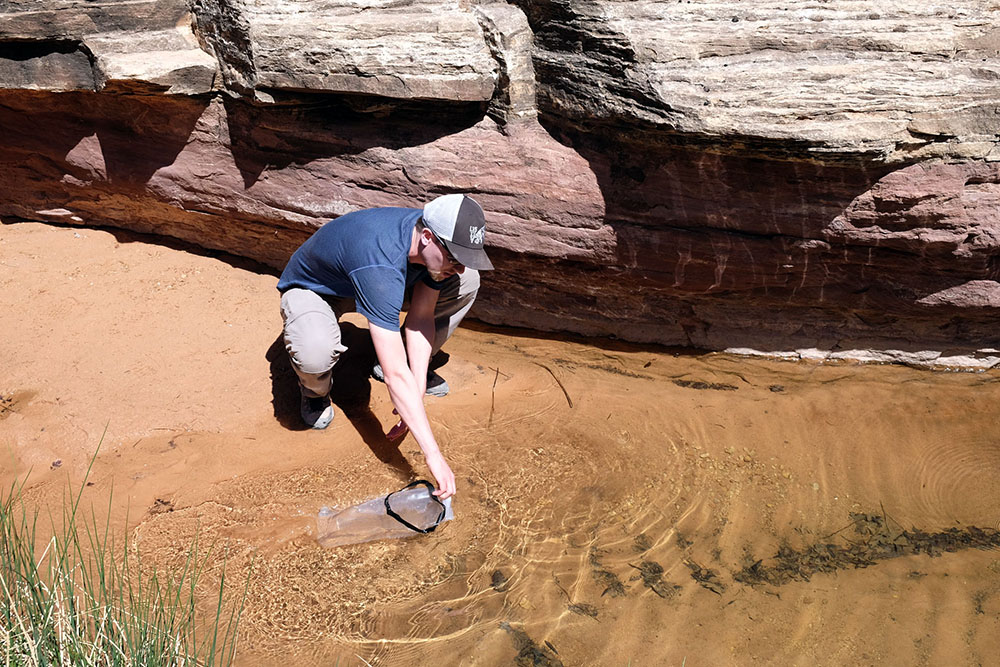 Using the filter is as simple as skimming along the surface of the water to fill up the "dirty" reservoir. Connect the hose to the filter, hang the dirty bag from a branch (or alternatively, hold it or place it on a rock), release the plastic clamp that pinches the tube to start the flow, and watch it work. We were really impressed with the flow rate and it's right on the claimed 2.5-minute claim for the full bag, although to keep it flowing at this rate does require pretty consistent backflushing (we discuss maintenance below).
The benefits aren't limited to its fast performance; it's the convenience of not having to pump, squeeze or manipulate the water through the filter in some way. It's just so dang simple. For large groups or whenever you need to filter a lot of water at one time, there isn't a better system on the market. An effective case in point occurred in Utah when we found a spring on our way to our overnight campsite. With the knowledge that we wouldn't be near a reliable source of water again for about a day, we needed to filter a lot. For Pacific Northwesterners that are used to finding water relatively easily, this type of vulnerability was particularly powerful. Filtering the 12 liters of water was as simple as loading up 3 bag fulls. Using a pump filter for that much water would've ended in one of two ways: Popeye levels of arm strength or heat stroke. And I'm leaning towards the latter. 
Should you need to carry additional water to camp (such as in our case), it's as easy as leaving the 4-liter dirty bag filled with water, throwing it in the hydration sleeve of your pack, and reconnecting the system when you're back at camp. The ability to carry a full 8 liters is an efficient manner is a major boon in areas where water is hard to come by. A word of warning, however: make sure you are conscious of how well you zip up the dirty bag before putting it into your pack (flip it upside down to test). The bag closes much like a super-sized plastic sandwich bag, and getting a proper seal when it is full of water can sometimes be tricky.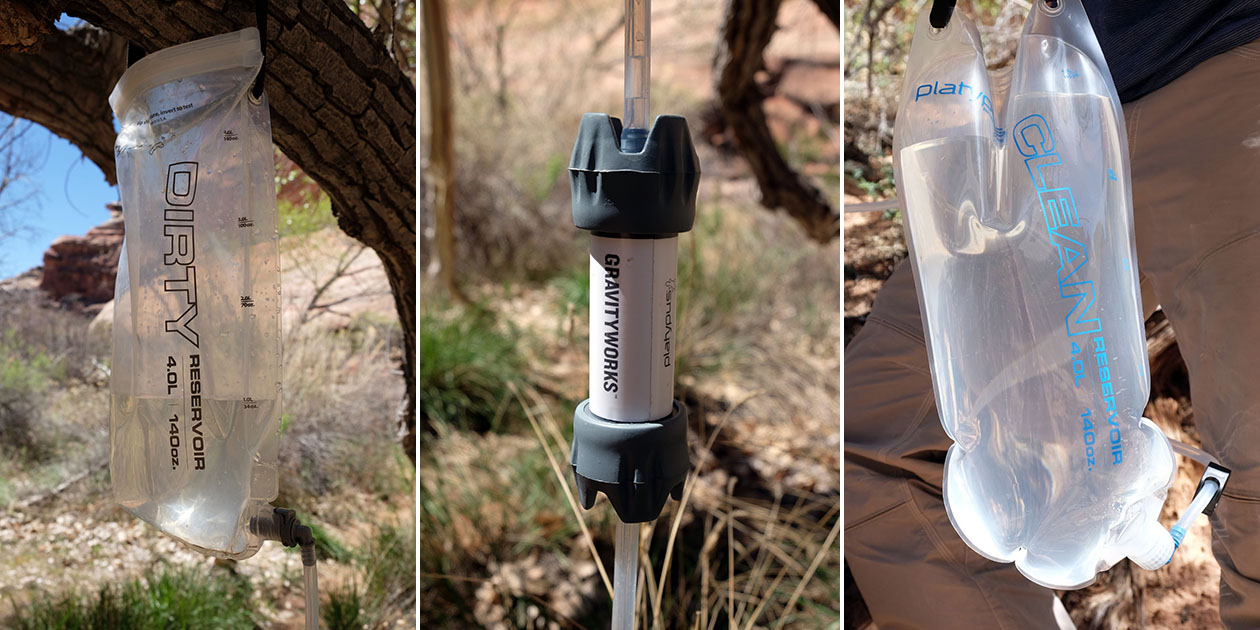 Storage and Maintenance
Storage size and weight is reasonable for the system's large capacity and output. The tubes wrap neatly around the filter and it's easy to roll the water reservoirs around the filter to fit everything into the included storage bag. At just over 11 ounces, it is heavier than some of the ultralight water filters, like the popular 2-ounce Sawyer Mini, but the squeeze system's performance pales in comparison to the GravityWorks. The other primary competition, traditional pump filters, come in at a similar size and weight, but also do not perform as efficiently.
We do suggest following the instructions pretty closely about backflushing often. In Utah where water sources can be a little sketchy and full of sediment, it was necessary to backflush the system to keep a strong flow. Backflushing can be done anywhere and doesn't require additional equipment (as it sometimes does with non-gravity systems), and we were happy to see how easy it is to bring the filter back to peak performance.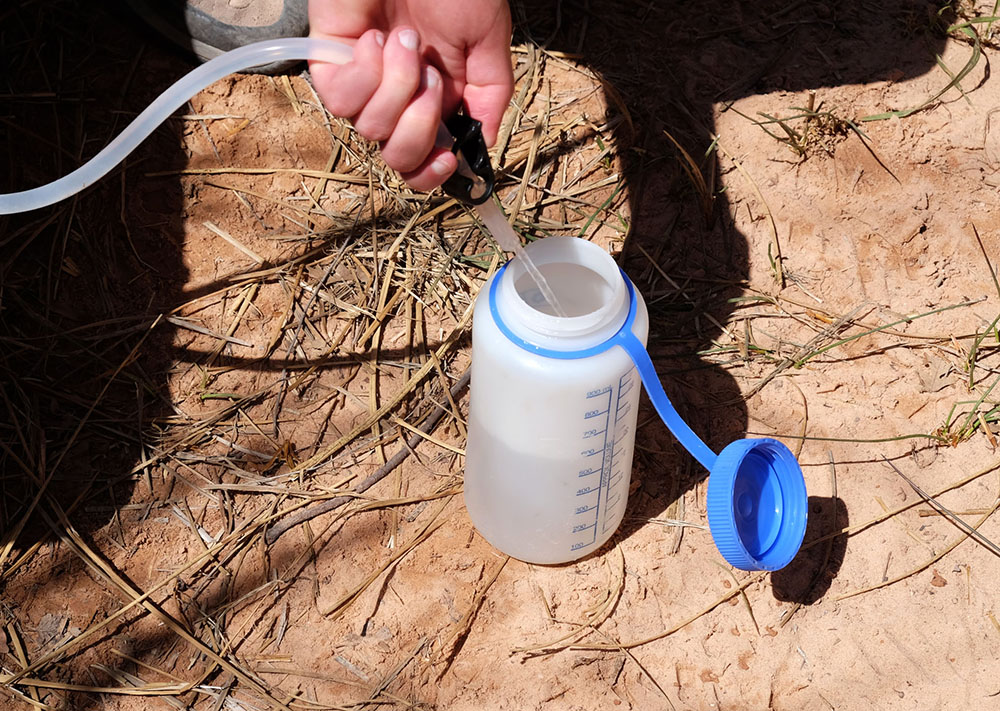 What We Don't Like 
Our primary issue with the Platypus filter is inherent with any system that uses bags to collect water: retrieving water from non-flowing sources. That's when the old pump filter still reigns supreme. Granted, pulling water out of smaller pools isn't too difficult, but as with all filters that require "motorboating" across the surface of the water, it's always helpful to find moving water or something that it at least a few inches deep. 
The whole set up is also (relatively) heavy and bulky. This isn't the filter for the ultralight backpacker that wants to cut weight everywhere—even the 2-liter GravityWorks, which weighs about 7 ounces—wouldn't do for them. That being said, for the weekend backpacker that travels with a group and isn't trimming their toothbrush handle, the 11.5 oz. weight isn't too shabby. We also didn't have issues finding a pocket that could accommodate the filter and its storage bag.
 
The Competition
Water filter design and performance varies widely, and there isn't a one-size-fits-all type on the market. Classic pump filters still have a place when you need to extract water from tiny cricks or standing water, and squeeze bag filters (and other ultralight systems) are incredibly lightweight and packable. Both alternatives are also cheaper than the $120 GravityWorks system ($110 for the 2-liter kit). In this group, however, we feel the GravityWorks stands apart for its high performance relative to its weight. The Platypus is more reliable, easier to maintain in the field and can push through significantly more water with less effort. Convenience, fast performance and reliability—not a bad trifecta, Platypus.
If you're thinking about buying gear that we've reviewed on Switchback Travel, you can help support us in the process. Just click on any of the seller links above, and if you make a purchase, we receive a small percentage of the transaction. The cost of the product is the same to you but this helps us continue to test and write about outdoor gear. Thanks and we appreciate your support!
Depending on the seller, most products ship free in the United States on orders of $50 or more. International shipping availability and rates vary by seller. The pricing information on this page is updated hourly but we are not responsible for inaccuracies.
Learn More About Outdoor Gear