Patagonia is a consistent leader in the alpine apparel market, and their Triolet shell slots in as a burly and highly protective option at a very reasonable price. The thick, 75-denier face fabric is excellent for use around sharp equipment, the 3-layer Gore-Tex construction nicely fends off rain, snow, and wind, and Patagonia didn't skimp on organization with five total pockets and ample adjustability. The Triolet is lacking in breathability for truly high-output uses and is a little heavy and bulky for fast-and-light missions, but it nevertheless is a trustworthy and well-executed design for a wide range of winter activities, including resort and backcountry skiing. Below we outline our experiences with the Triolet. To see how it stacks up to the competition, see our article on the best hardshell jackets.
 
---
Table of Contents
---

Performance
Weather Protection
Using a thick 75-denier face fabric and proven 3-layer Gore-Tex construction, the Patagonia Triolet Jacket feels nearly fortress-like in rough and rowdy weather. I gave the jacket a full shakedown—from late winter hikes in the Cascade Mountains to almost a full season of use as my primary backcountry and resort ski shell—and it never let me down. Transitioning while backcountry skiing on the aptly named Windy Ridge, I threw the Triolet on, cinched the hood, and was extremely impressed by how well it shut out the strong side gusts. And the jacket's excellent performance held true in wet conditions too. The durable water repellent (DWR) coating kept the shell from wetting out in light to moderate snowfall, and I never had any moisture make its way through the fabric, even as wet snow accumulated on the shoulders and arms.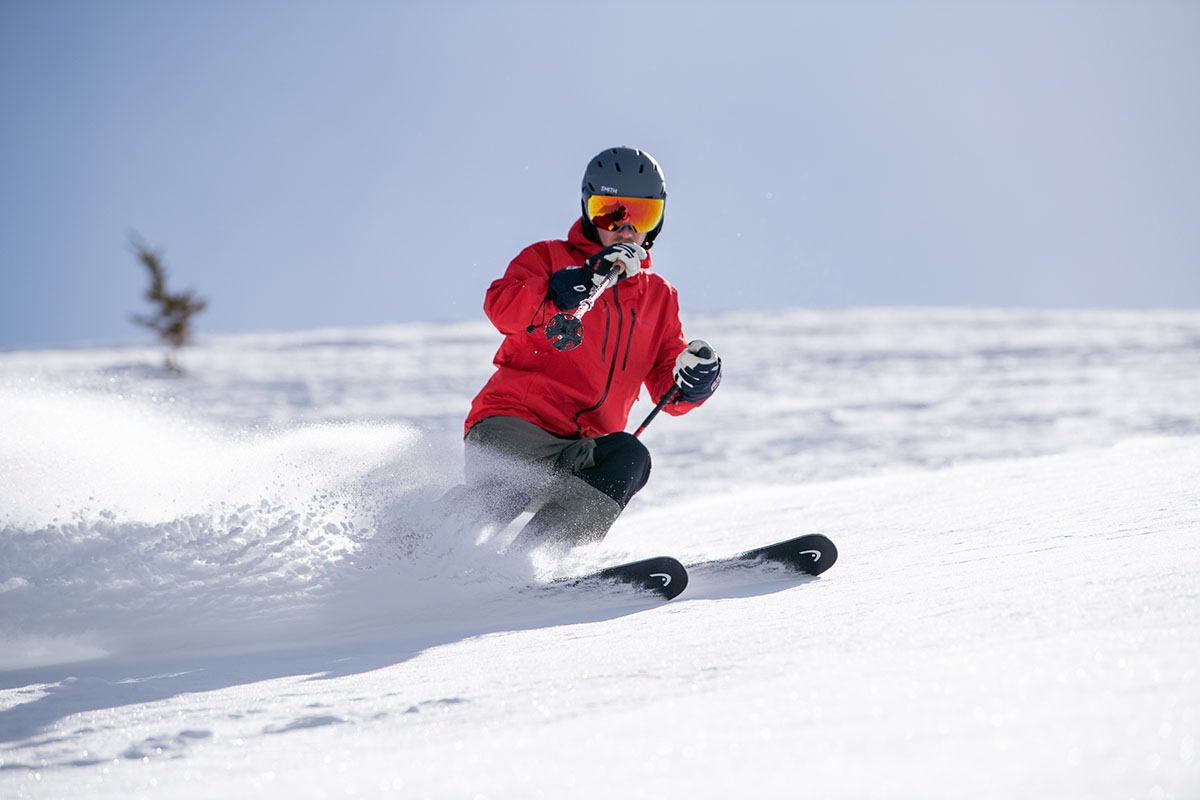 To be clear, the Triolet is overkill and fairly bulky for uses like summer backpacking, but the level of protection makes it a fantastic choice for the kind of uses I subjected it to. In particular, the extended cut, helmet-compatible hood, glove-friendly cuffs, and tall collar (which reaches over the top of my lips when fully zipped) give it formidable performance in winter conditions. For those planning on using the Triolet as a dedicated ski shell, it's worth noting that the jacket doesn't include a powder skirt, but it does have a loop at the back to attach to compatible Patagonia ski pants. I wore a bib throughout the season, so the lack of snow skirt never was an issue, but it can be a nice extra layer of protection on particularly deep days. All told, you can get similar protection at a lower weight with a Gore-Tex Pro model like Patagonia's own PowSlayer, but the Triolet's no-nonsense construction truly impressed me, especially at its reasonable $399 MSRP (for reference, the PowSlayer is a whopping $699).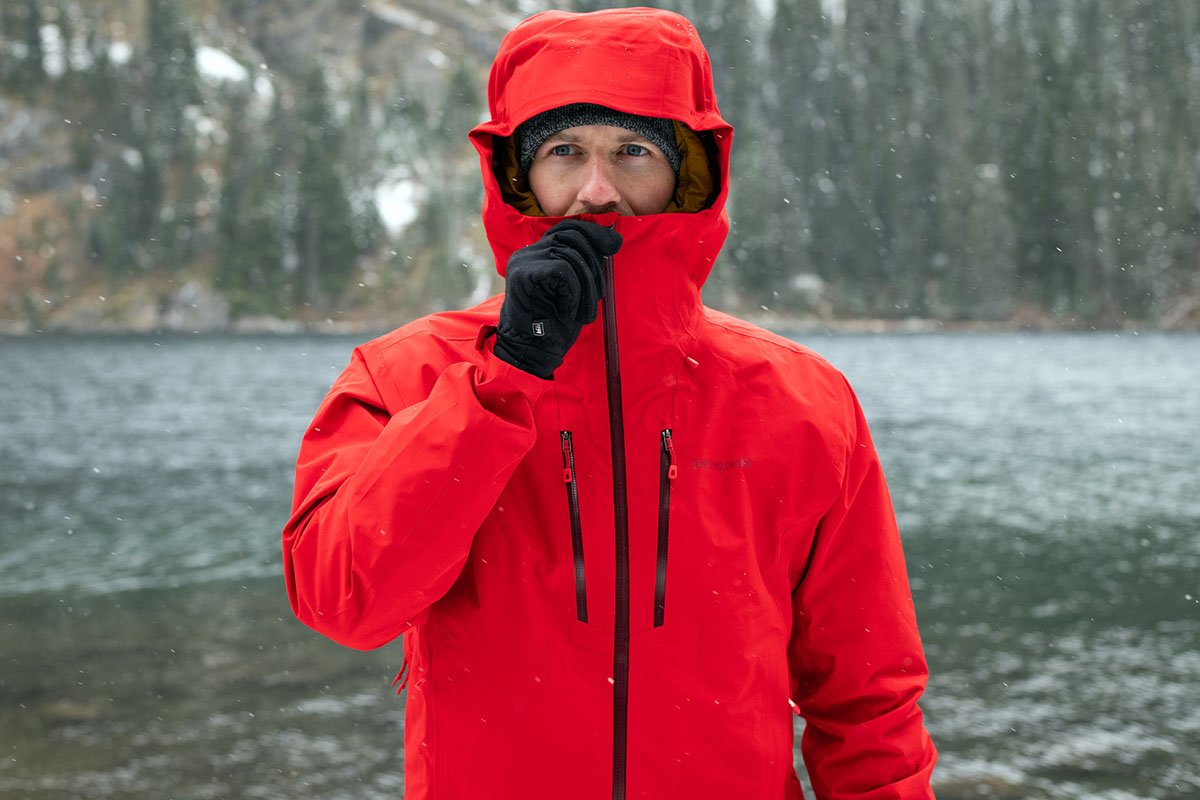 Breathability
Unfortunately, the same burly and tough construction that gives the Triolet its solid protection does have an impact on breathability. The thicker build and standard Gore-Tex membrane don't vent especially well, and you can find marginally better breathers for high-output uses in alternatives like Arc'teryx's Beta AR, LT, and FL and Patagonia's own Pluma and Galvanized. As such, I primarily used the Triolet for downhill pursuits or lower-output activities like hiking in below-freezing temperatures. And for times when I did keep the Triolet on—such as during the 15- to 20-minute hike to one of my favorite sidecountry zones at my local hill—I made full use of the pit zips, and I often unzipped the front of the jacket a bit too (conditions permitting). All told, breathability is about average for a Gore-Tex shell, meaning it's serviceable in cold and inclement weather but a noticeable step down from more air-permeable and thinner options.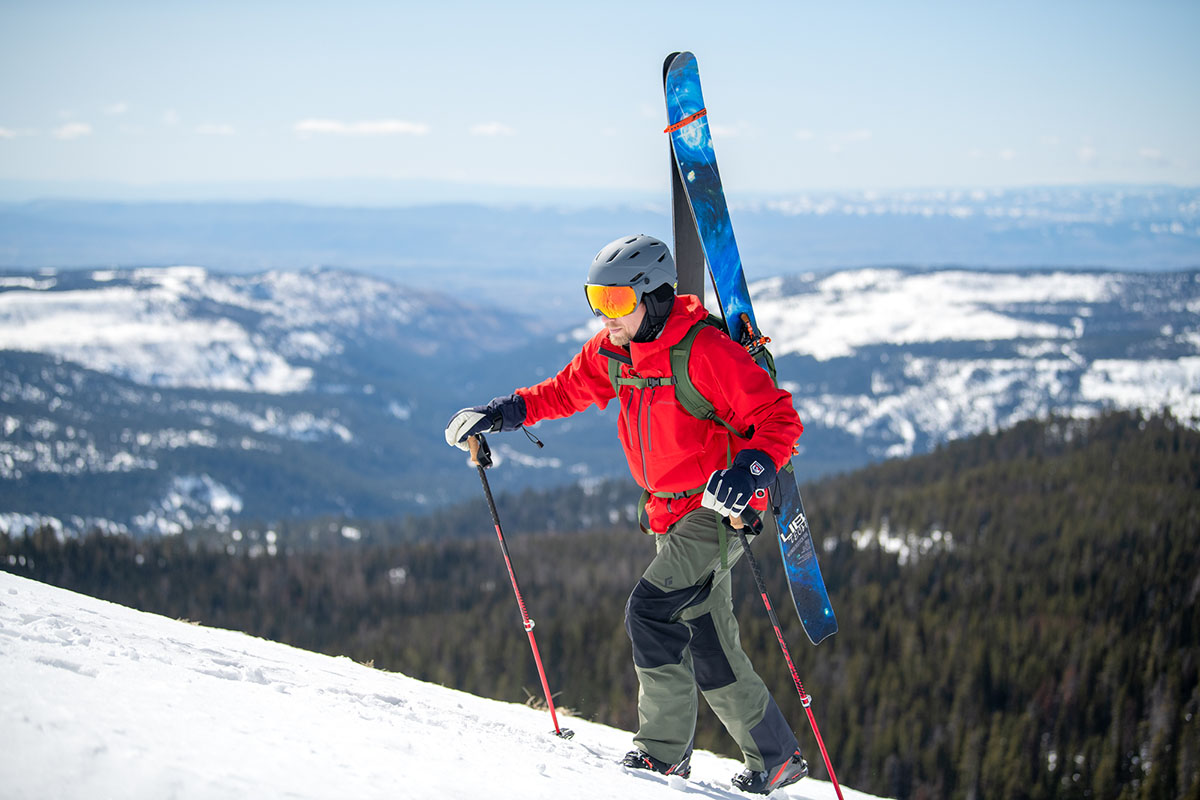 Weight and Packability
My men's medium weighs in at 1 pound 2.5 ounces (listed weight is a bit higher at 1 lb. 3.4 oz.), which is on the heavy end of the spectrum for a mid-range hardshell. For reference, Arc'teryx's all-rounder Beta AR checks in at 1 pound even, their more minimalist Beta FL is a scant 12.7 ounces, and Patagonia's higher-end Pluma is 14.6 ounces. The brand's $349 Galvanized is a closer competitor to the Triolet at 1 pound 2.6 ounces, but that jacket uses a less premium 3-layer H2No Performance construction and is also less durable and feature-rich.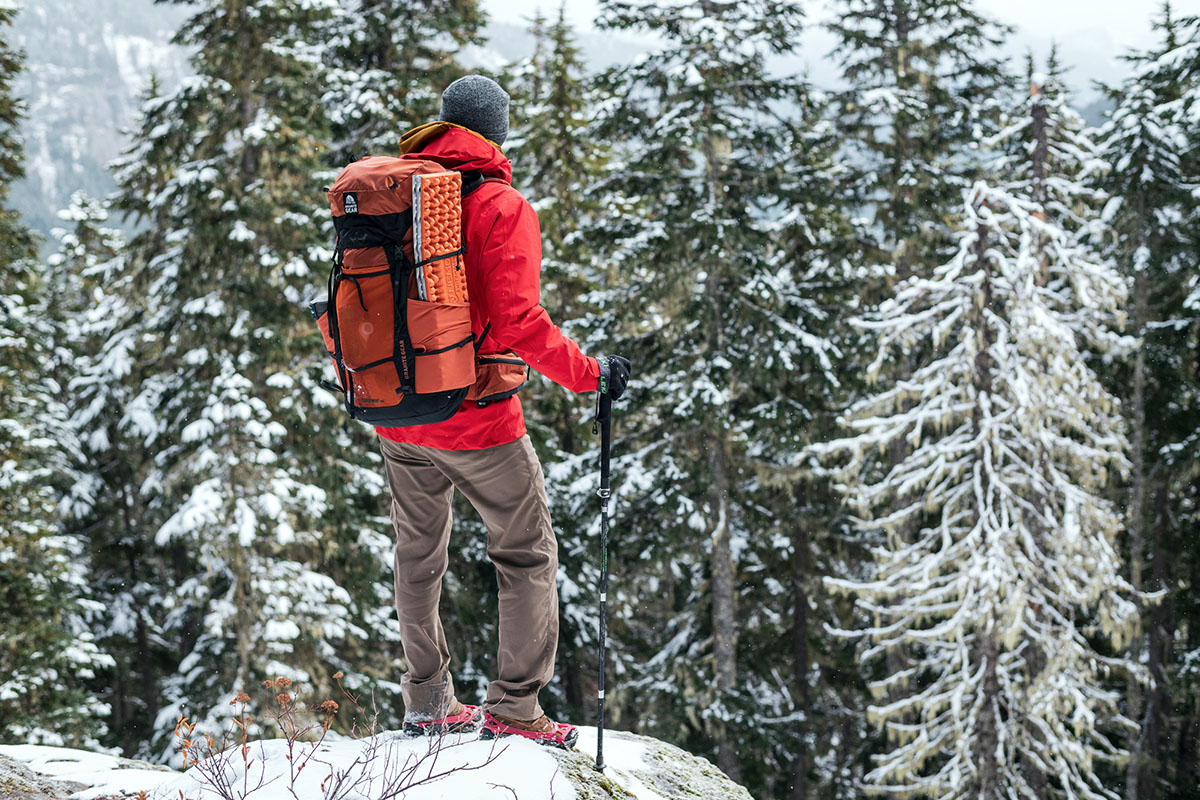 Importantly, you do get some great benefits for the added weight, such as the aforementioned bomber protection and a very feature-rich build (more on this below). Those focused on moving fast and light or summer and shoulder season users that don't need all the extras will be better off with a lighter option, but the Triolet nevertheless is a decent pick for true 4-season use. And on the bright side, packability is surprisingly good: rolled into its hood and cinched tight, it's nearly on par with a lighter design like the Beta AR.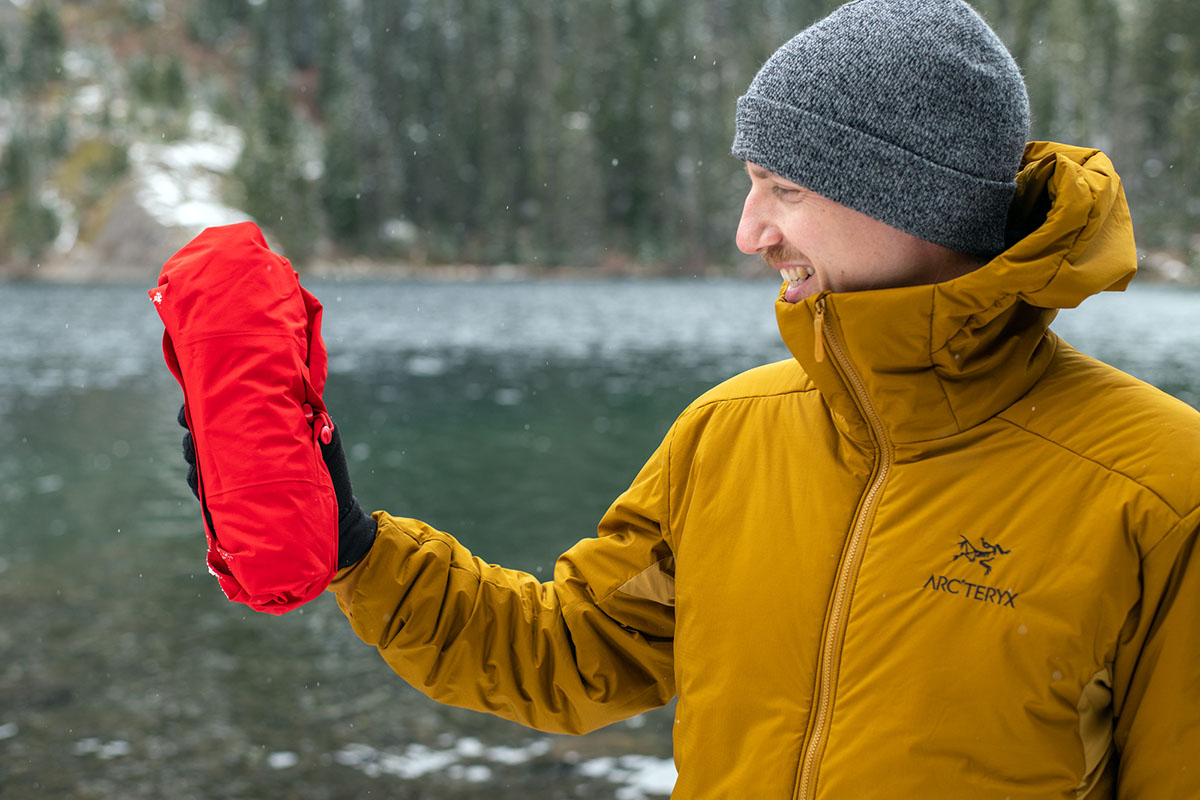 Comfort
The Patagonia Triolet is clearly focused on ski performance, which gives it a bulky and stiff feel for non-winter activities like hiking, backpacking, and even everyday wear. Part of this is due to the fit, which is tuned to accommodate a warm midlayer (more on this in "Fit and Sizing" below). But the extra heft and standard, non-stretchy build does make it noticeably less mobile and comfortable than Patagonia's Galvanized shell (which has 12 percent spandex in the face fabric), and it's also less streamlined from a fit perspective (that jacket has a trimmer, athletic cut). Finally, like many Gore-Tex shells we've tested, the Triolet is a bit noisy and crinkly, but nothing out of the ordinary. You do get nice touches along the interior like micro-fleece along the neck and the top of the inside of the collar, but the lining on the rest of the jacket is a standard Gore-Tex material that's considerably less plush and soft than their C-Knit backer.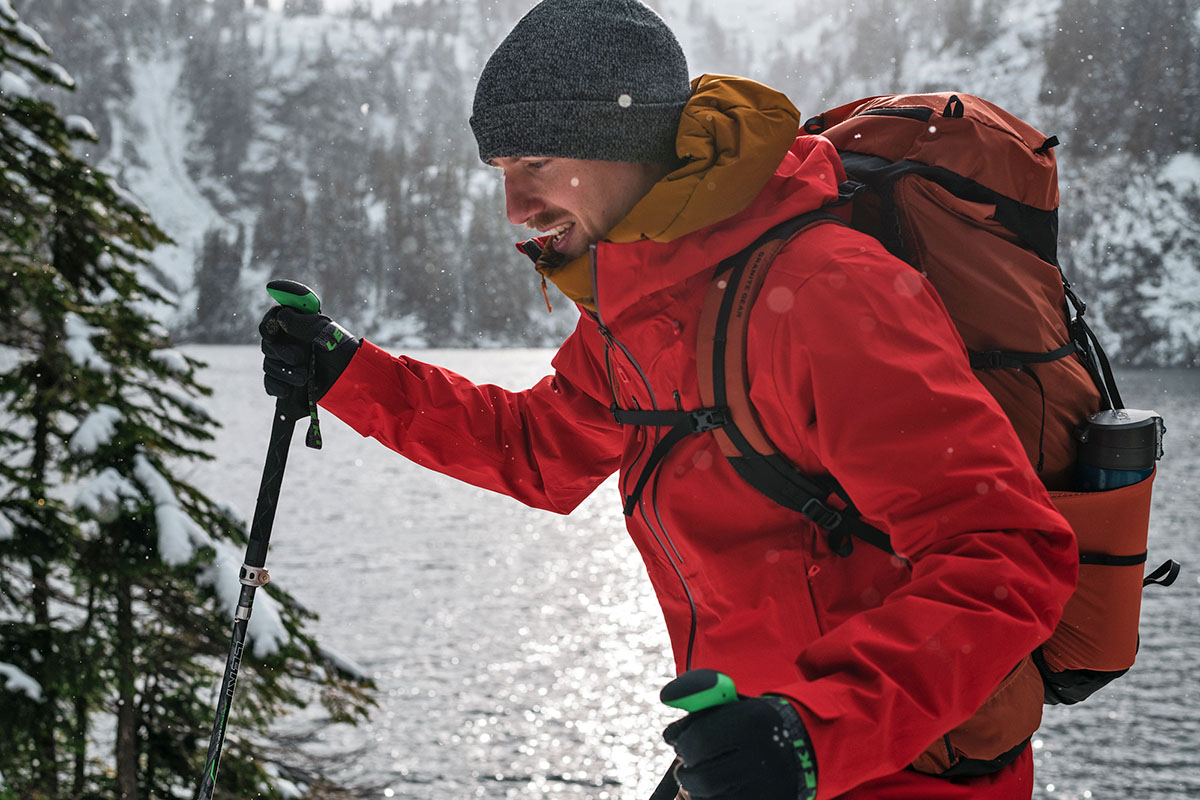 To be fair, the Patagonia Triolet is perfectly comfortable for the right uses, and I had no complaints on resort days or during descents while skiing. The extra room means there aren't any noticeable pinch points, and range of motion was also fully serviceable for skinning and hiking. As with breathability, it's something that many users won't complain about, but there are undoubtedly better options if comfort is a top priority, including the aforementioned Beta AR, Galvanized, and Pluma.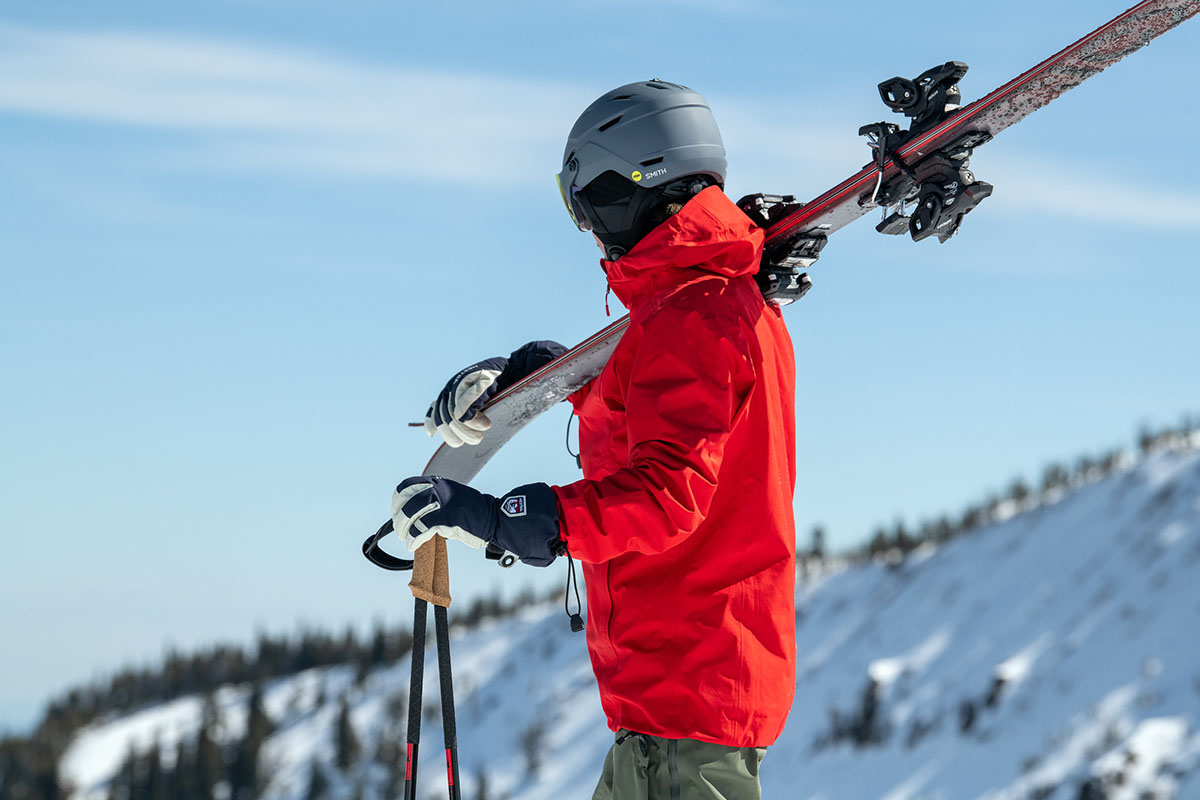 Build Quality and Durability
As expected with the tough build and Patagonia's extensive experience in alpine gear, the Triolet is a hardwearing and long-lasting piece. Everything has a solid feel to it: the shock cord in the hood cinch is noticeably thick, the 75-denier (D) face fabric is burly and confidence-inspiring even around sharp gear and ski equipment (many hardshells utilize 50D or lower), and the exposed zippers are watertight and slide smoothly. I did find the thin, cord-like pulls on the pit zips to be a little hard to grab with ski gloves on, but all others include a plastic tab that is easier to pull and manipulate. All in all, I have logged well over 20 days in the shell thus far, and it still looks like new. And by Patagonia standards, the price strikes us as really competitive at just under $400. There are some signs of keeping costs in check—the pit zips and hand pockets use fabric flaps for protection rather than pricier coated zippers, for instance—but it's undeniably a great price for a high-quality and well-built shell.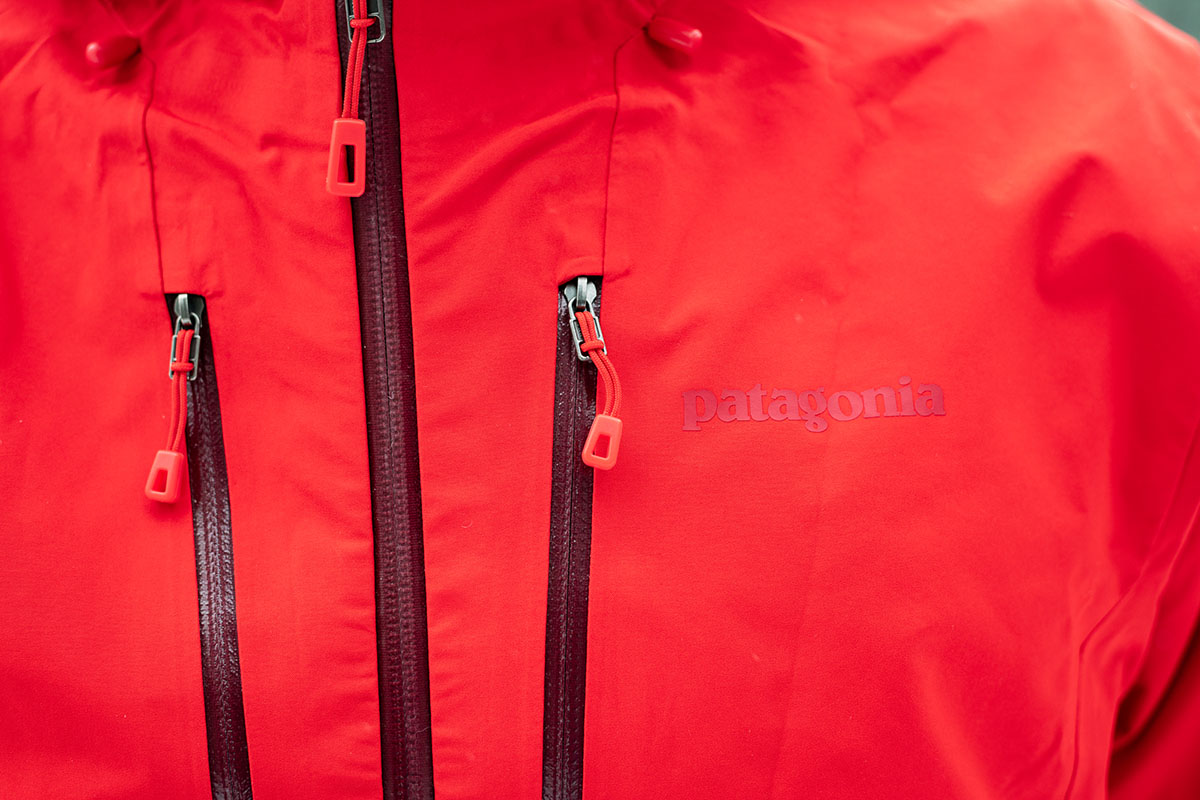 Key Design Features
All things considered, the Triolet is a pretty feature-rich hardshell. For starters, you get dual cinches at the waist (the cord is fed into the hand pockets), Velcro adjustments at the cuffs, pit zips for dumping heat, and a RECCO reflector to help with rescue efforts in an avalanche scenario. Additionally, you're not low on options for distributing gear, with dual chest pockets, an interior mesh dump pocket, and two harness/hipbelt-compatible hand pockets. The interior pocket in particular is a real highlight: it's a great size for goggles, gloves, or even a pair of climbing skins. I would prefer Patagonia shifted one of the chest pockets to the interior for another layer of protection when storing electronics (especially on days without a midlayer), and you do miss out on a ski-specific RFID pass on the arm, but those are fairly small concessions and likely not deal-breakers for most.
The Triolet's hood is also well-sorted, particularly for winter use. It fit over a range of medium-sized ski helmets I was testing with only a little tightness/resistance when looking down and side to side (it's a bit smaller than a standard ski jacket hood). It's also easy to cinch with a large rear pull cord and dual adjusters at the front, and it held nicely in rough weather. Finally, the small opening and snug fit around the face did a great job at keeping me protected—fully cinched and wearing goggles, there's essentially no skin exposed. When I wasn't wearing a helmet, the hood was pretty bulky and didn't tighten as evenly as some others I've tried (including the StormHood on Arc'teryx's Beta AR and others), but again, it's a solid winter option.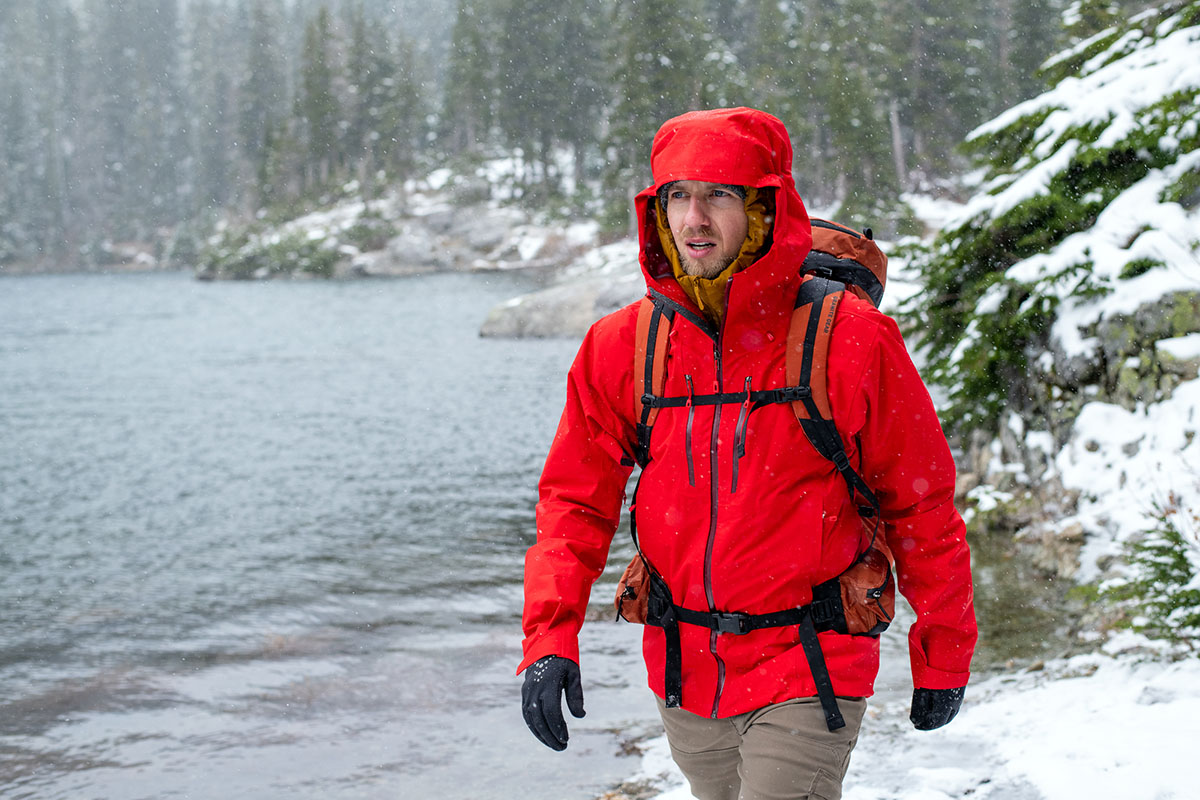 Fit and Sizing
I wear a medium in just about all shells (for reference, I'm 5'9" and 155 lbs.), and that wound up being the best fit for me with the Triolet. As I touched on above, the jacket has a "regular" cut that's tuned for layering insulation underneath. Throwing it on over just a long-sleeve baselayer, you will immediately feel the extra room and bulk in the arms and torso. It even felt baggy with a thin midlayer (Arc'teryx's Atom SL Hoody) underneath and hiking pants on the bottom. That said, the accommodating shape felt substantially better while skiing and touring with a bib on (even with the same midlayer), and it worked nicely with other insulation options ranging from a lightweight down jacket to a fairly thick midweight synthetic (Arc'teryx's Atom AR). However, those that like a trim, athletic fit or who want a shell that can be worn with a thinner midlayer or only a baselayer will be better off with a less winter-focused option like Arc'teryx's Beta LT.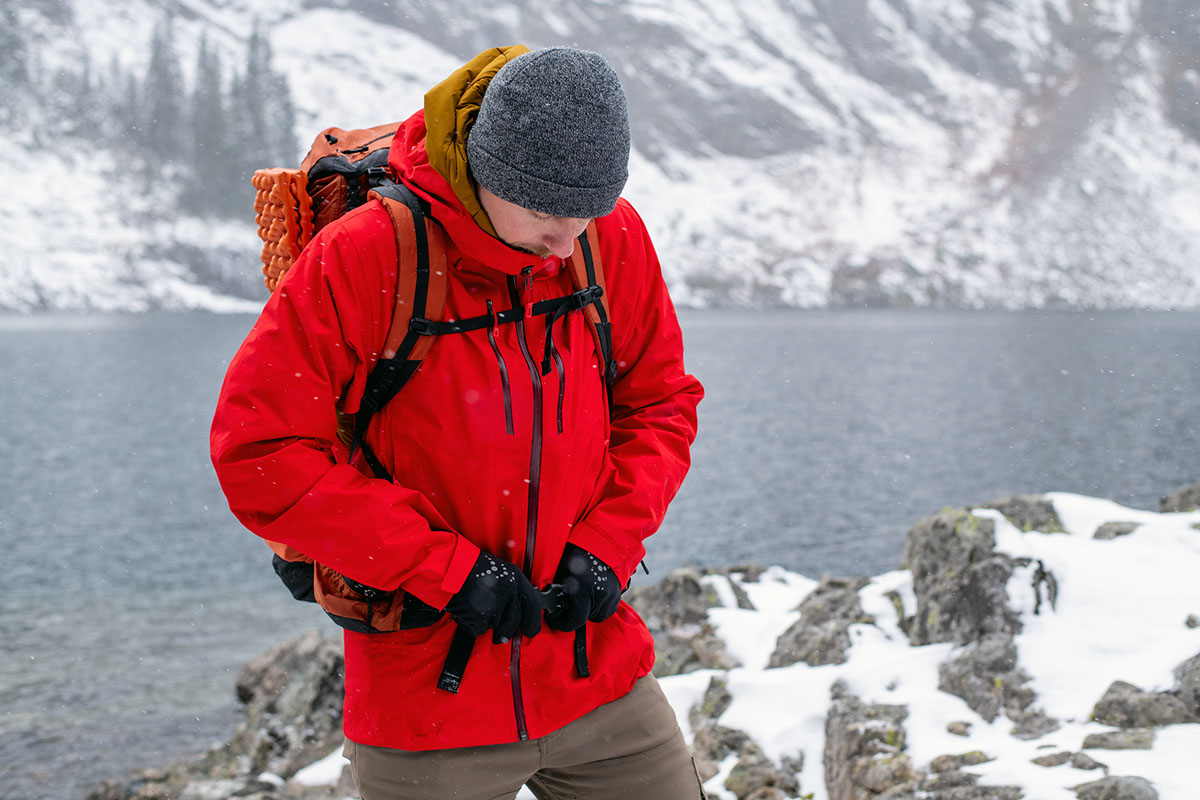 Sustainability
Patagonia is an industry leader in sustainable practices, and that focus comes across clearly in the Triolet. First, the shell is 100-percent-recycled polyester, and the entire jacket is bluesign-approved, meaning that all materials used are safe for the environment, workers, and consumers. The Triolet is also Fair Trade Certified sewn, indicating that Patagonia put extra money into production to ensure that workers are being compensated fairly and have access to resources and community-funded initiatives like healthcare and childcare programs (you can read more about Fair Trade here). Patagonia hasn't yet switched over to using a PFC-free DWR on this shell—perfluorocarbons are known to be harmful to the environment—but we nevertheless appreciate the ongoing efforts toward improving their line.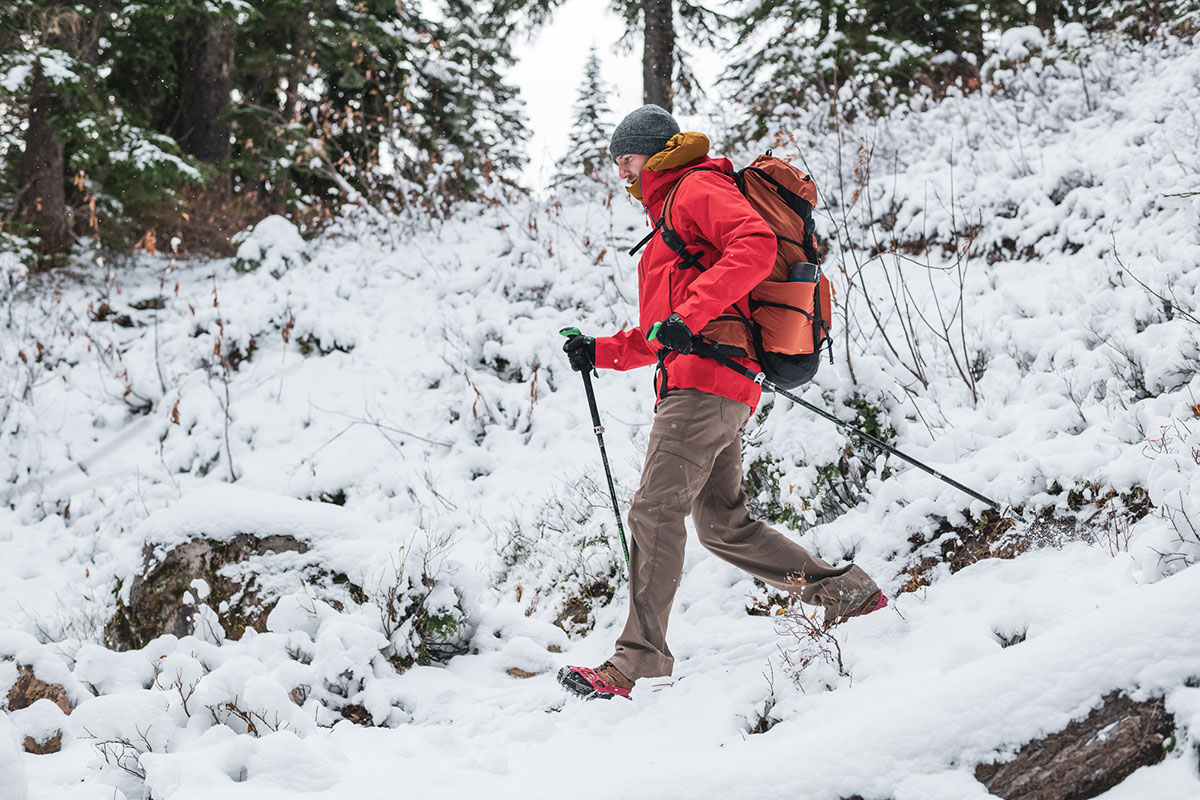 Other Versions of the Patagonia Triolet
We put the men's Triolet Jacket through its paces for this review, and Patagonia also offers a women's-specific version and pant variations. The women's Triolet Jacket costs the same as the men's model at $399 and boasts an identical build and feature set, but it's a little lighter at 1 pound 1.2 ounces and sold in different colorways. To complete your kit, the Triolet Pants retail for $349 and use the same 3-layer Gore-Tex construction for fending off inclement weather, and you can connect them to the jacket via a dedicated attachment loop at the rear for a little added assurance and protection in deep powder.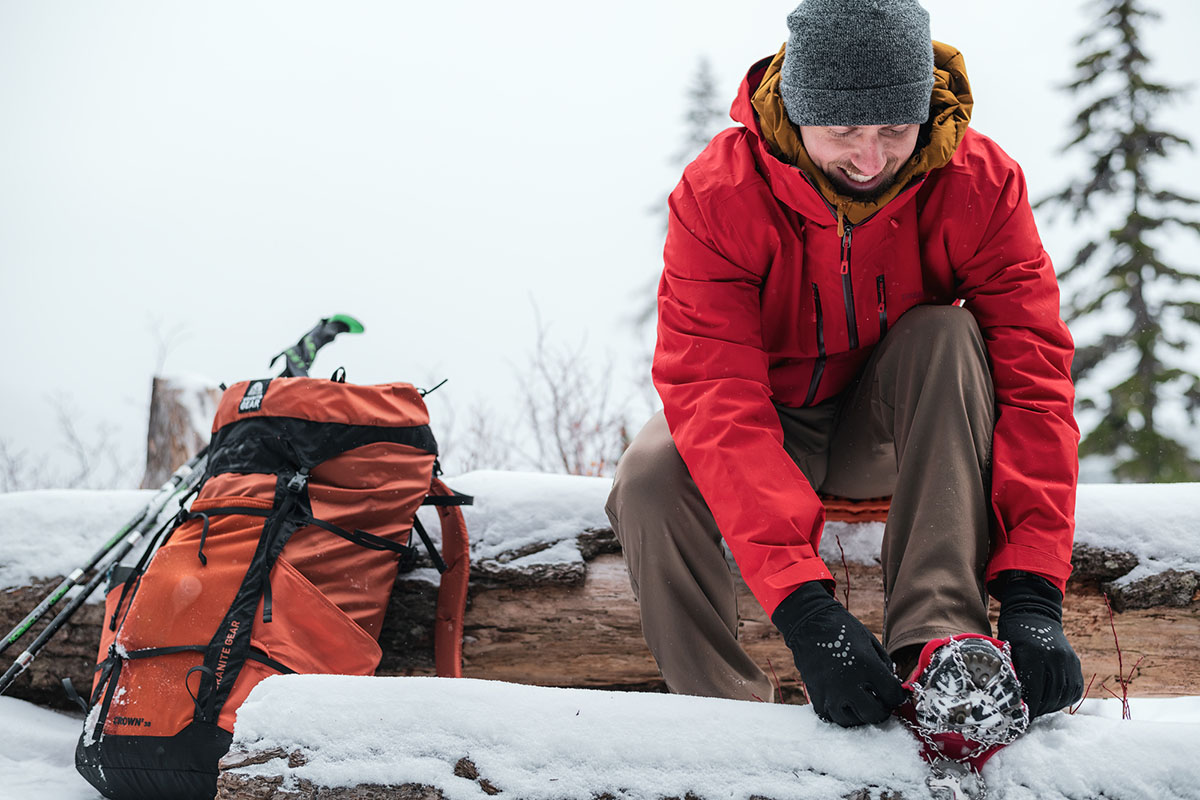 What We Like
The Triolet provides winter-ready protection with a 3-layer build, sturdy hood, tall collar, and full feature set.
75-denier face fabric is hardwearing and backcountry-ready (most hardshells use 50D or less). 
Well-executed and thoughtful feature set including ample adjustability, pit zips, an accommodating and helmet-compatible hood, and five total pockets.
Sustainability measures like recycled and bluesign-approved fabrics and Fair Trade Certification only add to the jacket's all-around appeal. 
At $399, the Triolet is a solid value considering the 3-layer Gore-Tex design.

What We Don't
Despite its all-rounder intentions, the Triolet is bulky and fairly stiff for non-winter activities like backpacking, hiking, and everyday wear.
On the heavy end of the spectrum for a mid-range hardshell at 1 pound 3.4 ounces.
Thicker build and standard Gore-Tex membrane don't breathe particularly well, which is especially apparent when working hard in mild temps (although the pit zips do help).
Without a helmet, the hood can feel pretty bulky and didn't tighten as evenly as some other designs, including Arc'teryx's venerable StormHood. 


Comparison Table
The Competition
Patagonia's Triolet stands out in the hardshell jacket market for its proven Gore-Tex waterproofing, burly build, and competitive feature set—all at a very reasonable $399. At the same price point, we also like Arc'teryx's Beta LT (short for "lightweight"). Right off the bat, we'll note that the Beta LT is considerably less hardwearing with a thinner 40D face fabric, has a shorter cut that sacrifices some protection, and only comes with two hand pockets. The main benefits are a significantly lower weight (13.9 oz.) and more athletic cut, although the Beta LT lacks some ski-specific features like a RECCO reflector and attachment for compatible snow pants. In the end, we'd break it down as follows: the Beta is our preferred option for traveling fast and light in summer and shoulder-season conditions, but the Triolet is the more purpose-built piece for spending time in the snow.
Next up is another design within the Beta family: the Arc'teryx Beta AR ("all round"). This jacket represents a step up in most respects, starting with a more premium, breathable, and hardwearing Gore-Tex Pro construction, which allows the Beta AR to be substantially lighter (1 lb.) without compromising on toughness or protection. You also get a trimmer and more versatile fit that works well with a wider range of midlayers, as well as plenty of premium touches like more adjustability at the hood and Arc'teryx's streamlined RS zipper sliders that eliminate the need for "zipper garages" at the top for sealing out moisture. The Triolet has a longer cut (center back length is listed at 31.75 in. vs. the Beta AR's 30.4 in.), making it the better dedicated ski piece at a considerable $200 less, but the Beta AR is the more capable do-everything hardshell.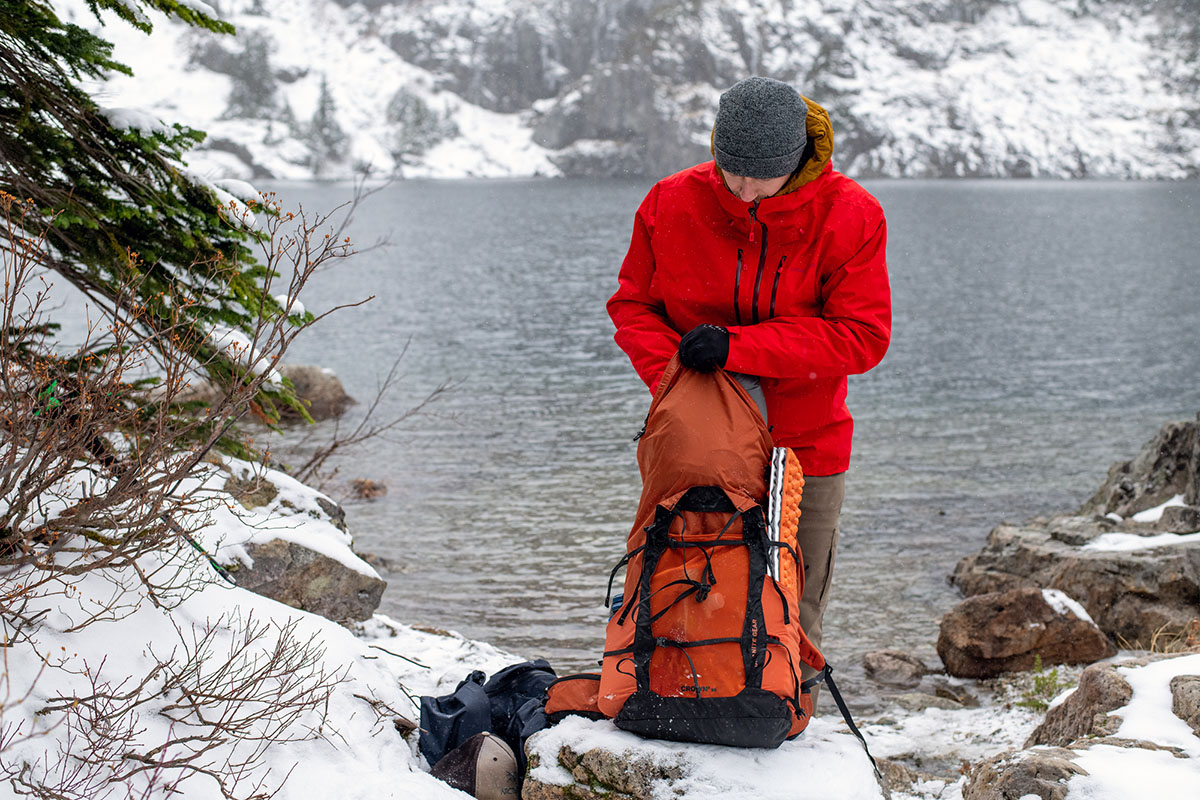 Outside of Arc'teryx's lineup, Patagonia offers two competitive alternatives to the Triolet in their Pluma and Galvanized shells. Starting with the Pluma Jacket, you get similar protection with a 3-layer Gore-Tex Pro build, albeit with a thinner and less durable face fabric (40D) and sizable increase in price ($549). The hood is also smaller than the Triolet's, and we had trouble fitting ours over a ski helmet (it does fit over a climbing helmet). All in all, at 14.6 ounces and with a streamlined but functional feature set, the Pluma is a nice alpine piece, but the heavier and more well-appointed Triolet strikes us as a better value and the more balanced option for all-around winter use.
As we touched on above, Patagonia's Galvanized is a close competitor in weight to the Triolet at 1 pound 2.6 ounces. In parsing out the differences, the Galvanized costs $50 less at $349 but uses a less premium and protective H2No Performance construction, which is Patagonia's proprietary waterproofing. It's also the less durable option with a 50D face fabric, and you only get three total pockets compared to the Triolet's five. That said, the Galvanized incorporates 12 percent spandex into its design, which boosts mobility and comfort considerably. It also has a trimmer cut that's easier to wear over just a thin midlayer or baselayer, and it's the more breathable option too. All things considered, the Triolet is the more capable and feature-rich design for extended backcountry use, but the Galvanized is plenty of shell for most uses and wins out in a few key areas, including comfort, stretch, and overall fit (for more, see our in-depth Galvanized review).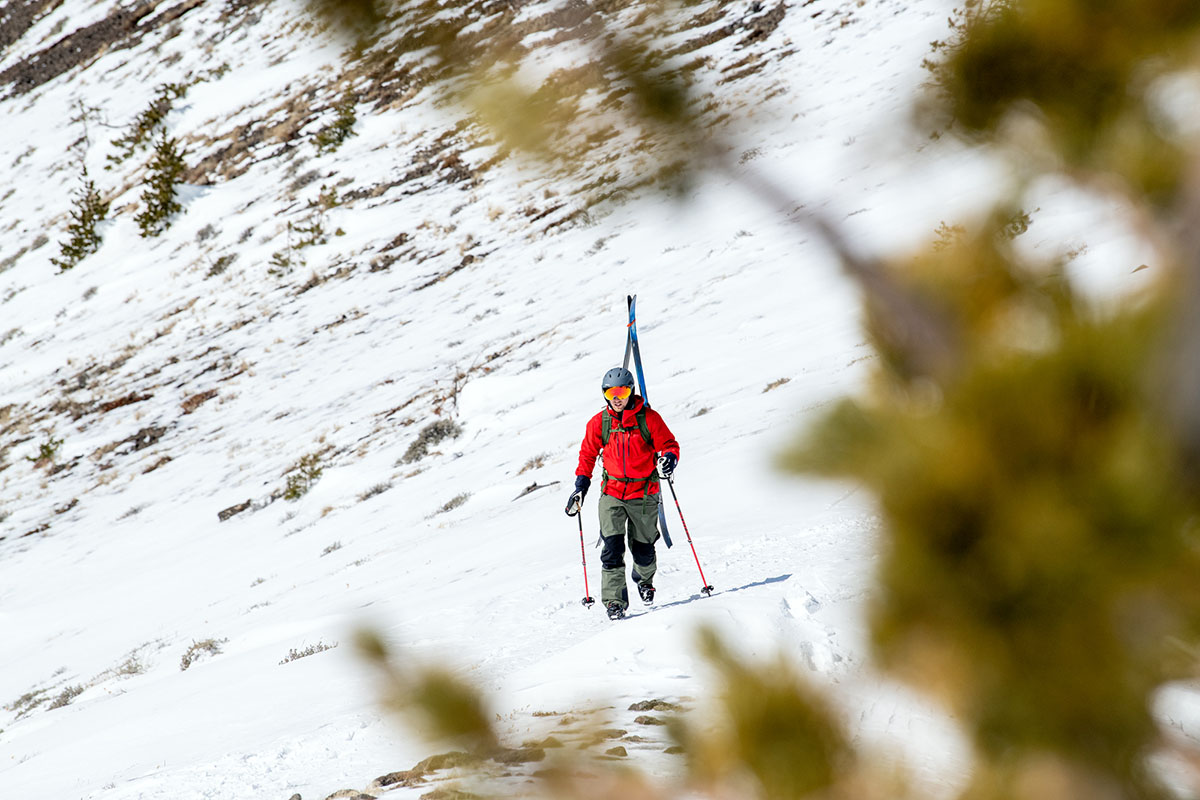 Last but not least is REI Co-op's Stormbolt GTX, which is an even more budget-friendly alternative to the Triolet at $279. Importantly, you don't compromise much on features with the same standard Gore-Tex membrane, pit zips, a helmet-compatible hood, and adjustability at the hem and cuffs. However, in using it back-to-back with the Triolet, the Stormbolt clearly is the cheaper design. In particular, the face fabric has a noticeably less premium feel, the jacket was more prone to wetting out, and the thinner build in general is less reliable around sharp gear. That said, it's still a lot of jacket for the money, and its weight is quite competitive at 14.6 ounces. If you want Gore-Tex protection, don't need the Triolet's skiing chops and improved durability, and are wanting to stay under $300, the Stormbolt is a solid option and our favorite budget hardshell this season.
If you're thinking about buying gear that we've reviewed on Switchback Travel, you can help support us in the process. Just click on any of the seller links above, and if you make a purchase, we receive a small percentage of the transaction. The cost of the product is the same to you but this helps us continue to test and write about outdoor gear. Thanks and we appreciate your support!
Depending on the seller, most products ship free in the United States on orders of $50 or more. International shipping availability and rates vary by seller. The pricing information on this page is updated hourly but we are not responsible for inaccuracies.
Read More From Switchback Travel