Patagonia offers a jacket for just about every type of skier and terrain, from insulated, resort-ready designs to lightweight hardshells built for the backcountry. The SnowDrifter slots in as their affordable touring option with in-house waterproofing, a stretchy face fabric, and excellent breathability for uphill use. We took the women's SnowDrifter into the Pacific Northwest backcountry and were impressed by the jacket's overall performance. It doesn't provide the same impenetrable feel as premium Gore-Tex models, but it's a versatile and nicely appointed shell at a reasonable price. Below are our experiences with the SnowDrifter. To see how it stacks up to the competition, see our articles on the best ski jackets and best women's ski jackets.
 
---
Table of Contents
---

Performance
Weather Protection
The Pacific Northwest is known for its variable conditions, and the Patagonia SnowDrifter Jacket has proven itself as a capable companion in everything Mother Nature has thrown our way. This season has been especially fickle so far, with days ranging from wet and mild in North Vancouver to temperatures well below freezing in Manning Provincial Park. To help fend off the elements, Patagonia employed their proprietary, 3-layer H2No fabric with a durable water repellent (DWR) coating and full seam taping, which has effectively sloughed off snow, rain, and sleet without wetting out. The 75-denier face fabric does feel noticeably thinner than Gore-Tex jackets of a similar thickness, and you don't get the same fortress-like confidence, but this hasn't translated to any issues with water- or windproofing. In fact, the SnowDrifter has impressed me on multiple occasions during strong winds, including while transitioning on a brutally gusty ridgeline and sitting on chairlifts in blowing snow.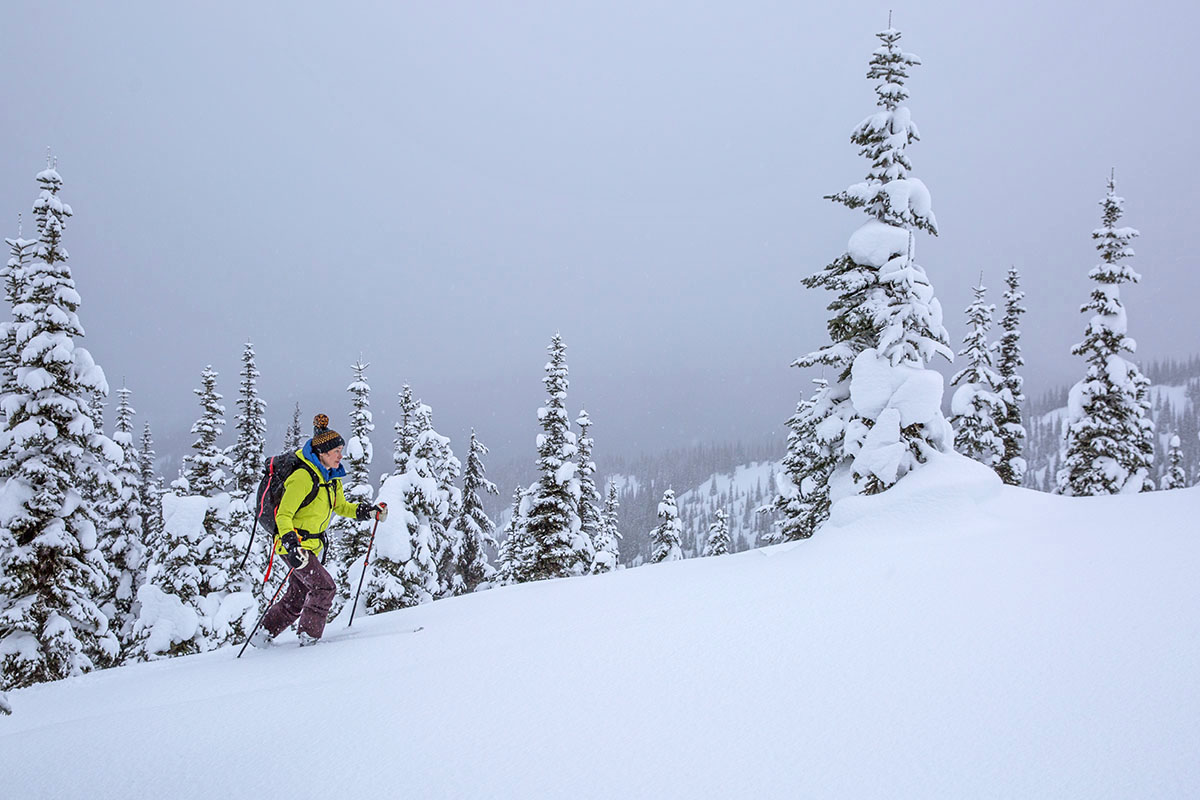 To help seal out the elements, the SnowDrifter comes equipped with a full suite of protective features. The hood is adjustable via drawcords at the front and back and can be cinched over either a hat or ski helmet. The hem can also be pulled tight via adjustments in the pockets (difficult to use with gloves on but easy with bare hands), and an integrated powder skirt adds another barrier should you take a spill or venture into particularly deep powder. Finally, the cuffs are generously sized to fit over gloves, which I found much easier to accomplish than with Patagonia's stiffer PowSlayer jacket. That said, I typically prefer to tuck the cuffs under my mittens or gloves, which is easily accomplished with Velcro at the wrists.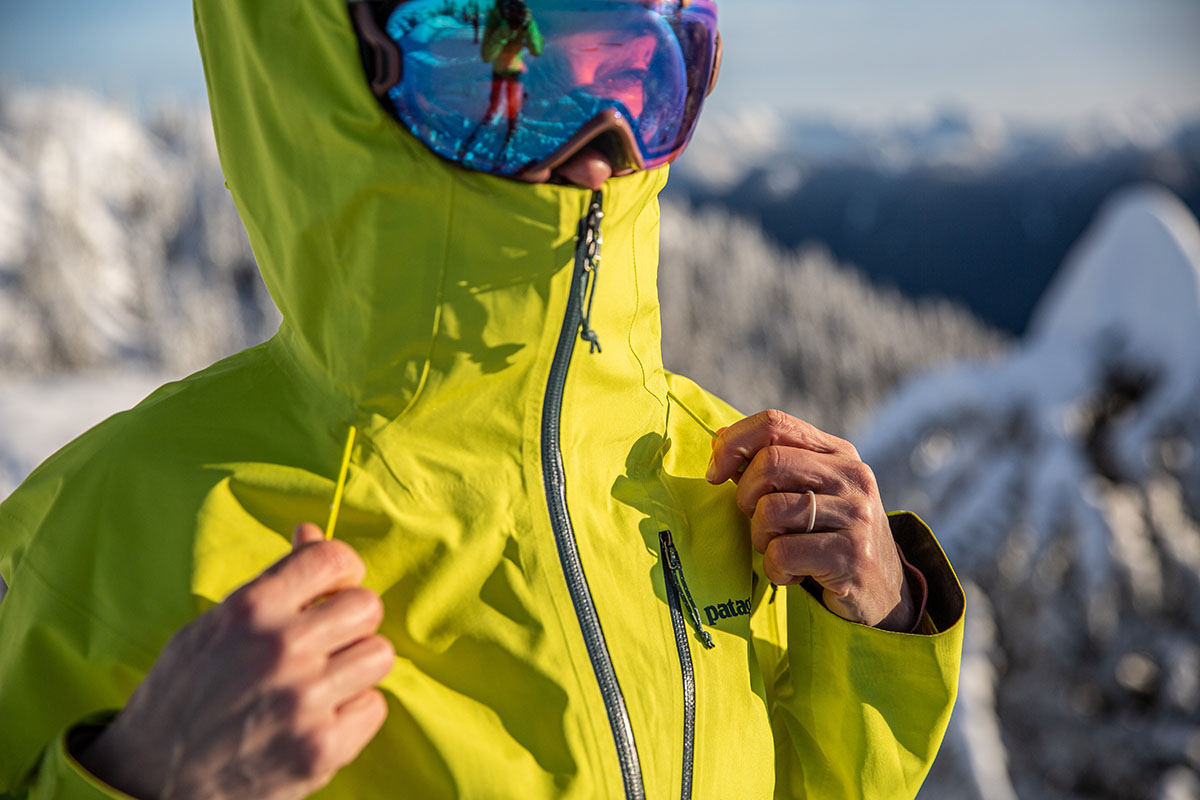 Comfort and Stretch
In my opinion, two of the SnowDrifter's biggest selling points are its comfort and mobility. The H2No construction consists of a stretch ripstop fabric and soft polyester knit backer that feel incredibly supple and smooth against the skin. In fact, I would go so far as to say that the SnowDrifter feels more like a softshell than a hardshell, which is very high praise for a backcountry-ready design. Another benefit is that it's very quiet during movement and reminiscent of Gore's C-Knit backer found on premium (and much pricier) models like the Arc'teryx Sabre/Sentinel LT and Outdoor Research Hemispheres. Compared with Patagonia's stiff and crinkly PowSlayer, which uses Gore-Tex Pro for waterproofing, the difference is stark. As with the PowSlayer, I would appreciate a softer chin guard so that the main zipper doesn't feel abrasive against windburned skin, but this is a small gripe for an otherwise very comfortable jacket.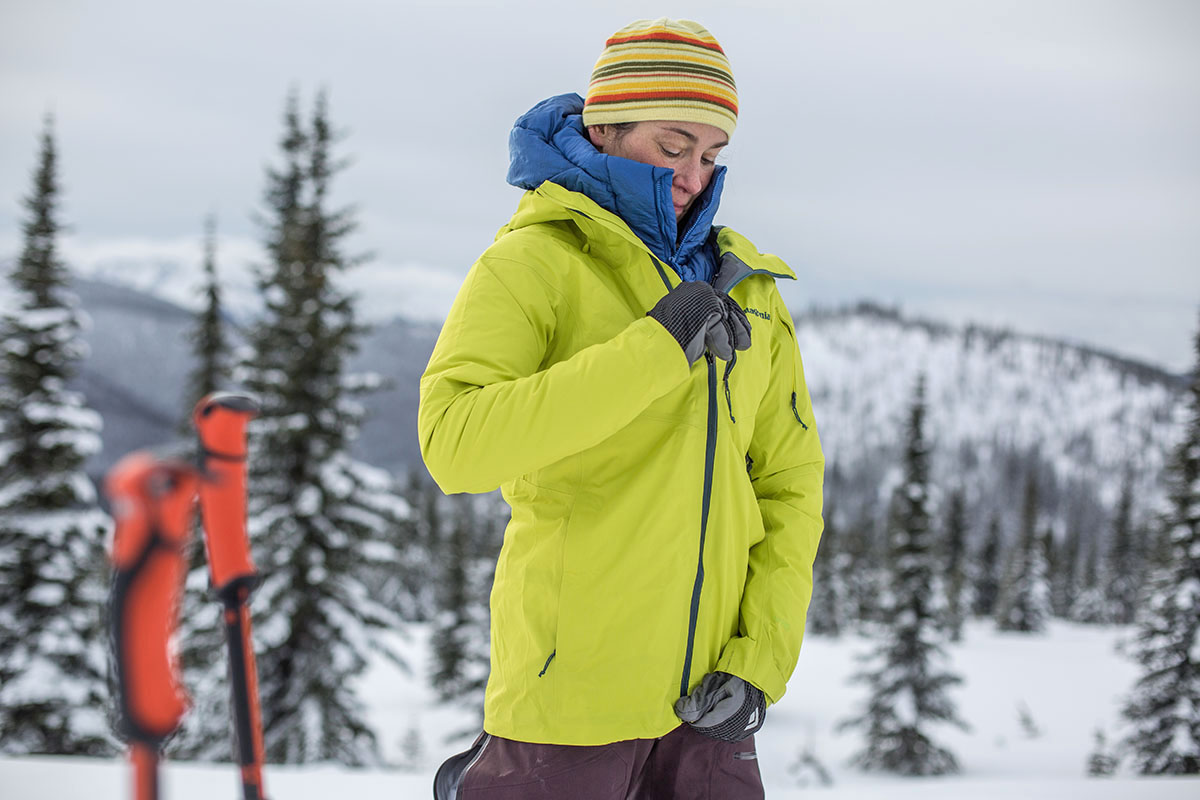 Breathability
In addition to comfort and stretch, the Patagonia SnowDrifter is a true standout in the breathability department and again performs more like a softshell than a hardshell jacket. In practice, I've been able to comfortably skin in the jacket without overheating any time the temperature has dropped below freezing. I initially expected that I would need to stop and remove the shell in mild conditions, but I've been pleasantly surprised by how well the fabric breathes, and the soft liner is great at wicking moisture away from my skin. And if I really start to work up a sweat, I'm able to dump heat via generous, two-way pit zips (around 12 in.), though I've only had to revert to using them on particularly sunny and warm days.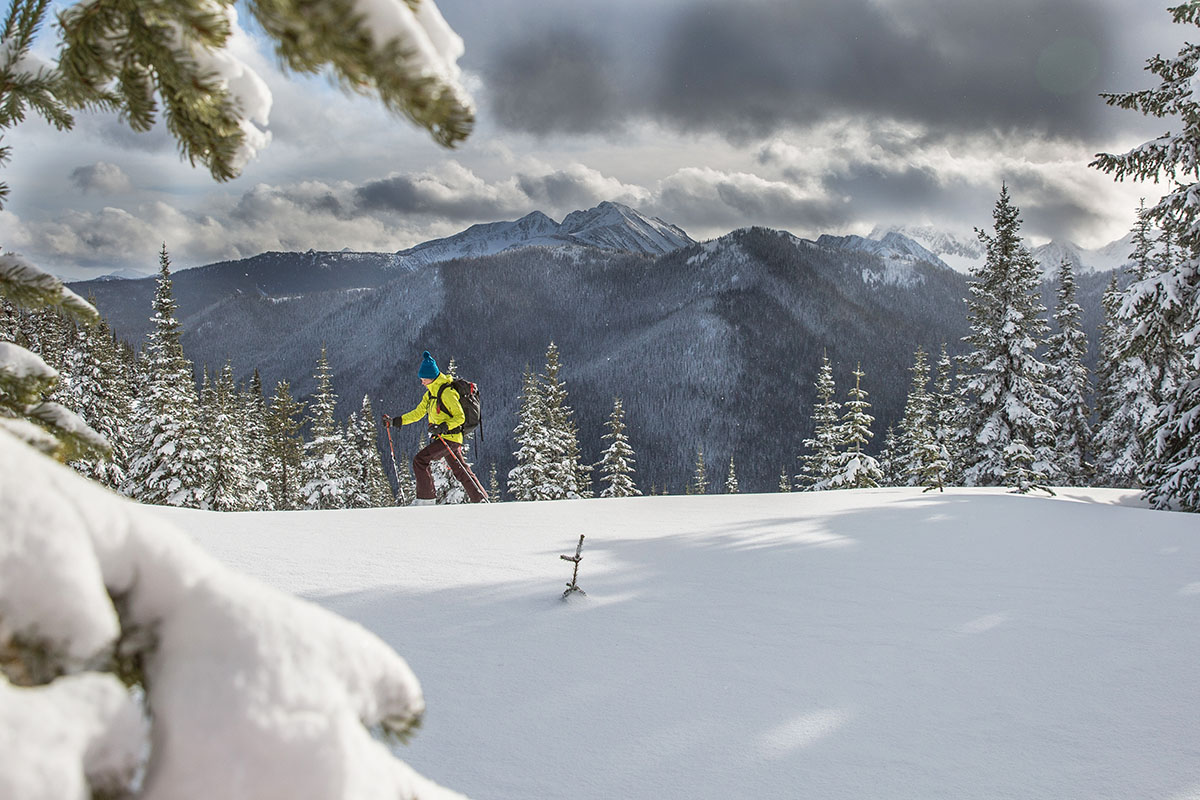 Build Quality and Durability
Patagonia is an industry leader in well-made, hardwearing snow gear and apparel, and the SnowDrifter Jacket is a testament to their expertise. So far, the shell is holding up well to rough use, including being continuously stuffed down into my cramped Voltaire ski pack with sharp equipment like a shovel, probe, and other backcountry gear. Further, the stitching, zippers, and seam taping are all still intact with no performance issues to date, and the jacket looks nearly as good as new after a couple months of consistent testing. As I touched on above, my only gripe is that the 75-denier face fabric feels noticeably thinner than Gore-Tex-equipped shells of a similar thickness, but this thankfully hasn't impacted weather protection or durability. If any concerns crop up during future outings, I'll be sure to update this review accordingly.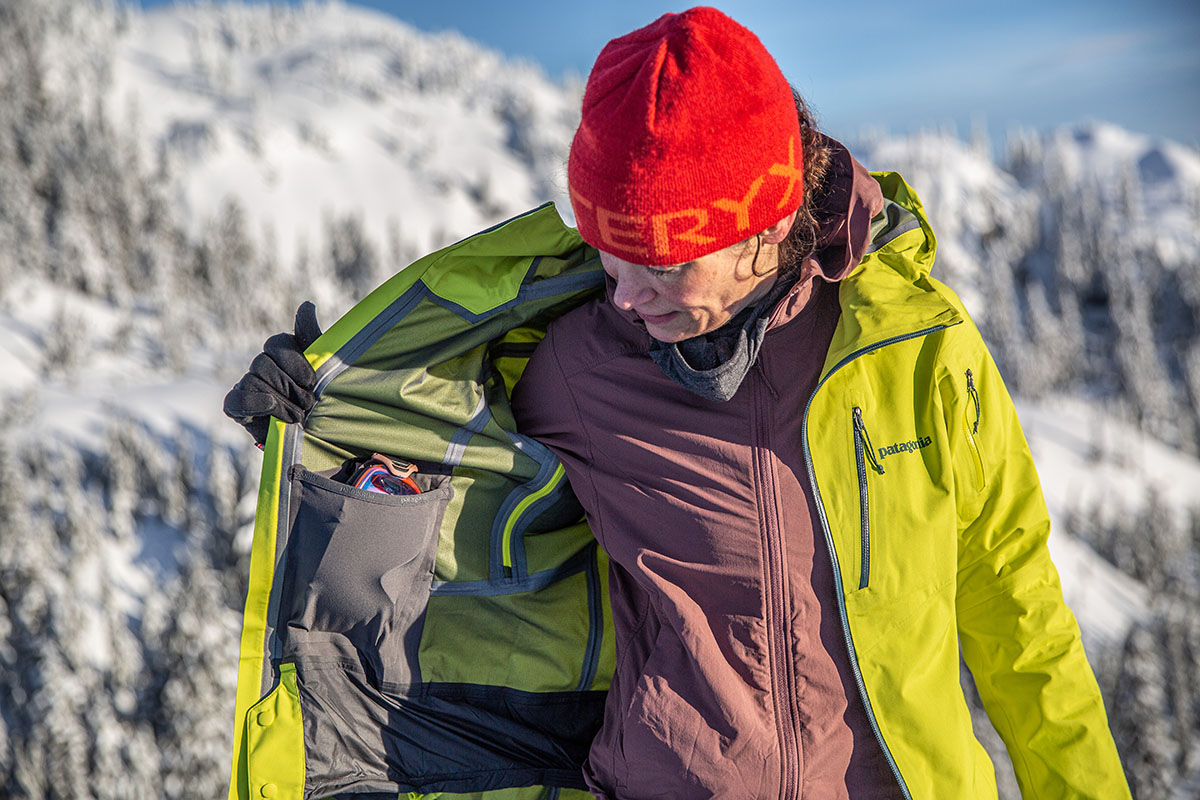 Weight and Packability
The SnowDrifter isn't the lightest or most packable option at 1 pound 3.2 ounces for my women's small (it's listed at 1 lb. 2 oz.), but it's perfectly reasonable for resort days and long tours alike. For comparison, Patagonia's own PowSlayer checks in around the same weight at 1 pound 2.4 ounces, their new minimalist Stormstride undercuts it at 15.1 ounces, and Arc'teryx's Sentinel LT is a bit heavier at 1 pound 3.9 ounces. All in all, given the full feature set and fairly robust construction, I think the SnowDrifter's weight is well-spent. And like most hardshells, it can be stuffed down into its own hood, which then easily compresses to the size of a cantaloupe.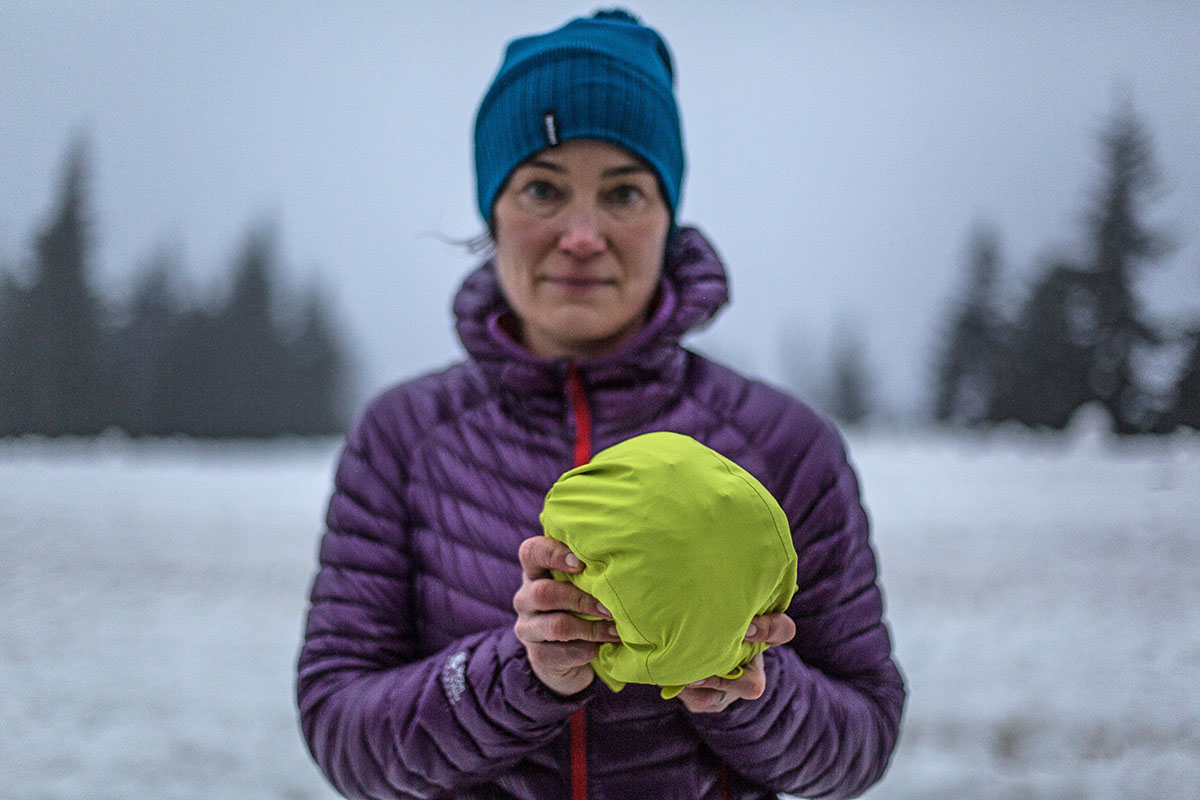 Key Features
Hood
The SnowDrifter's hood is nicely sized and very functional. As expected, it's designed to fit over a ski helmet and easily does without any restriction at the neck or collar, but it also can be effectively cinched down over just a hat or beanie. That said, unlike Arc'teryx's StormHood design, the Patagonia's toggles are embedded in tiny "pockets," which helps keeps things streamlined and sleek but makes it more difficult to adjust with cold hands or bulky ski gloves. In fact, my husband and I have both struggled on particularly bitter days to grab the drawcords and pull the hood tight. With warm fingers or thinner liner gloves, however, the process is much easier. Rounding out the design, the visor is laminated and great at deflecting precipitation, and the aperture leaves only my nose and goggles exposed to the elements (again, without restricting vision or side-to-side head movement).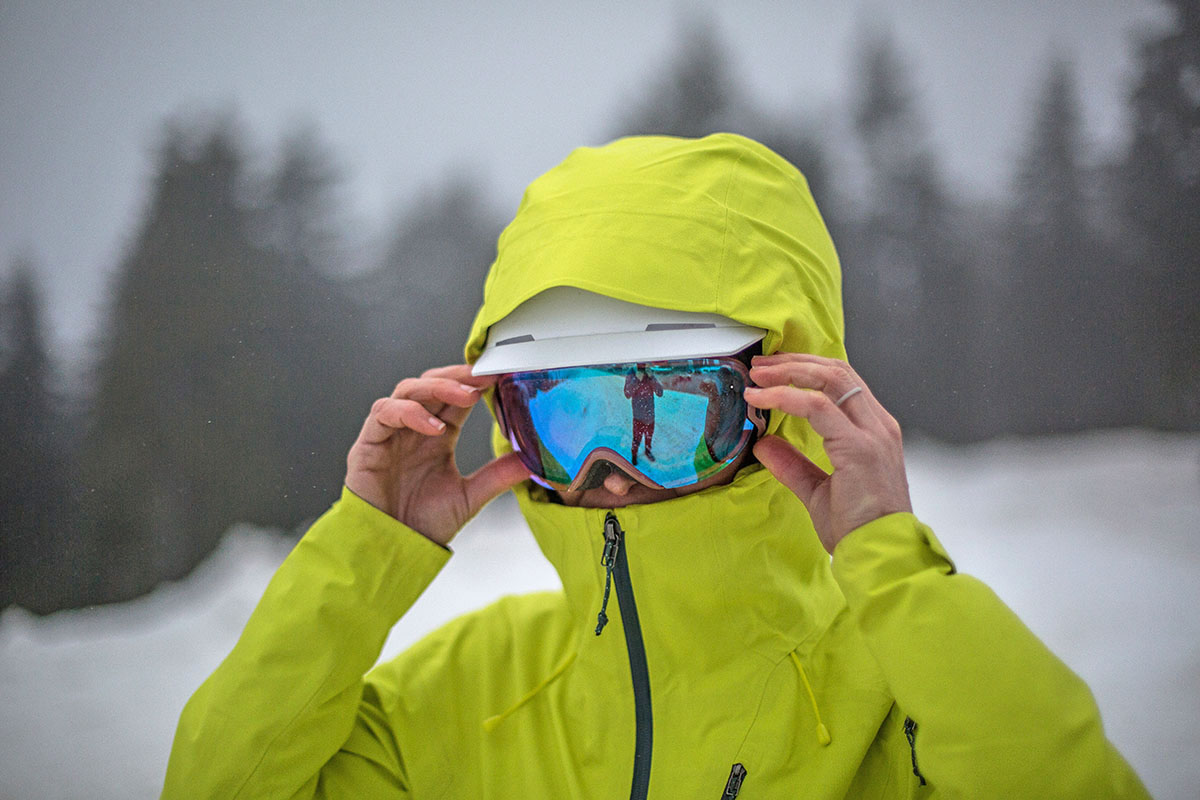 Storage: Pockets
The SnowDrifter comes well-equipped for stowing the essentials with six total pockets. On the outside, you get two large handwarmer pockets that easily swallow gloved hands, even while wearing a pack. There's also a smaller pocket on the bicep for stowing a lift pass, ID, or credit card, as well as a single chest pocket with a secondary compartment that opens from the interior (ideal for routing headphone cords through). On the inside, the aforementioned internal pocket is large enough to fit my iPhone (complete with its bulky case), and a dump pocket easily and securely stows ski goggles, gloves, or a beanie.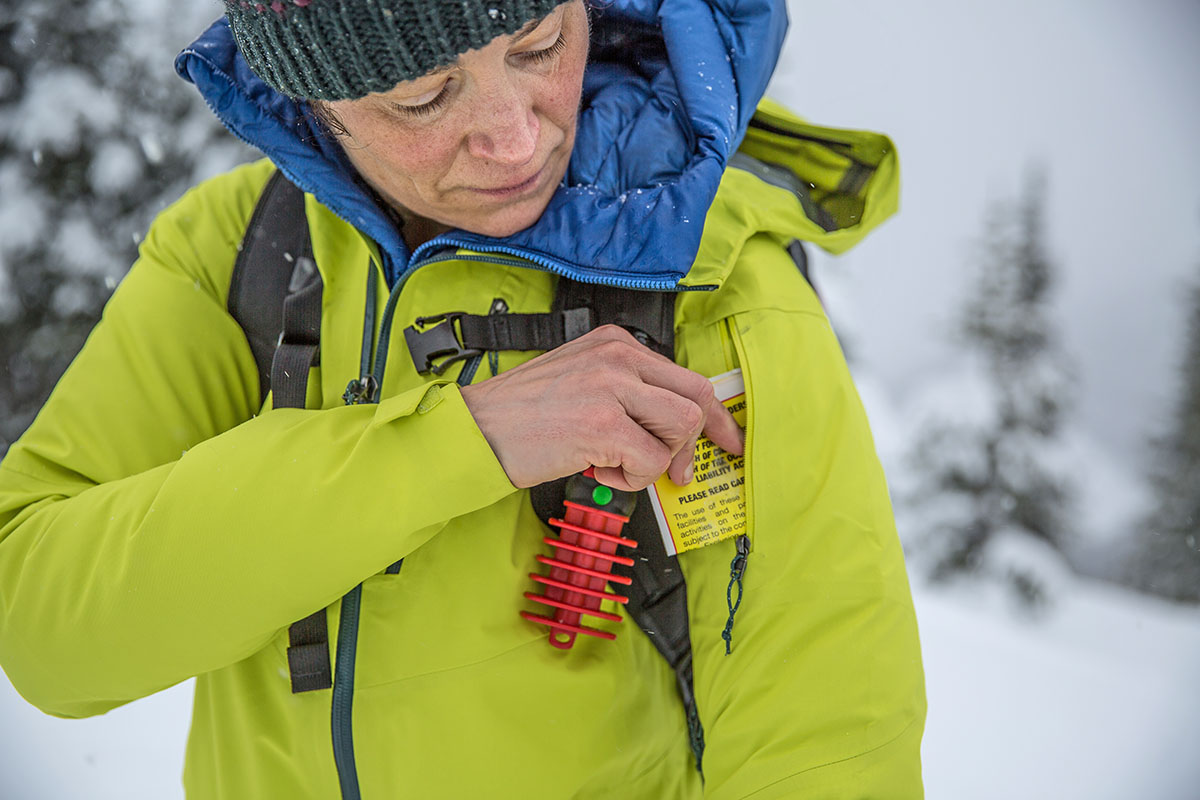 Powder Skirt
For added protection in the event of a fall or when the snow is especially deep, Patagonia outfitted the SnowDrifter with an adjustable powder skirt. Unlike some designs, the Patagonia's skirt isn't removable, but it's fairly unobtrusive and has gone largely unnoticed throughout the season. In terms of adjustability, the skirt can be cinched for a tight seal with a series of buttons, plus it can be connected via a webbing loop at the back to any Patagonia snow pants. I haven't needed to use the attachment system yet, but the process is very easy and quick.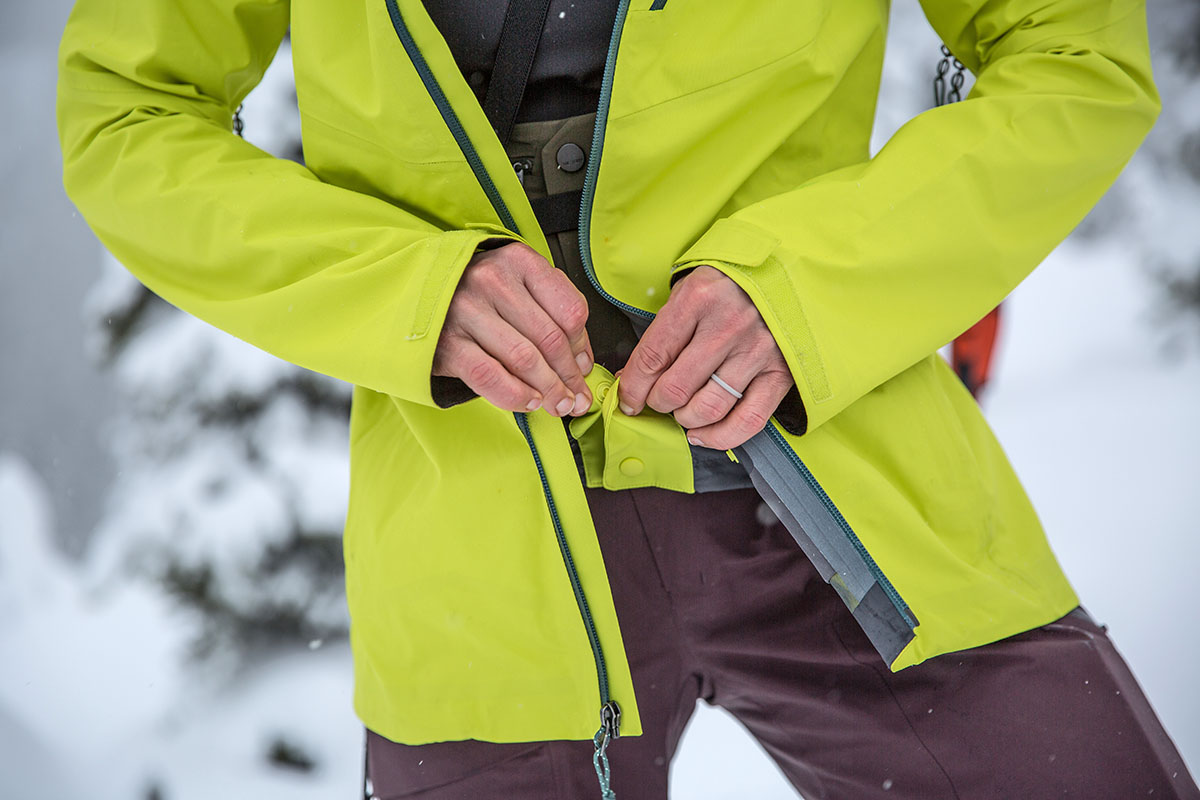 Fit and Sizing
Patagonia describes the SnowDrifter as having a "regular" fit, which translates to ample room for baselayers and midlayers without feeling overly bagging or unshapely. For reference, I typically wear a women's small in Patagonia clothing, and that size in the SnowDrifter has allowed me to easily add my Arc'teryx Cerium SV down hoody either underneath or overtop the shell without any issues (I do the latter to make backcountry transitions faster when conditions allow). Additionally, the sleeve length is perfect for me: even with my arms lifted to adjust the pit zips, I still have plenty of coverage. And finally, the center back length (29.625 in.) stacks up very competitively to the rest of the market and nicely protects against snow and cold entering under the shell when I bend over.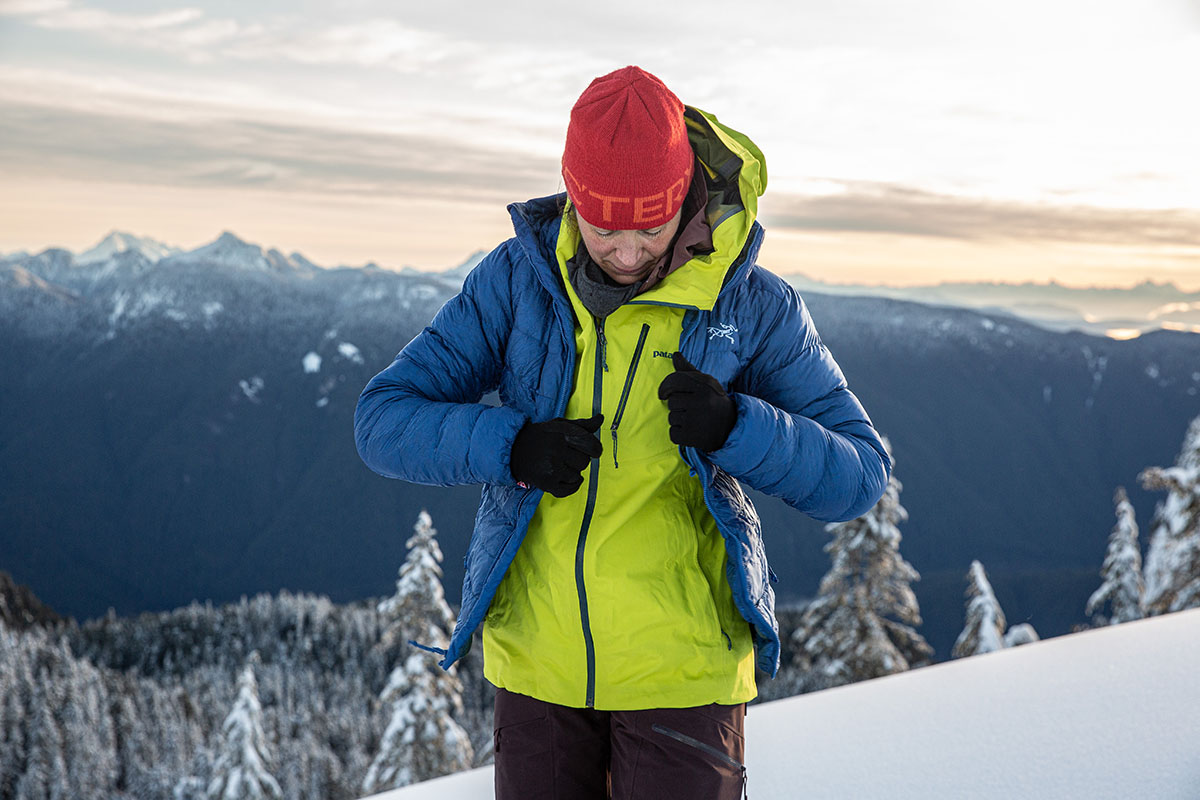 Sustainability
Patagonia has long been a leader in environmental initiatives, and the SnowDrifter incorporates a couple of their key sustainability measures. Specifically, the shell uses 70-percent-recycled polyester, and the jacket is also Fair Trade Certified sewn. This indicates that Patagonia put extra money into production to ensure that workers are being compensated fairly and have access to healthcare programs, childcare services, and more (you can read more about the program here). There is room for improvement—Patagonia still employs fluorinated DWR that uses harmful chemicals, and the SnowDrifter isn't bluesign-approved—but we appreciate the brand's transparency and ongoing commitment to improving their line.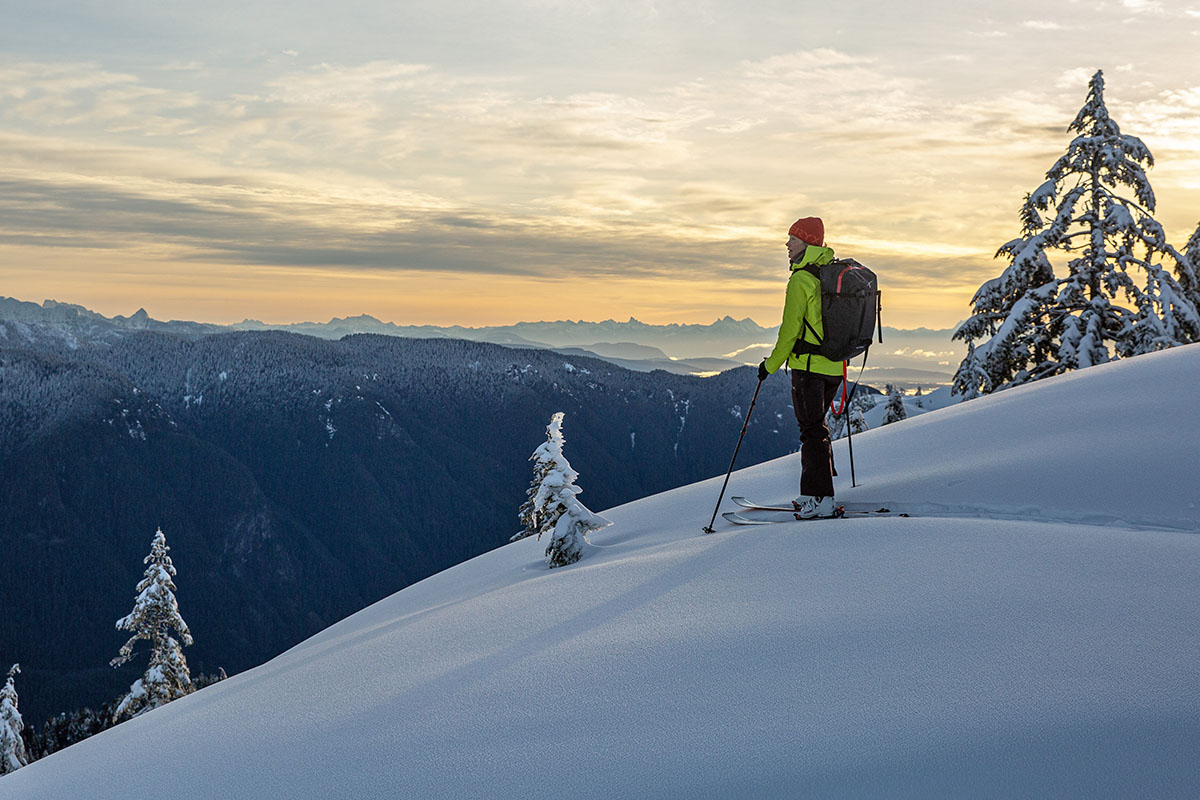 Other Versions of the Patagonia SnowDrifter
We took the women's SnowDrifter into early-season conditions in the Pacific Northwest, and Patagonia makes a nearly identical men's version. The men's SnowDrifter Jacket costs the same at $399 and boasts a very similar feature set and construction, including a 3-layer H2No build, 75-denier face fabric, six total pockets, powder skirt, and adjustability at the hem, hood, and cuffs. The men's model weighs slightly more at 1 pound 4.7 ounces and comes in different colorways, but you can expect similar overall performance. Rounding out the collection, Patagonia makes SnowDrifter Bibs for both men and women, which retail for $349 and use the same stretchy H2No build with a soft knit backer.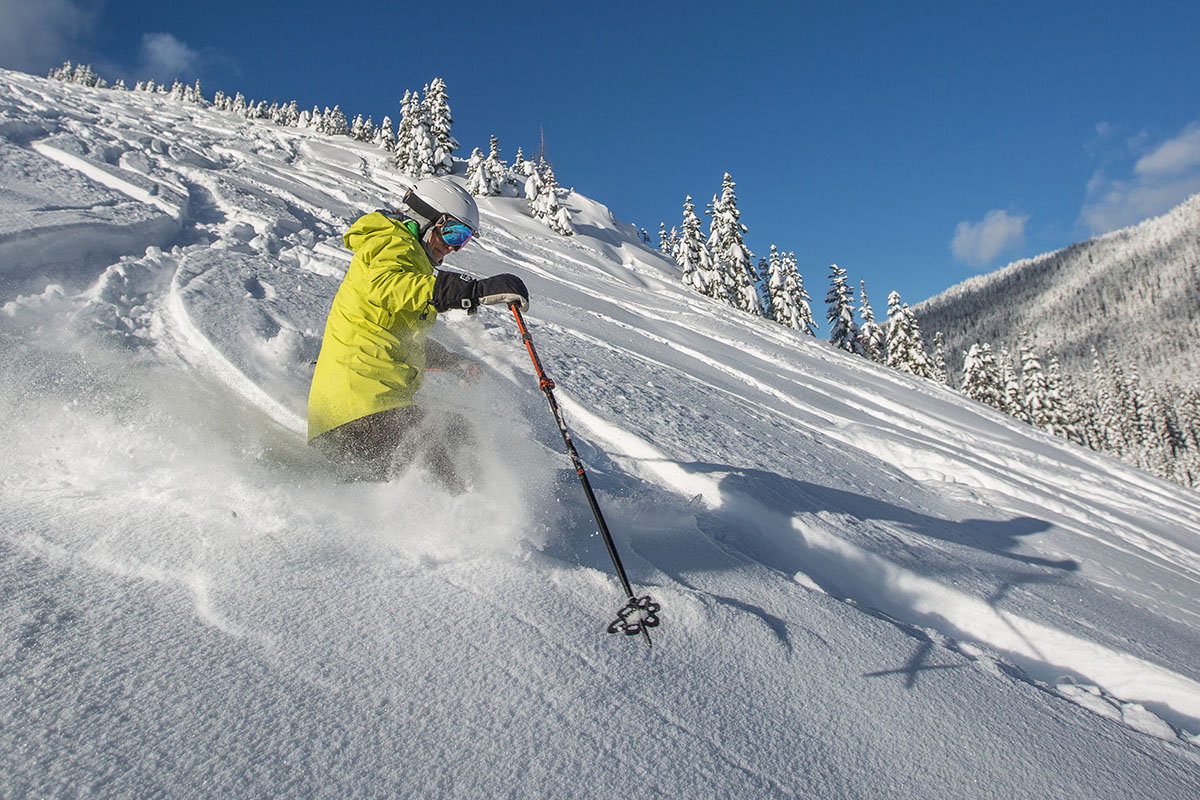 What We Like
With an in-house H2No build and soft polyester knit backer, the SnowDrifter is impressively stretchy, comfortable, and breathable for long days in the backcountry.
Good balance of features (particularly the well-designed storage), weight, and packability.
A solid value at $399, especially considering how well-made and long-lasting Patagonia gear is (and they have a great warranty).
We appreciate Patagonia's commitment to sustainable practices, and the SnowDrifter is a reflection of their efforts with recycled materials and Fair Trade Certification.

What We Don't
Despite its relatively robust, 75-denier construction and solid wet-weather performance thus far, the SnowDrifter feels less impenetrable than similarly built Gore-Tex shells.
Hood and hem adjustments are hard to toggle with gloves on.
Lack of chin guard means the main zipper can feel abrasive against windburned skin.


Comparison Table

The Competition
Patagonia's SnowDrifter impressed us with its comfort and breathability, but the brand has a few other capable options for those who like to venture deep into the backcountry. New for 2021, the Stormstride Jacket is an intriguing alternative with a very similar build. Like the SnowDrifter, the Stormstride uses a 3-layer H2No construction and polyester knit backer for softshell-like comfort and mobility. In parsing out the differences, the Stormstride is lighter by around 3 ounces, and its woven shell offers a bit more "give," but you compromise on durability and organization with a relatively thin 40-denier shell and no hand pockets. For $100 less, we think the SnowDrifter is more well-rounded and the better value, but the Stormstride's lower weight and added stretch are enticing for committed backcountry enthusiasts.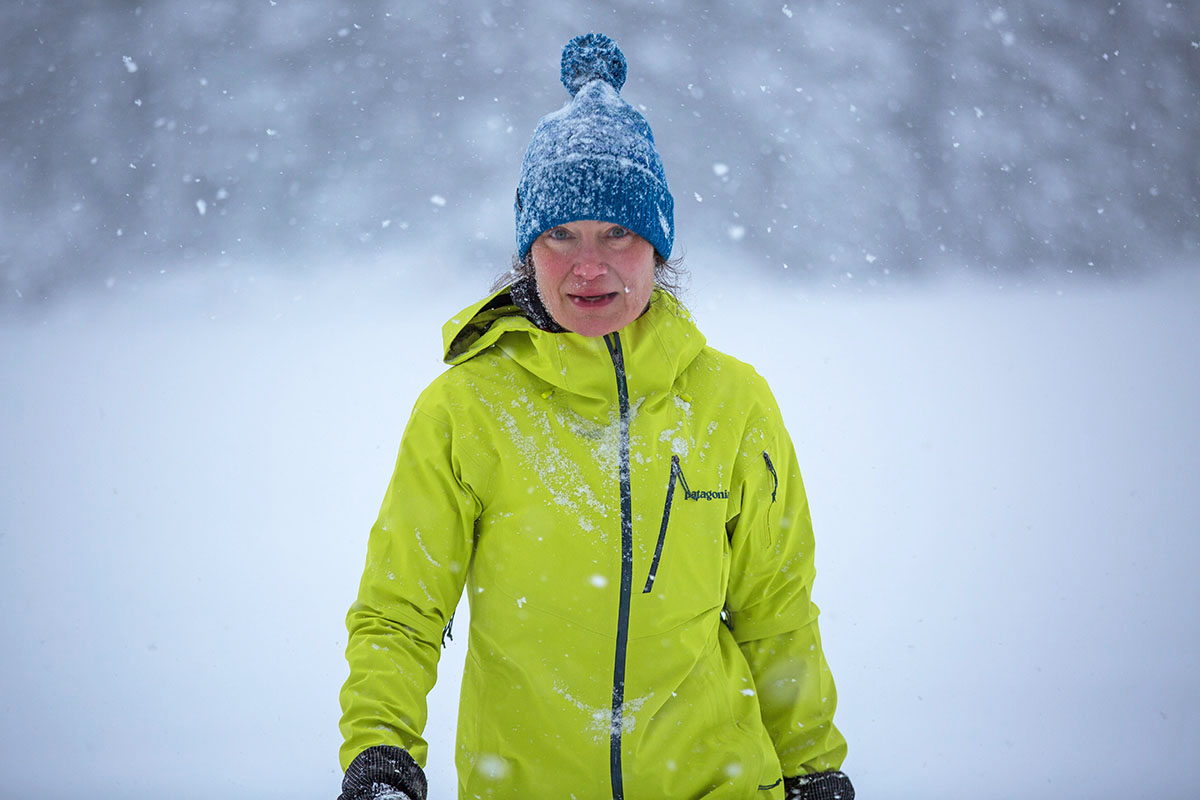 Another Patagonia option to consider is the PowSlayer Jacket, which sits at the very top of their touring lineup at $699. What do you get by spending up? First and foremost, the PowSlayer boasts an upgraded, 3-layer Gore-Tex Pro construction that offers unmatched protection against the elements. You also get more organization with eight total pockets at a nearly identical weight (1 lb. 2.4 oz.). That said, the PowSlayer is noticeably crinkly and stiff and uses a less hardwearing 40-denier face fabric. Cost aside, both are well-made and highly capable backcountry shells, and a final decision will come down to how you prioritize all-out protection (the PowSlayer gets the edge) versus comfort and breathability (the SnowDrifter wins out).
Outside of Patagonia's lineup, Outdoor Research makes a similar design to the SnowDrifter in their Skyward II Jacket. Like the Patagonia, the Skyward uses OR's in-house AscentShell membrane, which we've found to be impressively stretchy and mobile but still fully waterproof (although it's still a step down in all-out wind and water protection from premium Gore-Tex). We also love the unique, poncho-style venting system, which opens from the hem to the bicep and allows excellent airflow on high-output days. The Skyward is heavier than the SnowDrifter by around 4 ounces, doesn't have a powder skirt, uses a thinner 50-denier construction, and runs shorter down the back by around 2 inches, but the comfort and breathability are hard to beat. For around $50 less than the SnowDrifter, we consider the Skyward an excellent value and the best backcountry ski jacket currently on the market.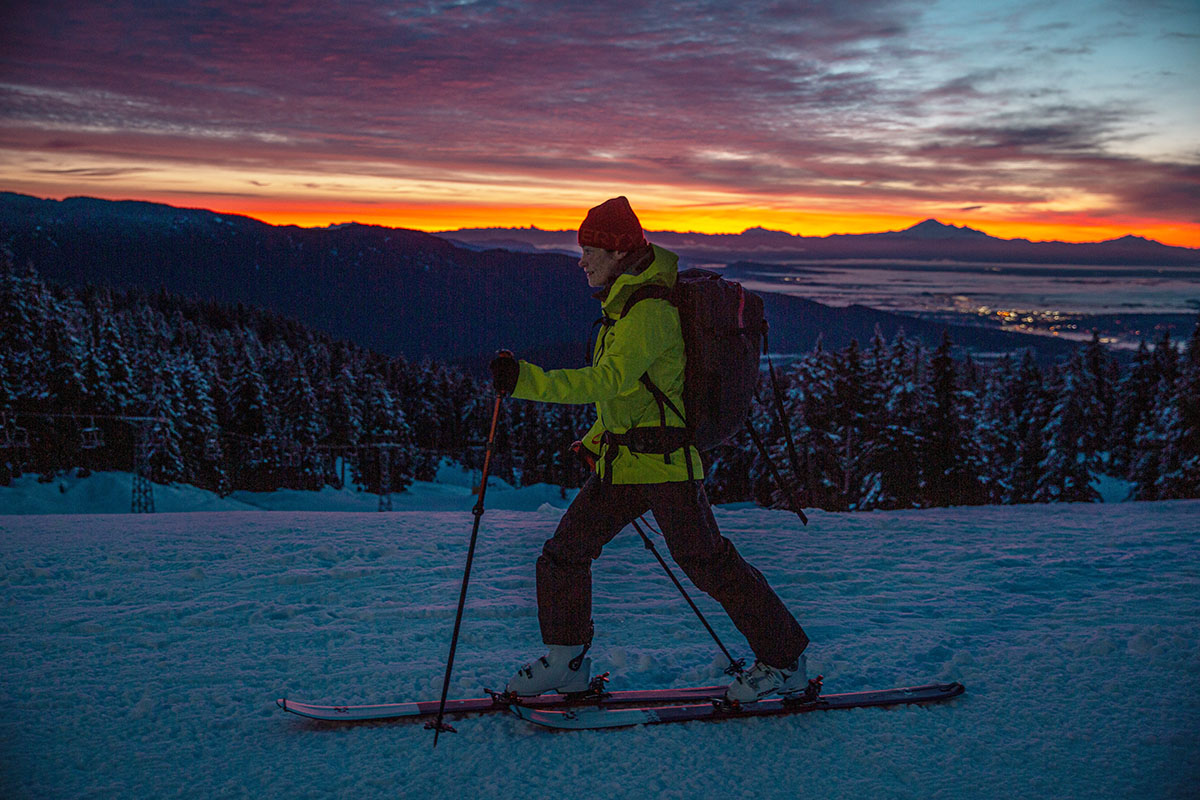 Another jacket that impressed us recently was Flylow Gear's new-for-2021 Lucy (and men's Malone). Like the SnowDrifter, the Lucy is incredibly soft and breathable like a softshell but still offers great all-around protection thanks to a 3-layer waterproof build. It's also an strong value at $400 and checks in around the same weight at 1 pound 3.5 ounces. That said, we had a couple of notable gripes with the Lucy, including the lack of internal dump pocket (helpful for stowing skins, goggles, etc.) and restriction to movement at the collar/neck area with the hood up and jacket fully zipped. For the same price, the Patagonia strikes us as the slightly better-built shell, but the Lucy isn't far behind and is offered in more attractive colorways.
Last but not least, we'd be remiss to leave out Arc'teryx's venerable Sentinel (and men's Sabre) collection, including the freeride-focused Sentinel LT. Right off the bat, we'll note that the Sentinel is another ultra-premium design at $699, but it comes with a host of upgrades. First and foremost, the Arc'teryx boasts a more protective 3-layer Gore-Tex build along with Gore's C-Knit backer technology for added comfort. You also get a more durable, 80-denier construction and similar overall feature set for around the same weight (the Sentinel is less than 2 oz. heavier). The SnowDrifter pulls ahead slightly in breathability, but for extreme weather and truly inclement alpine conditions, the choice is clear: go with the more durable and storm-ready Sentinel.
If you're thinking about buying gear that we've reviewed on Switchback Travel, you can help support us in the process. Just click on any of the seller links above, and if you make a purchase, we receive a small percentage of the transaction. The cost of the product is the same to you but this helps us continue to test and write about outdoor gear. Thanks and we appreciate your support!
Depending on the seller, most products ship free in the United States on orders of $50 or more. International shipping availability and rates vary by seller. The pricing information on this page is updated hourly but we are not responsible for inaccuracies.
Learn More About Ski Gear