Patagonia's leading resort jacket is their Snowshot (and women's Snowbelle), but their pricier Powder Bowl line offers a notable step up in all-mountain performance. We put the uninsulated men's Powder Bowl to the test in Washington State and along B.C.'s aptly named Powder Highway during a particularly stormy stretch of the season. The verdict: despite the $399 price tag and fairly shapeless fit, this jacket is well-made, breathes nicely, and is a highly effective barrier against the elements. Below we break down the Powder Bowl's weather protection, comfort, breathability, durability, weight, fit and sizing, and more. To see how it stacks up to the competition, see our article on the best ski jackets. 

Performance
Weather Protection
As Patagonia's mid-range resort offering, the Powder Bowl Jacket packs in a quality and highly weather-protective design. First, you get a proven 2-layer Gore-Tex construction, thick face fabric, and effective durable water repellent (DWR) coating that has shed everything from wet and heavy snow to light powder. We wore the jacket in dream conditions at B.C.'s Whitewater Resort with a couple feet of soft snow on the ground and a few inches refilling throughout the day. In practice, the Powder Bowl fended off snowfall and blocked the moderate winds with ease. In fact, what stood out most was how similar it felt to our current favorite shell, Arc'teryx's Sabre AR (which costs over $200 more).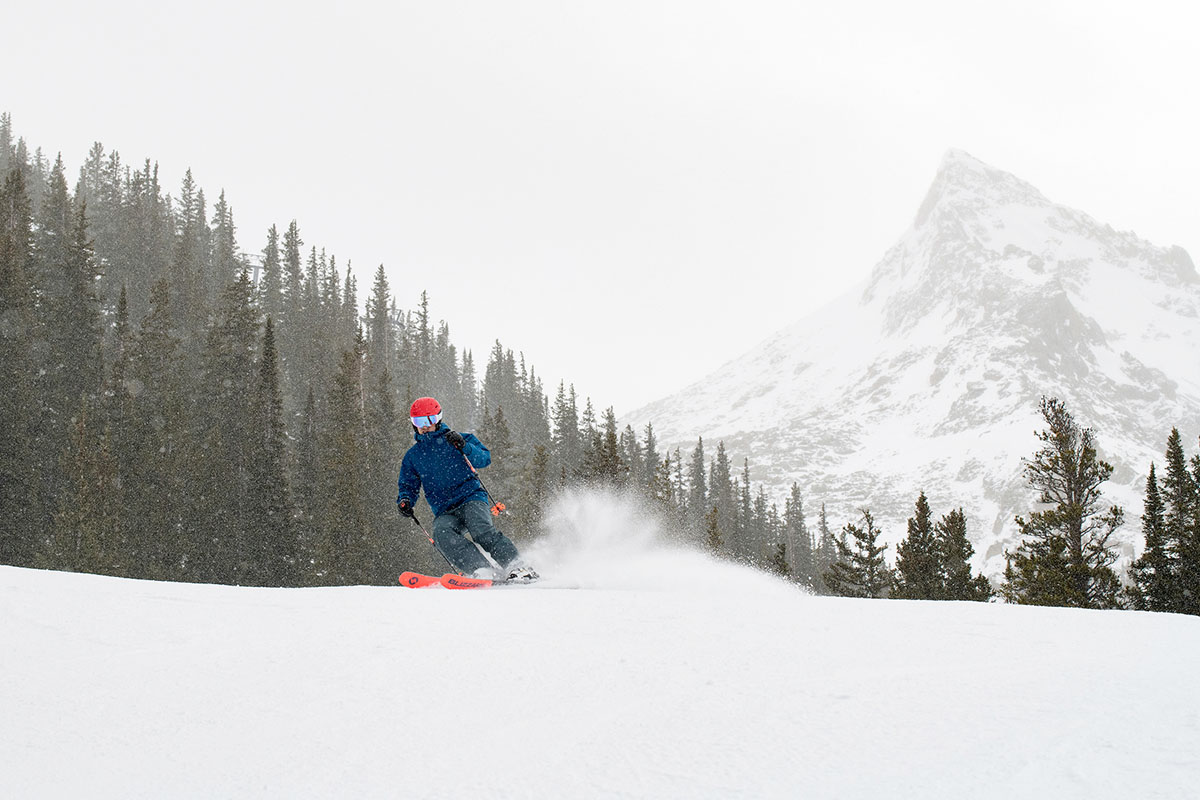 The rest of the design is equally well-executed for protecting against the elements. The jacket does a great job sealing out moisture without resorting to an overly heavy build or feel—particularly impressive given its cheaper 2-layer construction—and the fairly tall collar and adjustable hood cinch effectively around the face to maximize coverage. You also get an adjustable hem, a powder skirt to seal out snow at the hem, and Velcro wrist cinches that snug down nicely over both undercuff ski gloves or around the wrists below gauntlet-style mitts. Plus, the exposed zippers used for the main zip as well as the some of the pockets feature a water-resistant coating that hasn't leaked throughout testing. Added up, the Powder Bowl is an very capable barrier against harsh weather.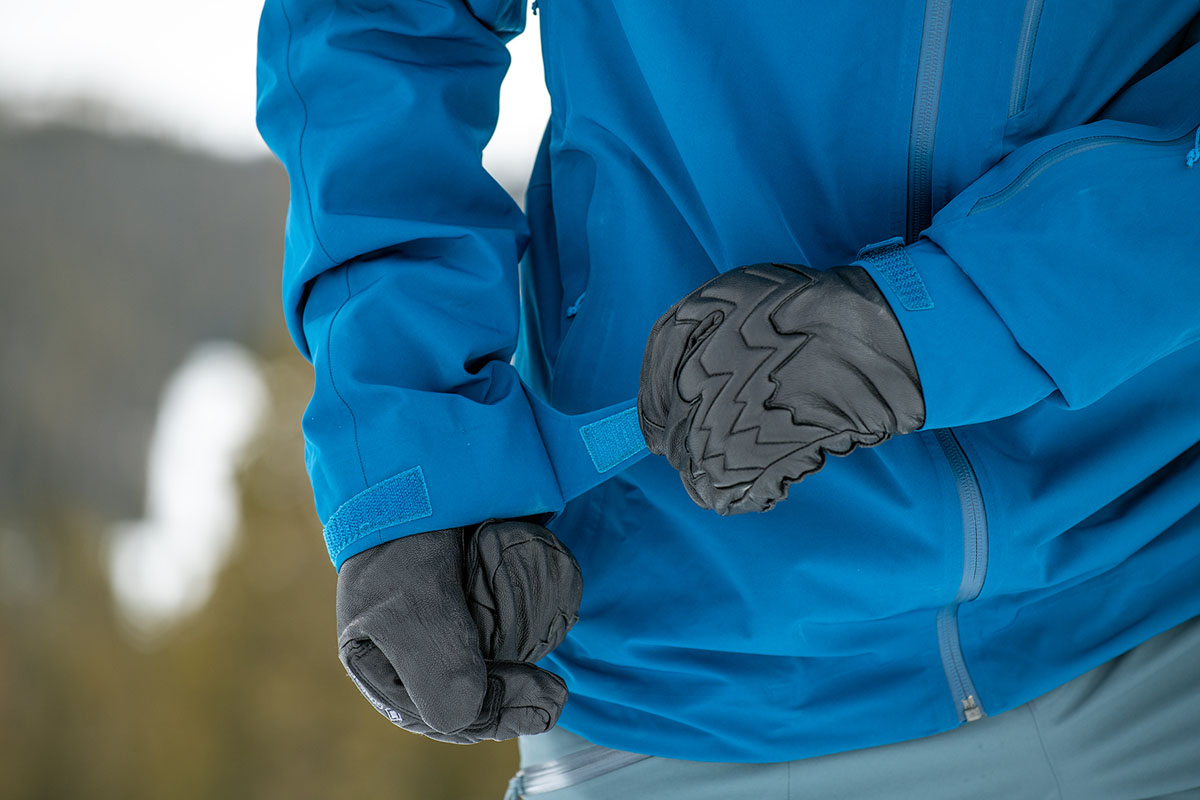 Comfort
Considering its price falls at the high end among mid-range, uninsulated jackets, we were a little disappointed by the Powder Bowl's all-around comfort. It's not to say the jacket isn't nice to wear and includes plenty of quality touches, but the mesh lining that covers most of the interior is far less plush and comfortable than competitors like the soft and stretchy Helly Hansen Alpha 3.0. Along with its regular and somewhat boxy fit, the jacket doesn't move with you as well as the trimmer-fitting Alpha or even a model with similar space for layering like the Arc'teryx Sabre AR. And while we appreciate the soft-touch material along the back of the neck, the interior of the collar doesn't get the same cozy material, which is a letdown when you bury your face on a cold chairlift. To be fair, these are relatively minor gripes, and most will find the jacket comfortable, but it does come up a little short when worn back-to-back with some of our favorite resort shells.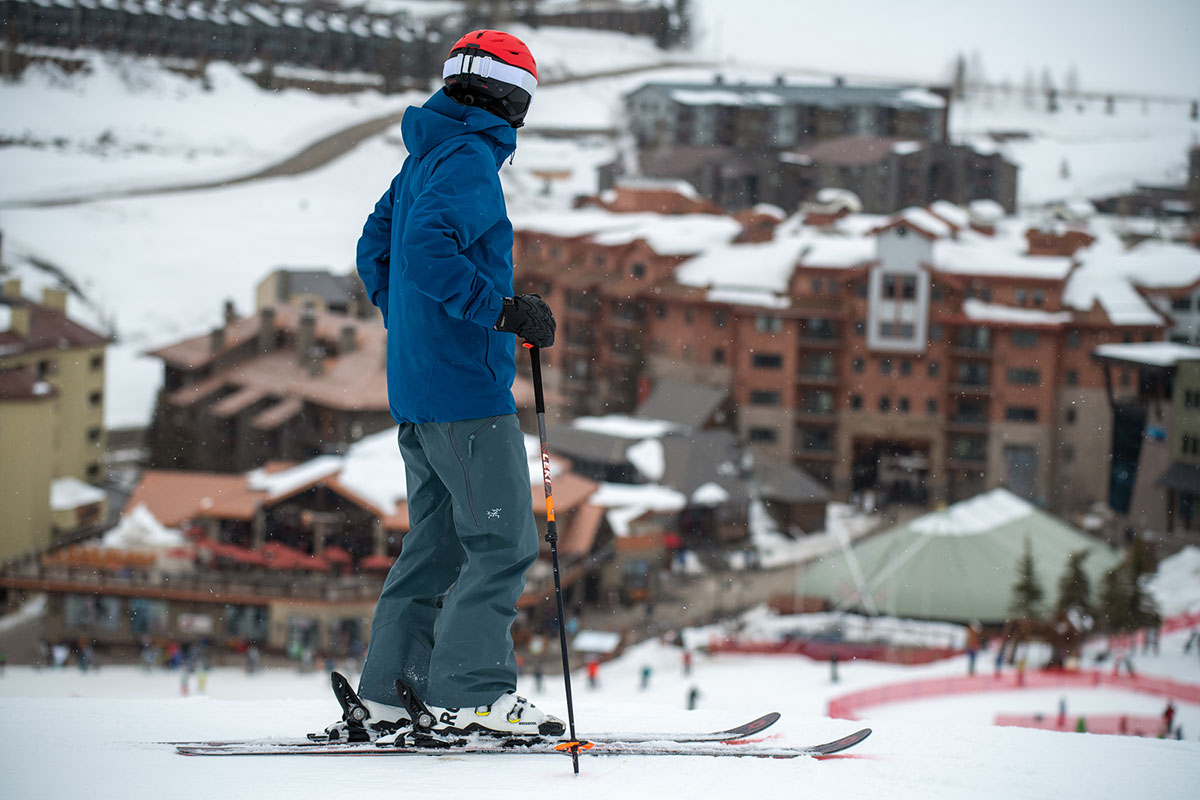 Breathability 
Where the Powder Bowl surprised us most was how adept it was at handling sidecountry hikes. To be clear, this is still a dedicated resort piece and shouldn't be confused for a highly breathable hardshell jacket, but on cold days and with the pit zips open, I had few complaints about overheating on numerous 15- to 20-minute, steep climbs. In addition, even though it uses 2-layer Gore-Tex (as opposed to a better-breathing 3-layer design), the mesh-lined interior proved to be decently effective at keeping it from feeling swampy in mild temperatures. I'd like to see longer openings for the pit zips to dump heat even more easily—these are fairly short, running from midway up the chest to the bicep—but it's a small complaint, and they still helped regulate temperature decently well.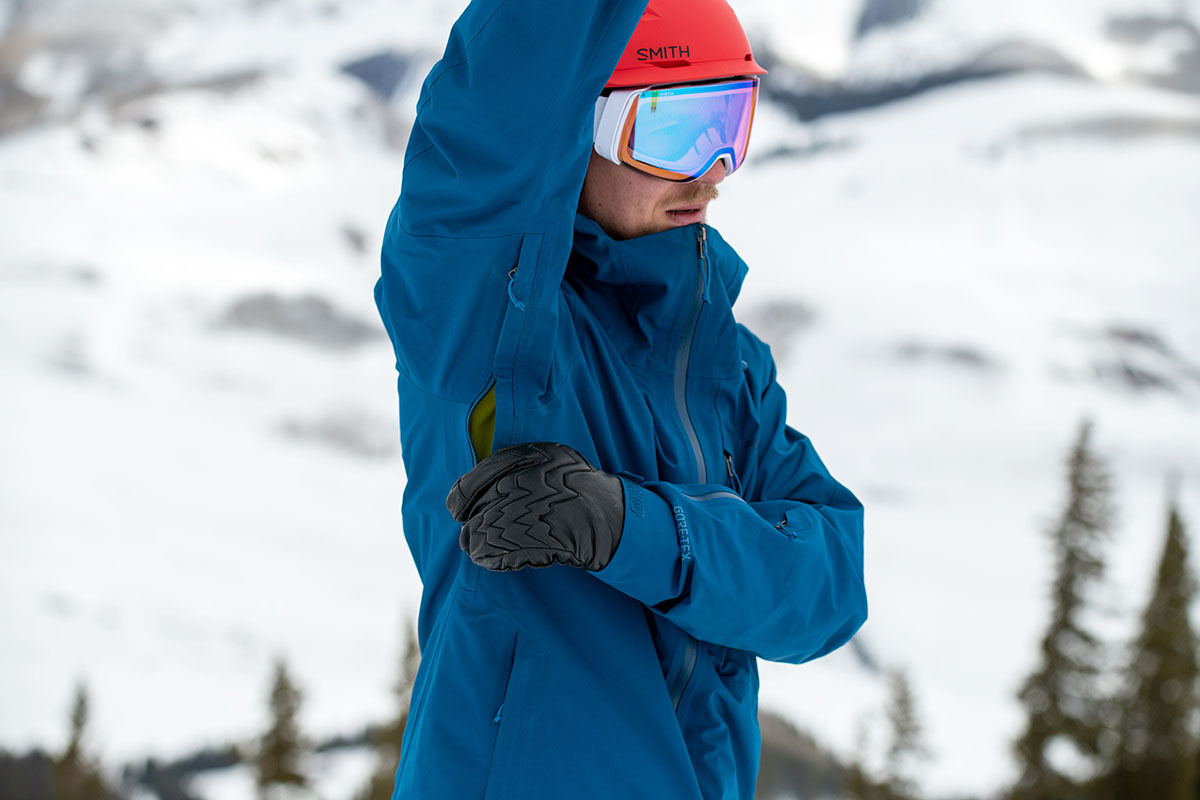 Build Quality and Durability
Patagonia pieces rarely disappoint from a build quality standpoint, and the Powder Bowl Jacket is no different. In general, the jacket has a sturdy and very reliable build. The 150-denier shell is robust and substantial, and the Gore-Tex membrane is easy to trust in rough weather. As I touched on above, the mesh lining feels out of place with the rest of the design, but it hasn't ripped or torn and still looks like new. In addition, all of the zippers and drawcords are functioning flawlessly.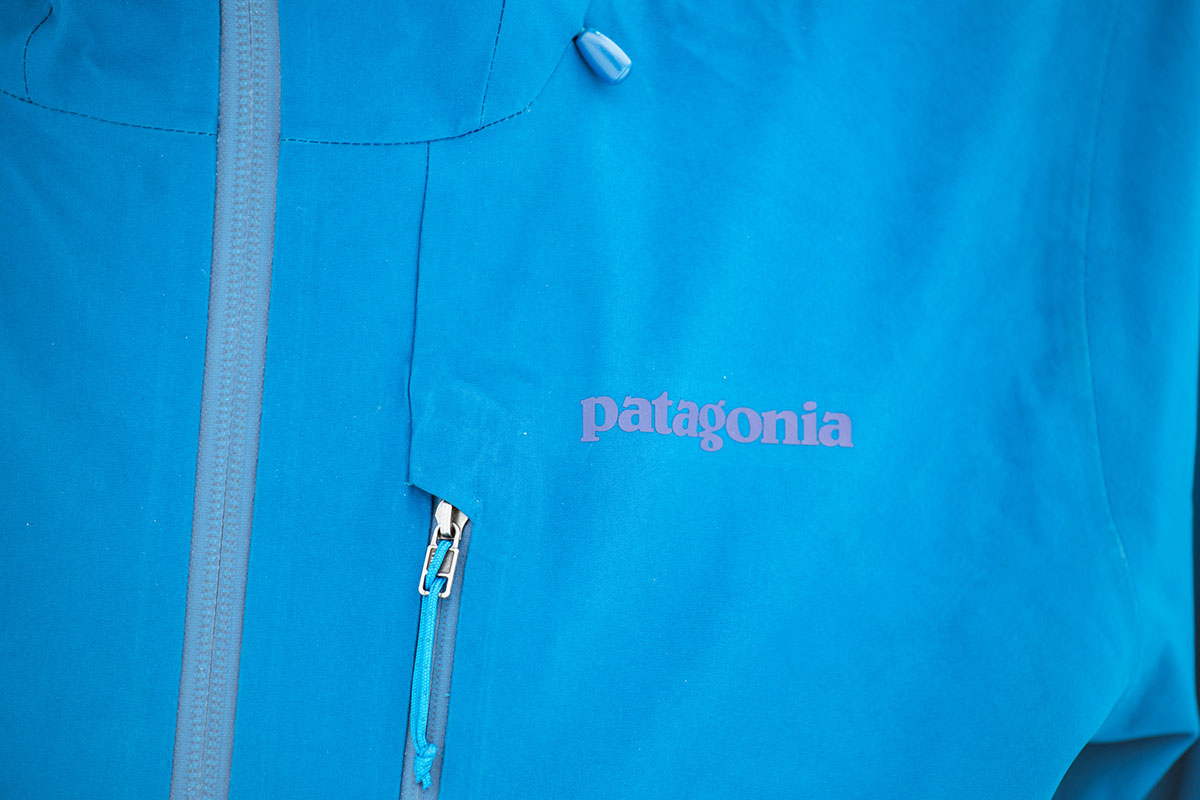 All that said, we do have a couple of fit and finish complaints. First and foremost, I'm not sure why Patagonia opted for such small zipper pulls, which make it challenging to open the pockets and pit zips when wearing gloves and are nearly impossible to use with mittens. Additionally, there are a couple signs of wear: the soft-touch material along the back of the neck is starting to pill, and the interior of the collar has darkened (likely from breathing on it). But everything else is holding up well, and I expect the Powder Bowl to have a decently long lifespan.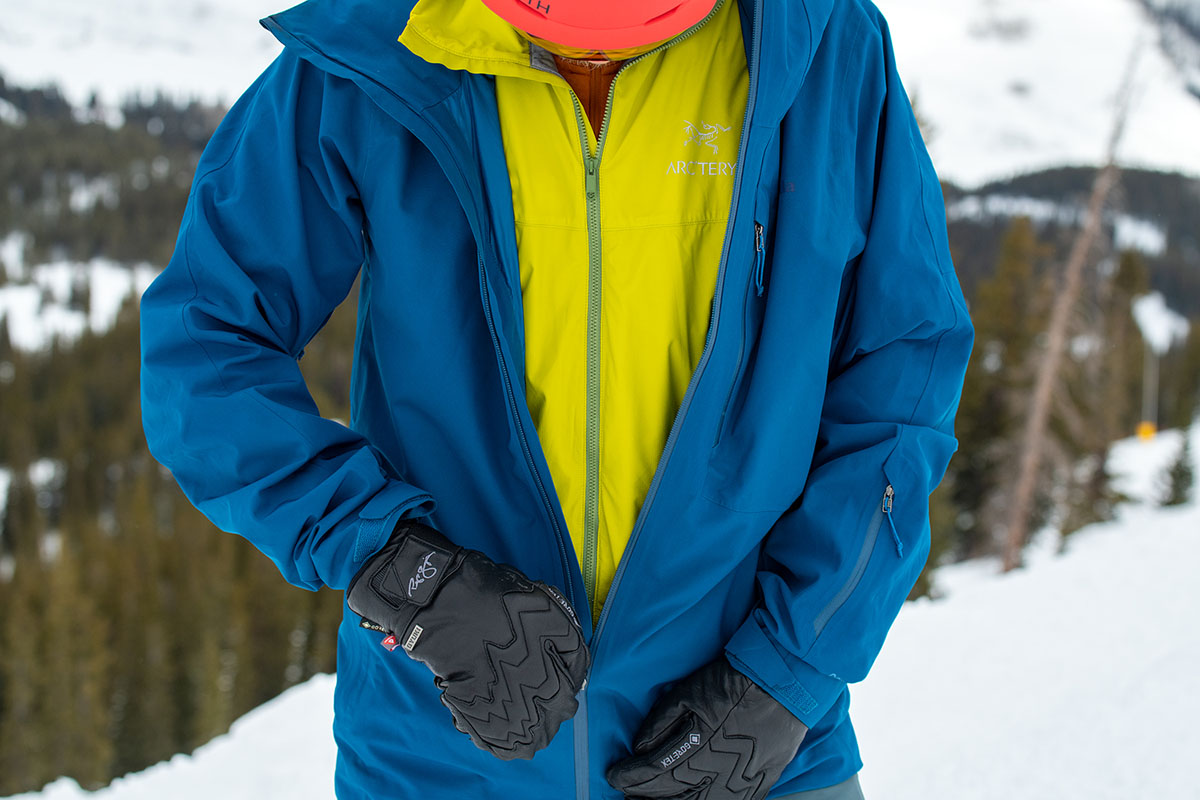 Weight
Our medium-sized uninsulated Powder Bowl clocked in at 2 pounds 0.9 ounces, which is little under its listed weight of 2 pounds 1.2 ounces. This puts it on the higher end of the spectrum within the larger uninsulated market. For reference, alternatives like the Arc'teryx Sabre AR (1 lb. 8.7 oz.), Flylow Gear Quantum Pro (1 lb. 7 oz.), and Marmot Spire (1 lb. 9 oz.) are noticeably lighter thanks to their 3-layer builds. However, the Powder Bowl is more on par with feature-rich designs like Mammut's Stoney HS (1 lb. 11.7 oz.) and Marmot's Refuge (2 lb. 1.2 oz.). In the end, even for shorter sidecountry hikes, we didn't feel it was excessively heavy. You can tell that it's a more substantial build (the 150D face fabric certainly plays a role), but the Powder Bowl is plenty nimble and went largely unnoticed most of the time.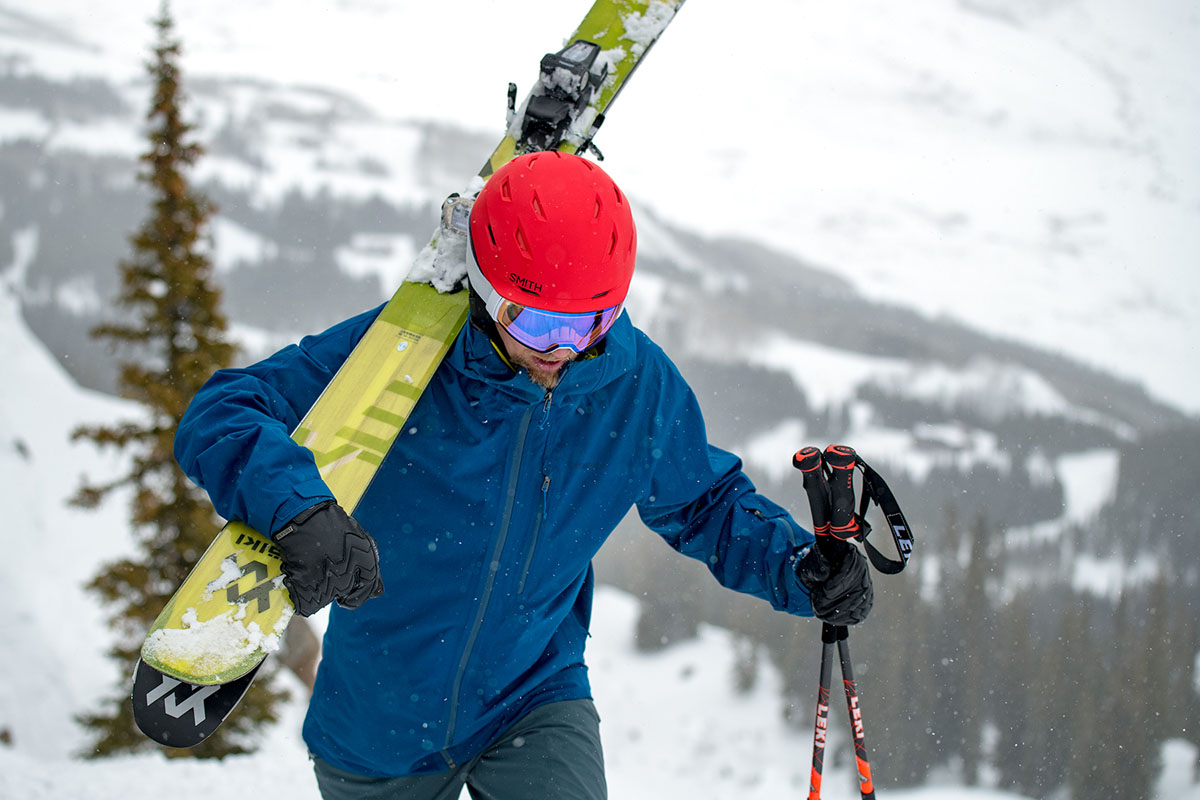 Key Features
Hood
Overall, we found the Powder Bowl's hood to be effective in just about all conditions. It cinches easily with a single drawcord at the back and dual adjustments at the front that secure along each side of the face. It does leave a little more of the cheeks exposed than alternatives like Arc'teryx's StormHood found on models like their Sabre AR, and the bill is somewhat small, but otherwise it's solid, protective, and secure. In the end, we had no issues fitting the hood over our primary ski helmets (POC Obex and Smith Level in medium sizes). Side-to-side movement is also decent—like most jackets, it pinches if you turn your head a lot—but this was only a small annoyance when checking uphill before starting off. And for snowboarders, our tester didn't experience any noticeable drag while riding with the hood down. Finally, if you're considering the insulated Powder Bowl, it's worth noting that the hood is removable.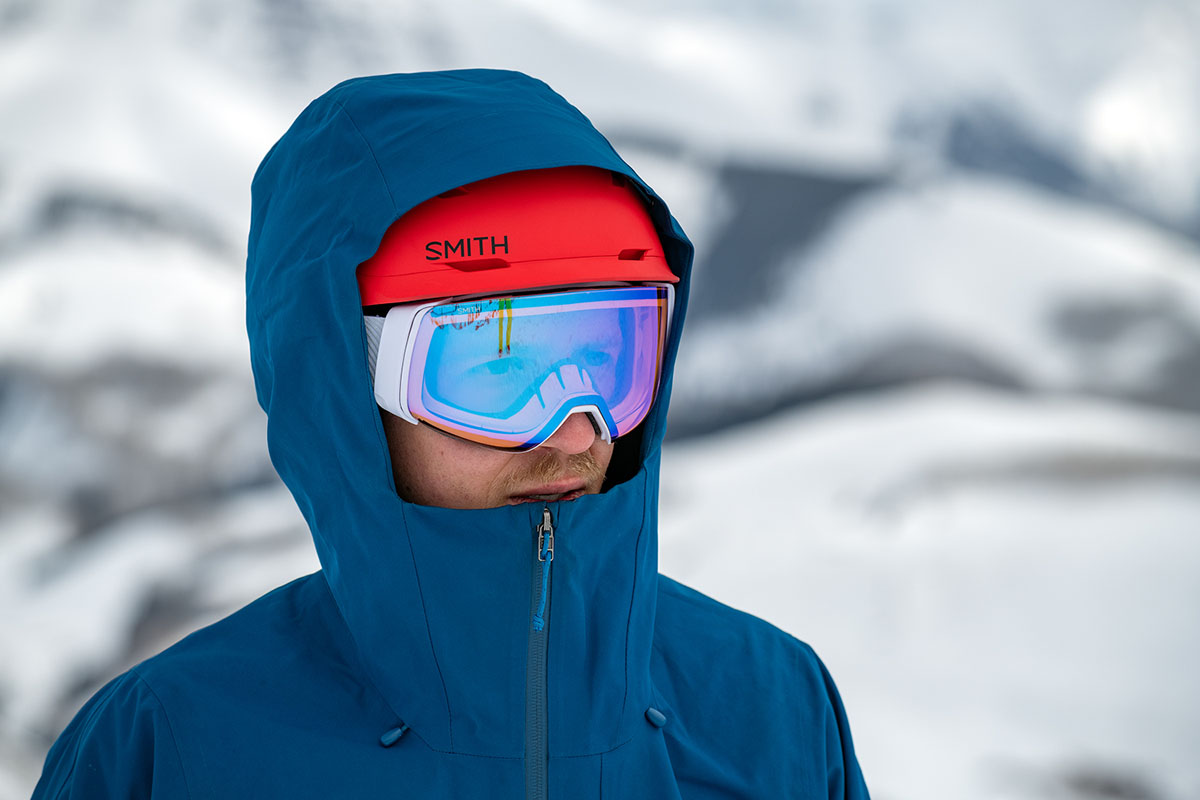 Storage: Pockets
As Patagonia's core all-mountain offering, the Powder Bowl includes a nice array of storage options. Along the exterior, you get dual hand pockets (these house the cinch cords for the hem), a small forearm pocket on the left for keeping a ski pass, and a single zippered chest pocket. We used this chest pocket for storing our cell phone, and it proved to be nice and secure. On one occasion, we even left the zipper open for an entire run into a sidecountry powder stash and it still managed to keep the phone inside. There's also a small zippered space inside this chest pocket with an exit port for headphones, but we found it to be much too small to fit our larger iPhone 11. As mentioned above, our only real complaint with the exterior pockets are the small zipper pulls, which are a real challenge to grip and use with gloves on. Finally, the interior of the jacket includes a zippered drop-in style pocket with a key clip on one side and an open-top mesh dump pocket on the other for stashing ski goggles or gloves.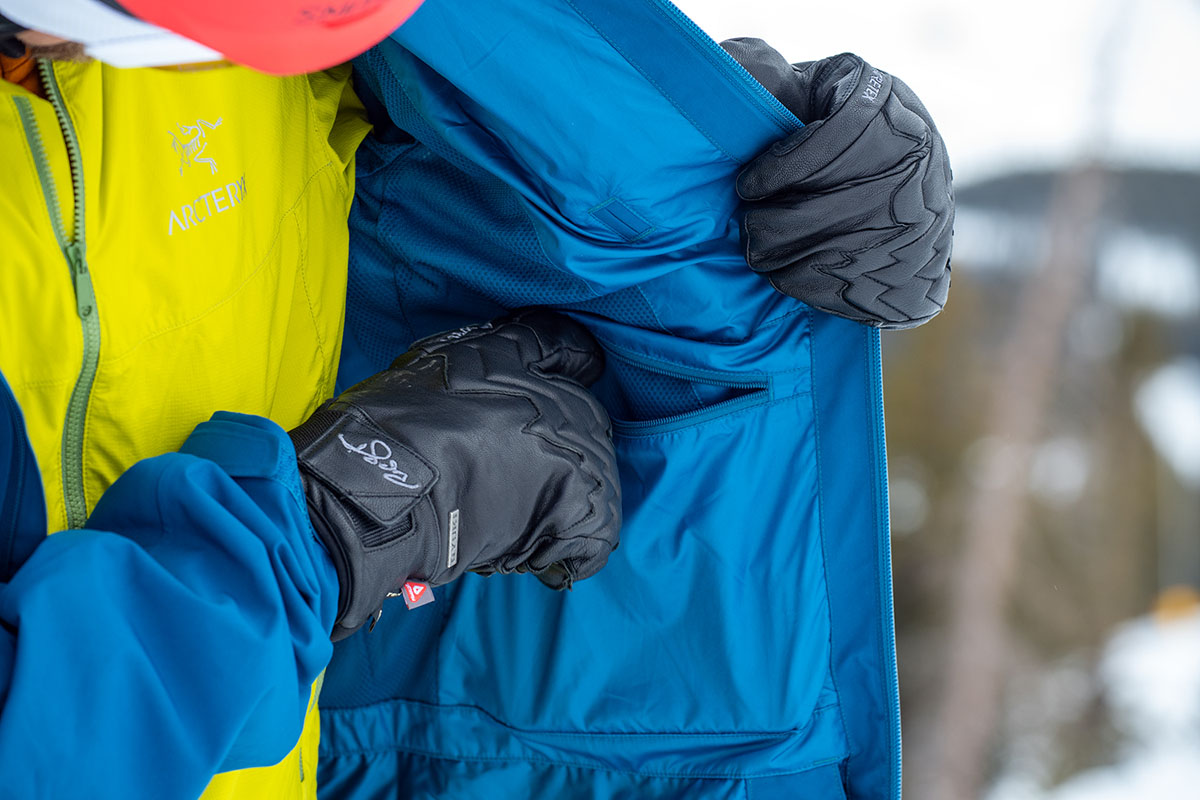 Powder Skirt
Like most resort-specific shells, the Patagonia Powder Bowl includes a powder skirt for sealing out snow at the hem. The low-profile design cinches evenly with dual adjusters and includes a fabric loop that can be used to connect it to a compatible Patagonia ski pant (all their current ski-specific pieces include this feature). And if you opt not to use the skirt, it can be buttoned on each side to the interior of the jacket, which effectively keeps it from flopping around or bunching up while you're riding.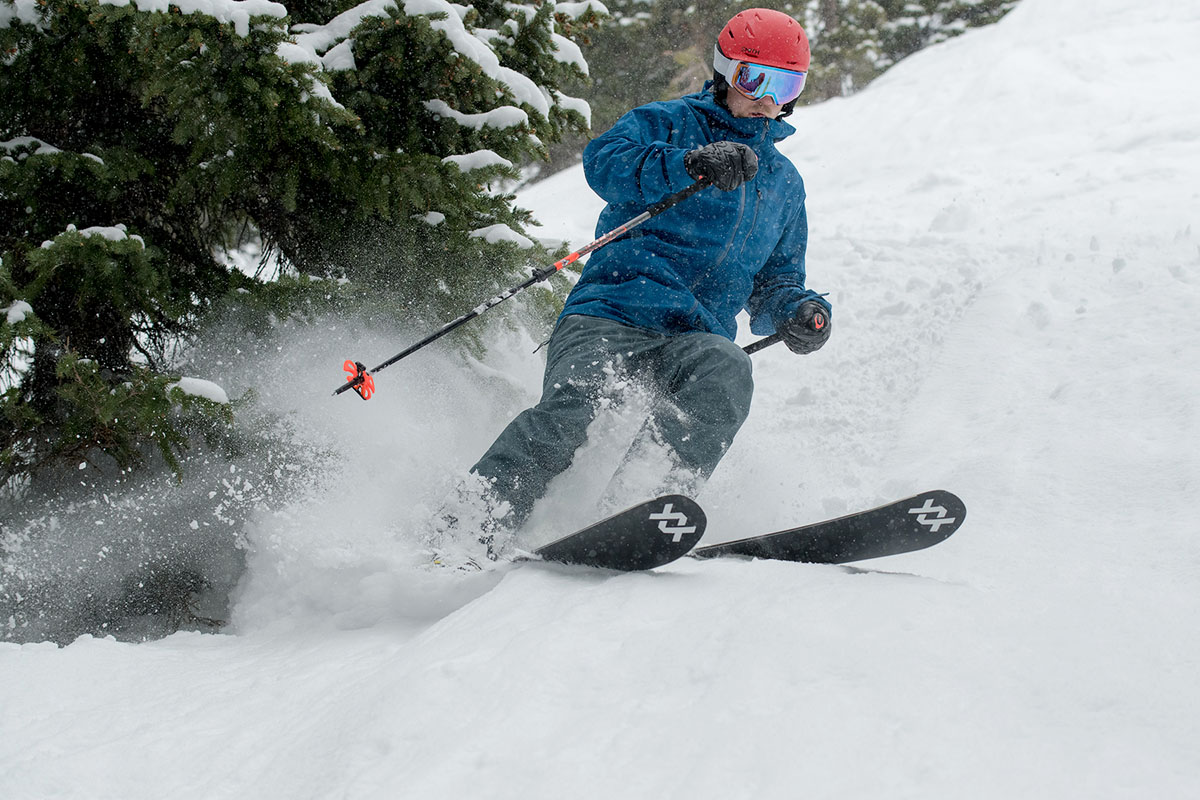 Fit and Sizing
Both of our testers (5'9" and 155 lbs. and 6' and 165 lbs.) found their usual size medium in the Powder Bowl to be a little on the big side. In the end, it was easy to wear a wide variety of midlayer jackets underneath without being restrictive, but the cut was fairly shapeless and boxy. This likely won't be an issue for most riders (and we recommend sticking to your standard size), but we prefer the more tailored fits on alternatives like the Mammut Stoney (for a trim cut) and Arc'teryx's Sabre AR (for a larger, more accommodating fit). That said, we did like the center back length (31 in.), which offered ample coverage for sitting on a frigid chairlift or when strapping in on a snowboard.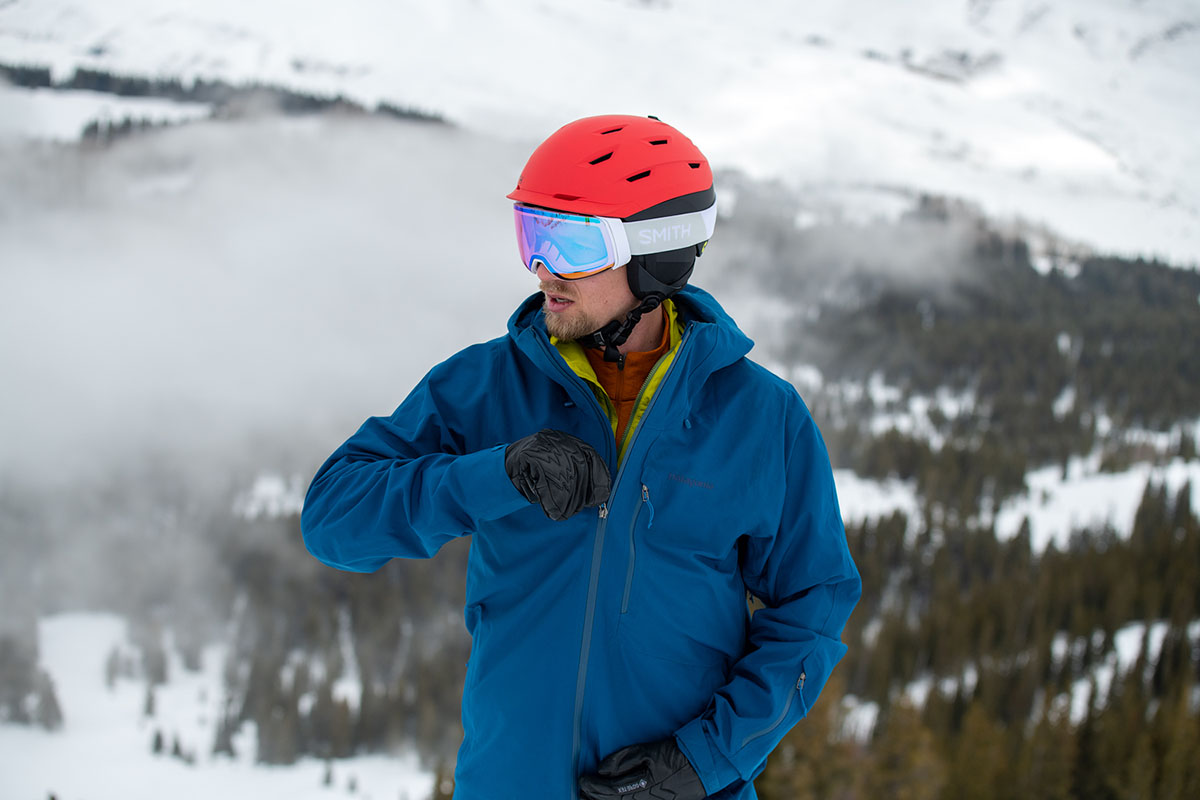 Sustainability: Recycled, Bluesign-Approved Fabrics and Fair Trade Certification
Patagonia has taken a number of steps toward making their products more sustainable of late, and this is readily apparent with the Powder Bowl Jacket. For starters, the jacket's Gore-Tex fabric is a 100-percent-recycled polyester, and all materials are bluesign-approved. This means that the chemicals and materials used during production are safe for the environment, workers, and consumers. Finally, the jacket is Fair Trade Certified sewn, indicating that Patagonia put extra money into the jacket's manufacturing—this goes directly to workers to spend on healthcare, childcare services, and funding other community projects. Added up, we really appreciate the extra measures that Patagonia has taken on the sustainability front and think they only add to the jacket's overall quality and appeal.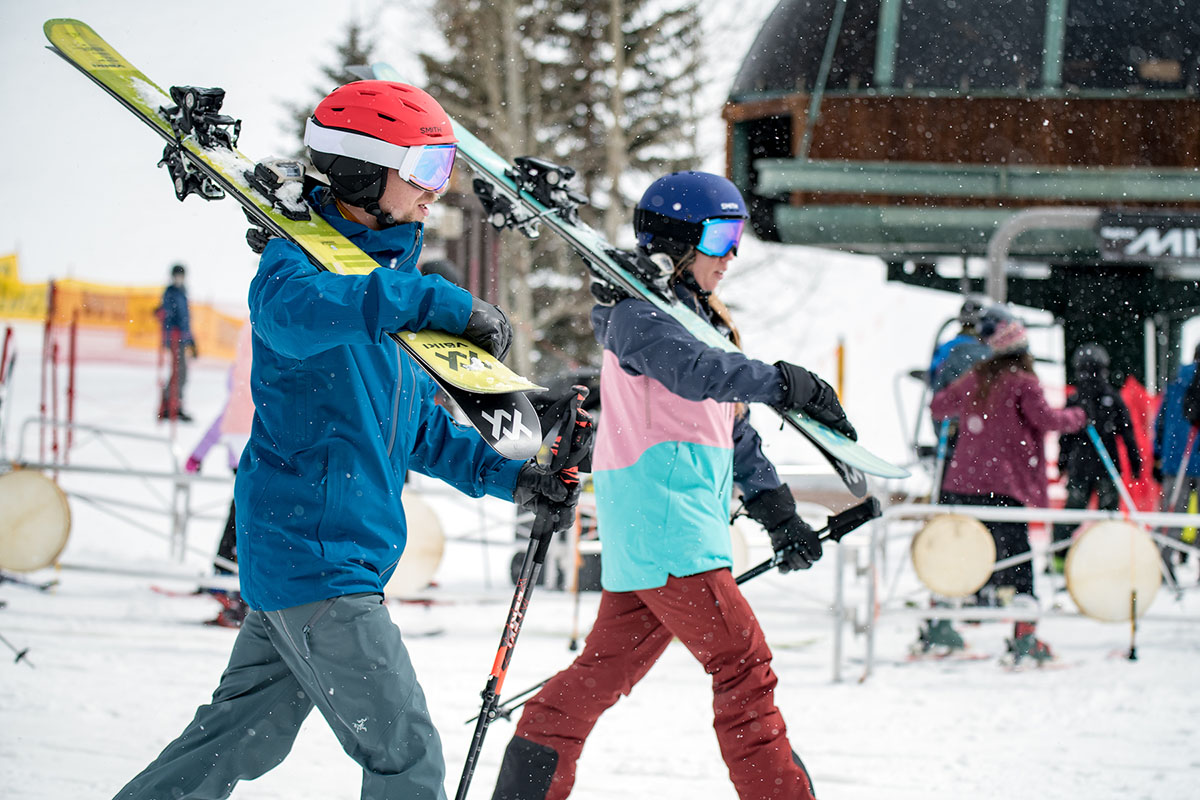 Other Versions of the Patagonia Powder Bowl
We put the men's uninsulated Powder Bowl Jacket to the test for this review, and Patagonia makes a number of other variations in the collection. The women's version of the jacket is identical in features, price, and overall construction but clocks in lighter at 1 pound 12.7 ounces and is sold in different colorways (three at the time of publishing). Additionally, the lineup also includes insulated versions of the jacket for both men and women, which cost $479 and use the same 2-layer Gore-Tex construction but add in a mix of 60- and 100-gram Thermogreen synthetic insulation for a boost in warmth (the men's model weighs 2 lbs. 6.2 oz.). Rounding out the Powder Bowl lineup are insulated and non-insulated pants, which can be connected to the jacket's powder skirt for an integrated, one-piece feel.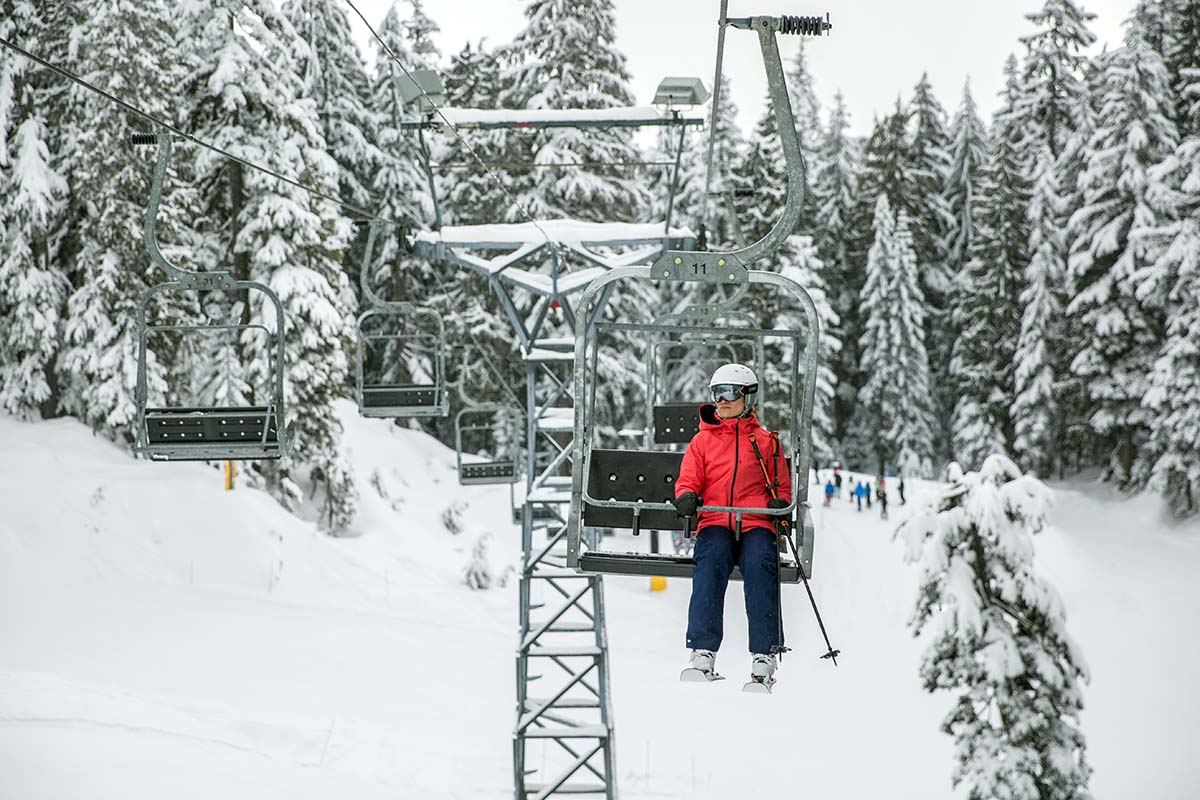 What We Like
With a 150-denier face fabric and proven Gore-Tex waterproofing, the Powder Bowl is noticeably burly and highly protective against the elements.
Despite the 2-layer design and robust fabrics, the jacket breathed well on short sidecountry hikes.
Full feature set including ample storage, an effective and nicely integrated powder skirt, and pit zips to dump heat quickly (although we wish the openings on these were a bit longer).

What We Don't
At $399, the Powder Bowl is pricey for an uninsulated, 2-layer design.
Fit is fairly shapeless and boxy.
Mesh lining that covers most of the interior is far less plush and comfortable than alternatives like the Outdoor Research Furio or Mammut's Stoney HS.


Comparison Table

The Competition
Patagonia's Powder Bowl ski jacket hits a nice balance of durability, protection, and features for frequent resort-goers. As we mentioned above, their entry-level model is their popular Snowshot Jacket. Stacked up against the Powder Bowl, the uninsulated version of the Snowshot is $100 cheaper at $299, lighter at 1 pound 13.3 ounces, and similarly appointed with ample storage, pit zips, a powder skirt, and an adjustable, helmet-compatible hood. We also found the recycled polyester shell and lining to be surprisingly soft. That said, the step down in price also translates to a step down in performance: the Snowshot's 75-denier fabric isn't as hardwearing for frequent resort use, and the jacket uses an in-house, 2-layer construction (Patagonia's H2No) rather than more protective and premium Gore-Tex. For those who hit the slopes regularly, it may be worth spending up for the Powder Bowl.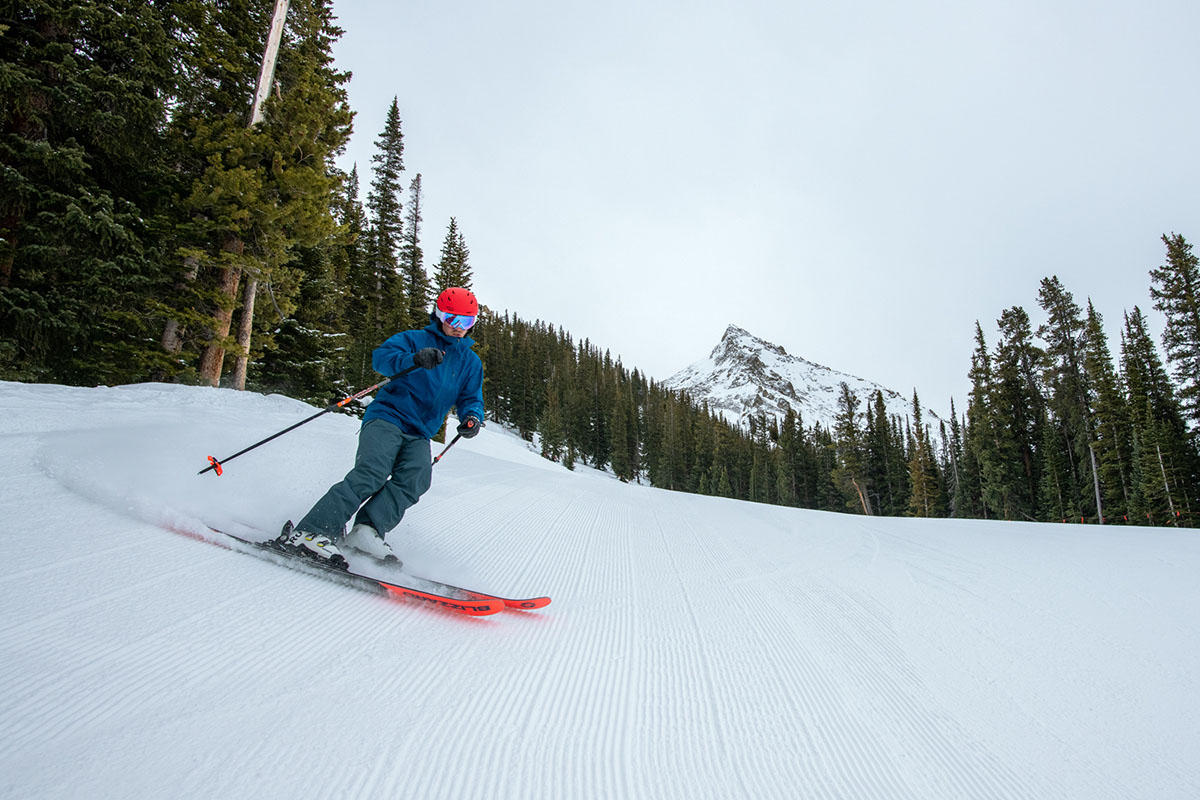 Another uninsulated design to consider is Mammut's Stoney HS Jacket. The Mammut is a bit more backcountry-ready thanks to its stretchy, 3-layer build that adds noticeable boosts in mobility and breathability. We also found all the features to be well-executed, including a functional powder skirt, large and highly adjustable hood, pit zips, plenty of storage, and glove-friendly zipper pulls (we had issues grabbing the Powder Bowl's smaller toggles with gloves). All that said, the Stoney uses in-house waterproofing that can't match the all-around protection of the Patagonia's proven Gore-Tex membrane and its collar was disappointingly short. In the end, we give the slight advantage to the $50-cheaper Patagonia for most resort-goers.
Flylow Gear's Quantum Pro Jacket is another intriguing alternative to the Powder Bowl. For around $20 more, you get a 3-layer design that we found to be highly weather-protective and effective at sealing out the elements. It's also lighter than the Patagonia at 1 pound 7 ounces and more feature-rich with a whopping eight pockets, including two hand pockets, two chest pockets, a dedicated pass pocket, and three stash pockets. That said, during testing, we found the in-house construction came up short in both breathability and comfort, with a rigid, traditional hardshell feel. For us, the Powder Bowl wins out in both performance and quality, and we think it's worth the weight penalty for those that spend most of their time inbounds.
Priced around the same as the Powder Bowl, Outdoor Research's Furio offers a step up in performance with a unique hybrid build. For waterproofing, the Furio uses a mix of 2-layer Gore-Tex Paclite Plus and 3-layer standard Gore-Tex (with Gore's soft C-Knit backer) that provides significantly better breathability than the Powder Bowl. The Furio is also lighter at 1 pound 4.7 ounces, nimbler for active skiers, and includes OR's standout TorsoFlo venting system (the pit zips extend from the hem to the bicep and open in a poncho-like design). You do sacrifice some durability with a 70-denier build, but the more breathable Furio gets the clear edge for those who regularly explore the sidecountry or head off-piste.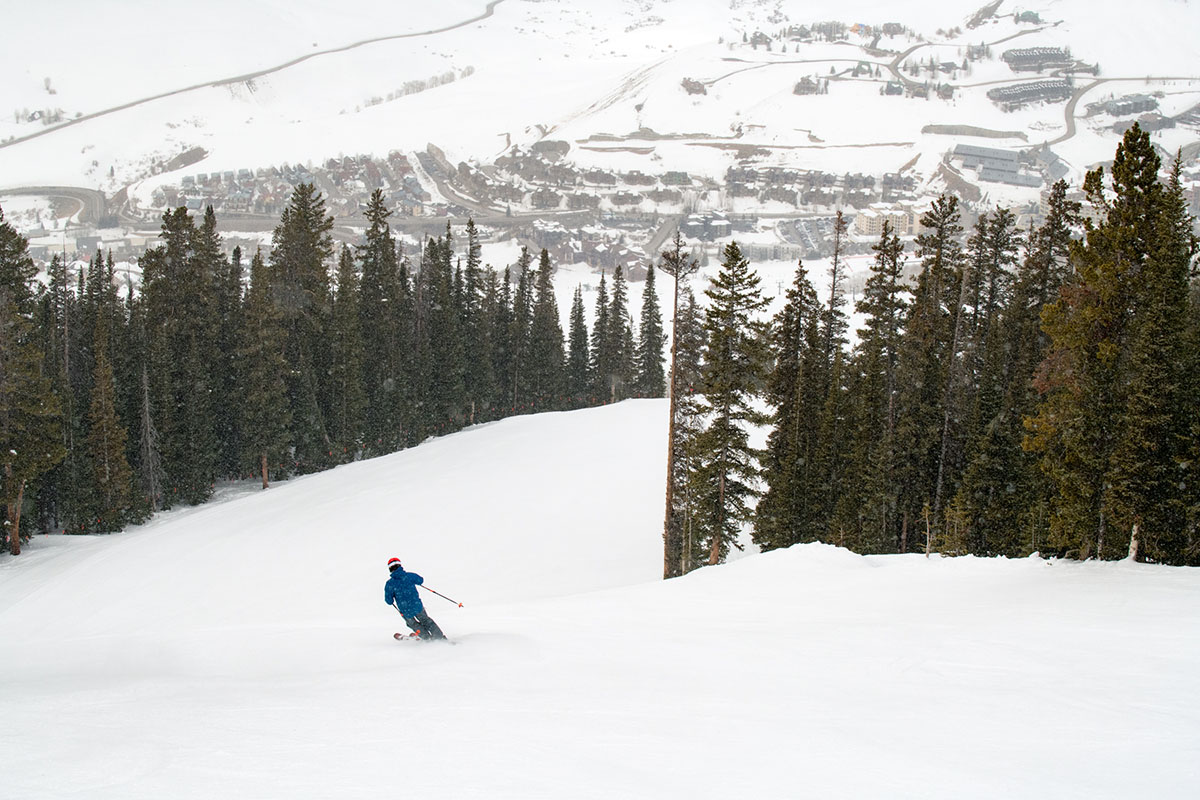 A final option to consider is our favorite all-around ski shell this year: the Arc'teryx Sabre AR. For around $275 more than the Powder Bowl, you get a major bump in overall performance, including a more breathable and protective 3-layer Gore-Tex build, lighter 1-pound-8.7-ounce weight, and a soft flannel backer for added comfort and warmth. The rest of the design shares a lot in common with the Patagonia, including ample storage, an effective powder skirt, pit zips, and a highly protective hood. The Patagonia gets the edge in durability with its more substantial, 150-denier face fabric (the Arc'teryx uses 70D), but we think the Sabre is the best all-rounder currently on the market and worth the added investment for dedicated resort skiers.
If you're thinking about buying gear that we've reviewed on Switchback Travel, you can help support us in the process. Just click on any of the seller links above, and if you make a purchase, we receive a small percentage of the transaction. The cost of the product is the same to you but this helps us continue to test and write about outdoor gear. Thanks and we appreciate your support!
Depending on the seller, most products ship free in the United States on orders of $50 or more. International shipping availability and rates vary by seller. The pricing information on this page is updated hourly but we are not responsible for inaccuracies.
Learn More About Ski Gear