Patagonia has been a front-runner in the active insulation market with the popular Nano-Air, but even that jacket can be overkill for sustained, high-output activities. Enter the Nano-Air Light Hybrid, with a panel of FullRange insulation on the front and a breathable stretch waffle knit on the back. This jacket still isn't ideal for moving fast in warm weather, but the Nano-Air Light Hybrid quickly became a favorite for running and ski touring in the cold and warming up before climbing on sunny spring days. Below we cover the Hybrid's unique design, breathability, warmth, weather protection, fit and sizing, and more. For more options in this category, see our article on the best synthetic jackets. 
 
Performance
Hybrid Design
Patagonia's Nano-Air Light Hybrid is just that: a hybrid with two different fabrics in play. The front panel is 40g FullRange insulation, slightly less than the 60g FullRange used in the original Nano-Air Jacket for greater breathability. On the back and under the arms is much thinner stretch waffle knit polyester. Patagonia affectionately refers to the jacket as their "midlayer mullet"—it's designed to provide both warmth and breathability for those moving quickly in the cold.

Before diving into the specifics, it's important to understand that the Nano-Air Light Hybrid is a specialized piece. The insulation is such that it's too warm for intense aerobic activities much above freezing, yet the breathability means that you don't want to stand around in the cold for long either. And although it works as an active midlayer, insulation around the entire jacket is preferable for things like resort skiing and taking extended breaks in the backcountry. For the right uses and conditions, however, it absolutely shines.
 
Breathability
Breathability is difficult to quantify, but there are lab measures for those who appreciate the geeky side of gear. Cubic Feet Per Minute (or CFM) is a measure of how easily air can pass through a fabric. Often used to brag about windproofness, on the other extreme CFM can help measure breathability. The higher the number, the more breathable the item. The Patagonia Nano-Air Light Hybrid offers 40 CFM for the front panel and 130 CFM on the back, meaning that it's remarkably air-permeable and with quite a noticeable difference between the two fabric types.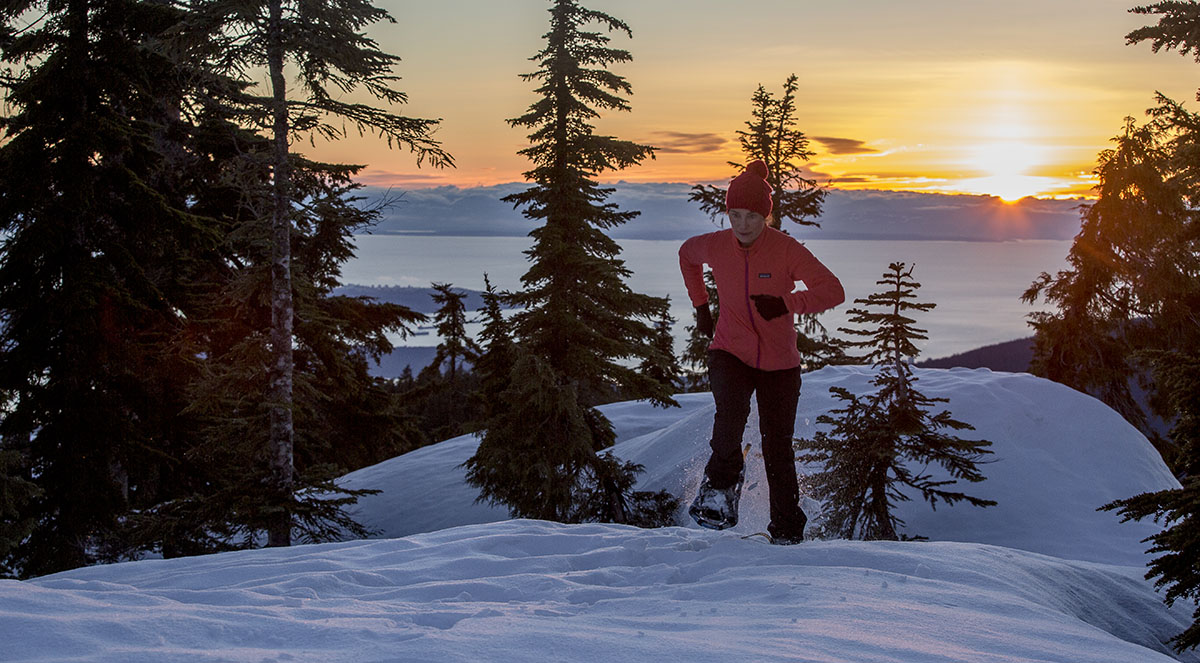 For running in cold conditions, the design of the Nano-Air Light Hybrid is ideal and I have experienced no significant build-up of moisture. In dry weather, sweat quickly wicks away and disperses. However, I did become a bit damp while running in temperatures above freezing. I am a notoriously sweaty runner and therefore used to the feeling. And I can easily tolerate damp so long as it does not feel "clammy" (the difference between damp and clammy might be semantics, but they are markedly different to me). Of course, unzipping the jacket provides a simple method to dump heat and increase airflow in a hurry.
 
Warmth
Before running or heading outdoors in the cold, I obsessively check the temperature via the weather app on my phone and select clothing based upon it. Air temperature often is more relevant to clothing selection than precipitation—I can handle being wet so long as I'm warm enough. And I've become an expert at knowing exactly what to wear for almost every degree and level of anticipated exertion.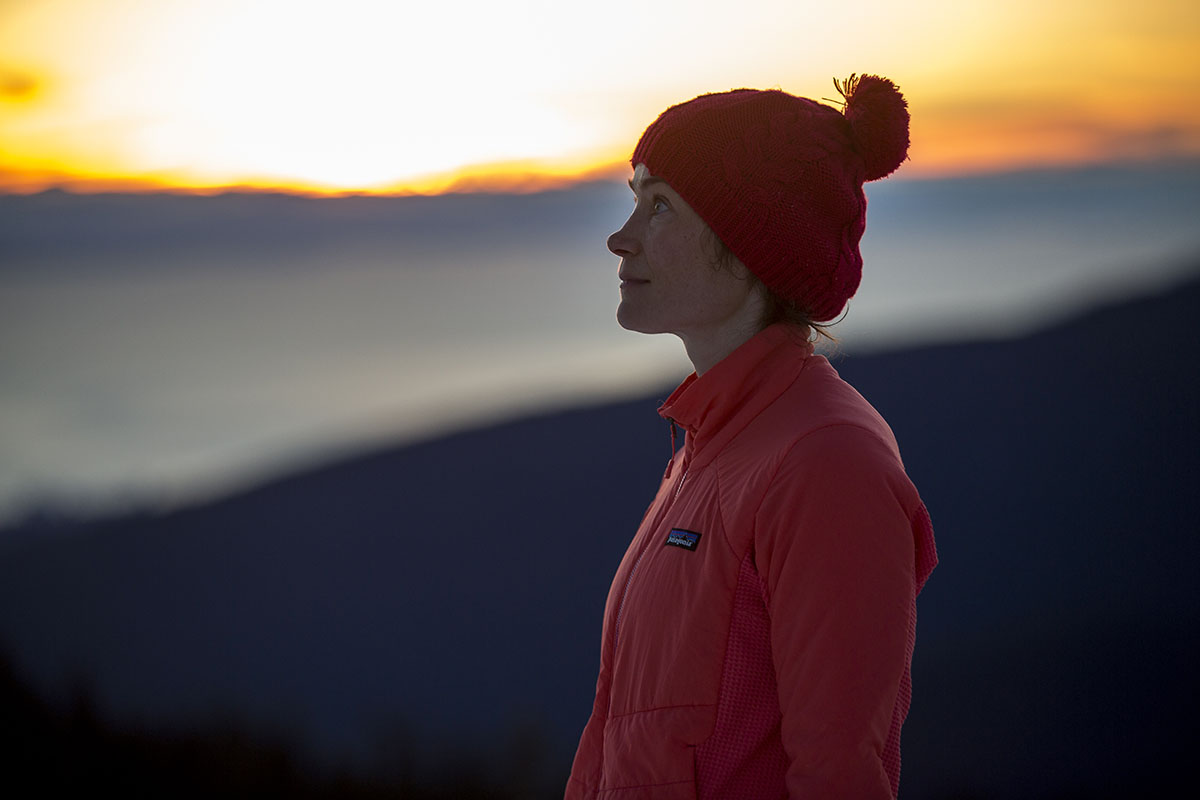 With the addition of the Nano-Air Light Hybrid to my gear quiver, I've found that I am able to dress comfortably in frigid weather and can adjust easily by selecting different baselayers. In fact, with a thin long-sleeve merino shirt and the Hybrid over top, I have never been cold. The level of warmth provided always kept me toasty and comfortable. If anything, the jacket can be too much for aerobic activities in warm conditions.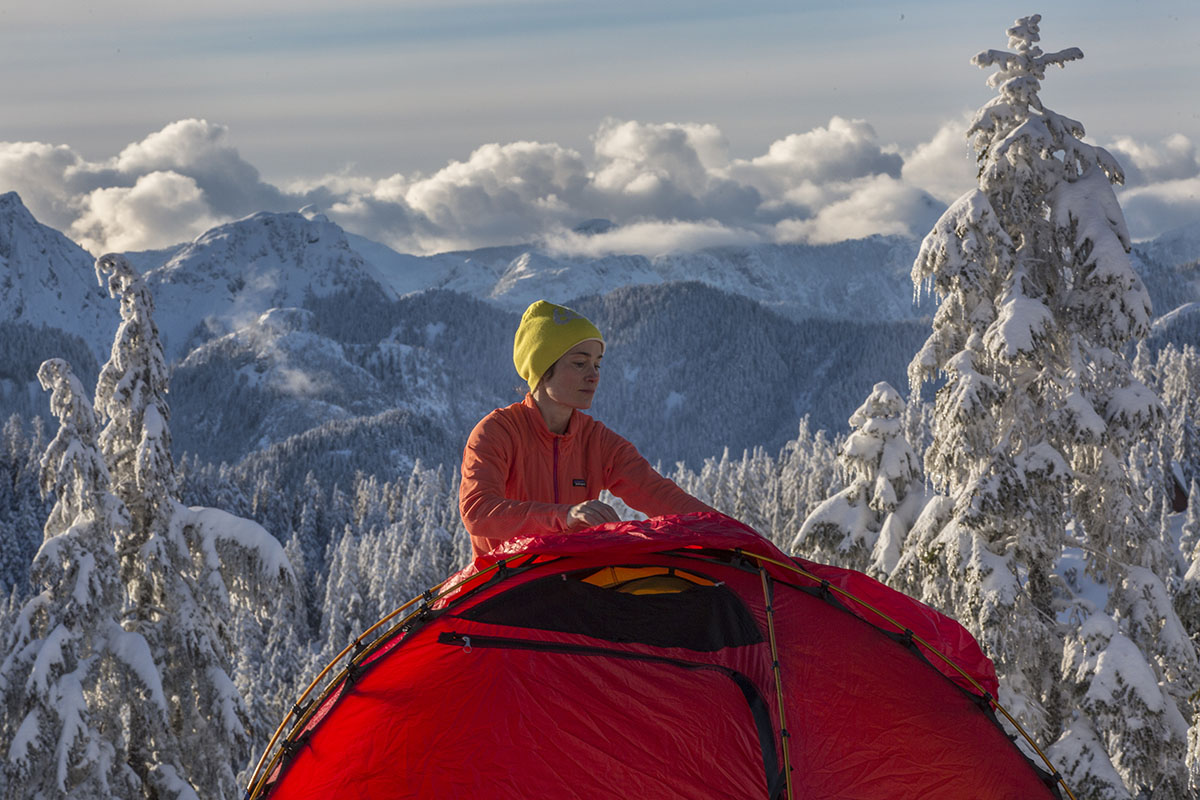 Weather Protection: Wind and Water
The consequence of a highly breathable layer is that the very characteristics that allow it to be breathable—namely the air permeability—allow wind to cut through. This is a non-issue during high-exertion activities where your body is creating a good amount of heat, but the Nano-Air Light Hybrid is not made for standing around in windy conditions or skiing or biking downhill.
In terms of water protection, the Patagonia Nano-Air Light Hybrid isn't intended to be waterproof, but the DWR treatment on the front panel does fend off significant snow and rain and takes a lot to wet out. I've even tried holding it under a tap and managed to stay dry after several minutes. Even when wet, the FullRange panel retains its insulating quality and manages to keep the torso warm. Having said that, the waffle material on the back soaks through in a hurry and will spread to any baselayer.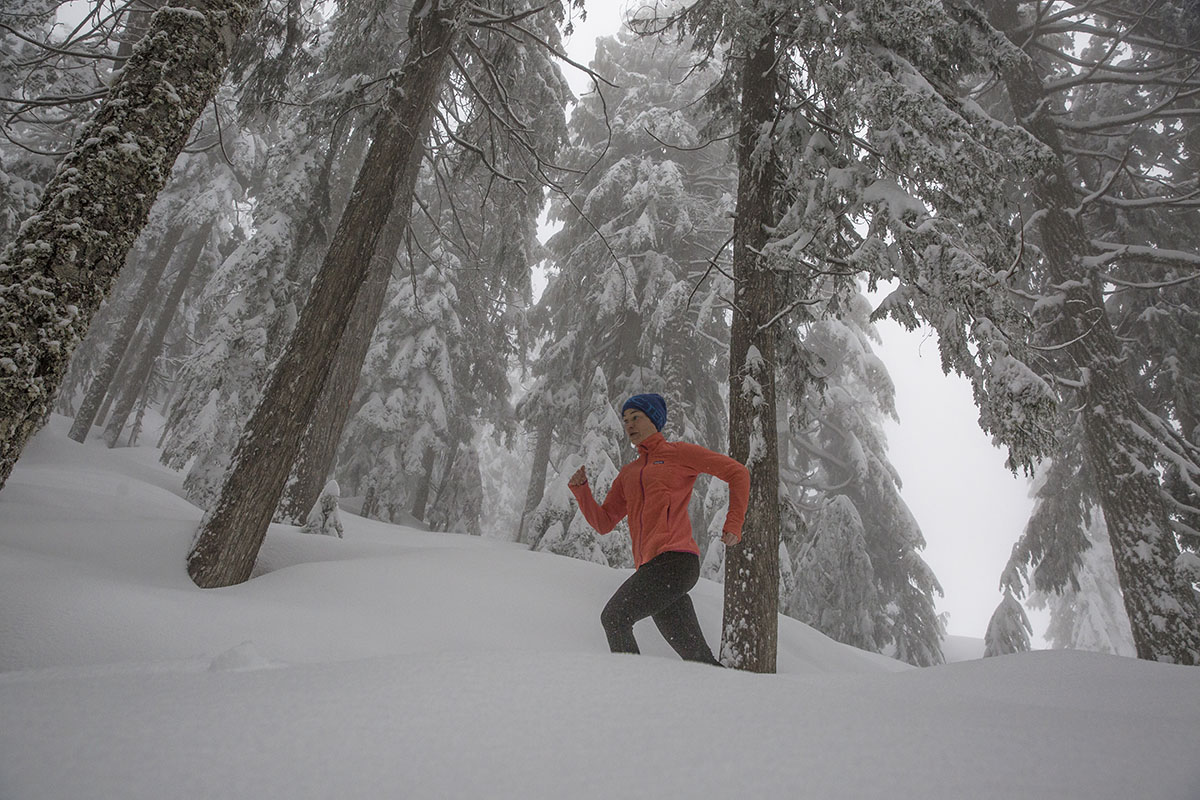 Comfort
Patagonia's Nano-Air line includes some of the most comfortable jackets we've worn—synthetic or otherwise. The liner is soft to the touch—reminiscent of your favorite hooded sweatshirt—and the FullRange insulation is fluffy and light. To no surprise, the Nano-Air Light Hybrid is exceptionally comfortable. In addition to a high level of comfort for casual use, the fabrics are stretchy and never pull or tug regardless of the level of activity. The jacket is soft and feels nice against bare skin. I've worn it over singlets and t-shirts and have had no chafing or rubbing, even when wearing a pack. All in all, you won't find a cozier jacket from any brand.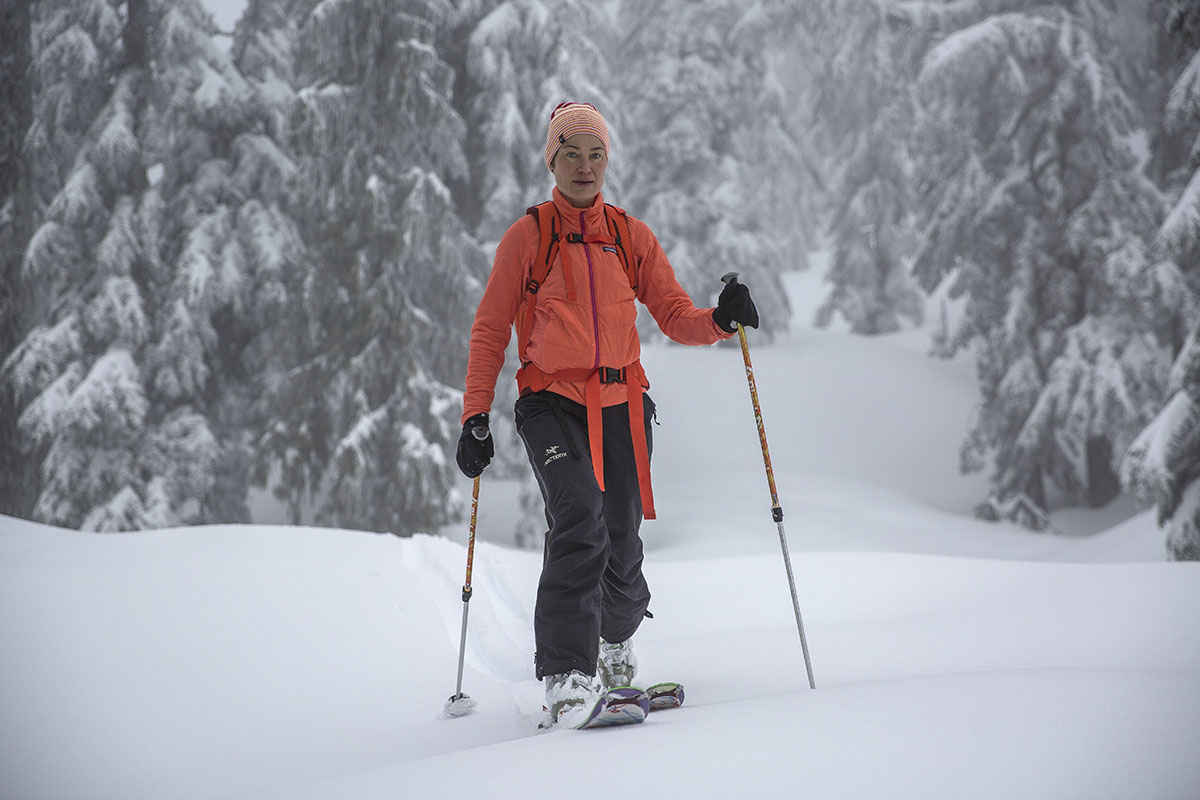 Durability
This Patagonia Nano-Air Light Hybrid has become my go-to warm-up jacket for climbs and areas like the cuffs have seen significant abuse. Though not quite as bright as they once were, they have not worn significantly. I have washed the Hybrid several times (once because I dropped a glob of peanut butter on it… oops!), and the DWR quality remains intact. Fortunately, washing it also shed the peanut oil stain.
I wear this piece often and the soft outer nylon ripstop fabric is a relatively thin 20 denier. This means that this jacket is not intended to be particularly hardy, but it has not pilled yet and only has one small snag that stopped in its tracks rather than running further. I snipped the excess thread and the snag is now almost invisible.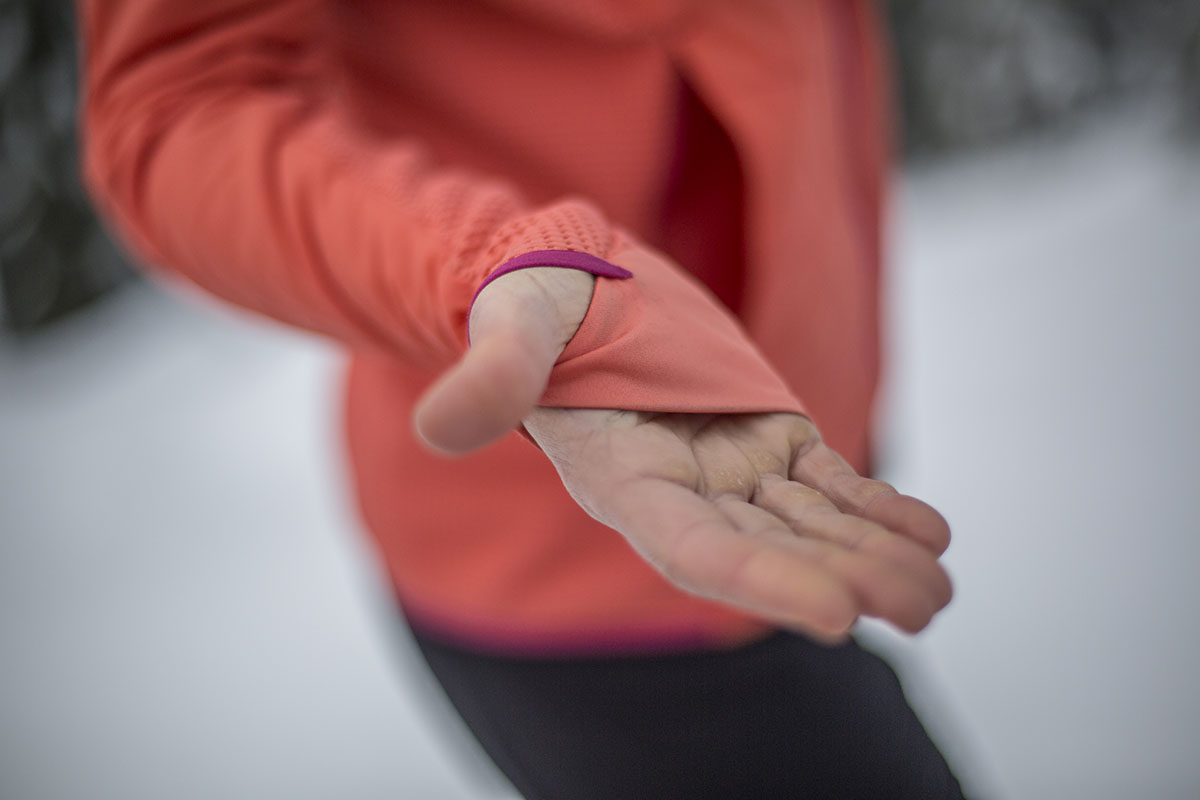 Weight and Packability
To me, this piece is meant to be worn rather than carried. A women's small comes in at 8.9 ounces (0.3 ounces lighter than the advertised weight), which is exceptionally light for an insulated fully zippered jacket but a bit on the heavy side for a long-sleeve running shirt. When packing away for a backcountry tour, however, the weight is negligible. Though it does not stuff into its pocket, it does compress quite well.
 
Use as a Midlayer (and Backpacking)
Patagonia and others use the term "midlayer" when describing the Nano-Air Light Hybrid. Our take on its practicality as a midlayer jacket is as follows: If you get outdoors a ton and have a closet full of options, this is an awesome piece to have. If you only plan on buying one midlayer for a range of activities, the Hybrid probably isn't it. The jacket is optimal for running and ski touring around freezing (depending on layering and how cold your body runs), which isn't a huge amount of use cases for many casual outdoorspeople. And although the highly breathable back is excellent when you're really working up a sweat, when you stop you won't want to wait long before throwing on some heavier insulation.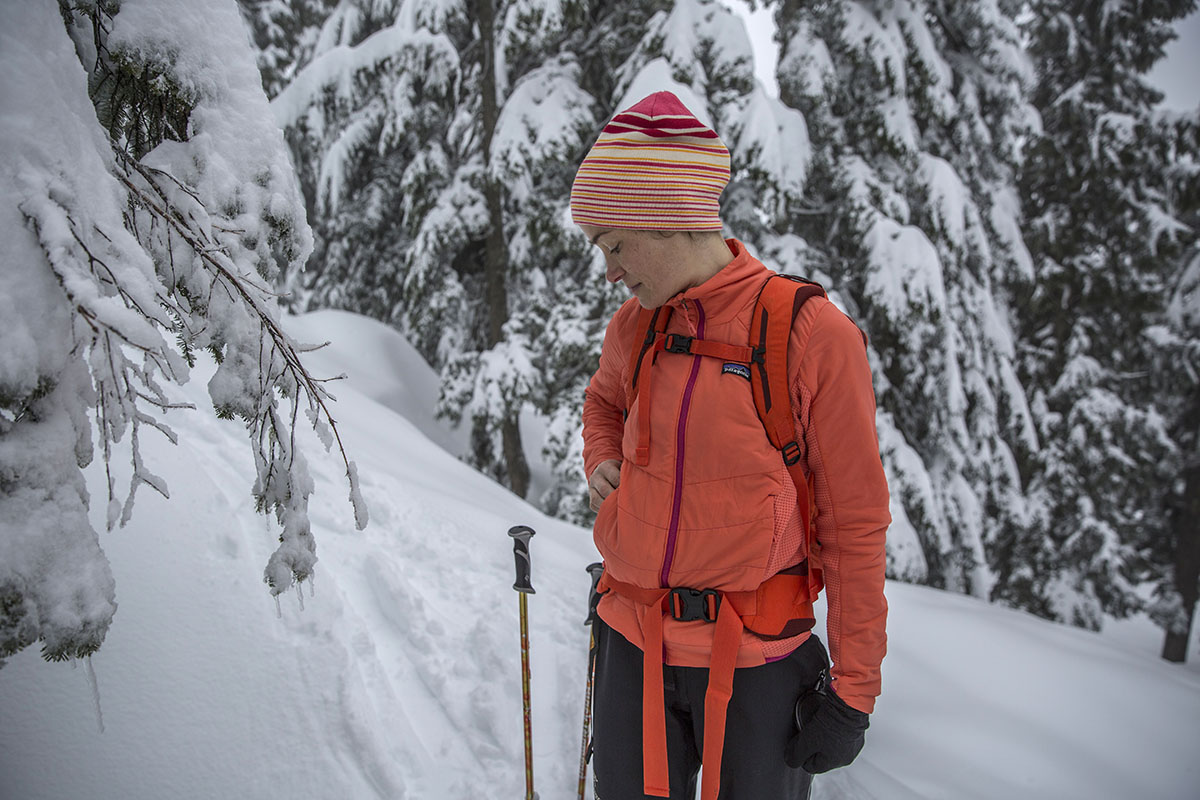 As an aside, the Nano-Air Light Hybrid is a very interesting option for cool-weather backpacking. We tested this piece while moving fast in the winter—running and backcountry skiing primarily—but not yet while backpacking. Hiking generally requires a lower level of exertion than the aforementioned activities, not to mention the breathable back panel would be excellent with a pack (the pack would block most wind yet the back could breathe). For cool conditions like Scandinavia or Patagonia, the Hybrid could thrive.
 
Fit and Sizing
Patagonia states the Nano-Air Light Hybrid has a "slim fit," which means that it is meant to be worn over a baselayer. Based on the sizing chart, I ordered a women's small but find that it is pretty loose, particularly for running, and I likely would have been better off with a more form-fitting extra-small. Patagonia offers sizes down to XXS so there are plenty of options. The sleeves, however are the perfect length and my thumbs naturally fit into the thumbholes.

Other Versions of the Patagonia Nano-Air
We tested the women's Nano-Air Light Hybrid, but Patagonia also makes a men's version of the jacket, which is the same price at $199, has a nearly identical design, and is slightly heavier at 10.1 ounces total. If you prefer a hood, both the men's and women's Hybrid are available with an elasticized, full-coverage hood for an additional $50. Within this popular line of jackets, Patagonia also offers the original, fully-insulated Nano-Air Hoody and Jacket (60g FullRange fill throughout), which provide a boost in warmth, weather protection, and durability but lack the breathable and stretchy waffle knit fabric. And finally, both the Nano-Air Light Hybrid and original Nano-Air are also made in vest options.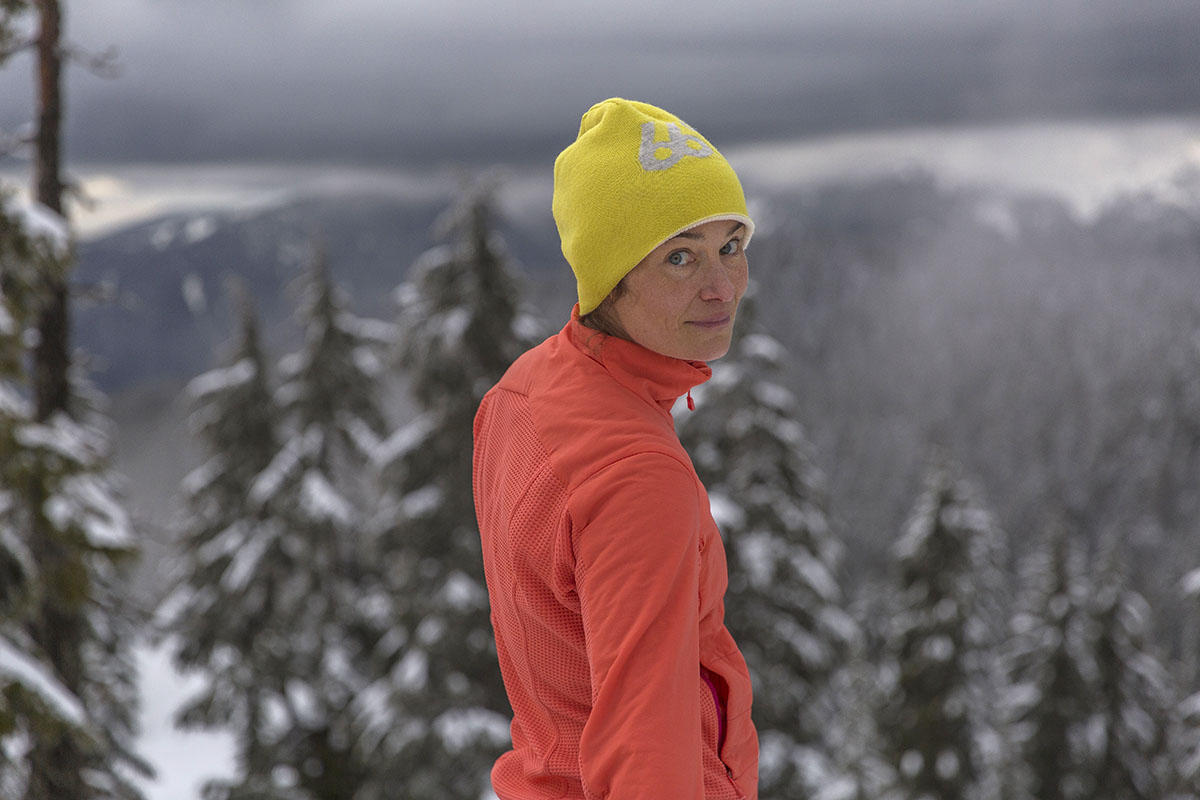 What We Like
For the sweet spot in its temperature range (at or below freezing), it's perfect for high-exertion pursuits.
Very comfortable and easy to move in.
Full front zip makes it easy to regulate airflow.
Pockets are harness-compatible, enabling it to be a casual or performance outer layer. 
With Polygiene permanent odor control, it has not become even slightly smelly yet.

What We Don't
The jacket can be overkill for high-exertion activities in warmer temperatures.
Though it works well as a midlayer, in most cases I'd probably opt for a midlayer with insulation in all panels rather than only the front.
I found the sizing runs a bit larger than advertised and I would have preferred a closer fit, particularly for running.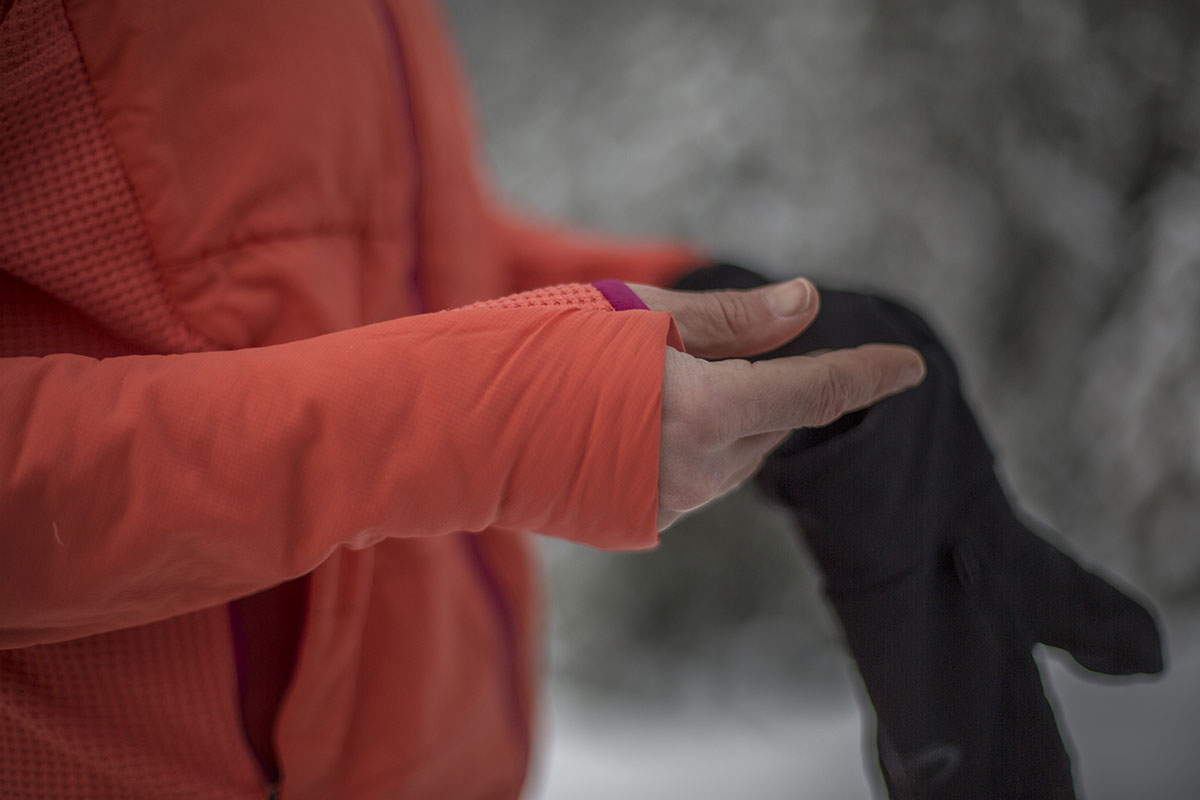 Comparison Table

The Competition
As I've touched on in the sections above, the Nano-Air Light Hybrid truly is a unique piece, essentially mixing a lightweight synthetic jacket with a midweight baselayer. Outdoor Research offers similar hybrid designs in the form of the Deviator and Refuge Hybrid jackets. Starting with OR's Deviator Hoody, this jacket uses insulation in the front, sides, and shoulders, and lightweight fleece in the arms, back, and hood. The Polartec Alpha fill is highly breathable, and the very stretchy fleece offers excellent mobility. One concern is the shell fabric protecting the synthetic insulation is a very thin 7 denier (the Patagonia uses a stronger but still light 20 denier). At 9.7 ounces, the Deviator is a little heavier than the 9.2-ounce Patagonia, and its hoody design has a stronger alpine focus than the non-hooded jacket and vest variations of the Light Hybrid. That said, both jackets excel at climbing, running, and ski touring in the cold.
Outdoor Research's Refuge Hybrid instead uses their propriety Vertical X insulation (60g/m2) in the torso, mixing in a more wind-resistant and durable (75-denier) stretch fabric into the hood, sleeves, and sides. However, we found the Refuge Hybrid to be overkill for high-exertion activities even in winter, and its additional bulk resulted in less mobility (despite only a 0.3-ounce weight increase). Finally, as is the case with the Deviator, you don't get a non-hooded jacket option with the Refuge Hybrid. In the end, we think the Refuge Hybrid is a solid choice when the mercury drops, but for $40 more, the Nano-Air Light Hybrid is the more well-rounded jacket.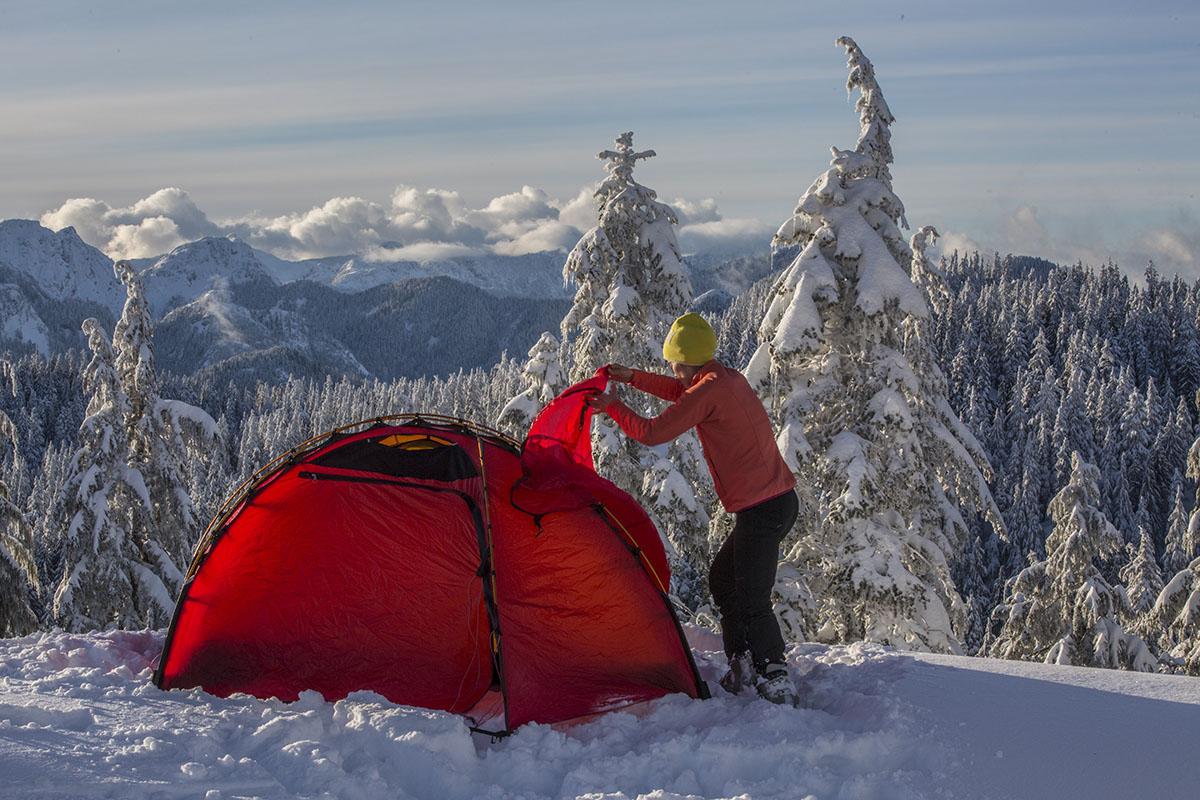 Arc'teryx is well-known for making jackets for specific uses, and the Atom SL falls within the high-exertion-in-cool-weather category. This hooded jacket has 40g insulation (the same amount as the Light Hybrid) at the front and back—with fleece panels along the sides—to provide lightweight warmth. The front, back, and sleeves on the Atom SL use a 20-denier shell that cuts wind and rain more effectively than the Deviator or Light Hybrid. As a result, the jacket runs warmer and doesn't breathe nearly as well as the Patagonia even with its air-permeable sides. We think the Atom SL is the better option for hiking or skiing and biking downhill where the greater weather protection and lighter 8.3-ounce weight are a plus, but falls short of the Light Hybrid's level of comfort while running and climbing.
A final competitor is the new-for-2019 Arc'teryx Proton FL, which stands for "fast and light" and is the least warm of this popular active insulation series. For comparison, the Proton FL is a very thin and highly breathable jacket with a layer of Octa Loft insulation throughout, whereas the Nano-Air Light is a hybrid design. As discussed above, the strategically placed insulation with stretchy fleece panels on the back means that it's an ideal piece for high-output winter adventures. The Proton FL, on the other hand, is slightly less warm overall, breathes better, and is built for mild temperatures and summer adventures in particular. We appreciate the versatility of the Arc'teryx and reach for it often, but the Patagonia has its place in the cold.
If you're thinking about buying gear that we've reviewed on Switchback Travel, you can help support us in the process. Just click on any of the seller links above, and if you make a purchase, we receive a small percentage of the transaction. The cost of the product is the same to you but this helps us continue to test and write about outdoor gear. Thanks and we appreciate your support!
Depending on the seller, most products ship free in the United States on orders of $50 or more. International shipping availability and rates vary by seller. The pricing information on this page is updated hourly but we are not responsible for inaccuracies.
Learn More About Outdoor Gear