For resort skiing, we look for pants that are reliably weatherproof, tough, and warm enough to keep us cozy while sitting on cold lifts. The Patagonia Insulated Powder Bowl Pants tick all of these boxes with a quality Gore-Tex construction and a healthy dose of synthetic fill. The overall design isn't a great match for backcountry use, but paired with my Patagonia Snowbelle Jacket, the pants were comfortable all season long. Below we break down the Insulated Powder Bowl Pants' weather protection, warmth, breathability, key features, fit and sizing, and more. To see how they stack up, see our articles on the best ski pants, women's ski pants, and snowboard pants.
 
Performance 
Weather Protection
Unlike a ski jacket, which I expect to feel warm and cozy, my highest praise for ski pants is when they go unnoticed—and the Patagonia Insulated Powder Bowl fit that bill nicely. In short, my legs have stayed dry and warm without ever feeling clammy, and I've barely noticed the pants regardless of the temperature or weather. For waterproofing, the pants use 2-layer Gore-Tex, which is less premium and breathable than a 3-layer construction, but it nevertheless has been effective at sealing out the elements. All told, I have no doubt that the pants will continue to withstand any conditions I encounter at the resort.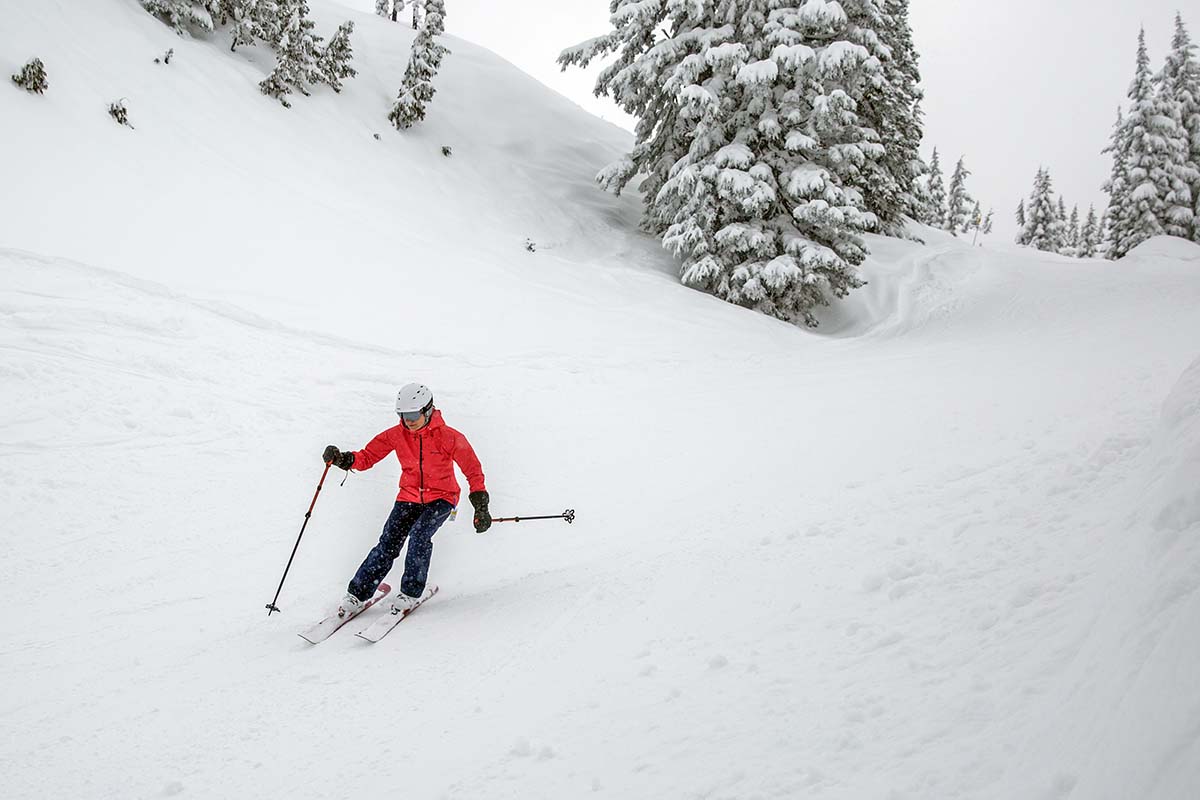 The rest of the design is equally weather-worthy: all zippers are watertight, the pockets are protected by flaps, the thigh vents have zipper garages at the top to fend off precipitation, and the durable water repellent (DWR) finish effectively sheds light moisture. On one particularly nasty day at our local ski hill, all of the lift chairs were soaked, but the Powder Bowl Pants kept my legs completed dry despite prolonged contact with a puddle on the seat. I've also found that the pants are extremely resistant to wind—I've felt no gusts through the fabric, and the gaiters secure snugly at the ankles. For the best protection against snow, the Powder Bowls also feature a webbing loop at the back that attaches to the powder skirt on any of Patagonia's snow jackets.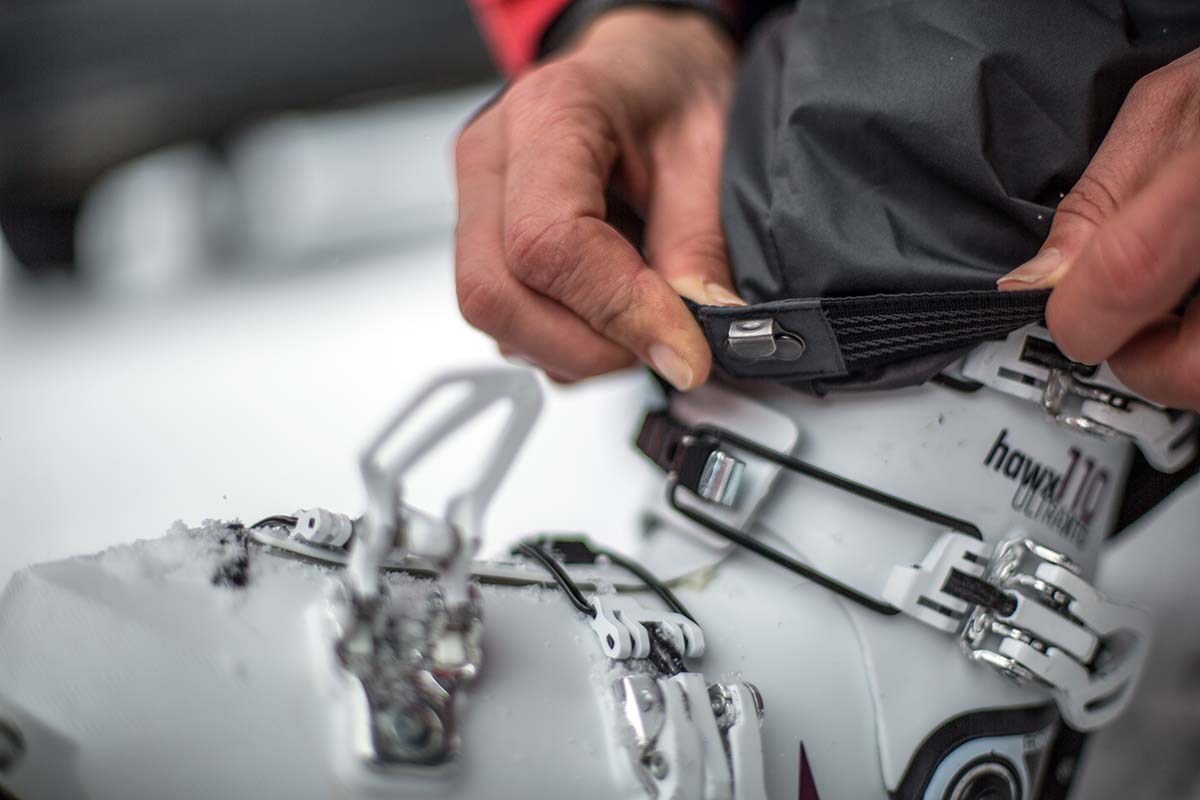 Warmth
The Insulated Powder Bowl Pants use 60-gram Thermogreen synthetic insulation, which has kept me comfortable and warm in temperatures well below freezing with just a thin baselayer underneath. It's worth noting that Patagonia also offers the Powder Bowl Pants in a non-insulated version for $299, but I opted for the insulated model to keep me cozy during resort days full of long lines and time-consuming lifts. Throughout their testing so far, the pants have kept my butt and legs dry and warm even on antiquated lifts with little or no padding on the seats. On particularly cold days, I've found myself huddled in my jacket, struggling to cinch the hood tightly to keep warm, but I've never once thought about my legs. All things considered, I couldn't ask much more of my ski pants.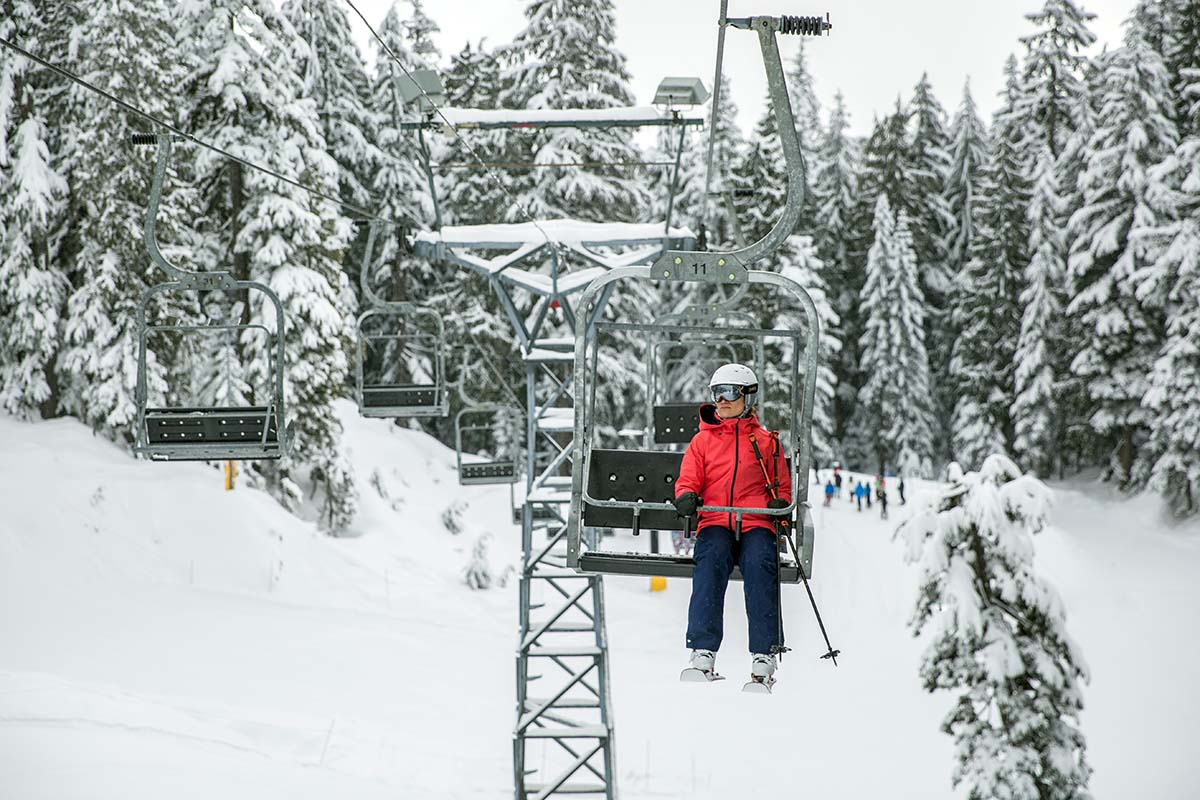 Breathability
The Powder Bowl Pants use an insulated, 2-layer Gore-Tex build, so it came as no surprise that breathability was not a strong suit. However, because they're designed for resort skiing, this isn't a major issue. In practice, I found them to be a bit warm when working through moguls, although the pants do feature side vents along each thigh for dumping heat quickly. But keep in mind that these are backed with mesh to prevent snow from creeping in, which comes with a slight reduction in airflow. In the end, I simply prefer to wear non-insulated pants in warm conditions.
 
Key Features
Internal Gaiters
The Insulated Powder Bowl Pants come equipped with internal gaiters, which are placed over your ski boots to seal out snow. These don't feature a power-strap slot for sliding your boot's strap through, but they're nevertheless functional, and most resort skiers should only need to adjust their boots once at the beginning of the day. And to be fair, we found this slot on the Outdoor Research Hemispheres Bib to be too time-consuming to actually be useful.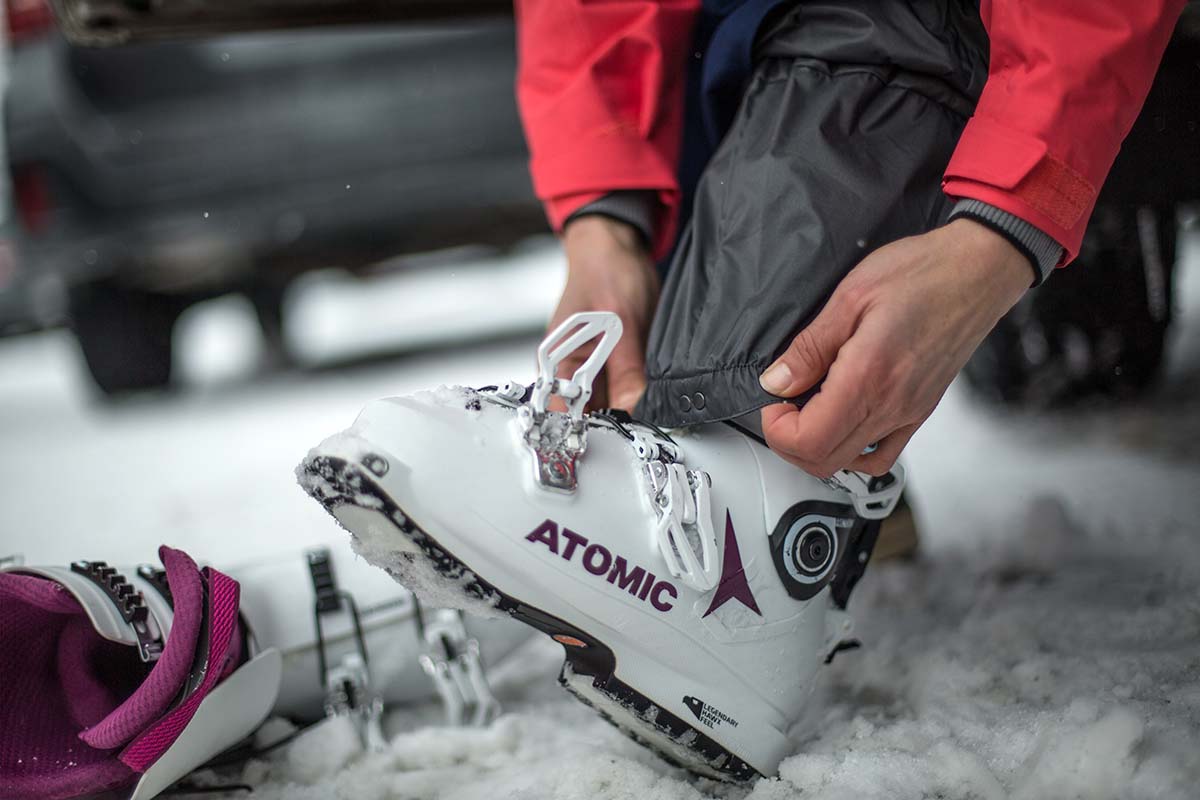 Vents
The Patagonia Insulated Powder Bowl Pants are purpose-built for resort skiing, but the generously sized, mesh-lined side vents do an adequate job of dumping heat quickly. These have come in handy on warm spring days or for short trips into the sidecountry, but as I touched on above, the insulated design is still too warm for true backcountry outings when you're working hard. But for the right conditions, the side vents are a really nice addition and nonetheless helpful for letting in airflow. 
 
Storage: Pockets
The Powder Bowl Pants feature three total pockets, which include two zippered hand pockets and one zippered back pocket. The hand pockets have a nice, soft fleece lining and are large enough for warming ungloved hands. However, I'm not able to carry larger items in these pockets—anything stiff, including my phone, sits right at the hip crease when I bend over or sit down and can be very uncomfortable. And unfortunately, I haven't gotten much use out of the back pocket either since I'm sitting down on lifts so often. All that said, the Powder Bowl Pants offer all the storage I need for resort outings, and I prefer to stuff snacks and other necessities in my ski jacket anyways.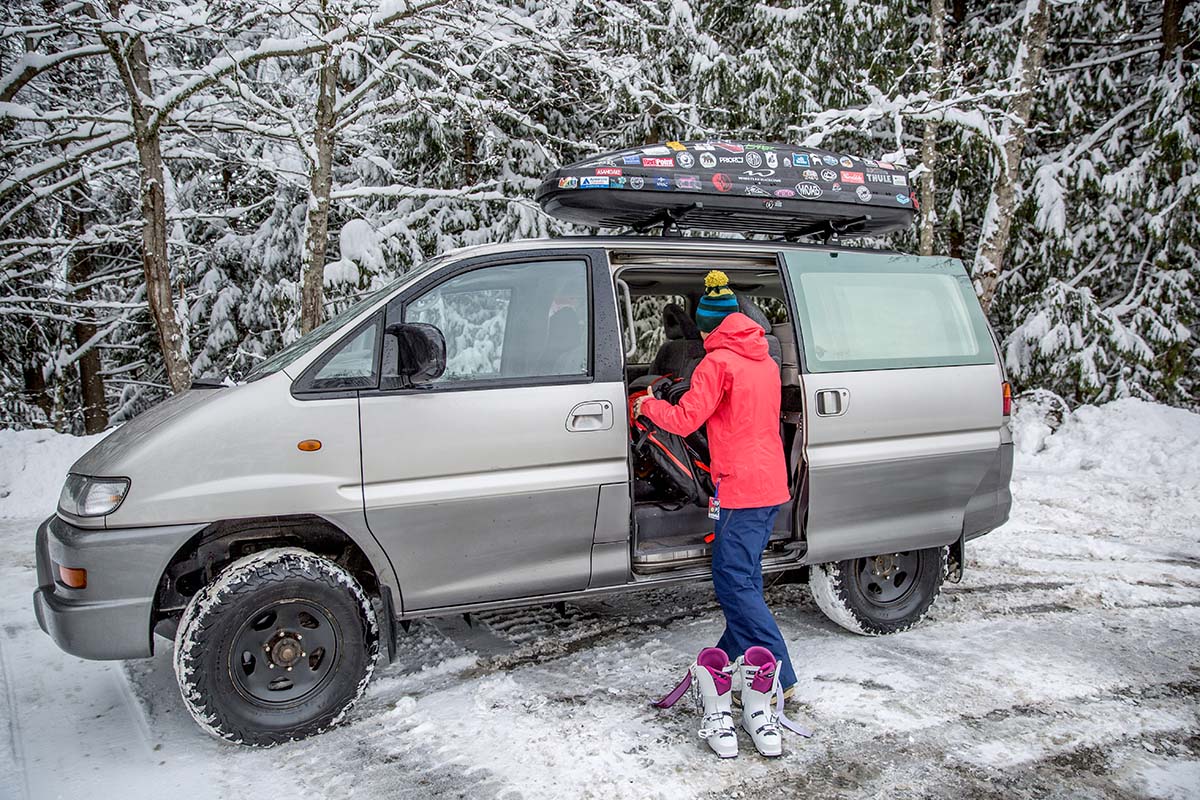 Fit, Sizing, and Comfort
I typically wear an extra small in Patagonia clothing, but I opted for a small in the Insulated Powder Bowl Pants so that I could add a baselayer underneath without feeling restricted. Though I think they look a bit bulky, the size small pants nevertheless are comfortable paired with both thin and thick layers. The taffeta lining is smooth against the skin, and the articulated knees allow great range of motion. As I mentioned, I prefer when my ski pants go unnoticed, and the Insulated Powder Bowl Pants do just that. In fact, they're so comfortable that I often keep them on while driving home from skiing and am never in a hurry to remove them when stopping for an après beer. My only fit-related complaint is the adjustment system at the hips. Here, Patagonia used Velcro along the inside of the waistband at the front and back, and the inside digs into my hip bones and can feel abrasive on cold skin. Wearing a baselayer helps minimize discomfort, but I prefer a belt or simple elastic instead.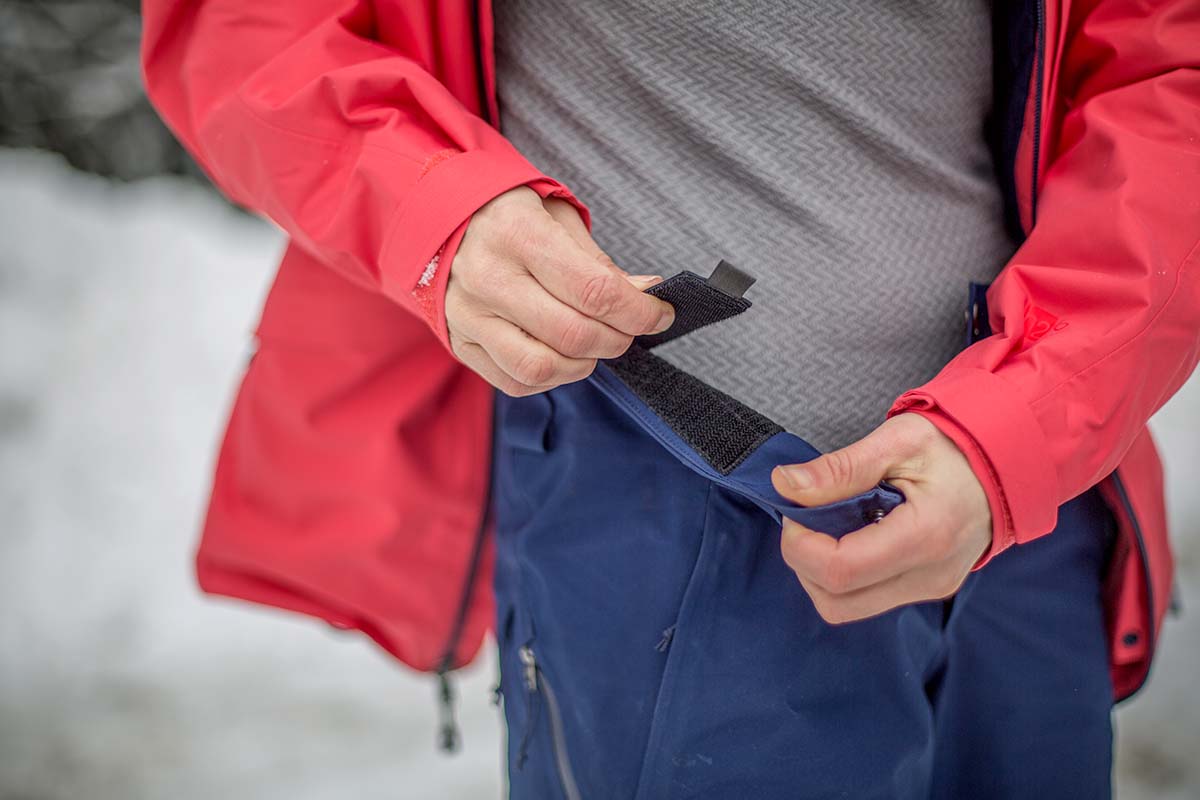 Build Quality and Durability
With a burly 150-denier Gore-Tex construction and robust scuff guards along the bottom of the legs, the Patagonia Insulated Powder Bowl Pants are built to take a licking. Despite regular use and abuse, the pants show little sign of wear—even the back, which has slid on and off countless lift chairs, looks fresh. Further, all seams (including the internal baffling that holds the insulation in place) are intact, there are no visible snags or tears, and all zippers continue to operate smoothly. Patagonia is known for their superb build quality and craftsmanship, and the Insulated Powder Bowl Pants don't disappoint. 

Weight
Weight isn't often a top concern for on-piste skiers, but it's still important that you don't feel loaded down on the slopes. The Patagonia Insulated Powder Bowl Pants check in at 1 pound 8.4 ounces for the women's version, which is fairly competitive for an insulated design. Stacked up against the competition, including Patagonia's own Snowbelle Insulated (1 pound 5.9 ounces), The North Face Freedom Insulated (1 pound 8 ounces), and Arc'teryx Andessa (1 pound 6.9 ounces), the Powder Bowl is right in line. You can go lighter with a design like Arc'teryx's Sentinel AR at 1 pound 2.3 ounces, although the thin flannel backer is a noticeable step down in warmth compared to the Patagonia's 60-gram insulation. All in all, considering their warmth, the Powder Bowl Pants are reasonably light and a great match for resort use.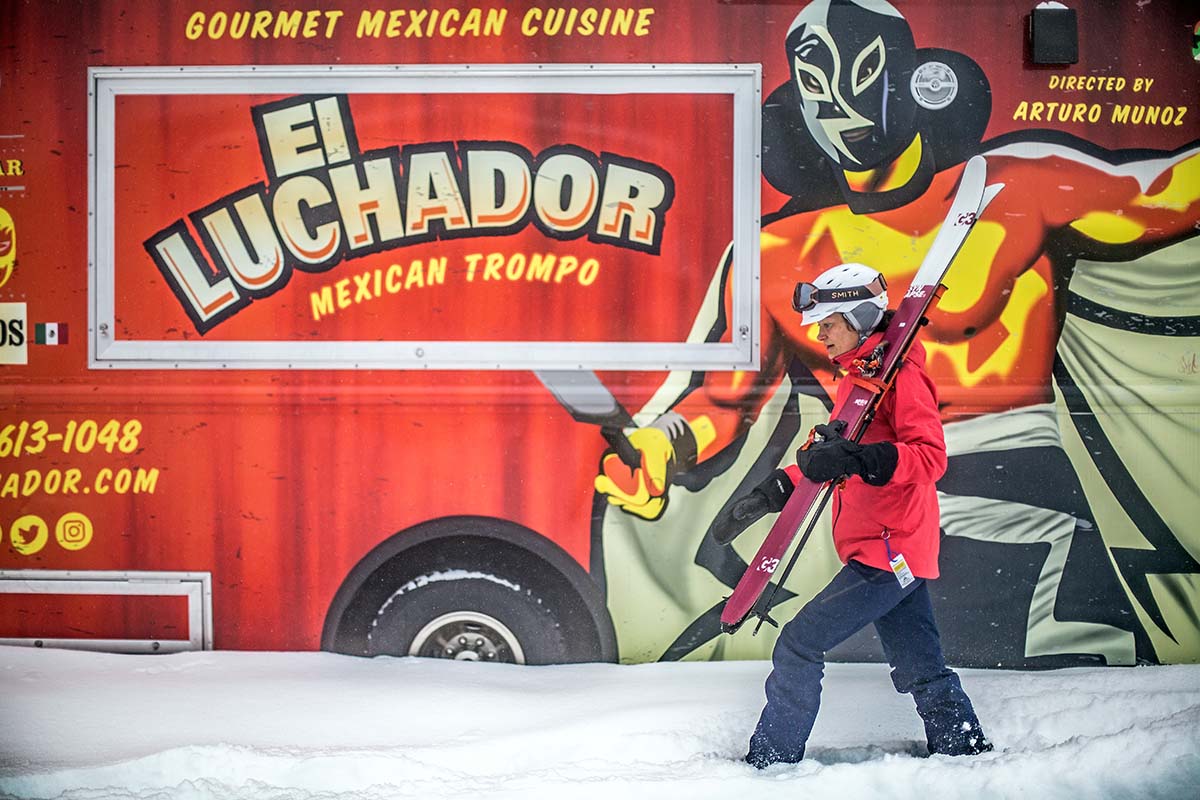 Other Versions of the Patagonia Powder Bowl Pant
We put the women's Insulated Powder Bowl Pants to the test, and Patagonia also makes the pants in a men's-specific version for the same price. Compared to the women's pants, the men's Insulated Powder Bowls are heaver at 1 pound 11.7 ounces and offered in different colorways, but otherwise retain an identical feature set and overall construction. If you run warm, Patagonia also makes the uninsulated Powder Bowl Pants, which are cheaper at $299, lighter at 1 pound 7 ounces for the women's model, and forego the 60-gram Thermogreen of the insulated version. To complete your kit, Patagonia sells the Powder Bowl Jacket in both insulated ($479) and non-insulated ($399) options, which use the same 150-denier, 2-layer Gore-Tex build as the pants.

Sustainability: Recycled Materials and Fair Trade Certification
Patagonia is known for their focus on sustainably made outdoor clothing and gear, and that comes across clearly with the Insulated Powder Bowl Pants. First, the pants use a 100-percent-recycled shell and 90-percent recycled Thermogreen insulation. Second, the fabrics are bluesign-approved, which means that Patagonia reduced resource consumption and minimized environmental impacts when possible during production. And finally, the pants are Fair Trade Certified sewn, which indicates that Patagonia took extra measures to compensate workers fairly and ensure they have a safe working environment. All in all, we appreciate the transparency and concerted effort that Patagonia is making toward reducing their overall impact.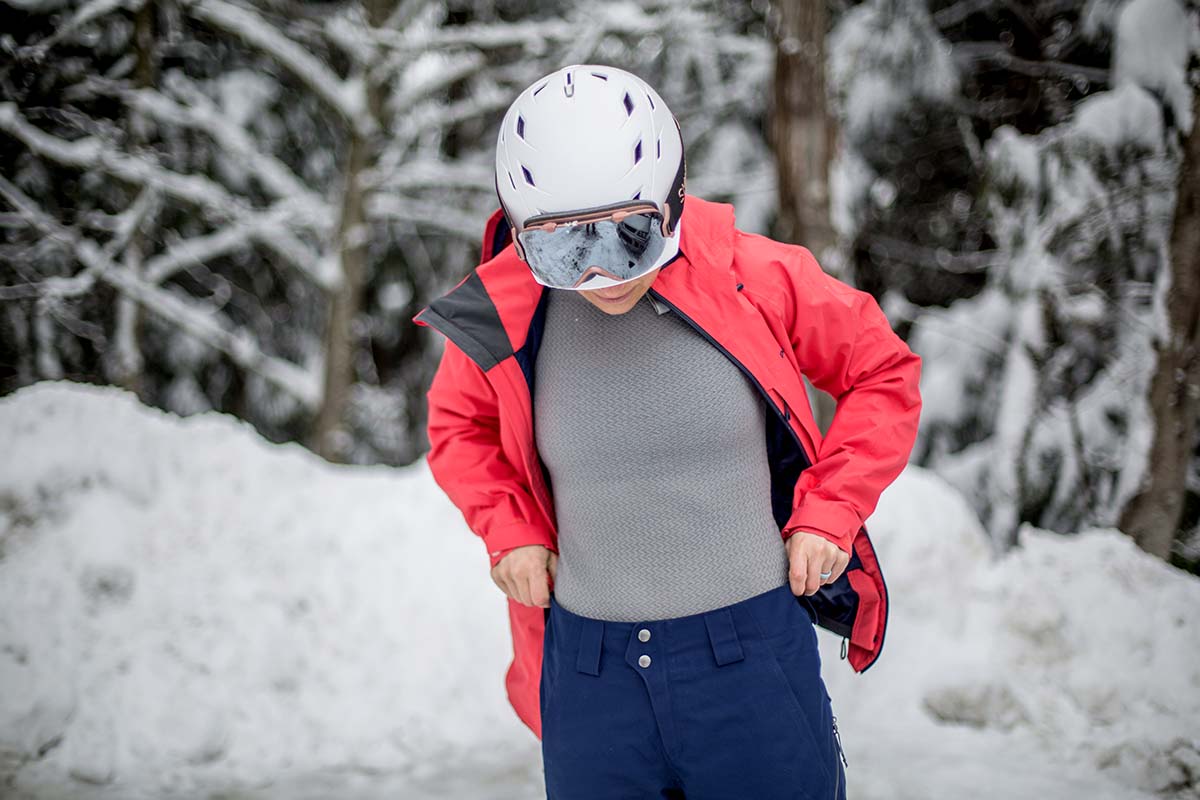 What We Like
Throughout a full season of skiing, I've barely noticed wearing the Powder Bowl Pants—perhaps the highest praise I can give my ski pants. 
Reliable waterproofing and 60-gram synthetic insulation have kept me protected in a range of conditions. 
Great next-to-skin comfort and all-around build quality.
 
What We Don't
Patagonia gear comes at a cost, and in this case it's a steep $379.
Velcro adjustment system tends to dig in at the hips and feels abrasive on bare skin (wearing a baselayer underneath helps significantly with this).
I'm not able to use the hand pockets for anything other than very small items—otherwise, it's uncomfortable to sit down and bend over.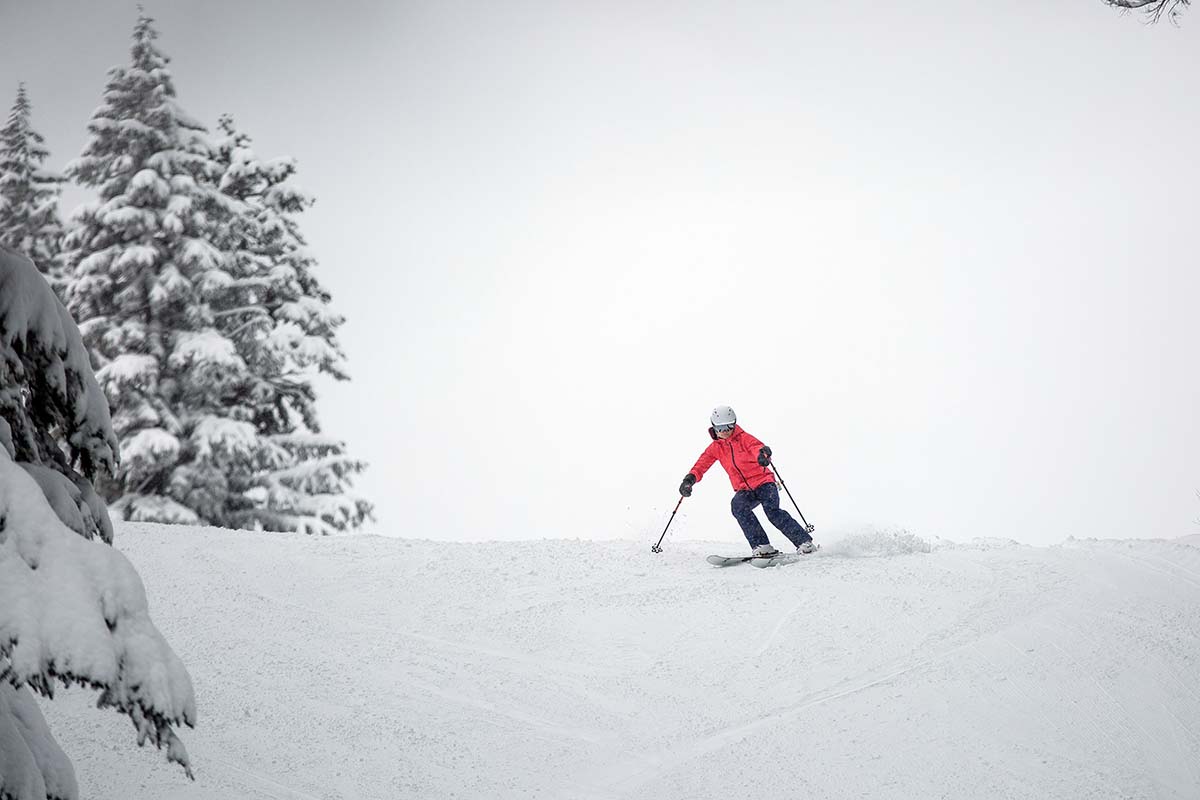 Comparison Table

The Competition
Effectively balancing comfort, weather protection, and warmth is no easy feat, but the Patagonia Insulated Powder Bowl Pants do a pretty nice job. In the same ski pant category, Helly Hansen's Legendary Insulated Pant also uses a 2-layer waterproof shell (in this case, Helly Tech Performance) and insulation for added warmth. However, the Legendary's 60-gram PrimaLoft synthetic is focused only at the butt and knees, which translates to less warmth compared to the Powder Bowl. The build quality also isn't quite up to Patagonia standards, and we've found the Helly Hansen pants show wear more easily over time. That said, you do get the addition of stretch fabric for added comfort and mobility on the slopes. In the end, the Powder Bowl has better all-around weather protection, but the Legendary Insulated is $179 cheaper and plenty of pant for most on-piste use.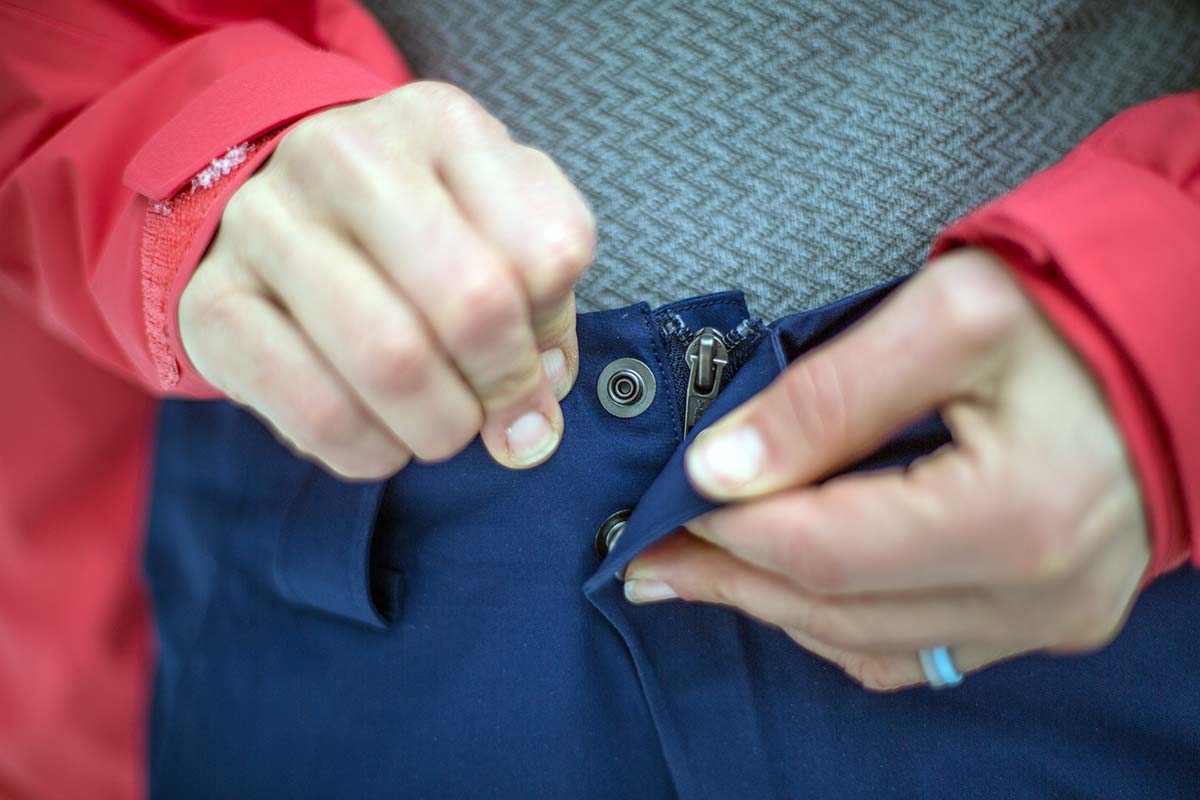 Another nice option within Patagonia's own lineup is the Snowbelle Insulated. This is the brand's entry-level resort offering, and therefore is a step down in most categories. Specifically, the Snowbelle is less warm with 40-gram Thermogreen compared to the Powder Bowl's 60g, less durable with a 75-denier face fabric vs. the Powder Bowl's 150D, and a worse breather overall with vents at the inner leg, which are bulkier and less effective than the Powder Bowl's outer-leg vents at letting in airflow and can cause occasional discomfort. Finally, rather than more premium Gore-Tex, the Snowbelle uses Patagonia's in-house H2No Performance Standard construction, which is a bit less breathable and weatherproof. But at $199, the Snowbelle is a much better value than the $379 Powder Bowl and all that most casual resort-goers need.
Strafe Outerwear is best known for their backcountry skiing designs, but their resort-focused Belle is another intriguing alternative to the Insulated Powder Bowl Pants. Compared to the Patagonia, the Strafe pants are warmer with 120-gram Polartec Alpha Direct insulation and more mobile with a four-way stretch face fabric. However, the Belle offers less overall weather protection, and long-term durability is more of a question mark than with the proven Patagonia. But the real clincher for us is cost: at $429, the Belle is pricier than the already spendy Powder Bowl without enough performance advantages.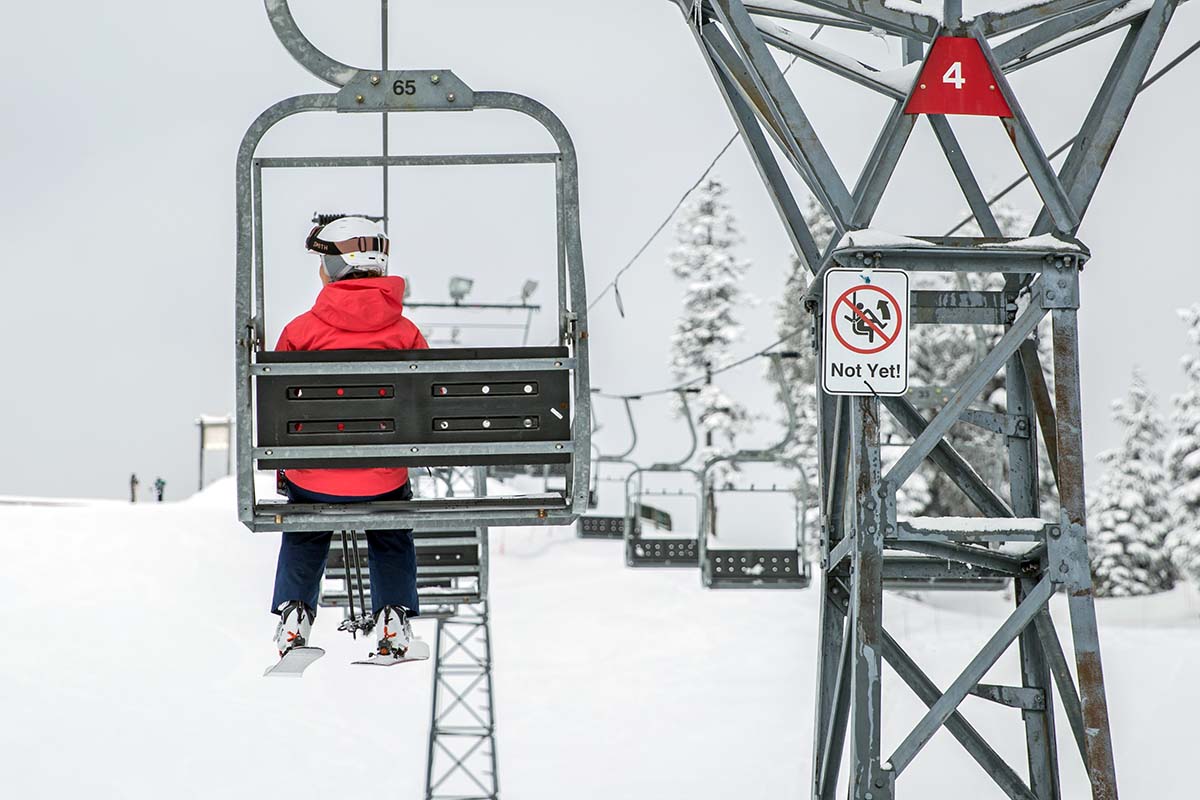 Finally, we'd be remiss not to include a comparison to Arc'teryx's premium on-piste offering, the insulated Andessa. In our opinion, the Andessa is the ultimate insulated resort pant: it's warm with 80-gram Coreloft Compact synthetic insulation, weatherproof with a premium 3-layer Gore-Tex build, and offers the fantastic fit, mobility, and comfort that we've come to expect from Arc'teryx. The biggest deterrent is price: at $525, it's one of the most expensive resort pants on the market and overkill for warmer conditions. If you like its sleek looks and warmer build, the Andessa is hard to beat, but the Patagonia pants are more versatile for all-season use at almost $150 less.
If you're thinking about buying gear that we've reviewed on Switchback Travel, you can help support us in the process. Just click on any of the seller links above, and if you make a purchase, we receive a small percentage of the transaction. The cost of the product is the same to you but this helps us continue to test and write about outdoor gear. Thanks and we appreciate your support!
Depending on the seller, most products ship free in the United States on orders of $50 or more. International shipping availability and rates vary by seller. The pricing information on this page is updated hourly but we are not responsible for inaccuracies.
Learn More About Ski Gear