Outdoor Research makes some of our favorite ski bibs on the market, and their Kulshan Storm Bibs (formerly the Mt. Baker Storm Bibs) were quick to impress during a winter of skiing in the Pacific Northwest. The Gore-Tex build provides reliable protection with better breathability than expected for a 2-layer design, and durability is excellent with a strategic material mix that's thicker in high-wear areas. Combined with a generous storage layout, stretchy softshell upper, and light insulation at the seat, the Kulshan is a thoughtfully built and well-rounded design, although the heavier build and baggier fit do detract from overall backcountry appeal. Below we break down our experiences with the Kulshan Storm Bibs. To see how they stack up to the competition, see our articles on the best ski bibs and best snowboard pants.
Editor's note: The Kulshan Storm Bibs were originally called the Mt. Baker Storm Bibs, but Outdoor Research recently updated the name to align with the mountain's native alias. Many retailers still list the bib under the Mt. Baker name, but the designs are one and the same.
 
---
Table of Contents
---

Performance
Weather Protection
In short, the Outdoor Research Kulshan Storm Bibs performed admirably throughout a rowdy season in the Mt. Baker backcountry, including a three-day storm that dumped nearly 30 inches of wet, heavy snow. I was initially concerned that the soft and supple feel would translate to a drop in wet-weather protection, but I was quickly proven wrong: The 2-layer Gore-Tex construction has been nothing but reliable, even in sideways, pelting snow while yo-yoing through thigh-deep snow for hours on end. Importantly, Outdoor Research used different materials of varying thicknesses to maximize protection and boost durability in high-wear areas: The exposed upper front legs and seat use robust 150-denier (D) Gore-Tex, while the lower legs are a little thinner at 70D. The upper torso forgoes Gore-Tex entirely and instead uses a stretchy softshell blend, which adds a nice dose of comfort and breathability without any major impact on protection (this area isn't frequently exposed to sustained moisture).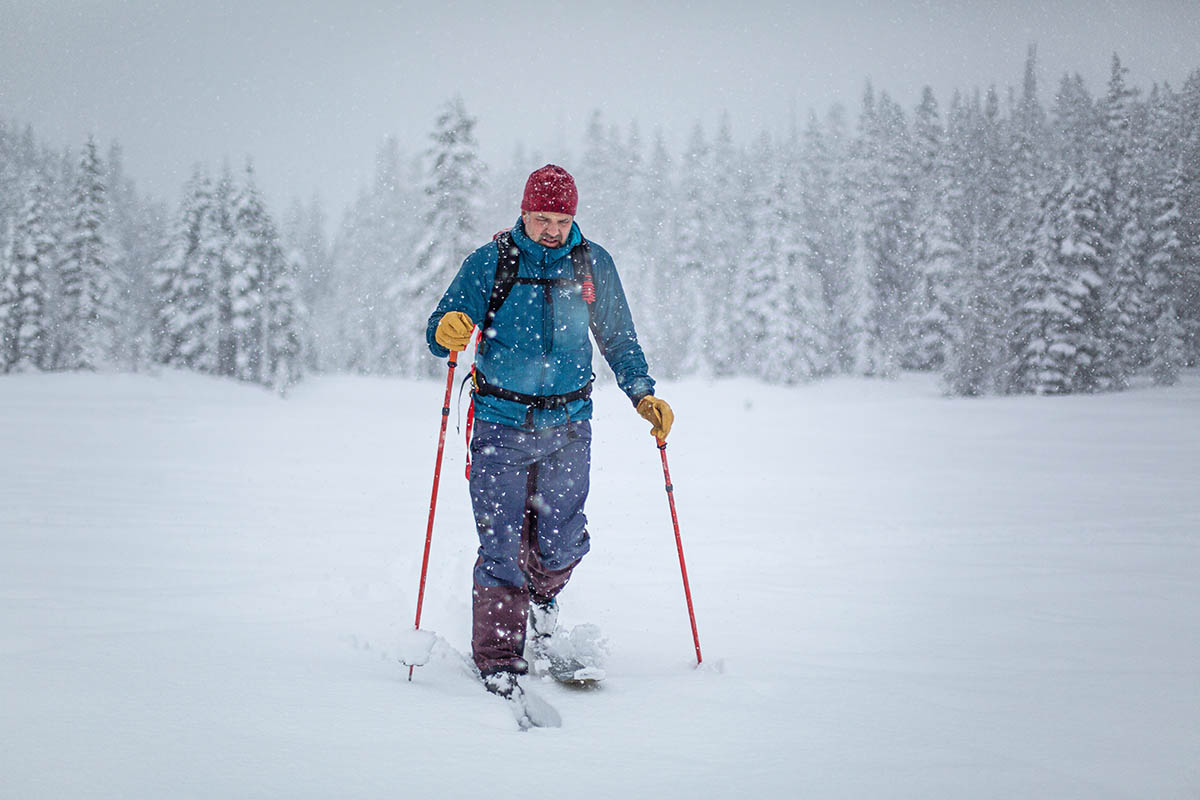 In addition to the quality waterproofing and effective material blend, the OR Kulshan Storm Bibs boast several protective features for sealing out the elements. First are the internal gaiters, which did a great job of sealing out snow even when submerged in knee- to thigh-deep powder while skiing, bootpacking, and taking photos. The large swing hatch at the right side also comes equipped with a water-resistant YKK zipper to prevent moisture from seeping in at the waist. None of the pockets have this treatment, but my valuables have stayed perfectly dry and protected—including my phone, which I often stash in the chest pocket or right thigh pocket with no issues to date.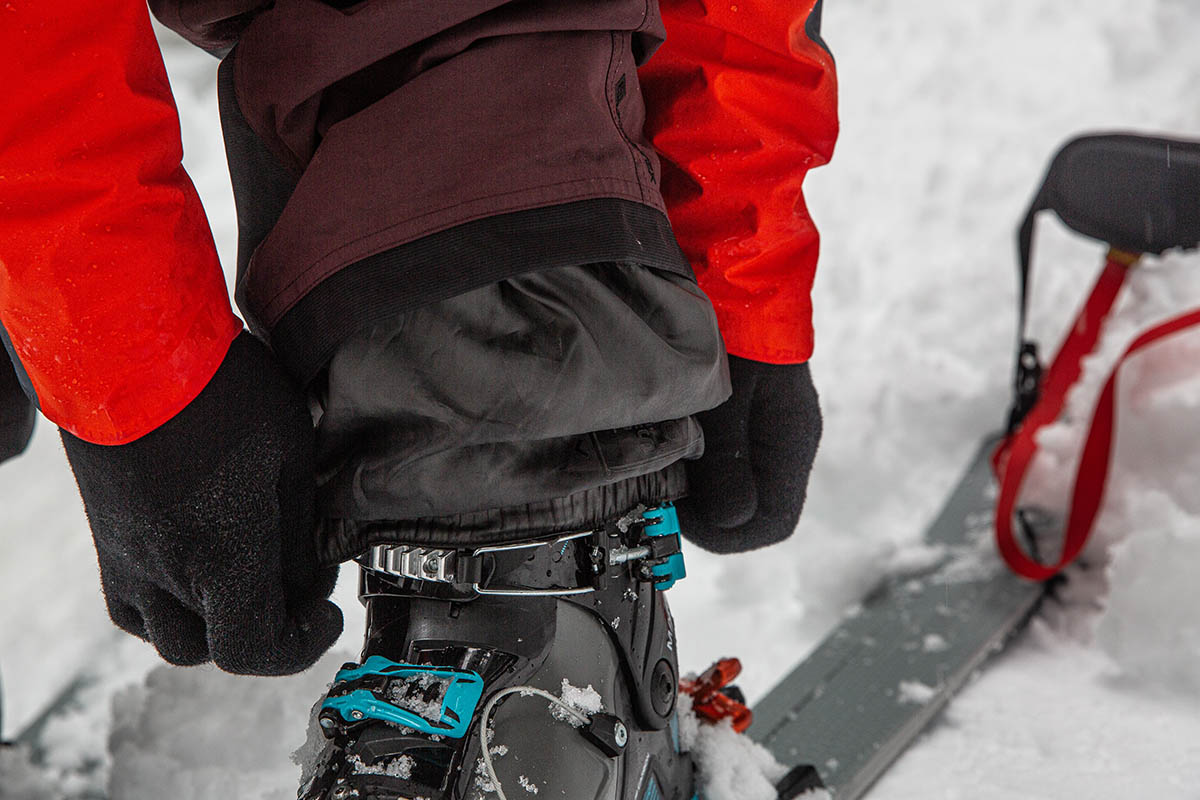 Comfort
After weather protection, I'd say that comfort is the biggest selling point of the Kulshan Storm Bibs. The interior ripstop nylon lining is smooth and slides easily over a baselayer, while the baggier fit makes the bib easy to maneuver in with no restriction to movement. Combined with the stretchy softshell material at the upper torso and adjustable, elasticized suspenders, the Kulshan offers great all-around mobility with no pulling or tension when bending over to put on my boots or transition. The cuffs are also well executed: The flared lower legs and stretchy mesh inside the snow gaiters make them easy to pull over ski boots, and they've never ridden up or gotten caught on the ski/walk lever on my Scarpa Maestrale XTs. And perhaps most telling: I've never been in a rush to take the bibs off after skiing. In fact, I've found myself eating poutine in the lodge, hanging out by the campfire, sipping whiskey in the van, and even performing camp chores after dark in the Kulshan bibs.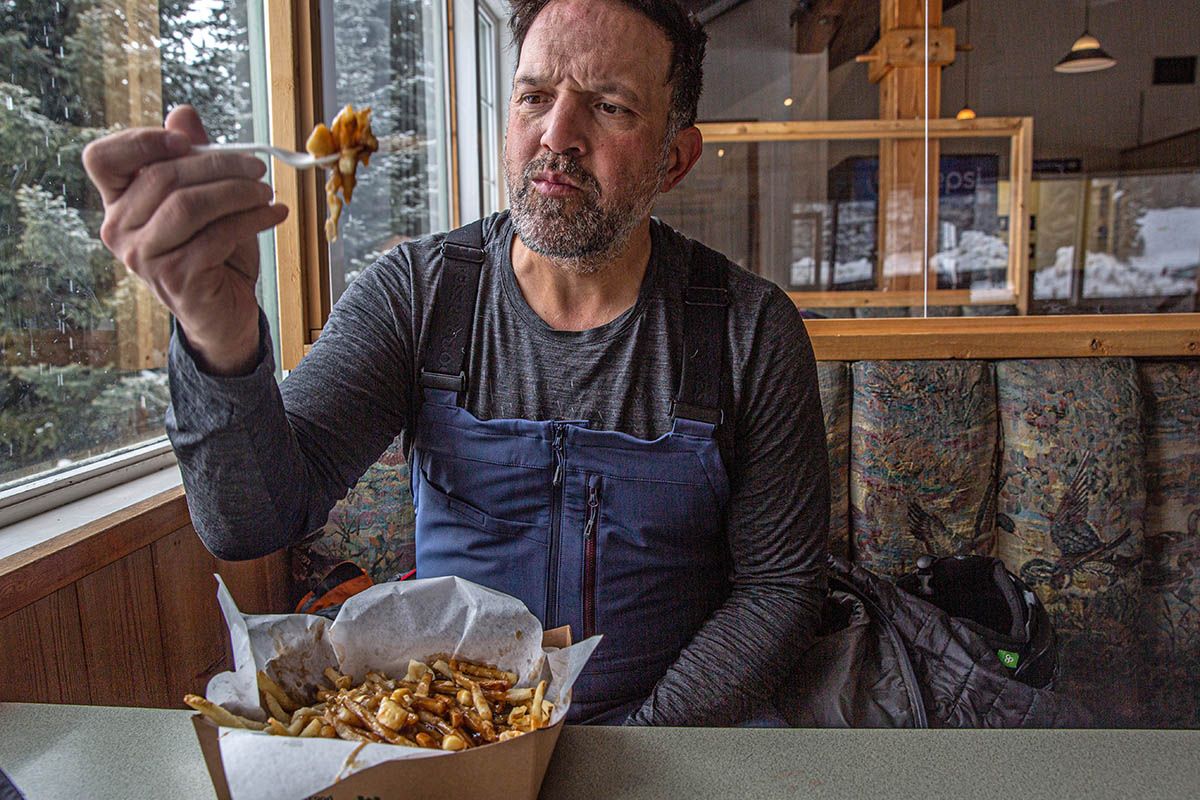 Warmth
The Kulshan Storm Bibs are fairly unique in the ski bib market with insulation (45g VerticalX ECO) only at the seat. This made sitting in the snow or on a cold chairlift a lot more bearable, especially during long days of photographing and lift skiing (when I'm not likely to work up a sweat). The thick Gore-Tex construction also fended off wind very well: The bibs are on the heavier end (more on this below), but the flip side is that the added heft contributed to keeping me comfortable in frigid, wet conditions. In the past, I've had to add insulated pants (Patagonia's since-discontinued Nano-Air Pants) over my merino wool long underwear on bitterly cold resort days, but the Kulshan kept me warm enough in similar conditions with just a light- to midweight baselayer (150-200g/m²) underneath. The bib also covers most of my torso, allowing me to wear just a thin wool T-shirt or long sleeve underneath while touring (I only throw on my hardshell jacket in truly inclement weather).

Breathability
I was initially concerned that the OR Kulshan Storm Bibs' 2-layer Gore-Tex design and hefty build would compromise on breathability, but I've been pleasantly surprised thus far. I've never overheated ascending steep slopes or bootpacking through deep, wet snow, even with my hardshell on in poor conditions. The softshell upper is a big help: It's much more air-permeable than Gore-Tex, allowing a good amount of airflow around the torso. The bib also boasts inner thigh vents, which I often turn to on long, arduous climbs to dump excess heat quickly. I typically prefer when the vents are situated at the outer thigh (they're more exposed to the air and any breeze), but the Kulshan's inner vents get the job done. The swing hatch also features a two-way zipper along the left side, allowing additional ventilation from the waist down to the knee. To be sure, the Kulshan still falls short of true softshells and premium 3-layer hardshells in all-out breathability, but it's perfectly serviceable for most back- and sidecountry adventures.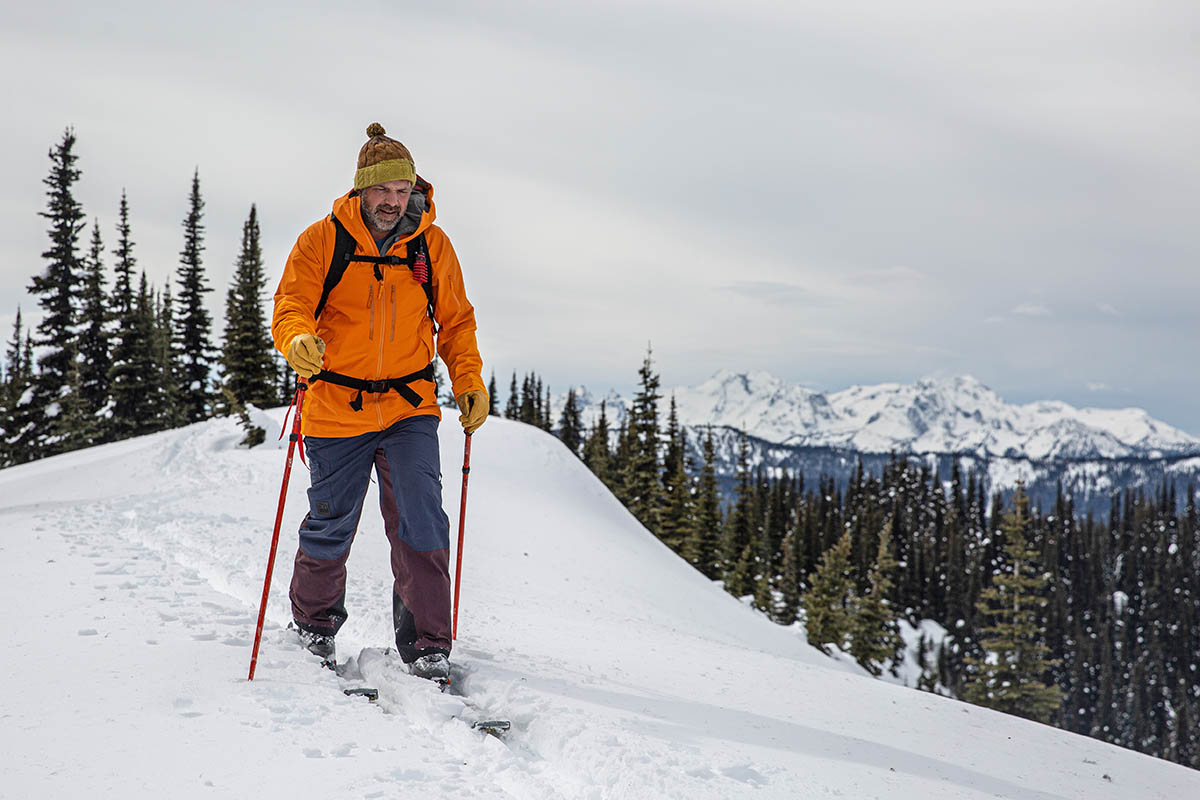 Build Quality and Durability
The Kulshan Storm Bibs aren't a particularly strong value at $449, but the good news is that overall build quality lines up well with the price. The bib has a decidedly robust and durable feel with 150D Gore-Tex along the upper front legs and seat and thinner 70D Gore-Tex along the lower legs. The softshell upper is also plenty thick at 90D, while the 20D ripstop nylon lining provides another layer of defense. Importantly, the Kulshan has maintained its water- and wind-proofing throughout testing with no wetting out to date, and the reinforced scuff guards (420D) are showing no wear despite heavy use and coming into frequent contact with my backcountry ski boots while skinning. All of the small components are holding up equally well, from the smooth-operating zippers to the internal gaiters and suspender clips. Taken together, the Kulshan has exceeded my expectations and strikes me as a very high-quality and hardwearing design.

Weight
I consider the Kulshan Storm Bibs' weight to be their biggest downfall: At 1 pound 12.7 ounces, they're significantly heavier than many other backcountry-ready designs on the market. For reference, you can go much lighter with alternatives like Outdoor Research's own Hemispheres II Bibs (1 lb. 6.1 oz.), and even their cheaper Skytour AscentShell Bibs weigh less at 1 pound 11.1 ounces. Other leading designs including Patagonia's PowSlayer and SnowDrifter Bibs (both 1 lb. 4.6 oz.) also undercut the Kulshan considerably. To be sure, they're not the heftiest option on the market—the Flylow Gear Baker Bib (2 lbs. 1.4 oz.) and Black Diamond Recon Stretch Bibs (2 lbs. 0.4 oz.)—both weigh more, but I'd still opt for a lighter design on long backcountry days or multi-day trips that involve a lot of climbing. In my opinion, the Kulshan is best suited for lift skiing and sidecountry adventures, especially if inclement weather is in the forecast.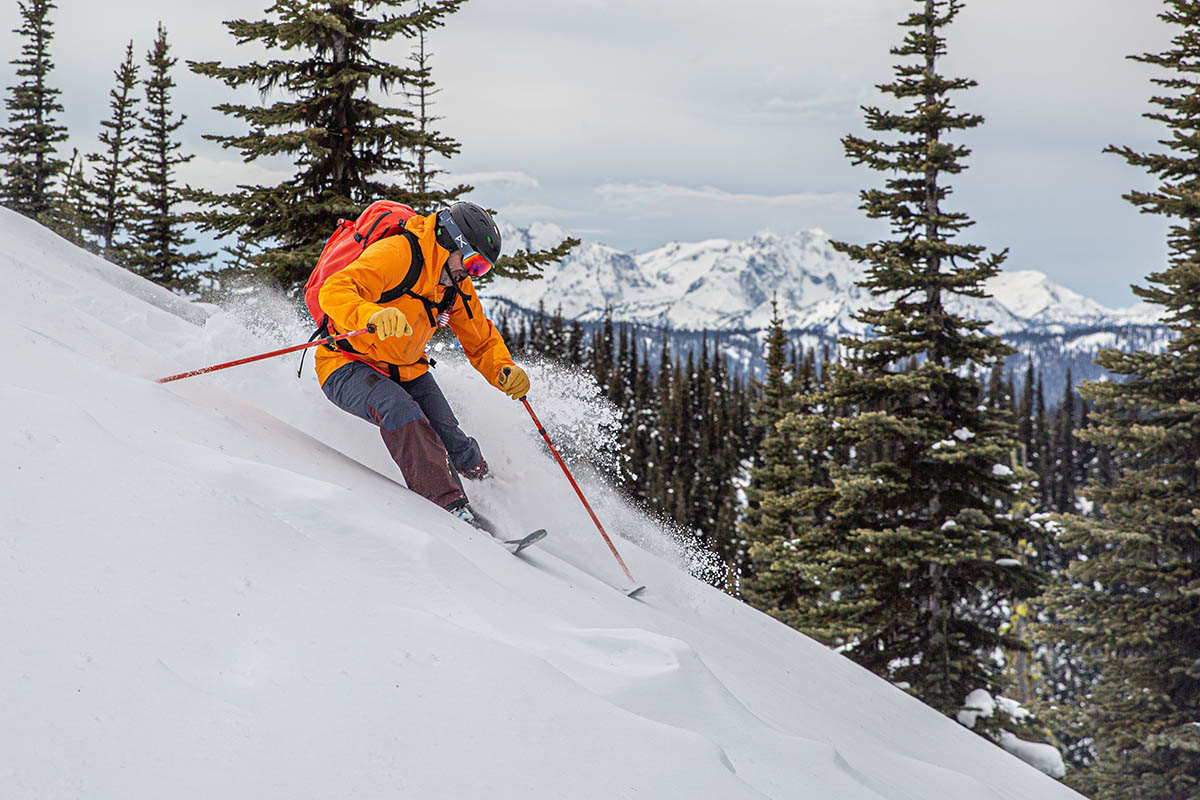 Key Features
Storage: Pockets
The Kulshan Storm Bibs are littered with pockets and leave little to be desired in terms of storage. The two zippered hand pockets at the waist are a great place to stash wet gloves—the mesh backing allows them to breathe and dry out quickly. The right pocket also comes equipped with a clip for securing an avalanche beacon, providing ample space to stash and easily retrieve my Mammut Barryvox S transceiver. You also get a zippered chest pocket at the left side, which I typically utilize for my phone, car keys, and other small valuables. Outdoor Research states that this pocket has a key clip inside, but my bib seems to be missing this feature (although it's not a big omission, in my opinion).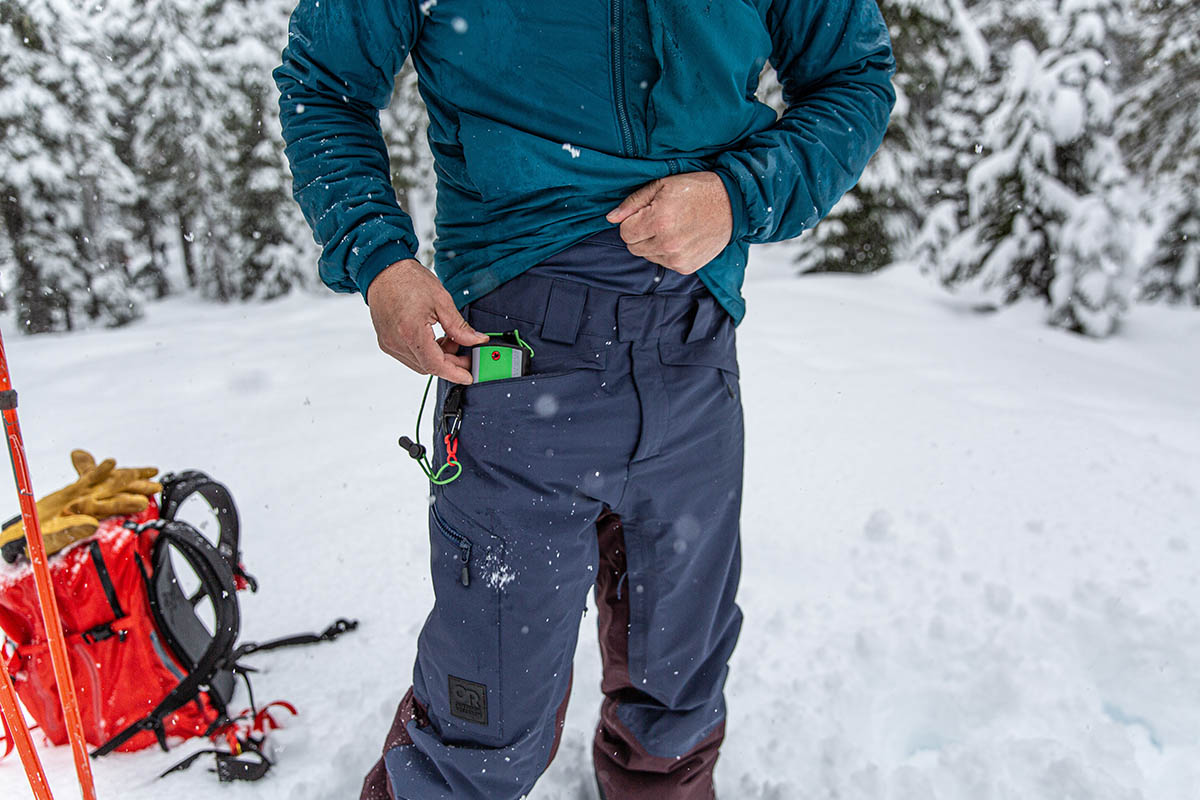 Rounding out the storage layout, there's a non-zippered stash pocket at the right side of the chest that's held shut with a small Velcro tab. I often leave this space empty since it can't be securely closed, and truthfully, I'd happily trade it for a small drop in weight. Last but not least is a single zippered cargo pocket on the right thigh, which I often stuff with dog treats, liner gloves, or a beanie. I do wish OR had included an identical pocket on the left side, but again, most skiers should have no trouble finding room for all the essentials.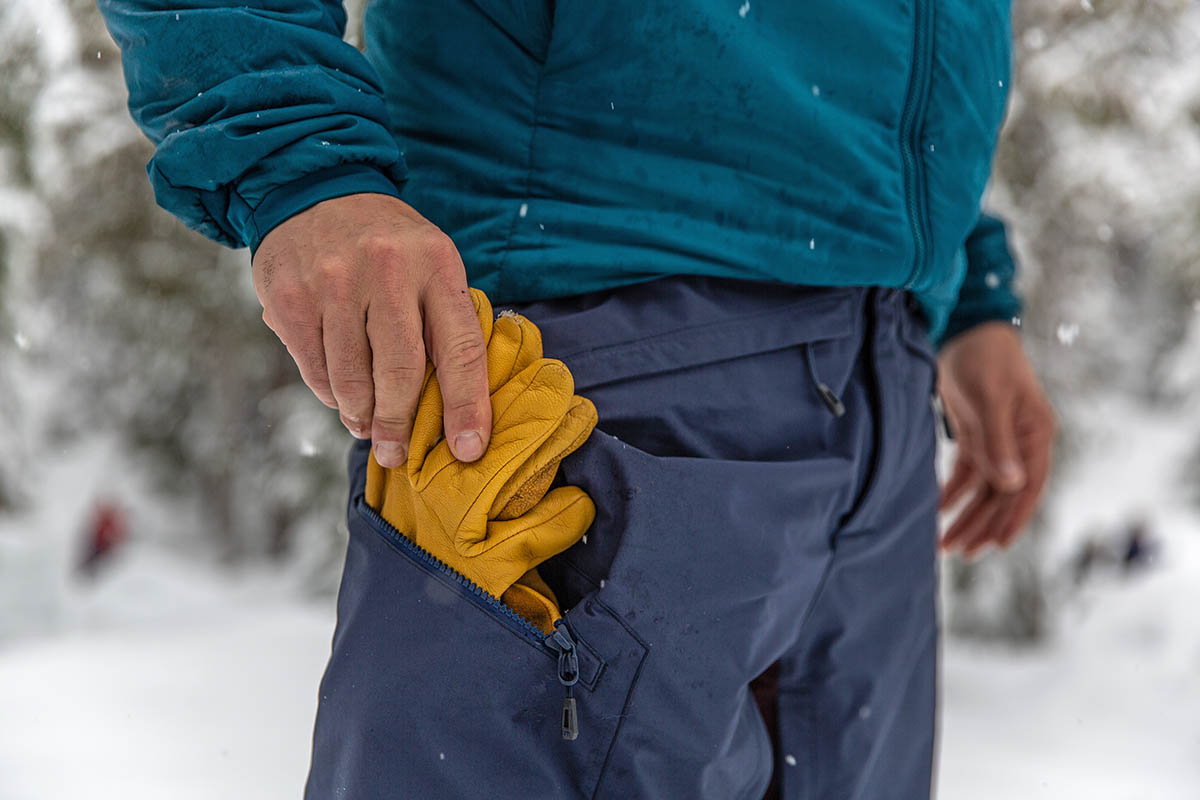 Vents
As I mentioned above, the OR Kulshan Storm Bibs come equipped with an inner thigh vent at each side for dumping heat quickly. Many competitors position the vents at the outside or back of the legs for maximizing airflow, but the Kulshan's inner vents have done a respectable job at cooling me off during periods of heavy exertion. The swing hatch at the left side is a nice supplement with a two-way zipper that opens from the waist all the way down to the knee. A final option for venting is to open up the main zipper, which runs from the upper torso down to the fly and can be secured with a Velcro tab at the waist.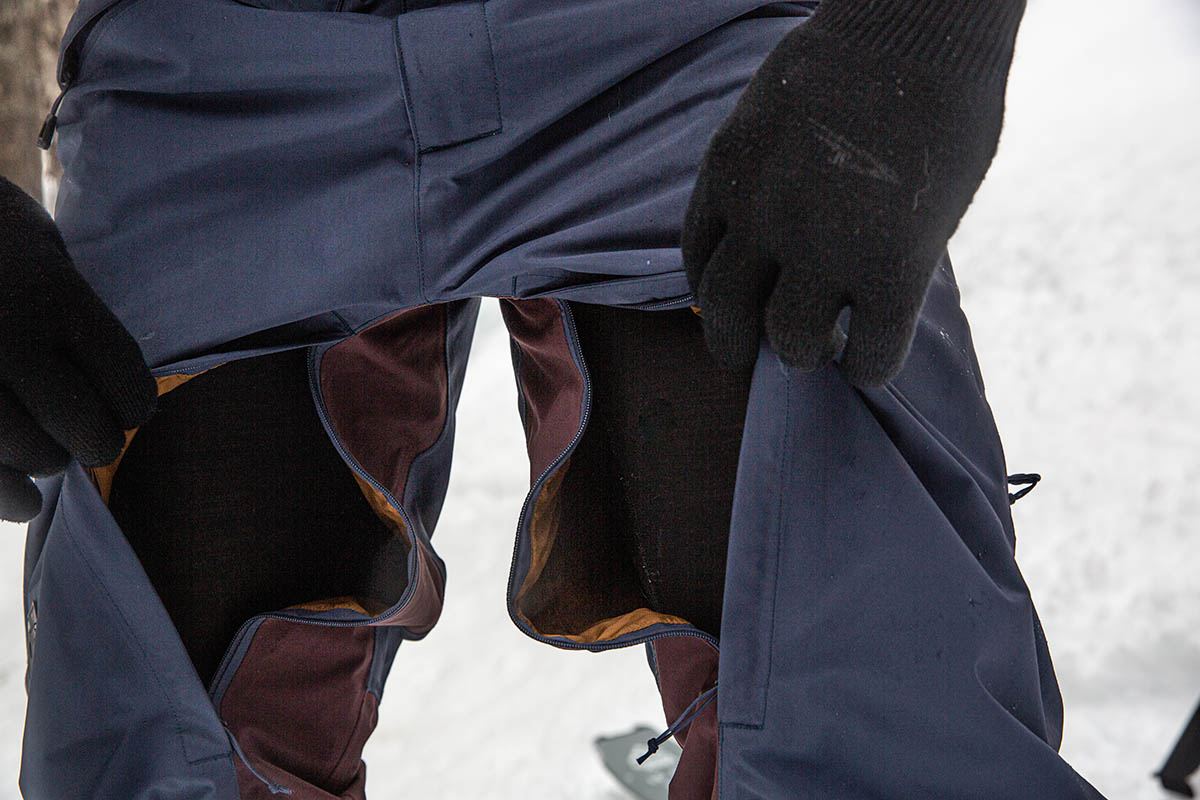 Zippers
Water-resistant zippers are fairly standard on high-end ski bibs, and I was a little surprised to learn that the Kulshan's pockets don't include a waterproofing treatment. To be fair, I haven't had any issues with moisture leaking into the pockets, and my valuables have remained protected and dry throughout testing. Outdoor Research did include a YKK zipper for the swing hatch, which adds a nice level of assurance and prevents water from creeping in along the waist and upper thigh. As I touched on, this zipper is also two-way and opens from the waist down to the knee with a button near the top, providing added ventilation and making bathroom breaks quick and easy. You also get a zipper at the front of the bib that opens down to the fly, which helps considerably with the on/off process and can be unzipped and secured with a Velcro tab at the waist to boost airflow even further.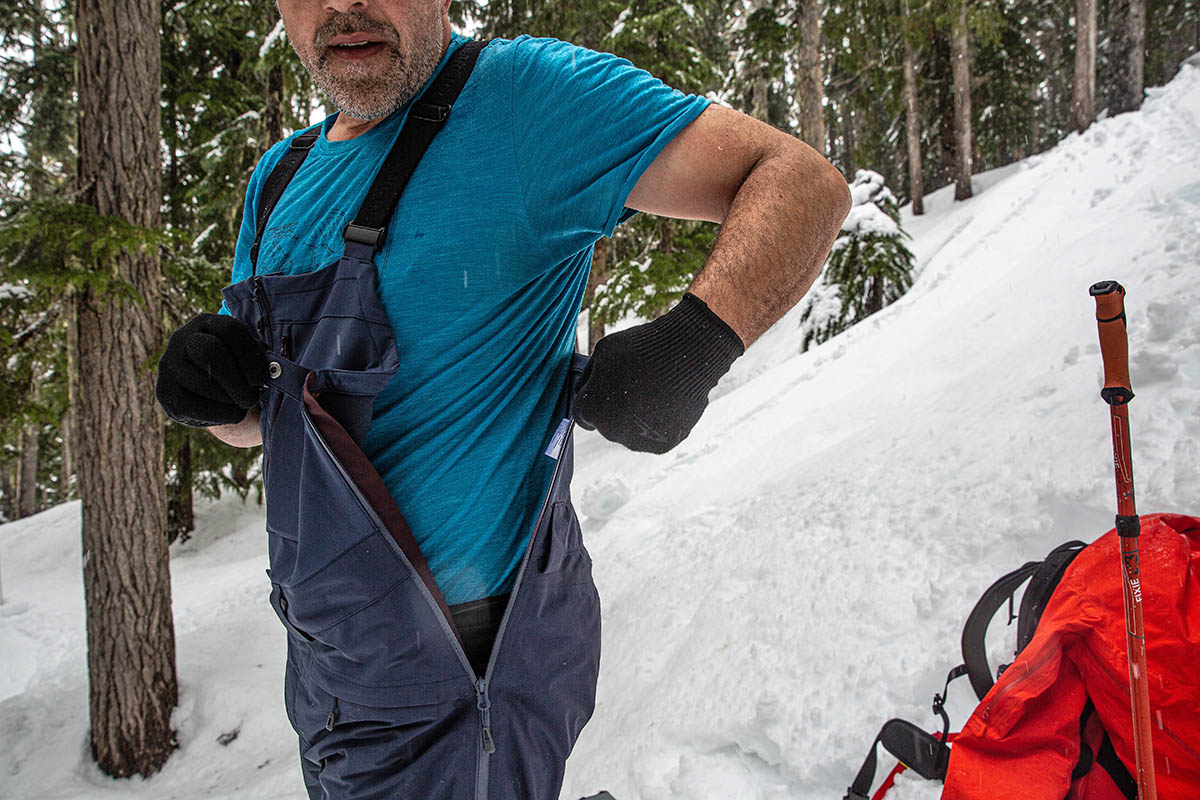 Other Features
Internal gaiters are a common feature on most ski pants and bibs, and the Kulshan's are well executed and effective at sealing out snow at the cuffs. The stretchy mesh along the inside makes them easy to secure over ski boots, and I've had no issues with them riding up or catching on the ski/walk lever of my Scarpa Maestrale XT boots (a problem I had when testing OR's first-generation Hemispheres Bibs). They also include a slot through which you can thread your boot's power strap for a little added security. Rounding out the feature set, you get thick scuff guards that effectively fend off scratches and snags from gear like ski edges, boots, poles, and other sharp equipment.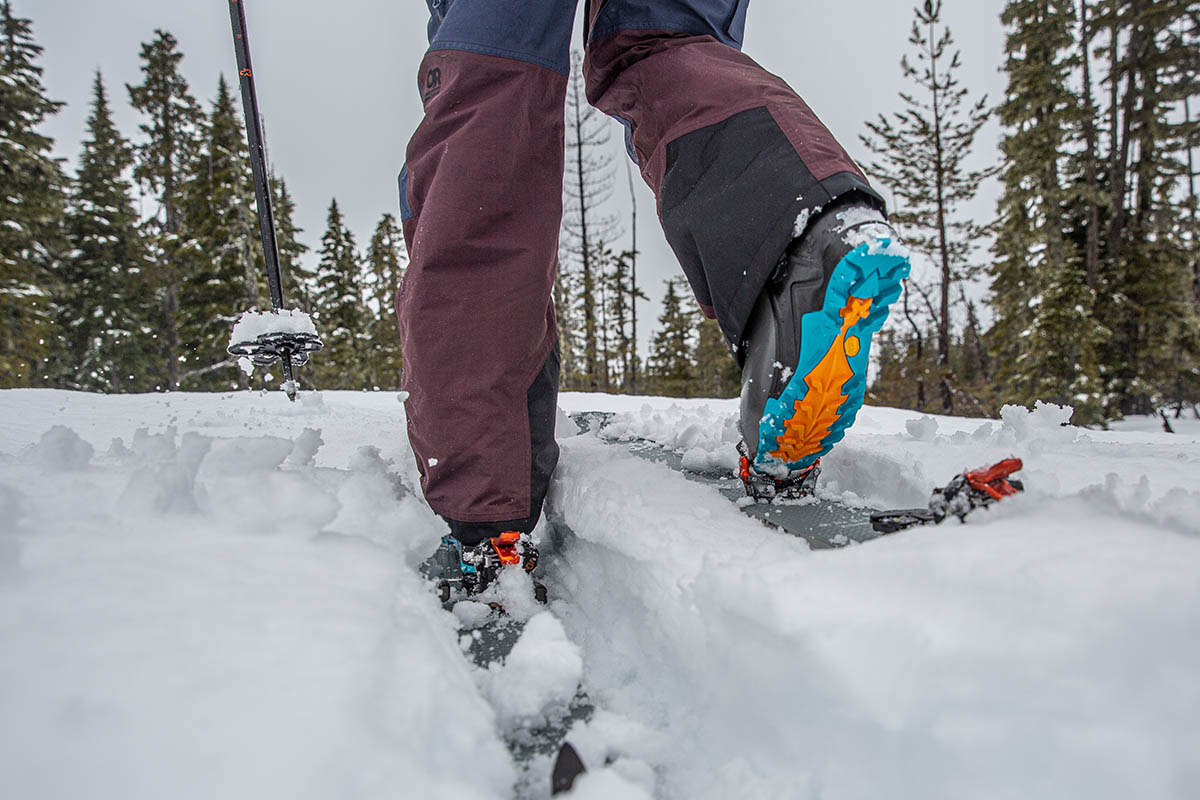 Fit and Sizing
I opted for my usual men's large in the Kulshan Storm Bibs and found the fit to be noticeably baggy, especially around the upper thighs and waist. I wouldn't categorize the bibs as overly big or long, although some will prefer a trimmer and more performance-ready cut for touring (I personally liked the roomier fit and found the Kulshan bibs easy to move around in). I did have to tighten the suspenders a fair amount—I keep them just loose enough that the buckle doesn't sit underneath my pack's shoulder straps—but I haven't experienced any pulling or unwanted tension when putting on ski boots or transitioning. The bibs also feature belt loops for cinching things in at the waist, although I haven't had to use them and have enjoyed the added mobility that the baggier fit provides. As I mentioned above, the bottom of the legs also have a flared, bell bottom-like design that makes them easy to pull over ski boots, and the stretchy mesh gaiters prevent them from riding up unexpectedly.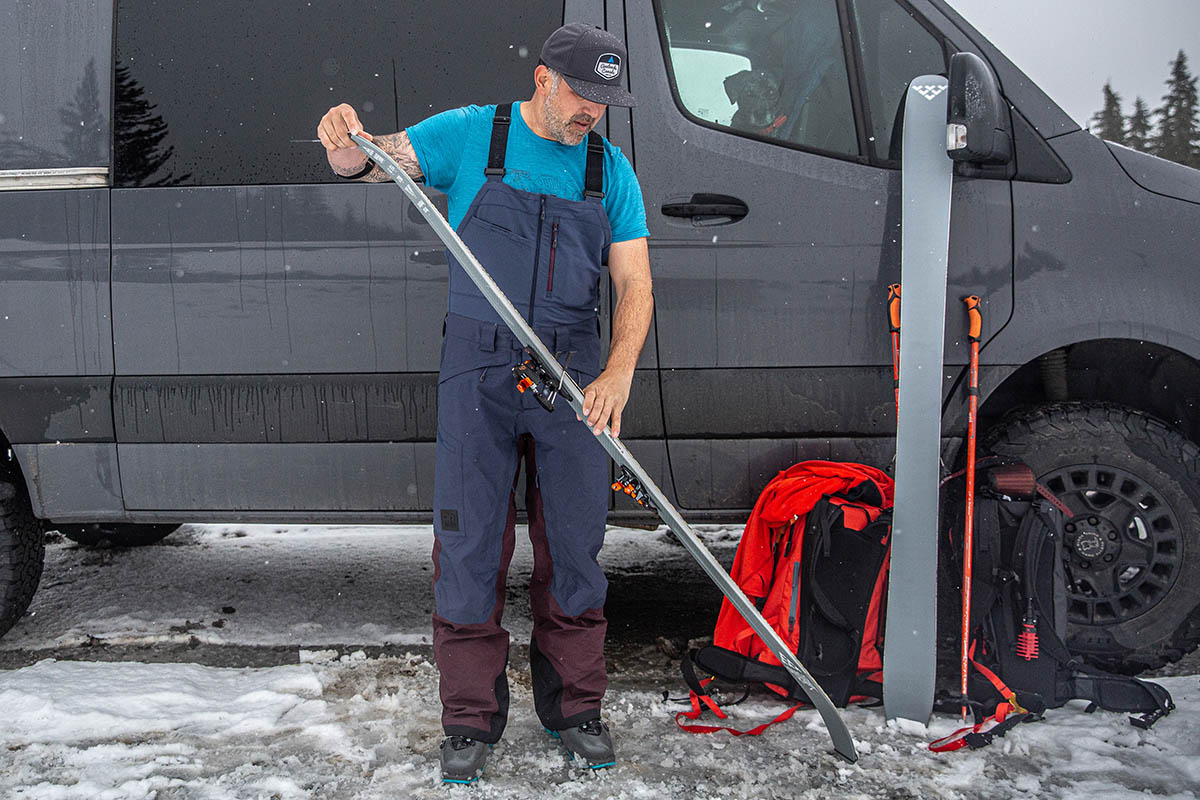 Sustainability
Like many major outdoor brands, Outdoor Research has incorporated several sustainability measures into their collection in recent years. In this case, the Kulshan Storm Bibs use bluesign-approved Gore-Tex along the upper front legs, seat, and lower legs that's been deemed safe for the environment, workers, and consumers. The VerticalX ECO insulation along the seat is also made of 85% recycled polyester. Taken together, the Kulshan is an intentionally built design and a nice reflection of the brand's ongoing sustainability initiatives.

Other Versions of the Outdoor Research Kulshan
I tested the men's Kulshan Storm Bibs for this review, and they're also offered in a women's version for the same price. The women's Kulshan Storm Bibs have a nearly identical weight (they're listed at 0.1 oz. lighter) and overall construction, including 2-layer Gore-Tex waterproofing, a stretchy softshell upper, and 45-gram VerticalX ECO insulation along the seat. Colorways vary slightly, although both the men's and women's bibs are offered in a standard, all-black design. To complete your kit, Outdoor Research also sells the Kulshan Storm Jacket, which retails for $449, comes in men's and women's models, and shares the 2-layer Gore-Tex build with a brushed tricot liner for added next-to-skin comfort. Rounding out the collection are Kulshan flannel shirts for men and women, although these are decidedly casual pieces and lack the technical constructions and feature sets of the bibs and jackets.

What We Like
Gore-Tex construction provides reliable protection even in heavy, sustained snowfall with better breathability than most other 2-layer designs.
Great comfort and mobility: The bibs have a soft and supple feel, easily slide over a baselayer, and don't restrict movement.
Thicker materials in high-wear areas, including the upper legs and seat, add a nice boost in durability and protection.
Softshell upper is stretchy, breathable, and contributes considerably to overall comfort.
Plenty of pockets for stashing the essentials.

What We Don't
Fairly heavy for extended backcountry use at 1 pound 12.7 ounces.
Roomy fit can inhibit range of motion and gives the bib a decidedly baggy look and feel.
Inner thigh vents are less effective at dumping heat than outer thigh vents.
Stash pocket at the right side of the chest uses a Velcro tab to stay shut, which is far less secure than a zipper and limits its utility for storing valuables.
None of the pockets have water-resistant zippers, although I haven't had any issues with moisture creeping in.


Comparison Table

The Competition
The Outdoor Research Kulshan Storm Bibs check most of the boxes we look for in a backcountry-ready ski bib, but we consider OR's own Skytour AscentShell Bibs the best option for touring this season. For $70 less than the Kulshan, the Skytour features a more breathable 3-layer AscentShell construction that stretches like a softshell but is still highly protective. The thinner construction and air-permeable fabric don't isolate you from the wind as well as the Kulshan's Gore-Tex build, but many backcountry-goers will likely find that tradeoff worth it for the added ventilation. The Skytour is also over an ounce lighter, has outer thigh vents that are more effective at dumping heat, and boasts a trimmer and more technical fit. All of the other features are there, too, including ample storage, adjustable suspenders, internal gaiters and scuff guards, and a swing hatch for bathroom breaks. All told, it's a highly competitive design at an approachable price and gets the clear edge in value over the Kulshan.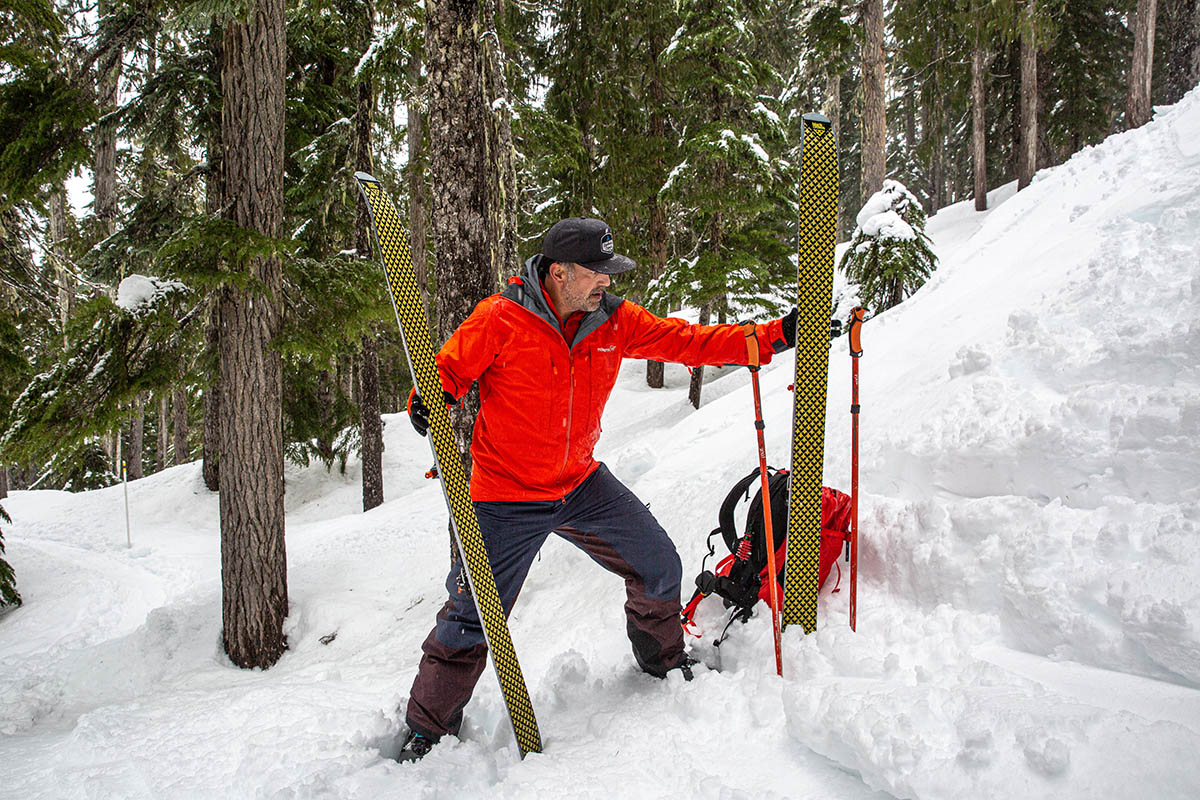 Sitting at the top of OR's ski bib lineup is their Hemispheres II, which is considerably pricier than the Kulshan at $629 but comes with some notable performance upgrades. First is waterproofing: The Hemispheres uses upgraded 3-layer Gore-Tex with C-Knit and patches of 2-layer Gore-Tex with Stretch Technology at the gusset and lower back, providing a hard-to-beat balance of protection and comfort. It's also noticeably lighter than the Kulshan at 1 pound 6.1 ounces while offering a similar assortment of features, including reinforced scuff guards, internal gaiters, and outer thigh vents that are better at releasing excess heat. OR also tacked on an additional chest pocket with the latest version, which addresses the storage complaints we had with the prior model. Taken together, we consider the Hemispheres II to be OR's most well-rounded bib to date and worth the added investment for committed backcountry adventurers.
Moving outside of OR's collection, REI Co-op's First Chair GTX Bib Snow Pants stack up pretty well to the Kulshan for a significant $190 less. Like the Kulshan, the First Chair uses proven 2-layer Gore-Tex for waterproofing, weighs around the same at 1 pound 13.9 ounces, and includes handy features like integrated gaiters, tough scuff guards, and thigh vents for dumping heat quickly. The First Chair rides a little lower than the Kulshan and lacks the stretchy softshell material at the upper torso, although REI did include some mechanical stretch in the face fabric to increase mobility. You also forgo belt loops and the generous storage layout of the OR—the First Chair boasts a zippered chest pocket and two drop-in thigh pockets, none of which have a clip for securing an avalanche beacon. In the end, there's no question that the Kulshan is the more complete and well-rounded backcountry design, but the First Chair is a nice budget alternative for weekend resort-goers and the occasional tour.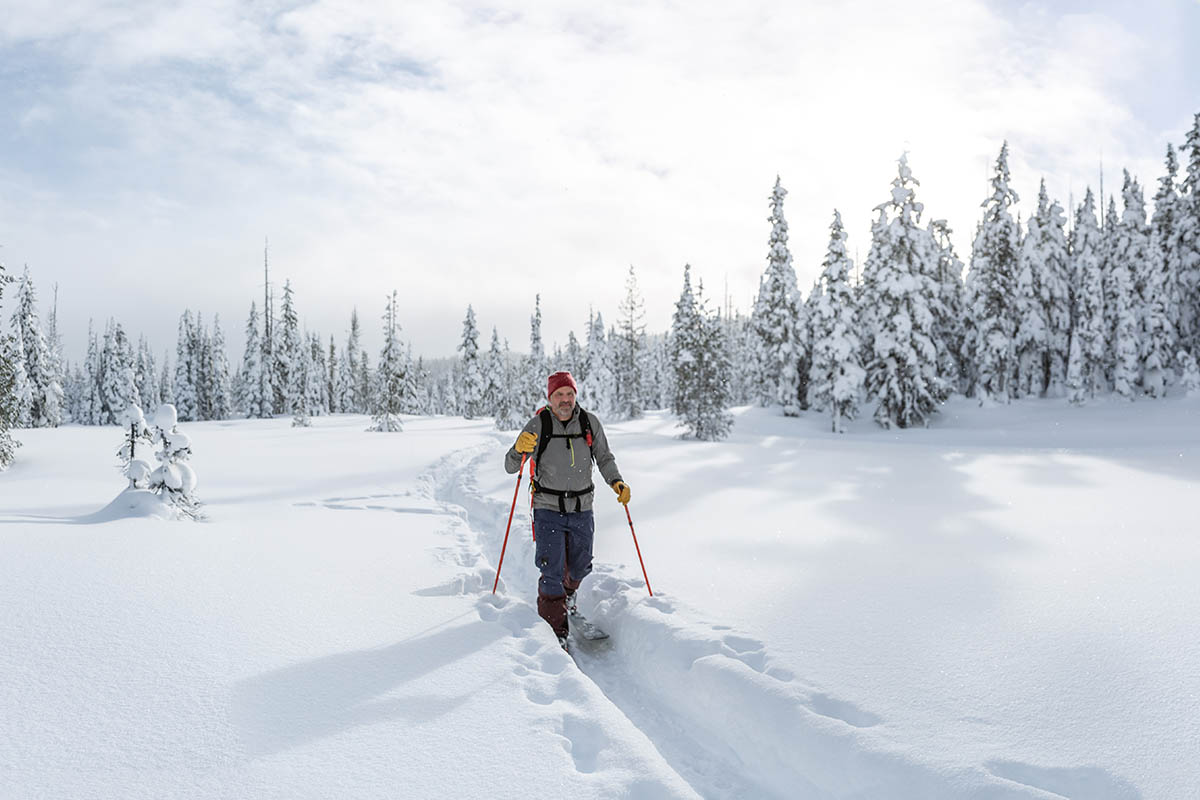 A final alternative to consider is Flylow Gear's Baker Bib. Right away, we'll note that the Baker falls short of the Kulshan for dedicated backcountry use: It's hefty at just over 2 pounds, has a baggy fit with minimal stretch that can inhibit range of motion, and uses a thick hardshell fabric that falls short in breathability. On the flip side, resort-goers who go on the occasional tour will appreciate the Flylow's tougher build, upgraded 3-layer waterproofing, and freeride-oriented fit. You also get massive side vents (one of which extends to the top of the bib for bathroom breaks) and zippered openings along the inner thigh for added ventilation on spring days and sidecountry bootpacks. Again, the lighter and stretchier Kulshan wins out for high-output touring, but the Baker Bib 's top-notch durability and protection give it the edge for mixed in- and out-of-bounds use. If you like the styling but want something more breathable, Flylow also offers the Baker Perm Bib with a more air-permeable Intuitive Perm HD Fabric, although price goes up by a significant $90.
If you're thinking about buying gear that we've reviewed on Switchback Travel, you can help support us in the process. Just click on any of the seller links above, and if you make a purchase, we receive a small percentage of the transaction. The cost of the product is the same to you but this helps us continue to test and write about outdoor gear. Thanks and we appreciate your support!
Depending on the seller, most products ship free in the United States on orders of $50 or more. International shipping availability and rates vary by seller. The pricing information on this page is updated hourly but we are not responsible for inaccuracies.
Read More From Switchback Travel