Nemo Hornet 2P 
Price: $370
Packaged weight: 2 lbs. 6 oz.
Floor area: 27.5 sq. ft.
Capacities: 1P, 2P
What we like: Two doors and vestibules at an impressively low weight.
What we don't: Cramped for two (we consider it ideal for solo backpackers). 
See the Nemo Hornet 2P
Nemo is a leader in the lightweight backpacking tent market, and their Hornet stands out for its two-door-and-vestibule layout in an ultralight package. Through a summer of testing, the two-person Hornet treated us well and proved to be a highly capable and weather-worthy UL design at a competitive price. However, the heavily tapered interior and aggressively sloped walls did push the limits for us on interior comfort, making it ideal for single backpackers but fairly cramped for two. Below we outline our experiences with the Nemo Hornet. To see how it stacks up to the competition, see our article on the best backpacking tents.
Editor's note: Nemo has updated the Hornet since our test, with notable changes including a lighter weight, slight decreases in floor area, vestibule space, and peak height, and the addition of Nemo's "Flybar" pole clips to boost room at the head end of the tent. We've outlined these changes where applicable in the text below.
 
---
Table of Contents
---

Performance
Livability and Interior Space
With 27.5 square feet of floor space, the Nemo Hornet 2P is similar on paper to most other ultralight two-person tents and can accommodate a pair of 20-inch-wide sleeping pads. For reference, other leading UL designs including Big Agnes' Tiger Wall UL2 (28 sq. ft.), Fly Creek HV UL2 (28 sq. ft.), REI's Quarter Dome SL 2 (28.7 sq. ft.), and Sea to Summit's new Alto TR2 (27 sq. ft.) boast similar specs. And we appreciate that Nemo retained two doors and two vestibules, which makes it easy for each person to enter and leave without tripping over their tent mate (a big complaint we have with the single-door Fly Creek).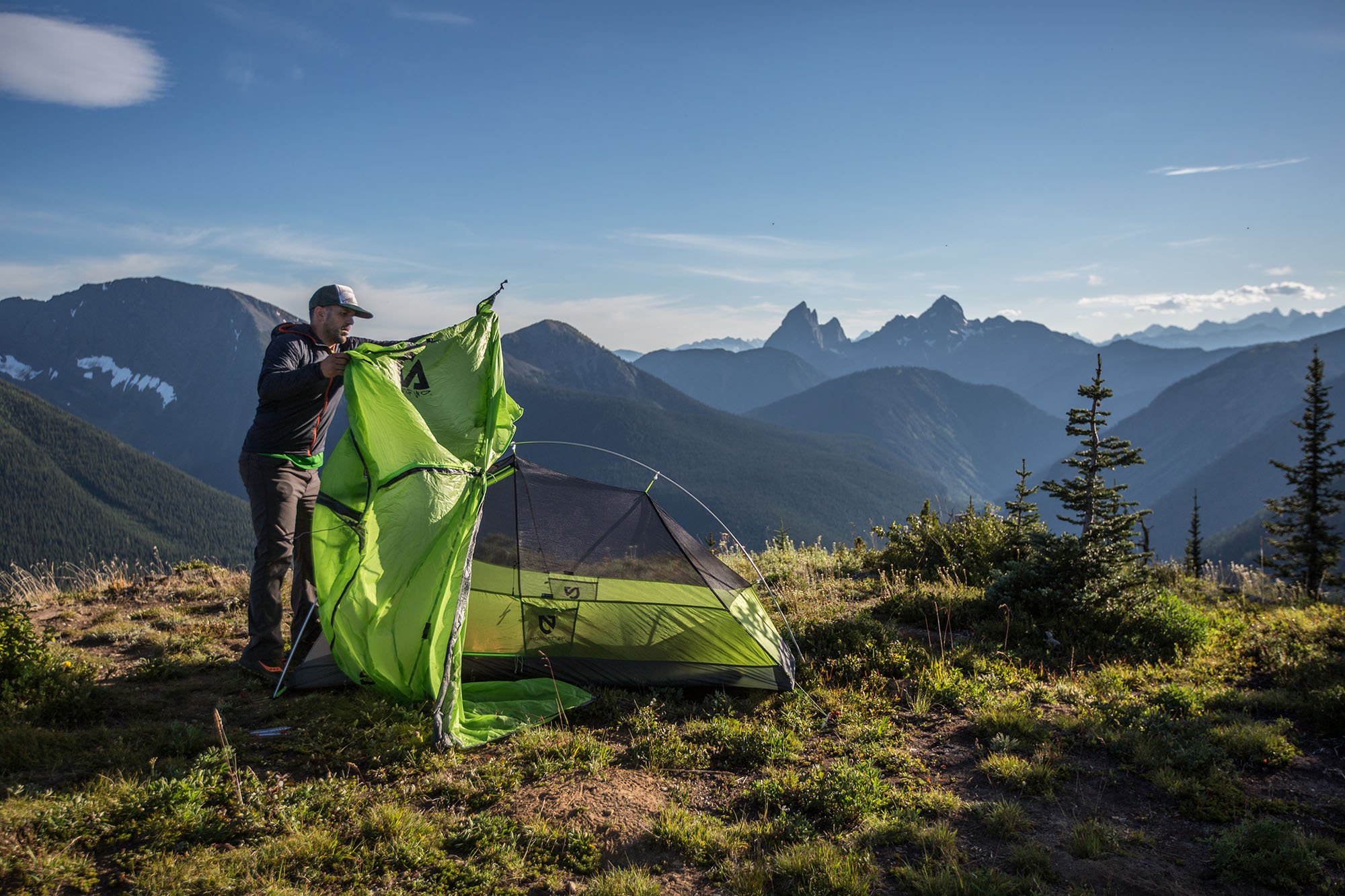 That said, there is very little extra room along each side of the Hornet, and we found the tent to be a fairly tight fit for two. The leading cause is the asymmetric layout, which is wider at the head end and tapers heavily downward starting at about the waist (for reference, the head end is 51 in. wide while the foot end is 43 in.). Another issue is that the Hornet has a clear "peak" (39 in.) with walls that aggressively slope downward, which makes it hard for two to sit up at the same time. It's worth noting that Nemo recently added "FlyBar" pole clips—essentially two mini ridge poles at the head and foot end of the tent—to boost headroom, but we still consider the Hornet 2P ideal for single backpackers.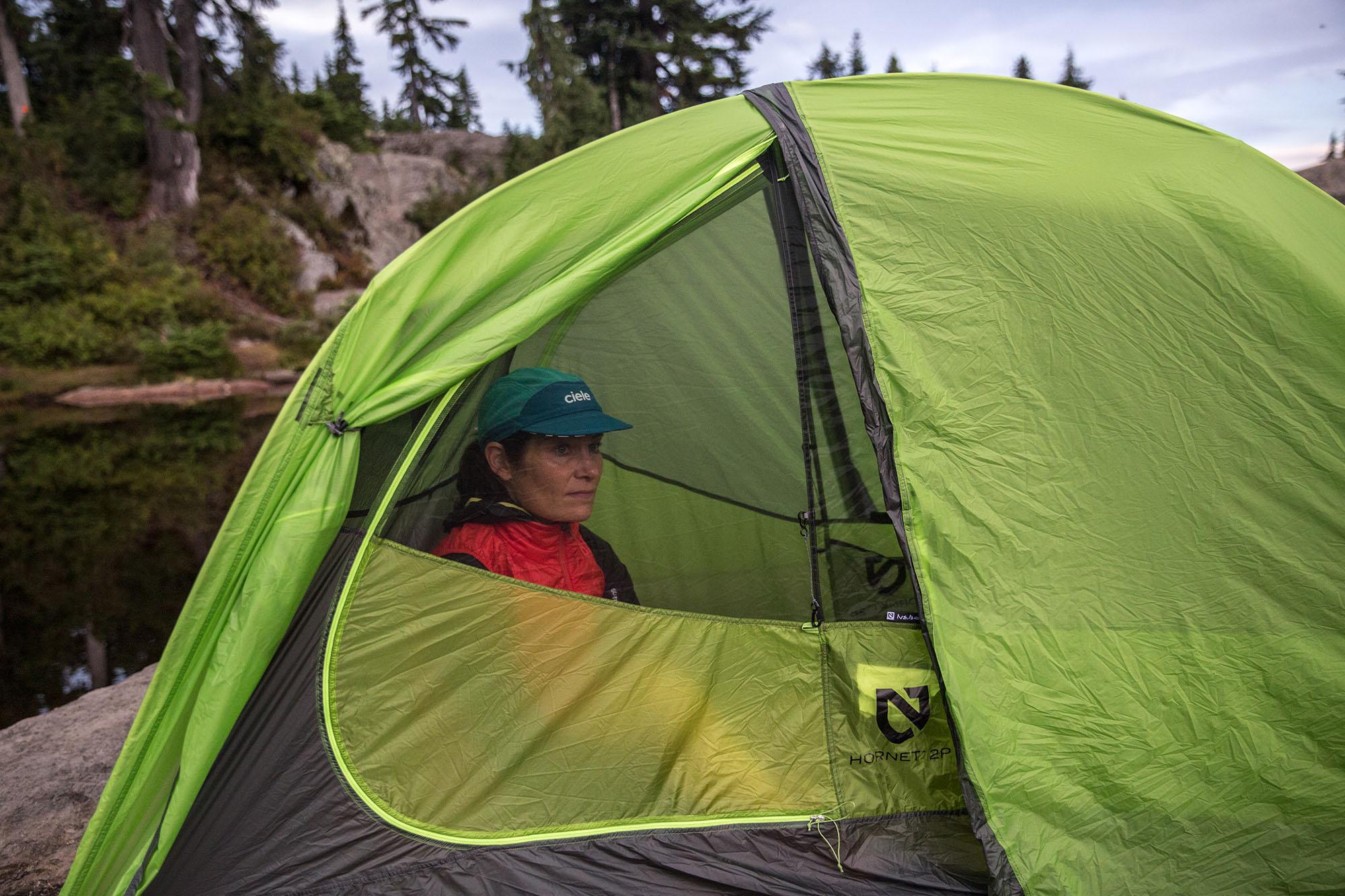 Weight and Packed Size
With a packaged weight of 2 pounds 6 ounces, the Nemo Hornet 2P undoubtedly delivers as an ultralight tent. For reference, it's in esteemed company among the likes of the Big Agnes Tiger Wall UL2 (2 lbs. 8 oz.), Fly Creek HV UL2 (2 lbs. 4 oz.), Tarptent Double Rainbow (2 lbs. 10 oz.), and REI Flash Air 2 (2 lbs. 8 oz.). It also packs down super small (compressed size measures 19.5 x 5.5 in.) and takes up minimal space in a pack. As with all ultralight and fastpacking gear, however, it's worth pointing out that in order to reduce the weight, Nemo did make some considerable compromises in interior space and durability (more on the latter below). Those focused on moving quickly over long distances might not mind these tradeoffs, but it's nevertheless an important balance to consider.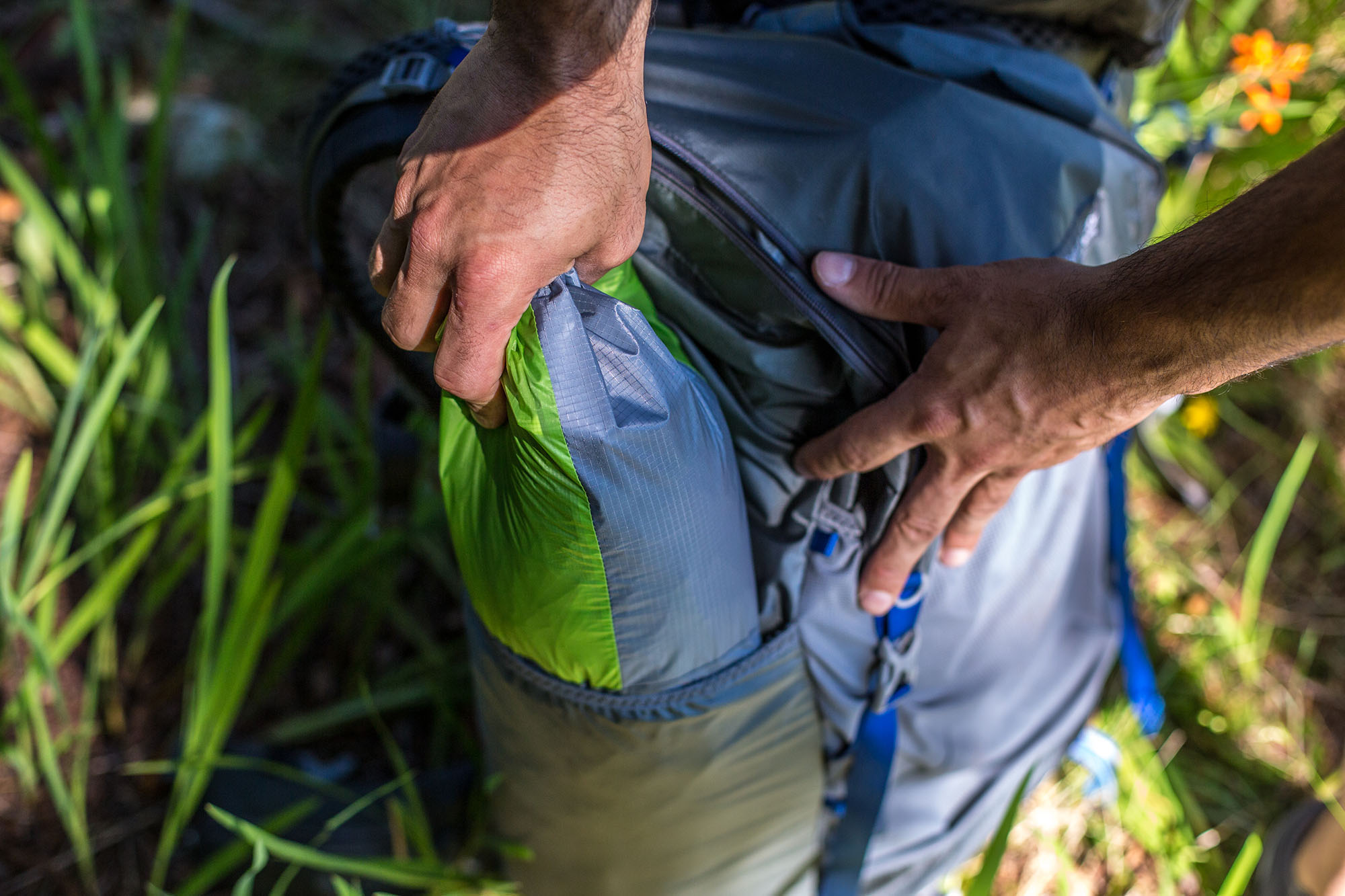 Build Quality and Durability
Durability is a common concession in ultralight gear, and the Nemo Hornet is no exception. For starters, the fly is 10-denier (D) nylon ripstop, which is thin even by UL standards. And the floor—which is always the biggest concern given its regular contact with rocky and rough ground—is a delicate 15D (we recommend purchasing the 68D footprint separately). Finally, the tent canopy is comprised primarily of a lightweight "No-See-Um" mesh that allows for significant airflow and visibility through the upper tent, but you'll want to take good care to avoid snags. To be fair, we haven't put a hole or tear in the Hornet despite fairly demanding and consistent use, but we recommend exercising caution and always bringing along a repair kit just in case.  
 
Weather Protection and Ventilation
Tent strength sometimes is compromised when cutting weight, but the Hornet proved to be sturdy in pretty substantial winds thanks to the solid DAC Featherlite pole system. We haven't had it out in a strong British Columbian rainstorm just yet, but it held up admirably in light precipitation. And it's important to note that the rainfly only provides partial coverage at the head end of the tent, but the raised bathtub floor and good seam sealing along the tent body sufficiently keep moisture at bay.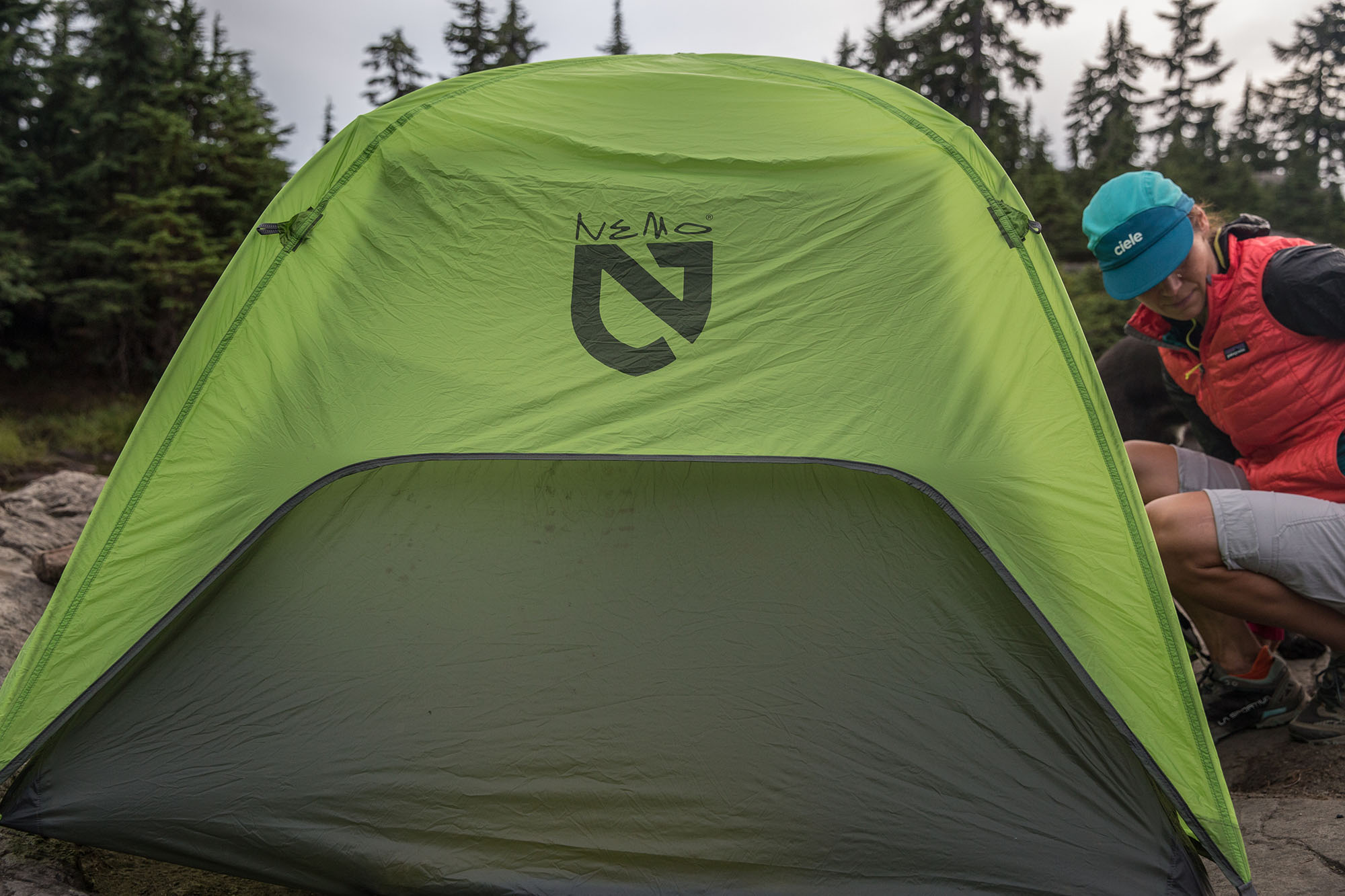 One positive of the raised section of the rainfly is that it encourages airflow. Combined with heavy use of mesh in the tent body and a large air gap between the inner tent and rainfly, the Hornet has excellent ventilation. There is very little chance of condensation collecting along the interior, which makes the Hornet a great choice for just about all conditions, and particularly humid summer weather.
 
Vestibules and Storage
As we mentioned above, we think Hornet's double vestibules are a big plus for two backpackers. We found that we could easily fit our packs and hiking boots in the two 7.1-square-foot vestibules (the past version's were slightly larger at 8 sq. ft.), which was a very welcome addition considering there is little extra space inside the tent. We also found that gear placed against the sides tended to make the walls cave quite a bit, so we made sure to set it away from the tent body.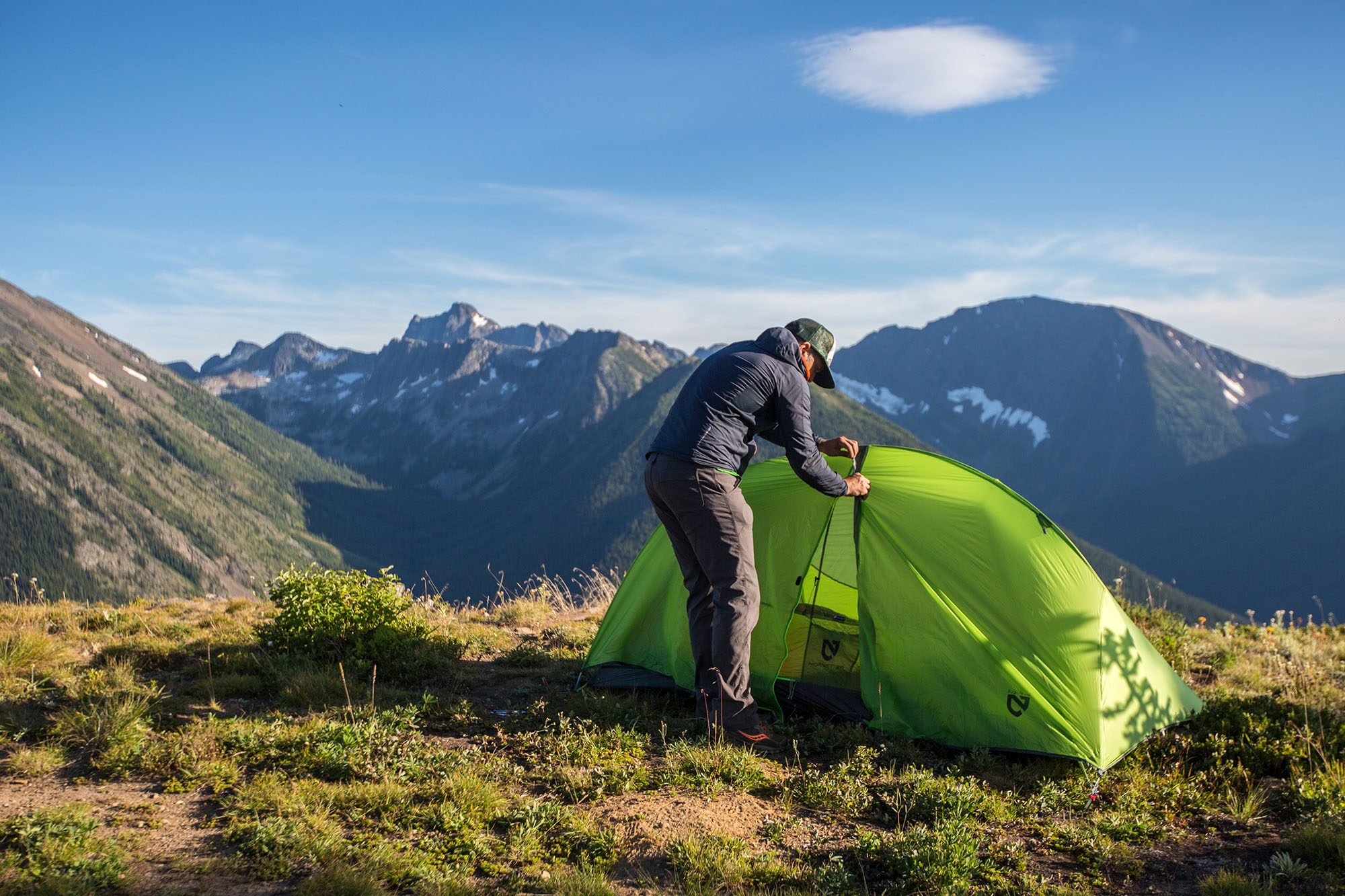 Set up and Take Down
Thanks to the single hubbed pole, pitching the Hornet is extremely easy and quick, even for one person. The lightweight aluminum tent pole is shaped like a "Y," with the mouth of the Y connecting to the tent by a secure ball and socket system. The single end of the Y simply slides into a grommet at the foot end of the tent, and the canopy is then hung from the pole system. In order to reach its full size and maintain a rigid frame all-around, the Hornet must be staked out at the foot end as well, as is the case with all semi-freestanding designs. In most environments this should be no problem, but it can be difficult on particularly rocky or root-covered terrain.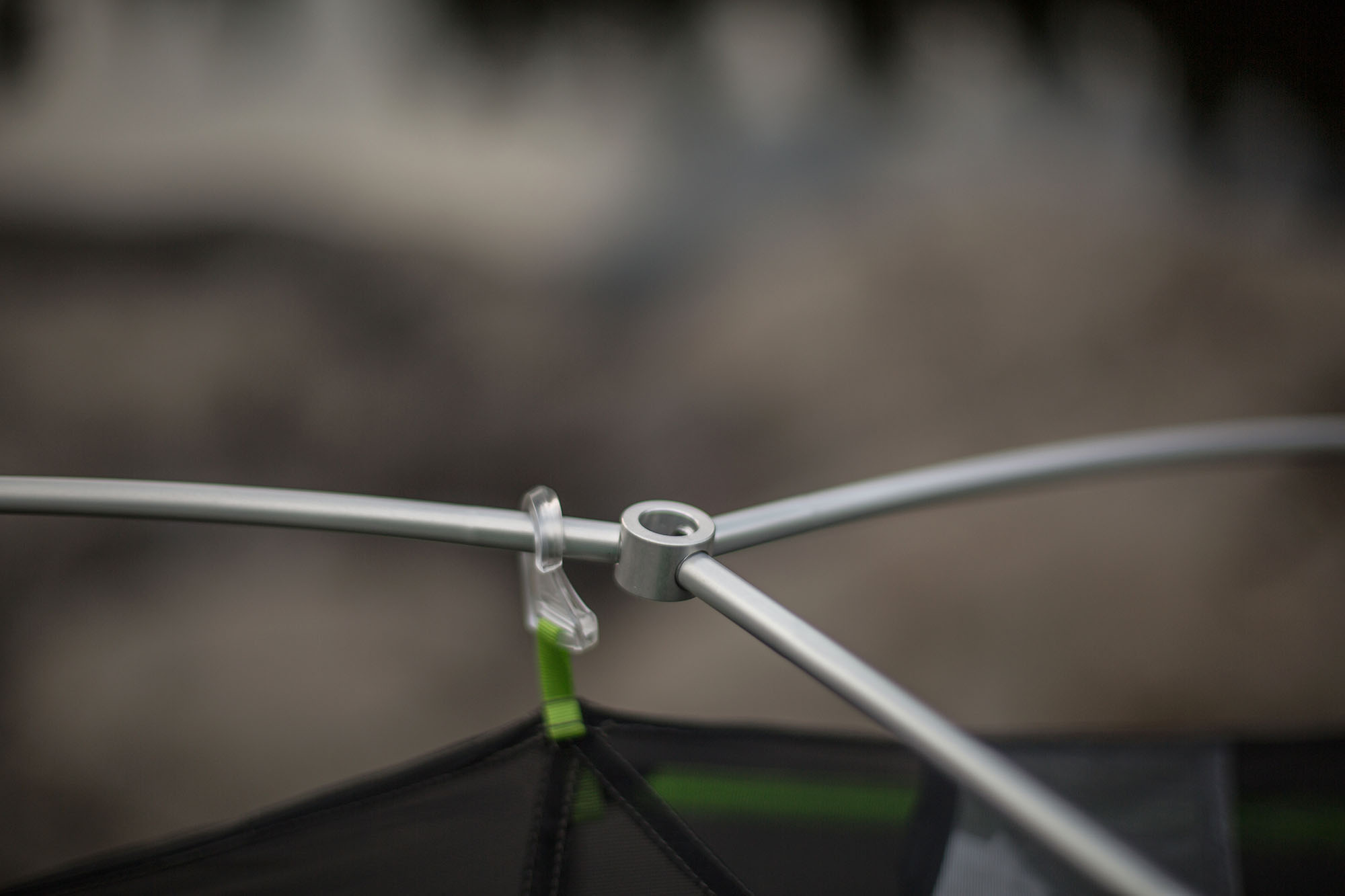 Other Versions of the Nemo Hornet
We tested the two-person version of the Nemo Hornet, and it's also offered in a 1P model for $40 less. Compared to the 2P, the Hornet 1P is lighter at 2 pounds even, packs down smaller (it measures 19.5 x 4.5 in. when compressed), and boasts a smaller interior with 22 square feet of floor area. As we touched on above, the 2P felt cramped for two backpackers, meaning we wouldn't recommend opting for the 1P unless the added 6 ounces truly are a deal-breaker for you. Rounding out the collection, Nemo offers an even lighter-weight and more compromised Hornet Elite model in both 1P and 2P capacities, with the two-person variation checking in at 2 pounds 1 ounce (more on this tent below).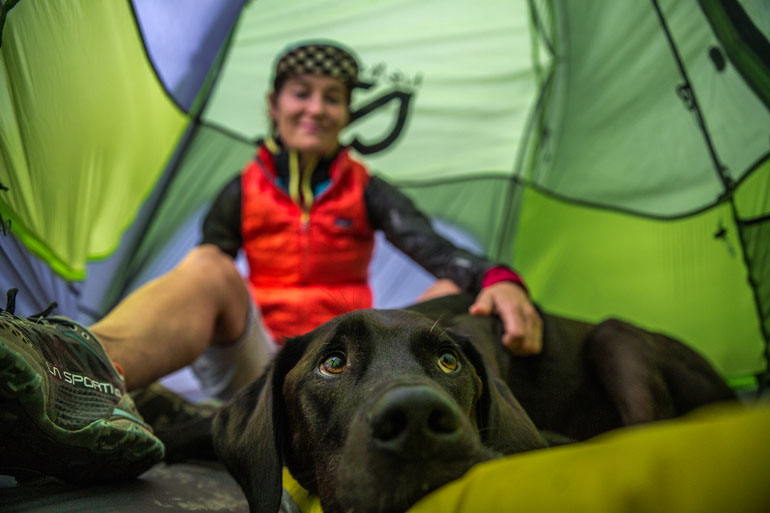 What We Like
The Hornet is super lightweight but still has two very functional doors and vestibules—a majorly convenient feature for two backpackers.
Ventilation is excellent thanks to the fly design and mesh canopy.
Single hubbed pole makes set up incredibly easy, even for one person.
 
What We Don't
Cramped quarters for two backpackers—we consider this tent ideal for solo trekkers.
Despite the addition of FlyBar pole clips, the sloped walls inhibit head room when sitting up, meaning only one person can sit comfortably at a time.
Thin and delicate materials will require added care to avoid snags and tears (and we recommend purchasing a footprint separately).
Tapered end decreases space from the waist down.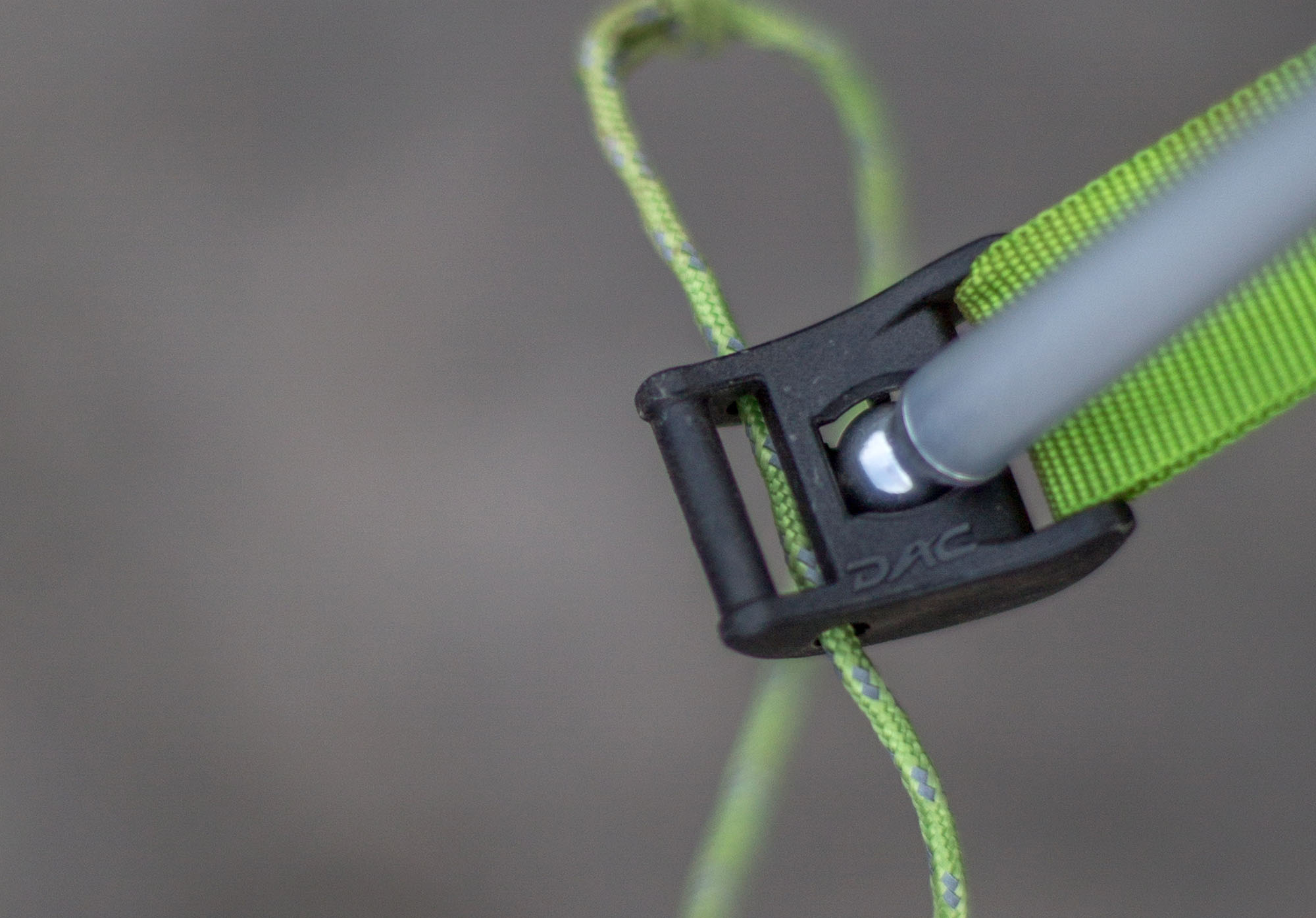 Comparison Table

The Competition
Nemo's Hornet 2P is a highly competitive ultralight backpacking tent, but there are a number of viable alternatives in 2021. Big Agnes' Tiger Wall UL2 is another one of our favorite UL designs, with a similar two-door-and-vestibule layout and semi-freestanding build. The Tiger Wall is a couple ounces heavier than the Nemo and costs an additional $30, but the large ridge pole across the center makes it the more spacious option, and we consider it livable (albeit snug) for two. Both tents use ultra-thin materials to shave weight and will require added care, but the Tiger Wall strikes us as the more well-rounded design and worth the slight bump in cost.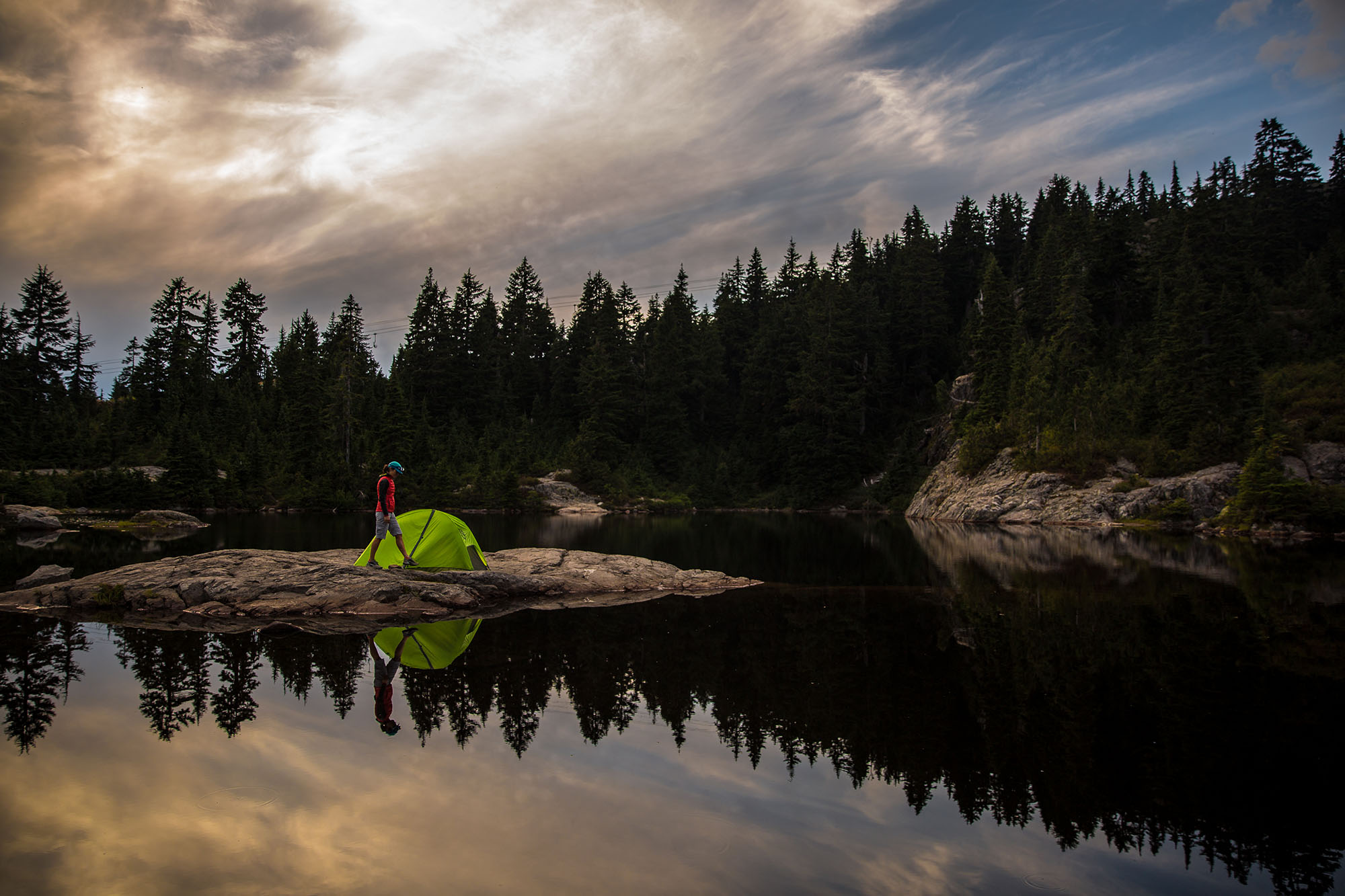 Another Big Agnes option to consider is their Fly Creek HV UL2, which has long been the standard bearer in the ultralight double-wall tent market. In comparing the Fly Creek and Hornet, the Big Agnes is a couple ounces lighter at 2 pounds 4 ounces, uses a slightly thicker 20D floor (the Nemo's is 15D), and has a 3-inch-taller peak height that makes it easier to sit up in. However, we consider the Nemo the more livable option for one key reason: its two doors and vestibules. In truth, neither the Fly Creek nor the Hornet are all that comfortable for two campers, but the single door on the Fly Creek remains its greatest detriment. All in all, considering the similar pricing and weight, we give the edge to the Nemo for its less compromised layout.
REI Co-op is a consistent leader in the value category, and their Quarter Dome SL 2 is a well-rounded lightweight design for $21 less than the Hornet. Weight jumps to 2 pounds 14 ounces, but the Quarter Dome has a roomier interior (including an additional inch of room at the head end) and bigger vestibules (by a considerable 7.3 sq. ft. total). Importantly, REI also retained two doors, which is the icing on the cake in terms of livability for two. Thru-hikers and other committed ULers might be deterred by the 8-ounce weight penalty, but the Quarter Dome is undeniably an excellent value and more comfortable for two.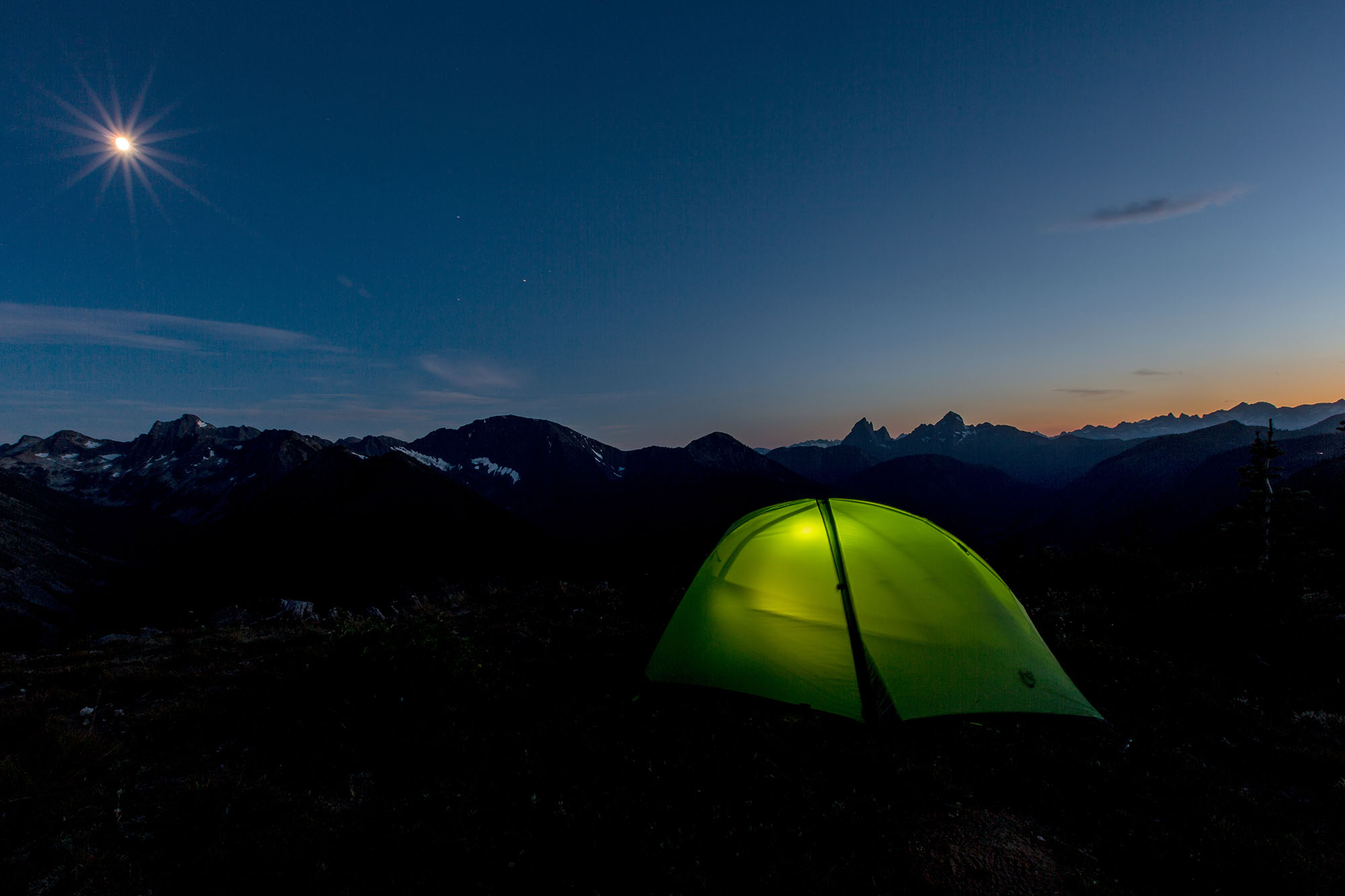 Sea to Summit entered the backpacking scene in a major way for 2021 with their Alto TR2. Right off the bat, we'll note that the Alto is considerably heavier than the Nemo at 2 pounds 15.3 ounces and pricier at $449, but you do get a taller peak height (42.5 in.) and wider dimensions at the head end, which makes the Alto feel less cramped inside. We also love the Alto's unique Tension Ridge, which bends the ridge pole upward at each end rather than downward, resulting in taller doors, more livable space, and better ventilation. We did find that this caused rain to pool by the upper vent in heavy precipitation, but it was a quick and easy fix. All told, unless your main concern is weight, we consider the Alto to be the more well-rounded option.
Last but not least is the Elite version of the Hornet, which is even lighter than the tent tested here at 2 pounds 1 ounce all-in. Apart from weight, the Hornet Elite also has a shorter peak height by 2 inches, features slightly narrower dimensions and a reduced floor area (27.3 sq. ft.), has smaller vestibules (6.2 sq. ft. each), and uses even thinner materials including a 7D fly and 10D floor. It's also a significant $130 pricier than the standard Hornet at a steep $500. Given these downsides, the Elite model feels a bit too compromised for our taste, and we think most weight-conscious backpackers will be perfectly happy with the more durable and roomier standard Hornet.
If you're thinking about buying gear that we've reviewed on Switchback Travel, you can help support us in the process. Just click on any of the seller links above, and if you make a purchase, we receive a small percentage of the transaction. The cost of the product is the same to you but this helps us continue to test and write about outdoor gear. Thanks and we appreciate your support!
Depending on the seller, most products ship free in the United States on orders of $50 or more. International shipping availability and rates vary by seller. The pricing information on this page is updated hourly but we are not responsible for inaccuracies.
Read More From Switchback Travel