Down jackets have a reputation for being bulky, restrictive, and fragile, and therefore often stay behind or stuffed away in a pack during a day of skiing or climbing. Mountain Hardwear's StretchDown line was designed as a solution to active down insulation, with stretchy fabric and welded seams that move with your body. We recently took the jacket to Patagonia, keeping it on while hiking and climbing in the cold and windy Chaltén range. The jacket was stretchy and durable, to be sure, but we found that it excels more for casual than performance use. Below we break down the StretchDown Hooded's warmth, stretchy design, weather resistance, weight and packability, fit, and more. To see how it measures up to the competition, see our article on the best down jackets.

Performance
Warmth 
Without a doubt, the Mountain Hardwear StretchDown Hooded is a warm jacket. Welded seams, a snug fit, and 3.5 ounces of 750-fill hydrophobic down makes it noticeably cozy—even when wet. The absence of stitching for baffling allows it to trap heat more efficiently than other down jackets we've tested—the wind has no stitch holes through which to enter (though take note that not all seams on the jacket are welded—the hood, sleeves, and sides contain stitching). The jacket also comes with a substantial collar and hood, elastic cuffs, and an adjustable hem to further trap warm air. However, I did find myself wishing that the jacket had a longer length. It rides barely below the waist, which is not as full of coverage as I would hope for in an active insulation layer.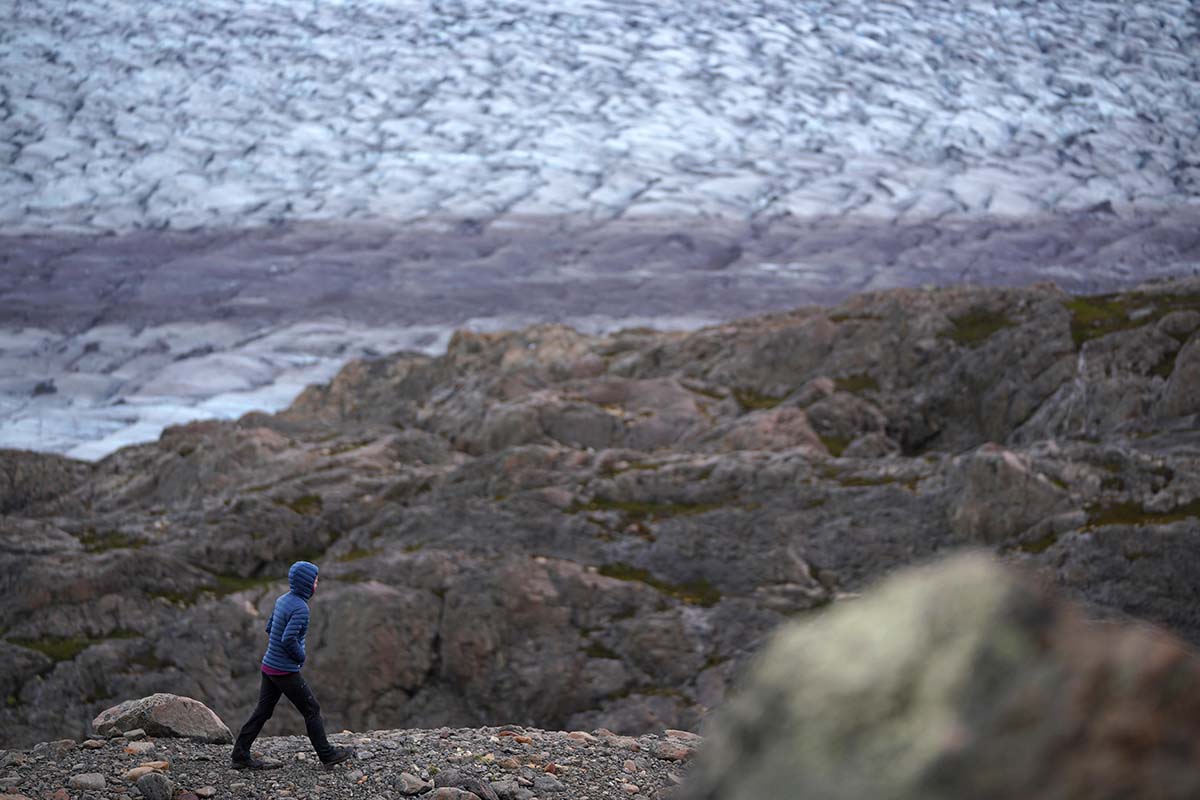 Speaking of warmth, herein lies our struggle with the design of the StretchDown. Simply put, I find little need in my backcountry quiver for a jacket of this sort. It's too warm for intense exercise in all but the coldest of conditions, plus down is not super breathable. If I need a stretchy, highly mobile jacket for cold weather activities, I almost always reach for the breathability and wind resistance of a synthetic jacket. Layers like the Patagonia Nano-Air or The North Face Ventrix Hoodie, for example, seem like better fits in almost every scenario.

Design: Stretchy and Durable
Mountain Hardwear's StretchDown is a unique design that combines thick stretch knit polyester fabric with welded seams. The result is a down jacket with a burly exterior that has a less restrictive fit than most. The external fabric is robust—we have been unable to track down the exact denier rating, but it feels quite high for a down jacket. The stretchy fabric allows for complete freedom of movement across the shoulders and chest, and welded seams permit stretch where stitching would inhibit it. The lack of stitching in these seams also gives the jacket an extra boost of durability, limiting the chances of ripped seams and leaked down. More than in any other down layer, I feel confident scraping up against rock and prickly bushes in the StretchDown.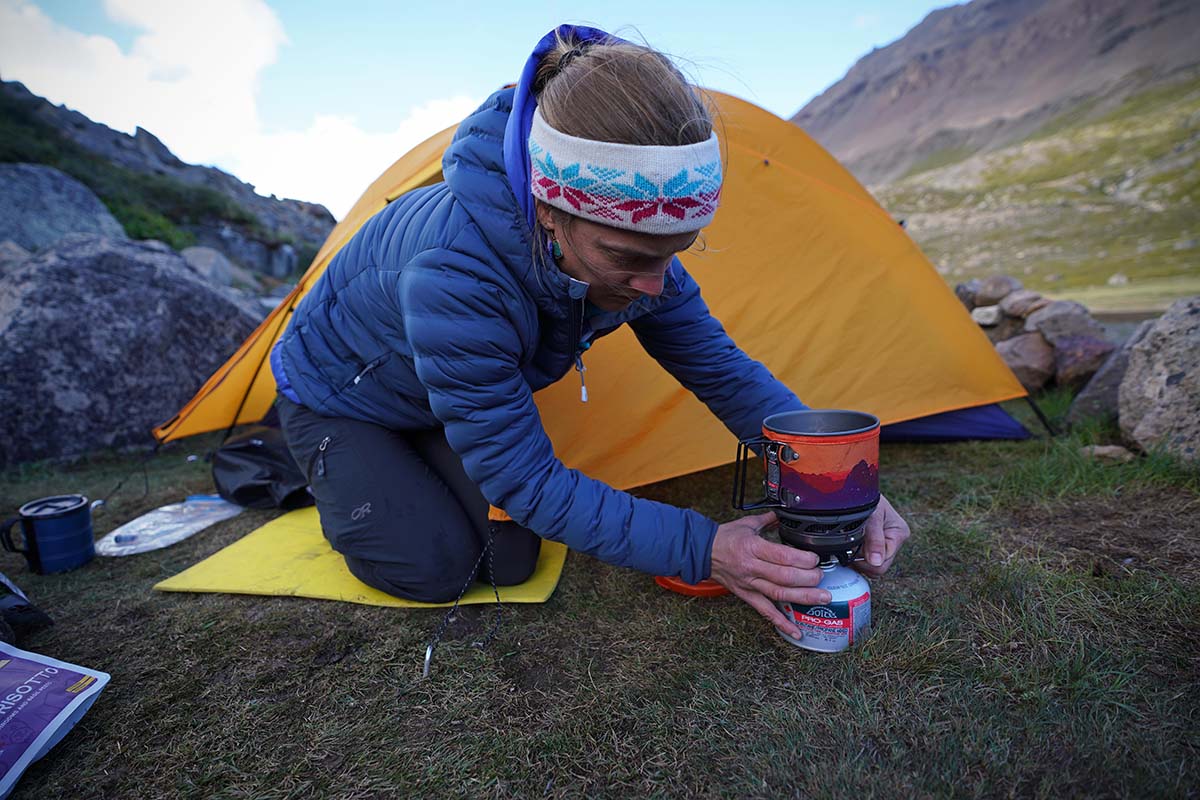 All that said, the stretch and durability have limitations. The stretch does not run lengthwise as well as it does across the width, so the jacket rises as much, if not more, than a typical down jacket when I raise my hands in the air. The StretchDown also fits so snugly that its stretchy nature is almost lost on me. Regarding durability, the outer fabric is tough but not invincible. The first day I wore the jacket, I grazed it past a metal fence and put a rip in the forearm. Thanks to its burly exterior, I was able to sew the rip shut with a needle and thread instead of duct taping or covering with repair tape—a move I would never attempt on the thin fabric of a typical down jacket.

Water and Wind Resistance
Made with DWR-coated knit fabric, hydrophobic down, and welded seams, the StretchDown, on paper, appears to be as weatherproof as down jackets come. That said, the external fabric absorbs water more than other down jackets I've worn. By nature, stretchy material has larger holes and is more permeable to water. Therefore, I would not feel comfortable wearing the StretchDown in anything more than a drizzle. Instead, I'd opt for a jacket like the Arc'teryx Cerium LT, a mostly down layer with synthetic insulation placed in areas most exposed to wet weather or sweat.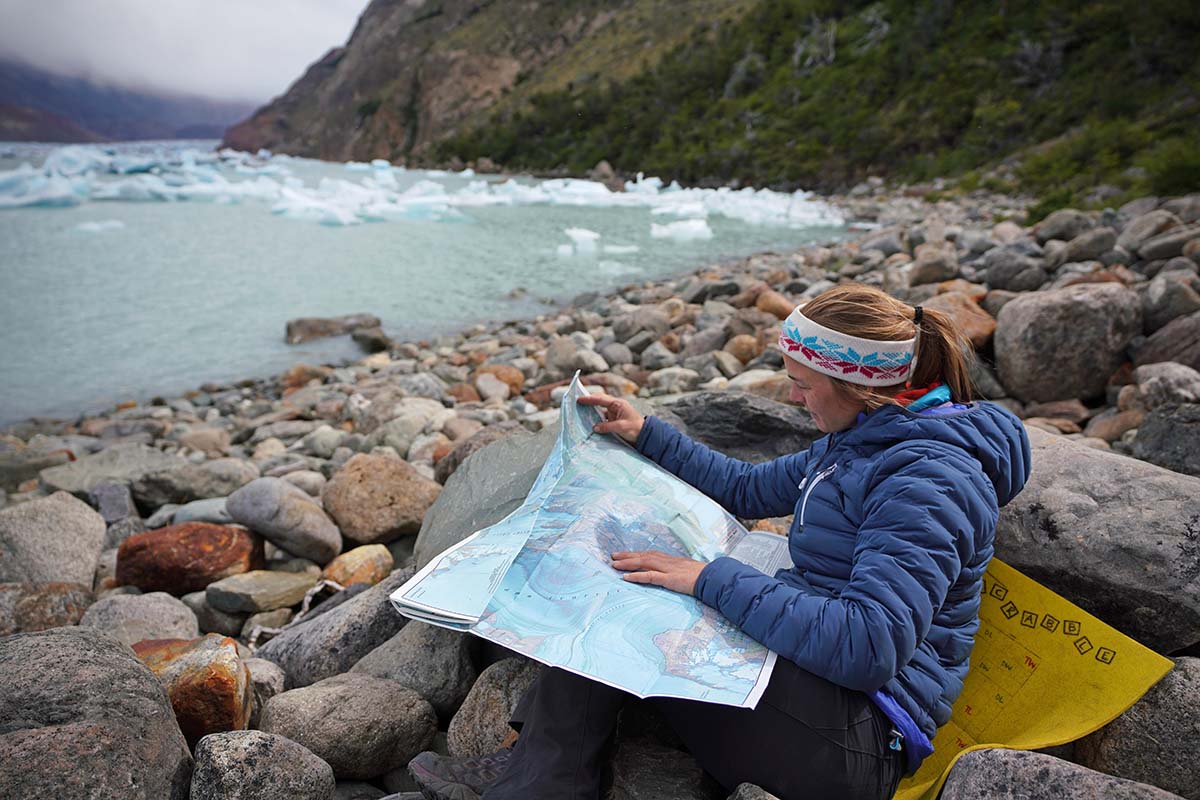 Welded seams do, in theory, offer more of a barrier against wind than stitched seams, but the solution is imperfect. The welded areas on the StretchDown are a solid quarter inch wide, meaning that much more of the surface area of the jacket is lacking in insulation than if the seams were stitched (or better yet, if there was no baffling at all, such as on the highly wind-resistant Rab Xenon X synthetic jacket). The StretchDown repels a light wind but I wouldn't trust it in a heavier squall.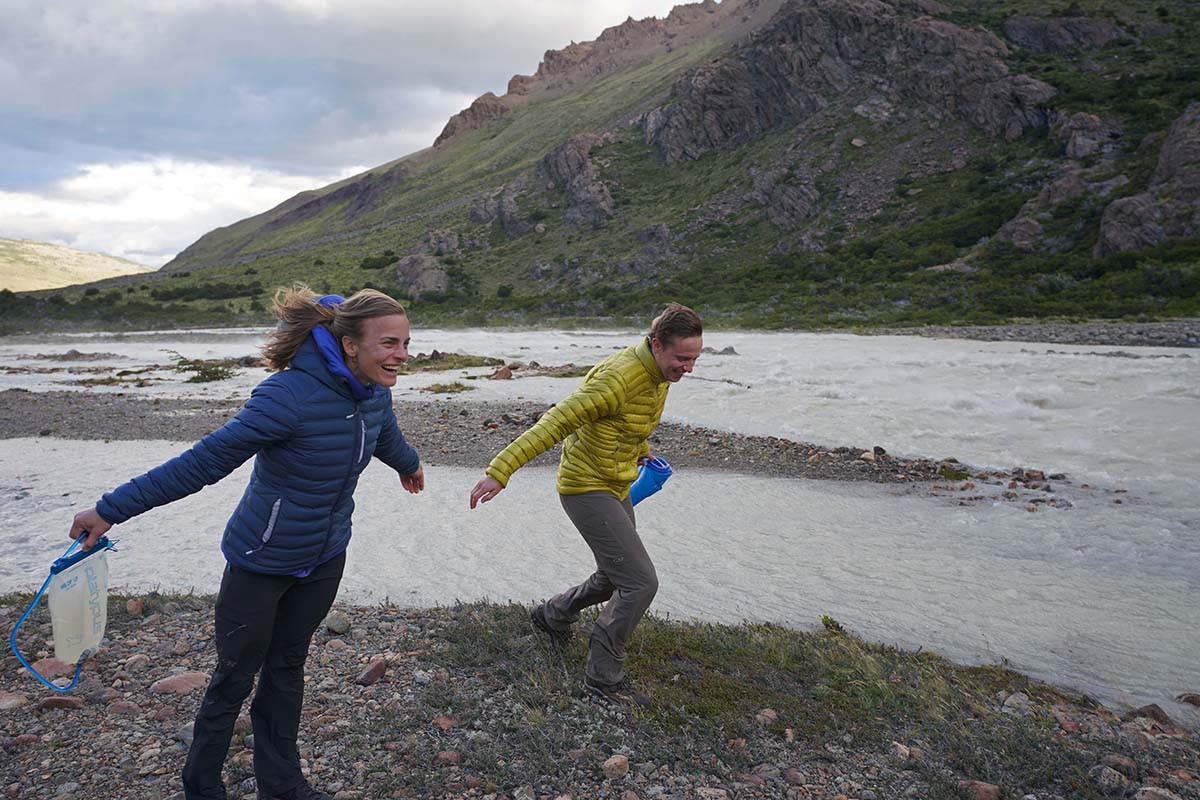 Construction and Features
The build quality of the Mountain Hardwear StretchDown is impressive and the outer fabric is tougher than the shiny, paper-thin material I'm used to seeing on other down jackets. In terms of features, you get a comfortable hood and collar, elastic cuffs, a dual-sided hem adjustment, two large inner "stuff-it" pockets, two hand warmer pockets, and a roomy chest pocket.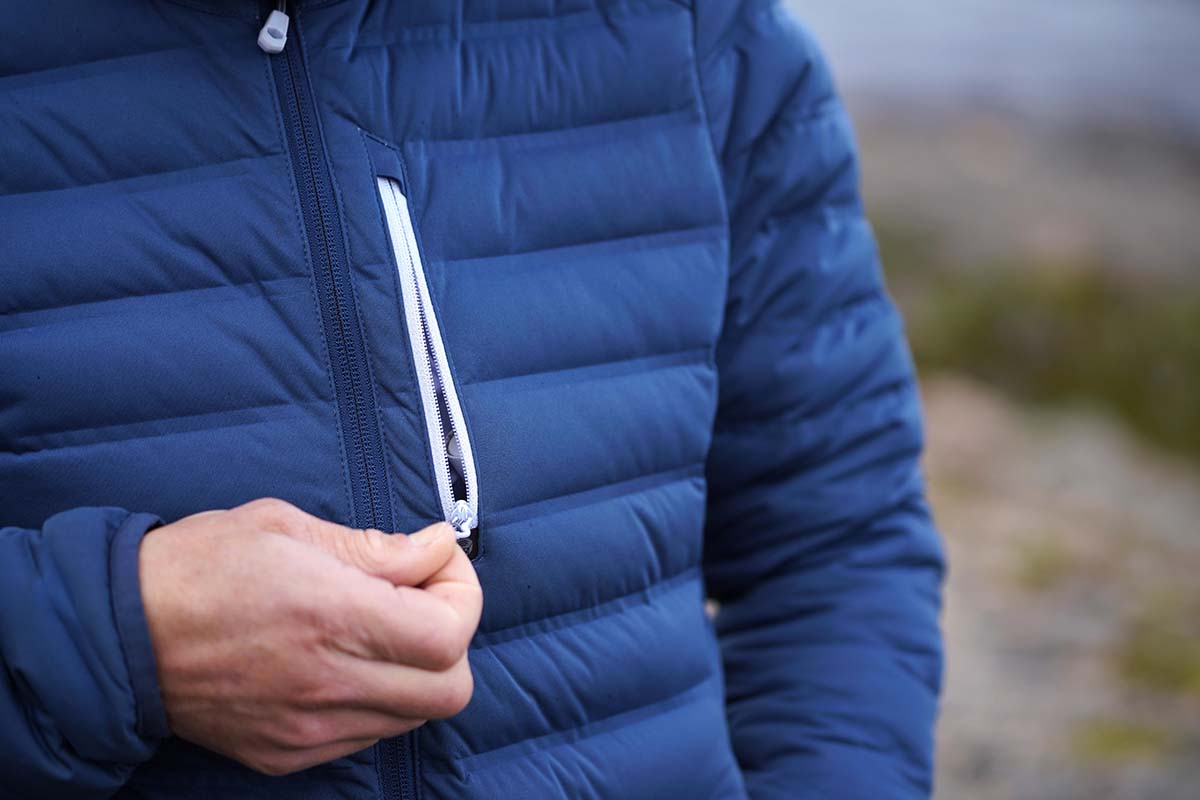 Mountain Hardwear constructed this jacket to be worn during high-output activities, but it does not include many of the features that I am used to seeing in true performance pieces. The StretchDown Hooded lacks a zipper that can be undone from the bottom for use with a harness, harness-compatible pockets, an adjustable hood, a built-in stuff sack (or, for that matter, a packable design), and a longer hem. Simply put, it does not function well as a technical layer. 
I should note that I have received many compliments and inquiries when wearing this jacket around town. Although Mountain Hardwear designed the StretchDown for active insulation in the mountains, the soft, matte-like fabric, muted colors, and lack of technical prowess make this a rather attractive casual piece. And we particularly like the lack of branding—Mountain Hardwear even swapped out the standard logo on the left chest for a tiny symbol below the zipper. If you don't like being a walking advertisement, this jacket is a rarity in the outdoor gear world.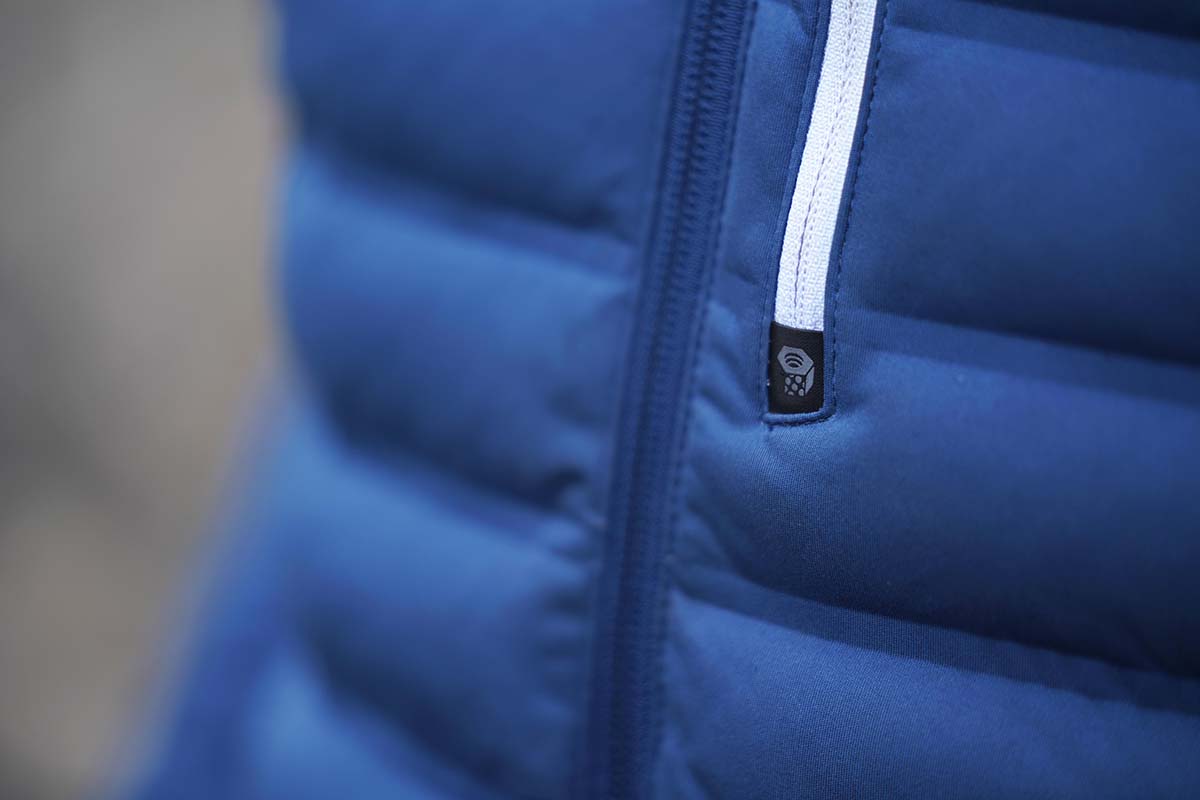 Weight and Packability
At 1 pound 1 ounce for a women's medium, the StretchDown Hooded is on the heavy end of the spectrum. The 3.5 ounces of 750-fill down puts its warmth on par with jackets like Patagonia Down Sweater Hoody (13.1 oz.) and Outdoor Research Transcendent Hoody (12.9 oz.), both of which save you a few ounces of weight. In terms of packability, the StretchDown again falls short of the competition. A premium down jacket like the Arc'teryx Cerium LT (9.9 oz.) packs down into a sub 1-liter stuff sack, but the StretchDown only compresses to a bulky 3 liters.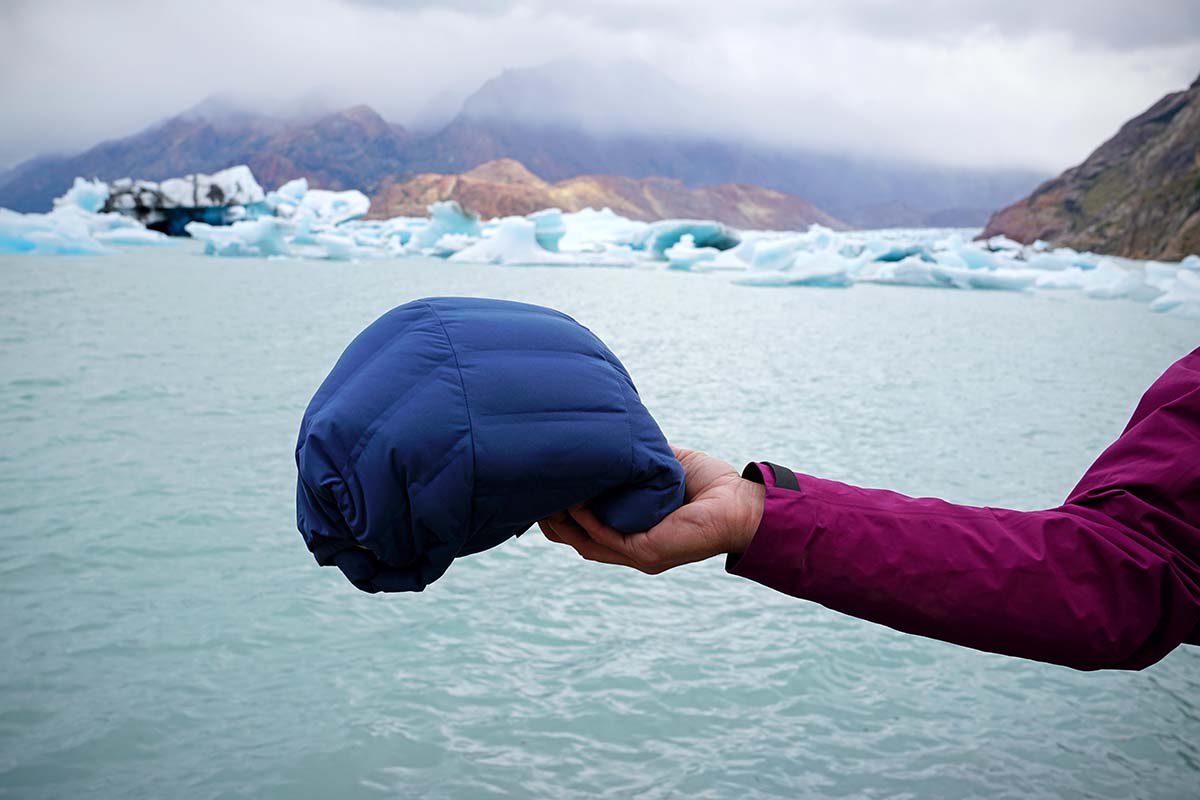 Fit, Sizing, and Comfort
Mountain Hardwear deigned the StretchDown as an "active fit" layer, just one step roomier than their "body fit" next-to-skin category. I consistently wear a women's small, but found that the StretchDown in a small is almost too snug to maintain its purported mobility. It's certainly sized more as an active piece than a belay jacket, but is still too lofty to layer underneath my trim-fitting Arc'teryx hardshell. Furthermore, the jacket is boxy and the hem does not drop as low as I'd prefer—a design choice I find problematic when the jacket easily slips above my harness. Although the fabric stretches well across my shoulders and chest, the hem raises noticeably when I raise my arms above my head. It seems like the jacket needs gusseted under-arms (instead of just stretchy fabric) to be a truly mobile piece.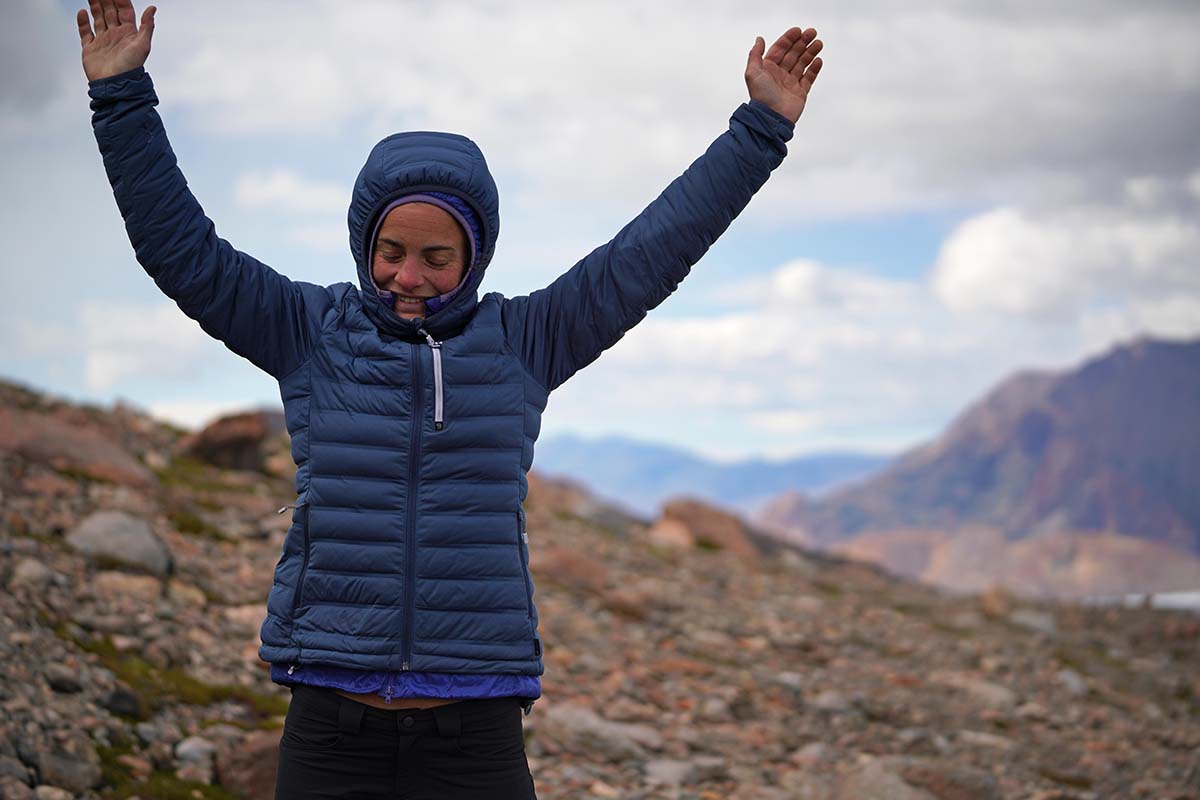 Whether or not you find the StretchDown comfortable will be a matter of preference. If you like the typical down jacket experience of being wrapped in a cloud, you won't get it with the StretchDown. But given its soft matte material and impressive stretch, the StretchDown is a cozy, plush jacket. That said, I was initially surprised at how tight, constrictive, and heavy it felt, perhaps more along the lines of a bulky and overstuffed synthetic layer than a down jacket. 

Men's and Other Versions
We tested the women's version of the Mountain Hardwear StretchDown Hooded jacket, and it also comes in a men's version for the same price ($300). The men's jacket weighs slightly more at 1 pound 2 ounces and comes in varying colorways but has a nearly identical design overall. Both styles comes in hooded and non-hooded versions, the latter of which are slightly lighter (14.7 ounces for the women's) and cost $40 less. Interestingly, Mountain Hardwear also offers a StretchDown DS version that features superior down (800-fill power), discontinuous baffling that is designed to trap more warmth, and costs a hefty $340.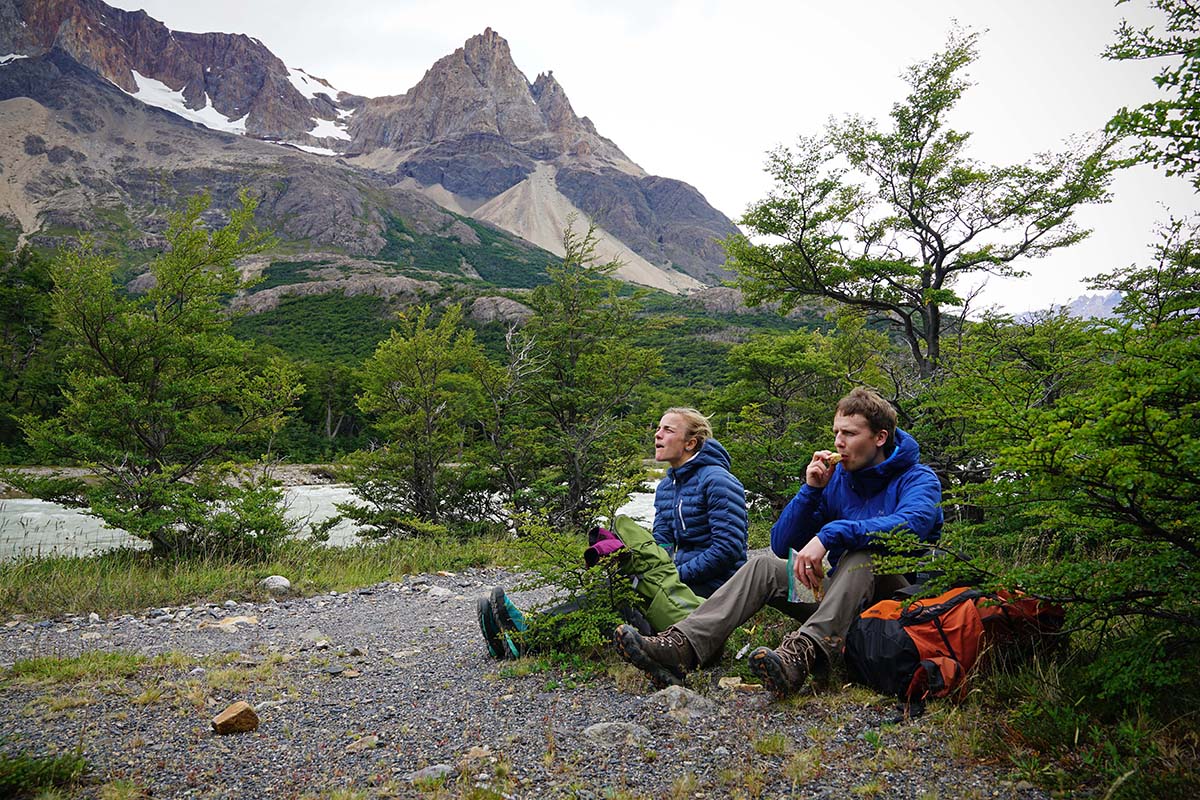 What We Like
The soft, matte fabric, subtle colors, and lack of branding make the StretchDown a very stylish casual piece.
The unique stretchy design allows for high mobility across the shoulders and chest.
The tough outer knit fabric and welded seams makes it very durable for a down jacket.

What We Don't
Aside from its unique stretch, the Mountain Hardwear StretchDown lags behind its competitors in nearly every category.
Despite being billed as an active layer, this jacket lacks technical features and a suitable performance fit.
The jacket is relatively short and not made to stretch well length-wise, meaning that when you raise your arms, it comes with you.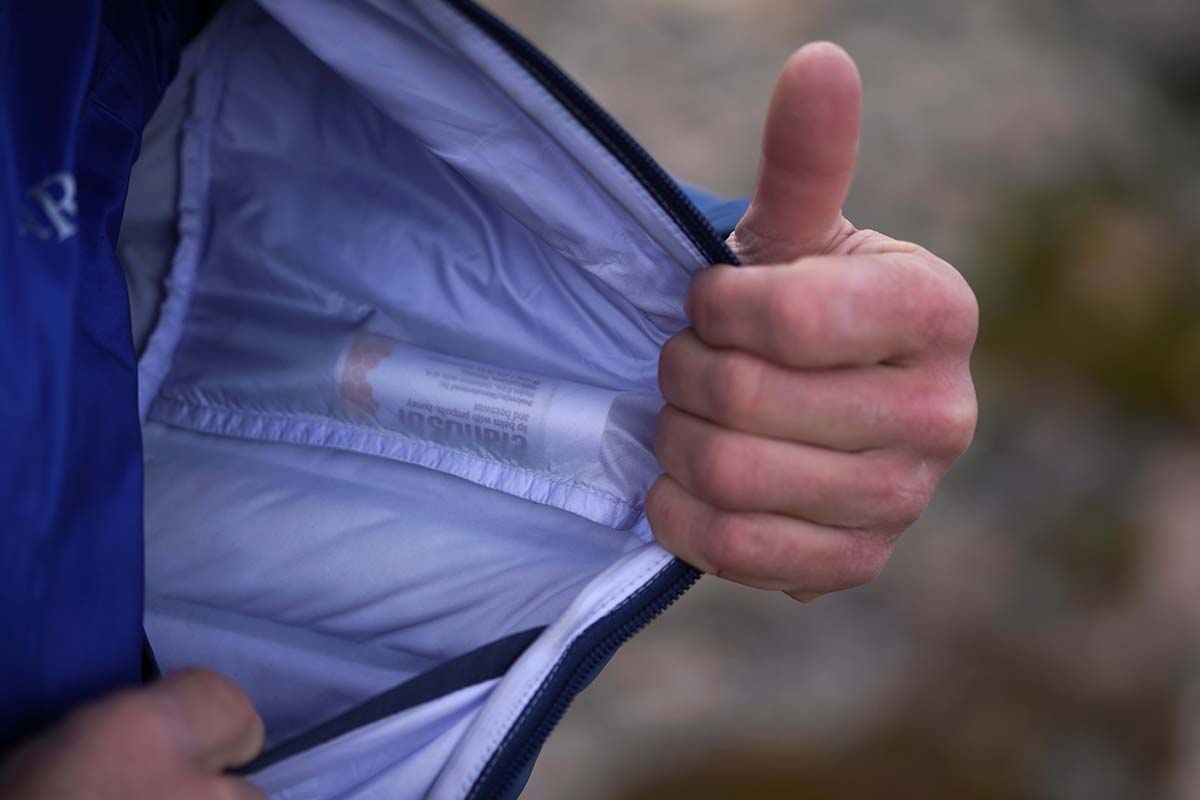 Comparison Table

The Competition
As described above, the Mountain Hardwear StretchDown Hooded is billed as a technical piece but functions much better in the casual/everyday realm. The industry standard in this category is the Patagonia Down Sweater Hoody, which is actually $21 cheaper at $279. We'd pick the Patagonia in a heartbeat—it lacks the stretchy exterior shell fabric and isn't quite as durable, but is a do-everything jacket that has a higher fill power (800) and works extremely well for everything from downhill skiing to casual use. The features the StretchDown offers are interesting in theory, but at the end of the day, it's an expensive casual piece.
Another great option is the Arc'teryx Cerium LT Hooded down jacket. The Cerium is more of a high-end, performance-oriented design than either the Mountain Hardwear or Patagonia, but it's one of our favorite down jackets on the market. Compared to the StretchDown, you get higher fill power (850), increased packability, more technical features, and a unique build that combines down fill with synthetic insulation in areas most prone to getting wet. If you're looking for that elusive down jacket for backcountry and everyday use, the Cerium remains the industry standard in 2018.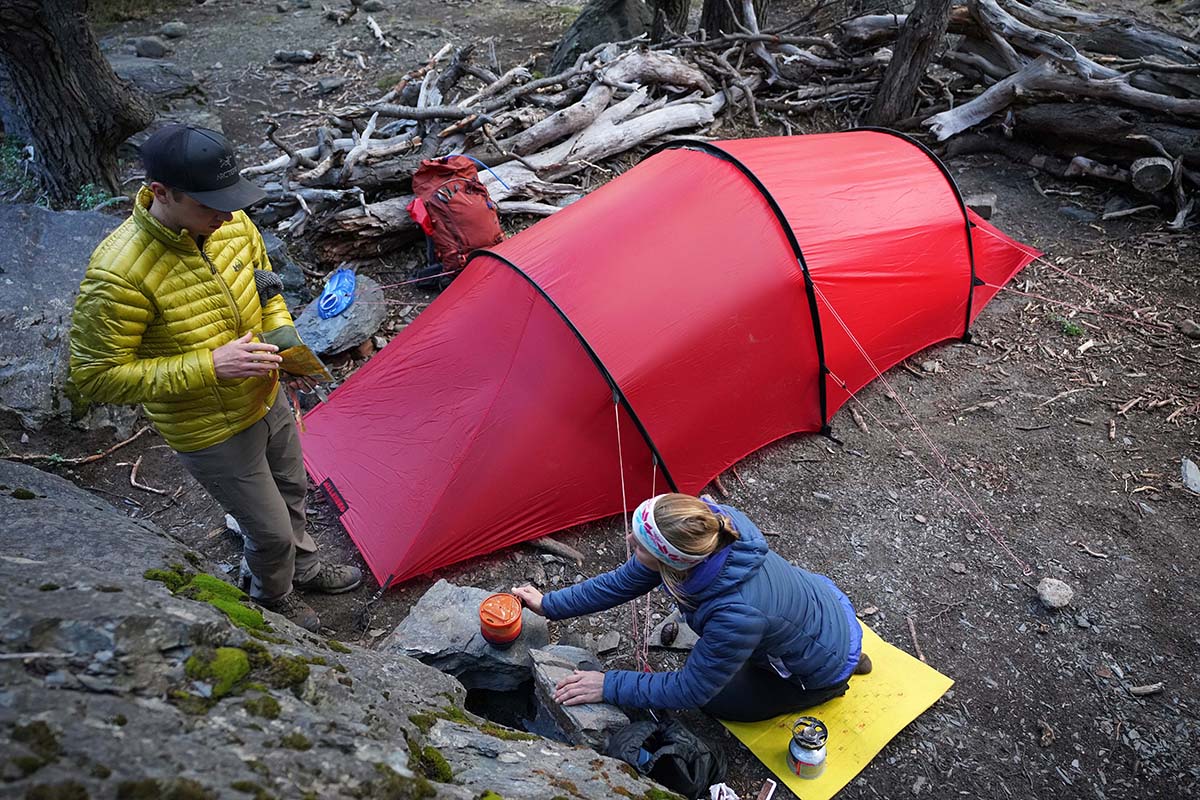 For those who prioritize stretchiness and want a real active insulation layer, a synthetic jacket is the way to go. The Patagonia Nano-Air Hoody isn't quite as warm as the Mountain Hardwear StretchDown, but offers even better stretchiness, breathability, and continues to insulate when wet. For activities like climbing, skiing (both downhill and backcountry), and cold-weather hiking, the Nano-Air is a Swiss Army Knife that we love having in our quiver. The same goes for the newer Ventrix Hoodie from The North Face, which looks a bit more techy but has similar stretch and performance characteristics as the Patagonia.  
If you're thinking about buying gear that we've reviewed on Switchback Travel, you can help support us in the process. Just click on any of the seller links above, and if you make a purchase, we receive a small percentage of the transaction. The cost of the product is the same to you but this helps us continue to test and write about outdoor gear. Thanks and we appreciate your support!
Depending on the seller, most products ship free in the United States on orders of $50 or more. International shipping availability and rates vary by seller. The pricing information on this page is updated hourly but we are not responsible for inaccuracies.
Read More From Switchback Travel