Merrell Moab Speed Low
Price: $130
Weight: 1 lb. 5 oz.
Waterproof: No (GTX version available)
What we like: Light like a trail runner but stable like a hiking shoe; use of recycled materials.
What we don't: So-so support for hauling heavy loads or on technical terrain.
See the Women's Moab Speed Low  See the Men's Moab Speed Low
Merrell's Moab series has been an uber-popular choice for hikers since the mid-aughts, with new iterations appearing periodically since then—including the new Moab Speed Low. I took the Moab Speed hiking shoes to Moab, Utah, to try them out on scrambly slickrock trails, and also tested them on steep trails in western Montana with surfaces varying from buff hardpack and loose gravel to rocky outcrops. Lightweight but surprisingly stable, the Speed Lows effectively bridge the gap between trail runners and sturdier hiking-specific shoes. Below I outline my experience with the Merrell Moab Speed Lows. To see how they stack up against the competition, see our articles on the best women's hiking shoes and best hiking shoes.
 
---
Table of Contents
---

Performance
Comfort
As many hikers now are opting for lightweight, agile trail runners instead of heftier traditional hiking boots or shoes, footwear brands are taking note. A new crop of shoes are aiming to provide the best of both sides of the spectrum. I, for one, usually hike in trail runners like the Brooks Cascadia or Hoka One One's Speedgoat unless I'm carrying a heavy pack for several days. So sliding my feet into Merrell's new Moab Speed Lows, my initial response was: These feel a bit stiff. Also, this particular pair had a crinkle in the insole where it had folded because it didn't fit perfectly flat within the shoe. I'm not sure if this was a one-off mistake on a single pair, but at first it felt like there was a pebble in my shoe. After a couple of casual walks, the fold seemed to mash down and is no longer a problem.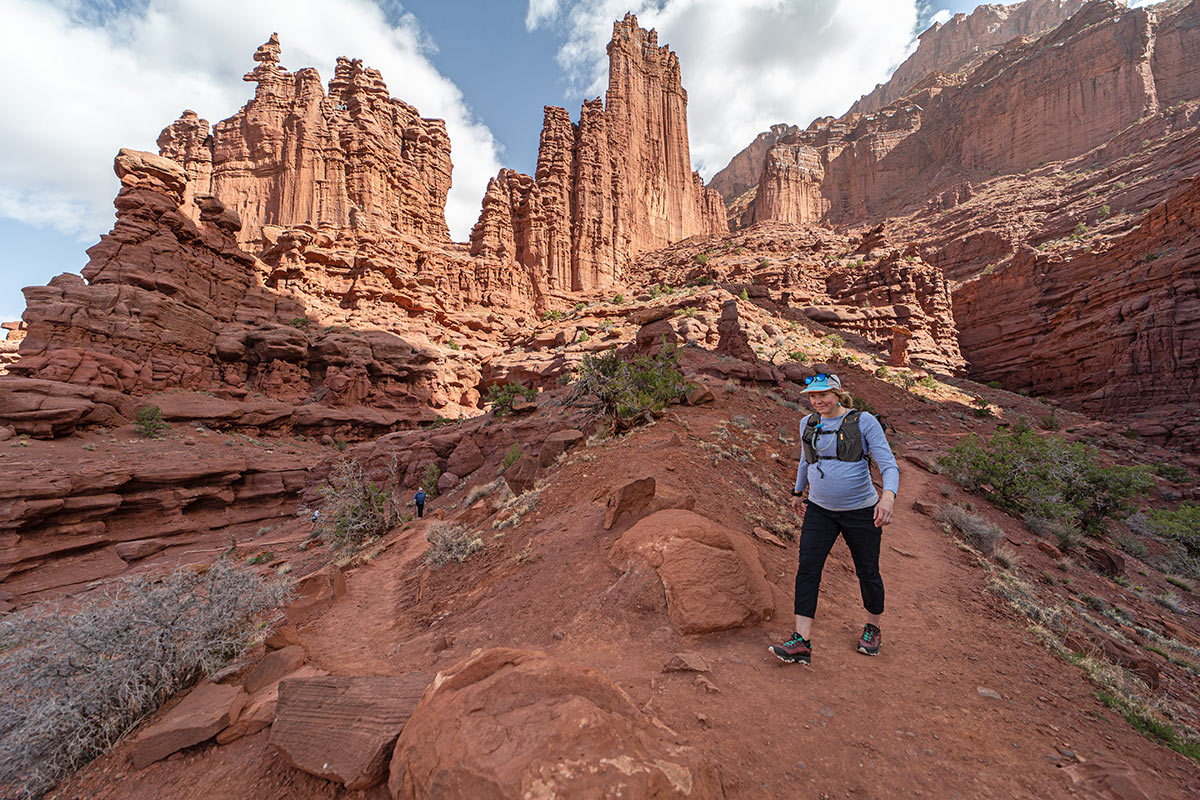 Once the insole crinkle quickly worked its way flat, the insoles—and the Speed Lows in general—turned out to be comfortable, though not overly cushy, on the trails. Compared to the thicker cushion typical of trail running shoes like the Hoka Speedgoats, the Speed Lows felt decidedly firm. But between the FloatPro foam midsole and removable PU foam insole, they absorbed shock nicely, and the rock plate did its job and shielded my feet well from sharp rocks. The plush tongue and collar feel secure without producing hot spots, though I find my heel does slip a bit vertically when hiking uphill (more on that in "Fit and Sizing" below). The Speed Lows also have a roomy forefoot allowing for some foot spreading and swelling. Overall, the shoes offer a comfortable, sneaker-like feel, but for very long mileage I might still consider something with more cushion.
 
Weight
At 1 pound 5 ounces, the Moab Speeds tip the scales a bit lower than their Moab 3 cousins (1 lb. 7.2 oz.). And within the wider hiking shoe market, they land squarely between other popular hiking shoes (like Salomon's X Ultra 4 GTX at 1 lb. 9.6 oz.) and more feathery trail runners, like Hoka's Speedgoat 5 (1 lb. 1 oz.). Despite the fact that the Speed Lows are not any bulkier than my Speedgoats in the same size, they initially felt a bit clunky due to their stiffer outsole. But I'd be hard-pressed to say I noticed a difference in weight once I hit the trail. Considering their step up in stability from a trail runner, the Speed Lows provide a light and agile feel.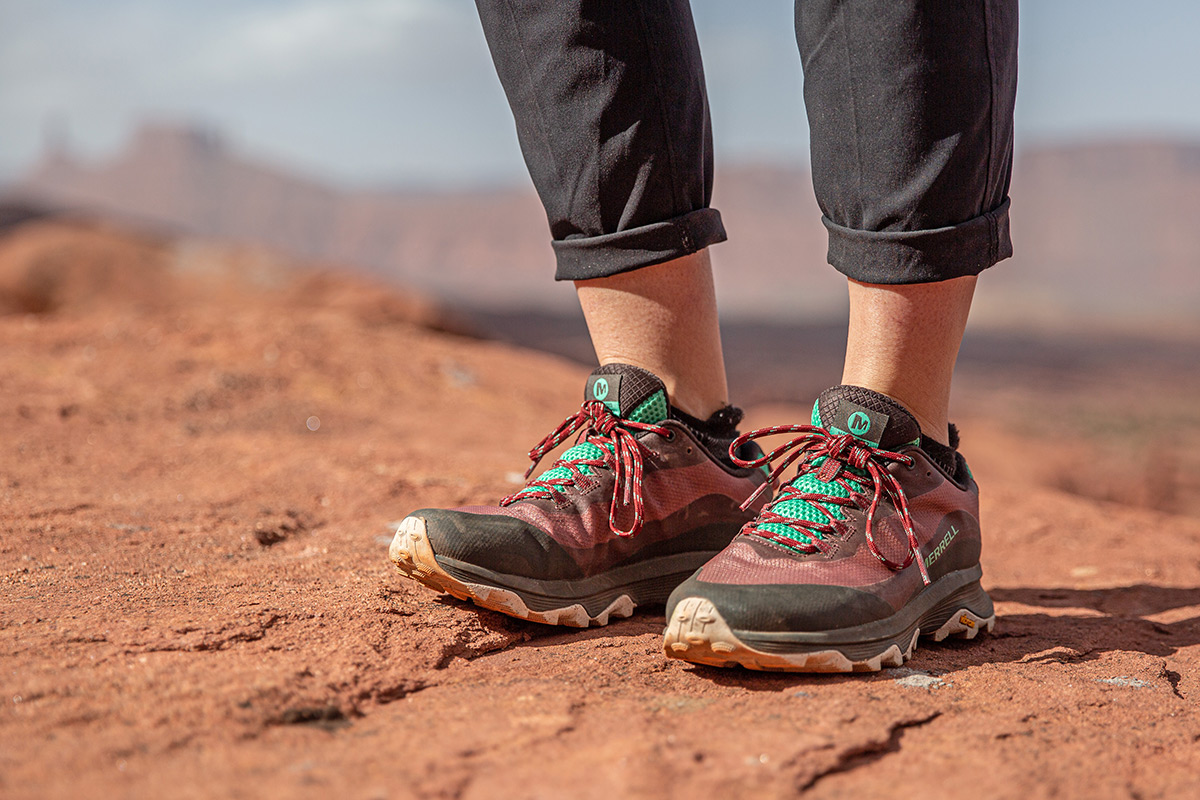 Traction
The Merrell Moab Speed Lows part ways with their Moab 3 cousins when it comes to outsoles and traction. The Speed's 4 millimeter lugs are spaced more widely than the 5 millimeter lugs of the Moab 3, and instead of Vibram's TC5+ rubber sole, the Speed Lows feature Vibram Ecostep, made with 30% recycled Vibram rubber. Neither of those outsoles are the grippiest on the market (we've found Vibram's premium Megagrip compound—found in shoes like the Hoka Speedgoats or the Danner Trail 2650—wins out in balancing stickiness with durability), but comparing them begs the question: What is the intent of a shoe like the Moab Speed Low? For day hiking without technical scrambling, the Ecostep outsoles perform just fine. On the occasional steep, smooth sandstone fins around Moab, for example, I would have preferred to have the Megagrip outsole of my Speedgoats. But for most trails, the Speed Lows perform solidly.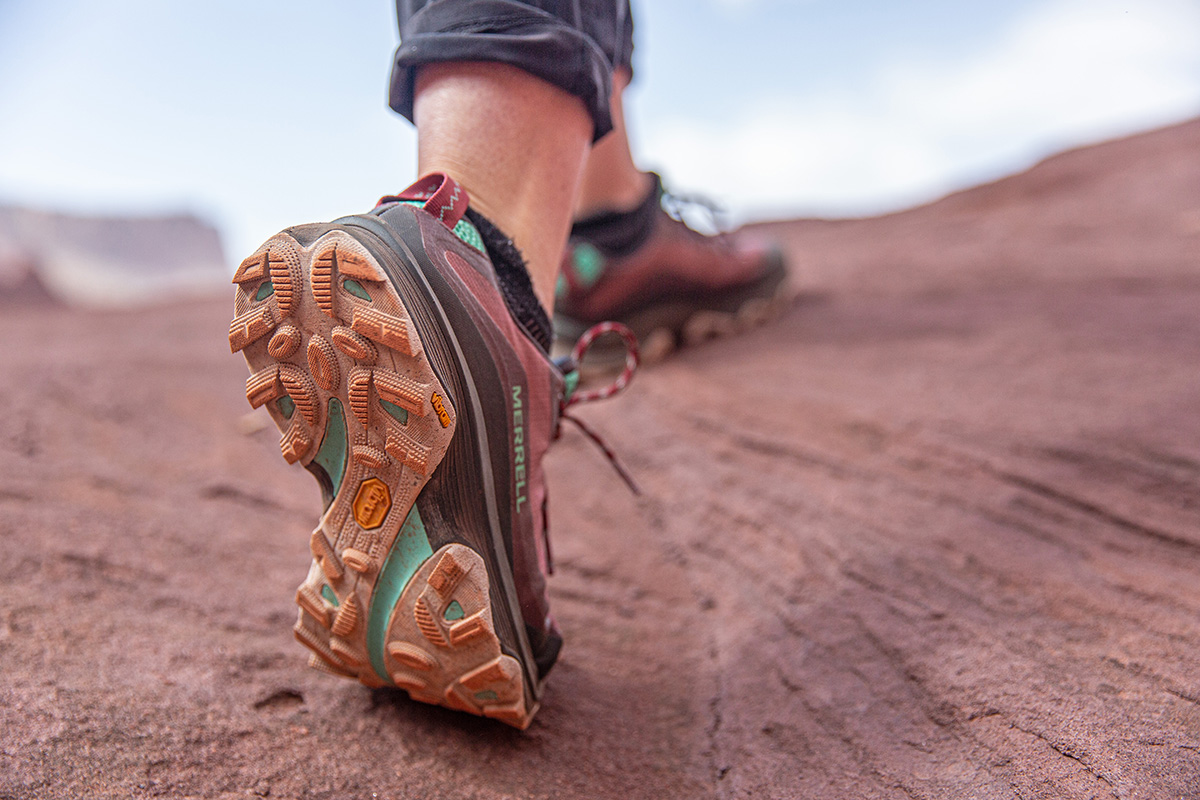 Stability and Support
Billed as a hybrid, the Moab Speed Lows sacrifice some of the support and stability of a more burly hiking boot or shoe to achieve a lighter-weight, trail runner-like feel. So while they might not be a winner for multi-day trips with a heavy pack, or on technical terrain like extended talus fields (for that we'd recommend a more supportive boot like Salomon's Quest 4), they do offer a step up in support compared to trail runners. Wearing them back-to-back with my Speedgoats, the Merrells feel a bit less snug and sock-like, and I do notice a bit of movement at my heel, particularly when hiking uphill. But they feel decidedly firmer and more planted on the trail than the Hokas, and I have yet to worry about rolling an ankle. Considering its light weight, the Merrell Moab Speed Lows' stability inspires confidence.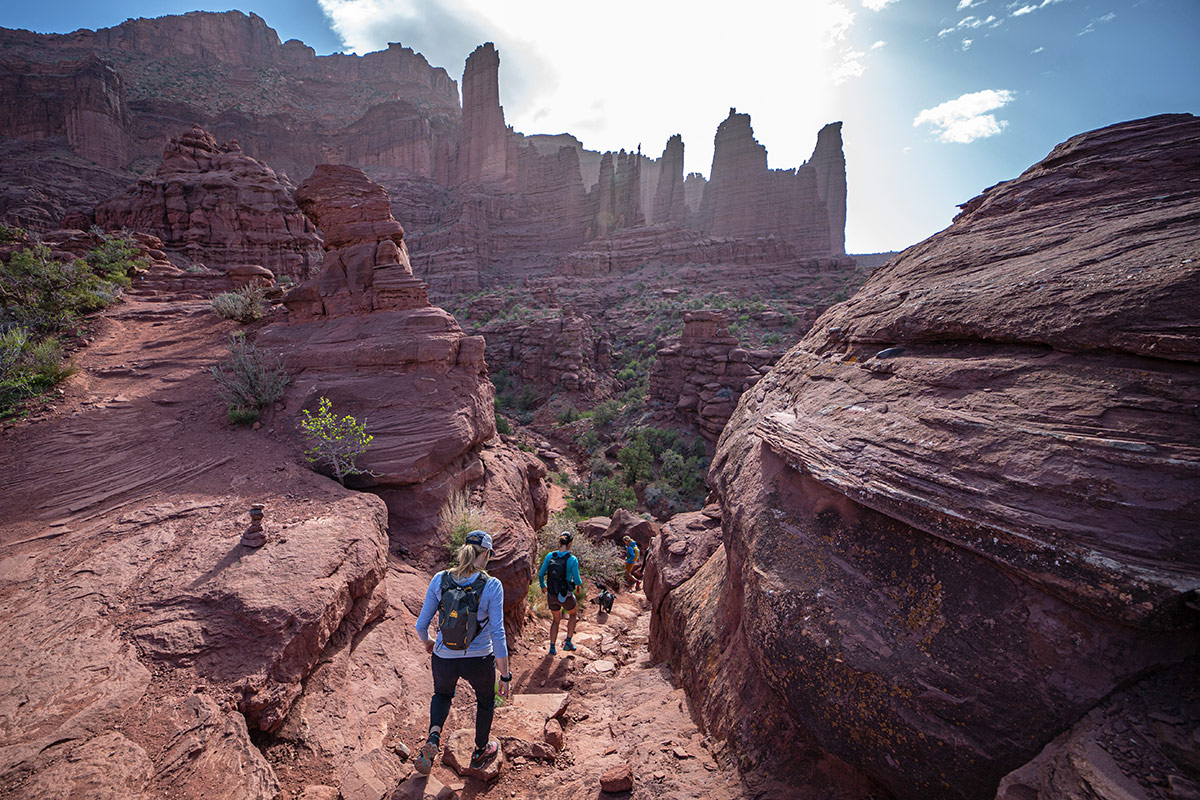 Breathability
I took the non-waterproof model of the Merrell Moab Speed Lows (Merrell also makes a Gore-Tex version) for a springtime trip to southern Utah, where temperatures reached around 70 degrees, and found they breathed similarly to my Hoka Speedgoats. Out of the box, I was worried that the TPU covering over the Speed Lows' upper might affect its ventilation compared to more mesh-heavy designs like the Moab 3 (see our in-depth review), but I was hard-pressed to note a difference on the trail. I was also concerned that the TPU covering might affect the shoe's draining abilities during wet weather or stream crossings, but slogging through six-inch-deep puddles on a rainy springtime hike in Montana, they seemed to drain as well as more mesh-heavy models—and they dried surprisingly quickly afterward.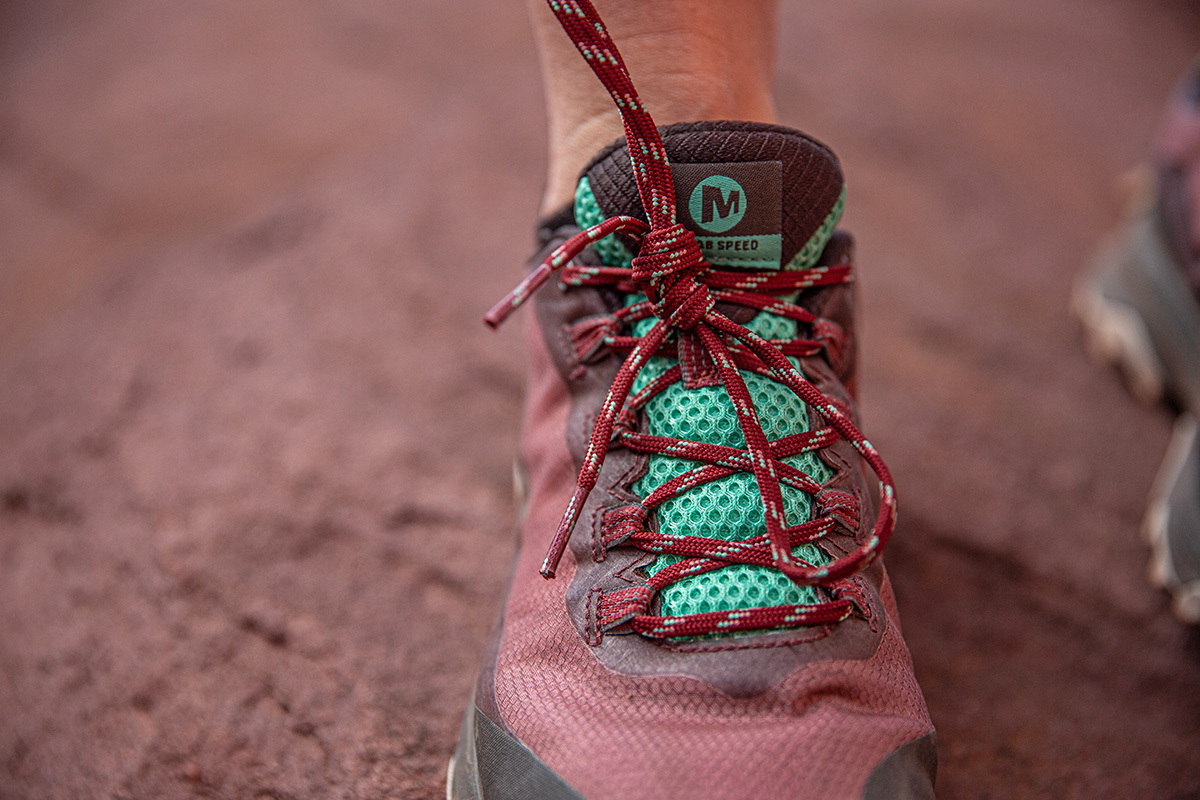 Build Quality and Durability
After a few months of regular use on both rugged trails and paved paths, the Merrell Moab Speed Lows seem very little worse for wear. As a lightweight shoe that wears more like a trail runner, I expected some compromises in durability compared to a more burly hiking boot, but so far I have not experienced any notable issues in the construction quality. The TPU covering on the upper and reinforcement over the toe cap are confidence inspiring, and no openings have appeared at any seams. The outsoles show very little wear, possibly less than I've experienced with my Speedgoat 4s with similar mileage. The only weakness I've noted is a bit of fraying on the soft inner collar fabric where I must brush it with the other foot as I'm walking. Perhaps a bit more durable fabric there would solve this problem, but that might also change how soft the collar feels against my ankle, which I do appreciate. So far I have no reason to believe the Merrell Moab Speed Lows won't hold up very well for their weight and cost.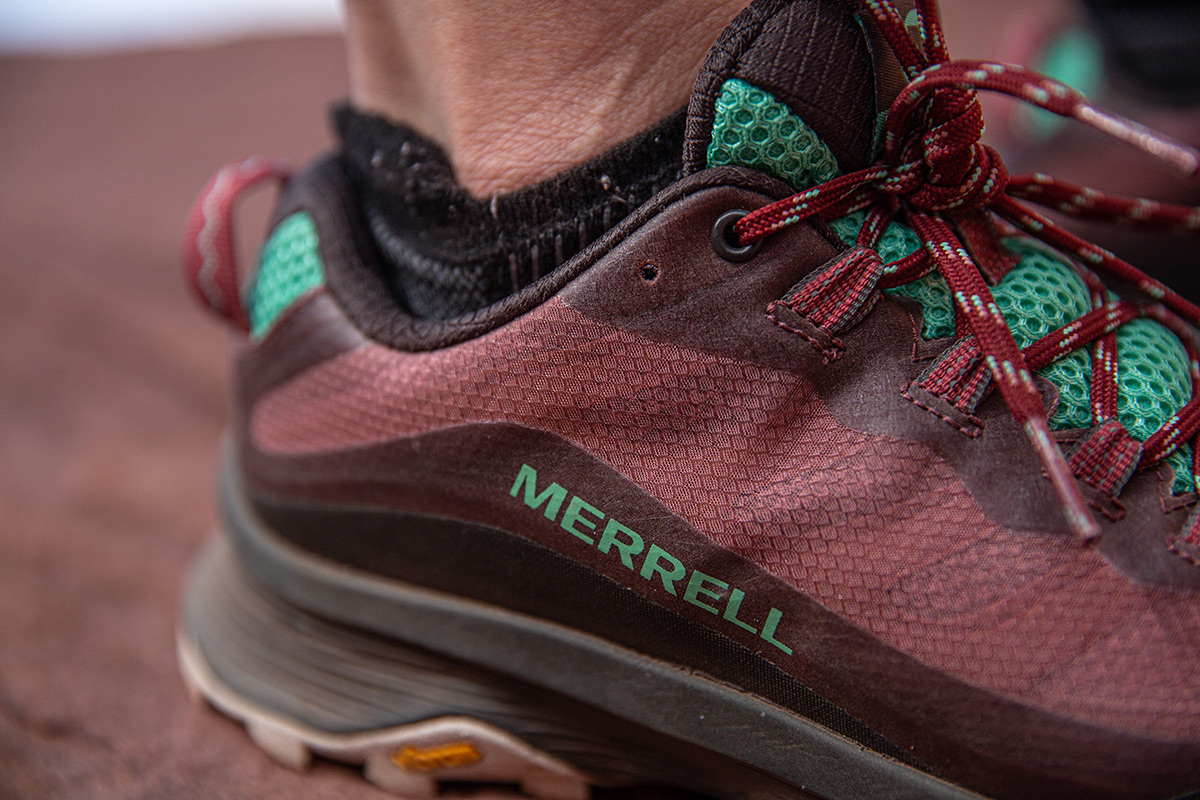 Fit and Sizing
I went with my typical size 8 in the Moab Speeds (for reference, I have fairly average sized and shaped feet, and can't recall a time when I've had to size up or down from a size 8). Out of the box, the fit felt right on, size wise, except that I experienced a bit of movement at the heel. I still notice a touch of movement there, specifically when hiking uphill on steeper grades, but it's not enough space to warrant sizing down, and I've found that adjusting the lacing pattern in the top holes helps create a closer fit. (I thread the laces outward through the highest hole, then back in through the next hole (the final hole right below the ankle) on the same side of the shoes, creating a small loop on each side. Then I thread each lace end through the loop on the opposite side before tying.) It's not quite the snug, sock-like feel I get from my Hoka Speedgoats, but the plush tongue and accommodating toe box feel comfortable and so far I've had no problem with hot spots.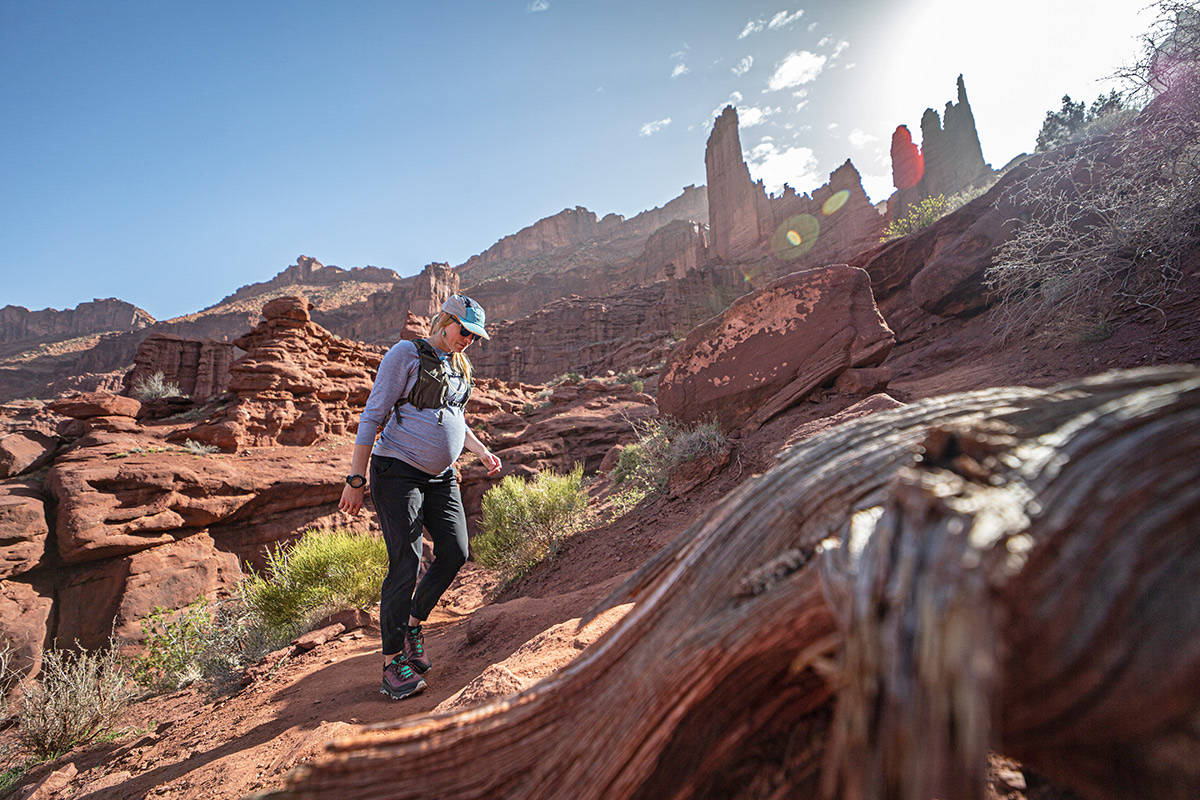 Sustainability
Merrell as a company is taking steps to improve their environmental impact, from reducing plastic packaging to introducing a restore-and-resell program aiming to trim down the number of shoes that wind up in landfills. On top of that, a handful of their shoe models—including the Moab Speed Lows—go the extra mile by using a variety of more environmentally friendly materials. The mesh lining and shoelaces on the Speed Lows are made of 100% recycled materials, while the EVA foam insole features a 50% recycled top sheet. Add on the Vibram Ecostep sole, made from 30% recycled rubber, and you have a more sustainable shoe than most. But on top of that, Merrell makes an even more eco-friendly version: the Moab Speed Eco Dye, which uses 100% recycled TPU reinforcements and a solution dyeing process that saves water and energy.

Other Versions of the Merrell Moab Speed
The Merrell Moab Speed Lows are part of a bigger family of Moab Speed options, including a wide version and a Gore-Tex version in mid and low styles (for an additional $40 and $30 respectively). There's even a winter-ready Moab Speed Thermo Mid Waterproof, which features a higher cut, Vibram Icetrek sole, gaiter-compatible D-ring, and 200 grams Primaloft Gold Eco Series synthetic insulation for $170. And, as we noted above, the Moab Speed Eco Dye model takes the Speed Low's already above-average eco-friendly chops up a few notches for the same price ($130).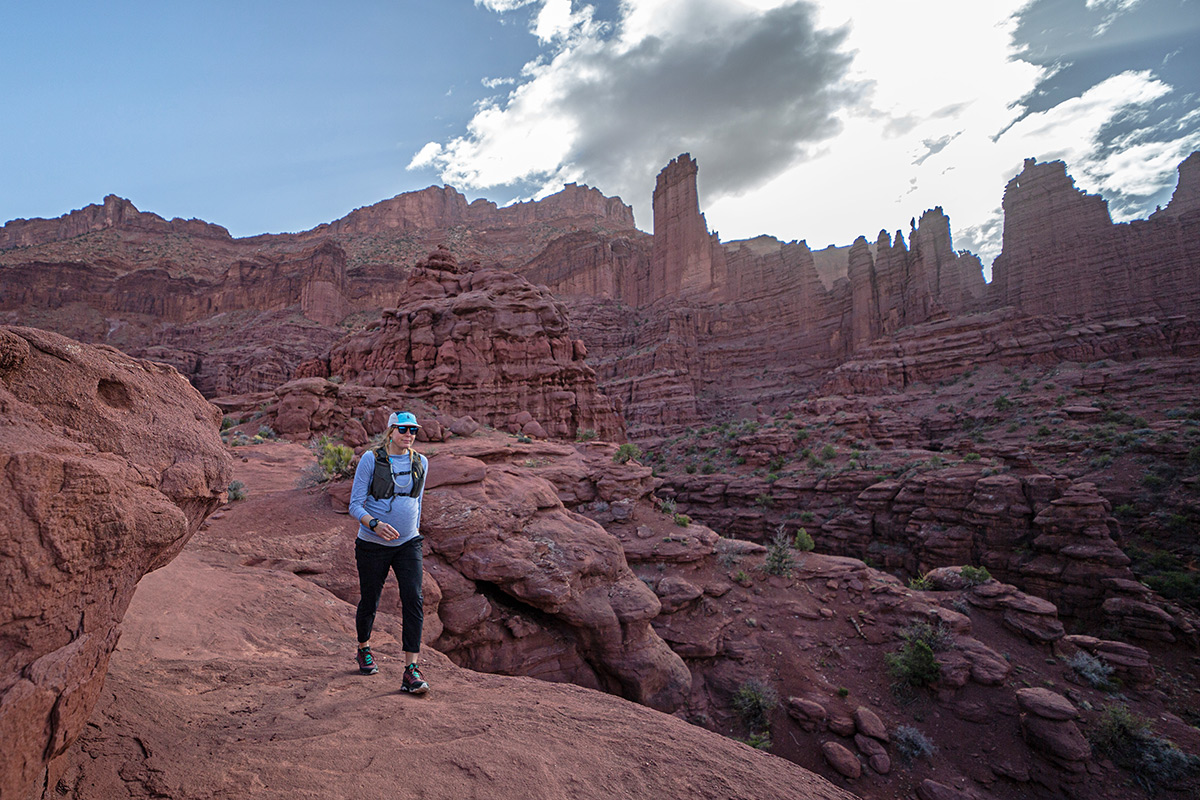 What We Like
The Moab Speed Lows are a thoroughly modern design: Lighter weight than most traditional hiking shoes but still more stable than most trail runners.
Relatively grippy soles with widely spaced lugs for traction on a variety of terrain. 
Padded tongue and anatomical fit make for comfort right out of the box.
Fun colorways and use of recycled materials.

What We Don't
Too rigid for significant amounts of running.
Protective TPU layer may affect breathability compared to other more mesh-heavy designs.
Some may experience movement in the heel.


Comparison Table

The Competition
Merrell's Moab Speed joins a popular and growing segment of the hiking shoe market, which aims to balance weight, cushioning, and support. One of the longstanding leaders in this space has been Salomon's X Ultra 4. The current non-waterproof model—the X Ultra 4—weighs a bit more at 1 pound 6.2 ounces but offers a step up in all-around trail performance. It's a bit more planted with a stiffer platform, and you get additional protection with the full rubber toe cap. For putting in serious miles on the trail, we prefer the X Ultra, although its quick-pull lacing system is polarizing (it's harder to customize the tightness like you can with the Merrell). And while previous X Ultra models have run narrow, the 4s offer a more spacious toe box.
We've referred to Merrell's own Moab 3 throughout this review, as it remains one of the most common shoes on the trail. Despite sharing a similar name and relatively roomy toe boxes, the two Moabs fall on opposite ends of the market. Where the Moab are 3 is a classic shoe that emphasizes comfort and durability, the Moab Speed is lighter and nimbler but has a noticeably less protective synthetic build. A decision between the two will likely come down to hiking priorities, and for most day adventures, we prefer the new Speed model.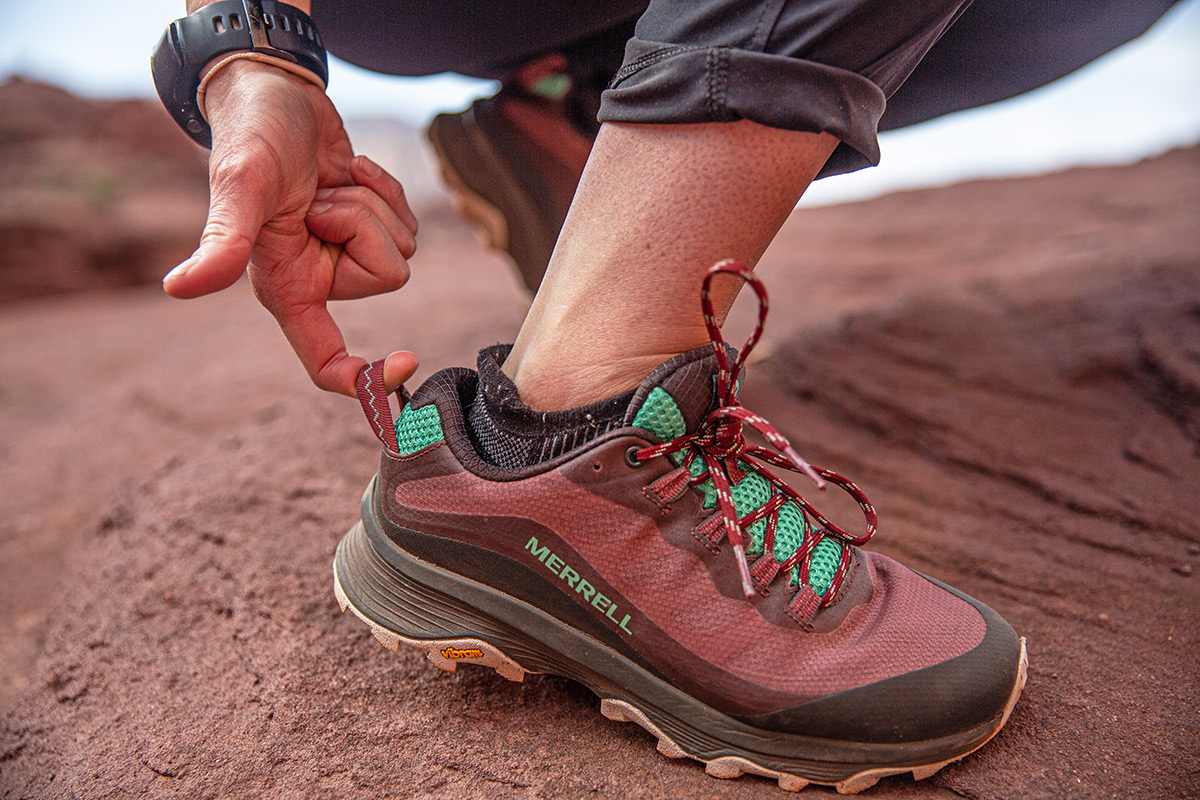 Another interesting alternative to the Moab Speed is Danner's Trail 2650. This light-and-fast shoe—its name refers to the length of the Pacific Crest Trail—impressed us with its comfort, low weight, sharp looks, and traction. Stacked up to the Merrell, the Danner is quite a bit more expensive at $170, but you get nice upgrades in material quality, with a long-lasting leather upper and Vibram's premium Megagrip outsole (for more, see our Trail 2650 review). It's true that the Moab Speed is a bit more stable, but neither of these designs are a good match for hauling heavy loads over technical terrain. In truth, both are solid options, and the Merrell's clear advantage in value may give it the edge for some.
Finally, if you're torn between going with a hiking shoe and a trail running shoe, the Hoka One One Speedgoat 5 is definitely worth a look. A few ounces lighter than the Moab Speed Low, it's a popular package of cushioning, grip (with a Vibram Megagrip sole), and durability that's gained popularity among thru-hikers. For $155, you get a more nimble feel and additional comfort for long days on the trail. But what you gain in cushion and flexibility, you lose in stability. While the Speedgoat is notably stable for a running shoe, the Moab Speed Lows offer a more firm, planted feel on the trail for very little additional weight.
If you're thinking about buying gear that we've reviewed on Switchback Travel, you can help support us in the process. Just click on any of the seller links above, and if you make a purchase, we receive a small percentage of the transaction. The cost of the product is the same to you but this helps us continue to test and write about outdoor gear. Thanks and we appreciate your support!
Depending on the seller, most products ship free in the United States on orders of $50 or more. International shipping availability and rates vary by seller. The pricing information on this page is updated hourly but we are not responsible for inaccuracies.
Read More From Switchback Travel