Mammut Stoney Hardshell (HS)
Price: $499
Weight: 1 lb. 11.2 oz. (men's medium)
Waterproofing: 3L DRYtechnology
What we like: Comfortable and stretchy feel, trim fit, and complete feature set.
What we don't: Short collar impacts protection; fairly heavy for backcountry use.
See the Men's Mammut Stoney Hardshell
The ski jacket market is certainly stacked in 2020, but we like what Mammut has come up with in their Stoney shell. Featuring in-house waterproofing, a stretchy build, and a functional feature set, the Stoney ticks most of the boxes we look for in a mixed resort/backcountry design. You don't get the same bombproof feel as Gore-Tex, and the Stoney is fairly heavy for touring at 1 pound 11.2 ounces, but its excellent mobility has a lot of appeal for active inbounds use and quick trips into the backcountry. Below we break down the Stoney's weather protection, comfort, breathability, build quality and durability, fit and sizing, and more. To see how it stacks up to the competition, see our article on the best ski jackets. 

Performance
Weather Protection
Most ski shells in the $500+ price range feature proven Gore-Tex waterproofing, but Mammut's Stoney Hardshell Jacket bucks that trend with an in-house DRYtechnology membrane. In practice, we found the 3-layer construction to be a strong performer in the wet, and both the face fabric and interior lining are stretchy and soft to the touch. For added protection, Mammut also fully seam-taped the interior, added a durable water repellent (DWR) finish to the outer shell, and included water-resistant zippers on the pockets, which have proven to be plenty secure for keeping gear inside dry. You also get a sturdy hood that's easily adjustable, a cinchable hem, and a powder skirt to seal out the cold and wet.
That said, wearing the jacket, it's immediately clear you're not getting premium 3-layer Gore-Tex protection—the Stoney just doesn't have the same fortress-like feel in wind and blowing snow. Plus, the soft face fabric was a little prone to wetting out, although moisture never made its way through. And a final complaint I have is the short collar, which only covered part of my chin (most ski jackets at least reach the lower lip, and I prefer one to cover the top lip as well for foul-weather days). For those that like to ride without a mask, this is a notable compromise, and the short collar even made it difficult to get full wind protection when ducking into the collar on the chairlift. Most skiers won't mind these light concessions for the added comfort and breathability (more on these below), but the Stoney simply isn't a standout when it comes to all-around protection.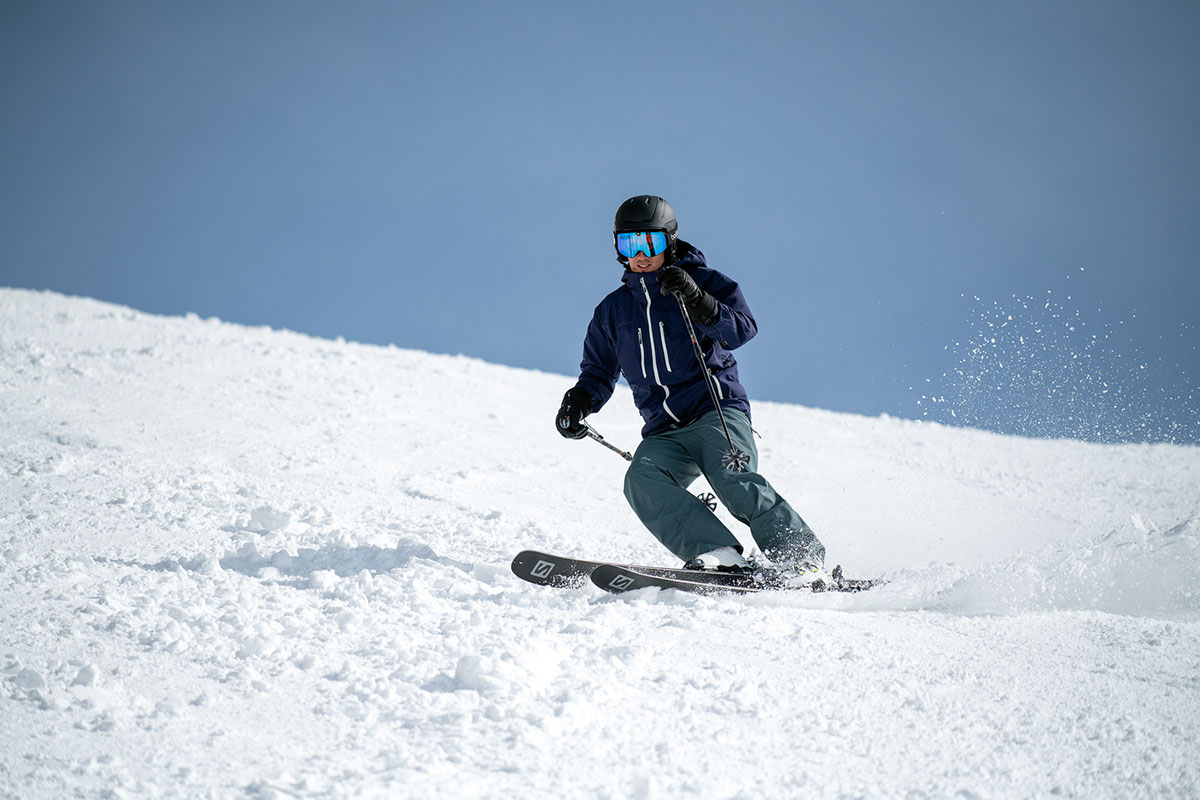 Comfort
Where the Stoney's stretchy build and soft materials really deliver is in the comfort department. The moment you slip on the jacket, it feels great: the fit is trim but layers well, the jacket has a noticeable amount of stretch in the shell and lining, and the smooth integrated hand gaiters are a premium touch that I love. Further, Mammut lined a large section of the front collar with a soft-touch fleece-like material that's cozy against the face and does a nice job wicking away moisture from your breath. Added up, the Stoney offers excellent freedom of movement and mobility for anything from off-piste powder skiing to sidecountry hikes.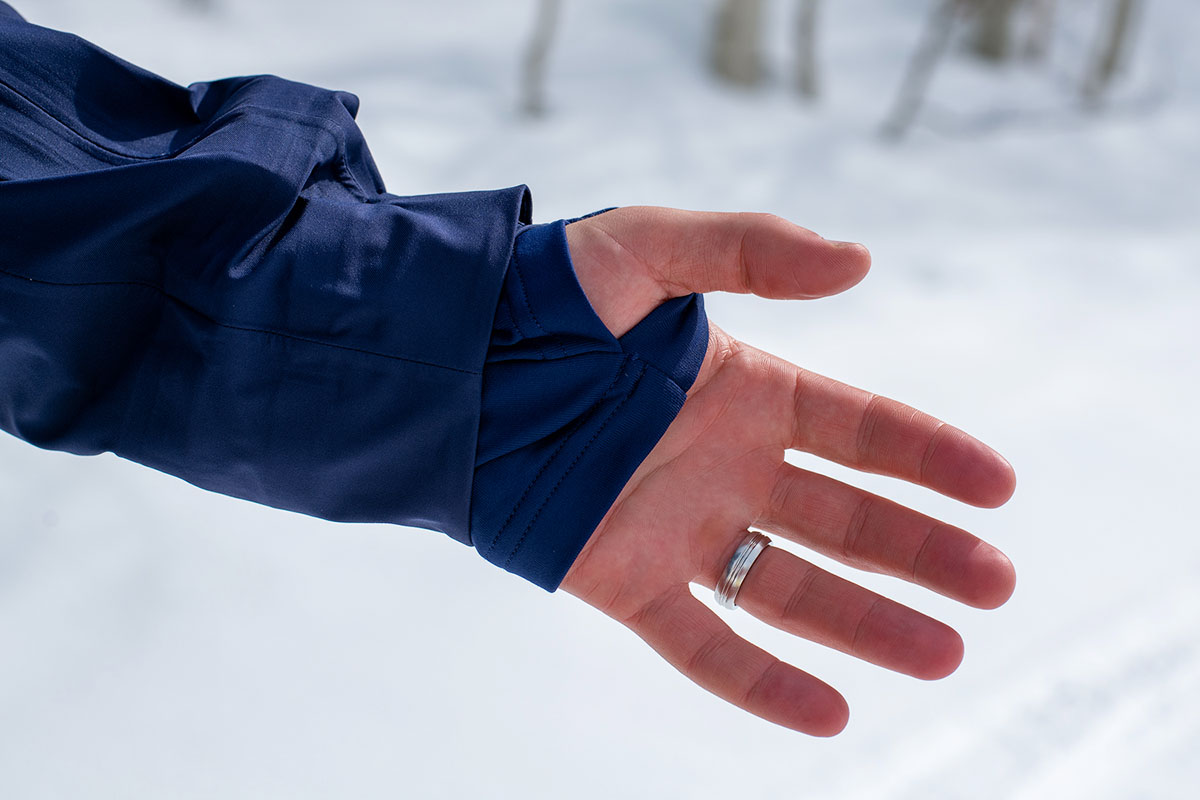 Breathability
Another benefit of the slightly less protective design is decent breathability. Waterproof shells aren't strong ventilators in general, but the Stoney was well-suited for sidecountry hikes at my local resort (typically around 15 minutes involving fairly strenuous bootpacking). Opening up the pit zips was necessary midway up—for reference, temperatures were in the low 20s Fahrenheit with only light wind—although they proved to be fairly short at 12.5 inches in length (for reference, my Arc'teryx Sabre AR's measure 14 inches, and the difference is noticeable). My season ended earlier than expected due to COVID-19, so I didn't get the jacket out touring, but I suspect it will be competent on the skin track. The shorter pit zips may impact temperature-regulating abilities, especially when compared with the full-length side zips on the Outdoor Research Skyward II, but otherwise the Stoney strikes me as a serviceable option for quicker outings.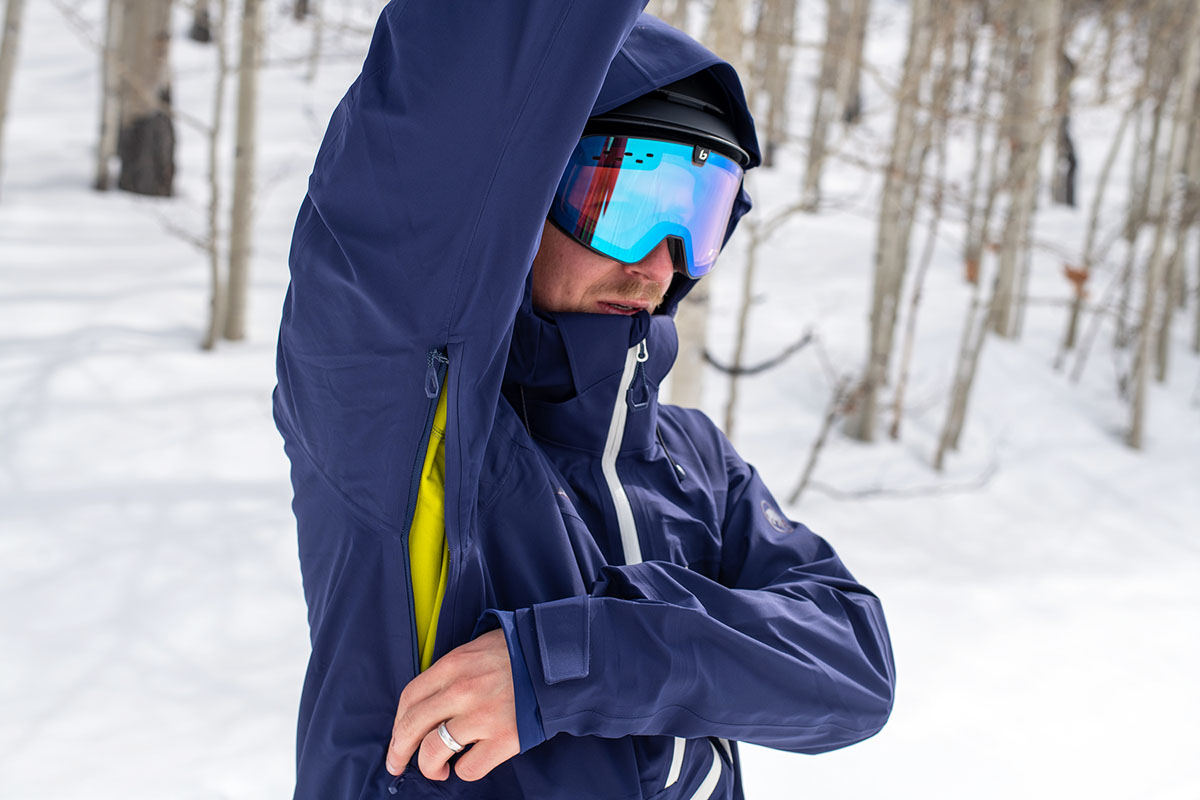 Build Quality and Durability
From the first time out with the Stoney, it was clear this is a well-made piece. The stretchy fabric is soft yet substantial, and Mammut nailed some of the finer details like sturdy zipper pulls—particularly on the main zipper—that are glove- and mitten-friendly (a surprisingly uncommon find in ski shells). Further, there's also a handy fabric wipe for ski goggles stowed in the interior mesh drop-in pocket (it's attached to a small and stretchy band).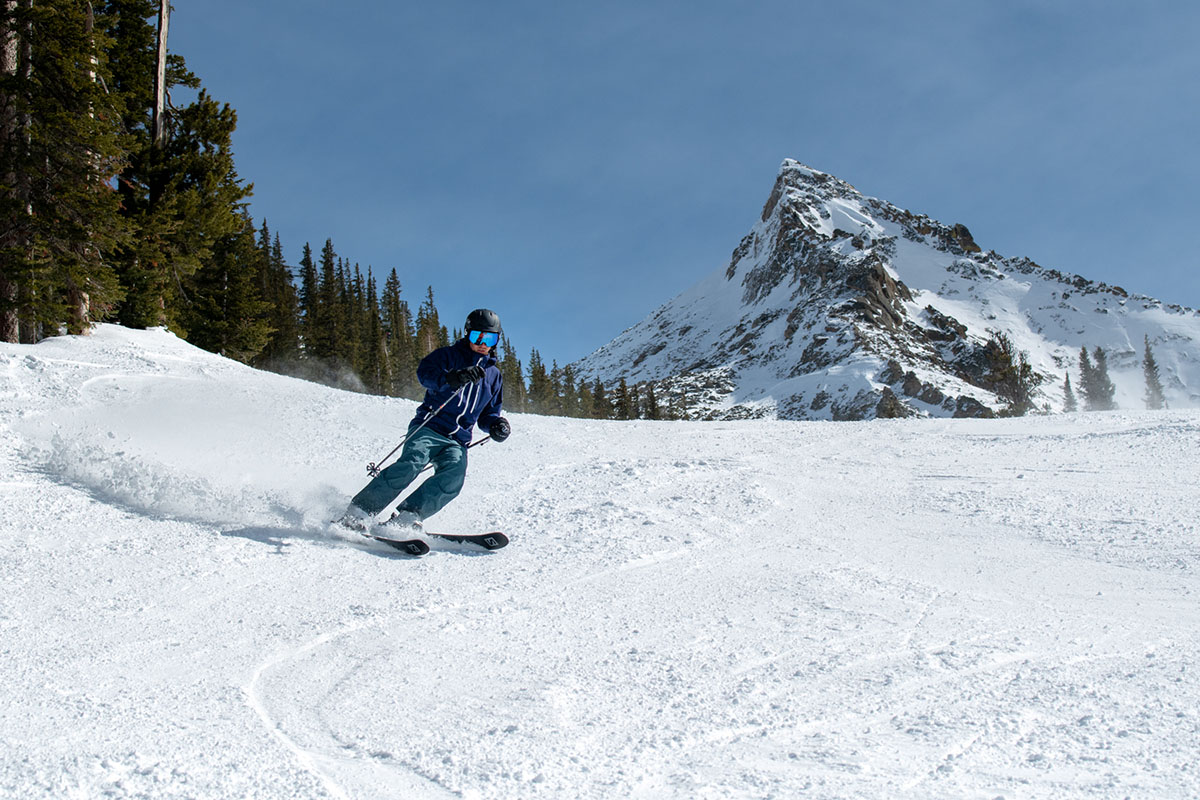 Taking a closer look, you can tell this isn't a high-end Arc'teryx piece—the exterior stitching and seam taping along the inside lack that brand's painstaking precision—but I haven't experienced any failures in the materials. The soft-touch fabric that covers the chin is starting to pill, but I've found this to be fairly common issue, especially if you have facial hair. And finally, the in-house membrane isn't nearly as proven as a Gore-Tex build and doesn't come with the same level of guarantee (plus you're not saving a whole lot with the Mammut Stoney's $499 MSRP). It's too early for me to give a definitive answer on longevity—testing was cut short by COVID and the early closure of the resorts—but from my time thus far with the jacket, all signs are positive that it should have a reasonably long life.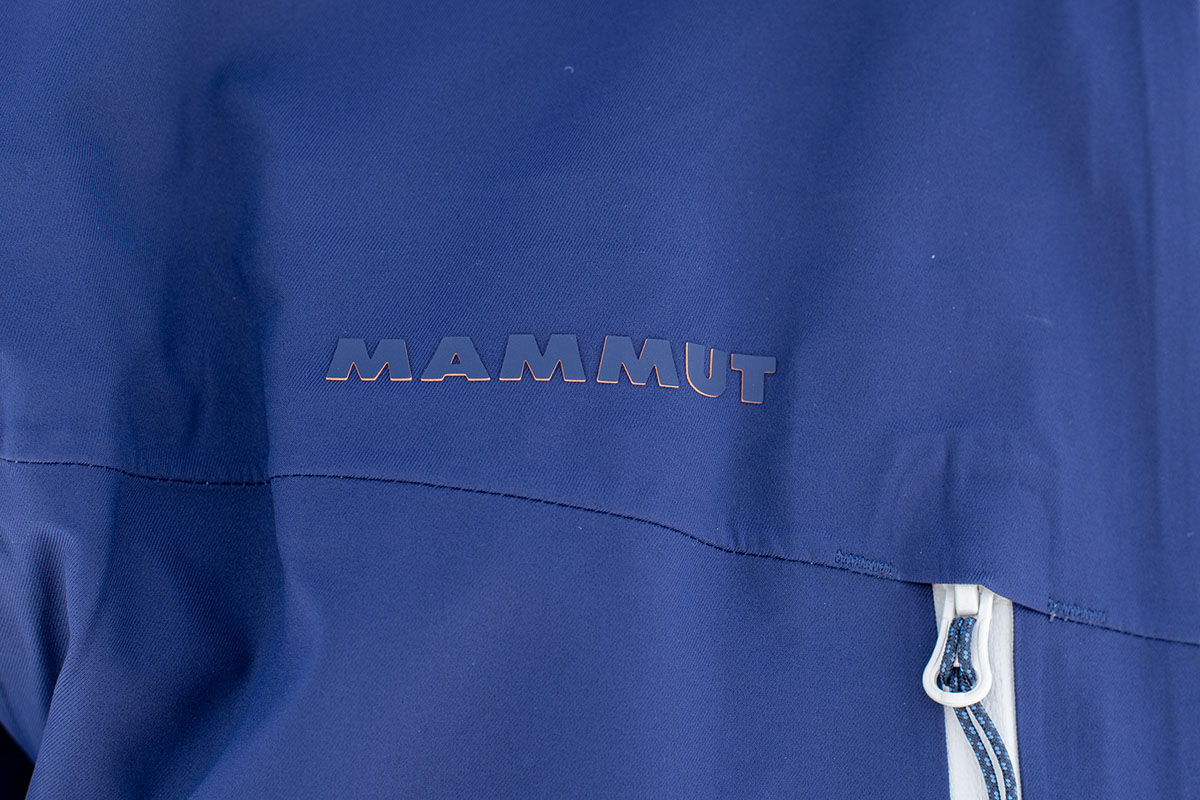 Weight and Packability
The Mammut Stoney is billed as a touring piece, but its weight and features make it better tuned for those that put in plenty of resort days or stick to shorter backcountry trips. At 1 pound 11.2 ounces in a men's medium, it's heavier and less compressible than alternatives like Patagonia SnowDrifter (1 lb. 4.7 oz.), Flylow Gear Higgins (1 lb. 8.6 oz.), and Outdoor Research Skyward II (1 lb. 9.5 oz.). And even among shells that play well at the resort, like the Arc'teryx Sabre AR (1 lb. 8.7 oz.), the Stoney is on the heavy end of the spectrum, which is one tradeoff of the stretchy and sturdy build. It's worth noting you can save a little weight by leaving behind the powder skirt (2.2 oz.) on backcountry days, but the difference is fairly negligible. All told, this won't be a deal breaker for many, but the extra heft was noticeable when wearing the Stoney back-to-back with the more streamlined (and pricier) Sabre AR.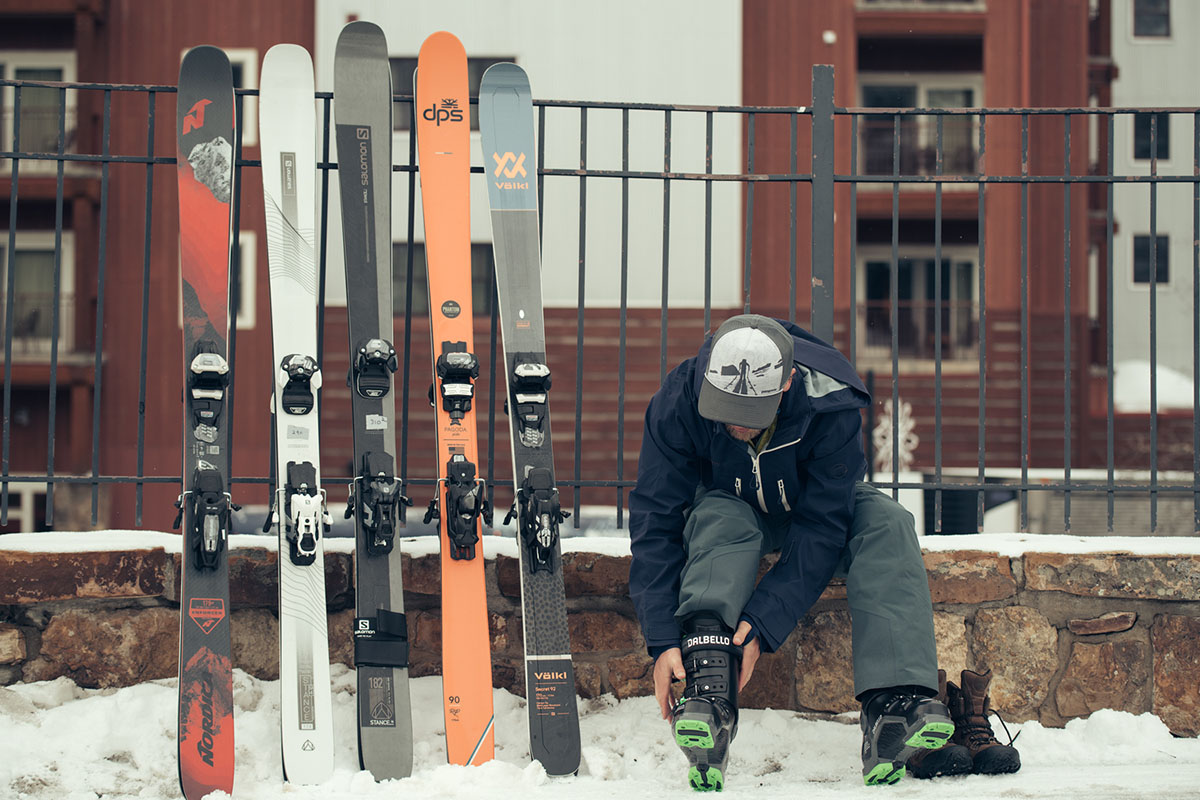 Key Features
Hood
I had mixed impressions of the Stoney's hood. On one hand, it was large enough to fit easily over my primary helmet (a size medium Smith Level MIPS) and offered good peripheral vision even when cinched down. And the three-point adjustment design—a familiar concept used on many ski jackets—proved to be secure and reasonably easy to adjust with low-profile gloves (those that wear mittens or bulky gloves are better off removing them). However, the wide aperture at the front, which is largely a result of the short collar, meant it wasn't a great match for wearing without a mask on frigid and cold days. Finally, one surprising decision is that Mammut made the hood removable—unbutton it at the front and unzip at the back to take it off—which is something you don't often find in hybrid resort/backcountry designs (it's more common with dedicated resort shells). This adds weight and likely plays a role in its diminished protection, but the upside is that the hood can be detached on mild-weather days.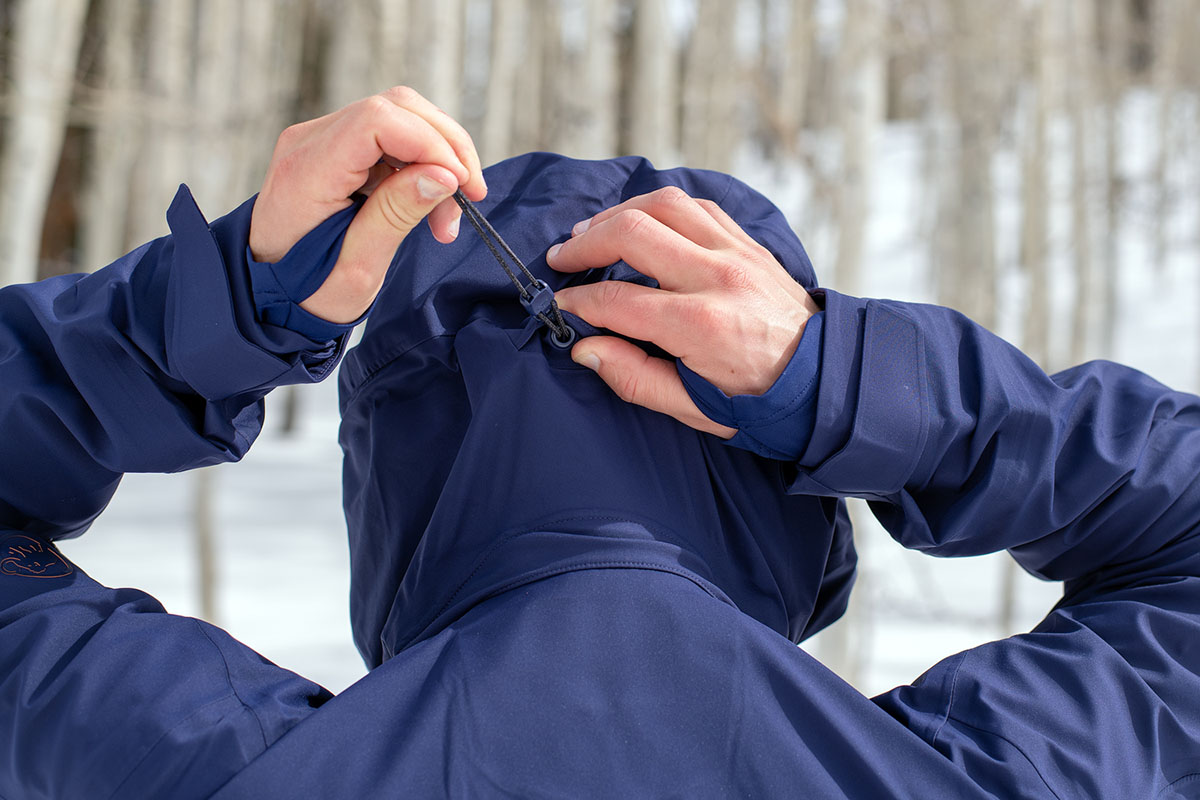 Storage: Pockets
Mammut outfitted the Stoney Hardshell Jacket with plenty of pockets to distribute your gear and personal items. On the exterior, you get two hand pockets that sit low and in a natural position (they'll be blocked by a harness or pack hipbelt), as well as dual chest pockets. All four are generously sized for gloved hands and deep enough to limit the risk of items spilling out when you open them. You also get a small zippered pocket on the left forearm for stashing a ski pass. Rounding out the storage, there's an internal mesh drop-in-style pocket for stowing goggles (inside is where you'll find the aforementioned fabric goggle wipe). My only gripe is that the interior zippered pocket is far too small to fit a larger smartphone like my iPhone 11, but it worked well for swallowing bars and snacks.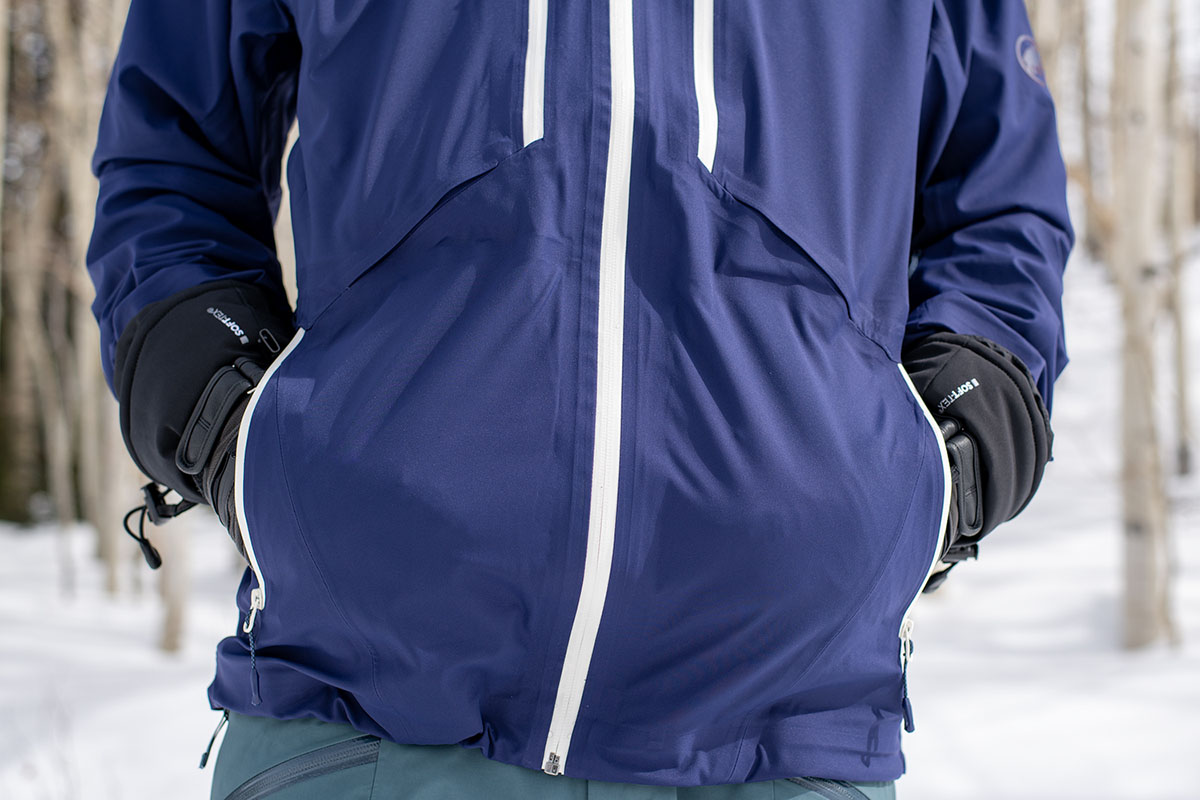 Powder Skirt
Like many ski jackets, the Mammut Stoney features a powder skirt for sealing out snow in deep powder or when you take a fall. In terms of construction, it's a fairly standard design with plenty of elasticity, a silicone-like material along the inside to keep it in place, and easy and secure buttons that dot the stretchy band at the bottom to connect to compatible Mammut ski pants (two sets of buttons allow you to tune the fit as well). Finally, I appreciate that the skirt is removable, since it's snug enough to be noticeable around the waist when it's not secured.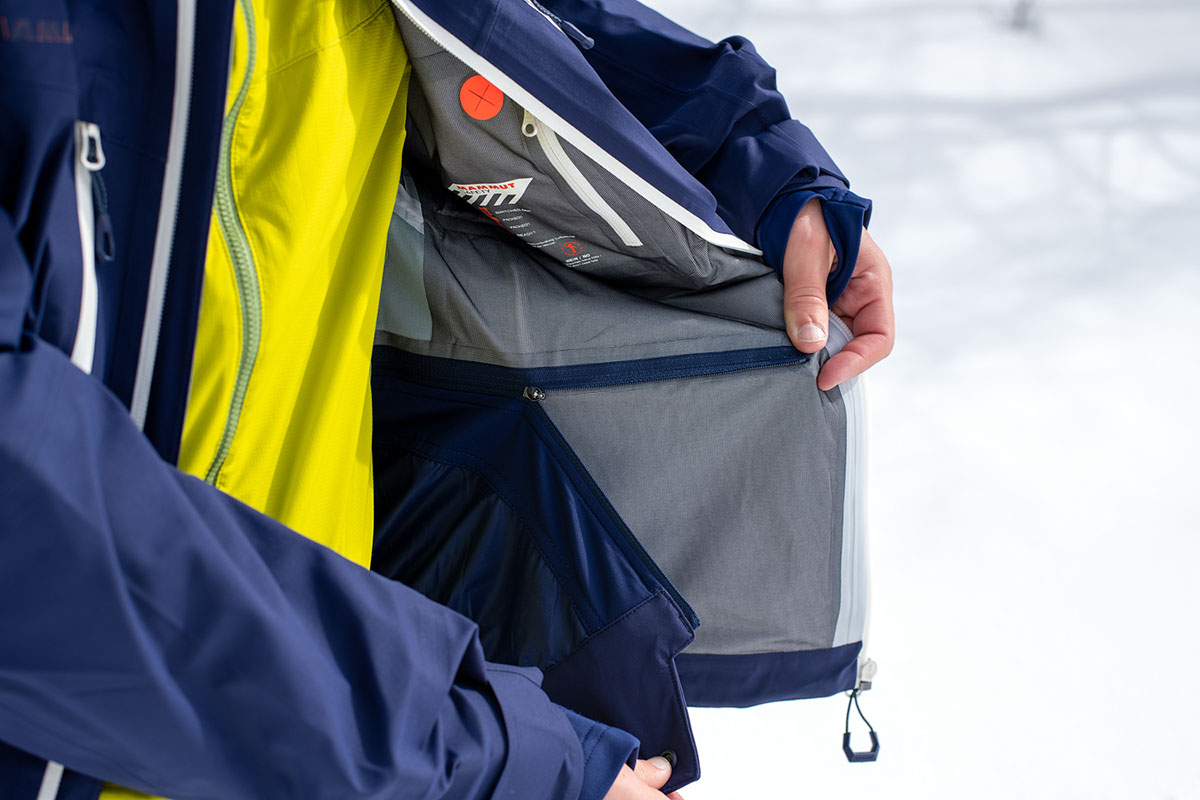 Fit and Sizing
I tested a men's medium in the Stoney (for reference, I'm 5'9" and 155 lbs.) and found it to fall on the trim and slightly small end of the spectrum. It'll likely work really well for those that prefer an athletic cut or have a somewhat thin build. Additionally, the stretchy construction meant I had zero issues with pinch points or discomfort even when wearing puffy midlayers like The North Face's ThermoBall Eco, Arc'teryx's Atom LT, or Patagonia's Down Sweater underneath. On the other hand, those that like a more traditional, bulkier shape may want to consider sizing up or avoiding the Stoney altogether—if that's your preference, we recommend an option like Patagonia's Powder Bowl.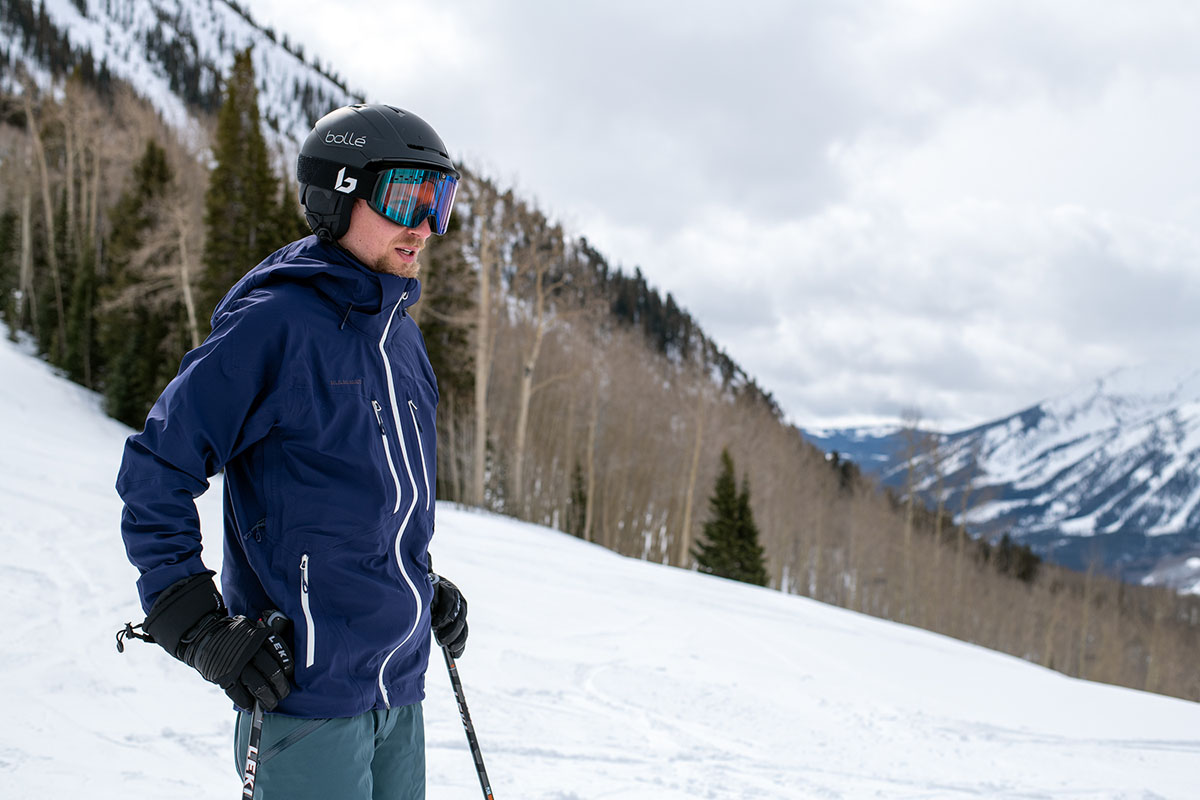 Sustainability: Bluesign-Approved Fabrics and PFC-Free DWR
More and more companies are incorporating sustainable practices into their shells, and we appreciate the steps that Mammut took with the Stoney Hardshell Jacket. For starters, the jacket's fabrics are bluesign-approved, meaning that all materials and chemicals used during production are safe for consumers, factory workers, and the environment. The jacket also sports a PFC-free DWR coating—petroflourinated compounds have been linked to numerous health and environmental issues, and we consider this a major step in the right direction. The Stoney doesn't use recycled materials, which you'll find with industry-leader Patagonia, but we nevertheless appreciate the focus on sustainability.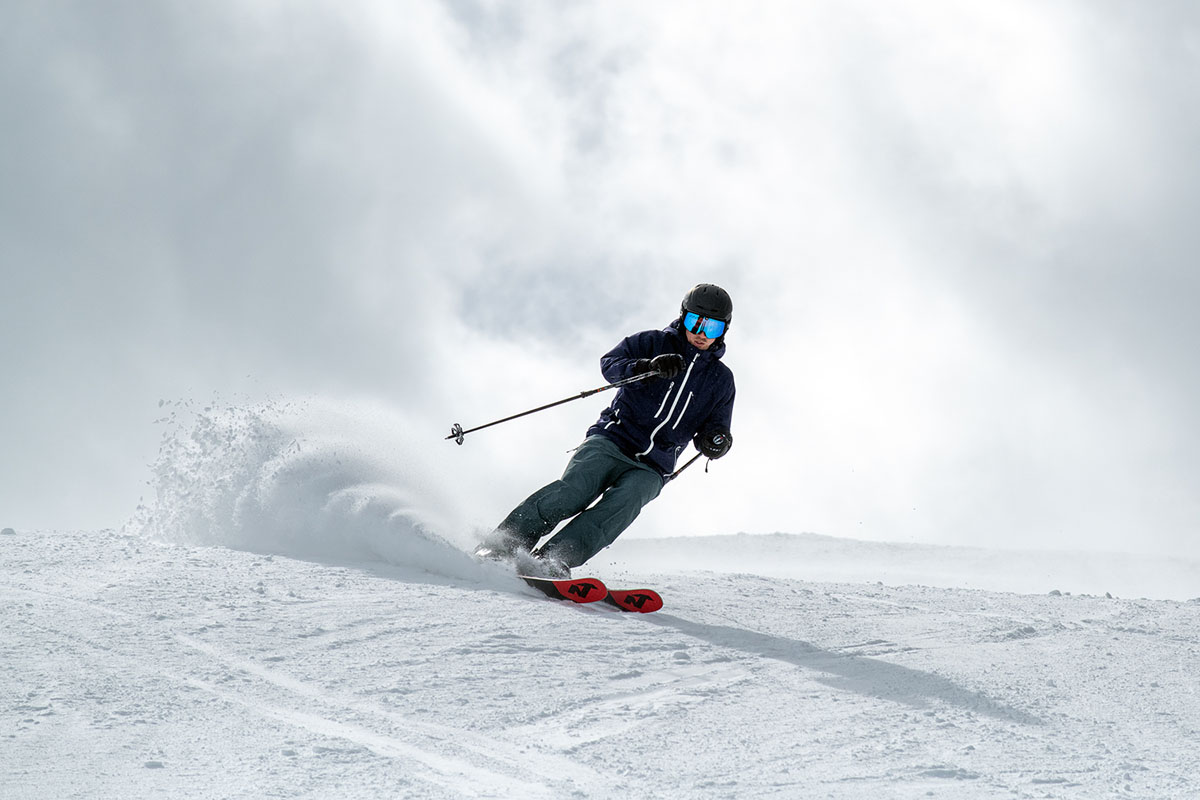 Other Versions of the Mammut Stoney
We put the men's Stoney HS Jacket to the test for this review, and Mammut also offers the Stoney in a pant option for men. The Stoney Hardshell Pants costs $299 and feature the same 3-layer DRYtechnology waterproofing as the jacket, which we found to be decently weather-worthy and great for mobility. The pants clock in at 1 pound 9.9 ounces and are available in a nice array of color options (six at the time of publishing). Rounding out the collection is the Stoney Glove, ($100), which again uses the same waterproof membrane but adds synthetic insulation for warmth. Finally, it's worth noting that Mammut doesn't make the Stoney in a dedicated women's version, nor is there a comparable alternative in the lineup (a rarity in the ski apparel world).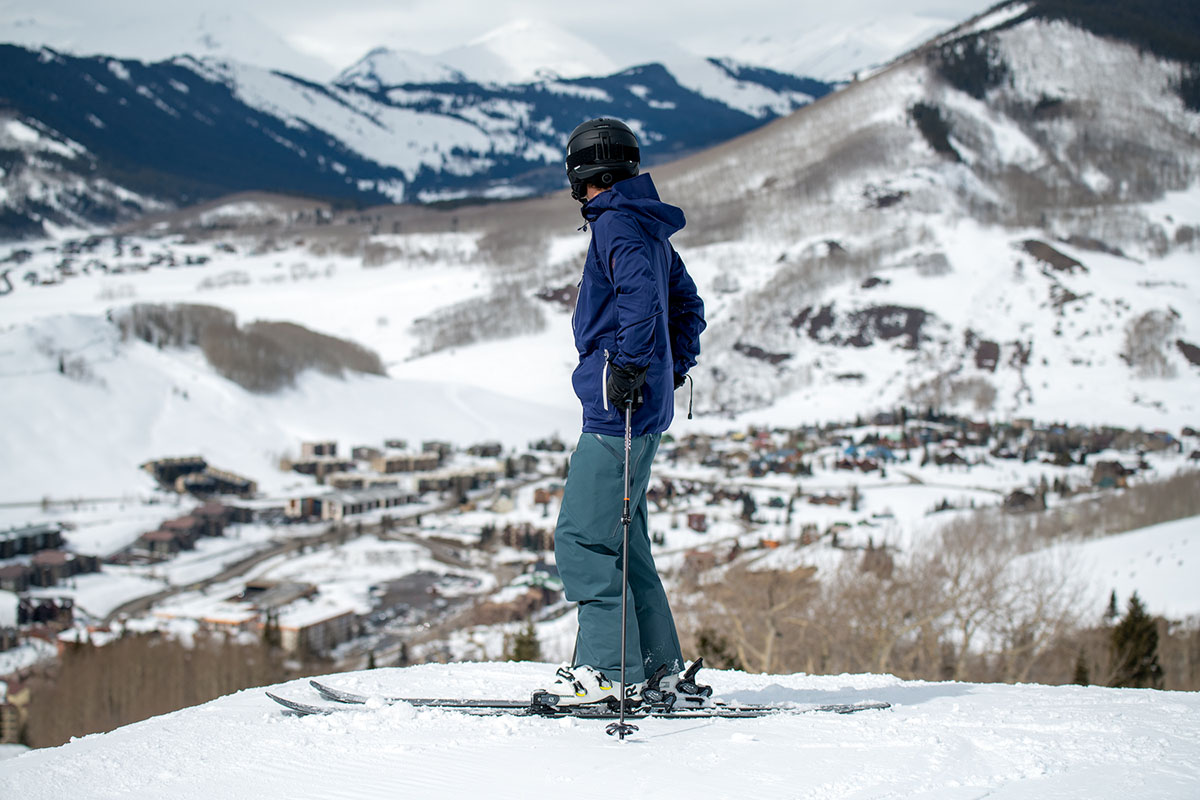 What We Like
Standout comfort with a trim fit, noticeable amount of stretch, smooth integrated hand gaiters, and fleece-like material at the collar.
Nicely executed feature set including ample storage, a removable and functional powder skirt, and a highly adjustable hood (although the aperture is fairly large, so a mask is needed in rough conditions).
Adequate breathability for short sidecountry excursions, which isn't always the case with waterproof shells.

What We Don't
Collar only covered part of my chin (most shells reach the lower lip or higher), which had a noticeable impact on wind protection.
Fairly heavy for a touring piece at 1 pound 11.2 ounces.
At $499, it's pretty expensive for an in-house waterproof build.


Comparison Table

The Competition
Mammut's Stoney is a nice crossover resort/backcountry ski jacket option, but there's no shortage of similarly versatile shells for mixed on- and off-piste use. Outdoor Research's Skyward II is one of our favorites in this category with a stretchy, breathable, and waterproof build (a rare combination) thanks to OR's proprietary AscentShell fabric. All in all, we found the Skyward to be just as protective as the Mammut while undercutting it significantly in price at $350 and weight at 1 pound 9.5 ounces. We also prefer the OR's TorsoFlo vents, which open from the hem all the way to the bicep to dump heat quickly. The Skyward is a bit more backcountry-focused than the Stoney and forgoes a powder skirt, but we think it's the better all-around design.
Another stretchy shell to have on your radar is Flylow Gear's Higgins 2.1. Like the Mammut, the Higgins uses an in-house construction that balances resort and backcountry needs with a stretchy and soft 3-layer build. In parsing out the differences, the Flylow Gear is lighter at 1 pound 8.6 ounces but fits a little larger than the Stoney and forgoes a couple features including the integrated hand gaiters and fewer pockets. But at $380 (over $100 less than the Stoney), the Higgins manages to undercut the Stoney considerably in price without any major performance drawbacks. For this reason, we think it's the superior overall value.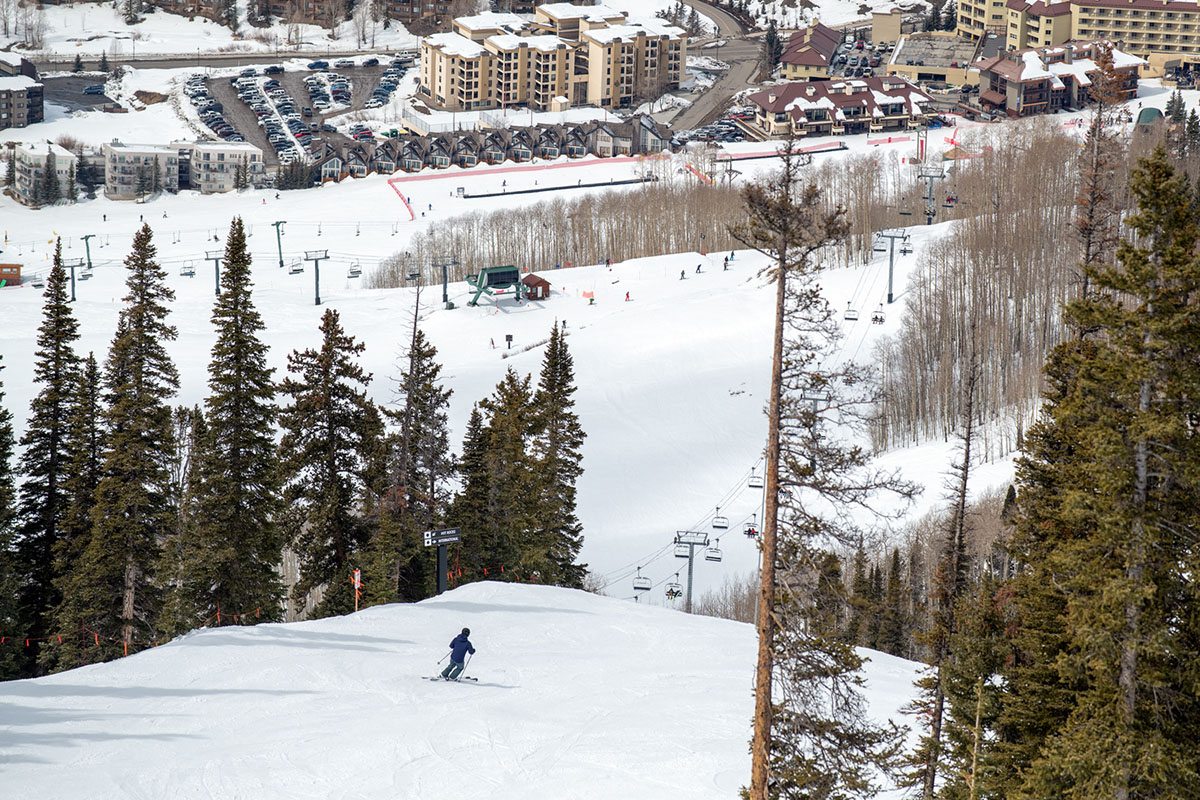 Another shell worth considering is Marmot's Spire. The Spire sports a more traditional 3-layer Gore-Tex build, which translates to a sturdier and more protective design that excels in rough and rowdy conditions. Standard Gore-Tex isn't as comfortable as the Stoney's stretchy construction—it's noticeably more rigid and crinkly—but the Spire also weighs and costs less at 1 pound 9 ounces and $400 respectively. In the end, a final decision will likely come down to how you prioritize comfort vs. protection, but the Marmot's cheaper price and better wet-weather performance are undeniably enticing.
For a step up in both price ($599) and performance, Outdoor Research's Hemispheres is worth a serious look. This jacket features a unique Gore-Tex design that uses 3-layer waterproofing throughout most of the body with 2-layer Gore-Tex with Stretch Technology at the back of the shoulders, hood, and under the arms. Overall, we found these panels to offer ample waterproofing while providing a major boost in freedom of movement. Like with the Skyward, you also get OR's functional TorsoFlo vents and a complete feature set including a tall collar, adjustable hood, and ample storage. In the end, the Hemispheres is worth the investment for skiers that don't want to compromise in either protection or comfort.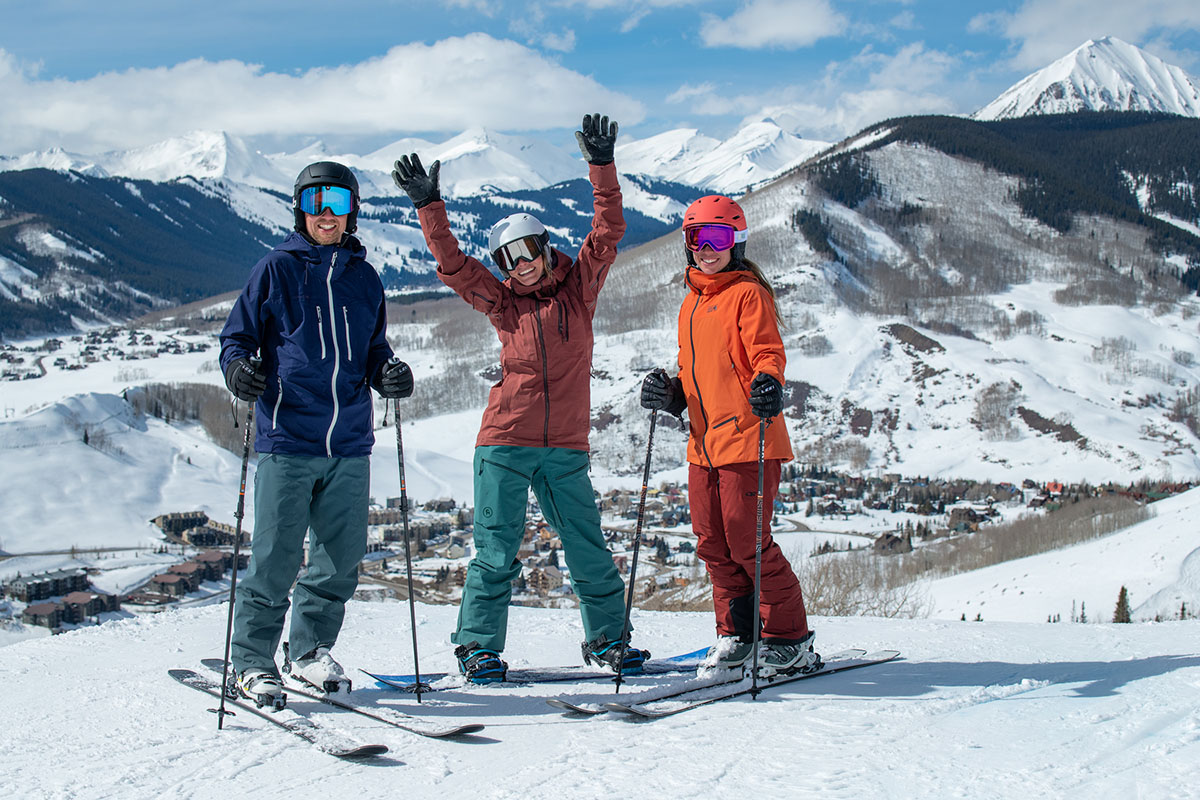 A final option to consider is our favorite ski jacket this year: Arc'teryx's Sabre AR. The Sabre uses a more premium 3-layer Gore-Tex construction but is still comfortable with a soft liner and great all-around mobility. The Arc'teryx also easily wins out in protection with a taller collar, fantastic hood design, and bombproof build. And as we mentioned above, it undercuts the Stoney in weight at 1 pound 8.7 ounces (for more, see our in-depth Sabre AR review). The Stoney gets the slight edge in breathability with its in-house membrane and saves you around $125, but we consider the Sabre's boost in performance worth the added cost, and especially for those that hit the slopes regularly.
If you're thinking about buying gear that we've reviewed on Switchback Travel, you can help support us in the process. Just click on any of the seller links above, and if you make a purchase, we receive a small percentage of the transaction. The cost of the product is the same to you but this helps us continue to test and write about outdoor gear. Thanks and we appreciate your support!
Depending on the seller, most products ship free in the United States on orders of $50 or more. International shipping availability and rates vary by seller. The pricing information on this page is updated hourly but we are not responsible for inaccuracies.
Read More From Switchback Travel