With a serious alpine pedigree, La Sportiva has been manufacturing highly regarded climbing and skiing gear for almost 90 years. Therefore it's no surprise that their Trango TRK GTX is a sleek, lightweight, technical trekking boot that excels at nearly anything we've thrown at it. We tossed on heavy packs and took the Trango TRK into the high Andes of Peru to test it on some of the world's most beautiful yet demanding terrain. Below is what we think of the boot's support, traction, protection, waterproofing and breathability, fit, and more. To see how the Trango TRK stacks up, see our article on the best hiking boots.
 
Performance
Support and Flexibility
It seems obvious that embarking on a serious trek with an 80-liter, 70-pound pack (cameras are very heavy) requires a boot that can provide adequate support. To this end, the La Sportiva Trango TRK GTX delivered. The star of the show is the 3D Flex System, a multi-directional hinge that allows the ankle to flex forward while the upper still provides lateral stability to stop the ankle from rolling over. This allowed me to hike up and down extremely steep slopes, yet still provided essential stability on loose trails. I still had a few minor rollovers (without injury I might add), but I was also carrying a very large pack through very demanding terrain. I suspect that I'd have limped out were it not for the stability provided by my boots.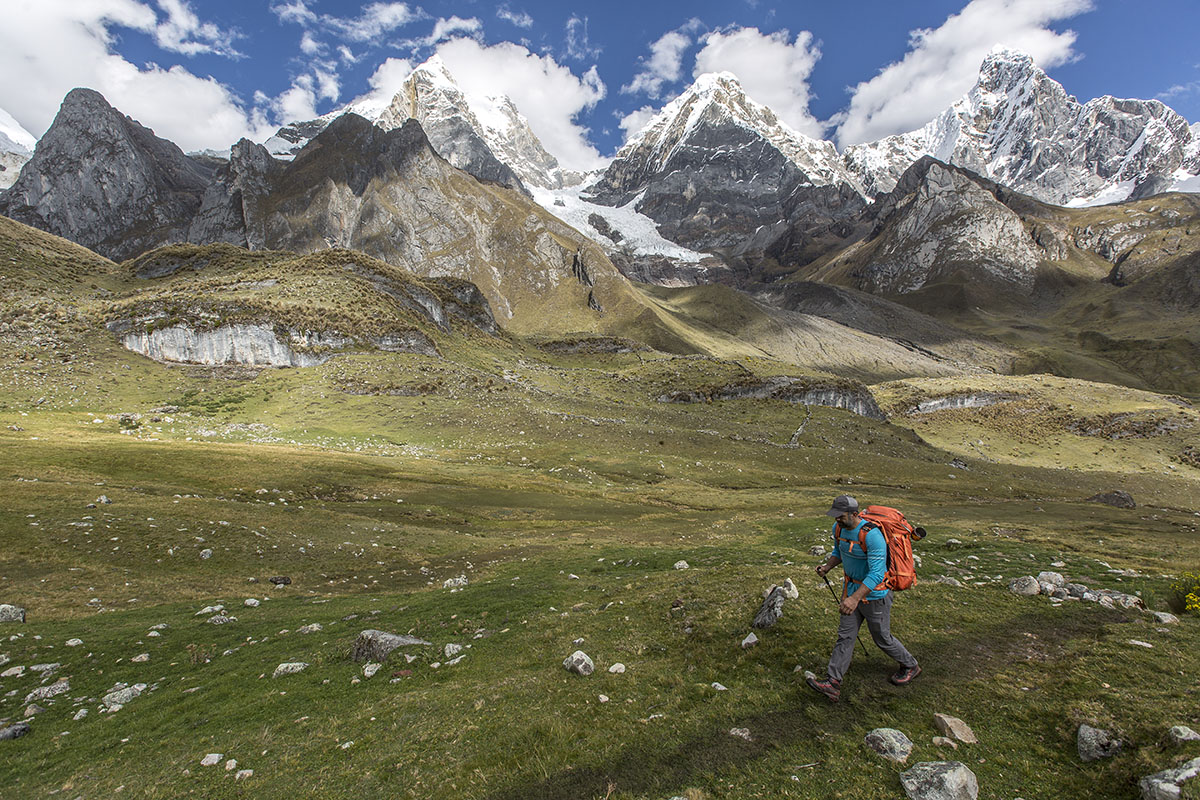 My hiking boots put up with a lot. I've had the insoles and midsoles of many past models compress in a relatively short period of time under the combined weight of my body and gear. This causes the boot to feel flat and lacking in cushioning, and allows that uncomfortable pressure of jagged rocks through the soles. Notably, this has not been a problem with the Trango TRK. Although there is no shank in the sole, the flexible 6mm polypropylene insole, along with the dual-density EVA midsole, provide excellent support and rigidity. The Trangos are holding up admirably especially given that every time I wear the boots, I'm carrying a heavy backpacking pack.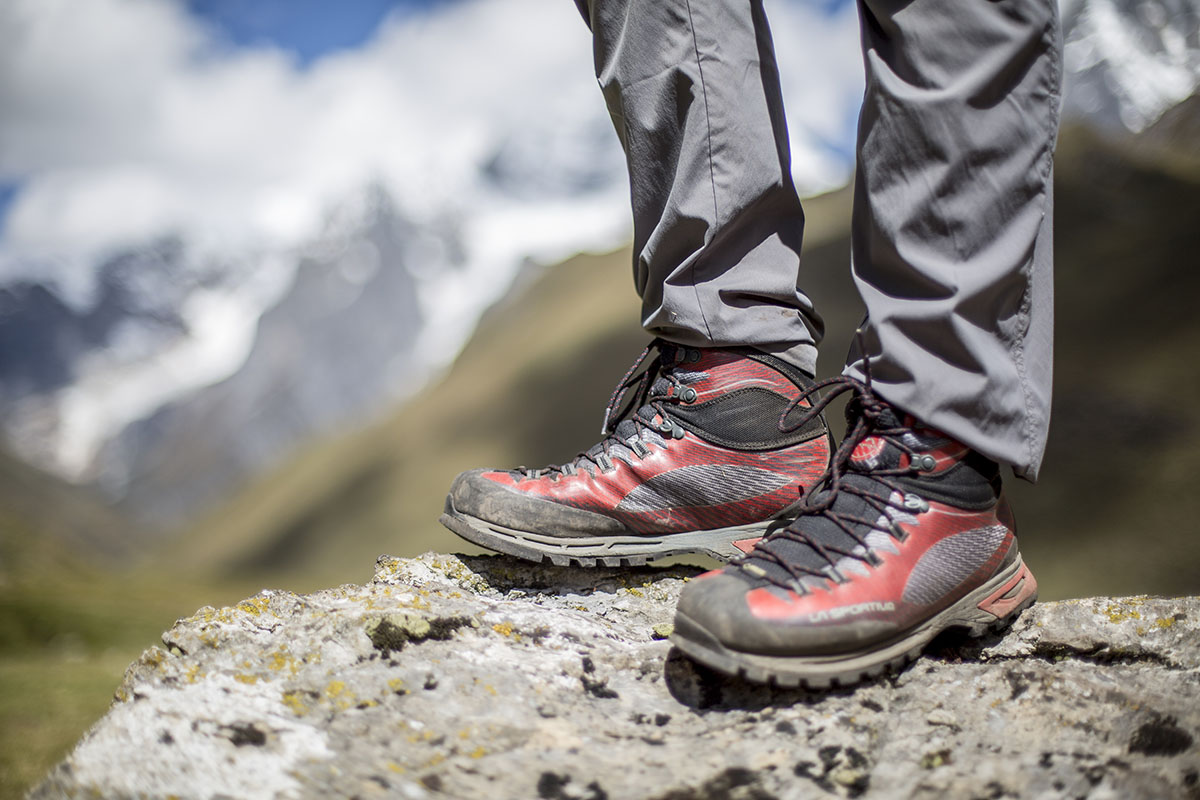 Traction 
Given La Sportiva's history with climbing, it's no surprise that their traction technology would seep into their hiking boots. The outsole of the Trango is a Vibram Mulaz, which boasts a technical edging platform and aggressive lugs. These boots have been tested on varied terrain, from the dry and rocky Peruvian Andes to the wet and slippery Pacific Northwest, and they have yet to let me down. The Huayhaush Circuit in particular included some the steepest and most uncomfortably exposed terrain I've encountered—it was full of loose, washed out gravel and scree slopes. This was exacerbated by the weight of my pack and weary legs, so I was grateful that the soles held their own and helped to safely porter me down the route. Our final campsite, for example, required a tough descent of 1,000 meters in less than 3 kilometers, but the boots held up admirably.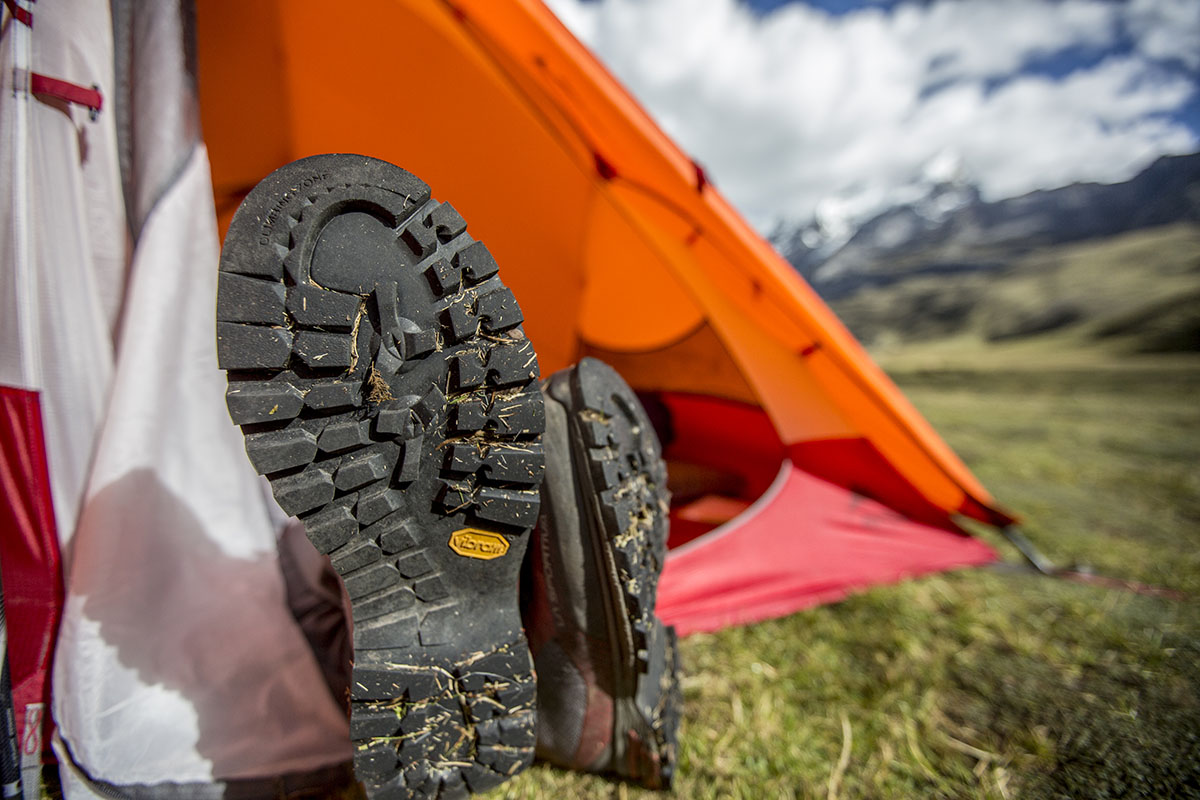 Protection
Despite the relatively low weight, the Trango wears like a solid, protective, lightweight mountaineering boot. A rubber rand wraps around the toe and heel of the boot to defend your feet from jagged rocks and roots looking to cause damage. The upper is constructed of a thinly padded, abrasion resistant polyester with a TPU Thermo Tech Application (a.k.a thermoplastic polyurethane, which is a hybrid hard plastic and soft silicone) in areas of high wear. This has protected my feet from sticks and other sharp objects such as sliding scree from penetrating the boot on steep climbs and descents.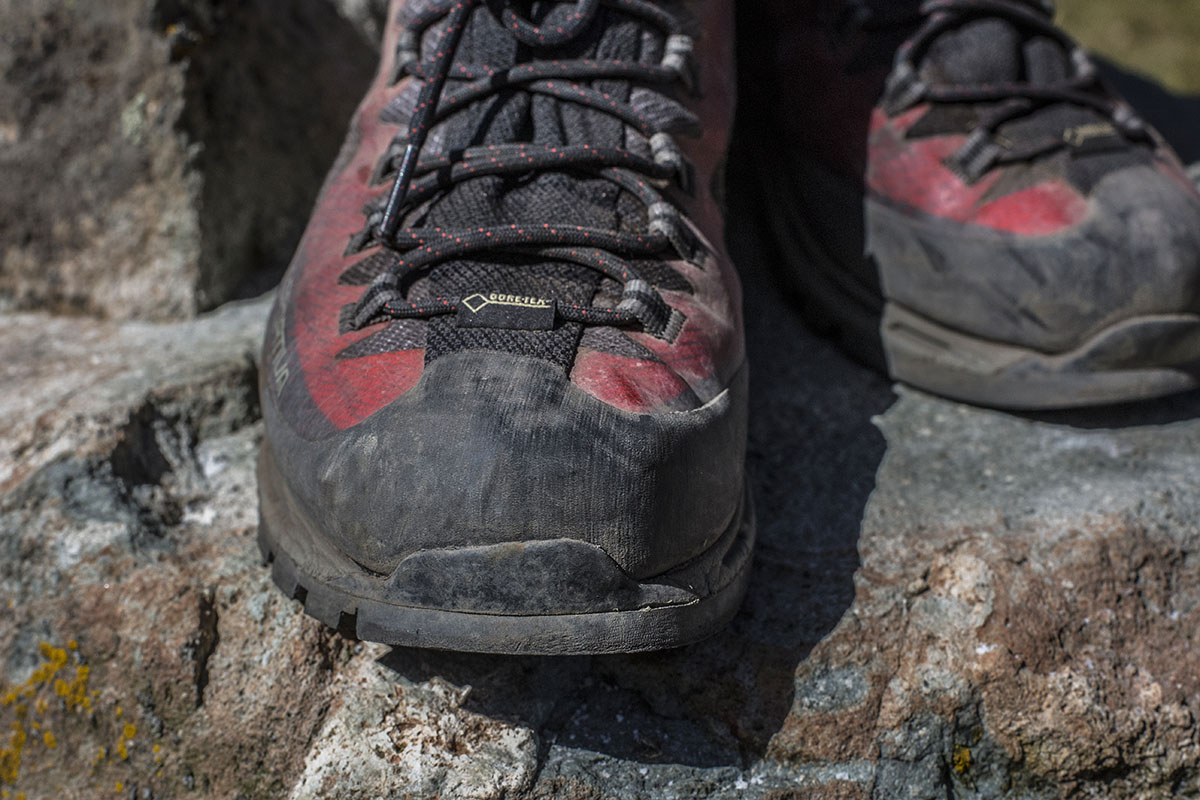 Waterproofing and Breathability 
My second outing in the Trango TRK GTX was a soggy coastal day where I was photographing a trail race. I spent approximately 4 hours in a torrential downpour, splashing through puddles and up trails that had been transformed into small waterfalls. Through all of this, the full Gore-Tex lining did a great job of keeping my feet dry and comfortable. Everything from early morning dew to shallow stream crossings have yet to penetrate or even slightly dampen my feet to date.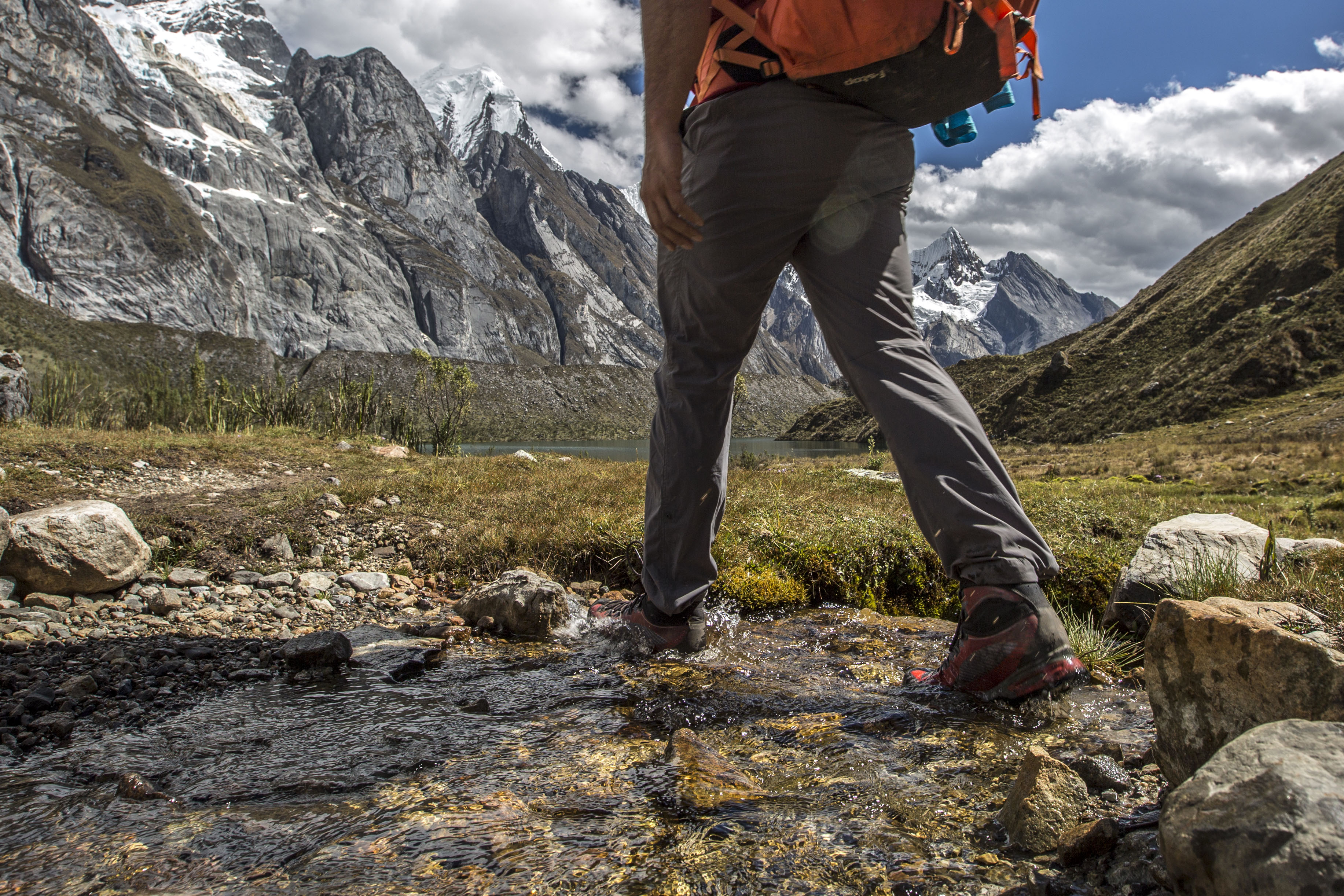 That being said, I'm always wary of crossing streams that are at or near the top of the boot. Gore-Tex liners not only keep water out, but also can trap the water in the boot, which I experienced after a misstep while shooting said race. When this does happen, however, the interior of the Trango TRK GTX is made of fast drying material and the tongue is built with an Airmesh insert which allows the boot to breathe. The tongue has gotten wet and saturated with water on a few occasions, but its clever design enables it to be flipped from the inside of the boot by undoing a velcro tab, leaving it exposed to the air/sun and therefore drying quicker. 
Despite the full Gore-Tex lining, my feet seemed to breathe relatively well in the Trango TRK GTX. Daytime temperatures often soared up near 80° Fahrenheit (around 25°C) while on the Huayhuash Circuit. Typically, I wouldn't want to be caught wearing a Gore-Tex lined boot in these conditions, but the Trango proved to breathe quite well. At no point have my feet felt like they were overheating or too sweaty, and my hiking socks were always dry at the end of the day.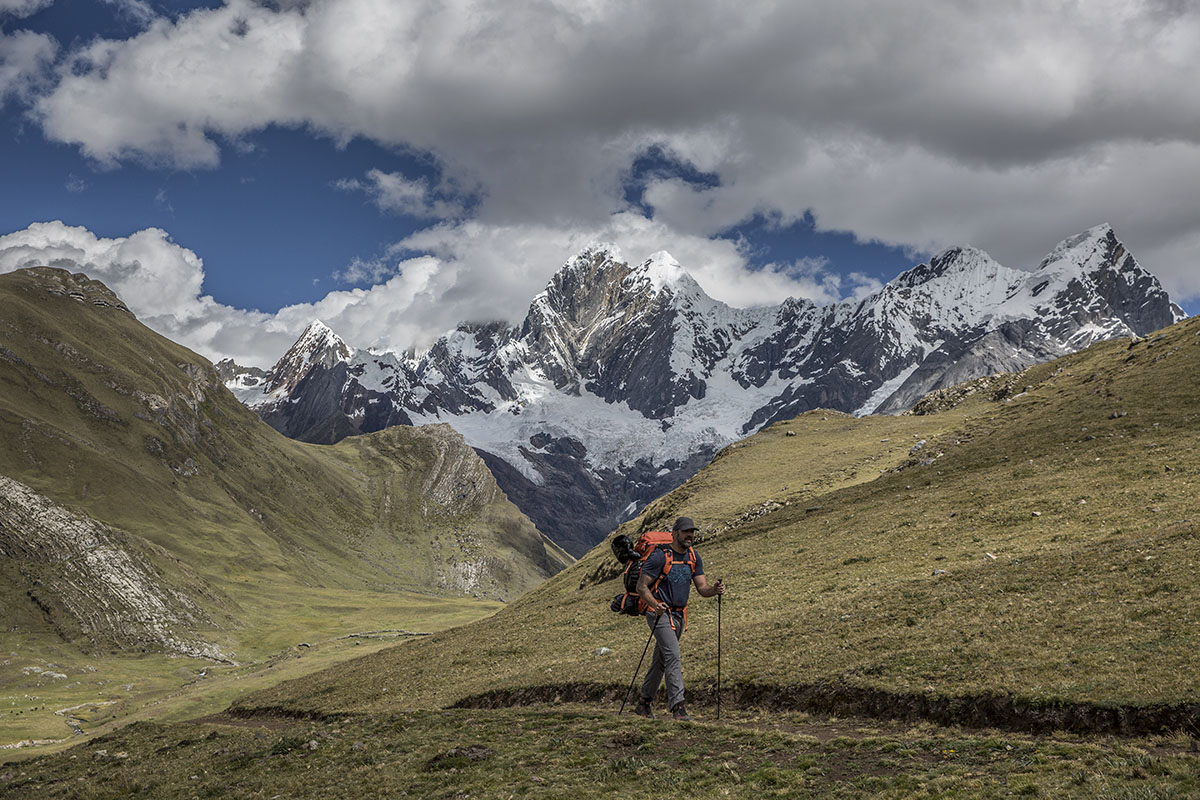 Construction and Durability 
I would expect nothing less than top notch craftsmanship and quality from a company that has been around as long as La Sportiva, and they delivered here. Built entirely of synthetic materials, the Trangos are holding up quite well after some serious abuse. Outside of minor cosmetic scuffs, the boots are showing no major signs of wear. The Polyester TPU has done a remarkable job of minimizing this—scuffs that would typically show on leather don't appear on the Trango—and it also makes the boot easy to clean. More, the seamless construction reduces any chance of snags and tears along the stitching and there appears to be no unthreading at this point. The Vibram soles are intact and only showing minimal wear, impressive given the terrain and load that these boots have been subjected to.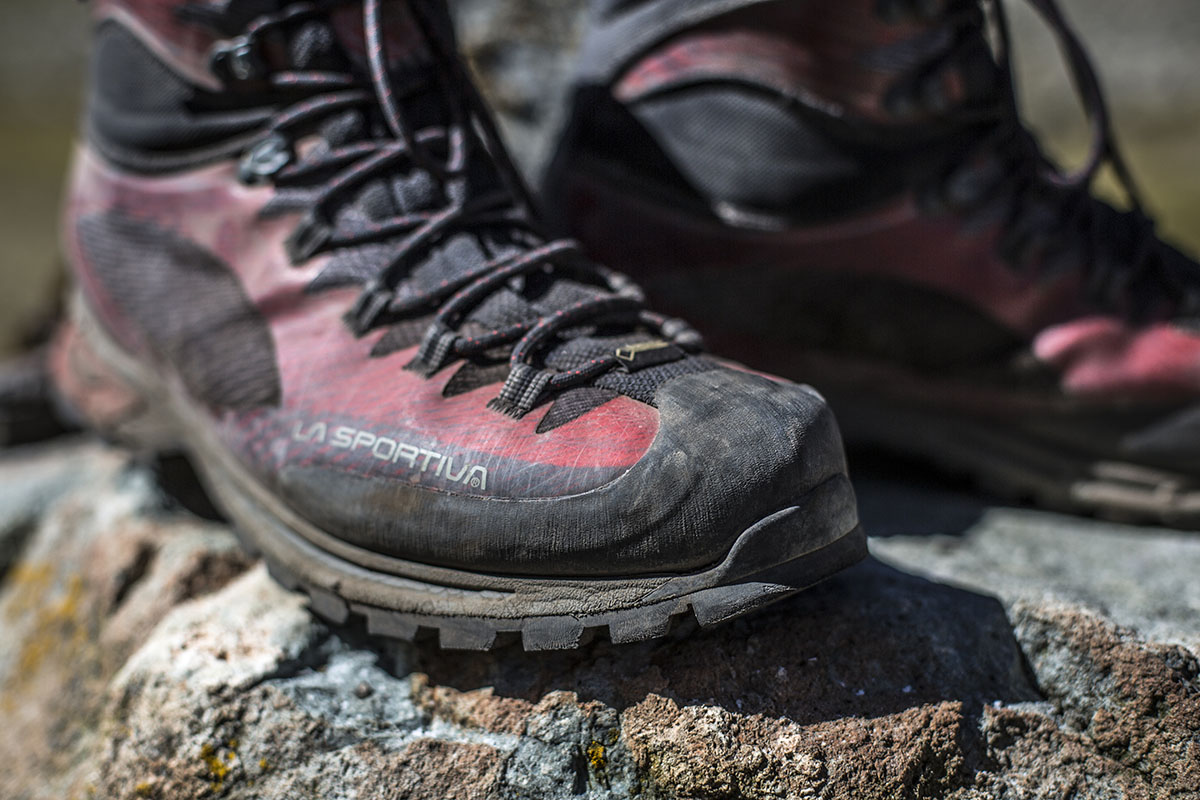 Weight 
Weight is one of the areas where the Trango TRK shines. For such a serious waterproof boot, they weigh a mere 2 pounds 8 ounces for the pair. And most options in this category lack the stability and protection that this boot manages to provide. Instead, the Trango maintains its durability and structural integrity by eliminating traditionally heavy materials like leather and opting instead for modern synthetic materials like polyester mesh. They've even replaced the typical metal eyelets with lighter thermoplastic. It may seem like these are small savings, but after multiple days of strenuous trekking with a heavy load, I was praising these lightweight yet tough boots.
It is worth noting that you can go slightly lighter with a similar boot like Scarpa Zodiac Plus GTX at 2 pounds 6.4 ounces, but those boots have a soft suede upper and tend to show wear more quickly than the Zodiac. In addition, the Zodiac GTX costs about $30 more than the Trango TRK GTX. Both are lightweight and comfortable boots that lead the technical hiker category.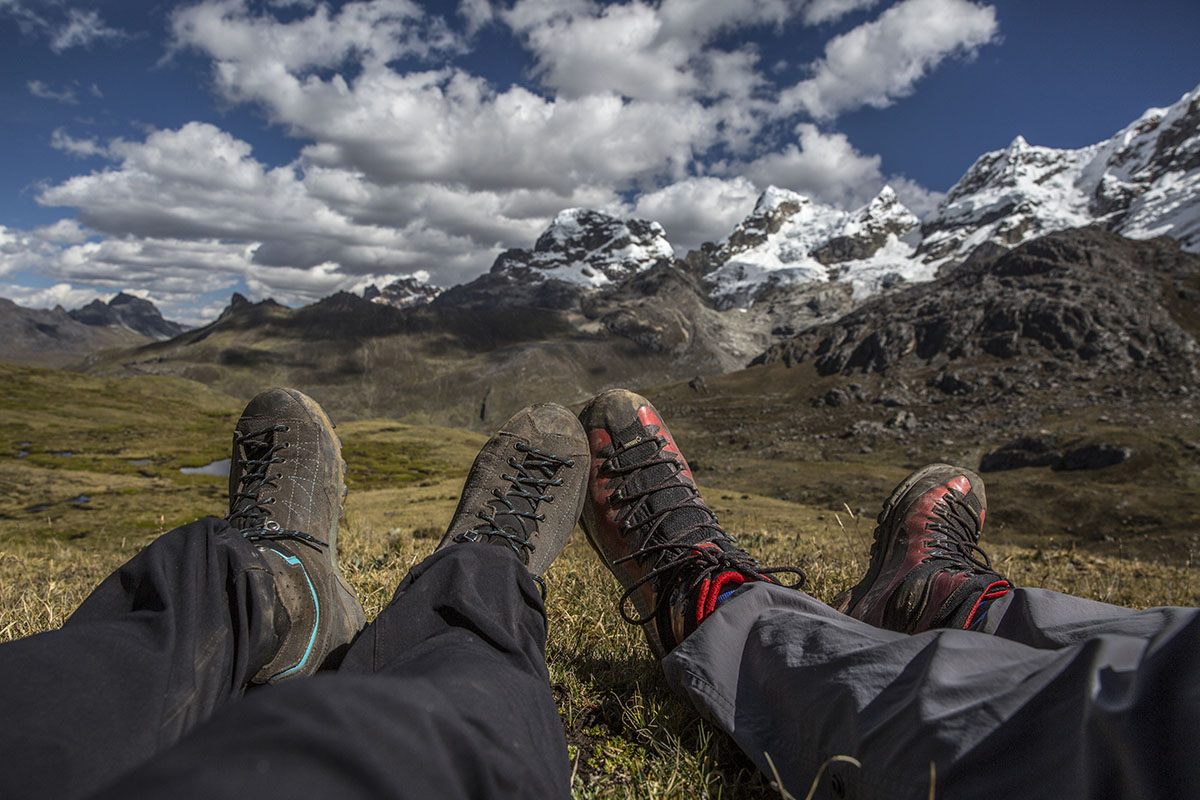 Fit, Sizing, and Comfort 
Out of the box, the Trango TRK GTX fit true to size. I wear a 44.5 European and this boot fit me perfectly. And when I first tried on the Trango, it felt more like a slipper than it did a hiking boot—the entire insole and tongue are connected like a large sock. With few internal seams, the boot molded to my foot without any obstructions or pinching.
The Trango is considered to be narrow in fit. I do find the boot to be comfortably snug, but it still manages to provide decent room in the toebox for my relatively wide feet. The lacing system extends to the rubber rand at the toe of the boot enabling customized tensioning for its entire length. I also found that the boot is adequately padded in the tongue area, which prevents the upper eyelets from pressing into my foot even when the boots are laced tightly.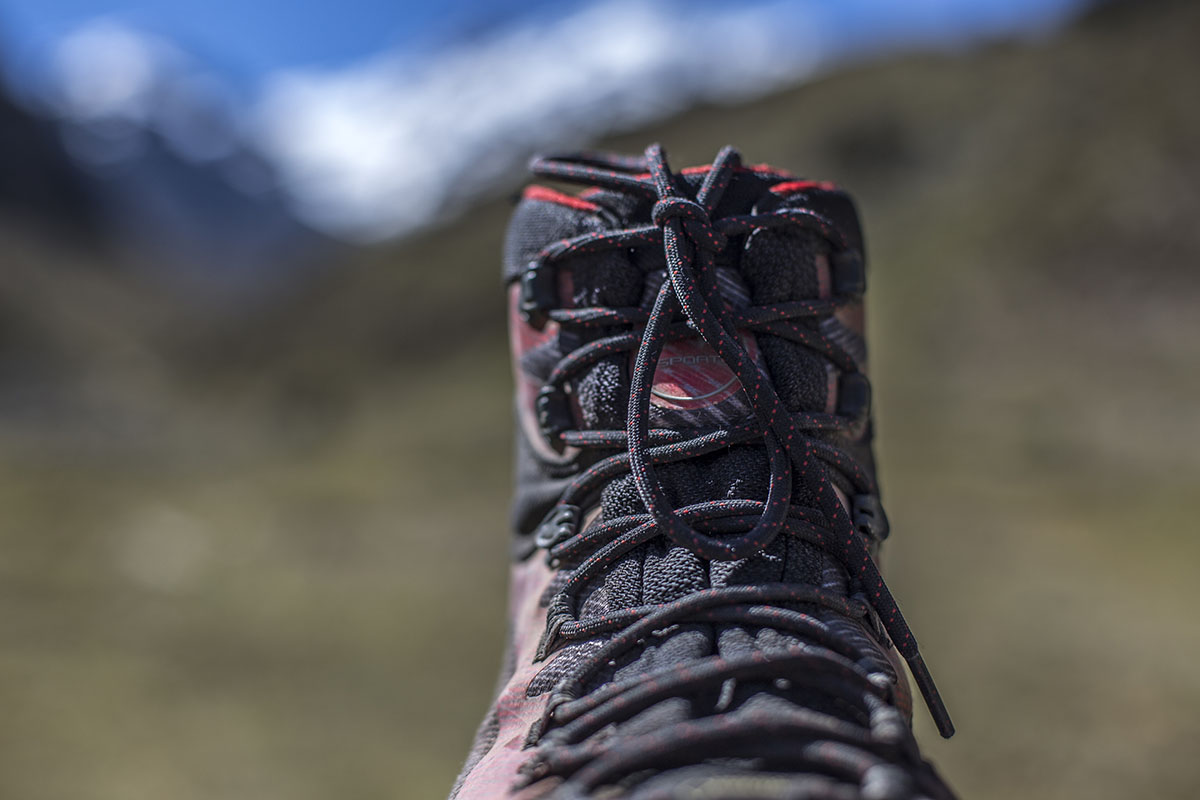 The overall comfort provided by the Trango TRK GTX is one of its biggest assets. Even on my first trial outing, the ankle pocket felt secure and supportive without being too tight or too roomy, and I had no hotspots to contend with. Knowing that blisters can ruin a trip, we always bring copious amounts of first-aid specific to blisters and hotspots. Thankfully, the Trango's comfort remained for the duration of our trek, and these items returned home un-used. On the Huayhaush Circuit in Peru, I brought a pair of trail runners along for the journey. Typically, I'm eager to get out of my hiking boots when we arrive at our camp, but I was in no rush to free my feet from the Trangos, and that says a lot.  
 
What We Like
Lightweight, especially for what you get in terms of protection and durability.
Waterproof yet reasonably breathable.
Comfortable out of the box.
Cheaper than some other technical trekking boots.
Fun colorway. 

What We Don't
Feels and looks a bit plasticy.
You can go lighter in this category, but not by much.


Comparison Table

The Competition
Despite an ever-growing number of hiking shoe and trail runner offerings, neither can replace the stability, protection, and heavy hauling comfort of a technical, mid-height boot like the La Sportiva Trango TRK GTX. The Trango certainly isn't alone in the market, and one of the most popular alternatives is the Salewa Mountain Trainer Mid GTX. Both boots offer excellent traction and fantastic toe and heel protection, but with the Mountain Trainer you get a boost in stiffness underfoot. It does come at the cost of weight—the Trango's 7-ounce advantage certainly comes in handy on long treks. If you don't mind the plasticky look of the La Sportiva boot, we think it's the better all-around choice.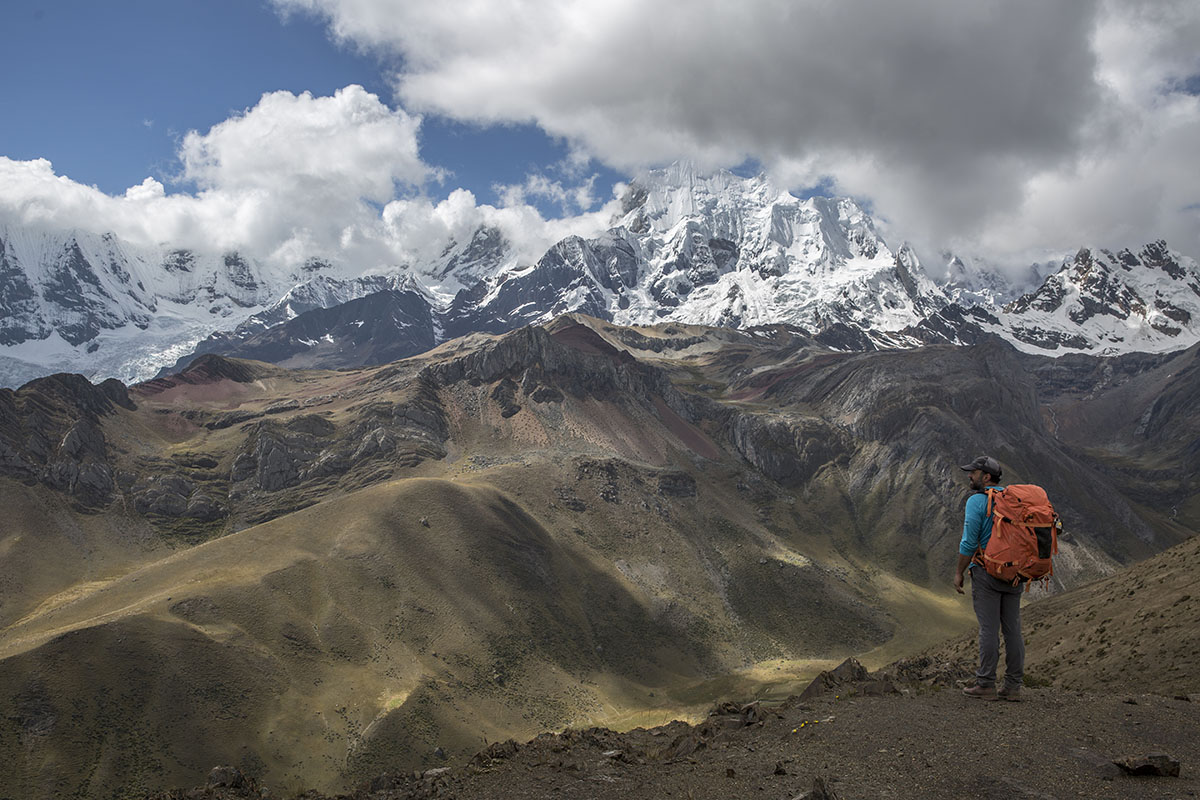 The other boot that we brought on our trip to Peru was the Scarpa Zodiac Plus. As with the Trango TRK, it was a great match for the terrain: the boot is impressively light, offers plenty of ankle support for technical sections of trail, has reliable traction, and is very comfortable on long days (for more information see our Zodiac Plus review). Our Trango returned from the trip looking a little better than the Zodiac—the Scarpa's suede collected a lot of grime along the way—but otherwise we loved them both. One upside of the La Sportiva is that the boot costs $30 less, but we think a decision between the two should come down to fit. If you like La Sportiva's performance cut, it's the right choice. And those that want a little extra space in the toe box should go with the Scarpa.
Moving from hardcore trekking boots to a supportive backpacking model, the Scarpa R-Evolution GTX is one of our favorite designs. In many ways, it resembles a traditional boot with a stable structure and lots of comfort-oriented touches like memory foam around the ankle. But Scarpa has incorporated mountain-ready features like a lacing system that extends all the way to the toes and thick rubber protecting the front and back of the feet. Where we prefer the Trango, however, is for the kind of exploring we were doing in Peru: it's about 6 ounces lighter than the R-Evolution, but its stiffer design is better suited for extended climbs and descents, and the wide-set tread is preferred for scrambling and muddy trails. Both are great boots, but we're happy we had the Trango TRK along with us on this adventure.
If you're thinking about buying gear that we've reviewed on Switchback Travel, you can help support us in the process. Just click on any of the seller links above, and if you make a purchase, we receive a small percentage of the transaction. The cost of the product is the same to you but this helps us continue to test and write about outdoor gear. Thanks and we appreciate your support!
Depending on the seller, most products ship free in the United States on orders of $50 or more. International shipping availability and rates vary by seller. The pricing information on this page is updated hourly but we are not responsible for inaccuracies.
Learn More About Outdoor Gear