KEEN NXIS EVO Waterproof
Price: $190
Weight: 1 lb. 8.9 oz. (women's)
Waterproof: Yes (KEEN.DRY)
What we like: Great support, protection, and durability at well under 2 pounds per pair.
What we don't: Stiffer and less agile than many fast-and-light competitors.
See the Women's NXIS EVO WP  See the Men's NXIS EVO WP
KEEN's Targhee has been a favorite among backpackers for years, and the NXIS EVO is a fast-and-light rethink of the legendary design. I was happy to find that KEEN retained key features like their signature wide toe box and good all-around protection, and despite its low weight, the NXIS doesn't compromise too heavily on support and durability. However, it's surprisingly lacking in agility and has a stiffer feel than many trail runner-inspired competitors. Below we break down our experiences with the NXIS EVO Waterproof. To see how it stacks up to the competition, see our articles on the best hiking boots and best women's hiking boots.
 
---
Table of Contents
---

Performance
Comfort
In short, comfort was a bit of a mixed bag with the KEEN NXIS EVO Waterproof. On one hand, the boots struck an effective balance between cushion and rigidity: While noticeably stiffer and less padded than fast-and-light competitors from running brands like Altra and HOKA, the NXIS EVO has a very solid and supportive feel that gave me plenty of confidence while navigating tricky terrain in southern Patagonia. The tongue and collar are also nicely cushioned and do a good job of holding the ankle in place—I experienced no issues during testing despite being prone to ankle rolls.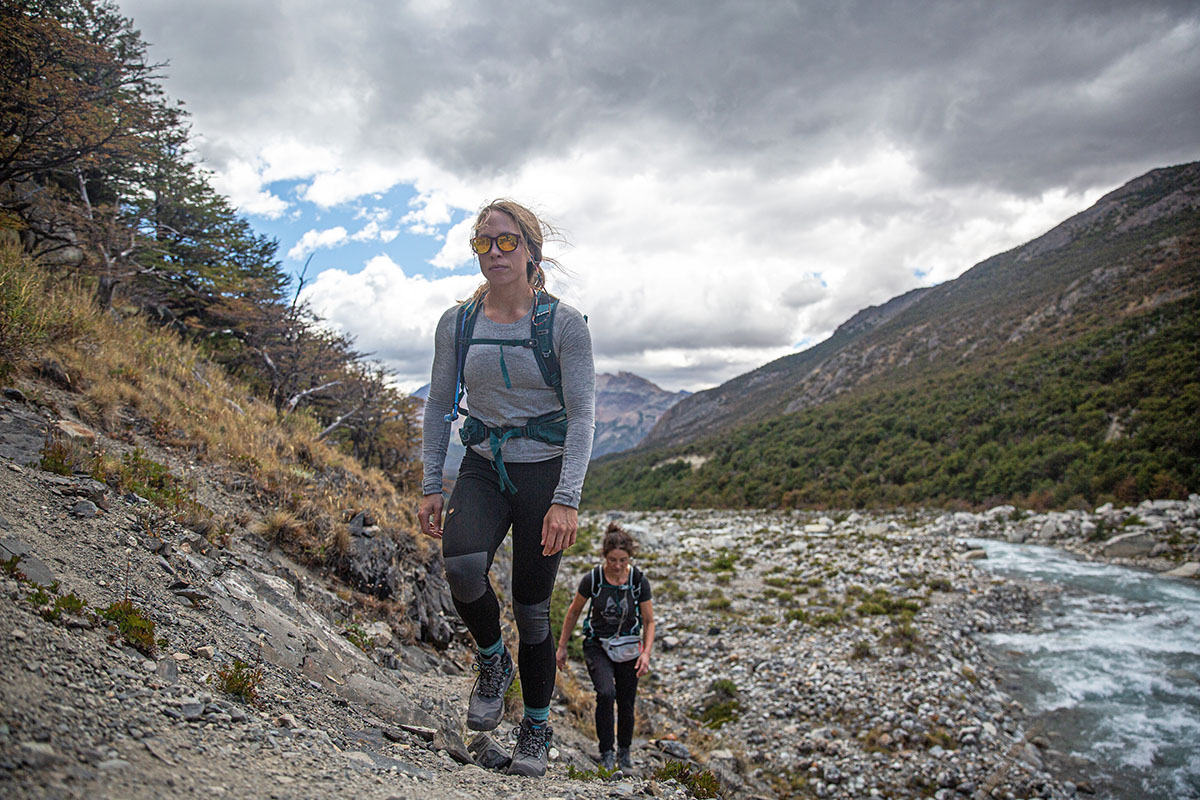 That said, I did have a couple of fit-related issues that detracted from overall comfort. Both stemmed from the boots' length, which was shorter than expected in my standard women's size 8.5 and led to frequent toe bang on steep descents. It also created a pressure point at the back of my right heel where I have a bone spur, which didn't cause blistering but did make me eager to take the boots off at the end of each day. The good news is KEEN retained their signature wide toe box to account for natural foot swelling, which helped mitigate some of my discomfort. But if I were to buy the boots again, I would definitely go up to a size 9 (more in "Fit and Sizing" below).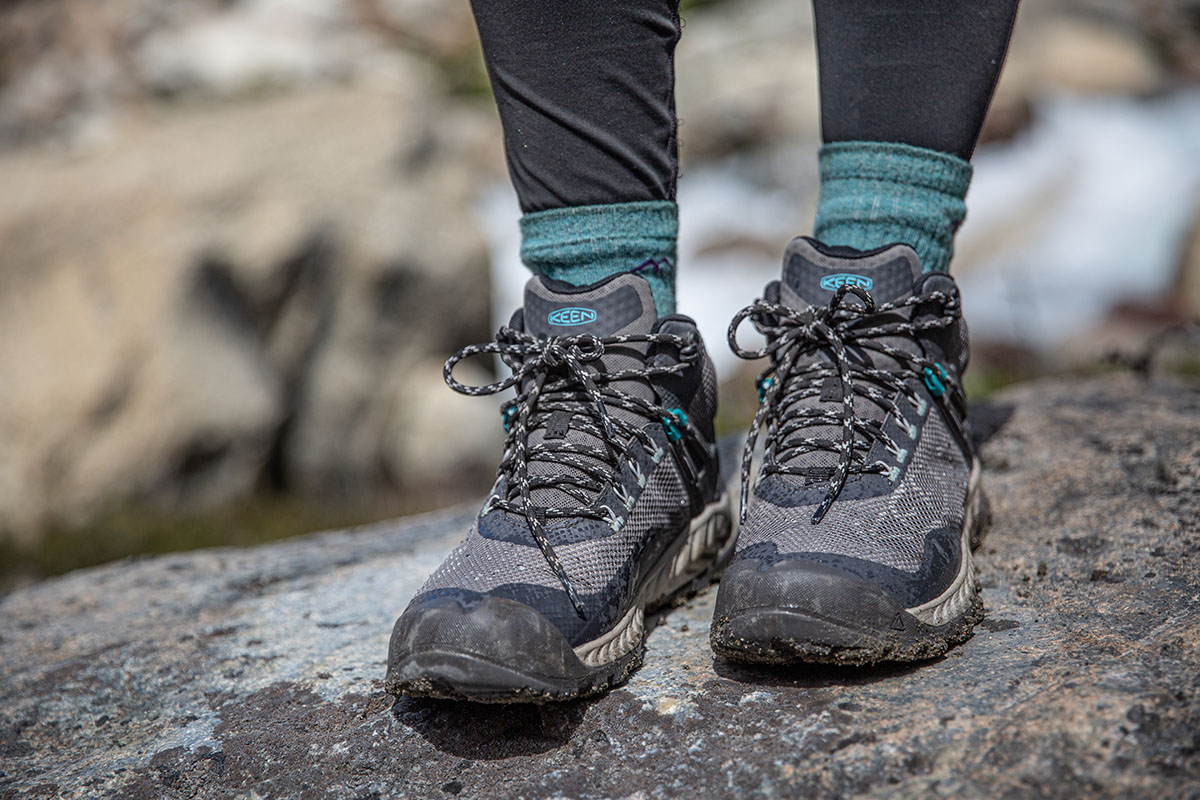 Weight
At 1 pound 8.9 ounces, the KEEN NXIS EVO Waterproof falls definitively toward the lightweight end of the hiking boot market—in fact, it's not far off from many low-top hiking shoes. Most of the direct competition comes in the form of trail runner-inspired models like Topo Athletic's Trailventure 2 WP (1 lb. 10.2 oz.) and Salomon's X Ultra 4 Mid GTX (1 lb. 10.1 oz.). At the other end of the spectrum are traditional leather hikers like KEEN's own Targhee III WP Mid, which adds a little weight at 1 pound 12.4 ounces but comes with notable upgrades in protection, support, and long-term durability. However, it's important to note that weight doesn't tell the entire story: While undeniably light, the NXIS EVO didn't feel particularly nimble on the trail and lacked the responsive, agile feel I love about many alternatives in this weight class.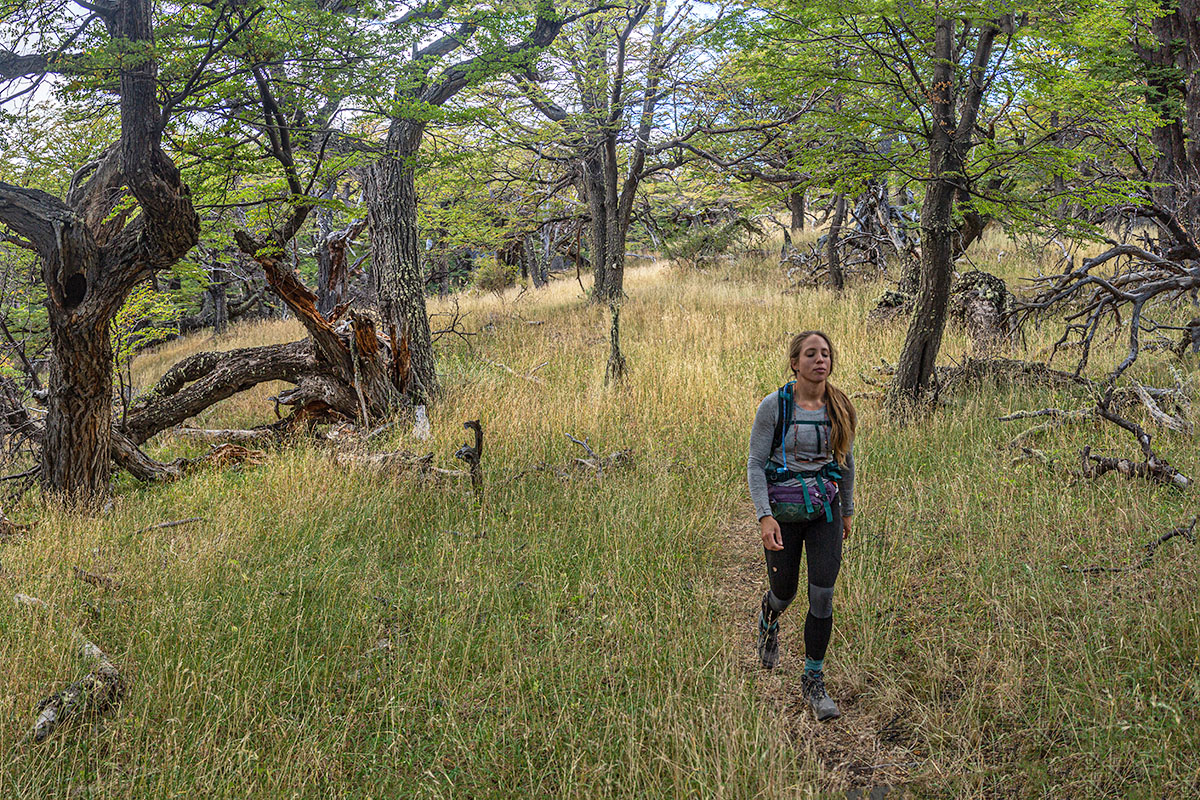 Traction
The KEEN NXIS EVO Waterproof boasts an in-house rubber outsole with relatively deep (4mm), U-shaped lugs that provided good all-around traction throughout testing. For reference, the boots were confidence-inspiring on everything from dry and dusty trails to boulder fields and even thick patches of mud. The only time I felt insecure was during water crossings—I had a couple of close calls while hopping between slippery rocks, and the lack of grip was even more pronounced on wet logs (the boots slid right off without much of a warning). But no design is perfect, and the NXIS EVO strikes me as plenty grippy for most hikers and terrain.

Stability and Support
In short, the KEEN NXIS EVO proved to be far more stable and supportive than expected for the weight. As I mentioned, the tongue and collar are nicely padded and effective at holding the ankle in place, and the lacing system makes it easy to get a snug and secure fit. It's a similar story at the heel, where KEEN's KonnectFit system locks the heel down with tensioned webbing at the back of the foot. To be sure, the NXIS EVO is still a noticeable step down in overall support and stability from burly backpacking-ready designs like Salomon's Quest 4 or Scarpa's Rush TRK GTX. But compared to most alternatives in its own weight class—many of which feel sloppy and unsupportive by comparison—it's a sizable upgrade and plenty of boot for most day hikes and lightweight backpacking missions.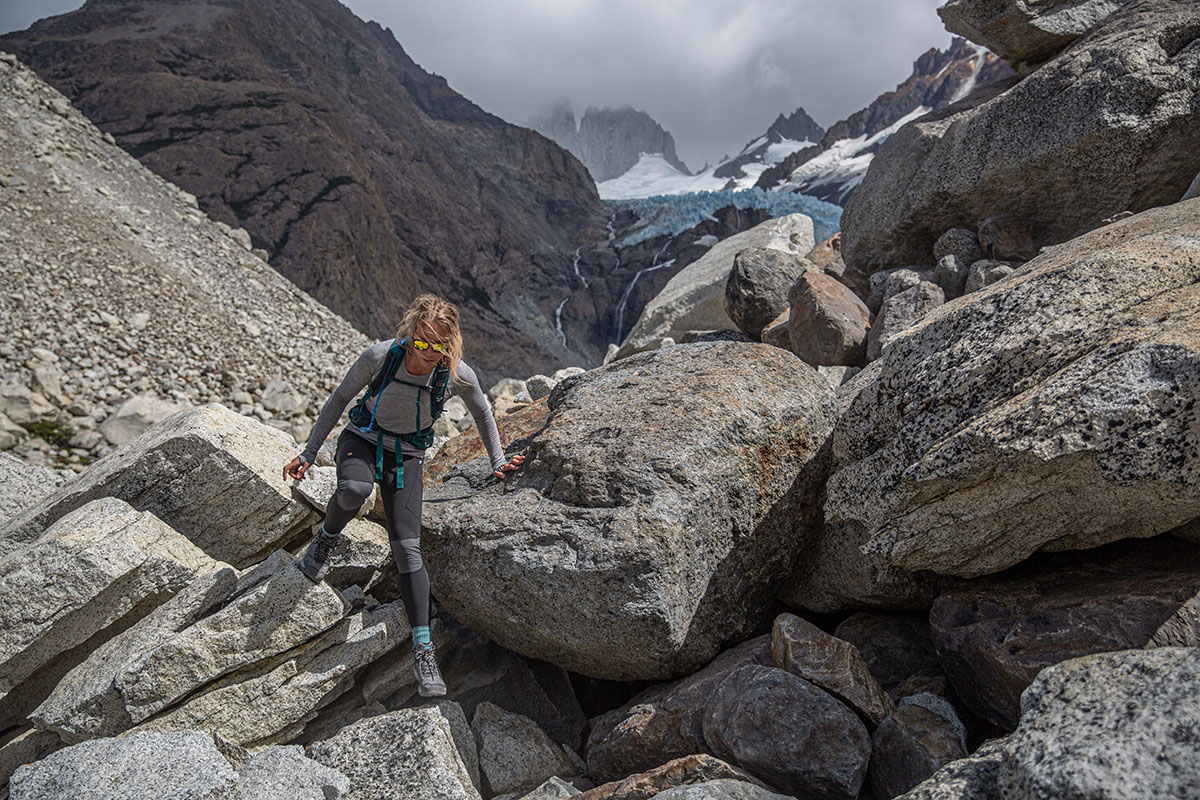 Waterproofing and Breathability
The NXIS EVO boots feature KEEN's in-house KEEN.DRY waterproof membrane, which proved to be serviceable but not entirely impermeable in Patagonia. To be fair, the membrane effectively fended off light rain during our day hike to Laguna Piedras Blancas and allowed me to navigate shallow water crossings without issue. However, the upper began to succumb to the repeated dousing on our journey out, and my hiking socks were noticeably cold and damp when we arrived back at the trailhead (and it wasn't from sweat). For a step up in reliability and protection, Gore-Tex is widely regarded as the gold standard among waterproof/breathable membranes and featured in many of our favorite hiking boots.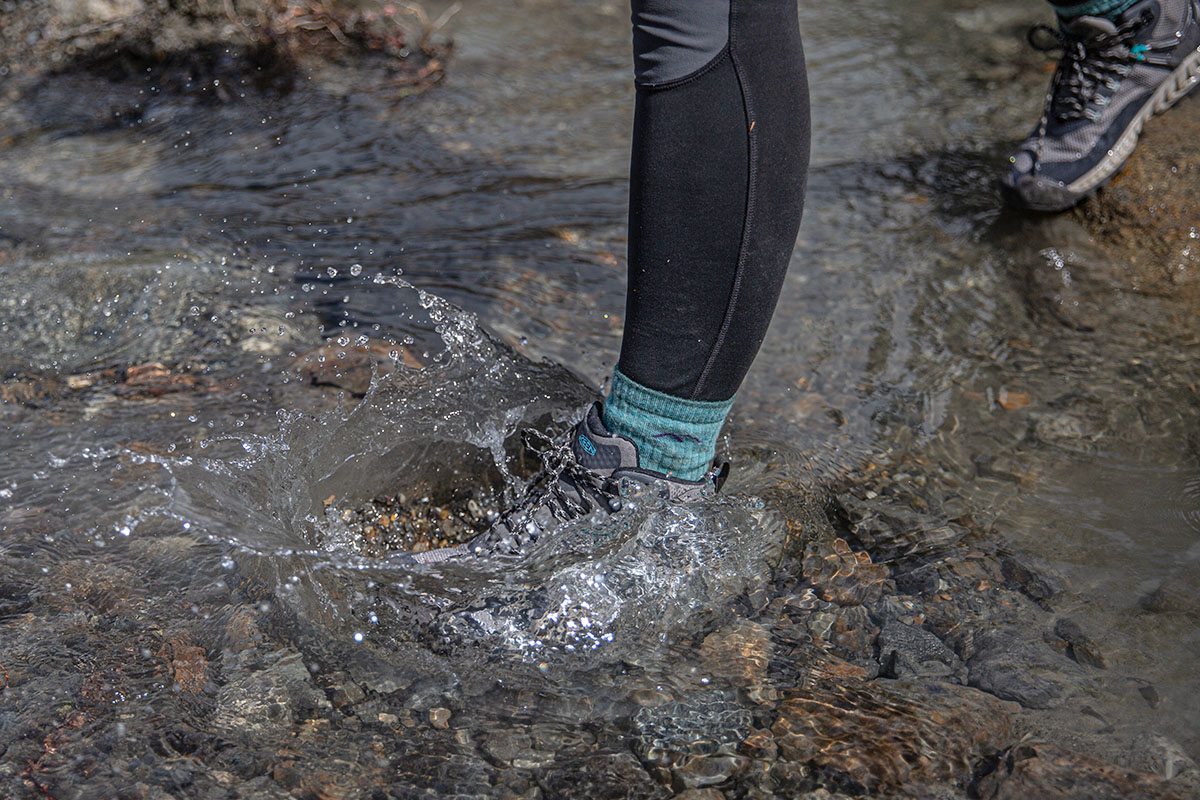 On the flip side, breathability was quite good thanks to the NXIS EVO's mesh-heavy upper. Temperatures in Patagonia were quite mild, hovering in the low 50s to 60s Fahrenheit, and the boots predictably kept my feet comfortable. It hasn't been warm enough to truly test their limits yet, but I expect them to be plenty breathable for most shoulder-season and summertime hiking (although I'd still opt for a non-waterproof shoe in truly hot temps). 

Build Quality and Durability
KEEN boots are consistently high on quality, and the NXIS EVO is no exception. Despite their lightweight build, the boots feel relatively uncompromised: The front of the foot is protected by a burly toe cap that guards against direct hits, while the upper is made of tightly woven mesh that's highly abrasion-resistant and protected by generous TPU overlays. All of the smaller components are equally well sorted, including high-quality laces and metal eyelets that are holding up well thus far. I'll follow up here as I continue testing, but all signs are positive that they'll have a long and healthy lifespan—which isn't always the case with hiking boots this light.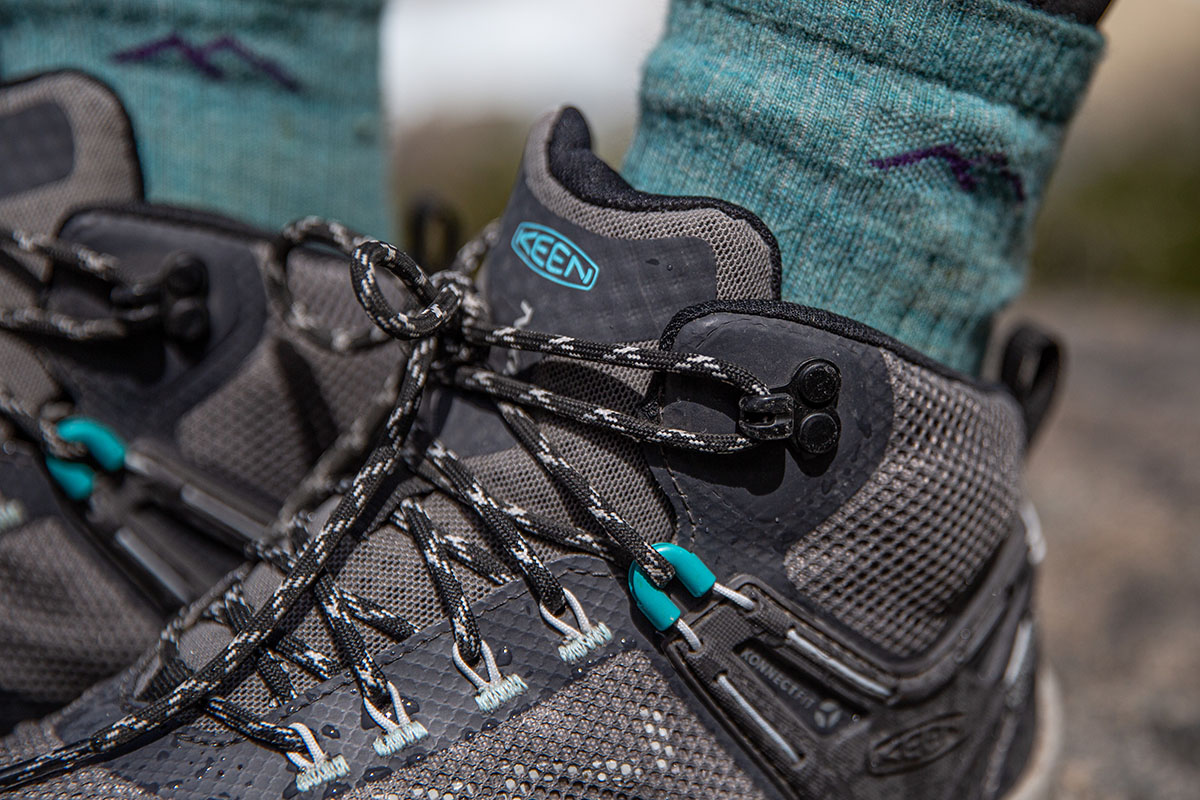 Fit and Sizing
I ordered my usual women's size 8.5 in the KEEN NXIS EVO boots and found them to be a little too snug for my liking. As I covered above, the biggest issue was the boots' shorter-than-expected length, which led to frequent toe bang on steep descents and created a pressure point at the back of my right heel where I have a bone spur. The boots are fine for me widthwise—they feature KEEN's signature wide toe box, which I really appreciated for accommodating swollen and tired feet. But if I were to buy the boots again, I would definitely opt for a size 9. And a final nitpick to note: The connected tongue makes it hard to put the boots on (you can't peel it back fully to insert your foot), which is another reason some may prefer to size up.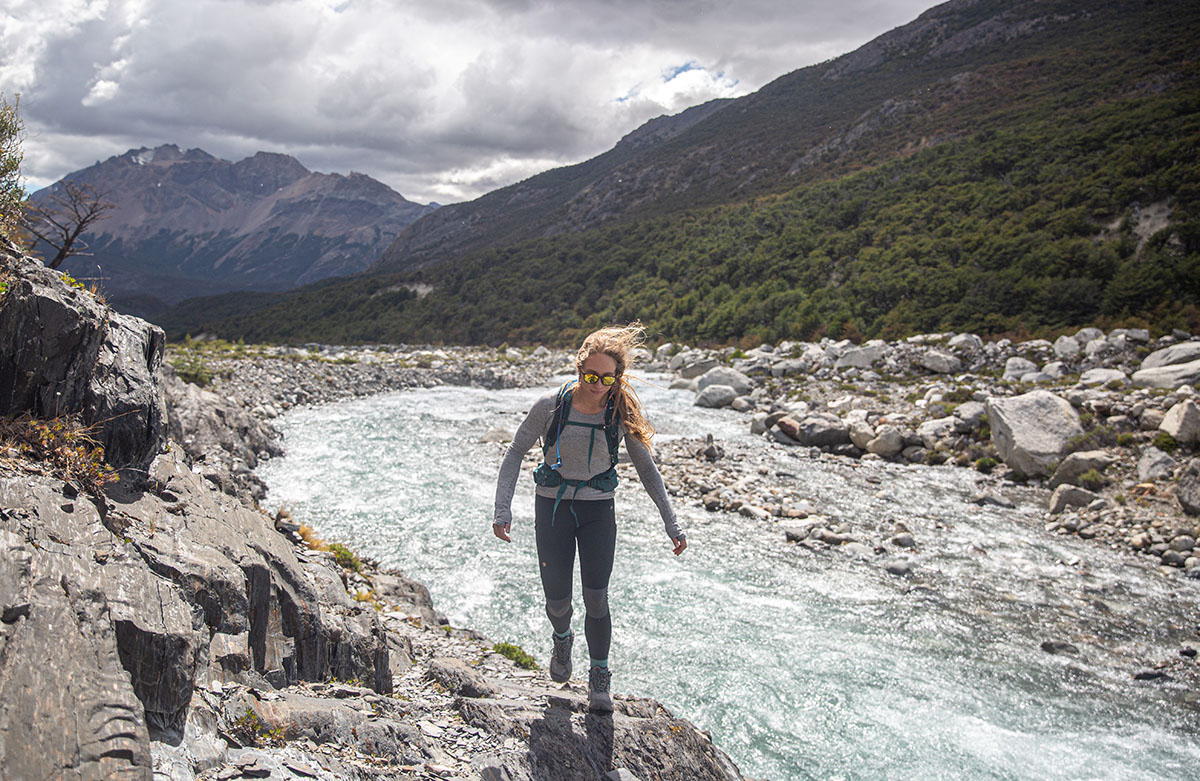 Sustainability
KEEN is a longtime leader in the hiking boot market, and we're excited to see them making strides in the sustainability realm of late. The biggest news with the NXIS EVO Waterproof boots is the use of a PFAS-free DWR—for reference, these man-made chemicals don't break down (they're considered "forever chemicals") and are known to be harmful to the environment. In addition, the boots feature KEEN's Eco Anti-Odor treatment that uses probiotics instead of pesticides to fend off bacteria. Taken together, KEEN's sustainability efforts are a welcome bonus and a nice indication of where the industry is headed.

Other Versions of the KEEN NXIS EVO
I brought the women's NXIS EVO Waterproof boots to Patagonia for testing, and they're also sold in a men's version for the same price. Stacked up against the women's model, the men's NXIS EVO Waterproof weighs a little more at 1 pound 14.3 ounces per pair and comes in different colorways but retains the same features and overall construction. For those who prefer a lower cut, KEEN also sells the NXIS EVO Waterproof Shoe, which costs $10 less than its mid-height counterpart and weighs 1 pound 6.7 ounces for the women's version. Finally, an even lighter non-waterproof model called the NXIS Speed retails for $145 and checks in at 1 pound 4.8 ounces for the women's version, and the NXIS Explorer Waterproof Boot ($190) swaps the mesh upper for more durable nubuck leather.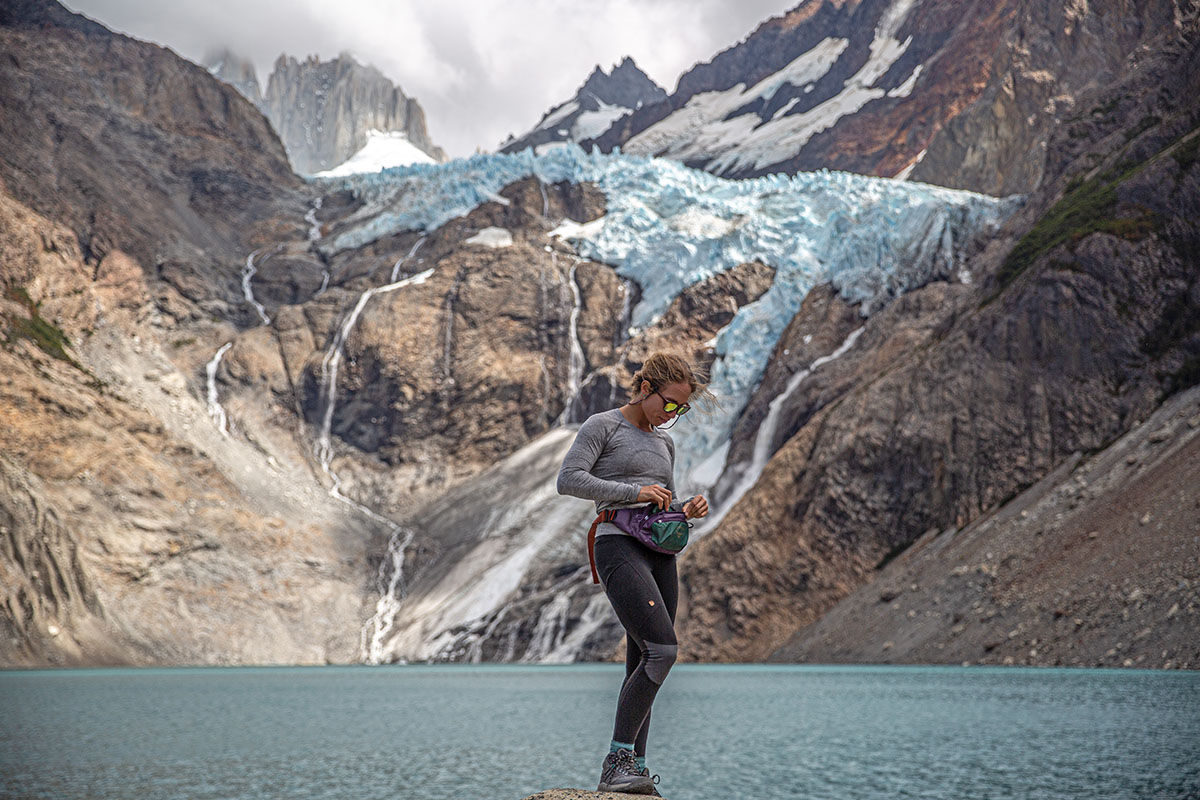 What We Like
Impressive protection, support, and stability in a sub-2-pound package.
Feels noticeably more durable than many fast-and-light competitors.
Well-executed lacing system, good tongue and collar padding, and locked-in fit at the heel provide great security.
Despite being inspired by a traditional leather boot, the NXIS EVO has a very sleek and modern design.

What We Don't
Stiffer than many trail runner-inspired competitors and less agile than expected considering their light weight.
Fit is on the smaller end (especially lengthwise), and the connected tongue makes it difficult to get the boots on.
Traction is good on most surfaces but suffers on wet rocks and logs.
KEEN.DRY waterproof membrane is a noticeable step down from Gore-Tex in wet-weather protection.
A little pricey considering the in-house waterproofing tech and outsole.

Comparison Table

The Competition
KEEN's NXIS EVO Waterproof is more supportive and protective than many similarly light hiking boots, but the lack of responsiveness and agility was a real downside for us. If you prefer a sprightlier and more cushioned ride, Topo Athletic's Trailventure 2 WP should be on your short list. Despite its trail runner-like appearance and personality, the Trailventure offers good overall stability and support in the form of an external TPU heel counter, decently tall and padded collar, and full-length rock plate. The Topo is also far more comfortable to wear all day thanks to its 33-millimeter stack height and plush midsole. You do pay a slight weight penalty, and the NXIS EVO is a little easier to trust on off-camber sections of trail or while carrying a heavy pack. But the Trailventure is plenty of boot for most day hikes and light backpacking, and we prefer its more flexible and forgiving feel.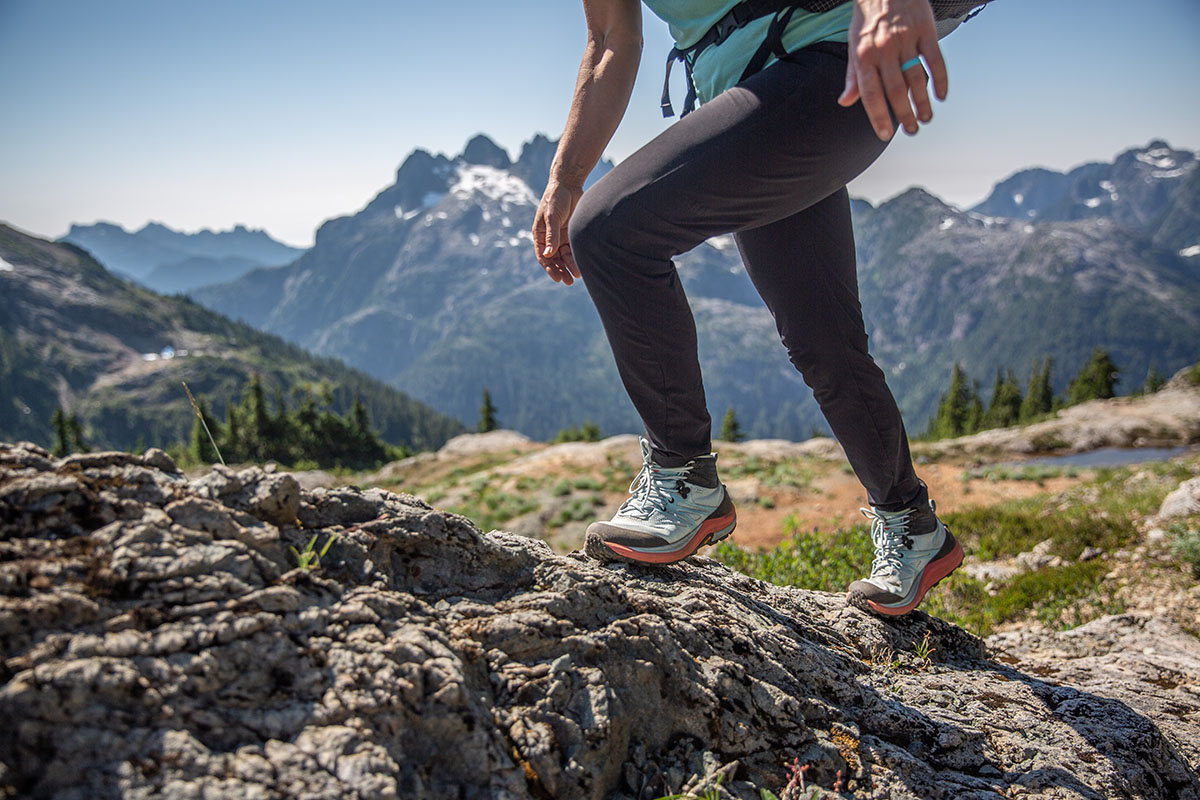 Next up is Salomon's X Ultra 4 Mid GTX, which checks most of the boxes we look for in a quality all-around hiking boot. While ever-so-slightly heavier than the NXIS EVO, the X Ultra 4 is comfortable out of the box, provides confidence-inspiring grip over most surfaces, and lines up well with the KEEN in terms of protection. The Salomon's flexible build and lower collar translate to less support and stability over technical terrain or when carrying a heavy pack, but it's still plenty capable for most hikers and objectives (for more, see our in-depth review of the women's version). Tack on a $15 savings, and the Salomon gets our vote as the better overall design. 
If your main objective is traveling fast and light, Salomon offers an even more streamlined alternative to the X Ultra 4 in their OUTpulse Mid GTX. At 1 pound 7.1 ounces, the OUTpulse is even lighter than the NXIS EVO with a much more responsive and athletic feel to match. However, while overall stability is quite good for such a light design, the Salomon's relatively low collar compromises on coverage and support, and the single locking eyelet makes it hard to get a secure fit. The OUTpulse also falls a little short in durability and protection—the knit-like upper in particular strikes us as a potential weakness over time. To be clear, the Salomon is perfectly workable for shuttling light loads over easier terrain, but the NXIS EVO wins out as the more capable all-around hiking boot.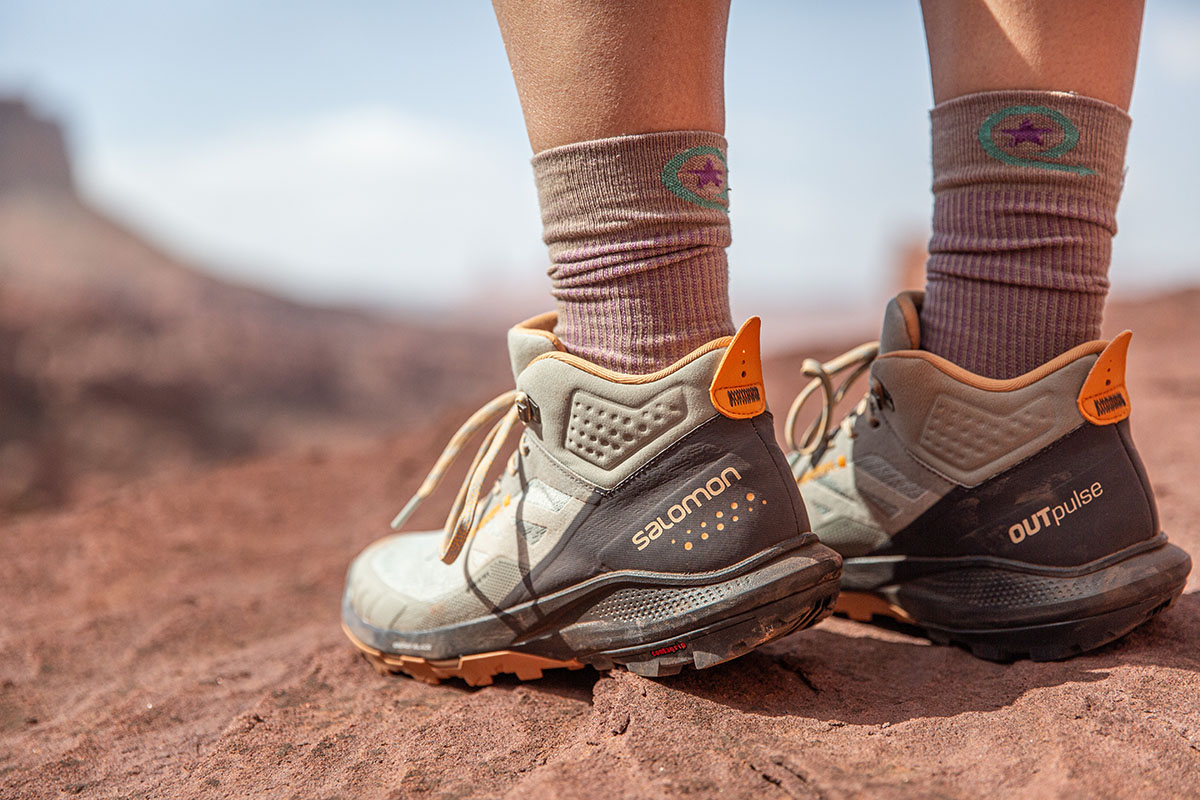 Looking at competitors, we'd be remiss not to include KEEN's Targhee III WP Mid, which served as the inspiration for the NXIS EVO. However, it's important to note that the two have very different intentions: While the NXIS EVO prioritizes weight above all else, the Targhee is a slightly lighter take on a traditional hiking boot. The leather upper and sturdy outsole aren't particularly streamlined, but advantages include better stability over rough terrain, great long-term durability, and impressive all-around protection. The Targhee also boasts good out-of-the-box comfort thanks to its wide toe box (similar to the NXIS EVO) and softer materials underfoot. For just a few ounces more, we think most hikers will still prefer the Targhee.
Last but not least is KEEN's women's-specific Terradora II WP, which shares a lot in common with the NXIS EVO. Both boots use the same outsole rubber with 4-millimeter lugs (although the pattern is different), weigh around the same, boast tightly woven mesh uppers with TPU overlays, feature in-house KEEN.DRY waterproofing, and use PFAS-free DWR coatings and pesticide-free anti-odor treatments. In parsing out the differences, the Terradora is noticeably more flexible than the NXIS EVO and has more of a slipper-like feel, but the tradeoff is compromised protection and stability. If your main objective is moving quickly over easy terrain, the Terradora is a nice alternative. But backpackers shuttling heavier loads will likely prefer the more supportive and confidence-inspiring NXIS EVO.
If you're thinking about buying gear that we've reviewed on Switchback Travel, you can help support us in the process. Just click on any of the seller links above, and if you make a purchase, we receive a small percentage of the transaction. The cost of the product is the same to you but this helps us continue to test and write about outdoor gear. Thanks and we appreciate your support!
Depending on the seller, most products ship free in the United States on orders of $50 or more. International shipping availability and rates vary by seller. The pricing information on this page is updated hourly but we are not responsible for inaccuracies.
Read More From Switchback Travel