Chris Sharma is one of the greatest sport climbers of all time, if not the greatest. It goes without saying that he could choose any shoe company, and any shoe in their lineup that he wanted, and get paid to wear them. But Chris Sharma didn't want to wear someone else's shoe—he wanted to make his own. The Shaman is the culmination of his search for the perfect shoe and the new re-design for 2016 is something that we just can't stop thinking about. For steep sport climbing and bouldering, it's a great option at a competitive price. To see how the Shaman stacks up, see our article on the best rock climbing shoes. If you're just starting out with the sport, check out our article on climbing shoes for beginners.

Performance
Construction and Materials
Re-designed for 2016, the new Shaman is the top shoe in Evolv's lineup, and it's good to see the company pulling out all the stops for a true top-shelf model. This shoe is built upon a powerful downturned last with steep sport climbing and bouldering in mind. It features some cool new technology and vast improvements over the older model.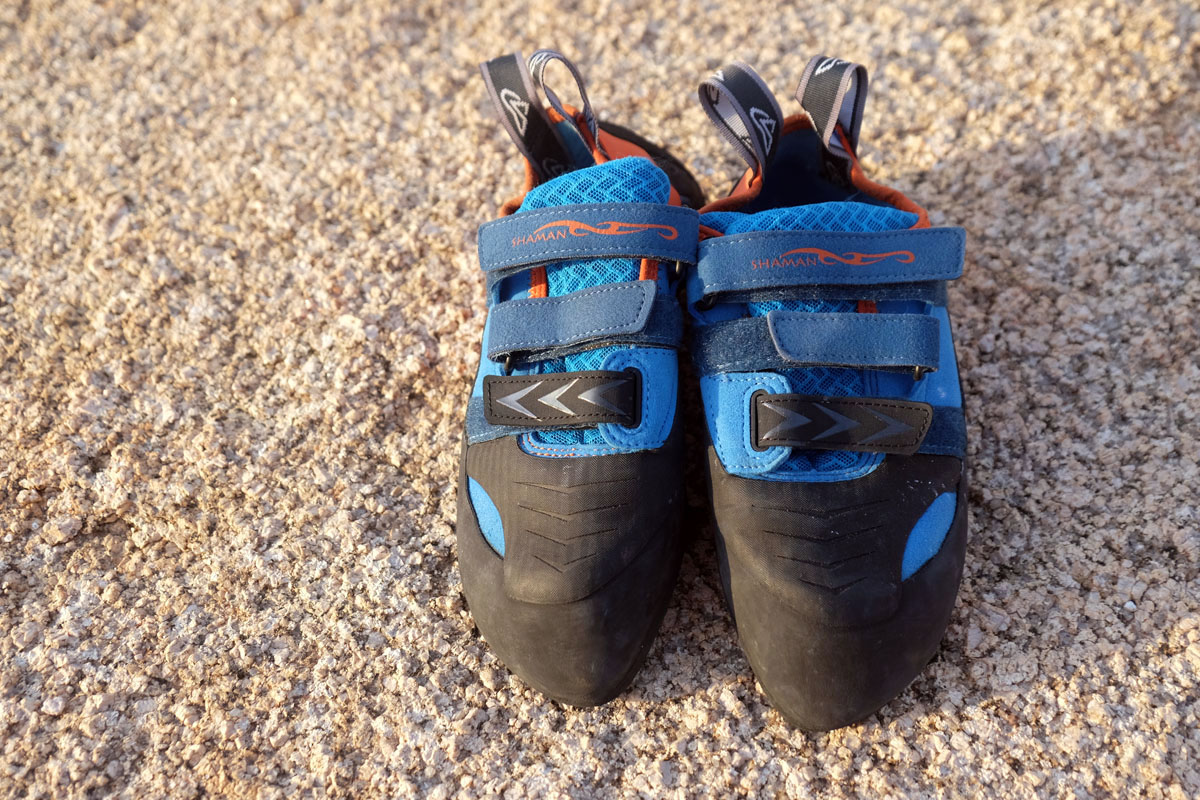 To start, the synthetic upper is a step up from the previous version. The Synthratex VX material is breathable and comfortable, and meets in a nicely padded but pleasantly thin tongue.
The back of the shoe features an excellent and ergonomic heel cup wrapped in sticky rubber. Twin pull-tabs combine with a rubber band-style back rand to make it really easy to pull the heel back to slip the shoe on. Once on, you have three thin and minimalistic velcro straps in opposing directions to snug down the shoe. I found them a touch on the short side for my wide feet, but was glad that they were too short instead of too long (note: Evolv has since updated the straps, and the production version is 1-3 cm longer depending on shoe size, which should solve this issue). They fasten down snugly and stay out of the way.
On the toe is a liberal pad of rubber and Evolv's unique "Knuckle Box" design, which creates something of an edge above the toes to more accurately fit the shape of toes in a downturned position. Underfoot is the fascinating "Love Bump" midsole, a physical bump under the ball of the foot to better guide and support the toes into a position of power. A thick 4.2mm of Trax rubber makes up the split sole and rounds out the Shaman's features.
 
Climbing with the Shaman
One of the perks of my job is that I get to try on and test a lot of different climbing shoes. One of the drawbacks is that when you find a shoe you really like, you often have to put it back in the pile to continue testing other models. That was how I felt with the Shaman. After I started using it, I didn't want to stop.
I have to admit, I was a little skeptical of the Shaman at first. Evolv has not been my favorite shoe company in the past (although their beginner Evolv Addict is good), and very fit-specific features like the Knuckle Box and Love Bump had me nervous that the shoe would fit strangely. I can only speculate on how it fits for other people, but for me, these features were superb. Even in something as simple and seemingly unimportant as putting the shoe on, I found the Shaman to excel. The Love Bump in particular gave my toes something to pull on to guide my foot forward into the toebox and squeeze it into the shoe.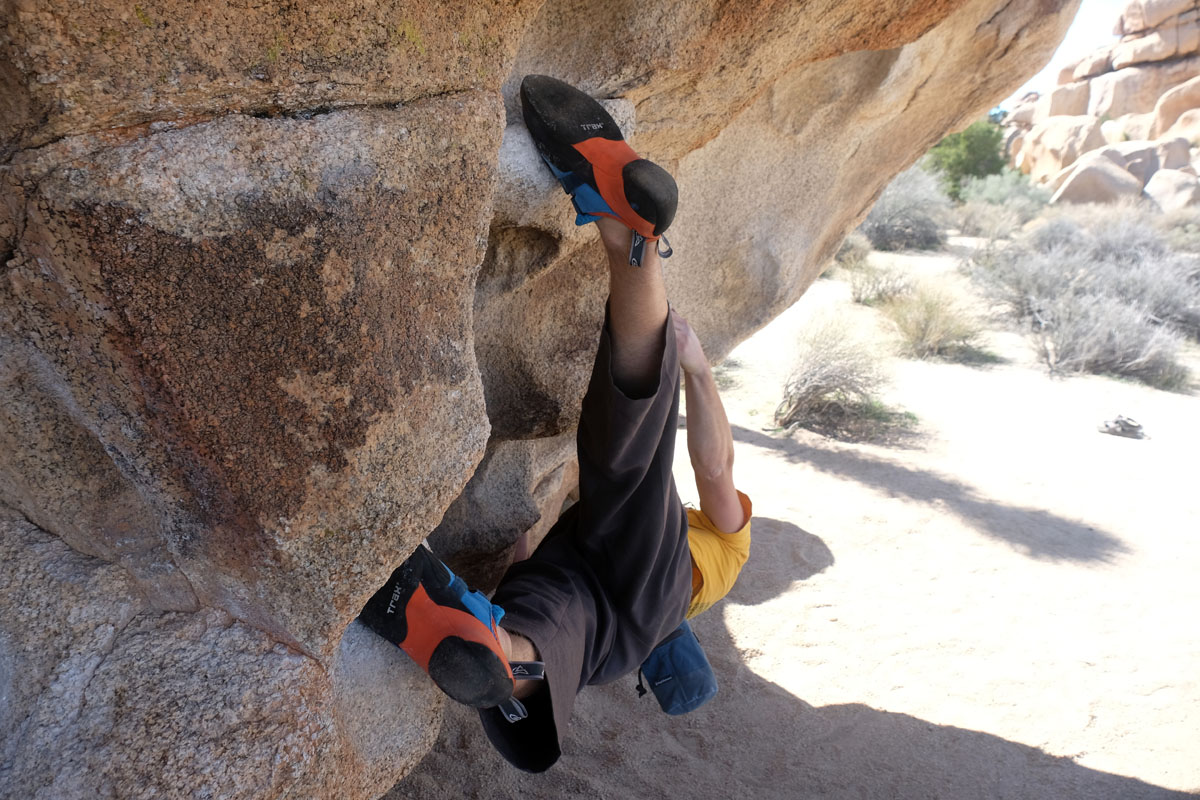 On the rock, the shoe was a peach, comparing well with our favorite climbing shoes. From overhanging gneiss at Rumbling Bald, to steep sandstone boulders outside of Chattanooga, and even on overhanging Joshua Tree granite, they were great. They performed up to any standards I could imagine for gym shoes as well. While they were comfortable enough for a few select longer pitches that turned into nail biters, they also were tight and precise enough to help me send my hardest boulders.
 
More About The Love Bump
Okay, let's talk about the Love Bump. Basically, it's a small rounded lump under the ball of the foot that almost feels like you're standing on the very top of a lacrosse ball. It feels kind of funny, it looks kind of funny, and the name is kind of funny. Everything about it made me chuckle. But secretly, it scared me. I was afraid it would ruin an otherwise excellent shoe.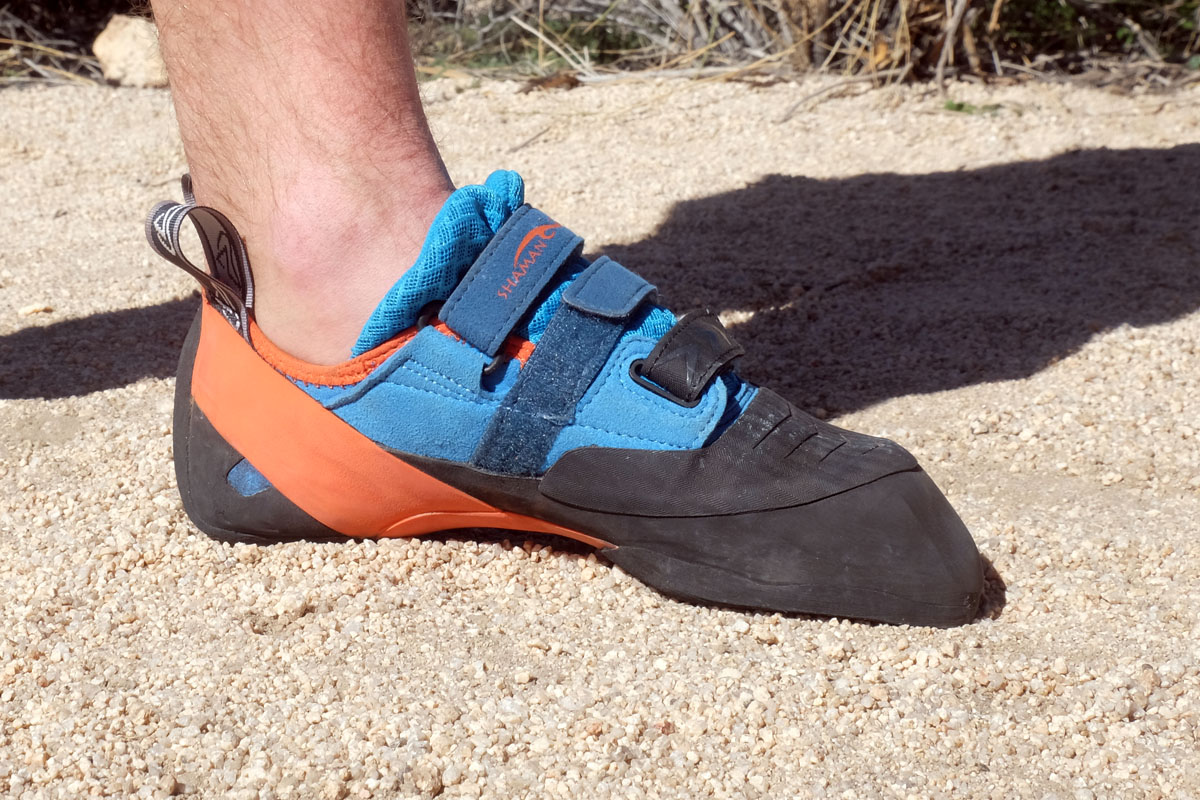 However, I found the opposite to be true. The Love Bump is noticeable but never annoying. When putting the shoes on, I loved pulling on it with my toes to guide my foot into the proper position for maximum power. While climbing, it really felt like the love bump supported and guided my toes continually into that position. In other shoes without the Love Bump, sometimes the skin under my big toe bunches up as the toes move around, pushing them uncomfortably towards the front of the shoe. The Love Bump does a great job of solving this problem.
It's a bold move putting the Love Bump in there because some people may hate the way it feels. It's admittedly weird, but my own experience with the Love Bump definitely was one of pleasant surprise. If you're on the fence, I would recommend trying a pair on before buying to see if you feel the same.

Fit and Sizing
I have a pretty wide foot, but I found the Shamans to be a little narrow, especially on the top of the foot where the tongue meets the velcro straps. We're happy to hear about the longer straps for the production model, as they should better accommodate wide feet. I would say, overall, that the fit of this shoe will be most comfortable for someone with a narrow to medium width foot.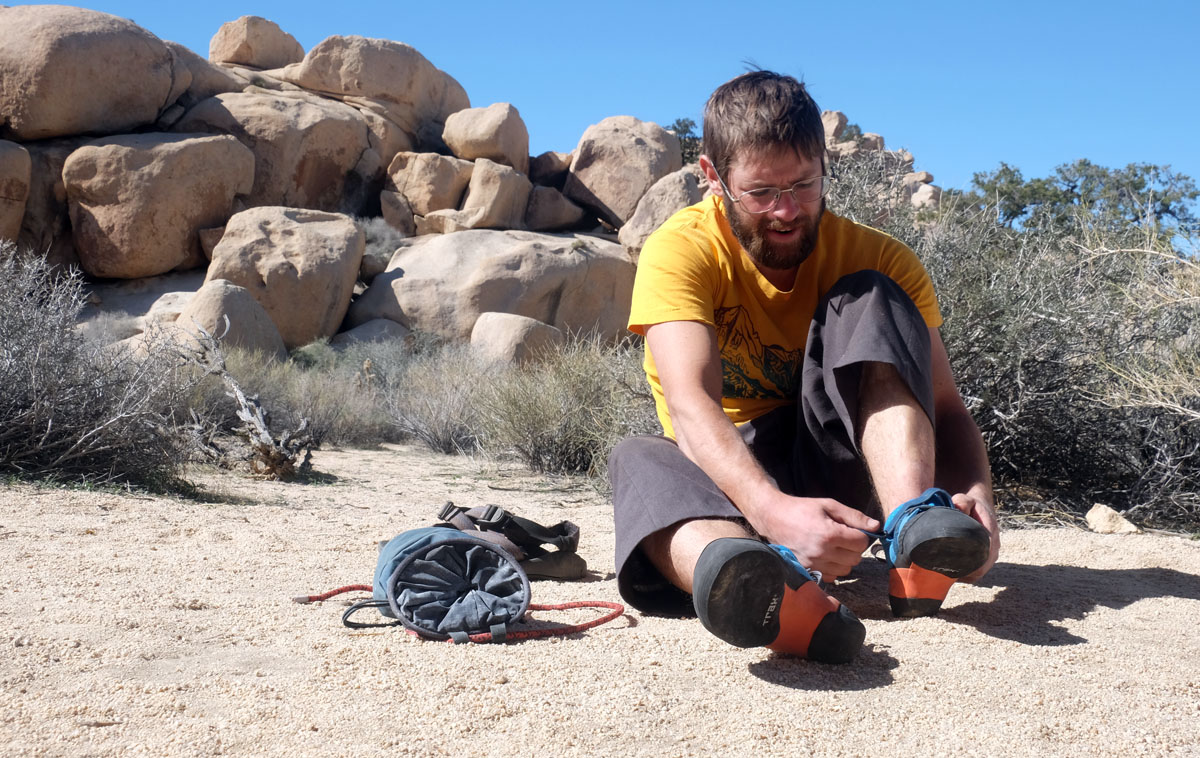 As for sizing, I was able to try these in both my street shoe size, and half a size down from that. To be honest, both were fine—I almost couldn't tell the difference. I went back and forth a dozen times trying to decide which I liked better before finally settling on the bigger pair. If you are used to sizing your shoes painfully small, you may be able to get away with a full size down (remember, the synthetic uppers won't stretch much at all).

Best Uses
This one's a no-brainer: the Shaman will perform great on any kind of steep sport climbing and bouldering, much like the La Sportiva Solution or new Genius. Indoors or outdoors, sandstone or limestone, roof or 45, the Shaman is an awesome shoe. That said, we're talking about best uses here. Although I have not yet had the privilege, I have to assume that the Shaman's actual best use is going to be on pocketed and tufa-dripped limestone.
This conclusion comes from a few things, not the least of which is simply that this has been Sharma's rock type of choice over the past ten years or more. Beyond that, the shape of the toe box is a dead giveaway. Super asymmetric, and still slightly rounded and pointed, I waltzed up some heavily pocketed indoor climbs in these and was very impressed with their ability to toe in on small pockets.
The Knuckle Box is better suited for toe hooking on small edges than big flat surfaces. If I wanted something for Fontainebleau sandstone, for example, I would want something with a more uniform and flatter patch of toe rubber. But the little edge on the toes of these puppies is really great at helping you hook on just the kinds of distinct and finicky edges that show up on thin tufas and small limestone flakes.
As I said, I haven't gotten the chance to try the Shamans out in Sharma's stomping grounds over in Catalunya, but seeing how they perform everywhere else, I imagine they would be absolutely stellar in their natural environment.
 
The Competition
The Shaman fits into the toughest and biggest realm of climbing shoes out there: aggressive performance-based shoes for sport climbing and bouldering. It's a tough category to be in—you are up against every other company's most highly engineered and researched models and the ones in which they have most heavily invested.
It's a pretty tough sell to say something like: "Buy the Shaman. It's the best". There are a lot of great shoes out there. What can be said with certainty is that the Shaman is right up there in quality with high-end models like La Sportiva's Genius (you can read our in-depth review here) and Solution, Five Ten's Team Black, and the best products out there from Scarpa and Tenaya, not to mention any other company on the market. That's a big compliment to Evolv.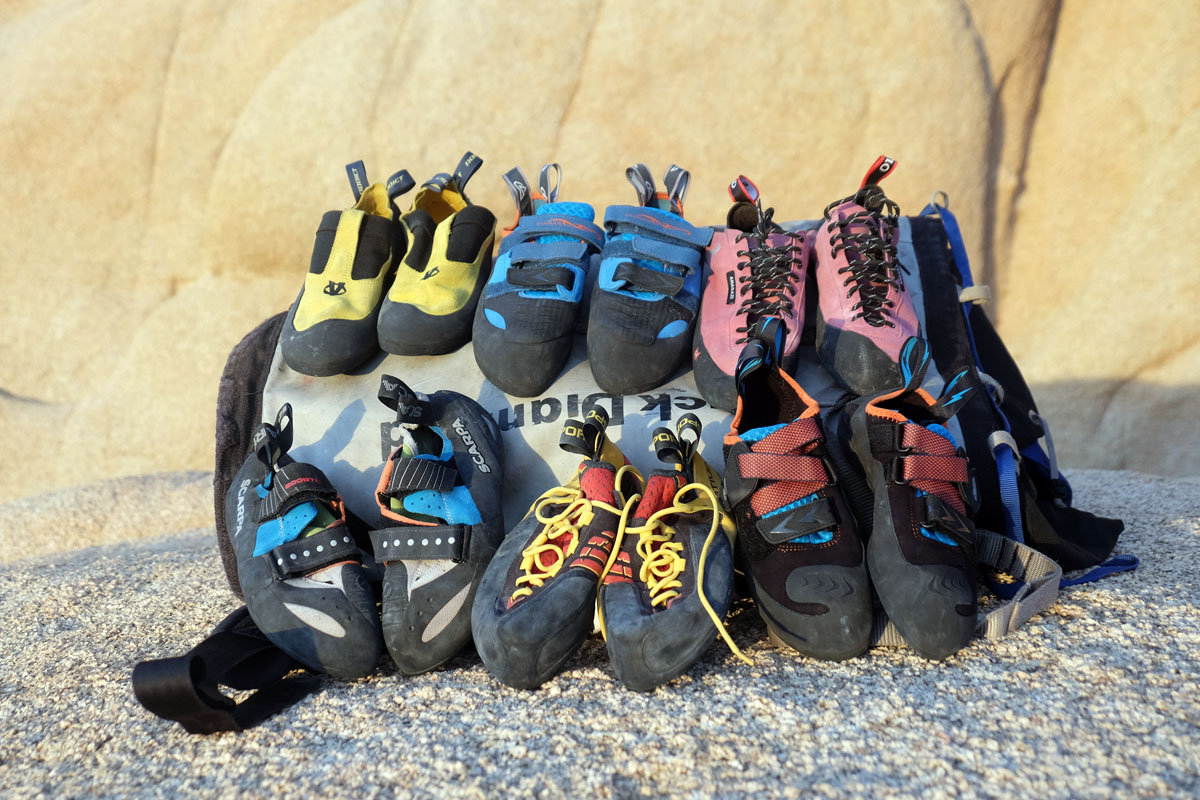 If you're dropping $150+ on a pair of climbing shoes, it makes sense to try them on first or order a couple of pairs online and return one. That's the only way to make a good decision between any two (or more) similar models. That said, good luck finding half the shoes listed above at any one brick and mortar store like REI or EMS; you'll most likely have to go to a specialty climbing store to find that kind of selection, and those are in rare supply. If you absolutely can't try your shoes on in person, the Shaman is a great place to start as it's less expensive than any other model and equal in quality.
 
Final Thoughts
The Shaman is an awesome rock climbing shoe that surpassed my expectations. I think it's Evolv's best shoe to date and an important step forwards for them in terms of top-shelf climbing shoes. Doing something new is always risky and the Love Bump is a bold move. That said, I think it's a good innovation and likely to stick.
I'm not completely sold on Trax rubber, and I'm not the only one. I find it to perform great on gritty rock but not as well on slippery stone and plastic. Obviously it's not holding Sharma back any (or Kai Lightner or Ashima Shirashi), but I've heard enough similar critiques and criticisms to make me wonder if there isn't some room for improvement there for Evolv.
One of the best selling points for the Shaman, and for me, is the price. In terms of value, it's one of the best sport climbing and bouldering shoes on the market.
If you're thinking about buying gear that we've reviewed on Switchback Travel, you can help support us in the process. Just click on any of the seller links above, and if you make a purchase, we receive a small percentage of the transaction. The cost of the product is the same to you but this helps us continue to test and write about outdoor gear. Thanks and we appreciate your support!
Depending on the seller, most products ship free in the United States on orders of $50 or more. International shipping availability and rates vary by seller. The pricing information on this page is updated hourly but we are not responsible for inaccuracies.
Learn More About Climbing