The Addict is a relatively new climbing slipper from Evolv, and a solid one at that. Built similarly as the time-tested design of Five Ten's excellent slipper, the Moccasym, Evolv managed to create a shoe that performs nearly as well but costs less. The Addict isn't quite as comfortable as the Moccasym and the rubber isn't as sticky for indoor climbing, but it's a quality all-around shoe with serious versatility. From cracks, to slabs, to multi-pitch, it makes a nice addition to any climber's quiver at an affordable price. To see how the Addict stacks up against the competition, see our article on the best rock climbing shoes. If you're just starting out, check out our article on climbing shoes for beginners.
 
Performance
The Addict isn't necessarily built as a performance shoe, but on the right terrain, it definitely climbs like one. For climbing overhanging terrain with a lot of heel hooks or aggressive incuts, I would rather don a pair of shoes designed specifically for those purposes. But that's not to be taken as a knock against the Addict—that's not the kind of climbing it was designed for. The real question is how the Addict performs on slabs and in cracks.
The answer is, they do great. A lot of pitches at Joshua Tree require you to use all the tools in the toolbox: edging, randsmearing, and slab and crack climbing. During testing on long and varied Joshua Tree pitches, these shoes were great. They did everything they needed to and nothing they didn't.
I also enjoyed using them in multi-pitch terrain. Though my shoes were uncomfortable at first due to my wide foot, I found that as the day wore on, the fit relaxed and I could make it through belays without taking the shoes off. And when you do want to take them off, the slipper design is so quick and easy that they're a great choice for multi-pitch climbs.
 
Construction and Materials
The design behind the Evolv Addict is deceptively simple. It's surprising, in fact, that more companies haven't made their own climbing slipper. You have a relatively flat, slightly asymmetric sole, a leather upper, a couple of swaths of durable elastic, and pull tabs to allow you to pull the shoe on and off. It's about as simple as a climbing shoe gets. But sometimes the best designs are the ones that forego all the bells and whistles.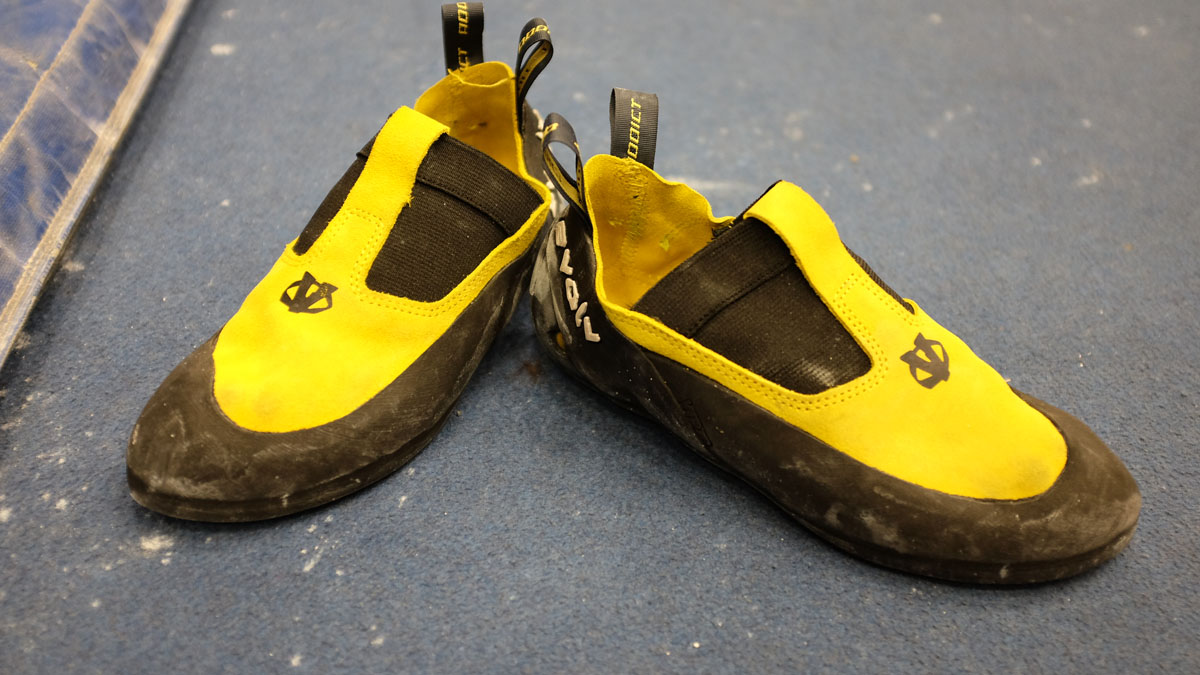 By keeping the upper of the Addict clean and unencumbered with laces or velcro straps, Evolv created a superb crack climbing shoe. The split leather upper is comfortable and built to stretch and conform to the shape of your foot. The elastic is burly, resilient and manages to keep the heel from popping off on most heel hooks in the early months of testing. Evolv's full-length MX-P midsole is rigid enough to provide excellent edging, but flexible enough for maximum performance on friction slabs. Meanwhile, the Trax rubber performs well on gritty granite and textured sandstone—the two types of rock that most often form good cracks and slabs, which is where this shoe excels. Unfortunately, it's not as sticky on plastic as we would like.
 
Best Uses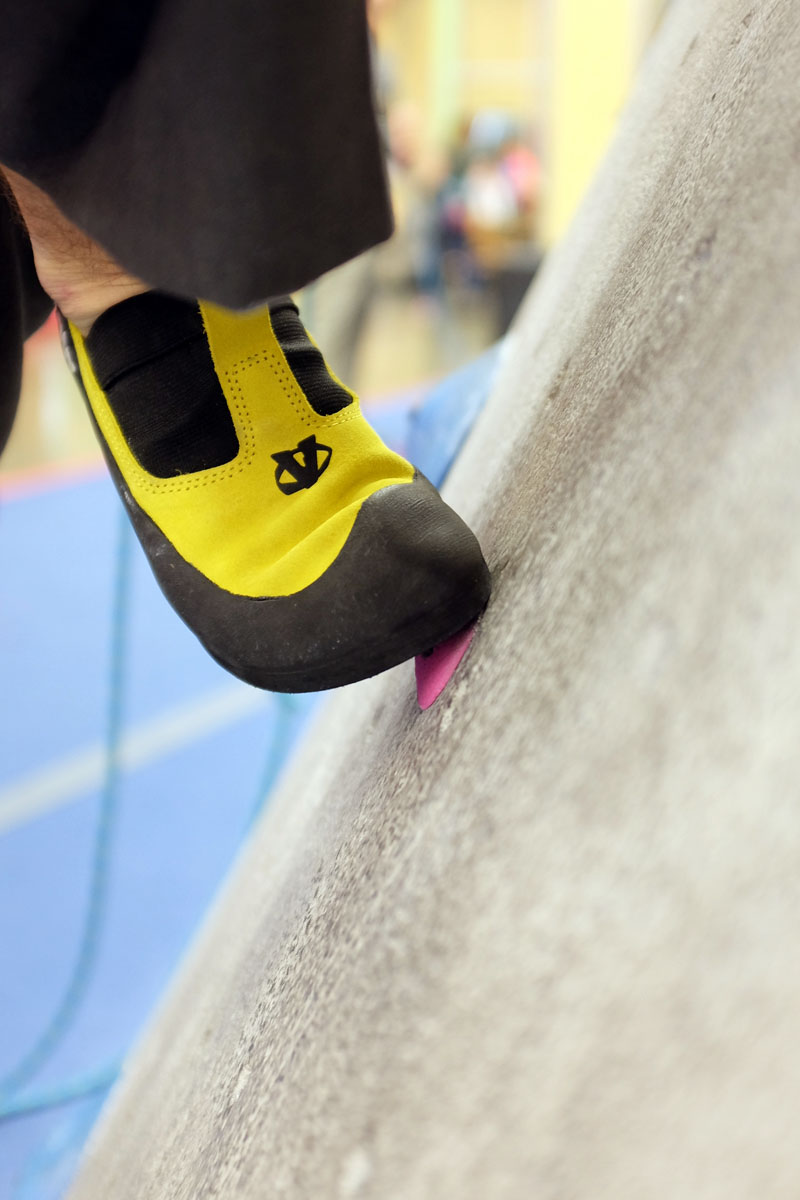 I tried the Addict in as many scenarios as I could: bouldering, trad, and sport; single pitch and multi-pitch; indoors and outdoors; cracks and face; slabs, vertical and overhang; and on sandstone, granite, gneiss, and schist. I put the shoe through the wringer, and what I found is that although it may not be the best shoe in any one area, it's a really good shoe for almost every application.
The Addict is designed for slab and crack climbing, and indeed, that is where it performs best. Joshua Tree was my favorite place to use this shoe out of everywhere I tested it, which arguably is the exact type of venue the shoe was made for. The rubber performs better on coarse granite than other finer-grained rocks and plastic, and the design of the shoe does really well in parallel-sided cracks, pinscars, and finicky rounded smears.
I didn't love the shoe on plastic, but the rubber wasn't prohibitively bad during indoor use. I'm not sure why, but Trax rubber often feels finicky to me and less sticky than Five Ten's and Vibram's rubber blends. Again, though, that changes depending on the type of rock. The Addict remains our top indoor pick under $100, but does fall short compared with high-end options from La Sportiva and Five Ten.
 
Fit and Sizing
I'm not sure if Evolv has changed the last they use for most of their climbing footwear, or if my foot has simply changed, but in previous years Evolv shoes fit my wide foot much better. I tested three pairs of relatively recent additions to the Evolv lineup (the 2016 Shaman and Kronos being the other two) and found all three to be a bit narrow for my foot.
In terms of the Addict, the way that manifested was more difficulty in putting the shoe on. I really had to force and fight my forefoot to the front of the toe box. At first I thought I had the wrong size, but then I realized that as far as length goes, I probably could have even gone down half a size. Out of all the Evolv's I tried, the Addict felt the narrowest.
As for length, I found the Addict to be true to street shoe sizing. The seamless leather upper is sure to stretch, so you may want to go down half a size or more if you have a narrow foot. That said, once I broke these in they were more comfortable and became a viable all-day shoe. If you have a wide foot, I would recommend spending a little bit more on the Five Ten Moccasym.
 
The Competition
The obvious contender in terms of leading climbing slippers is the Five Ten Moccasym, and to be honest, there's a lot you can say in favor of the Moccasym over the Addict. I personally prefer the rubber on the Moccasym as well as the overall fit. There's also something to be said for the fact that Five Ten has been making the Moccasym for decades now, while Evolv's Addict has only been around for a couple years. Often, I prefer the original to the copycat. The Addict, however, is about $25 cheaper and that's significant for those just getting into the sport.
Another shoe worth noting is the Mad Rock Flash 2.0. Though not a slipper—it has two velcro straps for the closure—the Flash feels and climbs very similar to the Addict. It's built with a synthetic upper instead of leather, so it won't feel quite as glove-like and comfy on the feet, but it also won't stretch as much over time. One of the biggest selling points of the Flash, though, is that it is a bit cheaper than either the Addict or the Moccasym.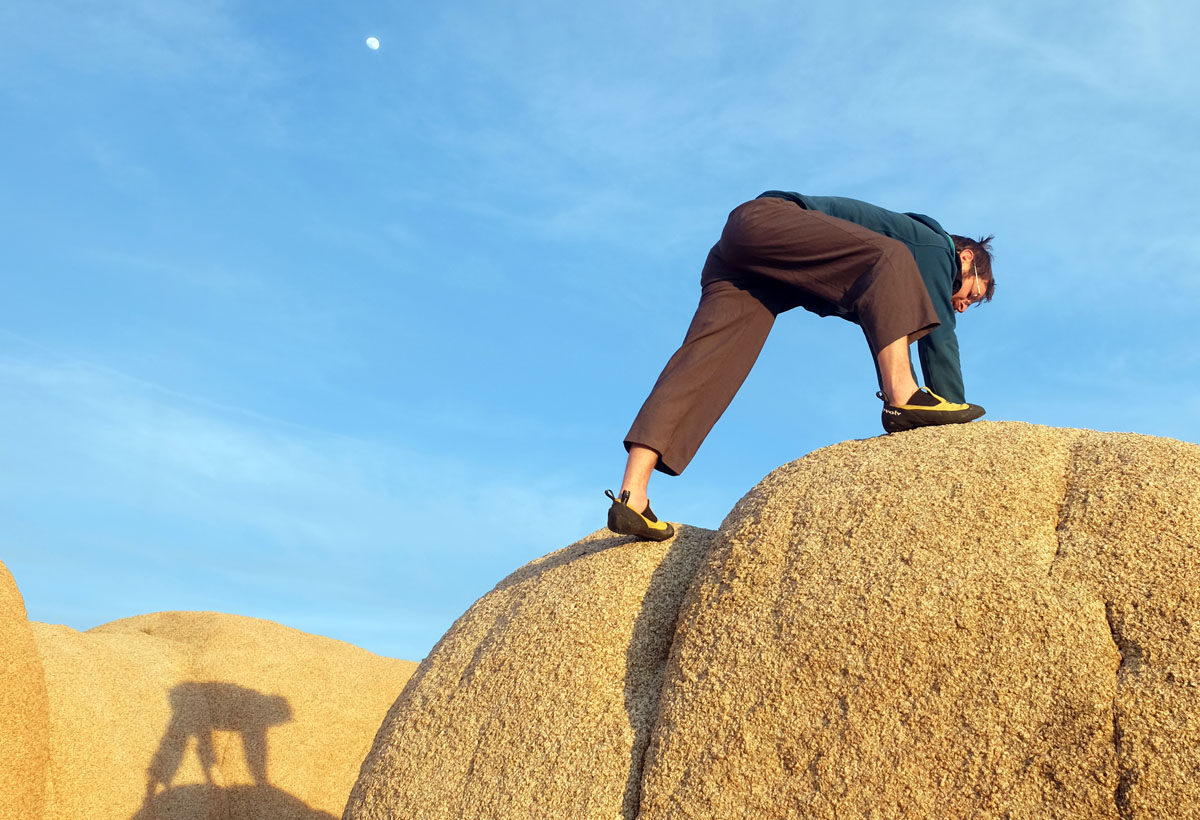 Final Thoughts
In the end, the Addict is a good shoe choice for a pretty large group of climbers. I would say anyone climbing primarily on slabs and cracks should consider it, as well as any beginner. It's a great first climbing shoe but also can be your shoe of choice for Indian Creek 5.12s. As for beginners, the Addict is more affordable than comparable models like the Moccasym or the La Sportiva Mythos, and it has some cool design features like the VTR rand (variable thickness rand places more rubber around the toe) make this shoe extra durable.
If you're thinking about buying gear that we've reviewed on Switchback Travel, you can help support us in the process. Just click on any of the seller links above, and if you make a purchase, we receive a small percentage of the transaction. The cost of the product is the same to you but this helps us continue to test and write about outdoor gear. Thanks and we appreciate your support!
Depending on the seller, most products ship free in the United States on orders of $50 or more. International shipping availability and rates vary by seller. The pricing information on this page is updated hourly but we are not responsible for inaccuracies.
Learn More About Climbing