Cannondale Topstone 105
Price: $1,750
Frame: Aluminum
Gears: 2 x 11
Tires: 700c x 37mm
What we like: Quality components and impressive versatility at a great price.
What we don't: A bit heavy for race-oriented gravel riders.
See the Cannondale Topstone 105
Taking the place of the unique and innovative Slate gravel bike is Cannondale's latest all-road creation: the Topstone. Released last year, the mid-range Topstone 105 features a sturdy aluminum frame and carbon fork, Shimano 105 drivetrain and hydraulic disc brakes, and multiple mounting locations—all for a very reasonable $1,750. I spent four months testing the 2019 version around the Pacific Northwest and was consistently impressed by the bike's off-road capabilities, smartly spec'd build, and overall versatility (the 2020 model differs slightly in tire choice and color). Below we break down the Topstone 105's off-road and on-road performance, key features, components and specs, and other versions in the line. To see how it stacks up, see our article on the best gravel bikes.

Off-Road Performance
Sporting high-volume and grippy tires, a relatively relaxed geometry, and hydraulic disc brakes, the Cannondale Topstone 105 shines off road. From my very first ride, I felt extremely confident in the bike's abilities: its knobby WTB tires dug nicely into loose sections of trail, and the 12-millimeter thru-axles and well-placed flared drop handlebars provide stability and control on fast descents. What surprised me, however, was how smooth it was over rough sections of gravel (relatively speaking, of course). Aluminum bikes are known to be harsher than carbon fiber—and in most cases I've found this is true—but the Topstone does a great job soaking up both larger impacts and chatter. Considering its $1,750 price tag, this is truly an impressive accomplishment.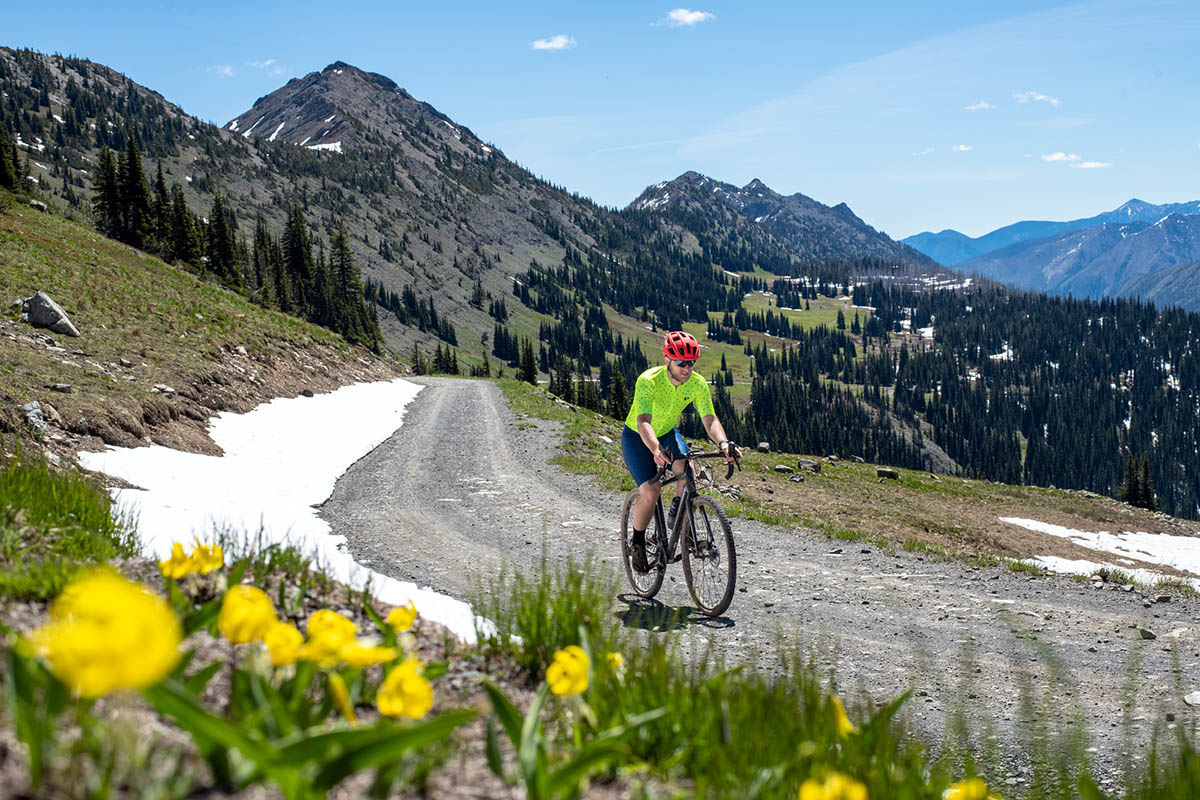 Another important component of off-road performance is gear range. If gearing isn't easy enough, you'll end up walking your bike up steep climbs; if it's not hard enough, you could spin out on the way down. With that said, I found the Topstone's Shimano 105 2 x 11 drivetrain to be a perfect match for my local mountainous terrain. The combination of a 46/30t front chainring and a 11-34t cassette in the rear allowed me to sit and spin on even the steepest climbs, but I could still push a big gear on fast descents. All told, we think Cannondale nailed the off-road side of the equation.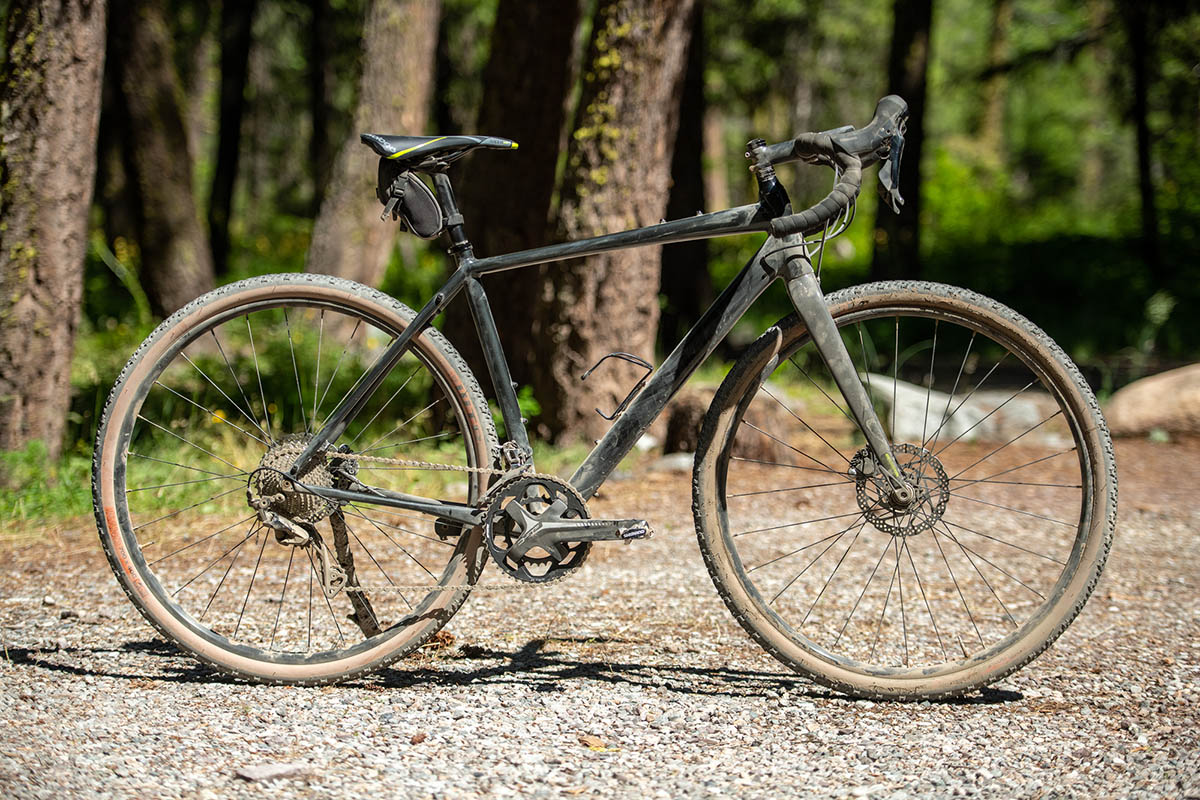 On-Road Performance
Many of my rides involve stretches of both road and gravel, so I was able to get a good feel for how the Topstone handles on pavement. And again, it was well-equipped for the job. While not particularly quick, the bike was easy to maneuver in traffic and along city streets, and its riding position was quite comfortable. Further, the fender mounts are a great match for wet-weather commutes, and the bike's rack compatibility works well for those who use traditional panniers. To be clear, the Topstone 105 lacks the explosiveness and nimble feel of a dedicated road bike, but the balanced riding position and smart frame features add to its versatility.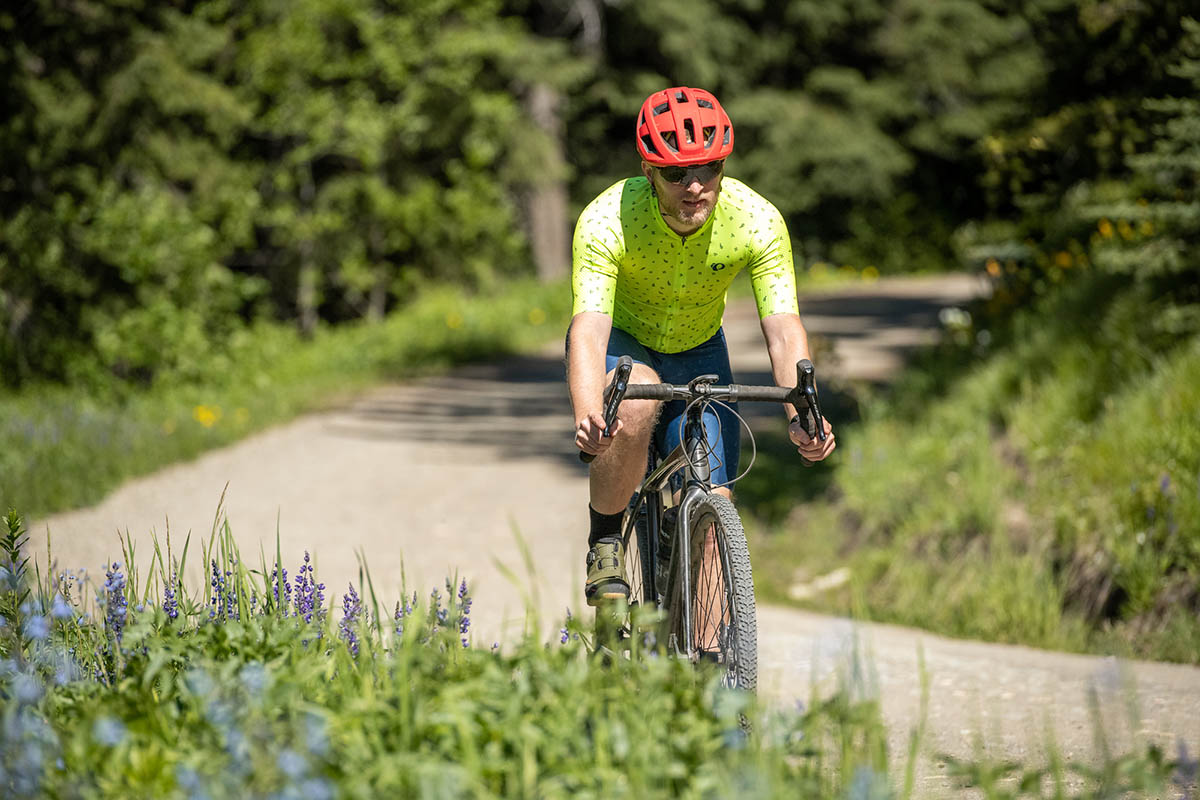 The biggest detractor from the Topstone's on-road performance is its knobby WTB tires. Designed mainly for off-road use, the tread blocks emit a slight hum down the road, and the tires' soft side knobs did little to inspire confidence on high-speed turns. If you plan to spend most of your time on pavement, I recommend switching them out for faster-rolling option. I've been spending time on the 40-millimeter Donnelly Strada USH tubeless tires lately and have thoroughly enjoyed their off-road grip and on-road capability.

Key Features
Frame
I've always had an affinity for Cannondale's drop-bar bikes, so I was very excited when I heard about the release of the gravel-focused Topstone 105. With its well-executed cable routing, subdued colorway and graphics, and clean-looking lines, I'm happy to report that it lived up to my high expectations. Rounding out the good-looking package is ample clearance for meaty gravel tires (up to about 42mm wide) and plenty of mounting locations for water bottle cages (three on my size medium). Cannondale even included mounts on the frame near the stem, which are ideal for a top-tube bag and items you want easily accessible during rides, like snacks. Additionally, both the carbon fork and aluminum frame feature 12-millimeter thru-axles which increase overall stiffness and improve power transfer, and Cannondale smartly added fender and rack mounts for commuting. All things considered, I couldn't have been happier with these design choices.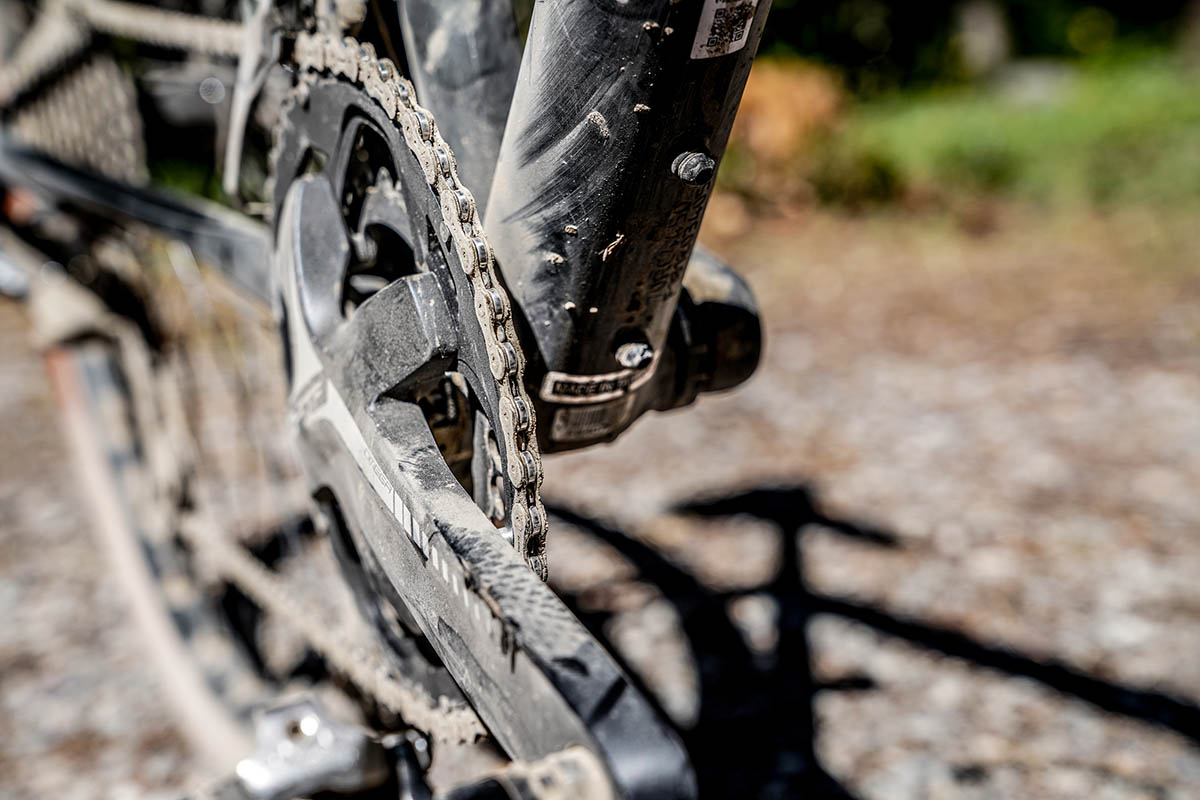 Geometry
While gravel bikes might look quite similar to standard road models, they differ significantly in terms of geometry. It's worth noting that differences of a few millimeters might not seem like a huge deal, but these variations can have a major impact on ride characteristics and performance. First and foremost, the Topstone 105 features a longer wheelbase and slacker head tube angle than a traditional road bike, which make it more stable at high speeds and when traveling over rough terrain—an especially important consideration for riding gravel roads or even commuting with a heavy load.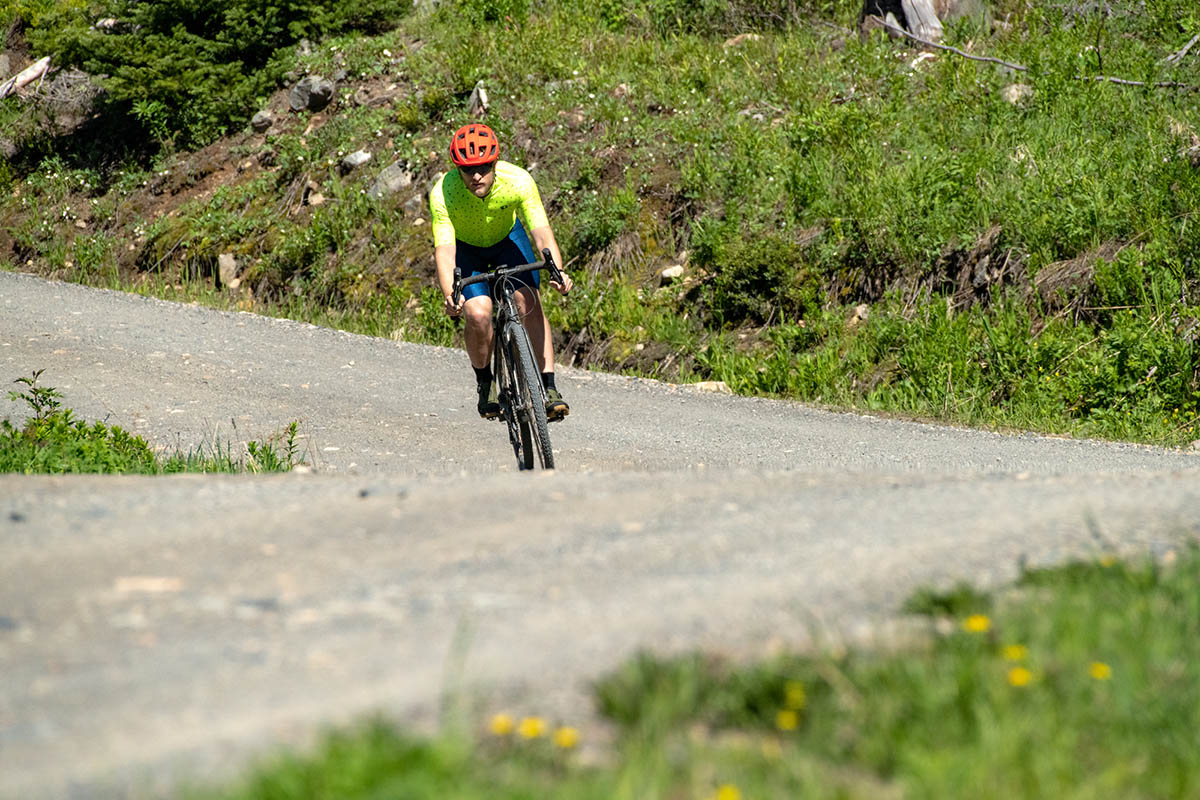 In terms of fit, I found the Topstone's alpha sizing to be a bit challenging to nail down. At 5'9", I've never ridden anything other than a size medium bike, but given the medium's relatively long 56.1-centimeter top tube length, I was tempted to go with a small (54.4cm). After much back and forth, I decided to stick with a medium for consistency and to accurately compare the Topstone with other models I've tested. Thankfully, I'm more torso than legs and had no major issues, but the bike still felt relatively large. In the end, I recommend taking a very close look at the geometry chart before buying.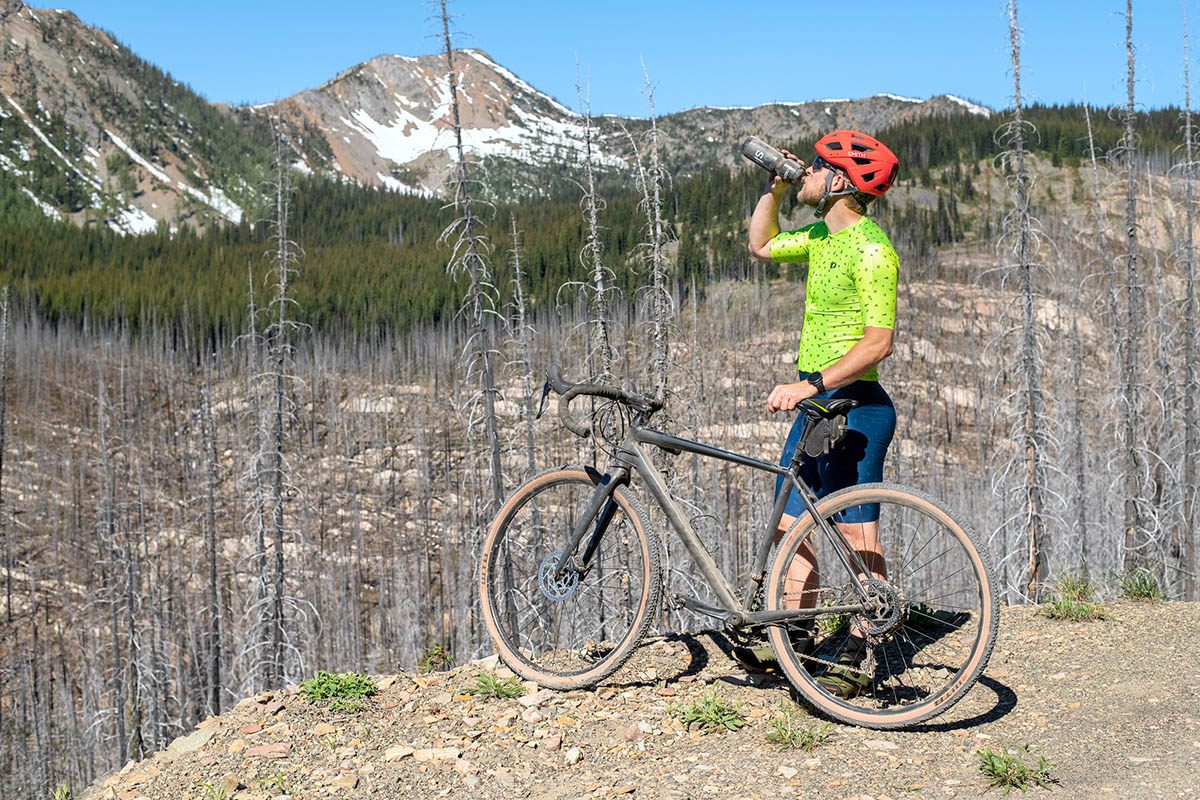 Components and Specs
Shimano 105 Drivetrain
The Cannondale Topstone's Shimano 105 drivetrain is a standout feature of the bike, and I'm happy to report that it never missed a beat. In fact, I found it was an ideal match for the gravel roads around the Pacific Northwest. Combined with a 46/30t crankset, the 11-34t rear cassette provided an easy-enough gear for long uphill slogs, and I never found myself wishing for more options on the way back down. I've spent a good amount of time on Shimano's higher-end Ultegra offering, and while it does shave a few grams of weight and shift slightly better, most riders should be more than satisfied with the 105 groupset.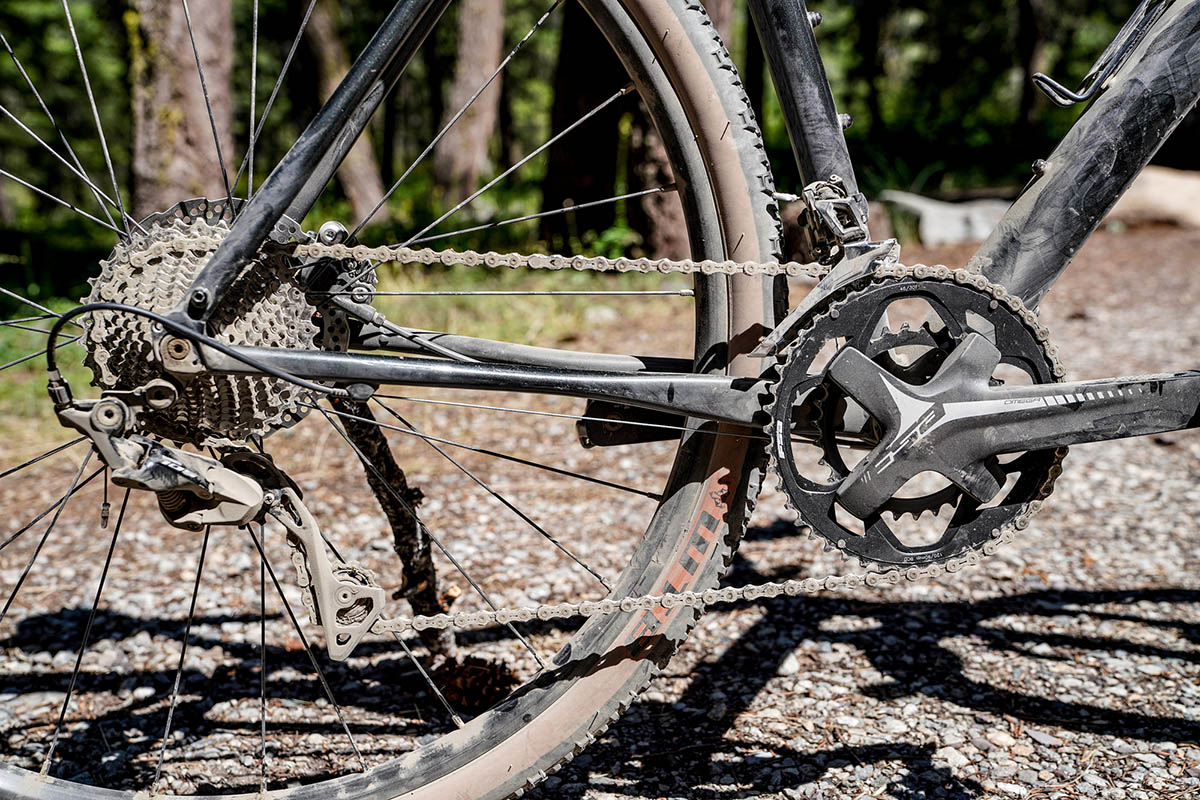 Shimano 105 Hydraulic Disc Brakes
I was similarly excited that Cannondale chose to stick with 105 brakes for stopping duties. The hydraulic disc brakes offered ample one-fingered braking power even on the steepest descents, and I never had any issues with fading. They were also easy to fine tune and were an absolute breeze to set up during the initial build. Finally, the brakes feature an easy-to-use reach-adjust feature, which allows users to customize the distance between the lever and the handlebar and ensures a proper fit.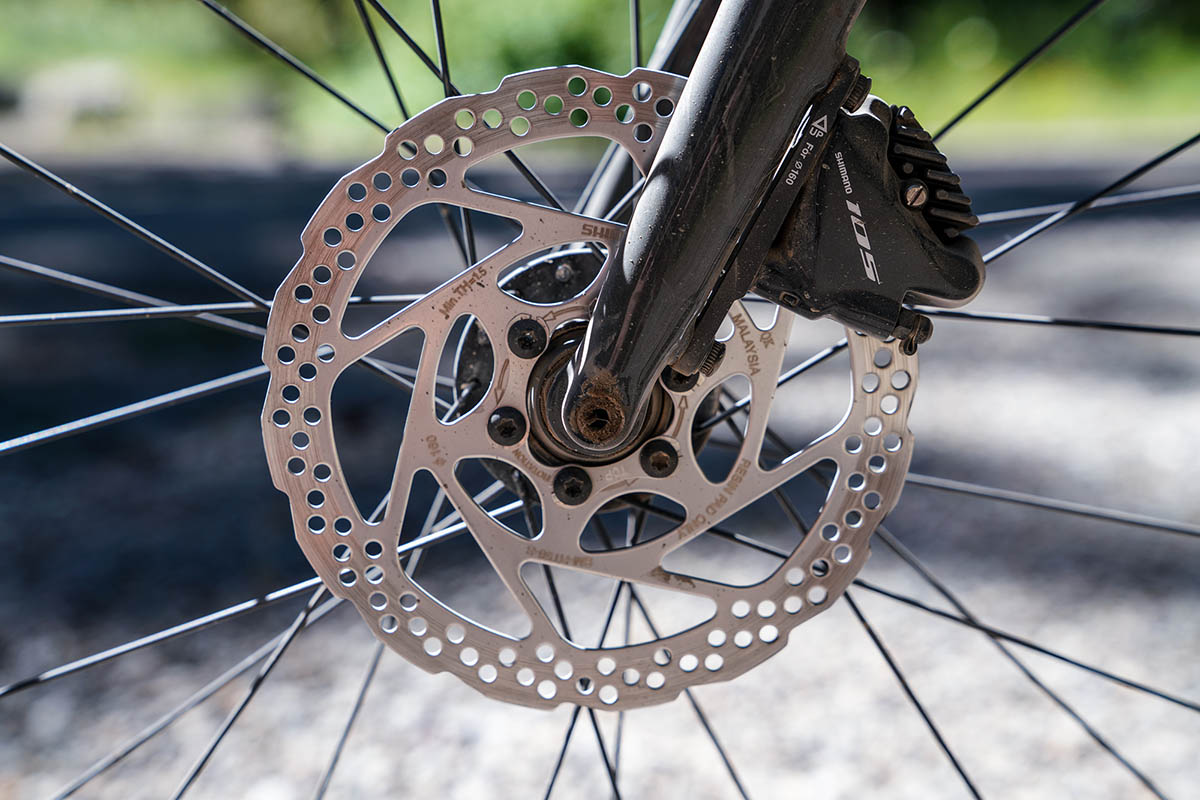 WTB Riddler Tires
Coming from a mountain biking background, I have a bit of an affinity for large and knobby tires on drop-bar bikes. Thus, I'm happy to see the generously sized 37-millimeter WTB Riddlers on the 2020 Topstone. From my experience, they provide reliable traction while cornering on loose gravel, their supple casing does a great job of smoothing out bumps, and they roll well enough for some mixed pavement use. And while I miss the tan sidewall WTB Nanos that adorned the 2019 model, I think the more well-rounded Riddlers are the better choice overall. Another important thing to note is that the Riddlers are extremely easy to set up tubeless, and I've never had issues with losing air. All in all, they are a great match for the Topstone.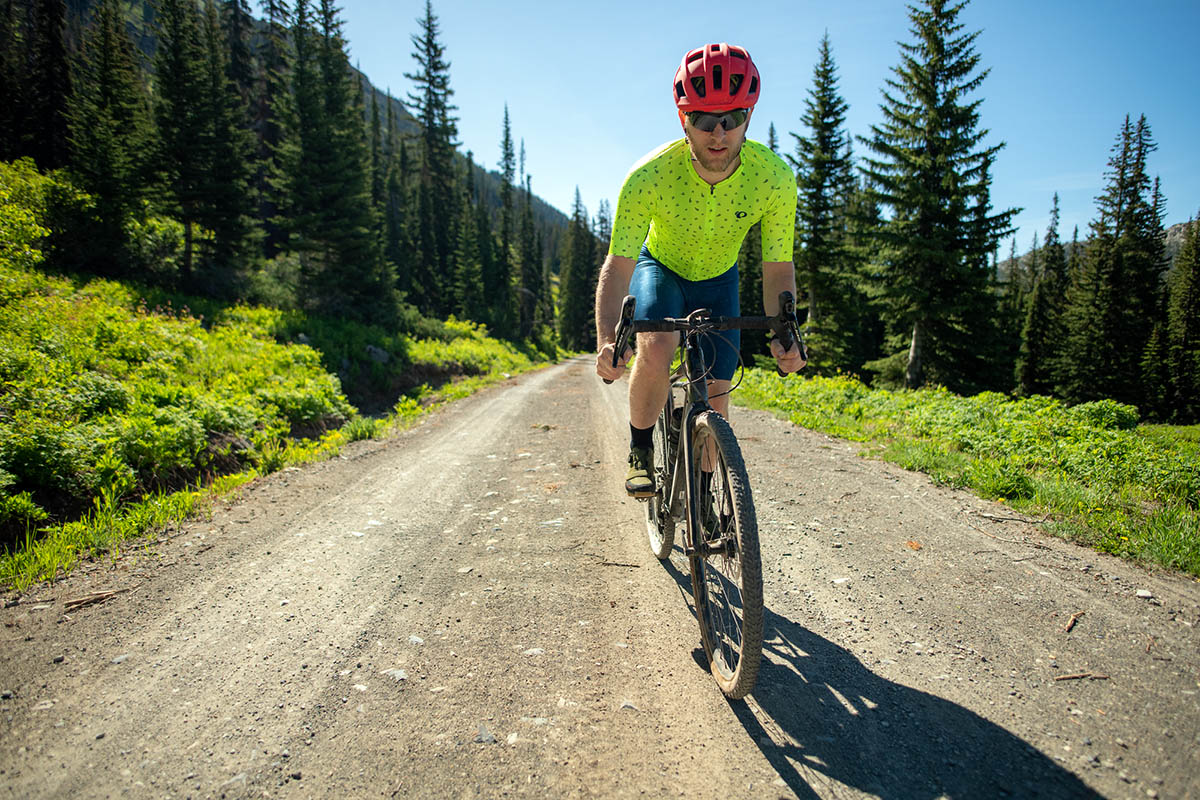 Other Versions of the Cannondale Topstone
For this review, I tested Cannondale's middle-of-the-road Topstone 105 ($1,750), which features an aluminum frame and carbon fork, Shimano 105 drivetrain and brakes, and tubeless-ready WTB tires and wheels. If you're on a stricter budget, Cannondale also offers a Shimano Sora-equipped version called the Topstone Sora which costs $1,250 but sees a notable downgrade in both the drivetrain and brakes. At the other end of the spectrum is Cannondale's newly released carbon lineup, which ranges from their entry-level Topstone Carbon 105 model priced at $2,750 and tops out at $6,750 for the electronic-shifting SRAM AXS version. All said, there are currently seven models to choose from, all of which offer an impressive value and ride. However, we think the 105 model reviewed here hits the sweet spot between price and features, but all Topstones are impressive nevertheless.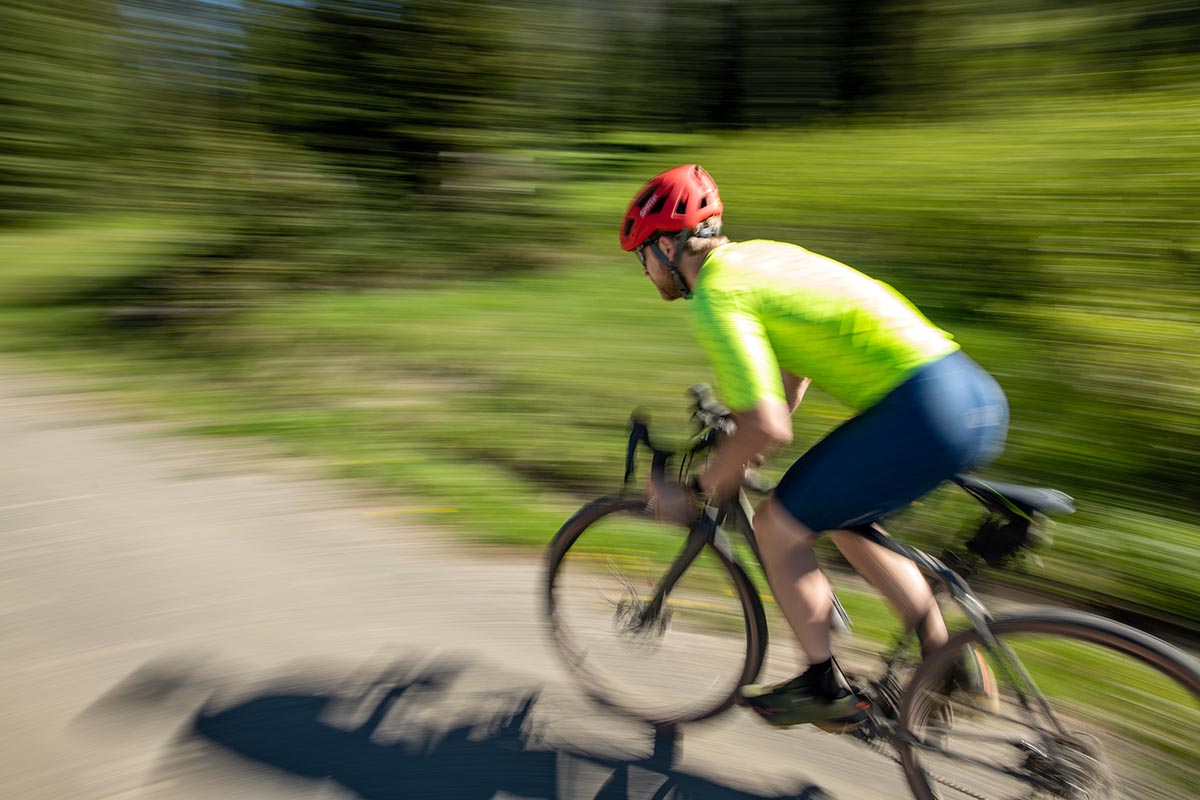 What We Like
At $1,750, we consider the Topstone 105 one of the best values on the market.
High-quality aluminum frame and carbon fork deliver a surprisingly smooth ride.
Shimano's 105 drivetrain and hydraulic disc brakes perform well and offer great bang for your buck.
Fender and rack mounts are a good match for commuters and add to the bike's versatility.
Supple and knobby WTB tires work well over a variety of terrain.
 
What We Don't
Although they perform well off-road, the Topstone's aggressive tires aren't ideal for on-road use.
Sizing runs slightly on the large side.
Not the lightest option out there, which could be a deciding factor for race-oriented riders.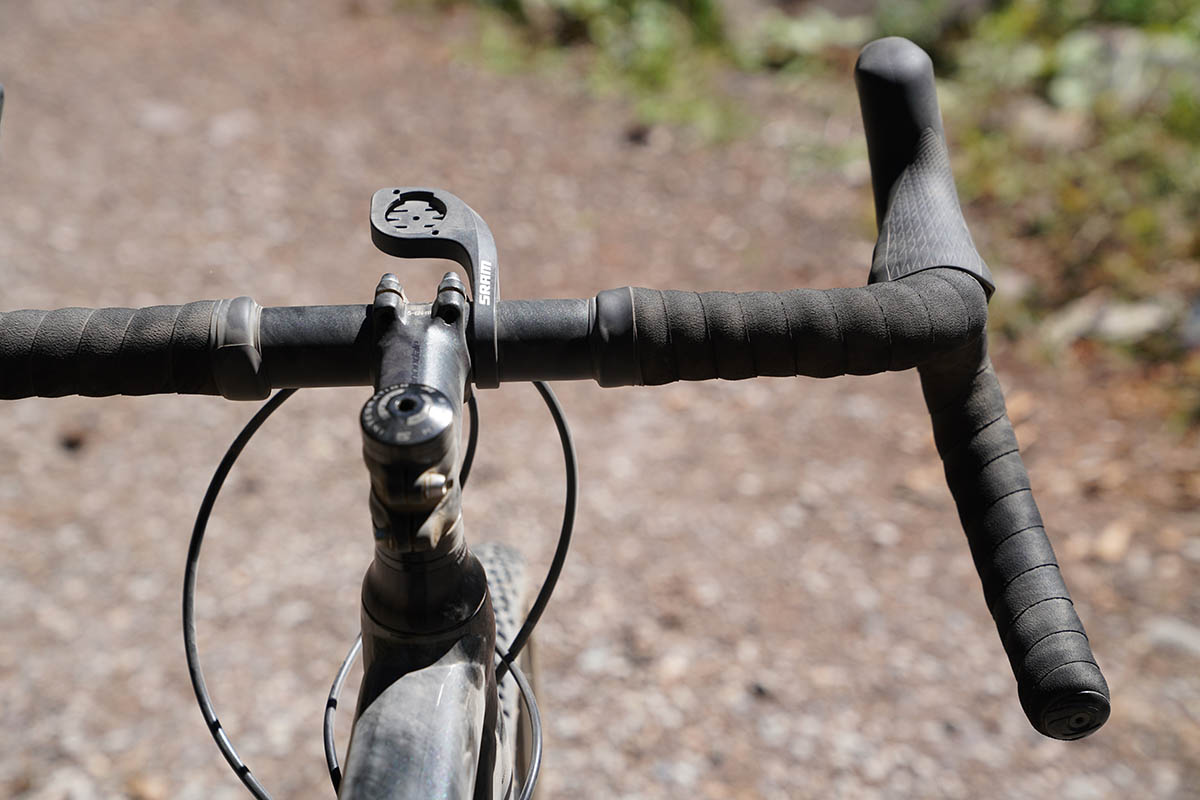 Comparison Table

The Competition
Cannondale's Topstone 105 is a competitively priced and extremely versatile gravel bike. In the same category, Trek's Checkpoint ALR 4 ticks many of the same boxes. For starters, both bikes feature sturdy aluminum frames and carbon forks, generous clearance for high-volume tires, tubeless-ready wheels, mounts for fenders and racks, and hydraulic disc brakes. However, the Trek's 2 x 10 Shimano Tiagra groupset falls short of the Topstone's 2 x 11 Shimano 105 drivetrain in both performance and range, although the Cannondale does see a $150 price increase over the Trek. To be sure, the Checkpoint ALR 4 is no slouch, but we think Cannondale's Topstone is the better gravel bike overall.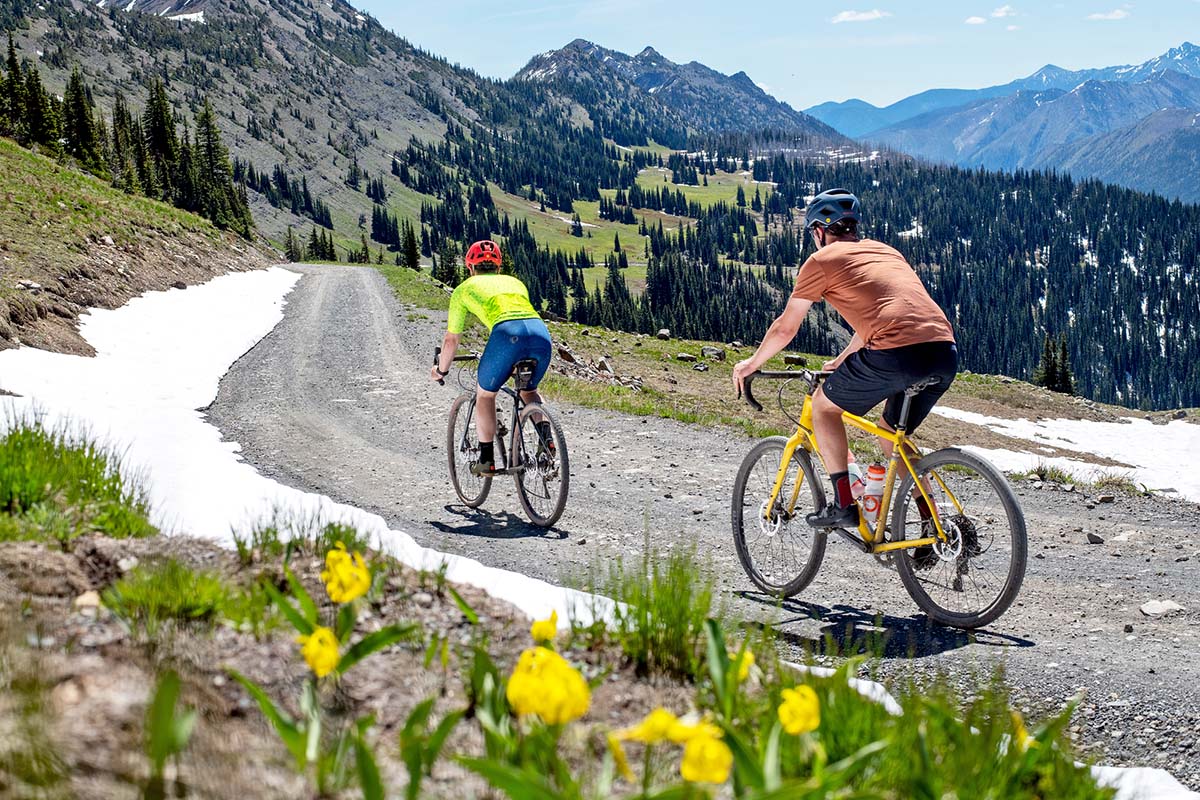 If you like the Topstone but want improved on-road performance, the Specialized Diverge Comp E5 could be a good match. Similar to the Topstone 105, the Diverge Comp E5 features Shimano's 2 x 11 105 drivetrain, comfortable geometry, and mounts for racks and fenders. However, the two bikes differ in a few key areas. Most notably, Specialized spec'd the Diverge Comp E5 with smooth and fast-rolling 35-millimeter tires, which are better suited for road rides than gravel surfaces (the Topstone has slightly beefier 37mm tires). Additionally, the Diverge Comp E5 features a unique front suspension design that delivers about 20 millimeters of travel, which is just enough to take the edge off big hits. While we like this addition, it does add complexity and cost to the build. In the end, we think the $249-cheaper Topstone is the superior all-rounder.
If you're in the market for more of a race-oriented model, we really like Giant's Revolt Advanced 2. With the Giant, you get a lightweight carbon fiber frame, the same high-performing Shimano 105 drivetrain as the Topstone, and generous tire clearance for large rubber. Further, the Revolt Advanced 2 features a rubber chain stay and down tube protectors to ward off rocks and debris. The $2,450 Giant is certainly harder on the wallet than the $1,750 Cannondale, but it's difficult to argue with the bike's carbon frame and race-oriented build. All told, if you're more focused on speed than versatility, we think it's worth the added cost. Otherwise, we'd stick with the less expensive Cannondale.
A final model to have on your radar is Norco's Search XR A2. This bike undercuts the Topstone in price at $1,599 and includes nice features like a 2 x 10 Shimano drivetrain, well-balanced Schwalbe G-One Bite tires, and plenty of mounting locations for racks, bottles, and gear. That said, we think the Topstone 105 is well worth the additional $151. It gets you an even better drivetrain, plus its hydraulic disc brakes are noticeably stronger than the mechanical brakes on the Norco. Both are solid values, but the Topstone strikes us as the better buy.
Editor's note: We usually provide a live price comparison table below our outdoor gear reviews, but at the time of publishing the Topstone 105 is only available nationwide at REI Co-op. You can see the Cannondale Topstone 105 page here and support us in the process. Thanks!
Learn More About Mountain Biking