Now in its third iteration, Blizzard's Brahma 88 is one of the most well-respected frontside rippers on the market. For 2021, the ski has gotten a serious redesign, with tweaks to everything from the flex pattern to the rocker profile and even the core construction. Our testing was cut short due to COVID-19, but what stood out is the Brahma remains a highly capable ski that's most at home on hardpack and at high speed. It's not a true all-rounder but should be towards the top of the list for advanced and expert East Coast riders and those that primarily stay on trail. To see how the Brahma 88 stacks up to the competition, see our article on the best all-mountain skis.
 
---
Table of Contents
---

Hardpack Performance
The Brahma made its name as a frontside beast, and despite a laundry list of changes, the retooled 2021 model is still a fantastic performer on-piste. It has great edge grip thanks to the generous camber underfoot, only a small amount of tip rocker, and a mostly flat tail (it's only slightly raised at the end). All in all, you feel like you're utilizing nearly the full length as you roll it over into a wide and fast turn, and the power seems to always be on tap with two sheets of metal, a carbon-heavy tip, and a well-sorted wood core. It's the kind of ski that's locked in in just about any type of firm conditions, from ice to refrozen snow and corduroy. If you like speed and want a design that you can trust the vast majority of the season, the Brahma 88 makes a very convincing case for itself.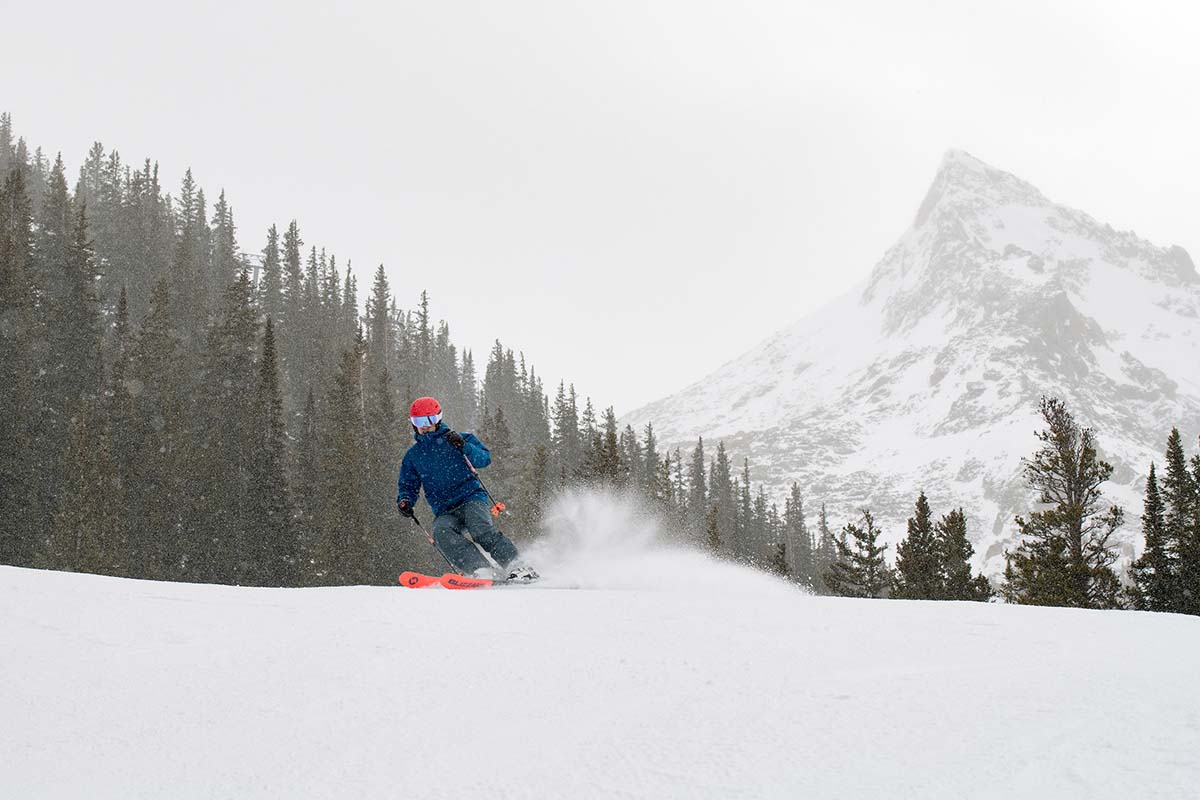 The core is perhaps the Brahma's most interesting aspect. Here, Blizzard employed their new TrueBlend technology, which is also found on the wider Bonafide and women's Black Pearl. The design uses two types of wood: beech for firmness and stability—it's used heavily underfoot—and poplar for more flex and less weight towards the tip and tail. Another important component is that the densities of the wood vary based on length. As you go up, you get more stiffness, which is logical as skiers on longer sticks typically are larger and more powerful riders. Personally, I found the 177-centimeter length to be spot-on for my needs. The ski was plenty solid underfoot and had that no-speed-limit feel that the Brahma is renowned for, but the tip and tail were a little easier to control than expected. Further, the ski does a great job soaking up chopped-up snow and crud and seems to have improved its ability to pivot (although it's still not very fast edge-to-edge).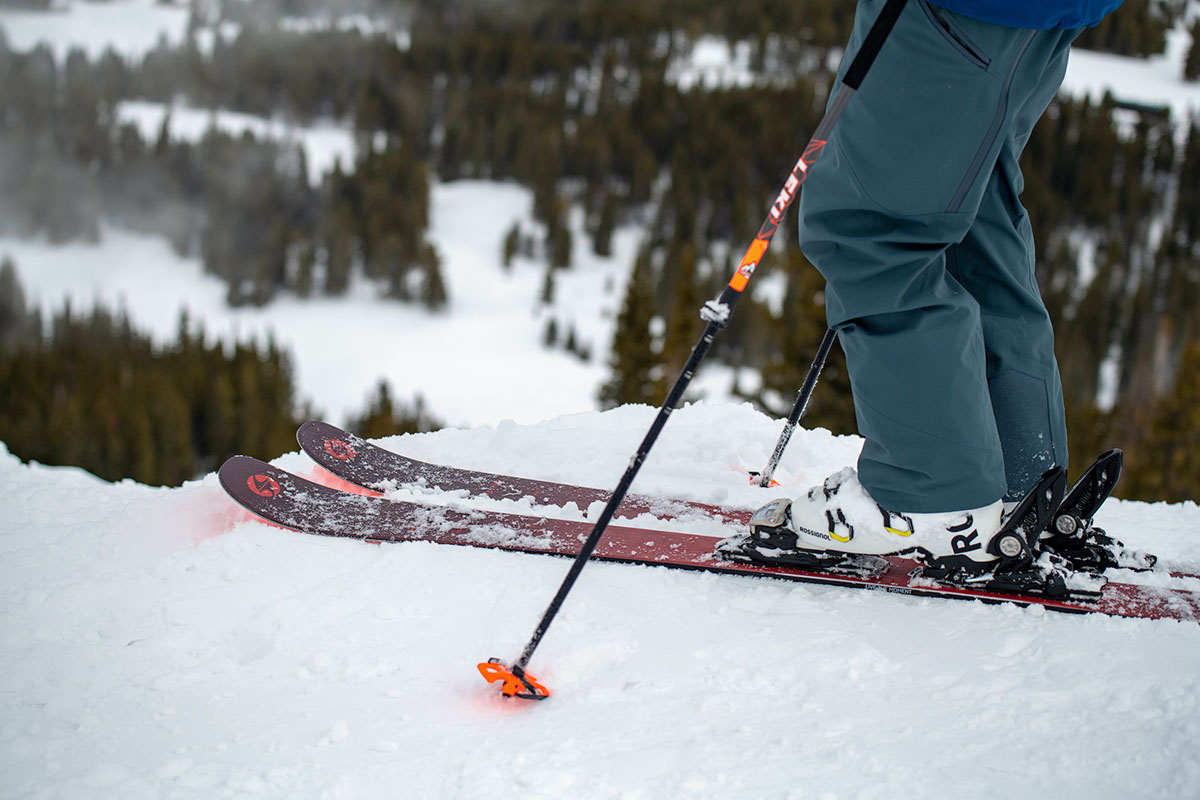 Soft Snow (Powder) Performance
A ski at 88 millimeters wide lands on the narrower end of the all-mountain category, but we still look for decent floatation and soft snow fun from these models. Here, the Brahma comes up a little short. Put simply, the minimal rocker and speed- and grip-focused design don't translate to much playfulness off-piste. Sure, you can dip in and out of the trees on occasion, but it seems to get bogged down quickly (and our testing conditions were mostly dry and lacking in deep powder stashes). Where the Brahma will do reasonably well is when there's a fairly small amount of soft snow over a firmer base, allowing it to dig in and utilize that sturdy grip, which again reinforces its appeal among East Coast riders. Out West, we prefer a little more versatility in a daily driver.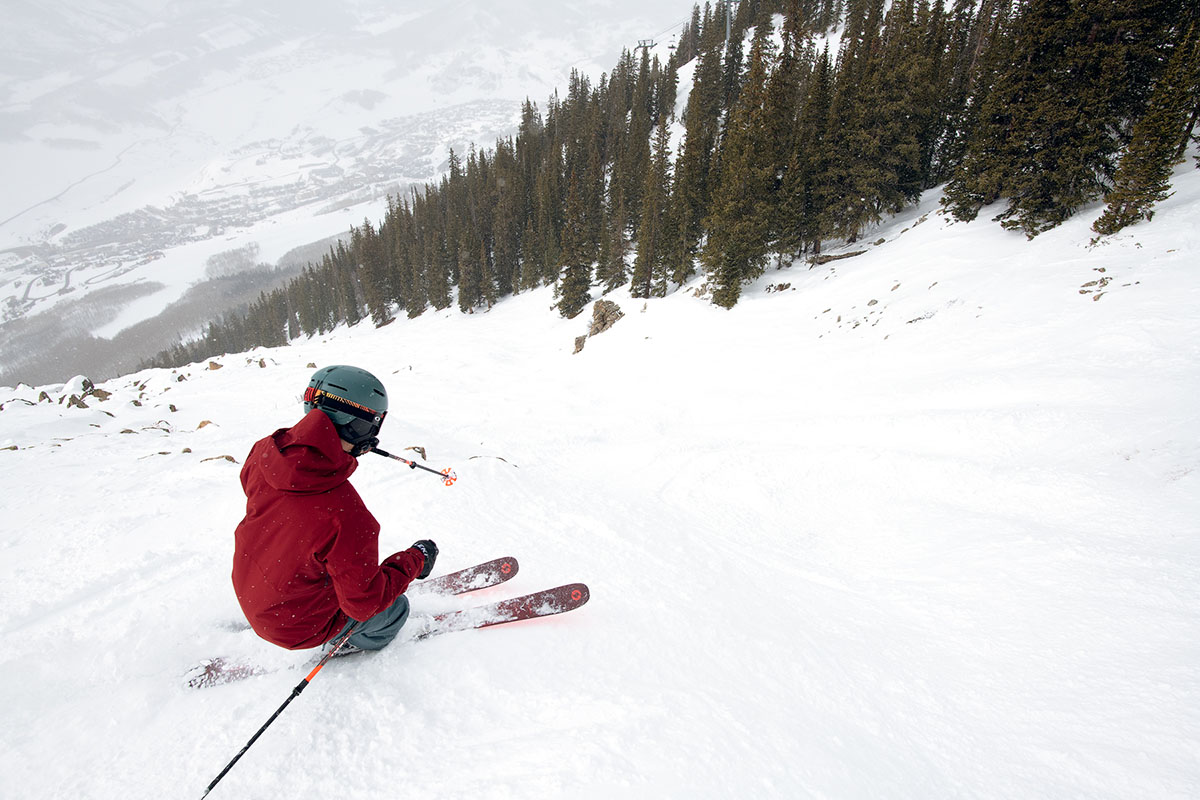 Performance in the Bumps
The Brahma has traditionally been surprisingly good at bump and mogul skiing, especially given its otherwise buttoned-down feel. And while we haven't had a chance to really put it to the test, the latest model seems promising, particularly if you avoid going too long (thereby increasing weight and stiffness). The slightly softened-up tip should help absorb impacts—it certainly does its job in mixed, skied-out snow—however the reduced rocker could diminish overall performance. Other considerations include the skis' fairly hefty feel, although they do partly compensate for it with a reasonably tight 16-meter turn radius (for the 177cm version). All told, the ski could be a decent mogul option for experts, although dedicated riders will likely prefer more rocker and forgiveness like you get with Blizzard's own Rustler 9.

Build Quality and Durability
The Blizzard Brahma 88 looks and feels like a premium all-mountain ski, and we have no qualms from a long-term durability standpoint. The ski is relatively pricey for the width at $700—most of the competition comes in around $50 less—but you're paying for a lot of innovative tech and high-quality materials, including carbon ends, a multi-wood core with a unique construction, two sheets of Titanal, and a rubber layer to absorb vibrations. And as we touched on above, the ski's flex varies by length, which certainly adds some cost to the build. All in all, we think the Brahma is fairly priced, and we expect it to hold up well to regular use.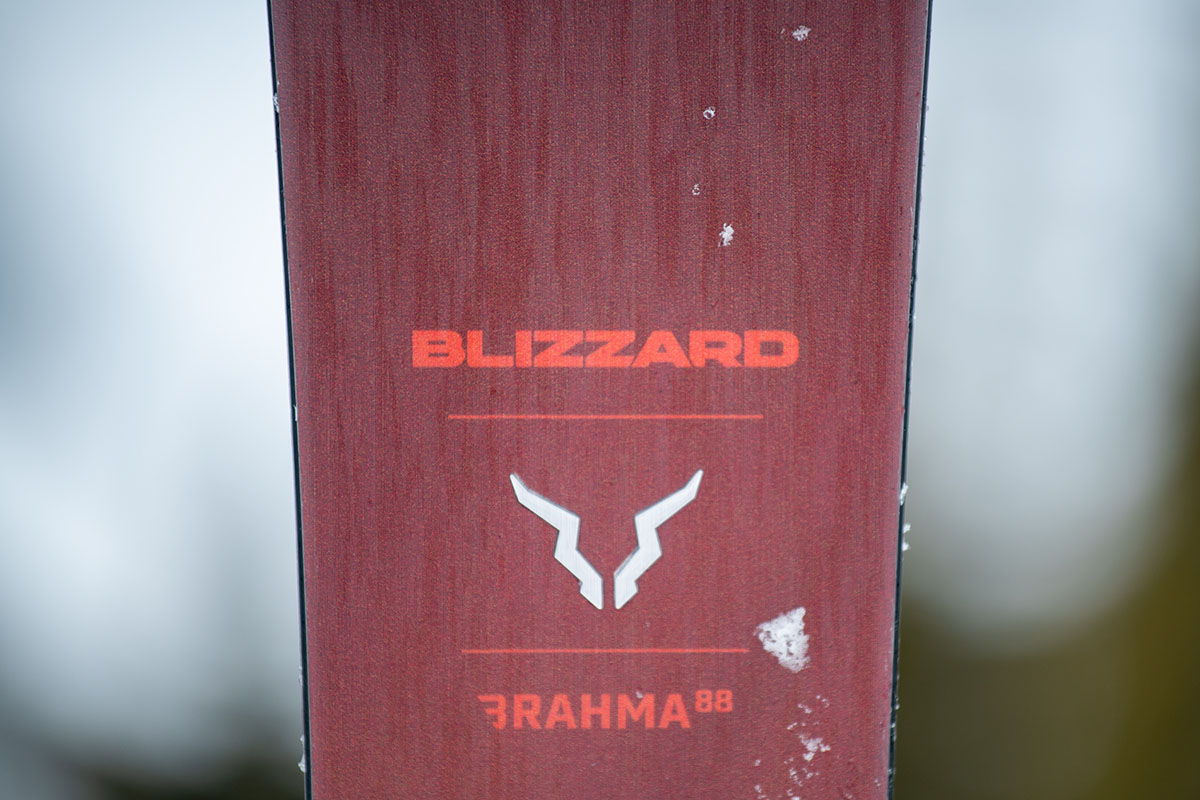 Fit and Sizing
At 5'9" and 155 pounds, I typically prefer all-mountain skis in the mid to high 170s, and the Brahma 88 was no different. As I mentioned above, the 177-centimeter length was just about perfect for me, although the ski does have a generous effective edge (i.e., more contact with the ground) and minimal rocker, so it felt a little longer than expected. In general, this isn't a ski I would recommend sizing up with unless you're an ex-racer that prioritizes top-end stability. And it's worth noting that like Blizzard's Bonafide 97, the Brahma 88 is offered in lengths at 6-centimeter increments (most of the competition varies by 7 to 8cm), so most riders should be able to choose an ideal size without being caught in between.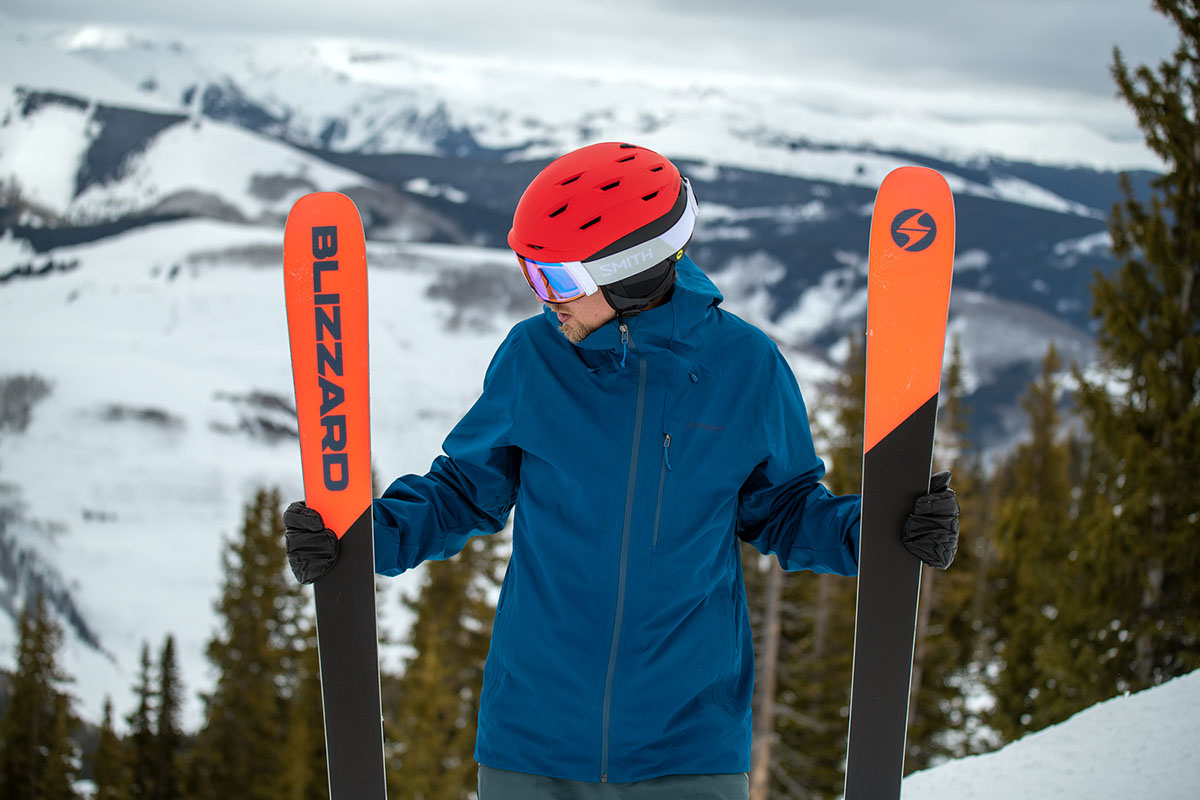 Blizzard Brahma 82
In addition to the Brahma 88, Blizzard also makes the ski in a slimmer, 82-millimeter width. Unlike the model we tested, the Blizzard Brahma 82 has been carried over from last season and doesn't incorporate the 88's TrueBlend technology (it uses a standard poplar and beech wood core). And in general, it's more on-piste-oriented than the 88 and is best on hardpack days. In the end, we prefer the added width and versatility of the wider Brahma, but the 82 is a viable alternative for skiers who stick strictly to the trails and want a bit more quickness.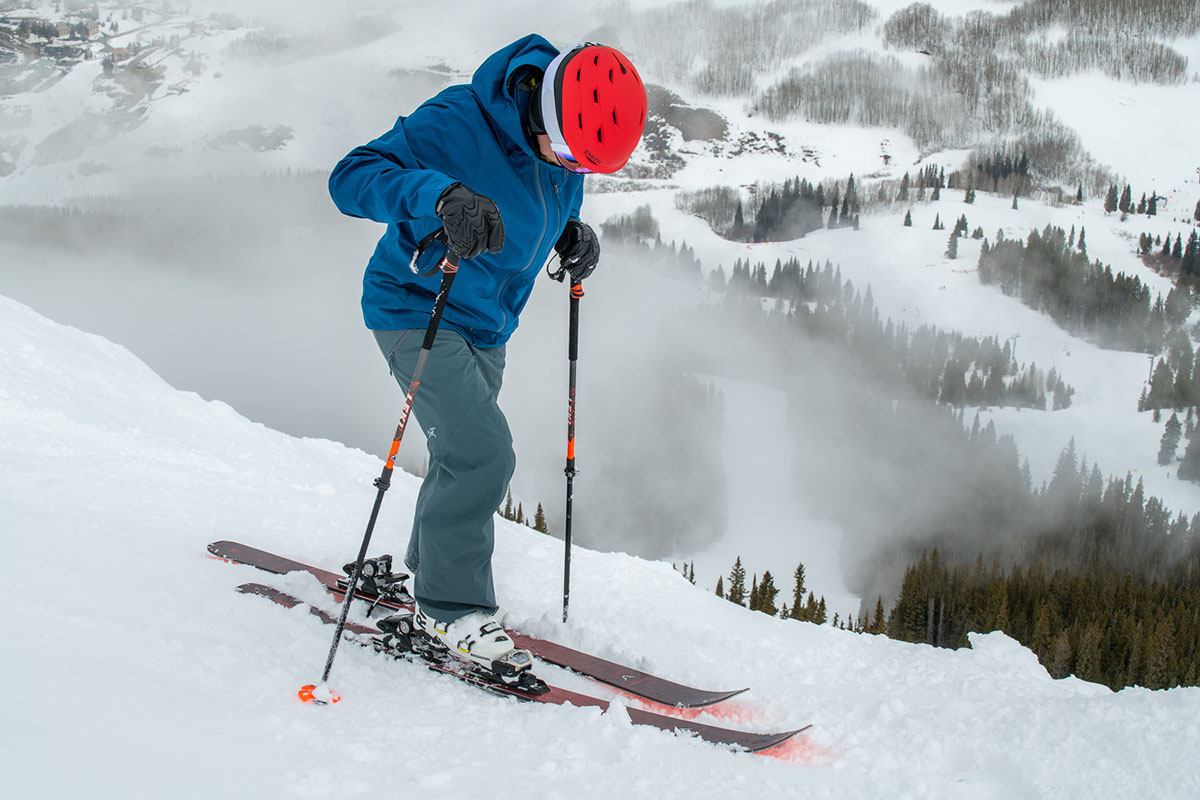 Women's Blizzard Black Pearl 88
We put the unisex Brahma 88 through its paces for this review, and Blizzard also offers a women's-specific version called the Black Pearl 88. The Brahma and Black Pearl share a lot in common, including the TrueBlend wood construction, dimensions, and the use of Titanal (although the women's model uses one layer for a lighter ride). As far as differences go, the women's ski costs $50 less at $650, has a tighter turn radius (14m), is offered in shorter lengths, and comes in a different colorway. We haven't tested the Black Pearl yet, but given the similarities to the Brahma, we expect it to be a comparable on-piste performer with great edge grip and a confidence-inspiring feel at speed. Finally, like its unisex counterpart, the Black Pearl is also offered in an 82-millimeter width (without the updated construction) for consistently firm conditions.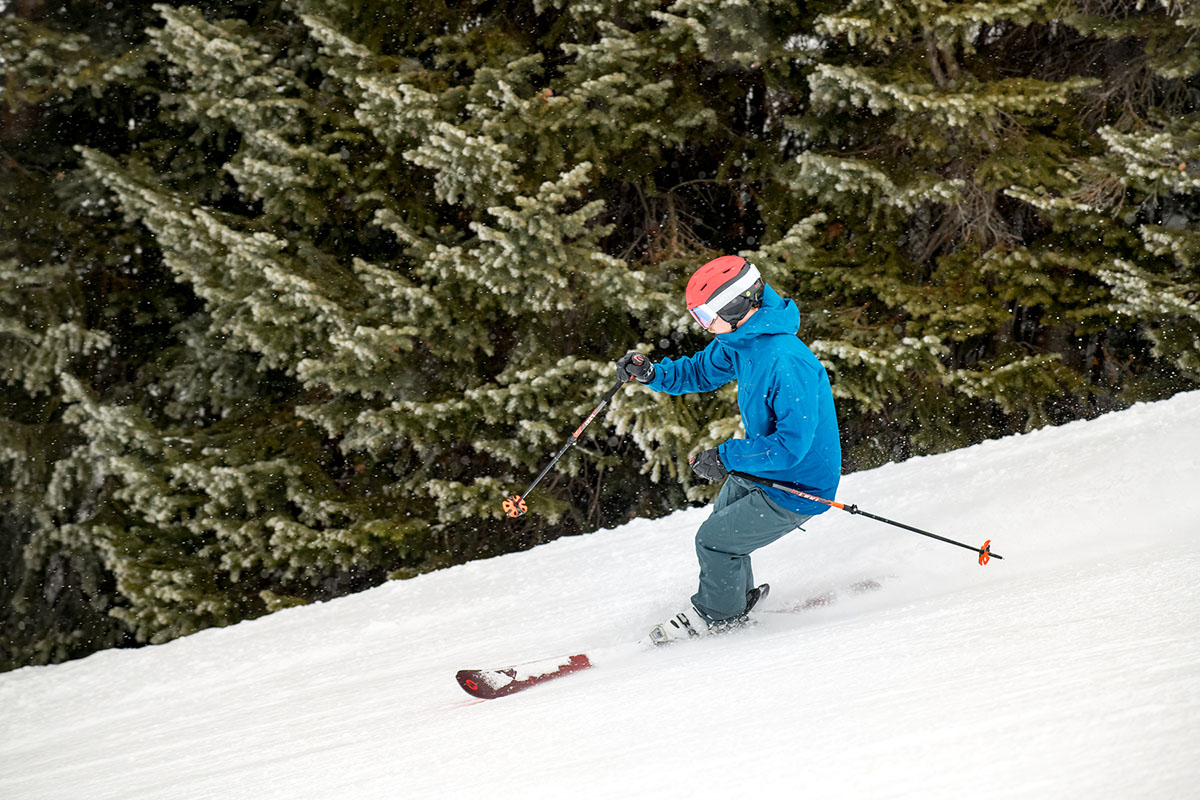 What We Like
Despite significant changes to the core and overall construction, the Brahma 88 is still a fantastic on-piste ski with great edge grip, comfort at speed, and a locked-in feel in just about all firm conditions.
The ski does a nice job absorbing hits from chopped-up snow and crud.
Easy to dial in a great fit and feel thanks to 6-centimeter increments between sizes and a unique flex pattern for each length.
Like the prior generations, the latest Brahma is a great match for ex-racers and expert-level hardpack riders.

What We Don't
Despite its relatively versatile width, the Brahma's minimal rocker and grip-oriented design mean it isn't playful off-piste and gets bogged down fairly easily.
Long effective edge makes the ski feel a little longer than its length would suggest (we only recommend sizing up if you're a powerful rider that wants even more speed).
A little pricey for the width at $700, but you're getting a lot of high-end materials and innovative tech.


Comparison Table
| Ski | Price | Ability Level | Dimensions | Radius | Construction |
| --- | --- | --- | --- | --- | --- |
| Blizzard Brahma 88 | $700 | Advanced to expert | 128-88-110mm | 16m | Wood, Titanal, carbon |
| Rossignol Experience 88 | $650 | Intermediate to expert | 127-88-117mm | 16.5m | Wood, Titanal |
| Nordica Enforcer 88 | $650 | Advanced to expert | 121.5-88-109.5mm | 16.5m | Wood, Titanal, carbon |
| Volkl Kendo 88 | $650 | Advanced to expert | 129-88-111mm | 17m | Wood, Titanal, carbon |
| Head Kore 87 | $649 | Intermediate to advanced | 153-87-110mm | 16m | Wood, Graphene, carbon |
| Atomic Vantage 90 Ti | $600 | Advanced to expert | 127.5-90-114mm | 18.4m | Wood, titanium mesh |

The Competition
Within the competitive all-mountain category, Blizzard's Brahma 88 stands out as an extremely capable frontside ripper. One of the Brahma's closest competitors is Rossignol's popular Experience 88 Ti. Compared to the Blizzard, the Experience is undeniably fast but can't match its edge grip. On the other hand, the Rossignol has more pop and energy that translate to more fun all over the mountain (we consider the Brahma decidedly frontside-oriented). Neither ski excels in soft snow, but the Experience is easier to manage and flick around thanks to its lighter weight (for more information, see our in-depth Experience 88 Ti review). In our opinion, the Experience is the better East Coast all-rounder and more intermediate-friendly, while the Brahma is slightly more capable all-out for advanced and expert riders.
Another fun frontside-oriented design to consider is Nordica's Enforcer 88, which is the slimmest and stiffest variation in the ultra-popular Enforcer collection. Overall, it's very comparable to the Brahma with similar dimensions (121.5-88-109.5mm), stiffness, and intended use of bombing hardpack (for advanced and expert riders). In parsing out the differences, the Nordica is a little snappier, likes shorter turns, and saves you $50, while the Brahma is a bit smoother and faster. In the end, a final decision will likely come down to how you prioritize maneuverability versus speed.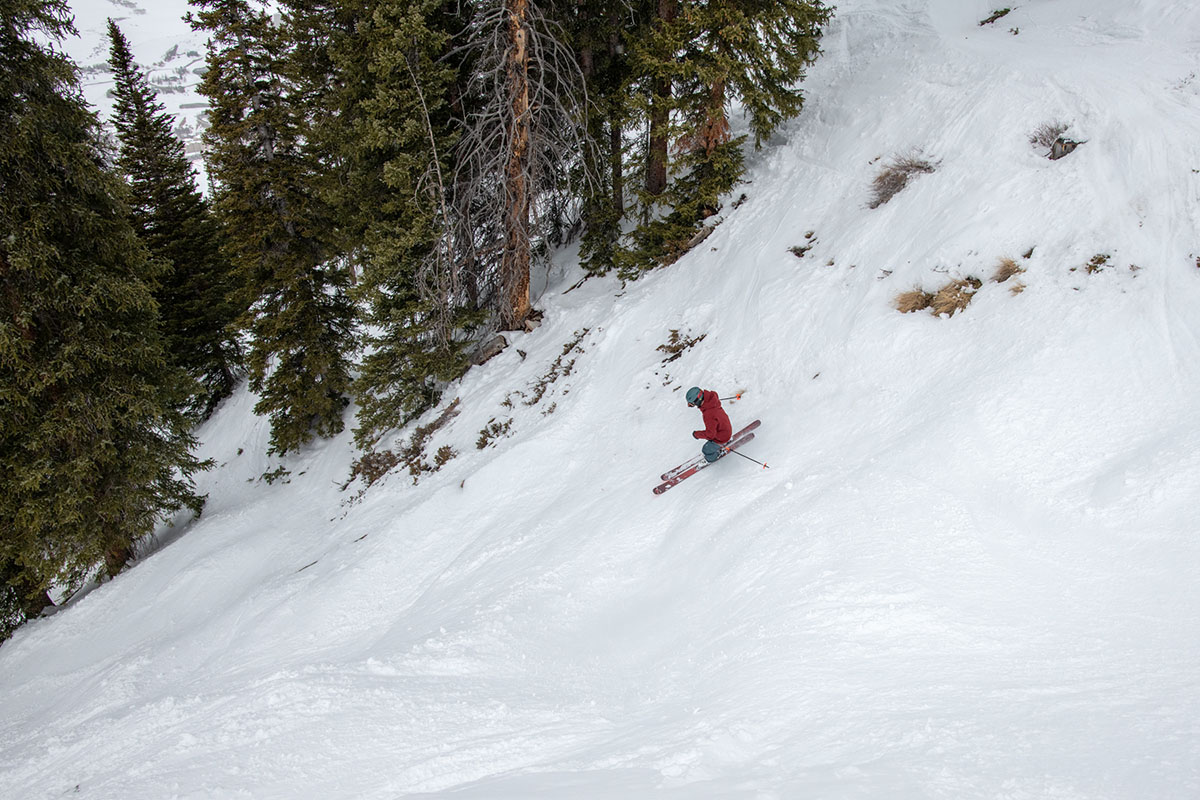 At the same width, we also like Volkl's Kendo 88. The Kendo shares a lot of its construction with Volkl's popular M5 Mantra, including the Titanal Frame technology, which pushes most of the metal towards the perimeter of the ski (along with a thin strip under the bindings) and adds dampness and power. In addition, the ski utilizes Volkl's 3 Radius Sidecut shape, which means the ski has unique turn radius numbers at the front, center, and back for added capability across a wide range of turning styles. And finally, despite similar measurements to the Brahma (129-88-111mm), the Kendo offers a step up in float and all-around versatility. The Brahma again wins out in edge grip, but it's the less well-rounded option for true all-mountain use.
Previously designed for junior riders, Head has expanded the size offerings for their 2021 Kore 87 (up to 189cm). The Kore line has gotten a lot of press since its release a few years back, but to cover the basics: the ski features a combination of high-end and light materials like Graphene and Karuba wood and a stripped-down top sheet. The net result is exceptional stiffness relative to its weight. That said, the Kore lacks the natural feel and dampness of the Brahma—it gets tossed around more than we like and is a little harder to trust overall. Given these complaints, we think the Brahma is the more versatile pick and worth the added investment.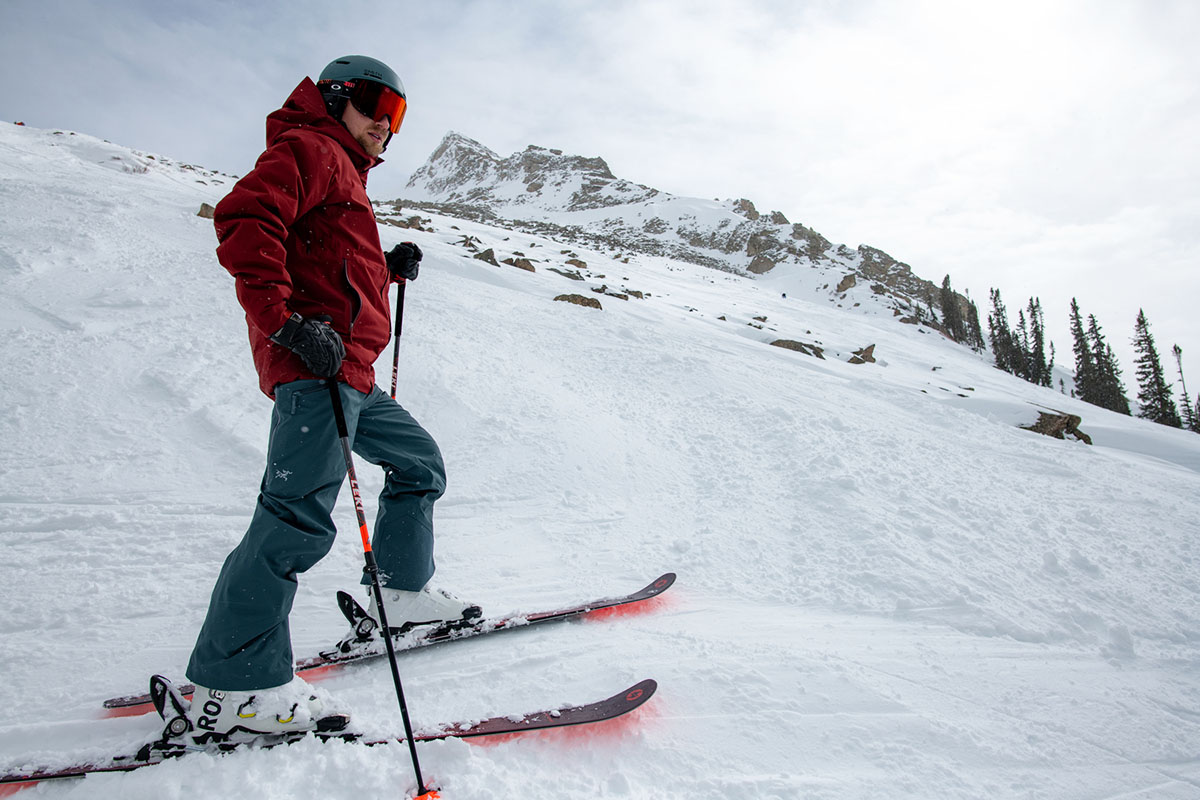 A final design to consider is Atomic's Vantage 90 Ti. Similar to the Head Kore above, the Vantage is built around saving weight with a titanium mesh layer rather than the standard two sheets of metal, which translates to a much lighter and nimbler ride. And like the Brahma, the Atomic is best on-piste with only a small amount of rocker at the tip and plenty of camber underfoot. But the weight savings results in less of a planted feel at high speed and through chopped-up snow. For $100 more, we prefer the more secure Brahma.
If you're thinking about buying gear that we've reviewed on Switchback Travel, you can help support us in the process. Just click on any of the seller links above, and if you make a purchase, we receive a small percentage of the transaction. The cost of the product is the same to you but this helps us continue to test and write about outdoor gear. Thanks and we appreciate your support!
Depending on the seller, most products ship free in the United States on orders of $50 or more. International shipping availability and rates vary by seller. The pricing information on this page is updated hourly but we are not responsible for inaccuracies.
Learn More About Outdoor Gear