Black Diamond JetForce Pro 25L
Price: $1,400
Weight: 6 lbs. 7 oz. (size M/L)
Capacities: 10, 25, 35L
What we like: User-friendly, fully featured, and booster system makes it affordable to swap between capacities.
What we don't: Airbag compartment zipper comes undone easily when the pack is fully loaded.
See the Black Diamond JetForce Pro
With a rise in backcountry adventuring of late, avalanche airbag packs have become increasingly popular for the added safety they can provide in the event of a slide. Black Diamond's battery-powered fan system in their JetForce Pro series is a standout in the market for its user-friendly yet lightweight design and ability to deploy multiple times on a single charge. We tested the 25-liter version of their JetForce Pro pack and found it to be an impressive all-around performer. The airbag compartment does have a tendency to gape open if the pack is fully loaded, but it's one of the most well-rounded and feature-rich options available. Below we break down our experiences with the JetForce Pro 25L. To see how it stacks up to the competition, check out our article on the best avalanche airbag packs.
*Disclaimer: There are inherent risks to traveling in avalanche terrain. We do not condone the use of an airbag pack—or any avalanche safety tools—without proper education. Visit AIARE's website to learn more and sign up for a Level 1 avalanche class.
 
---
Table of Contents
---

Battery
The Black Diamond JetForce Pro 25L uses a lithium battery-powered electric fan to operate the airbag, which is one of our favorite systems on the market for a few key reasons. Specifically, you can practice deploying the bag in a safe environment without going through air cylinders or gas cartridges, the bag will continue inflating even if punctured during a slide, and the system is easy to travel with (gas canisters, by comparison, need to be emptied before flying on a plane, require filling after each use, and can only be deployed once per fill). All in all, electric designs are extremely versatile and easy to use, and mastering the process can take a lot of the guesswork out of the equation in a stressful, life-or-death situation (it's very helpful being able to get a feel for how much force it takes to pull the handle, how long the bag takes to inflate, etc.).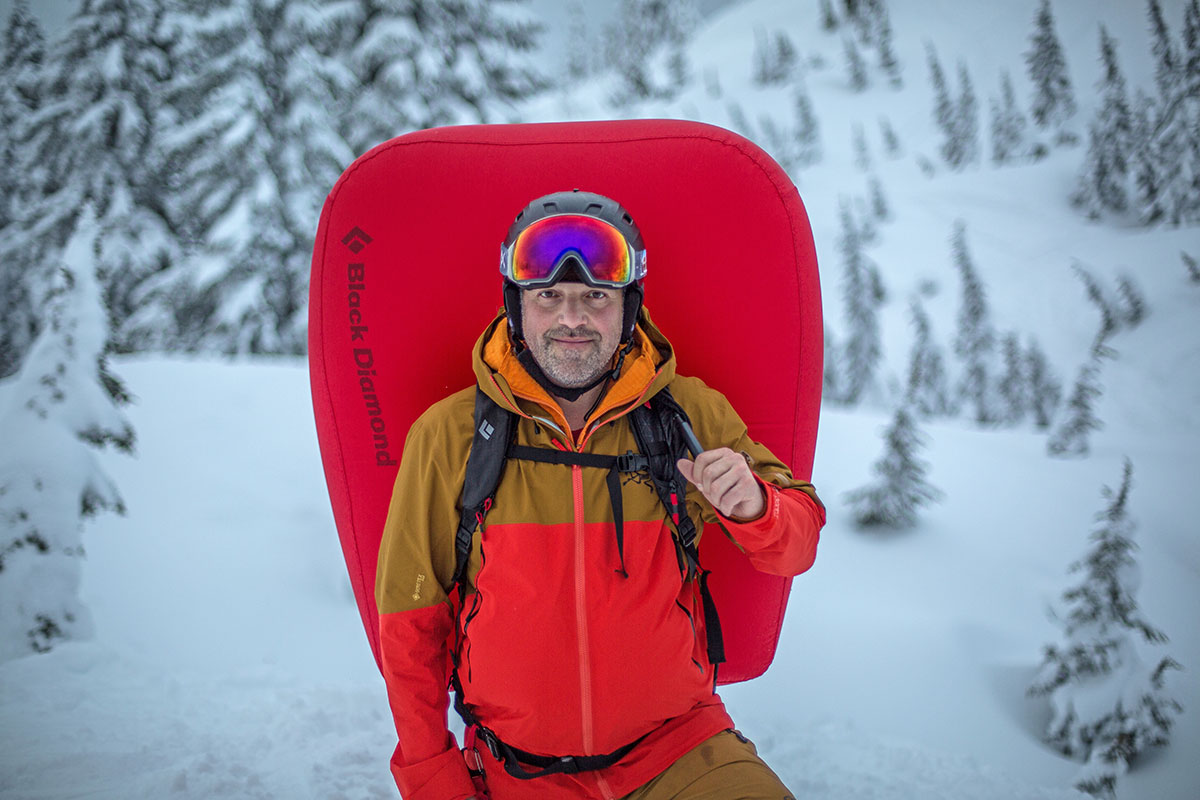 As far as usability goes, I've deployed the JetForce's airbag five or six times for testing purposes and have had a very positive experience. Overall, the system is user-friendly and easy to operate. The power button is conveniently located on the end of the deployment handle, which means you don't have to dig around in the pack or fumble through a side zipper to turn the system on or off. The handle also has a status indicator that tells you whether or not the bag is on, how much power is remaining, and if there are any issues (the electronic system runs a comprehensive self-diagnosis to check that components like the motor, fan, trigger, and battery are operating properly). I do prefer the more foolproof mechanical trigger on the Arc'teryx Voltair over the JetForce's electronic design, but I haven't experienced any issues or failures to date with the BD.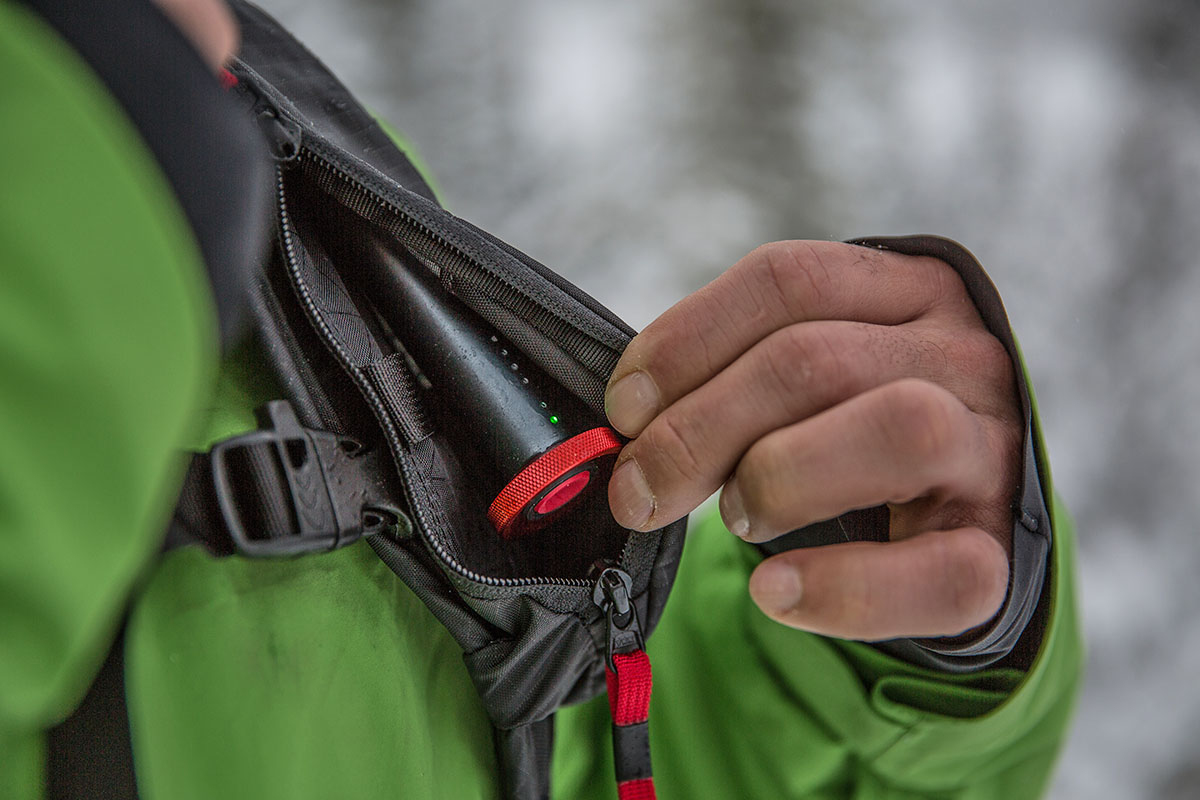 When it comes time to recharge the JetForce's battery, the process is fairly simple: remove the cap from the charging plug (it's located in the deployment handle sleeve), insert it into the included wall unit (there are also adaptors for traveling abroad), and start charging. It takes around six hours total if the battery is fully drained, and a four-bar LED indicator signals the level of juice along the way. For reference, I've been using the pack for weeks on a single charge with five deployments, and the battery is still showing three bars (it took about an hour of charging to get from three to four bars).

Practice Deployments
As I touched on above, two key benefits to battery-operated avalanche airbag packs are the ability to practice pulling the trigger to inflate the pack and the ability to deploy multiple times on one charge. This allows you to get comfortable with the process before relying on it in a life-or-death scenario. It's also worth noting that the fan system is quite loud, so it's helpful to get used to the noise so you don't get startled when pulling the trigger.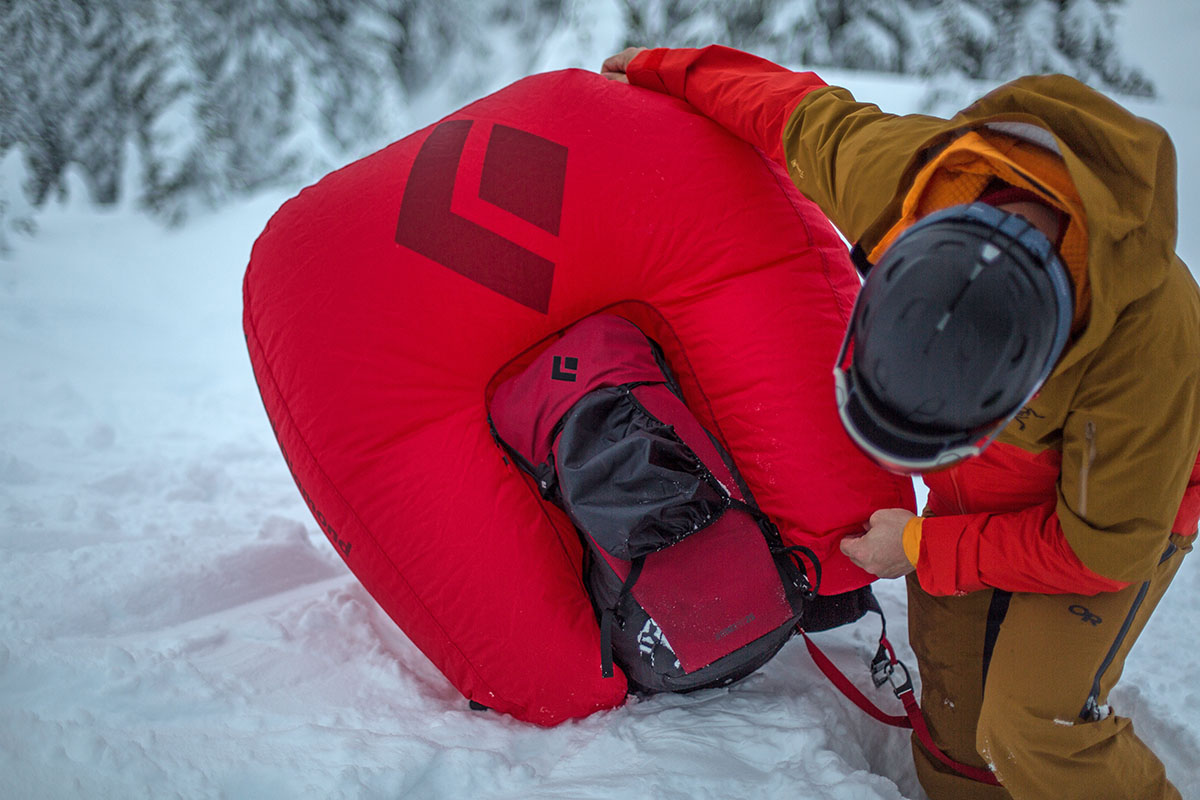 As far as actual deployment goes, the 200-liter airbag takes a decent tug to trigger, which is best accomplished by reaching across your body and pulling the handle with your opposite hand. When pulled, the bag only takes a few seconds to inflate fully. The handle itself feels natural to pull with a nicely sized grab area at the base, which allows you to apply considerable downward pressure without the risk of your hand slipping off. And unlike the fixed handle on the Arc'teryx Voltair, the JetForce's deployment knob can easily be moved to either side of the pack by rerouting it through the shoulder strap sleeve (I'm right-handed, so I prefer the handle on my left).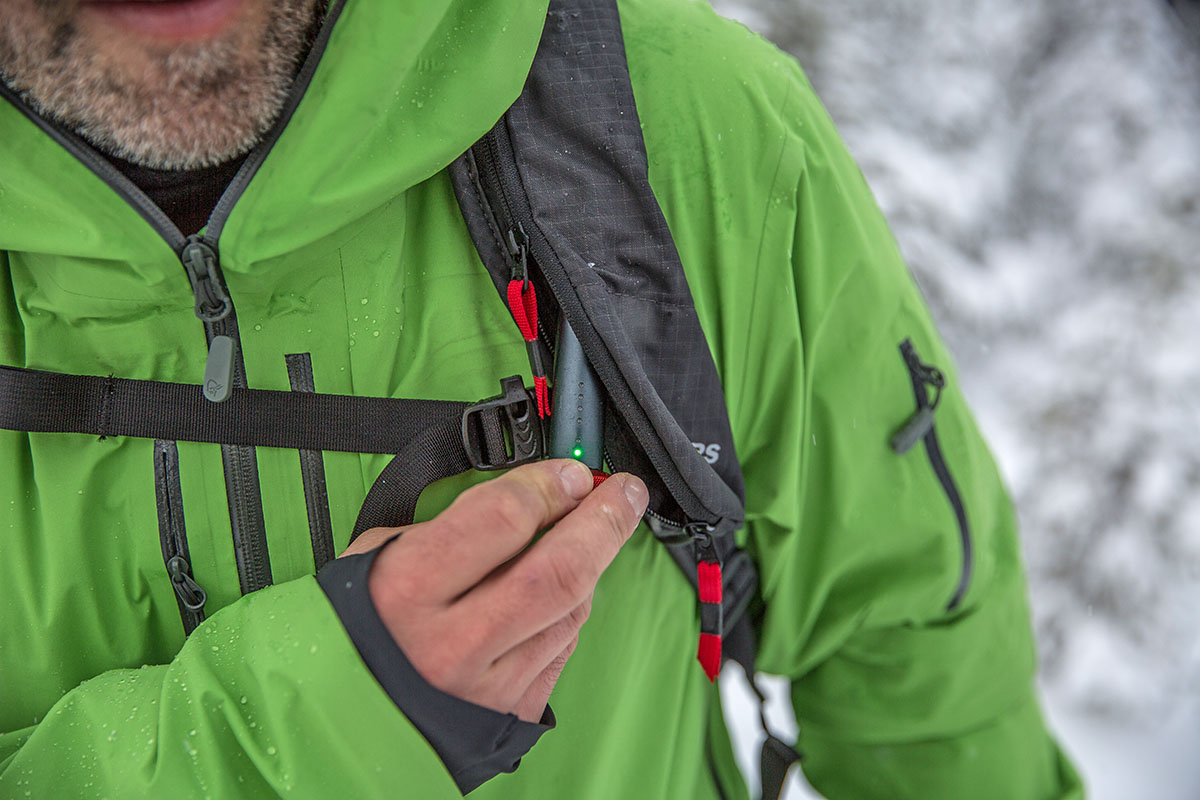 Deflating and repacking the bag is relatively simple but not entirely intuitive (I initially skipped reading the instructions to see how easy it was to figure out). The deflation valve is hidden under the side of the bag at the end of the fan, but a detailed diagram inside the pack did help me locate it on my first go. Once you know where it is, you can slide one finger in to trigger the valve without having to fully open the pack. That said, it does require applying constant pressure to the button, which leaves only one hand free to fold the bag as it deflates. Alternatively, you can let the bag deflate on its own, but I found that process to be painfully slow in comparison. And once deflated, stuffing the bag back into the pack is pretty easy and took me very little practice to master. The only notable downside is that you can't remove the airbag to use the pack on its own (unlike most supercapacitor- and cartridge-based systems), but that likely won't be a deal-breaker for most.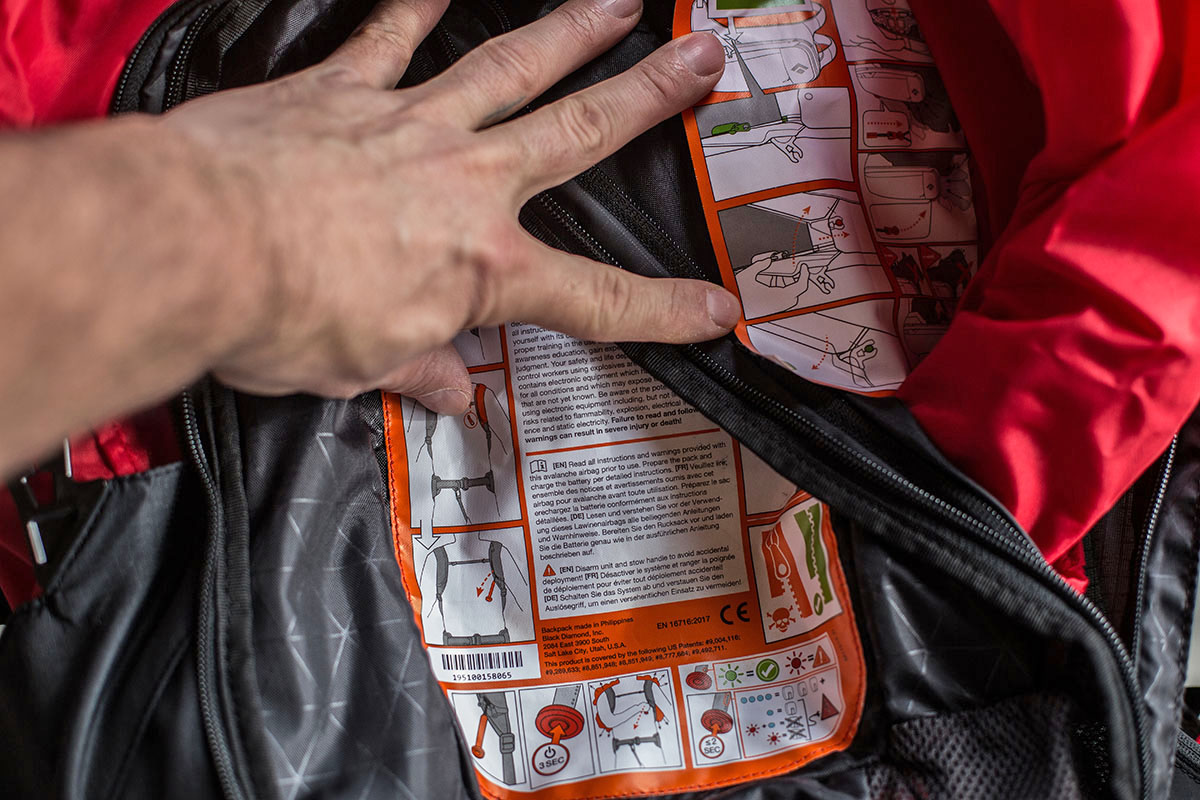 Carrying Comfort
In terms of carrying comfort, the Black Diamond JetForce Pro sits quite snugly against my back, doesn't move around while skiing, and feels well-balanced even when loaded down with heavy gear like camera equipment. Further, the shoulder straps are widely spaced and distribute weight well at the upper torso, and I've experienced no uncomfortable rubbing against my neck or sternum. The diagonal ski carry system also disperses the load evenly without causing the skis to sway or hit my legs when ascending steep slopes. My only notable complaint is that the pack can be fairly bulky with a helmet attached on the outside, which can snag on trees when skinning in tight glades. But I do appreciate the ability to strap my helmet to the outside of the pack to maximize interior space (and ski helmets are so light that there's no issue with the weight pulling me back).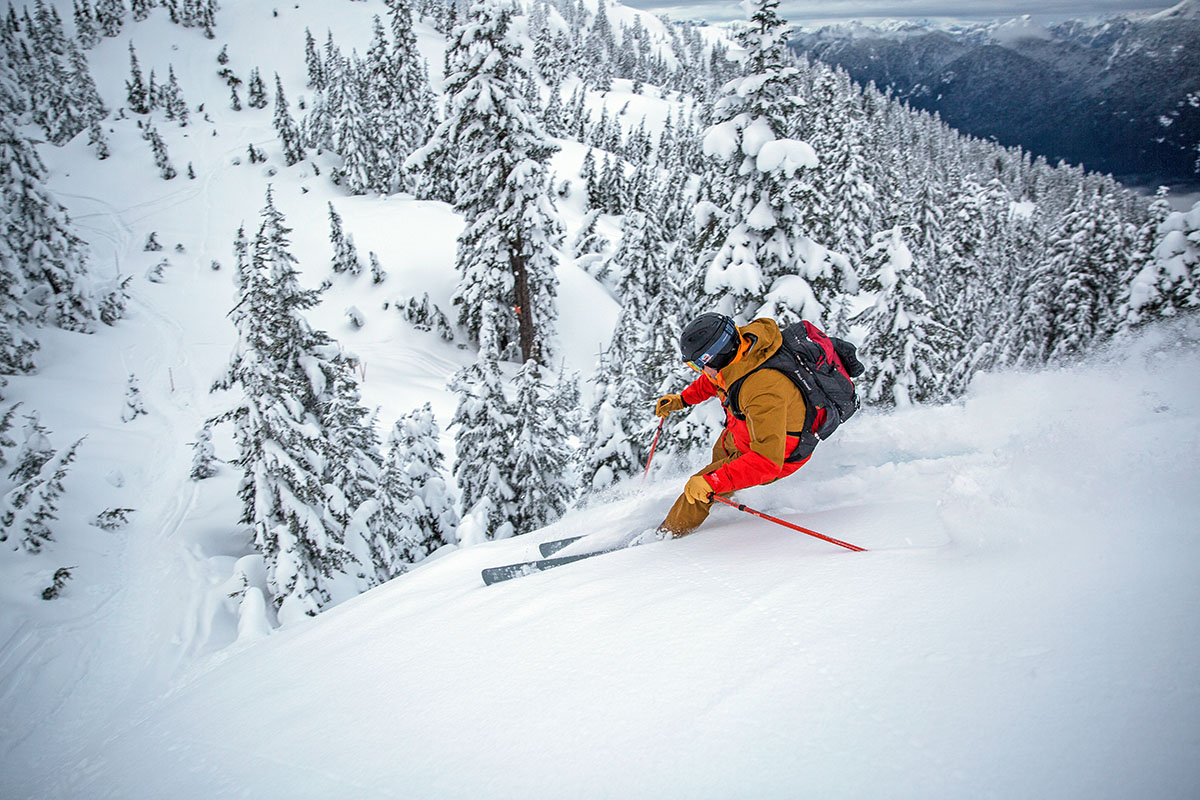 Features and Organization
Modular Booster System
One of the biggest selling points of the JetForce Pro is its modular "booster" system, which allows you to alternate between different capacities depending on your storage needs. For $70, Black Diamond sells boosters in 10, 25, and 35-liter capacities, which can be swapped out at the front of the pack simply by undoing the zipper at the outer edge and zipping in one of the other volumes. This adds a great deal of versatility: you can opt for the 35-liter option for longer and more gear-intensive outings, swap in the 25-liter booster on less intensive days, or go for the 10-liter option on short, after-work tours. Given the steep price of the pack, we really appreciate that Black Diamond offers an affordable way to vary and interchange storage.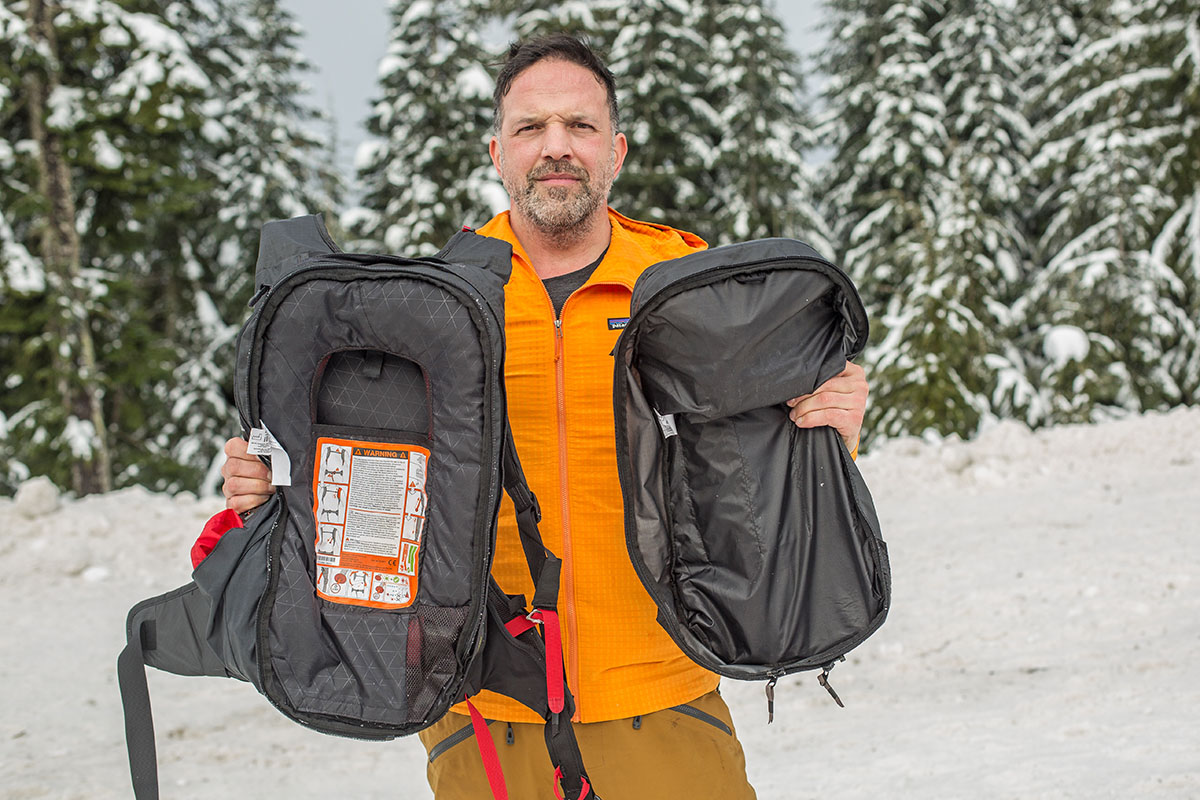 Storage: Main Compartment and Pockets
I've found that the listed capacity of an airbag pack can sometimes be misleading, but the 25-liter designation on my JetForce Pro felt pretty accurate. The main compartment can fit a good amount of gear, including a hardshell jacket, midlayer, emergency Gore-Tex mittens, and even my full-frame DSLR camera with several lenses. That said, if overpacked even slightly, I've found that the avalanche airbag zipper can split, which is a fairly serious design flaw given that the bag specifies not to have this compartment open for proper inflation. To be fair, I've done numerous practice deployments with the zipper agape and have not encountered any issues, but I wouldn't want to test this in a life-or-death situation. Instead, the only way I've found to remedy the issue is to be very meticulous and careful when packing. And if you plan to regularly max out the bag's capacity, consider upgrading to the 35-liter model or buying the 35L booster (mentioned above) separately.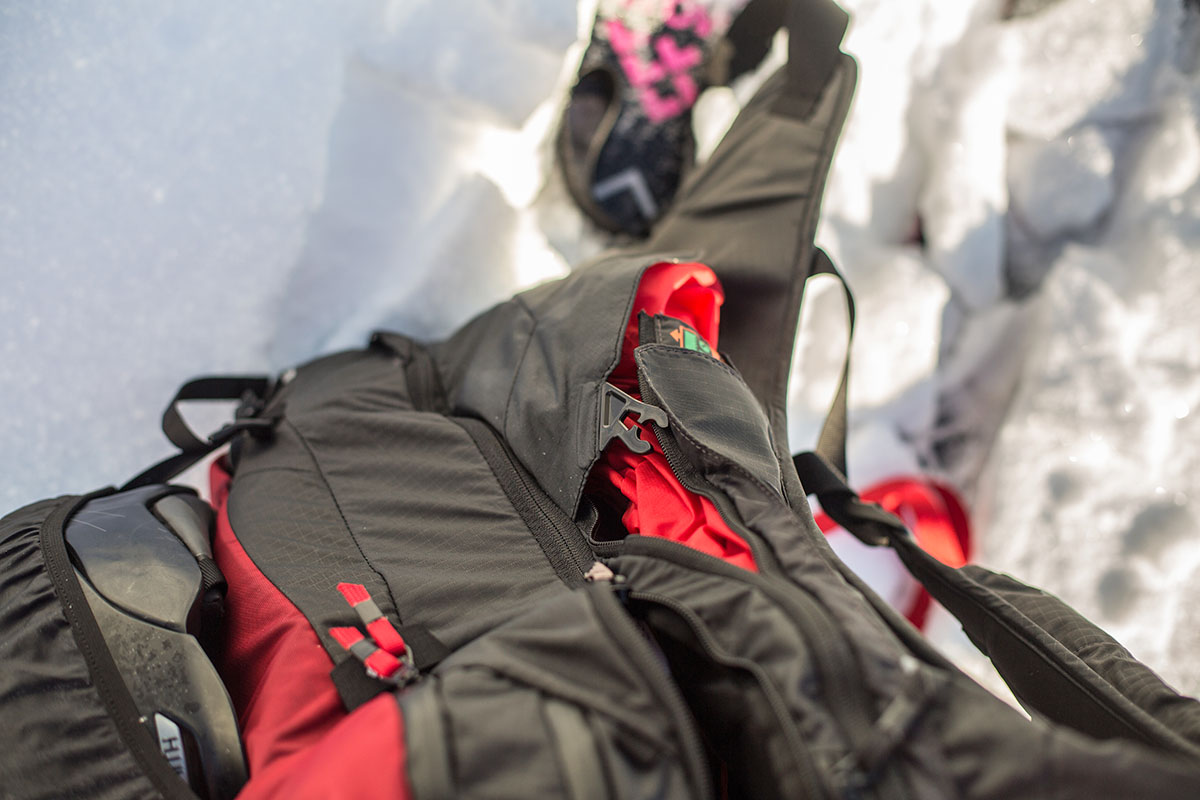 On the inside of the pack, you get functional storage for avalanche equipment, an accessory pocket for other essentials, and a single stash pocket on the hipbelt. The avy compartment sits at the front of the pack for easy access in the event of a slide, is generously sized, and includes dedicated storage sleeves for a probe and shovel head (there's plenty of room for the rest of the shovel below), as well as ample space for a snow saw and first aid kit. The additional accessory pocket is located between the main compartment and avy gear area and can easily swallow goggles, my Garmin inReach device, headlamp, and even climbing skins. I've also found this to be a great spot to stow my wallet and keys (although be careful to avoid knocking them out while digging for other items). Finally, the hipbelt stash pocket is a nice spot for smaller items like lip balm, an energy bar, etc.

Helmet and Ski Carry
The JetForce comes equipped with a "HiLo" helmet holder at the front of the pack, which is essentially an elasticized nylon cover that extends over your lid and secures it to the outside. This feature is a matter of personal preference—I typically stash my helmet in my pack to keep it dry and snow-free—but it does free up the interior of the pack so that I can store my other gear mentioned above without encountering the zipper issue. When I've used the dedicated helmet carry, I've had no issues with security or jostling while I skin, and I'm confident enough in the system that I even stow my ski goggles in my helmet beneath the flap. And when not in use, the HiLo cover tucks away nicely into a zippered pocket at the front of the pack.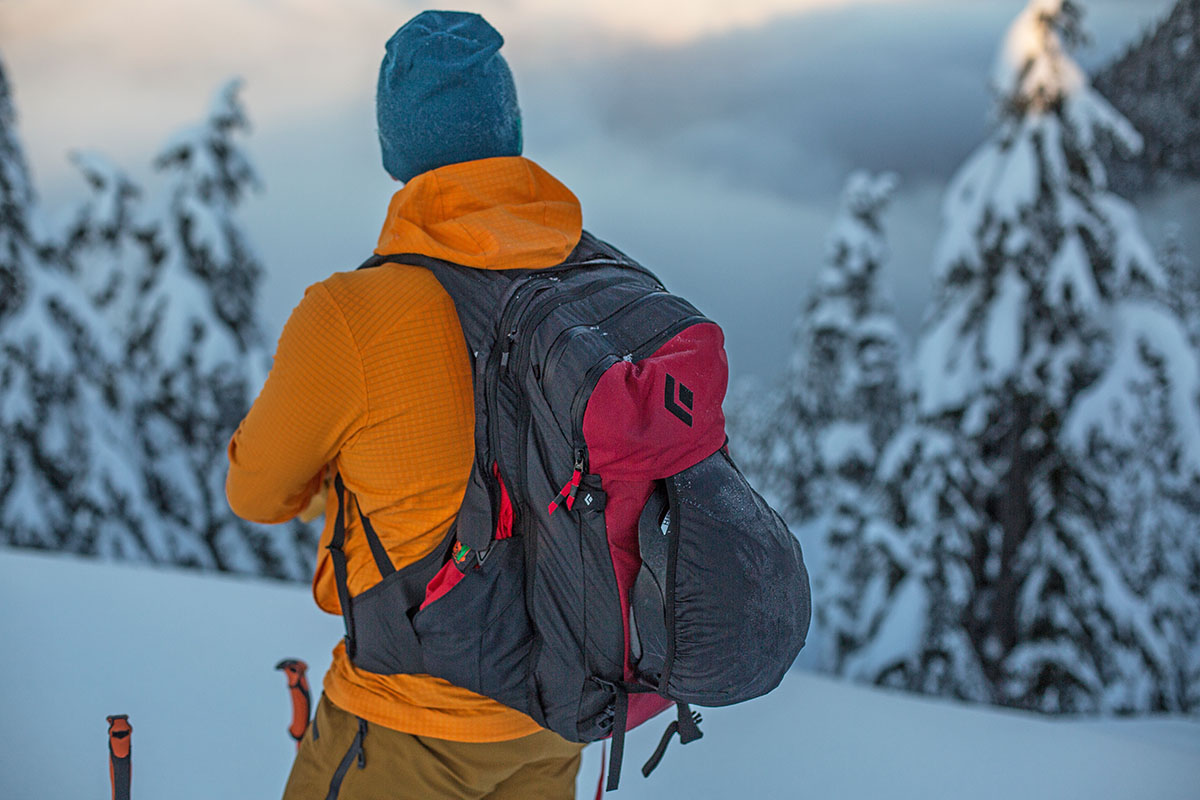 For shuttling skis, the JetForce boasts diagonal ski carry straps for particularly long or steep bootpacks when skinning isn't an option. With skis mounted in this configuration, the airbag is still able to deploy without issue (an A-frame mounting option would interfere with deployment), and Black Diamond also sells a splitboard-specific pack and 25-liter booster if that's your preference. I've found the fit is a little tight if I have both my skis and helmet mounted, and the loops work best with sticks thinner than 115 millimeters. But overall, the system is nicely executed and secure: the upper loop has a snap that can be opened and closed for easy access and removal of skis, and the strap can be tucked away into a small zippered pocket at the top of the pack when not in use.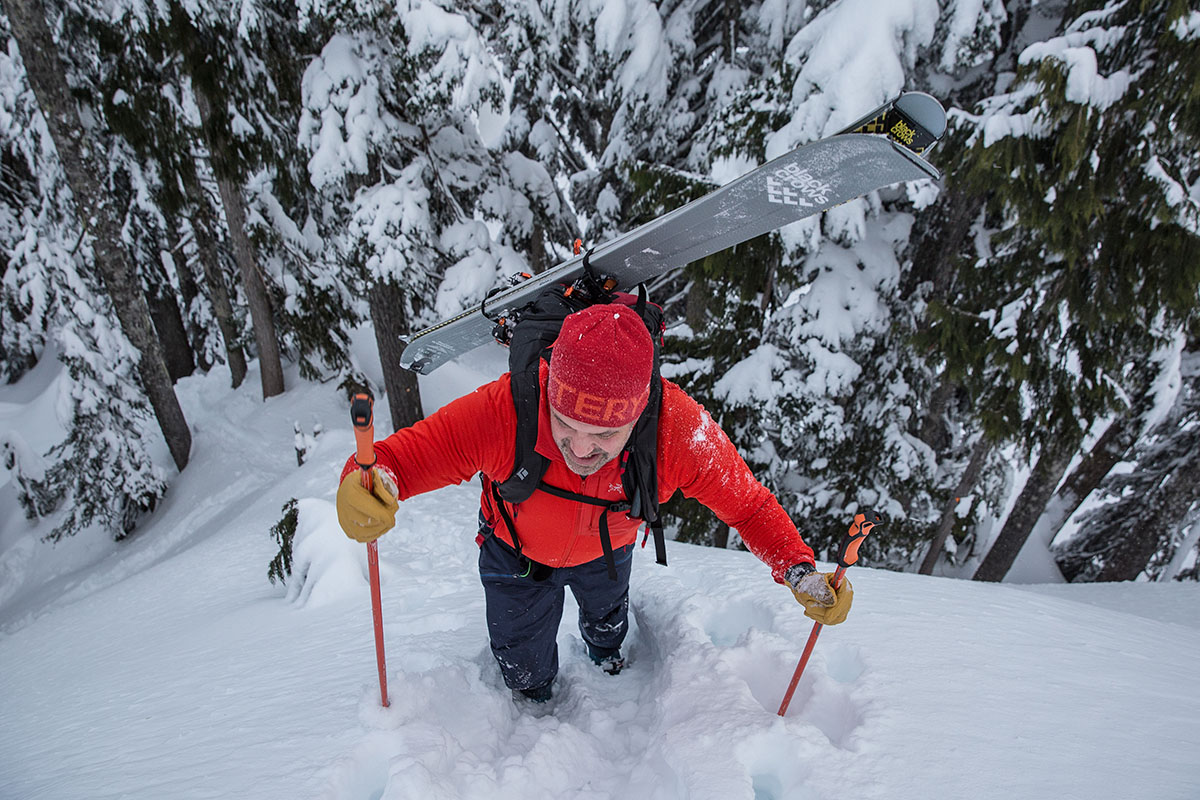 Other Features: Ice Axe Attachment, Leg Loop, and More
In addition to the generous storage and carry systems mentioned above, the JetForce Pro has a few other useful features for backcountry-goers. For ski mountaineers, there is a single ice axe attachment point near the base of the pack, as well as a retractable leg loop with a carabiner-style clip for better securing the pack to your body in the event of a violent slide. When not in use, the leg strap can be stuffed and stowed in the waist belt, which helps keep everything streamlined. And like many packs (both avalanche and more standard ski backpack designs), the JetForce has an integrated safety whistle located on the sternum strap, which is a small but helpful addition should you get separated from your group or get stuck in a tree well.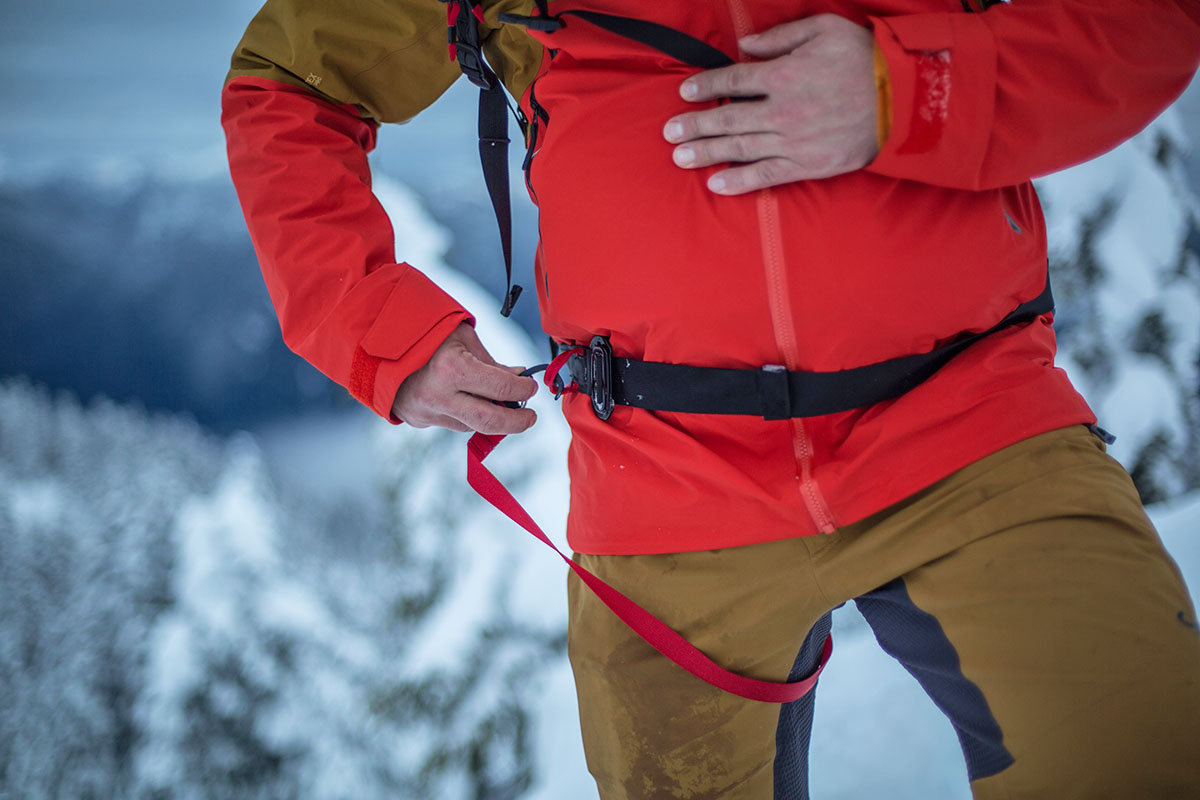 A final feature worth mentioning is the JetForce's Bluetooth connectivity. The pack's firmware can be updated via the PIEPS app, which allows users to keep the battery/fan up to date. The app can also be used to personalize your settings and troubleshoot issues in real time. Since I received a sample of the pack for testing, I didn't register it or download the app, but I did check the site regularly to ensure I didn't miss any updates. If you plan to use this feature, BD has a few online videos that showcase downloading the PIEPS app, how to connect the pack to your phone, and more.

Weight
At 6 pounds 7 ounces for the medium/large size (the S/M is 6 lbs. 5 oz.), the JetForce Pro 25L is competitively light for a battery-operated fan design. For comparison, Arc'teryx's similar Voltair 20 checks in at 7 pounds 1 ounce, while Osprey's Soelden Pro 32 (which is powered by a supercapacitor) weighs a similar 6 pounds 8 ounces. You can go much lighter (and cheaper) with a canister system like the Mammut Pro X Removable Airbag 3.0 (5 lbs. 11.4 oz.), Backcountry Access Float 22 2.0 (6 lbs. 2.1 oz.), or BD's own JetForce UL (4 lbs. 6 oz.), but again, we love the versatility and added convenience that come with electric systems. And importantly, the JetForce never felt heavy or cumbersome on my back, even during full-day tours or when stuffed to its maximum capacity.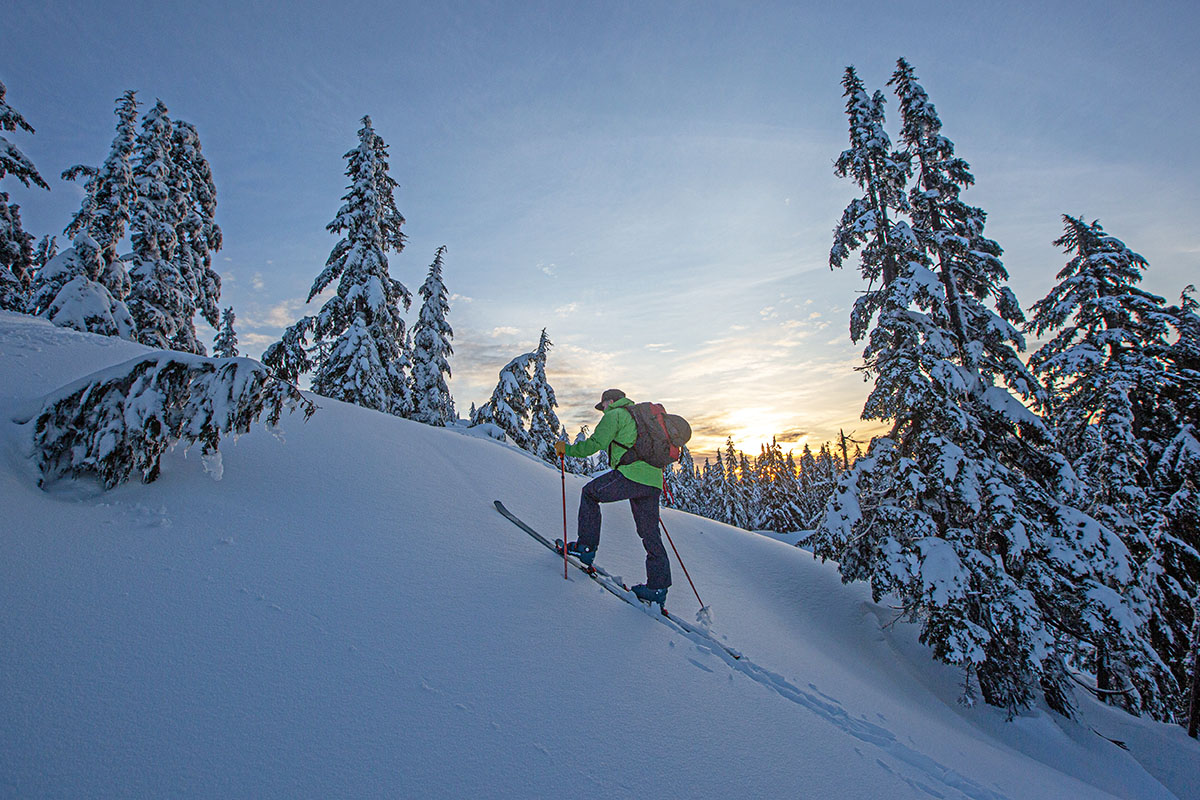 Build Quality and Durability
Avalanche packs have to be hardwearing given their frequent and close proximity to sharp backcountry equipment and harsh terrain, and the JetForce has proven itself as a durable and robust design. The pack uses a mix of 210-denier (D) Dynex and 200D polyethylene, which has stood up impressively well throughout testing and shows no sign of wear from ski edges (which were carried on the diagonal ski loops), my shovel, or crampons. Further, all zippers, buckles, and snaps are intact and functioning well, although the airbag zipper has come undone a few times when I've overpacked the bag. And a final nitpick is that the aluminum buckle on the hipbelt can be finicky to use with gloves on, although I do appreciate the added reliability and durability (I've broken plastic buckles before). All told, the JetForce doesn't come cheap at $1,400, but it's an undeniably premium and well-built pack.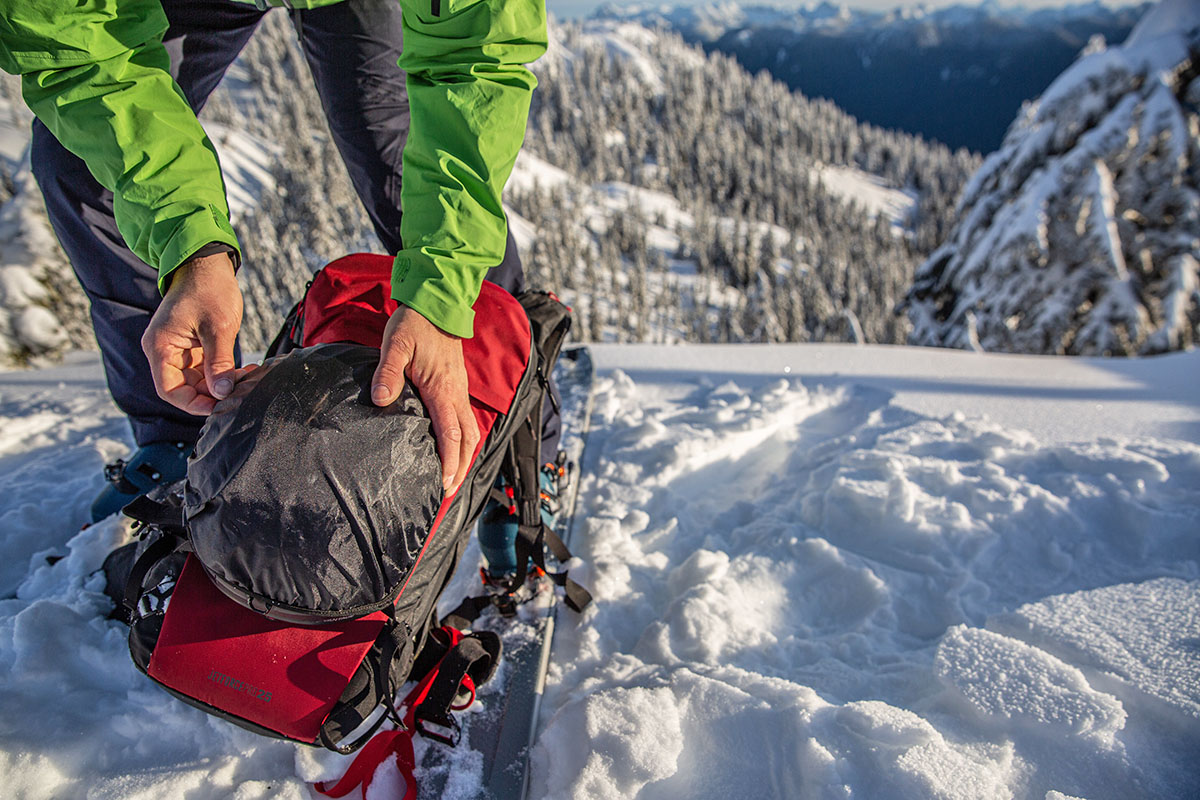 Fit and Sizing
Fit is a crucial consideration for those spending long days in the backcountry, and I appreciate that the Black Diamond JetForce Pro is available in two sizes. The M/L version of the JetForce was perfect for my larger and broader frame, with ample room for adjustment at the shoulders, sternum, and waist strap. That said, my much smaller and thinner wife wasn't able to dial in fit effectively with the larger pack. Specifically, there was far too much room between her back and the straps, which can have a big impact on overall comfort and weight distribution. For reference, we're able to share our Arc'teryx Voltair 20 and 30 packs without issue (it's only offered in one size). But if you only plan to use the pack for yourself, this likely won't be an issue.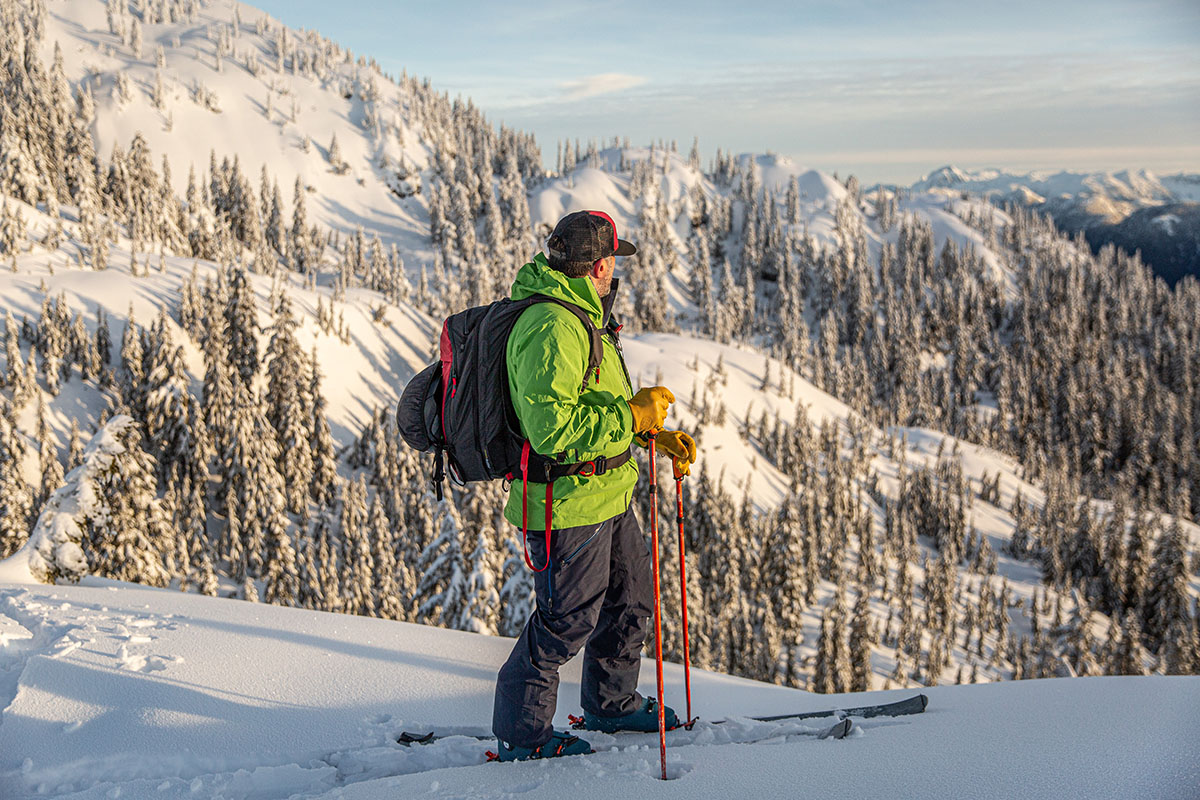 Other Versions of the Black Diamond JetForce 
We tested the 25-liter version of the JetForce Pro, and Black Diamond also makes the pack in 10 and 35L variations, which cost the same at $1,400 and are also marketed as PIEPS JetForce packs. As we mentioned above, there are also boosters available in 10, 25, and 35L options (all $70) so that you can swap out capacities without purchasing a new pack. For splitboarders, BD also makes a 25-liter JetForce Pro Split pack and booster with a front mounting location (rather than diagonal straps for skis). Rounding out the collection are the JetForce Tour 26 ($1,200) and JetForce UL 26 ($850). The former uses the supercapacitor-based Alpride E1 airbag system, while the latter uses canisters of compressed gas (argon and CO2) to inflate the bag.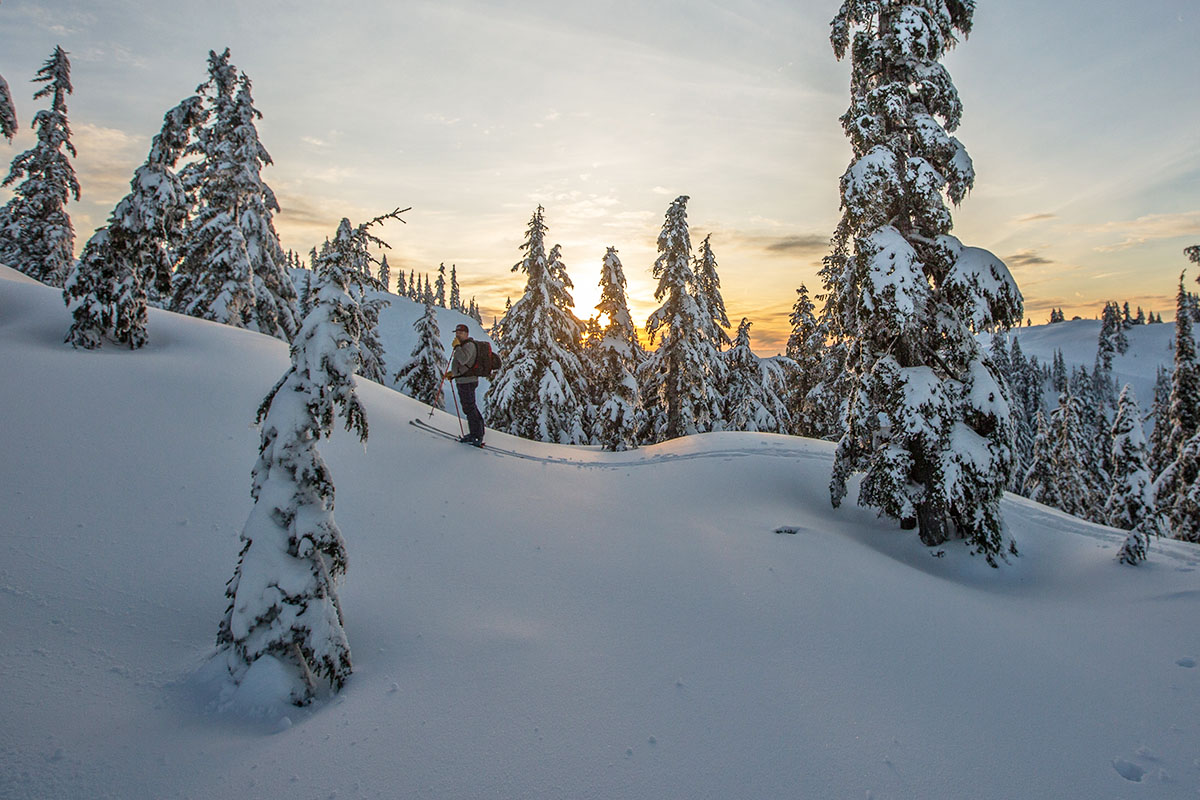 What We Like
The battery-powered JetForce system is reliable, easy to operate and travel with, and allows you to deploy multiple times on a single charge.
Unique modular "booster" system means you can easily (and cheaply) alternate between different capacities depending on your storage needs.
Well-executed storage and accessory-carry options, including a helmet holder, diagonal ski system, dedicated avalanche tool pocket, ice axe attachment, and more.
Great carrying comfort with easily adjustable straps and balanced weight distribution, even with skis and a helmet attached to the outside of the pack.

What We Don't
When fully packed, the airbag compartment comes unzipped, which can have serious safety implications (BD doesn't recommend deploying the bag with this compartment open).
Very pricey at $1,400, and we wish the bag came in a higher-capacity 45-50L version for multi-day outings.
Manual deflation requires applying constant pressure to the interior valve, which leaves only one hand free to fold and repack the airbag as it deflates.
Unlike most supercapacitor- and cartridge-based systems, you can't remove the JetForce's airbag to use the pack on its own.
We appreciate that the bag comes in two sizes, but it's not adjustable enough to share with someone with a very different build.


Comparison Table
The Competition
Black Diamond's JetForce Pro is an undeniably premium and well-constructed avalanche airbag pack, but there are a number of viable competitors in 2021. Arc'teryx's Voltair 20 also uses a battery-powered fan, and we especially like the shape of the airbag, which wraps forward to better protect the head and neck. You also get functional organization with a dedicated avy tool pocket, internal security pocket, external gear and compression straps, and diagonal ski carry (it lacks a helmet carry system). The Arc'teryx also wins out in durability with a 400-denier nylon construction, and its sealed seams and WaterTight zippers add extra assurance against the elements. However, the Voltair pack is sold separately from its battery and charger (total cost is $1,630), doesn't distribute weight as well with a lower battery/fan position, is only rated down to -4 degrees (the BD is rated to -22°F), and is heavier than the BD at over 7 pounds (with 5 fewer liters of capacity). Given these issues, we think the JetForce is the better-executed design.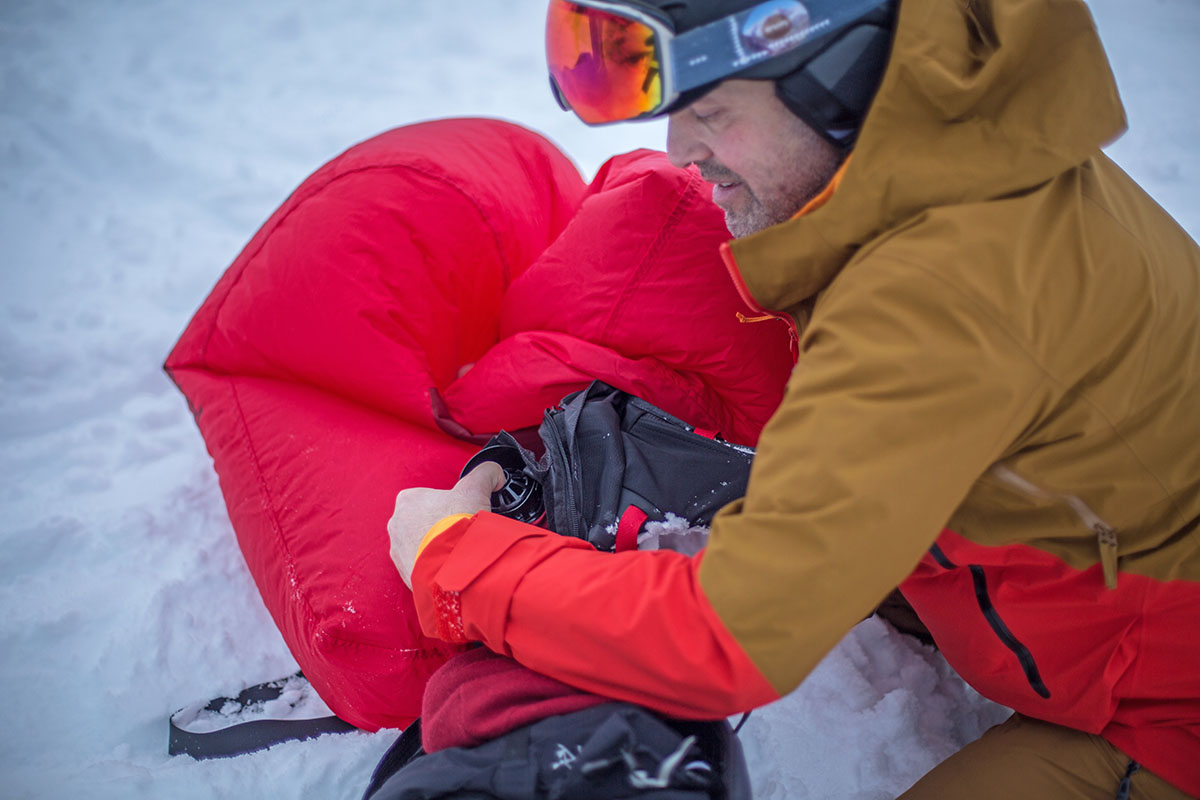 Osprey is best known for their backpacking packs, but their new Soelden Pro 32 (and women's Sopris Pro 30) airbag pack is an intriguing alternative to the JetForce Pro. In this case, the fan is powered by a supercapacitor (the Alpride E1 system) rather than a battery, which is more compact, easy to travel with, can be swapped between compatible packs, and is much quicker to charge. The Osprey pack is also impressively comfortable with supportive suspension and a nicely padded hipbelt and backpanel, and we love the U-shaped front zipper for easily accessing the main compartment. That said, the JetForce allows you to deploy the airbag multiple times on a single charge, while the Osprey system will need to be charged after each deployment via USB or AA batteries. This versatility makes the BD our top-rated design this season, but the Osprey isn't far behind and gets the edge in comfort.
Another system that uses the Alpride E1 system is Scott's Patrol E1 30. The Scott is the weight leader at 5 pounds 14.1 ounces, costs less at $1,100, and includes an additional 5 liters of capacity. However, we have a couple of gripes about the Patrol's access and support. Namely, the Scott only opens via a small front zipper, which makes it more difficult to get into the main compartment. And the BD offers a bit more padding at the sides of the waist belt (the Scott's belt is a simple webbing design all around and lacks a stash pocket). You do get a more durable build and multiple ski carry options with the Scott, including both diagonal and A-frame configurations, but we found the BD to be plenty hardwearing and functional. In the end, we give the nod to the JetForce Pro for its better-balanced design (for more, see our Scott Patrol E1 review).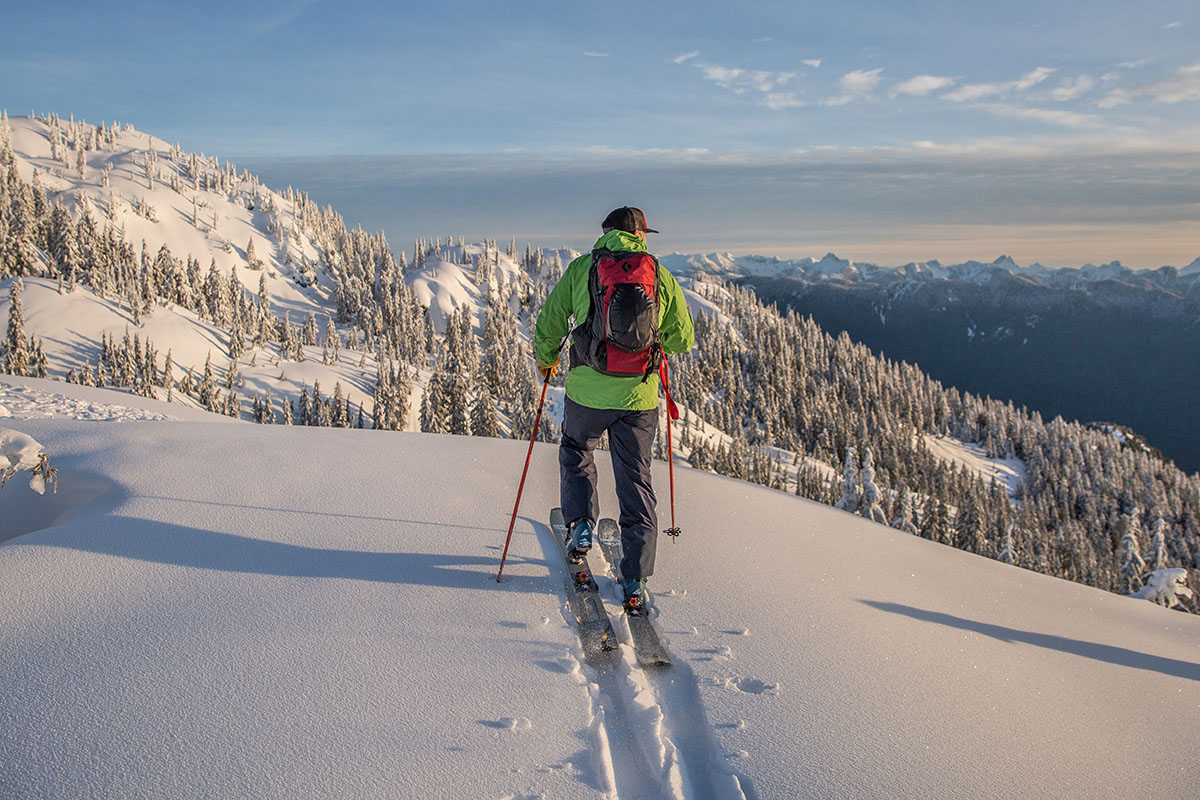 A final option comes within BD's own lineup: their JetForce UL. As we touched on above, the UL version is canister-based rather than fan-based, which costs significantly less (the UL comes in at $850) and shaves considerable weight (4 lbs. 6 oz. for the M/L size). The mechanical design is also very easy to maintain, and the pack can be used on its own without the airbag, which adds a good deal of versatility. However, with a canister system like the UL, you can only deploy the airbag once before needing to purchase a refill, which costs about $50 per cartridge. In addition, the pack shaves weight by using very thin materials, including a mix of 100-denier Dynex and 200-denier polyethylene (in other words, be careful around sharp equipment and rocks). All in all, if you're familiar with airbag packs and want to travel fast and light, the UL has its appeal. But we prefer the Pro model for its more foolproof, travel-friendly, and intuitive design. 
If you're thinking about buying gear that we've reviewed on Switchback Travel, you can help support us in the process. Just click on any of the seller links above, and if you make a purchase, we receive a small percentage of the transaction. The cost of the product is the same to you but this helps us continue to test and write about outdoor gear. Thanks and we appreciate your support!
Depending on the seller, most products ship free in the United States on orders of $50 or more. International shipping availability and rates vary by seller. The pricing information on this page is updated hourly but we are not responsible for inaccuracies.
Read More From Switchback Travel