Building on the success of their popular StormLine Stretch rain jacket, Black Diamond upped the performance threshold with their more premium Highline Stretch Shell. For a reasonable $300, the 3-layer jacket boasts a hardshell-like build that offers reliable protection in inclement weather, includes a light amount of stretch for added comfort and mobility, and keeps things pretty light at around 13 ounces. The Highline is on the thinner end and lacks the impervious feel of Gore-Tex-equipped designs, but it nevertheless stands out as a light and capable performance piece at a good value. Below are my thoughts on the Highline Stretch Shell. To see how it stacks up to the competition, see our articles on the best rain jackets and best hardshell jackets.
 
---
Table of Contents
---

Performance
Weather Protection
Lightweight but reliable protection is the name of the game with Black Diamond's Highline Stretch Shell. Although thin and relatively basic, the design uses a quality 3-layer build (Black Diamond's in-house BD.dry membrane) that's reminiscent of a hardshell. Combined with fully taped seams and a new DWR finish that's both water- and PFC-free (more in "Sustainability" below), the Highline has effectively sealed out light to moderate rainfall throughout the Rockies, British Columbia's Kootenays, and at home on Vancouver Island. We didn't experience any torrential downpours over the summer, but I did subject the jacket to a bathtub test by cupping the shell, filling a portion with water, and putting a shirt inside under the pool. After 5-10 minutes, the shirt was completely dry with no signs of wetting out. The Highline has done a good job of fending off wind, too, putting up a solid defense against howling alpine gusts while cooking at camp and traversing exposed ridgelines in the Rockies.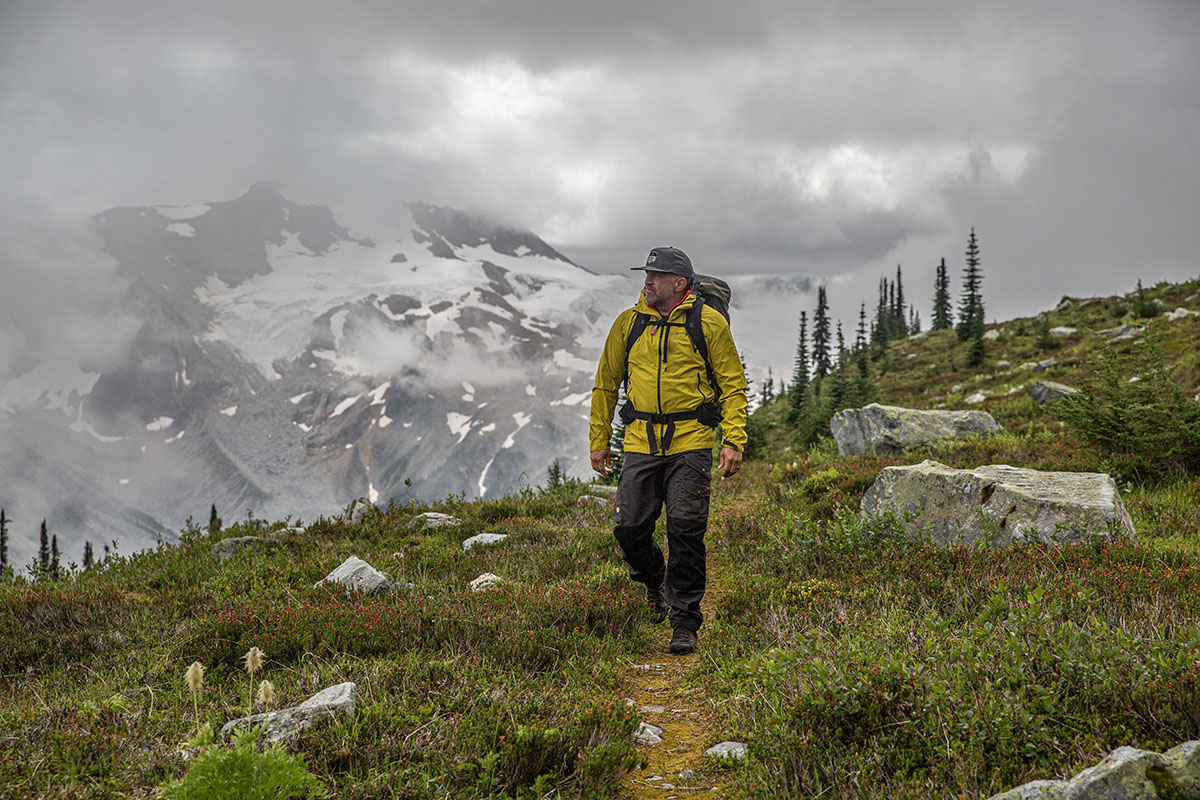 In addition to the quality weatherproofing, the Highline Stretch has a well-executed feature set for battening down the hatches. The YKK Aquaguard zippers are highly water-resistant, and the main zipper and chest pocket have substantial "garages" covering the upper portion for added assurance against moisture—I typically store my phone or maps in the chest pocket with no issues to date. The cuffs also have hook-and-loop adjustments that make it easy to seal out the elements and customize fit over or under gloves, and the elasticized hem has a toggle on the right side for cinching the waist to keep wind out. Rounding out the feature set is a climbing helmet-compatible hood that's large but can be snugged down over a beanie or ballcap with a quick adjustment at the back. Importantly, even without the hood on, the collar still seals nicely around my neck and chin when fully zipped to protect against blowing wind and light moisture.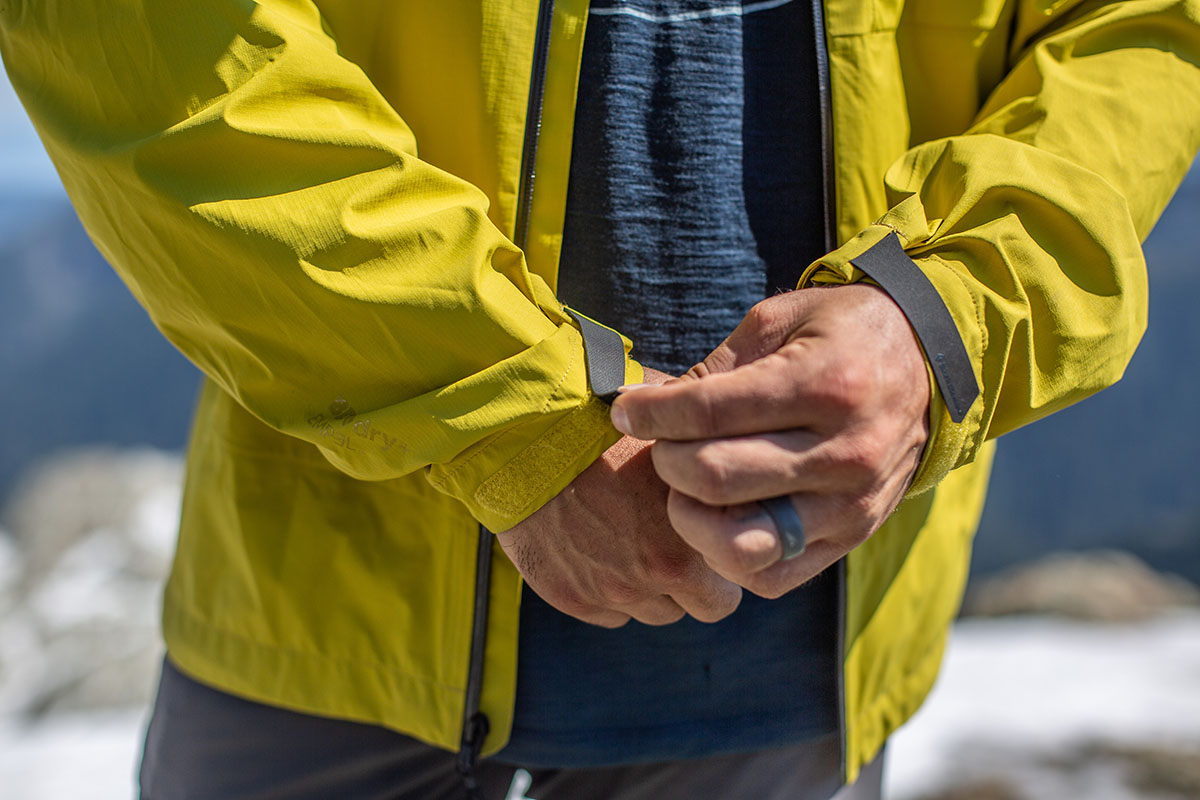 Breathability
I sweat a lot during heavy exertion and typically only wear my shell in extremely poor or cold weather, so it's high praise that I've been able to keep the Highline Stretch on even in mild conditions. The pit zips are a huge help: They're generously sized at around 15 inches long and have done a great job dumping excess heat quickly during steep ascents in inclement weather. The stretch-infused 3-layer build is also impressively breathable on its own and proved to be a particularly great match for summer alpine conditions. On one early-morning outing in howling winds, the Highline Stretch effectively fended off the chill while allowing me to exert as we ascended a steep slope. By the end of the climb, I was happy to find my baselayer completely dry, and it wasn't until the winds died down that I had to remove the shell to cool off.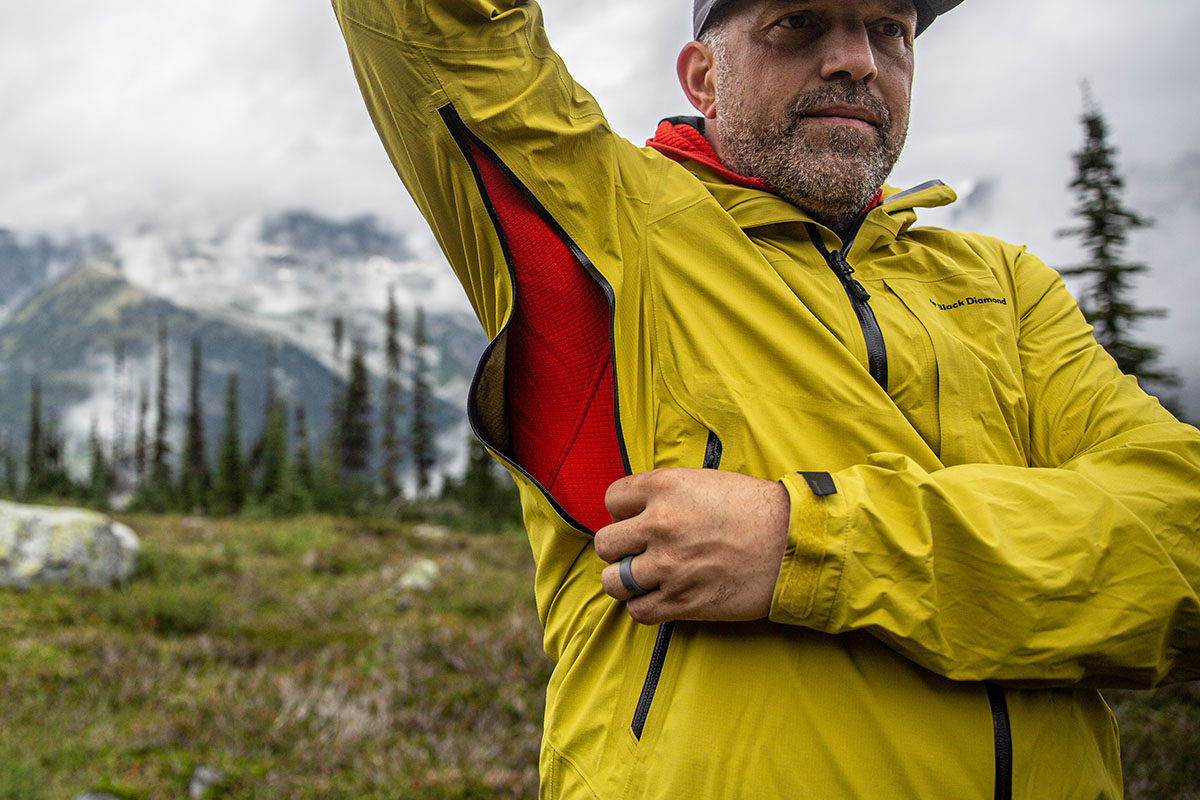 Comfort
As its name suggests, the Highline Stretch boasts a stretchy nylon build that's far more comfortable and mobile than standard (read: non-stretch-equipped) rain jackets. The added elasticity in the fabric is immediately noticeable and allows for unrestricted movement when clambering up technical terrain, reaching overhead, or bending over to pitch a tent or adjust my boots. The interior also has a nice, supple feel that easily slides over baselayers and is noticeably less crinkly than many more rigid Gore-Tex equipped designs. It's true that the stretchy build does compromise a little in all-out protection compared to more premium shells like Arc'teryx's Beta LT (which uses 3L Gore-Tex), but I personally find the added comfort and range of movement worth that slight tradeoff.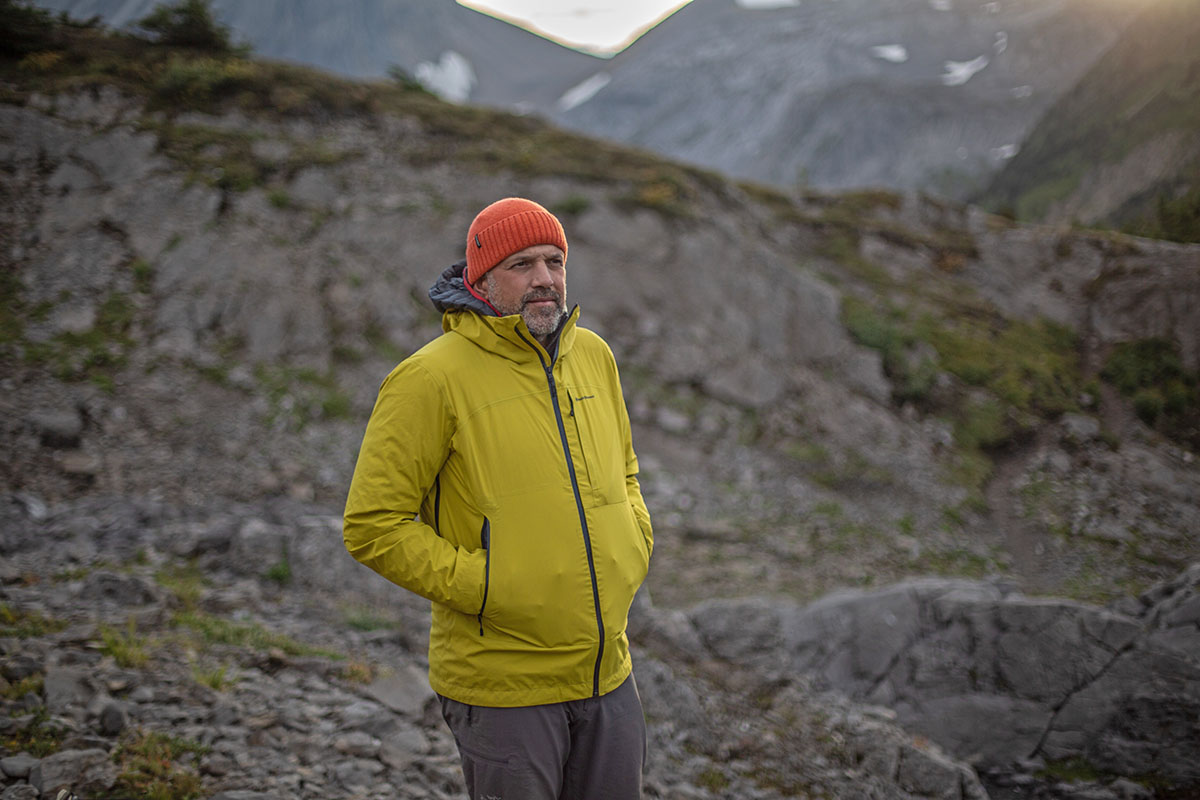 Weight and Packability
One of the Highline Stretch Shell's biggest selling points is its weight (or lack thereof): At 13.1 ounces for my men's size large (listed weight is 12.7 oz.), it's considerably lighter than many competitors and a great match for fast-and-light mountain objectives. For comparison, leading performance-focused alternatives like Arc'teryx's Beta LT (13.9 oz.) and Patagonia's Calcite (14.5 oz.) add a little weight. You can go lighter with more minimalist designs like Patagonia's Storm10 (8.3 oz.) or Arc'teryx's standard Beta Jacket (10.6 oz.), but those models forgo features like pit zips and are more compromised than the Highline. All told, I feel that Black Diamond hit a nice balance: The Highline Stretch is light enough to carry into the mountains without skimping on performance-ready features.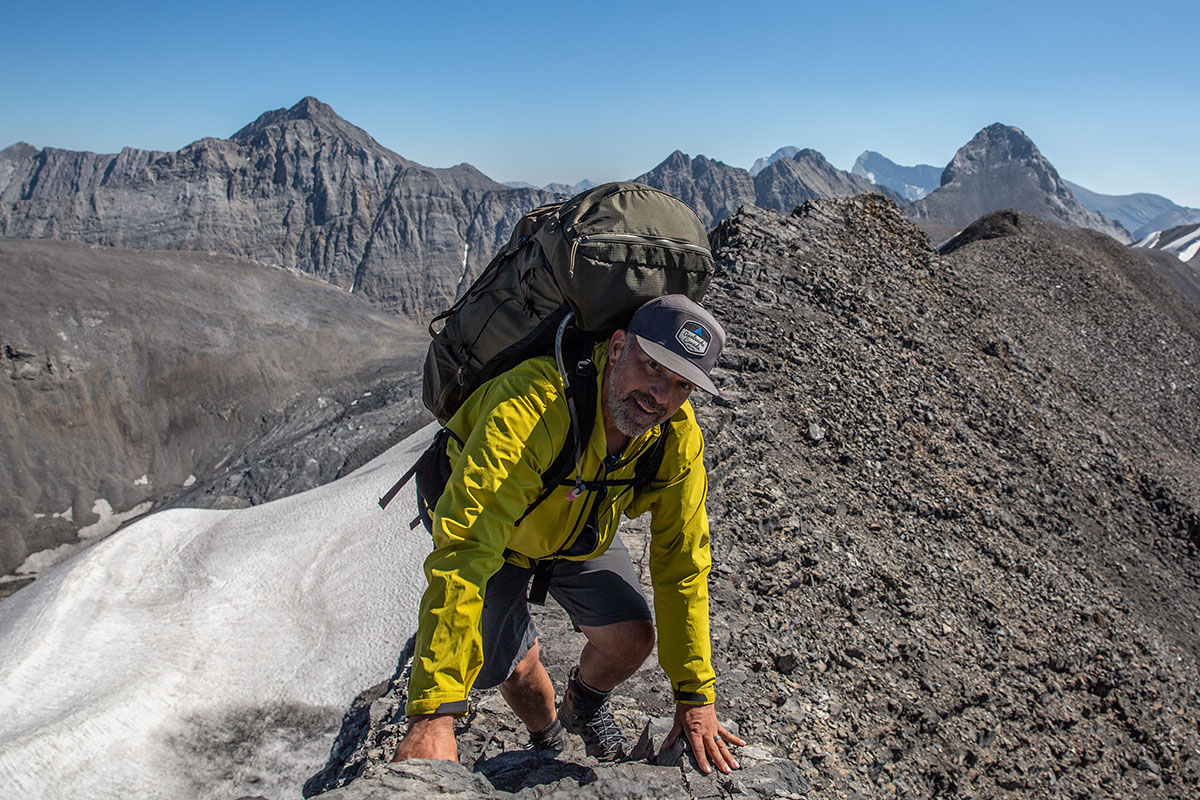 As far as packability goes, the Highline Stretch Shell doesn't come with a dedicated stuff pocket, but I've found it relatively easy to squeeze the jacket into its chest pocket (although you can't secure it closed with the zipper). If I'm strapped for time or feeling lazy, I simply roll it into the hood for even quicker storage. Either way, the compressed size ends up being a little smaller than a 32-ounce Nalgene bottle, which is pretty impressive. And since it takes up so little space in my pack, the Highline Stretch has quickly become my go-to shell for minimalist alpine missions and multi-day outings into the mountains.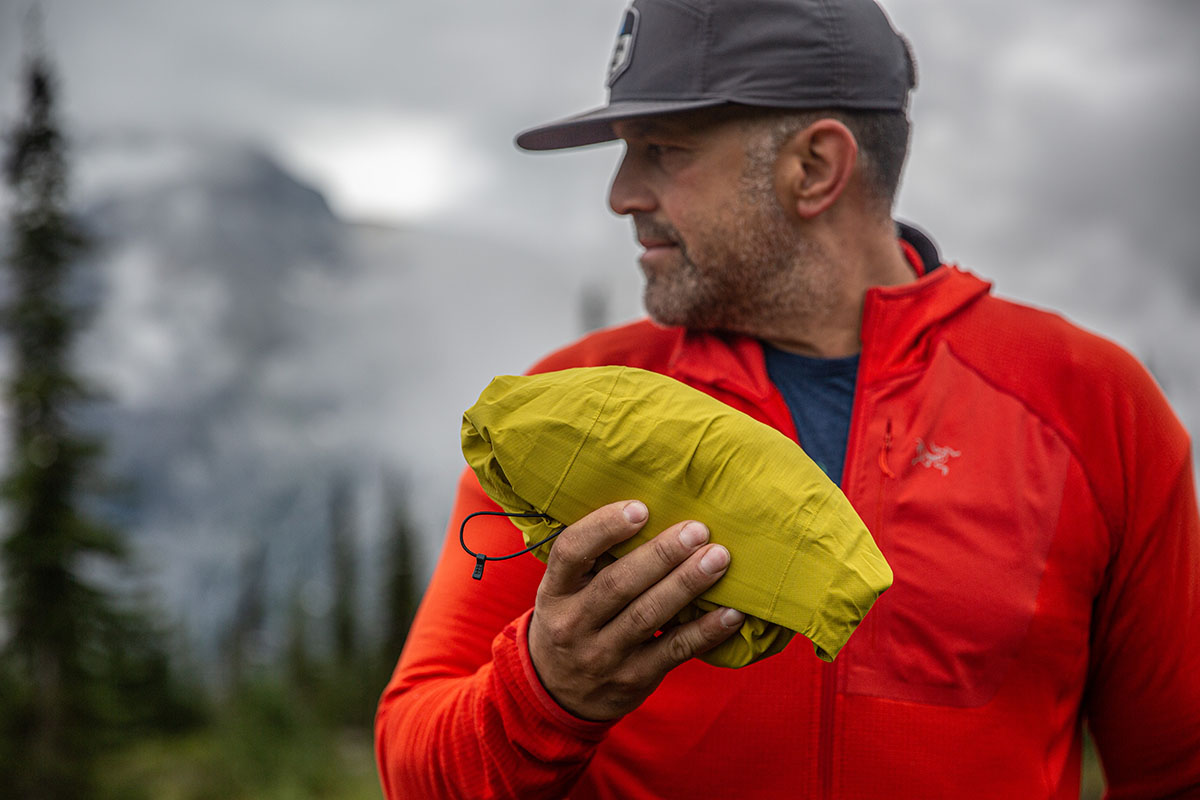 Build Quality and Durability
Lightweight rain jackets aren't often lauded for being particularly tough or long-lasting, but the Highline Stretch does a nice job balancing weight and durability. I'm admittedly pretty rough on my gear: Because I run warm and don't like to wear my shell while exerting, the Highline spends a lot of time stuffed in my pack with all of my other equipment. Despite this abuse—plus regular exposure to heavy precipitation and harsh winds—the shell is still completely water- and windproof, all zippers and seams are intact, and the outer fabric is showing no signs of wear from my backpack straps.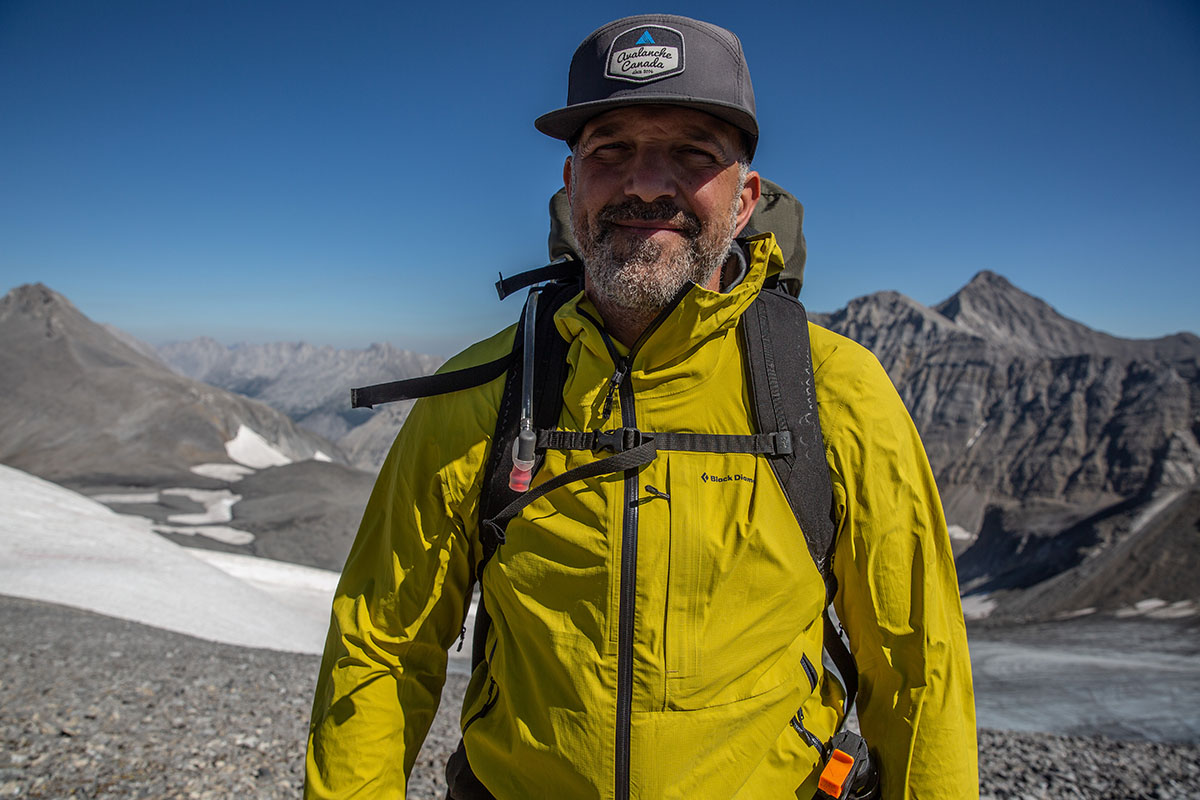 That said, it's important to note that the 30-denier (D) construction is on the thinner end compared to much of the rain jacket competition. For reference, popular alternatives like Patagonia's Calcite (75D) and Arc'teryx's Beta LT (40D) are noticeably thicker and more robust, although the Highline's built-in stretch does add some extra assurance against snags and abrasion (the fabric will "give" under light pressure rather than tearing). I would still opt for a burlier shell for demanding and abrasive uses like skiing or rock climbing, but the Highline is perfectly serviceable for most three-season backcountry activities. My only other gripe (and it's a small one) has to do with the main zipper: While I appreciate the water-resistant design, it does make it a little harder to zip the jacket all the way up. To prevent snagging, I have to straighten the collar and line up both sides of the zipper precisely, which is a little tedious but not a deal breaker by any means.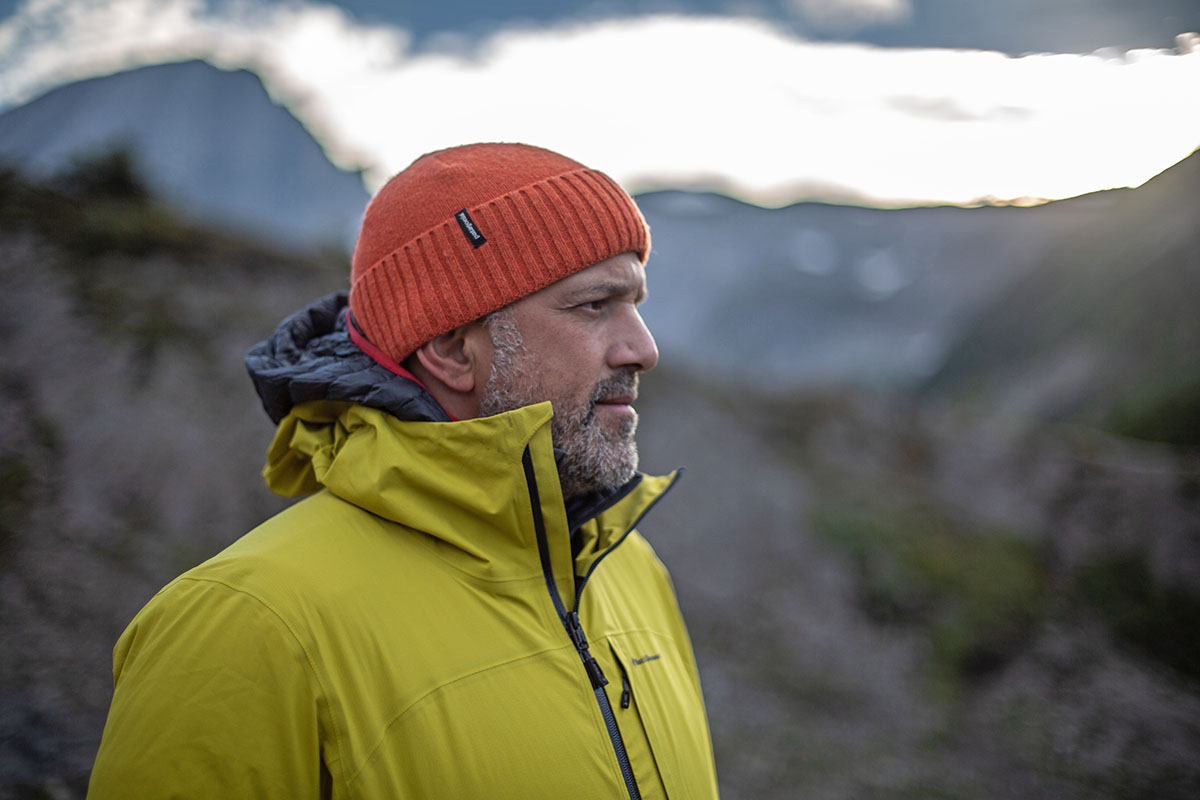 Key Design Features
Storage: Pockets
The Highline Stretch has a fairly basic feature set to keep weight low, but storage is perfectly adequate with two large hand pockets and one chest pocket. All are easy to access while wearing a pack: The chest pocket sits nicely below the sternum strap, while the hand pockets are positioned high enough to clear a hipbelt or climbing harness. They also come equipped with water-resistant YKK Aquaguard zippers for sealing out moisture. As I mentioned previously, the main zipper and chest pocket also have fabric "garages" covering the top for added assurance, and all of my electronics have remained dry to date. I do wish one of the pockets doubled as a stuff sack for more easily compressing the shell down, but it's not too difficult squeezing it into the chest pocket or hood for storage.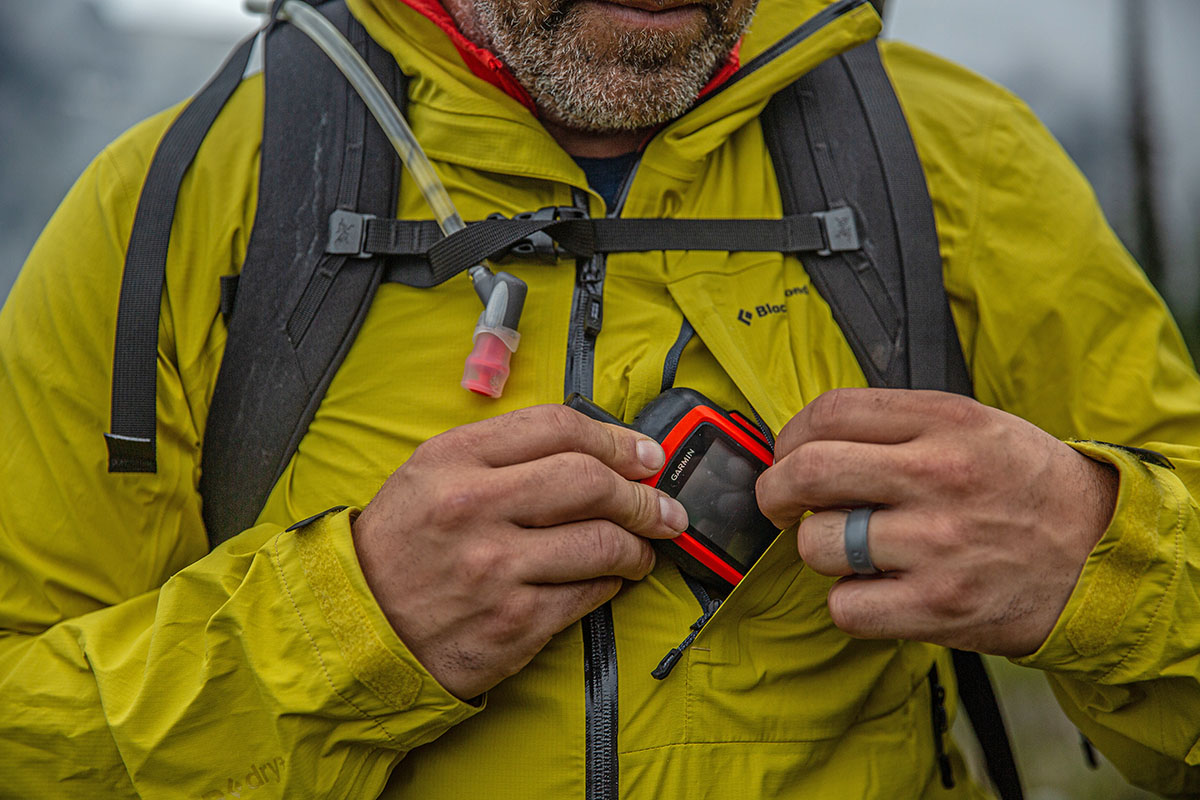 Hood
As I mentioned above, the Highline Stretch Shell has a helmet-compatible hood that easily slides over a climbing helmet, beanie, or ballcap. It's not quite large enough to comfortably fit over a bulkier ski helmet, but that's not too surprising given the shell's intentions as a lightweight, three-season design. In terms of adjustability, you get a single drawcard at the back that cinches the aperture and brim to keep precipitation from dripping onto your face. The brim is relatively small and feels a little flimsy due to the lack of structure, but it gets the job done. I also wish that Black Diamond had included a soft fabric patch at the chin to reduce chafing, although the zipper garage at the collar is a decent substitute and prevents my facial hair from getting caught when zipping up (it's just not as comfortable).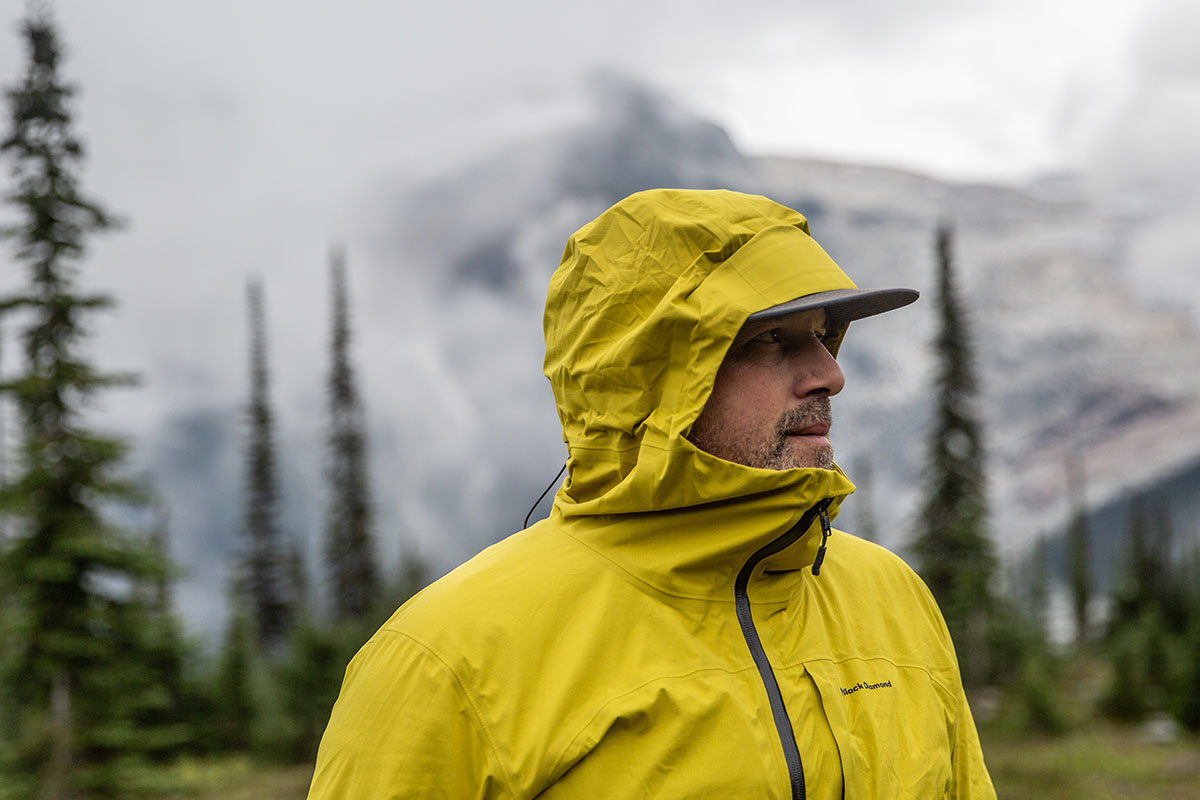 Fit and Sizing
Black Diamond lists the Highline Stretch Shell as a "regular" fit, and my usual men's size large fit true to size (for reference, I'm 6' tall and 225 lbs. with relatively wide shoulders). There's enough room to comfortably layer underneath, and I often rotate between my ultralight Mountain Hardwear Ghost Whisperer/2 and Arc'teryx Cerium SL down jackets. I've even been able to fit my thicker Norrøna Falketind Down750 underneath the shell with no noticeable impact on mobility. The length is also pretty ideal for me: At just under 30 inches down the center back, the Highline provides adequate coverage for sealing out moisture and drafts and protecting my base- and midlayers, although I wouldn't mind another inch or two for extra protection.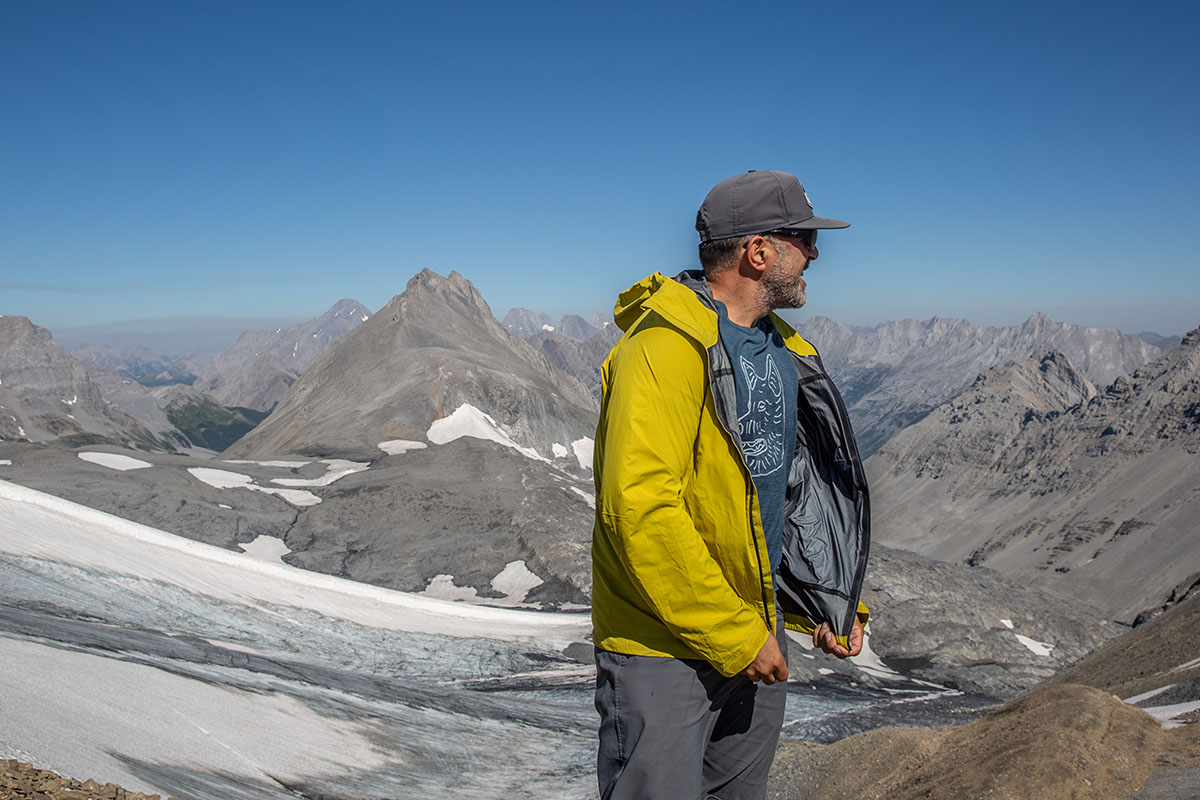 Sustainability
Many modern rain jackets use sustainable measures like recycled fabrics and PFC-free DWR coatings, and the big news with the Highline Stretch is the use of Green Theme Technologies' new DWR that's both water- and PFC-free. In addition to cutting down on water use during production and eliminating the use of harmful perfluorocarbons, the finish is also hyper-fused to individual fabric fibers. In theory, this means that you should never have to apply an additional spray or wash-in finish to revive the DWR. Time will tell how it holds up over time, but so far, I've experienced no signs of wetting out and expect the DWR to have a healthy lifespan.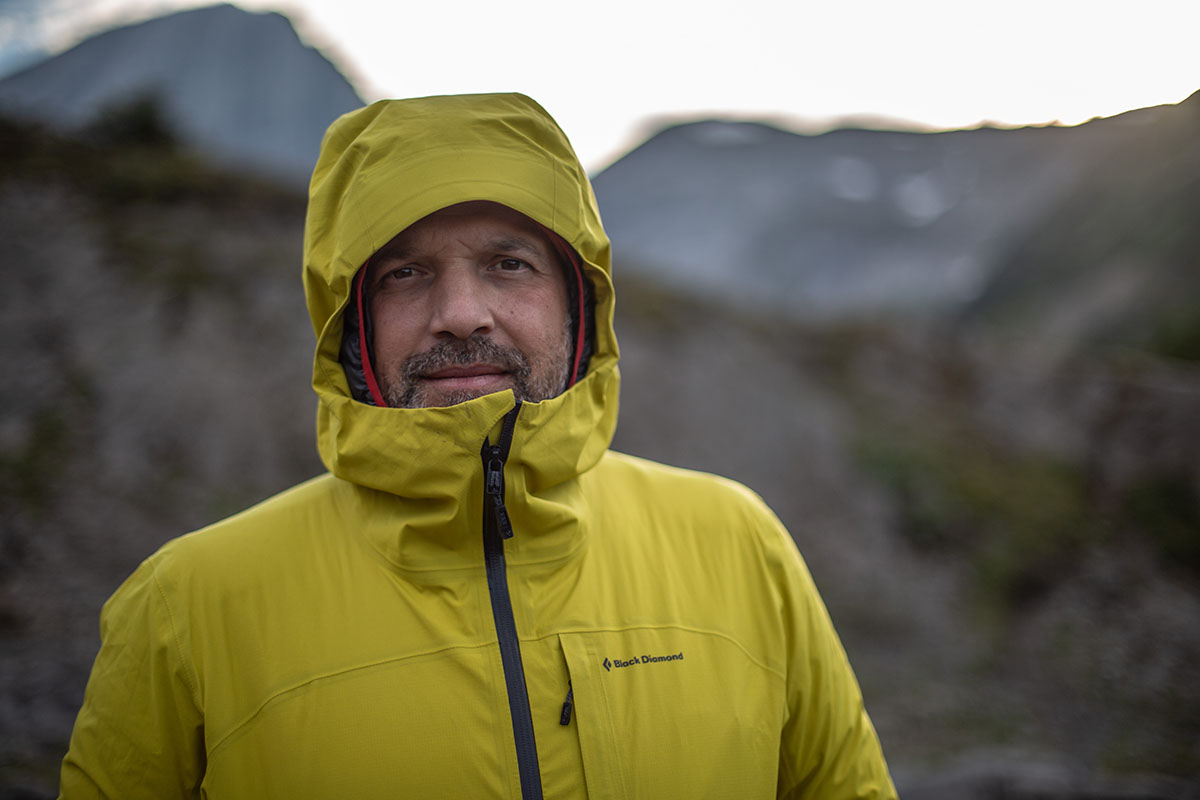 Other Versions of the Black Diamond Highline Stretch
I put the men's Highline Stretch through its paces for this review, and it's also sold in a women's version for the same price. Stacked up against the men's model, the women's Highline Stretch Shell is a little lighter at 10.7 ounces and sold in different colorways but has an otherwise identical overall construction, including the same stretch-infused, 3-layer BD.dry build and functional feature set. Rounding out the lineup, Black Diamond also sells the Highline Stretch Pants for men and women that retail for $270, use the same in-house waterproofing with added stretch for mobility, and include 3/4-length side zippers for ventilation.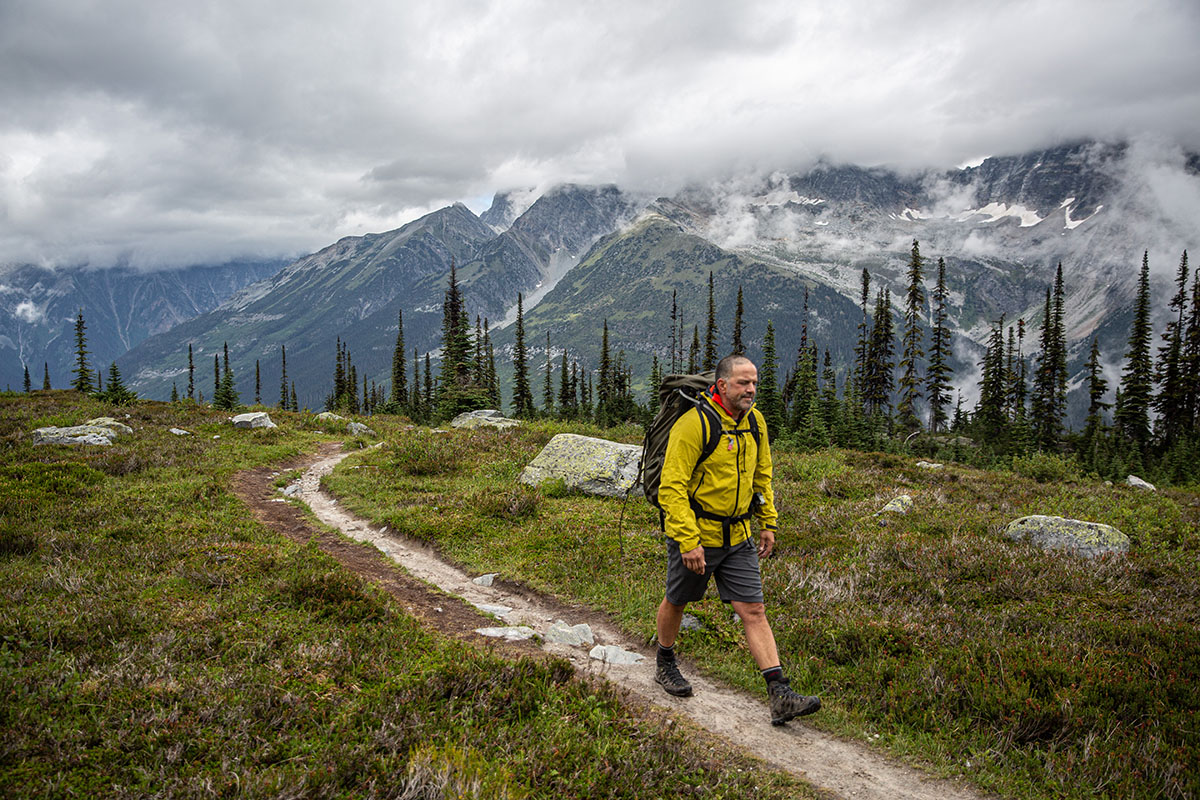 What We Like
3-layer build provides reliable, hardshell-like protection and good breathability at an impressively low weight.
Built-in stretch adds a noticeable boost in all-day comfort and offers great freedom of movement.
Feature set is simple but well executed, including functional storage, a helmet-compatible hood, and generously sized pit zips.
Great selection of classy colorways from subtle to bright.

What We Don't
On the thinner end at 30D and underbuilt for truly extreme conditions and abrasive activities like skiing or climbing.
Water-resistant main zipper snags at the top and requires tensioning the collar and precisely lining up the teeth to operate smoothly.
No dedicated stuff pocket.
Hood brim is on the small end and feels a little flimsy due to the lack of structure.


Comparison Table

The Competition
Black Diamond's Highline Stretch Shell stands out in the rain jacket market as a stretchy and light performance piece at a good price, but there's no shortage of competition. Our favorite Black Diamond shell this year is their StormLine Stretch, which is even lighter at 11.3 ounces but uses a less premium 2.5-layer BD.dry design. That said, you still get a pretty healthy feature set, including built-in stretch for added mobility, an adjustable and climbing helmet-friendly hood, cinchable cuffs and hem, and pit zips for dumping excess heat. The StormLine also packs into its right hand pocket with a handy carabiner loop for clipping to a harness or pack. Both jackets come in a nice assortment of classy colorways, but the StormLine's real selling point is price: At $160, it's a significant $140 less than the Highline. The 2.5-layer build doesn't breathe as well during high-output use and is a bit less protective, but for hiking and daily wear, it's undeniably the better value.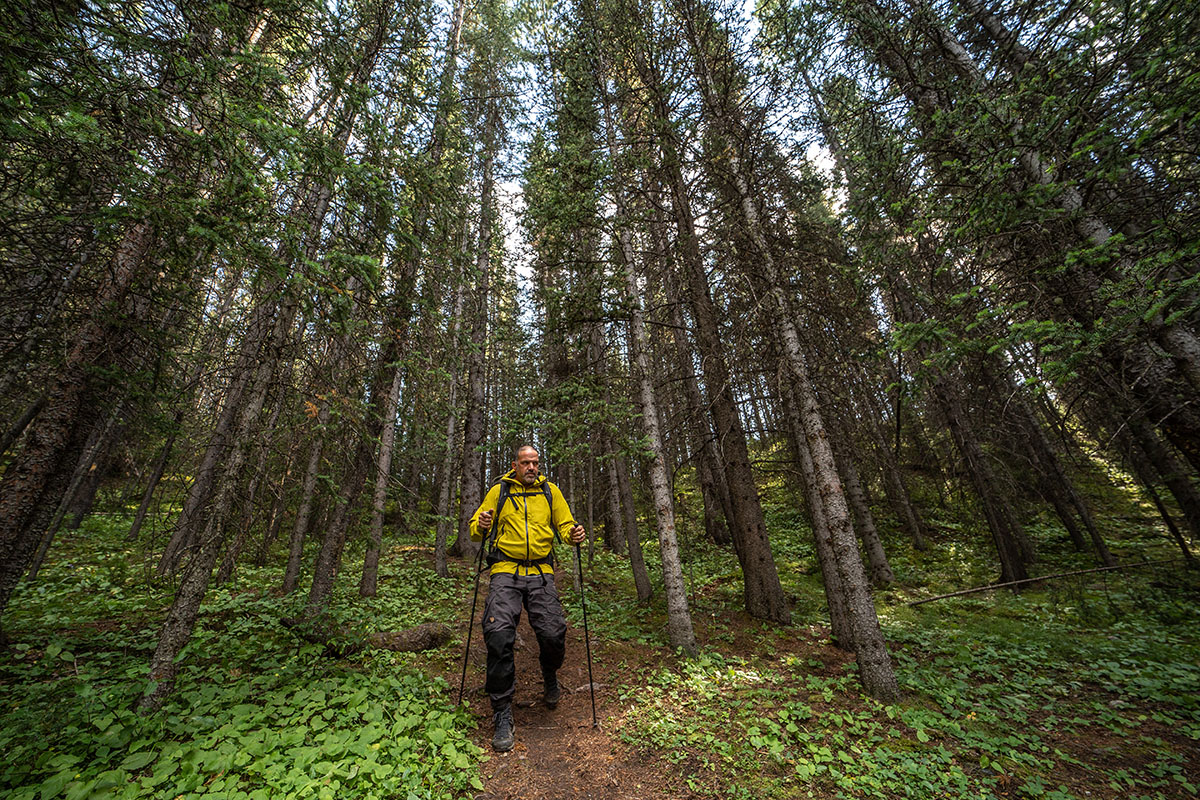 A second in-house alternative to consider is Black Diamond's FineLine Stretch Shell, which is the lightest and cheapest of the trio at just 10 ounces and $135. Like the StormLine, the FineLine uses a 2.5-layer BD.dry construction with added stretch in the fabric for comfort and mobility, and the hood design is similar with a single drawcord for adjustment and compatibility with a low-profile climbing helmet. However, like many ultralight pieces, the FineLine is pretty barebones in terms of features: You don't get hand pockets, adjustable cuffs, or pit zips. This makes the FineLine less of an all-rounder than the Highline, but it's perfectly serviceable for emergency use and throwing in a pack on weight-conscious alpine adventures when the forecast is mostly favorable.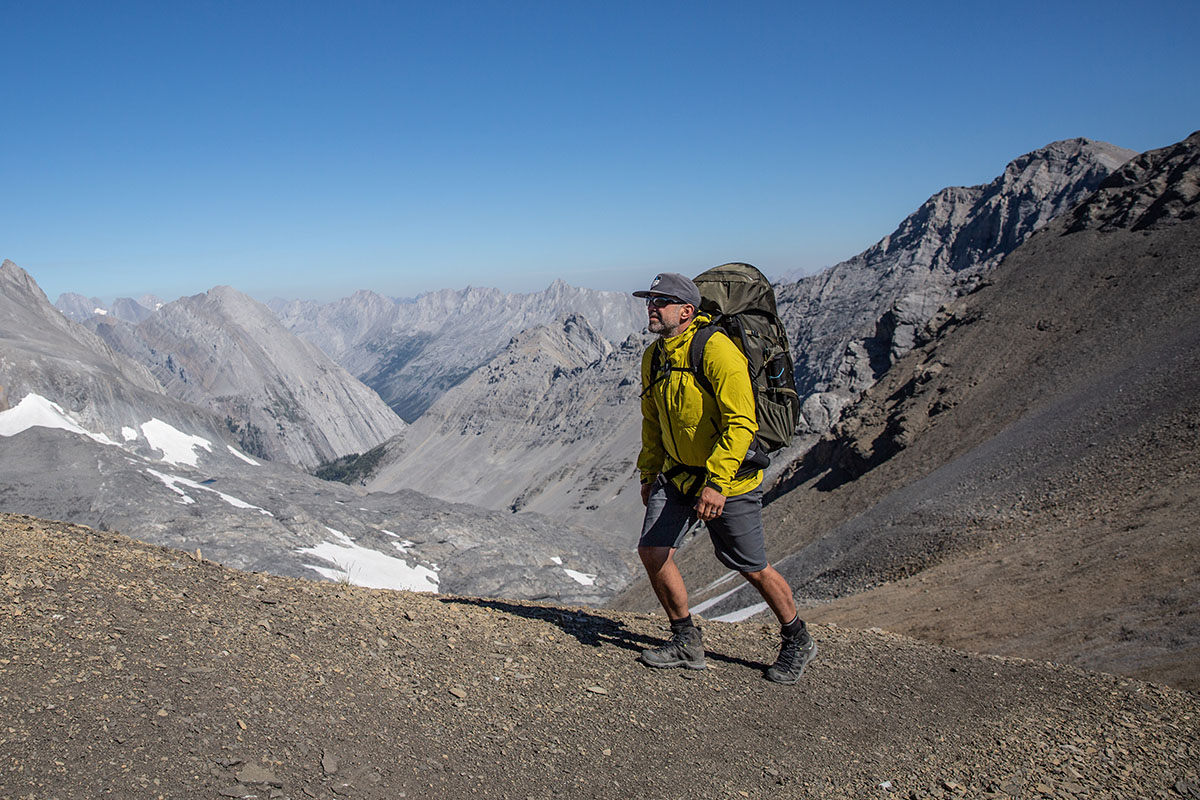 Moving away from Black Diamond's collection, Arc'teryx's Beta LT is our top-rated performance rain jacket this year. It's a little heavier than the Highline at 13.9 ounces but with notable upgrades in protection and refinement: You get a proven 3-layer Gore-Tex build that feels more impervious in truly rough weather, as well as taped seams and a drop back hem for added assurance. The 40D construction is also more durable and easier to trust around sharp gear (the Highline is 30D), and Arc'teryx didn't skimp on features with their well-loved and helmet-compatible StormHood, two large hand pockets, pit zips for easy venting, dual hem adjusters, and a soft chin guard at the collar. The Highline costs around $150 less and will get the job done for three-season hiking, and the built-in stretch is a real highlight for all-day comfort. But for year-round use (including crossing over into winter activities), we'd spend up for the burlier and more performance-ready Beta LT (for more, see our in-depth Beta LT review).
A final alternative to have on your radar is Patagonia's Calcite Jacket, which costs around the same as the Highline Stretch at $299. In this case, you get Gore-Tex's 2.5-layer Paclite Plus membrane in a much thicker, 75D construction that adds a sizable boost in durability. Weight jumps to 14.5 ounces, but many hikers will find that penalty worth it for the more robust and confidence-inspiring feel. Like the Highline, the Calcite comes well appointed for performance use with water-resistant zippers, pit zips, functional storage (including two hand pockets and one external chest pocket), adjustable hem and cuffs, and a helmet-friendly hood. The Calcite doesn't include built-in stretch, but the textured backer is smooth even against bare skin, and we didn't experience any issues with mobility during testing. Unless the slight weight difference is a deal breaker for you, we consider the Calcite the more well-rounded design at this price point.
If you're thinking about buying gear that we've reviewed on Switchback Travel, you can help support us in the process. Just click on any of the seller links above, and if you make a purchase, we receive a small percentage of the transaction. The cost of the product is the same to you but this helps us continue to test and write about outdoor gear. Thanks and we appreciate your support!
Depending on the seller, most products ship free in the United States on orders of $50 or more. International shipping availability and rates vary by seller. The pricing information on this page is updated hourly but we are not responsible for inaccuracies.
Read More From Switchback Travel