Winter weather calls for capable footwear, whether you're working outdoors, snowshoeing, or commuting to work. The good news is there's no shortage of women's-specific designs to keep your feet warm and dry no matter the conditions. Our team of female editors took to the snowy streets to come up with our favorite women's winter boots of the 2023 season, which runs the gamut from casual models great for everyday wear to winter hikers and tall, neoprene work boots. For more information, check out our comparison table and buying advice below the picks.
 
---
Our Team's Women's Winter Boot Picks
---

Best Overall Women's Winter Boot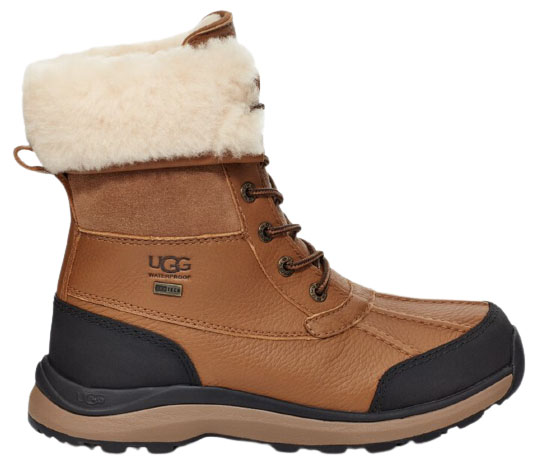 Category: Casual
Insulation: 200g wool
Shaft height: 7 in.
What we like: Premium materials, versatile cuff design, and a great one-quiver boot.
What we don't: Expensive.
UGG might not be the first brand that comes to mind when selecting a sturdy winter boot, but their Adirondack III has been our go-to choice for three winters running. You get great protection from rain, slush, and snow with a premium leather and suede upper backed by a waterproof membrane, and the natural wool liner is plush, warm, and even insulates well when wet. It's not often that we see wool used in a serious winter boot, but the Adirondack's design lends a great deal of versatility: when the cuff is rolled down, you get a playful, casual boot that's at home over jeans or leggings. Leave it fully extended, and the Adirondack is a traditional leather model with no-frills warmth and functionality.
Keep in mind that temperature ratings can be misleading: UGG gives the Adirondack III a -25˚F minimum, but don't go racing to the Arctic in this boot. In our testing, it held up in snow, puddles, and cold temperatures as low as 15˚F. Its shorter, more casual build gives up a bit in the way of coverage and warmth but lends greater freedom of movement for activities like shoveling the driveway or walking the dog. And with a recent upgrade, the III boasts a much grippier sole, which solidifies it as a capable one-quiver design. You'll spend up for the premium materials, but for a warm and stylish boot that's at home both in town and in the mountains, the Adirondack III gets our top pick of the 2023 season... Read in-depth review
See the UGG Adirondack III
Best Budget Women's Winter Boot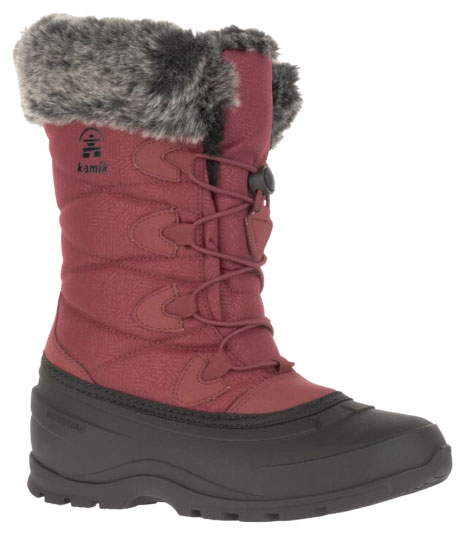 Category: Casual
Insulation: HEAT-MX synthetic
Shaft height: 11.8 in.
What we like: A very functional winter boot at a great price.
What we don't: Build quality is a step down from many pricier models.
There is a lot to like about the women's Momentum boot from Kamik. First, it's clearly built for winter use with a tough rubber lower, sturdy nylon upper that's seam-sealed (a rarity at this price point), and healthy 11.8-inch shaft height for good clearance from snow and water. Second, despite all of the aforementioned features, the boot looks the part for everyday use and comes in a wide variety of colorways. Finally, we love the price of the Kamik, which—depending on your size and color choice—undercuts much of the competition by at least $50-$100. All told, it's a hard-to-beat combination of versatility and value.
Keep in mind that the Momentum is only moderately warm with its synthetic HEAT-MX insulation and faux fur collar. Further, the nylon upper feels somewhat plasticky and a step down quality-wise from many of the pricier options here, and it can be more prone to absorbing moisture (an issue in wet snow or when stepping through puddles). And you can't dial in the fit as nicely as the UGG above and Oboz Bridger below due to the lacing that stops short of the cuff, although the bungee system is fast and easy to use. But we love the versatility of the Momentum, and it's one of the best values on the market. For another popular budget boot with a mid-height shaft, check out Columbia's Ice Maiden II below.
See the Kamik Momentum 3
Best Women's Winter Hiking Boot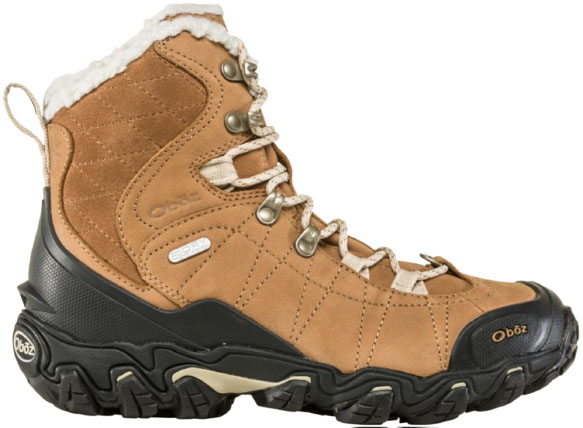 Category: Winter hiking
Insulation: 200g 3M Thinsulate
Shaft height: 7 in.
What we like: Light, reasonably nimble, and not overly insulated for active use.
What we don't: Fit can be challenging; not as warm as most boots here.
The Oboz Bridger 7" Insulated takes one of our favorite hiking boots—the popular Bridger—and gives it a thorough cold-weather treatment. To increase the boot's protection from snow, the Bridger 7" is taller by a few inches and features 200-gram 3M Thinsulate insulation along with a cozy and stylish wool collar. You also get helpful hiking-specific features like a gaiter ring at the forefoot and rubber tab at the heel for removing the boots hands-free (it also helps with securing snowshoes). And we were happy to see that Oboz retained most of the flagship Bridger's light and nimble feel, and the lacing system does a great job providing a secure fit. All told, it's a solid pick for long winter walks, hikes, and snowshoeing.
Where the Bridger 7" Insulated falls short is in extreme conditions. The relatively light insulation nicely balances warmth and breathability when on the move but will leave your feet cold on frigid days and during lower-output activities (that said, Oboz also makes a 9" version with 400g insulation). We've also found that the stiff upper takes some time to break in, and the boot can run a little narrow in the heel (keep this in mind especially if you're planning to wear heavyweight socks). Finally, while the outsole grips well on soft snow and hard-packed dirt, the lack of sharp lugs results in poor traction on ice (don't forget your winter traction devices). These downsides hurt the Bridger Insulated's all-around appeal a bit, but it's nevertheless an excellent performance choice.
See the Oboz Bridger 7" Insulated
Best Insulated Chelsea Boot for Women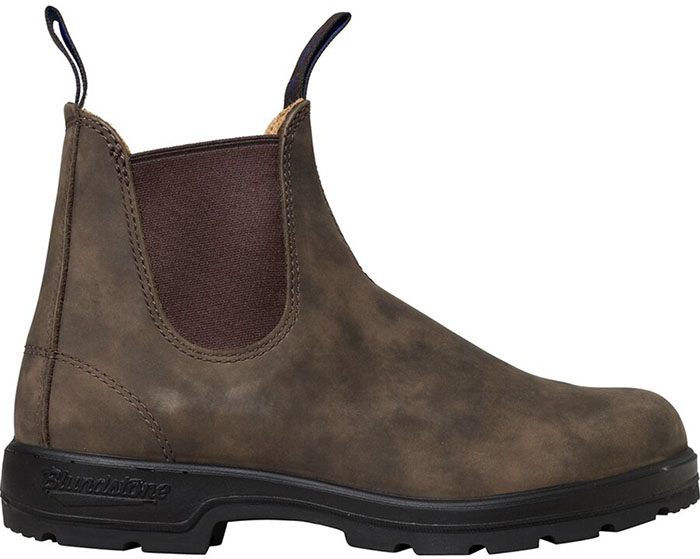 Category: Casual
Insulation: Thinsulate
Shaft height: 6 in.
What we like: Classy looks and premium build quality.
What we don't: Very pricey and decidedly casual.
Chelsea boots have skyrocketed in popularity over the past few years, and Blundstone has been at the forefront with a healthy selection of premium, well-made designs. The Thermal Chelsea Boots listed here reflect the brand's typical attention to detail and classic styling in a winter-friendly build. Everything about these boots exudes quality, from the Thinsulate-lined leather upper to the removable sheepskin footbed, durable TPU outsole, and sleek elastic pull tabs at the front and back for easy on and off. The Thermal Chelsea falls decidedly toward the casual end of the spectrum, but the polished looks and top-notch craftsmanship make it an excellent choice for chilly commutes, around-town wear, and even indoor work environments.
In addition to their lack of versatility for outdoor pursuits like hiking and snowshoeing, the Blundstone Thermal Chelsea Boots are steeply priced at $240. For $10 more, the UGG Adirondack III above is a more functional choice with better on-trail capabilities, while the similarly casual and still-fashionable Tivoli IV below will save you a considerable $95. On the flip side, Blundstone's elegant and refined construction puts the Thermal Chelsea head and shoulders above the competition in terms of style, and these boots pair well with nearly any outfit. For a more affordable Chelsea design, check out the KEEN Greta Chelsea ($175) and Baffin's Telluride Chelsea ($170).
See the Blundstone Thermal Chelsea
Best Women's Winter Boot for Extreme Cold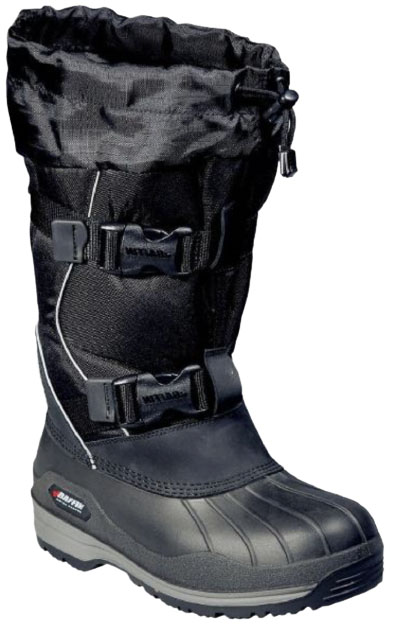 Category: Work
Insulation: 8-layer lining
Shaft height: 15 in.
What we like: Truly ready for -50-degree temperatures.
What we don't: Not night-out-on-the-ski-town compatible.
The Baffin Impact is an exercise in excess, but if you'll be outside in sub-zero temperatures for extended periods of time—think ice fishing or outdoor work in places like the upper Midwest, Montana, or Alaska—it's in a class of its own. The boot is insulated with an eight-layer system of foam and polyester (including the removable liner), which is encased in a burly nylon and rubber shell. Winter boots are notorious for having ambitious temperature ratings (usually -25°F to -40°F), but the Impact is rated to -148°F. We haven't tested that claim (and don't plan to), but users have reported being comfortable in the Impact in temperatures reaching as low as -50°F. As cold-weather boots go, this is about as good as it gets.
The downside of so much warmth is that the Impact doesn't handle mild winter conditions well and isn't breathable. The boot also weighs over 7 pounds for the pair and is pretty bulky and ungainly with large buckles and thick materials, so it's not intended for covering much ground. But for areas of the country where the temperatures consistently dip well below zero, we heartily recommend protecting yourself with the Impact. For a step down in warmth, check out Baffin's women's-specific Snogoose or Chloe (below).
See the Baffin Impact
Best Women's Winter Work Boot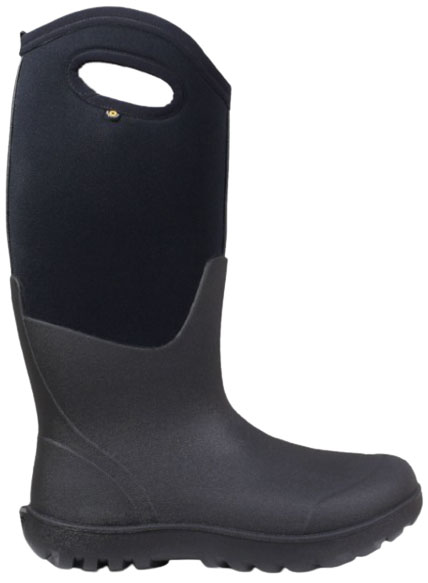 Category: Work
Insulation: 5mm Neo-Tech 
Shaft height: 13 in.
What we like: Simple, warm, and easy to keep clean.
What we don't: Middling traction, imprecise fit, and heavy.
Bogs' Neo-Classic Tall takes the signature rain boot look and adds a healthy dollop of warmth and protection for cold-weather use. The 5-millimeter neoprene construction is both insulating and waterproof, and the 13-inch collar is enough to keep most water and snow at bay. Further, the Classic's sleek profile slides on easily with integrated handles (Bogs also makes a version without the cutouts) and is a breeze to clean, and we appreciate the addition of DuraFresh odor guard. True to its name, this boot is a classic winter choice everywhere from coastal cities to frigid rural areas in the Midwest, and the rain boot-like aesthetic isn't out of place in the shoulder seasons either.
The Bogs Neo-Classic Tall is great for wearing around town or working outside, but the heavy build, imprecise fit, and lack of breathability mean it's not our first choice for hiking or all-day wear. Traction is another downside, with its wavy and rounded lugs that don't bite particularly well on soft ground. On the plus side, the outsole doesn't leave much room for debris to cake up (Bogs describes it as "self cleaning"), and the boots spruce up nicely with a quick rinse. Whether you're headed out on a wet and muddy commute or performing chores around the farm or ranch, the Bogs is a durable and trustworthy choice that will stand up to years of abuse. For more premium protection, take a look at the Muck Boot below.
See the Bogs Neo-Classic Tall Boots
Best of the Rest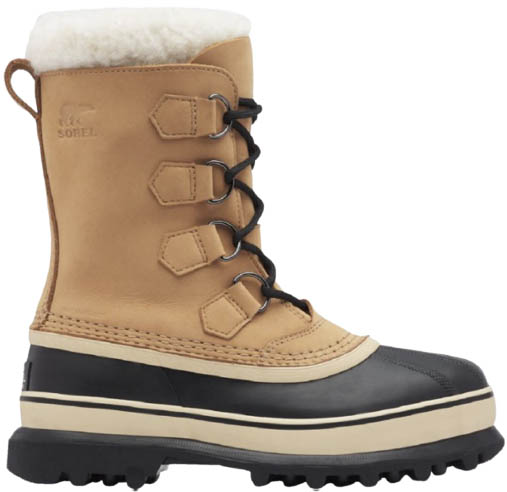 Category: Casual
Insulation: 9mm ThermoPlus
Shaft height: 9 in.
What we like: Timeless looks and cozy interior.
What we don't: Heavy at over 3 pounds for the pair.
It doesn't get much more classic than this. The Caribou from Sorel seemingly has been around forever, and we love the mix of comfort, style, and performance. First off, this is a very warm boot with a 9-millimeter felt liner, cozy Sherpa pile cuff, stout leather upper, and wraparound rubber lower that provides a nice boost of assurance when walking through slushy puddles. Most manufacturers nowadays turn to synthetic insulation to reduce bulk, but the Caribou's throwback felt interior is decently warm and adds soft cushioning around your feet. The liner is also removable, which is a nice feature to expedite the drying process should the boot get wet in deep snow.
The Caribou is an undisputed classic for all-around winter use, and the tall, 9-inch shaft offers more protection than a mid-height design like the Bridger Insulated (7 in.) above. But where the Sorel falls short is for walking long distances: The heavy build (3 lbs. 6 oz. for the pair) will feel much more cumbersome than the UGG Adirondack above, and some might even find it to be too much boot for around-town errands like driving and quick trips to the grocery store (Sorel's Winter Carnival is a lighter-weight alternative). Finally, at $200, it'll cost you almost twice as much as the Kamik Momentum, although you get what you pay for with Sorel's emphasis on quality. All gripes aside, the Caribou is a worthy pick for everything from outdoor chores to après ski, and it's hard to argue with its iconic and timeless style.
See the Sorel Caribou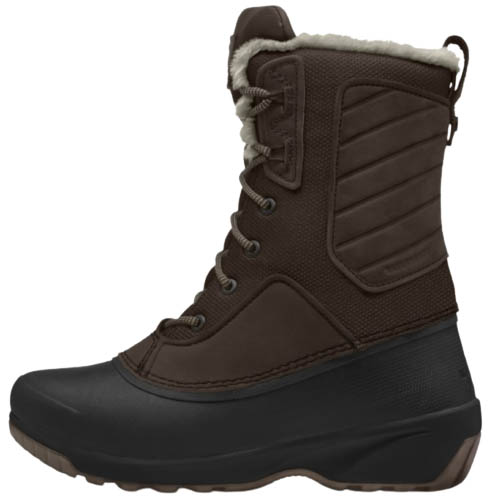 Category: Casual
Insulation: 200g Heatseeker Eco Pro
Shaft height: 8 in.
What we like: Great price for a versatile and good-looking boot.
What we don't: Fairly low shaft height means compromised coverage and warmth.
Like the UGG Adirondack above, the North Face's Shellista is a well-balanced boot that moves easily between categories. It's not the warmest, plushest, or most protective, but the Shellista is competitively priced and hits a great middle ground for anything from shoveling the driveway to winter hikes or walking around town. With rubber covering most of the foot, it effectively sheds water and snow, and 200-gram Heatseeker insulation and soft cushioning around the ankle provide a nice dose of warmth and coziness. And with the most recent update, the IV features improved traction on wet surfaces like snow and ice (previous versions suffered in this respect). In terms of styling, we like the classy leather upper and subtle faux-fur collar, and the relatively low-profile build makes the Shellista equally easy to layer over yoga pants or under snow pants.
Paired with warm, boot-height socks, you can expect the Shellista to be comfortable into the high teens and low 20s Fahrenheit, but the lightweight build has its limitations should the mercury really drop. For deep-winter conditions, we'd stick with boots like the Baffin Impact or Sorel Caribou above. Another nitpick we have is the IV's fairly low shaft height, which is roughly similar to the Adirondack above without the option of extending the cuff. That said, the Shellista undercuts the Adirondack in price by $100, and checks in over a pound lighter than the Caribou. For a versatile everyday boot, the TNF is a great value… Read in-depth review
See The North Face Shellista IV Mid WP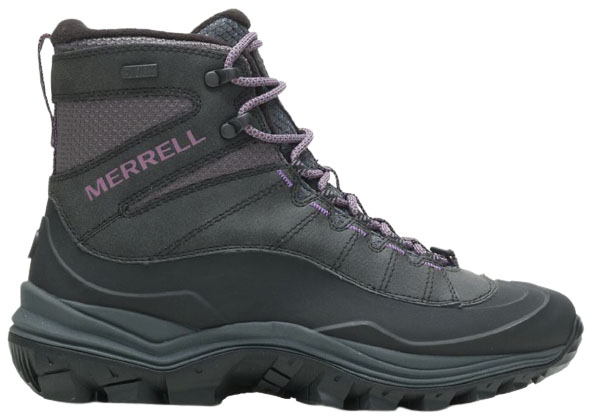 Category: Winter hiking/work
Insulation: 200g M Select
Shaft height: 6 in.
What we like: Great value for a nimble and breathable winter hiking boot.
What we don't: Low shaft height and middling moisture protection.
Like Oboz and KEEN, Merrell is a hiking boot specialist with a number of quality winter designs that showcase that expertise. Their most practical trail offering is the Thermo Chill Mid, which takes a fairly standard hiking boot design and gives it a cold-weather treatment. A generous mid-height collar, sturdy leather upper, and 200-gram M Select fill kept us comfortable while hiking in temps ranging from the mid-teens to low 30s Fahrenheit, and the Merrell is also ready for slushy shoulder-season conditions with a waterproof membrane and durable water repellent finish. All told, the Thermo Chill is a solid pick for long winter walks, hikes, and snowshoeing.
For $90 less, how does the Thermo Chill compare to the Bridger Insulated above? Both feature similar 200-gram insulation, but with a significantly lighter (11 oz. less for the pair) and more streamlined design that cuts about an inch and a half off the Oboz's shaft height, the Thermo Chill is easier to break in and feels more akin to a standard hiking boot underfoot. That said, the Merrell's partially mesh upper doesn't resist moisture as well as the Oboz's Nubuck leather, and it lacks the crossover appeal you get with the Bridger's wool collar. In other words, the Thermo Chill is a capable utility vehicle with little in the way of frills, and you won't want to push it too hard in wet or particularly cold conditions. But for winter hiking and outdoor work, it's one of the best values here.
See the Merrell Thermo Chill
Category: Casual
Insulation: B-Tek foam & Polywool blend
Shaft height: 11 in.
What we like: A great combination of warmth, style, and value.
What we don't: Very heavy at over 4 and a half pounds. 
Canada-based Baffin is known for their Arctic-ready winter boots, but they also have a nice lineup of casual offerings for everyday use in the lower 48. The Chloe here combines the warmth-capturing technology of the Impact above with a stylish, feminine silhouette for a boot that gives designs like the UGG Adirondack and Sorel Joan of Arctic a run for their money. On the outside, you get a suede leather upper with faux fur collar, while the Polar Rubber outsole specializes in cold-weather grip on icy terrain. Under the hood, a removable inner bootie features a polyester-wool blend and thick foam lining. For an everyday winter boot that can dress up or down, the Chloe is well deserving of a spot on your list.
At $175, the Chloe offers considerable savings over the Adirondack, and you get noticeably more insulation and moisture protection by way of its taller and bulkier build. But the clunky rubber sole and rand is no match for the Adirondack's sleek duck-boot-inspired design, and with an all-in weight of 4 pounds 9.6 ounces for the pair, the Baffin is almost twice as heavy as the UGG. In the end, it feels more akin to a boot like the Joan of Arctic below, but with a slightly better balance of performance and style for $65 less.
See the Baffin Chloe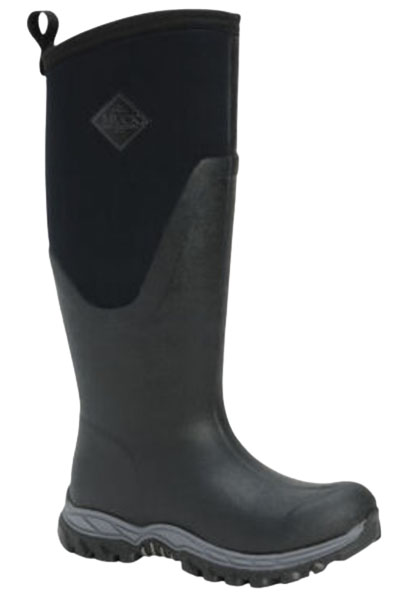 Category: Work
Insulation: 5mm neoprene & fleece lining
Shaft height: 16.9 in.
What we like: Fantastic protection, traction, and warmth.
What we don't: Hefty, lacking breathability, and difficult to get on and off.
The Bogs Neo-Classic gets our top work boot pick for its balance of quality and value, but those in search of the crème de la crème will want to take a look at the Muck Boot Arctic Sport II Tall here. The Muck Boot is undeniably pricey at $190, but for those who spend a lot of time outside in the winter, it's worth every penny. With a tall 16.9-inch shaft height, the Arctic Sport comes just shy of the knee, which we've found indispensable for walking around in deep snow. The rubber exterior effectively keeps out moisture (we've tested it in a fair share of deep puddles) and the thick yet flexible neoprene upper and soft-touch fleece lining do a great job maximizing comfort and warmth (Muck Boot gives the boots a -40 to 40˚F temperature rating). And like many winter boots, the Arctic Sport tacks on a rubber outsole specifically designed to provide traction on ice. 
During the winter, we wear the Muck Boot daily around our home in Washington's Central Cascades, and can't imagine a better tool for the job. Whether it's 20 degrees with a foot and a half of fresh or 34 degrees and rainy, the Arctic Sport is what we want on our feet. The only real downside is the boot's lack of breathability—if we're building heat shoveling the driveway or walking more than a few blocks, things can get fairly swampy inside. Compared to the Bogs above, the Muck Boot is more performance oriented with a taller shaft height and no handle cutouts, but the good news is that there are enough variations of each model for you to get exactly what you want (in general, Muck Boots have slightly more premium construction). If you don't need the full calf coverage (which can be a bit of an effort to put on and take off), Muck Boot also makes the Arctic Sport in a 12.2-inch Mid version.
See the Muck Boot Arctic Sport II Tall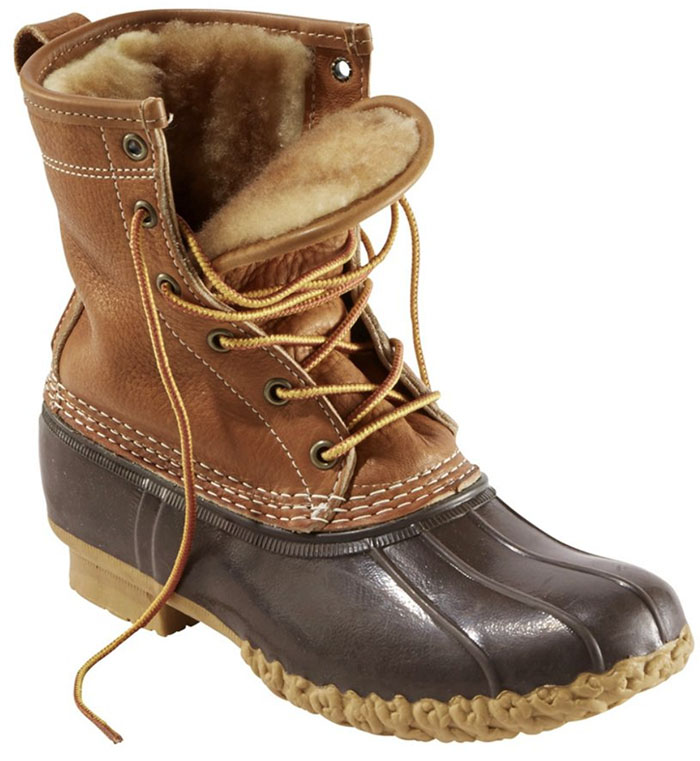 Category: Casual
Insulation: 200g Thinsulate & shearling
Shaft height: 6.5 in.
What we like: Premium warmth and a nice mix of casual and performance features.
What we don't: Pricey and can be tough to nail the fit.
Many boots on this list trend toward the casual or performance sides of the spectrum, but L.L. Bean hits a nice combination of the two with their Bean Boot collection. This lineup is legendary and runs the gamut from standard, uninsulated options to flannel-lined and Gore-Tex-equipped variations, but we like the 8-inch Shearling-Lined version best. On the bottom, you get a waterproof rubber construction for protection from snow and other moisture. On the top, the leather upper is both comfortable and gives the boot a polished look. Throw in a quality build that includes premium shearling along the sides and tongue and 200-gram PrimaLoft underfoot, and you get a luxurious-feeling winter boot that can still hold its own on the trail.
The aforementioned shearling lining makes this one of the priciest options in L.L. Bean's lineup, but we've found it to be supremely comfortable and plush. Surprisingly, our feet have not overheated even on moderate winter days—we've hiked in temperatures up to 40 degrees and worked up a sweat shoveling our driveway without issue—and the boots took almost no time at all to break in. It's worth noting that most of the Bean Boot collection runs notably large, and L.L. Bean recommends going down a full size if you plan to wear lightweight or midweight socks (we did just that, and the fit is perfect).
See the L.L. Bean Boots 8" Shearling-Lined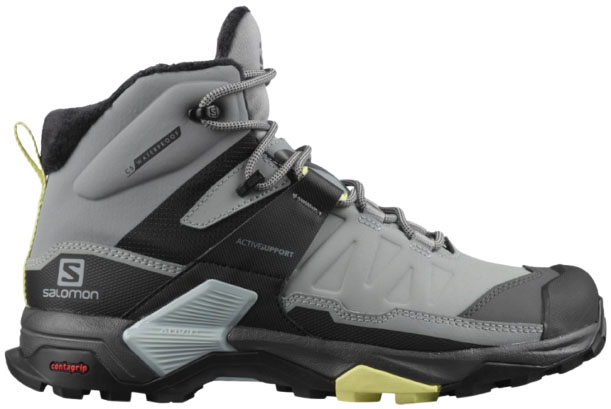 Category: Winter hiking
Insulation: 200g Thinsulate
Shaft height: 6 in.
What we like: Comfortable interior, surprisingly warm, and great support for winter hikes.
What we don't: Short collar doesn't offer a ton of coverage; round laces come undone.
Salomon's X Ultra hiking boot is one of our all-time favorite designs, so we were excited to try out the insulated winter variation. And unsurprisingly, Salomon stuck largely to the Ultra's winning formula: an excellent lacing system that keeps your feet locked in place, supportive yet flexible trail-runner-like feel, and quality, long-lasting materials throughout. To make the boot winter-ready, they packed in 200-gram Thinsulate fill, added a cozy fleece-like collar, and swapped in their Winter Contagrip outsoles—we've suffered no issues with cold feet, even while walking in Montana's below-zero temperatures. The net result is a capable and very comfortable boot that works well for snowshoeing, day hikes on hardpacked snow, and everyday tasks like shoveling or walking around town.
Overall, we've enjoyed the Ultra 4 Mid Winter and have found it to be a nice counterpart to bulkier designs like the UGG Adirondack or Muck Boot above. And compared to our Blundstones, they offer a closer fit and a lot more support, which is ideal when you're spending a lot of time on your feet. The biggest issue we've had is related to coverage: With a shaft height of about 6 inches—and even lower at the heel where the collar dips down—the Ultra 4 Winter offers only moderate protection in soft snow or deep puddles. For $45 less, the Merrell Thermo Chill above offers a similar feature set, but for Salomon fans looking for an insulated hiking boot, the Ultra 4 Mid Winter is well worth a look.
See the Salomon X Ultra 4 Mid Winter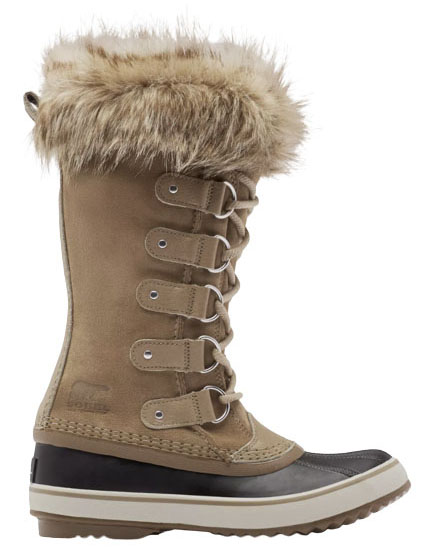 Category: Casual
Insulation: 6mm felt
Shaft height: 12 in.
What we like: Stylish and excellent protection.
What we don't: Expensive for the level of warmth.
A modern take on the classic Sorel boot, the Joan of Arctic offers a nice blend of function and fashion. Fully waterproof with a suede upper and seam sealing, it's a sturdy choice for everyday wear. We've been pleasantly surprised by the level of protection that you get from the tall, 12-inch height and felt interior, and the removable liner makes it easy to dry the insides should they get wet in the snow. Importantly, despite its classy design, Sorel's trademark wraparound rubber lower is ready for all sorts of use and abuse.
It's the premium materials and good looks that make the Joan of Arctic a favorite year after year. Unfortunately, however, the relatively thin felt liner and two-piece construction don't do a good job trapping heat. Even in temperatures just below freezing, we found ourselves surprisingly cold (we tested it back to back with the Adirondack and Shellista II, and it was the weakest link in that grouping). Further, the heavy and clunky design feels dated and can be cumbersome on longer walks. To be clear, the waterproofing is excellent, and the Joan of Arctic will certainly do the trick in moderate conditions, but we prefer the more well-rounded alternatives above… Read in-depth review
See the Sorel Joan of Arctic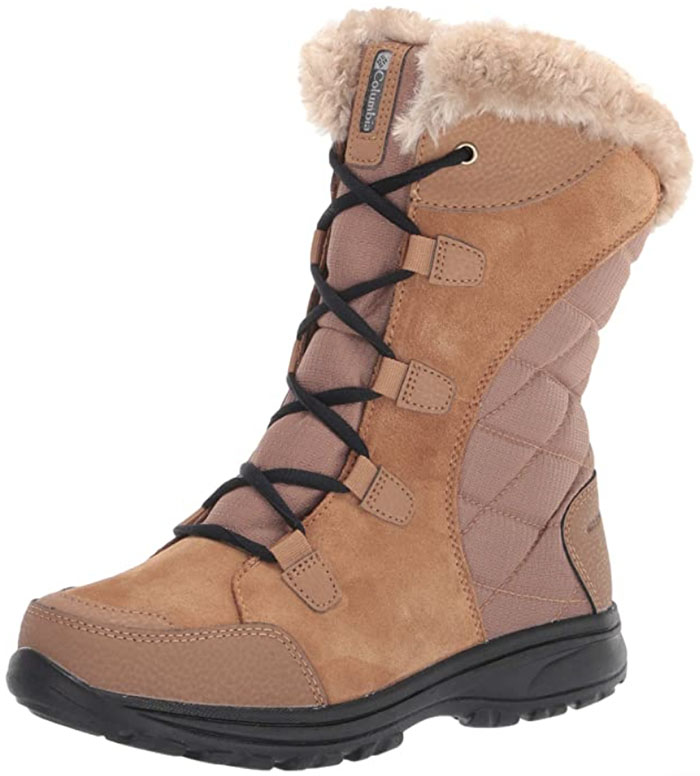 Category: Casual
Insulation: 200g synthetic
Shaft height: 8.5 in.
What we like: Low-profile design is comfortable and lightweight.
What we don't: Not built for serious conditions or terrain.
Columbia's Ice Maiden has been a staple in their collection for years and remains one of the most popular casual women's winter boots on the market. The light insulation and soft materials give it excellent comfort for mild winter conditions, and the woven upper has a nice feel that's noticeably less bulky than options like the Shellista IV above and Sorel's Joan of Arctic below (although it's not as dependable in deep snow). Similar to many designs here, the Columbia utilizes 200-gram synthetic insulation, although the light and streamlined build does translate to a slight step down in warmth. But there's a reason we see the Ice Maiden so frequently around town: it's comfortable, affordable, and looks good to boot.
The Columbia Ice Maiden's flexible build makes it enjoyable to wear all day, and it can be a fine partner on long winter walks provided you aren't venturing too far from the trailhead. However, in addition to the compromises in wet-weather protection and warmth, the Columbia lacks the stability of dedicated winter hiking models, and we caution against taking a boot with a faux fur collar into the backcountry—the additional material could grow heavy with snow and ice. But value-wise, you'd be hard-pressed to find a better daily driver for less. And given the widespread popularity of the collection, the Ice Maiden is also offered in a wide version, shorty boot, and slip-on design that looks a lot like the Danner Cloud Cap below.
See the Columbia Ice Maiden II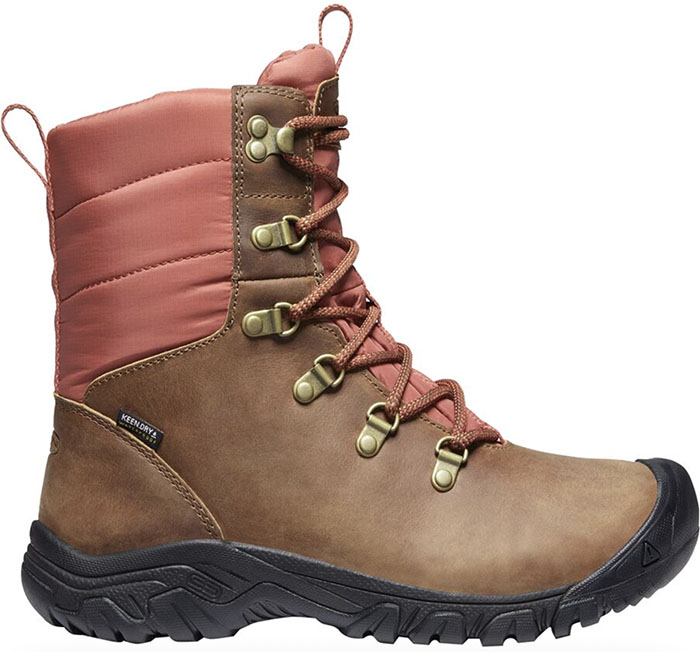 Category: Winter hiking/work
Insulation: 200g KEEN.WARM
Shaft height: 7.75 in.
What we like: A capable winter hiker with premium materials and city-friendly styling.
What we don't: Runs narrow and will take some time to break in.
No one does traditional leather boots quite like KEEN, and their Greta merges that classic styling with down-like quilting at the collar that's reminiscent of a puffy jacket. Put simply, this boot is a real treat both in terms of looks and all-around comfort and performance with competitive specs to back it up. Like many of KEEN's designs, the Greta boasts premium leather (certified to the Leather Working Group's strict environmental standards) lined with an in-house waterproof membrane and 200-gram recycled synthetic insulation, and the FREEZE outsole is highly capable on slick and tricky terrain. The fit is also highly customizable for logging trail mileage, while the padded collar and tongue look the part for wearing casually. KEEN makes some of our favorite hiking boots on the market, and the Greta follows suit in a very functional winter-ready build.
How does the Greta compare to the popular Oboz Bridger above? The two stack up similarly in terms of warmth and waterproofing and utilize rubber tread that's purpose-built for navigating slippery and icy conditions. The KEEN runs on the narrow side and is a little stiffer and therefore will take longer to break in, but it should conform nicely to your foot over time (you can always use a leather conditioner to help). And the Greta wins out as a crossover option for both trail and around-town use, while the Oboz leans more toward the performance end of the spectrum. Other options in the Greta collection are equally well-built, including the more protective Greta Tall (9 in.) that subs in felt patches at the collar and Greta Chelsea that combines chic city styling with the same capable outsole (it's a nice performance upgrade from the Blundstone above). For a dedicated winter hiking boot, check out KEEN's Revel IV Mid Polar ($190) and Revel IV High Polar ($210). 
See the KEEN Greta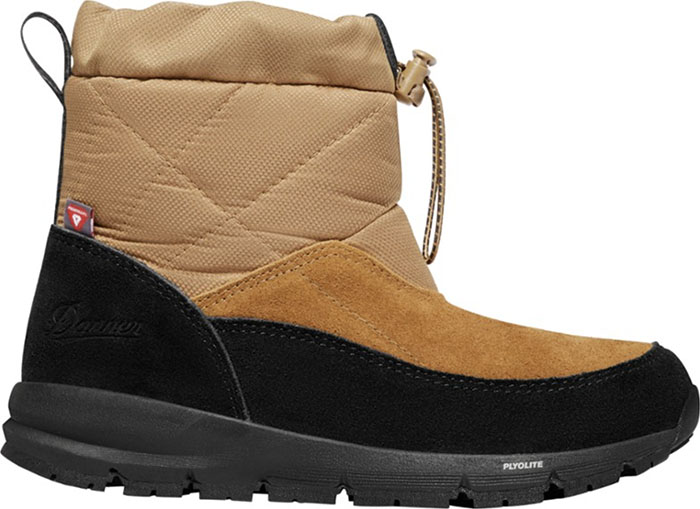 Category: Casual
Insulation: 400g PrimaLoft
Shaft height: 7 in.
What we like: A playful and warm design that's surprisingly capable on slick terrain.
What we don't: No laces and pricey for what you get.
Down booties have their place for performing camp chores and brief outings from the tent but lack versatility for wearing around town or walking longer distances. Danner has come up with an intriguing solution in their Cloud Cap Boots, which combine a down bootie-like upper with durable and hardwearing suede around the forefoot and heel. Despite its casual intentions, the Cloud Cap's grippy Vibram outsole is surprisingly grippy on packed snow and ice, so much so that we've worn it on a few short winter hikes and been pleased with the performance. Combined with a 2-layer waterproof membrane and generous 400-gram PrimaLoft insulation, the Cloud Cap stands out as a warm and well-built option with a playful look and feel.
Along with the L.L. Bean above, the Cloud Cap has become one of our go-to boots this winter. The simple drawstring closure makes it incredibly easy to take on and off (great for quick trips to the garage or mailbox), but the tradeoff is less customization and a sloppier feel. And while we're big fans of the 400-gram warmth in most cases, we've found the design overheats quite easily in temperatures above freezing. And price-wise, $210 is a lot to spend given the fairly limited utility, although we appreciate the excellent build quality and classy appearance. For a cheaper pull-on option with similar styling, check out Sorel's Out 'N About III Puffy Zip Boots ($150) or The North Face's ThermoBall Lace-Up Boots ($119).
See the Danner Cloud Cap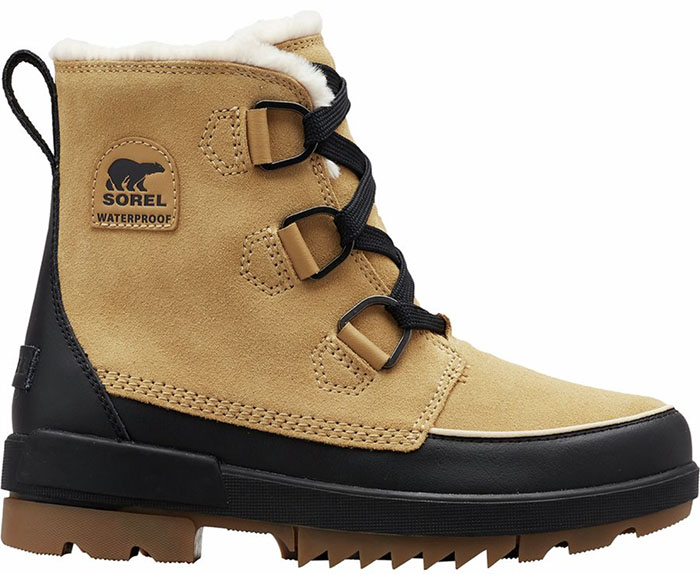 Category: Casual
Insulation: 100g synthetic
Shaft height: 5.5 in.
What we like: Stylish and light.
What we don't: Limited to around-town activities.
On the pendulum of fashion and function, Sorel's Tivoli line unapologetically swings toward the former. It's no more apparent than with their Tivoli IV, which offers less warmth, protection, and traction in snow and ice compared with most of the options here. It also has the shortest height of our women's-specific picks at around 5.5 inches (similar to the Blundstone Thermal Chelsea and Merrell Thermo Chill above). However, the tradeoff is plenty of street style: the Tivoli is beautifully made with high-quality suede and leather, a soft faux fur collar, and an attractive range of available colorways.
As we alluded, the Tivoli is not nearly as well-rounded as a boot like UGG's Adirondack III or The North Face's Shellista IV above. The 100-gram synthetic insulation isn't very warm—even combined with the soft fleece lining—and the chunky heel isn't as stable for hiking or longer walks. But for mild winters, short trips outside, or even on wet fall and spring days, the Tivoli IV is a fun and stylish choice. And for added coverage and protection, Sorel does offer the Tivoli IV in a tall version with a 10.75-inch shaft height for an additional $20.
See the Sorel Tivoli IV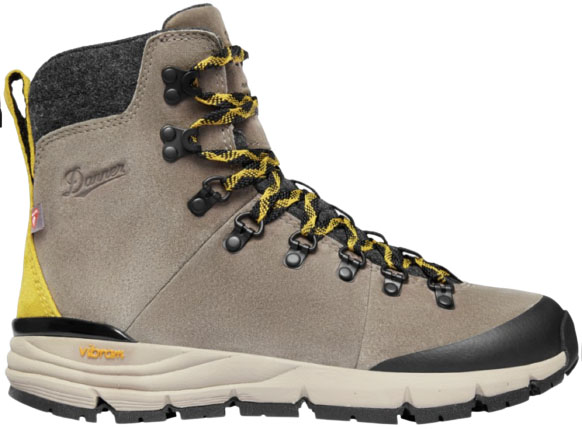 Category: Winter hiking/casual
Insulation: 200g PrimaLoft
Shaft height: 7 in.
What we like: A great mix of performance features and casual style.
What we don't: Expensive considering its warmth and protection.
Winterizing a popular hiking boot is not a new trend, but Danner's Arctic 600 stands out as one of the best efforts yet. Starting with their Mountain 600 boot, Danner added high-quality 200-gram PrimaLoft insulation, Vibram's snow- and ice-specific Arctic Grip outsole, and nice touches like exposed wool on the collar and tongue. They also placed a zipper along the instep of each boot to ease the on and off process. Just as important, however, is what Danner retained: The Arctic 600's smooth suede exterior looks great just about everywhere, and the  boot feels light and energetic for a winter-ready design.
What drops the Danner toward the bottom of our list is value. Simply put, $240 is a lot to spend on an insulated boot intended for short dog walks and quick outdoor chores. For half the price, Merrell's Thermo Chill above features similar 200-gram insulation in a protective, lightweight, and durable design. What's more, for a $20 savings, you can get a much warmer boot like Baffin's Impact. But for those who spend a lot of time on snowy trails or need the added mobility, it's hard to deny the Danner's mix of performance and warmth, and the versatile design is one of only a few on the market that's equally as comfortable in the city as it is exploring a snowy forest service road. For a more casual option, it's also worth taking a look at Danner's Inquire Mid Insulated ($200).
See the Danner Arctic 600 Side-Zip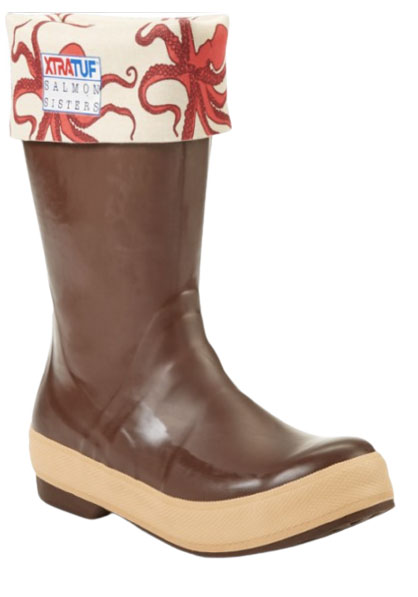 Category: Work
Insulation: None
Shaft height: 15 in.
What we like: 100% waterproof and 100% fashionable.
What we don't: Not insulated for true winter use.
Xtratufs are practically a requirement for any Alaskan, but it's only recently that they've come into vogue in the Lower 48. These 100% waterproof boots merge function and fashion for women, with printed art on the liners—including everything from octopi to sand dollars and fish—that can be folded down as cuffs for daily wear. And staying true to their legacy, many of Xtratuf's liner designs come from Salmon Sisters, a company founded and operated by two female Alaskan fishermen.
We hesitated to include Xtratufs on our list of winter boots for years, given that they don't come in an insulated variety for women. But the thin neoprene liner provides a decent amount of isolation from the cold, and we've come to think of the boots as a highly versatile option for all seasons. Fold down the cuffs in mild weather or pair the boots with heavy socks in the winter—regardless of how you wear the Xtratufs, they're impressively waterproof, provide great traction on wet ground, and will hold up to season after season of use (that said, for consistently cold climates, we still recommend an insulated boot). Like the Bogs and Muck Boot above, we don't recommend them for hiking due to their heavy build and lack of breathability, but for outdoor chores or work, they're an excellent non-insulated choice.
See the Xtratuf 15 Inch Legacy Boot
Women's Winter Boot Comparison Table

Women's Winter Boot Buying Advice

Women's Winter Boot Categories
Casual
Casual or everyday winter boots are not the absolute warmest or best at resisting the elements, but they certainly get the job done for most winter walking and après-ski activities. The constructions of casual boots tend to have less rubber and more leather and exposed insulation, including synthetic baffles, fur, or wool. Other commonalities include a waterproof membrane, moderate level of insulation, and well-cushioned interiors that will keep most people warm and comfortable while shoveling or on short jaunts out of the house. Some casual boots are fairly streamlined and could be worn inside at work or while running errands (like the Sorel Tivoli IV and Blundstone Thermal Chelsea), while others like the Sorel Joan of Arctic are bulkier and built for outdoor-only environments.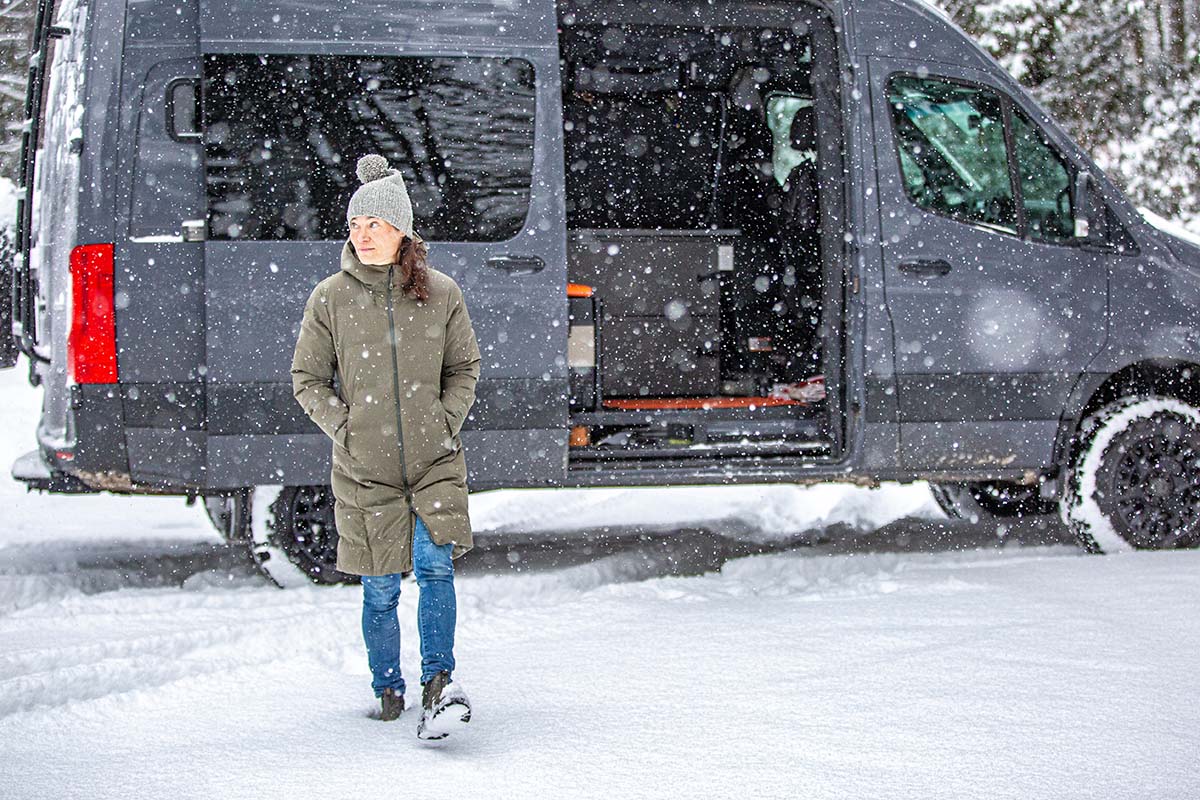 Winter Hiking Boots
Looking a lot like beefed-up hiking boots—because they are—winter hikers are a great choice for snowshoeing and other hiking adventures in the cold. These waterproof designs typically have a lower ankle height and less insulation than the other boot types, which allow them to breathe reasonably well when you're working up a sweat. And their more flexible and nimbler designs make it easier to cover serious ground. Traction is another important feature, and you'll see some of the more advanced tread layouts with rubber that grips well even on frigid and icy ground. Leading models in this category include the Oboz Bridger 7" Insulated and Merrell Thermo Chill.

Work/Extreme Cold Winter Boots
Made for the depths of winter and the coldest parts of the world, boots in our work/extreme cold category are big, bulky, warm, and tough. They also take the function-over-fashion approach with heavy applications of rubber, nylon, and/or thick leather that perform best in frigid temperatures and in deep snow. Keep in mind the heavy construction does add weight and bulk and you won't want to cover major distances with 7+ pound boots like the Baffin Impact. They're also often too stiff to safely use while driving. Instead, what you get is a super high level of warmth that is great for low-output activities in subzero temperatures.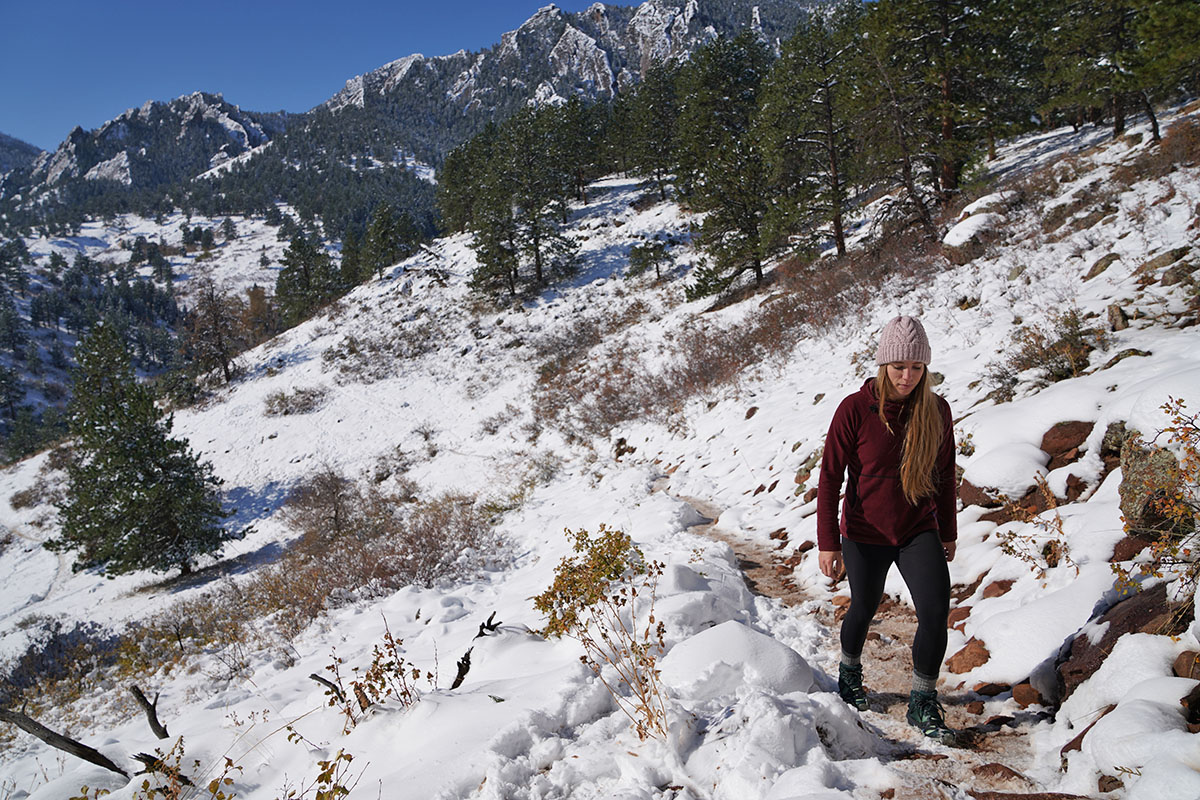 Warmth and Temperature Ratings
Some (but not all) brands include a comfort or temperature rating for their winter boots. And they're often very impressive numbers, claiming a rating of -25°F or lower. But right off the bat, let's be clear: there is not a standardized test to rely on for measuring a temperature rating. As such, comfort ranges are not a guarantee that you'll be warm at the listed temperatures. In fact, we can almost guarantee you will not be—particularly if you're standing still. As we all know, how well a boot keeps you warm is dependent on a number of individual factors, including age, level of activity, the thickness of your socks, the tightness of the boot, and whether or not you run hot or cold. We recommend using the comfort ranges as basic guidance, but stay very conservative by adding a sizable buffer with your real-world use.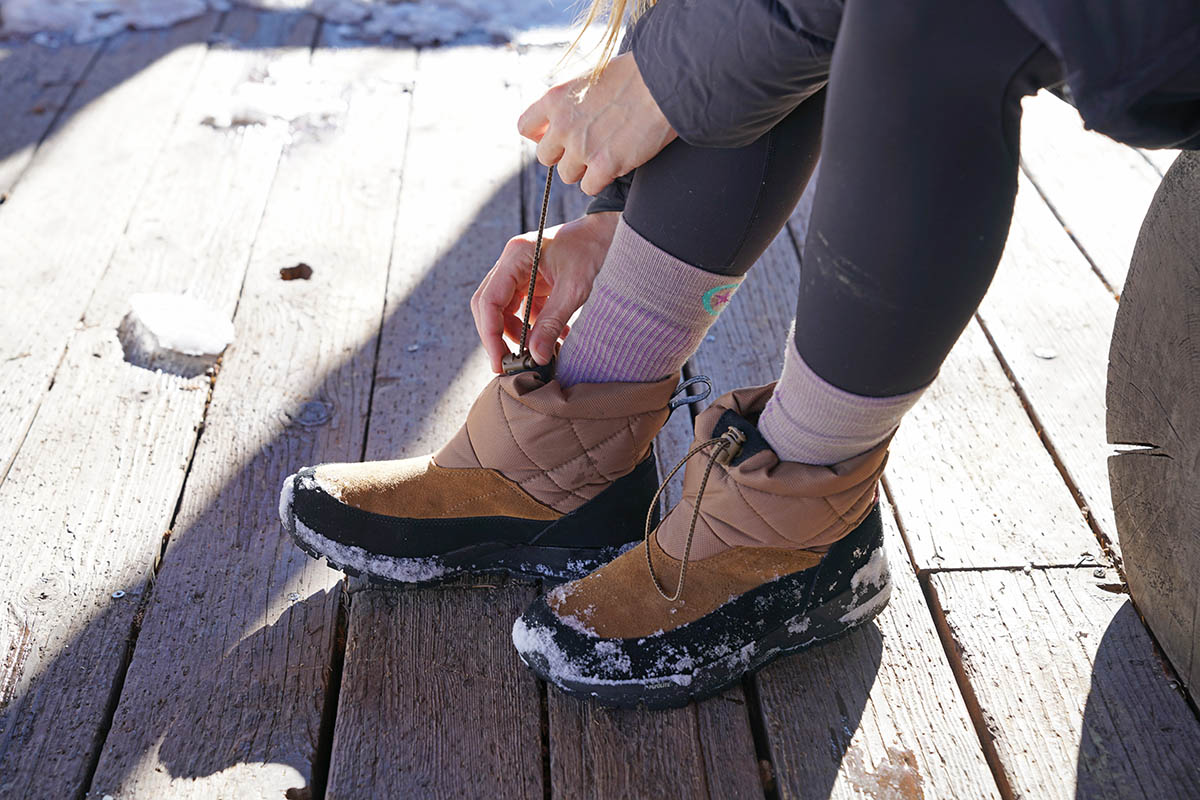 Insulation Types
Synthetic
The most common insulators nowadays are synthetics stuffed between the inner lining and outer shell of the boot (including under the foot). PrimaLoft and Thinsulate by 3M are popular synthetic insulations that have a strong presence in the jacket, glove, and ski boot worlds and have an equal standing with winter boots. They're non-bulky and lightweight and continue to insulate even when wet. Proprietary synthetic insulations for Merrell (M Select) and Columbia (Omni-Heat), among others, offer comparable performance to the name brands. For an indicator of warmth, check for the weight of the insulation, which indicates the heft of a 1 meter x 1 meter section (not how much insulation is actually in the boot). Light to midweight boots will have 200- to 400-gram fill, while heavy-duty cold-weather boots will have significantly more.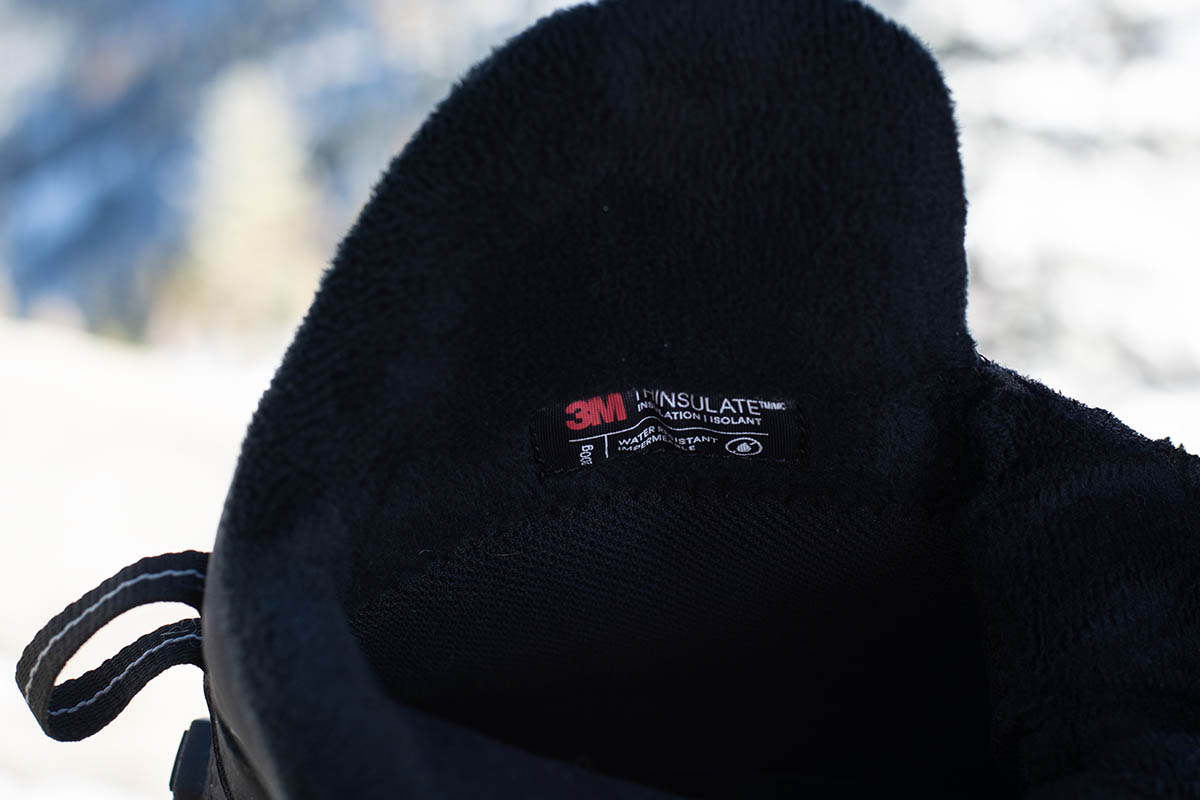 Felt, Sheepskin, and Wool Linings
Some boots eschew modern technology and opt for warmth through a thick lining of felt or wool, including the classic UGG Adirondack III with 17-millimeter UGGpure wool in the lining and insole and L.L. Bean's shearling-lined Bean Boots. While bulky, these insulation types surely can be effective. Unlike synthetic insulation that is encased by the boot, felt, sheepskin, and wool linings can get wet if exposed to the elements, but they will continue to insulate. And the nice part is that many of these linings are removable (as we see in the Sorel Joan of Arctic), so you can set them by the fire to dry in between runs on the sled hill.

Down Fill
Down-insulated boots are not commonplace, and for times when you will be in direct contact with the snow (which can be often in winter), they are not the most secure option. This is because unlike synthetic fills and natural materials like felt, sheepskin, and wool, down loses its ability to insulate when wet. As such, we recommend steering clear unless you're in the market for a very casual around-town boot or basecamp shoe that is for use exclusively inside your tent. And it's hard to knock the utility of a good down bootie for indoor use, but in most cases, these are not meant to be taken outdoors.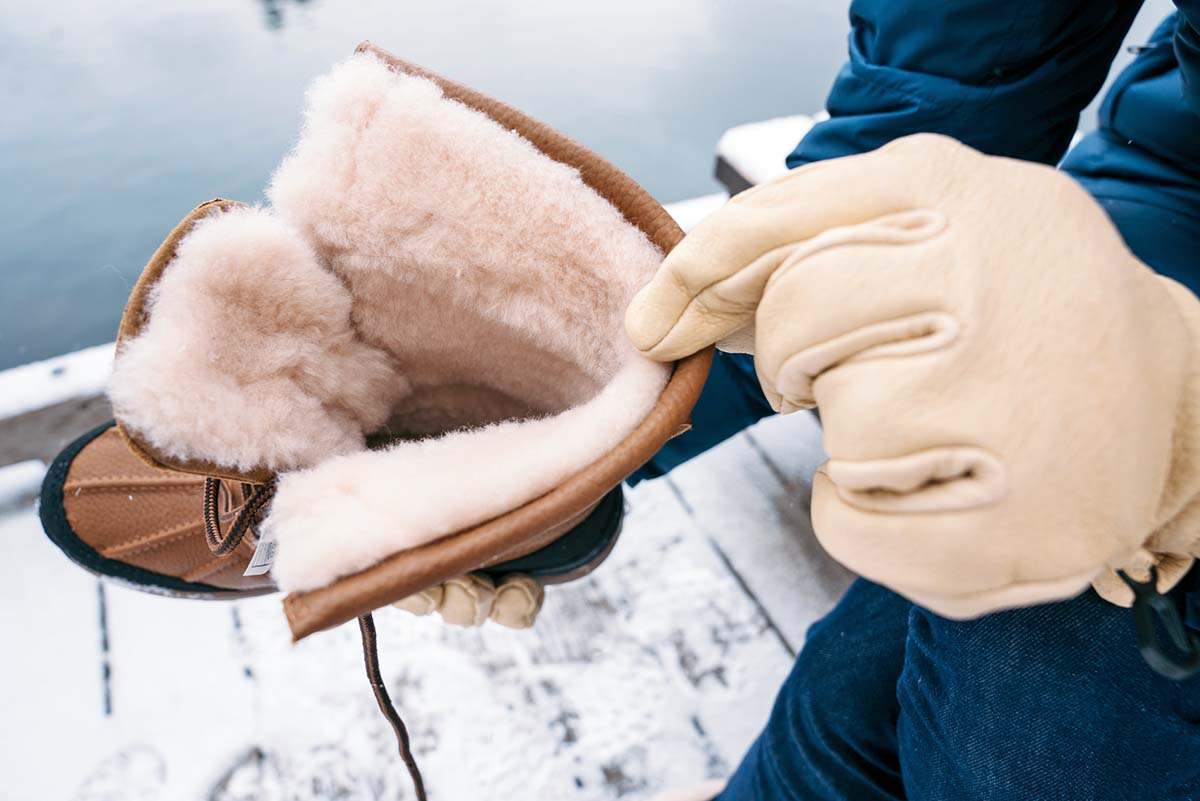 Boot (Shaft) Height
Winter boots come in a fairly wide range of heights from just over the ankle to just below the knee. In general, their various heights fall in line with our categories above (to see the specific heights for each model, which is measured from the footbed to the top of the boot, see our comparison table above). At the low end of the spectrum are hiking models, which measure roughly 6 to 7 inches in height. This makes them lighter and more flexible, but they are more prone to having snow come in over the top of the boot if you're post-holing in the deep stuff. The good news is that a pair of waterproof gaiters can help resolve this issue (more on gaiters below).
Work boots and full-on extreme-weather models sit higher on the leg, including the 15-inch Baffin Impact and 12.5-inch Steger Mukluks Yukon. It's worth noting that the extra height does inhibit range of motion, and muck-style boots can be a real struggle to remove at the end of the day. Finally, boots in the casual category fall somewhere in the middle, with a number of options in the 6- to 10-inch range. There are some outliers, however, including the tall, 12-inch Joan of Arctic. And it's important to remember that many boots are offered in a few different heights (such as the 7.75-in. KEEN Greta and 9-in. Greta Tall), which we call out in many of the write-ups above.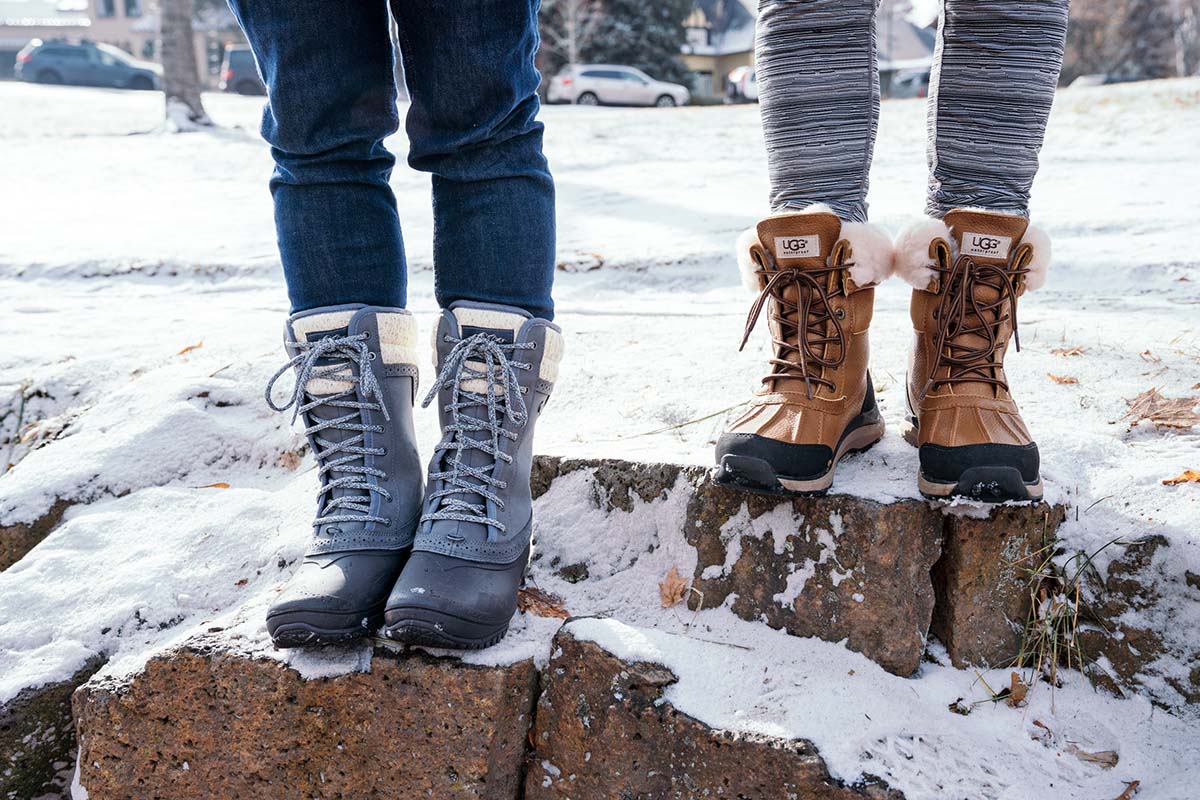 Weight
As with height, winter boot weight can vary significantly. Unsurprisingly, the heaviest designs are meant for the worst conditions, as weight often goes up as the level of insulation increases.
Work-ready builds from Muck Boots, Bogs, and LaCrosse Footwear can reach a hefty 7 to 8 pounds per pair, and the same is true for a burly boot meant for extreme conditions like the Baffin Impact. On the other end of the spectrum is the Oboz Bridger 7" Insulated, which weighs about the same as a standard hiking model at just 2 pounds 9 ounces. One notable exception is the Steger Mukluks Yukon, which tips the scales at a very impressive 3 pounds for the pair yet delivers Iditarod-worthy levels of warmth. It does, however, compromise elsewhere—the mukluks aren't as stable or grippy when hiking over difficult terrain.
 
Removable Liners vs. One-Piece Boots
Traditional winter boots like the Sorel Joan of Arctic and Baffin Impact are two-piece designs with outer shells protecting insulated, removable liners. The advantages of this construction are that the boots are extremely tough: the rubber and leather exterior materials are very durable and waterproof and they do a great job isolating you from the cold. The removable insulated liners are cushioned and soft, providing more comfort than a typical one-piece design. And perhaps the most functional element of the two-piece system is that you have the option to remove the liners to dry them more quickly should the boots get wet. These types of boots can feel a bit sloppy and ungainly when you're covering long distances, but for short walks, outdoor work, and harsh conditions, a boot with a removable liner is a nice choice.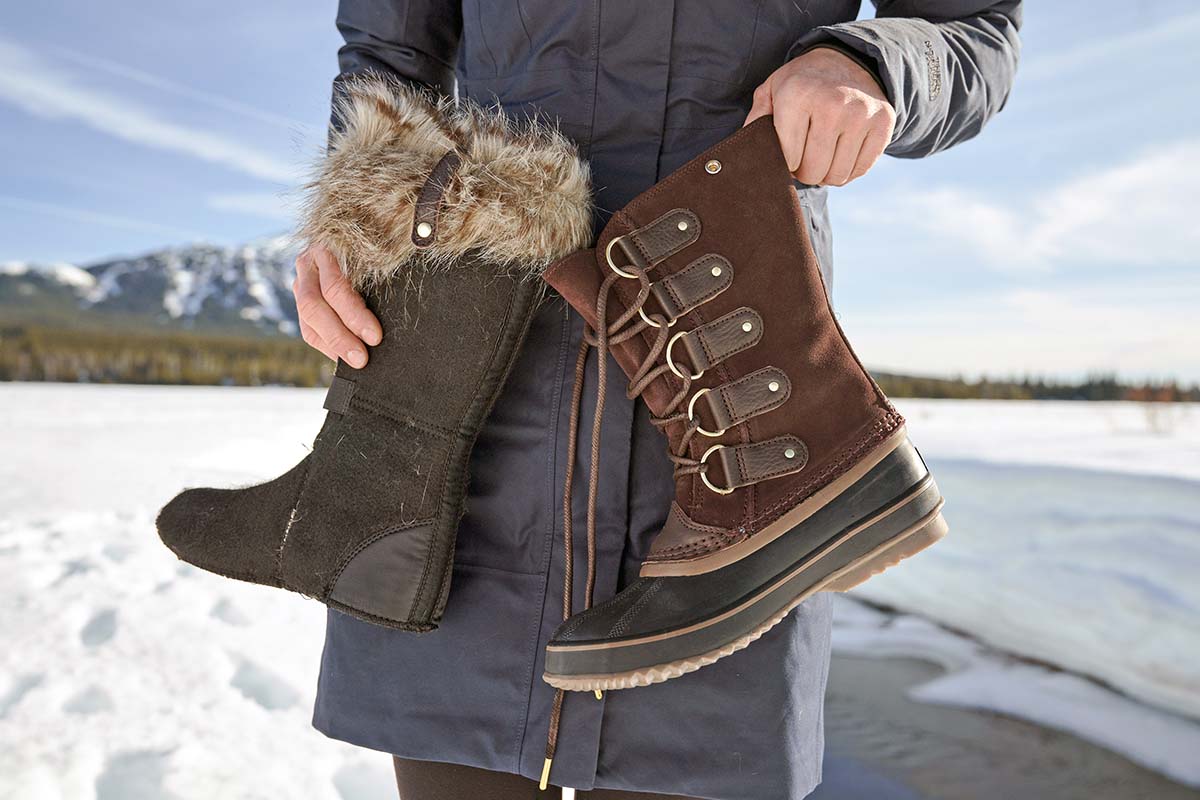 For active uses like hiking or snowshoeing, or if you want to keep weight and bulk to a minimum, it's better to go with a one-piece boot. These models often resemble a hiking design and offer a more precise fit and nimbler feel for greater control and stability in difficult terrain. They're also lighter on average, which is a positive for longer walks and snowshoe trips. You do compromise a little protection, but quality one-piece designs like the Oboz Bridger 7" Insulated and UGG Adirondack III are still formidable options in harsh conditions.
 
Waterproofing
Considering that you'll be spending a good amount of time walking in varying depths of snow, waterproofing matters. The good news is that most designs excel in this respect. Traditional two-piece boots that have a separate shell and liner rely on a burly exterior to keep moisture out. The rubber lowers are fantastic barriers from the wet, shedding anything from falling snow to slushy puddles. Further, treated leather uppers and seam sealing keep you protected when walking through deep snow. On the other hand, one-piece boots have a thin waterproof and breathable membrane sandwiched in between the outer material and lining. In general, this style is a little less waterproof overall and you'll want to be sure the exterior fabric has a water-resistant treatment to keep it from soaking up moisture (more on this in the "Boot Care" section below).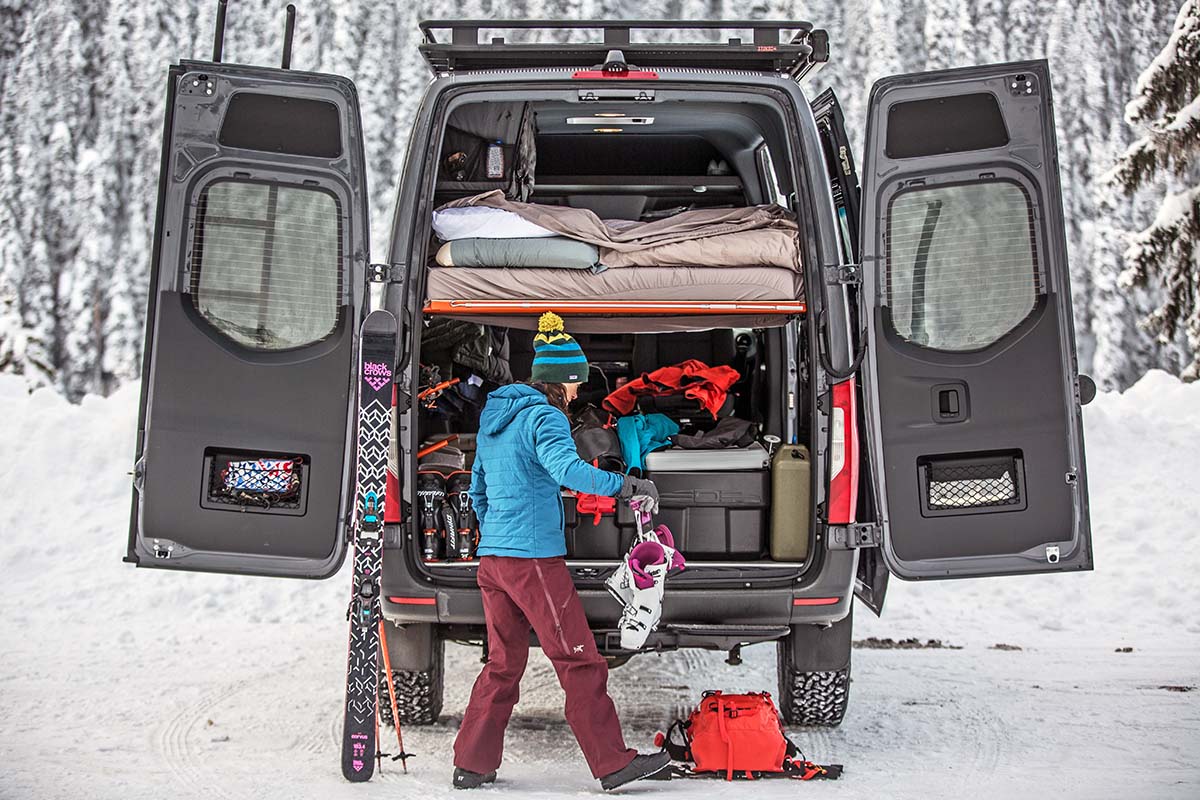 It's worth noting that a waterproof design doesn't do much good if snow and moisture come in from around the tongue or top of the boot. If deep puddles are a concern, you'll want a gusseted tongue that connects to the upper high on the boot. And as we touched on in the boot height section above, a tall design like the Bogs Neo-Classic Tall can be useful in keeping your legs dry, but it's often worth adding a pair of waterproof gaiters to truly stay protected in deep snow. Typically made out of durable nylon, gaiters are tough and provide an additional barrier around the top of your boots and lower leg (they're popular for uses like hiking, snowshoeing, and mountaineering). Models vary significantly by activity and how much protection you need, but for serious winter use, the Outdoor Research Crocodile Gaiters are the real deal.
 
Breathability
In general, winter boots put a premium on warmth and protection, which has a negative impact on breathability. Their substantial, waterproof constructions that do so well at trapping heat inside are equally prone to running hot in mild temperatures and during active use. For many folks, this is a fair tradeoff, and breathability shouldn't be a top consideration for those planning only quick trips outside or if conditions in your region are truly frigid. But if you live in an area with mild winters or plan to be hiking or snowshoeing for extended stretches, you'll want a balanced design that has a lighter-weight upper and less insulation (around 200g). Hiking-ready models like the Oboz Bridger Insulated and Merrell Thermo Chill both perform well in this regard. And if breathability is a top priority and temperatures will be warm (around freezing or above), it may be worth opting for a pair of uninsulated hiking boots instead.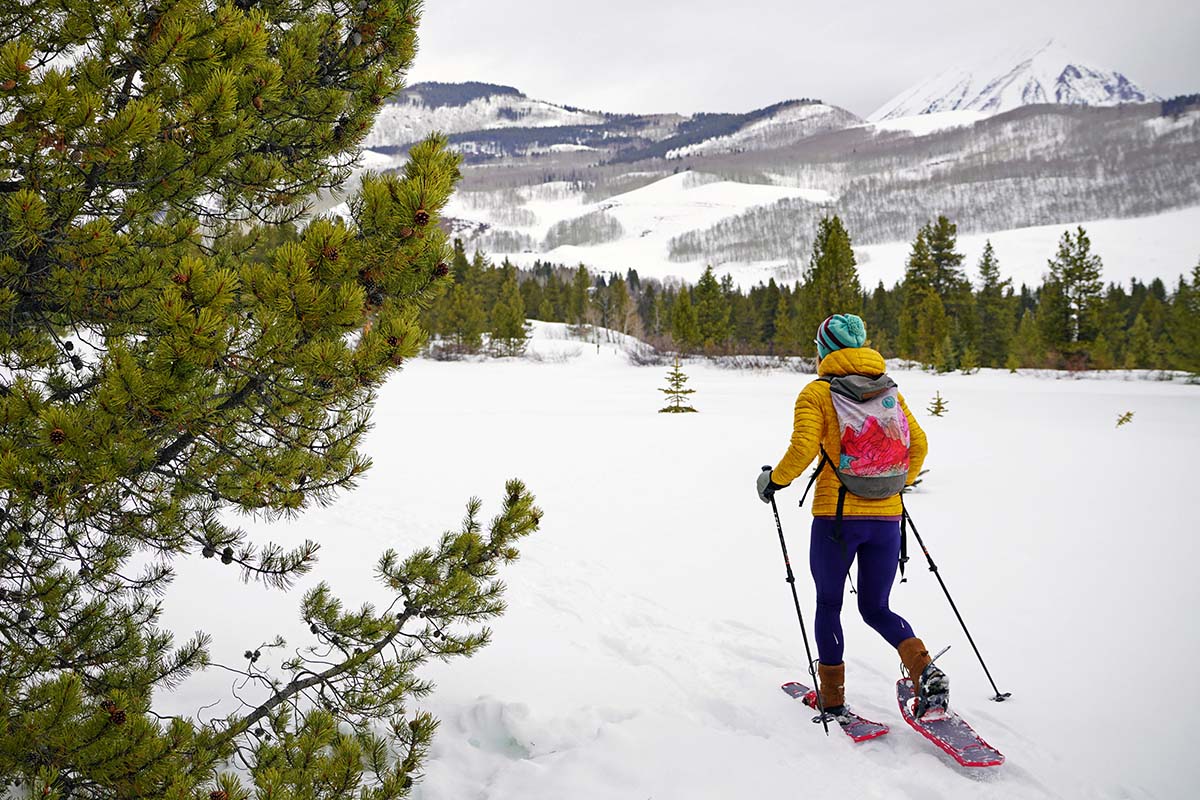 Boot Outsoles and Grip
Snow boots have a different lug pattern and rubber compound than their on-dirt hiking boot cousins. The compounds are softer and don't harden even when temperatures drop, which helps them continue to grip on snow and ice. In addition, the lug patterns are designed to prevent snow buildup. The outer soles themselves are very thick, which isolates your feet from the cold and rough ground underfoot. In general, hiking-ready models have the best traction, while casual and work boots can be a little cumbersome and prone to slippage. Vibram made some headlines with their Arctic Grip compound that's specifically designed to stick to slippery and icy surfaces, which we see in designs like the Danner Arctic 600 Side-Zip. But from our experience, we still turn to a winter traction system (covered below) in very icy conditions.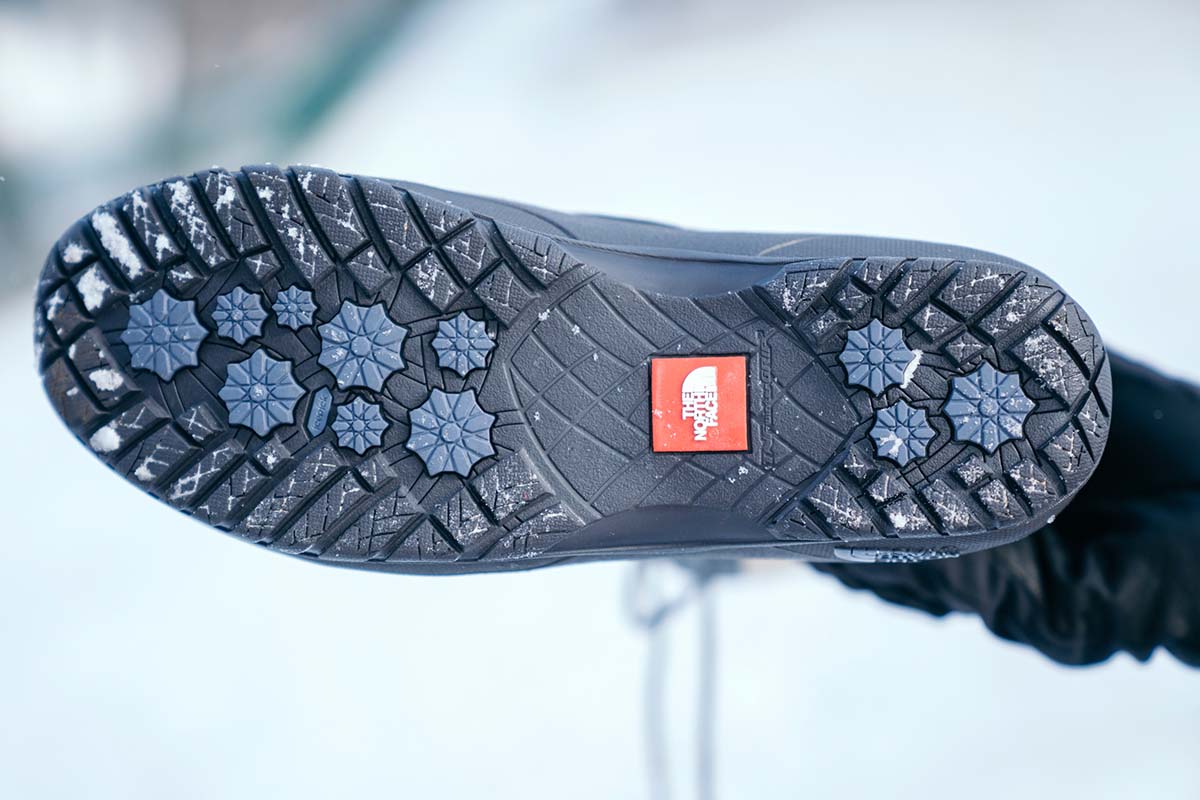 Your Socks Matter
Pairing your winter boots with quality socks helps to maximize warmth and comfort. It's true that you can get away with just about any design for quick trips outside, but if you'll be hiking, working, or spending significant stretches of time in harsh weather, it's worth dialing in your sock selection. Material-wise, the clear leader is wool—and particularly the merino variety—for its high level of warmth, breathability, and stink prevention. Synthetics are a viable alternative, but they're usually not as warm and will retain smells more than wool. Avoid cotton socks at all costs—they don't wick away moisture or insulate when wet, which is a bad combination for winter use.
In addition to choosing the right materials, you also need to think through the thickness of your socks. For the most part, the best socks for winter use fall in the mid- and heavyweight categories. Both are fairly thick, which means you'll likely need to size your boots accordingly (more on this in the fit section below). For everyday use or if you're not prone to running cold, a midweight sock is a versatile choice. In this category, we love Darn Tough's classic Hiker Boot Sock, which provides decent warmth to complement your boots but won't overheat as easily in mild temperatures or when working hard. Heavyweight options like the Smartwool Mountaineer are a whole different breed—they're thick enough to nearly double as a pair of slippers and provide a noticeable bump in insulation and cushioning underfoot. For subzero temperatures or if you'll be sedentary outside, it's worth going with a super thick design.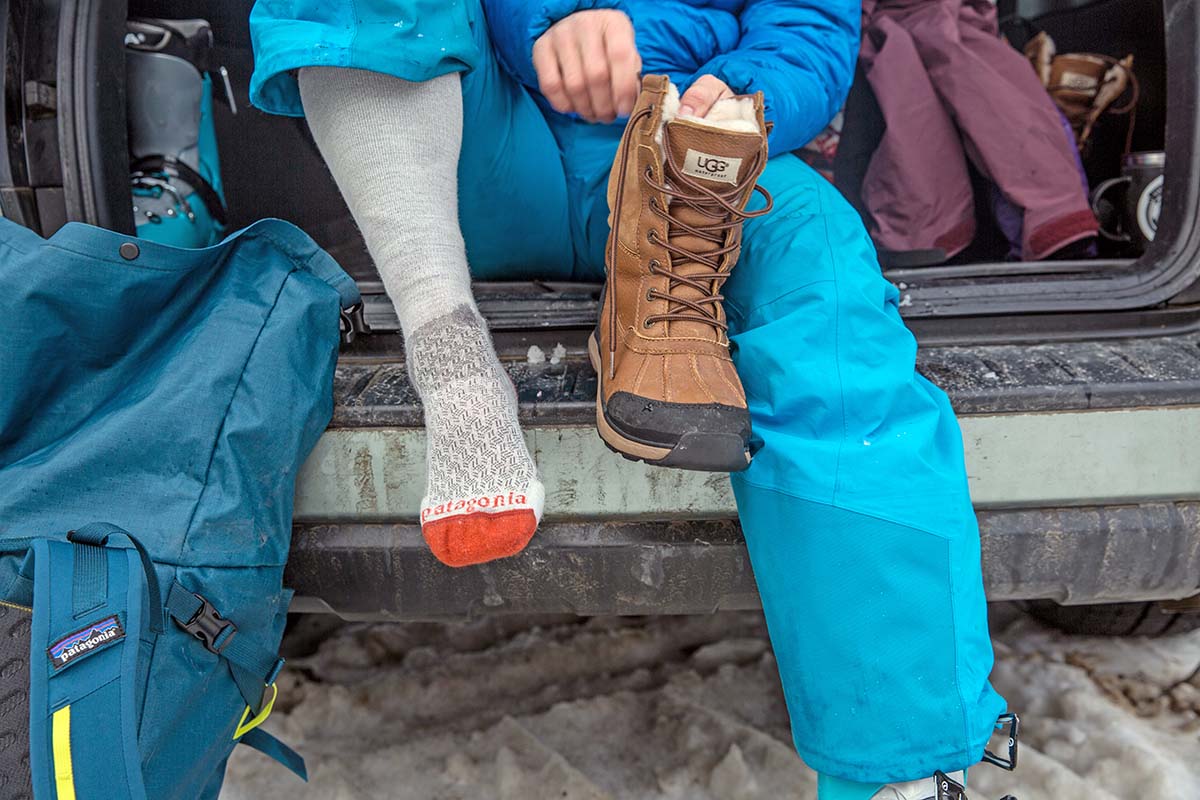 Fit and Sizing
Fit always is an important consideration with footwear, and the same holds true for winter boots. A properly sized boot should be large enough to accommodate your thickest socks without pinching (a fit that is too snug will inhibit circulation and compromise the warmth the boot provides). It's also important to consider the type of activity: a boot that will only be worn around town like the UGG Adirondack doesn't have to fit perfectly to perform well (you can err on the side of going a little loose). But for the more hiking-focused models like the Oboz Bridger 7" Insulated, it's best to get fit dialed in so that you can maximize precision and warmth.
Sizing varies widely between brands and individual models, and we provide as many insights as possible in our product write-ups above. In general, be prepared to order a different size than what you normally would for a pair of everyday sneakers or running shoes. If there aren't specific recommendations from the manufacturer or you can't piece together a good idea on fit from reading user reviews, we've found the following works pretty well: if you'll be wearing midweight socks, it's a good idea to go up a half size. Expedition-level socks are extremely thick, so it's common to go up a full size in these cases. Again, fit can be tough and it's always best to try your boots on before buying. But if you're shopping online, do your research and be prepared to size up in many cases.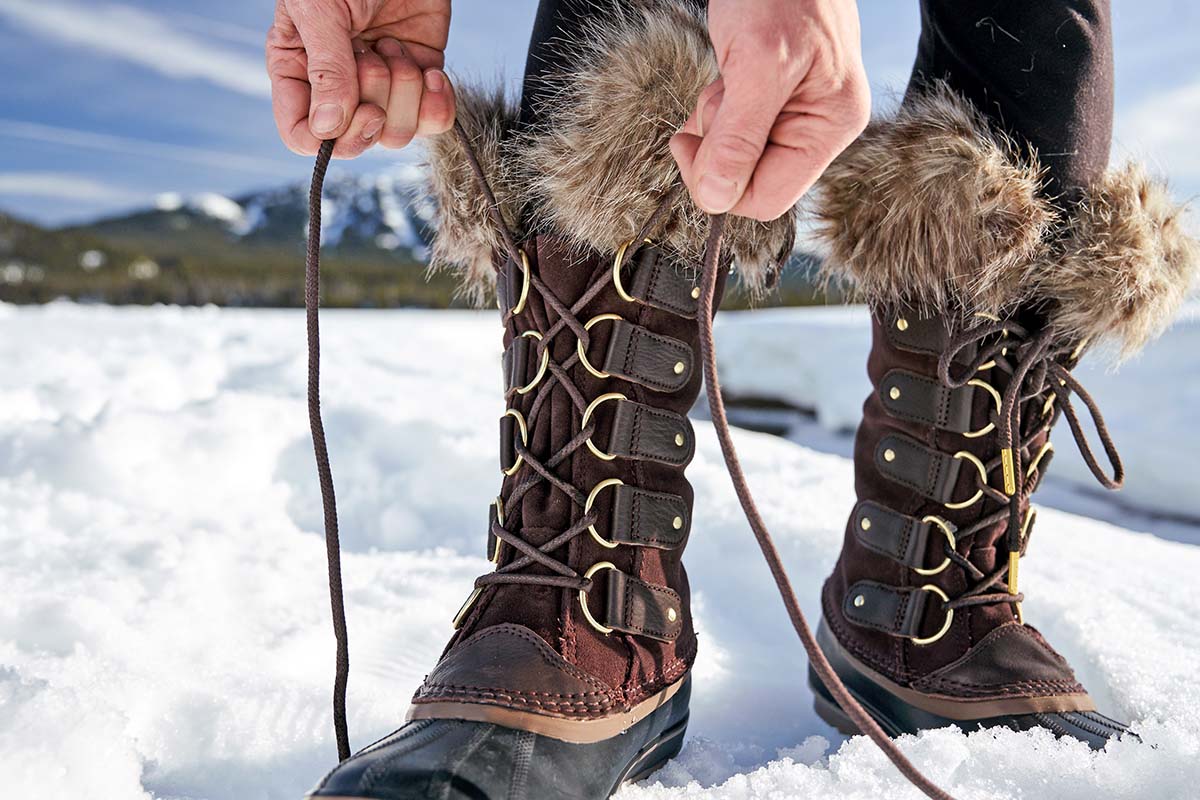 Boot Care and Treatment
To keep your winter boots lasting as long as possible, it's worth taking proper care of your investment. For starters, it's always a good idea to keep them clean to avoid any breakdown in the materials. The grime that you pick up when walking through a slushy parking lot can wreak havoc on a boot if it isn't cleaned out. Warm water, dish soap, and a simple brush can do the trick in most cases. Further, many of the designs above have leather in the construction, which is a material that benefits from occasional treatment to avoid drying and cracking. A quality sponge-on design like Nikwax's Conditioner works well on full-grain leather, keeping it in good shape while adding a water-resistant coating to the top. For boots that don't have a waterproof membrane or coating, it's a good idea to treat them from the start (L.L Bean's Boot Guard works well for their duck boot models). Another benefit of adding a leather conditioner right away is that it helps soften the leather and shorten the break-in period.

Traction Devices for Winter Boots
Winter boots have outsoles designed for walking on snow, but the reality is that even the best rubber compound and tread pattern won't grip all that well on a sheet of ice. To safely hike or even walk around town if the conditions are really bad, we use an additional traction system (also referred to as a traction device). There are a variety of designs on the market, from chain-style Yaktrax for casual walking to the Kahtoola MICROspikes for heavy-duty ice and backcountry use.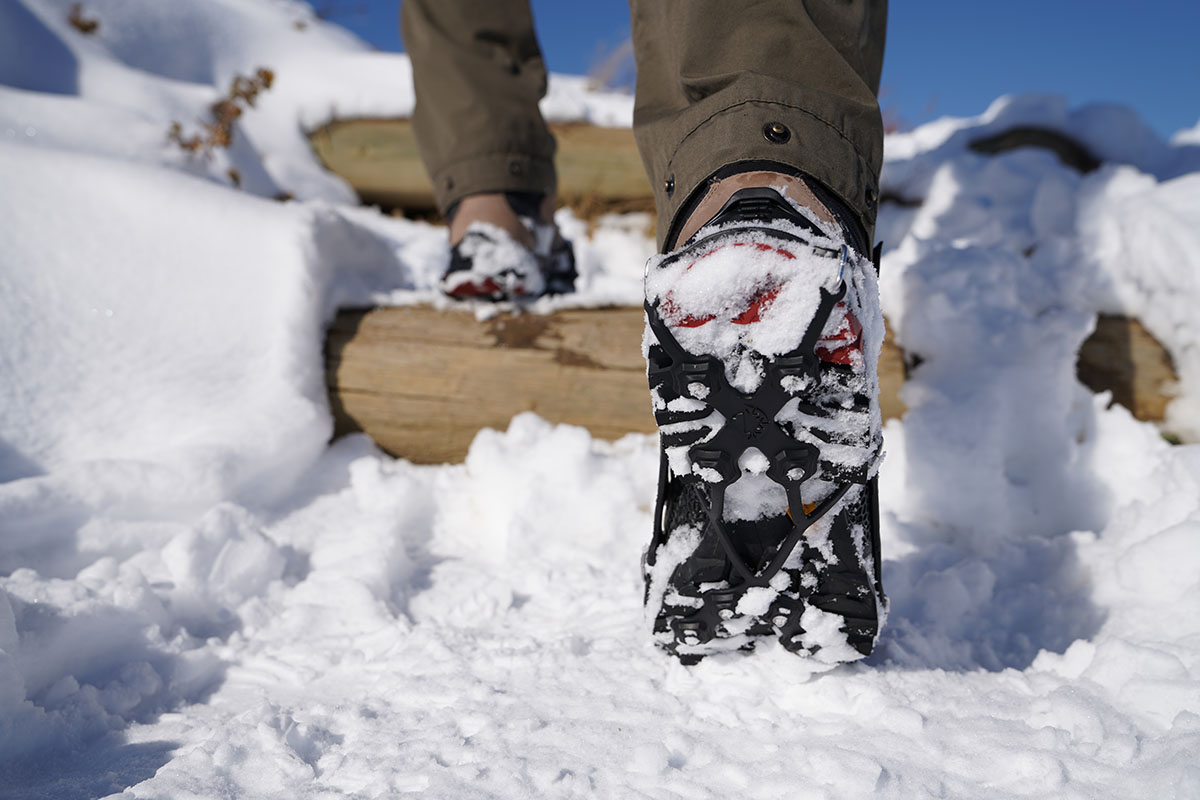 For pairing with winter boots, one of our favorite traction systems is the Kahtoola NANOspikes. Designed for running in winter, we've found their minimalist style to work wonderfully on icy sidewalks and trails. The 10 small carbide tips provide excellent grip (we were particularly impressed with their secure traction in freezing rain), and the NANOspikes are lightweight and take up very little space in a bag. The downside with all traction systems is they take a little time to put on and take off and can be overkill for mixed conditions, but they're the best way to cover ground safely on icy days. For a full breakdown of options, see our article on the best winter traction devices.

Using Regular Waterproof Hiking Boots in Winter
Dedicated winter boots offer premium protection and warmth in freezing, snowy conditions, but we often use our regular hiking boots for short and active winter jaunts. For example, if you will be snowshoeing or walking without stopping, uninsulated and waterproof hiking boots with good socks may very well do the trick. One of our favorite models is Salomon's classic Quest 4, which has a durable, water-shedding exterior and Gore-Tex bootie that offers lightweight warmth. To be clear, this is a good option for trips when you will be on the go the whole time and the weather isn't particularly frigid. If you'll be stopping or out for long stretches of time, it's safest to stick with an insulated winter-specific design.
Back to Our Top Women's Winter Boot Picks  Back to Our Women's Winter Boot Comparison Table
Learn More About Outdoor Gear