For getting outdoors on cool fall and spring days, it's hard to beat a vest. This simple layering piece adds warmth to your core and is cozy, packable, less bulky, and cheaper than a full jacket. But the vest market is varied, ranging from casual to performance and including a number of possible insulation types. Below we break down the best vests of winter 2023, with our favorite down, synthetic, merino wool, and fleece models. For more background information, see our vest comparison table and buying advice below the picks.
 
---
Our Team's Vest Picks
---

Best Overall Vest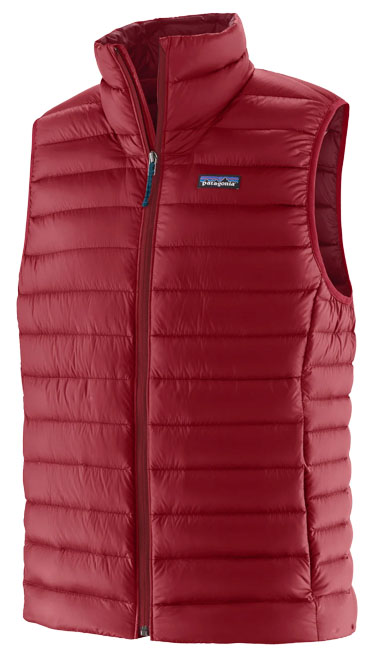 Category: Casual/performance
Insulation type: Down (800-fill)
Weight: 8.9 oz.
What we like: Warm, well-built, and looks great.
What we don't: Pricey.
Popular for both casual and active use, Patagonia brings it all together with the Down Sweater Vest. In terms of warmth, the vest is filled with 3 ounces of premium 800-fill down that will keep your core nice and cozy (it's also certified to the Responsible Down Standard). The nylon shell fabric looks and feels great, repels light moisture, and comes in a wide variety of colorways from muted to bright. Bonus: With a recent update, it's now made from recycled fishing nets, which only adds to the all-around appeal. From wearing around the city to hiking and use as a midlayer for skiing, this vest pretty much does it all.
As we touched on above, Patagonia recently updated their Down Sweater collection, and we think most of the changes were positive. In addition to the clear sustainability slant, the latest Down Sweater Vest uses a little more down than the past-generation model (3 oz. vs. 2.4 for the prior version), weighs around an ounce less, and has a slightly thicker and loftier look. We're also big fans of the new interior drop-in pockets, which are a nice place to stash items like a hat and gloves. The biggest downside is cost: At $229 (a notable $50 more than its predecessor), the Down Sweater Vest is an undeniably steep investment. But it's hard to beat the build quality and versatility, which is why we've kept it at the top of our list for winter 2023.
See the Men's Patagonia Down Sweater  See the Women's Patagonia Down Sweater
Best Budget Vest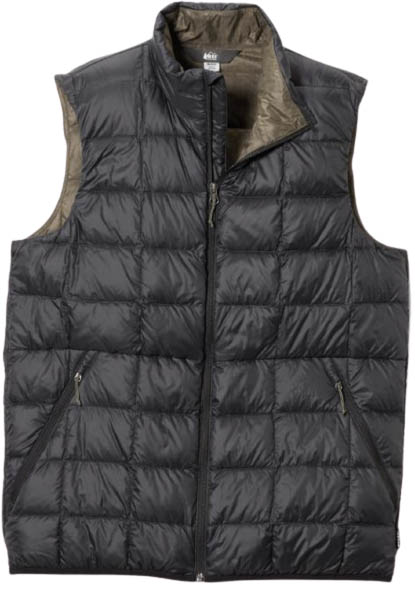 Category: Casual
Insulation type: Down (650-fill)
Weight: 7.7 oz.
What we like: A great value for a warm and good-looking vest.
What we don't: Not as warm or lightweight as the Down Sweater above.
REI Co-op's in-house brand of outdoor clothing consistently churns out performance pieces at prices that are substantially lower than most big brands. The 650 Down Vest 2.0 is no exception, offering a legitimately warm layering piece for $80—nearly 1/3 the cost of the Patagonia Down Sweater above. This vest isn't teched-out and doesn't have the high-end look and feel of the premium alternatives on this list, but it's a fantastic value overall.
What do you compromise by going with the REI Co-op 650 2.0 Down Vest? It uses lower quality 650-fill-power down compared to the Down Sweater's 800-fill-power, which means less warmth for the weight, but this isn't hugely important unless you're counting ounces or heading into the backcountry. In addition, it has square-shaped baffles and a boxier, roomier fit than the Patagonia, which results in a slightly less polished look. The good news is that the REI holds its own in terms of sustainability, with RDS-certified down (for humane treatment of birds) and recycled, bluesign (read: ethically sourced) materials. For the price, you'd be hard pressed to find a better vest.
See the Men's REI 650 Down Vest 2.0  See the Women's REI 650 Down Vest 2.0
Best Vest for Active Use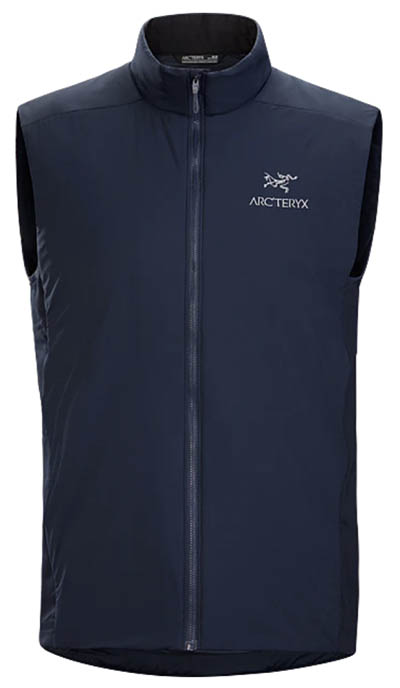 Category: Performance
Insulation type: Synthetic (Coreloft)
Weight: 8.5 oz.
What we like: Wind-resistant, durable, and highly mobile.
What we don't: Not a ton of insulation and doesn't breathe as well as the Nano-Air.
When it comes to vest insulation, you have two main choices: down or synthetic. Down is known for its superior loft and warmth-to-weight ratio, while synthetic insulation is the best choice for breathability and weather resistance. If you're looking for a vest to wear during high-output pursuits or when the weather report looks iffy, synthetic is the way to go and the Arc'teryx Atom LT is our top pick. The Coreloft synthetic insulation and stretchy side fleece panels are warm yet breathable, the DWR finish sheds a light rain or snow, and the vest's athletic cut means it will stay close to your body whether you're hiking, climbing, skiing, or snowshoeing. 
In terms of downsides, the Atom LT is relatively thin and light on insulation at only 8.5 ounces total. Taking the synthetic insulation into account, it isn't nearly as warm as a down vest like the Down Sweater above. And while we find the Arc'teryx to be far more durable and wind-resistant than Patagonia's synthetic Nano-Air below, it doesn't quite measure up in terms of breathability. But it's hard to knock the versatility, protection, and premium look and feel that Arc'teryx offers, which are big selling points of this vest.
See the Men's Arc'teryx Atom LT  See the Women's Arc'teryx Atom Vest
Best Casual Vest for Everyday Use
Category: Casual
Insulation type: Fleece
Weight: 13.9 oz.
What we like: Very cozy, classy looks, and versatile performance.
What we don't: Not built for serious outdoor use.
The down and synthetic vests above are quality insulators, but fleece wins out in coziness and everyday appeal. And no design puts it all together better than Patagonia's iconic Better Sweater Fleece Vest. For a reasonable $109, the Better Sweater combines plush, moisture-wicking fleece insulation that provides solid warmth for most mild and spring days with a classy, knitted exterior that wears incredibly well around town. It's not an active piece like the Arc'teryx Atom LT above, but breathability is surprisingly good for lower-output uses like hiking and downhill skiing. Added up, it's a highly versatile and affordable design that looks great around town but can easily pull double duty for light outdoor pursuits.
All that said, fleece isn't the best option for serious performance use. In testing the jacket version of the Better Sweater, we found that drafts were easily able to seep through the fairly porous outer knit fabric—we needed to add a shell overtop on gusty days, even in otherwise mild conditions. In addition, you can get more warmth for less weight with options like Patagonia's own Down Sweater or the Atom LT above. And a final knock is that fleece tends to pill and will require regular maintenance to maximize its lifespan. But for excellent comfort and everyday appeal at a low price point, the Better Sweater Vest is hard to beat.
See the Men's Better Sweater Vest  See the Women's Better Sweater Vest
Best Down Vest for Winter
Category: Performance/casual
Insulation type: Down (700-fill)
Weight: 13.2 oz.
What we like: Excellent warmth for the price.
What we don't: Overkill for mild conditions.
Patagonia's Down Sweater above is a great option for shoulder-season use, but those headed out in true winter temperatures will likely want a bump in warmth. Enter Outdoor Research's aptly named Coldfront Down Vest, which packs in a whopping 5.3 ounces of 700-fill-power down (for reference, the Down Sweater boasts 3 oz.) that will keep you cozy on cold-weather adventures like snowshoeing, downhill skiing, and winter hiking. For added weather protection, OR also included a highly water-resistant Pertex Quantum shell and synthetic VerticalX ECO insulation at the shoulders for extra assurance in light rain or snow. At just $149, the Coldfront is an excellent value and a whole lot of vest for the price.
However, the Outdoor Research Coldfront falls short in one key area: versatility. In short, the Coldfront is one of the warmest and most substantial vests on the list and built to withstand cold temperatures, but it's overkill for mild conditions and not as around-town friendly as picks like Patagonia's Down Sweater or Better Sweater above. Alternatively, OR's own Helium Down Vest weighs less at just 8.4 ounces, offers similar weather resistance, and has a much more streamlined and lower-profile (read: less bulky) look and feel. But for serious warmth at a reasonable price and weight, the Coldfront is an undeniably well-built and capable piece. Note: The Coldfront does run on the bigger side to allow room for layering underneath, so be sure to take that into account when deciding on size.
See the Men's OR Coldfront Down Vest  See the Women's Coldfront Hooded Down Vest
Best of the Rest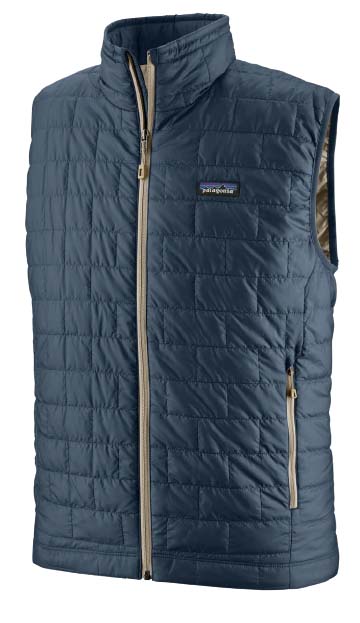 Category: Casual/performance
Insulation type: Synthetic (PrimaLoft Gold Eco)
Weight: 8 oz.
What we like: Sleek design, low-profile, and cheaper than down.
What we don't: Not as warm as down.
As we touched on above, down wins out in warmth and loft, but synthetic insulation breathes better, dries quicker, and is cheaper. One of our favorite synthetic-insulated vests on the market is the Nano Puff from Patagonia, which also comes in a very popular full jacket version (as do most other vests on this list). This Nano Puff Vest is sleek and versatile: It's decently warm, light, packs down small, and looks the part for both casual and active use. It's also less expensive than a comparable down vest and noticeably lower-profile.
What are the downsides of the Patagonia Nano Puff Vest? The PrimaLoft Gold Eco insulation is pretty darn warm but not to the same degree as down, so this vest isn't built for frigid conditions (it's ideal for fall, spring, and as a layering piece). And the current model is slimmer than past versions, so you may want to consider sizing up if you're on the border or plan on wearing the vest over bulky layers. But for an active vest with tons of everyday appeal, you can't beat the Nano Puff.
See the Men's Patagonia Nano Puff  See the Women's Patagonia Nano Puff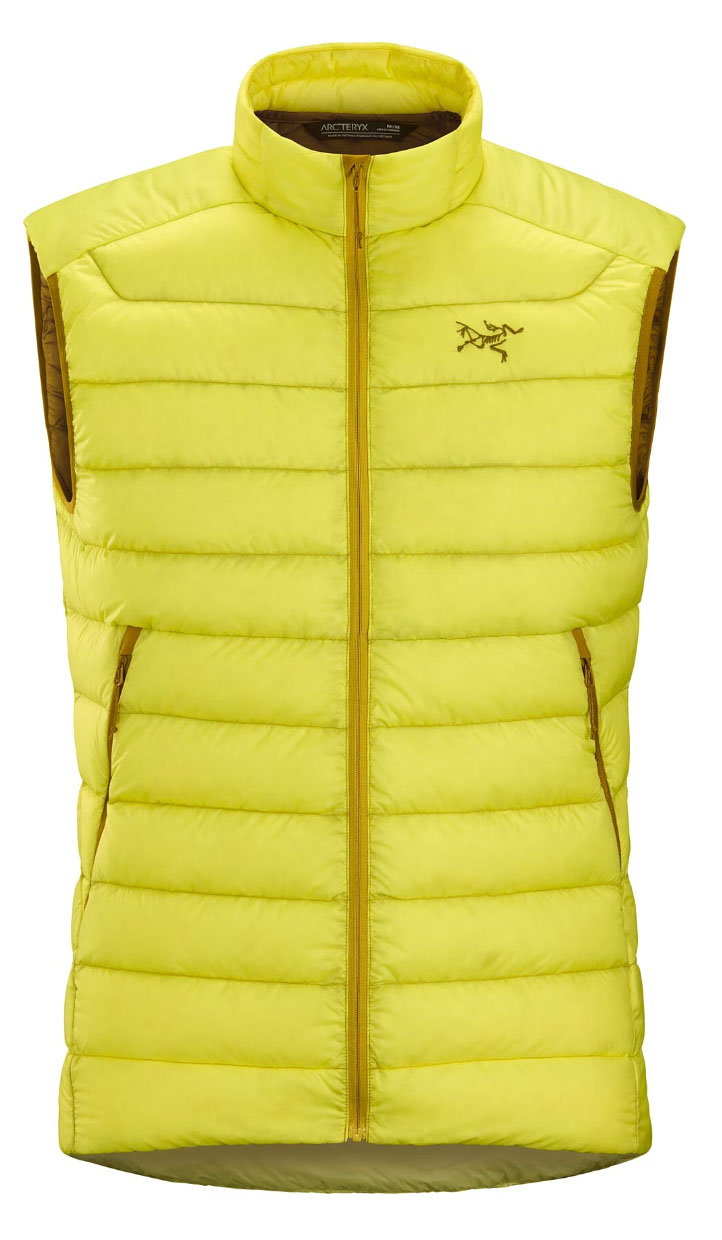 Category: Performance/casual
Insulation type: Down (850-fill)
Weight: 7.1 oz.
What we like: Premium build quality and design with a recent boost in sustainability.
What we don't: Pricey and built with active use in mind.
Arc'teryx's Cerium collection has been well loved for years, combining high-end materials and excellent build quality in a good-looking package. The latest Cerium Vest (formerly the Cerium LT) follows suit and is high-end in just about every way: You get 850-fill goose down for warmth (the Patagonia Down Sweater Vest above has slightly lower 800-fill), a super-soft face fabric and lining, and Coreloft synthetic insulation in areas prone to getting wet like the shoulders and collar. And with the recent update, Arc'teryx tacked on a host of sustainability measures, including recycled and bluesign-approved fabrics, bio-based materials, RDS-certified down, and a dope-dyed shell that uses less energy and water during production than standard dyeing practices. The result is just about all you can ask for in a vest, from weight and warmth to functionality and looks.
We have the Cerium Vest ranked below the Down Sweater for a couple of reasons. The first is cost: $275 is a lot to spend on a layering piece (the past-generation Cerium LT was around $25 cheaper). Second, Arc'teryx's athletic fit isn't for everyone, not to mention a vest often is layered over a shirt or light jacket and therefore is best with a slightly looser cut. But if you love the Arc'teryx fit or plan on packing the Cerium along for active use, this vest will not disappoint.
See the Men's Arc'teryx Cerium Vest  See the Women's Arc'teryx Cerium Vest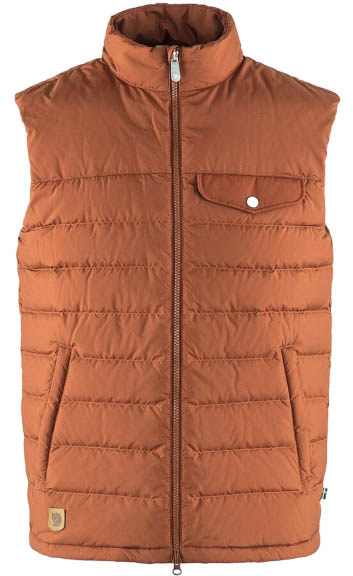 Category: Casual
Insulation type: Down (600-fill)
Weight: 13.4 oz.
What we like: Great looking, well made, and warm.
What we don't: Limited versatility for the price.
When warmth-to-weight ratios matter, we'll stick to names like Arc'teryx, Patagonia, and Outdoor Research. But for casual use around town, Fjallraven consistently catches our eye with outerwear that merges performance and fashion. The Greenland Down Liner Vest screams quality, pairing well-selected colorways with classic horizontal baffles and a stylish chest pocket with flap and button closure. And like many other vests here, Fjallraven is making efforts toward sustainability, using recycled polyester, organic cotton, a PFC-free water-resistant finish, and ethically sourced down.
With a hefty 13.4-ounce weight and limited breathability, the Greenland is not our first choice (or anything close to it) for active pursuits. Combined with the steep $210 price tag, it's far from the best value on the market—especially for those who prioritize versatility. But along with the Patagonia Better Sweater above and Classic Retro-X and L.L. Bean Upcountry Waxed Cotton vests below, it's one of our favorite casual options of 2023. For cold-but-not-frigid shoulder-season weather, the Fjallraven Greenland is a classy, versatile layer that provides solid core warmth for around-town use and light adventuring.
See the Men's Fjallraven Greenland Down  See the Women's Fjallraven Greenland Down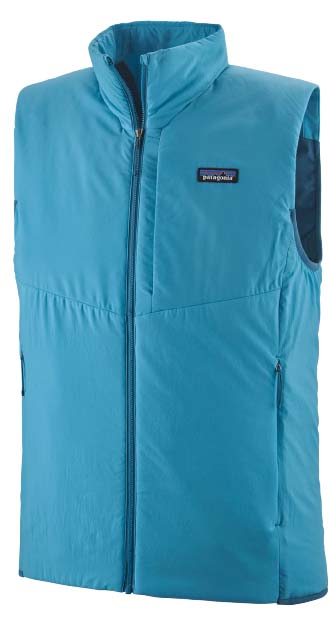 Category: Performance/casual
Insulation type: Synthetic (FullRange)
Weight: 7.4 oz. ­
What we like: Supreme comfort and breathability.
What we don't: Pricey and not very warm.
Of all the factors we consider in ranking vests, the Patagonia Nano-Air wins outright in two of them: comfort and breathability. First, the Nano-Air has a super-soft lining and shell that are literally pillowy in nature. Second, Patagonia's FullRange insulation is highly breathable and beats out Arc'teryx's Coreloft and others in terms of regulating temperature on the go. This means that the Nano-Air Vest is an ideal midlayer for high-output activities like backcountry skiing or as an outer layer for running in cold weather.
We do have a few issues with the Nano-Air Vest. The first is price: $200 is a lot to spend for a synthetic vest that isn't all that warm. This leads up to our next point: The 60-gram FullRange insulation does a decent job if you're moving but won't keep you cozy when standing still or in cold weather. Finally, the jacket doesn't block the wind like the Atom LT or Nano Puff above. These downsides are all a result of the technologies that have gone into making it a high-performance piece, but they hurt the Nano-Air's appeal for casual use. For an even more purpose-built option for high-exertion activities, check out Black Diamond's First Light Hybrid Vest, which utilizes PrimaLoft Silver Active insulation with strategically placed nylon/merino wool panels for added breathability.
See the Men's Patagonia Nano-Air  See the Women's Patagonia Nano-Air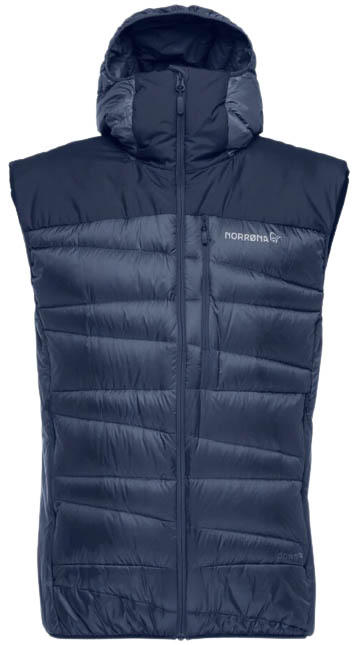 Category: Performance
Insulation type: Down (750-fill)
Weight: 9.8 oz.
What we like: A great-looking down vest with synthetic fill in moisture-prone areas.
What we don't: Expensive and heavier than the Cerium above.
Norway-based Norrøna isn't a household name in the U.S. like Arc'teryx or Patagonia, but they offer a quality lineup of outerwear that's purpose-built for demanding backcountry pursuits. True to form, the Falketind Down750 is a decidedly premium piece that works well for everything from cold-weather hiking to bundling up around town. Like the Cerium Vest above, the Falketind is primarily insulated with down but substitutes synthetic at the neck, sides, shoulders, and lower back for better wet-weather assurance. Norrøna also added a hood—not common among vest designs— which adds a good dose of warmth and a nice, cozy look.
As a result of the added features, the Falketind isn't particularly light for a down vest, clocking in more than 2 ounces heavier than the Cerium Vest. Further, while 750-fill down is fairly high-quality, you can get more premium varieties that are warmer for the weight (and therefore less bulky) within Arc'teryx or Patagonia's lineups. Combined with the very steep price tag, these downsides are enough to push the Falketind to a mid-pack finish. But we do love the look and feel of this Norrøna vest, and its thoughtful design touches make it versatile for both performance and casual use (which could help justify the cost).
See the Men's Norrøna Falketind Down750  See the Women's Norrøna Falketind Down750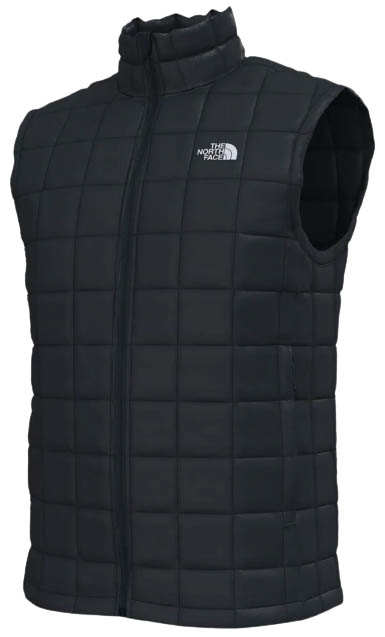 Category: Casual/performance
Insulation type: Synthetic (PrimaLoft ThermoBall)
Weight: 13.3 oz.
What we like: Comfortable, lightweight, and easily compressible.
What we don't: Heavier but not warmer than the Nano Puff above.
We haven't seen many collections as hyped up as The North Face's ThermoBall was at its release, but there was good reason for the fanfare. The namesake synthetic fill was designed with insulation expert PrimaLoft to mimic the fluffiness and warmth-to-weight ratio of down. Nothing is quite like premium duck or goose plumage, including ThermoBall, but it sure does a nice job of keeping you cozy while feeling light and packing down small (a 2021 update made the ThermoBall Eco Vest even more durable and compressible). And we appreciate that TNF also uses 100% recycled materials, from the shell fabric down to the insulation.
In general, we've found the ThermoBall line to be best suited for casual uses such as day hiking, resort skiing, and running errands around town. True to its intentions, the vest gets high marks for durability and is fairly streamlined compared to down, making the ThermoBall a nice layering option under a rain jacket or ski shell. And when stuffed into its own pocket, the vest is surprisingly compact and easy to throw in your pack. ThermoBall has its fair share of competition (including Patagonia's PlumaFill used in their popular Micro Puff line), but for a respectable impression of down at a reasonable price point, the TNF is worth a look.
See the Men's TNF ThermoBall Eco Vest  See the Women's TNF ThermoBall Eco Vest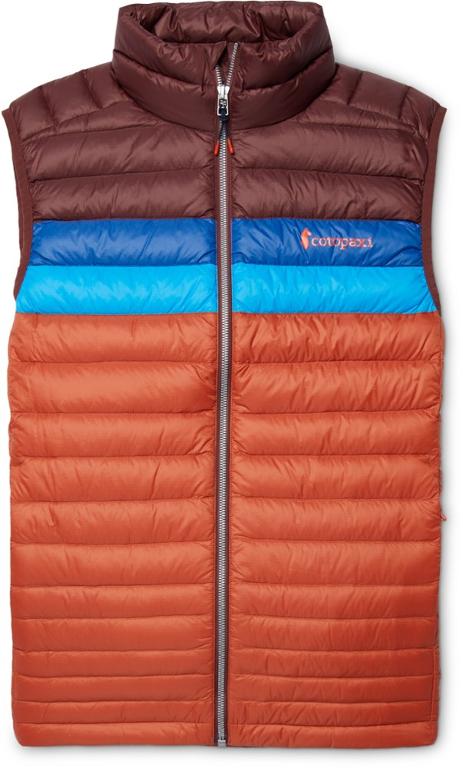 Category: Casual/performance
Insulation type: Down (800-fill)
Weight: 8 oz.
What we like: Premium materials and cheaper than the Down Sweater above.
What we don't: Not everyone will love the colorful striped design.
There's no shortage of down vests, but the Cotopaxi Fuego stands out to us for a few reasons. First is value: For $165 (a considerable $64 less than our top-ranked Down Sweater Vest), you get a really nice piece with premium 800-fill down and a water-resistant 20-denier shell. Second, it toes the line between our casual and performance categories better than most, balancing Cotopaxi's trademark retro styling with a functional feature set that includes great storage (two zippered handwarmer pockets and two interior pockets) and a drawcord at the hem. Clocking in at just 8 ounces and stuffing into its own pocket, it's even lighter than the Down Sweater (8.9 oz.) and a worthy choice for hikers, skiers, and climbers alike.
It's worth noting that Cotopaxi is one of just a few outdoor brands (including Stio, REI, and Ibex) that is climate neutral-certified, meaning that they continuously measure their footprint and work to offset (and then reduce) those emissions. This won't be a selling point for everyone, but it's become an increasingly important consideration for many consumers in recent years. We rank the Down Sweater higher for its more subdued and streamlined styling—the Cotopaxi's vibrant stripes can be a bit polarizing—but this is largely a matter of personal preference. In the end, Cotopaxi has a ways to go in matching Patagonia's long-standing reputation for quality and fit, but their Fuego is a well-priced Down Sweater alternative. For a cheaper synthetic option from Cotopaxi with similar styling, check out their Teca Calido Insulated Vest.
See the Men's Cotopaxi Fuego Vest  See the Women's Cotopaxi Fuego Vest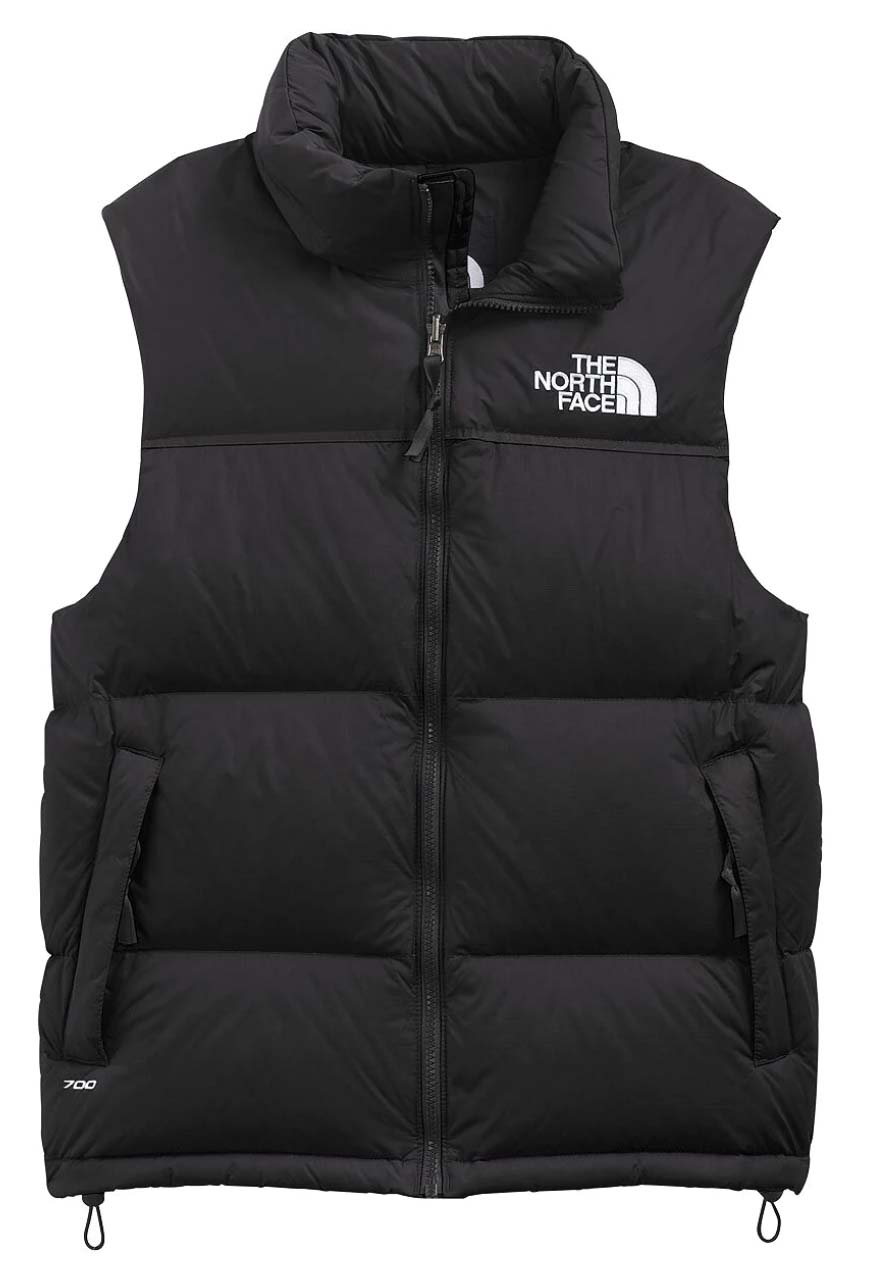 Category: Casual
Insulation type: Down (700-fill)
Weight: 1 lb. 3.2 oz.
What we like: One of the warmest vests on this list.
What we don't: On the heavy side and rather puffy.
Like Outdoor Research's Coldfront above, The North Face's Nuptse Vest is a substantially built design with a cold-weather pedigree to back it up. This vest is nearly synonymous with the term "puffy" with thick, oversized baffles and heaps of lofty, 700-fill goose down (The North Face doesn't provide a fill weight, but it feels like a lot). The Nuptse is bulky for a vest, although its quality down compresses pretty well. And many love the retro-inspired design, which looks the part in the city or on the trail. For daily outings, cold-weather hiking, or use as a midlayer on frigid days, the Nuptse is a nice option. 
Why do we have it ranked here? Stacked up against the aforementioned Coldfront, The North Face Nuptse is heavier by about 6 ounces, pricier by around $70, lacks synthetic insulation for added weather resistance, and has a noticeably bulkier look and feel. On the flip side, the Nuptse wins out in durability with a thick and robust 40-denier shell (the OR's is 30D) and tacks on a stowable hood for added warmth. In the end, we think the Coldfront is the more well-rounded cold-weather pick, but the Nuptse is a viable and more everyday-friendly alternative for those who don't mind the weight and cost penalties. And like the OR, the Nuptse has a relaxed fit for layering underneath, so you may want to size down depending on your intended use. For a step down in warmth and price, check out The North Face's own Aconcagua 2 Vest, which is lighter at 14.8 ounces and uses lower-quality 550-fill down.
See the Men's TNF Retro Nuptse  See the Women's TNF Retro Nuptse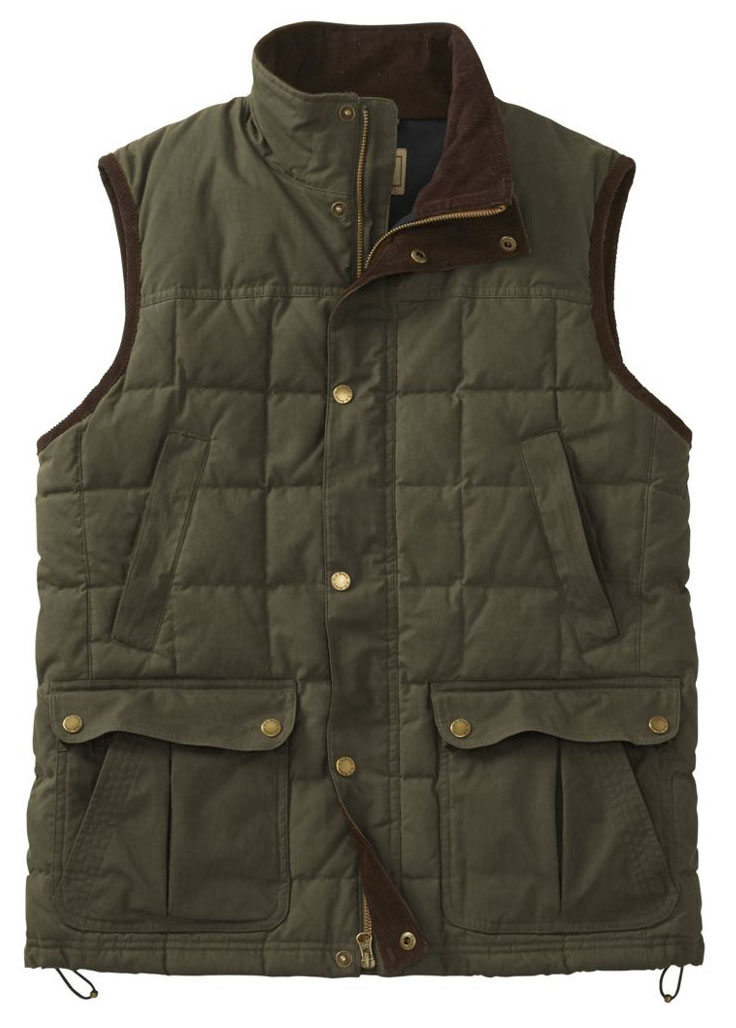 Category: Casual
Insulation type: Down (650-fill)
What we like: Functional and stylish.
What we don't: On the pricier end for a casual piece.
L.L. Bean consistently hits the mark when it comes to effectively balancing fashion and function, and their Upcountry Waxed Cotton Down Vest carries the torch. Like the Fjallraven Greenland above, the Upcountry Vest is decidedly more casual than performance-focused but looks great around town and can pull double duty for light outdoor use. Starting with warmth, the L.L. Bean is packed with 650-fill down (bonus: It's hydrophobic) with soft corduroy accents inside the collar and pocket flaps for a nice boost in coziness. And all of the small features are there: The zipper and buttons are solid brass, the storage layout is generous and well executed, and the branding is much less prominent than on other vests on this list (only on the inside tag). 
Deciding on the best casual vest will likely come down to preferences on materials, styling, and cost. At $179, the Upcountry Waxed Cotton Down Vest costs around $30 less than the Fjallraven Greenland above and uses slightly higher-quality insulation, but you forgo some of the ubiquitous down-puffy look. Alternatively, budget-conscious shoppers can save with Patagonia's $109 Better Sweater Fleece Vest above or Carhartt's $80 Duck Vest below. But the L.L. Bean's waxed exterior will fare better over the long term (it will develop a vintage patina look similar to leather), and the thoughtful finishes add a high-end, premium feel. For a slightly more performance-ready option from L.L. Bean that still looks the part for daily wear, check out their Mountain Classic Down Vest. 
See the Men's Upcountry Down Vest  See the Women's Upcountry Down Vest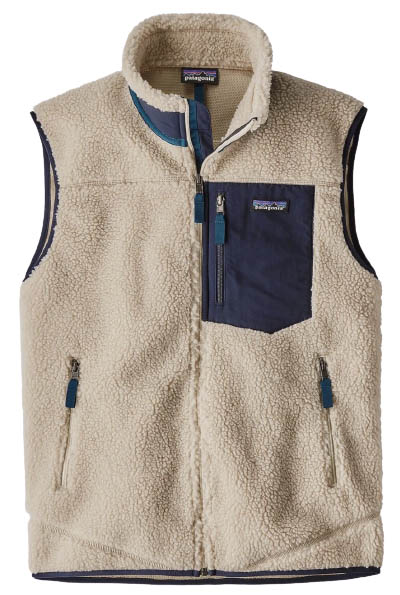 Category: Casual
Insulation type: Fleece
Weight: 1 lb. 1.9 oz.
What we like: Stylish, windproof, and warm.
What we don't: Really pricey for a fleece.
Nobody does fleeces better than Patagonia, and their Classic Retro-X harkens back to some of the brand's original designs. It's hard to argue with the formula: The Retro-X is cozy, stylish, and adds a noticeable boost in warmth on those chilly fall and spring days. You'll see this vest (and the full fleece jacket version) everywhere from your local trailhead to the watering hole later that evening, and nobody seems to be complaining. 
As is the case with many Patagonia products, the Retro-X isn't cheap at $159. You are getting nice extras like a windproof membrane sandwiched in between the sherpa fleece exterior and mesh lining, but the price puts it up against cozier and warmer down alternatives. It's no doubt a great piece, but there are enough downsides to drop the Retro-X in our rankings. For a more buttoned-down look with a little less warmth, try the Patagonia Better Sweater Vest above.
See the Men's Patagonia Classic Retro-X  See the Women's Patagonia Classic Retro-X
Category: Performance
Insulation type: Down (700-fill)
Weight: 11.2 oz.
What we like: Warmer, cheaper, and more weather-ready than the Down Sweater above.
What we don't: Not as everyday-friendly.
Rab's Microlight Down Vest might look relatively unassuming on first glance, but there's more to this piece than meets the eye. First is weather protection: Rab tacked on several protective measures to help combat down's inherently poor wet-weather performance, including a tough Pertex Quantum shell, quality DWR coating, water-resistant YKK zippers, and Nikwax finish on the insulation. Other notable features include a close-fitting collar for a little extra warmth around the neck, adjustable hem for sealing out wind, and pockets that sit high enough to access while wearing a harness or hipbelt. You'll still want to don a waterproof layer if the skies open up, but the Microlight stands out as one of the most weather-ready down vests on the market and a nice match for summer alpine missions and shoulder-season use in wetter climates.
How does the Rab Microlight Down Vest stack up to our top-rated Patagonia Down Sweater Vest? The Microlight uses lower-quality down (700-fill vs. the Patagonia's 800-fill) but a little more of it at 4.2 ounces (compared to 3 oz. for the Down Sweater), which translates to a small bump in warmth. On the flip side, the Down Sweater weighs around 2 ounces less, and we prefer the Patagonia's stuff pocket over the Rab's separate stuff sack for packing down (the latter is easier to lose). Finally, the Down Sweater is more everyday-friendly with a more streamlined look and better colorway selection. But the Rab costs $40 less and gets the clear edge for demanding outdoor use, making it the better pick for those who value performance over casual appeal.
See the Men's Rab Microlight Down Vest  See the Women's Rab Microlight Down Vest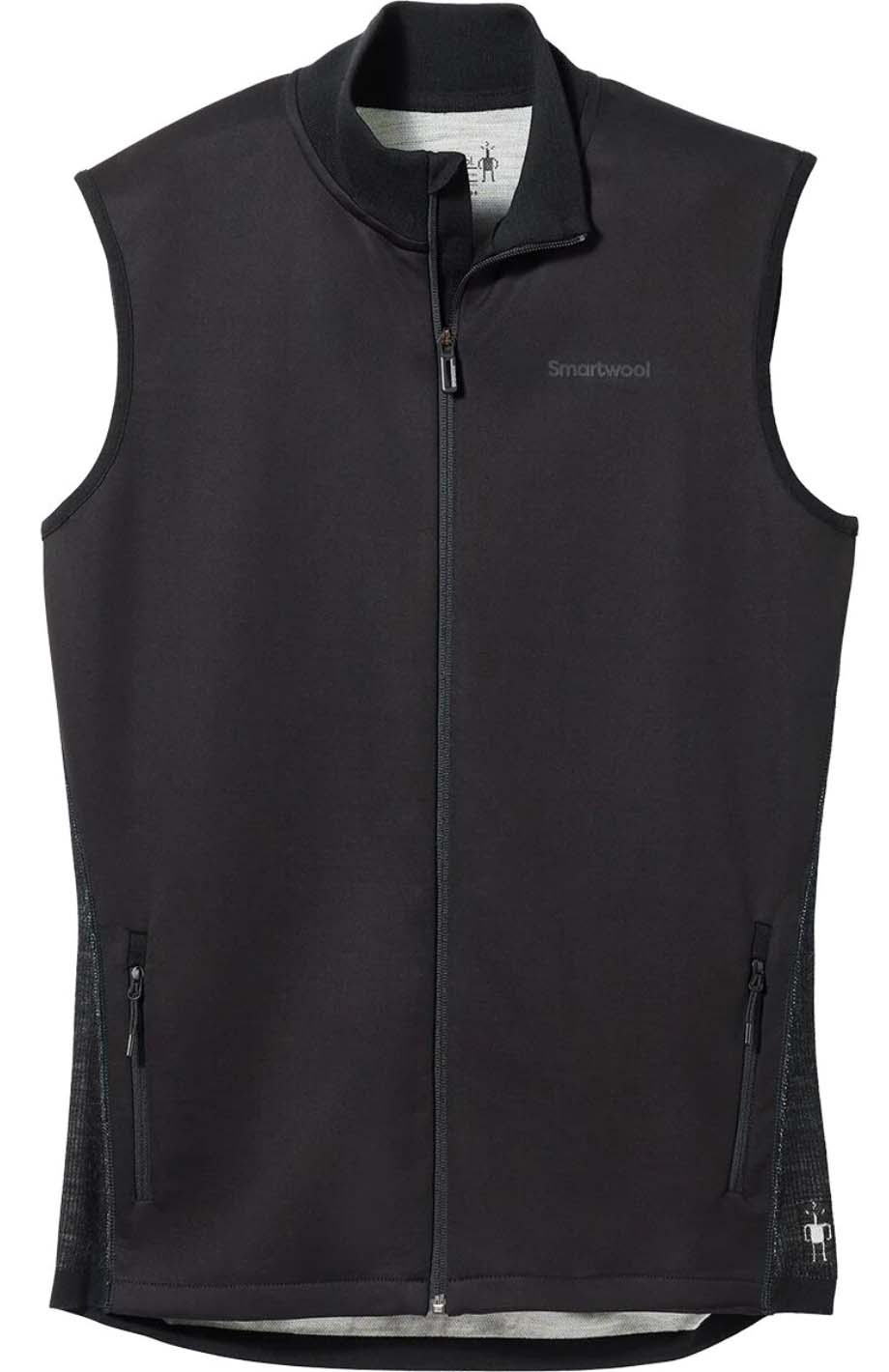 Category: Performance
Insulation type: Merino wool
Weight: 8 oz.
What we like: A high-performance wool option in a lightweight package.
What we don't: Expensive for the level of warmth; merino is most effective when worn next-to-skin.
The majority of vests here use down or synthetic fill for warmth, but merino wool is another excellent insulator. Most often worn next-to-skin (it's our favorite baselayer material), merino offers impressive temperature regulation, naturally resists odors, and has a very soft and comfortable feel. Playing off these strengths, Smartwool's new Intraknit Merino Sport Vest pairs a polyester knit fabric at the front for wind and water resistance with panels of thin merino mesh at the back and collar. The result is a trim-fitting design that offers a small dose of protection and just enough warmth for high-output activities like running and cross-country skiing. And at just 8 ounces, the Intraknit Merino Sport is competitively light, checking in around the same weight as premium down competitors like the Arc'teryx Cerium (7.1 oz.) and Patagonia Down Sweater (8.9 oz.) above.
However, while we love merino wool as a baselayer material, it loses some of its appeal when used as a midlayer. In other words, you don't really feel the soft lining when wearing the vest over other layers, and the aforementioned odor-fighting and moisture-wicking abilities won't shine through either. That said, the combination of wool insulation and weather-resistant polyester certainly is intriguing for performance use, and we've been pleasantly surprised by how much difference just a little extra protection around the core can make. To reap the full benefits, we recommend pairing the vest with a merino baselayer (like Smartwool's own Classic All-Season Long-Sleeve). For a step up in warmth and protection, Smartwool also offers their Smartloft Vest for $160, although it's heavier at 10.6 ounces.
See the Men's Intraknit Merino Sport Vest  See the Women's Intraknit Merino Sport Vest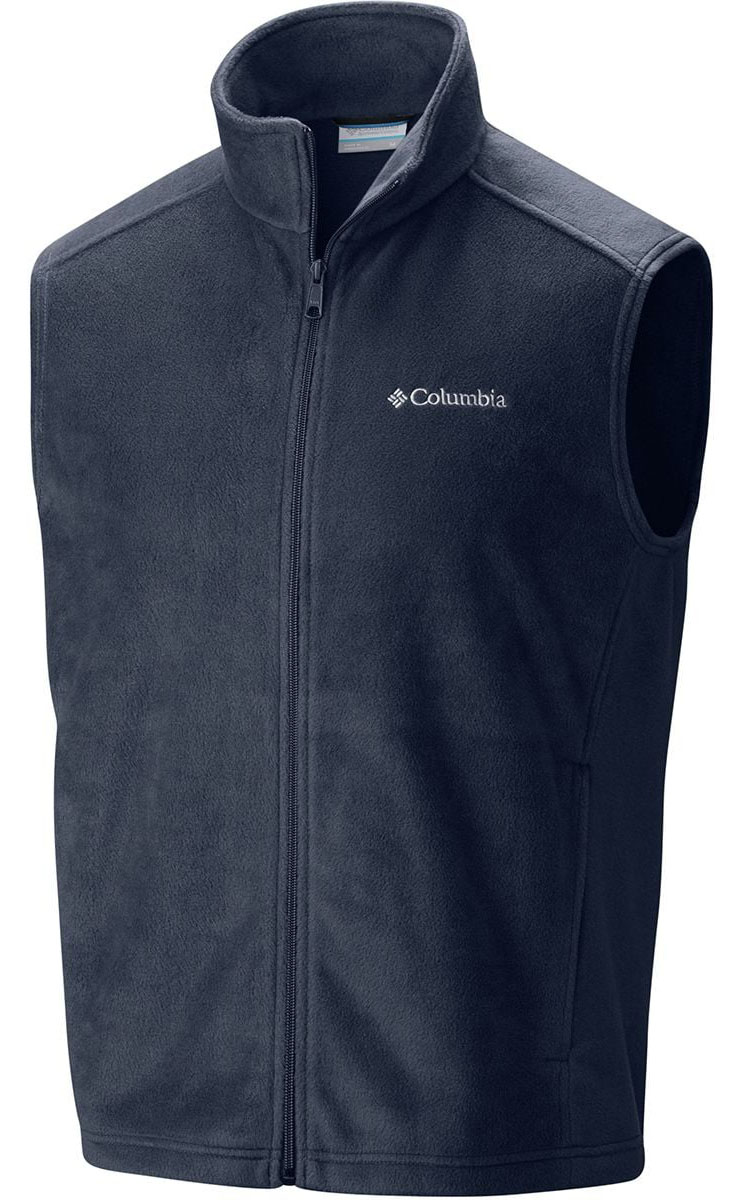 Category: Casual
Insulation type: Fleece
Weight: 8.8 oz.
What we like: Bargain-basement price.
What we don't: Not very warm.
For those on a tight budget, the Steens Mountain from Columbia is just about the cheapest vest you'll find. There are no frills here: It's constructed of a very basic polyester fleece fabric, has two hand pockets, and some versions come in a two-color design with the shoulder/side panel varying from the torso. But Columbia is a respected company in the outdoor gear world, and the Steens Mountain Vest should help add some warmth to your core.
Who should steer clear of the Columbia? This fleece vest will add only a fraction of the warmth compared to a down or even a synthetic model. And although our Columbia products have lasted longer than anticipated, it's good to have reasonable expectations with gear available at this price point. The fleece eventually will show wear, especially after a number of washings.
See the Men's Columbia Steens Mountain  See the Women's Columbia Benton Springs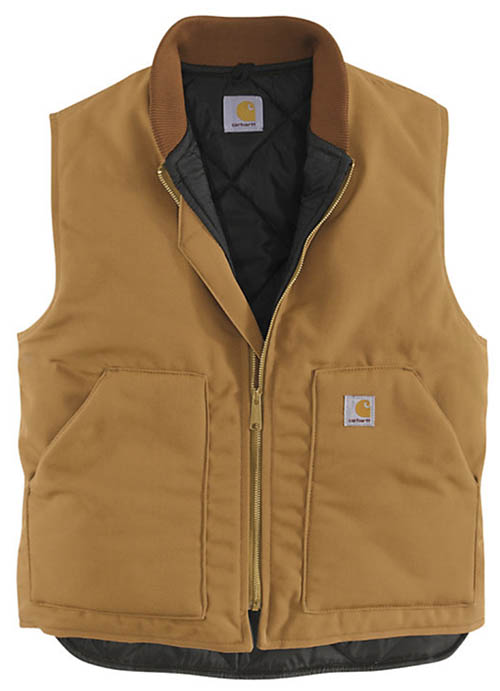 Category: Casual
Insulation type: Polyester
What we like: Durability and warmth at a low price point.
What we don't: Not as warm as the down-filled alternatives above.
For winter workwear, it doesn't get much more classic than the Carhartt Duck Vest. Built with a heavy canvas exterior and lined with quilted polyester, this vest delivers warmth and durability in an affordable package. Whether you're working outside or looking for a casual piece to keep you cozy, the Carhartt is an excellent example of why we love vests—you can get a bombproof and cozy covering for your core while still maintaining excellent mobility and breathability (Carhartt also makes a Duck jacket, which we find heavier and more restrictive).
In terms of competitors, the Duck Vest can't hold a candle to down-filled alternatives like the Fjallraven Greenland or L.L. Bean Upcountry above in terms of warmth, and its polyester lining will pack out over time. But for a whopping $130 less than the Greenland and $99 less than the Upcountry, it's a really nice value. Patagonia also makes their All Seasons Hemp Canvas Vest, which splits the difference at $139. Keep in mind that these vests are designed for work and casual environments and don't offer the low weight or weather protection that you'll want for outdoor activities like hiking or skiing. But for outdoor work and everyday use, the Carhartt Duck Vest is a capable layer at a price that's hard to beat. 
See the Men's Carhartt Duck Vest  See the Women's Carhartt Duck Vest
Vest Comparison Table
Vest Buying Advice
​Casual vs. Performance Use
We'll start by pointing out that the majority of vests are worn casually as everyday pieces. They're great for layering over a flannel or light jacket to add warmth during the fall and spring, and a vest can make you much more comfortable without the need for a full-on jacket. This means that warmth is a top priority—it's the main purpose of a vest aside from looking good in the process. For this reason, we generally favor down vests like the Patagonia Down Sweater over synthetics (more on why down is the warmest option below).
In addition to casual use, some people wear vests for aerobic activities like hiking, biking, and climbing, or as a midlayer for skiing (both resort and backcountry). For these types of uses, you'll often see synthetic vests from performance brands like Patagonia and Arc'teryx, many of which breathe well, resist moisture, and continue insulating when wet. For serious forays into the backcountry, however, a jacket provides maximum coverage and warmth and therefore often makes the most sense. This is why most vests are casual first and performance second.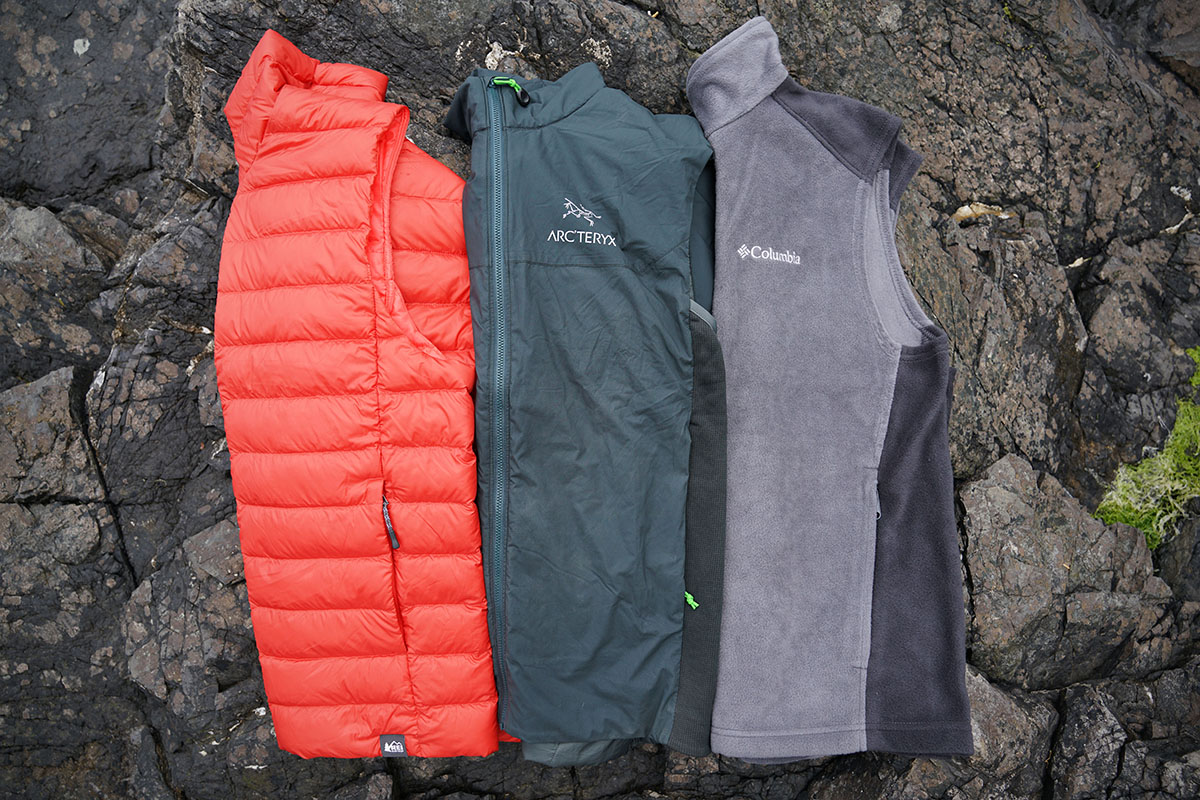 Insulation Types
Down
Without a doubt, down is the warmest insulation type. It's simply unmatched in terms of warmth, weight, and compressibility—the plumage and feathers are extremely fluffy and do a great job at trapping heat close to your body and packing down small. However, down is less breathable than synthetic insulation and retains more moisture when wet, which can cause problems in rainy or snowy weather.
When evaluating the quality of down inside a particular vest, fill power is the most commonly provided specification. The higher the fill number, the warmer and fluffier the down will be at a given weight. Most high-end down layering pieces use 850- or 800-fill down, with the Arc'teryx Cerium Vest topping our list at 850-fill. 750-fill power and below falls more into the mid-range category, but even premium brands like Fjallraven use 600-fill down in their vests (it doesn't matter as much for casual use). Fill weight, which is the actual amount of down inside the jacket and very helpful in determining warmth, unfortunately isn't provided for most vests.

Synthetic
For high-output activities, synthetic insulation is more breathable than down and won't soak up moisture as readily. It's also cheaper yet still does a pretty good job of keeping you cozy. Not all synthetic insulation is created equal, however, and industry leader PrimaLoft is dependable and has been innovative of late. Arc'teryx does a nice job balancing weight, warmth, breathability, and packed size with their in-house Coreloft insulation, Patagonia's Nano-Air vest uses an impressively breathable FullRange synthetic, and The North Face has spent a lot of energy on its proprietary ThermoBall (made in conjunction with PrimaLoft). All have their upsides, but at the end of the day none are quite as warm and packable as premium down (Patagonia's PlumaFill is the closest we've tested). For a complete breakdown of the topic, see our article on down vs. synthetic insulation.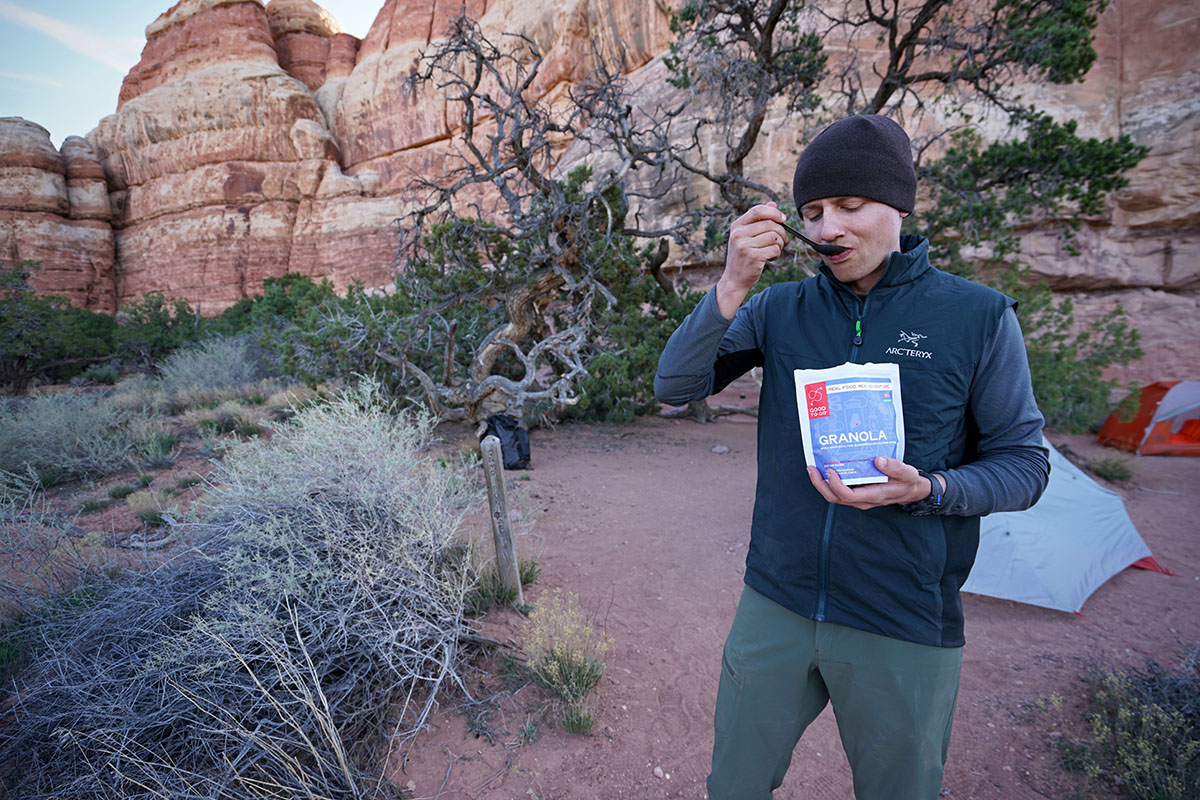 Merino Wool
Along with down, merino wool is one of the premier natural forms of insulation. For a little background, merino sheep are a specific breed highly prized for soft and finely crimped wool. Merino wool gear is known for its next-to-skin comfort, warmth, temperature regulation, and ability to wick moisture and stay dry. For these reasons, it's very popular in performance layering, and particularly for baselayers. Merino vests are popular too, with wool specialists like Smartwool and Icebreaker having a number of models. Keep in mind that most merino vests and products in general consist of simply the fabric itself instead of clusters of down or synthetic insulation, and therefore are less substantial and warm. But for a performance vest or baselayer for aerobic activities, merino is a very viable option.

Fleece
Fleece is pretty much synonymous with coziness and has been for years. This simple polyester fabric is soft, decently warm depending on the thickness, and offers great next-to-skin comfort. Fleece is most commonly found on casual pieces like the ubiquitous Patagonia Better Sweater and Classic Retro-X Vest. You'll occasionally see performance fleeces out on the hiking trails or in the bouldering fields, but they aren't built for serious outdoor use in the same way as the other insulation types. Fleece doesn't block wind very well in most cases, weighs quite a bit for the warmth it provides, doesn't compress very small, and tends to pill up over time. But it is comfortable and inexpensive, which are two of the reasons it's so popular for everyday wear.

Warmth
As we covered above, down is the warmest type of insulation for the weight. Synthetic insulation comes in second, with merino wool and fleece tending to be the least warm of the bunch. In general, a vest should help keep you decently warm as a layering piece in most fall and spring conditions. If the temperatures get frigid or you are standing still for an extended period of time, you will want to consider layering up or wearing a full down or synthetic jacket instead. Partial coverage is great in mild weather or if you're working up some body heat, but full coverage is best for the cold.
If you're looking for concrete numbers to evaluate the warmth of a particular vest, there are a few helpful clues. For down, fill power is readily available (850-fill, 800-fill, etc.), which is the measure of the quality of the down. Fill weight (the amount of down) isn't listed as frequently for vests as it is for full down jackets, but we've mentioned it as often as possible in the product write-ups above. Synthetic pieces often use grams (80g, 60g, etc.) to measure warmth, and merino and fleece use grams or other designations like heavyweight, midweight, and lightweight. All in all, a vest will add notable warmth but shouldn't be thought of as a standalone piece for the cold.
Weather Resistance
The sleeveless design of vests means weather resistance isn't a top consideration, but there are notable differences between models. The shell, including its material, thickness, and coating, largely determines the degree of weather protection. Most down and synthetic vests have a polyester or nylon shell that should do a decent job at repelling light to moderate wind and precipitation. Some high-end and mid-range vests like the Arc'teryx Atom LT and Patagonia Nano-Air add a DWR (durable water repellant) treatment, which helps water bead up and roll off your vest instead of soaking in. Rab's Microlight Down Vest takes it a step further with a weather-resistant Pertex Quantum shell, hydrophobic down, and quality DWR finish. Merino does a good job of repelling moisture naturally but will soak through over time, and the same goes for fleece, which is hydrophobic but allows wind and water to penetrate the fabric.
If you have a down vest in particular, you'll want to add layers when rain or snow really starts to fall. Down soaks up moisture and loses the ability to insulate, whereas synthetics are much better in this regard. From our experience, we've noticed that most jackets and vests are rather impressive at resisting moisture, and we tend not to fret too much unless we are out in the rain for extended periods or it really starts to pour.
 
Breathability
Breathability can vary significantly from vest to vest, and synthetic insulation is superior to down in this regard. Of all of the synthetic vests we've tested, Patagonia's Nano-Air vest (packed with FullRange insulation) is the most impressive at breathing and keeping you cool on the go, which makes it an exceptional midlayer for high-output activities like backcountry skiing or as an outer layer for cool-weather hiking, biking, or climbing. Arc'teryx's Coreloft is good too, although not quite up to the standards of FullRange in terms of breathability. Merino wool also is a good breather for aerobic activities like running and cross-country skiing, although its utility is somewhat limited as these vests tend to be thinner and less warm than synthetics. Lightweight fleeces also can be decent ventilators, but most fleece vests are casual in nature and do not excel at regulating temperature.

Durability (Denier)
Don't overlook the durability of the vest you're considering—it can lead to an all-too-short lifespan for a rather pricey purchase. The thickness of a down or synthetic vest's shell fabric is measured in denier (D), and the higher the number the thicker the shell. At the ultralight end of the spectrum, a vest like the 10x10D Mountain Hardwear Ghost Whisperer/2 (not included here) is built for true ounce counters. This means that the overall weight of the vest is surprisingly low, but it's also quite easy to rip while brushing up against a branch or rock. If you take great care with an ultralight shell fabric, it can last, but it requires exactly that.
Most casual or all-around synthetic and down vests on this list are 20-denier and up, which allows you to think about your vest a lot less than with an ultralight piece. Many of our top picks fall into this category, including the Patagonia Down Sweater and Arc'teryx Atom LT (both 20D). A heavy-duty vest like The North Face Nuptse is even thicker at 40D, and Carhartt's Duck Vest fabric doesn't have a denier measurement but is extremely thick and durable. Merino wool is the least durable vest type of the bunch, as it doesn't have a shell protecting the material and is typically rather thin. Fleece is fairly tough but is prone to pilling after multiple washings or extended use.
 
Weight and Packability
Weight matters most to those who are heading out into the backcountry and carrying their belongings in a pack (backpacking and backcountry skiing are two prime examples). Because most vests are casual in nature and worn for everyday use, weight isn't a huge factor in most people's buying decisions. However, there are notable differences in weight between our picks above, starting with the Arc'teryx Cerium Vest at a competitive 7.1 ounces. Next up is the more breathable Patagonia Nano-Air at 7.4 ounces, with the bulk of the vest pack sitting in the 6-to-11-ounce range. Burly vests like The North Face Retro Nuptse weigh around 1 pound, and thick shells like the Carhartt Duck Vest are even heavier. For ultralighters, down is the clear favorite—it provides the most warmth for the weight and packs down the smallest.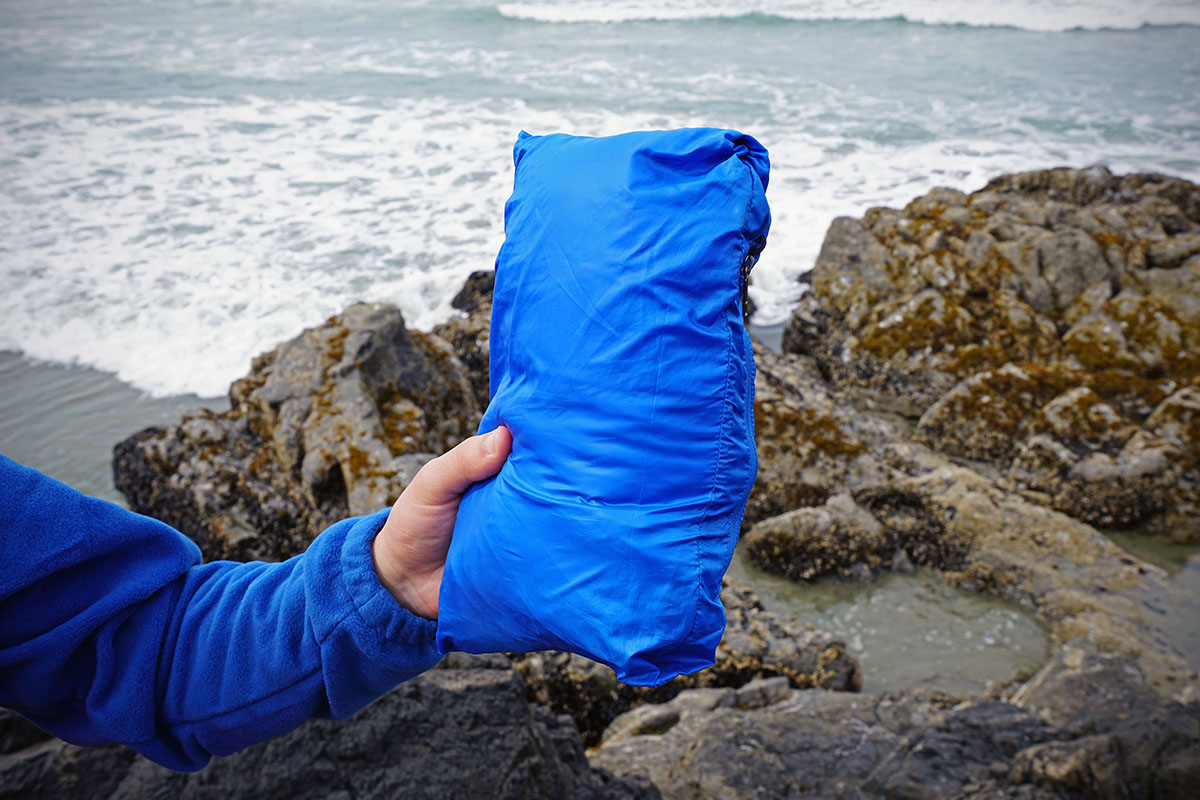 For those who plan on carrying their vest along in a backpack, a number of our picks come with a stuff sack or pack down into one of their own pockets (this involves finding the correct two-sided zipper). This can make a vest a cinch to carry and it ends up taking very little space. Remember that it's best to leave your vest unpacked while at home, which helps preserve the down or synthetic insulation. A handful of vests on this list are not packable (we list this in our comparison table), although many of those still will stuff down into the corner of a backpack reasonably small.
 
Pockets
Vests don't have a ton of variation in terms of pockets, but most designs boast at least two handwarmer pockets (even the basic fleece Columbia Steens Mountain has two hand pockets). Some vests have a chest pocket on the upper left, and some have an interior pocket that may double as a stuff sack for storage. We've found that the pockets on the vests we've tested are perfect for comfortably carrying the basics: small objects like keys, a wallet, and a phone. If you plan on bringing more than that along, you'll want to consider using a daypack or other carrying device.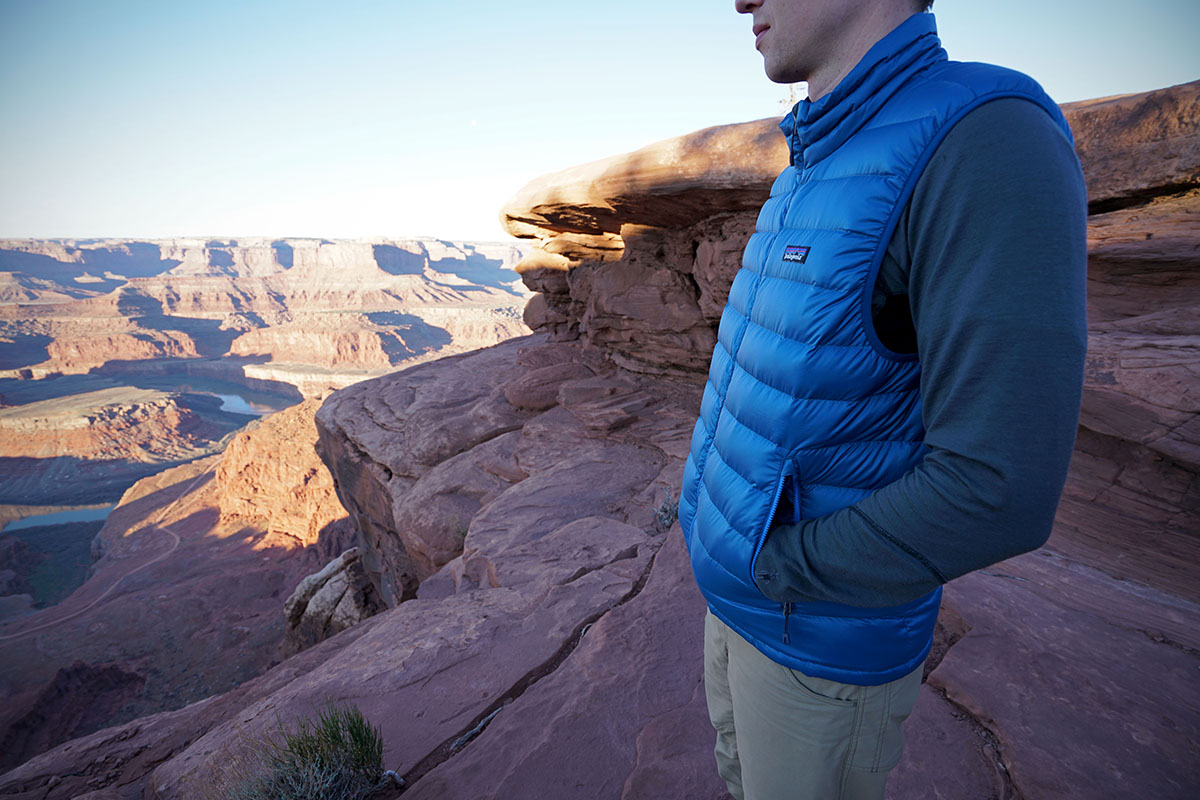 Fit
In terms of fit, vests are less complicated than full jackets, mainly because the arms don't come into play. But different vests and brands do fit differently in the torso, and this is worth taking into account. Patagonia, for example, tends to have a medium to boxy fit that allows for a wide range of body types to wear their gear. The North Face tends to run large and boxy as it too is worn frequently for casual use. On the other hand, Arc'teryx's Cerium and Atom LT are designed with performance in mind and therefore have snug, athletic fits. Keep in mind that vests are layering pieces and therefore it matters what you intend to wear underneath. If you plan on layering over a bulky flannel or jacket, it definitely makes sense to size up if you're on the fence.
Sustainability
The outdoor apparel market has seen a sizable push in sustainability practices of late, and vests are no exception. Key measures include the use of recycled fabrics, down insulation that's traceable and certified to the Responsible Down Standard (RDS), and materials that are bluesign-approved (safe for the environment, workers, and consumers) and Fair Trade Certified (produced in a factory where workers' conditions and compensation are priorities). It's important to note that no insulation type is totally eco-friendly, and both down and synthetics have their drawbacks, but the increase in RDS-certified down and recycled synthetic fill certainly are appealing from an environmental standpoint (for more on this topic, see our article on Down vs. Synthetic Insulation). It's also becoming increasingly common to see PFC-free DWR coatings, which are free of perfluorocarbons that have been found to be harmful to the environment.
Brands like Patagonia and REI Co-op have been at the forefront of the sustainability push, but many other leading outdoor companies continue to make notable inroads year after year. For example, The North Face updated their ThermoBall collection recently to include 100% recycled materials and a PFC-free DWR finish (the same goes for their Nuptse Vest). Cotopaxi is also worth calling out directly as one of just a few outdoor brands that's climate neutral-certified (along with REI), which means they continuously monitor their footprint and work to reduce emissions. In the end, how a vest is made may not be the deciding factor for some consumers, but we certainly appreciate when brands are transparent about their practices and go the extra mile in creating more sustainably built products.

Stepping up to a Full Jacket
We really appreciate vests. They're super cozy, terrific for casual use, and less bulky and expensive than a full jacket. But there are limitations: Vests don't offer full coverage and leave your arms exposed, meaning you also have to think about what's going to be worn underneath. Most serious adventurers depend on down jackets or synthetic jackets for warmth and protection while out in the backcountry, while vests are seen more frequently in town. Fortunately, the majority of the vests on this list are the trimmed-down siblings of the full jacket versions. This means that you may already have some familiarity with certain products and insulation types, and if you're a fan, you can grab the jacket version of the vest or vice versa. 
Back to Our Top Vest Picks  Back to Our Vest Comparison Table
Learn More About Outdoor Gear