Whether you're an intermediate skier making the transition from resort to backcountry or a seasoned rider who lives for secret stashes and untracked terrain, a dedicated powder ski can make a world of difference in deep snow. Compared to traditional resort and all-mountain designs, powder-focused models are much wider underfoot (typically around 110-120mm) for maximizing float off-piste. From fast and powerful options for hard chargers to light and playful planks with great surfability, we've compiled a list of our favorite powder skis of winter 2023 below. For more background information and help with choosing the best option for you, see our comparison table and buying advice below the picks.
 
---
Our Team's Powder Ski Picks
---

Best Overall Powder Ski
Ability level: Advanced to expert
Dimensions: 143-120-134mm
Lengths: 176, 184, 192cm
What we like: Exceptionally powerful for the weight.
What we don't: Too much ski for areas that only see moderate snowfall.
The hallmark of professional skier and artist, Chris Benchetler, Atomic's Bent Chetler 120 is one of the most decorated designs on the market and a legend in the world of powder skiing. Atomic has tweaked the design since its original debut in 2008, but the award-winning combination of playfulness and hard-charging capabilities remains. Poplar wood in the core combined with a carbon insert through the length of the ski strikes a nice balance between weight and power, resulting in a ski that's light enough to surf, float, and take flight with enough strength to stomp the landing and hold an edge at speed. Updated for 2023 with a new topsheet and base graphics designed by Benchetler himself, the latest "Bent Chetty" is eye-catching and sure to be a crowd pleaser this coming season.
Although light and poppy for its size, the Atomic Bent Chetler 120 is an unapologetically big, hard-charging ski that wants to go fast. As such, it's likely too much ski for beginners and timid intermediate riders, and the 120-millimeter waist will be overkill for regions that aren't true deep-powder destinations (note: A Bent 110 is now offered). Finally, although the Atomic is available in three lengths (176, 184, and 192cm), the shortest option may still be too large for even the most confident of short-statured skiers. But if the sizing works for you, the Bent Chetler is an undeniably capable ski and one of the most well-rounded designs on the market, earning it our top spot for the 2023 season. 
See the Atomic Bent Chetler 120
Best Powder Ski for Hard Chargers

Ability level: Advanced to expert
Dimensions: 141-116-131mm
Lengths: 164, 174, 179, 184, 190cm
What we like: A ski that loves to go fast and maintains its stability at speed.
What we don't: Sturdy feel sacrifices a bit of float.
For powder hounds addicted to sniffing out secret stashes and untracked chutes, the Moment Wildcat is sure to stoke your inner prey drive. A ski that loves to play, the Wildcat offers excellent top-end stability while navigating chopped-up snow in the runout or unexpected crud in the trees. Constructed with a lively poplar/ash core and functional blend of fiberglass and carbon fiber, this ski is built to go fast with enough rigidity to maintain composure at high speeds. We also like the mustache rocker profile, which curves up at the tip and tail with camber underfoot for quickly maneuvering through trees and other tight spaces. The net result is a playful, versatile ski that should make even the hardest-charging riders happy.
All that said, the Wildcat's sturdy feel does come with some compromises, the biggest of which is float (or lack thereof). While the rockered shape and relatively generous dimensions keep the Wildcat firmly in the powder category, it's less deep-day-ready than designs like the Faction La Machine Max, DPS Pagoda Lotus 124, and 4FRNT Renegade below. However, if you like to go fast and don't mind sacrificing a little surface area for better top-end stability, then the Moment Wildcat should be on your short list.
See the Moment Wildcat
Best Powder Ski for Intermediate Skiers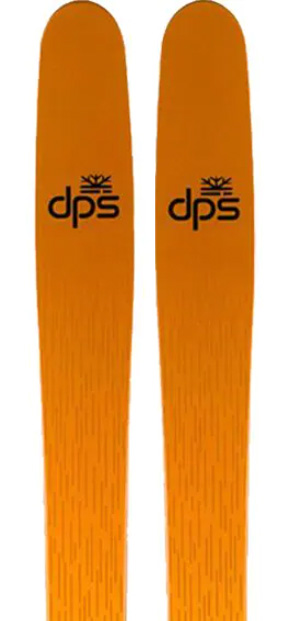 Ability level: Intermediate
Dimensions: 140-112-125mm
Lengths: 158, 168, 178, 184, 189cm
What we like: An approachable and well-rounded ski for those new to powder.
What we don't: Not the lightest option for crossing over from resort to backcountry.
The options above are great for experienced powder hounds, but intermediate skiers transitioning from groomed resort runs will likely want something a little more approachable for testing the waters off-piste. Enter DPS' Foundation 112 RP, which is a great introduction to both the DPS brand and the world of powder skiing. Built on DPS' flagship 112 RP shape that helped define the category (RP is short for "resort powder"), the Foundation offers a nice mix of float and easy turnability, giving the ski a very intuitive and playful feel on ungroomed slopes and sidecountry terrain. On the flip side, you still get good stiffness from the bamboo/poplar wood core and carbon stringers, and the short 15-meter turn radius means it's still easy to carve on groomers when your legs start begging for a break.
Since the DPS Foundation is built for powdery days at the resort (rather than true backcountry conditions), it's a bit heavier than what we generally expect from the brand at over 8.5 pounds for the pair (178cm length). If you're looking for a more well-rounded crossover option for mixed in- and out-of-bounds use, DPS' own Pagoda 112 RP offers a similar shape and construction but in a much lighter package (although price jumps to a whopping $1,549). And when you're ready to make the full switch to backcountry riding, DPS' touring-specific Pagoda Tour 112 weighs even less and comes in at the same $1,549 price point.
See the DPS Foundation 112 RP
Our Favorite Playful Powder Ski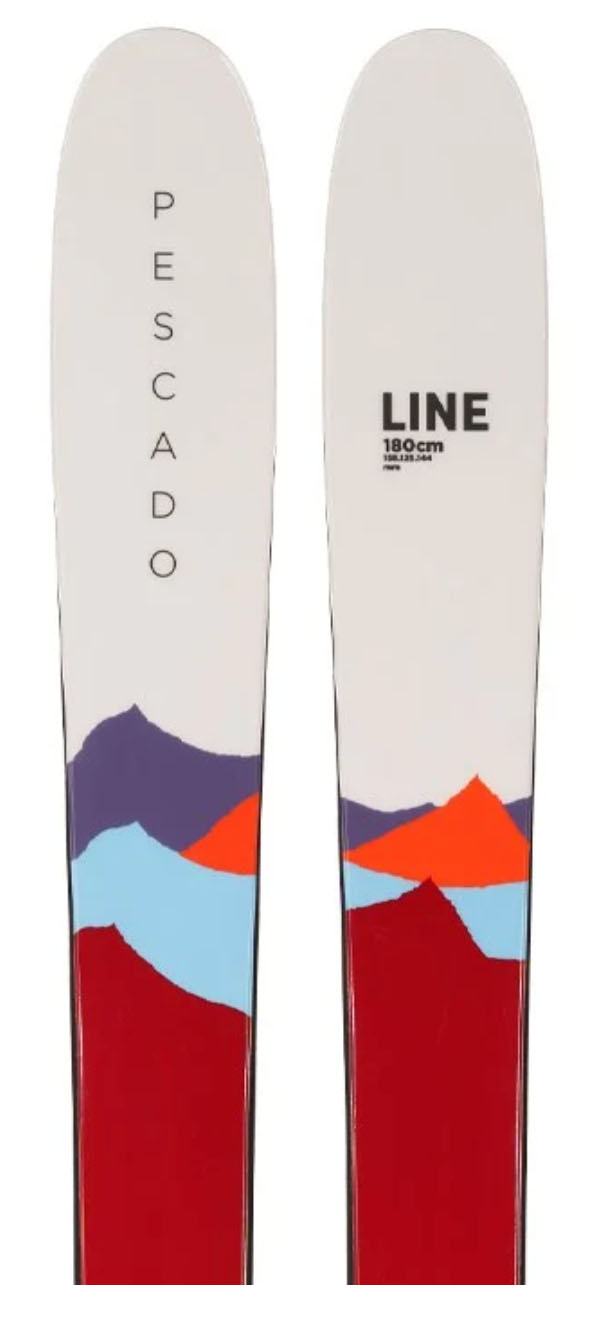 Ability level: Advanced to expert
Dimensions: 158-125-144mm
Lengths: 180cm
What we like: Unique swallowtail design maximizes float and control in deep powder.
What we don't: Only offered in a single length, which won't work for some riders.
Deep-snow enthusiasts are likely familiar with the unfettered joy that comes from playfully navigating deep powder, and LINE Skis' Pescado is one of the best tools for the job. The unique swallowtail design is intended to sink the tail deeper into the snow while keeping the tip afloat, allowing for excellent control while simultaneously enhancing carving capabilities in more moderate conditions and on groomers (the tail is quick to release). A super-wide, 158-millimeter shovel and soft flex in the tip add to the ski's float and surfability, while the stiffer tail makes turning a breeze. Taken together, the Pescado is supremely fun and a great match for off-trail riders who like to get creative.
There's no denying the all-around fun factor of LINE's Pescado, but unfortunately, the ski is only offered in a single 180-centimeter length, which won't work for some riders. If you prefer something a little shorter and more maneuverable, we recommend checking out LINE's Sakana, which is the Pescado's narrower all-mountain counterpart that's offered in 166, 174, and 181-centimeter options. Like the Pescado, the Sakana boasts the unique swallowtail design for maximizing float, and the 105-millimeter waist is a nice match for an all-rounder. But if you spend most of your time off-piste and can make the 180-centimeter length work, the Pescado offers far more playfulness and float.
See the LINE Skis Pescado
Best Powder Ski for Extremely Deep Snow

Ability level: Intermediate to advanced
Dimensions: 148-126-139mm
Length: 178, 186cm
What we like: Purpose-built for surfing deep powder.
What we don't: Limited versatility, especially in crud.
With a 126-millimeter waist (the widest on our list), Faction's La Machine Max is purpose-built for one thing: surfing the deepest powder in the world (think places like Japan, Alaska, and British Columbia). Based in the freeskiing mecca of Verbier, Switzerland, Faction was born out of a resistance to alpine racing in pursuit of freedom and adventure in the mountains. Their new La Machine Max pays tribute to that goal, combining generous dimensions, lightweight materials, and a reverse camber shape to skillfully navigate deep snow. Floatation is excellent thanks to the wide base and softer flex at the tip, and stiffer materials underfoot (including two layers of carbon) help maintain stability and maneuverability while keeping weight to a minimum.
As we mentioned above, Faction created the new La Machine Max for the sole purpose of skiing deep powder. While this translates to excellent float in prime backcountry conditions, the ski's shorter effective edge will feel a bit squirrely in hardpack and variable snow. In other words, the La Machine Max is far less versatile than many other designs here and best suited for confident riders who frequent areas with consistent and generous snowfall. If the size feels a little intimidating or you're looking for more of an all-rounder for mixed conditions, Faction's new La Machine line includes a number of narrower options, including the 109-millimeter Mega, 99-millimeter Mini, and 91-millimeter Micro and Grom.
See the Faction La Machine Max
Best Big-Mountain Freeride Powder Ski

Ability level: Intermediate to advanced
Dimensions: 137-122-130mm
Lengths: 177, 184, 191cm
What we like: A near-ideal balance of weight and stability.
What we don't: Too wide for some; we'd love to see more length options. 
Eric "Hoji" Hjorleifson is one of the world's premier freeskiers, and his powder tool of choice is the 4FRNT Renegade. And it's easy to see why: Designed for high speeds, nimble turning, and big drops, the Renegade is one of the most capable big-mountain freeride designs around. In short, the ski is most at home when moving fast through ungroomed, steep terrain rife with cliffs, pillows, and chutes—the type of conditions expert skiers seek when pushing the boundaries. That said, it's still fairly light and nimble thanks to the aspen/maple core and fully rockered profile, which is great for intermediate riders who still want good maneuverability and top-end control. The result: A ski that likes to float yet is smooth and predictable at speed.
It's worth noting that the 4FRNT Renegade has a recommended center mount, which provides a balanced and stable landing platform should you decide to go for big air. On the flip side, it's not out of place on long backcountry missions thanks to the fairly lightweight construction. That said, the 122-millimeter-wide waist will be overkill for some, and the length options may not work for shorter riders. For reference, the widest women's ski that 4FRNT offers is the Hoji CC (112mm at the waist), which is sold in 170- and 177-centimeter lengths. We'd love to see something wider in the future, but for now, the Renegade remains their flagship freeride model.
See the 4FRNT Renegade
Best Crossover Resort/Backcountry Powder Ski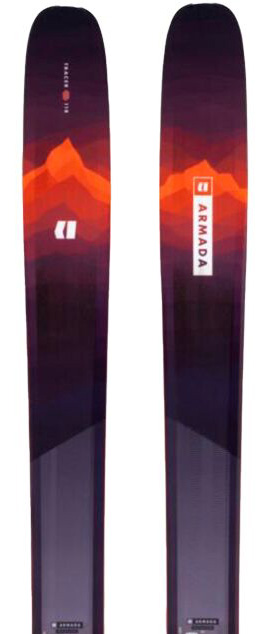 Ability level: Intermediate to advanced
Dimensions: 144-118-135mm
Lengths: 180, 188, 195cm
What we like: A solid powder ski that likes to go fast.
What we don't: Not the lightest option for touring.
Powder skis are a relatively niche (and expensive) group, so many will appreciate the ability to use their pair both at the resort and in the backcountry. Our favorite crossover design for on- and off-piste use is Armada's Tracer 118, which strikes a hard-to-beat balance between weight and performance. Like the 4FRNT Renegade above, the Tracer is a hard charger with a propensity for speed but gets the clear edge in versatility with a softer flex, wide shovel, and slight tail rocker that help it surf and float in powder. A final nod to the ski's crossover intentions is the Caruba/poplar core, which adds power while remaining light enough to keep your legs fresh on the descent (there are also Titanal reinforcements underfoot for added dampening).
In deciding on our favorite crossover option of the season, it was a tough call between the Tracer 118 and Armada's highly rated ARV 116 JJ. We ended up choosing the Tracer for its big-mountain freeride appeal, although those who like to earn their turns will likely prefer the lighter ARV 116 JJ. Both models like to charge, so a final decision will likely come down to your objectives and where you spend most of your time. If you prefer lift-accessed terrain over long backcountry missions, go with the Tracer 118; if you spend the majority of your days on the skin track, the ARV 116 JJ is the better bet. Note: The Tracer has been replaced with the Locator series for 2023—which maxes out at 112 millimeters wide—but we've kept the former ski on our list because it's still readily available at a discount at the time of publishing.
See the Armada Tracer 118  See the Women's Armada Trace 108
Best Women-Specific Powder Ski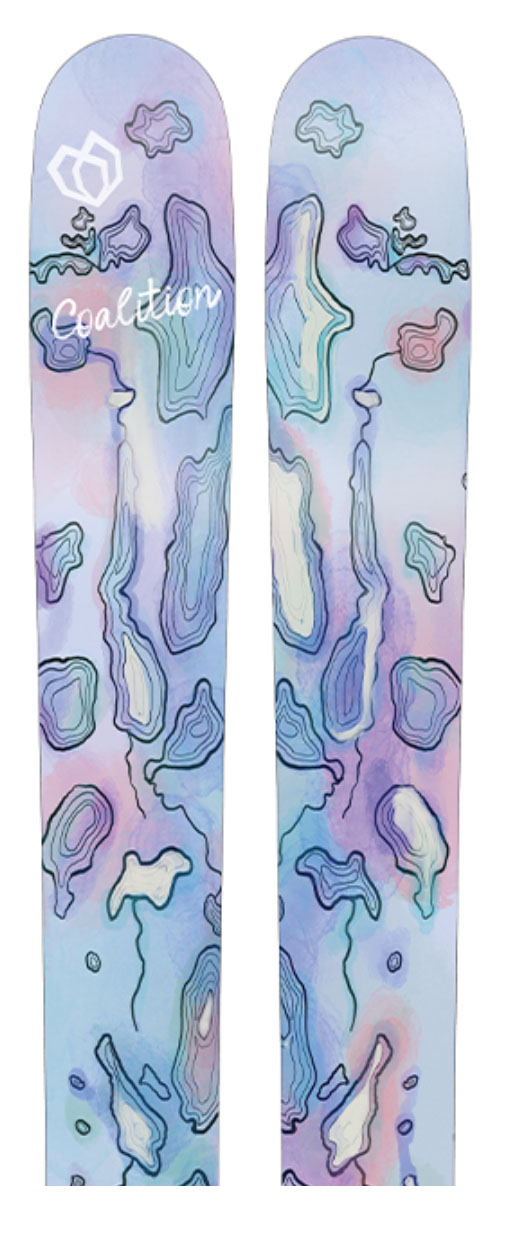 Ability level: Intermediate to advanced
Dimensions: 137-115-132mm
Lengths: 157, 164, 172, 180cm
What we like: A well-rounded ski that just happens to be crafted by women for women.
What we don't: Relatively heavy for the size.
Coalition Snow has turned the shrink-it-and-pink-it mentality on its head to create a fantastic line of skis that are purpose-built by women and for women, and our favorite model this year is their Rafiki. Early rise in the tip promotes a surfy and playful ride in soft snow, while the slightly rockered tail assists with float and turning. Additionally, the Rafiki boasts a dual-radius sidecut that's shorter at the front for easy turn initiation and longer at the tail to maximize stability and control. Added up, the Rafiki is light and nimble through the trees but able to charge hard through crud, which is no easy feat. Finally, we love the eye-catching but classy topsheet design, which gives the ski a decidedly high-end and elegant look.
The Coalition Rafiki is a resort-specific powder ski that transitions decently well for backcountry use, but it's not the lightest option for long days on the skin track. If you're searching for more of a crossover powder design, we recommend checking out Coalition's own La Nieve. Compared to the Rafiki, the La Nieve has a similar shape and profile but is slightly narrower at the waist (109mm or 113mm depending on length) and lighter for off-piste use. No matter which option you choose, we applaud Coalition for their efforts toward making skiing more accessible and inclusive, regardless of ability level or gender identity.
See the Women's Coalition Snow Rafiki
Best of the Rest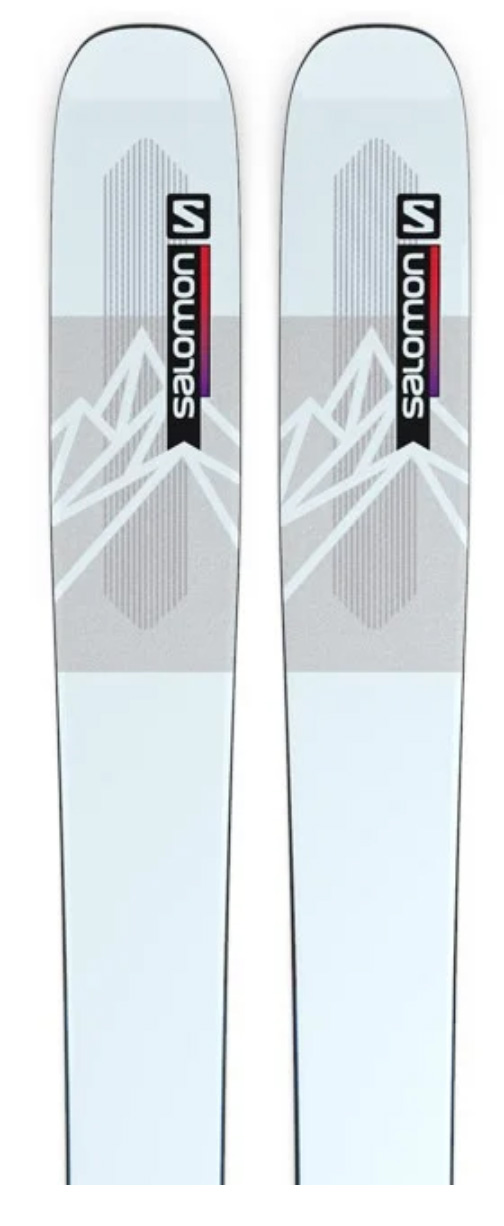 Ability level: Advanced 
Dimensions: 138-112-127mm
Lengths: 178, 186, 194cm
What we like: Highly versatile in a wide variety of conditions. 
What we don't: Requires skiers to take charge in heavy, chopped-up snow.
When Salomon tasked its athletes with creating a powerful but playful freeride ski, the result was the now wildly popular QST Blank. With a moderately wide 112-millimeter waist, 138-millimeter shovel, and rocker-camber-rocker profile, the QST Blank is impressively poppy and fun in powder. Carbon at the tip and tail help balance things out by providing great power transfer, while cork at the tip and a poplar core help dampen the ride and boost stability at speed. The result is a nimble-yet-stable ski that's ready to pop off puffy pillows, drop into a tight couloir, or navigate the get-back with confidence and precision.
Given its versatility, the Salomon QST Blank borders on being an all-mountain powder ski. To be clear, that's certainly not a knock on the ski—some may even consider it a benefit, depending on priorities. But if you're looking for a true powder surfer and are willing to sacrifice some performance in variable conditions, you may be better off with a more specialized option like the top-rated Atomic Bent Chetler 120 or Faction La Machine Max above. But if you don't mind having a wide daily driver, the Salomon's versatility is hard to beat.
See the Salomon QST Blank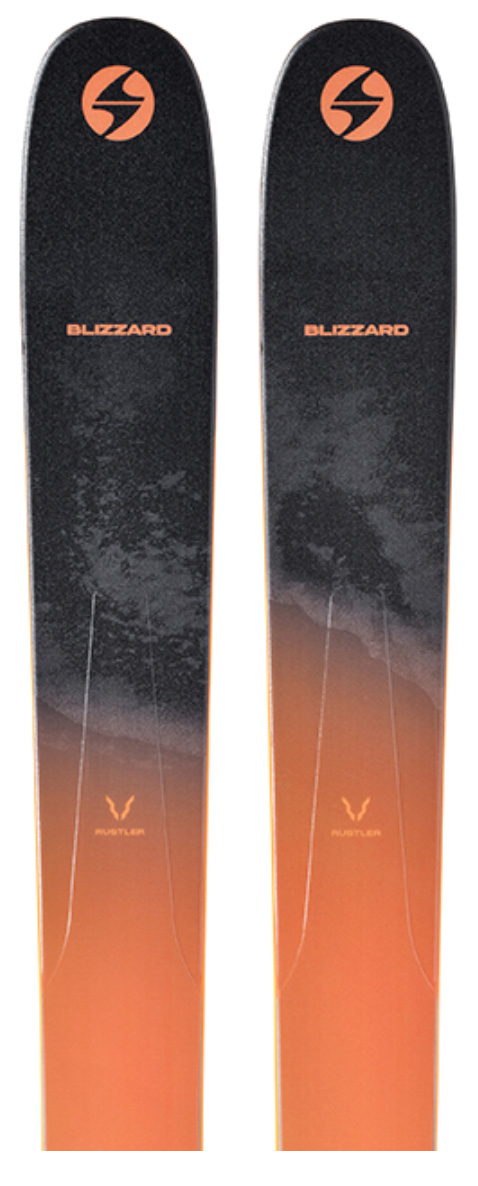 Ability level: Intermediate to advanced
Dimensions: 140-112-130mm
Lengths: 164, 172, 180, 188, 192cm
What we like: Innovative waist concept makes it easy to dial in responsiveness and stability. 
What we don't: Lacking in floatation and surfability. 
Like the DPS Foundation and Coalition Rafiki above, Blizzard's Rustler 11 is a resort powder ski that aims to do it all. What we love most about this ski is its broad appeal for a wide range of skiers, which is partly a result of the waist design that widens from 112 millimeters in the shortest lengths to 116 in the longest 192-centimeter model. Turn radius also increases with each size (from 16m to 23m), allowing skiers to achieve an effective balance of top-end stability and responsiveness no matter where you land in the lineup. Taken together, the Rustler is a well-rounded design that does just about everything well, from floating and surfing in soft snow to high-speed charging and carving.
That said, there's always a tradeoff between all-mountain versatility and float. While the Rustler thrives in soft snow and is a pretty reliable partner in less-than-ideal conditions, those who prioritize surfability will be better off with a more targeted option like the Faction La Machine Max above or DPS Pagoda Lotus 124 below. That said, the Rustler line is known to ski wider than its listed widths—we confirmed this when testing the 11—and the approachable build makes it a great choice whether you're new to powder or simply want to maximize versatility. For those looking for a little more backcountry readiness—without giving up the fun factor of the Rustler—Blizzard also offers the lighter-weight Hustle 11 (a ski we have in for testing this winter).
See the Blizzard Rustler 11  See the Women's Blizzard Sheeva 11

Ability level: Advanced to expert
Dimensions: 141-124-131mm
Lengths: 178, 185, 191cm
What we like: DPS' classic powder-loving shape in a fun, lightweight package.
What we don't: The most expensive ski here.
If you're dreaming of heli-skiing in Alaska, going on a hut trip to British Columbia, or cruising the backcountry in Hokkaido, Japan, DPS' Pagoda Lotus 124 should be on your radar. Simply put, there's a reason that many riders consider this ski to be the best option on the market for bottomless snow days. Along with the wide waist, tapered tip, and powder-ready shape that DPS is known for, the Pagoda Lotus 124 boasts a gradual rocker profile that allows the ski to glide smoothly across the snow's surface, nimbly navigate turns, or stomp a big-air landing. Tack on the fact that it's impressively light for its size, and there are very few limits to what the Pagoda Lotus can do.
All that said, the impressive powder performance does come with some serious sticker shock. At $1,549, the Pagoda Lotus 124 is the most expensive ski to make our list by a sizable margin, and many powder-hungry riders will be perfectly happy saving with Faction's La Machine Max or Atomic's Bent Chetler above. But that's certainly not a knock on quality or overall capabilities—DPS is one of the most revered names in the ski industry and has a reputation for their excellent craftsmanship. For something a little more affordable, DPS' Koala 118 is a fantastic powder ski in its own right and retails for $799, although it's narrower and heavier than the Pagoda Lotus. Alternatively, if you like the Lotus shape but can't justify the huge 124-millimeter waist, there's now a slightly trimmed-down Pagoda Lotus 117 available.
See the DPS Pagoda Lotus 124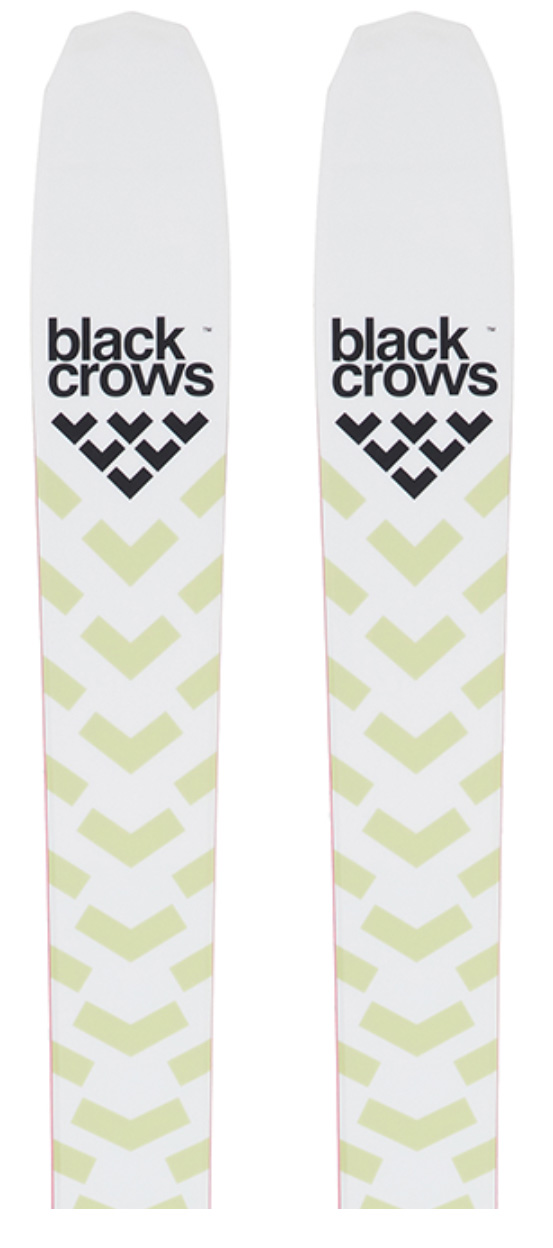 Ability level: Intermediate to advanced
Dimensions: 145-115-135mm
Lengths: 176.6, 182.1, 189.2, 194.4cm
What we like: Carves soft groomers as well as it floats.
What we don't: Heavy and difficult to throw around.
If skis were people, something tells us that the Black Crows Anima would be the life of every party. With a progressive flex that's softer at the tip and tail, double rocker, and camber underfoot, the Anima is a playful ski that loves to surf, has no problem staying afloat, can pivot through the trees, and will spring and bounce through open bowls. Unlike many playful designs, however, the Anima still offers ample stiffness, edge hold, and precision to charge through chop and carve on hardpack. And this is a matter of personal preference, but we love Black Crows' subdued but classy styling that adds a nice dose of flair.
No ski is perfect, however, and the Anima is no exception. At just under 10 pounds for the pair, it's the second-heaviest option to make our list (behind the specialized and much wider Rossignol Sender Squad below) and noticeably harder to throw around than lighter-weight designs like the Faction La Machine Max and DPS Pagoda Lotus above. It's worth noting that a few of our female testers mounted the women's version of the ski (the Anima Birdie) with tech bindings last season and had no complaints using it as their primary backcountry powder ski, but those who spend a lot of time on the skin track will likely want to go lighter. However, the solid feel and carving abilities are clear highlights for hard chargers who prioritize performance on the descent.
See the Black Crows Anima  See the Women's Black Crows Anima Birdie
Ability level: Advanced to expert
Dimensions: 140-110-129mm
Lengths: 169, 177, 185, 191cm
What we like: Another great do-it-all powder ski.
What we don't: The narrowest option here and doesn't like to go slow.
Nordica's Enforcer has been at the top of our all-mountain ski round-up for years, and the Free collection takes that proven performance and gives it a thorough backcountry treatment. Like Blizzard's Rustler 11 above, the Enforcer 110 Free here is a do-it-all design that combines powerful performance with play and surf in soft snow. The balsa wood core keeps things light and poppy, while the addition of carbon and two sheets of metal helps absorb vibrations and boost tortional stability and edge grip in variable snow. The Enforcer is decidedly on the narrower end at 110 millimeters underfoot (the narrowest powder ski to make our list), but the moderately wide shovel and rocker in the tip and tail help improve float, ease of turning, and chunder-plowing ability.
That said, in addition to being fairly narrow for truly deep days, the Enforcer requires a strong pilot to take charge and drive. In short, this ski likes to go fast and will feel cumbersome when making tight maneuvers at slower speeds, which comes with obvious downsides if you like to kick back as the day wears on. But if you're a confident freeskier looking for a well-rounded option that won't hold you back, the Enforcer 110 Free deserves a look. Of note: The Enforcer Free is also sold in a more powder-friendly 115 variation, as well as the more all-mountain-ready 104 Free.
See the Nordica Enforcer 110 Free  See the Women's Santa Ana 110 Free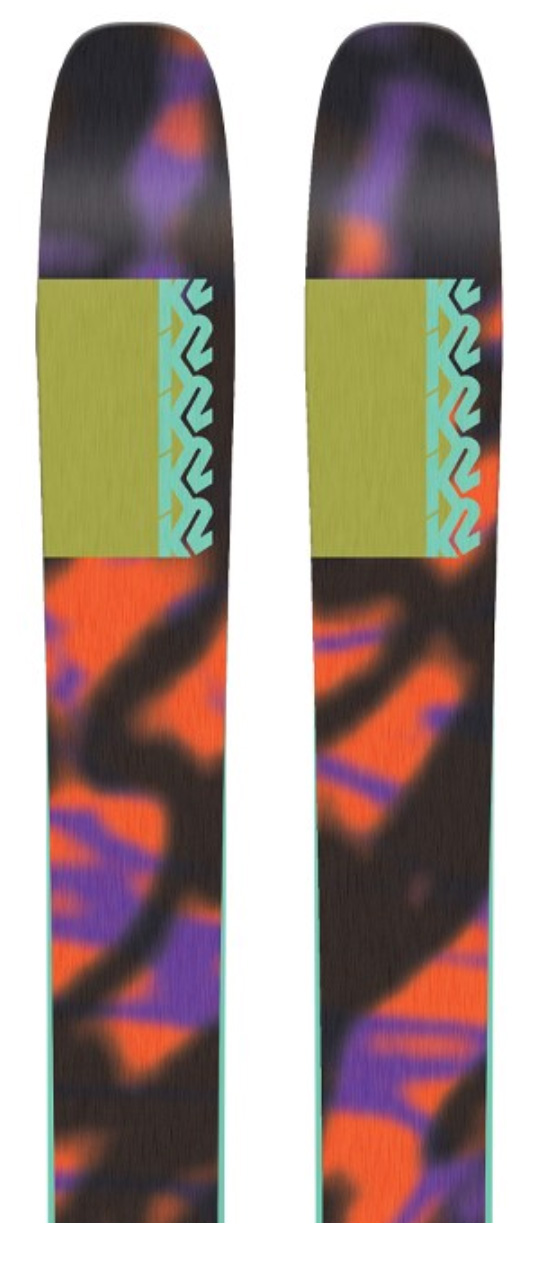 Ability level: Intermediate to advanced
Dimensions: 143-116-133mm
Lengths: 179, 186, 193cm
What we like: Stable and nimble enough for the East Coast riding.
What we don't: Intermediates may find it difficult to maneuver.
Like the Armada Tracer above, K2's Mindbender 116C offers powder skiers another well-rounded option in the crossover resort/backcountry space. Starting at the core, K2 combined lightweight and flexible paulownia with tough, dense maple to balance energy and agility. Additionally, the rocker profile with a long and gradual rise in the tip and tail enhances float and maneuverability, while the slanted sidewall (it's angled by 30 degrees) adds a nice dose of playfulness and agility. The result is a lively ski that can float and charge while remaining light enough to still be enjoyable on backcountry missions.
While lightweight, the Mindbender's wider width and longer turn radius do make it a little cumbersome, and particularly for progressing intermediate riders. If you fall into that category or simply prefer a ski that's a bit easier to handle, we recommend checking out the Blizzard Rustler 11 above. Overall, we think the Rustler's approachable build and quick-turning personality hit a more desirable space in the market for most off-piste explorers. On the flip side, the stable Mindbender gets the edge at Mach looney, and its wider shape makes it the better snorkel-day companion.
See the K2 Mindbender 116C  See the Women's K2 Mindbender 115C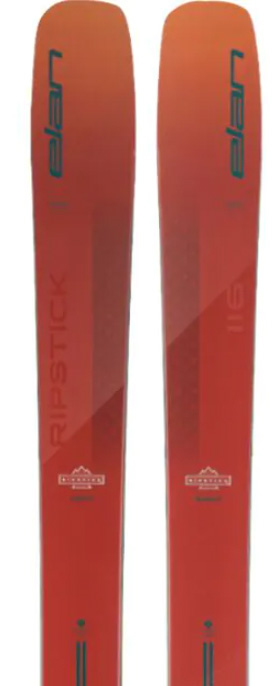 Ability level: Advanced to expert
Dimensions: 146-114-132mm
Lengths: 177, 185, 193cm
What we like: As the name suggests, these skis rip.
What we don't: Not the best floater. 
If you've skied any models in Elan's Ripstick collection, you know these skis were aptly named. The widest offering in the lineup is the Ripstick 116, which was recently updated but remains an excellent freeride companion. The highlight here is Elan's Amphibio Carbon Line Technology, which consists of carbon reinforcements over the inside edges to maximize stability and power through turns. In practice, the cambered inside edge provides precision and grip, while the rockered outside edge helps smooth the transitions. Combined with a rounded tip and tail that utilize composite inserts to minimize vibration, the Ripstick offers a smooth, confidence-inspiring ride whether you're slaying pow or cutting through crud.
However, that focus on doing everything well is also arguably the Ripstick 116's greatest weakness. In short, the Ripstick isn't wide enough to be a standout floater on super deep days, nor is it particularly agile or maneuverable in tight spaces (the turn radius is pretty wide at 20.4m). But again, it's a quality all-rounder that can handle everything from big, steep powder lines to choppy snow and groomers, which is no small feat. If you prefer something a little lighter for multi-day backcountry missions, check out Elan's new Ripstick Tour 104, which boasts a similar construction and many of the same design features as the 116 here. 
See the Elan Ripstick 116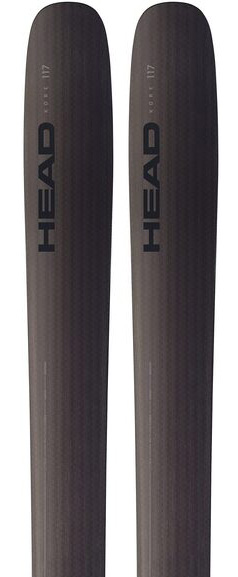 Ability level: Advanced to expert
Dimensions: 145-117-129mm
Lengths: 177, 184, 191cm
What we like: Light for its size yet still very capable.
What we don't: Less of a standout than many other options here.
Most powder skis aimed at tacking big lines are relatively heavy, but HEAD's Kore 117 bucks that trend by combining light but strong materials to keep weight reasonably low. To be sure, the Kore is no featherweight at 8 pounds 11.7 ounces per pair, but the mix of graphene, carbon, and Caruba/poplar woods offers a nice balance between power and agility. Other notable features include a wide 24.6-meter turn radius for long, sweeping turns in powder and subtle rocker at the tip and tail for maximizing float on all but the deepest of days. All told, the Kore is fast, stable at high speeds, and offers much more precision than its weight would suggest. 
That said, our overall take on the HEAD Kore 117 is that it lands in an awkward in-between space: It's not as burly or damp as options like the Moment Wildcat or Salomon QST Blank above, nor does it float quite as well as the Atomic Bent Chetler 120, LINE Pescado, or Black Crows Anima. Intermediate riders should also steer clear, as the Kore is decidedly stiff and tough to control in tight spaces. But if you're an experienced skier and don't mind putting in the work, the Kore offers a highly competitive balance of speed and off-piste performance for the weight.
See the HEAD Kore 117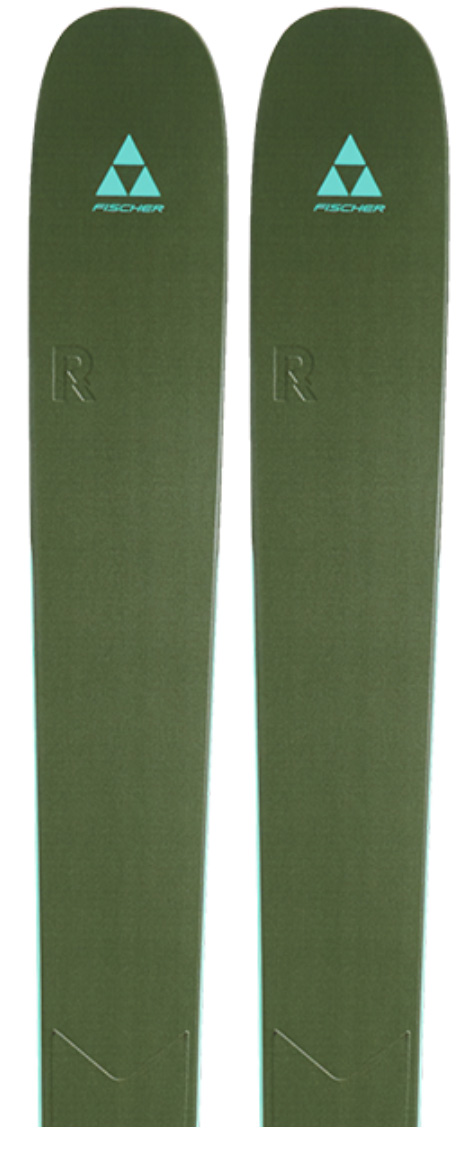 Ability level: Advanced to expert
Dimensions: 147-116-137mm
Lengths: 180, 187, 193cm
What we like: Good versatility in a wide range of conditions.
What we don't: Stiff and takes a strong rider to drive.
Like the Elan Ripstick above, Fisher's Ranger lineup is highly respected among those in the know–ski patrollers, guides, and avid riders alike. The widest option in the collection is the Ranger 116, a freeride powder ski that's most at home in deep snow but can hold its own all over the mountain. The ski is shaped with a directional rocker profile to ease turn initiation, while the beech/poplar wood core and strategically placed Titanal aim to balance flex and power (with mixed results). On the snow, the result is a ski that goes fast wherever you point it; floats, carves, and pivots through tight terrain features; and remains stable and balanced in nearly all conditions.
All that said, the Fischer Ranger 116 is not for the casual skier who likes to sit back and relax—the stiff and relatively heavy build requires a strong and capable pilot to control, especially at speed. Additionally, if your top priorities include float and playfulness, you'll likely be better off with a wider and softer option like Faction's La Machine Max or LINE's Pescado above. However, if your ideal day involves carving big-mountain freeride turns and blasting through the crud at the bottom of the run, the Ranger 116 is up to the task. 
See the Fischer Ranger 116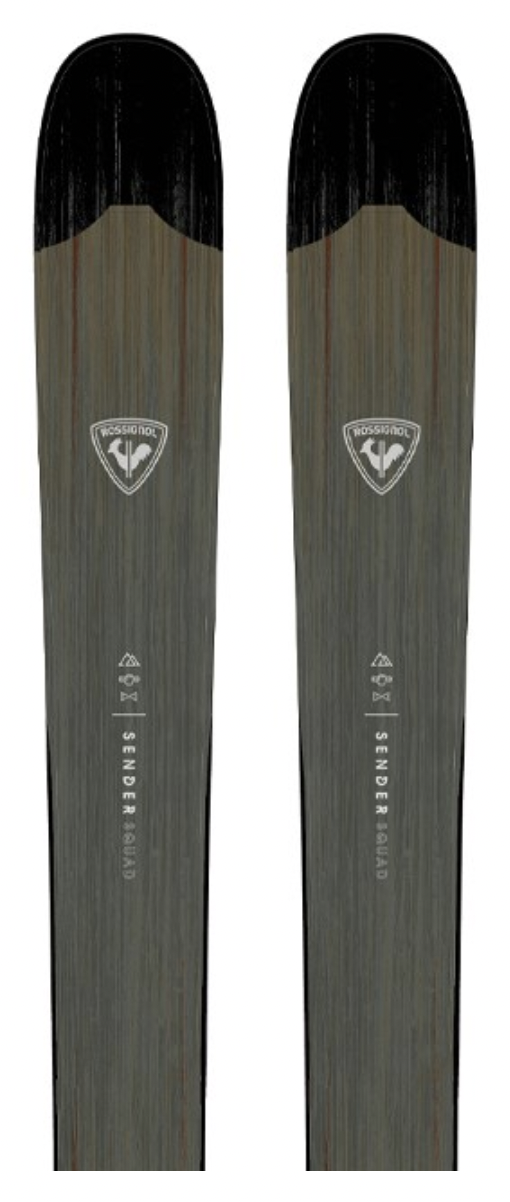 Ability level: Advanced to expert
Dimensions: 145-112-133mm
Lengths: 194cm
What we like: If you take the wheel, this ski will charge.
What we don't: Heavy, long, and one of the most specialized options here.
The final powder ski to make our list this season is Rossignol's Sender Squad, which is their widest freeride offering. Like other skis with similar dimensions, the Sender Squad likes to charge hard at high speeds and is a good match for avid backcountry riders looking to test themselves on challenging terrain. In terms of construction, the poplar wood core and Diago Fiber/Titanal reinforcements provide a nice mix of responsiveness, energy, and rebound. To temper the stiffness, Rossignol also integrated a playful rocker profile, balanced flex through the length of the ski, and sculpted a sidecut shape that's designed for carving big lines while maintaining agility through the trees. All told, it's a fun and powerful ski for those who like to go full throttle.
Although our testers found the Sender Squad performs shorter than its length would suggest (more like a design in the high 180s), it's a big ski that's clearly geared toward expert skiers pushing their limits on steep, technical terrain. And speaking of limits, the 194-centimeter length won't work for many riders, which severely limits its overall appeal (even experienced skiers who are shorter likely won't want to go that long). Finally, at 10 pounds 5.8 ounces per pair, the Rossignol holds the title as the heaviest option here. In other words, the Sender Squad is a niche option in an already-niche category, which pushes it to the bottom of our list.
See the Rossignol Sender Squad
Powder Ski Comparison Table
Powder Ski Buying Advice

What is a Powder Ski?
Generally speaking, powder skis are designed with a wider shape than resort and all-mountain models to help skiers stay afloat in deep snow. In terms of construction, they often have a wide, rockered tip (or "shovel"), more width underfoot (typically around 110-120mm), and a wide tail to enhance float and make it easier to turn in deep, ungroomed snow. This allows riders to maintain speed and make turns without sinking into the snow—and there's no denying the all-around fun factor.
However, that specialized nature means that powder skis aren't the most versatile option available, nor are they the best pick for beginners who are still honing their skills at the resort. In general, wider powder skis don't carve as well as narrower designs on groomed runs or hold an edge as effectively on hardpack or icy snow. Many modern powder skis do have added stiffness in the construction to enhance performance in firmer conditions, but this can make them harder to turn, especially without the proper technique. For that reason, beginners and those looking for a do-it-all ski will likely be better off with a more well-rounded all-mountain design. On the flip side, powder skis make a lot of sense for intermediate to expert riders who frequently venture off-piste or into the backcountry to seek out untracked terrain (and who likely already have a couple other pairs of skis in their quiver).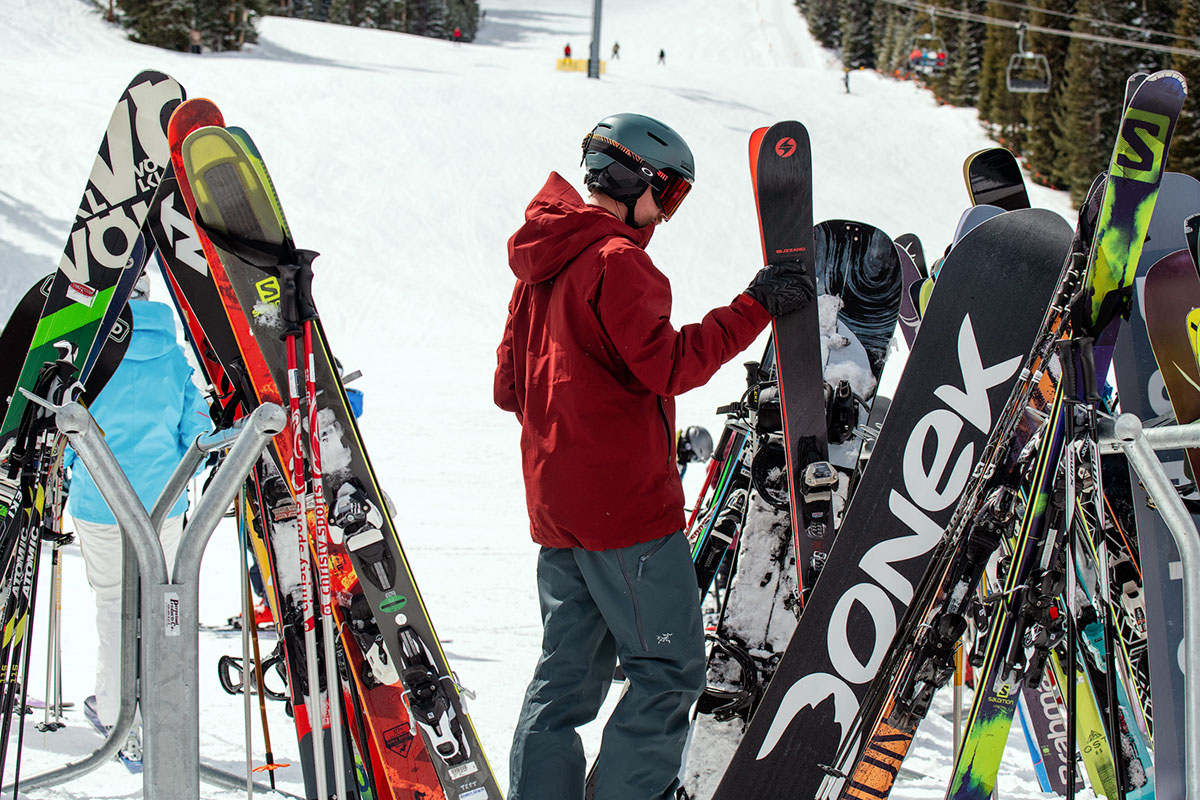 Powder Ski Dimensions
As we mentioned above, powder skis have wide shapes and generous dimensions (i.e., more surface area) to help skiers stay afloat and maintain speed in deep snow. That said, as the ski industry has learned over the years, wider does not always equal better. In recent years, most brands have settled on widths of around 110 to 120 millimeters underfoot, although skis up to 125 millimeters are not uncommon in areas with consistently deep powder (think destinations like Alaska, British Columbia, and Japan). For reference, the widest model on our list above is Faction's La Machine Max at 126 millimeters underfoot, while the narrowest is Nordica's 110-millimeter Enforcer Free (and predictably, the two skis have very different personalities).
In addition to a wider platform underfoot, powder skis generally have wide tips that measure around 140 to 155 millimeters. The tails are only slightly narrower, often in the 125– to 140-millimeter range. Like anything with a relatively large surface area, this shape helps powder skis stay afloat in deep, soft snow. That said, the exact shape and profile of a ski's tip, waist, and tail can differ dramatically between models. There are also several other factors that contribute to how well each ski will float, including flex, the materials used, and more. In other words, dimensions are just one part of the equation and should be looked at in conjunction with the rest of a ski's makeup.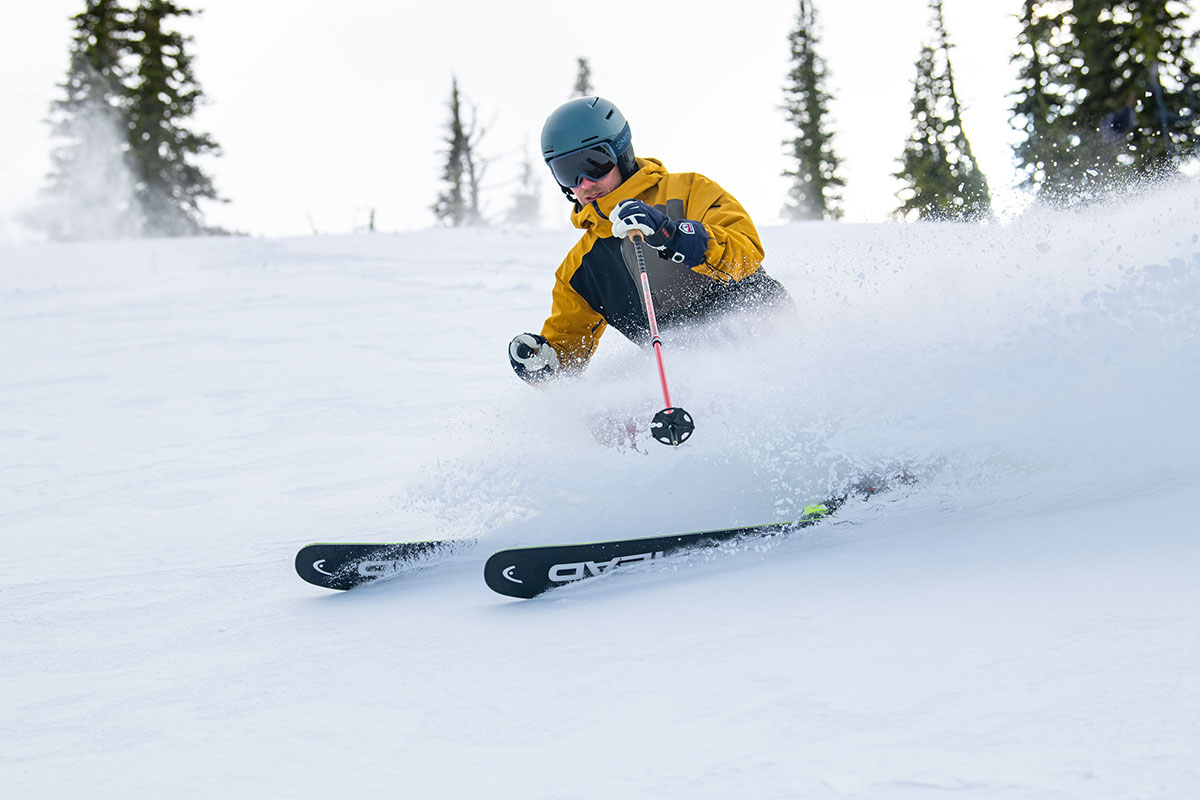 Ski Profile: Camber and Rocker
The profile of a ski can be broken into three main categories: camber, rocker, and mixed rocker/camber. There are others, including skis with a flat bottom shape, but the three listed below are the most popular—and for good reason. Each has their own strengths and weaknesses for skier and snow type.

Camber
Camber is a slight arc in a ski that has its high point underneath the foot. Visually, this is the part of the ski that is raised off the ground if the unweighted ski is laid flat on the snow surface (alternatively, if you hold two skis together vertically with the bases against each other, it's where they bend away from each other). The purpose of camber is to help skiers maintain edge control while carving turns. When the cambered ski becomes weighted during the middle of a turn, the ski's edge grips the snow surface. As the skier exits the turn, the camber helps the skier pop and propels them into the next turn. Traditional camber remains a great choice for those who like to ski aggressively on groomed runs, but it's not very common among powder skis given the focus on float and playfulness.

Rocker
Rocker, also called reverse-camber, is exactly that—camber in reverse, curving downward from the top of the ski instead of up from the bottom (like a banana). Powder skis with this profile—like the 4FRNT Renegade on our list—typically are highly maneuverable, float well, and are pretty reliable and stable when punching through choppy snow. The downside of a pure rocker ski is the flat surface underfoot has a tendency to be more skittish on firmer surfaces. Although it turns easily, it just doesn't hold an edge like traditional camber. From this issue was born a third category: mixed rocker/camber.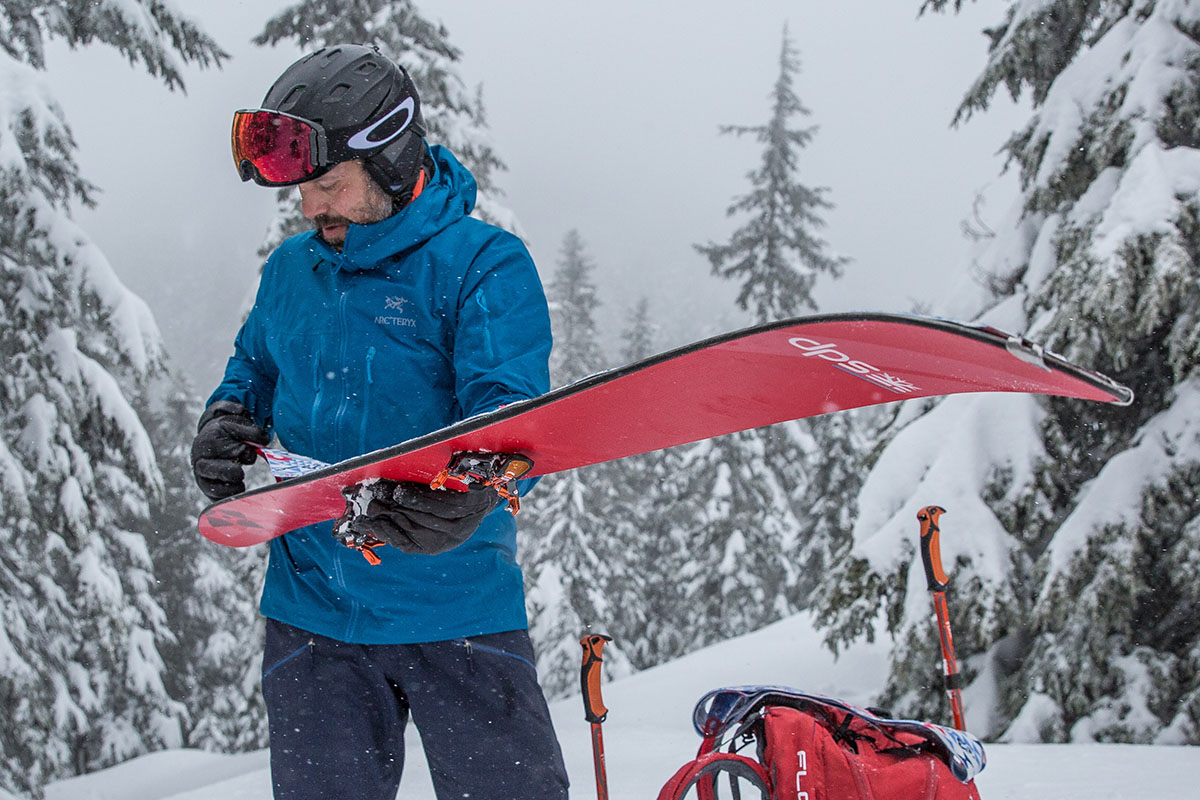 Mixed Camber/Rocker
In the mid 2000s, fully rockered skis and snowboards were popular for their unmatched maneuverability and flotation in deep snow. However, most modern powder skis have shifted to a mixed layout, with rocker in the tip and tail along with camber underfoot. In theory, this setup provides the best of both worlds: the pop and edge control of a traditional camber ski and the crud busting and easy cruising in deep powder that you get with rocker. If you want to maximize versatility and enjoy skiing a variety of conditions (not just deep powder), a mixed camber/rocker setup is a great pairing. One example is Salomon's QST Blank, which nicely balances nimbleness and stability and does a great job handling variable terrain and snow types.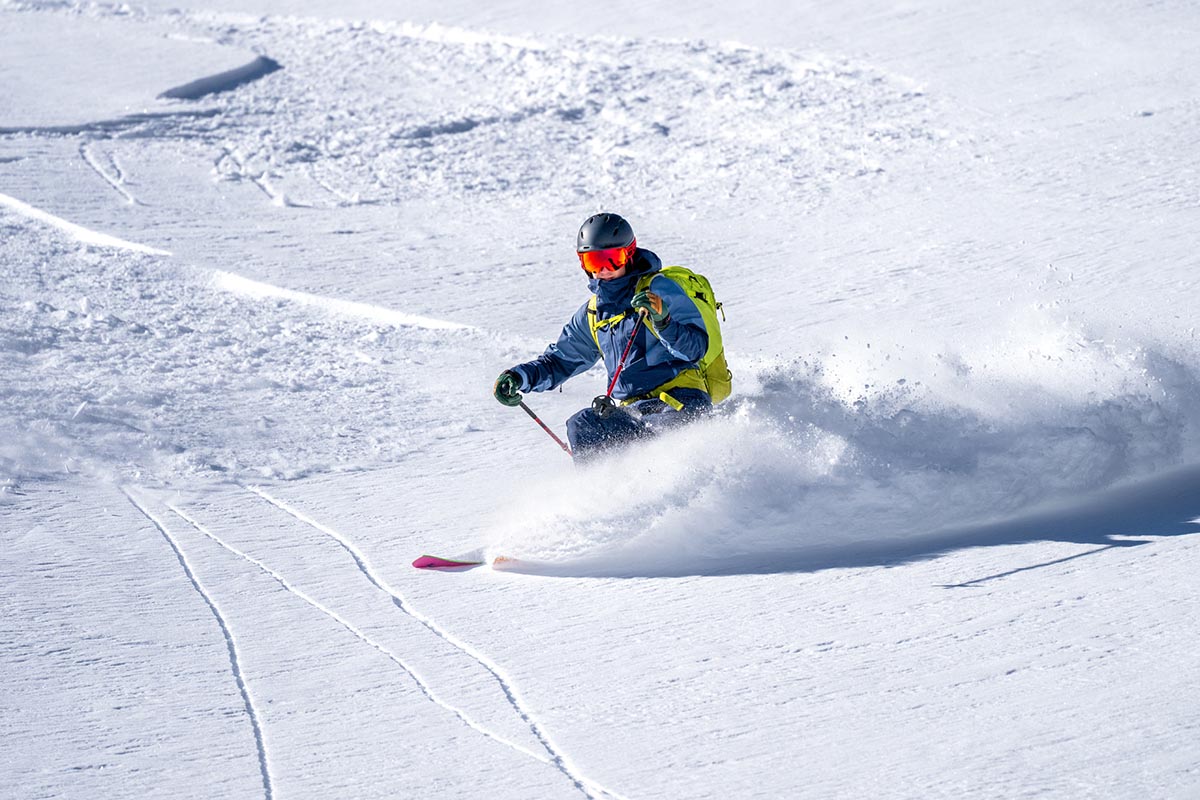 Turn Radius (Sidecut)
A ski's sidecut (also referred to as turn radius) is measured in meters and determined by the shape and dimensions of its tip, waist, and tail. In short, the narrower a ski's waist relative to its tip and tail, the deeper its sidecut and smaller its turn radius. A ski that's built for quick, tight turns will have an hourglass shape that's wider at the tip and tail and much narrower at the waist to maximize responsiveness and maneuverability. For example, DPS' Foundation 112 RP measures 140 millimeters at the tip, 112 millimeters underfoot, and 125 millimeters at the tail with a relatively short turn radius of 15 meters for navigating tight spaces. On the other hand, a ski with a more uniform width across the tip, waist, and tail (like the 4FRNT Renegade) will have a shallower sidecut and longer turn radius, resulting in slower and wider turns but better stability at high speeds.
Powder skis typically have a medium-to-long turn radius of 16-20+ meters, which is largely to maximize float. If a ski is too narrow in the waist, it will sink down into deep snow and lose its ability to surf, pop, and do all the other fun things that powder skis are built to do. Powder skiing also often involves making wide, sweeping turns on big, open faces and bowls, which pairs well with a longer turning radius. A final benefit is top-end stability: Backcountry riders are always trying to keep their speed while staying on top of the snow, and a ski with a longer turn radius will help keep you afloat and maintain control while moving fast.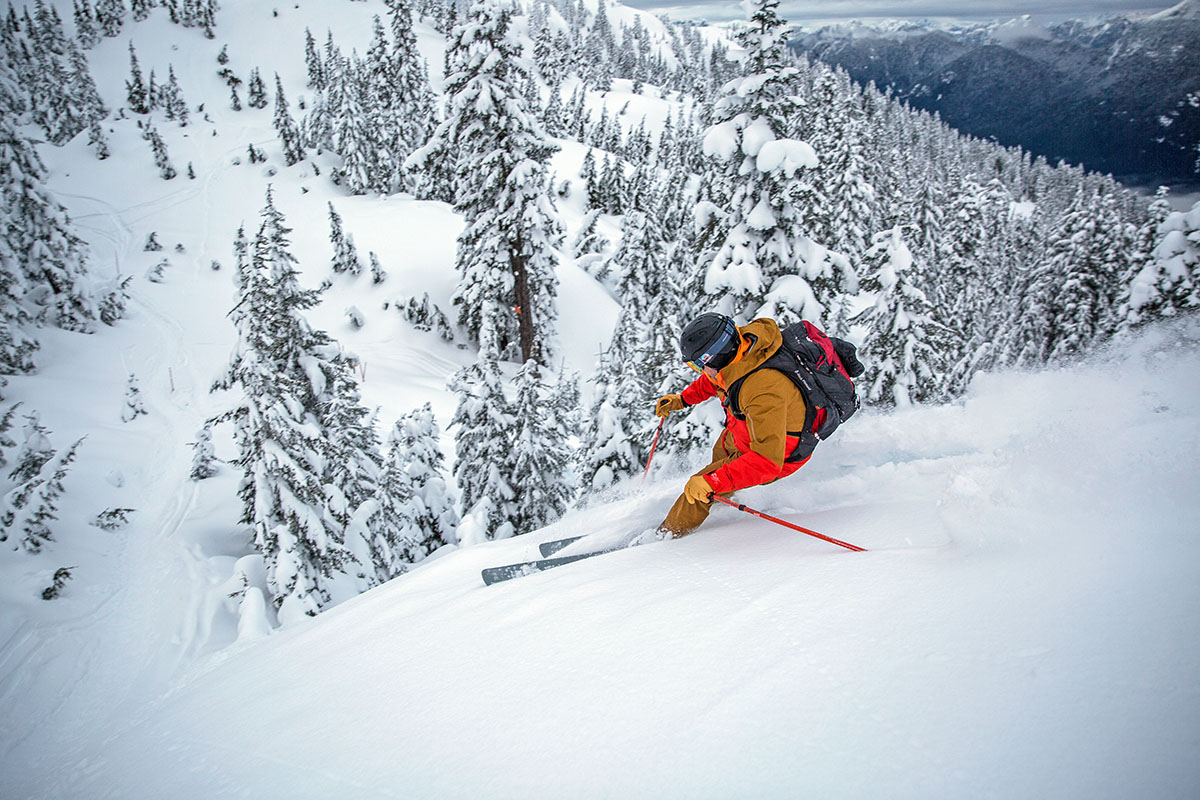 Why don't all powder skis have minimal sidecut and the longest possible turn radius? Well, because most of us aren't heli-skiing in Alaska. Sure, many riders frequent bowls, chutes, and open faces with untracked powder, but they're also skiing powder through trees, glades, and other tight spaces where responsive turning is critical. As a result, when deciding on a pair of powder skis, it's worth considering your preferred type(s) of terrain and what your ideal balance of playfulness versus stability looks like. A ski with a medium turn radius is going to be able to make quicker maneuvers, while one with a longer radius (like the aforementioned 4FRNT Renegade) will be slower to turn but more adept at high-speed charging. Our best advice is to avoid pigeonholing yourself into one type of terrain or riding style by steering clear of skis that swing too far in either direction (unless you're looking for very specialized performance).

Ski Flex and Ability Level
Manufacturers utilize a range of methods to balance a ski's stiffness and power with playfulness and maneuverability, and we focus a lot of our write-ups above in describing the "feel" of each model (and what ability level and style of rider it's best for). A rigid design is stable at speed and has the highest performance potential, making it easier for confident riders to ski through variable or heavy, chopped-up snow. As a result, stiffer skis are typically best suited for advanced to expert skiers that like to move fast (and are confident doing so). Powder-ready options that fall into this category include the Moment Wildcat, 4FRNT Renegade, Nordic Enforcer Free, and K2 Mindbender.
On the other hand, a softer, more flexible ski will feel more playful and easier to turn, making it more approachable to intermediate riders (at the sacrifice of some high-speed stability and dampness in big mountain scenarios). Many of our favorite models land somewhere in the middle—including our top-rated Atomic Bent Chetler—balancing power for driving the skis with enough flex to be forgiving and maneuverable when moving at a slower clip.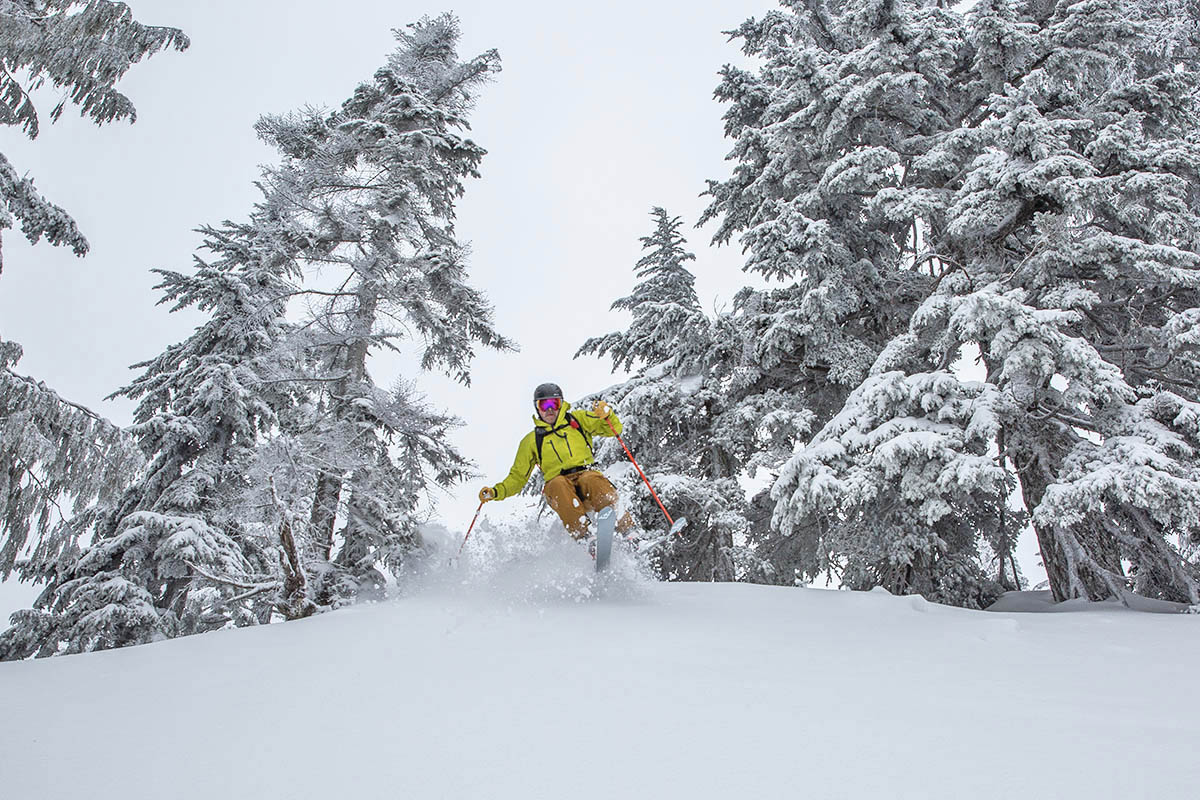 Powder Ski Weight
Given their generous dimensions, powder skis are a relatively heavy bunch, averaging around 4 to 5 pounds per ski. That said, unlike resort riding, where weight generally isn't a huge factor for most, skiing in powder requires a reasonably light platform in order to maximize flotation. Your ideal number will vary depending on your priorities: Backcountry enthusiasts who like to earn their turns will likely want to stick to the lower end of the spectrum, and weight also becomes an important factor for riders who want one pair of skis to cross over for both resort and backcountry use. On the other hand, if stability and dampness take precedence, a heavier design will likely be your best match. We've included the listed weight of each ski in the table above, and the numbers range from the Rossignol Sender Squad at 10 pounds 5.8 ounces per pair down to the Atomic Bent Chelter 120 at 7 pounds 15 ounces.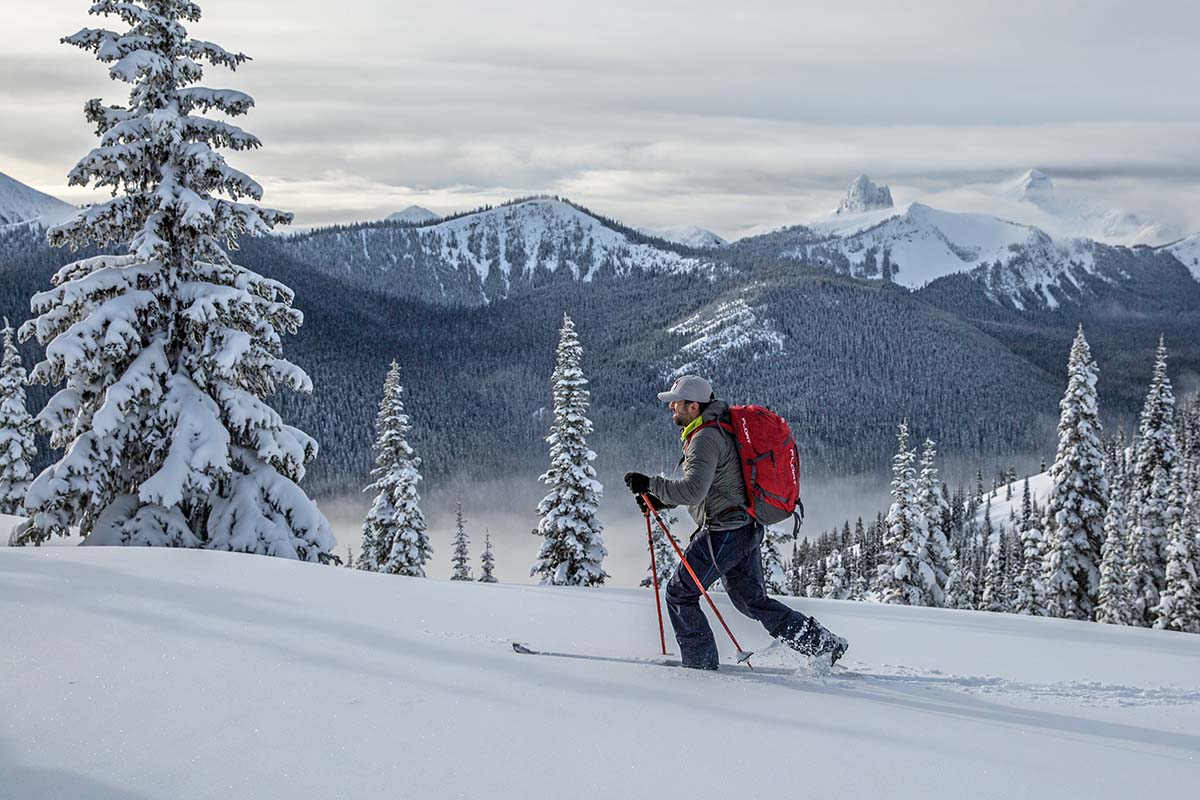 Ski Construction: Materials, Cores, and Laminates
Modern powder skis are packed with high-end materials and proprietary technologies, which makes it nearly impossible to accurately analyze their constructions without putting them to the test. The good news is that the market in 2023 is flush with quality options, and each year we see incremental improvements. Poplar and aspen are two lightweight and high-energy woods commonly used in the core to reduce weight while maximizing pop and responsiveness. Paulownia is another lightweight option that's often slightly more durable, while denser woods like maple will boost power, stability and durability but add some heft. Outside the core, ski manufacturers also often use some metal or composite materials—including graphene, carbon, Titanal, or proprietary blends—to increase a ski's strength and stiffness.
Our best advice is to avoid limiting yourself by setting too many parameters. It's hard to pinpoint performance simply based on a ski's construction, and there are a wide variety of ways to make a capable design. When researching, pay attention to how the manufacturer and reviewers describe overall performance, but remember to take big claims with a grain of salt. If possible, it's always helpful to demo skis with varying materials and constructions to see how they feel under your feet.
Crossover Resort and Backcountry Skis 
When choosing skis to use both at the resort and in the backcountry, the name of the game is versatility. Weight can be a good place to start: You'll likely want a ski that's at the lighter end of the resort category or a backcountry ski that's relatively beefy. Our favorite crossover design this year is Armada's Tracer 118, which is light enough to keep your legs fresh for the descent but offers great stability in less-than-ideal conditions (which you may find frequently at the resort). Backcountry missions also often involve some amount of variable snow, whether you're making a few turns through chalky wind drift before reaching the powder below or slogging through afternoon mashed potatoes. In other words, it's often best to opt for more of a do-it-all ski than a specialist that's crafted for a single purpose (e.g., surfing in deep powder).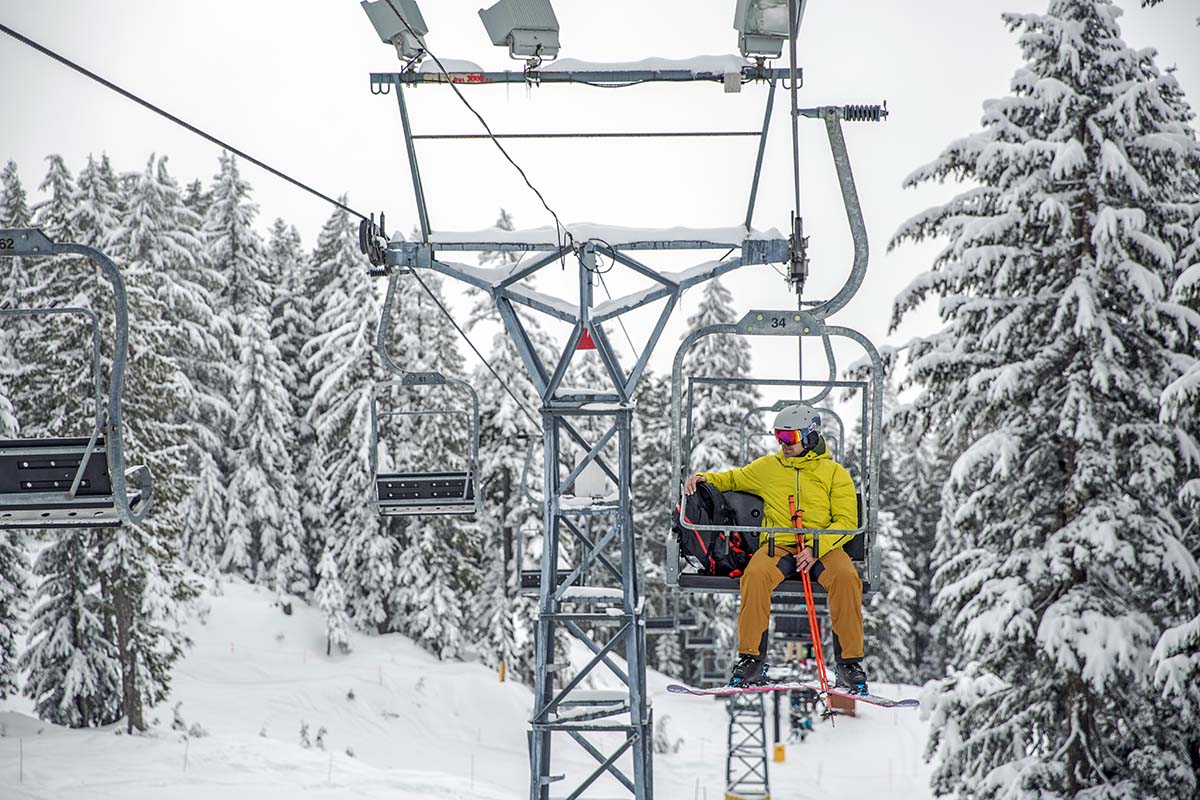 Women's-Specific Powder Skis
Like much of the outdoor industry, the historical approach to women-specific skis has been to "shrink it and pink it"—in other words, shorten the length, soften the flex, and add a "feminine" colorway. Fortunately, the industry has seen a major shift in recent years, with women-owned and -operated companies like Coalition Snow at the forefront of the innovation—their Rafiki above is our top-rated women's design this year for its effective balance of agility and power. A few other picks on our list also come in dedicated women's models with unique constructions: the Armada Tracer, Nordica Santa Ana Free, Blizzard Sheeva, Black Crows Anima Birdie, and K2 Mindbender 115C.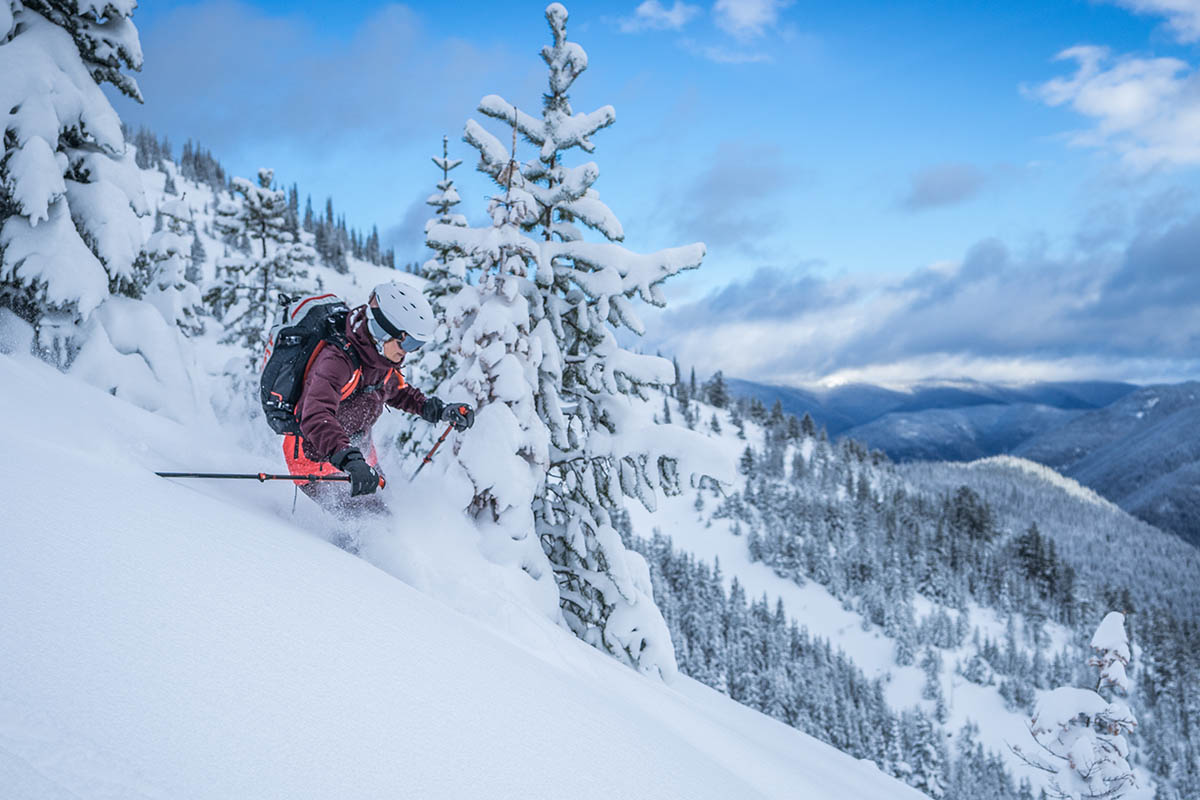 In the end, we urge you to consider all of your options when deciding on which ski is right for you—regardless of the labeling. Take a close look at the quality and characteristics of each model, see what lengths are available (women's models often are made in shorter lengths), and take advantage of demoing skis whenever possible. Some women use unisex skis (note: The primary version of a ski isn't typically a "men's" version but instead unisex by nature), some favor women's-specific models, and some serious skiers have a quiver that includes both. We recommend getting whichever ski fits and feels best.

Choosing the Right Ski Length 
Most ski manufacturers provide a size guide on each product page, which often takes your height, weight, and ability level into account to help you decide which length is best for your measurements and riding style. In general, shorter skis are easier to handle and turn faster (they're well suited for beginner and intermediate riders), while longer skis float better and are more stable at high speeds (at the sacrifice of some maneuverability and ease of control).
It's also worth factoring in the type(s) of terrain you'll be skiing most. If your favorite areas have a lot of trees and glades, you may opt for a shorter ski that's easier to pivot. If you frequent big, open bowls, a longer ski will be more adept at wide, open turns. In other words, a manufacturer's sizing guide can be a good starting point, but you should also consider your ability level, ski style, and preferred terrain before deciding on the right length for you. We've found this sizing chart on Evo to be a helpful baseline with advice on when it's best to size up or down.
Finding the Right Ski Boots and Bindings
Skis are just one part of your setup, and it's worth the effort to ensure that all components work together well. In short, skimping or not matching the stiffness or ability level on one piece (skis, boots, or bindings) will impact the performance of everything else. For example, if you opt for a boot that's too soft for your rigid, high-performance skis, you may struggle to transfer power and lose some control. On the other hand, if you have entry-level skis and stiff, performance-oriented boots, you won't be maximizing your boots' potential.
To help you find the best match, we've broken our recommendations into specific categories: For resort use, check out our ski binding and downhill boot round-ups. And for touring, our backcountry ski binding and touring boot recommendations break down the categories in a similar fashion as powder skis: tailoring the picks to ski conditions and ability level.
Back to Our Top Powder Ski Picks  Back to Our Powder Ski Comparison Table
Learn More About Ski Gear