Whether you're a first-time backpacker or a seasoned veteran, everyone could use a good list to make sure they're prepared when they head out on the trail. Our detailed checklist below covers everything from critical backpacking equipment (tent, pack, sleeping bag, etc.) to hiking footwear and clothing, optional extras, and personal items. For more information on each product category, many of the headings link to our detailed product round-ups, which are the result of years of testing and opinions (we do love backpacking). And for all our product recommendations in one place, see the landing page for our hiking and backpacking gear reviews.
Backpacking Equipment
Footwear and Clothing
Optional Extras
Personal Items

❒ Backpacking tent

❒ Backpack

❒ Sleeping bag

❒ Sleeping pad

❒ Backpacking stove and fuel

❒ Backpacking food

❒ Cookware and utensils

❒ Water filter or purifier

❒ Water bottles or reservoir

❒ Headlamp

❒ Navigation

❒ First aid kit

❒ Repair kit

❒ Hiking boots or shoes

❒ Hiking socks

❒ Hiking pants

❒ Hiking shirt(s)

❒ Rain jacket

❒ Down or synthetic jacket

❒ Baselayers

❒ Trekking poles

❒ Camera

❒ Sunglasses

❒ Beanie and gloves

❒ Backpacking chair

❒ Camp shoes

❒ Personal hygiene items

❒ Pack towel or handkerchief

❒ Sunscreen and lip balm

❒ Insect repellant

❒ Book or kindle

❒ Bear canister/spray (if necessary)

❒ Whistle

❒ Ziploc bags

❒ Gaiters

❒ Personal tracking device

Backpacking Equipment
Your tent serves both as protection from outside elements and a refuge while sleeping in the backcountry. In terms of weight, most 3-season backpacking tents range from 2 to 5 pounds for a two-person model (the most popular size), although there are a number of minimalist shelters that are even less than that. And keep an eye on things like interior space, durability, and doors and vestibules. Our top backpacking tent choice for 2021 is the Big Agnes Copper Spur HV UL2, which checks all the boxes we look for in a competitive and well-rounded design: it's lightweight at 3 pounds 2 ounces, spacious, well-built, and easy to set up. For added protection against rocks and roots (and especially given these tents' generally thin floor fabrics), we also recommend bringing along a footprint, which typically is sold separately (the Copper Spur's costs an additional $70).
Similar to tents, backpacking packs range from ultralight to fully featured models designed for comfort and carrying large loads. When deciding on volume, most overnight packs run from 40 to 75 liters, and your decision should come down to the length of your trip, how bulky your gear is, and how much you like to bring along. For most backpackers, we recommend a pack in the 60- to 70-liter range, and our favorite model for 2021 is the men's Osprey Atmos AG and women's Osprey Aura AG. This pack is comfortable, durable, breathable, and has great organization. If you plan to encounter any inclement weather on your trip, it's also worth bringing along a dedicated rain cover (some packs come with them, but many do not) or waterproofing your gear by lining the interior of your pack with a trash bag.
The last thing you want after a long day on the trail is a restless, cold night. A quality sleeping bag is one of the most expensive purchases you'll make, but it can last for many years if treated well. Sleeping bags can be roomy or streamlined, from plush mummy bags to lightweight summer quilts, and are available in both down and synthetic builds. If you have the budget, we love down-specialist Feathered Friends and the Hummingbird UL 30 in particular. REI makes a number of very competitive bags as well, including the popular Magma.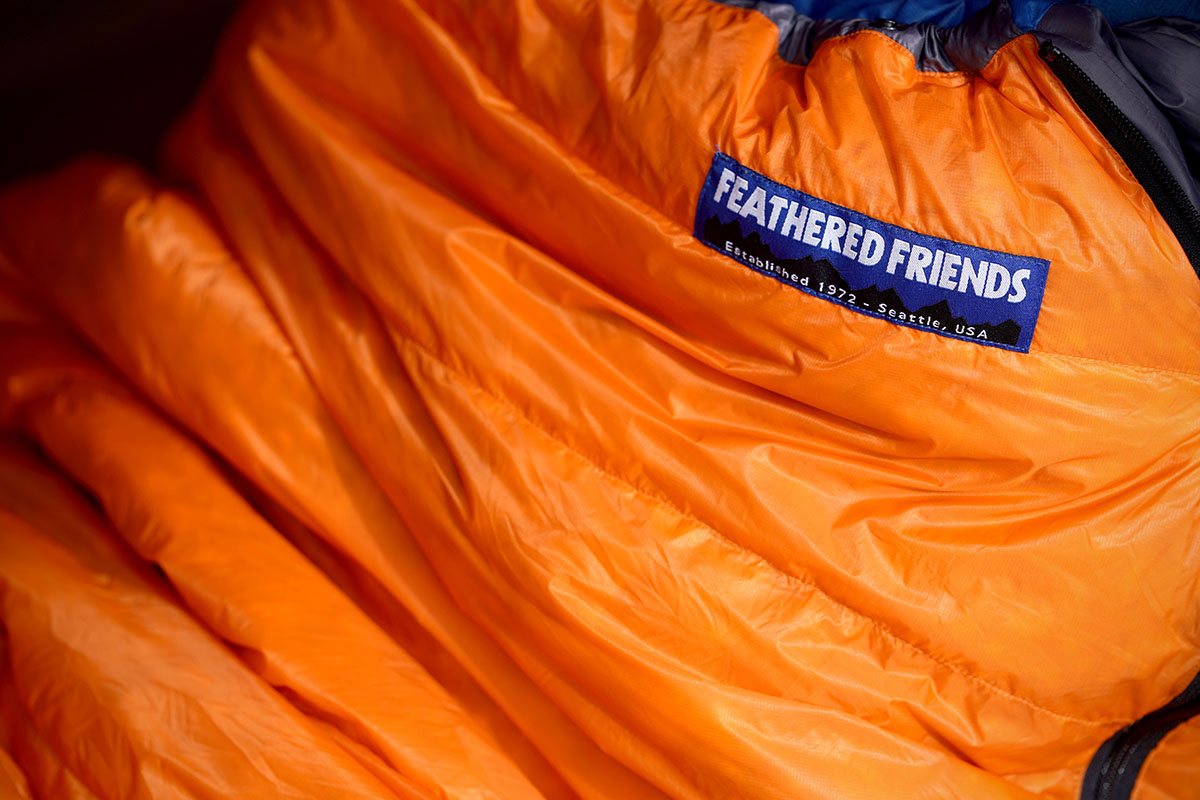 Once you've chosen your bag, next up is your sleeping pad. In addition to comfort considerations, sleeping pads help insulate your body from the cold ground (the higher the R-value, the more insulation a pad offers). In terms of pad models, Therm-a-Rest has been leading the charge for decades, and their lightweight and well-built NeoAir XLite is a popular choice for backcountry travelers (we see it used more than any other pad by far). We've also had good luck with Sea to Summit's air-sprung designs—including the Comfort Light Insulated and Ether Light XT Insulated—which are extremely comfortable and offer competitive insulation and durability. And comfort-oriented backpackers might also consider packing a lightweight, inflatable pillow (most weigh just a few ounces).
 
Whether you're making gourmet dinners or eating prepackaged dehydrated meals, you'll need a way to heat it all up. Backpacking stoves range from inexpensive and compact (some weigh less than 2 ounces) to robust and powerful. Key considerations include the fuel type (options range from isobutane/propane canisters to multi-fuel stoves), and stove design (simple screw-on stoves that require a pot to all-in-one stove systems). Our top overall pick for 2021 is the MSR PocketRocket 2, which checks in at just 2.6 ounces, boils water fast (boil time is listed at 3.5 mins.), and costs a very reasonable $45 (pot not included). If you're just getting started and want an all-in-one option for boiling water, JetBoil's Flash is pricier and heavier at $110 and 13.1 ounces respectively, but overall performance is excellent (and it's more wind-resistant than the PocketRocket).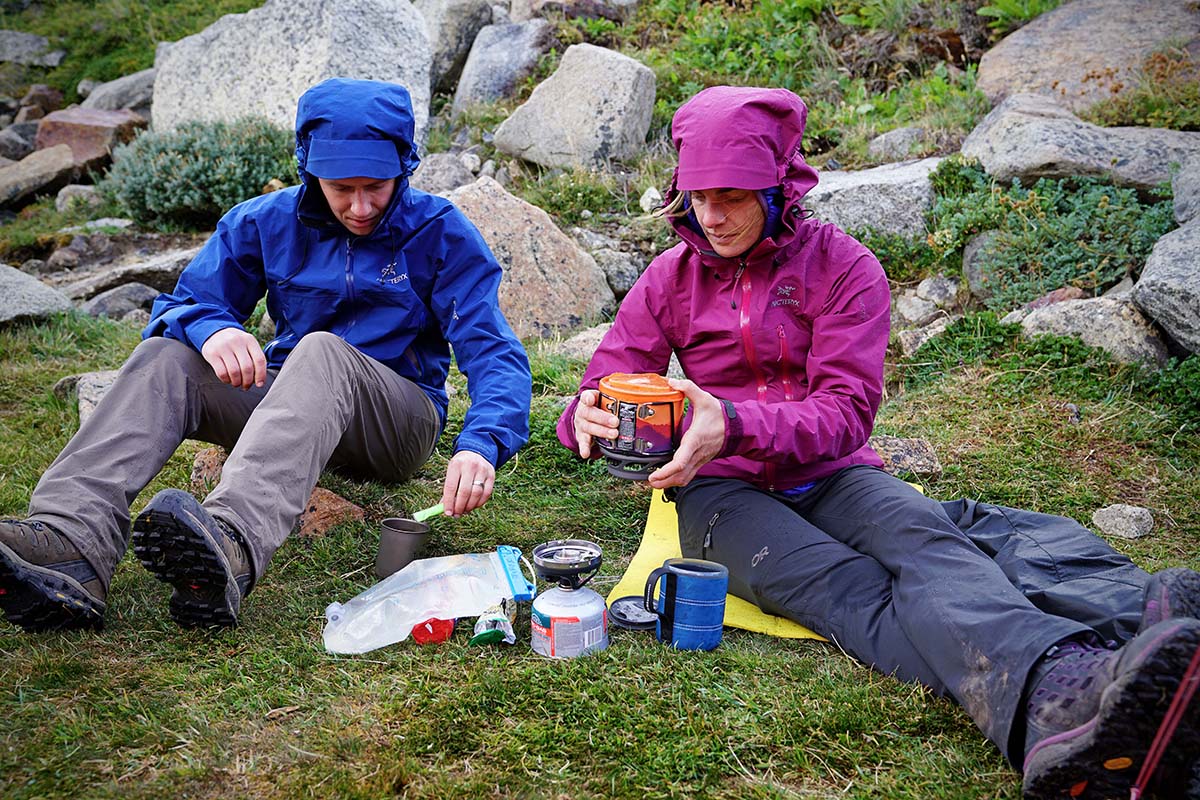 Don't forget dinner (or lunch, or breakfast, or snacks). The good news for backpackers is that dehydrated food has gotten pretty darn good of late: it's less salty, more nutritious, and tastes better than ever. And a nice perk: dehydrated meals mean less cooking and no dishes to clean—simply boil water and eat. Our personal favorite brand is Good To-Go, which does a great job at mimicking real food. Other top options include Mountain House, Backpacker's Pantry, and AlpineAir. These companies also make hot breakfasts (we just eat bars or trail mix sometimes instead), and lunch can be anything from pre-made sandwiches to cheese and crackers or just trail mix. Regardless of your food choices, it's a good idea to lay out your food meal by meal to make sure it's all there, and we always pack an extra meal or two in case the trip takes longer than expected or we get extra hungry. And you can never have too many bars (or backup Clif Shot Bloks for an energy boost).
 
7. Cookware and Utensils
Given the increase in the quality of dehydrated backpacking meals, many people use an all-in-one stove system to boil water and eat their meals straight out of the bag. For these folks, a separate pot isn't necessary and all you need is a spork for eating and possibly a lightweight cup for coffee, tea, or other beverages. If you use a simple screw-on stove, you will need a separate pot for cooking and a dish to eat your food out of. Backpacking cookware options range from budget to ultralight and pricey, but there are a good number of middle-of-the-road systems from brands like GSI Outdoors, MSR, and Snow Peak as well.
 
The choices for backcountry water treatment are numerous: there are gravity filters, pumps, UV and chemical options, and emergency straws. In addition, some filter water while others offer full-on purification, which is best in high-use areas where animal or human waste is a concern. We've used just about every type of water filtration system on the market, and our favorite is the Platypus GravityWorks 4L. This system is fast and convenient: you simply fill up the dirty water bag, hang it from a branch or rock, and let gravity do the work. For solo backpackers and day hikers, a minimalist pump, inline filter, or simple chemical drops may do the trick.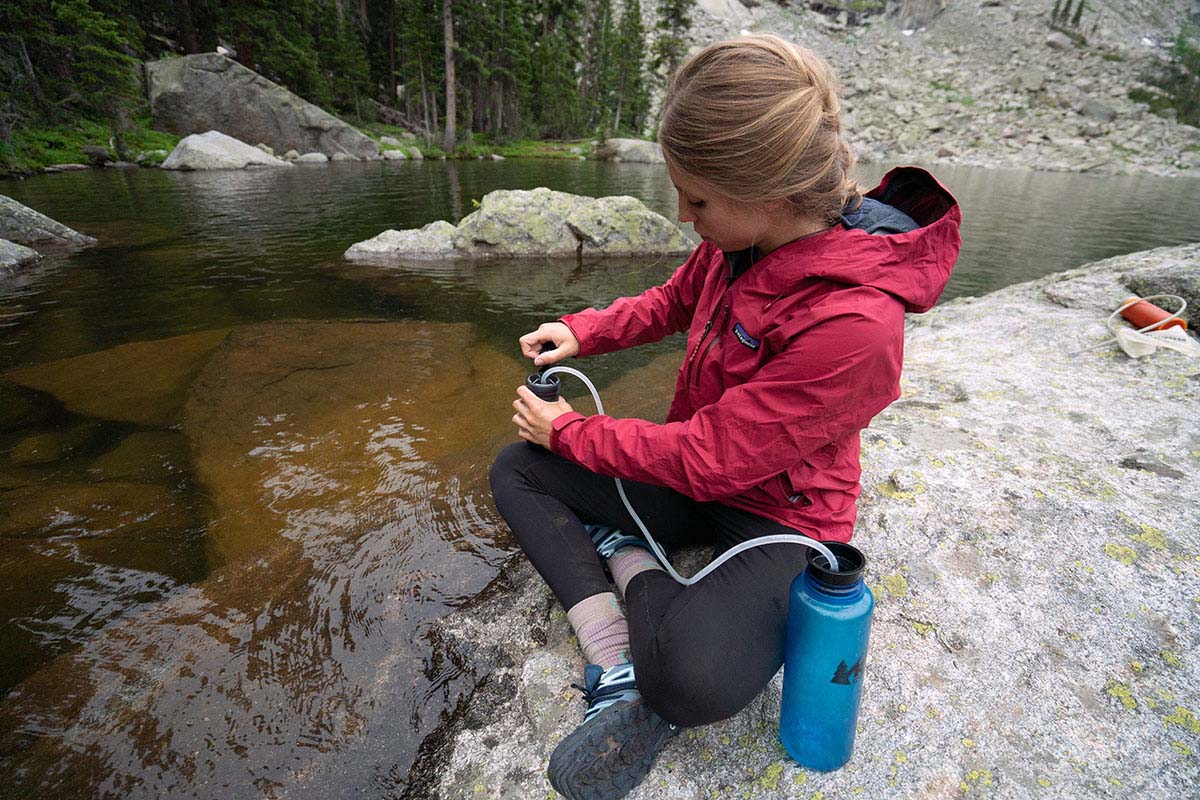 Water storage is essential for hydration on the trail. Some people prefer standard bottles, while others carry a reservoir in their pack with a hose for convenient drinking while on the go. Water bottles come in a variety of styles, from BPA-free plastic and stainless steel to soft-sided collapsible bottles. If you're looking for a lightweight and affordable option, the classic Wide Mouth Nalgene remains one of our favorites, year after year.
 
A headlamp is a small yet vital piece of gear (if you ever forget one, you probably won't do it a second time). Some folks require a high-performance headlamp for climbing or other nighttime adventures, but most backpackers can get a quality light that is plenty bright for around $40. Our top overall pick is the Petzl Actik Core, which strikes a nice balance among brightness, durability, and affordability. When making your decision, keep an eye out for lumens (the amount of light emitted by the headlamp) and battery life (the manufacturer-provided number should be thought of as the absolute maximum). And make sure to always pack extra batteries (or a way to recharge) in case yours run out of juice on the trail.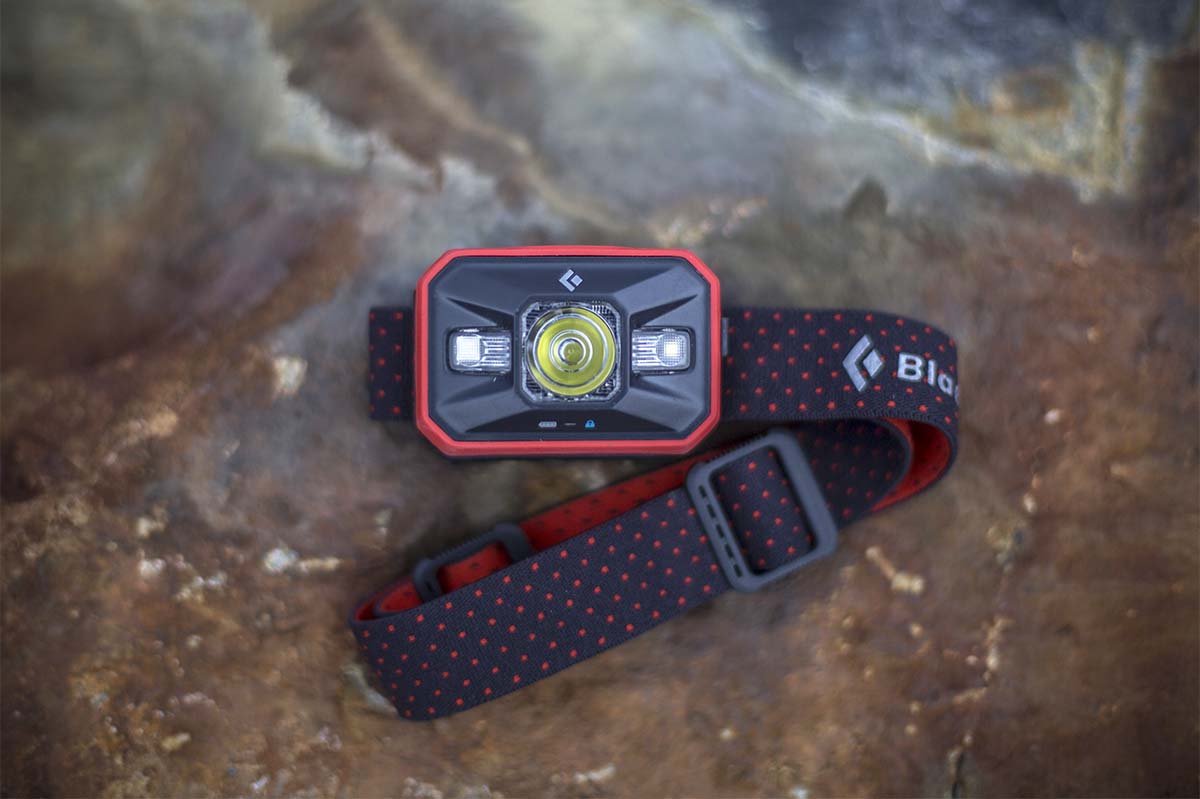 11. Navigation: Map, App, or GPS
Paper maps are the classic choice for navigation, while GPS (via watch or handheld device) have become popular among those who like the extra peace of mind. In addition, many smartphones now have hiking apps that can serve roughly the same purpose of a GPS (make sure to check on connectivity requirements beforehand). Regardless, it's very important to get oriented for your trip and always have a good idea of where you are on the trail.
 
12. First Aid Kit
Regardless of the length of your backpacking trip, bringing some kind of first aid is a smart idea. At the very least, we carry basic medications, band aids and/or bandages, and duct tape (you would be amazed at the versatility of duct tape, and we just wrap a small amount around a pencil or stick to save weight). If you're looking for a full kit, REI sells a number of them, including an ultralight and waterproof Adventure Medical Kit for less than $20.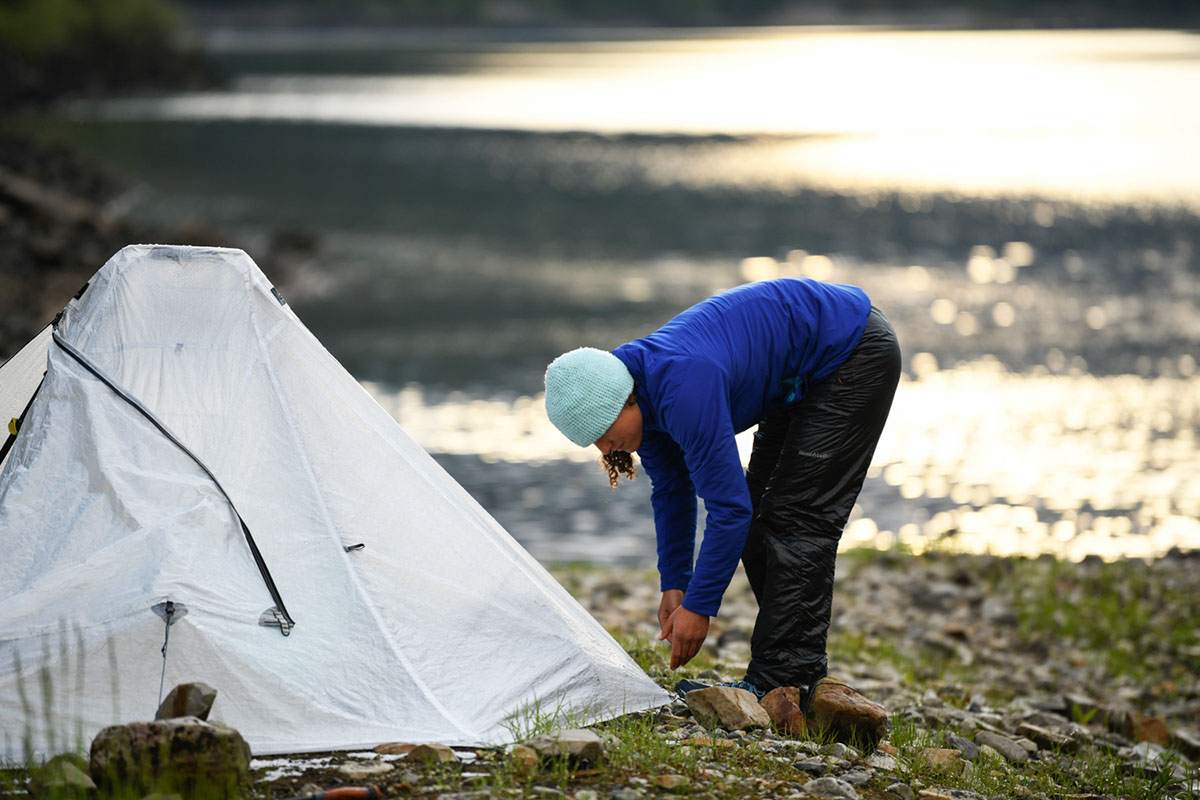 13. Repair Kit
No matter how light you prefer to travel, we always recommend having a repair kit on hand. You can swap items based on your needs, but our repair kit usually contains a small roll of duct tape (often wrapped around a tent pole repair splint), some utility cord, extra batteries, an extra lighter or waterproof matches, a small stove repair kit, an additional garbage bag or large Ziploc, and a knife or multi-tool. Depending on your trip's length or remoteness—or how exposed you'll be to the elements—we also recommend taking along repair tape (like Gear Aid's Tenacious Tape), zip ties, a sewing kit and safety pins, and seam sealer.

Footwear and Clothing
There's a good argument that no piece of gear is more important than footwear. In general, the market is moving away from stiff, high-top models to more agile hiking boots and shoes that are light and comfortable. In virtually all categories of hiking footwear, we think Salomon nails it: the fast and flexible X Ultra 3 Mid GTX is the top hiking boot on the market in our opinion, and the X Ultra 3 GTX is a lower-cut and lighter version for those that prefer to go that route (note: Salomon recently released a new X Ultra 4 for spring 2021, and we will report back with our feedback). And a growing number of thru-hikers, ultralighters, and even casual backpackers wear trail running shoes on their hiking adventures. No matter the style, if you're breaking in new kicks, it's a good idea to pack blister treatment like Moleskin to help with any hot spots or uncomfortable rubbing.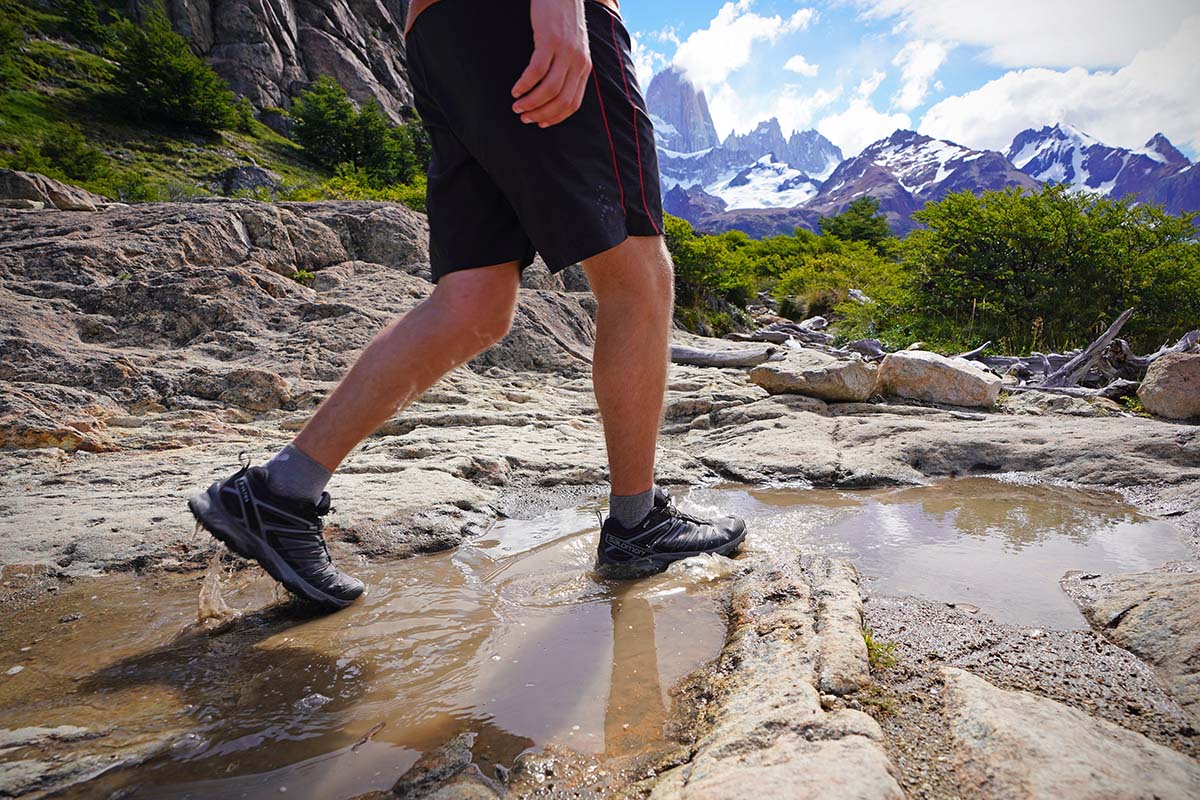 It doesn't matter what hiking boot or shoe you choose if you don't have a good pair of socks to accompany it. Our favorite socks all are made of merino wool, an extremely comfortably material that offers premium temperature regulation, moisture wicking, and odor resistance. The height and level of cushion of your sock can vary, but for hiking trips we like the Darn Tough Micro Crew Cushion. With a premium build and lifetime guarantee to back it up, you can't go wrong with Darn Tough.
Whether you need serious protection while bushwhacking or a more breathable model for warm conditions, your hiking pants matter. Most backpackers want their pants to be durable, comfortable, and offer good freedom of movement with a little stretch. In 2021, many pants have features like weather-resistant fabrics, articulated knees, zip-off legs, and an assortment of pockets. Our favorite all-around hiking pant is the prAna Stretch Zion (and women's prAna Halle), which hits a really nice balance of comfort and performance. And if you expect your trip to be particularly wet, consider packing a separate pair of rain pants to stay dry around camp.

17. Hiking Shirt(s)
Similar to hiking pants above, your shirt choice largely is a matter of personal preference. The good news is there are plenty of options, from high-end and lightweight wool shirts like the Smartwool Merino 150 to much cheaper synthetics from a number of brands. You can also go short or long sleeve or hooded sun shirt, the latter of which is nice for sun and bug protection or in cooler conditions.
 
Even if there's no rain in the forecast, it's always a good idea to carry a waterproof shell on a backpacking trip. The two main categories are rain jackets (the most common and economical choice) or full-on hardshells, which are built for extended forays in tough conditions. For most summer backpackers, a lightweight rain jacket like the Marmot PreCip Eco will do the trick, which weighs just 10.1 ounces and offers decent wind and waterproofness and breathability. If you're really pushing the limits, see our article on the best hardshells.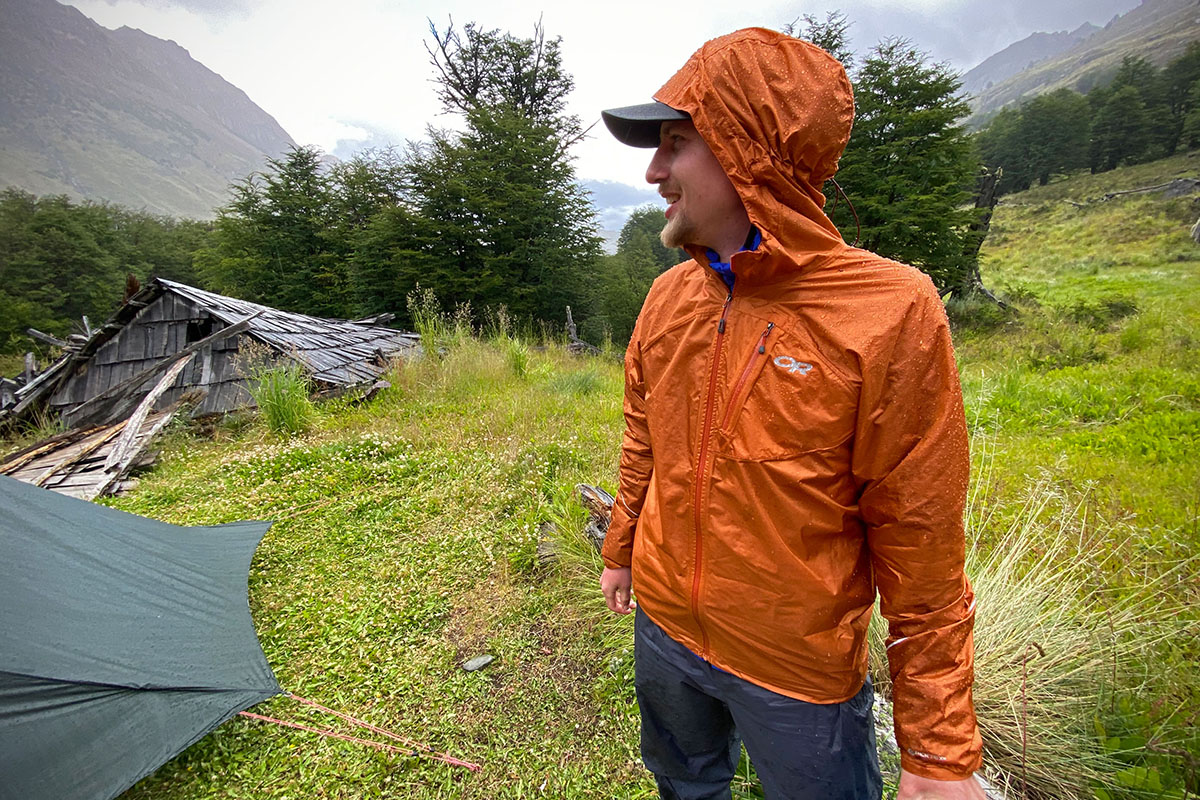 For early mornings or when you're finished backpacking for the day, your insulation piece is critical (and we often sleep in ours for extra warmth). A lightweight down jacket is the ultimate in terms of warmth-to-weight ratio and packability, while synthetic-insulated jackets won't stuff down as small but insulate better when wet. Our favorite overall down jacket is the Patagonia Down Sweater, which is extremely versatile, well-built, and durable. If you care more about breathability and weather resistance than weight, packability, and maximum warmth, a synthetic like Arc'teryx's Atom LT or Patagonia's Nano-Air will be a better option.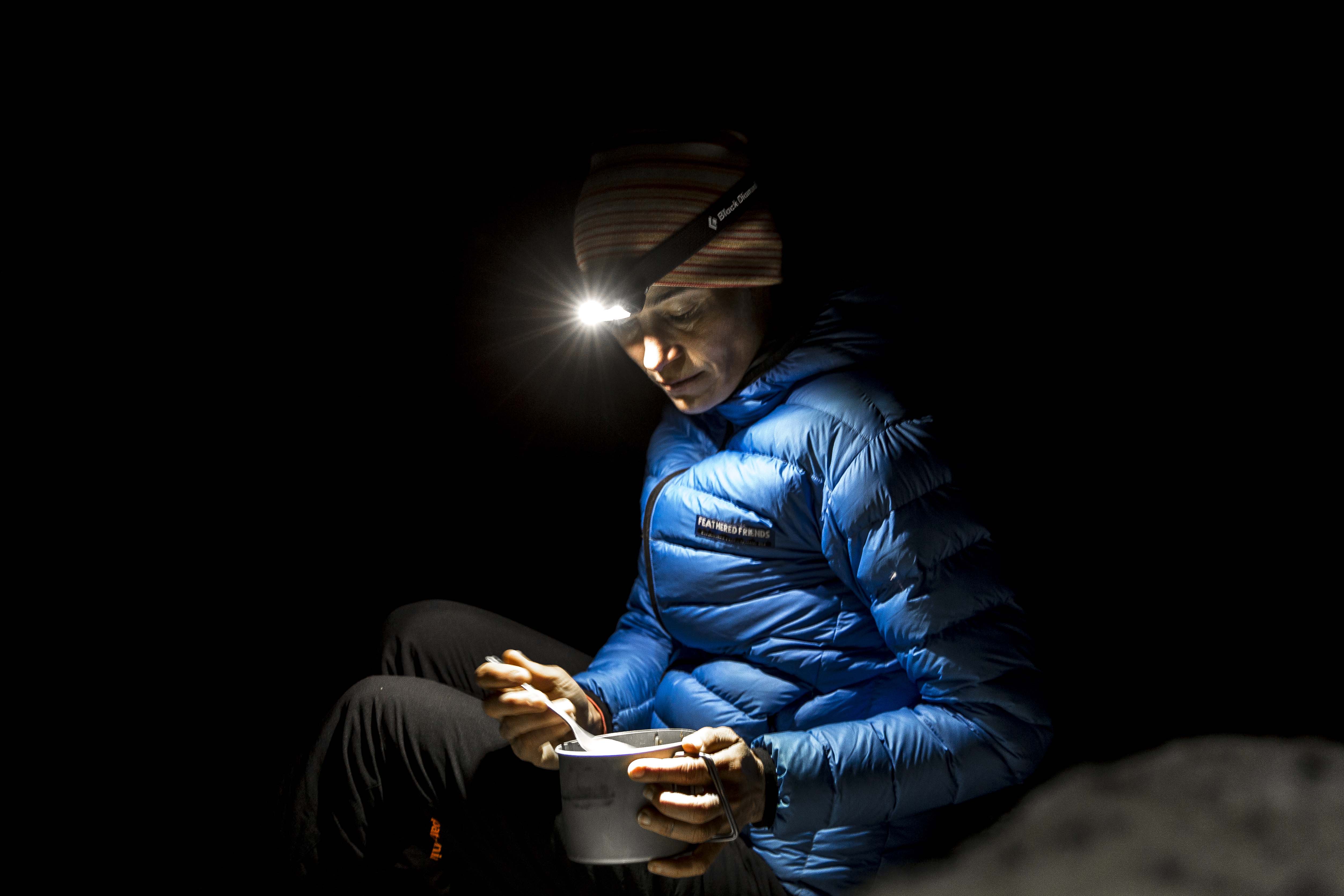 Baselayers often get overlooked, but they are an easy and compact way to add warmth while hiking or in your tent. Most baselayers are made of either ultra-soft and odor-resistant merino wool, or durable but less comfortable (and less expensive) polyester. Our top pick for 2021 is the Smartwool Merino 250 1/4-Zip, which is warm, soft, moisture-wicking, odor-repelling, and even UPF 50+. Put simply, that layer pretty much does it all. As far as synthetic alternatives go, Patagonia's Capilene collection leads the charge and is offered in a range of styles and thicknesses.

Optional Extras
We're seeing more and more trekking poles on the trail, and it's no secret why. This simple addition to your backpacking kit takes a lot of pressure off your knees and feet and makes hiking easier overall. Take your pick between folding and telescoping options, aluminum and carbon, and foam and cork grips. Our top choice for 2021 is the Black Diamond Trail Ergo Cork, an impressively high-quality pole that strikes a nice balance between comfort and durability. If you're on a budget, a cheaper option like REI's Trailbreak ($60) will get the job done, but don't expect it to hold up well to long-term abuse or particularly technical terrain.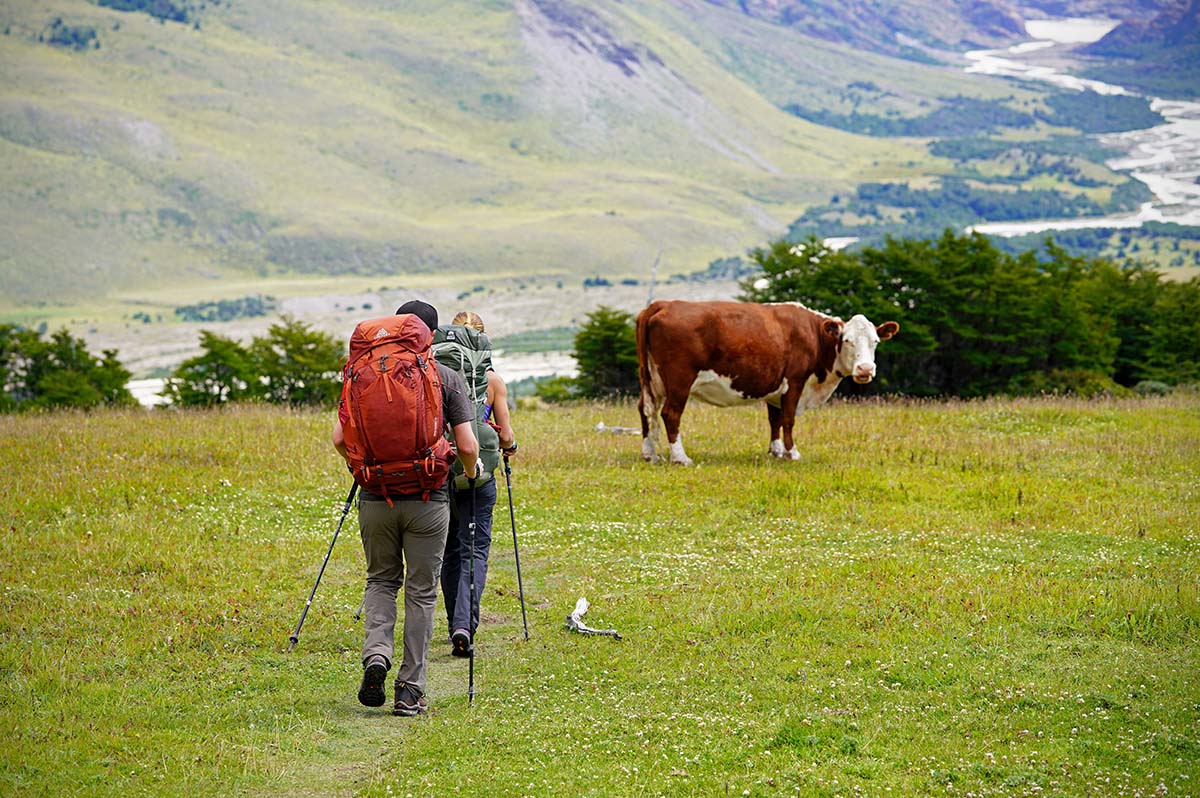 We covered backpacking packs above, but if you plan to venture out on any day hikes from camp, it's often worth bringing along a separate bag to stash a few essentials like an extra layer, water, and snacks. Some backpacking models come with integrated daypacks that detach from the larger pack body (like Gregory's Baltoro 75), but there's a dizzying array of standalone options to consider. REI Co-op's Flash 18 is one of the lightest and most streamlined designs on the market (it checks in at a scant 9 oz. and costs just $40), and both Osprey and Gregory offer a number of more featured (and pricier) daypacks in the 1- to 2-pound range.
Whether you carry only your smartphone or decide to bring a dedicated camera, it's fun and rewarding to be able to capture photos of your trip. We get asked about hiking cameras all the time and there is no simple answer: professional-grade cameras are heavy and expensive, but also take far better photos than point-and-shoots and other compacts. Mirrorless interchangeable cameras in particular have become increasingly popular in recent years, and we carry the Sony A7R III on our backpacking adventures. No matter your camera choice, have fun and take lots of photos.
 
24. Sunglasses
Again, sunglasses are largely about personal preference and the conditions, but many backpackers do wear them. Eyewear can help when it's bright, do a nice job at keeping dirt out of your eyes when it's windy, and are almost mandatory when spending extended periods of time near snow or on glaciers. Options range from casual to multi-sport, with brands like Oakley, Smith, and Native leading the charge. And if you have the budget, polarized glasses do a really nice job of reducing glare, particularly on water and snow.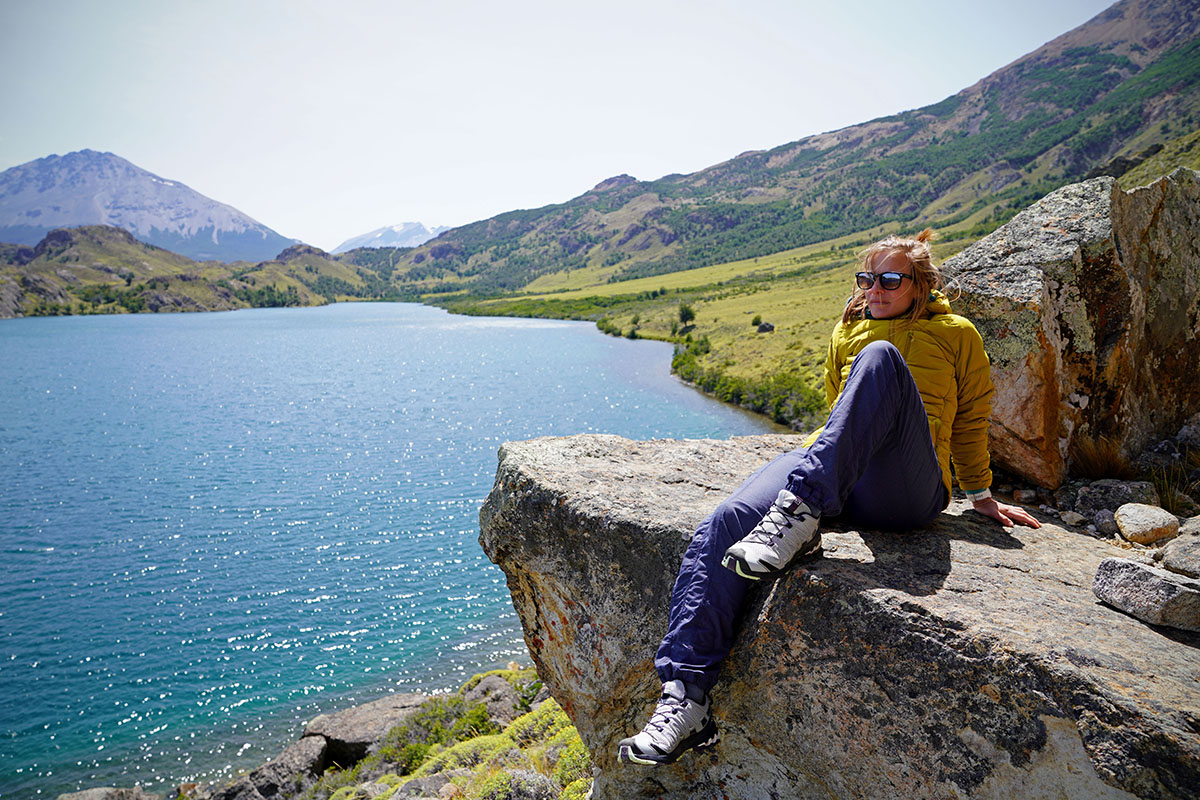 25. Beanie and/or Gloves
When the temperature drops, a beanie and gloves can make your backpacking trip a lot more comfortable. And if you're not bringing a hooded insulation piece or are using a backpacking quilt instead of a full-on sleeping bag, a beanie is essential. Over the years, we've been pleasantly surprised at how much we depend on our hat when backpacking (think chilly mornings and nights), and gloves are a really nice touch in cold and windy weather.
 
26. Backpacking Chair
A backpacking chair is a really easy item to leave in your car because it seems unnecessary at the trailhead, but you'll be jealous of your campmates who brought one. At just 1 pound all-in, an ultralight chair like the Helinox Chair Zero gets you off the ground, offers nice back support, keeps your rear dry, and packs down small enough to fit in the water bottle holster of your pack. For the lightest and cheapest way to get off the ground, Therm-a-Rest's Z Seat is essentially a square piece of foam to cushion you from rocks or other trail hazards. All that said, if the hike is long or there are enough natural things to sit on (downed trees and large rocks), we often pass on bringing a chair. 

27. Camp Shoes
When a long day of backpacking is over, nothing feels better than taking your sweaty hiking shoes or boots off for some fresh camp footwear. We've seen just about every type of camp shoes you can imagine, from Crocs and outdoor sandals to minimalist trail runners and even down booties. It's true that bringing extra shoes adds weight to your pack and you can survive without them, but they sure make a nice luxury item to bring along for the trip.

Personal Items
Our list above covers the big essentials, but forgetting insect repellant or sunscreen could be just as much of a trip-ender as leaving behind your sleeping bag. Here are a few more bits and pieces to make sure you have in your pack before you take to the hills. Happy trails!
Hygiene items (toilet paper, body wipes, toothbrush, toothpaste, etc.)
Pack towel or handkerchief
Sunscreen
Lip balm
Insect repellant
Book or Kindle
Bear canister and/or bear spray (if required or necessary)
Whistle
Ziploc bags (for trash and waterproofing electronics)
Gaiters (for snow or water crossings)
Satellite communicator or personal tracking device


Where to Buy Backpacking Gear
Perhaps our Seattle roots makes us biased, but we do much of our gear shopping at REI Co-op. The selection is excellent, the return policy is generous (make sure not to abuse it if you want it to continue), the staff generally are knowledgeable and helpful, and you get the brick-and-mortar bonus. A good option for online shopping is Backcountry.com, which has free standard shipping on orders over $50 and solid selection overall (we use Backcountry more for winter purchases but it does well in the hiking/camping world as well). For cheaper items and those who need gear quickly, it's hard to beat Amazon.com and the sheer volume of sellers and product options. Last but not least, we always support buying gear at your local shop. It's a great way to support the community, get real information about your trip, and be able to try things on in person.
Back to Our Backpacking Checklist  See Our Backpacking Gear Reviews
Learn More About Outdoor Gear