Arc'teryx Zeta AR Jacket
Price: $525
Weight: 15.3 oz. (women's small)
Waterproofing: 3-layer Gore-Tex with C-Knit
What we like: Top-notch weather protection, versatility, durability, and comfort.
What we don't: Very expensive, a little heavy, and only offered in a women's version.
See the Women's Arc'teryx Zeta AR
Sitting atop Arc'teryx's Zeta lineup is the Zeta AR ("all round"), which is designed as a versatile and fully featured shell for trekking. Recently updated with a big increase in back length, more storage, and a roomier fit, we put the latest model to the test on a 16-day trek in Nepal's Everest region and back home in the wet Pacific Northwest. The verdict: it's certainly not the lightest or cheapest option available, but it's an excellent pick for committed female hikers and backpackers that need top-notch protection from the elements (it's no longer sold in a men's version). Below we break down our experiences with the Zeta AR. To see how it stacks up to the competition, see our articles on the best rain jackets and best hardshells.
 
---
Table of Contents
---

Performance
Water and Wind Protection
We'll cut straight to the chase: the Arc'teryx Zeta AR is one of the most capable hiking-focused rain shells on the market and a highly effective barrier against the elements. The biggest contributor to this stalwart performance is the Zeta's 3-layer Gore-Tex with C-Knit construction, which translates to hardshell-like protection without the clammy feeling you frequently get with more traditional 2- or 2.5-layer rain jackets. For reference, the Zeta AR easily shrugged off the flood-like "atmospheric rivers" that have plagued British Columbia of late, which is a true testament to its weather-worthy build. It's been a similar story in rough winter conditions: the jacket withstood heavy mist, snow, and harsh gusts during a trek through Nepal's Everest region. Rounding out the weatherproof build are the brand's reliable and long-lasting taped seams and a quality durable water repellent (DWR) coating.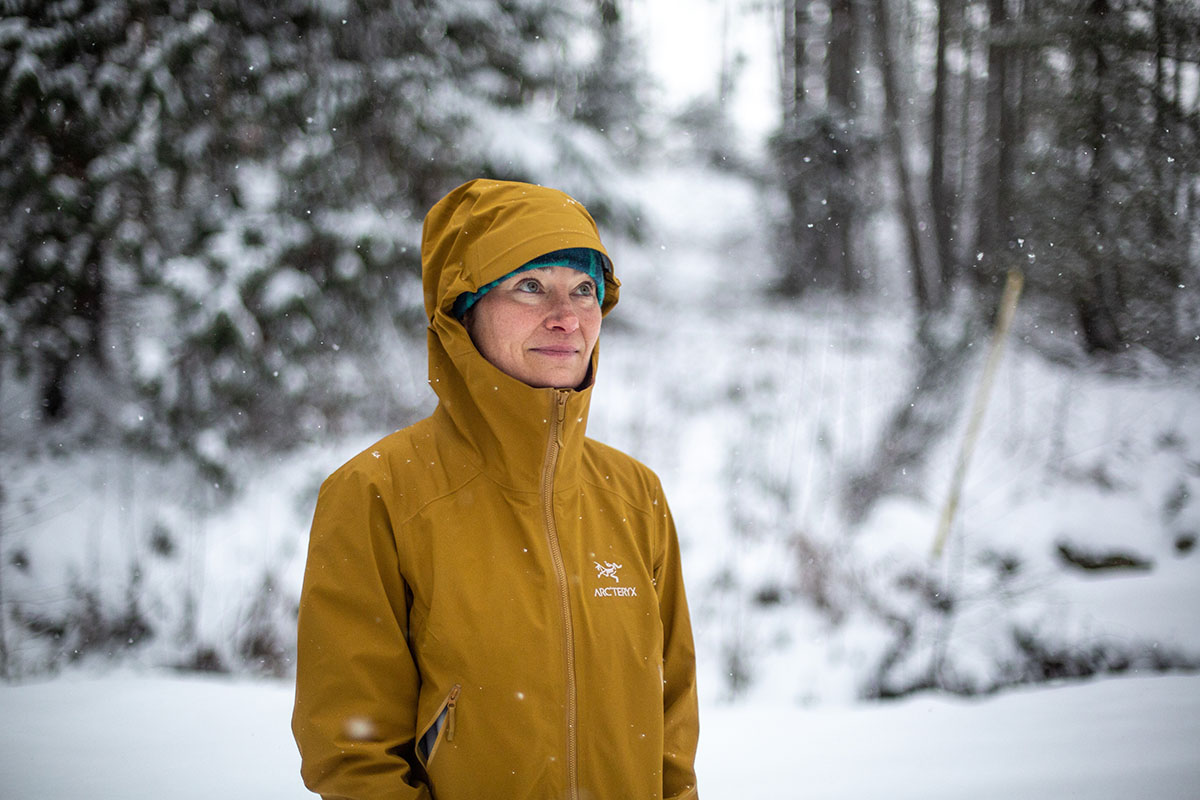 Along with its excellent weatherproofing, the Zeta AR is packed with Arc'teryx's typical weather-resistant features. The cuffs are easy to snug down to prevent cold drafts entering at the wrists, and the Velcro closures effectively keep them in place when reaching overhead. Further, the trim-fitting StormHood—adjustable via a single toggle at the back—remains firmly in place even in heavy winds, and the laminated brim does a nice job deflecting droplets from my face. The tall collar is also great for tucking my chin and nose into when wind or rain pick up, and the microsuede chin guard is a nice, soft touch for my often-chapped and wind-burned lips.
In terms of coverage, the jacket is a true standout in the hiking shell market. It falls to just above my upper thigh with added coverage at the rear (center back length is listed at 31.5 in.), which is great for protecting my upper legs without restricting movement (most alternatives are roughly 2-3 in. shorter). You have the option to cinch the hem via a drawcord to seal out drafts, but I prefer to leave it loose in rain so that water runs right off the jacket onto the ground.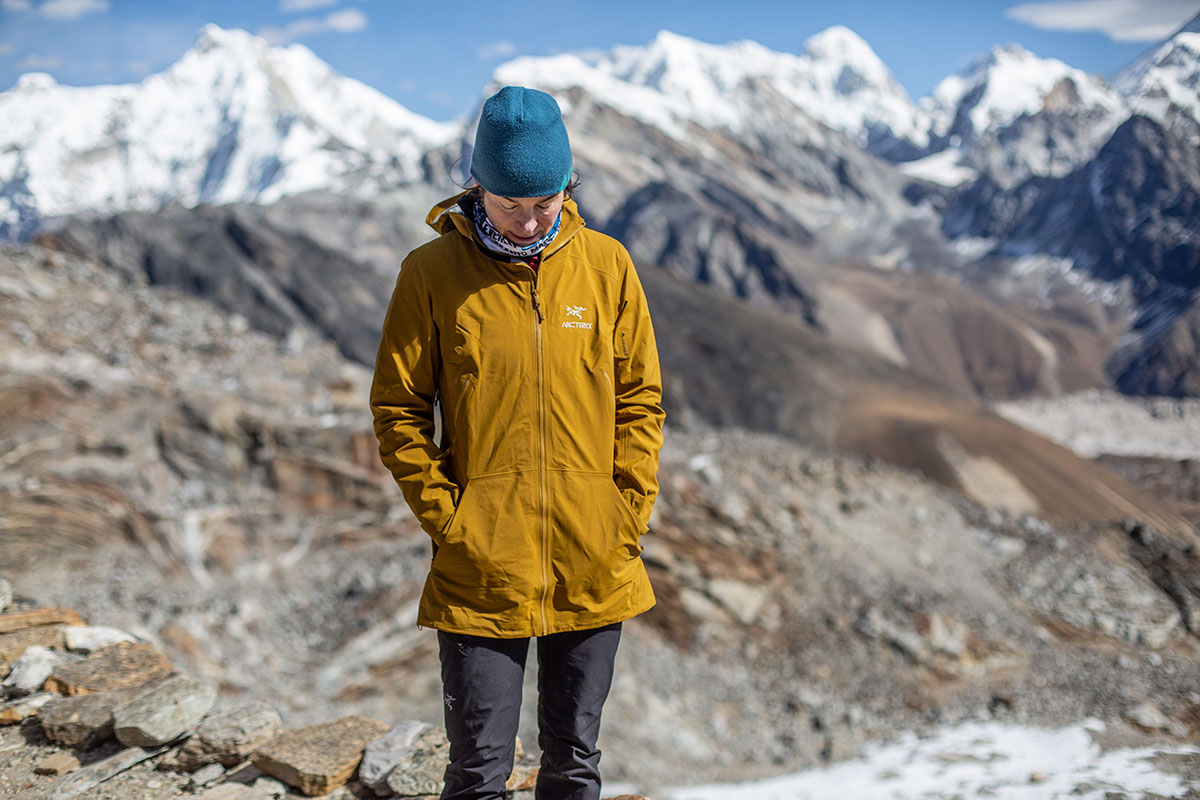 Breathability
Rain jackets aren't often lauded for their breathability, but the Zeta AR's premium hardshell-like build did an adequate job keeping me cool and comfortable, even while backpacking with a heavy load in full sun. The pit zips were a big help here: they're generously sized and easy to customize with a double zipper design. For reference, I wore the Zeta AR while trekking in Nepal in constantly-shifting conditions with dramatic temperature swings. The heat was quite intense at higher altitudes where we were fully exposed to the sun's rays, but I was able to keep the shell on. And importantly, the C-Knit backer was comfortable over just a T-shirt and didn't grow clammy or sticky against my bare skin (a common complaint with cheaper 2- or 2.5-layer designs).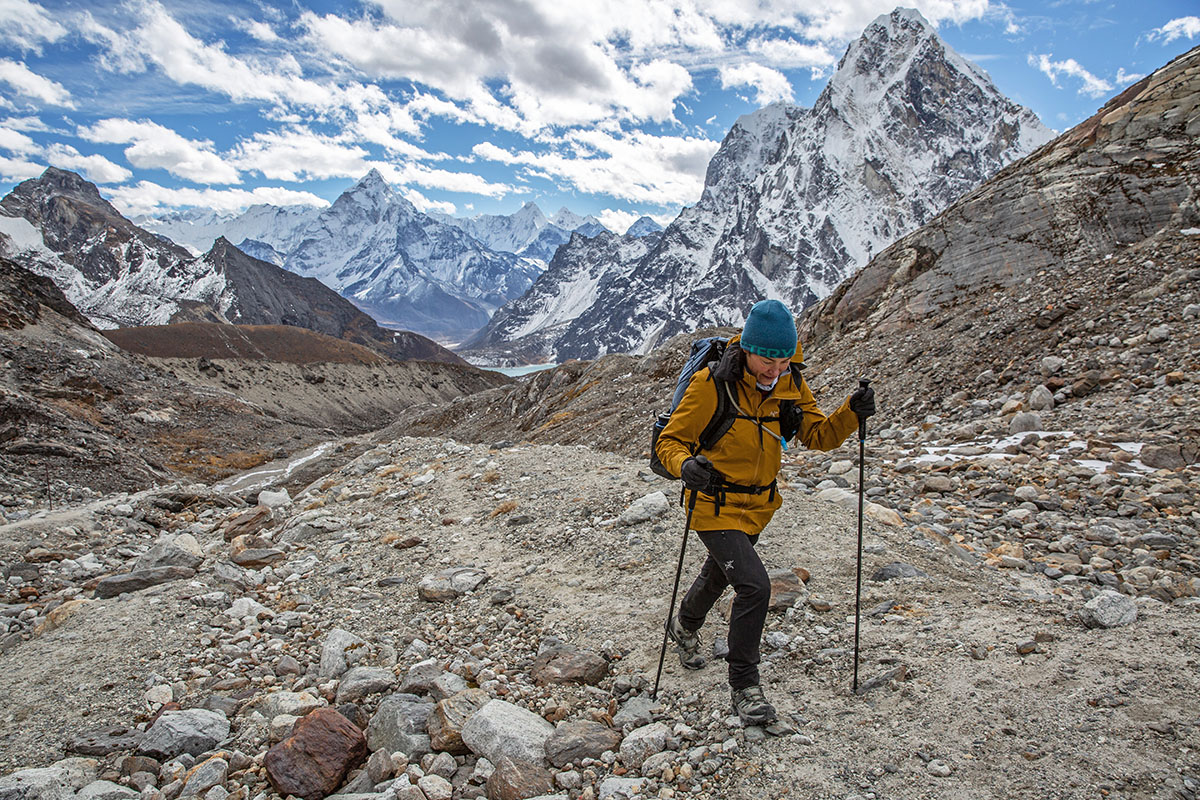 Weight and Packability
The Zeta AR is packed with features and has an extended back length, so it came as little surprise that my women's small clocked in at a fairly hefty 15.3 ounces (just over its 15-oz. listed weight). You can go lighter with a jacket like the Outdoor Research Aspire (13.7 oz.), but that jacket sacrifices pit zips, has a shorter length, and isn't as mountain-ready as the Zeta. Within the Zeta family, the Zeta SL (9.5 oz.) also considerably undercuts the AR, though that jacket also foregoes pit zips, has a downgraded 2-layer construction, and is less durable. And looking outside of Arc'teryx's in-house collection, competitors like the Black Diamond Highline Stretch (10.7 oz.) and Patagonia Pluma (12.9 oz) also check in a little lighter. Finally, in terms of storage, the Zeta AR easily stuffs down into its own hood to about the size of a cantaloupe. All told, neither the weight or packed size are class-leading, but we found the jacket still plenty serviceable for hiking and backpacking.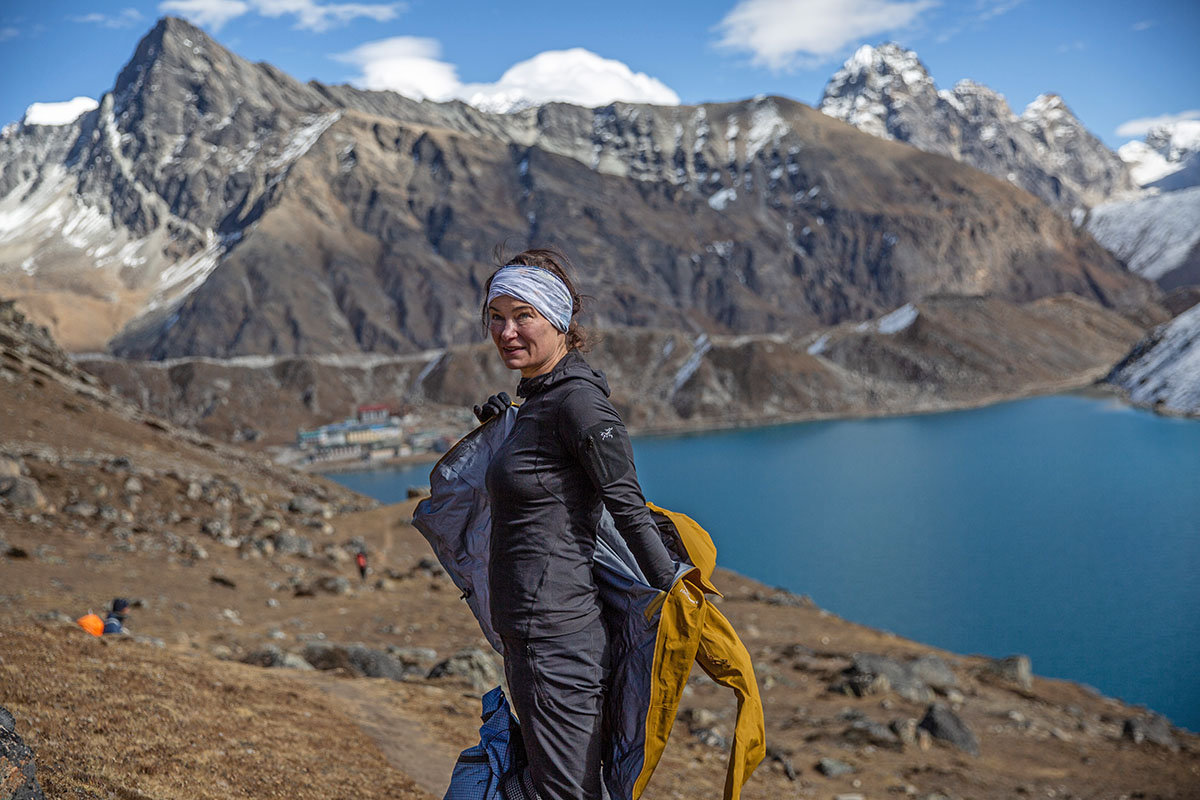 Build Quality and Durability
Arc'teryx hardshells rarely let us down when it comes to durability, and the updated Zeta AR is yet another hardwearing, well-made jacket. With a 70-denier face fabric, the Zeta feels very robust and has held up impressively well to alpine trekking and backpacking even under the weight of a loaded pack. Further, attention to detail is superb with features like the microsuede chin guard, smooth WaterTight zippers, and 1.6mm micro-seam allowance to reduce weight and bulk. After extensive testing, the Zeta AR has shown no wear or damage from my pack's shoulder straps or hipbelt, there have been no snags or tears, and no moisture has penetrated the shell. Even the water-resistant zippers have exceeded my expectations—I regularly stash my phone in one of the mid-torso pockets and haven't experienced any issues to date.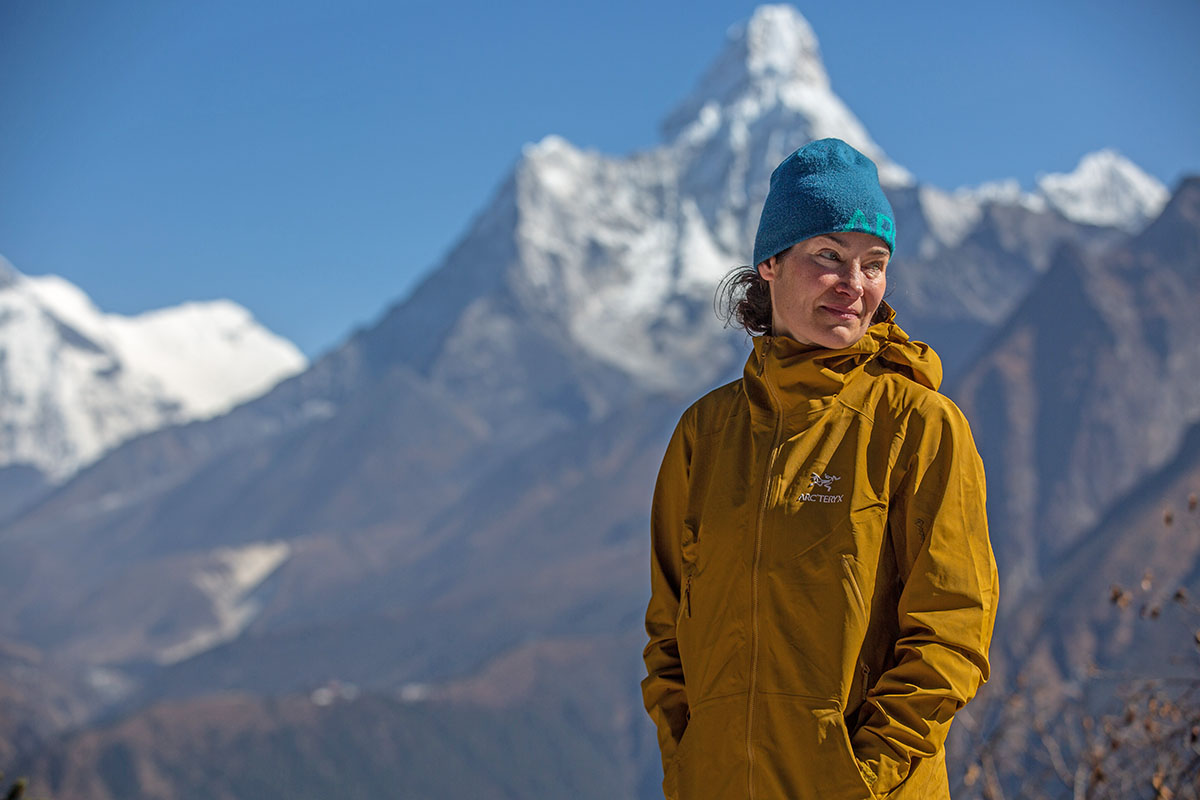 Key Features
StormHood
For hiking use, the Zeta AR's low, trim-fitting StormHood provides ample protection. Compared to Arc'teryx's traditional StormHood (found on their more premium and purpose-built hardshell jackets), the Zeta AR's is smaller and only has one drawcord for adjustment. That said, it's still relatively easy to cinch down over a hat or ballcap (I did need two hands to do so), is able to withstand very heavy winds without blowing off, and fits nicely over my climbing helmet (although it's too snug and restrictive for a larger ski helmet). As I touched on previously, the laminated brim also does a nice job deflecting precipitation from dripping into my eyes, and it hasn't lost its shape despite repeated and unceremonious packing at the bottom of my pack.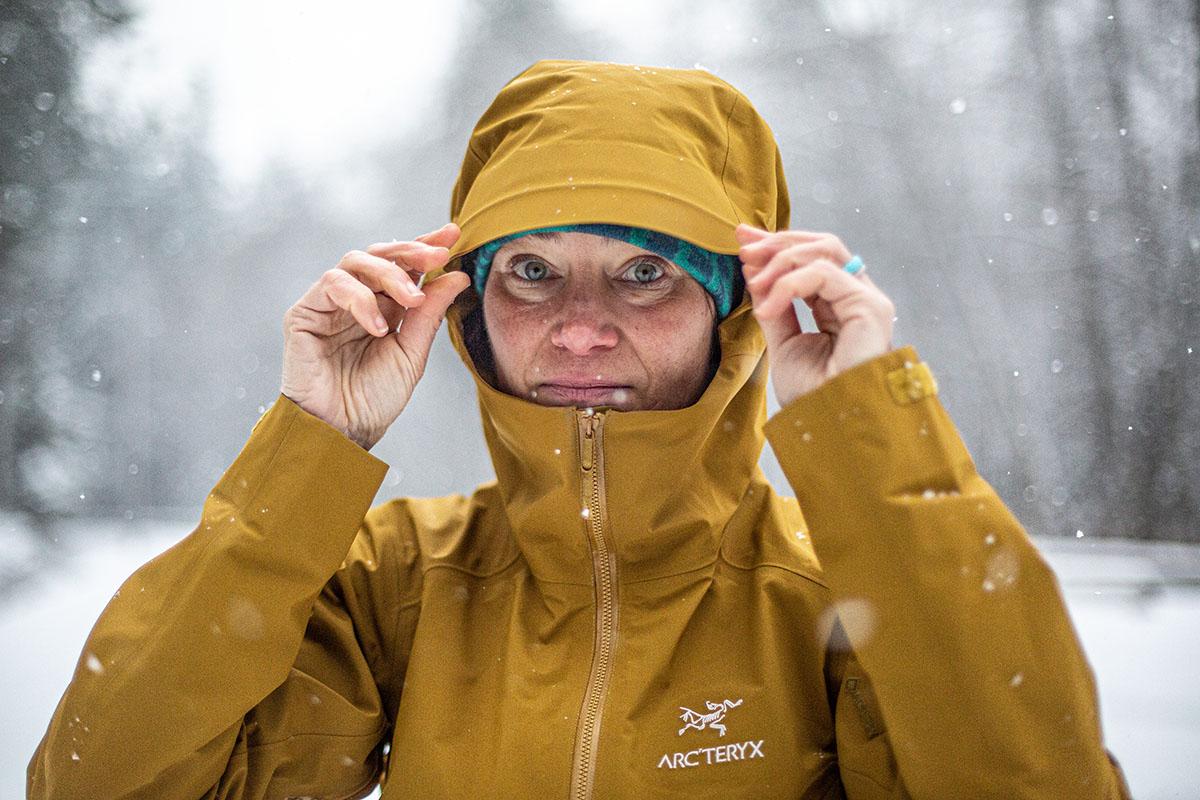 Storage: Pockets
In addition to two hand pockets and an internal chest pocket, Arc'teryx expanded storage with the latest Zeta AR by adding two mid-torso pockets. These ride a little higher than the hand pockets, boast water-resistant zippers, and are nicely sized for stashing larger items like a thick map, oversized gloves or mittens, or a beanie. The lower hand pockets fall just below my pack's hipbelt (a novel and surprisingly functional touch), which makes it easy to warm cold hands or protect them from wind or rain while hiking. Rounding out the storage layout, the internal chest pocket easily swallows my wallet, Garmin inReach device, or even my iPhone 11 in its case.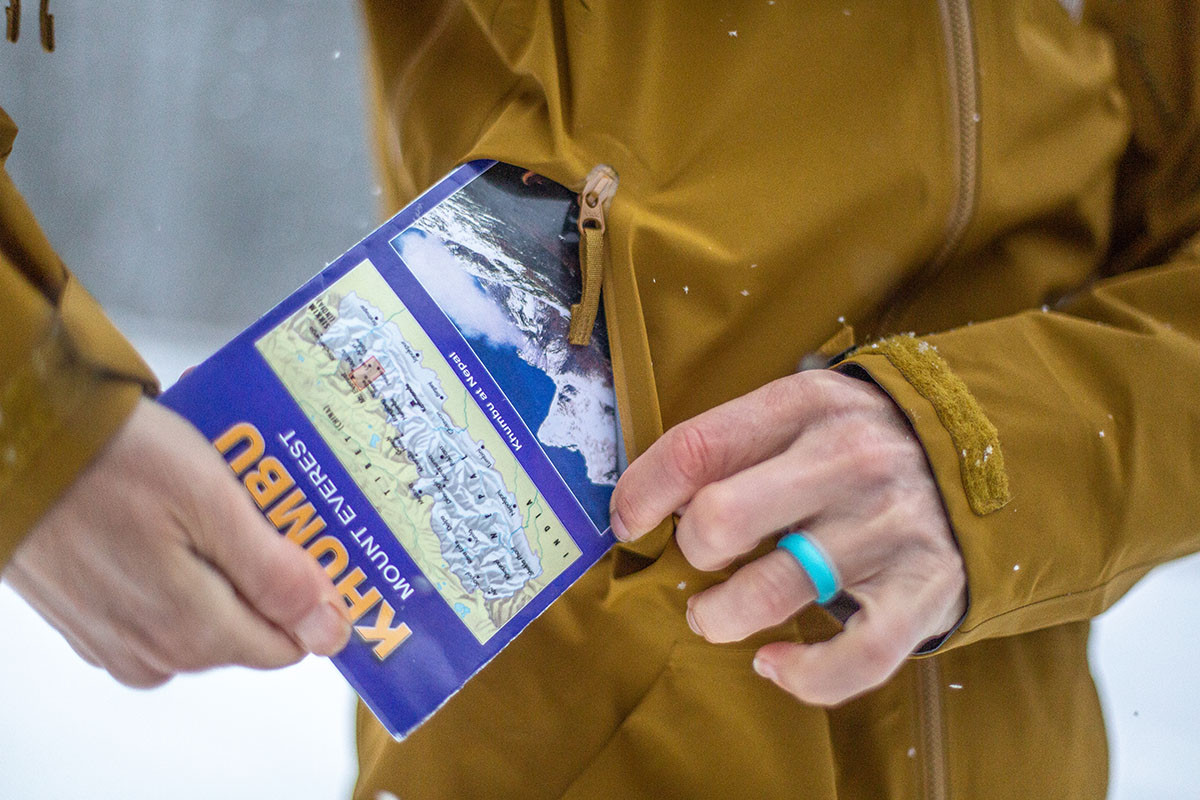 Fit, Sizing, and Comfort
Past versions of the Zeta AR had a fairly athletic "trim" fit, but Arc'teryx updated the latest model with a more accommodating "regular" cut. For reference, I was able to easily fit a few layers underneath my standard women's size small shell, including my thick Arc'teryx Cerium SV down jacket. It doesn't feel overly bulky even when I'm layered up, and it's still sleek enough to throw on under a belay jacket like Arcteryx's Alpha Parka. My only nitpick is that the extra fabric does tend to get bunched up a bit underneath my pack's hipbelt, but it's a very minor annoyance. And length-wise, the fit is spot on: the sleeves land about mid-palm and nicely protect my hands and wrists, and the longer hem (listed at 31.5 in.) falls well past my butt and offers great coverage both while upright or sitting.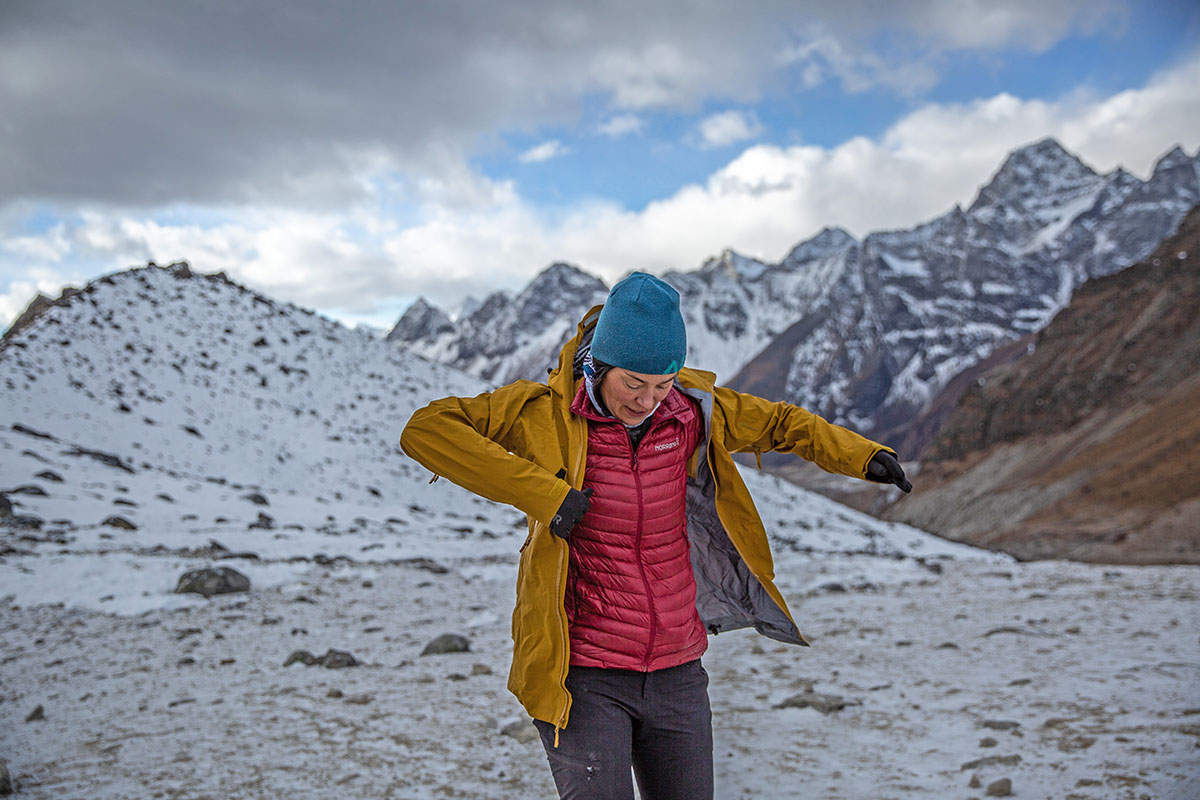 A final fit-related highlight is that the Arc'teryx Zeta AR is highly comfortable for a hardshell. The long and fairly generous fit makes it easy to move around in, and the gusseted underarms and articulated elbows only enhance the mobile and restriction-free feel. And unlike many other rain jackets and hardshells that tend to be crinkly and noisy, the Zeta's C-Knit backer is noticeably soft, pliable, and quiet, and it hasn't once felt clammy against bare skin.

Sustainability
Like many outdoor brands, Arc'teryx has started incorporating sustainability measures into their line over the past several years. As far as the Zeta AR goes, the latest version of the jacket utilizes bluesign-approved materials, which indicates that they have been certified as safe for workers, the environment, and consumers. We hope to see Arc'teryx incorporate recycled fabrics, a PFC-free DWR finish (found on the Beta Long outlined below), or include a Fair Trade Certification in a future update to stay competitive in the market, but we nevertheless appreciate their recent effort toward improving the collection.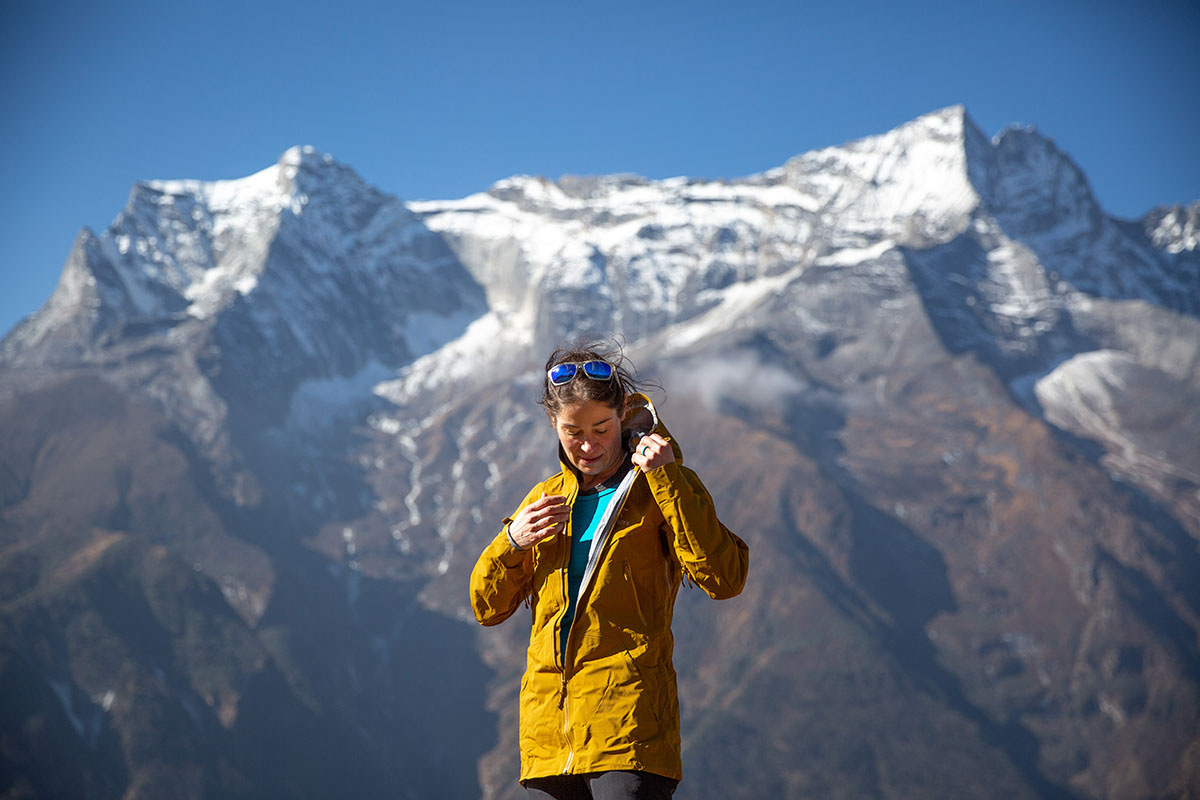 Men's Arc'teryx Beta Long Jacket
As we mentioned above, the Zeta AR is no longer offered in a men's version, but Arc'teryx does make a similar men's-specific design in their new Beta Long Jacket. Stacked up against the Zeta AR, the Beta Long is a little cheaper at $499, has a slightly more robust 80-denier face fabric, and boasts a longer, 33.5-inch center back length, which adds crucial coverage for sports like backcountry skiing or wearing under a harness. You do forego the Zeta's mid-torso pockets (the Beta has two hand and one internal pocket), but the rest of the design is largely similar, including a non-helmet-compatible StormHood and highly protective 3-layer Gore-Tex with C-Knit construction. We haven't had a chance to test the Beta Long yet, but given the similar specs and overall builds, we expect it to be another well-made option.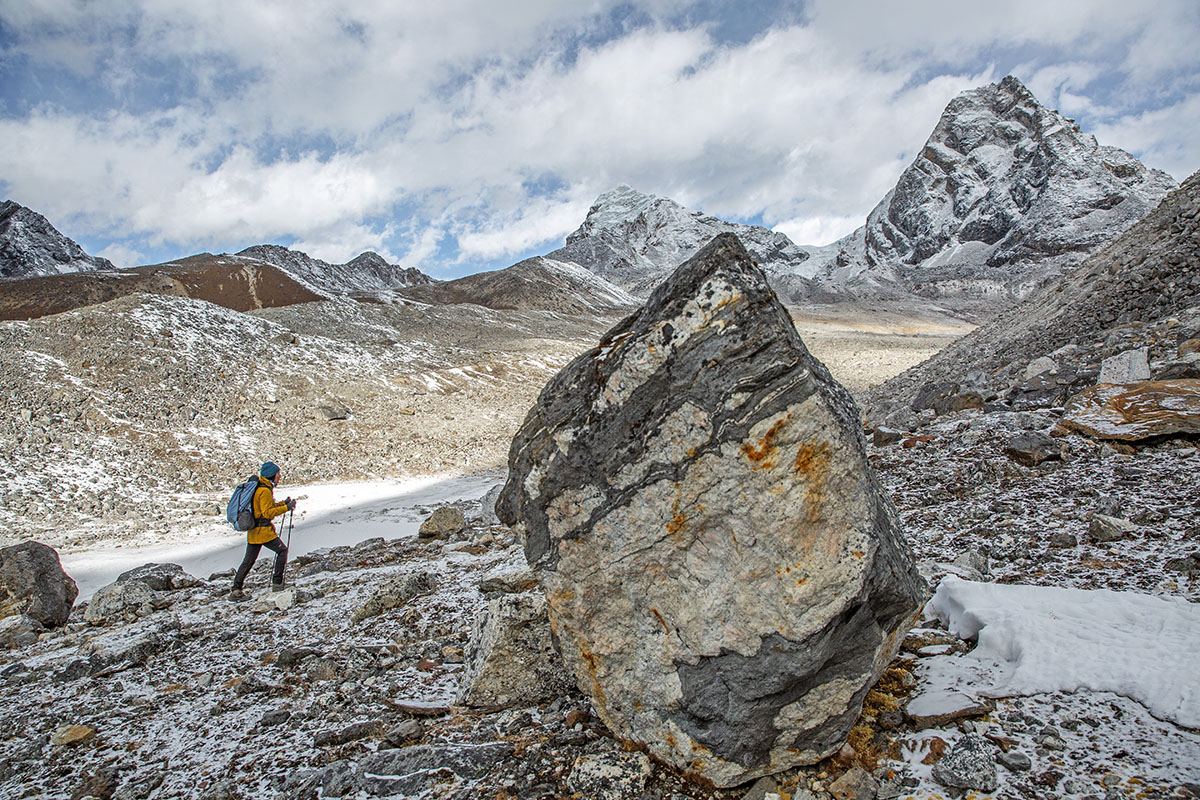 What We Like
With a feature-rich build, top-notch build quality, and accommodating fit, the Zeta AR is a versatile and tough shell for a variety of activities and seasons.
Longer length and drop-tail hem provide excellent coverage at the back and upper legs.
3-layer build provides excellent protection from wet weather and wind. 
Gore-Tex with C-Knit construction is soft and supple against the skin and great when paired with just a t-shirt, which many hikers will appreciate.
Updated storage layout—comprised of five total pockets—is very functional for stashing the essentials. 

What We Don't
At $525, the Zeta AR is one of the most expensive hiking-focused shells on the market.
Low, trim-fitting hood is a little more restrictive and less versatile than Arc'teryx's traditional StormHood found on its hardshells.
No longer available in a men's model (the most similar alternative for men is the Beta Long).
Main zipper isn't two-way, which can be helpful for activities like belaying when you're wearing a harness.


Comparison Table

The Competition
At $525, the Arc'teryx Zeta AR doesn't have a lot of direct competition, with most hiking-focused shells coming in around half the price or less. However, those looking at the Zeta AR should also consider the other option in the Zeta family: the Zeta SL (short for "superlight"). As its name suggests, the SL is more of a fastpacking shell with a fitted cut and shorter back length (27.4 in. vs. the AR's 31.5 in) in a lighter-weight package (9.5 oz. for the women's version). It also features Gore's Paclite Plus technology in a 2-layer build, which is less bombproof than the 3-layer construction of the AR, and storage is more limited with just two standard hand pockets. In the end, the SL makes sense for minimalists and ounce-counters (and will save you a significant $226), but the AR is the more complete and protective design for truly harsh conditions.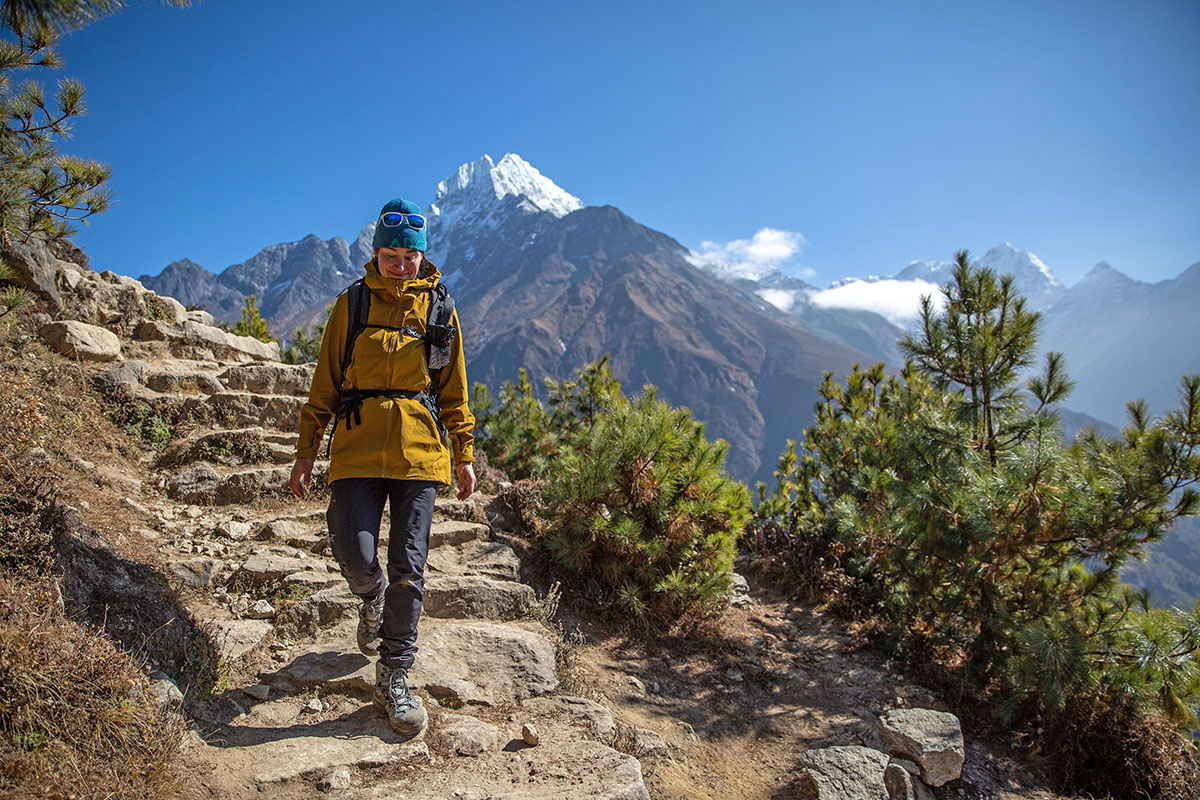 Another Arc'teryx jacket to consider is the Beta LT. Like the Zeta AR, the Beta LT has a hiking-friendly build with a protective 3-layer Gore-Tex construction with a tricot backer for added comfort, pit zips for dumping heat, and the brand's typical attention to detail. The Beta is a bit more of an all-rounder with a helmet-compatible StormHood, although it has a shorter cut (27.2 in. back length compared to the Zeta's 31.5 in.), features just two hand pockets, and its 40-denier face fabric isn't as burly as the 70-denier Zeta AR's (for more, see our in-depth Beta LT review). In the end, the Zeta is a great and very weather-worthy hiking shell, but if you don't mind a little less coverage and storage, we can't help but love the Beta's versatility at a lower cost ($399) and weight (12.3 oz.).
Outside of Arc'teryx's offerings, the Black Diamond Highline Stretch is another 3-layer, mountain-ready design. As its name suggests, the Highline is stretchier with a 3-layer BD.dry (Black Diamond's proprietary waterproofing) construction, lighter at 10.7 ounces, and cheaper at $299. Importantly, it also retains helpful features like pit zips and a climbing helmet-compatible hood. However, the BD's build is no match for Gore-Tex in truly rough conditions, giving the Zeta the edge when it comes to outright protection. But for those on a budget or who don't need the Zeta's bombproof weatherproofing, the Highline will save you a good chunk of change.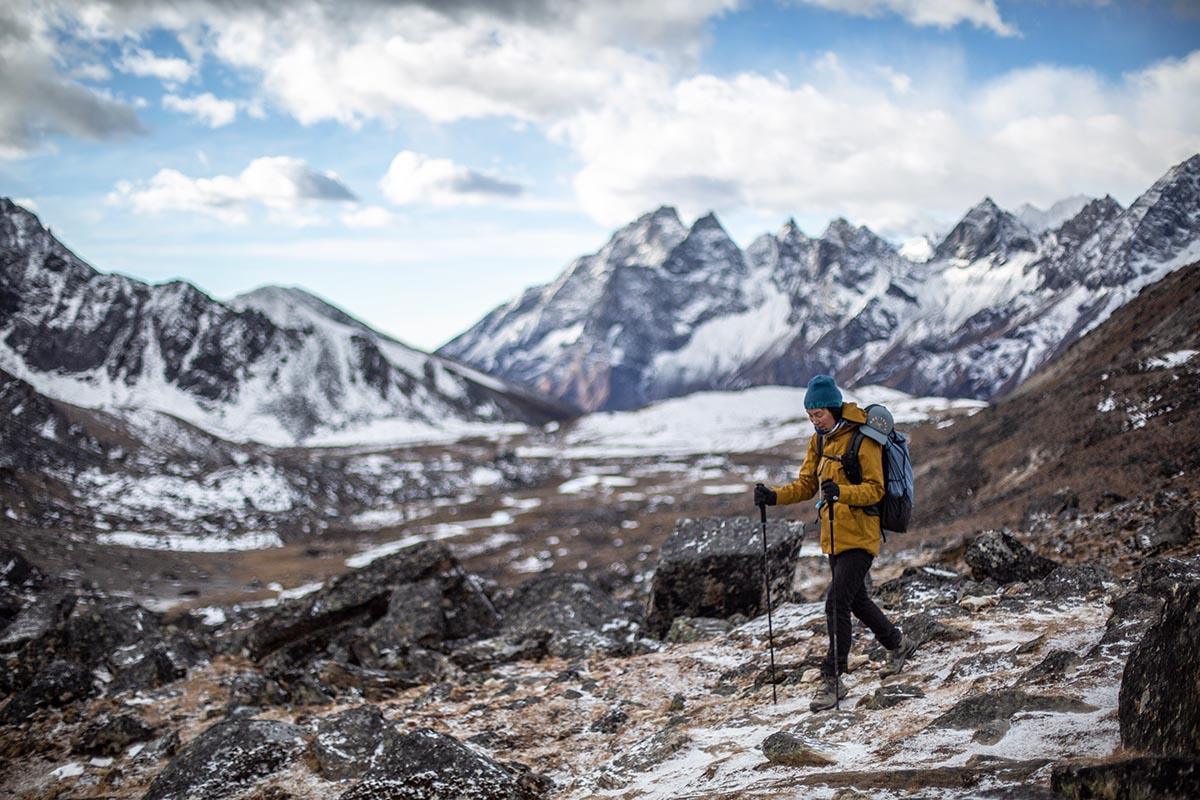 As we touched on above, the Zeta AR doesn't have many competitors in its price range, but Patagonia's Pluma is a similarly premium alternative. Right off the bat, we'll note that the Pluma is more of an alpine-focused, technical piece with Gore's upgraded Pro waterproofing, harness-compatible pockets, a highly adjustable hood, and an all-in weight of 12.9 ounces for the women's model. It also incorporates Gore's Microgrid Backer for added comfort and breathability during high-output pursuits. However, the Pluma is thinner than the Zeta at 40 denier, crinklier with the Pro shell fabric, offers less storage with four total pockets, and costs an additional $24. But for the utmost protection in harsh alpine conditions at minimal weight, the Pluma is a well-built and capable option.
If you're thinking about buying gear that we've reviewed on Switchback Travel, you can help support us in the process. Just click on any of the seller links above, and if you make a purchase, we receive a small percentage of the transaction. The cost of the product is the same to you but this helps us continue to test and write about outdoor gear. Thanks and we appreciate your support!
Depending on the seller, most products ship free in the United States on orders of $50 or more. International shipping availability and rates vary by seller. The pricing information on this page is updated hourly but we are not responsible for inaccuracies.
Read More From Switchback Travel