Arc'teryx Sidewinder Jacket
Price: $749
Weight: 1 lb. 4.8 oz. (men's)
Waterproofing: 3L Gore-Tex Pro
What we like: Bombproof, full-coverage protection for truly inclement conditions.
What we don't: Very pricey.
See the Arc'teryx Sidewinder Jacket
Arc'teryx's hardshells sit at the top of the market in terms of weather protection and build quality, and the Sidewinder is yet another impressive offering from the Canadian brand. We took the Sidewinder backcountry skiing in the Pacific Northwest and northern Japan, where it faced brutal winds, deep powder, and frigid temperatures. The verdict: the jacket includes everything we look for in a premium, ski-specific hardshell. If you can stomach the steep price tag, it's a great piece for big backcountry missions where you need bombproof protection. Below we break down the Sidewinder's weather protection, breathability, build quality and durability, weight and packability, fit and sizing, and more. To see how it stacks up to the competition, see our article on the best ski jackets. 

Performance
Weather Protection
Arc'teryx shells are known for their top-notch weather protection, and the Sidewinder is no exception. The jacket's robust, 3-layer Gore-Tex Pro construction has confidently withstood conditions ranging from wet, heavy snow typical of the Pacific Northwest to dry, bitter cold in northern Japan. Additionally, the jacket has deftly fended off harsh winds and I have yet to experience any leakage through the burly 80-denier shell. As we've come to expect from premium hardshell jackets, the Sidewinder also features taped seams for added assurance and a durable water repellent (DWR) finish that helps light moisture bead off the surface.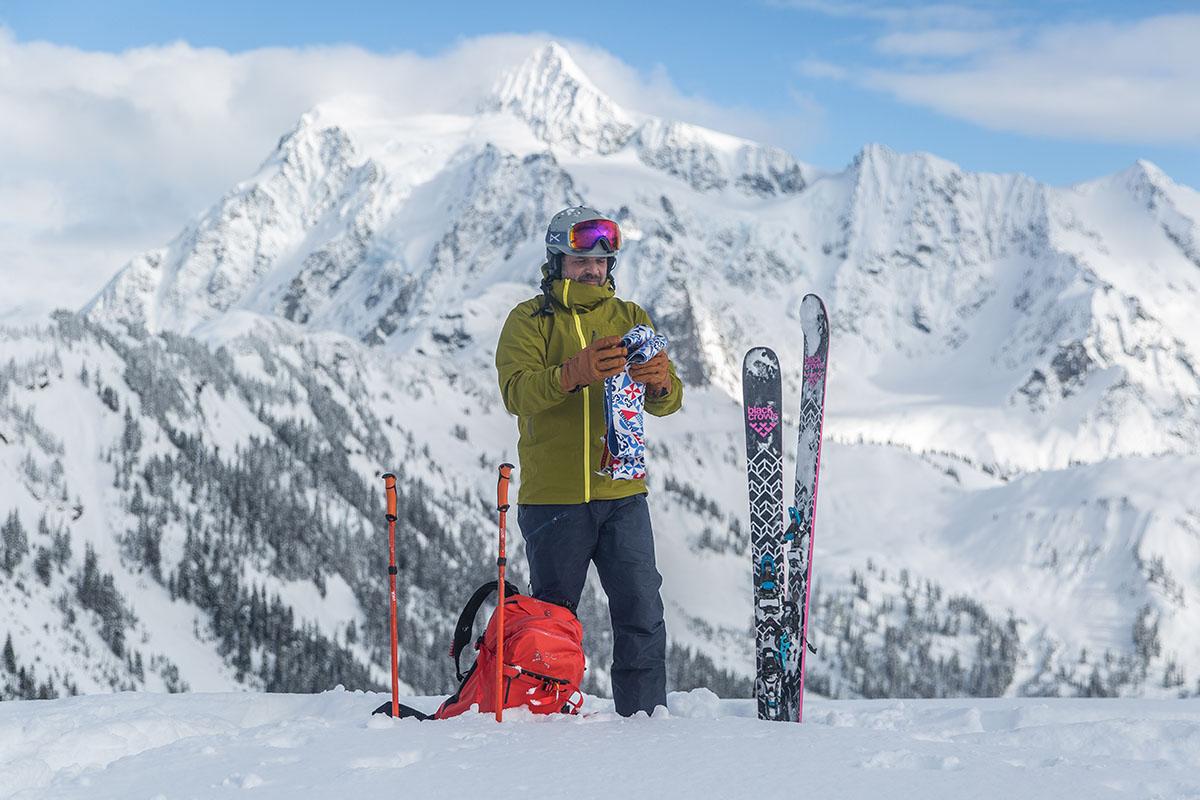 The Sidewinder sports a few other features that boost its weather worthiness. First, the StormHood and tall collar are protective and seal out precipitation and wind nicely. When cinched tightly, the opening exposes only my goggles and tip of my nose. This was especially handy while skinning on the base and shoulder of Japan's Asahidake Volcano: the cold wind (0 degrees to negative single digits Fahrenheit) ripped through the desolate terrain and inflicted pain on any bare skin. I'm also a big fan of the Velcro cuff adjustments, which I'm able to keep snug under my gauntlet-style Arc'teryx Alpha SV mittens but also loose enough to cover my shorter, under-cuff Dakine Phantom Gore-Tex gloves. Finally, the WaterTight zippers with RS sliders (a proprietary technology that seals the zippers at the top of exterior pockets and gets rid of bulky fabric "garages") have kept my phone, maps, car keys, and camera lens caps dry all season without issue. Arc'teryx states that these are water-resistant and not waterproof, but from my experience, user error (leaving them partially unzipped) has been the only way moisture has crept in.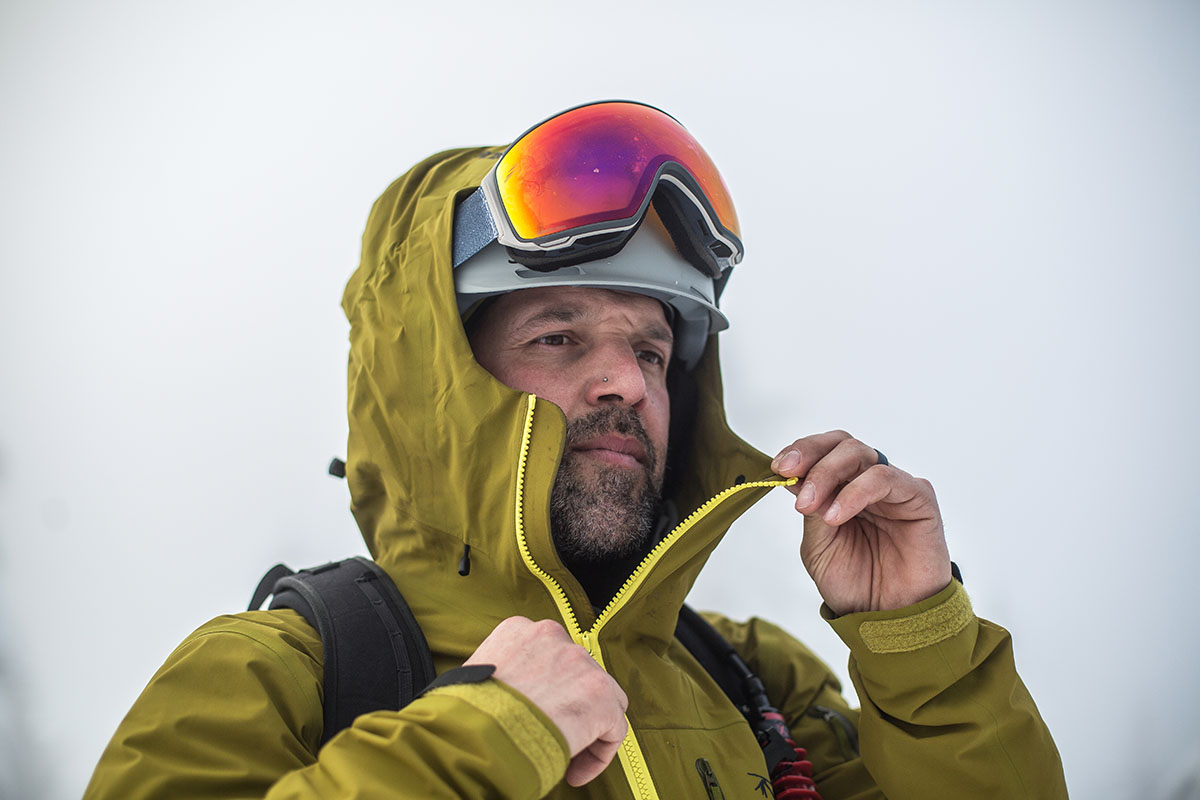 It's worth noting that for serious skiing, I prefer jackets with a longer cut to keep snow out of my pants. The Sidewinder comes in at a respectable 75 centimeters and gets the job done, but I wouldn't mind a little more length here. For comparison, Arc'teryx's Sabre LT and Rush jackets both run 80 centimeters in center back length, and the Outdoor Research Hemispheres is even longer at 83. That said, Arc'teryx included a helpful snap closure on the jacket's powder skirt to prevent snow entry, which worked very well (more on this below).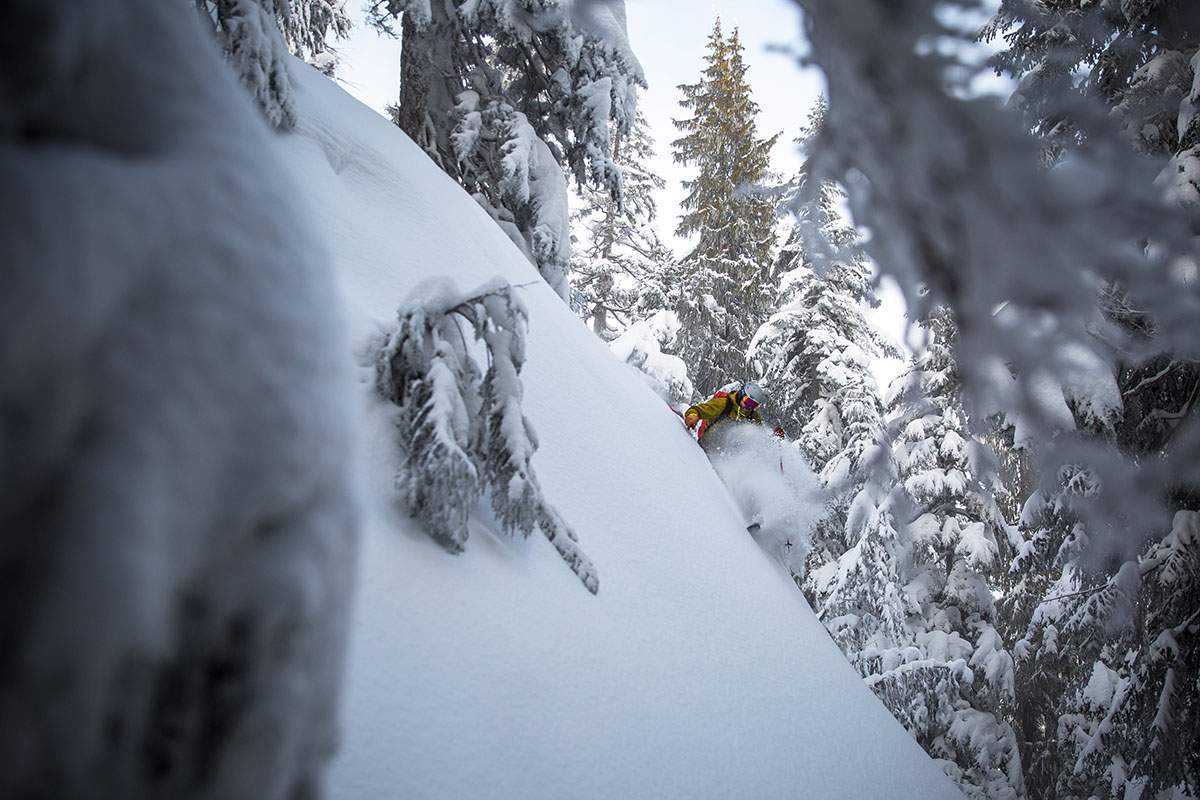 Breathability
I sweat a lot during high-output activities and have yet to find a Gore-Tex shell that I don't overheat in. Therefore, it wasn't much of a surprise that I quickly grew warm in the Sidewinder in moderate conditions. To be fair, I typically only wear a shell in truly cold or inclement weather, while transitioning, and when downhill skiing. Only if the temperature is cold enough (typically under around 20 degrees Fahrenheit) do I wear a shell while ascending. With that said, the Sidewinder was a great match for ski touring in Japan in February, where temperatures with windchill consistently hovered around -5 degrees Fahrenheit. This allowed me to tour comfortably while climbing without the pit zips open (they are quite generous at 14 inches and great for dumping heat quickly). When I stopped moving, I paired the Sidewinder with my Arc'teryx Cerium SL down jacket to stay warm.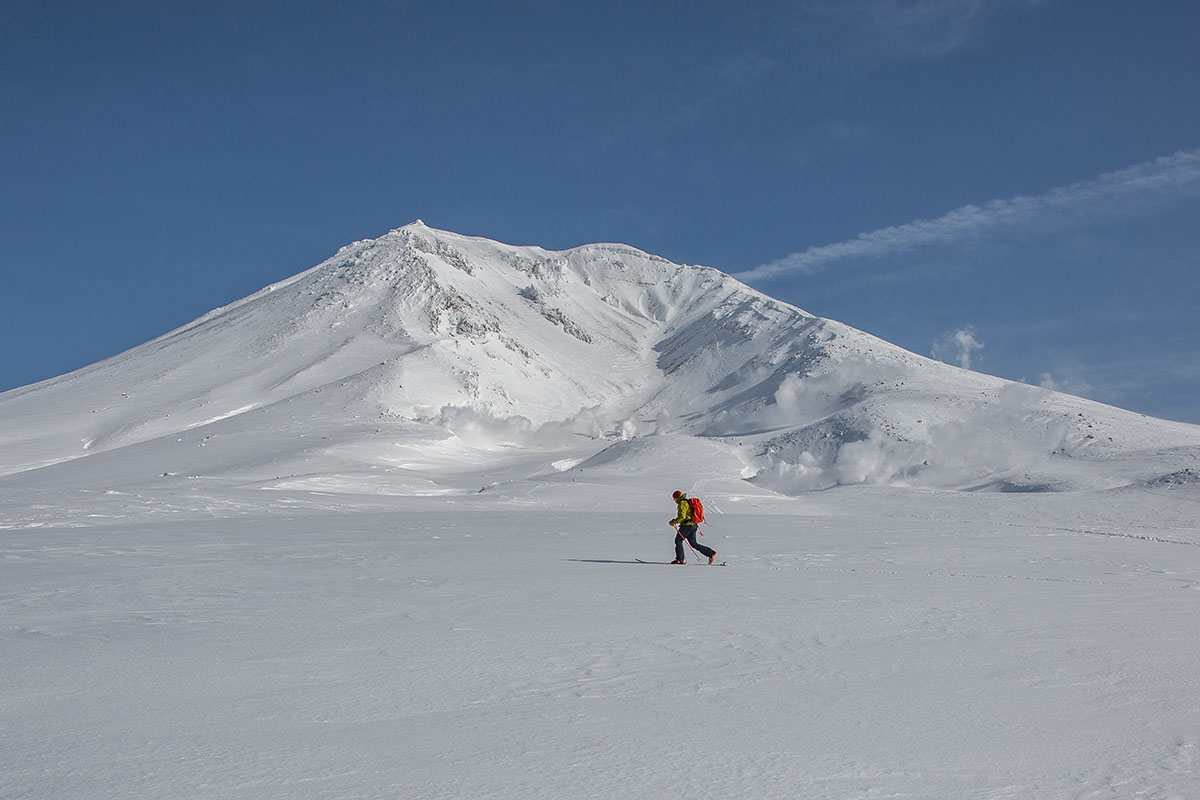 Build Quality and Durability
As we've come to expect from Arc'teryx (and most shells in this high price range), the Sidewinder is an exceptionally well-made ski jacket. As we mentioned above, it's equipped with a tough 3-layer Gore-Tex Pro construction, taped seams, and WaterTight external zippers—all of which have continued to hold up well in the field. After months of heavy exposure to harsh winter conditions, the shell remains remarkably water- and windproof. Further, all zippers and seams are still intact, and the shell's burly 80-denier outer fabric has shown no signs of wear (it's worth noting that from Arc'teryx, only the alpine-focused Alpha SV is thicker with a 100-denier shell). For a piece that spends the majority of its time being thrown haphazardly into the back of my van and stuffed into my pack with sharp backcountry gear like crampons, a shovel, a probe, and a snow saw, I have been extremely impressed with how well this jacket has held up.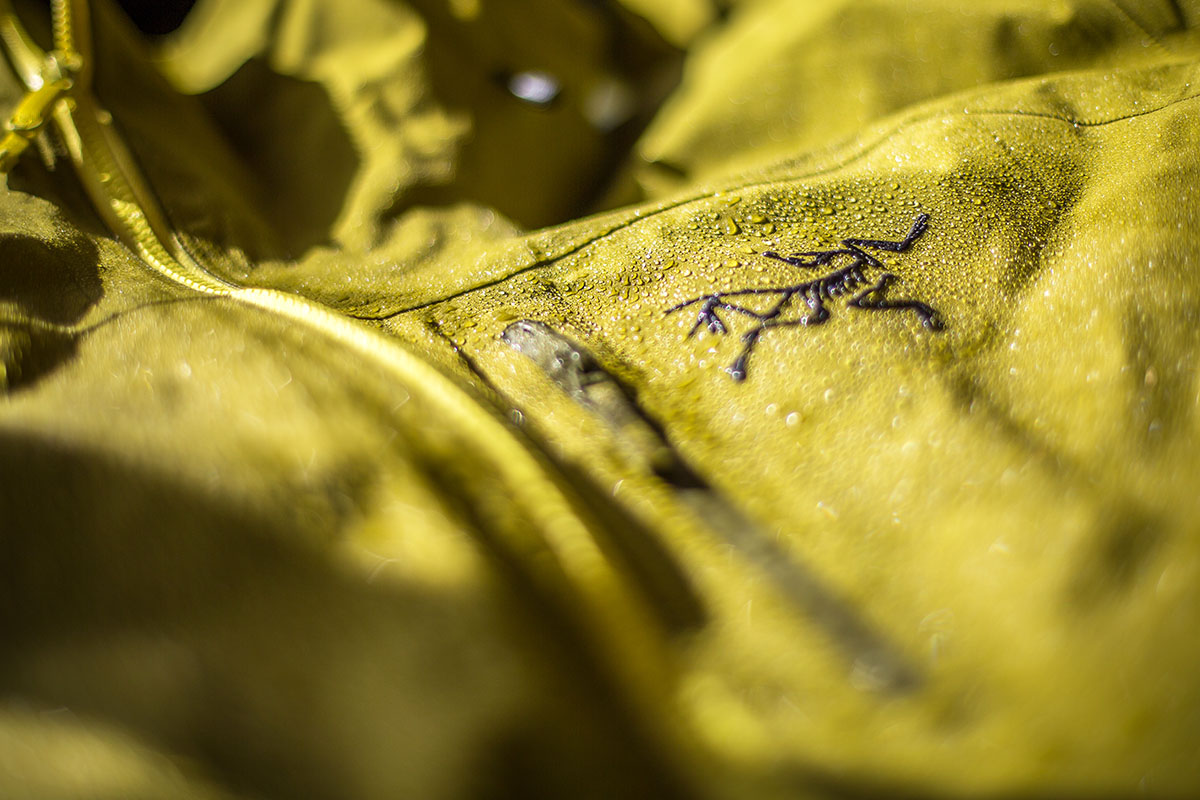 Weight and Packability
At 1 pound 4.8 ounces, the Sidewinder is competitive among fully featured ski jackets. It's not among the lightest options available—that title is reserved for more trimmed-down and thinner pieces like Arc'teryx's own Beta AR (1 pound) and Alpha SV (1 pound 1.3 ounces)—but the weight is respectable given the jacket's burly build and generous feature set. Others in this category, including the Outdoor Research Hemispheres Jacket (1 pound 4.7 ounces) and Arc'teryx Rush (1 pound 4.8 ounces), are remarkably similar in weight. And packability is good too: when stowing the Sidewinder in my pack, I like to stuff it into its own hood and tighten both adjustable drawcords to get it down even smaller.

Key Features
Hood
Arc'teryx's StormHood is one of our favorite designs on the market: it's nicely sized, helmet-compatible, easily adjustable, and offers great coverage. The Sidewinder's StormHood fits comfortably over both my Smith Quantum and Oakley Mod 5 helmets, and four adjustable drawcords allow you to quickly customize fit at the neck, opening, and brim of the hood. I rarely use the lower neck adjuster, but the brim and aperture drawcords come in handy when the weather takes a turn. When fully cinched, the opening leaves only my ski goggles and nose exposed. And even when tightened, the hood doesn't restrict side-to-side head movement and still has ample give to lean over and adjust boots or skins. Finally, the laminated brim helps the hood retain its shape and effectively keeps precipitation from dripping onto my face.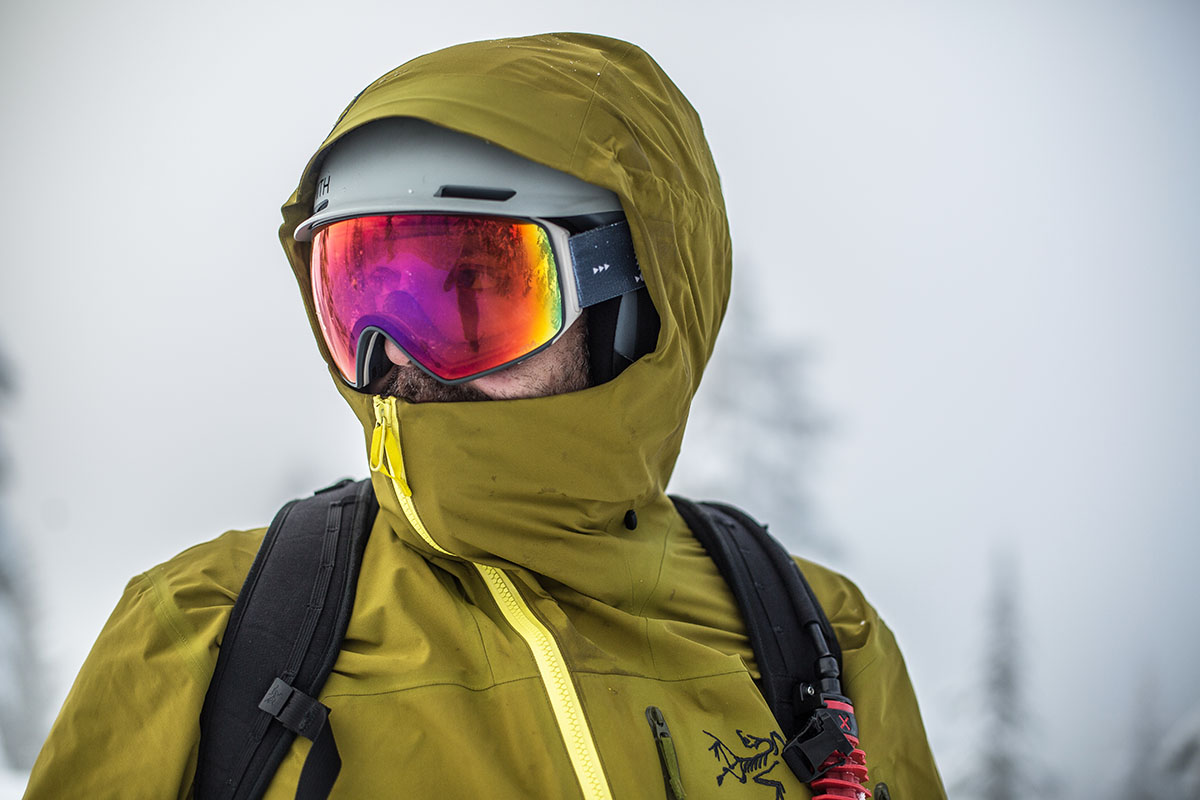 Storage: Pockets
The Sidewinder features a total of six pockets, all of which I was able to find a dedicated use for. The two large hand pockets are great for warming gloved hands or even storing skins, which fit easily in my size large jacket (though I don't do this often as snow from the skins tends to get trapped in the pocket). They also ride high enough on the waist to access while wearing a pack or harness. The small exterior chest pocket is a good size for storing a phone, map, or radio (again, I trust the WaterTight zippers and RS sliders to keep my stuff dry), and the internal mesh dump pocket is ideal for goggles, a hat, or ski gloves. When resort skiing, I often put my ski pass in the sleeve pocket, but this also happens to be a nice spot for a credit card and license so that you don't accidentally drop them when rummaging around for another item. Finally, a laminated internal pocket rounds out the storage and easily fits keys or a snack.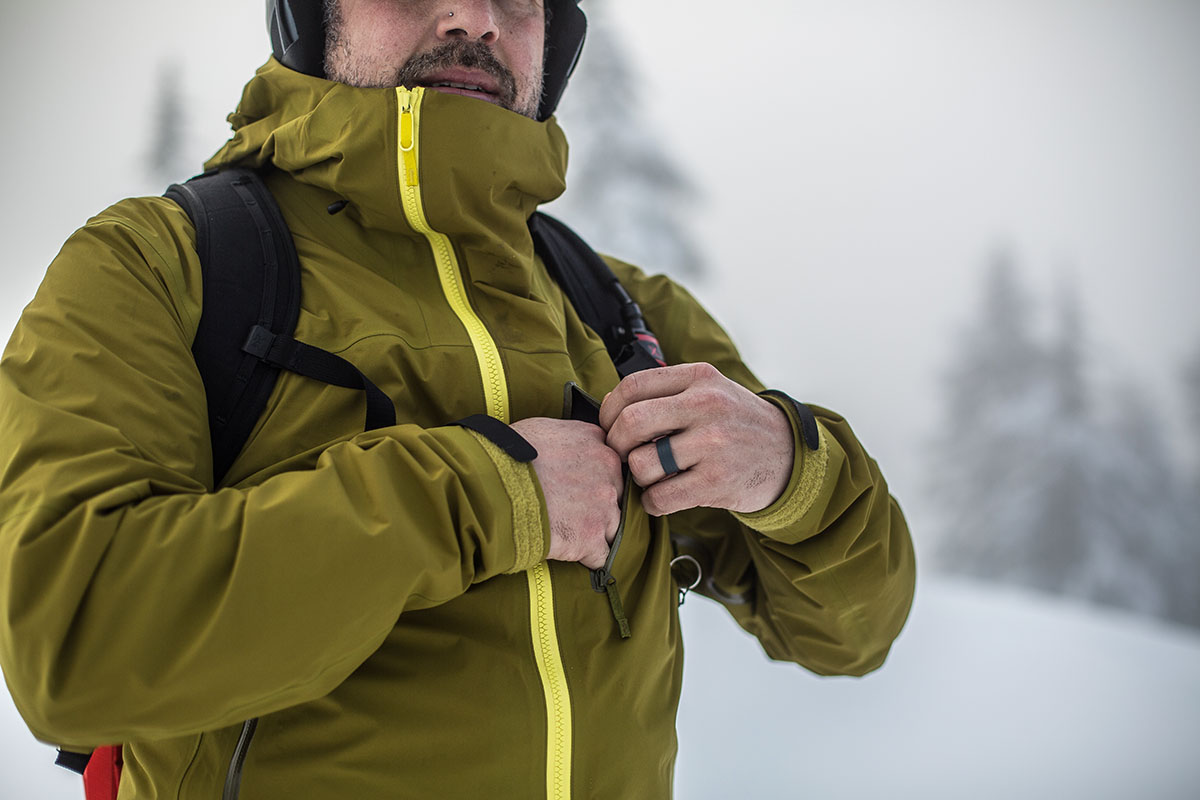 Front Zipper
The Arc'teryx Sidewinder derives its name from the front zipper, which curves at the top. This is a unique but very functional addition to the jacket and prevents the front zipper from snagging my facial hair when it presses up against my chin as I zip up. When you don't need the added protection, a small snap is located at the inside of the collar and allows you to fold the collar over and lock it in place so that it doesn't flop around. All told, the curved zipper might seem like an insignificant feature, but I found it incredibly helpful and another way in which Arc'teryx sets itself apart as one of the best brands in the business. All that said, it's worth noting that the main zipper only works in one direction, and I personally prefer two-way zippers that allow me to sit and hunch over without the shell bunching up or tightening around the waist.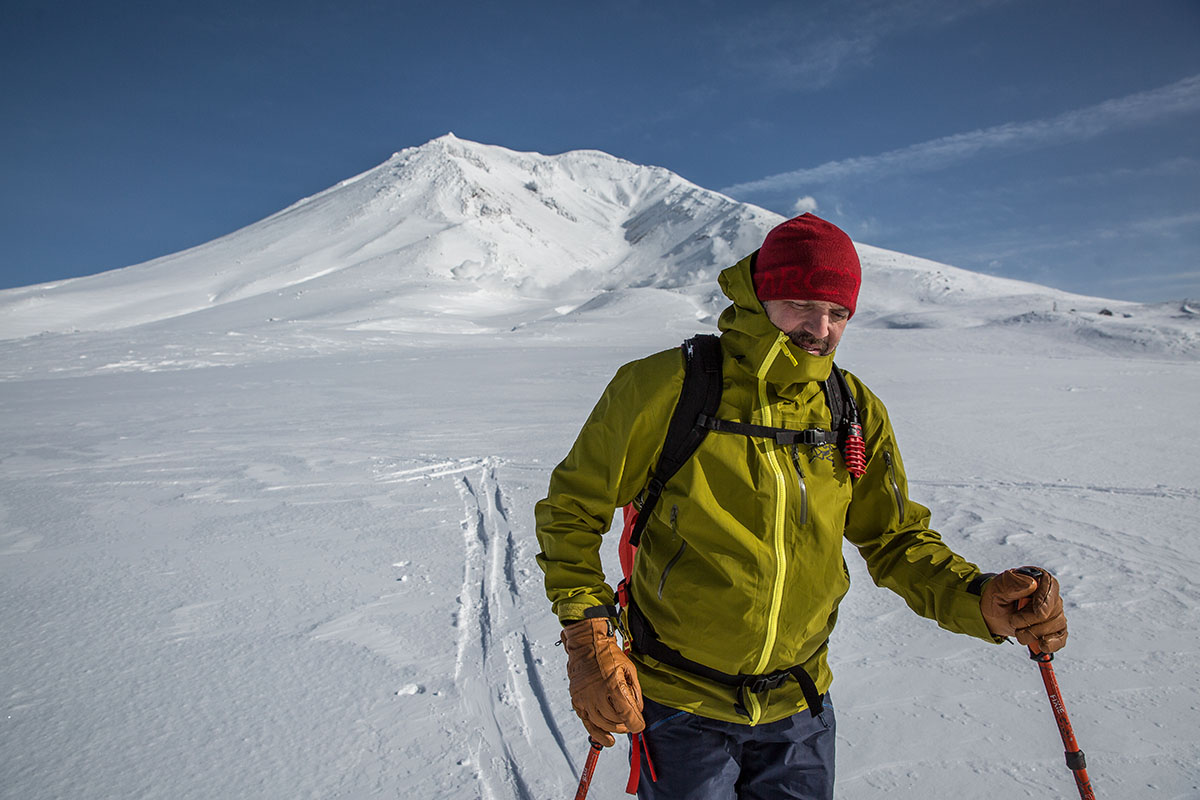 Powder Skirt
The Sidewinder's stretch-panel powder skirt has proven itself time and time again while skiing all kinds of powder in both the Pacific Northwest and Japan. It has effectively prevented snow from accumulating under the shell both in deep snow and after I've bailed, and two Slide 'n Loc snap closures allow you to choose between two waist sizes to secure a good fit. These snaps are easy to connect and create a tight seal around the waist, although wearing gloves makes the process much harder (and it's nearly impossible with mittens). If you plan to utilize the skirt, it's compatible with Arc'teryx's snow pants including the Stinger and Sabre.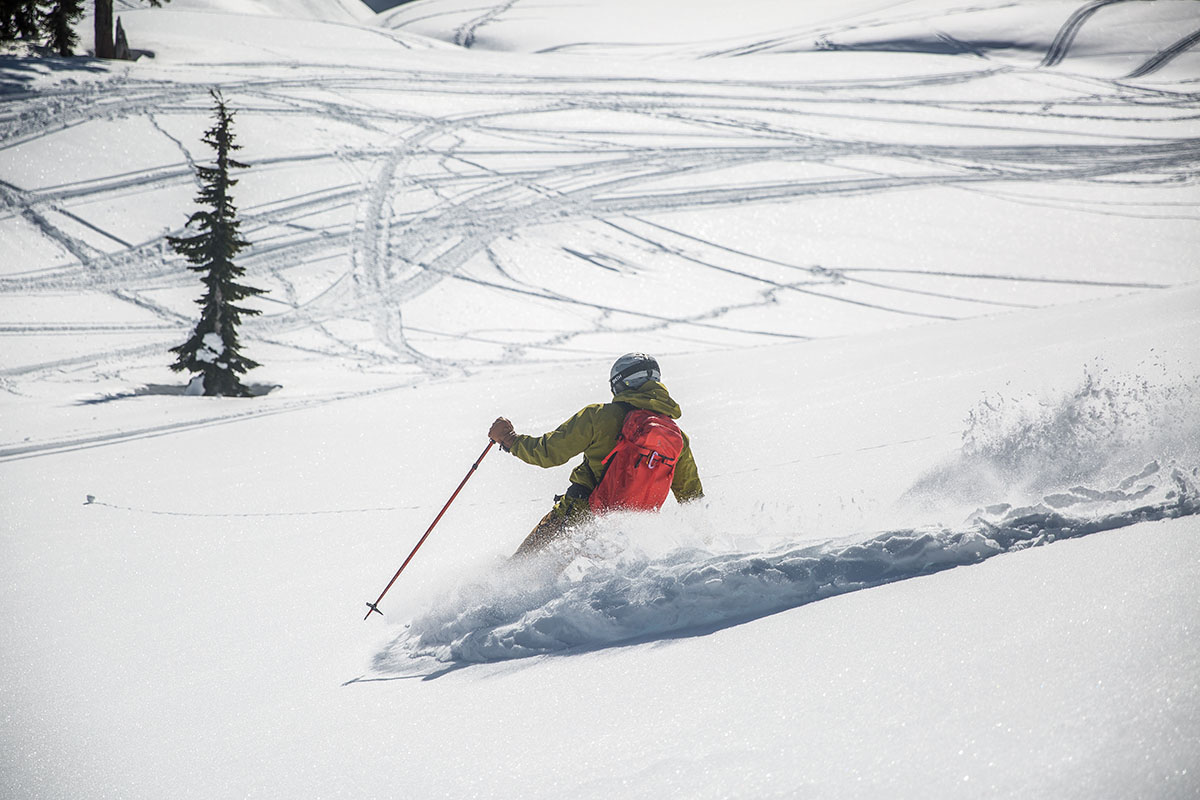 Fit, Sizing, and Comfort
I wear a large in Arc'teryx shells, and the Sidewinder fits true to size. The "regular" fit offers plenty of room for layering without feeling too bulky or cumbersome, and I'm able to pair it with any of my typical midlayers including the Arc'teryx Cerium SL, Mountain Hardwear Ghost Whisperer, and Patagonia Micro Puff. Although I haven't yet had to resort to it, the Arc'teryx Firebee AR Parka (Arc'teryx's second-warmest down option next to the Ceres SV) also fits under the Sidewinder. 
The gusseted underarms and articulated elbows add to the accommodating fit and allow unrestricted movement for tasks like transitioning, retrieving skis from my Thule roof box, or reaching above my head while scrambling to a summit. Further, the Sidewinder's hip-length cut is ideal for backcountry use—nothing drives me crazy like a shell bunching up above my pack's hipbelt and letting snow or wind in. Comfort-wise, Gore-Tex Pro isn't as soft against the skin as Gore's C-Knit construction (like that on the OR's Hemispheres Jacket), and it can grow cold and clammy if you sweat in it. But it's not often that I wear short sleeves under my shell so this isn't a major concern.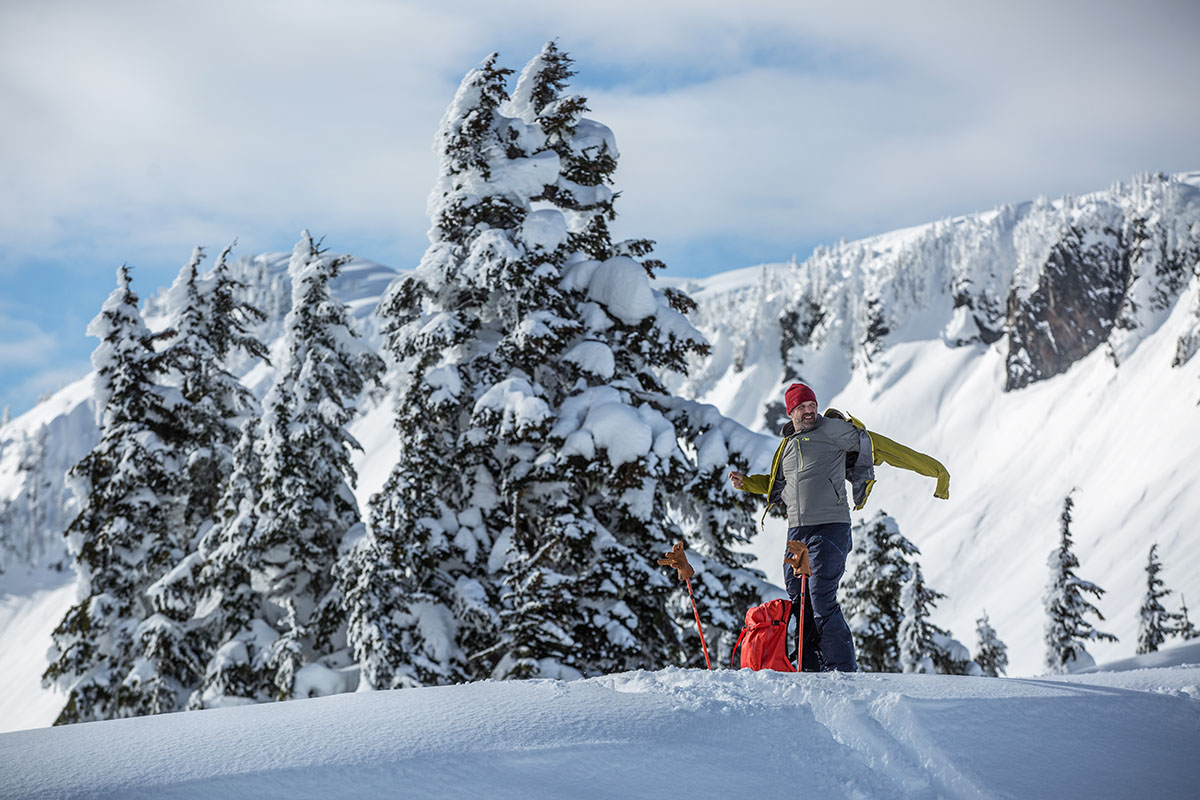 What We Like
3-layer Gore-Tex Pro construction is rugged, durable, and offers top-notch weather protection. The Sidewinder is a bomber ski jacket overall. 
StormHood and tall collar provide excellent coverage from the elements.
Regular fit is great for layering underneath, and the jacket looks good to boot.
Asymmetrical zipper prevents facial hair from getting caught in the zipper—a small but thoughtful touch.

What We Don't
Like most Arc'teryx products, the Sidewinder is very pricey at $749.
The 75-centimeter center back length prevented snow from creeping in, but I prefer a slightly longer cut. 
Front zipper isn't two-way, meaning the jacket can bunch up when sitting down.
Not offered in a women's version.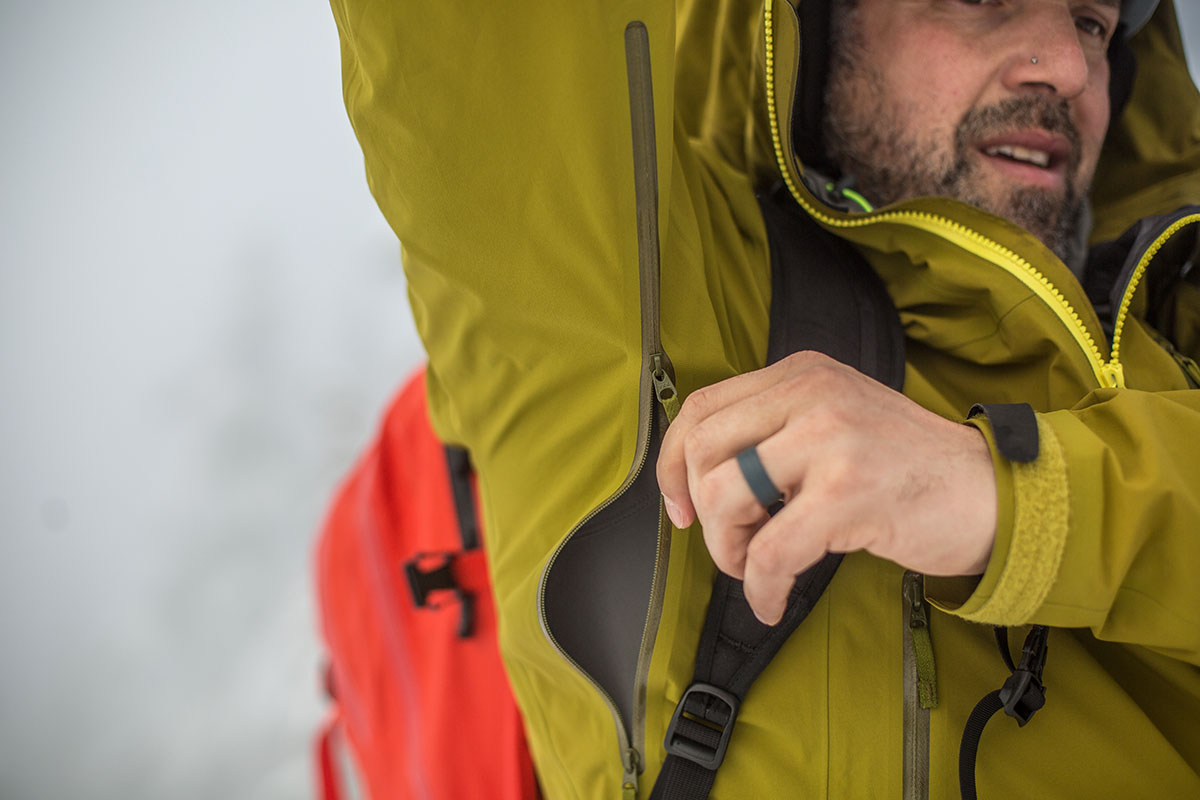 Comparison Table

The Competition
Arc'teryx's Sidewinder is a premium, hardwearing, and fully featured shell that's purpose-built to withstand the rigors of backcountry touring and skiing. In the same category, much of the competition comes from within Arc'teryx's own lineup, and two particularly good alternatives are the Alpha SV and Rush jackets. In terms of construction, all three share 3-layer Gore-Tex Pro designs. The Alpha SV is the most premium option at $785, and compared to the Sidewinder, it's more durable with a 100-denier fabric (the Sidewinder is 80D) and lighter at 1 pound 1.3 ounces (the Sidewinder is 1 pound 4.8 ounces). But unlike the Sidewinder, the Alpha SV is intended for high alpine use (including mountaineering and skiing), so it lacks ski-specific items like a powder skirt and has a narrower fit around the waist. For the most bombproof protection in the harshest conditions, we'll spend up for the Alpha SV. Otherwise, the Sidewinder is plenty of jacket for $36 less.
Arc'teryx's Rush Jacket is a step down in both durability and price from the Alpha SV. Stacked up to the Sidewinder, it shares the robust, 80-denier build, weighs the same at 1 pound 4.8 ounces, and packs in an almost-identical feature set including the StormHood, taped seams, tall collar, adjustable powder skirt, and Velcro cuffs. However, it foregoes the left chest pocket and runs a bit longer at 80 centimeters down the back (the Sidewinder is 75cm). And of course, the Rush also lacks the namesake curved zipper of the Sidewinder, although it does sport a microsuede chin guard to add next-to-skin softness when fully zipped. In the end, these are very small differences and you can't go wrong with either, but we like the $50 cost savings you get with the Rush.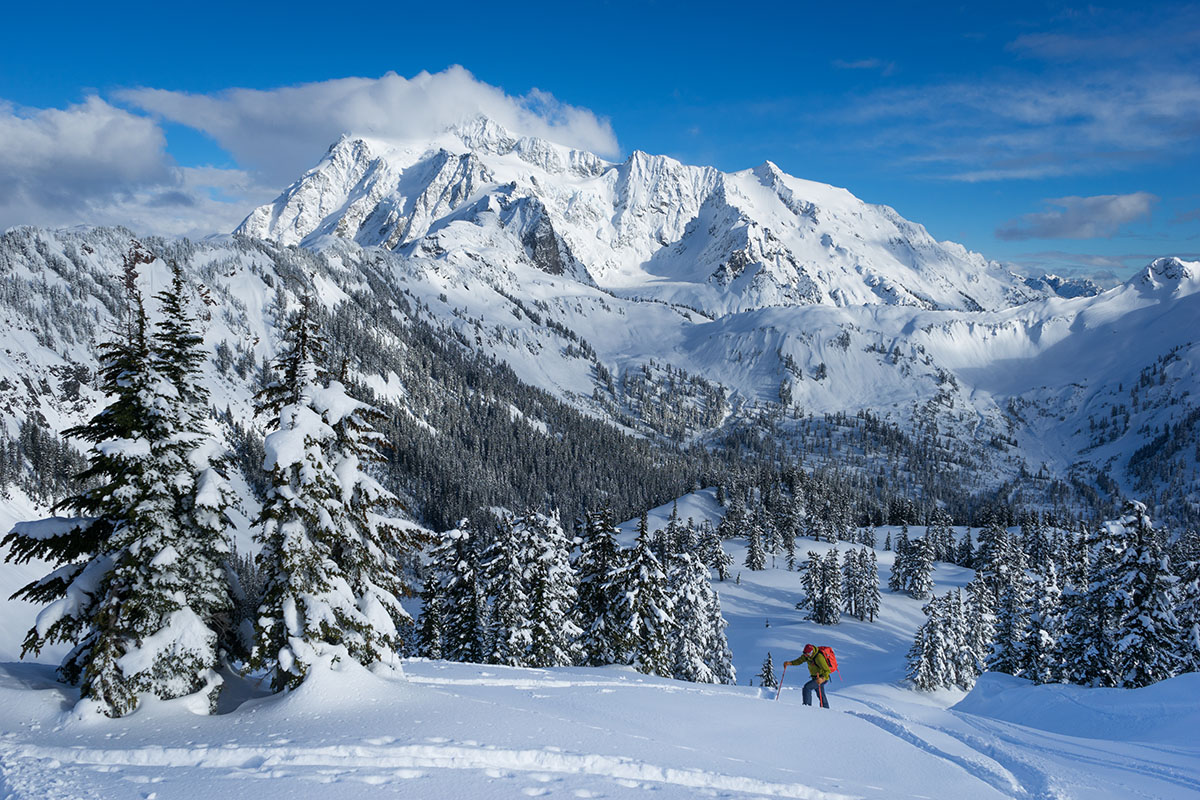 Another option to consider is Outdoor Research's Hemispheres Jacket. Rather than Gore-Tex Pro, the Hemispheres uses standard 3-layer Gore-Tex with the softer C-Knit interior and works in sections of 2-layer Gore-Tex with Stretch Technology at the back of the shoulders, along the hood, and under the arms. This boosts the jacket's freedom of movement significantly (for more, see our in-depth Hemispheres review). However, the OR is bit less durable with a 70-denier face fabric (the Sidewinder uses 80D), its hood felt slightly restrictive when worn with a helmet, and fit was a bit narrow in the shoulders and waist. It's hard to match Arc'teryx's level of quality and craftsmanship, but for $150 cheaper, we think the Hemispheres is the better value.
Finally, Patagonia's PowSlayer sits at the top of their ski shell lineup. Like the Sidewinder, the PowSlayer is fully featured with a 3-layer Gore-Tex Pro construction, adjustable powder skirt that's compatible with Patagonia snow pants, pit zips, Velcro cuffs, a helmet-compatible hood, and watertight zippers. However, the Patagonia sports a total of eight pockets (two more than the Sidewinder) and still manages to clock in about an ounce lighter at 1 pound 3.3 ounces. That said, it is quite a bit less durable with a 40-denier shell, and we didn't like its very large fit, which lacks the refinement and range of motion that you get with the Sidewinder. It's a close call between the two—both Patagonia and Arc'teryx are known for their attention to detail and quality builds—but the Sidewinder's advantage in durability and fit gives it the edge for us.
If you're thinking about buying gear that we've reviewed on Switchback Travel, you can help support us in the process. Just click on any of the seller links above, and if you make a purchase, we receive a small percentage of the transaction. The cost of the product is the same to you but this helps us continue to test and write about outdoor gear. Thanks and we appreciate your support!
Depending on the seller, most products ship free in the United States on orders of $50 or more. International shipping availability and rates vary by seller. The pricing information on this page is updated hourly but we are not responsible for inaccuracies.