When Arc'teryx announced they would be releasing ski mountaineering boots, the Procline series, we were intrigued to say the least. The brand dominates the ski apparel market, but with only a recent foray into mountaineering boots and no history with ski boots, Arc'teryx aimed to create one boot to conquer them all. The Procline Carbon Support is a lightweight boot designed to tackle the demands of backcountry skiing as well as technical alpine mountaineering. The result is an extremely mobile and comfortable ski boot that holds up admirably in most backcountry situations and truly shines on multi-day traverses. Below we break down the Procline Carbon Support's unique 360° Rotating Cuff, uphill performance, downhill performance, comfort, build quality and durability, fit and sizing, and more.
 
Performance
Binding Compatibility
I was beyond excited to try this boot, and quickly learned that it also gave me an excuse to purchase new bindings (which obviously meant new skis too). Unfortunately, the Procline boots only are compatible with Dynafit-style tech bindings, and thus were not compatible with the Marker Kingpins I already had. With new G3 Ion 12 bindings and DPS Wailer skis, I eagerly took the Procline Carbon Support into the backcountry of the Pacific Northwest to see what they're made of.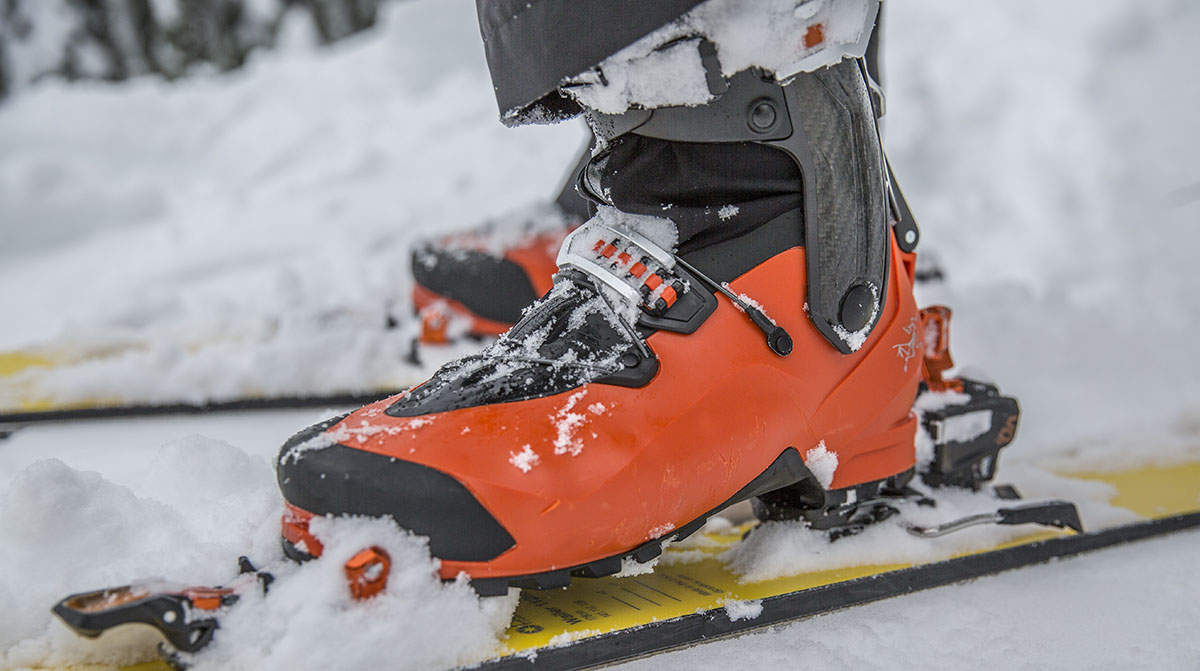 360° Rotating Cuff
We can't dive into performance without addressing the feature that sets the Procline Carbon Support apart from the competition: the 360° Rotating Cuff. While it was intriguing to read about the various angles of rotation—both vertically and laterally—it was even more impressive to see and experience it in person.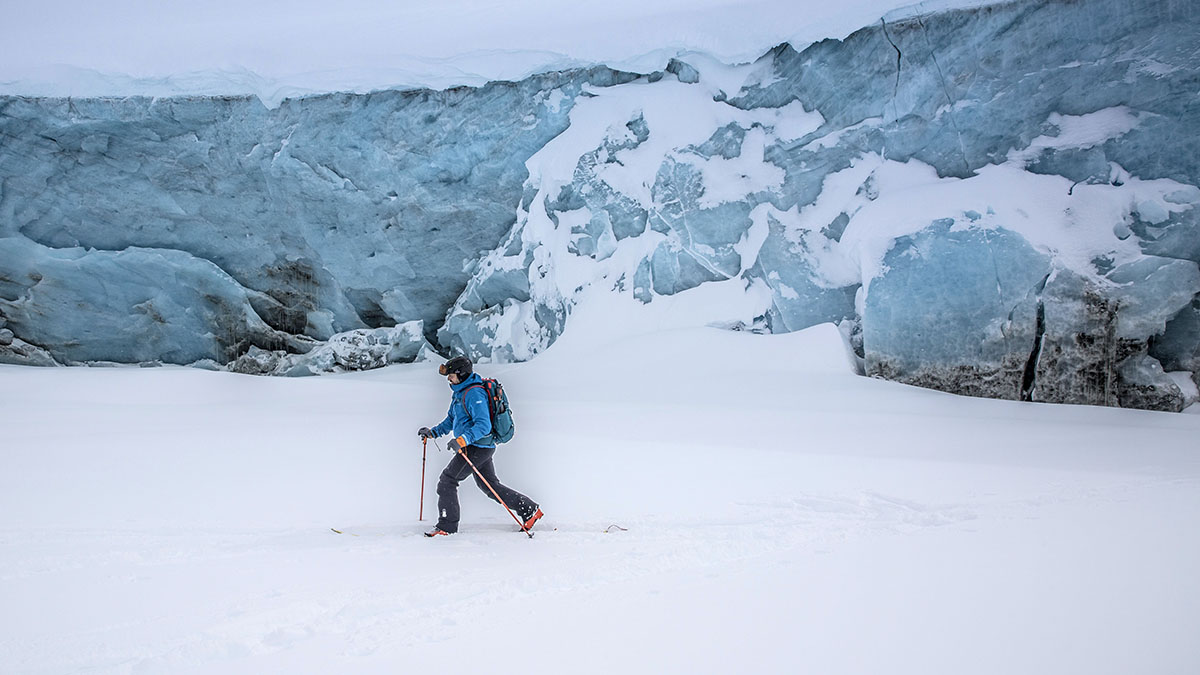 Essentially, the articulated carbon cuff has a vertical gap that runs the length of the boot's backside, allowing the two halves of the boot to move independently. On other ski boots the two sides are attached, and therefore the inner and outer cuff only can move as much as the typically stiff material will allow. But with the Procline, the material does not need to flex or shear, enabling incredible range of movement. This makes for the most mobile ski boot I've ever worn while in walk mode—the comfort and flexibility are similar to that of a sturdy mountaineering boot.


Uphill Performance
The Procline Carbon Support truly shines when ascending—it's easily the best touring boot I have ever worn. My first few strides in these boots were slightly awkward because it almost felt as though I was wearing trail runners attached to my skis. There was so much freedom to move—especially laterally—that I hadn't experienced in a ski boot before. And this is despite the fact that I had been wearing the Scarpa Maestrales, which are known to be one of the more flexible touring boots. But my brain quickly caught up to what my feet were doing and I managed to settle in and truly appreciate the freedom.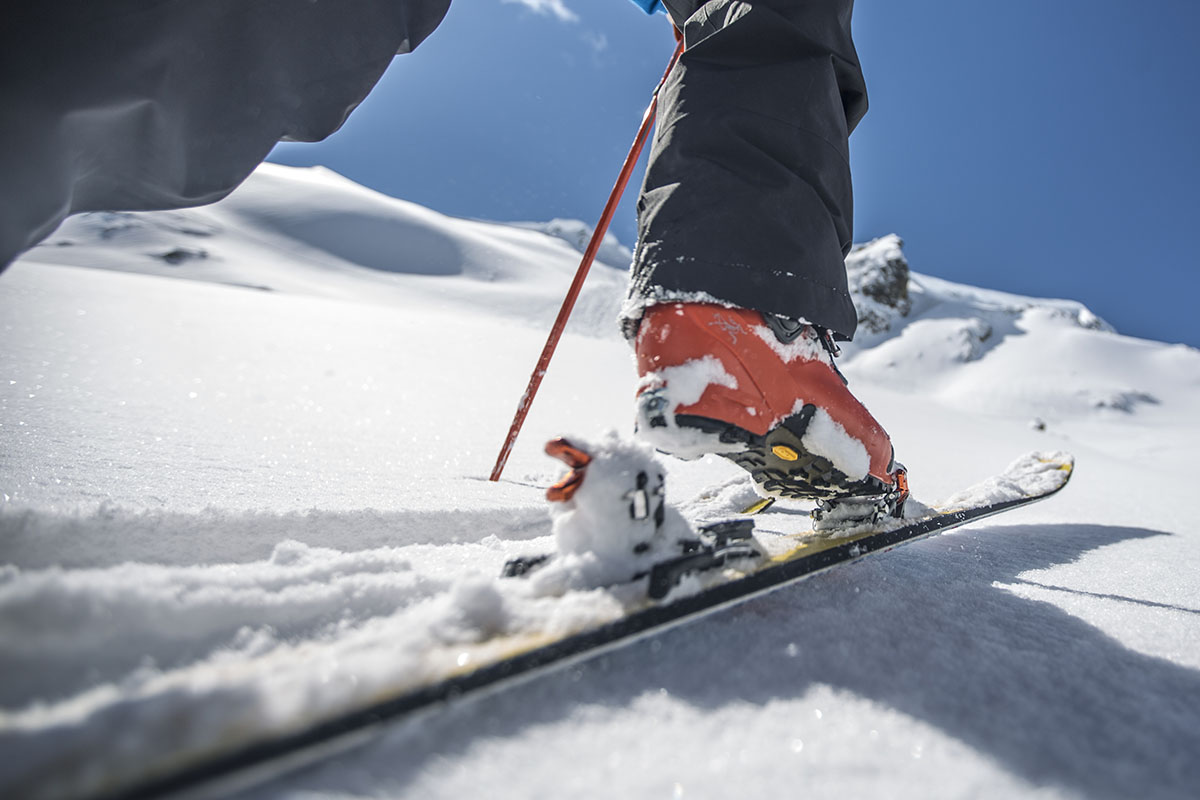 This incredible mobility, enabled by the vertical split in the cuff and adjustability of the power strap, make it easy to lean into steep climbs and maneuver around switchbacks. Both buckles can be used to adjust the tension, but I find that I typically have them fully released and left open while climbing. If I want a bit more stability, I simply secure the buckles to my desired tension.
The easy-to-maneuver walk/ski lever is a simple carbon plate that is engaged in ski mode and released in walk mode. When I first saw the boot and played with this lever, I was concerned that while in walk mode, snow could build up in the gap between the carbon plate and spine of the boot. My concerns have since been alleviated—in practice, snow has never built up and I have yet to experience any issues with the lever.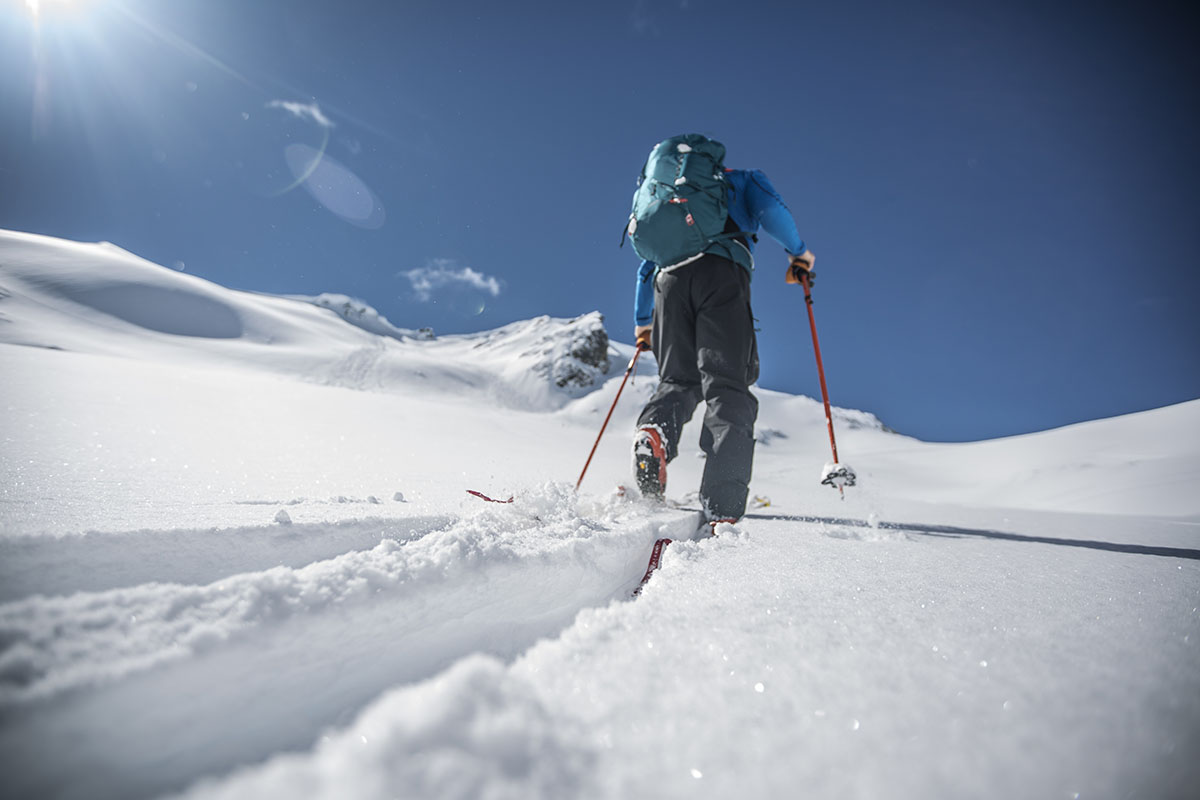 Downhill Performance
Initially, I assumed that because the Procline Carbon Support is lightweight and walks/climbs so well, that it would come up short during aggressive skiing. To my delight, the boot is surprisingly stable on downhills and I was impressed by how well it skied. With a flex rating of approximately 100 (this rating can be somewhat arbitrary from boot to boot and the Procline technically is not rated because it's considered a climbing boot not a ski boot) it performs similarly to my old Scarpa Maestrales.

To provide stability in ski mode, the Procline has a stiff carbon cuff, Cam Lock power strap (described below), an upper buckle, and a lower buckle. When in ski mode with the power strap securely tensioned on the carbon cuff, and both buckles tightened, the boots feel laterally stiff and was responsive edge to edge when leaning into my skis. With a very slight progressive forward flex, the Procline can be driven aggressively and respond well in powder. In spring conditions, it offers plenty of precision when weaving between tight trees. However, as suspected based on the high level of flexibility, the Procline isn't nearly as adept on icy, hard-packed crud.
 
Mountaineering/Climbing Performance
Here's a disclaimer: I am not a serious, technical ski mountaineer, nor will I be found picking my way up a vertical wall of ice. Even though I've yet to engage in serious technical climbing in these boots, I have managed to get in some decent mountaineering and exploring. My experience is that while bootpacking through exposed alpine rock and ice, the Procline Carbon Support provides the protection of a rigid mountaineering boot. The flexibility both laterally and vertically is a clear asset when high stepping into foot holds and inspires confidence.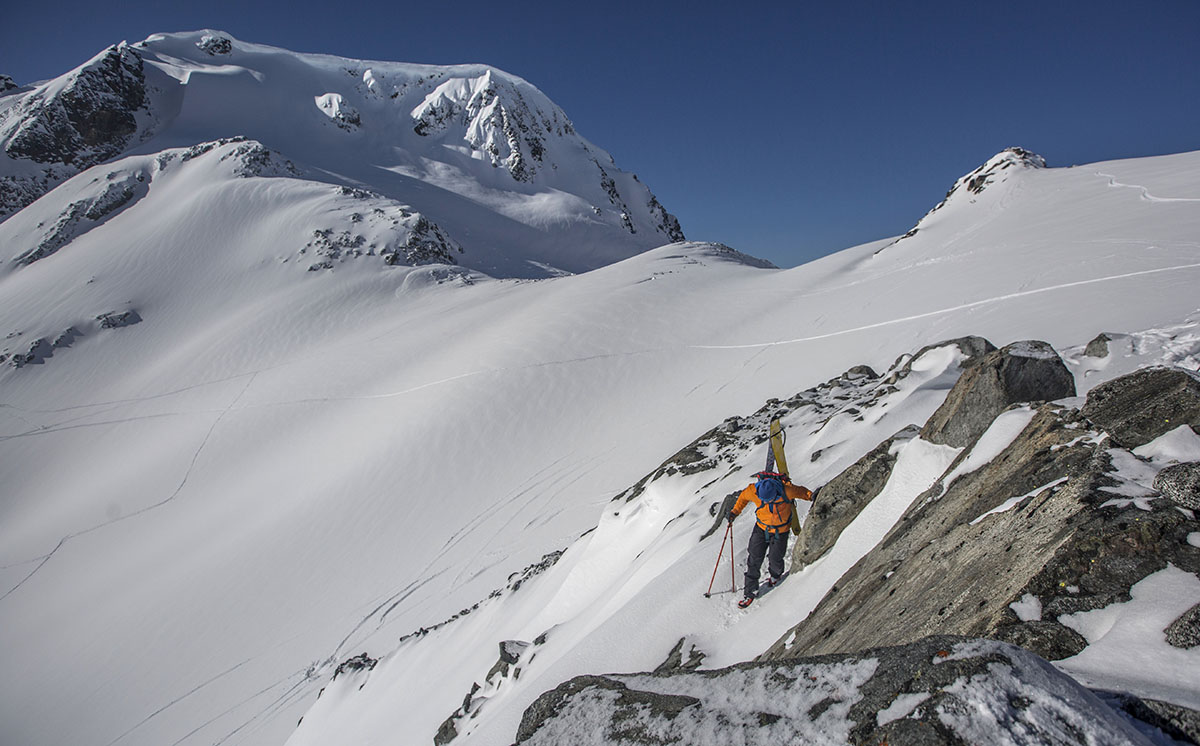 To assist the boot for alpinism, a few of the more obvious features include durable dual-compound Vibram soles, which are great for traction on both ice and rock. More, the Procline Carbon Support is crampon compatible with most step-in automatic or semi-automatic models such as the Black Diamond Neve or the Petzl Dart Leverlock or Lynx crampons. Although only used once, I found that my Petzl Lynx crampons were easy to attach and provided a solid, sturdy platform that was more stable than a typical mountaineering boot yet more agile than having them strapped to a generic alpine touring boot.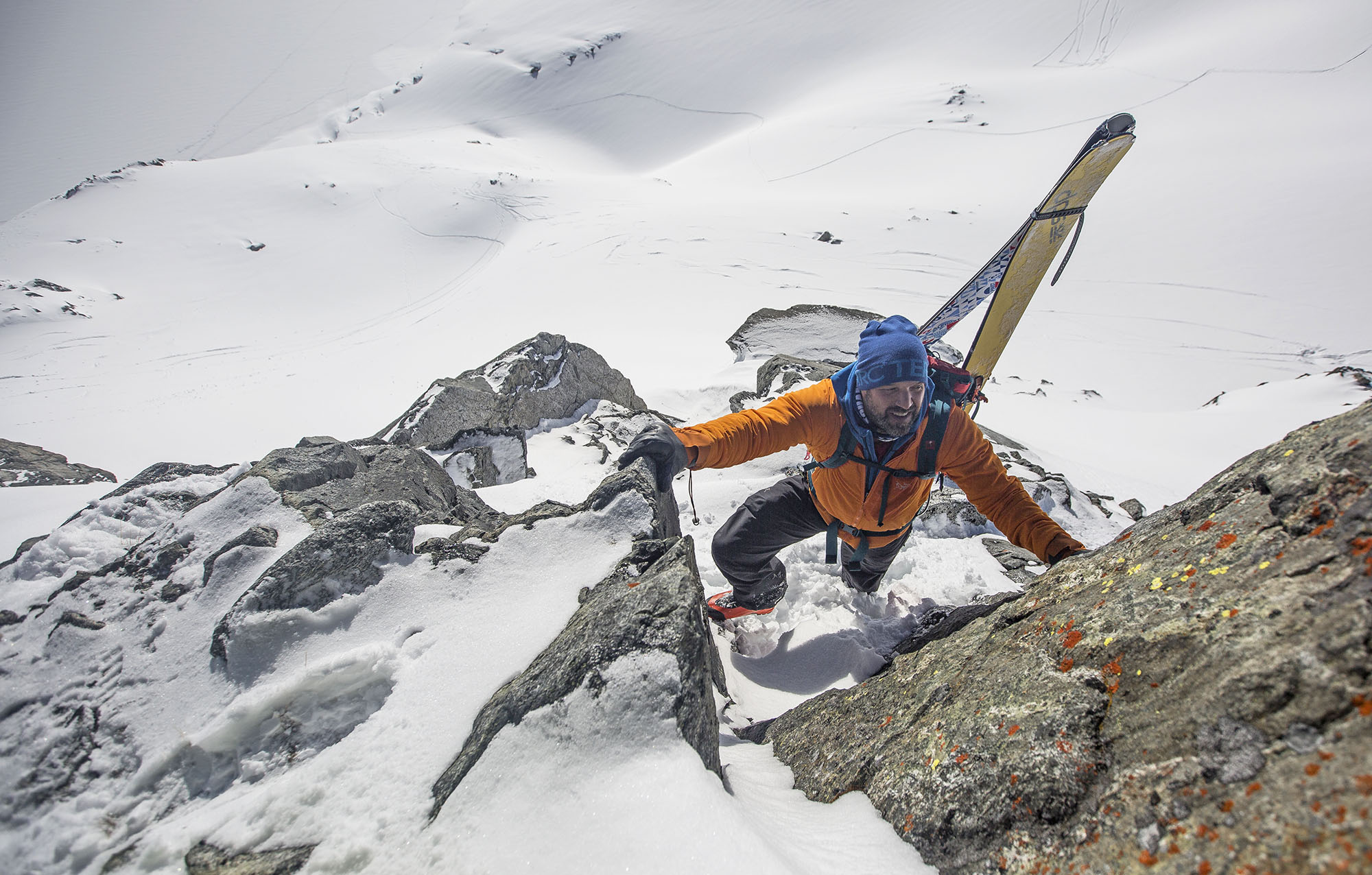 Comfort
To date, I have owned at least 7 pairs of backcountry ski boots, and all of them have been fitted or altered in some way to reduce hotspots. Several pairs were abandoned because the issues could not be resolved and my feet simply couldn't bare the damage sustained from wearing them. The Proclines have been punched, but thus far I have not needed the liners molded and can easily say that the boot's comfort is one of biggest upsides.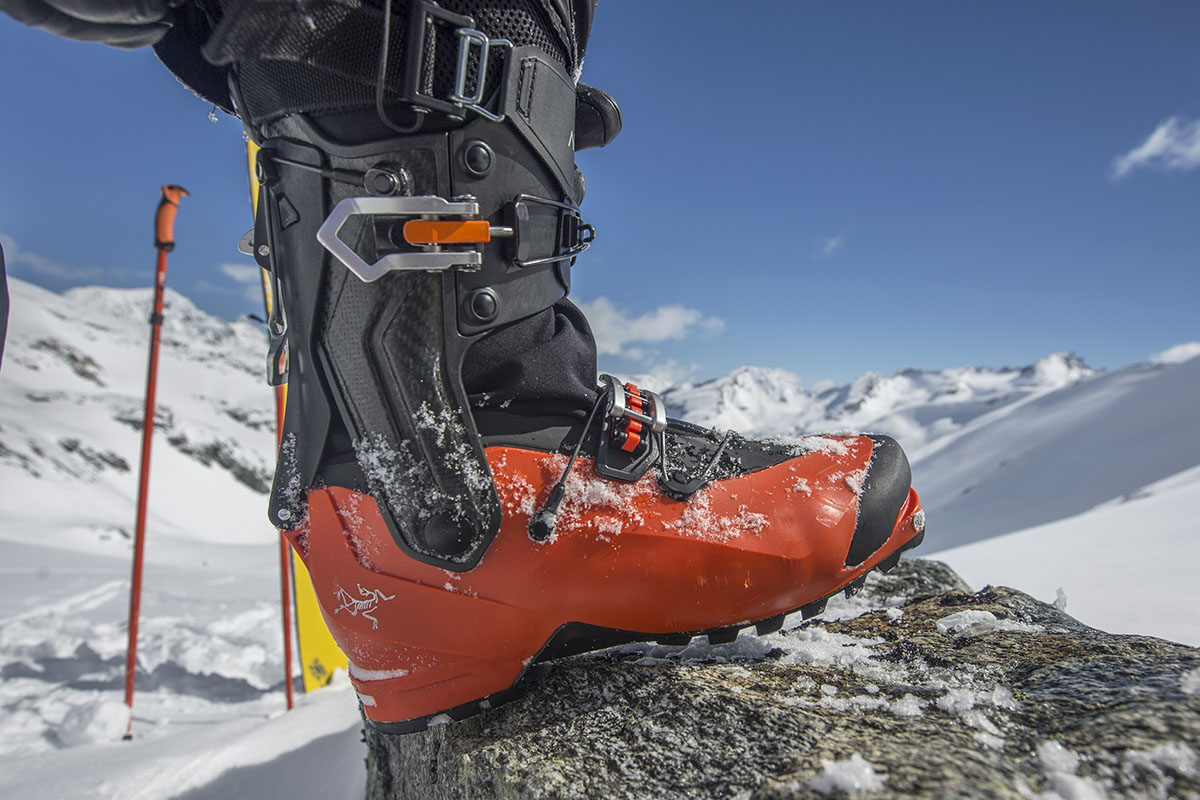 Weight and Design
Coming in at 47.6 ounces (1,349 grams) in a size 28, the Procline isn't the lightest ski mountaineering boot on the market (the Dynafit TLT7 Performance is 35.6 ounces or 1,010 grams), but it does fall on the light end of the spectrum. This reduces the effort of each step, particularly when paired with a lightweight ski and binding setup. And although much attention has been paid to the mobility of the 360° Rotating Cuff, one the cuff's greatest assets is that it makes for an exceptionally comfortable ski boot. The comfort is lasting and is even more noticeable on steep ascents both in and out of skis.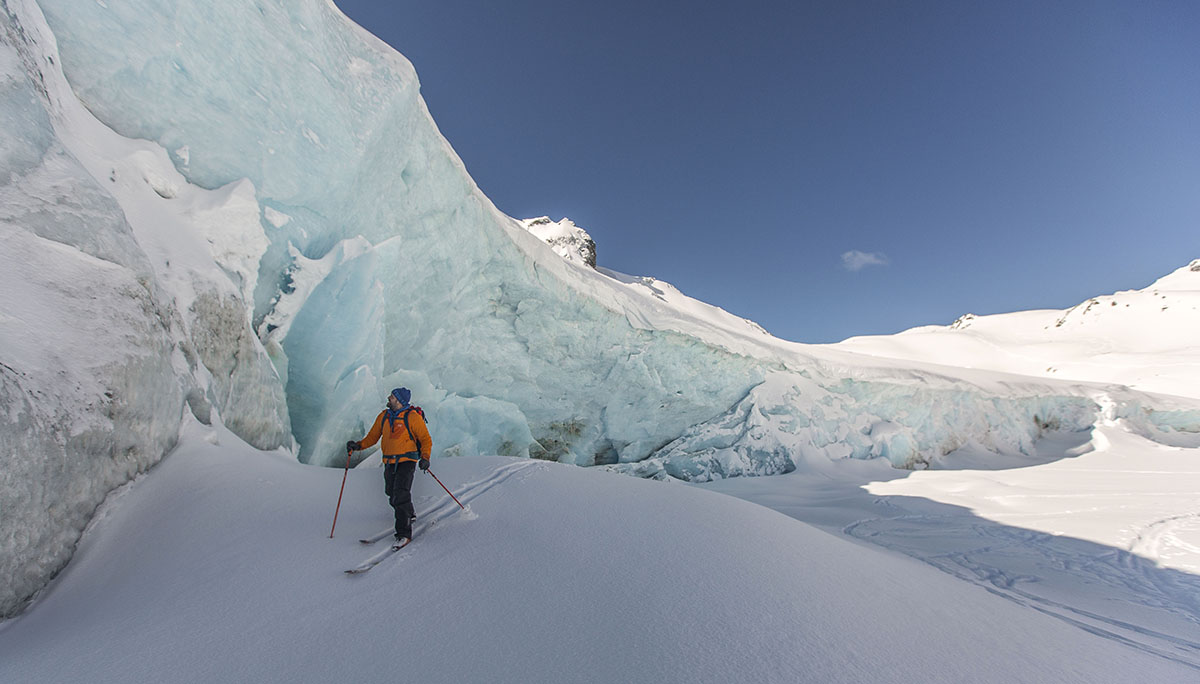 Closure
The Hybrid Closure System is designed to provide a secure and snug, yet highly adjustable fit. This system works well and creates an even, comfortable fit whether tightened for ski mode or in walk/climb mode. I did find, however, that in ski mode under tension I could feel the buckle against my upper ankle. As a result, I did feel a slight pressure point while driving the skis in icier, hardpack conditions. That being said, the pressure was not enough to cause damage or deter me from tightening the boot to a similar tension in the future. As covered below, I have worn the boots for up to 15 hours straight without significant blistering, hotspot issues, or bruising from pressure points.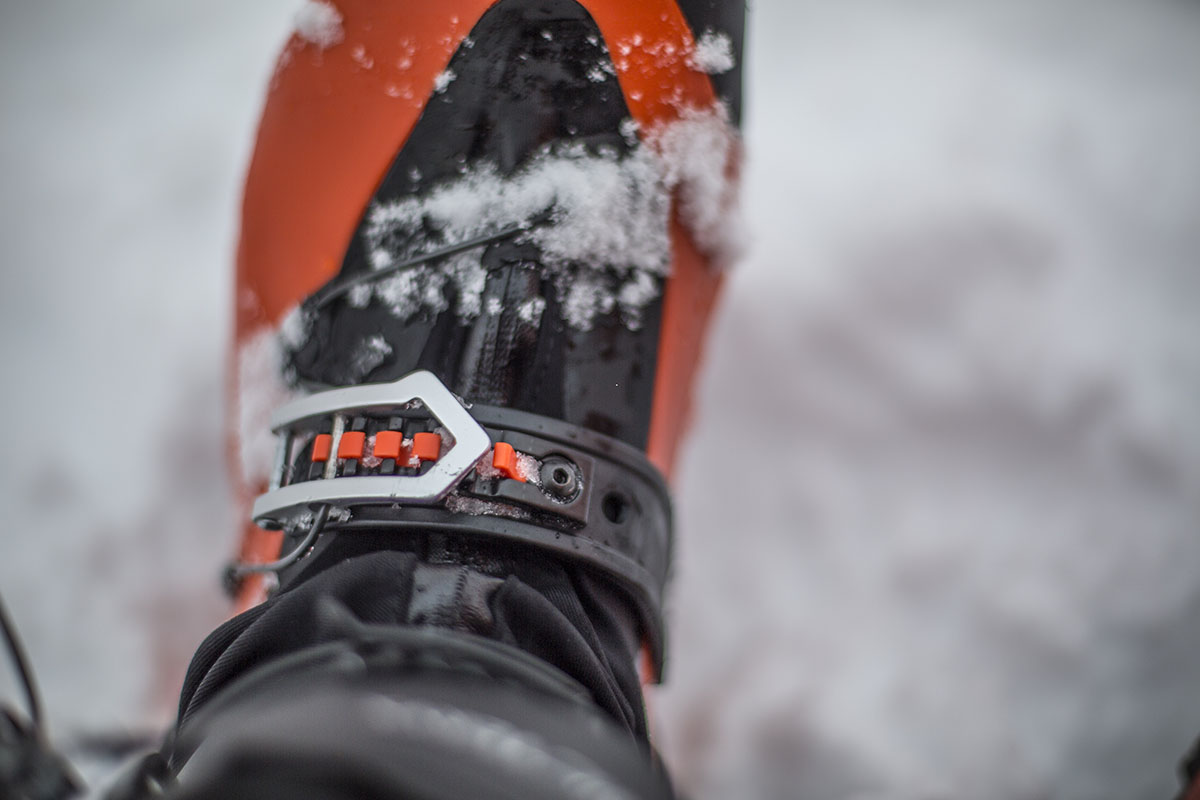 Liner
The Procline Support thermoformable EVA liner is comfortable, flexible, and supportive. The lacing system, albeit mildly confusing out of the box, provides ample tension and is free of pressure points. It's not the easiest system—you have to maneuver the lace around the back of the boot, liner, and gaiter to secure it. But once you figure the system out it works without fail. The Support liner's forward flex is evenly paired with the boot so as not to limit its climbing/walking abilities.
 
Warmth
I don't typically experience cold feet even in extreme temperatures, but on a ski mountaineering trip with a fair amount of standing around, the temperature hovered around -20°C (-4°F) for several days. My feet became painfully cold during the days, and despite my best attempts to warm them at night, I lost sensation in both of my baby toes and later suffered mild cold damage. The Procline definitely didn't feel too tight and I've had no blisters or hot spots, making me confident that it was an insulation issue rather than a volume issue. Lesson learned: the Procline is a thin boot, which is a benefit in terms of weight, but I'll now try to avoid prolonged exposure to temperatures well below -10°C (or go to a warmer liner like the Intuition Pro Tour Low Volume).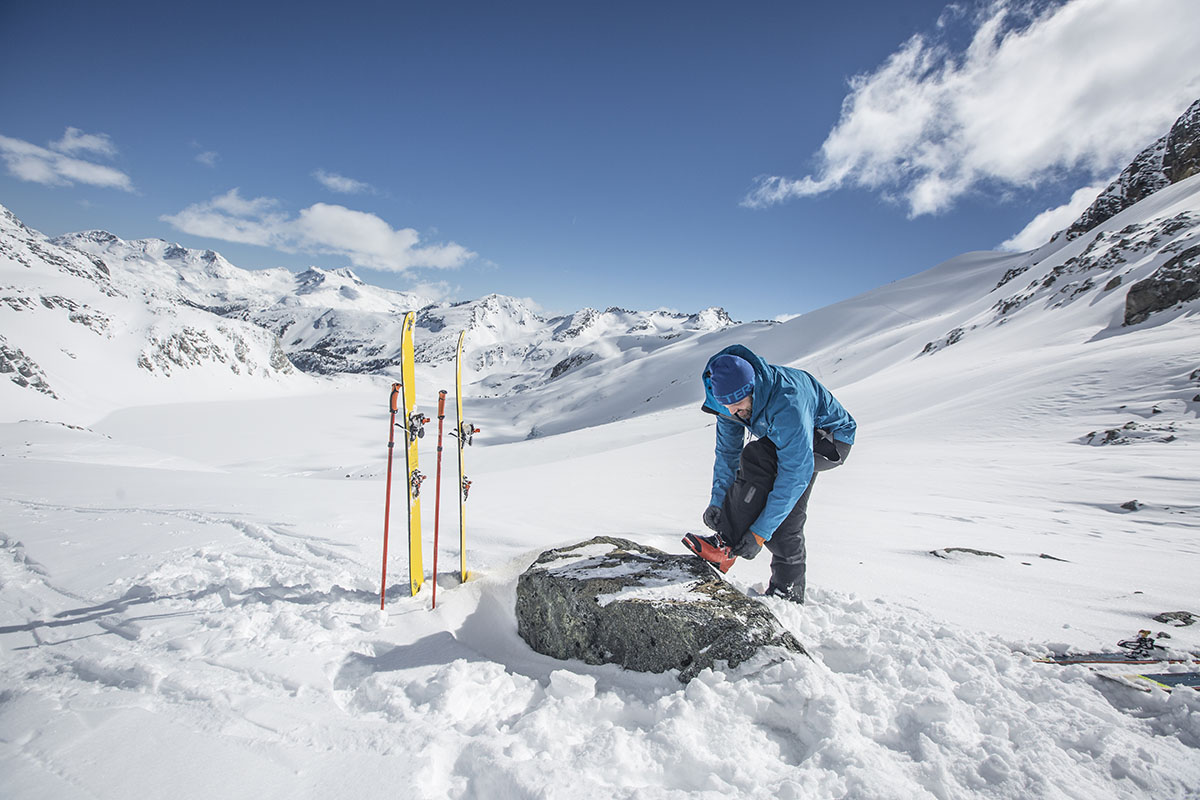 Other Features
Gaiter
Another important feature on the Procline Carbon Support is the High Density Cordura gaiter. This is a simple yet elegant way of keeping snow out of the boot while postholing or clambering through knee-deep powder. The gaiter extends from the top of the boot down below the lower buckle, providing full coverage from water and snow. Topped off with a waterproof PVC coating, the gaiter kept snow and moisture from seeping into the liner and soaking my feet during long days of standing around and practicing belay systems in knee high powder.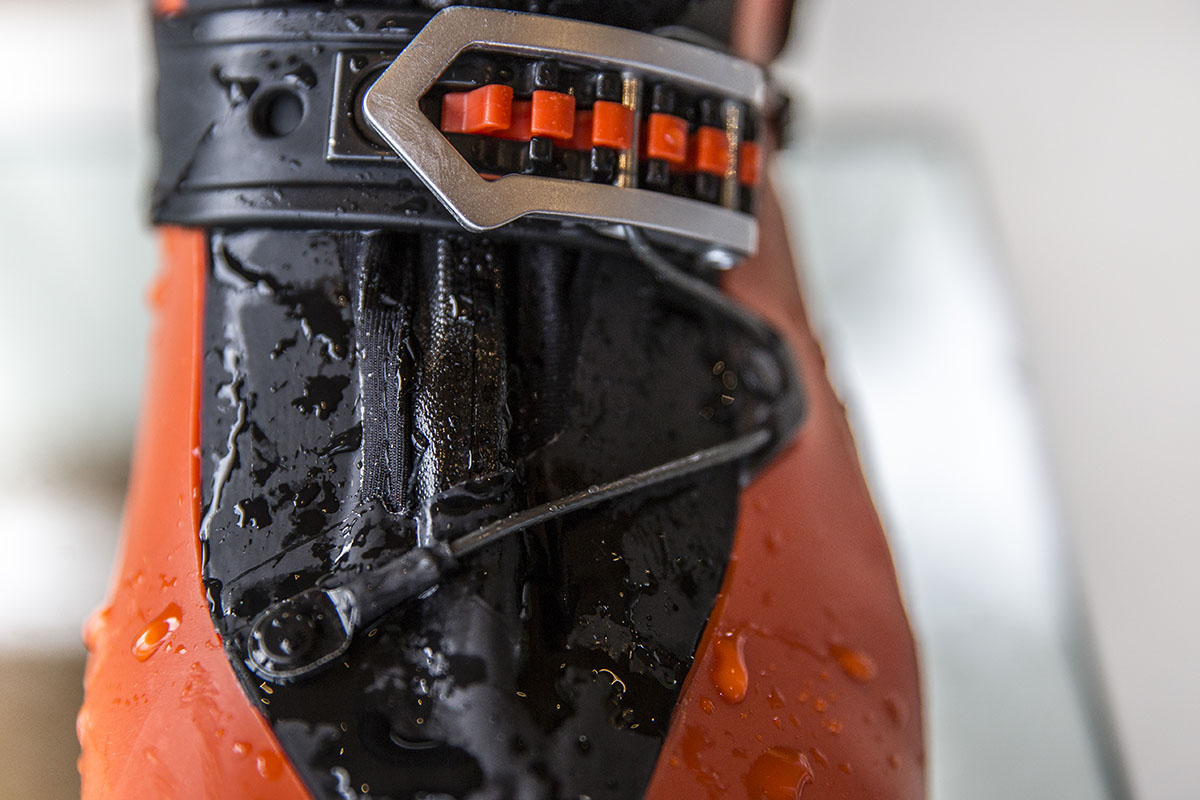 Cam Lock Power Strap
With the Procline boots, Arc'teryx also has introduced a new strapping system: the Cam Lock Power Strap. This is a replacement of the hook-and-loop closures and Velcro straps typical found on boots used to regulate the tension and stiffness of the upper boot. The strap is streamlined and makes it easy to adjust the tension of the upper boot for both ski and walk modes. When tightening the power strap, the cuff compresses, reducing the aforementioned gap that allows so much mobility. The only glitch with this system is that the small loop used to release the tension can curl over and almost get hidden within the strap. With gloves on this can be hard to adjust and correct.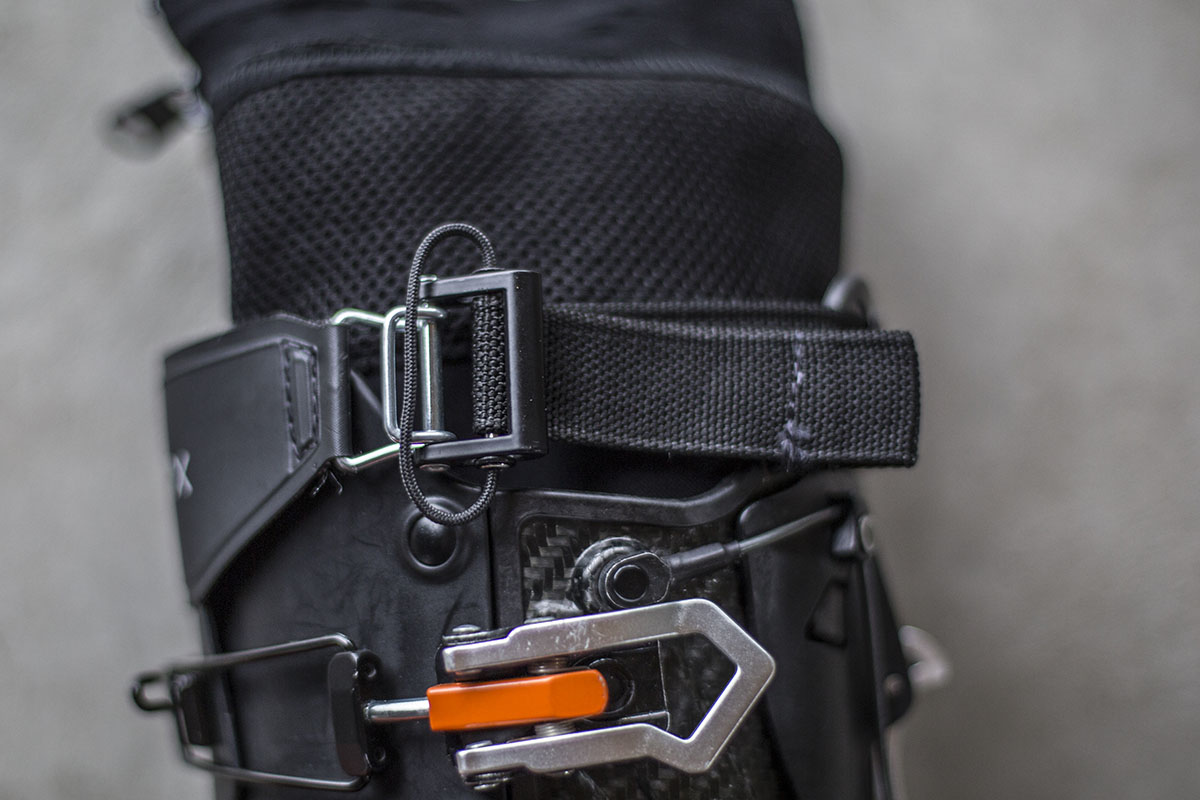 Build Quality and Durability
Out of the box, it was obvious that the Procline wasn't simply another lightweight ski touring boot. The boot is packed with features but maintains a clean, streamlined look and feel. The lower shell is made of a lightweight Grilamid, which provides stiffness and stability. To shed weight, the spoiler is Grimalid with 60% fiberglass and the cuff is 30% carbon fiber. The result is a light, strong boot that has been able to withstand the rigors of the backcountry.
After approximately 30 ski days in the boots, including several multi-night trips involving 12 to 15 hour days, the Procline has held up to some serious abuse without fail. The Grimalid shell is showing its wear with cosmetic scuffs from clambering through alpine rock, but all the pivots, buckles, loops, hooks and moving parts are tight and intact. The high density Cordura and its zipper still are going strong and repelling snow and water. The power strap is showing some wear and likely will be the only part to date that I'll consider keeping an eye on.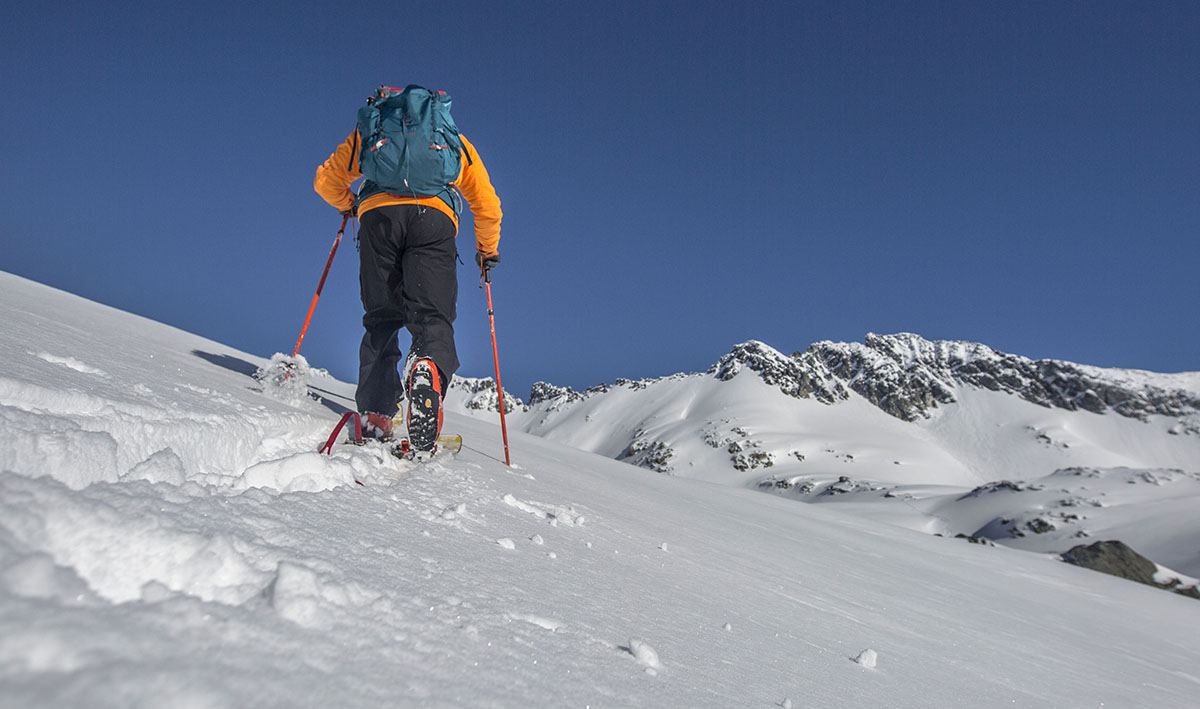 Fit and Sizing
I typically wear a 28 to 28.5 in ski boots. Because the 28.5 in the Procline Carbon Support seemed a little roomy toe to heel, I went with a 28 to reduce movement between the liner and the shell. This length has been ideal.
Fit and comfort has been an issue for me with every ski boot I've owned, particularly in the toe box but occasionally in the heel. I typically have my boot shells punched out to extend the width in the toe box. It was the same with the Proclines: coming in at a rather narrow 98mm, I had them punched out to accommodate my wider feet. My local fitter at Intuition Sports worked on the boots once and I've yet to require further alterations. The ankle support seemed a bit snug at first, and I thought it would cause hotspots or blistering, but it seems to work quite well. It holds the ankle in place without too much movement or play while in walk mode.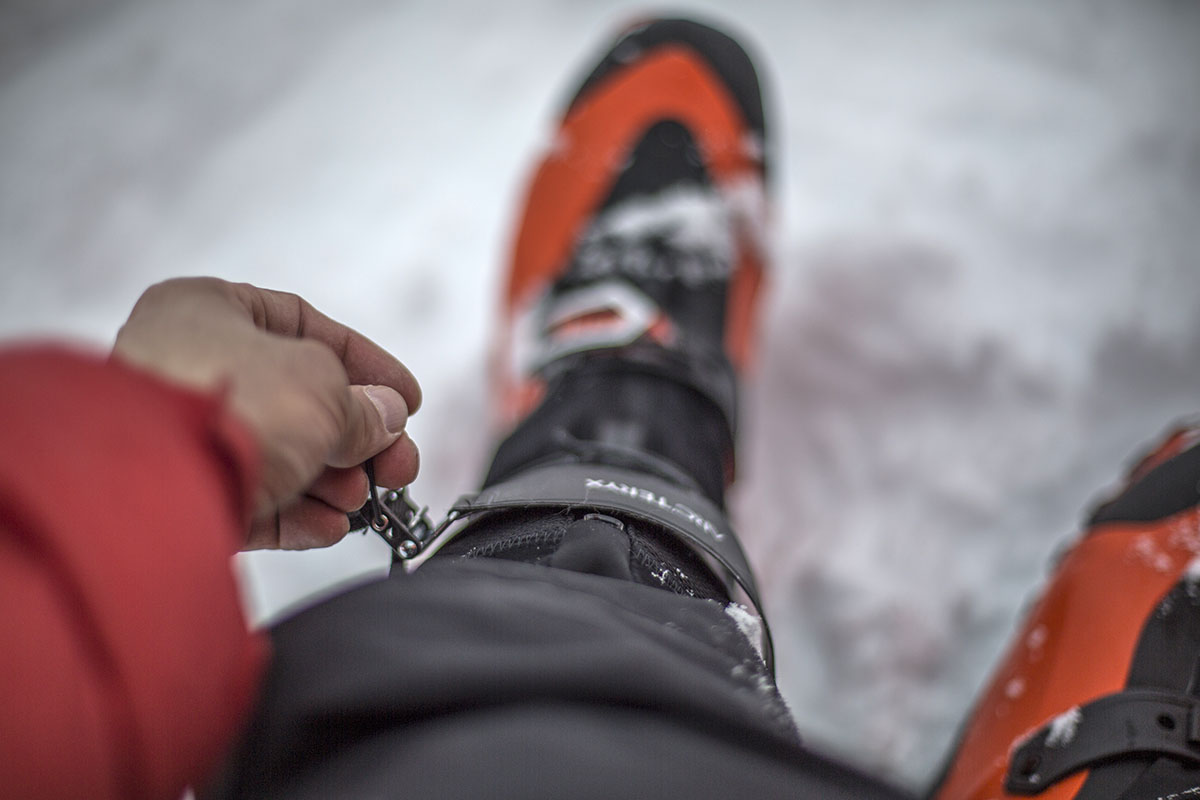 What We Like
The 360° Rotating Cuff is the real deal: Mobility and ease of movement while skinning and bootpacking are the best I've ever experienced.
Relatively lightweight for such a versatile boot.
Aside from some warmth issues, the Procline is extremely comfortable.
Arc'teryx build quality. With approximately 30 ski days in the boots, including several multi-night trips involving 12 to 15 hour days, everything is holding up well.

What We Don't
Expensive at $1,000.
Limited warmth (we learned this the hard way).
Though it did provide me with a reason to buy a new setup, I was disappointed that the boots were not compatible with my Marker Kingpin bindings.
The lower buckle can be difficult to loosen without gloves that have superior dexterity.


Comparison Table

The Competition
It comes as little surprise that this Arc'teryx design has proven to be well-thought-out and executed. And it's equally unsurprising that the Procline boot doesn't have a whole lot of direct competition—Arc'teryx often prefers to carve their own path. The lack of compatibility with a popular backcountry binding like the Marker Kingpin also shows its focused intent on the niche ski alpinism market.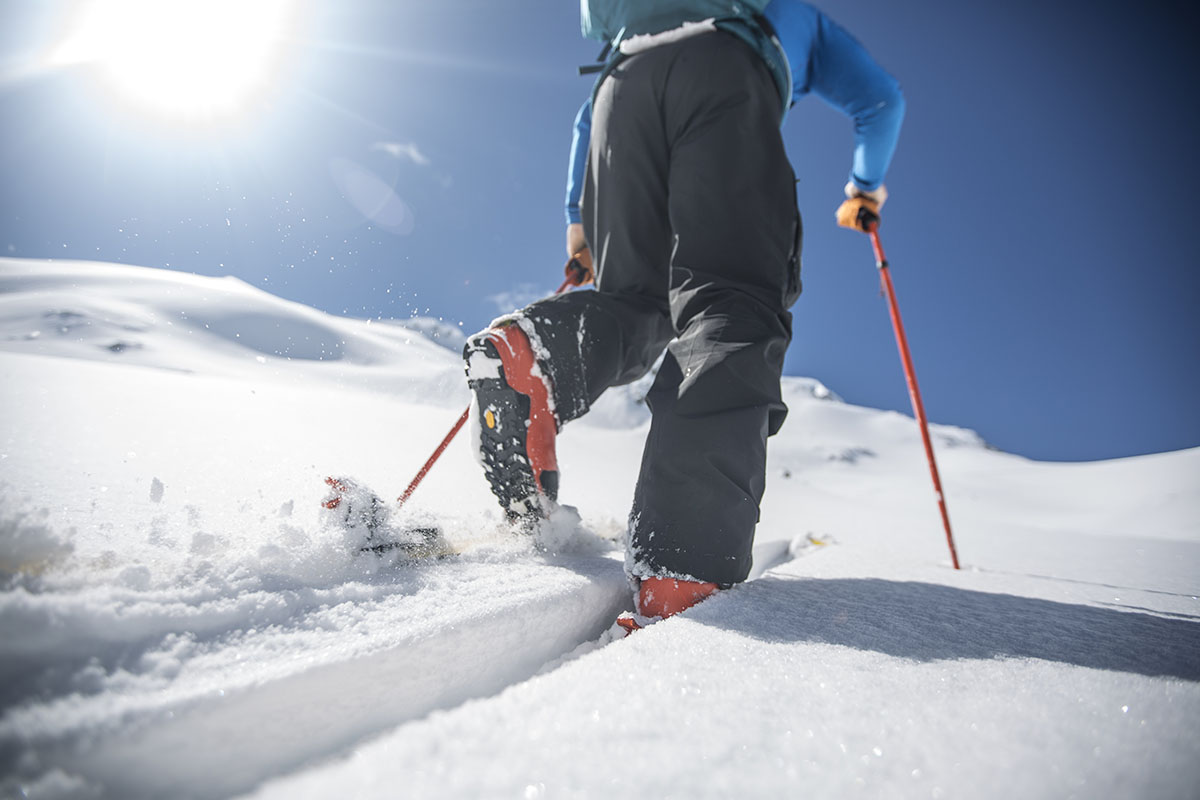 The calling card of the Procline is its climbability and uphill performance, which as mentioned above, is the best I've ever experienced. It's a superior climber than my Scarpa Maestrales (for more information on the 2018 model, see our in-depth Maestrale RS review), and the freedom of movement is what sets it apart. True, you can save about 10 ounces per boot with a boot like the Dynafit TLT7 Performance or Fischer Travers Carbon (or really save with a minimalist skimo set-up), but the Arc'teryx Procline has reached new heights in uphill travel. If your needs match what the Procline is offering—amazing mobility, lightweight feel, and comfort for long days—it's hard to beat this boot.
If you're thinking about buying gear that we've reviewed on Switchback Travel, you can help support us in the process. Just click on any of the seller links above, and if you make a purchase, we receive a small percentage of the transaction. The cost of the product is the same to you but this helps us continue to test and write about outdoor gear. Thanks and we appreciate your support!
Depending on the seller, most products ship free in the United States on orders of $50 or more. International shipping availability and rates vary by seller. The pricing information on this page is updated hourly but we are not responsible for inaccuracies.
Learn More About Ski Gear