Arc'teryx's Gamma softshell line ranges from the warm, alpine-ready MX to the superlight SL tested here. We brought the Gamma SL hiking in Canada's Yukon territory and found it to be a great match for the level of activity and conditions: this jacket is highly breathable, effectively repels light moisture and wind, and has the typical Arc'teryx fit and finish that we love. It's undoubtedly pricey at $225 given the thin and streamlined build, but for mixed hiking and everyday use, the Gamma SL is a real winner. Below we break down our experiences with the Gamma SL. To see how it stacks up to the competition, see our article on the best softshell jackets.
 
---
Table of Contents
---

Performance
Weather Resistance
Unlike hardshell jackets, softshells aren't designed to be the primary layer of defense against the elements, but the Arc'teryx Gamma SL Hoody repelled light water and wind just fine. The jacket has a durable water repellent (DWR) coating that helps moisture bead up on the surface rather than soak in, and it did an admirable job of keeping drizzle and mist from wetting out my baselayers. And arguably just as importantly, the Gamma is a solid barrier against the wind: the jacket was able to fend off the chill on blustery passes in Tombstone Territorial Park without ever feeling clammy, even when I was working up a sweat.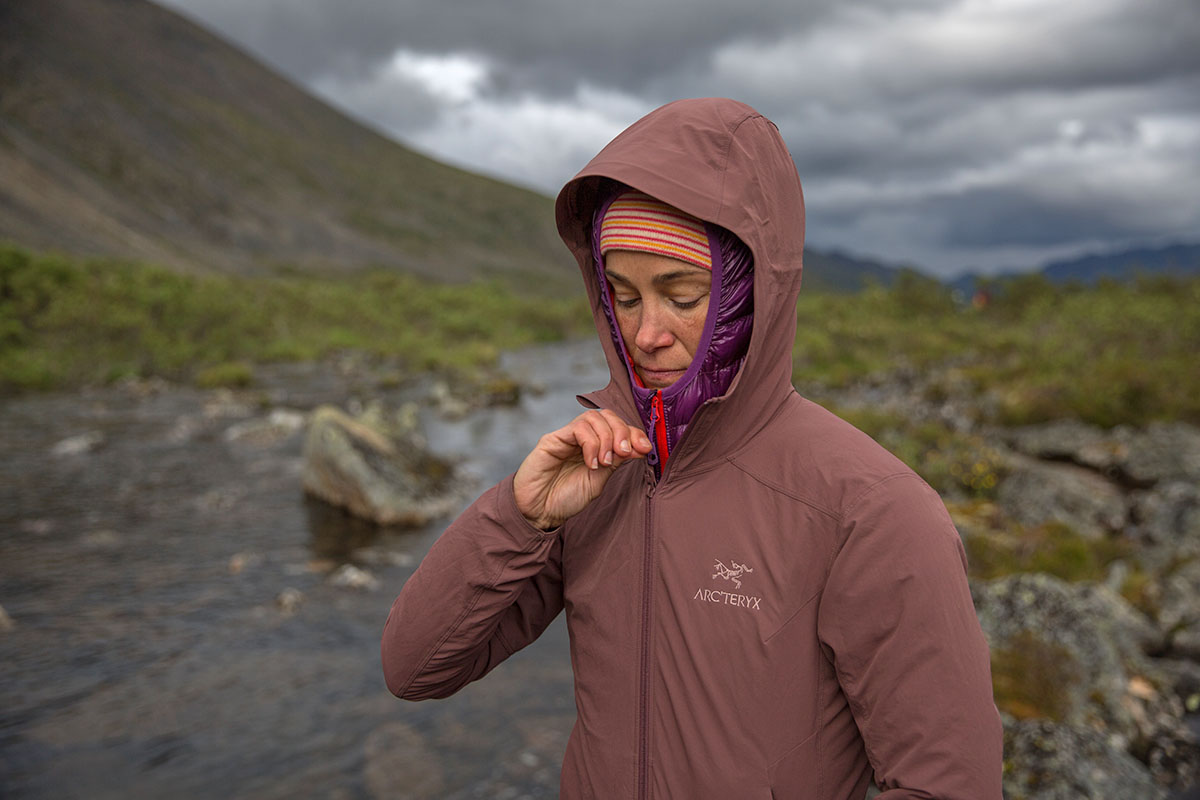 That said, while hiking in Tombstone, we were caught in a storm that quickly and unexpectedly turned from light mist to a full-on downpour. Before we knew it, we'd been walking for 20 minutes in heavy rain. As expected, the Gamma SL did wet out, and moisture made its way to my merino baselayer. I was surprised at camp when I removed the soggy Gamma and found only a few wet patches on my baselayer, but I wouldn't recommend testing the Gamma's limits in these conditions. In this type of sustained moisture, there's simply no substitute for a fully waterproof rain jacket or hardshell, although you'll sacrifice a good deal of breathability (for more on this topic, see our article on Hardshell vs. Softshell Jackets).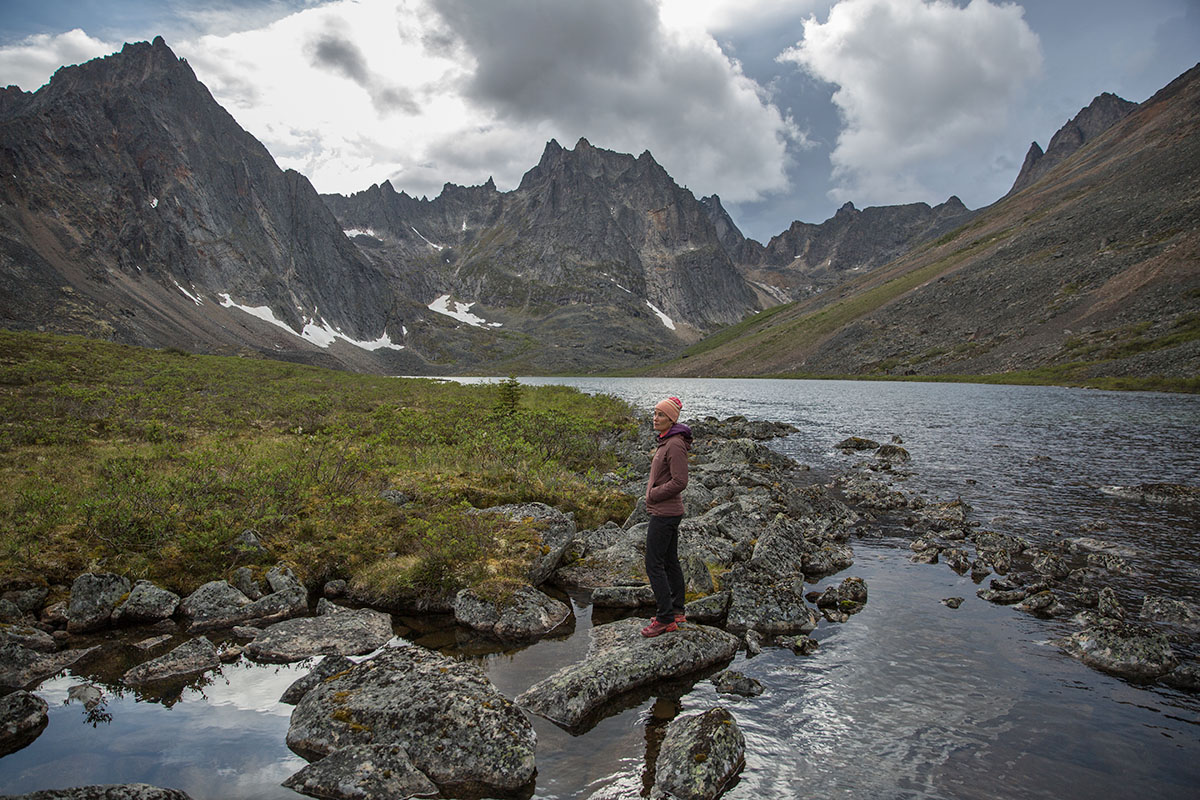 Breathability
The Gamma SL is intended to be worn during activity, and it really delivered in the breathability department. I initially threw on the jacket to fend off the incessant mosquitos and black flies in the Yukon, but I was pleasantly surprised after a 3,000-foot climb to realize that I was still comfortable and hadn't overheated. By that time, we were well above treeline and in direct sun with temperatures in the 60s Fahrenheit, and one of my hiking partners was down to just shorts and a t-shirt. All in all, I was highly impressed by the Gamma SL's ability to regulate temperature and keep air flowing, and the mosquito-blocking ability was just an added bonus.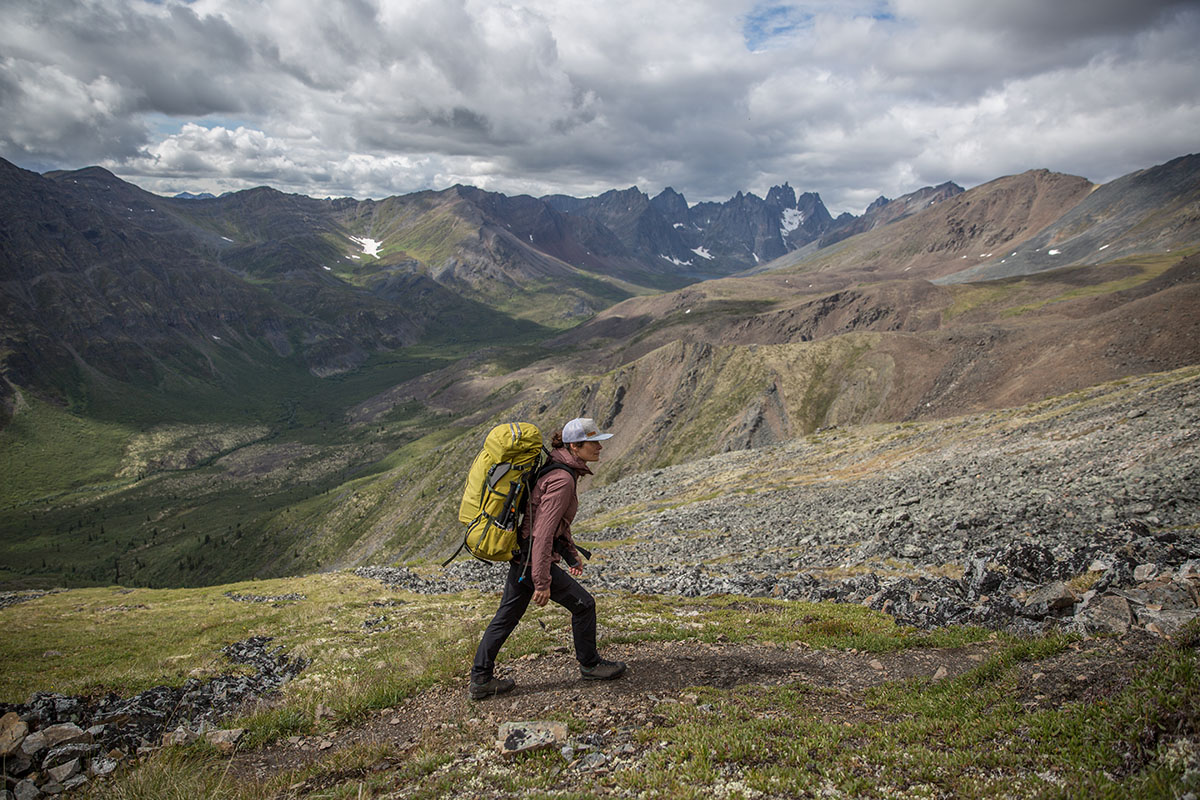 Weight and Packability
Along with breathability, weight and packability are two hallmarks of the Gamma SL's design. My women's small weighed in at 8.7 ounces, which is just slightly more than the listed weight of 8.4 ounces. For comparison, the more technical Gamma LT and MX clock in heavier at about 1 pound each, while other lightweight softshells including the Outdoor Research Ferrosi (13.2 oz.), Patagonia R1 TechFace Hoody (11.9 oz.), and Arc'teryx's own Sigma SL Anorak (9.3 oz.) also outweigh the Gamma SL. It's true that you can go lighter with an ultralight windbreaker like Black Diamond's Alpine Start Hoody (6.7 oz.) and Arc'teryx's own Squamish Hoody (4.4 oz.), although both of those forego hand pockets. I do wish that the Gamma had a dedicated stuff pocket, but I was able to pack it down into its own hood or hand pocket (it can't be zipped) to the size of a small grapefruit.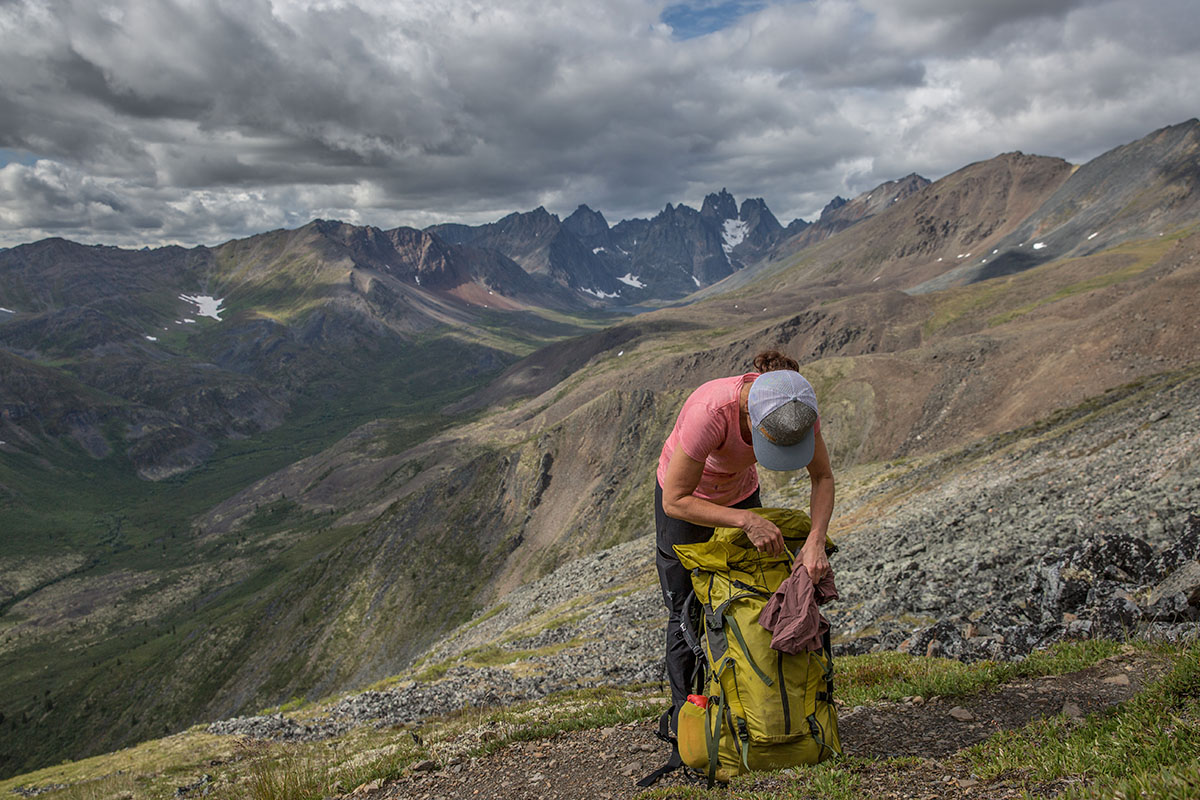 Comfort
From a comfort perspective, the Gamma SL is a real winner. The four-way stretch allows for easy and unrestricted movement—I've never felt it tugging and am able to move freely without the jacket ever getting in the way or riding up. Additionally, I often wear the Gamma with just a thin short-sleeve baselayer underneath and have found it to be supremely supple against my skin, even when I'm sweating. Overall, softshells in general are typically much more comfortable and softer than clammy and often-crinkly windbreaker jackets or rain shells, and the Gamma SL definitely sits near the top of the pack.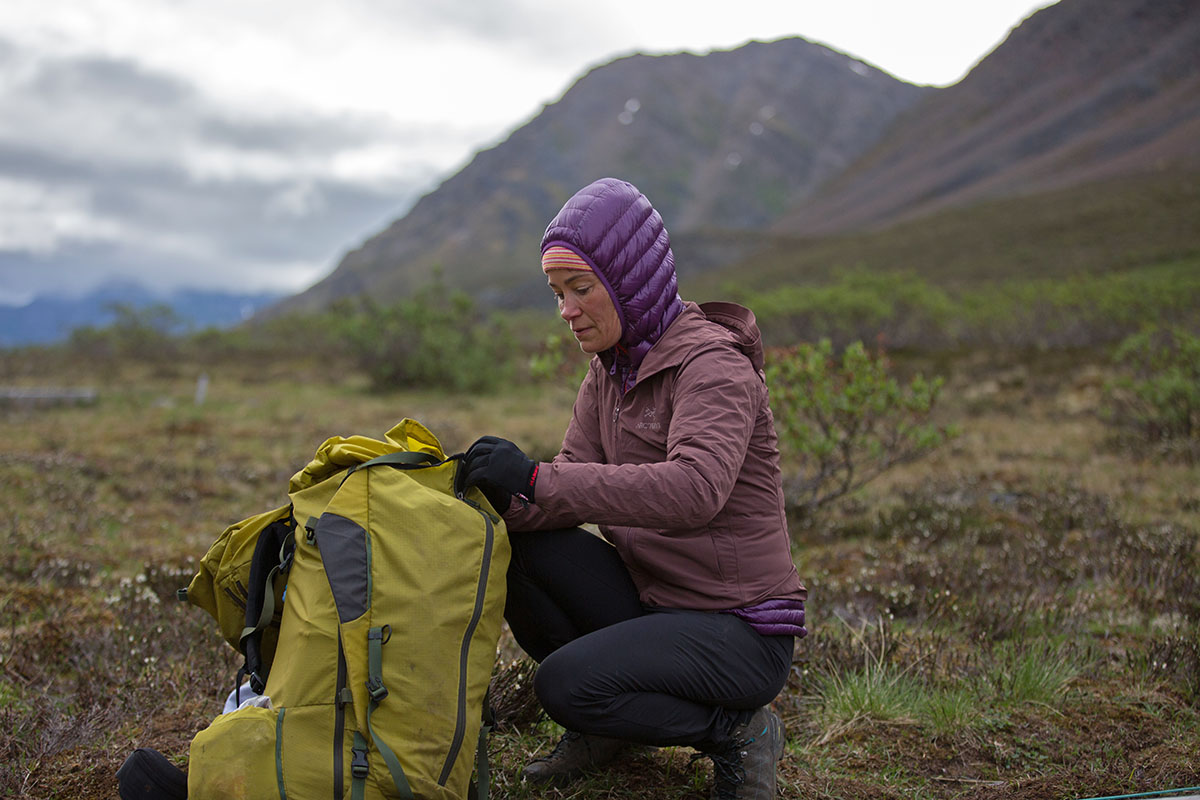 Build Quality and Durability
Arc'teryx rarely disappoints in the build quality department, and the Gamma SL Hoody is exactly what we've come to expect from the brand: well-made, hardwearing, and thoughtfully constructed. I've worn the jacket while carrying a heavy backpack on multi-day hikes, stuffed it unceremoniously into a pack, used it as a picnic blanket while eating lunch, and generally put it through the wringer. In the end, after the consistent and fairly rough use, my Gamma SL is no worse for wear.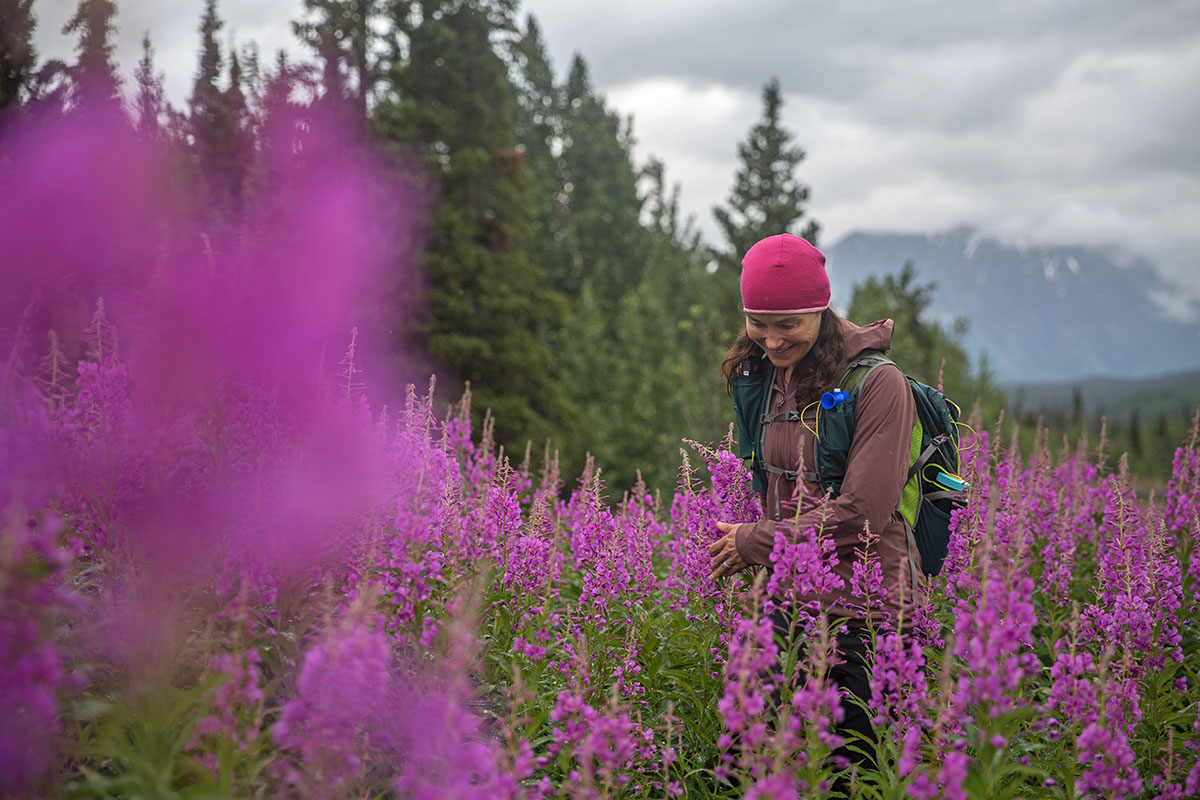 The material choices help a lot here: The SL uses a mix of mostly nylon and 13 percent elastane, which provides a good amount of stretch and contributes to the forgiving nature—rather than tearing or puncturing under pressure, the fabric is pliable and has enough "give" to resist snags. Further, Arc'teryx thickened the material at the shoulders, which helps combat abrasion under pack straps. Added up, despite its thin build, the Gamma SL is surprisingly robust.
 
Warmth
Considering the trimmed-down construction, it's unsurprising that the Gamma SL offers very little warmth. However, the jacket does take the sting out of chilly alpine conditions, which made it a great option for the start of an early-morning hike, when stopping for lunch in the mountains, etc. I often wore the Gamma over just a thin puffy (typically my Mountain Hardwear Ghost Whisperer down jacket) and found the combination to be perfect in cooler, shoulder-season temperatures (of note, I am prone to running cold). And because the jacket breathes so well, my baselayers remained dry even when I was exerting, which helped retain heat.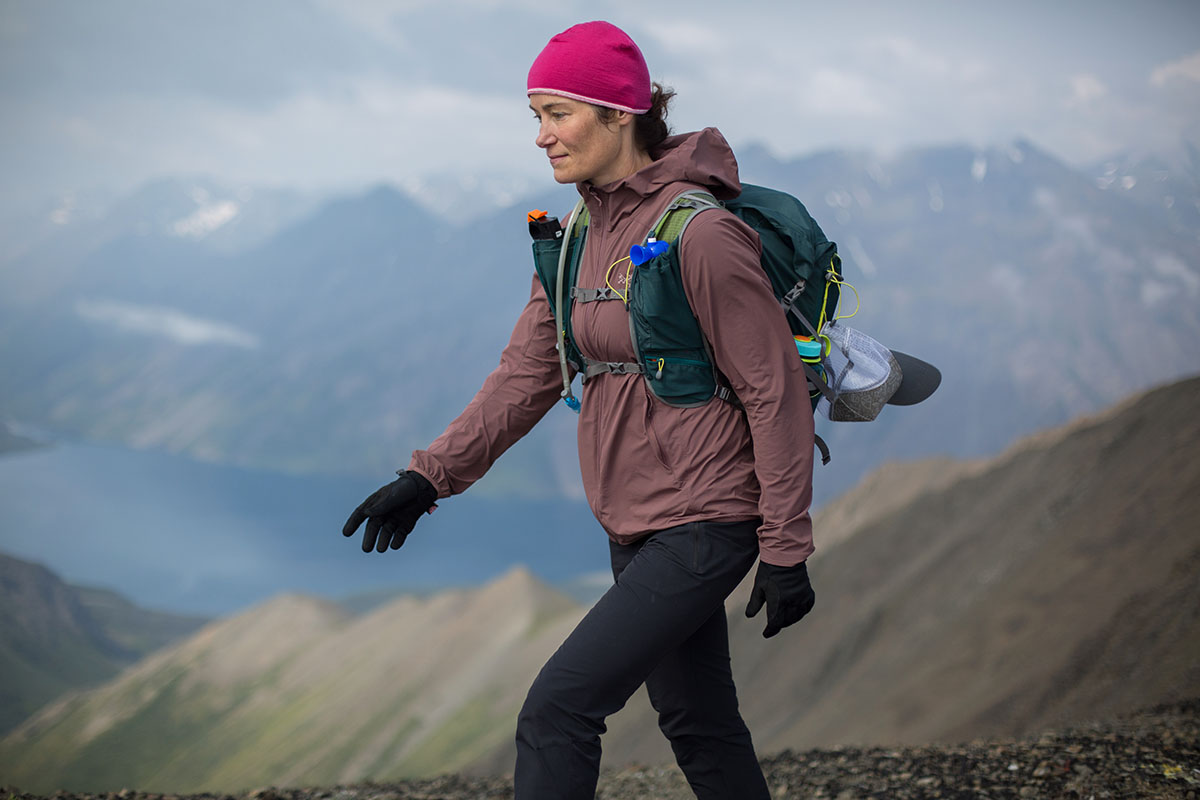 Features: Hood and Pockets
For features, Arc'teryx stuck to the basics on the Gamma SL. To start, you get the brand's well-loved StormHood, which cinches at the back, doesn't restrict peripheral vision, stays nicely in place, and sports a functional brim that effectively deflects rain. The jacket also includes two generously sized hand pockets, which sit just above the hip. Importantly, unlike its LT and MX siblings, the Gamma SL's hood isn't helmet-compatible, and its pockets aren't accessible under a climbing harness, but many will find the casual slant appealing for crossing over into around-town use (skiers and ice climbers wanting these features should check out the other two Gammas).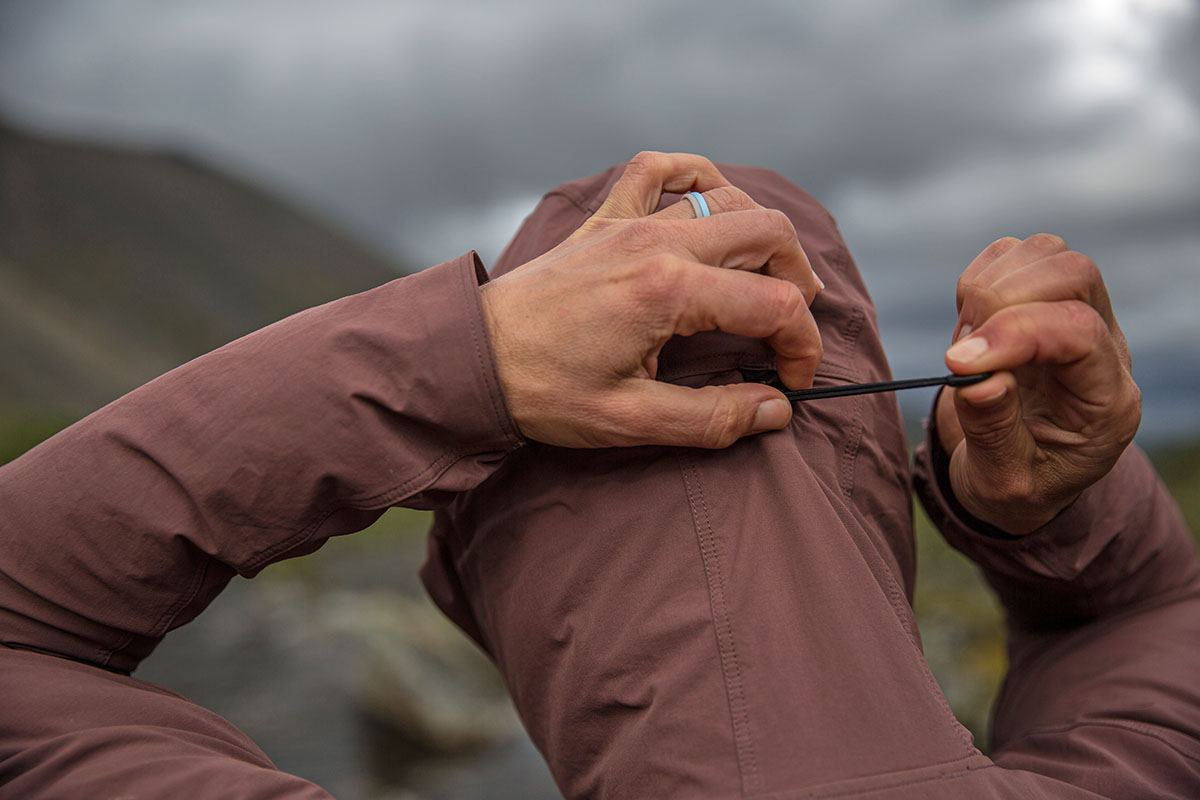 Fit and Sizing
I typically wear a size small in Arc'teryx jackets, and the Gamma SL Hoody is no exception. Overall, I love the fit: Arc'teryx labels it as "trim," which I would describe as narrow but flattering, but I'm still able to add a puffy jacket underneath when the mercury drops. The length is also spot-on at 25.8 inches down the back, and the sleeves are long enough to cover my wrists without feeling awkward or unshapely. The cuffs and hem aren't adjustable, but I've found that the elastic is effective at keeping them in place and doesn't have a negative impact on comfort. All in all, given the jacket's intentions, I think Arc'teryx really nailed the fit of the Gamma SL.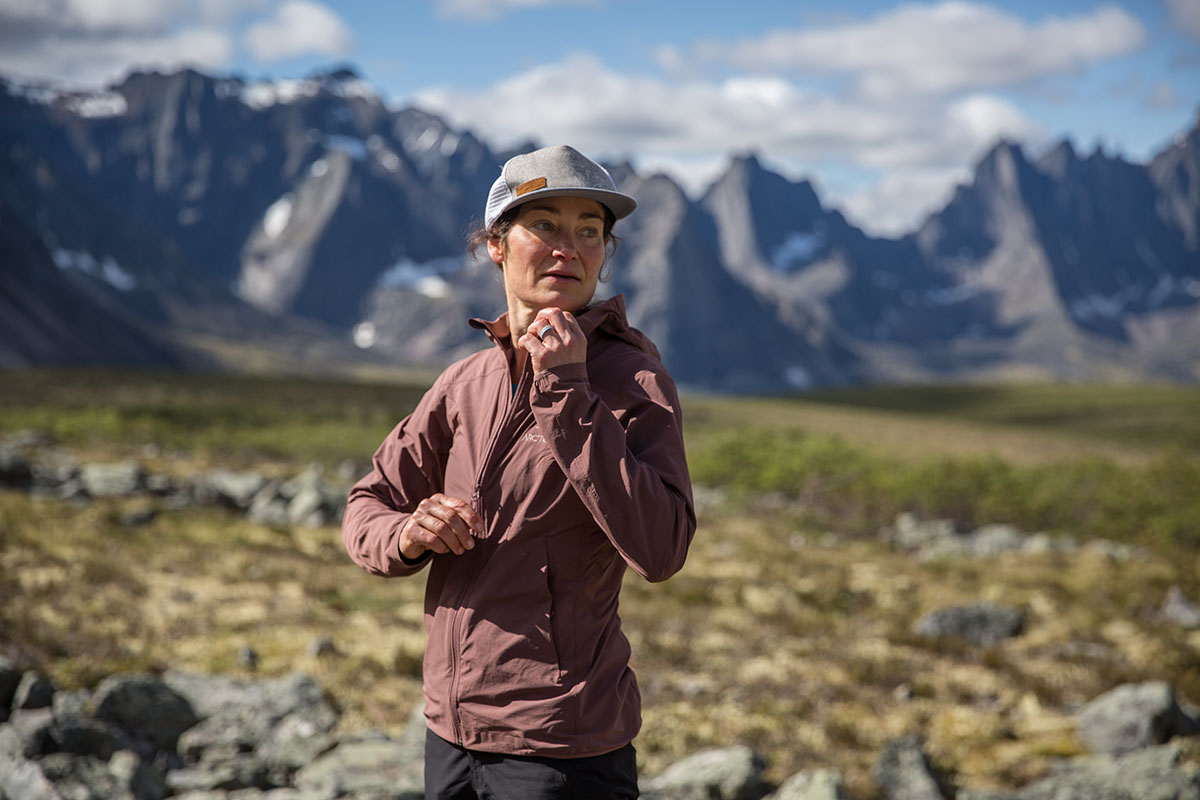 Men's Arc'teryx Gamma SL Hoody
We brought the women's version of the Gamma SL to the Yukon for testing, and Arc'teryx makes the same jacket in a men's version. Like the women's, the men's Gamma SL Hoody costs $225, has a trim fit, features a non-helmet-compatible StormHood, and sports two hand pockets. The men's jacket weighs slightly more at 10.2 ounces, comes in different colorways, and is longer at 29.1 inches down the back, but otherwise retains an identical feature set and overall construction to the women's hoody. We haven't had a chance to test the men's Gamma SL, but given the similarities, we expect performance between the two to be very comparable.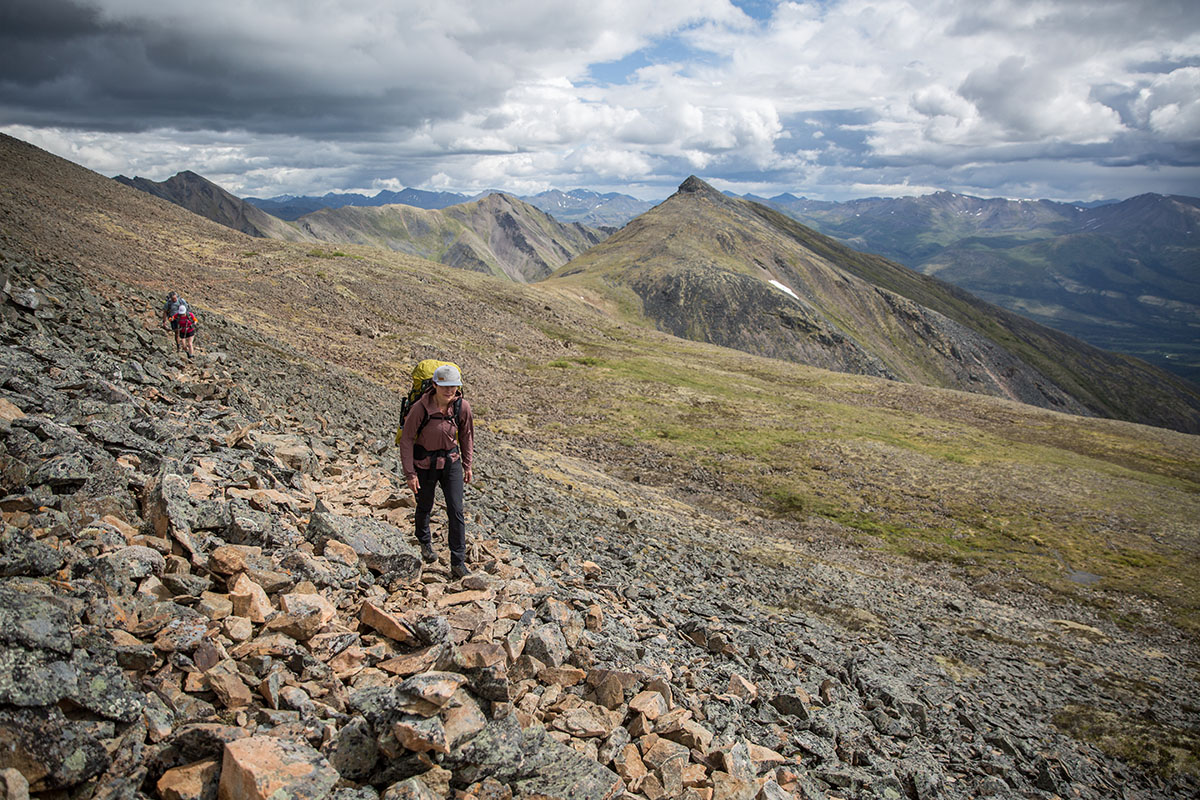 What We Like
Lightweight, highly breathable, and comfortable even against bare skin.
Despite its thin build, the Gamma SL is noticeably hardwearing and a great match for activities like hiking and backpacking.
Typical fit and finish we've come to expect from Arc'teryx: this jacket is well-made and has a very flattering shape.
Great versatility. I wore the shell while hiking, but it's also a nice match for mountain biking, trail running, and even casual outings around town.

What We Don't
Doesn't have a dedicated stuff pocket, which can be limiting for climbers in particular.
Hood isn't helmet-compatible, and pockets aren't hipbelt-friendly. For more technical pursuits, we recommend stepping up to the Gamma LT or MX.
As with almost all Arc'teryx products, the Gamma SL doesn't come cheap at $225.
I wish the jacket came in brighter colorways.


Comparison Table

The Competition
As we touched on above, Arc'teryx's impressive Gamma lineup also includes the LT ("lightweight") and MX ("mixed weather"). The Gamma LT Hoody is our top-rated pick this year and has all the features we look for in a quality softshell jacket, including a durable outer fabric that stands up well to regular use and abuse, great breathability, and clean looks that translate well to around-town use. In parsing out the differences, the LT is heavier than the SL at 1 pound even, pricier at $249, has a regular fit that better accommodates layering underneath, and is slightly more technical with a helmet-compatible hood, adjustable hem, and hand pockets that ride above a harness or hipbelt. You also get more storage with an added internal zippered pocket. Added up, despite the weight penalty, we think the LT is the most versatile and well-rounded Gamma.
For a step up in price and warmth, Arc'teryx's Gamma MX Hoody is another option to consider. This is the most backcountry-ready and warmest Gamma of the bunch, with an added fleece lining that's a great match for cold days in the mountains. Like the LT, the MX clocks in at about 1 pound and has a regular fit that works well for layering (the SL is noticeably trimmer). It's also the most feature-rich option, with ample storage including a chest pocket, sleeve pocket, and two hand pockets, and includes a helmet-compatible hood, harness-friendly pockets, and slightly stretchier build (16% elastance vs. the SL's 13%). That said, the MX is pricey at $349, and the performance benefits over the LT are incremental at best (for more, see our in-depth Gamma MX review). From a value perspective, both the LT and SL win out.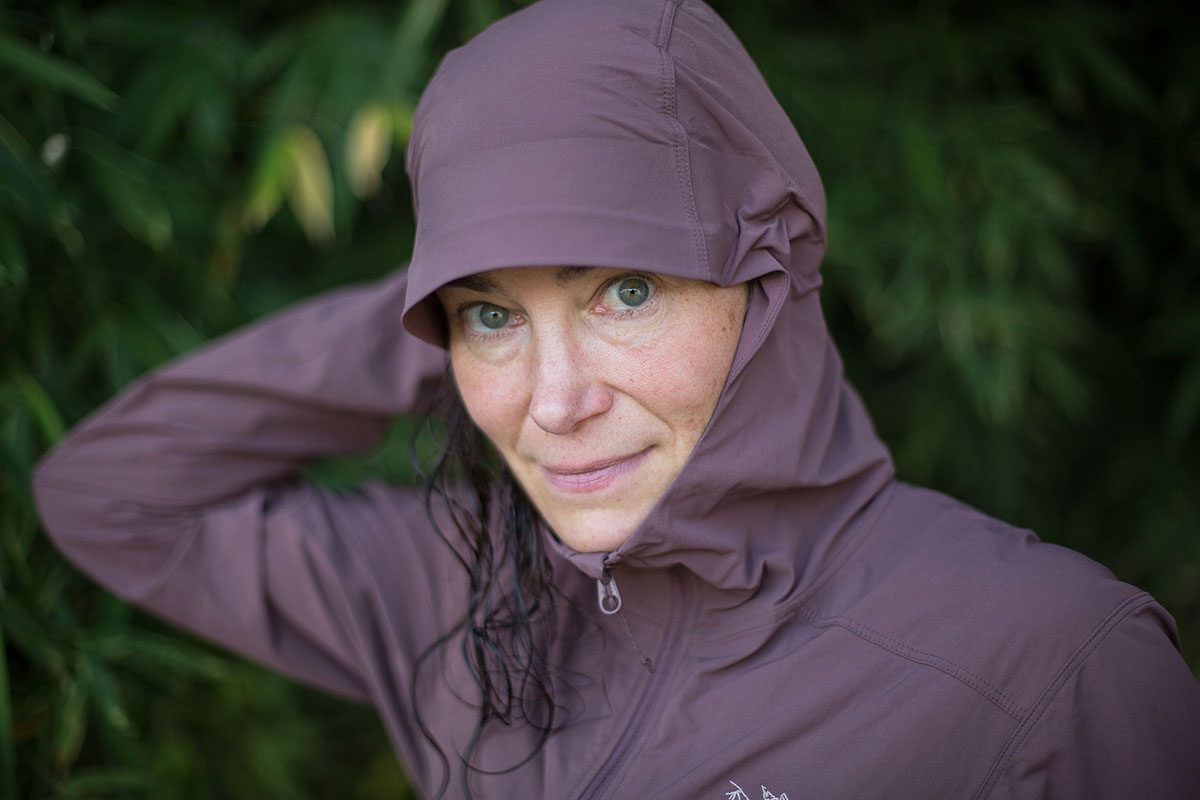 Outside of Arc'teryx's lineup, Black Diamond's Alpine Start Hoody is another one of our favorite softshells for its light weight and impressive all-around versatility. Clocking in at a scant 6.7 ounces, the Alpine Start undercuts the Gamma SL by around 2 ounces but adds features like helmet compatibility and adjustability at the hem. The BD also stows in its own chest pocket, although it forgoes hand pockets. Both have decidedly thin builds and are excellent breathers, although the Gamma SL is slightly stretchier and more mobile (the BD uses 7% elastane). That said, we consider the Alpine Start to be the more well-rounded ultralight pick, and it doesn't hurt that it costs significantly less at $165.
Another stretchy softshell that nicely toes the line between casual and performance use is Patagonia's R1 TechFace Hoody. Right off the bat, we'll note that construction between the two is different: while the Gamma SL uses a supple and smooth outer fabric, the Patagonia adds a soft fleece backer to boost warmth and breathability. Patagonia managed to keep weight low at 11.9 ounces, and the R1 also includes a hem adjustment and additional pocket on the interior (the hand pockets are also harness-compatible). In the end, a decision between the two will come down to how and where you plan to spend your time: for cold-weather adventures like climbing, hiking, and backcountry skiing, the R1 is a great choice and will save you around $45; for high-output adventures in milder conditions or when weight and packability are the main priorities, go with the Gamma SL.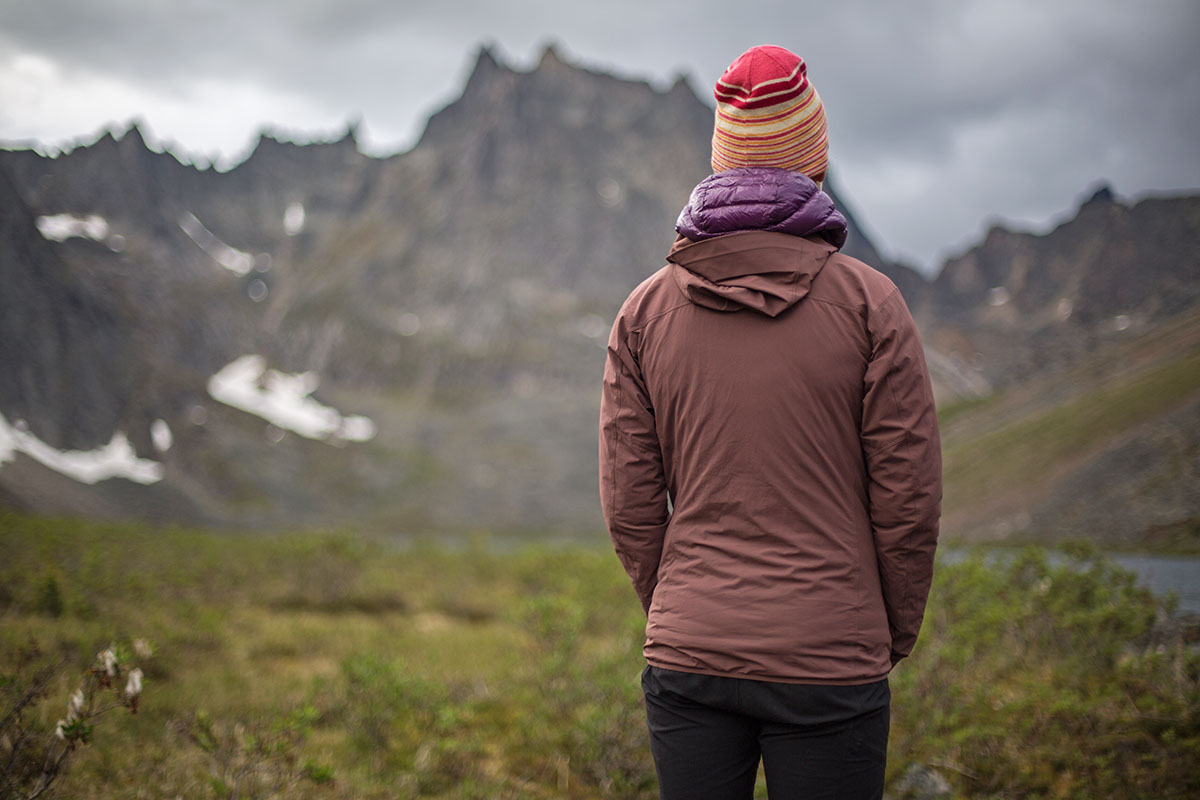 A final option to consider again comes from within Arc'teryx own lineup: the Sigma SL Anorak. The Sigma is the more focused piece with a helmet-compatible hood, single exterior pocket, dual hem adjusters, and a "Hemlock" that secures the jacket underneath a harness. However, the Gamma SL gets the edge in versatility with better around-town appeal (the anorak style isn't our favorite for wearing casually), and it's also slightly lighter at 8.4 ounces versus the Sigma SL's 9.3-ounce weight. Both jackets have a trim, flattering fit that works well for active use, are highly wind-resistant, and offer great breathability. We give the nod in our softshell round-up to the Gamma SL for its lighter weight and greater crossover appeal, but the Sigma SL has its place for climbers wanting comfort, weather resistance, and breathability in a lightweight package.
If you're thinking about buying gear that we've reviewed on Switchback Travel, you can help support us in the process. Just click on any of the seller links above, and if you make a purchase, we receive a small percentage of the transaction. The cost of the product is the same to you but this helps us continue to test and write about outdoor gear. Thanks and we appreciate your support!
Depending on the seller, most products ship free in the United States on orders of $50 or more. International shipping availability and rates vary by seller. The pricing information on this page is updated hourly but we are not responsible for inaccuracies.
Read More From Switchback Travel