Arc'teryx has built their reputation around technical outerwear, which makes the casual Covert Cardigan a bit of an outlier. But this fleece has been a long-time favorite for a reason: its fit, build quality, and styling are top-notch, making it a comfortable and versatile option for everything from daily wear to light outdoor use. You're undeniably paying a premium for the brand name, and we wish the Covert included a chest pocket, but its otherwise fantastic design makes it our current favorite fleece jacket on the market. Below we outline our experiences with the Covert Cardigan. To see how it stacks up to the competition, see our article on the best fleece jackets.
 
---
Table of Contents
---

Performance
Warmth
As its name indicates, the Arc'teryx Covert Cardigan breaks with tradition with a fleece design that mimics a wool sweater on the exterior. But despite the heathered look from the Alpenex II polyester, the jacket insulates much like a midweight fleece: you get ample warmth for most shoulder-season days, and layered under a shell, it's a very effective insulator for resort skiing. Further, unlike many casual-oriented fleeces, the Covert excels for light to moderate outdoor activities like hiking and backpacking. In fact, it was a near-ideal match for an early-season backpacking trip in Washington State's Hoh Rainforest, with temperatures ranging from the low 40s to low 50s Fahrenheit during the day. And the semi-trim fit makes it easy to wear as either an outer or midlayer.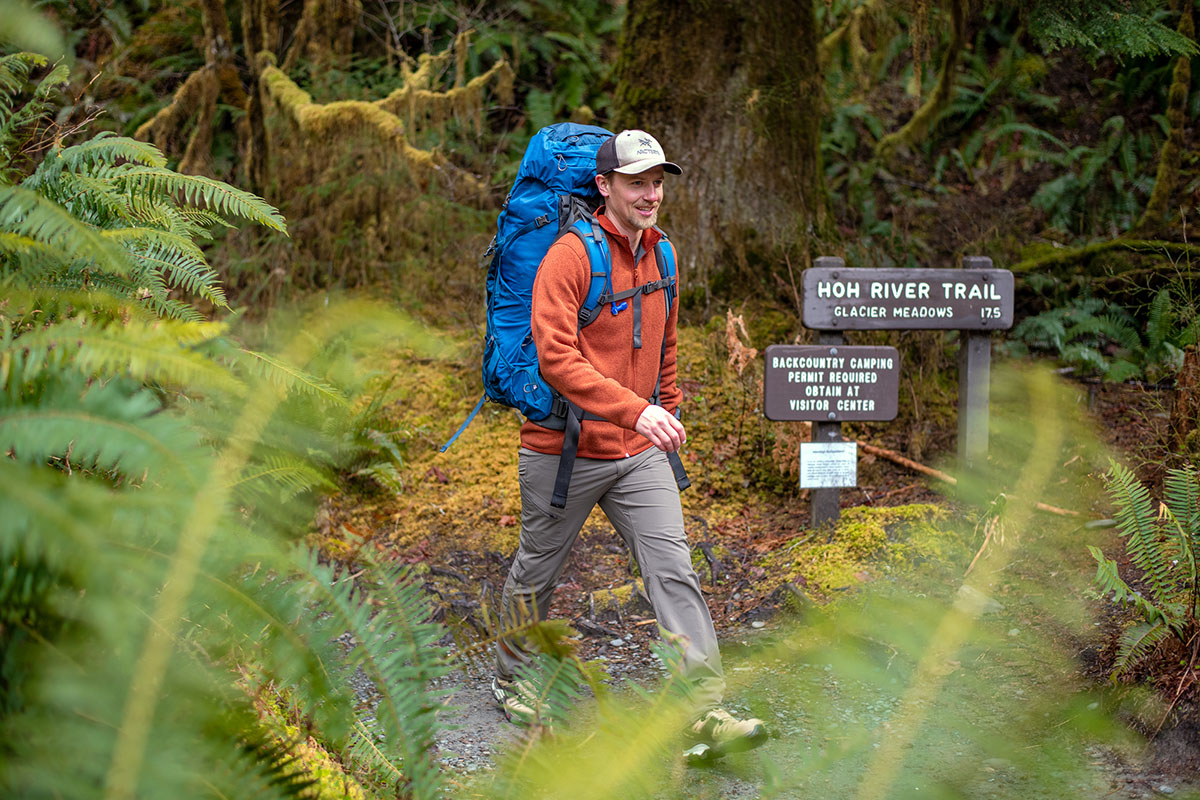 To be clear, the Covert Cardigan isn't a winter-ready piece—unless you live in a place with mild winters like Seattle—and you can get better warmth for the weight with a synthetic or down jacket. But I found myself grabbing the Covert a lot more often than expected, particularly in late winter and early spring when a down jacket would have been overkill as temperatures climbed throughout the day. This is when the jacket's wider comfort range—fleece breathes better than down and synthetic—really helped out.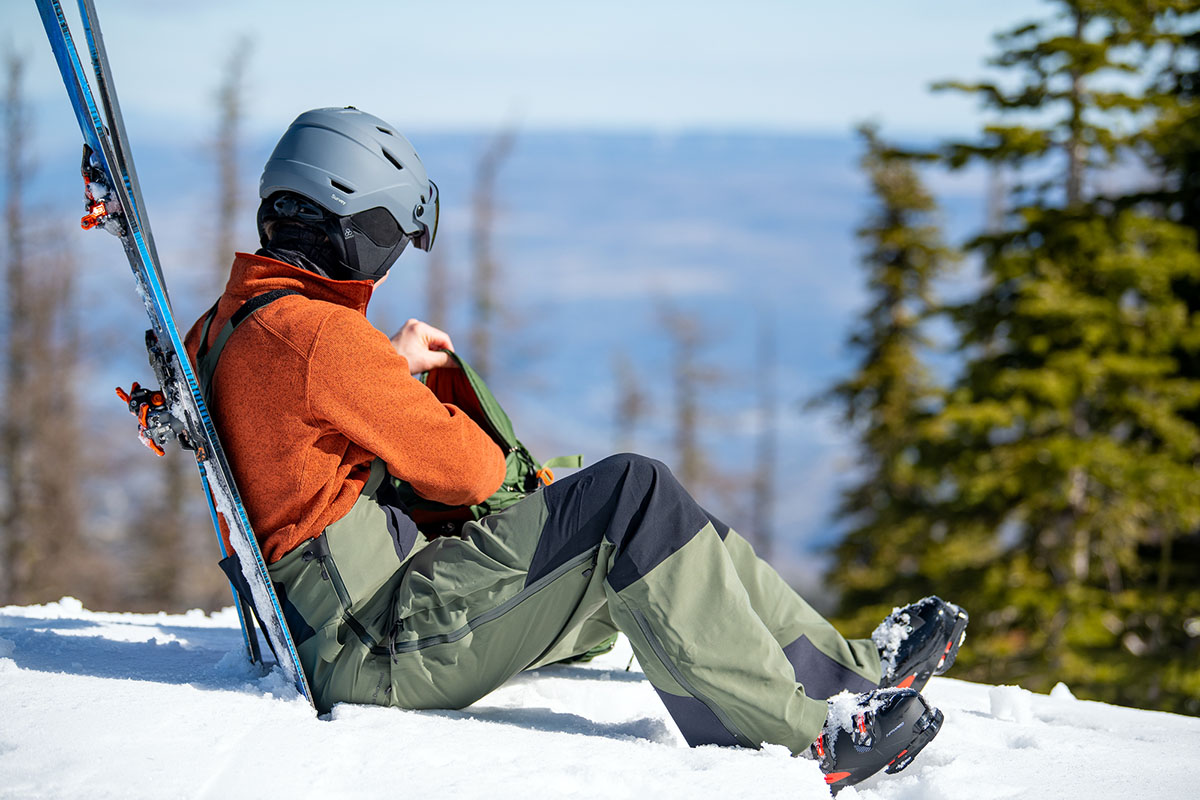 Comfort and Mobility
With a fantastic fit, stretchy construction, and cozy interior, the Covert Cardigan is an exceptionally comfortable jacket. As I mentioned above, the non-bulky cut makes it a great choice for wearing over just a t-shirt, and its fairly low-profile build meant it was easy to wear as a resort skiing midlayer too. As expected from a premium brand like Arc'teryx, all other touch points have a plush feel as well, from the interior of the pockets and moderately stretchy cuffs and hem to the smooth lining on the collar.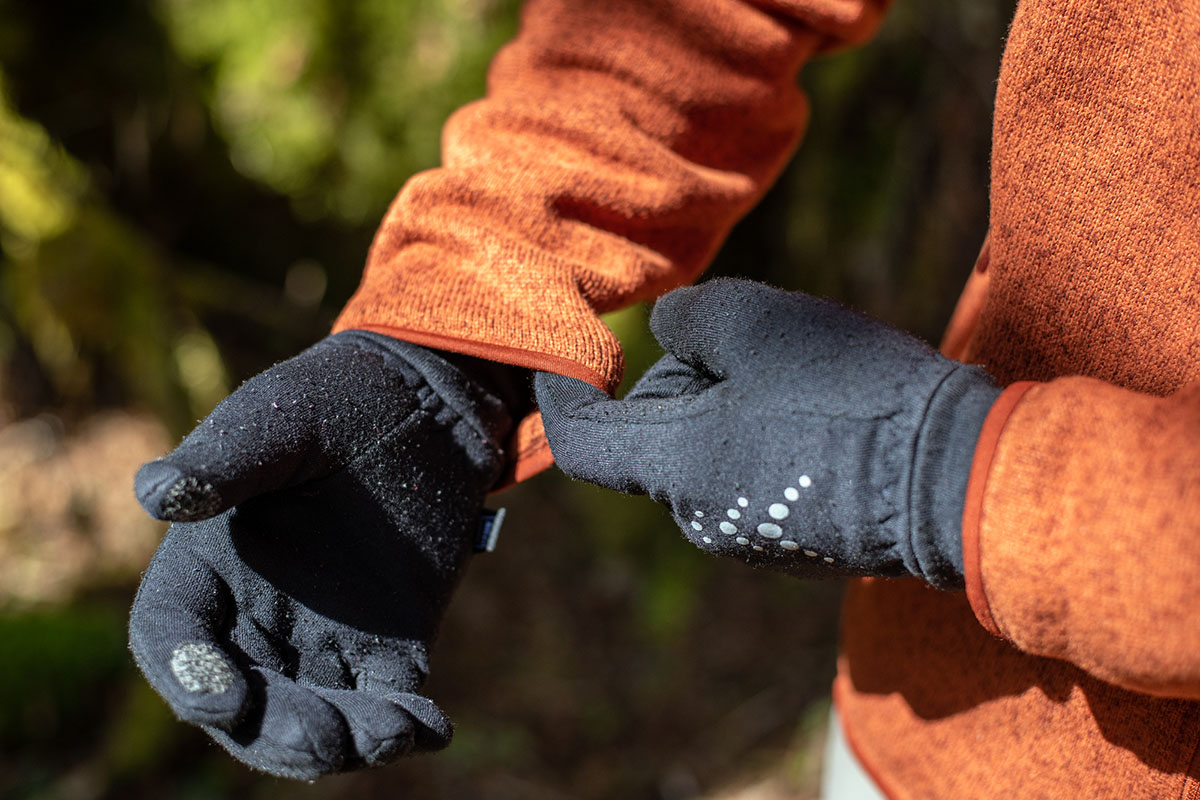 My only nitpick with the design is that the lack of waist cinch means the Covert has a tendency to bunch up under a backpack hipbelt. It was less of an issue with a lighter daypack, but hauling a loaded 65-liter bag on our overnight trip into the Hoh Rainforest exacerbated the problem, and I caught myself pulling down on the jacket fairly frequently. Realistically, this won't be a major issue for most, but it did highlight one of the weaknesses of the more casual design.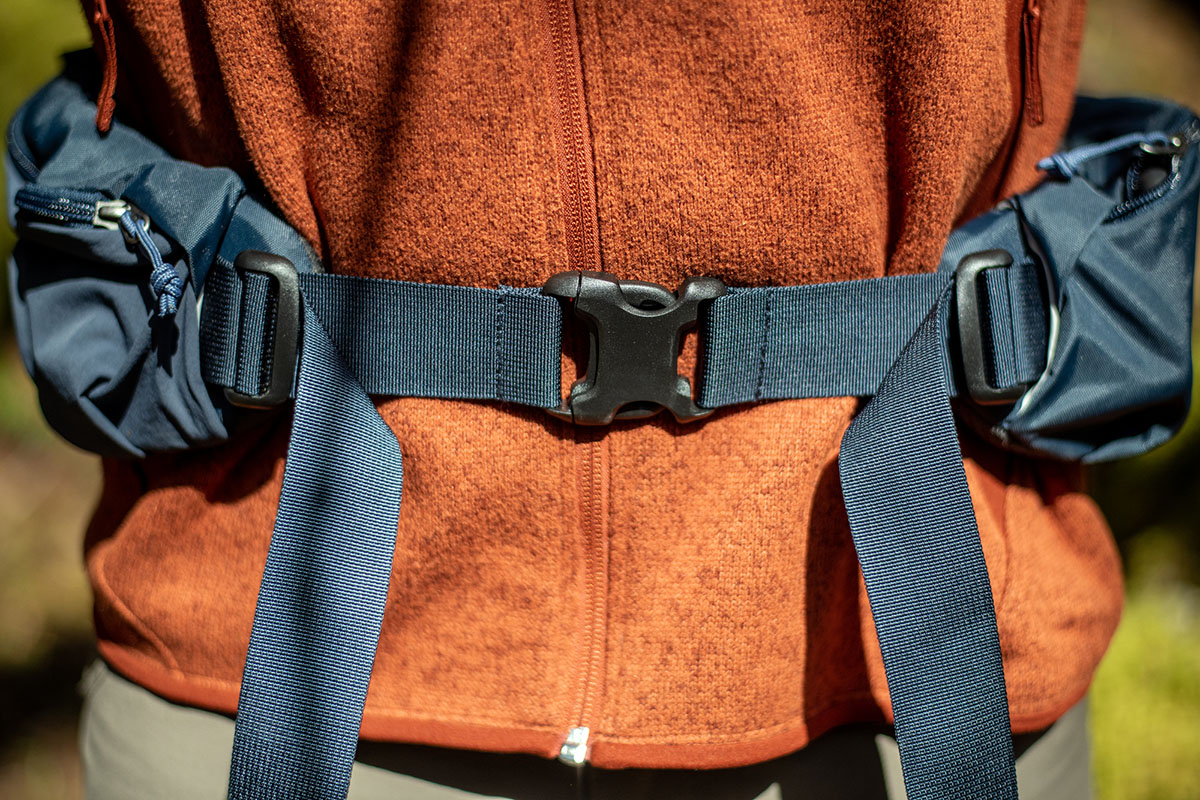 Weather Protection
Fleeces are by nature pretty porous—hold one up to the sun and plenty of light will be visible—but the Covert Cardigan has proven to be slightly more protective than expected. The front of the jacket has an additional mesh-like layer, which helps both with breathability (more on this below) and lightly boosts wind resistance. Wearing it back-to-back with a non-lined alternative like the Patagonia Better Sweater, the difference was immediately noticeable. That said, the lining is only at the front and therefore offers limited protection, so you'll likely still want to add a shell overtop in gusty and chilly conditions. And it's a similar story in the wet: you can get away with wearing the Covert Cardigan for short stints in light moisture, but it doesn't take long for it to absorb and soak through.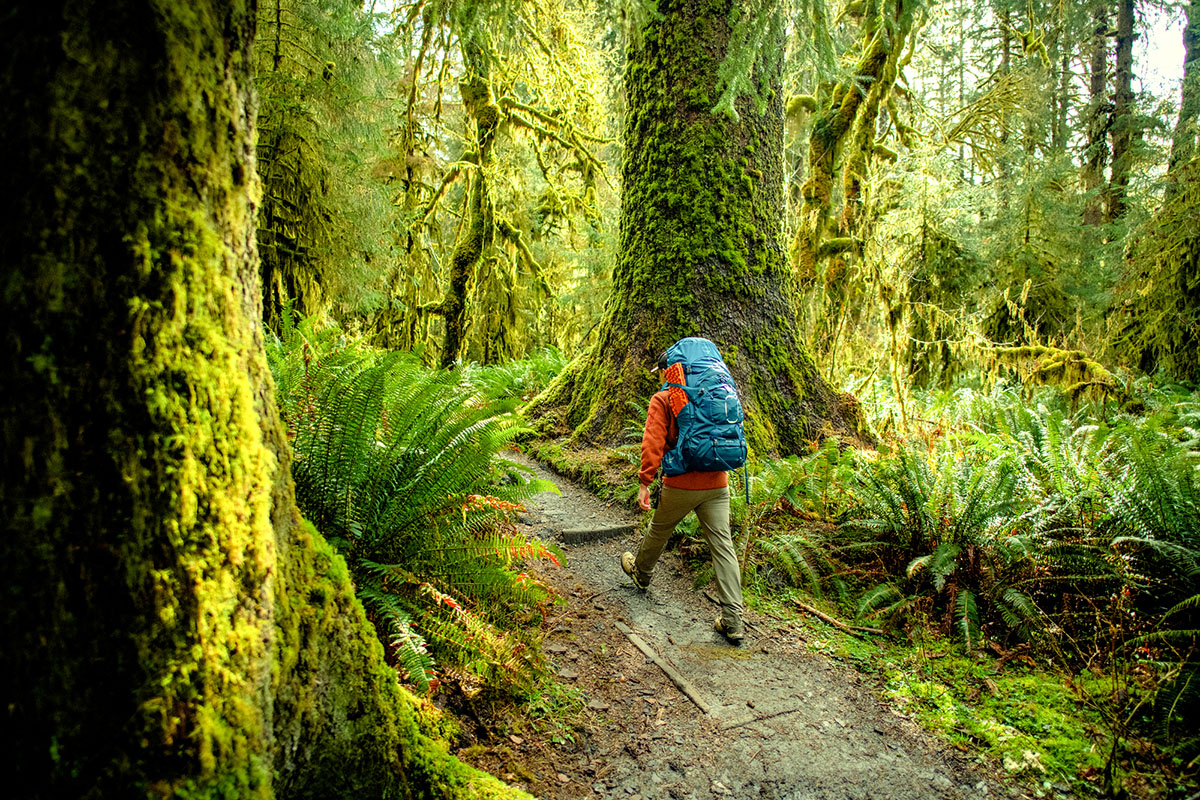 Breathability
The flipside to the Arc'teryx Covert Cardigan's modest protection is that I've found it to be a pretty good breather. A decent amount of air flows both ways through the heathered exterior, which means you're less prone to overheat—I found myself needing to shed the jacket less often than my down and synthetic pieces. It really excelled on our backpacking trip in particular, keeping me comfortable despite some high-effort hiking in very muddy and rocky conditions. The same held true while resort skiing: I rarely overheated even on short hikes into the sidecountry. And if you need to release even more hot air, the hand pockets have mesh backings (the same material that lines the front of the jacket), allowing you to unzip for a little added ventilation.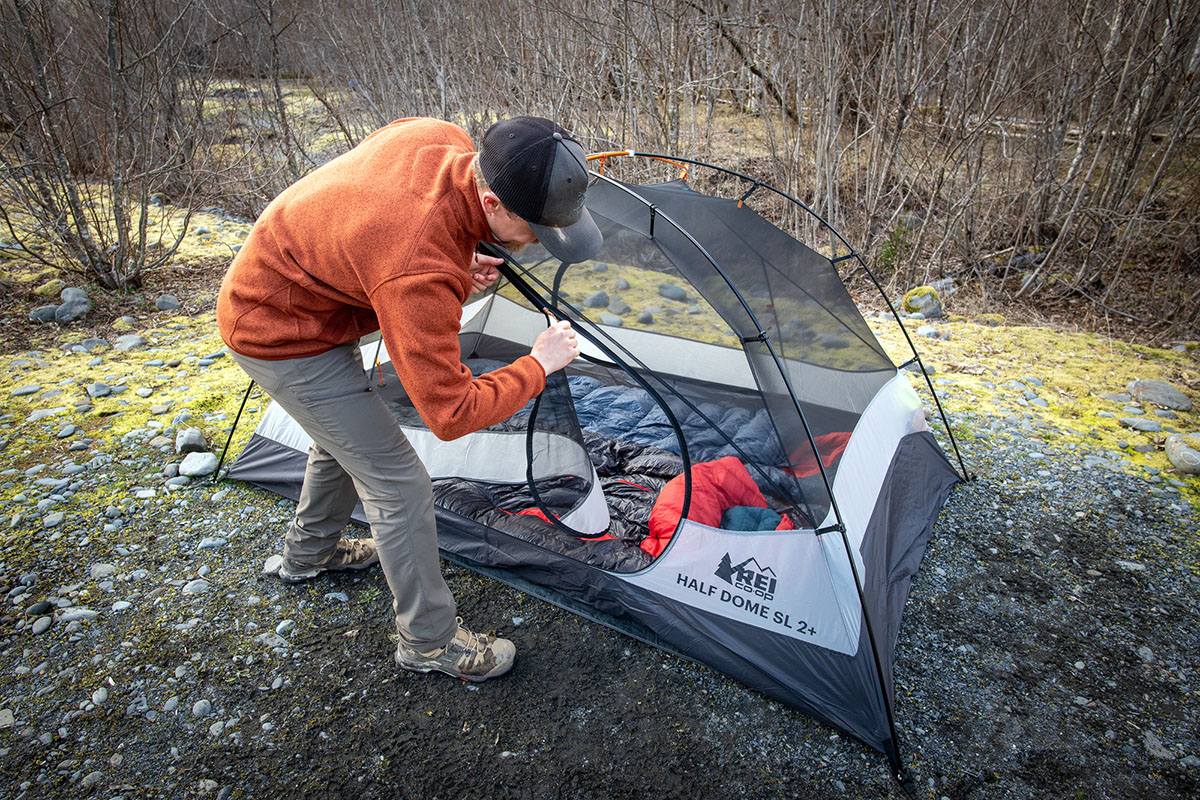 Weight
My men's medium checks in at 1 pound 2.7 ounces (listed weight is 1 lb. 2.9 oz.), which lines up nicely with other casual fleeces but is by no means a featherweight. It's a similar story with Patagonia's popular Better Sweater: both jackets are low-profile and don't feel like they weigh you down, but they don't compress well and are fairly bulky compared to more backcountry-ready designs. For comparison, direct competitors including the aforementioned Better Sweater (1 lb. 6.5 oz.), Kuhl's Interceptr (1 lb. 3.2 oz.), and Fjallraven's Keb Fleece (1 lb. 2 oz.) are all pretty similar in weight. As I mentioned, you can go lighter with a more performance-focused alternative like Arc'teryx's own Delta LT Jacket (9.3 oz.) or the heavier Delta MX (12.6 oz.), but both of those options don't wear as well around town. In the end, it's up to you whether or not that tradeoff is worth the weight savings.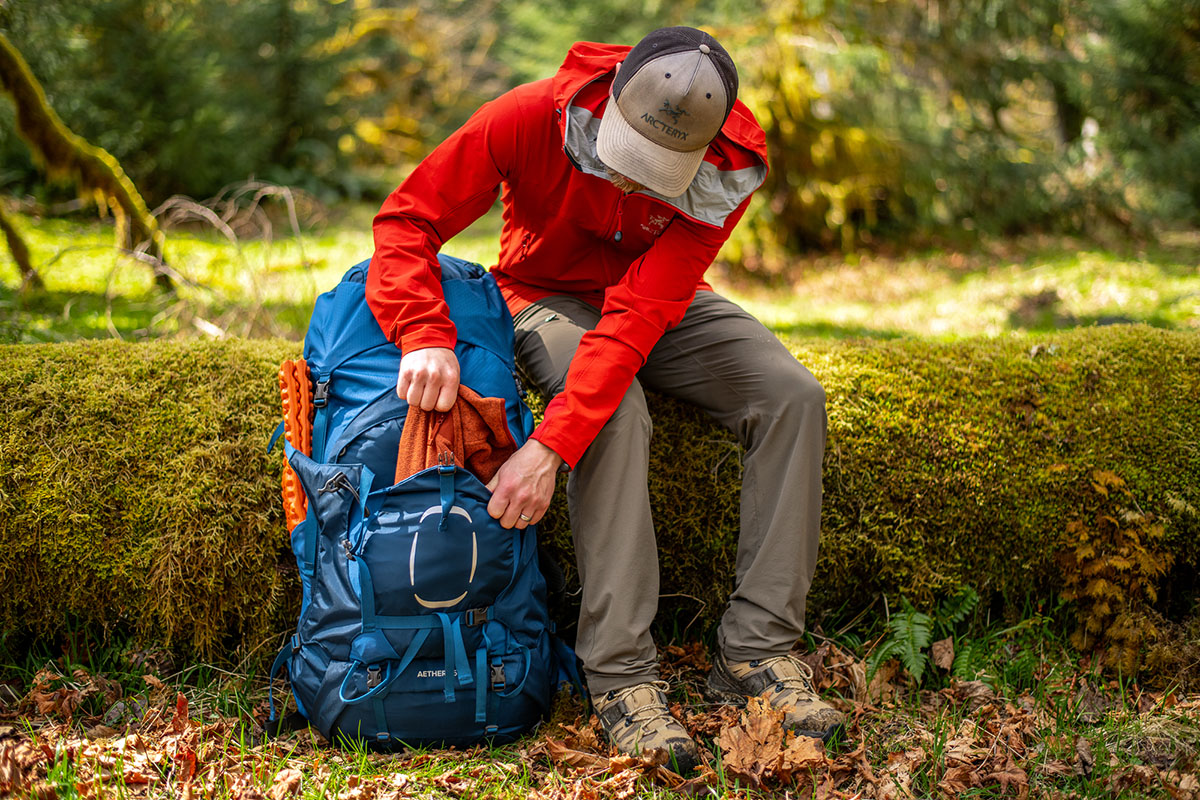 Build Quality and Durability
Like most fleece jackets, pilling can be a challenge with the Covert Cardigan. That said, it has held up noticeably better than the Patagonia Better Sweater that we've been testing alongside it for about three months. Taking a close look at the exterior, there aren't any signs of wear yet, and the rest of the build is holding up perfectly. The zippers haven't had any hiccups, the soft-touch polyester along the collar is in great shape, and the hem and cuffs haven't lost their elasticity. In the end, pilling is a reality with the fleece design, and the Covert Cardigan is not exempt from the issue over time. But based on my experiences thus far, it's a reasonably hardwearing and long-lasting piece (and I will follow up and update this review if that changes).

Key Features
The Arc'teryx Covert Cardigan boasts a very simple feature set including two hand pockets, a small zippered pocket on the left arm, and no adjustments at the hem or cuffs. I have no complaints about the hand pockets, which sit at a comfortable height and are plenty large, but I did find myself missing a chest pocket. I often use my midlayer for storing my phone while resort skiing, which made me prefer Patagonia's Better Sweater (which does include a large chest pocket) for this use. Of course, adding a chest pocket would detract from the Covert's wool sweater-like look, but it would offer more practical storage than the sleeve pocket, which is only large enough to realistically stow small, low-profile items like a credit card, license, car key, or ski pass.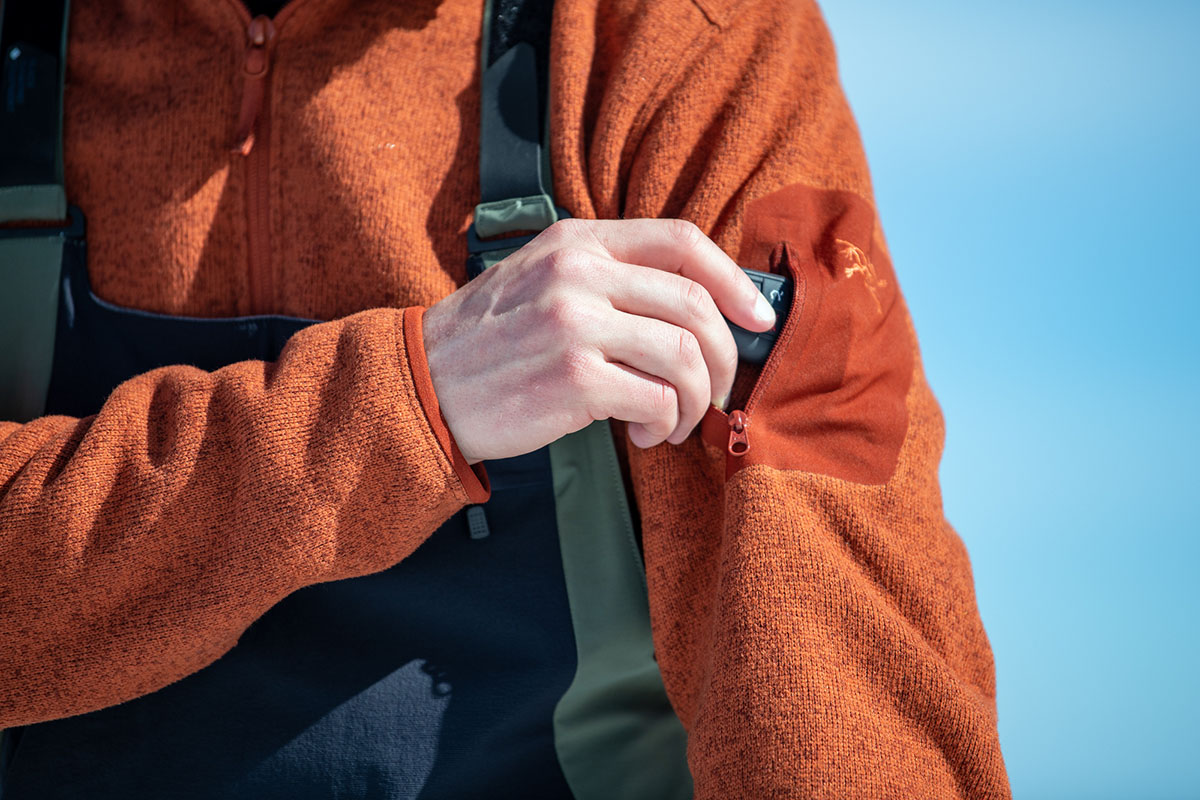 Fit and Sizing
With only a couple exceptions, Arc'teryx usually nails the fit part of the equation, and that has certainly held true with the Covert Cardigan. They list it as a "regular" cut, but I would describe it as semi-trim. For reference, at 5'9" and 155 pounds, I typically am a medium in Arc'teryx apparel, and that size in the Covert is spot-on for me for casual and light outdoors wear. It's easy to add a thicker baselayer underneath (Smartwool's 250-weight 1/4-Zip) without restriction, and the fit is consistent and comfortable in the shoulders and arms. Finally, the 27.4-inch back length, which lands a couple inches below my waist, hits a nice balance for wearing as either an outer or midlayer.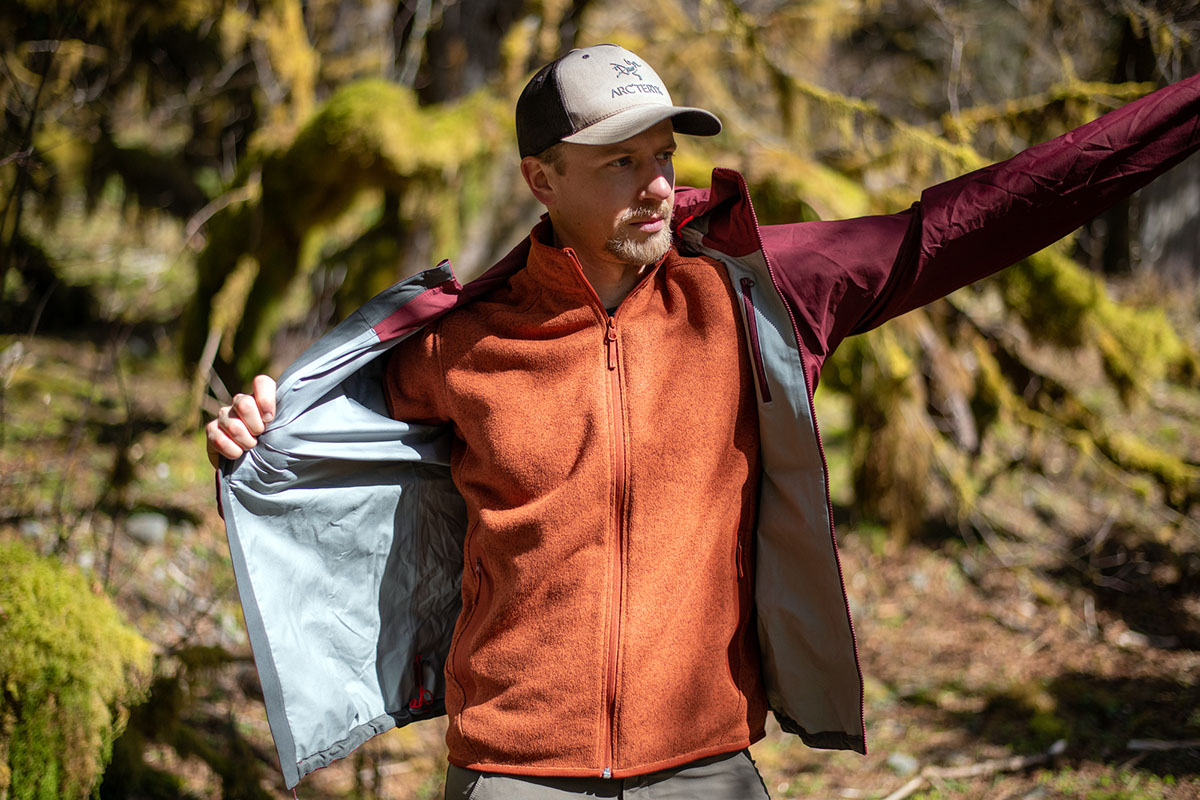 Other Versions of the Arc'teryx Covert
We put the men's Covert Cardigan through its paces for this review, and Arc'teryx makes a few other variations in the lineup. These include a vest ($139) and hoody ($199) available in both men's and women's styles, as well as a men's-specific 1/2 Zip Neck design ($139) and women's-specific Covert Sweater ($119). Depending on your preferences on styling and layering, the 1/2-zip and hoody have a good amount of appeal, but the standard cardigan tested here still strikes us as the most versatile option of the bunch. Rounding out the collection, Arc'teryx also sells a Covert Beanie for $35, which uses the same heathered polyester as the rest of the offerings.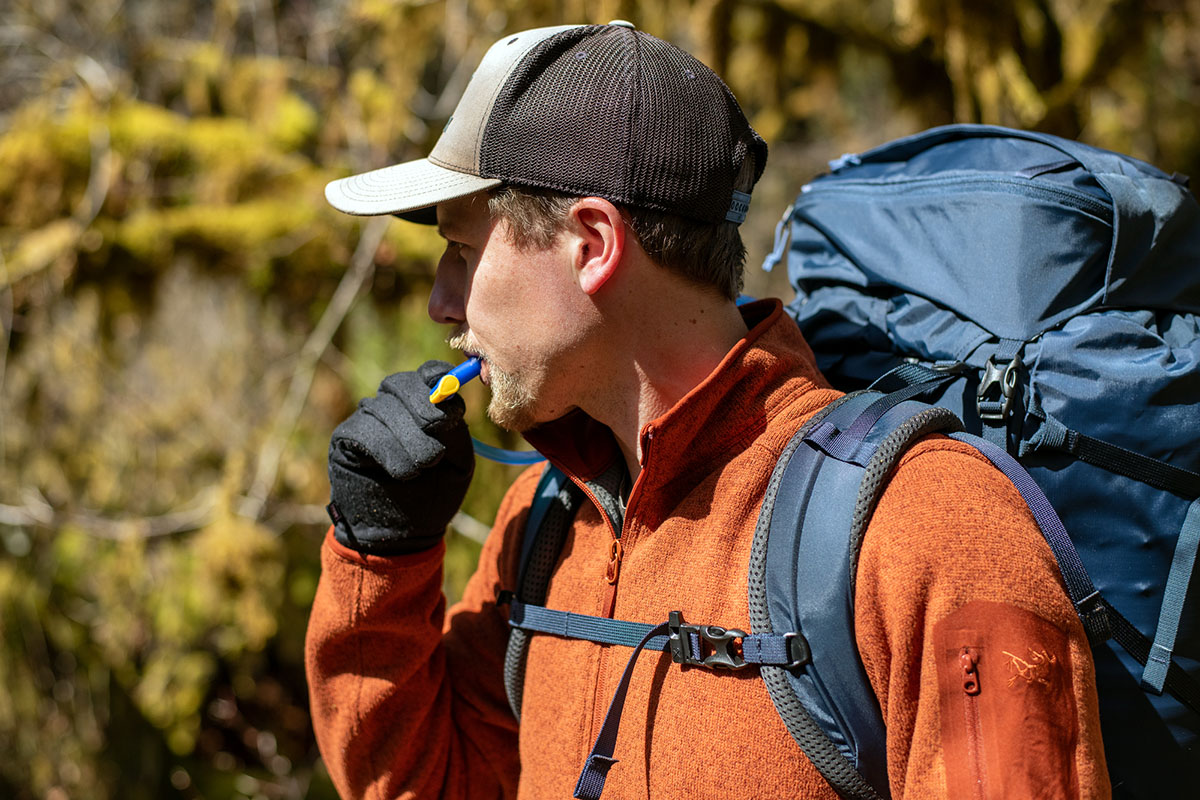 What We Like
Ample shoulder-season warmth and great versatility: the jacket excels for light to moderate outdoor uses like hiking and backpacking, nicely layers under a shell for resort skiing, and wears very well around town.
Fantastic fit, stretchy construction, and cozy interior make the Covert an exceptionally comfortable jacket.
A decent amount of air flows both ways through the heathered exterior, and the mesh backings along the pockets mean you're less prone to overheat while working hard.
The Covert offers slightly better weather protection than expected, with an additional mesh-like layer at the front to boost wind resistance.
Semi-trim fit makes it easy to wear as either an outer or midlayer.

What We Don't
Arc'teryx included a small sleeve pocket rather than a chest pocket, which is a downside for those who like to stow larger items like their phone in a chest pocket.
Lack of waist cinch means the jacket has a tendency to bunch up under a backpack hipbelt, which was especially noticeable with a heavier pack.
At $179, the Covert is fairly pricey for a midweight fleece.
Not a winter-ready piece, and you can get better warmth and protection for the weight with a synthetic or down jacket.


Comparison Table
The Competition
Combining impressive build quality, styling, and warmth in a good-looking and versatile design, Arc'teryx's Covert Cardigan is our favorite fleece jacket currently on the market. However, there are a number of formidable competitors in 2021, and another leading option is Patagonia's popular Better Sweater. Stacked up against the Arc'teryx, the Patagonia is a little heavier at 1 pound 6.5 ounces, not as soft, has a less consistent fit with some tightness at the arms, and is less of a wind blocker with no liner at the front. On the flipside, the Better Sweater includes a chest pocket that can easily stow a phone—a major boost in convenience, in our opinion—and costs $40 less at $139. Again, we think the Covert is the better-built and more comfortable fleece, but the Patagonia's chest pocket and savings undeniably are enticing (for more, see our in-depth Better Sweater review).
Another Patagonia fleece to consider comes from their Regulator series: the R2 Fleece Jacket. The R2 is more performance-focused than both the Covert and Better Sweater with a lighter build (13.4 oz.) but healthy dose of warmth from the high-loft Polartec Thermal Pro fleece material. The stretchy side and underarm panels also give it good overall mobility and breathability for activities like climbing and hiking, and the technical fit makes it easy to layer under a shell or wear with a pack. That said, the R2 has far less everyday appeal due to the aforementioned paneling and fur-like fleece, making the Covert our preferred option for around-town use. For backcountry outings, however, the Patagonia gets the clear edge.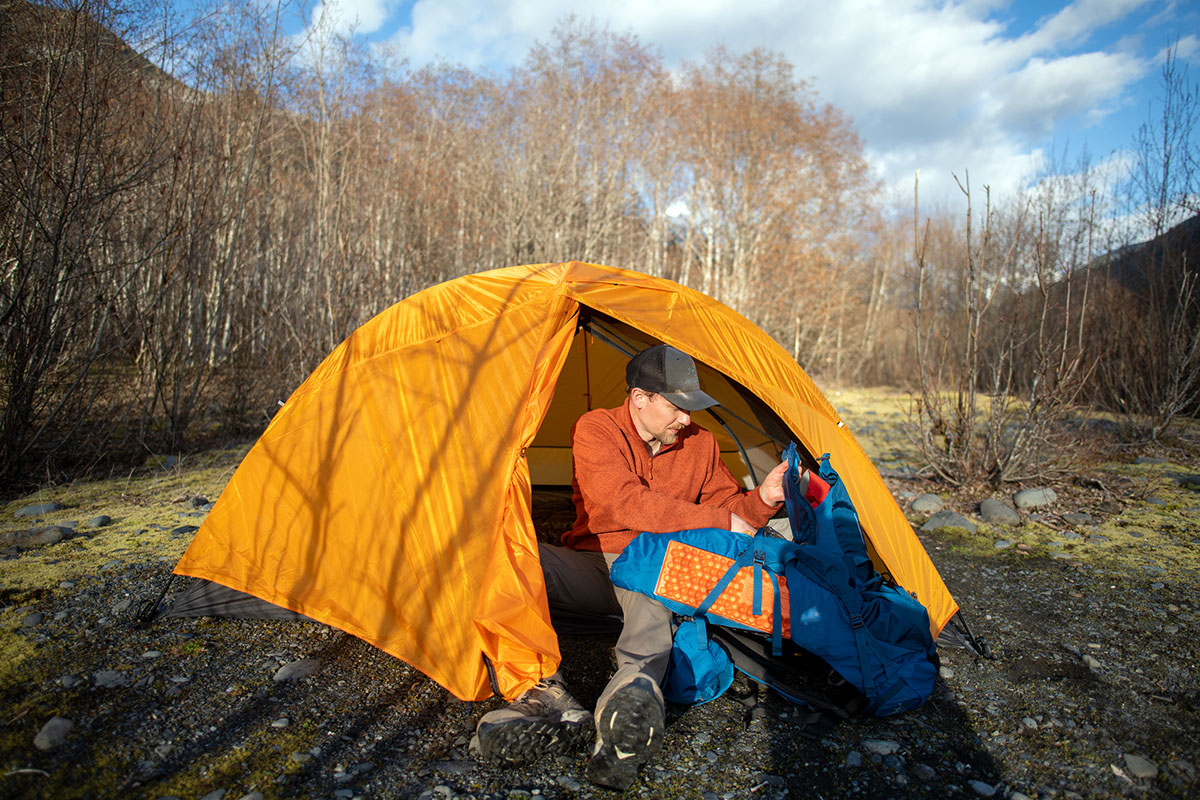 Swinging back toward the casual end of the spectrum, Kuhl's Interceptr is another around-town-friendly design and an excellent value at $129 (a considerable $50 less than the Arc'teryx). We especially love the athletic fit and generous storage, which includes four total pockets, as well as handy features like articulated sleeves for added range of motion. However, the Kuhl's thumb loops and dual chest pockets strike us as a little polarizing from a styling perspective, and not everyone will love the more utilitarian look. Finally, the Covert gets the nod in terms of both warmth and wind resistance thanks to its additional mesh-like layer at the front. Again, the Interceptr is a strong value and likely will be enough jacket for many, but it's hard to beat Arc'teryx's top-notch styling and quality.
Speaking of premium outdoor brands, Fjallraven offers another intriguing alternative to the Covert in their Keb Fleece Jacket. Like the Covert, the Keb doesn't come cheap at $185 but boasts a decidedly high-end look and feel. In this case, you get a blend of polyester and wool, which offers a nice mix of warmth, mobility, and moisture-wicking capabilities. Like many of their offerings, the Keb also utilizes the brand's signature G-1000 material to boost tear resistance and durability (it's used only at the shoulders), and the hood offers a good boost in coverage and protection. The Covert is the more everyday-friendly piece with classier and more subtle styling, but for more technical pursuits that require the use of a hood or its added durability, the Keb makes a lot of sense.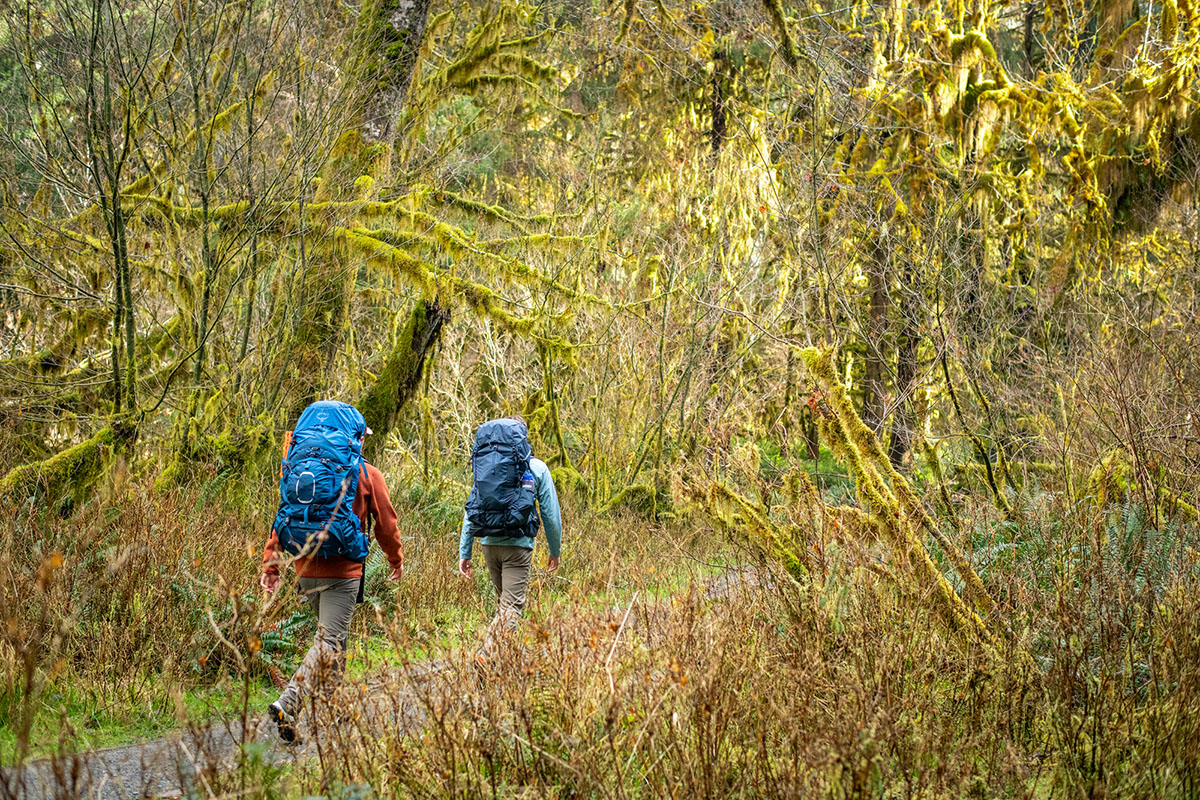 Last but not least is a technical alternative from within Arc'teryx's own lineup: their Delta MX Hoody. As we touched on above, the Delta MX (short for "mixed weather") is the more backcountry-friendly design with a lower weight (12.6 oz.), functional under-the-helmet hood with a dual neck gaiter/full-face balaclava, and articulated patterning and gusseted underarms for great range of motion. It's also a great breather for high-output activities with Polartec's air-permeable PowerDry fabric, and the trim fit layers nicely under a shell. As far as downsides go, the Delta MX runs too warm for highly aerobic activities in mild weather, and protection not surprisingly falls short in sustained moisture. In the end, the two Arc'teryx jackets have very different intentions: For casual wear and moderate outdoor use, the Covert is the better pick. If you're looking to bring your fleece into the backcountry regularly, we'd go with the lighter and more purpose-built Delta MX.
If you're thinking about buying gear that we've reviewed on Switchback Travel, you can help support us in the process. Just click on any of the seller links above, and if you make a purchase, we receive a small percentage of the transaction. The cost of the product is the same to you but this helps us continue to test and write about outdoor gear. Thanks and we appreciate your support!
Depending on the seller, most products ship free in the United States on orders of $50 or more. International shipping availability and rates vary by seller. The pricing information on this page is updated hourly but we are not responsible for inaccuracies.
Read More From Switchback Travel