Arc'teryx Cerium SV Hoody
Price: $575
Weight: 13.1 oz. (women's small)
Fill: 4.9 oz. of 850-fill down
What we like: Very warm for its weight and can be worn as an outer layer in light to moderate precipitation.
What we don't: Incredibly pricey and thin face fabric is prone to tears.
See the Women's Arc'teryx Cerium SV  See the Men's Arc'teryx Cerium SV
Sitting at the top of Arc'teryx's Cerium down jacket collection is the SV, which is short for "severe weather." With synthetic insulation in moisture-prone areas, a DWR coating, and hood and hem adjustability, the Cerium can be worn as a standalone jacket in mild conditions or a midlayer on truly frigid days. We put the women's version to the test in the variable Pacific Northwest—including damp coastal storms and cold winds in the northern Cascades—and were impressed by how much warmth Arc'teryx packed into such a light piece. Below we break down the performance of this pricey but well-executed design. To see how the Cerium SV stacks up to the competition, see our article on the best down jackets.
 
---
Table of Contents
---

Performance
Warmth
Dubbed the warmest midlayer in Arc'teryx's lineup, the Cerium SV Hoody is a cozy and pleasant place to be on cold winter days. Throwing it on, I feel as though I've crawled into a premium down sleeping bag. With 4.9 ounces of high-quality 850-fill down in the women's jacket (5.7 in the men's) and sections of synthetic insulation in moisture-prone areas, it's competitive with other midweight designs like Patagonia's Fitz Roy (4.5 oz. of 800-fill down) and a notable step up in warmth from popular lightweight models like Arc'teryx's own Cerium LT (3 oz. of 850-fill) and Feathered Friends' Eos (2.8 oz. of 900-fill). With proper layering, it's realistic that you can be comfortable with the SV down into the teens Fahrenheit, which makes it an appealing option for everything from mountaineering to backcountry skiing and winter camping.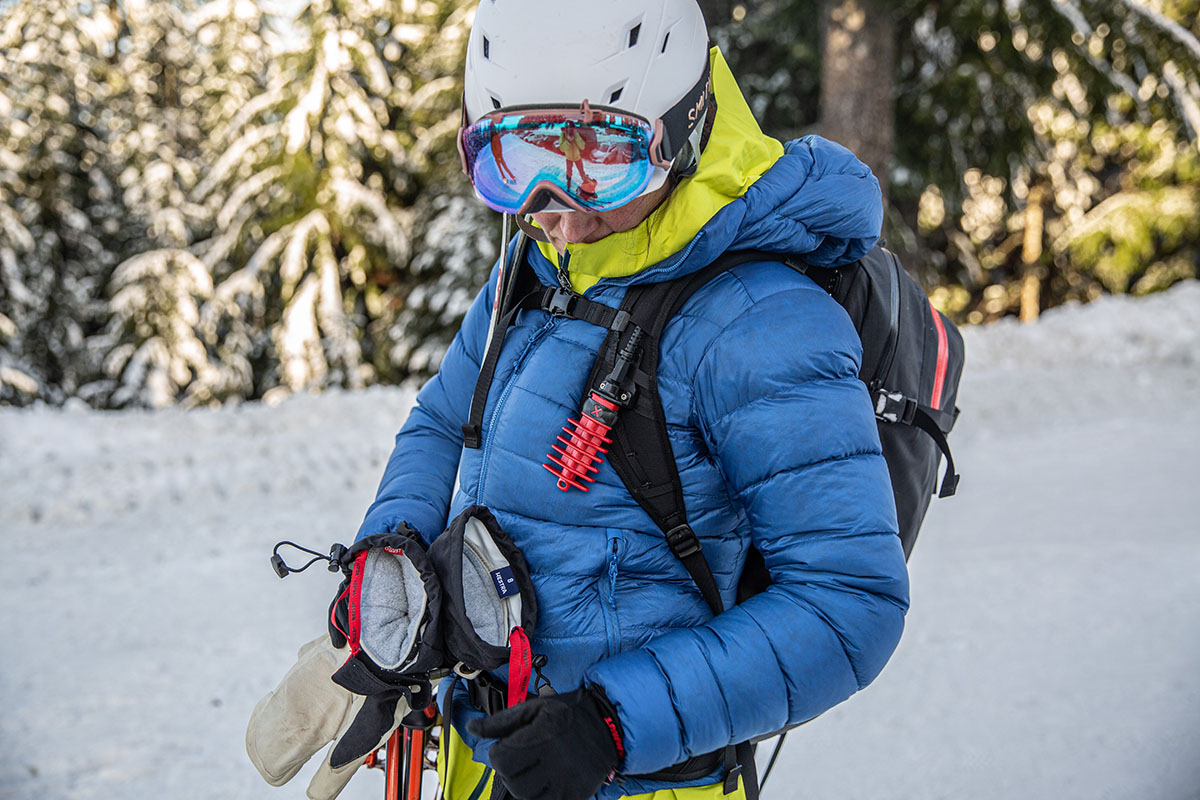 To help you retain body heat, Arc'teryx outfitted the Cerium SV with a few key protective features. First and foremost are the hood and collar, which provide excellent coverage and are nicely insulated to keep your head and neck toasty (and the collar in particular is noticeably plush and cozy against the skin). Additionally, a drawcord at the hem allows you to cinch the jacket tight at the waist, and the elastic cuffs are snug enough to prevent cold air from creeping in (and warm air from escaping). Added up, it's fairly easy to batten down the hatches.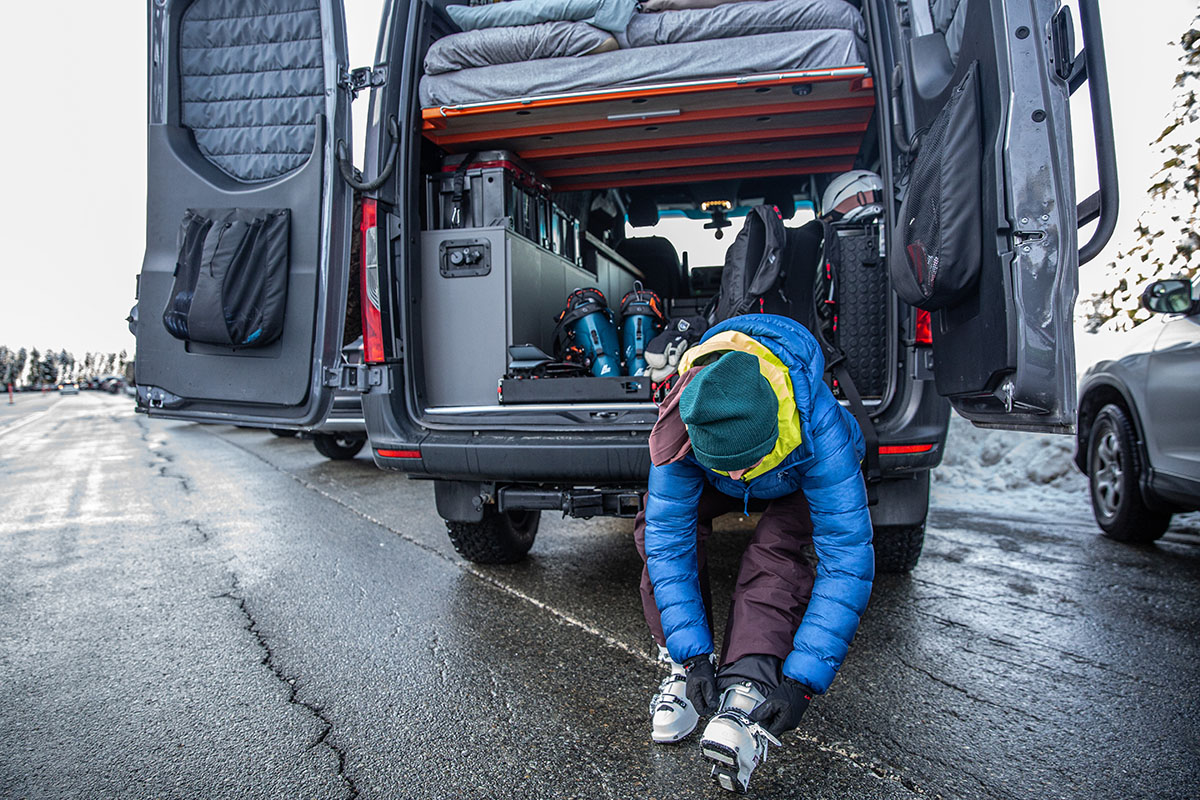 Weather Protection
Down jackets typically aren't effective barriers against the elements, but Arc'teryx added a few key features to boost the Cerium's weather resistance. As a first layer of defense, the jacket boasts a durable water repellent (DWR) coating, which helps light moisture like mist or dry snow bead up on the surface rather than soaking through. Inside, Arc'teryx added 80- and 140-gram Coreloft in areas prone to wetting out like the shoulders, underarms, cuffs, and front of the collar. Unlike down, synthetic insulation continues to insulate when wet, meaning it will keep you warm should moisture penetrate the outer shell.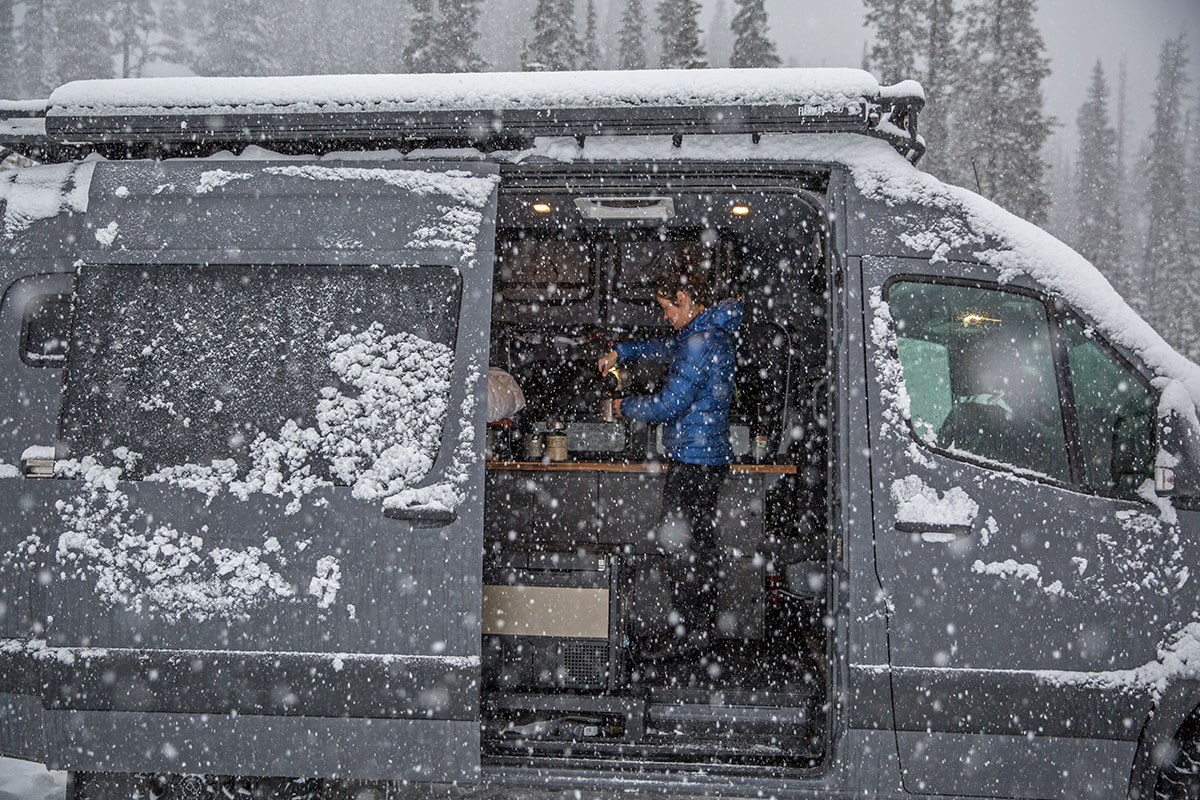 To be clear, I would not wear the Cerium in sustained rainfall and have been quick to throw on my hardshell jacket in rough conditions, but the synthetic fill and relatively protective exterior do provide a nice dose of security in light rain/snow or should you get caught in unexpected weather. And importantly, the Coreloft doesn't detract from overall comfort, and the entire jacket practically self-inflates when removed from its stuff sack—a testament to its high-quality, lofty build.
As far as wind resistance goes, the Cerium SV has proven to be quite a stalwart. On a crisp December day in British Columbia's Manning Park, we skinned up to a ridgeline and were immediately blasted by bitter gusts that took our breath away and had us frantically digging for layers in our packs. After hastily throwing the Cerium SV over my damp baselayer, I was shocked at how quickly I warmed up and how easily the jacket fended off the winds. As with all baffled down jackets, some air is able to creep through at the seams, but with the hood and hem cinched tight, the effect is minimal.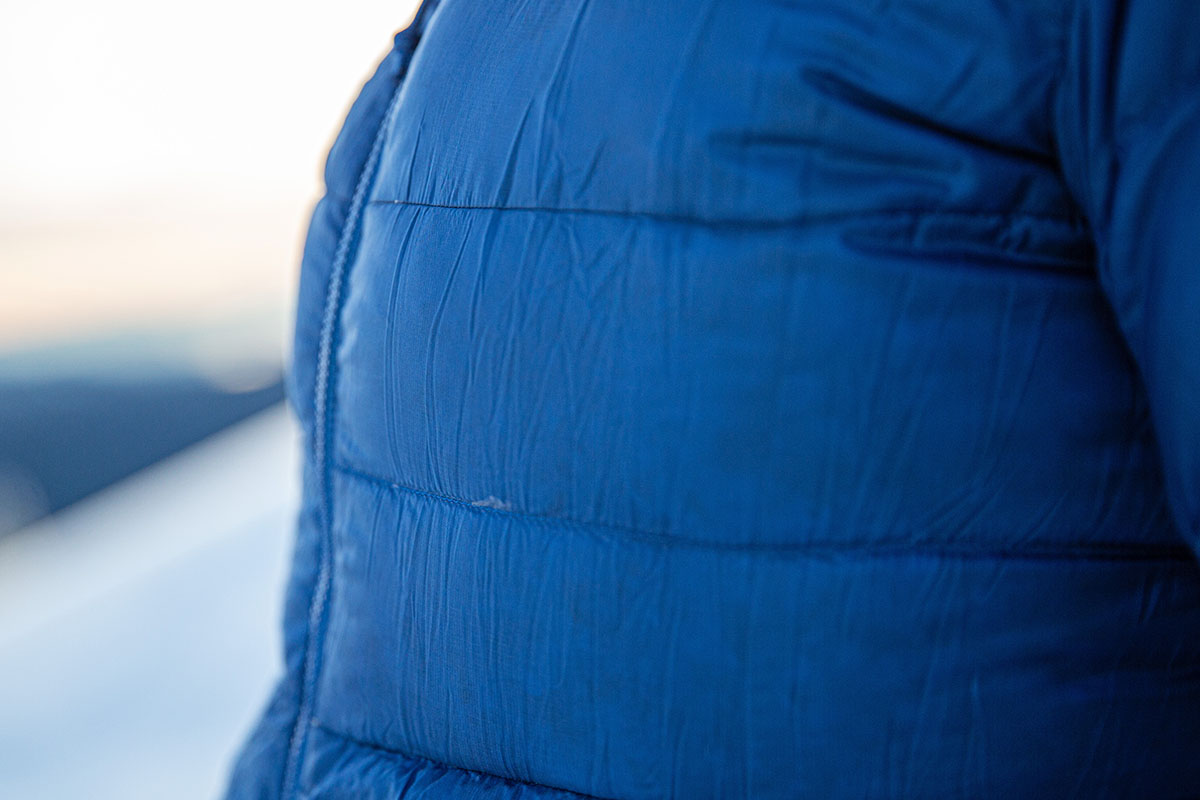 Weight and Packability
At 13.1 ounces for my women's small (the listed weight is 13.9 oz.), the Cerium SV is exceptionally light for the level of warmth it provides. Stacked up against its midweight competition, the aforementioned Patagonia Fitz Roy Hoody checks in at 14.8 ounces, Rab's Microlight Alpine is 14.6 ounces, and Mountain Equipment's Senja is a hefty 1 pound 4.1 ounces. And importantly, the Cerium is the only jacket in this grouping that uses synthetic insulation, which typically is heavier and less compressible than down. In other words, the Cerium is able to undercut most of its direct competitors in weight while also leading the pack in both warmth and protection.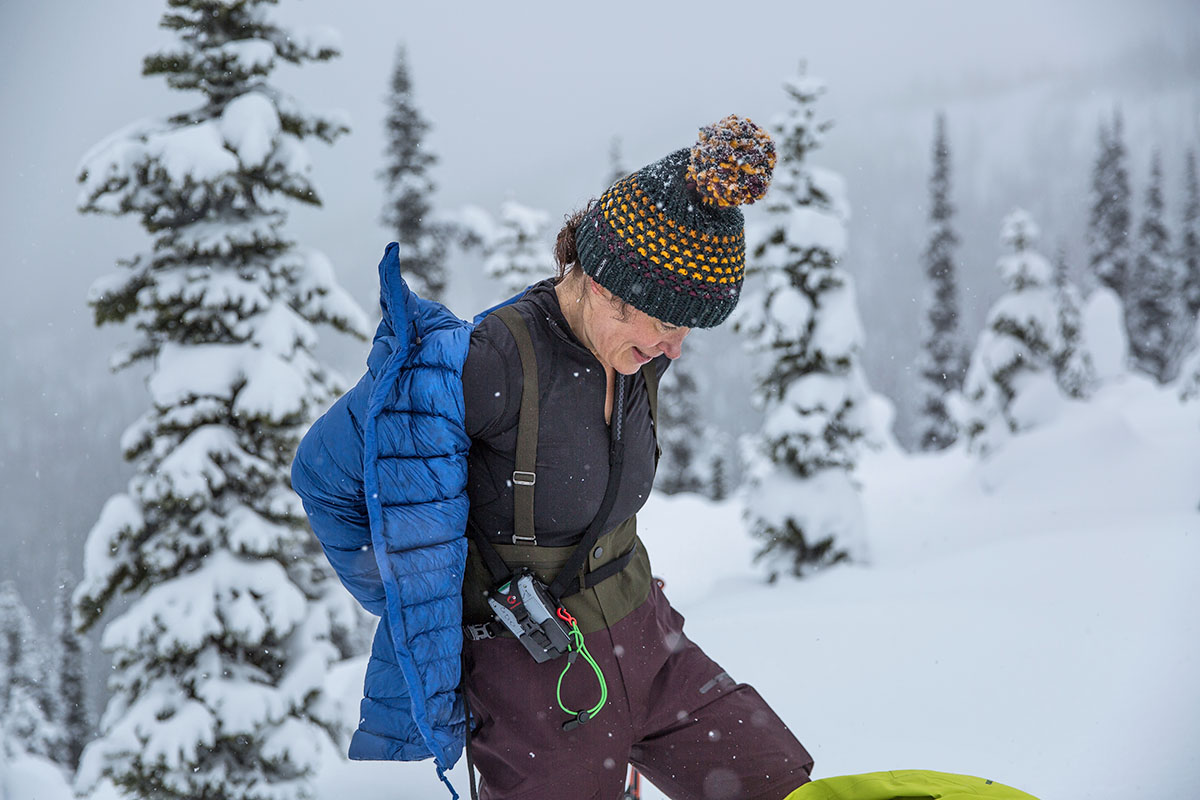 In terms of packability, the Cerium's high-quality down makes it easy to compress fairly small. For storage, the jacket comes with a generously sized stuff sack that easily swallows the jacket and can be packed down further to about the size of a small cantaloupe. I typically prefer to forego stuff sacks entirely and instead shove my jacket into the nooks and crannies of my avalanche backpack around gear to maximize space, but I don't expect the Cerium's thin fabrics to hold up well to this kind of abuse (more on this below).

Build Quality and Durability
Given its lightweight build, it should come as no surprise that the Cerium SV Hoody had to make some concessions, and the most notable is durability. The jacket's face fabric is a 10-denier nylon, which is on the ultra-thin end of the spectrum and not confidence-inspiring for daily wear, haphazard packing, or rough backcountry use. That said, I've stuffed the Cerium into my cramped avalanche pack around sharp equipment repeatedly and lost only a few down feathers. I can also see some light fraying near the zipper when I look closely at the jacket in the sunlight, but this is fairly minimal wear considering the abuse I've put it through. And the rest of the construction is top-notch: all the zippers and seams are holding strong, and the insulation hasn't migrated or packed out. Again, this is a specialized piece that will require some care, but overall quality still is excellent.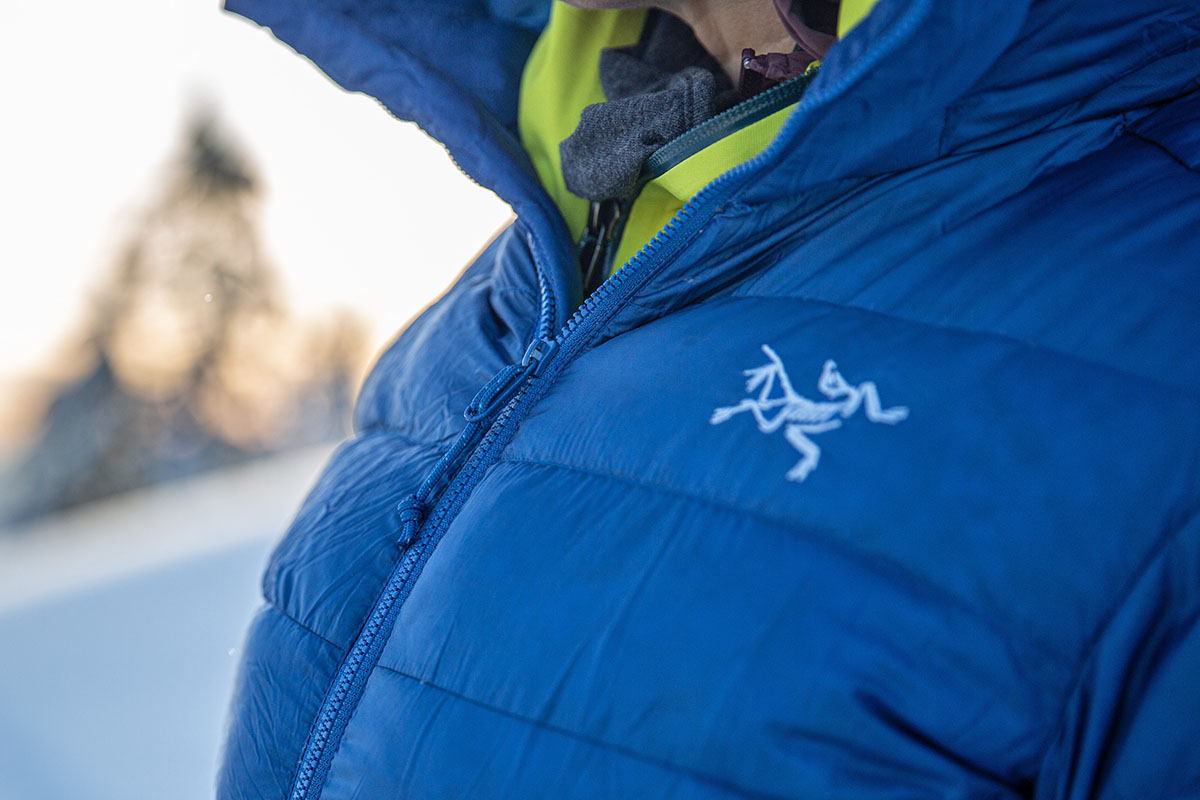 Key Features
Hood
We have yet to find a more well-rounded design than Arc'teryx's StormHood. In short, it's easily adjustable, provides great all-around coverage, and offers an accommodating fit that's sized right for a variety of activities. Starting with adjustability, glove-friendly pull cords along the inside of the collar evenly tighten the hood's aperture, and another drawcord at the back of the head cinches the halo. I do wish the former toggles were located outside the jacket so that I could use them without unzipping the collar, and the latter adjuster can be tough to manipulate with bulky ski gloves on. But these are very minor grips, and the design is incredibly functional overall. And as an added bonus, the Cerium's hood can be worn over a climbing helmet in a pinch. It's a bit snug and does compress some of the down baffles, but it's serviceable should you find yourself wanting a bit more coverage while in the alpine.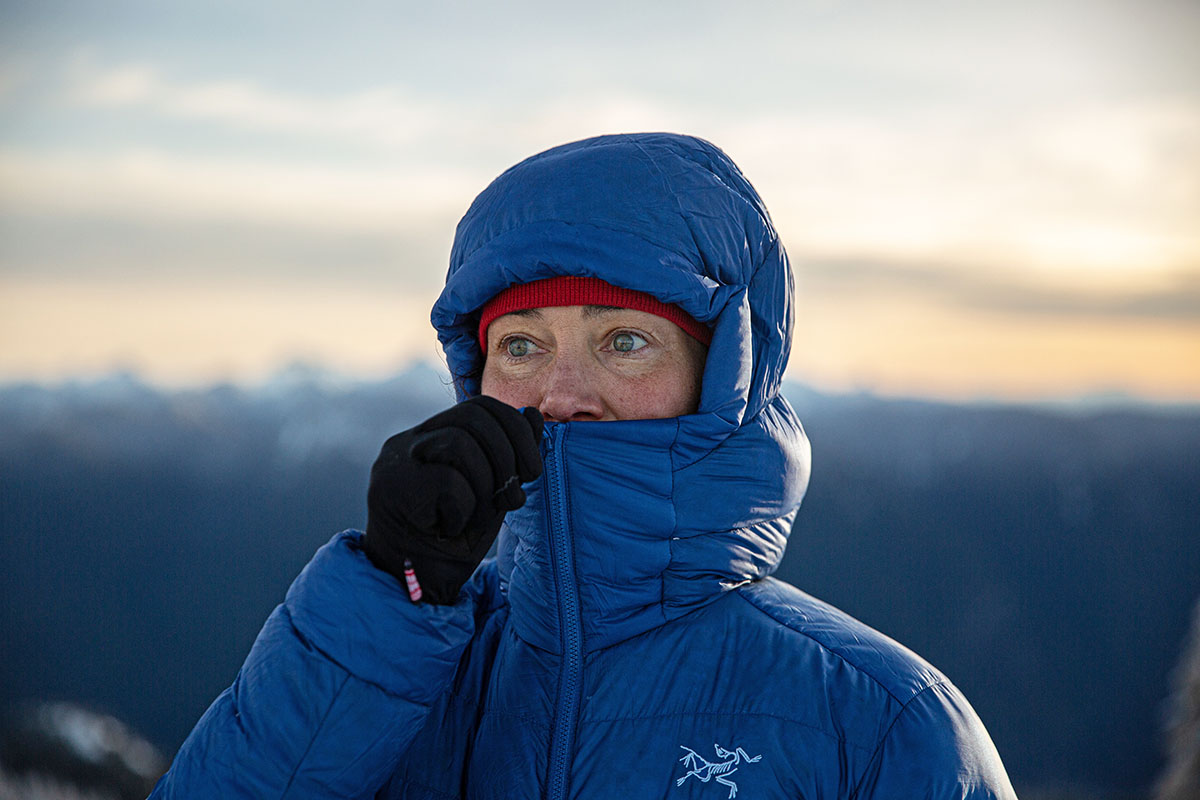 Storage: Pockets
Arc'teryx kept things simple with the Cerium SV's organization, including two zippered hand pockets and one zippered interior pocket. That said, the layout is entirely functional and well-executed. The hand pockets have down insulation on both the inside and outside, which helps keep hands warm. Additionally, the zippers feature "garages" that protect them at the top by deflecting moisture. Finally, the internal security pocket is large enough to swallow a plus-sized iPhone or Garmin inReach device (it also houses the stuff sack, although you can detach that and stow it wherever you want).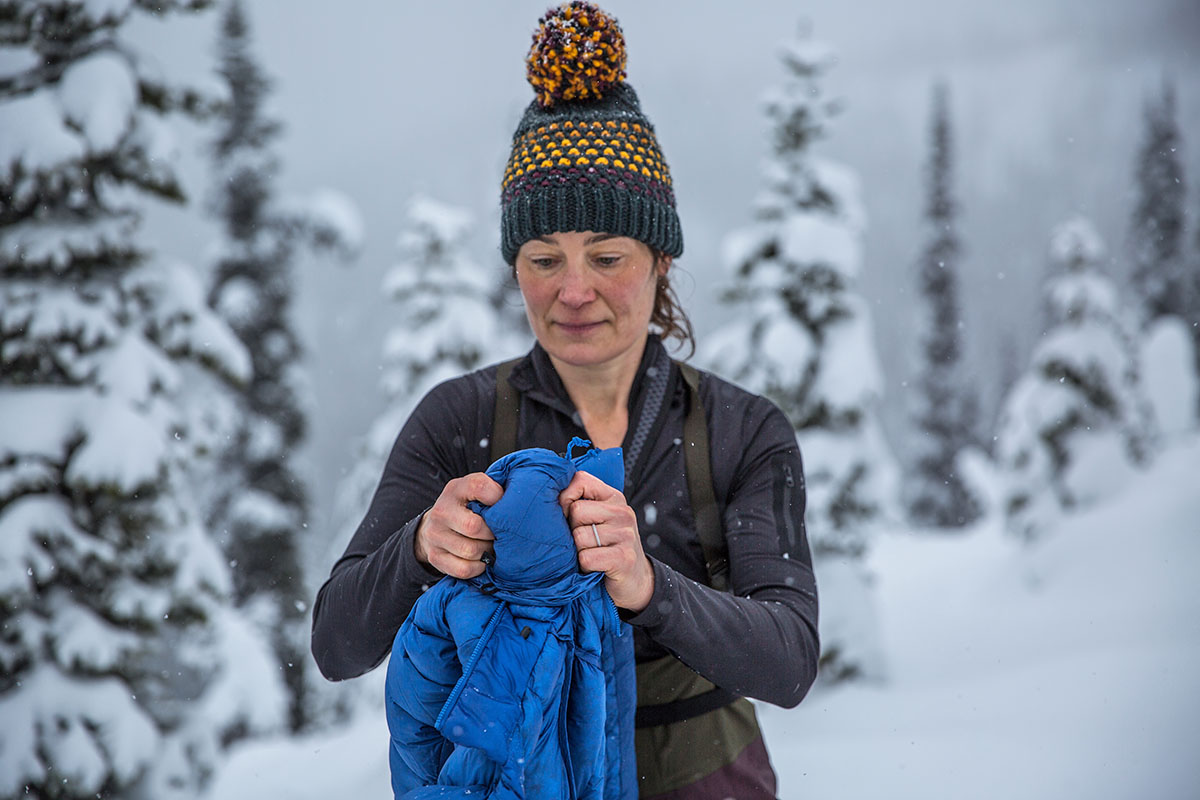 Fit and Sizing
I chose my usual size small in the Cerium SV and was happy with my choice. The jacket's fit is labeled as "regular," which means that it can be worn either over midlayers or under outer layers. With just a light baselayer underneath, there is a noticeable amount of room in the jacket (not ideal for maximizing warmth), but that does allow me to throw it on over my hardshell, which I often do in drier conditions. In fact, when backcountry skiing, I often wear the Cerium over my Patagonia SnowDrifter ski jacket or Arc'teryx Gamma SL or MX softshells to save time while transitioning or taking breaks for snacks or photos. And if the skies really open up, it still easily layers underneath my hardshell. All told, given the jacket's intentions as either a midlayer or standalone piece, I think Arc'teryx nailed the fit.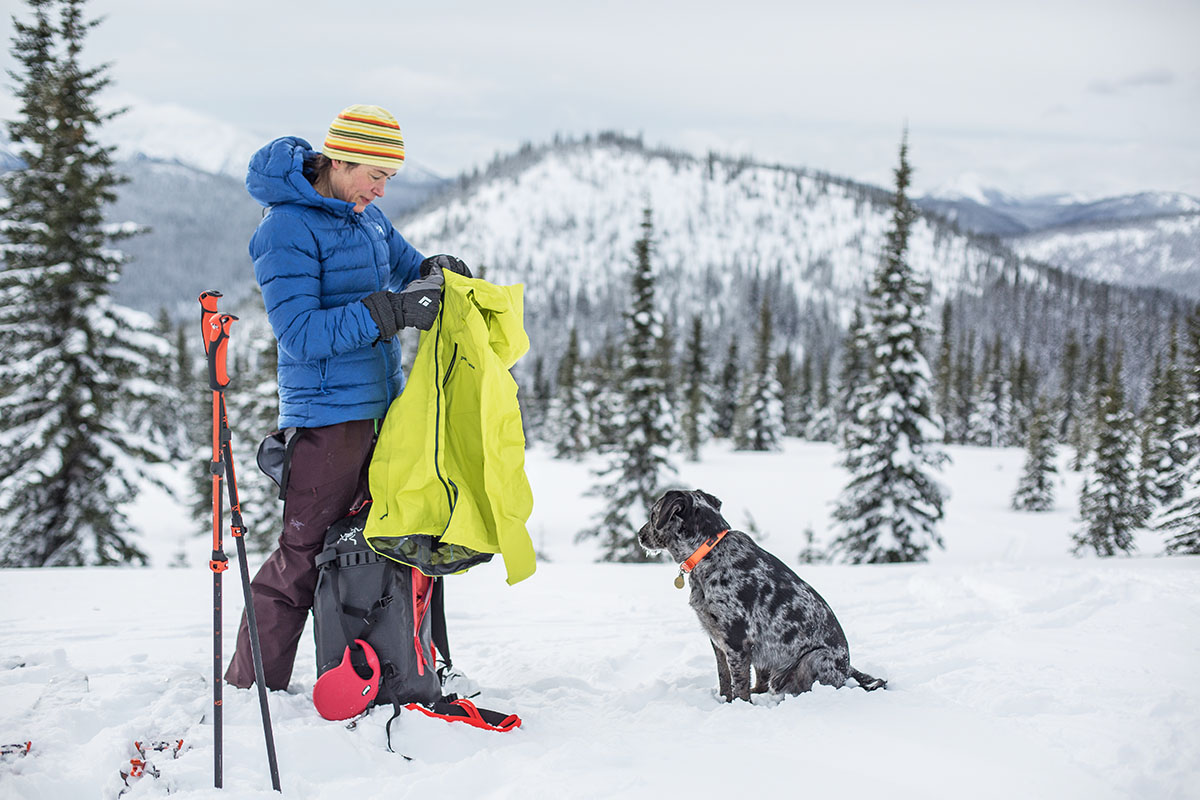 Men's Version of the Arc'teryx Cerium SV Hoody
We tested the women's Cerium SV for this review, and Arc'teryx makes the jacket in a men's version too. The men's Cerium SV Hoody costs the same at $575 and retains an identical feature set and construction but weighs slightly more at 14.6 ounces, contains 5.7 ounces of the same 850-fill down (for a size medium), has a longer back length by around an inch, and comes in different colorways. Unlike the rest of the Cerium collection, the SV isn't offered in non-hooded or vest variations, but this makes sense given the jacket's intentions (the hood adds crucial protection and coverage if you wear it as an outer layer).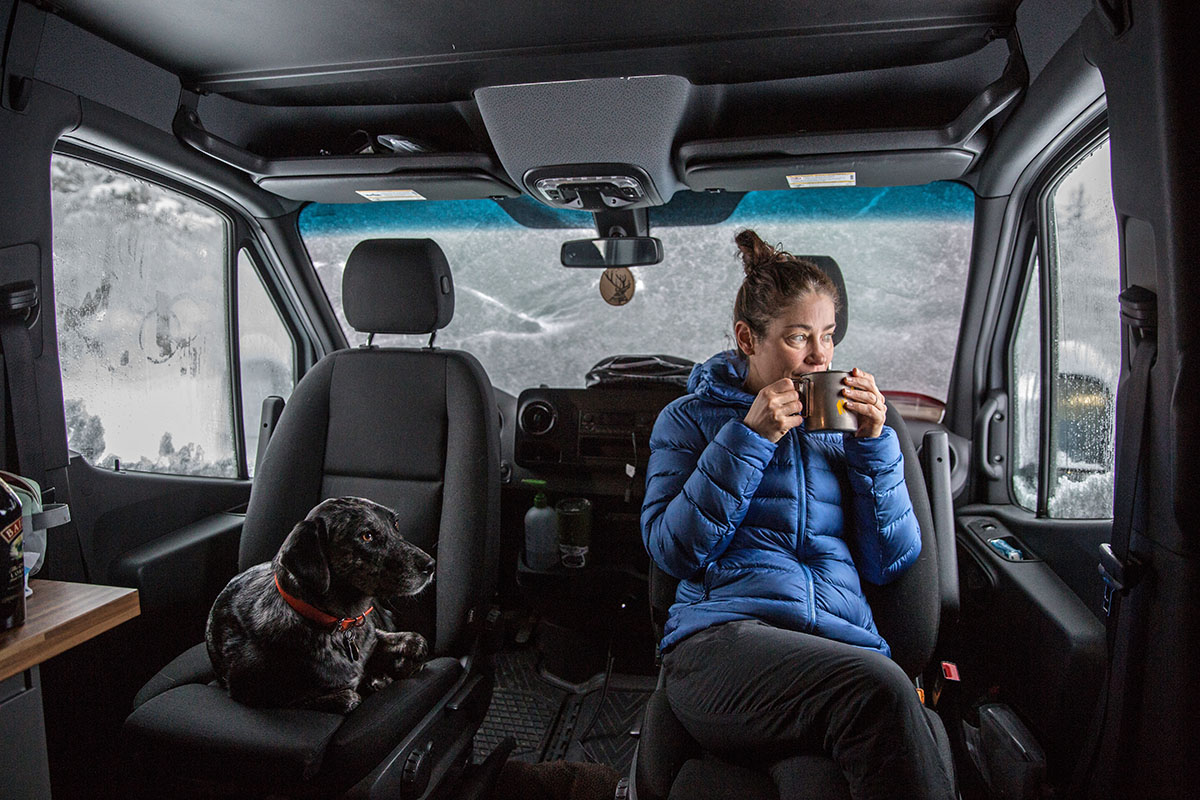 What We Like
With 4.9 ounces of 850-fill down in a 13.9-ounce package, the Cerium SV is very warm for its weight and packs down impressively small.
Incredibly lofty and cozy, almost like slipping into a premium down sleeping bag.
Strategic use of Coreloft insulation and a DWR coating add a solid dose of assurance in light to moderate precipitation (without any notable impact on weight or packability).
Surprisingly good wind resistance considering the stitch-through construction.

What We Don't
Like most Arc'teryx products, the Cerium SV doesn't come cheap at nearly $600 (and you can go much warmer for significantly less).
Outer fabric is a very thin 10 denier, which will require care to avoid snags and tears.
Front hood adjustments require unzipping the collar, while the rear drawcord is tough to use while wearing gloves.
Fit is a little baggy over just a baselayer, although the added room helps when layering more heavily underneath.


Comparison Table

The Competition
Patagonia is a leader in down jackets, and their Fitz Roy Down Hoody is a close competitor to the Cerium SV. Like the Cerium, the Fitz Roy is light at 14.8 ounces and provides similar warmth with 4.5 ounces of 800-fill down. The Patagonia is also slightly more technical with a helmet-compatible hood and five pockets (including a large interior dump pocket for items like goggles or skins), as well as a thicker 20-denier build that will stand up better to consistent backcountry use. You don't get the added assurance of synthetic insulation, and the Fitz Roy was a bit of a letdown in wet weather (its Pertex Quantum shell and stitch-through construction offered fairly middling protection). In the end, a decision will likely come down to how you prioritize warmth and weather resistance (the Arc'teryx wins out) versus features and price (the Fitz Roy gets the edge).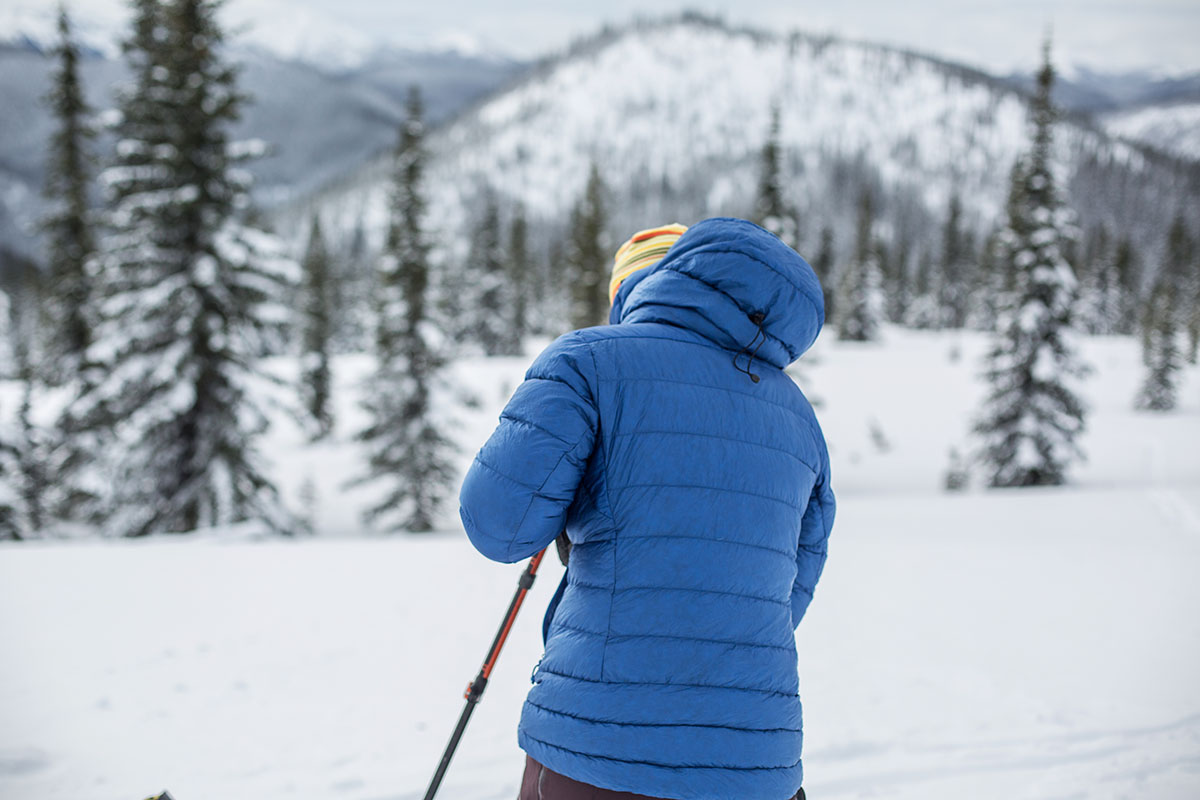 Rab's Microlight Alpine is another standout in the midweight market. What sets it apart? First and foremost, you get a healthy 5.1 ounces of 700-fill hydrophobic down, along with a water-resistant Pertex Quantum shell and fairly robust 20-denier fabric. To be clear, the Microlight's weatherproofing measures still are no match for synthetic insulation should the jacket get wet, but the Microlight is one of the more weather-ready down jackets we've tested. It's slightly heavier than the Cerium at 14.6 ounces and less warm and packable due to the lower-quality down, but the Microlight still is plenty light and compressible for backcountry use. All told, the Cerium is the more premium design with added assurance in rough weather, but the Rab will save you nearly $300 and hold up better over time.
At nearly half the cost of the Cerium SV is Mountain Equipment's Senja, which we consider a real steal based on its well-rounded specs. Specifically, the Senja boasts a generous 6.9 ounces of down, although the quality is a considerable step down at 700-fill (higher-quality down is loftier, which means it can achieve the same warmth for less weight). Additionally, the 40-denier Drilite fabric is hardwearing and offers adequate protection against light rain or snow. To be sure, the Senja is significantly heavier (1 lb. 4.1 oz.) and less packable than the Cerium SV, but it's an excellent value and a great option for everyday wear, winter hiking, and even shorter outings into the backcountry.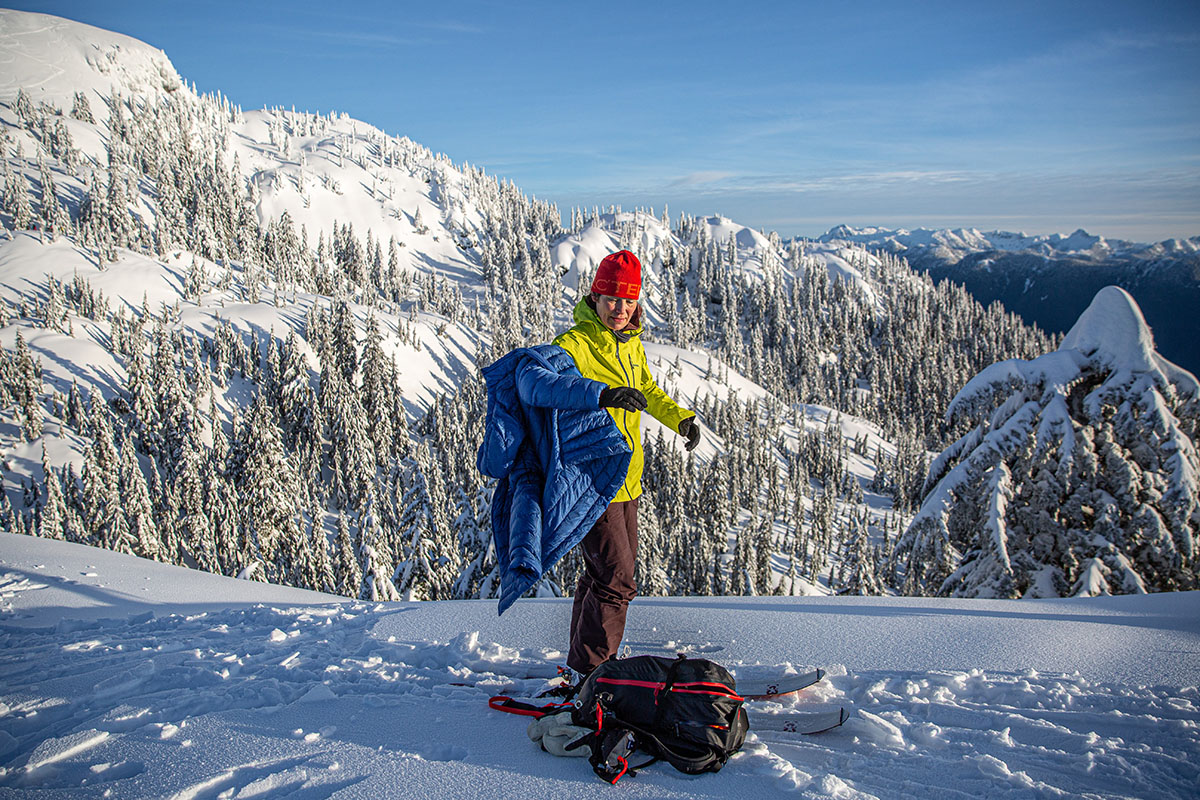 In addition to the SV, Arc'teryx's Cerium down jacket collection also includes the LT ("lightweight") and SL ("superlight"). Starting with the LT, you get 3 ounces of 850-fill down and a mix of 80- and 100-gram Coreloft in areas prone to getting wet. Apart from less warmth and a lower weight (9.9 oz.), features remain similar across the board, including an identical pocket layout, elastic cuffs, adjustable hood and hem, and a thin 10-denier face fabric. The SL is the most targeted design of the bunch with an ultralight build (7.2 oz.), 7-denier shell, and only two hand pockets. As expected, it also offers the least warmth with only 1.7 ounces of 850-fill down and a mix of 40- and 80-gram Coreloft. Finally, both the LT and SL have trim fits that make it easier to layer overtop. All three are well-made, backcountry-friendly jackets, but the LT is the most versatile of the grouping and will save you nearly $200 compared to the SV.
Outside of the Cerium family, Arc'teryx offers their more everyday-friendly Thorium AR. The Thorium is around an ounce heavier than the Cerium SV, uses lower-quality 750-fill down (and less of it at 3.7 oz.), and doesn't pack down as small, but it's an excellent all-rounder. The shell fabric is more robust at 30-denier, and it still functions well as an outer layer with synthetic insulation in moisture-prone areas (80g and 140g Coreloft). In practice, we've used the Thorium for activities ranging from morning commutes to hiking deep into the backcountry. And the real clincher for us is price: at $325, the Thorium undercuts the Cerium SV by over $200 without sacrificing much in the way of performance. For extended fast-and-light alpine missions, the Cerium's warmth-to-weight ratio is hard to beat, but the Thorium is a much better value and won't require as much care to avoid snags and tears.
If you're thinking about buying gear that we've reviewed on Switchback Travel, you can help support us in the process. Just click on any of the seller links above, and if you make a purchase, we receive a small percentage of the transaction. The cost of the product is the same to you but this helps us continue to test and write about outdoor gear. Thanks and we appreciate your support!
Depending on the seller, most products ship free in the United States on orders of $50 or more. International shipping availability and rates vary by seller. The pricing information on this page is updated hourly but we are not responsible for inaccuracies.
Read More From Switchback Travel