Building off of Arc'teryx's trail running collection, the Aerios FL slots in as a light but tough option for hikers who like to move quickly. Eager to test its performance, we took the low-top version of the shoe on a multi-day backpacking trip in the Grand Canyon. By the end of the trek, it had checked all the boxes: it's comfortable, lightweight, provides excellent traction both on and off the trail, and is extremely well-built. Below we outline down our experiences with the Aerios FL. To see how it stacks up to the competition, see our article on the best hiking shoes.
 
---
Table of Contents
---

Performance
Comfort
The Arc'teryx Aerios FL's out-of-the-box performance was excellent, although it's notably stiffer and less forgiving than many cushier (and often heavier) lightweight hiking shoes. The Aerios did loosen up nicely during our four-day trek in the Grand Canyon, but it is on the stiff side, particularly around the heel. However, it's important to clarify that the Aerios FL is impressively comfortable shoe and I had few complaints on the trail. In fact, without much of a break-in period, I only developed one small blister on the heel after four days of challenging backpacking, which is no easy feat. In the end, the Aerios FL isn't ideal for those who want a highly cushioned ride, but it's a great choice for minimalist backpacking and long day hikes.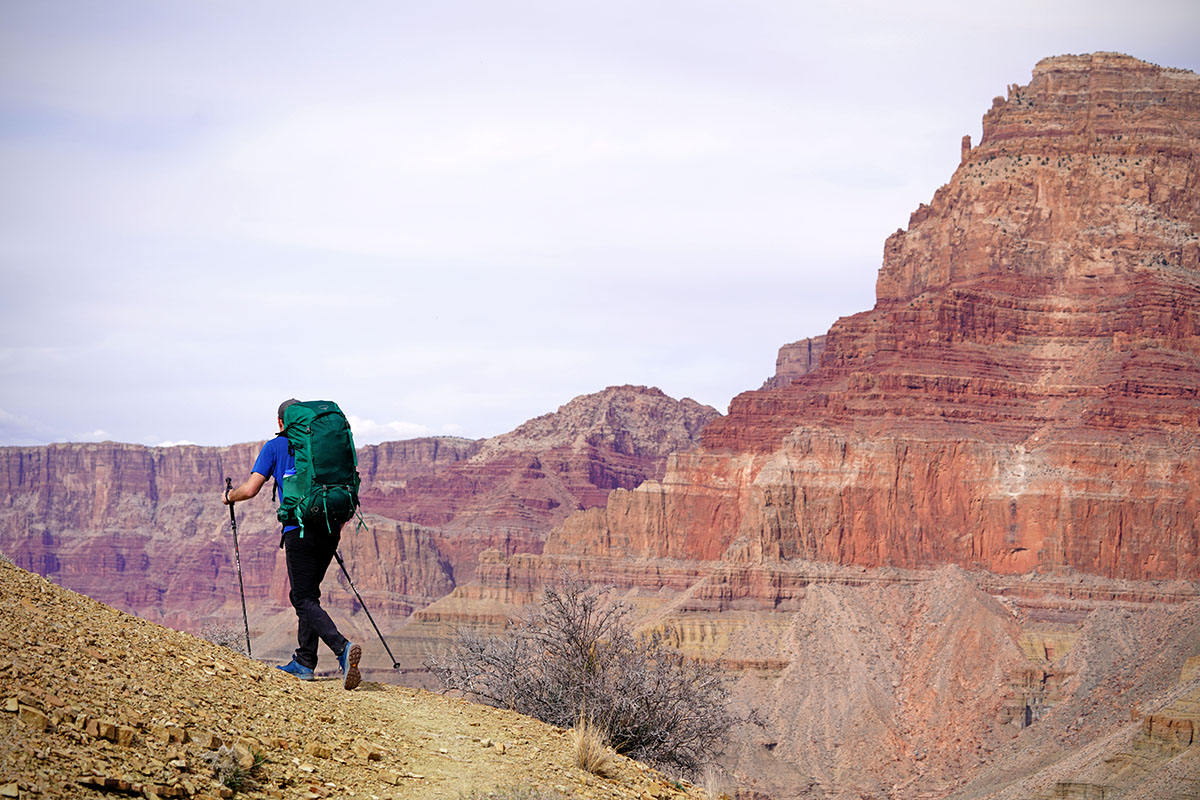 Weight
The Arc'teryx Aerios FL comes in at a feathery 1 pound 8.4 ounces, undercutting much of its lightweight hiking shoe competition by an ounce or more. In the same category, the Salomon X Ultra 3 GTX (1 lb. 10.8 oz.), The North Face Ultra 111 WP (1 lb. 14.2 oz.), and Adidas Terrex Swift R2 GTX (1 lb. 8.6 oz.) all outweigh the Aerios. You can shave a bit of weight with a running-inspired model like the Salomon X Raise GTX (1 lb. 7.6 oz.) or by going with a dedicated trail runner, but the Aerios is very impressive in this regard considering its waterproofing and build quality (more on this below).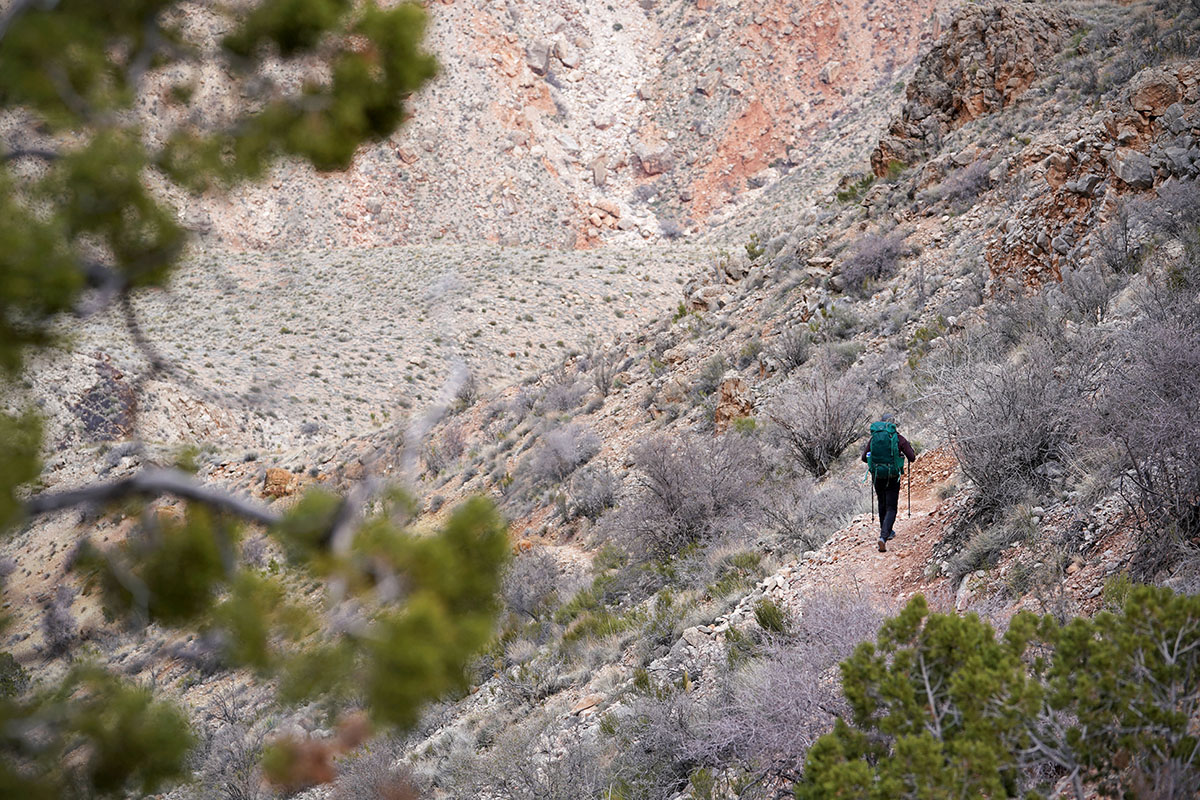 Traction
For a low-cut hiking shoe, traction was one notable strength of the Aerios that surprised us most. The shoe excelled over a variety of terrain, including both on- and off-trail along the challenging Escalante Route in the Grand Canyon. Throughout our four-day journey, we navigated massive boulders and scree fields, trekked along gravel- and rock-covered trails, and even hiked through both rain and snow. Through it all—and despite being weighed down by a full 65-liter backpacking pack—slippage seldom was an issue thanks to the shoe's grippy Vibram Megagrip sole and substantial lugs. Given its performance in the category, the Aerios FL is one of the most well-rounded hiking shoes we've tested.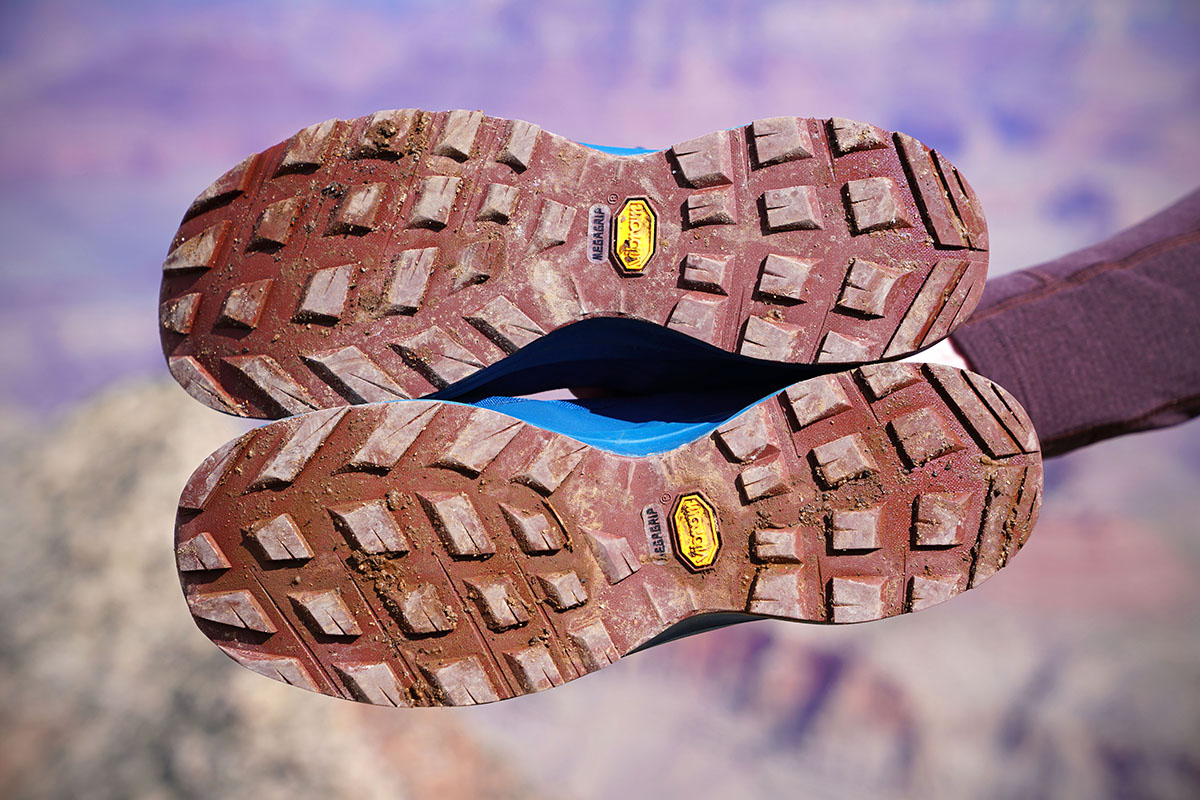 Stability and Support
The Aerios FL is a low-top shoe that lacks the support of a taller and heavier hiking boot, but I experienced surprisingly very few ankle turns during our trip. With the laces taught around the foot and despite carrying a full pack, it provided sufficient support for me to navigate the often-rocky terrain along the Escalante Route without feeling wobbly or uncertain. In fact, there were only a couple sections where I wished I had a higher-cut boot. If you're prone to rolling ankles or simply like the added structure, Arc'teryx makes the Aerios FL in a "mid" version for just 1.6 ounces more per pair. And of course, for those who want maximum support and protection, a traditional hiking boot is the way to go.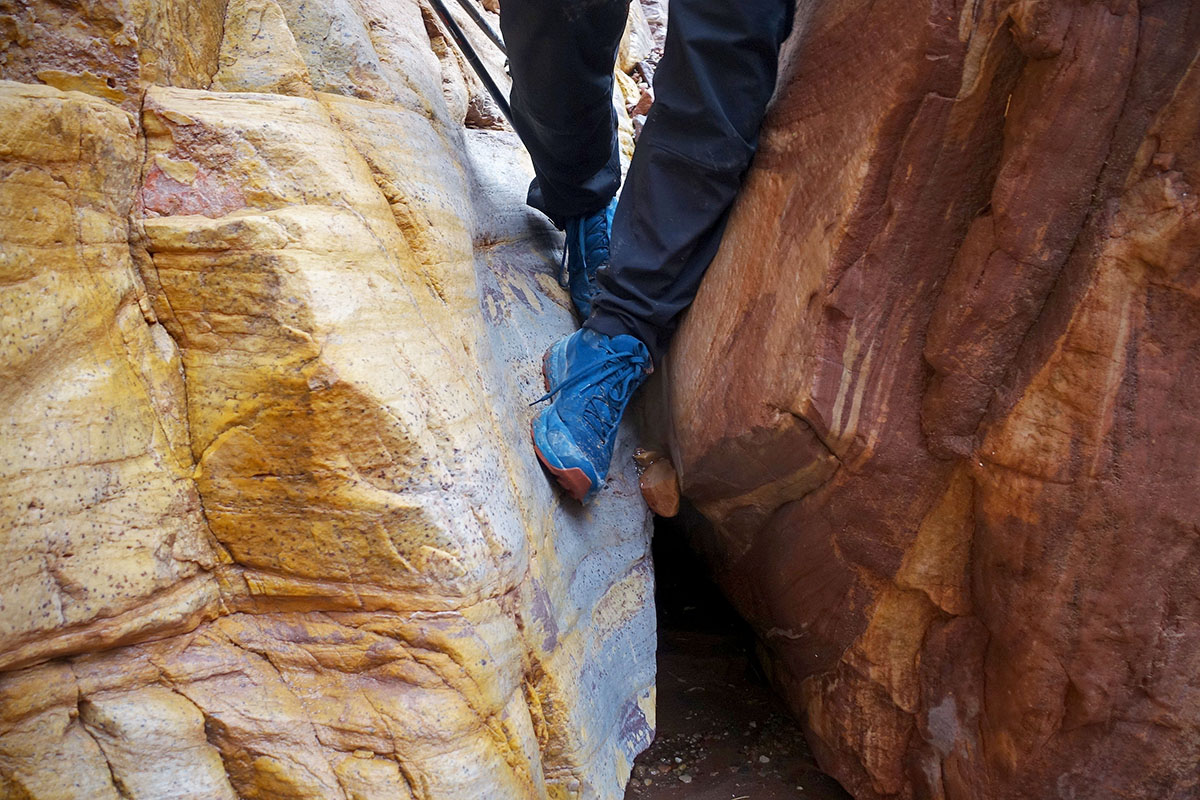 Waterproofing
We set high standards for Gore-Tex shoes, and the Arc'teryx Aerios FL GTX performed well throughout its wet-weather testing. During our hike out of the Grand Canyon, the Aerios faced rain, hail, and even six inches of snow at the rim without letting any moisture seep in. However, if you do allow water or snow to enter from the top, the Aerios won't dry nearly as quickly as a non-waterproof shoe. All told, the Aerios' Gore-Tex liner was ideal for the moderate conditions we faced in the Grand Canyon. That said, if you instead anticipate frequent water crossings or traveling in a dry, hot climate, we'd recommend opting for a non-waterproof shoe (for more, see our article: Do You Need Waterproof Hiking Shoes?).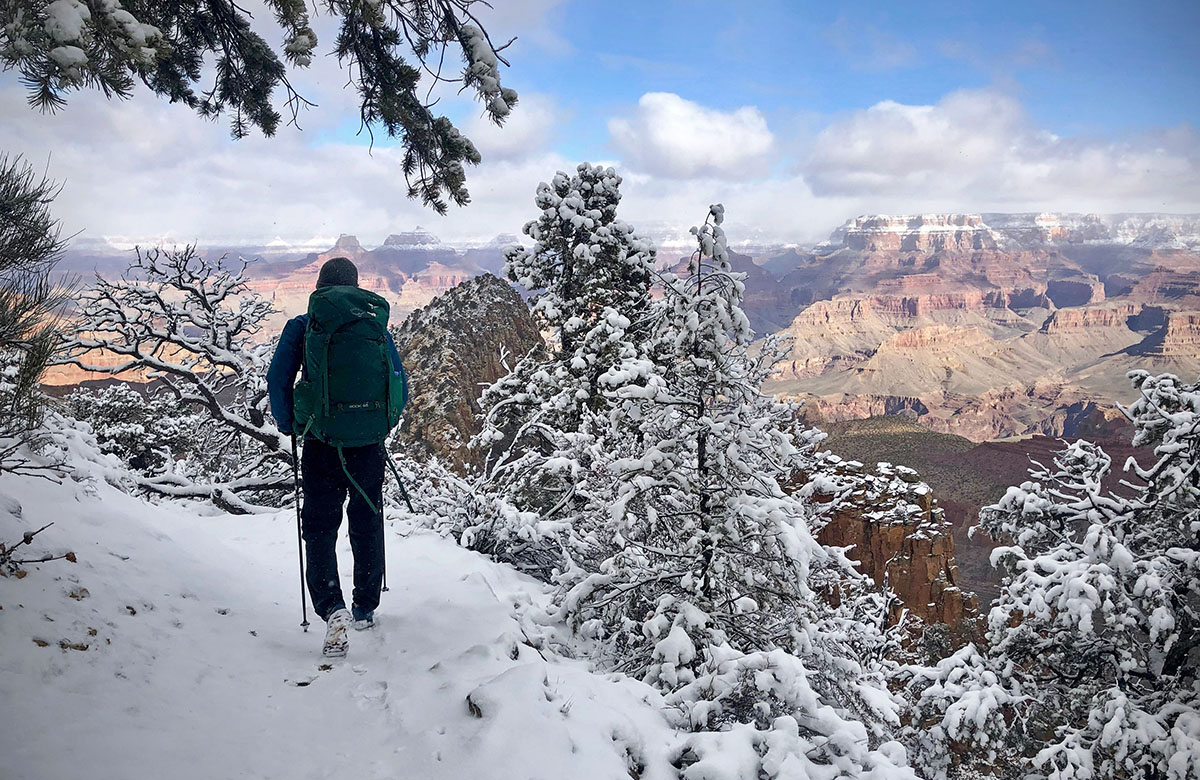 Breathability
With a premium Gore-Tex build, the Aerios FL's waterproofing didn't have much of an on impact its breathability. The shoe's mesh upper and waterproof liner promoted solid ventilation throughout the trip—much more so than other in-house designs we've tested, which almost always run hotter than Gore-Tex. Our hike wasn't particularly hot—the first and second days saw temperatures creep into the 50s—but I never experienced any swampiness in the shoes. Another member of our group who was wearing Oboz's Sawtooth II Mid, which uses the company's proprietary B-Dry membrane, overheated quickly in the same conditions. All things considered, we think Arc'teryx nailed the balance between waterproofing and breathability with the Aerios.

Build Quality and Durability
We rarely have durability issues with Arc'teryx products, which isn't all that surprising given their high price points, and the Aerios FL is no exception. The shoe is extremely well-built, and everything from the mesh upper to the Vibram outsole are holding up without issue or significant signs of wear yet. One of the most discernible features on the Aerios is the burly TPU toe cap—it resembles that of a beefed-up trail-running or approach shoe—which adds a significant boost in protection and durability to the front of the shoe. We did notice some scratches on the toe cap resulting from encounters with rocks and branches, but that was only cosmetic in nature. All told, I'm confident the Aerios will continue stand up well to continued abuse.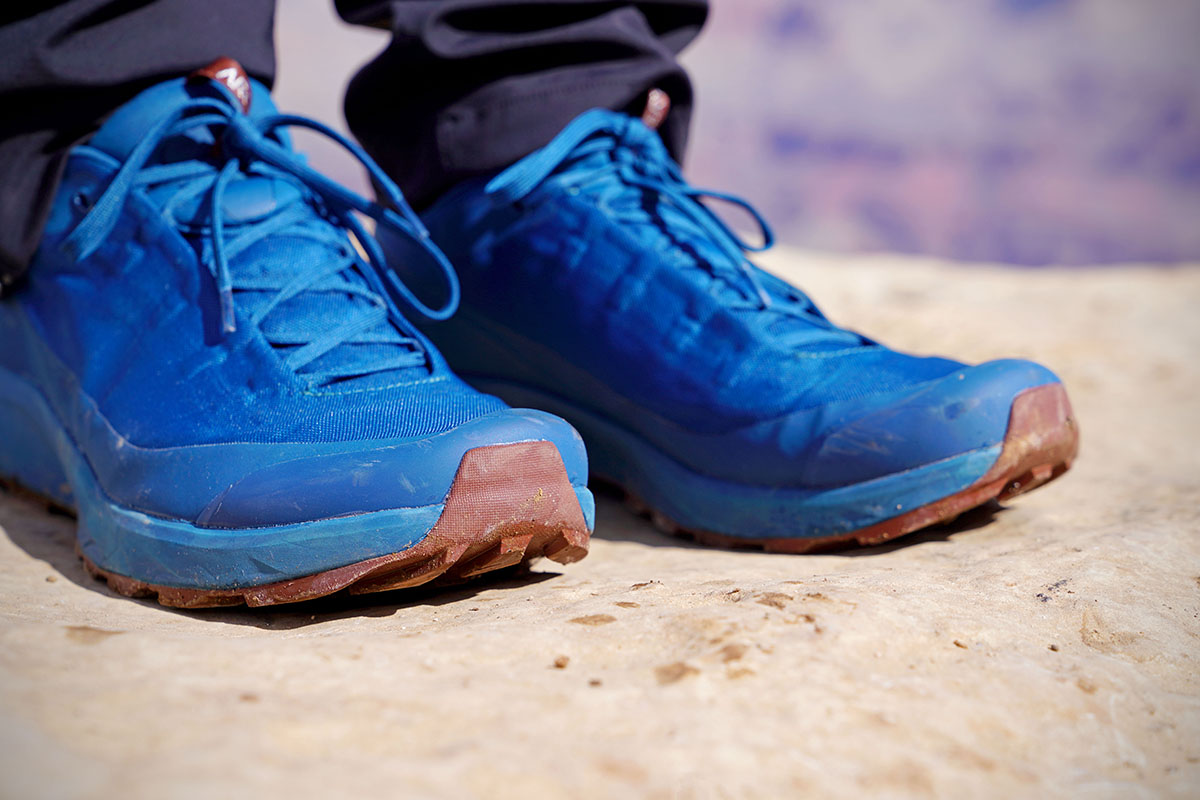 Crossover Appeal
We don't usually include a section on aesthetics in the hiking footwear category, but it's worth pointing out that the Arc'teryx Aerios FL is an extremely good-looking shoe. A number of people commented on the shoe's sleek and minimalist build (we had it in blue), which certainly is an upside for those who consider looks during the buying process. You could easily wear the Aerios FL around town or in the city—one of the reasons the all-black version is so popular. In the end, this versatility could be a selling point for some people and help justify the steep cost.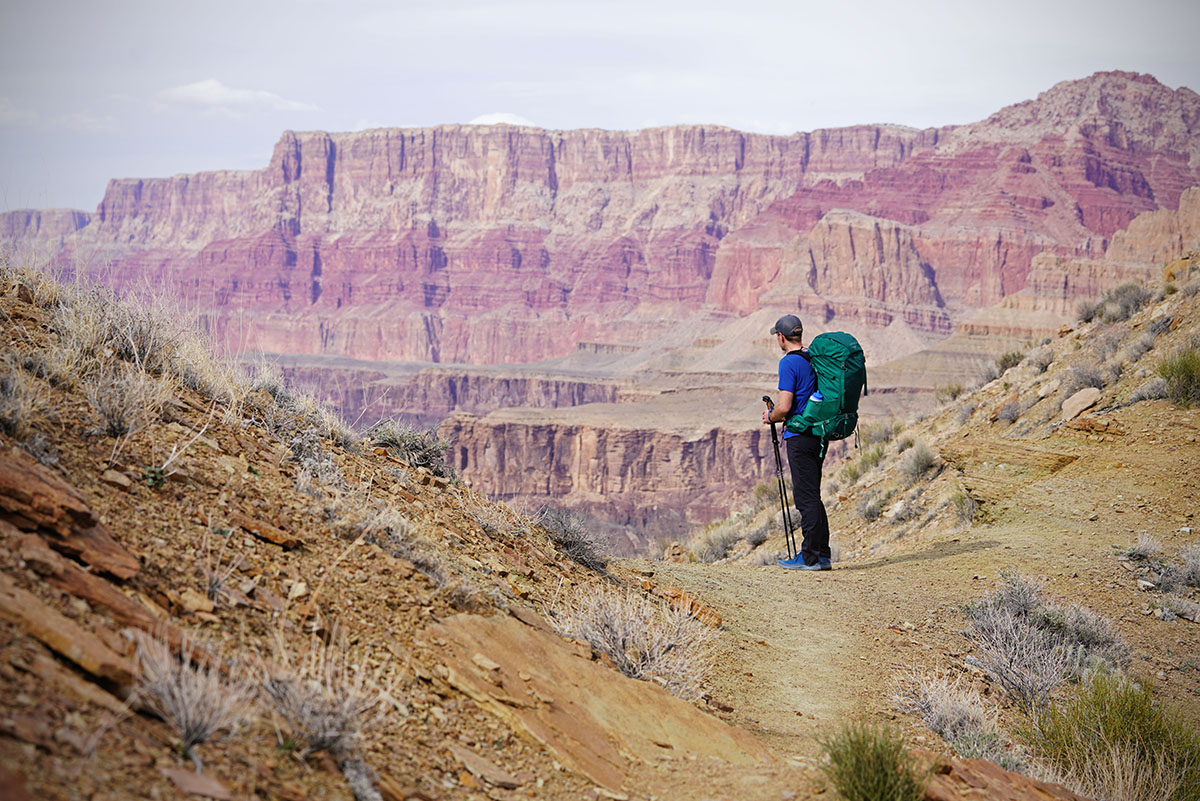 Fit and Sizing
The Arc'teryx Aerios FL fits true to size, and I had no issues going with my regular size 12. The shoe was not overly snug or noticeably wide in any area, and it cradled my foot nicely on the trail. When I needed to make adjustments, the low-profile laces made it easy: they tightened down without much effort and allowed me to tailor fit quickly (which isn't always the case). As far as sizing goes, the Aerios FL is available in men's full and half sizes from 7 through 13, although the shoe is not offered in wide versions.

Other Versions of the Arc'teryx Aerios FL
The Aerios FL line includes both the low-top version we tested here and a mid-height shoe. The Aerios FL Mid GTX is slightly heavier at 1 pound 10 ounces per pair and $15 pricier at $185, but otherwise it's nearly identical and a good option for anyone who prefers the added ankle support. Both the low-top and mid-height Aerios also are offered in women's models for the same price, with the colorways and weights varying slightly. Notably, Arc'teryx doesn't make the Aerios in a non-waterproof version, but we found the shoe's mesh upper promoted enough airflow even in the warm Grand Canyon.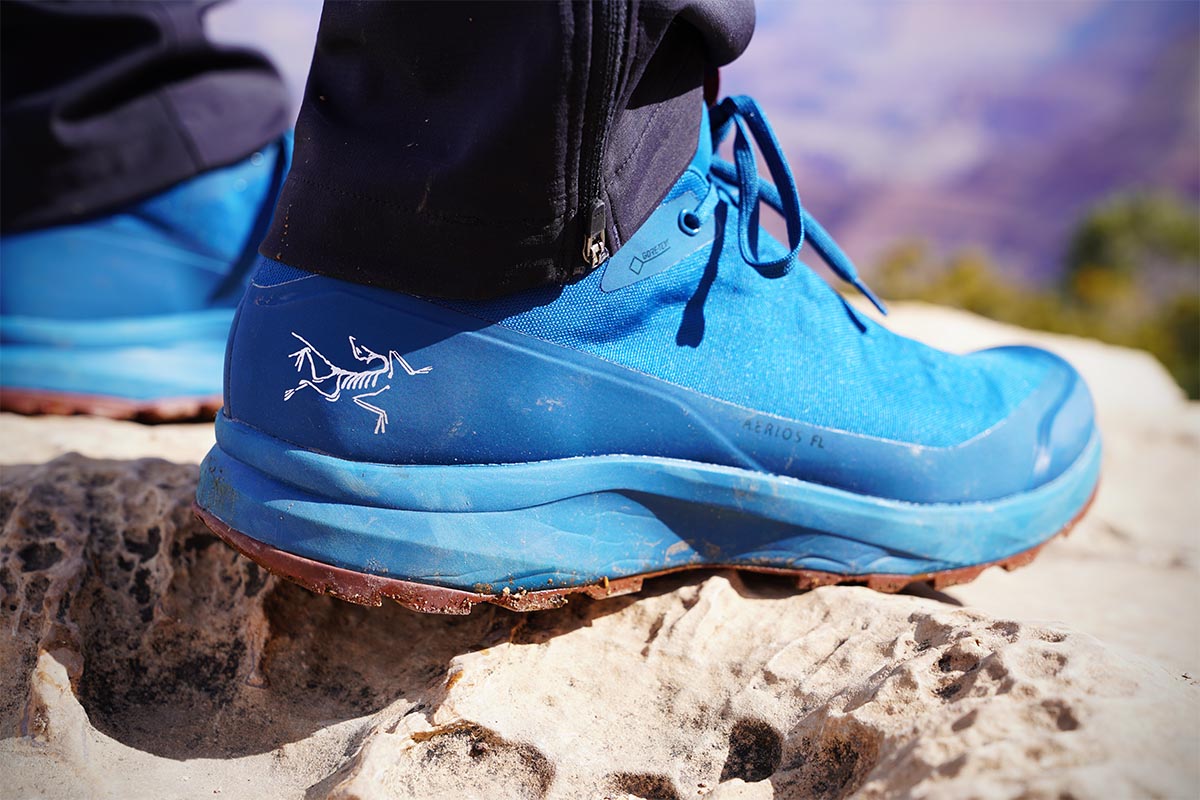 What We Like
At 1 pound 8.4 ounces, the Aerios FL is an excellent day hiker for the fast-and-light crowd and can double down as a lightweight backpacking shoe.
Excellent traction and stability over a variety of rough terrain.
Impressively breathable for a Gore-Tex shoe.
Typical Arc'teryx build quality: the Aerios showed very little wear after a week of challenging backpacking.
Sleek and stylish enough for around-town use. 

What We Don't
Very pricey at $170. 
Feels a bit stiff out of the box, and not ideal for those who like a lot of cushioning.
Low ankle height offers less support than a tall (but heavier) hiking boot.
Not offered in a non-GTX version.


Comparison Table

The Competition
The Aerios FL is our favorite pair of Arc'teryx hiking footwear to date thanks to its well-rounded build and great on-trail performance. Another standout option from Arc'teryx is their Norvan LD 2 trail-running shoe, which is offered in both GTX and non-GTX models. The Norvan LD 2 GTX is a very close competitor: both shoes include impressive Gore-Tex waterproofing, are lightweight (1 lb. 4 oz. for the Norvan vs. 1 lb. 8.4 oz. for the Aerios FL), and feature grippy Vibram Megagrip outsoles and burly TPU toe caps. In the end, the decision should come down to your objectives: if you want a capable shoe for long-distance and lightweight runs, we'd go with the Norvan. If you plan to add hiking or backpacking into the mix, the Aerios is the more versatile choice.
In the lightweight hiking category, Salomon's X Ultra 3 GTX is our top pick this year and similarly draws from the company's trail-running models. At 1 pound 10.8 ounces, the X Ultra 3 GTX is about 2 ounces heavier than the Aerios FL, but we found its traction, on-trail performance, and durability were similarly top-notch. In terms of differences, the Salomon is a bit more cushioned and felt less stiff right out of the box, offering a nice boost in comfort. Our main complaint is that the X Ultra 3 runs a bit narrow, but we think it's the most well-rounded lightweight design currently on the market, getting the edge over the Aerios.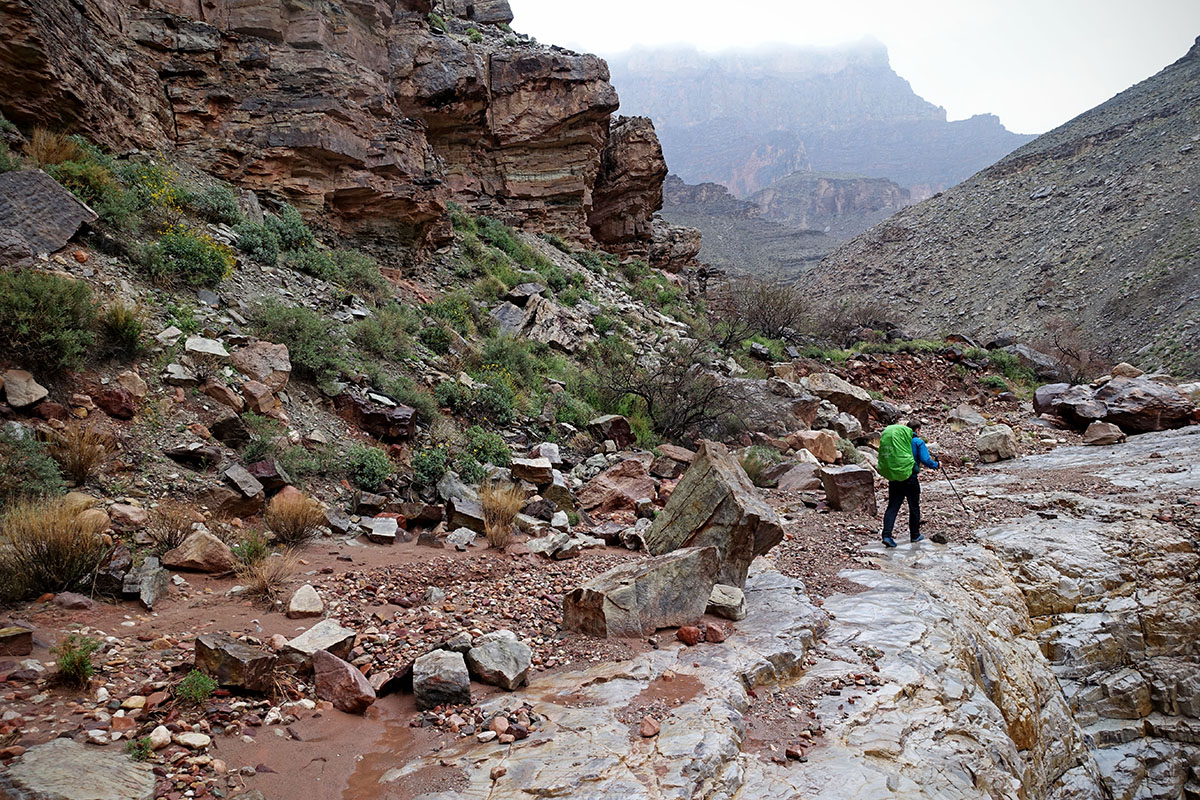 Another one of our favorite hikers this season is The North Face's Ultra 111 WP. Although listed as a trail-running shoe, the Ultra 111 WP performs well for lightweight backpacking: it's stable and grippy, offers good protection, and has a durable upper. Like the Aerios, the Ultra 111 also is fairly stiff and offers great stability on technical terrain, but comes in about half a pound heavier at 1 pound 14.2 ounces and has a downgraded, in-house waterproof liner. It's a close call between these two capable hikers, but The North Face shoe is a nice value option at $120 (a significant $50 less than the Aerios). 
Salomon's X Raise similarly lands in between a hiking shoe and trail runner. The X Raise is nearly identical in weight to the Aerios at 1 pound 7.6 ounces, but we found that it had a much more energetic and bouncier feel on the trail compared to the relatively stiff Aerios. In addition, the Salomon ate up miles with only minimal foot fatigue, so we give it the edge for long-distance and ultralight backpacking (provided you stick mostly to maintained trails). All things considered, the Aerios is the superior technical shoe for rougher terrain—the Salomon's traction falls short in the wet—while the X Raise is better for day hiking and fast-moving overnight adventures due to its more cushioned and flexible build.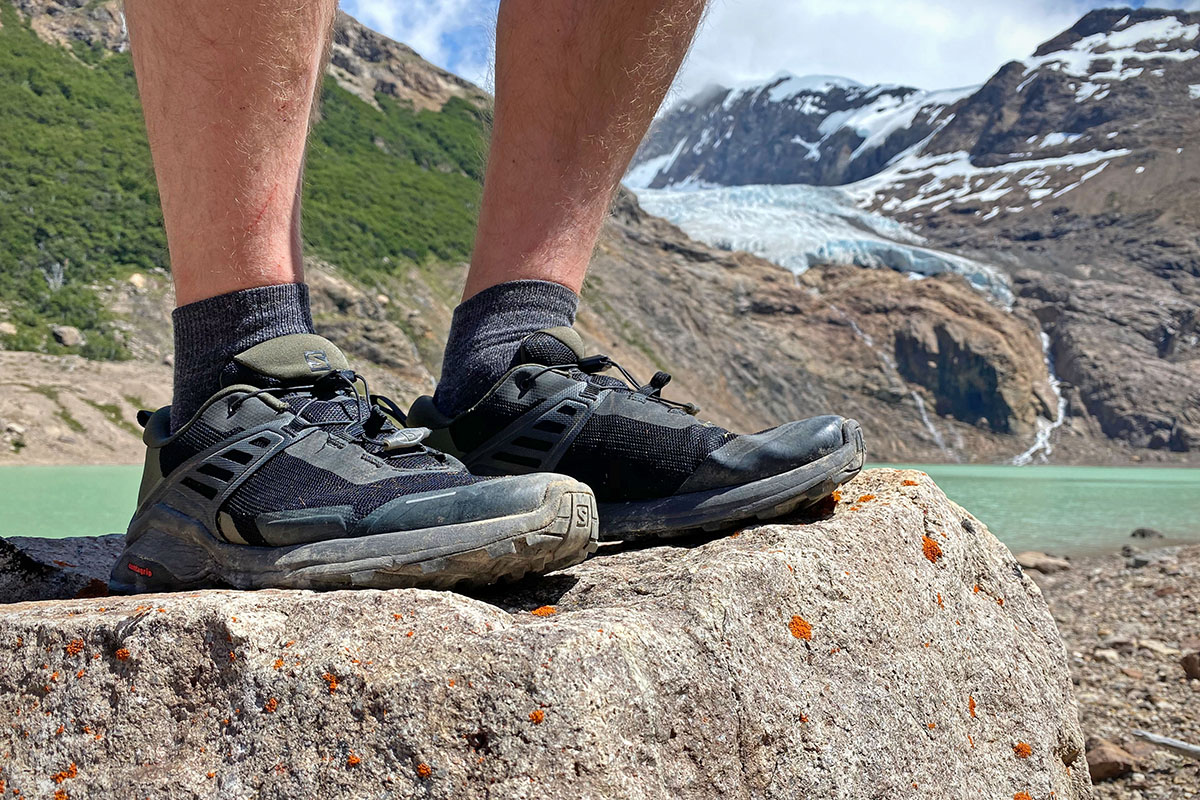 Last but not least is La Sportiva's TX4, which technically is an approach shoe but is great for off-trail scrambling and hiking. The dotted tread, rubber rand, and smooth climbing zone at the forefoot provide excellent bite across a wide variety of surfaces—it's especially adept on steep, rocky terrain—and the shoe has a moderately flexible build that's comfortable over long distances. The downsides are that the TX4 is fairly stiff and feels noticeably clunkier than options like the X Raise and X Ultra 3 above, and the Aerios FL is the better performer on well-maintained trails with a lot of dirt and mud (approach shoes have a tendency to cake up). But for $30 less than the Arc'teryx and with only a minor weight penalty, the TX4 comes with few downsides. 
If you're thinking about buying gear that we've reviewed on Switchback Travel, you can help support us in the process. Just click on any of the seller links above, and if you make a purchase, we receive a small percentage of the transaction. The cost of the product is the same to you but this helps us continue to test and write about outdoor gear. Thanks and we appreciate your support!
Depending on the seller, most products ship free in the United States on orders of $50 or more. International shipping availability and rates vary by seller. The pricing information on this page is updated hourly but we are not responsible for inaccuracies.
Read More From Switchback Travel