Adidas has come on strong in the world of hiking footwear, and its Terrex Swift series is a notable standout among the competition. The R3 GTX is a low-cut waterproof hiking shoe that's reasonably light but offers great protection and stability. After taking it out hiking on the trails outside El Chaltén in Argentina, we were impressed with the toughness and hiking boot-like personality of the R3, although it does have a slightly stiffer feel than we prefer. Below we break down the Terrex Swift R3's overall performance. To see how it stacks up against the competition, see our article on the best hiking shoes.
 
---
Table of Contents
---

Performance
Comfort
We'll start by noting that the Adidas Terrex Swift R3 GTX feels a bit stiff out of the box and generally stays that way. The design is fairly rigid overall, including a burly sole and tough ripstop mesh upper. This isn't a huge knock on comfort—the shoe performed well without a break-in period, and it didn't loosen up or create hot spots even over long trail days. All told, we think the R3 wears like a hiking boot but with a lower ankle and lighter weight. If you're looking for a flexible, trail runner-like experience where you can really feel the ground beneath you, this is not the hiker for you. But if you want a protective and tough shoe that's built to last, the Terrex Swift R3 is exactly that.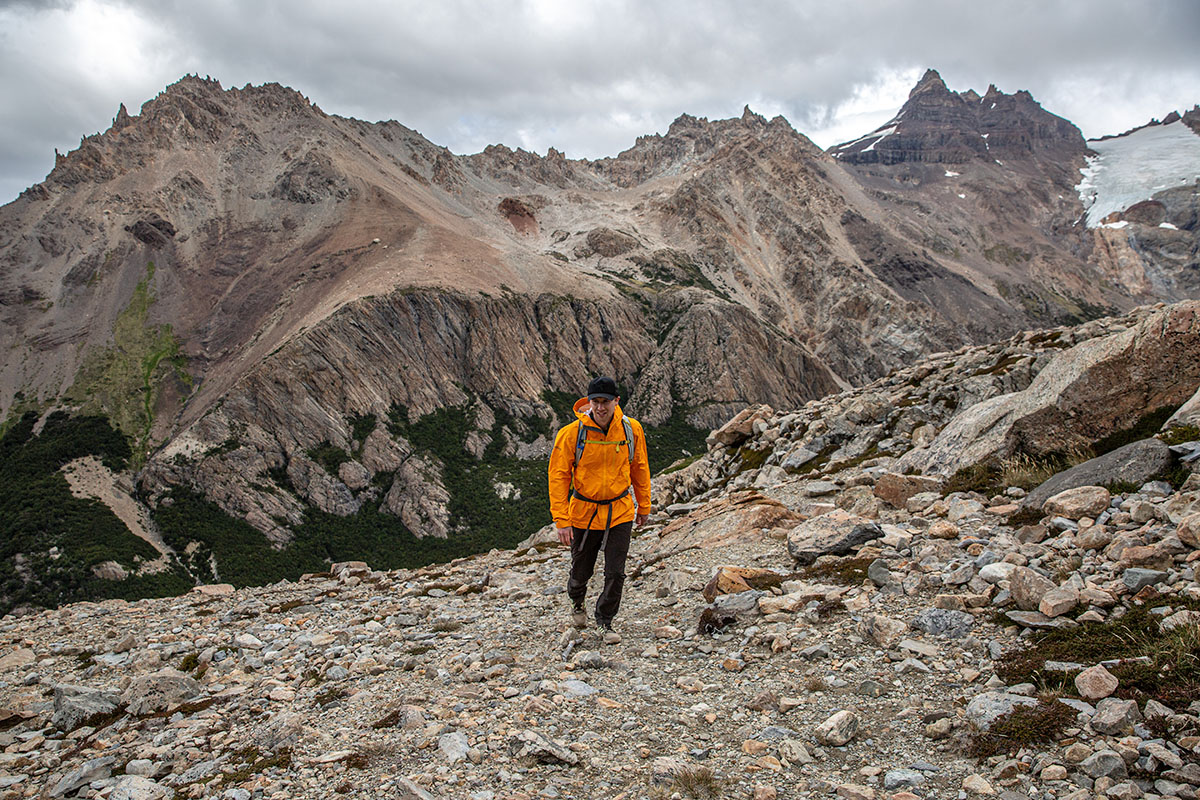 Weight
At 1 pound 13 ounces for my pair of men size 9s (it's listed at 1 lb. 11.9 oz.), the Terrex Swift R3 is about average for the level of protection and stability you get. For comparison, the popular Salomon X Ultra 4 GTX weighs slightly less at 1 pound 11.5 ounces, while La Sportiva's similary intentioned Spire GTX (1 lb. 15 oz.) comes in a bit heavier. You can go lighter with a flexible shoe like Salomon X Raise GTX at 1 pound 7.6 ounces, but you do sacrifice some in stability and traction. If you plan to carry a decent load on occasion or put a premium on support, we think the R3's weight is perfectly reasonable.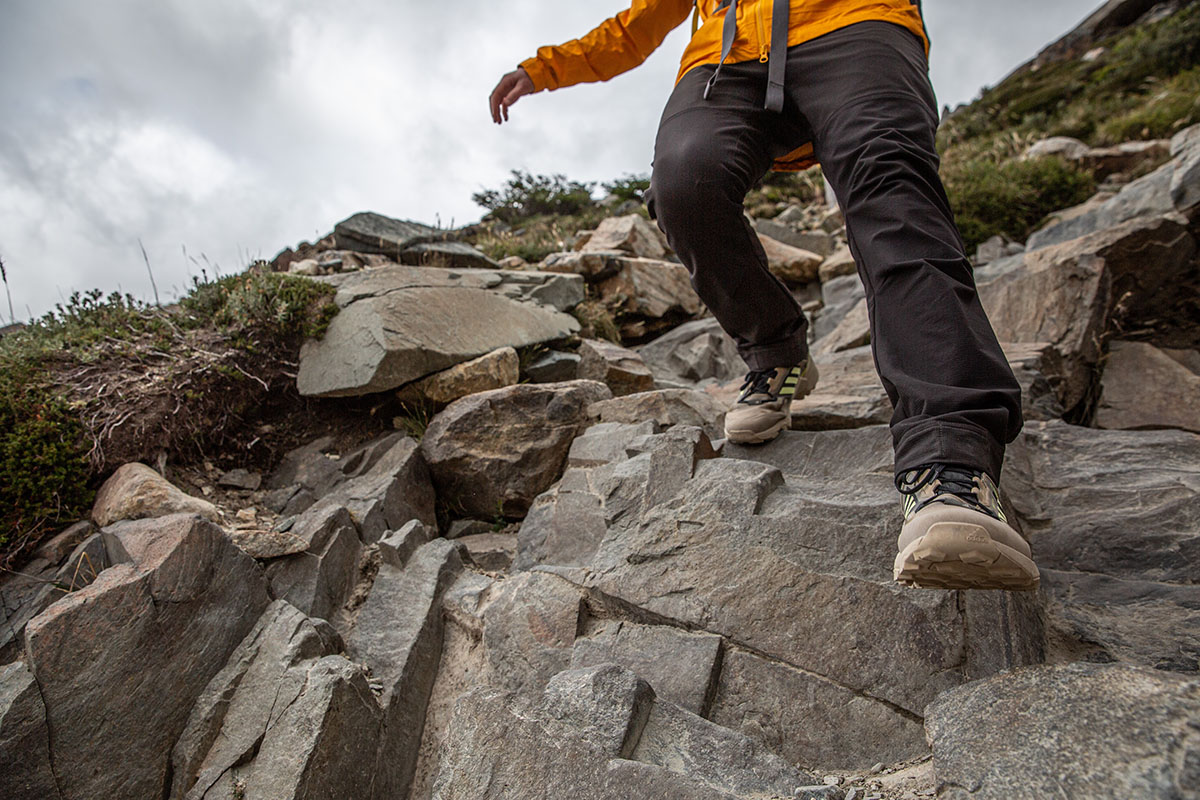 Traction
Traction on the Adidas Terrex Swift R3 is excellent with deep and durable lugs. Adidas partnered with tire maker Continental for the rubber, and the tread pattern has a distinctive chevroned shape. It's hard to tell how much of that is style over substance, but the R3 GTX is grippy on rock, the lugs are substantial and well-spaced (this helps prevent mud from caking), and the rubber is noticeably hard, which should help with longevity. After putting some pretty demanding miles on it in Patagonia, there aren't many signs of wear underfoot, which is promising for long-term durability (but it's still too early to make a definitive call, and we'll report back if any issues crop up).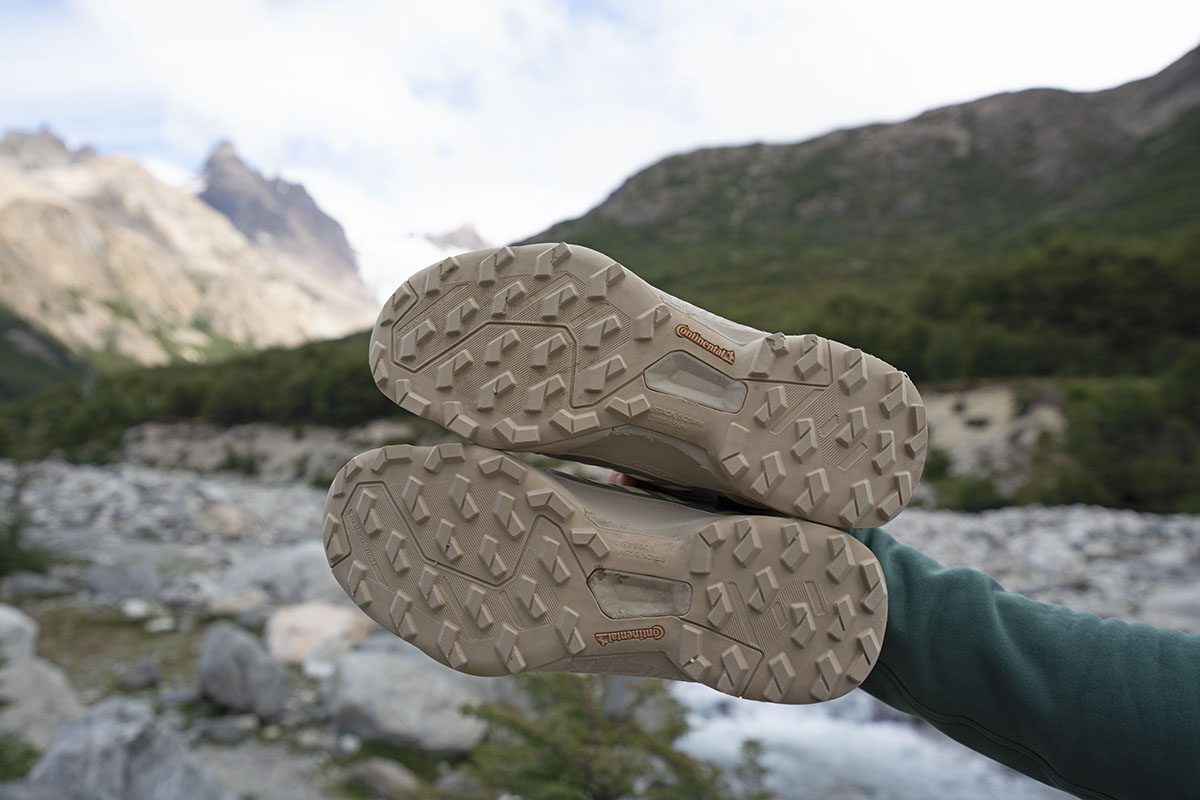 Protection
In addition to stability (covered below), perhaps the single biggest upside of the Terrex Swift R3 is protection. Underfoot, these shoes feel much more like a hiking boot than their design would suggest. Compared to the reasonably burly Salomon X Ultra 4, the Adidas provided even more separation from the trail. We hiked over all kinds of rock in Patagonia and back home in the Pacific Northwest but felt none of the sharp corners that you often get with other lightweight hiking shoes. If you like feeling the trail beneath you, we recommend you look elsewhere (a trail runner-inspired design will get you that feel). The R3 is burly and tough underfoot but certainly not one of the more sensitive shoes we've worn.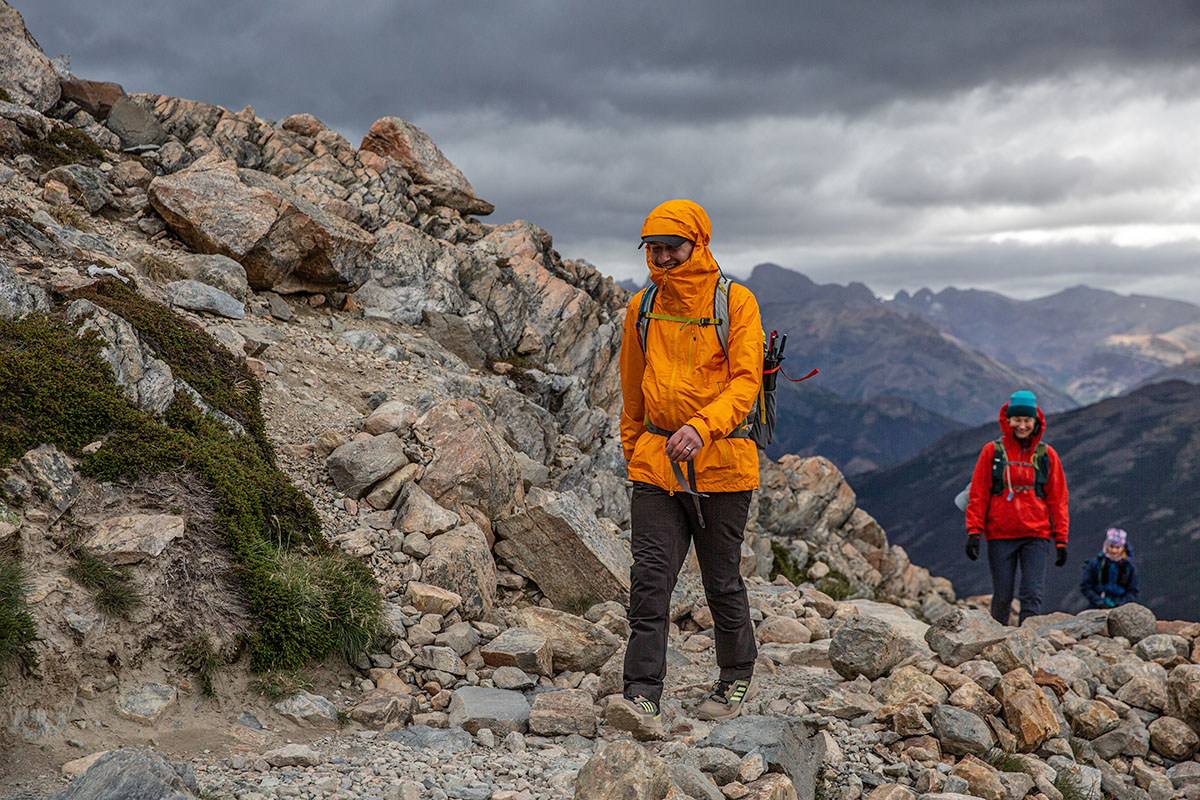 The protection continues around the toe and sides of the foot. Again, this type of design is rare for a lightweight hiking shoe. The Terrex Swift R3 has almost an approach shoe-like rubber toe with a full-coverage toe cap. In addition, the areas along the balls of the feet protrude with even more rubber, creating zones of extra protection on the inside and outside of the foot. Throw in more hard rubber around the heel above the midsole, and you have one heckuva tough shoe given its weight. It's worth noting that all of this toughness likely contributes to the overall stiffness of the shoe described above. Protection is great, but it often comes at the sacrifice of flexibility.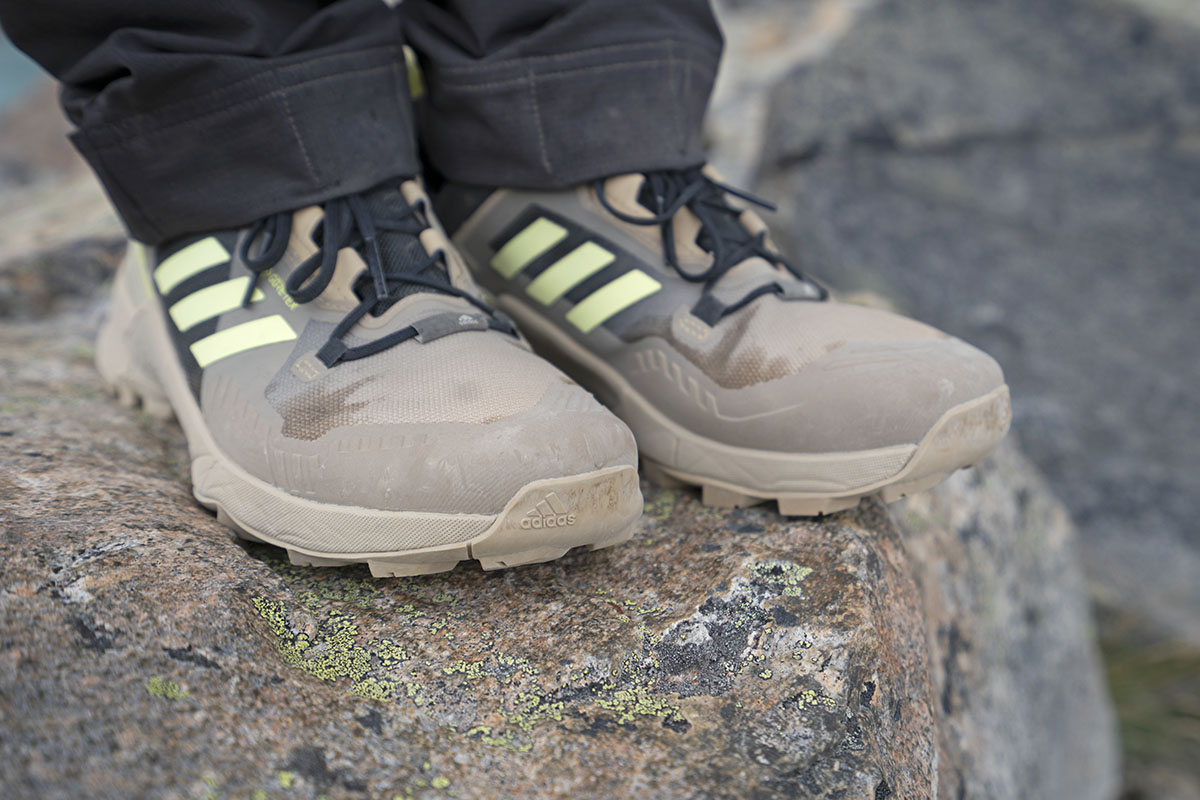 Stability and Support
The Swift R3 GTX is a low-cut shoe but is pretty darn impressive in terms of stability. First, the rigid design and stiff structure help keep your foot and ankle in place. Second, the lacing system does a nice job in terms of keeping things tight around the foot (provided it fits you well). When fully laced up, we felt fully confident even while hiking over rocky and challenging terrain. It was a noticeable change from the lighter and more flexible shoes we had been testing alongside it (including the taller Topo Athletic Trailventure boot). In reality, those who want a step up in support will need to opt for a heavier and taller over-the-ankle boot. But compared to the low-top hiking shoe competition, the R3 is among the most stable models we've worn.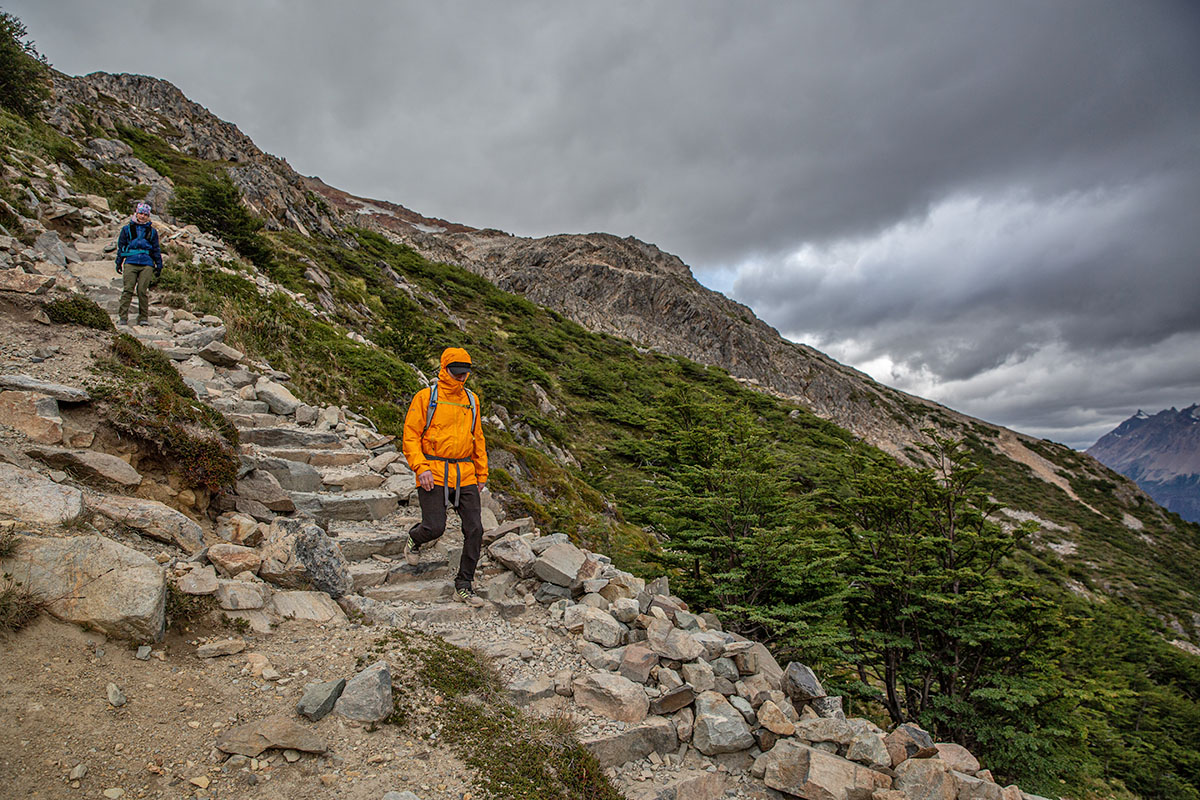 Waterproofing and Breathability
The Adidas Terrex Swift R3 GTX comes with a Gore-Tex liner, making it fully waterproof (a non-waterproof model is available for $20 less). We did the majority of our testing in summer-like conditions and did not give the waterproofing an extended test other than a few creek crossings, but Gore-Tex is known for its quality and almost always has delivered for us in the past. As for breathability, the waterproof build and pretty substantial upper did lead to some pretty sweaty feet on hot days. But that's a common problem with GTX models and won't be a deal-breaker for most. Finally, it's worth noting that the Swift R3's low-cut design means that water can enter the shoe when your foot is submerged around ankle level. If you're hiking in hot, dry places and can easily let your shoes dry when wet, the non-waterproof model likely is a better bet.

Build Quality and Durability
As expected given the levels of protection and stability, the Adidas Terrex Swift R3 GTX is a very hardwearing and well-built design. As I mentioned above, the Continental rubber outsole is decidedly substantial and hard, which will likely fare well over the long-term (there are no significant signs of wear thus far). In addition, the synthetic upper is tightly woven with armor-like reinforcements in key places like the sides and back of the shoe. The only area of concern is the laces, which are a bit thin and may be prone to snags and fraying over time. But thus far, everything looks close to new, and I expect the Terrex Swift R3 to have a very long lifespan.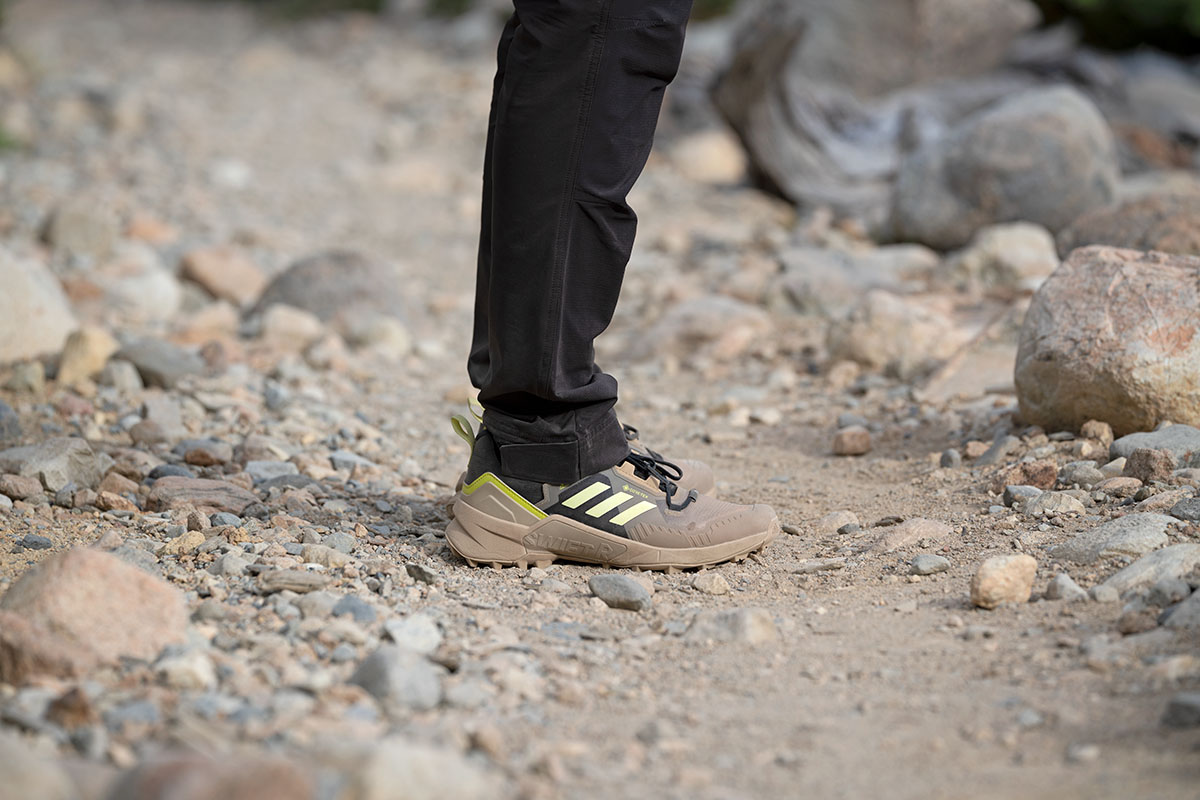 Fit and Sizing
We ordered our usual men's size 9, and the Adidas Terrex Swift R3 fit a little big overall. The shoe is slightly wider than comparable Salomon shoes we've tested, including at the heel, which required us to cinch it down pretty tightly to keep it locked in place on extended climbs. And the looser fit led to more toe jamming on long descents. If were to test it again, we'd go down a half size.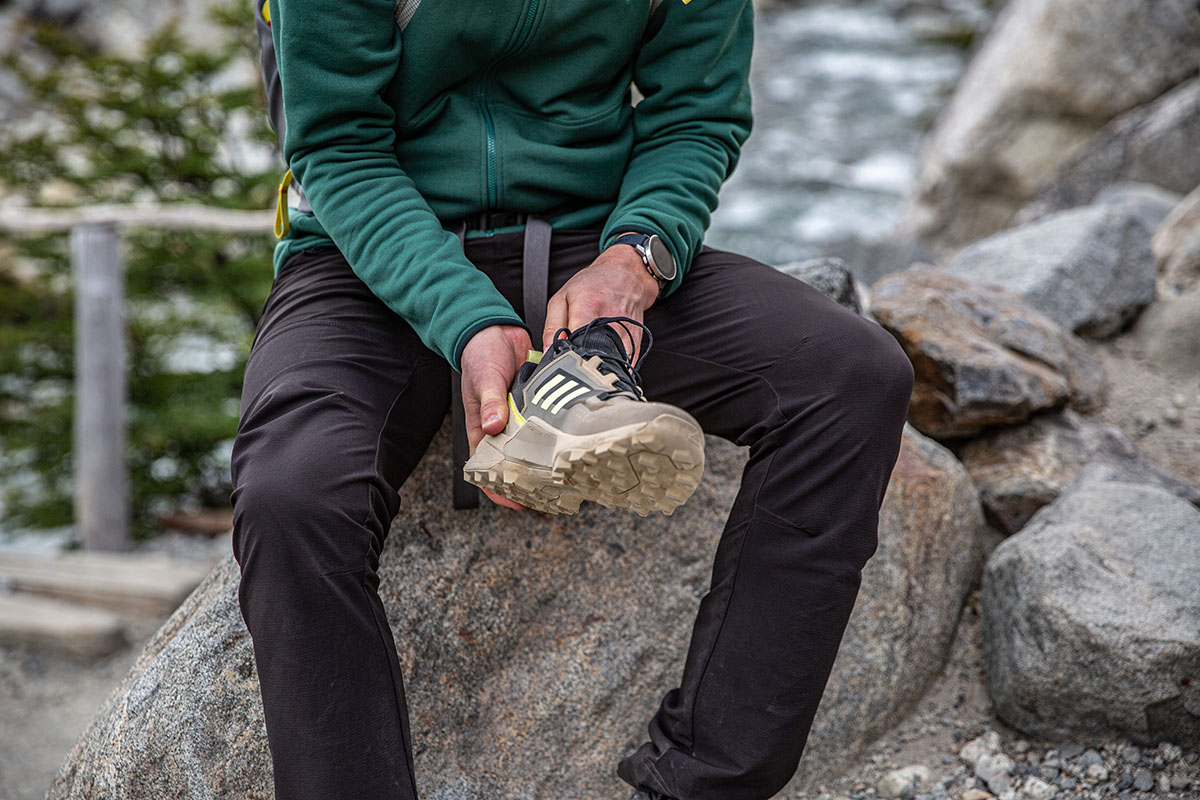 Other Versions of the Adidas Terrex Swift R3
We tested the men's low-top version of the Terrex Swift R3 GTX, but Adidas also makes a women's-specific model with a nearly identical design, varying colorways, the same price ($150), and a lower weight at 1 pound 8 ounces for the pair. For those who prefer over-the-ankle coverage, Adidas also offers the Swift R3 in mid-height waterproof boots for men and women ($180 and 2 lbs. even for the men's model). And as mentioned above, there are also non-waterproof variations of the low-top hiker that retail for $130. These are a little lighter due to the lack of a Gore-Tex membrane and make sense for those that regularly hike in warm climates or plan on encountering frequent water crossings (waterproof shoes take much longer to dry).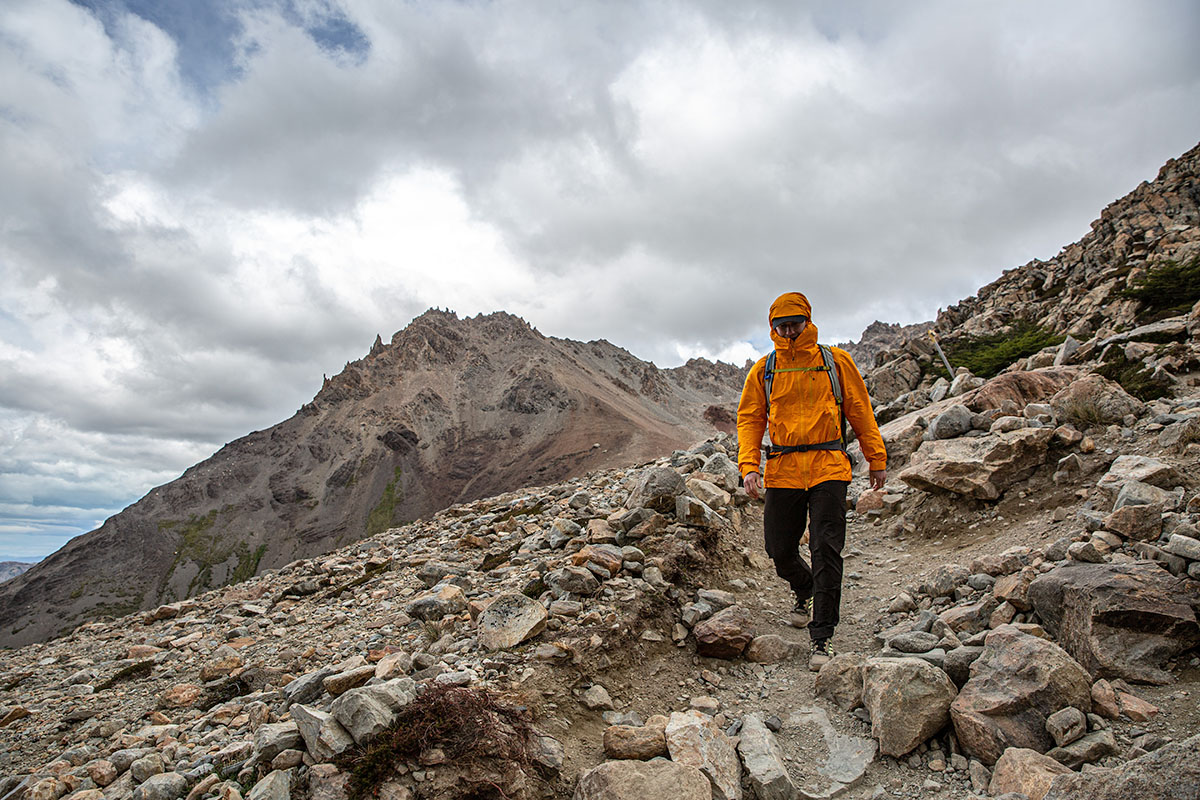 What We Like
Impressive protection from the trail. The Terrex Swift R3 feels like a hiking boot underfoot but in a more streamlined design.
Good stability for a low-cut design.
Well-built and should have a long lifespan with a durable tread design and tough, reinforced upper.
Great all-around traction that gripped well on everything from rock to mud.

What We Don't
Stiffer and more rigid feel than other lightweight hikers we've tested.
If you like moving fast and/or feeling the trail beneath you, we suggest looking elsewhere.
Fit ran a little big (we'd go down a half size), which made it hard to lock the heel into place on extended climbs and descents.


Comparison Table
The Competition
With its Terrex Swift R3 series, Adidas takes aim at the hiking and backpacking crowd who want more protection than a trail runner. The elephant in the room is the Salomon X Ultra 4 GTX, which has been one of our favorite lightweight hiking shoe lines for years. The Adidas checks in at a nearly identical weight, costs the same, and offers a small step up in stability and protection. However, we like the feel and comfort of the Salomon more: It hits that just-right balance of toughness and flexibility. Unless you favor support over everything else, the X Ultra 4 GTX gets the overall nod from us as one of the top-rated hiking shoes on the market.
There aren't a lot of low-top shoes that can match the Swift's boot-like feeling of sturdiness, but La Sportiva's Spire GTX does just that. The Spire is fairly stiff, sturdy, and offers excellent protection and traction across a wide range of terrain. In addition, we think it's even more comfortable underfoot, although you do pay a premium in both weight (an additional 3 oz.) and cost (it's $40 more). The Spire is arguably the more capable shoe, but it's a little hard to justify the big price tag.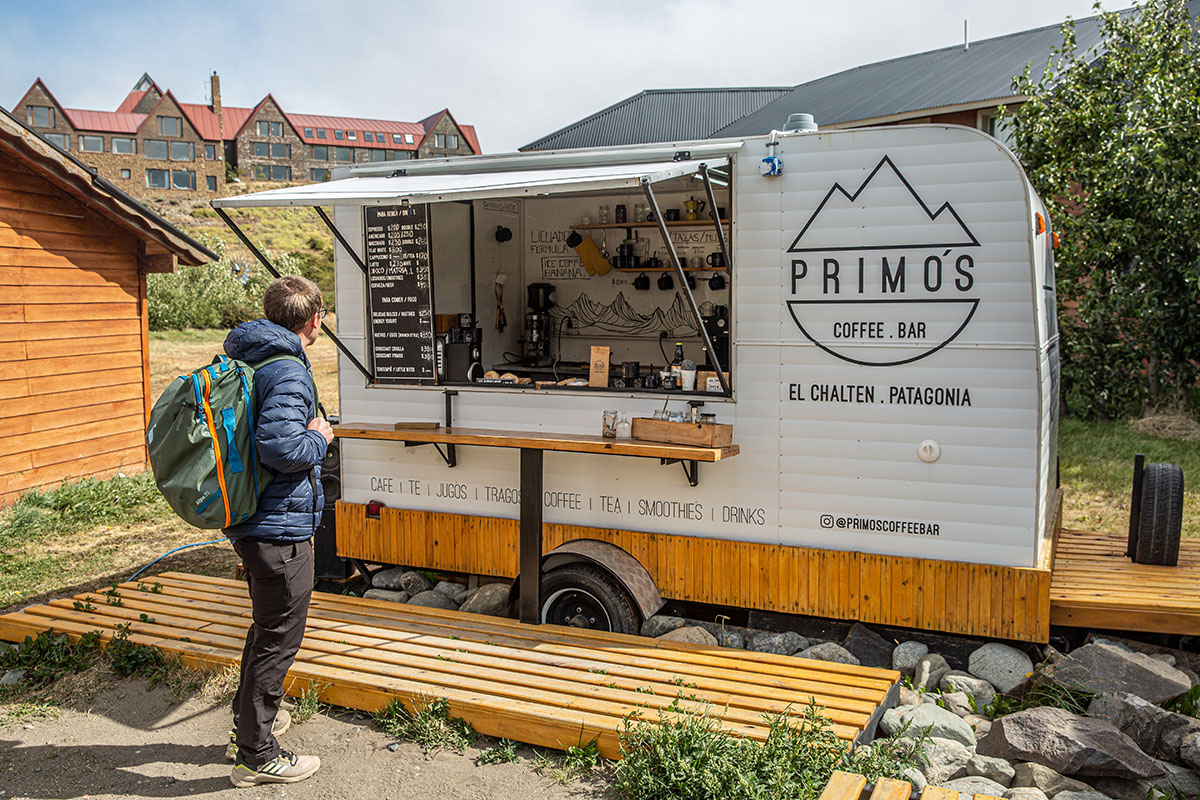 Another big-time alternative to the Swift is The North Face's Ultra 111 WP. This shoe is listed as a trail runner, but we consider it one of the tougher and more stable light hikers available. Compared with the Swift, the Ultra 111 has similarly good traction, but the Ultra is a little more flexible and has a wider base. The Adidas has the advantage in weight, however, and is the stiffer of the two designs (this can be a pro or con depending on your preference). In the end, both are quality options, but the Swift's tougher and more capable design wins out for us. 
Another hybrid hiker/trail runner to consider is Arc'teryx's Aerios FL GTX. The Aerios is impressively light at 1 pound 8 ounces, uses quality Gore-Tex waterproofing, and is noticeably protective and tough with a robust toe cap and TPU around the bottom section. Similarly, it also had a stiffer and more rigid feel than other lightweight hikers we've tested, although it did break in nicely throughout testing and was comfortable over long, high-mileage days with a full pack. Overall, we think the Aerios is the slightly better-built design in this category and is more at home when moving fast-and-light, but the Adidas saves you $20.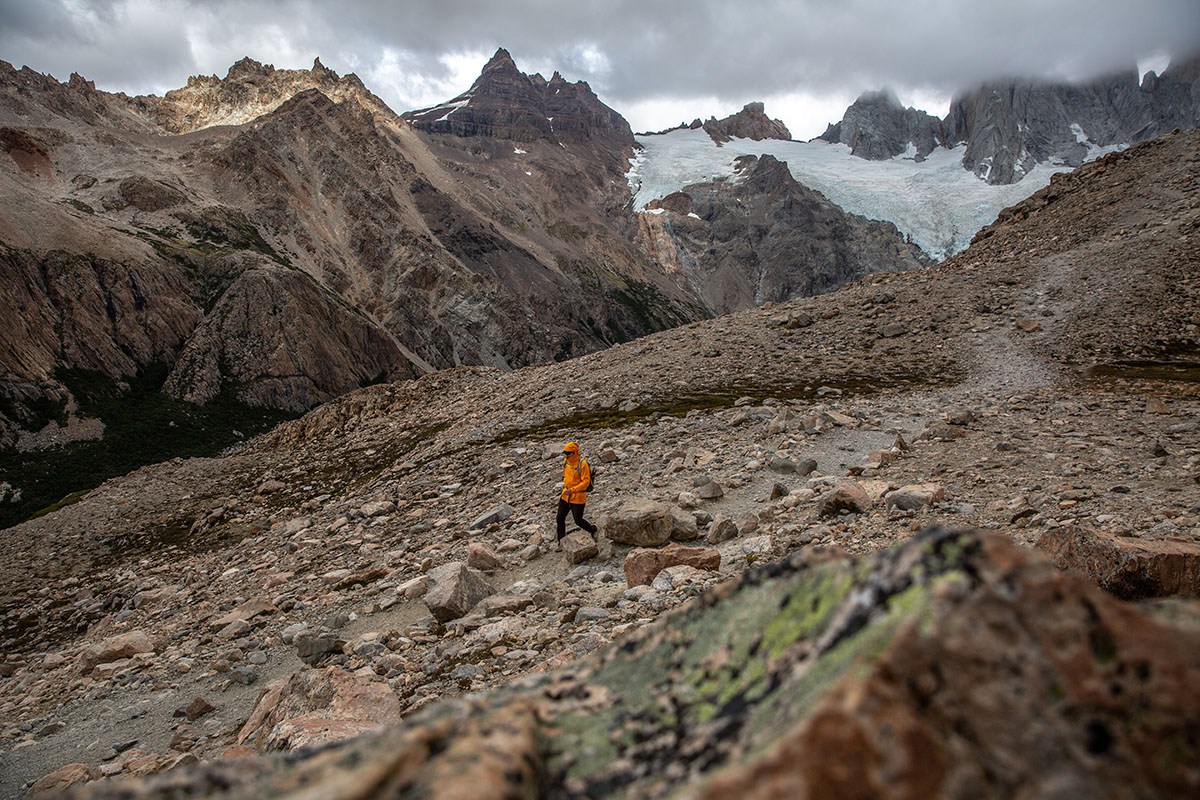 Last but not least, La Sportiva's TX4 technically is an approach shoe but has a number of similarities to the Adidas Terrex Swift R3. Both feel relatively stiff underfoot yet hike well, offer excellent protection around the foot for moving off-trail and over rocky terrain, and cost around the same (the TX4 is $10 cheaper at $140). The La Sportiva comes in a bit lighter than the Adidas at 1 pound 10 ounces, although you give up the Gore-Tex insert for a leather upper that is not waterproof. For rock hopping and extended off-trail use, the TX4 is hard to beat. But the Swift's more well-rounded tread design—especially in mud and loose dirt where it bites in better—gives it the advantage for most trail days.
If you're thinking about buying gear that we've reviewed on Switchback Travel, you can help support us in the process. Just click on any of the seller links above, and if you make a purchase, we receive a small percentage of the transaction. The cost of the product is the same to you but this helps us continue to test and write about outdoor gear. Thanks and we appreciate your support!
Depending on the seller, most products ship free in the United States on orders of $50 or more. International shipping availability and rates vary by seller. The pricing information on this page is updated hourly but we are not responsible for inaccuracies.
Learn More About Outdoor Gear